Corfu is a Greek Island in the Ionian Sea. The island uniquely has lush green vegetation and some absolutely stunning crystal clear waters.
Corfu is well known for having the most picturesque beaches and has always been a firm favourite for families travelling from the UK and Ireland. Corfu with kids is certainly a lovely place for a family holiday.
Surprisingly the island of Corfu is far bigger than I had anticipated. There are so many different villages and beaches to discover. You could easily spend 2 weeks there and still feel like there is something more to see.
Whilst beach hopping was one of our favorite activities most days, we also got up to lots of other amazing things such as boat trips, discovering the old town and so much more.
Since we loved Corfu so much, we decided to put a guide to this beautiful island together especially for families.
Corfu For Kids
We visited Corfu in late August and the weather was such a perfect temperature at that time of summer. The landing in Corfu is pretty special as the runway is surrounded by the sea. It gives you all the holiday feels immediately!
Corfu Airport is relatively small and easy to navigate. Something really important to remember is you must fill out a passenger location form for each person travelling to Greece.
This is following on from the COVID situation. You will not be allowed to board the plane without it, so make sure you get your holiday off to the right start by doing it in advance.
Passengers are emailed the night before travel with a QR code and pass. You will need this at the airport so it's a good idea to download it before in case of any WIFI issues. You can find the official form here.
Greece like most places nowadays requires you to wear a mask inside and in taxis. Therefore you should have it to hand on entering the airport.
Corfu Family Villa – Where To Stay
Is there anything better than hopping off the plane and being only minutes from your final destination? We stayed in a family villa just 10 minutes from the airport and the popular Corfu Old Town.
If you are not sure where to stay in corfu, a villa was a great option in the current climate. It allows for social distancing in comparison to a hotel.
We stayed at the beautiful Villa 1870 Corfu. Nestled on a hill top in Kerkira, it has some stunning views of the Ionian Sea. The villa provides a driver with a really lovely vehicle for the entirety of the trip.
They were right there waiting for us when we got out and it was so nice to be at the villa within minutes with the kiddies.
Villa 1870 is a high end luxury villa, perfect for a multi-generational trip or a large family. It can sleep up to 16 people, with 5 bedrooms, several bathrooms, a large heated pool, not to mention several hangout areas, we were spoilt for space. The kids particularly loved the swings and mini football area.
Villa 1870 Corfu
The villa is fully serviced with a private chef, housekeeper and previously mentioned we had a driver which was so handy. They had kids car seats and the driver was amazing at bringing us to all the local spots. This helped to massively reduce our packing list for Greece!
Being a local, we found Atkis the driver to be super knowledgeable. He was also super understanding and lovely with the kids.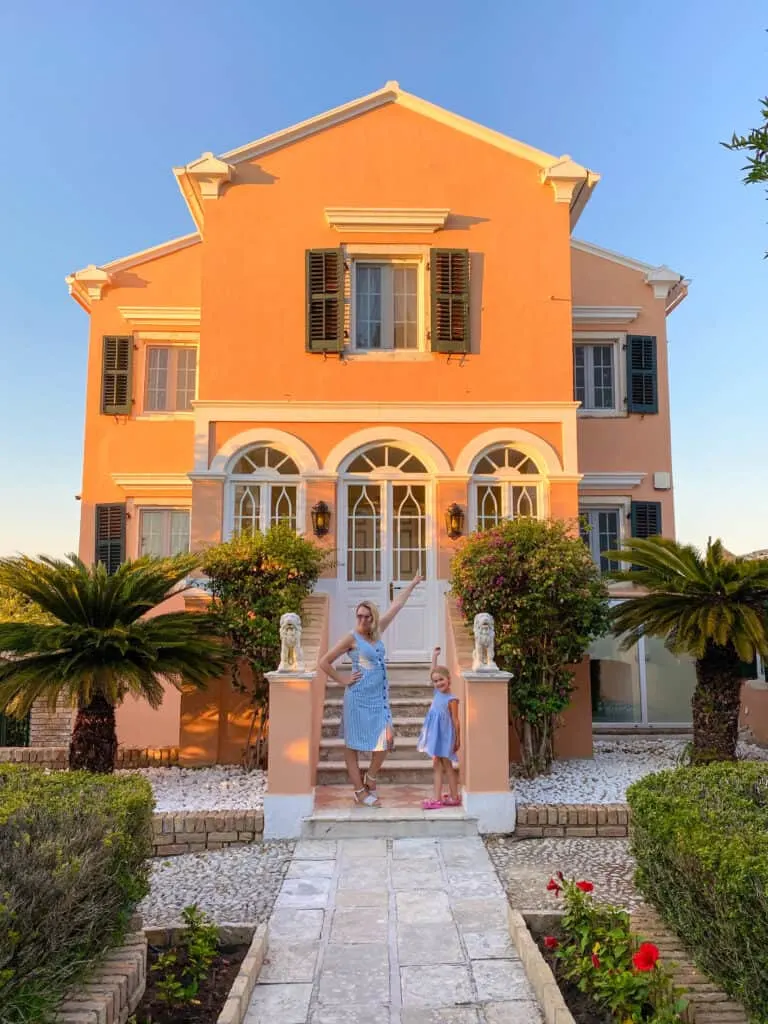 The food at Villa 1870 Corfu is out of this world. As a vegan I always worry as feeding two vegan kids can often be a challenge abroad but they were awesome at catering to our needs.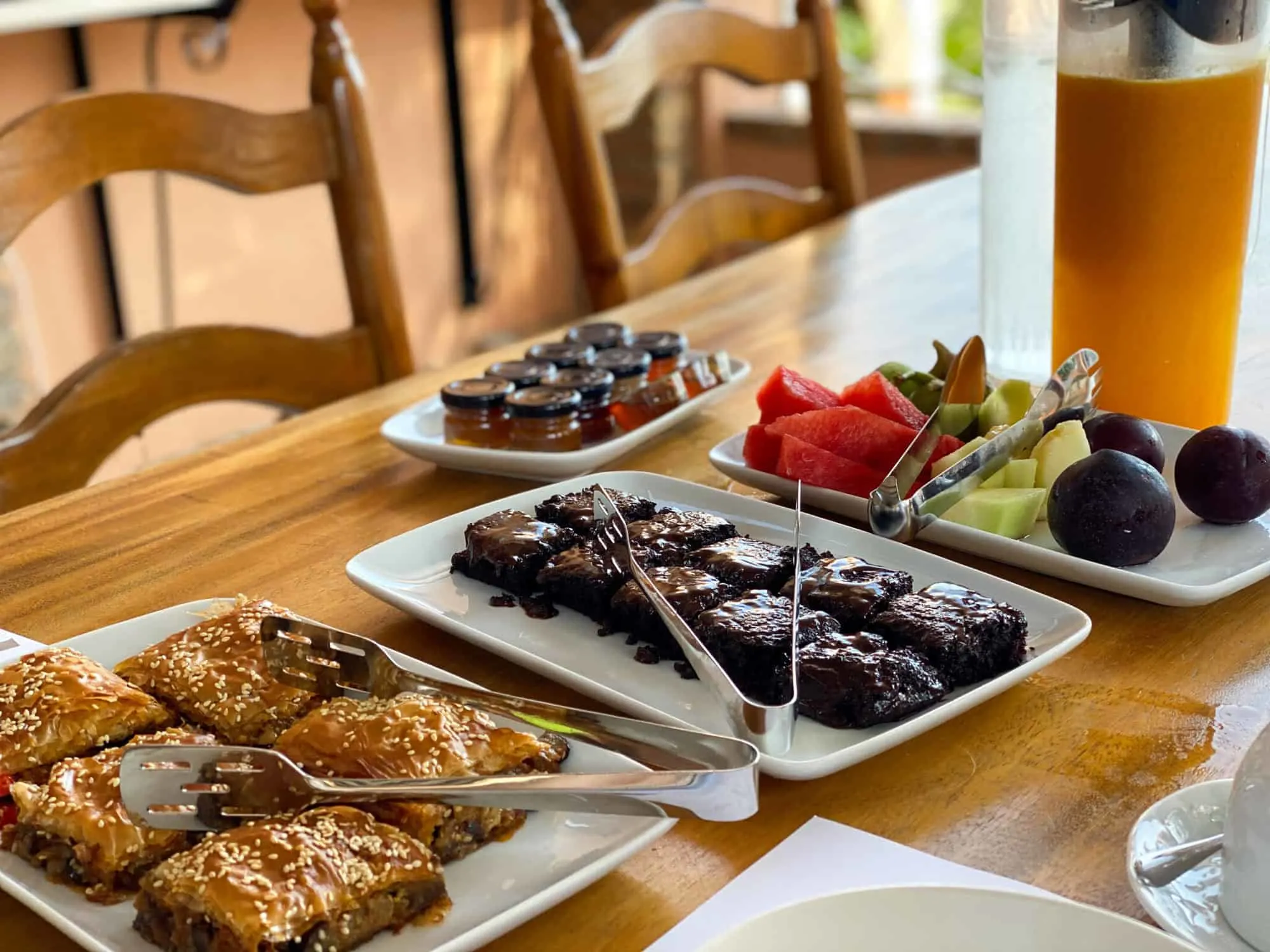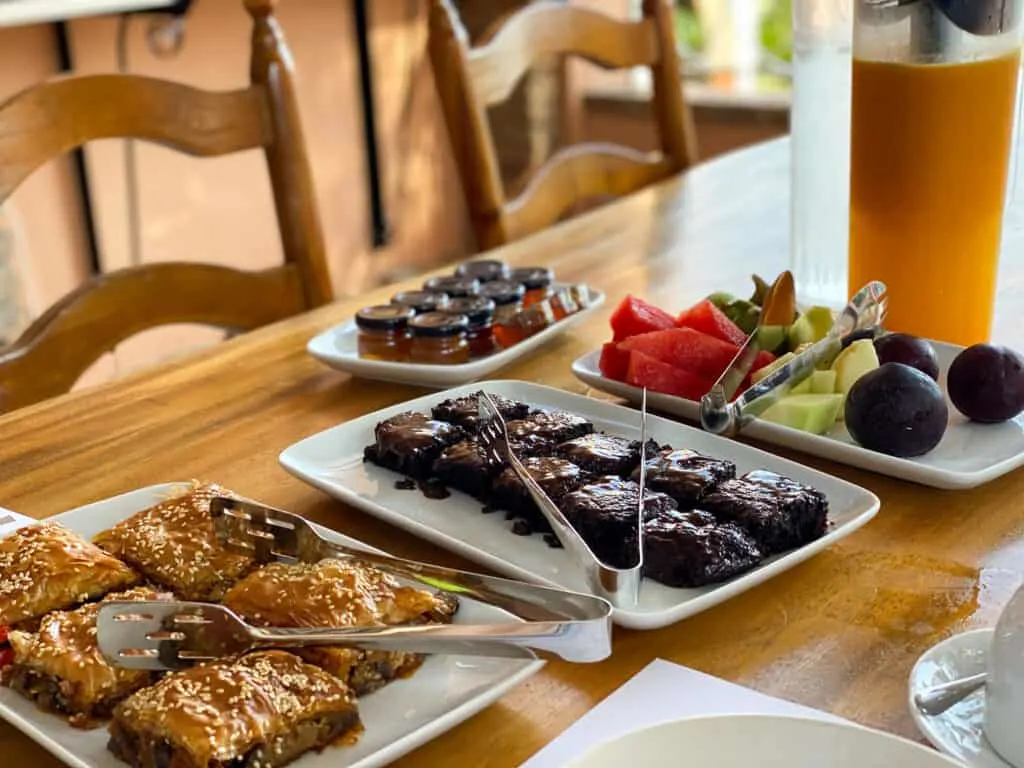 The food was fresh and tasty with all the local vibes and influences we really felt spoilt with our meals. Dinner was always served with a glass of ice cold local white wine.
Sipping on a cold vino and taking in all of the views from the dining area was the ultimate relaxation experience. It was just the best not having to worry about restaurant bookings and making sure there was something specific for the kids.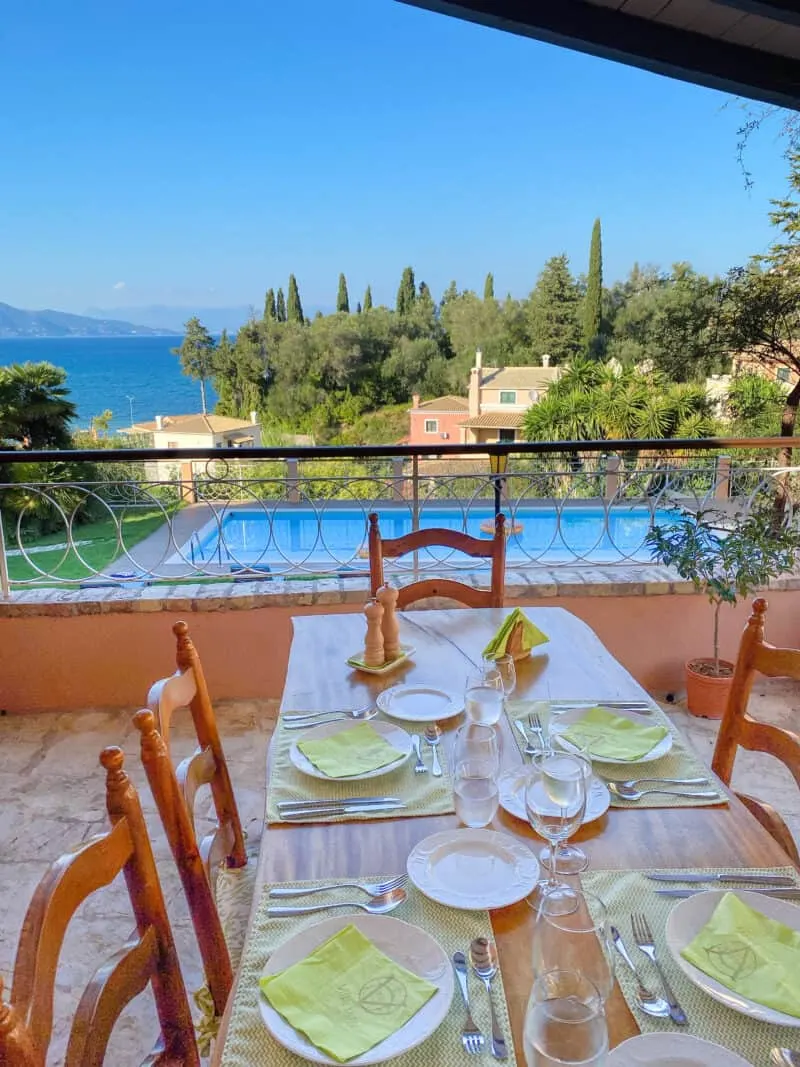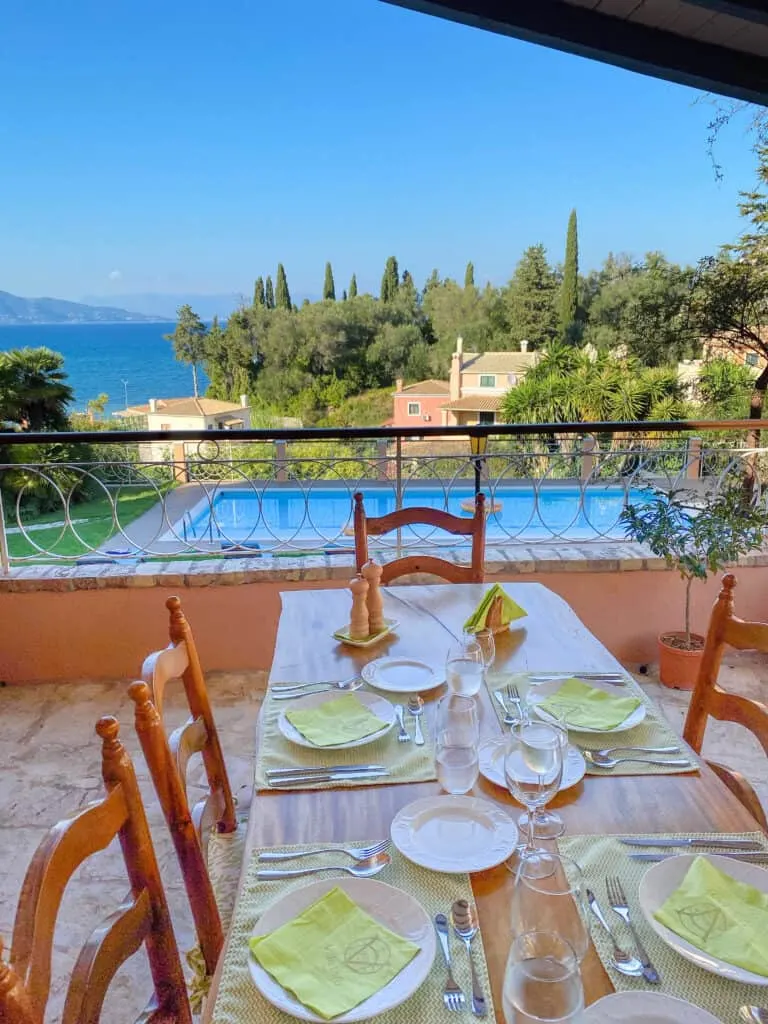 Villa 1870 Corfu very much lives up to its name and the owners have done everything to preserve the history and heritage of the property. It's like stepping back inside a 19th century palace with the luxury of all mod cons. We were blown away by the architecture and design.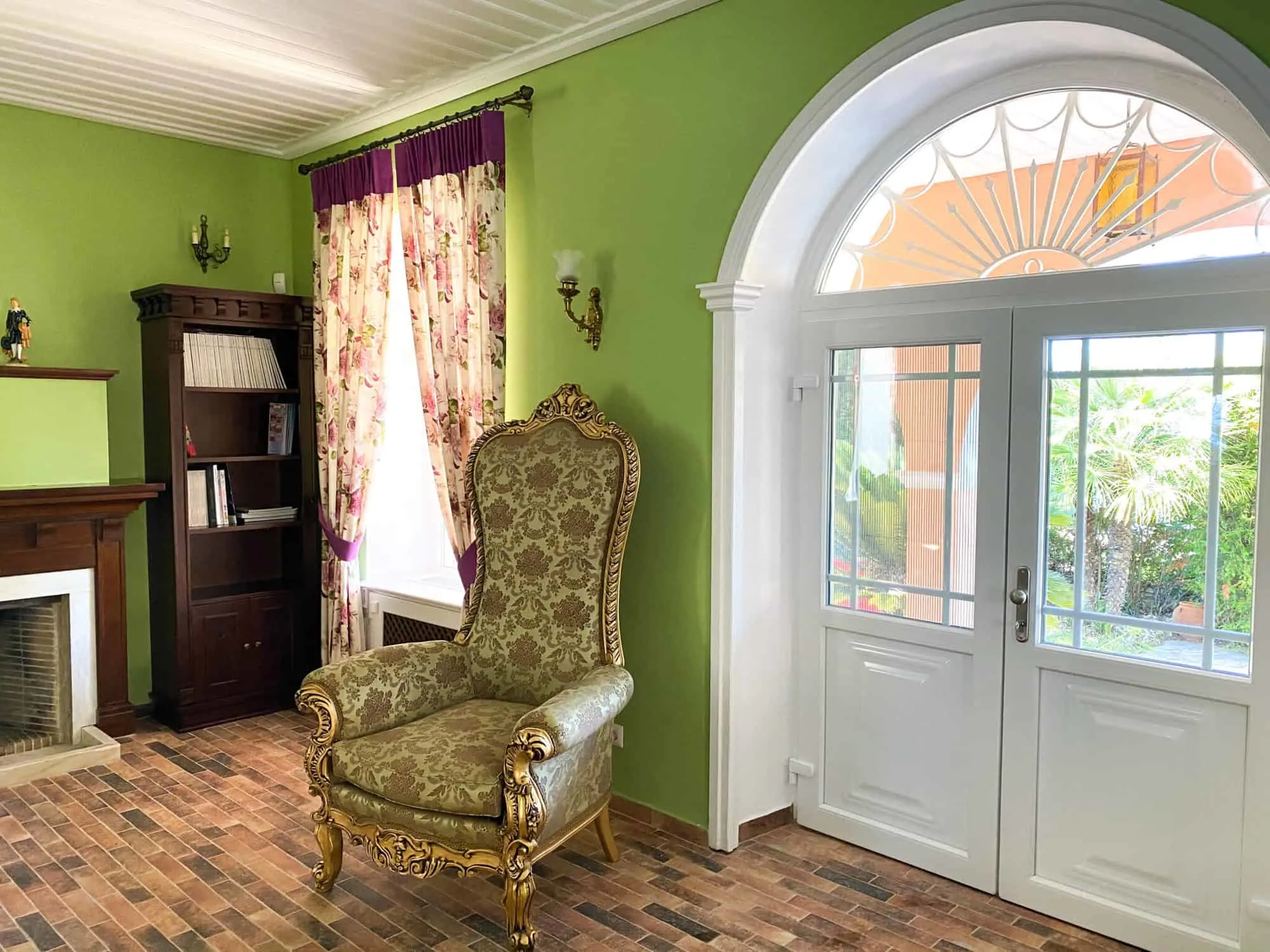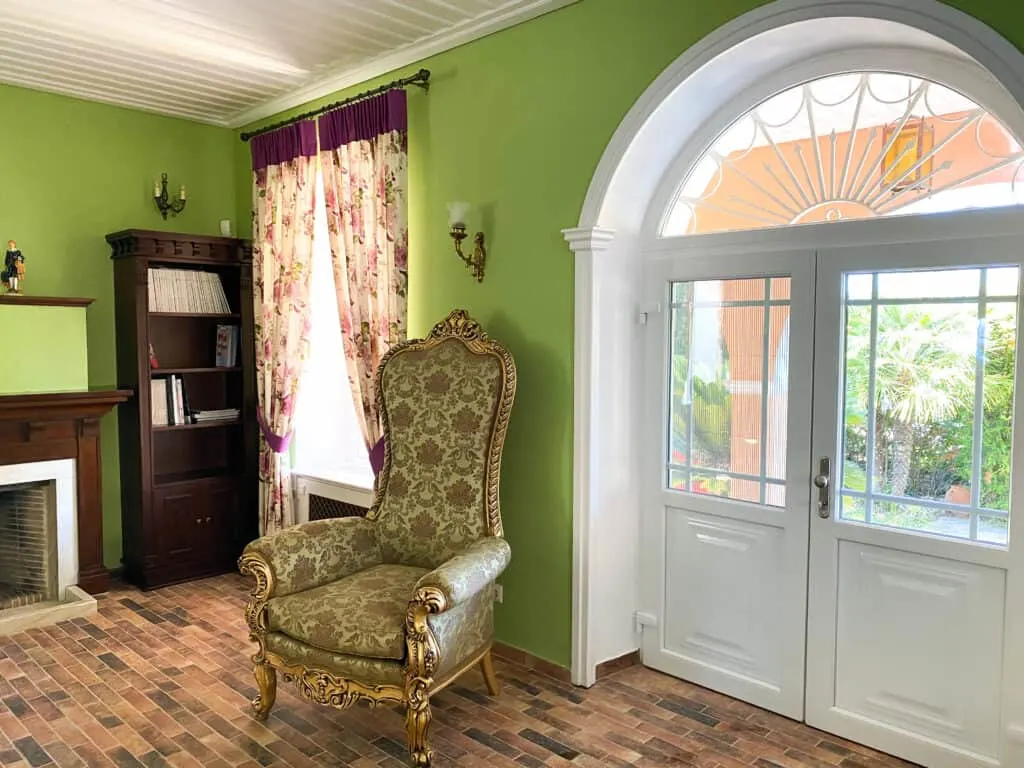 A Typical Day In Corfu With Kids
We had a little bit of a routine each day in Corfu. Every morning we'd wake up to an absolutely stunning breakfast in Villa 1870 Corfu. Soon after, we'd hang out by the pool until the afternoon when we'd get ready to head out for lunch and an explore.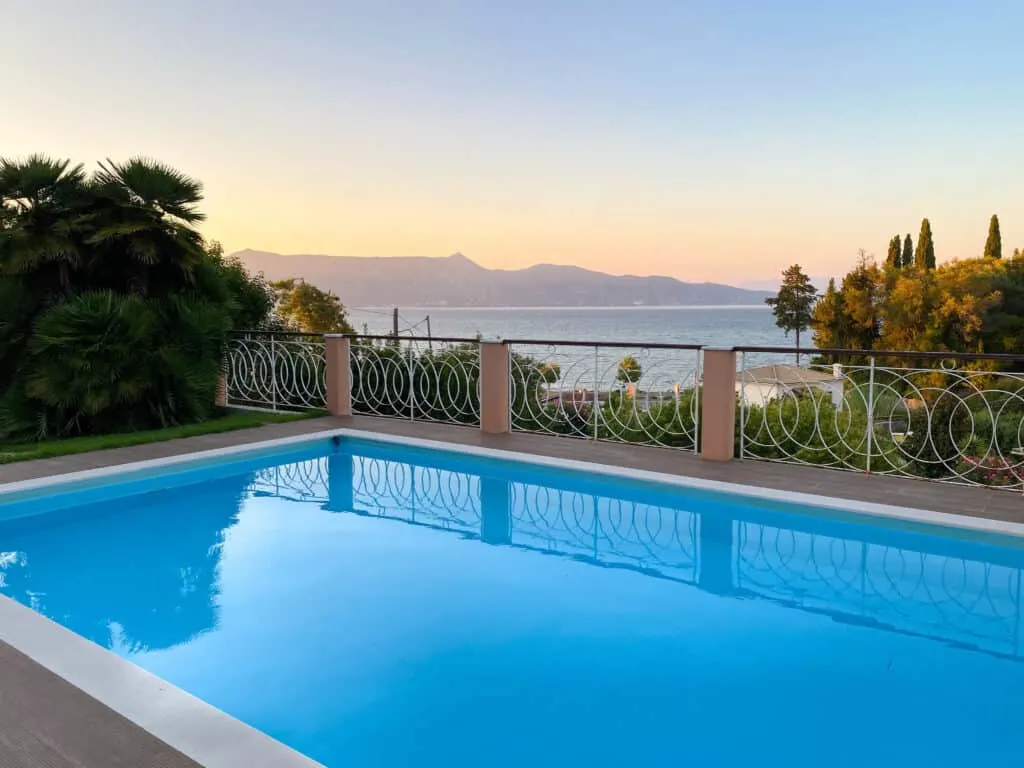 Atkis the driver would always book a restaurant in advance. Being a local and knowing restaurant owners always guaranteed a table with an amazing view! Afterwards, we'd visit the beach or walk around the town depending on where he had dropped us off.
We were pretty happy for Atkis to take the lead as we hadn't done any research before going to Corfu. Howevere, we knew it was one of the best Greek islands for families. The villa was such an incredible place to stay.
Best Beaches To Visit With Kids In Corfu
Paleokastritsa
We visited Paleokastrista twice during our trip. We just loved the shallow crystal clear water of this bay. The beach is in an inlet and looking out to sea it reminded me so much of the famous Maya Bay in Thailand.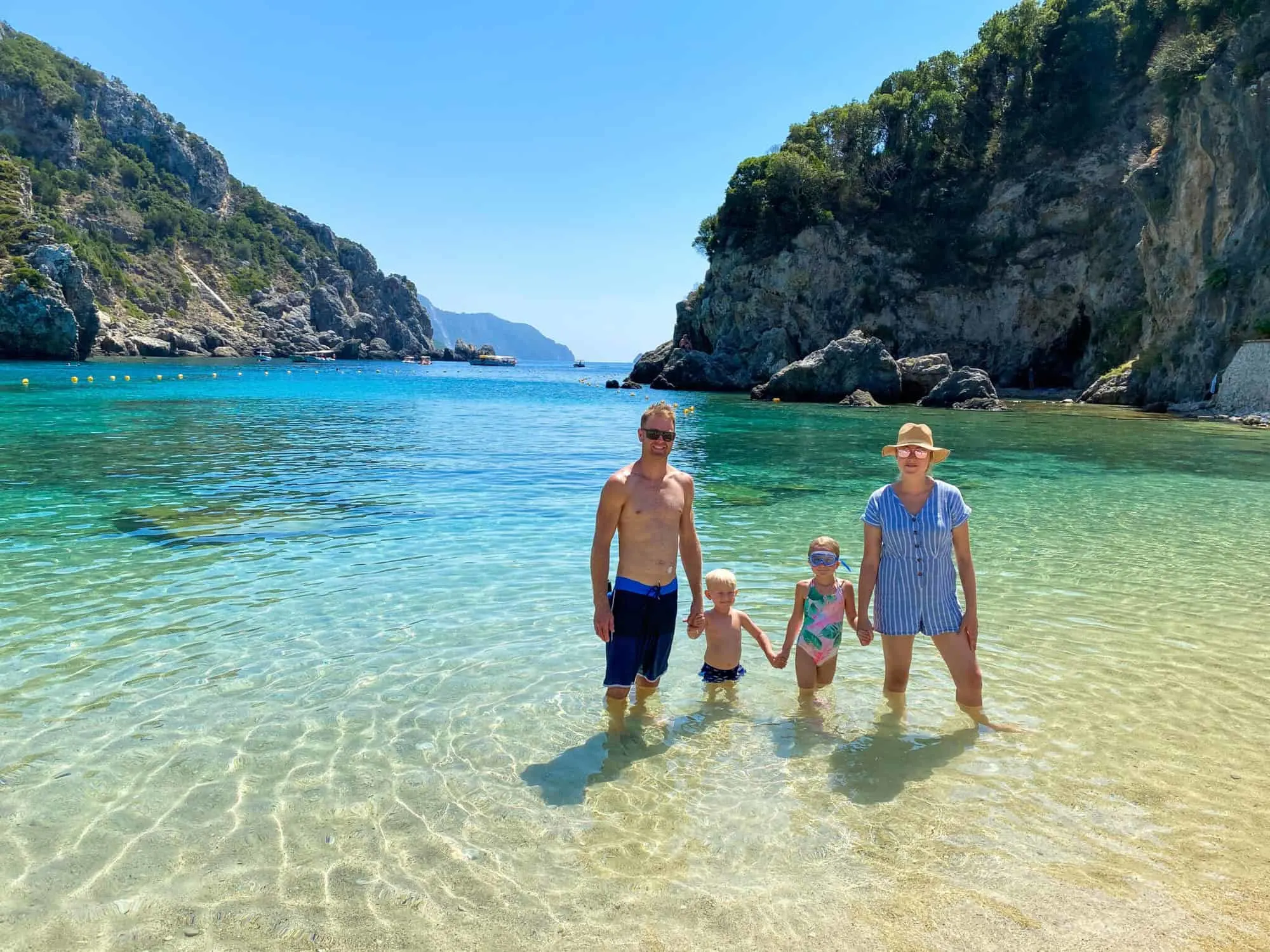 There are quite a few restaurants along the beachfront, it's just a small but very cute village that had lots going on. You'll also find a monastery in Paleokastritsa which definitely makes a lovely photograph.
We rented pedal boats one afternoon to explore the bay. The kids loved snorkeling and jumping into the water. It was just 15 euro for an hour and was well worth it in my opinion.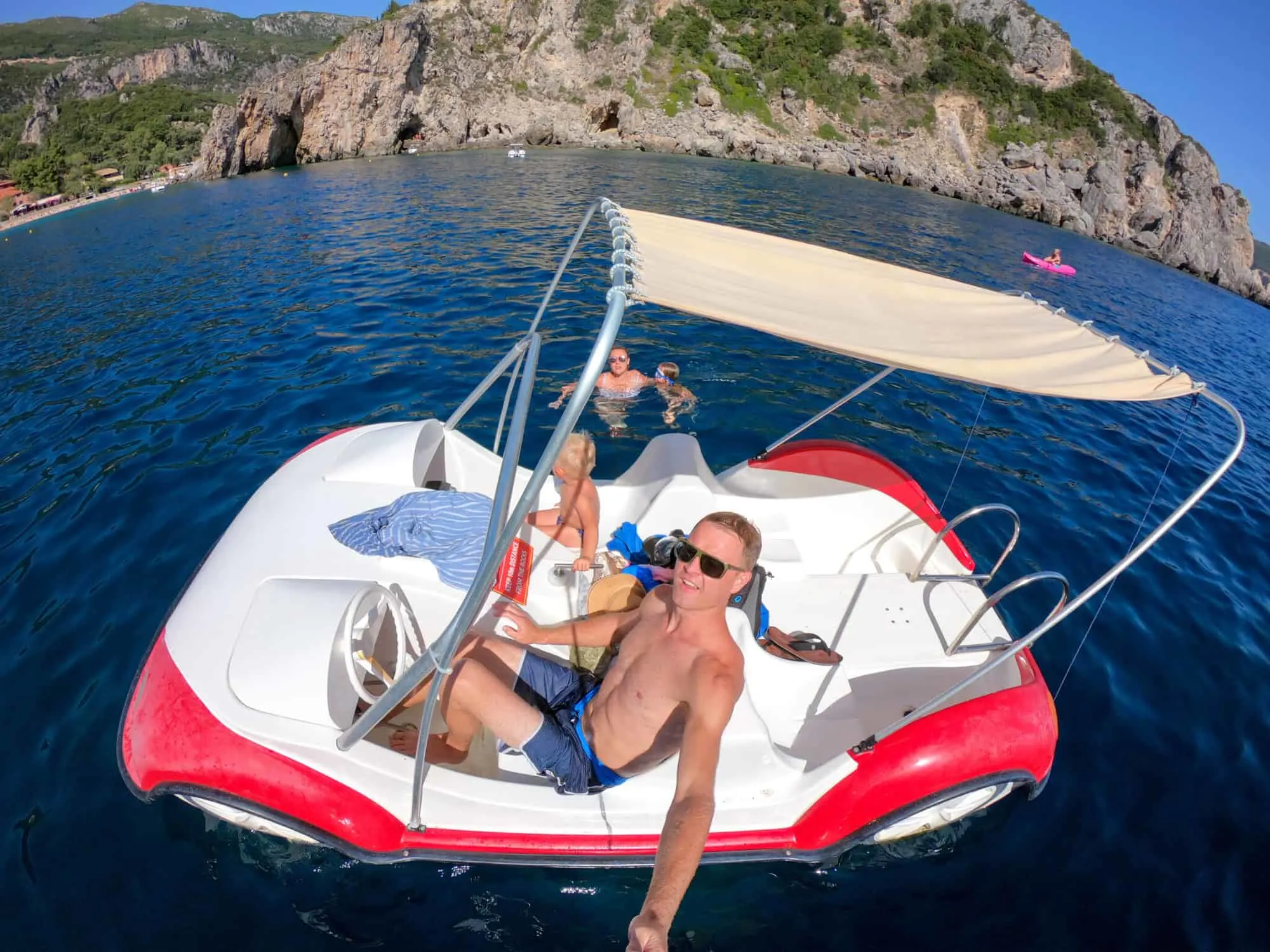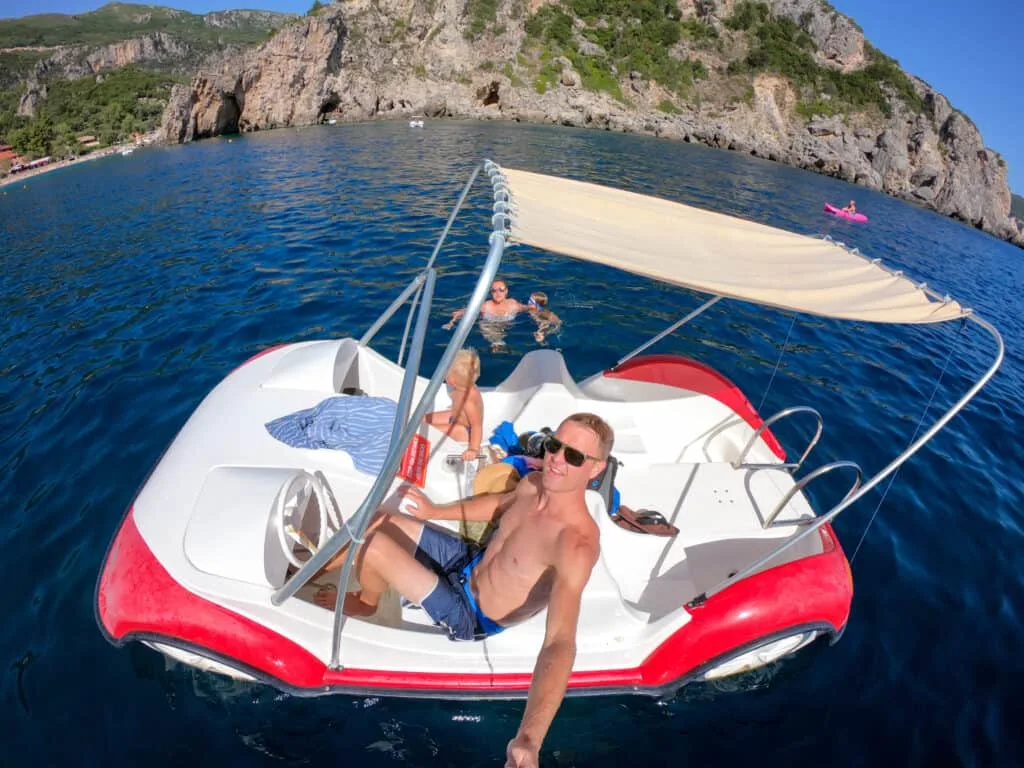 If peddling is not your thing you can also go on a 45 minute guided boat trip. It will take you to explore the caves nearby and the secret beach too!
There is also an option to rent a proper boat for the day, this is another really lovely option. You can bring a picnic and enjoy swimming and exploring all the local coastal spots around Paleokastritsa.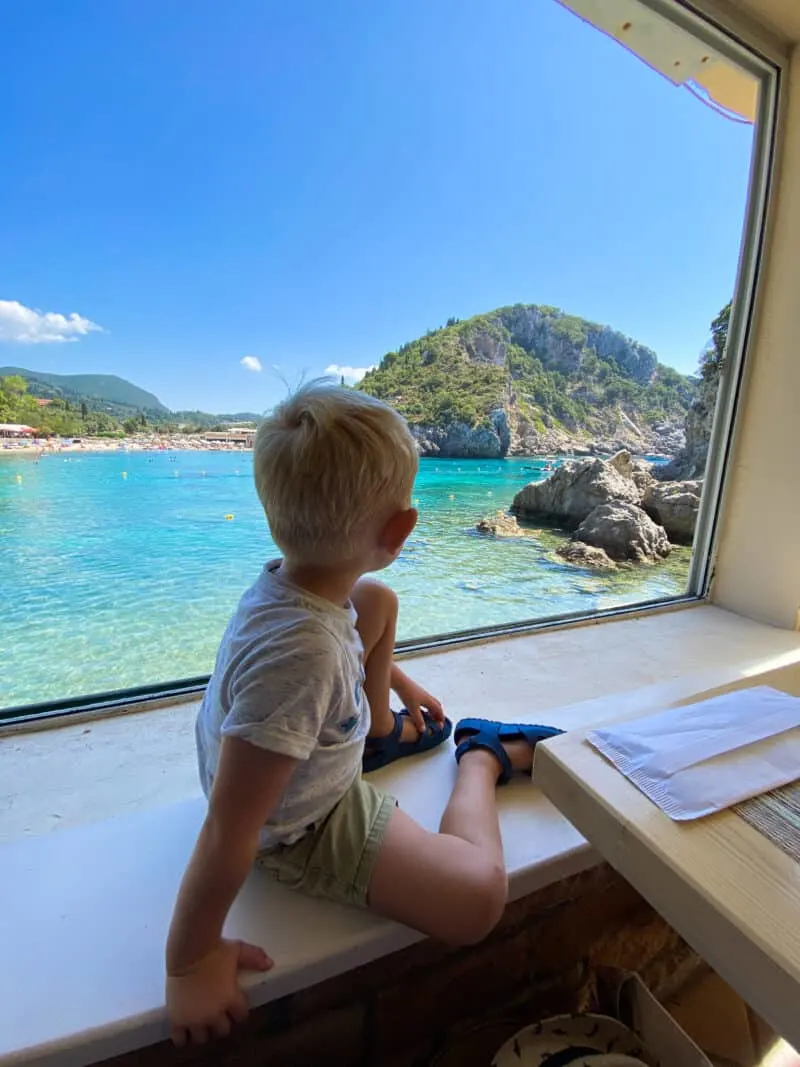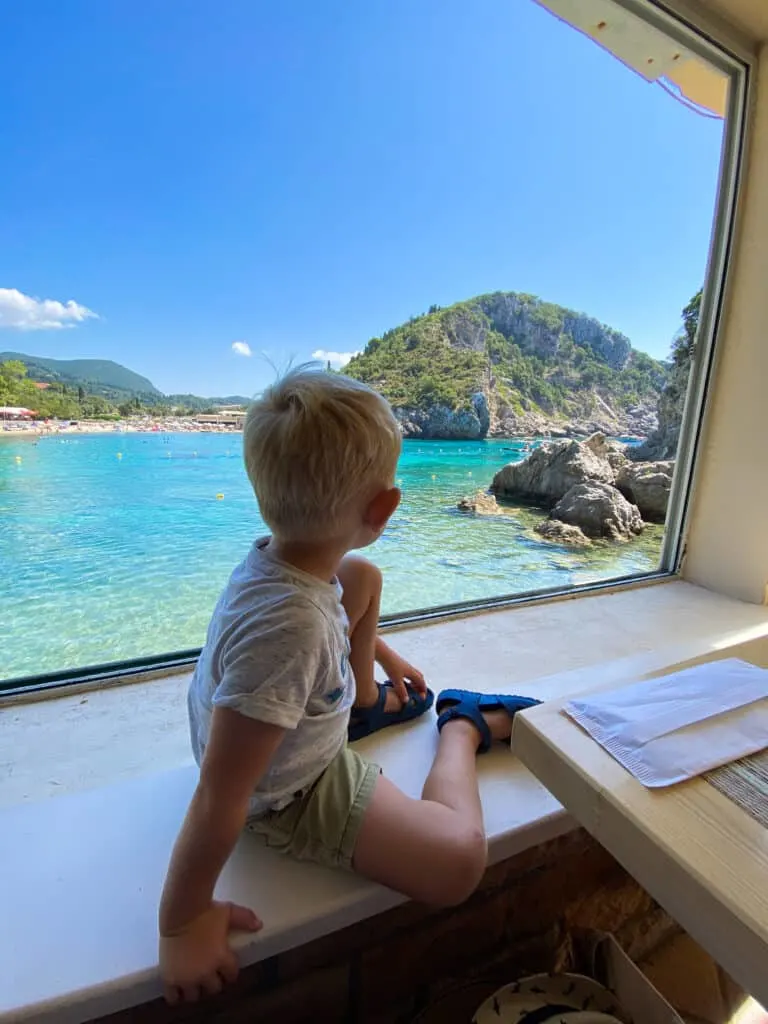 Vrachos Restaurant is right on the corner of the beach with some absolute stunning views, it is well worth a visit. Make sure to ask for a table at the furthest end of the restaurant, the view is impressive and it was so relaxing watching the boats drift by. They serve lots of typical greek food and were really willing with making alterations for our vegan diet.
Barbati Beach
Barbati Beach is on the east coast of the island and is more popular with locals than tourists. Maybe it is one of their best kept secrets?
This beach is just stunning and has the most beautiful clear water in all of Corfu, the water visibility is insane, not to mention the white pebbles that really make it stand out.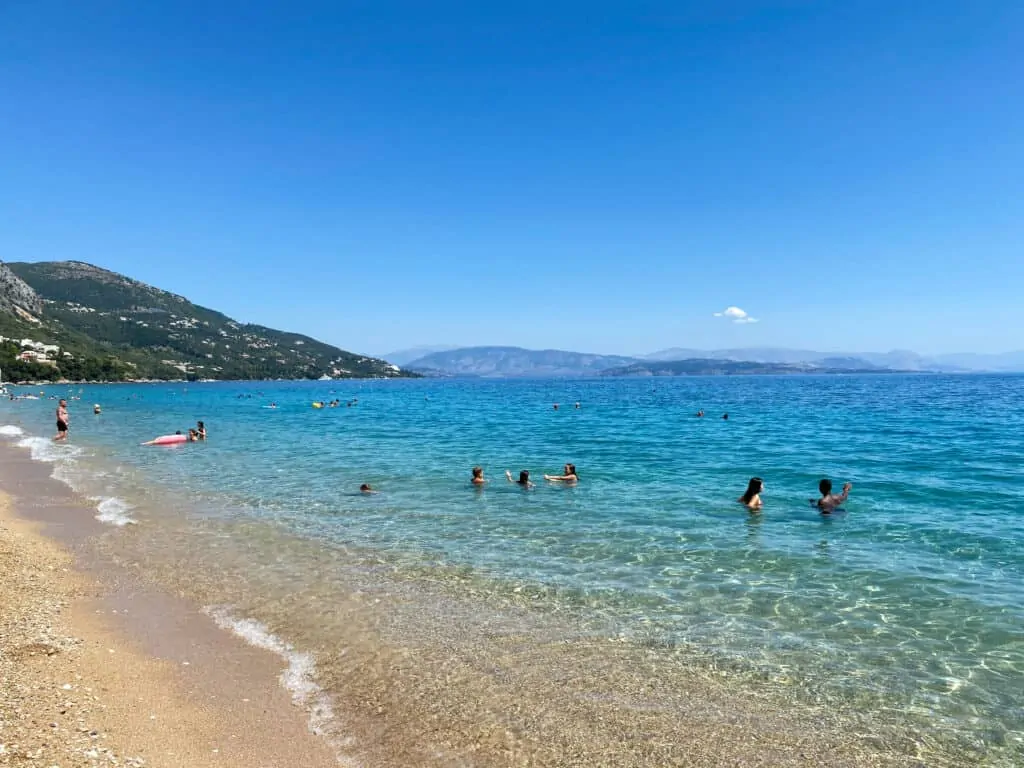 It's certainly more busy on the weekends in comparison to the weekdays. There is a lovely restaurant called Verde Blu that is perfect for drinks or food and has a green lawn for kids to play on too. The food was great and the sun loungers were so close to the water, it was such a fab afternoon.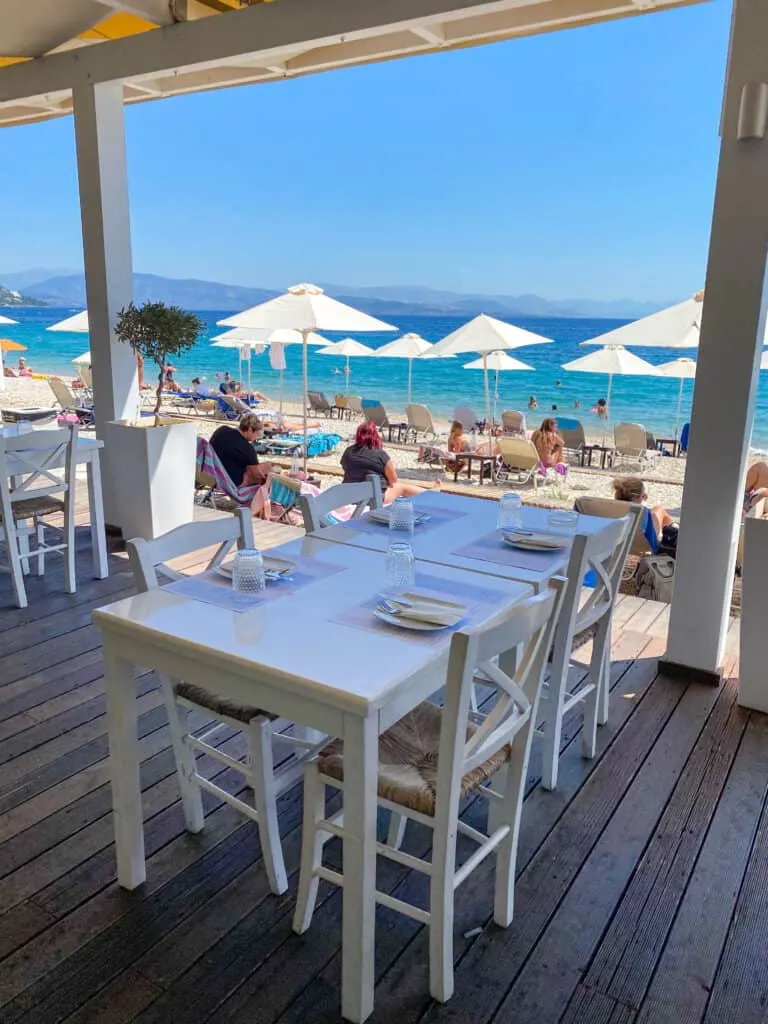 We visited on a Sunday, so it was a little busier but they had a DJ which had lovely vibes. It was hard to get our kids to leave the beach that day. Barbati Beach is perfect for little ones as the shore is shallow and it was my husbands favorite beach in Corfu!
Glyfada Beach
Glyfada Beach is on the west coast of the island. Madonna has a massive property on the edge of this beach, needless to say it's beautiful. Apparently this beach use to be more popular with young party goers.
However we found the beachfront bars had completely changed the direction of their business. Instead of beach party bars, you'll find lounge like relaxing areas with shade, big cushions for resting and chill out tunes.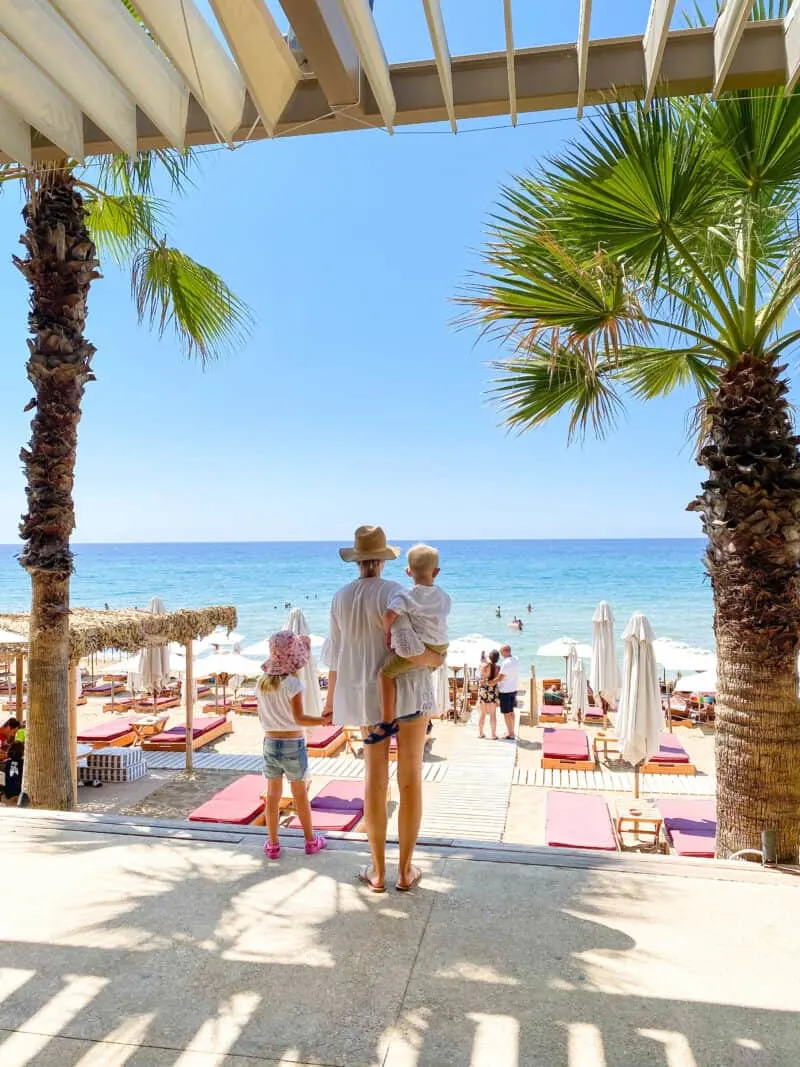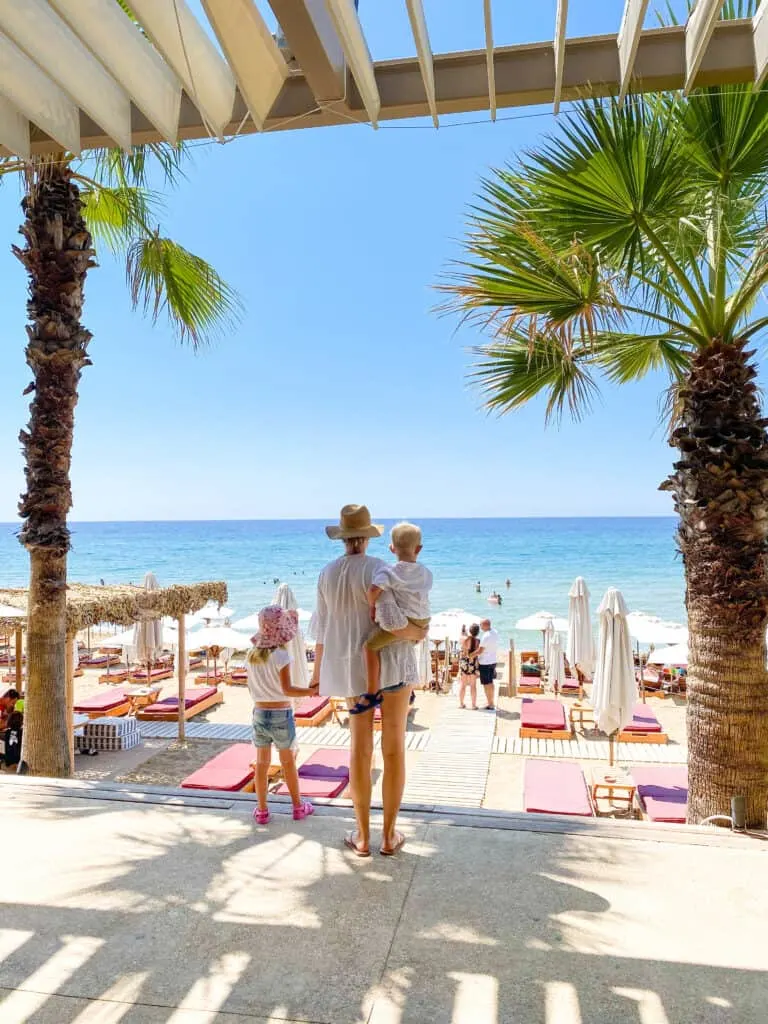 A good example of party bar come chill out family space is Pazuzu. My understanding is many places are doing this in view of Covid to allow for more socially distanced business. This chill out restaurant was lovely. The only downside was their sun loungers were quite expensive.
There are lots of water sport activities to enjoy at Glyfada Beach. Surrounded by picturesque cliffs, you can do everything form parasailing to jet skiing within this perfectly framed beach!
Corfu Old Town
As we were based only a 10 minute drive from Corfu Old Town we visited quite a few times throughout our holiday. Whilst most of the restaurants in Corfu will always try to alter meals to a vegan alternative, most didn't have many vegan options to choose from. Therefore we visited the old town to go to the vegan restaurant!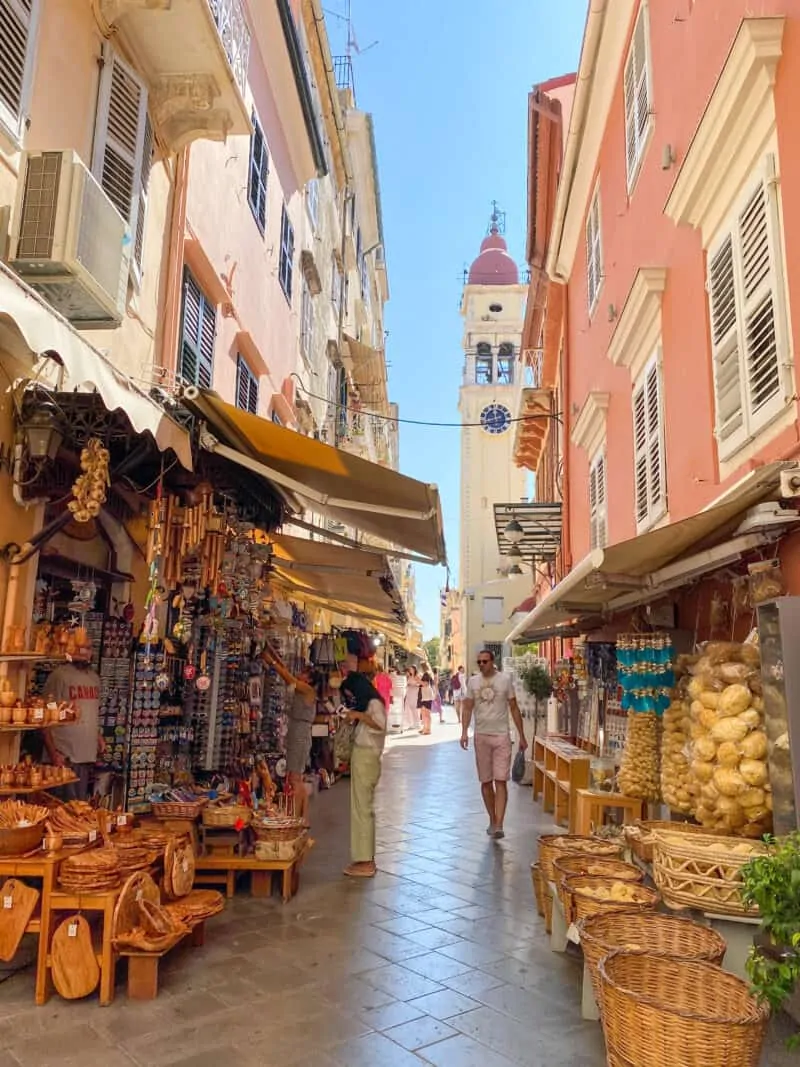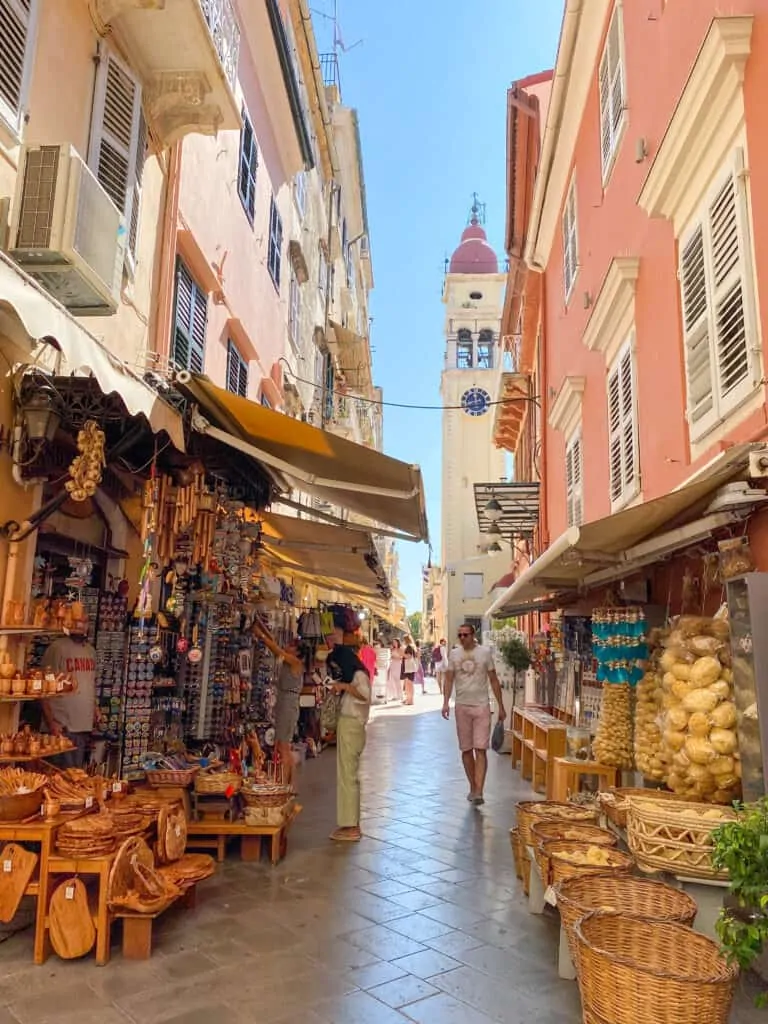 Simply wandering through the narrow cobbled streets and browsing at the many market shops will keep you busy for a couple of hours. There are also plenty of cafes serving Greek coffee.
Don't forget to check out the fortress across from old town.There are stunning views over the sea and we particularly loved St George's Church Temple with the backdrop of the Ionian Sea was everything!!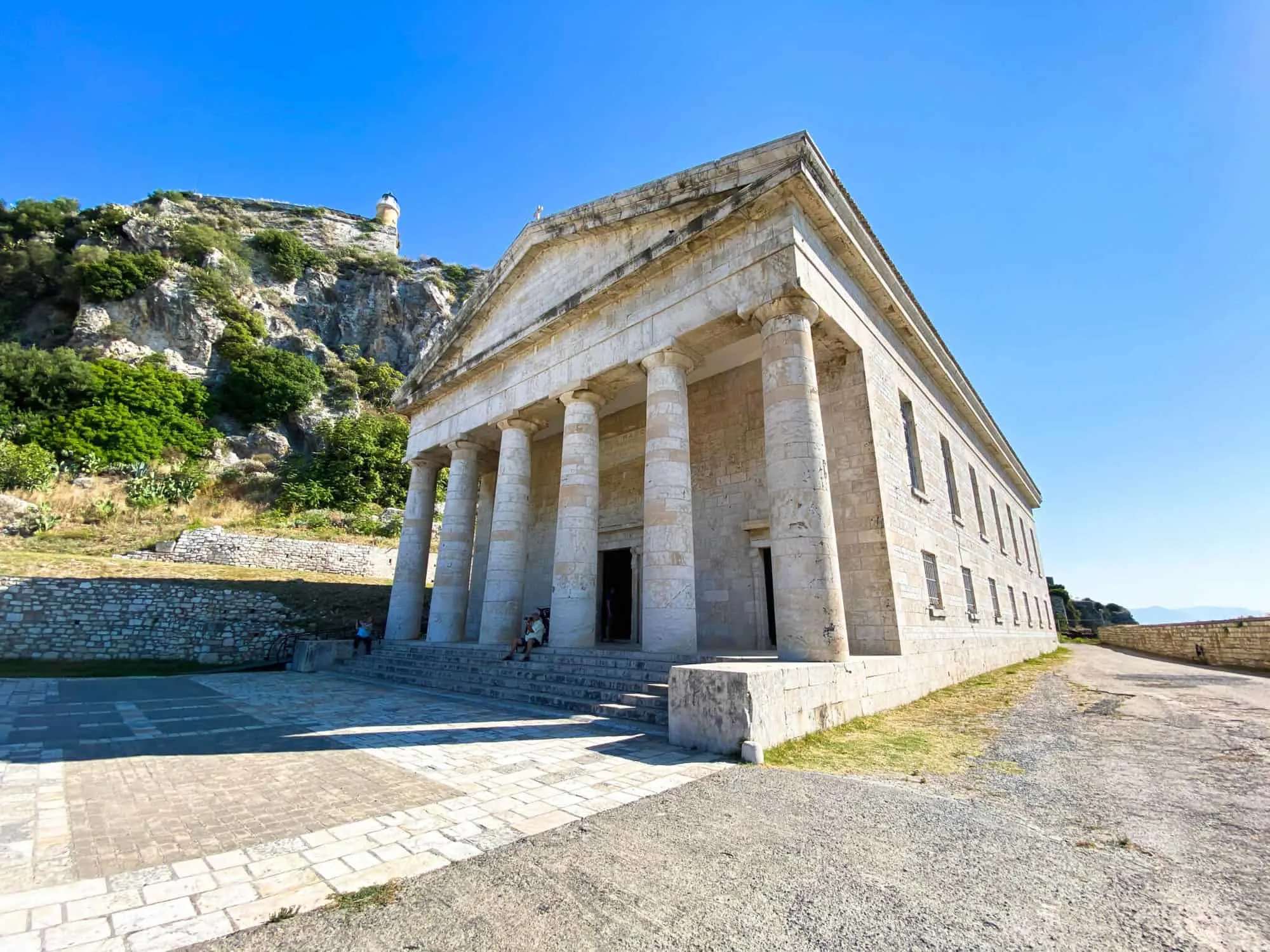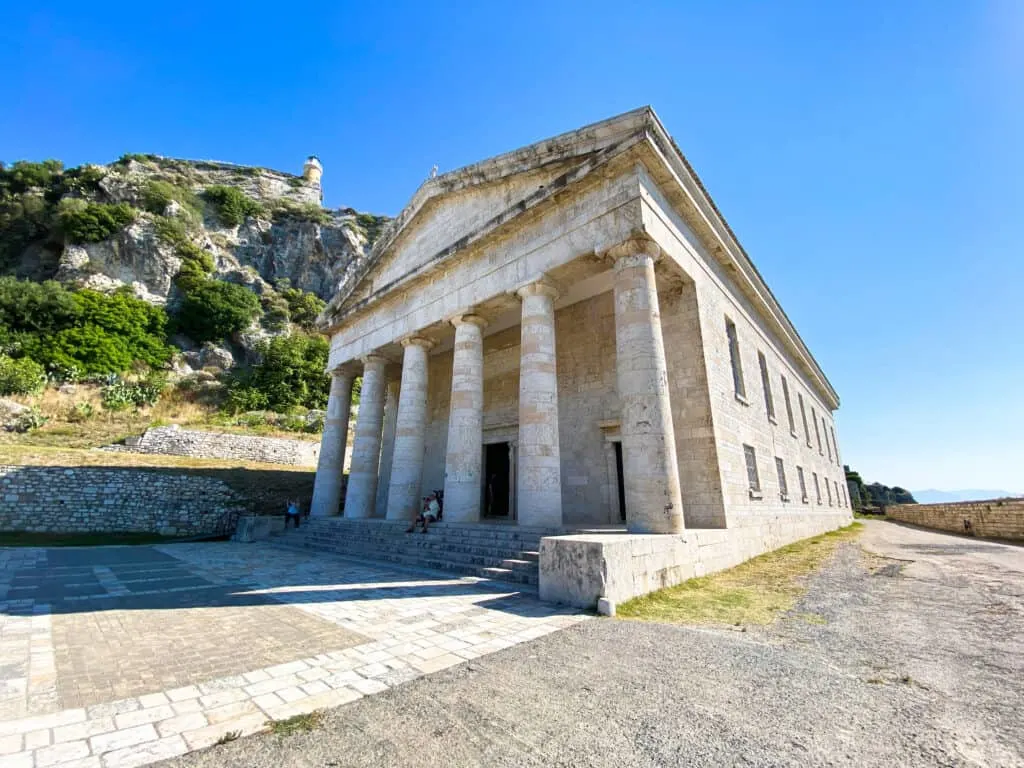 Restaurants in Corfu Old Town
There is one fully vegan cafe in town called Bizou Cafe. Nestled down a cobbled street full of character, this little piece of heaven is also an antique shop.
My kids loved visiting Bizou as they had lots of lovely food they are so use to eating at home, and of course vegan treats are harder to come by abroad so they stocked up good! I highly recommend this little cafe even if your not vegan as it is such an affordable place to eat too!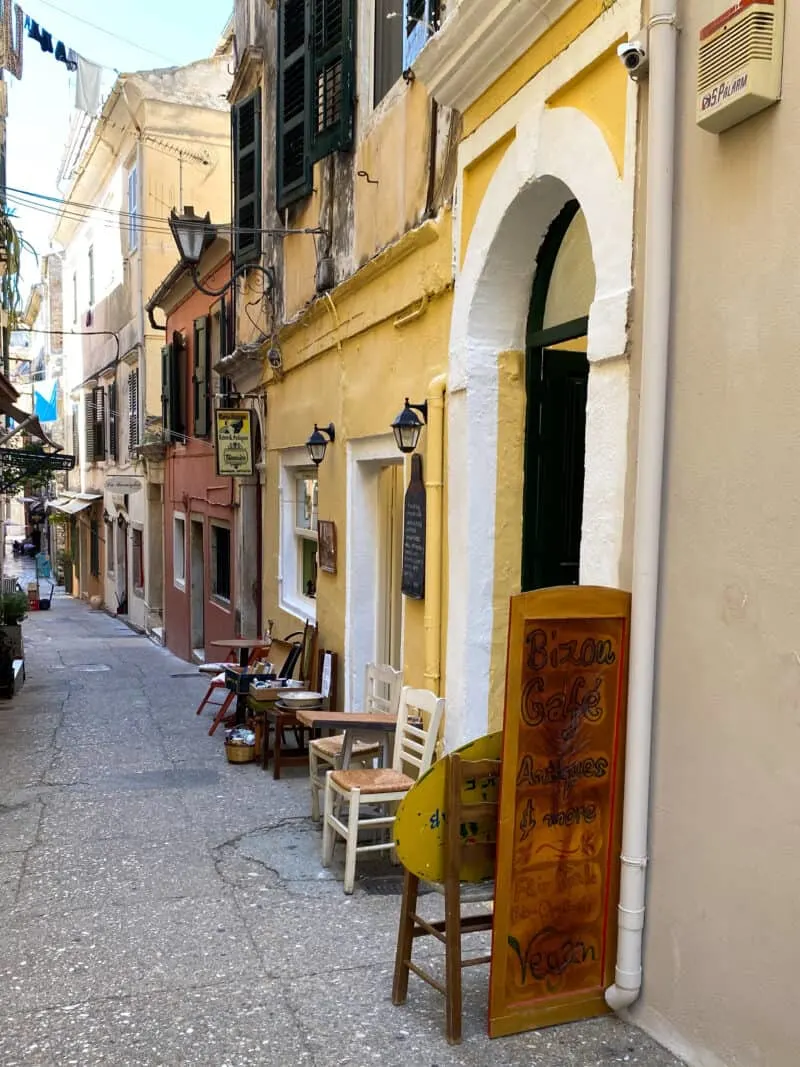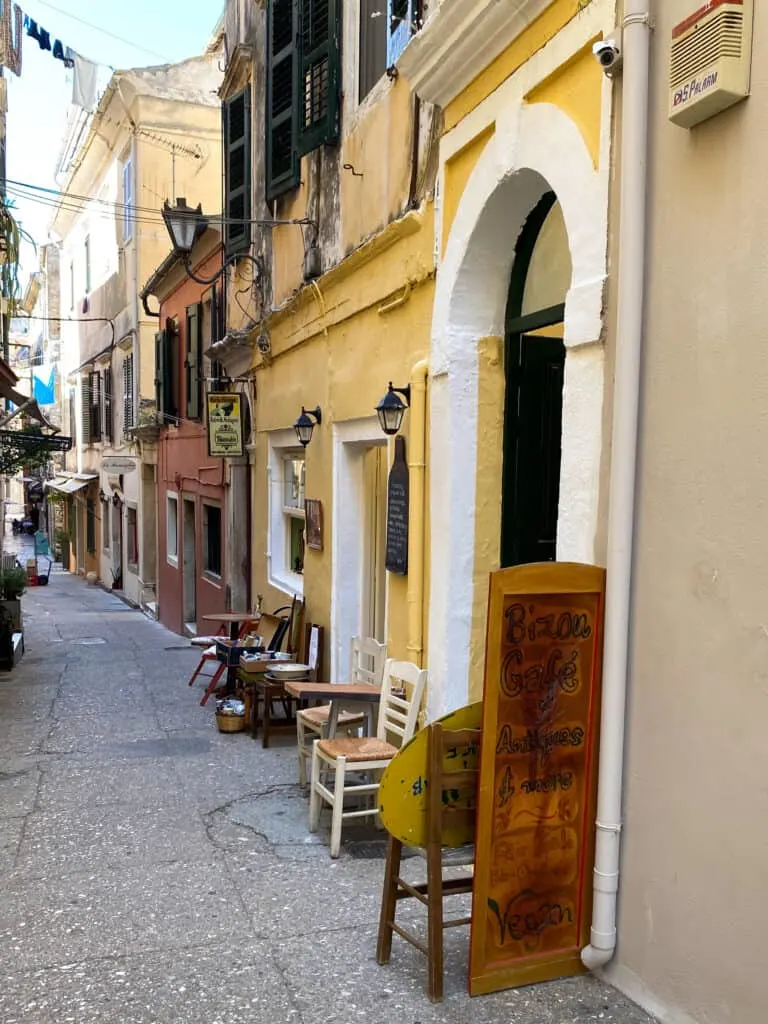 Our other favorite place to eat was the vegetarian restaurant called Aubergine. They have lots outdoor seating, it's not too far from the fortress, so it's the perfect place to sit and people watch.
There was lots of options in Aubergine for all of us, including many vegan dishes. Make sure to check these two restaurants out!
If you are looking for somewhere super fun to have ice-cream with the kids, check out the Hans and Gretel Sweet Shop in the main town. This shop is full of all things magical fairy tales.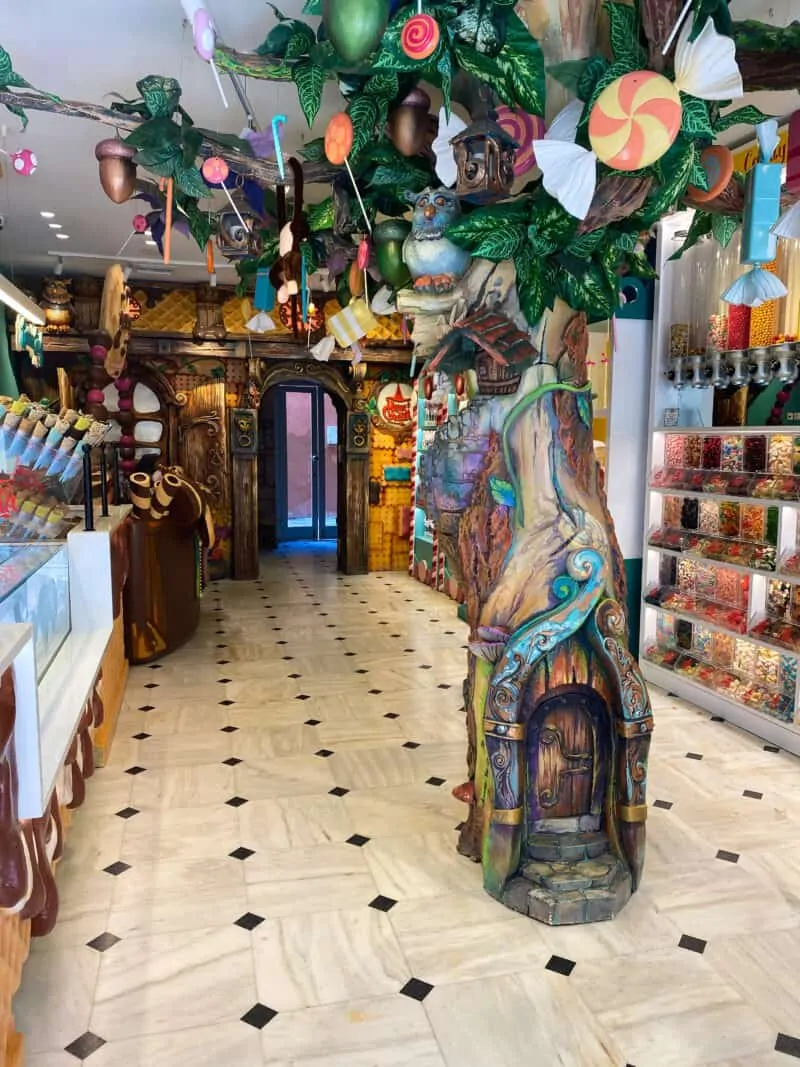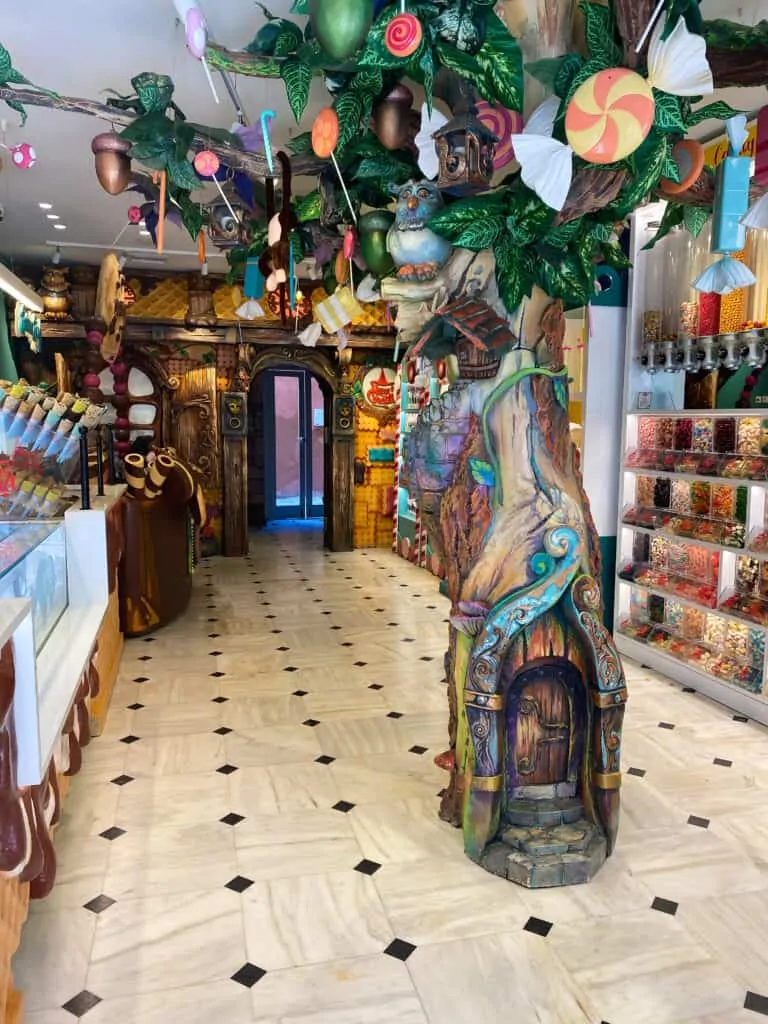 The interior has an amazing magic tree and many characters that make you feel like you are stepping into a movie scene. That's just the interior, the ice-creams (or sorbet if you are vegan) are every bit as magical! Stacked high with all sorts of decorations this little store shouldn't be missed with kids, they will love it!
Chartered Boat Trip
Villa 1870 Corfu arranged a chartered boat trip for us. Setting sail from the port close to Corfu Old Town, we sailed to the other side of the island where we discovered beautiful swimming caves, private beaches and gorgeous diving spots. This was by far one the best days we had in Corfu as the water is just incredibly clear and beautiful.
We anchored up a few times for a swim and some lunch, the boat was perfectly comfortable with a mini kitchen, bathroom and a couple of beds for the kiddies to chill out in the afternoon. After a fun filled day we sailed back to town at sunset, this was the perfect finish to the perfect trip.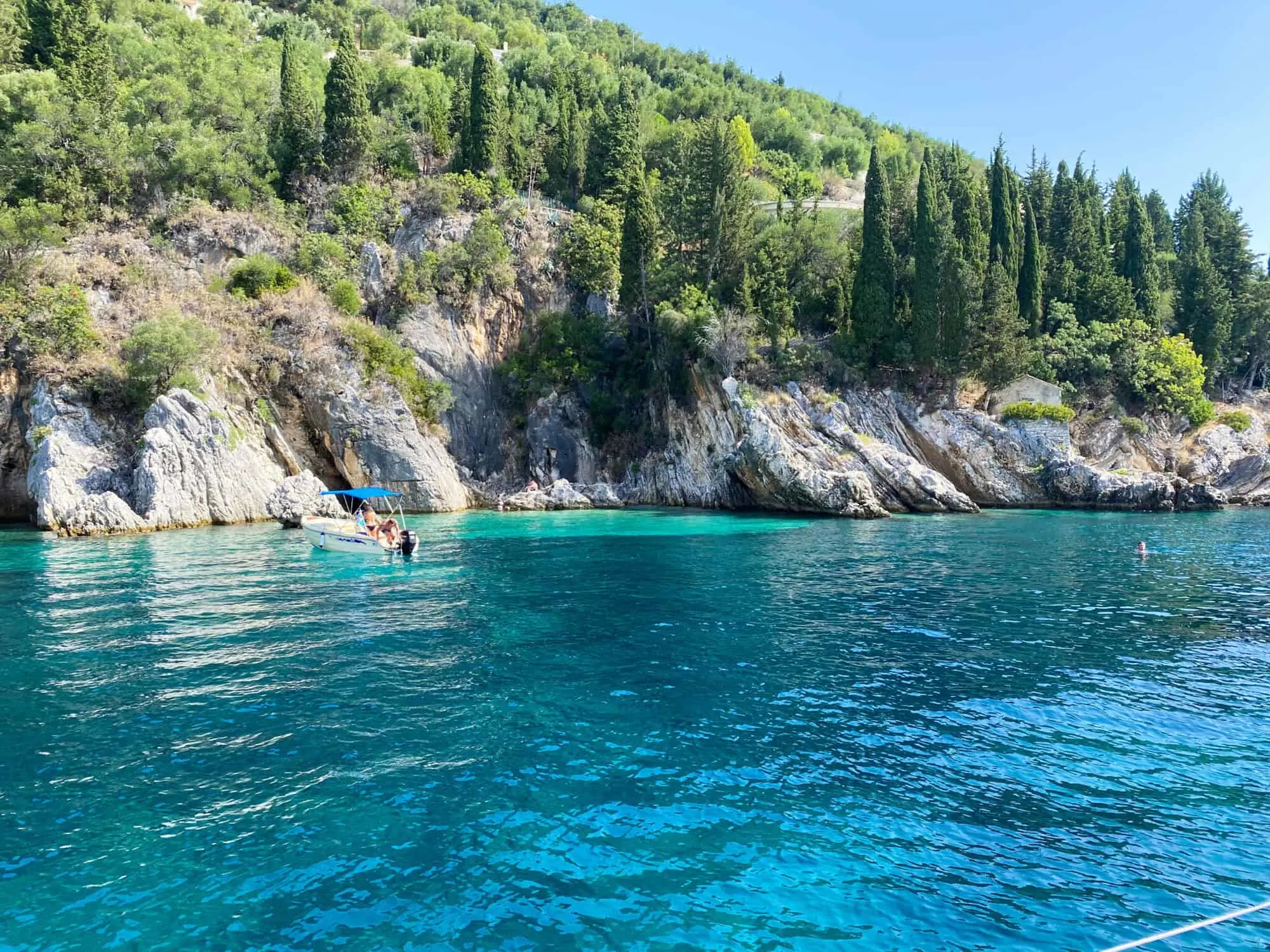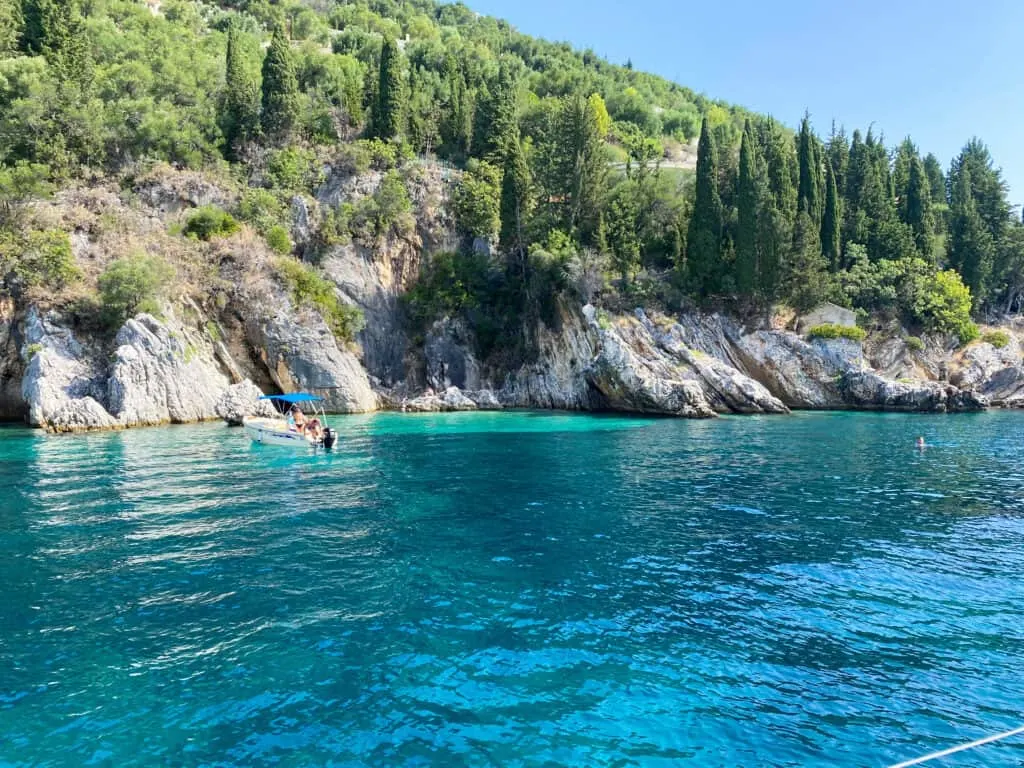 Aqualand Corfu
We made an impromptu visit to Aqualand Corfu on our last day. We felt it was one of the places the kids would just love on the last afternoon. The park was incredibly quiet so the kids got to use all of the slides to their hearts content. There are many different sections with slides for different ages. Our 3 year old loved the baby area with mini slides, a tiny pirate ship and sprinklers.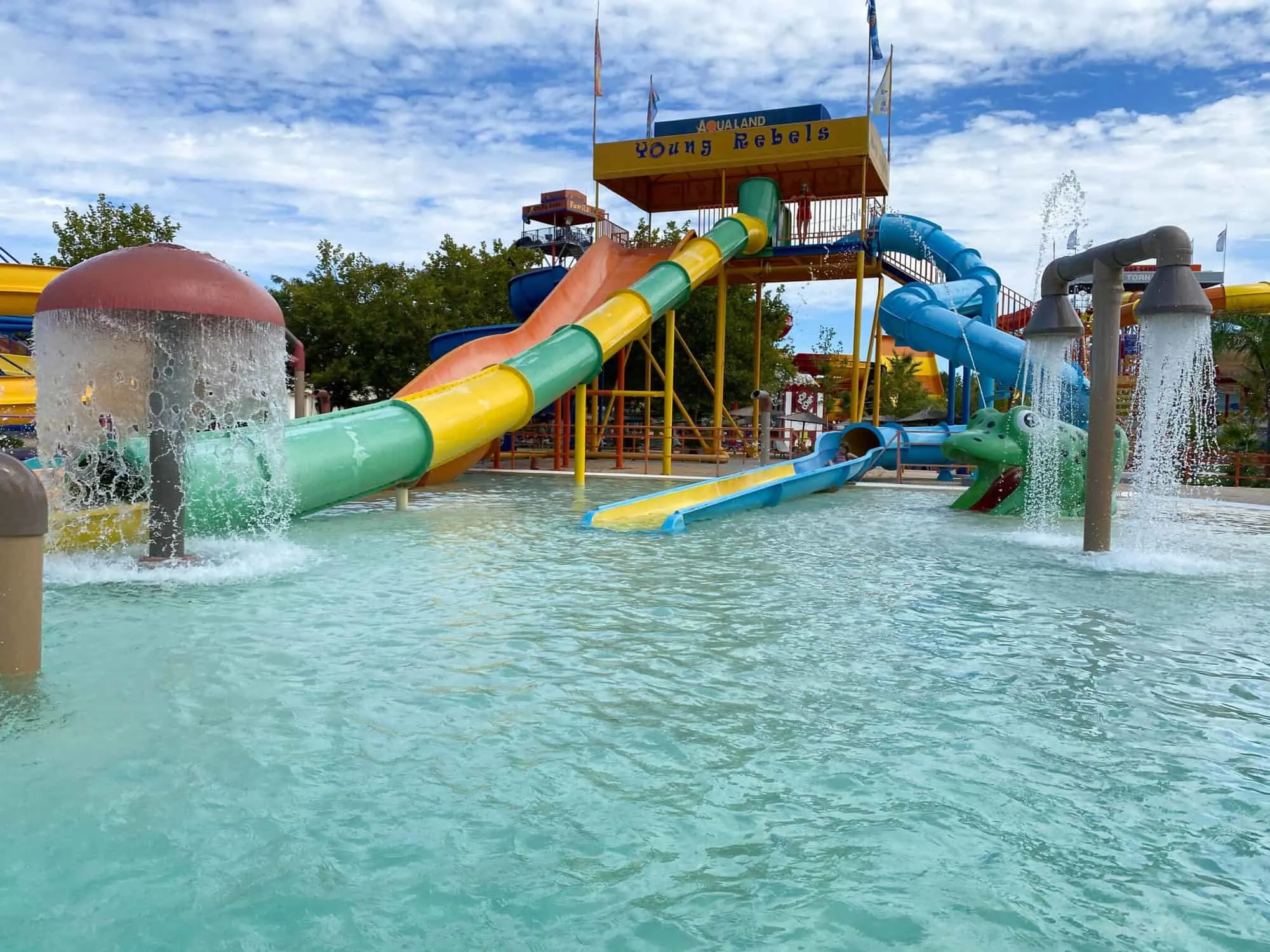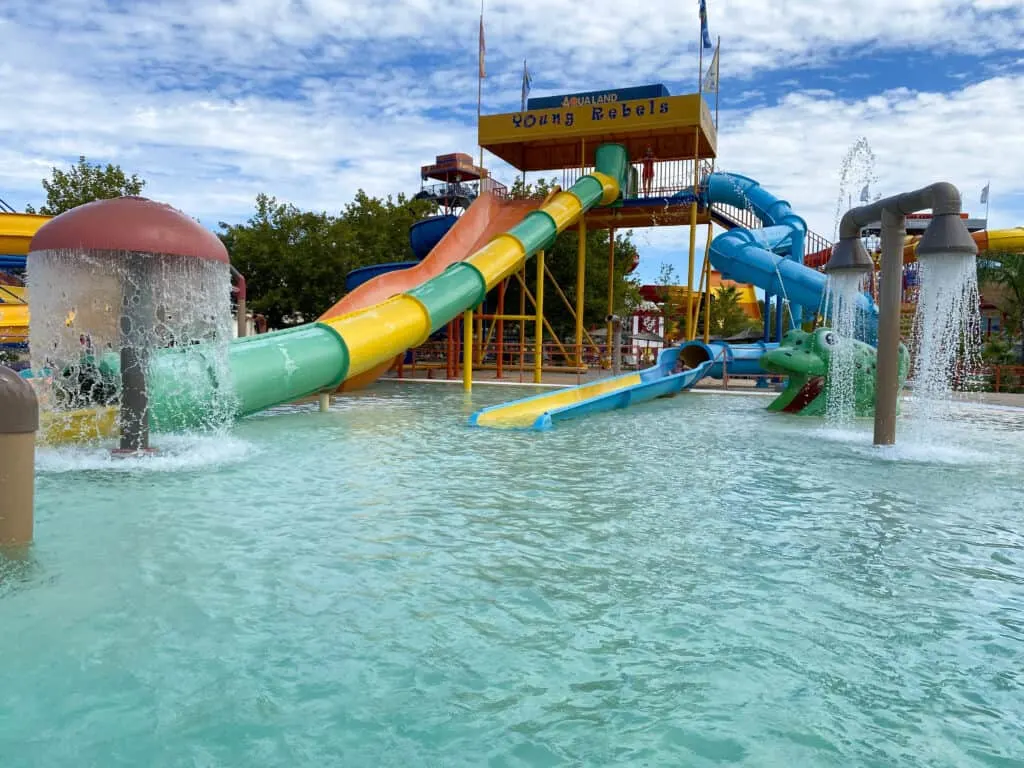 Our 6 year old loved some of the bigger slides and floating around the lazy river. Oh and of course hubby and I loved some of the massive slides. There are a couple of drinks and snack huts that kept us ticking over until dinner time. Aqua land is an ideal activity for an afternoon with kids in Corfu. Check out Aqualand here.
Best Ice-Cream Spot In Corfu With Kids
Just above Paleokastrista perched on the top of a mountain is the village of Lakonos. Featuring narrow streets and some epic views it has one of the best little spots for an ice-cream / drink in all of Corfu. Dolce Cafe has super modern interior and a floor to ceiling glass walls to allow for the ultimate view.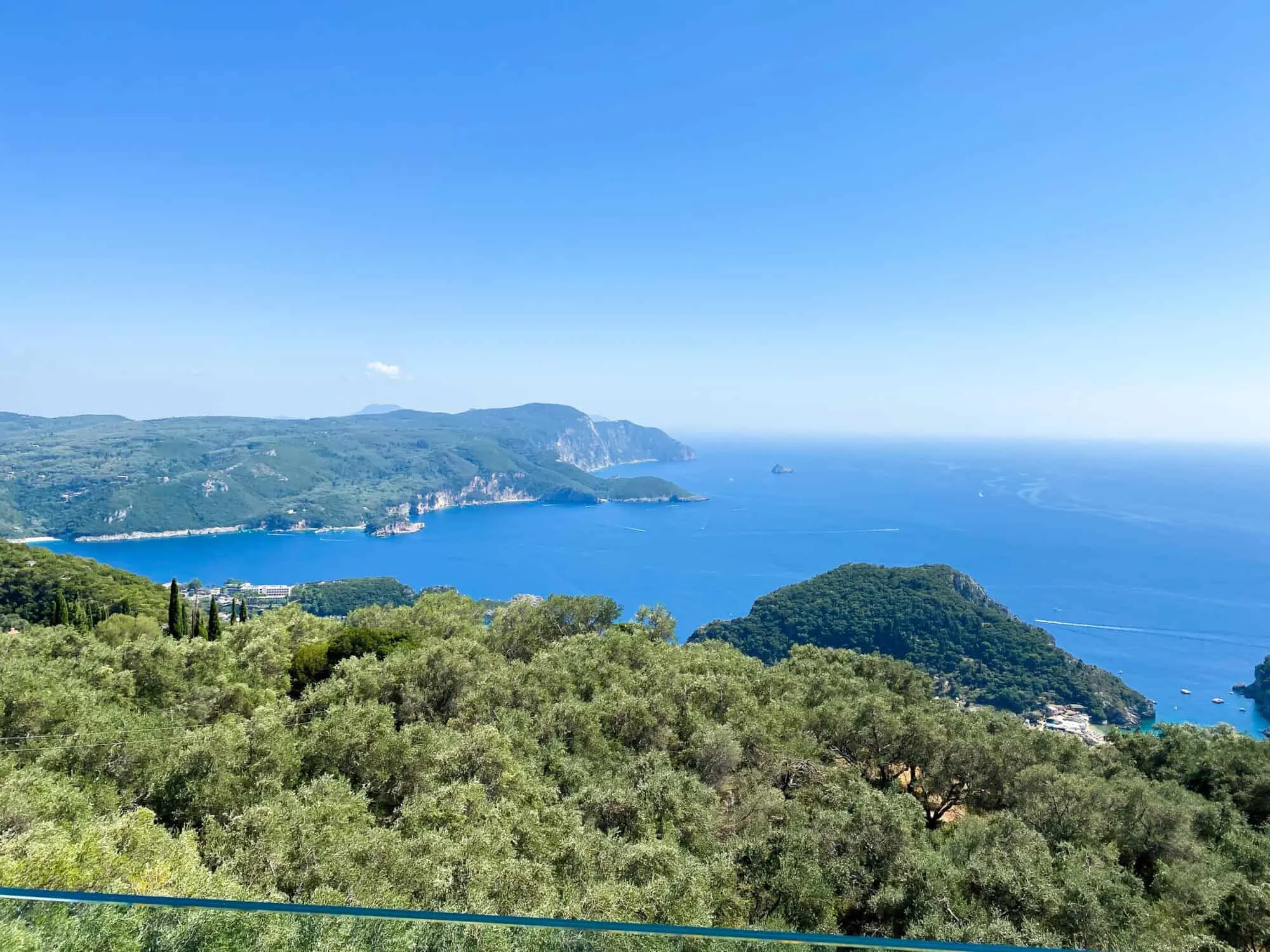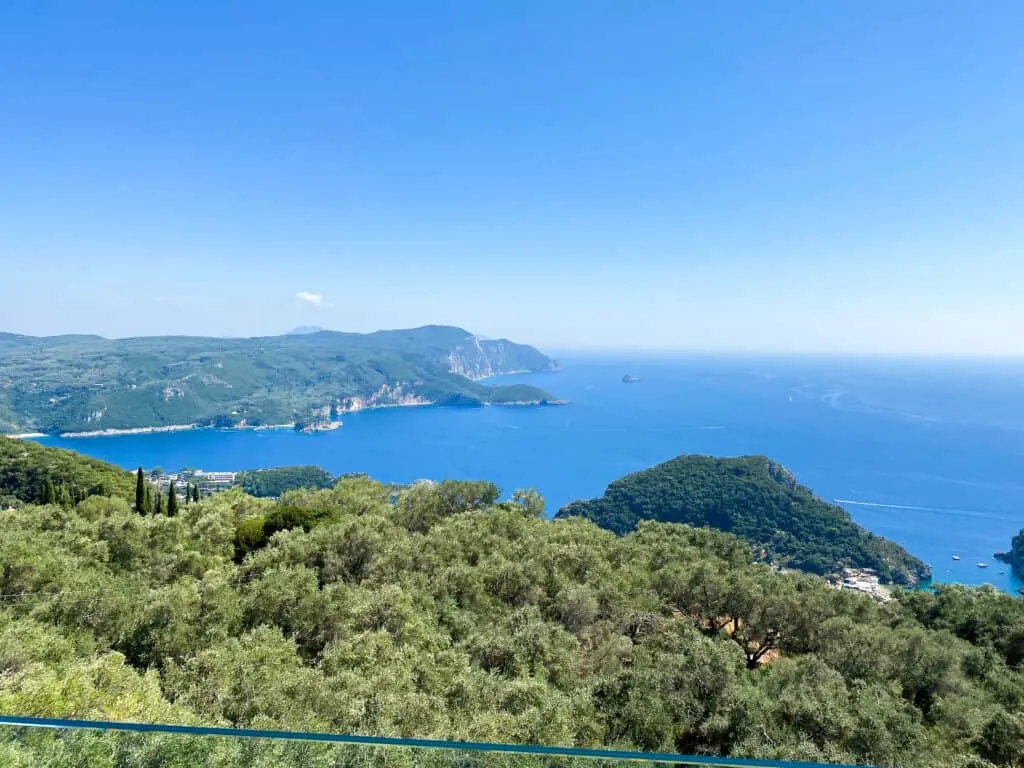 I couldn't get over the view to be honest, it was just stunning! It's very high up so you can see the cliff edge for miles and beaches look like little dots below. The deep blue sea against the lush green land made some amazing photographs. The kids really loved the sorbet too so they were actually content whilst we soaked up the atmosphere.
Plane Spotting In Corfu With Kids
If you head to Kanoni not too far from the airport there are a couple of awesome terraces where you can get a drink or sorbet and have an incredible birds eye view of the runway. If you are a plane lover, this will blow you away. It's just a short runway surrounded by crystal clear blue water on either side. It reminds me of a jetty!
Aside from the plane spotting you can also get a lovely aerial perspective of the picturesque Mouse Island, home to the 12th century monastery, Lady of Vlaherna. This has to be one of the most photographed and postcard worthy spots in all Corfu so this is definitely a sun downer or afternoon drink with a difference not to be missed.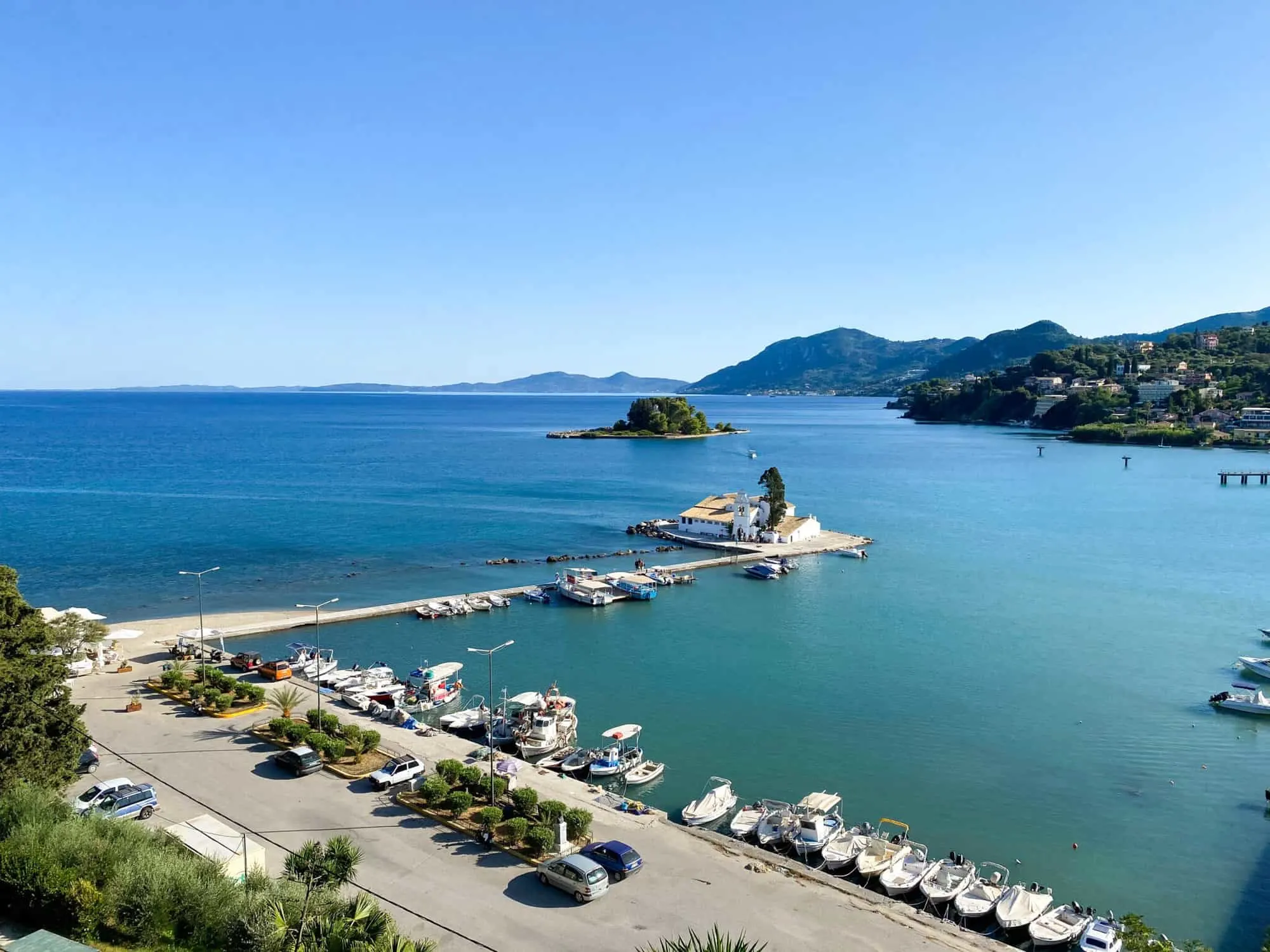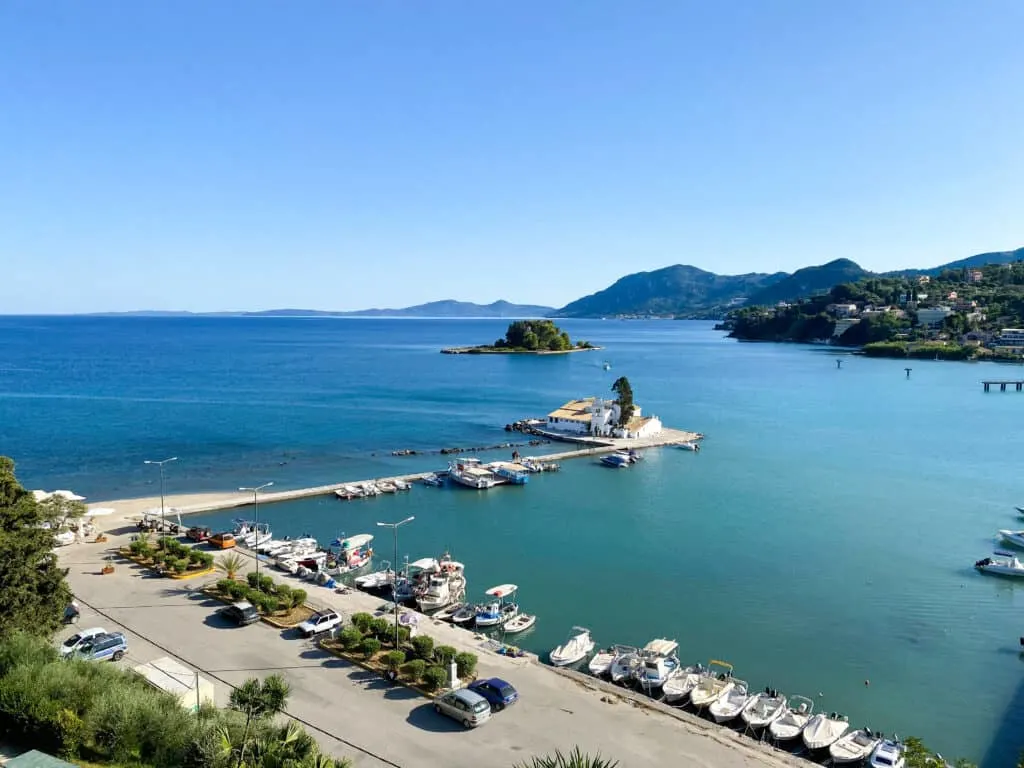 So that was our 8 days in Corfu with kids! As you can see we got to see lots of beautiful places throughout our holiday. Corfu has to be one of my most favorite places in Europe to visit for a summer beach holiday with a young family.
You may also like:
The best all inclusive hotels around the world
Disclaimer: This post may contain affiliate links. By using them it will not cost you any extra, we will receive a small percentage of the sale. Villa 1870 Corfu hosted our stay, as always all views expressed are entirely our own. Thank you in advance for your support as these little sales of products and experiences are what we can truly recommend.