We didn't realise we were driving the epic Pacific Coast Highway 101 road trip, from Seattle to Los Angeles. After a while of being on the trip, we realised we were going to be driving Highway 101 the entire way.
We'd originally planned to take a trip along the entire West Coast of America, not realising until we saw the same sign every day – Highway 101 Southbound!
Pacific Highway 101 winds around incredible national parks, through giant redwoods, next to scenic coastline, past towns and villages, not to mention across three states on the West coast of America.
It was definitely the ultimate USA Road trip with kids. We did it over a period of nearly a month in an SUV from Rental Cars and switched to a camper van half way through.
We picked up a car from Seattle and dropped it off in San Francisco before doing the last leg in a camper.
It cost us around 45 USD to fill the tank and it generally lasted around three days.
We could pay tolls ourselves online or we got billed at the end by the rental company.
I personally didn't want to drive, I am not as confident as my husband with driving on the other side of the road.
However, hubby took to it like a duck to water. He has been driving a lot longer than me! Here is our summary of what we got up to on the ultimate Pacific Coast Highway 101 road trip itinerary.
Looking for more road trip inspiration? Check out Our Favorite Road Trips Around the World!
101 Highway Road Trip
As you will see in later sections of the post, the things to check out vary by state.
From coast to coast, this post highlights the must-see attractions, landmarks, and experiences in each state.
The drive along Highway 101 is an adventure in and of itself, so here are a few top things to do and must-sees along the route that will make the trip of a lifetime even more memorable.
Table Of Contents
Highway 101 Washington to California
Seattle
We arrived in Seattle on the Amtrak train from Canada and collected our car straight away and began to look at the Highway 101 Washington map. Our end goal was LA, however many people continue from LA to Las Vegas.
It was a little bit of a mission on the train with all of our stuff so we were happy to be loading up into a boot again.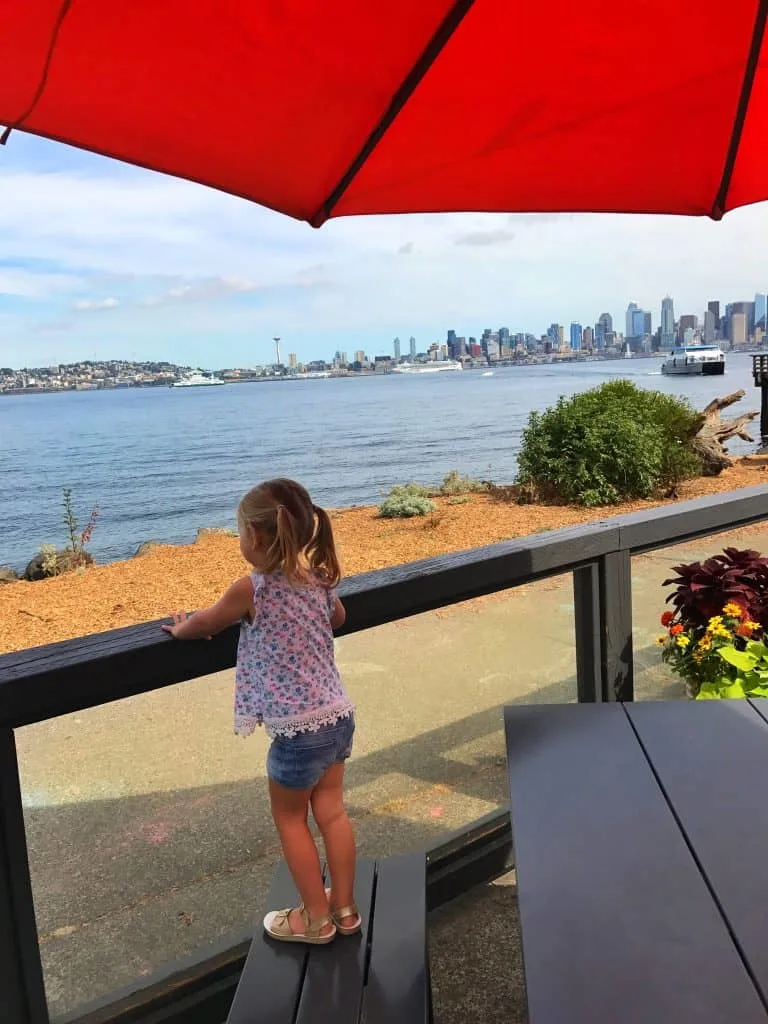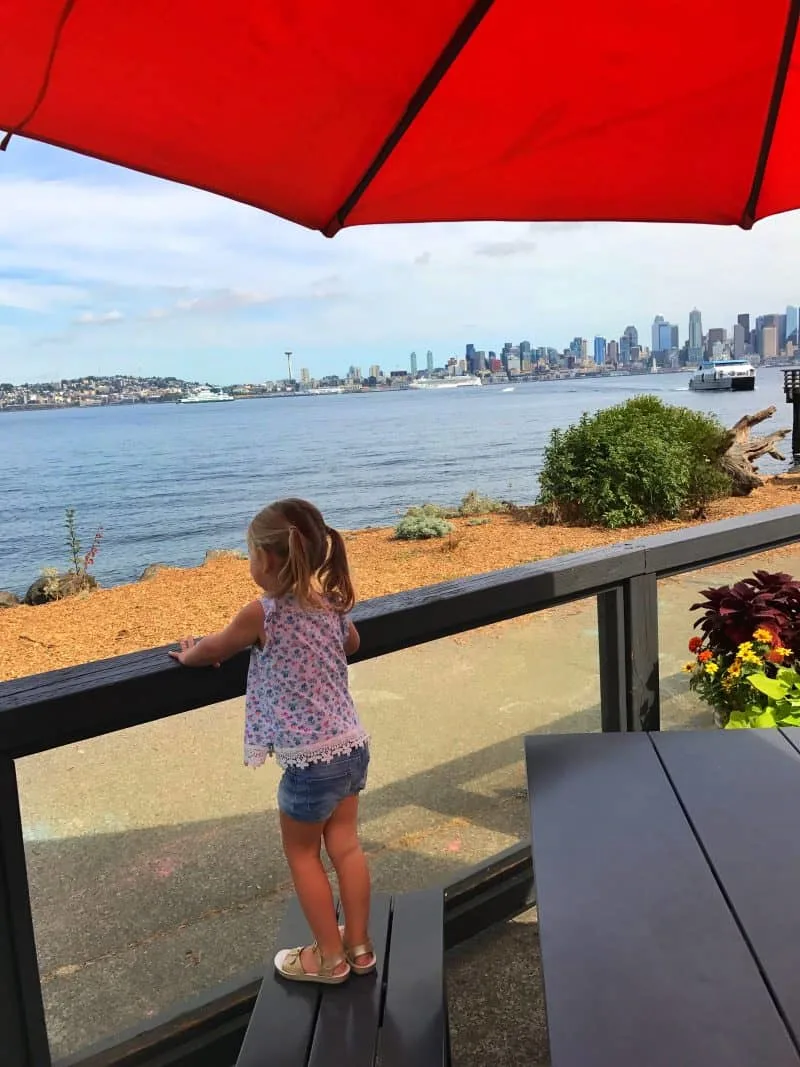 Whilst on Highway 101 North, in Seattle, we stayed on the outskirts of the city and visited some cool places such as the Museum of Flight and an awesome view point of the Seattle skyline from the western shore.
We also visited downtown, Pike Market and the waterfront, both are 'must see' places in Seattle. We didn't have time, but there are also some great day trips from Seattle. Read a more in depth guide to the best things to do in Seattle with kids here.
Union & Olympic National Park
Next stop on our trip and our first proper encounter with Highway 101 was on route to Union. A beautiful little town based on the banks of a fjord just twenty minutes from Olympic National Park.
We visited the area predominantly to see the park and hike some trails but we ended up loving Union so much that it was hard to leave.
The fjord was full of life and had some incredible sunsets. We stayed at the cutest little cottage that had a private pontoon on the water.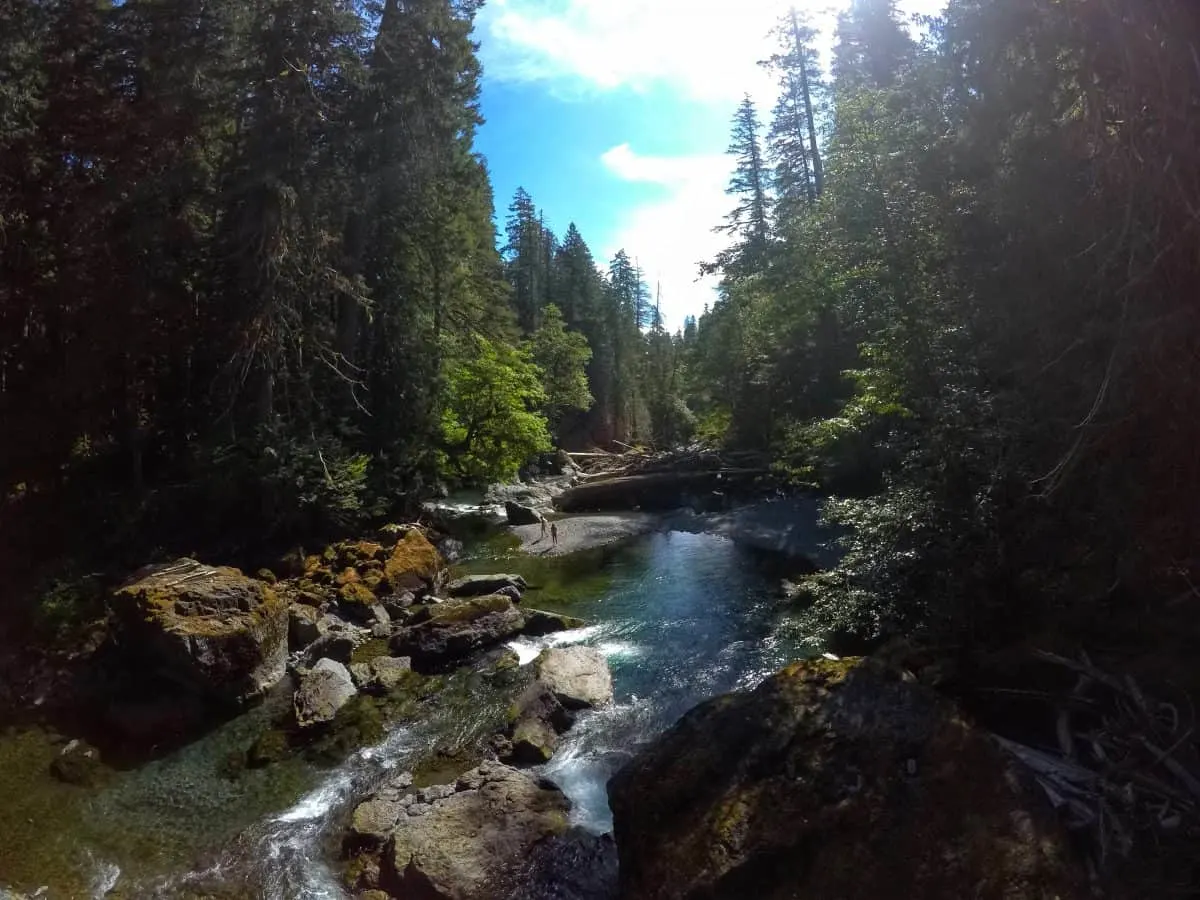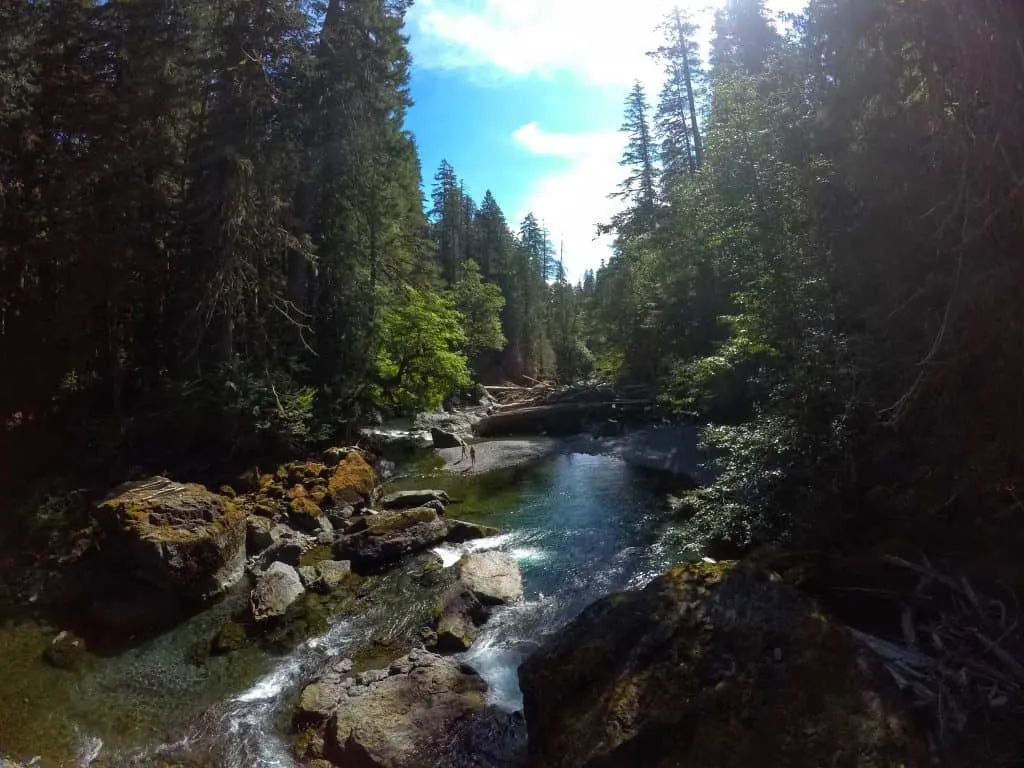 The drive to Olympic National Park from Union is breathtaking and I would say don't leave it off your Highway 101 road trip planner.
A beautiful lake with soaring pine trees and rolling mountains made for some great shots.
We loved the staircase hiking trail on our Olympic National Park itinerary. . It was nice and easy with the kids and featured a suspension bridge and the perfect river to swim in. We also saw lots of fresh bear poop, although we didn't see one. There are so many things to see on a Highway 101 Road trip.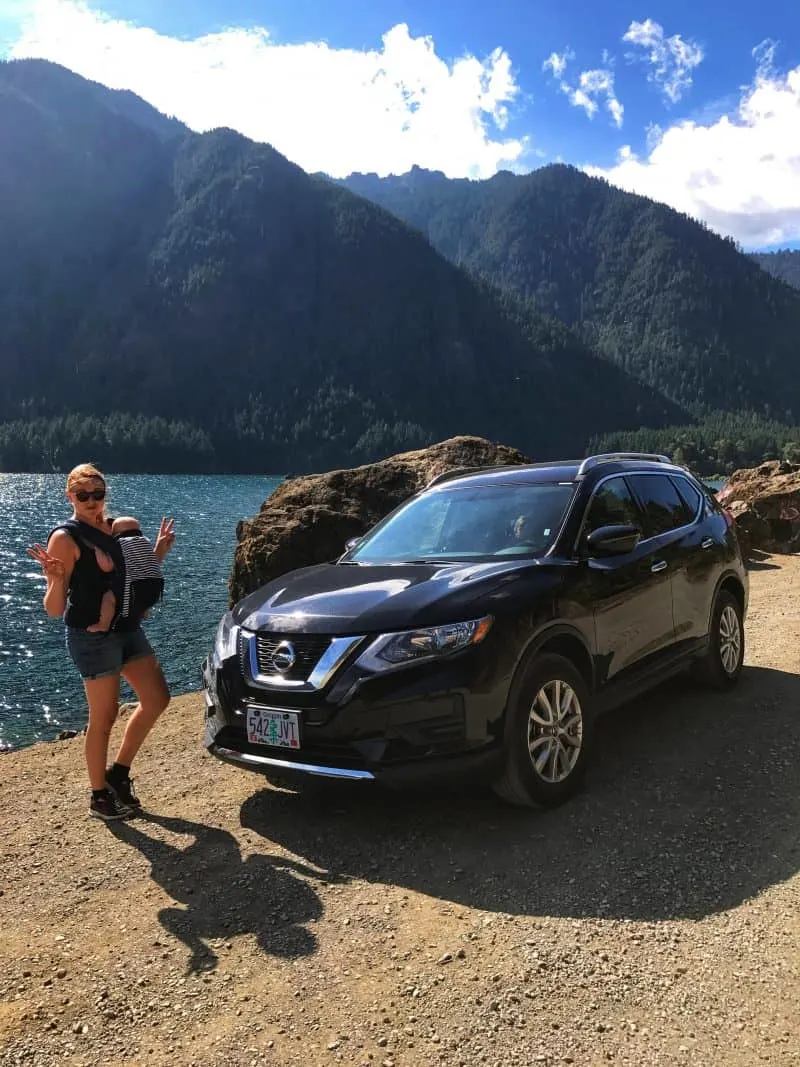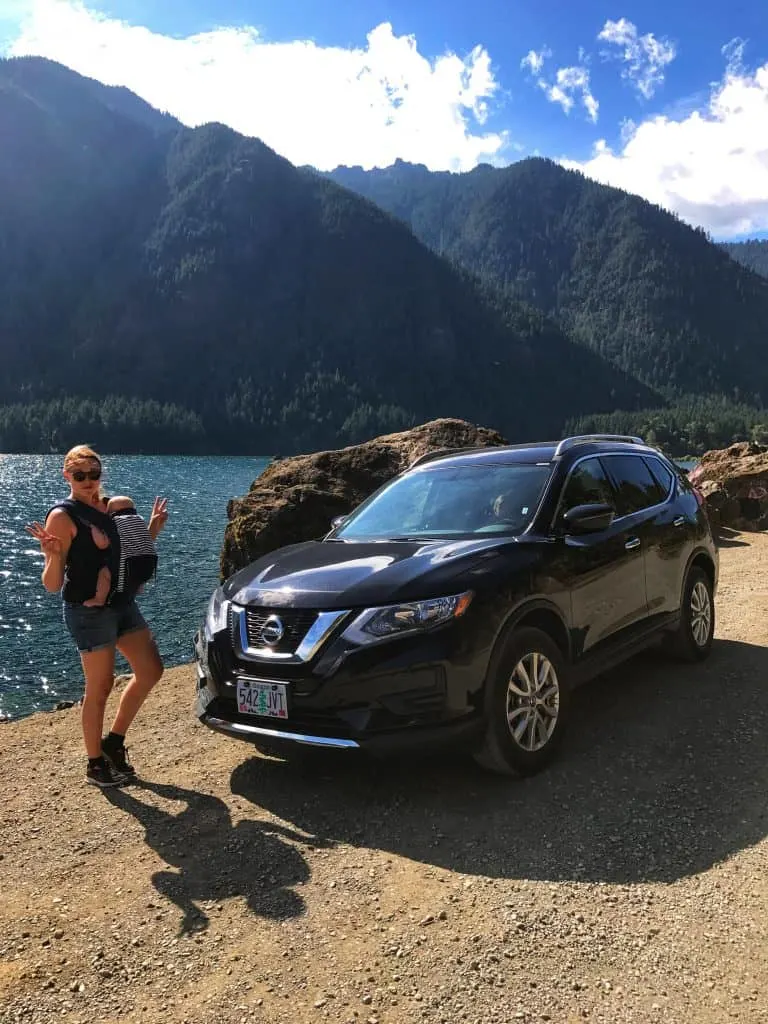 Portland
There are plenty of towns on the west coast. After our short time on Highway 101 Washington State, our first stop in Oregon was Portland. This cool city with eco vibes, lots of parklands and many cycling routes took us by surprise. It houses, hands down, the best museum we have ever been to with little ones.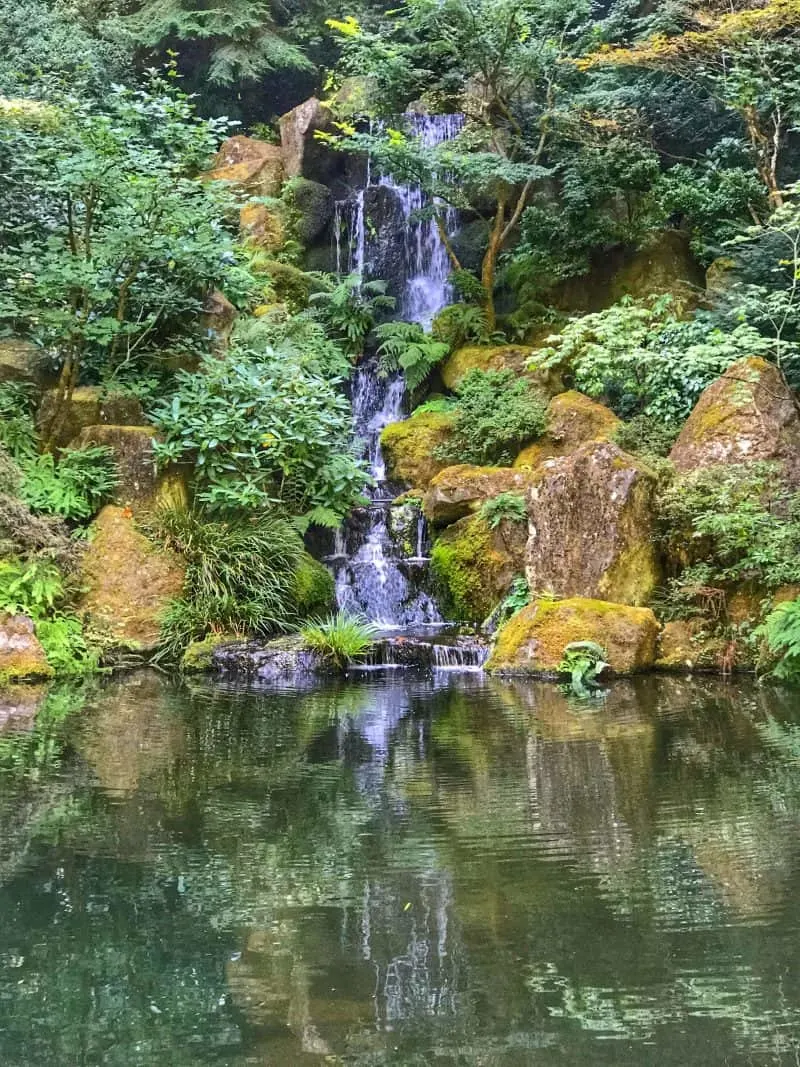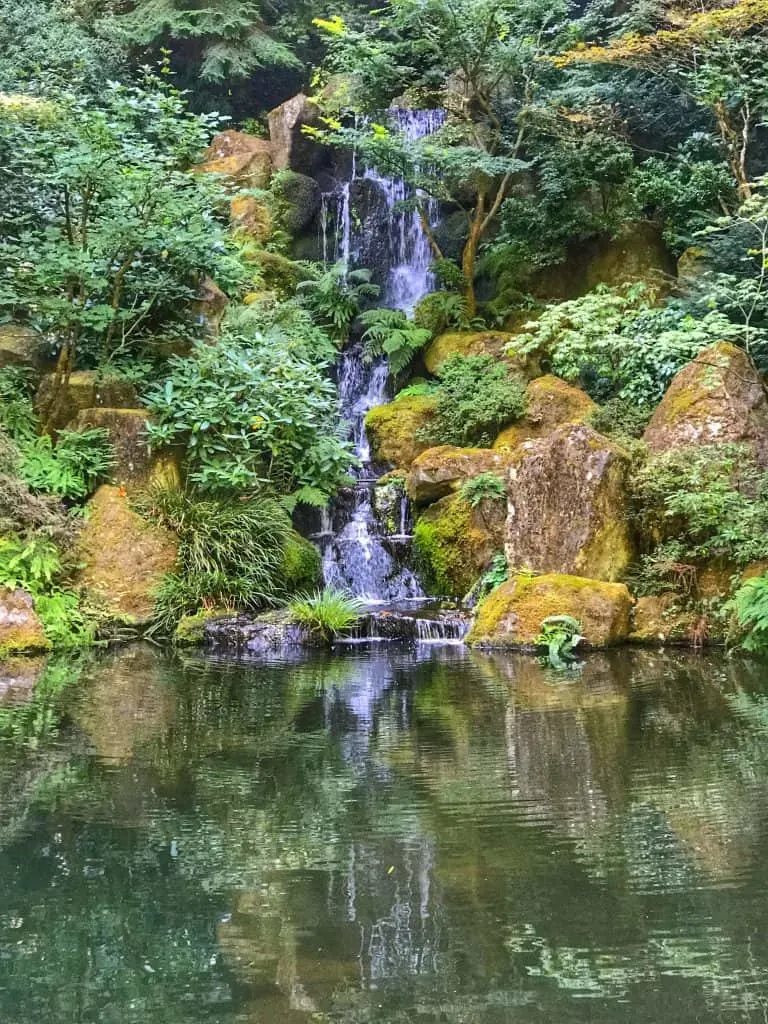 Our daughter loved Portland's Children's Museum, it's definitely worth a visit. It teaches kids about every day roles in society in such a clever and playful way. Other highlights include renting a Surrey to ride around the waterfront, taking an aerial tram and visiting nearby waterfalls.
You can find amazing places to stay in Portland, or read more about all the great things to do with kids in Portland here.
Lincoln Bay
Lincoln Bay was our second stop on the incredible Oregon coast US Highway 101. This was one of my favourite parts of West Coast Highway 101 because the road runs so close to the ocean.
The Oregon Coast is perfect for photography as the drive is so scenic along the way. We stayed in a really reasonable beachfront room. It was basic but so worth it for the views.
Just a little further along the coast is Depoe Bay. It's famous for a pod of grey whales that have made the area their home. It was so awesome to have the chance to see them.
The whale watching centre has binoculars or it's a good place to take a boat tour.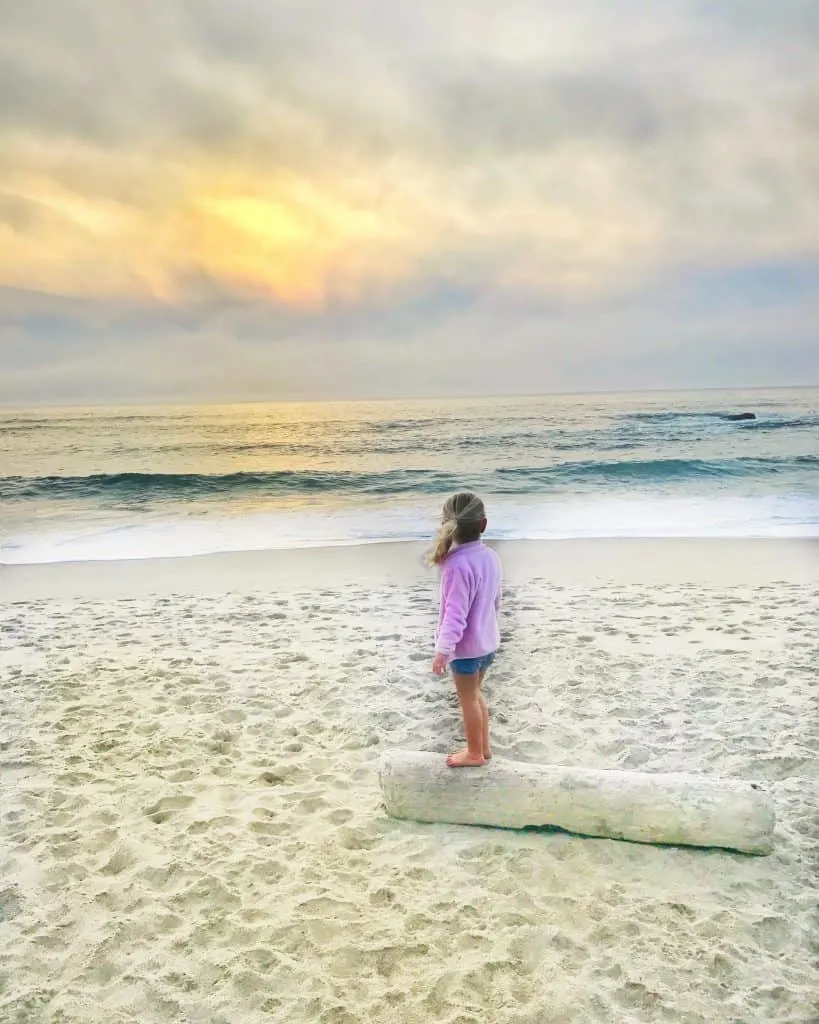 On our way to Bandon, we also stopped off in Florence to see the Sea Lion Caves. Although we didn't get an up close look at the sea lions, the cave was quite impressive. It's the largest sea cave in the world and there is an elevator that takes tourists into it.
Bandon
The next stop on the Oregon coast was the beautiful Bandon, most certainly the Highway 101 scenic drive. It is named after a coastal town in the south of Ireland.
Being Irish, I could see the resemblance between the two! Bandon Town was also very cute with a number of restaurants, cafes and bars. It had an Irish feel to it, it really felt like home, which was nice.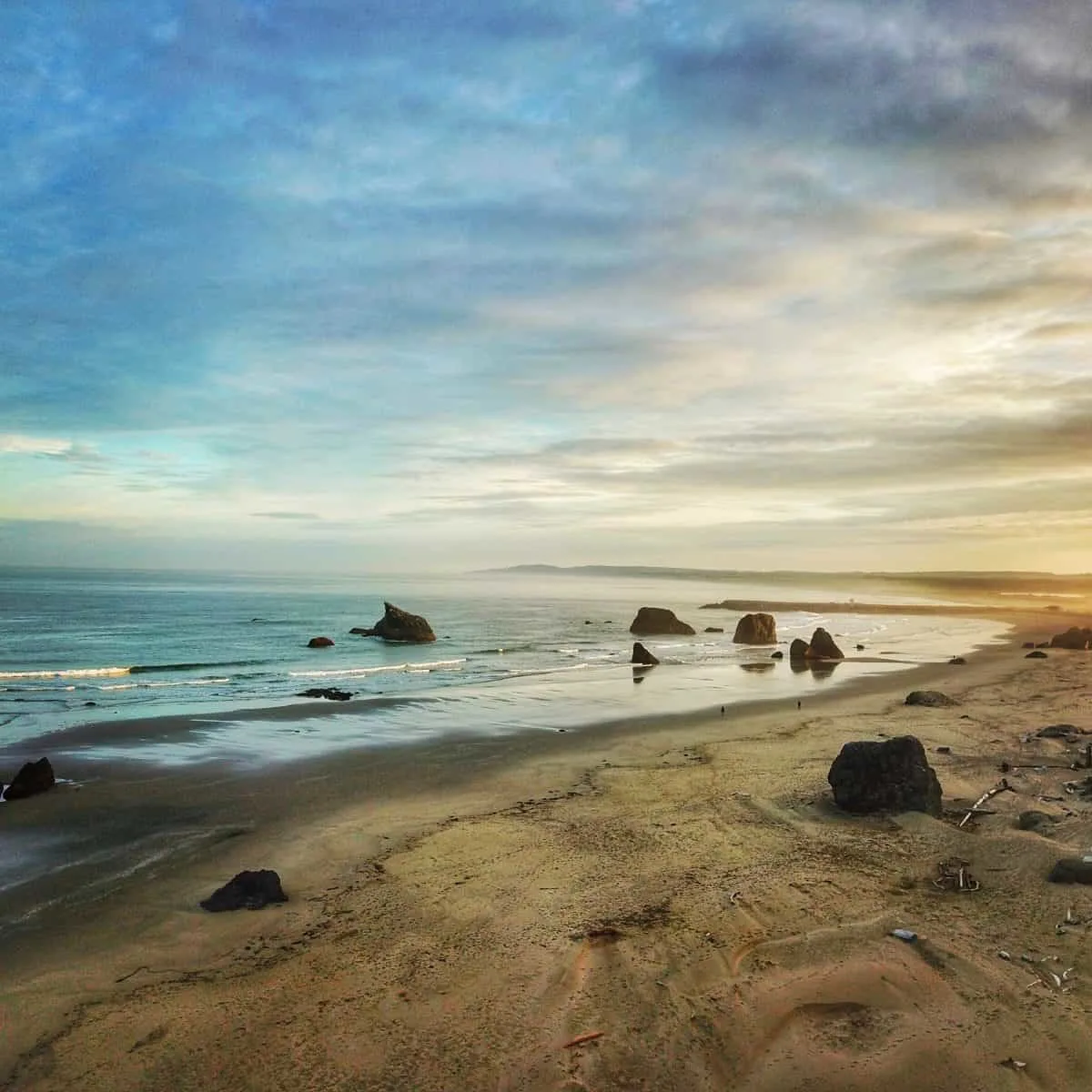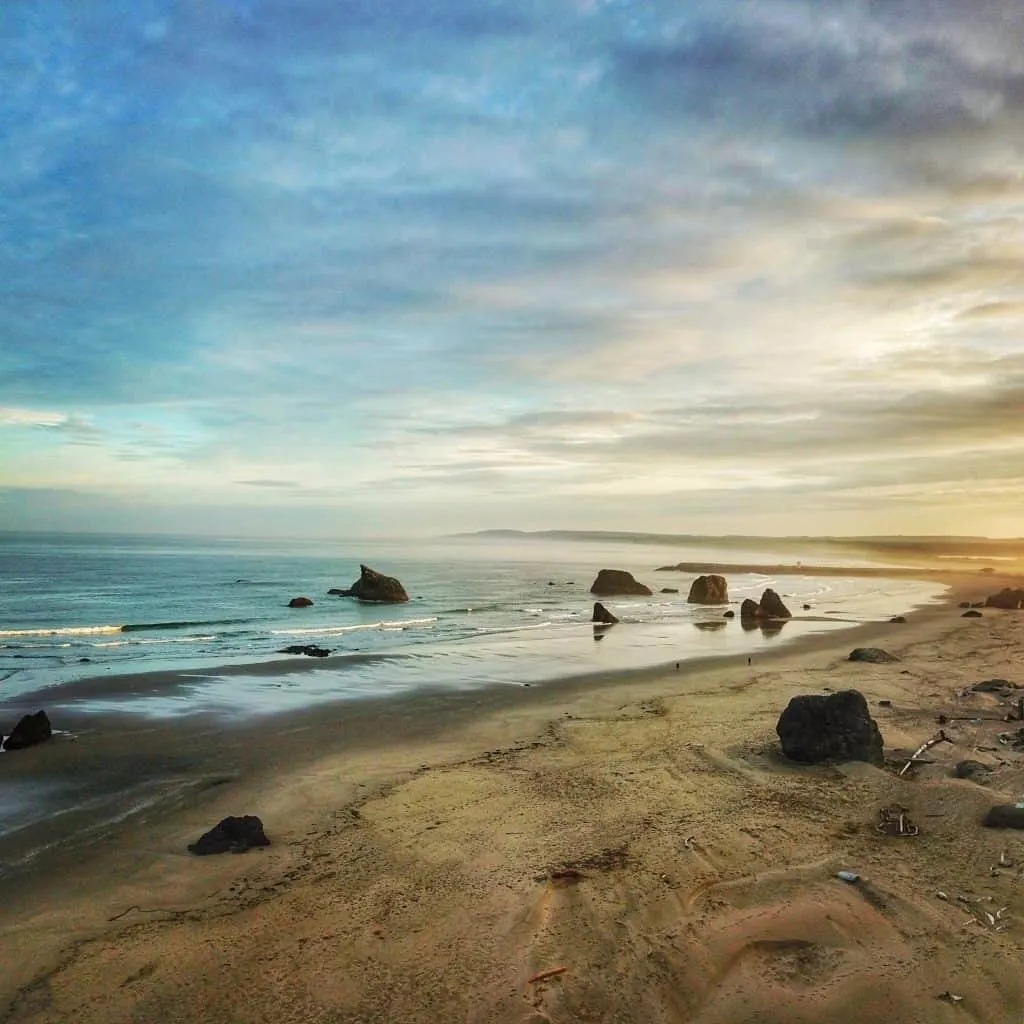 The coast has dramatic rock formations just off the beach. It made the horizon unique from other scenic views along Highway 101. We had a walk along the beach at sunset, it was incredible.
101 Highway Road Trip
Halfway through the California portion of the road trip, we switched to a Jucy Camper van rental. California can be an expensive destination and renting a camper van in California provided us a lot of freedom and helped us keep to our budget.
Redwood National Park
It wasn't long before we got to experience the highway 101 attractions, California State where we spent most of our time. Our first stop was in the Redwoods National Park. It's one of the best places to visit along the Highway 101 road trip.
We were booked to stay in Elk Meadow Cabins, Redwoods State. I hadn't thought much of the name until we turned up to find dozens of elks hanging around our cabin.
It was so special and meant we spent the day admiring them rather than getting out and exploring. There really is so much to do off Highway 101 Northern California!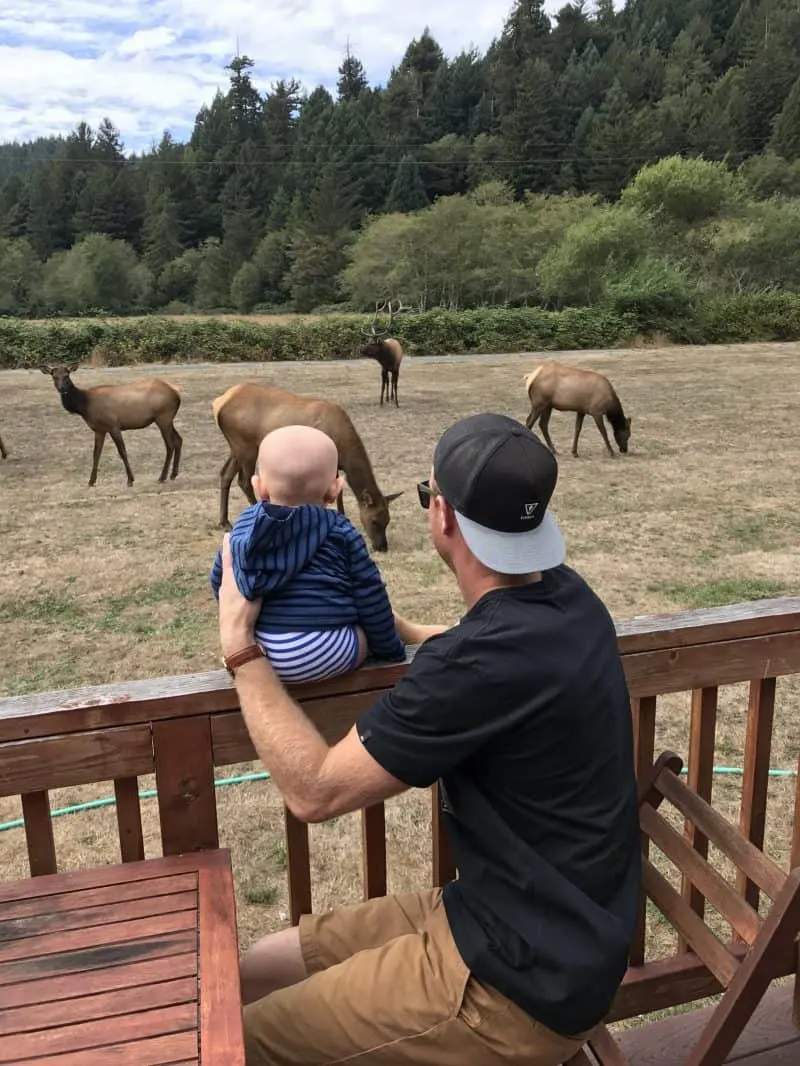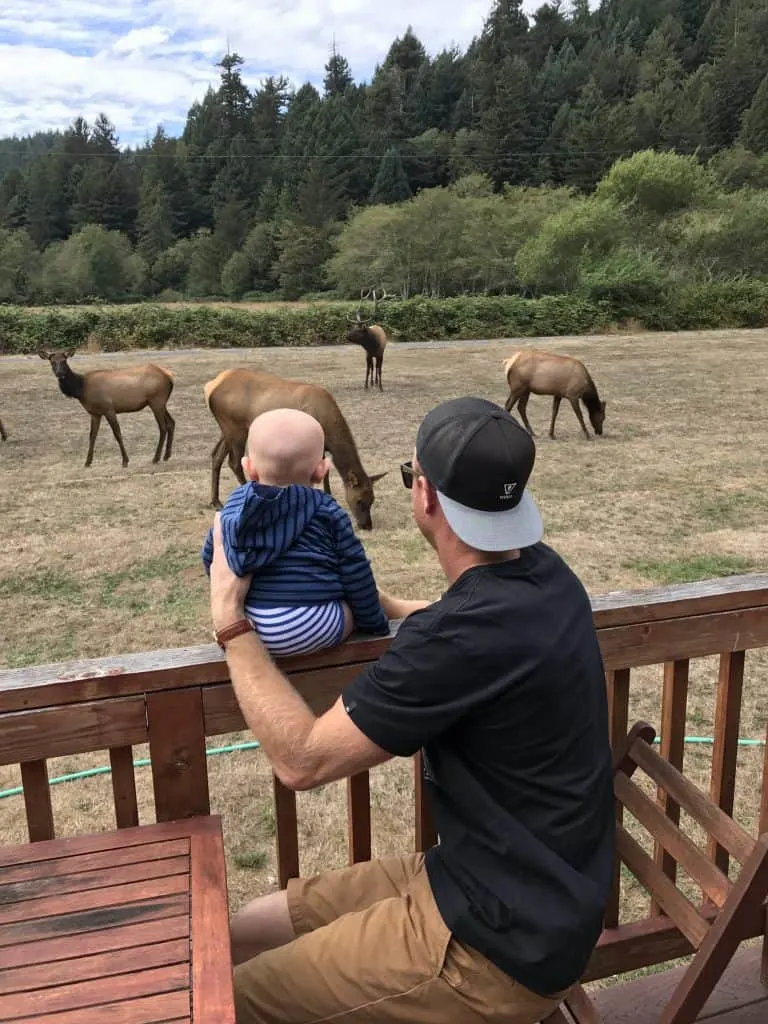 We had the cutest little two bedroom cabin, fully equipped with a kitchen and two bathrooms. We also had a patio with a BBQ where we made dinner whilst watching the herd.
It was a great location to see the Redwood National Park and there are plenty of easy trails nearby for families.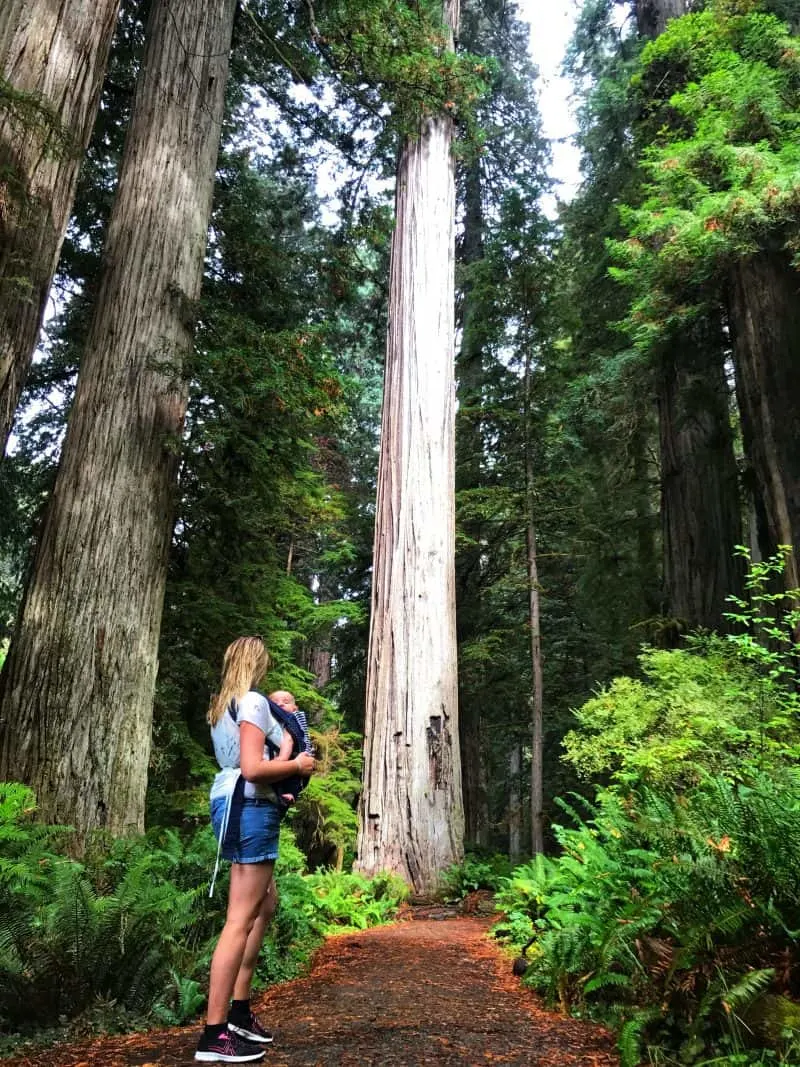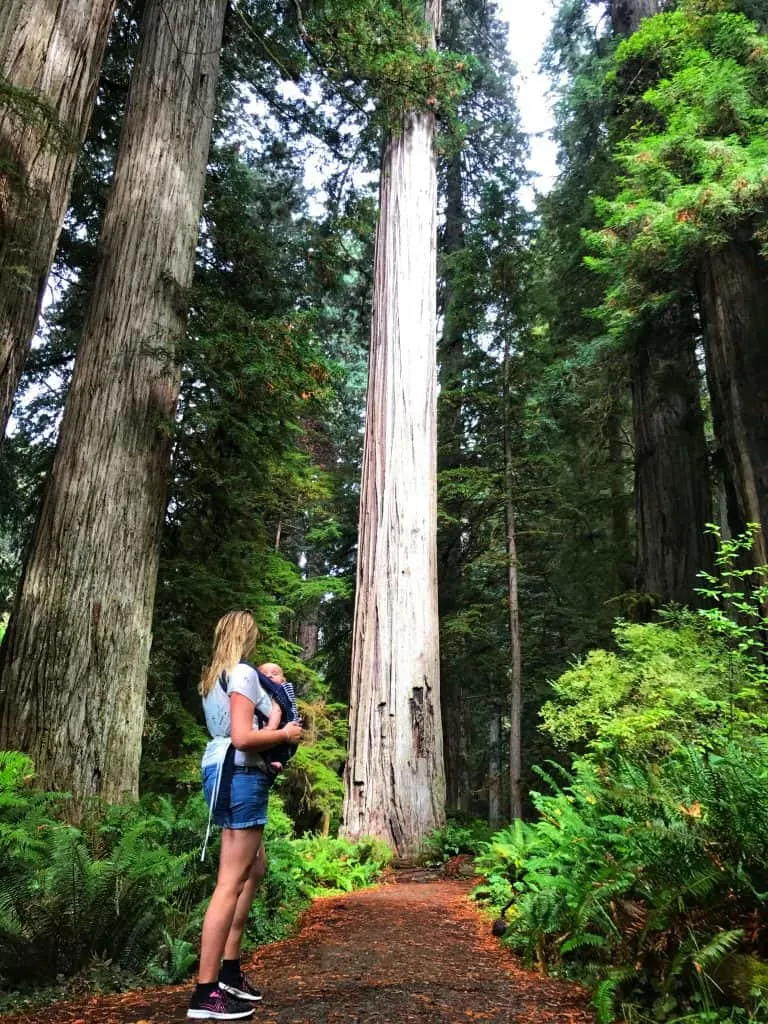 I was blown away by the redwoods. We felt dwarfed as we drove past and it was another spectacular scenic drive on the Highway 101 road trip! There are some short detours off the highway that really get amongst the forest, it's totally worth it if the kids can hack the windy road.
Leggett
We stayed at Redwoods River Resort. They are rustic cabins with log burners. Each is themed differently. We stayed in 'Wolf'. Just about everything had a wolf on it from the wallpaper to the coffee cups.
The little cabins had a BBQ and an outdoor kitchen in this stunning state park location.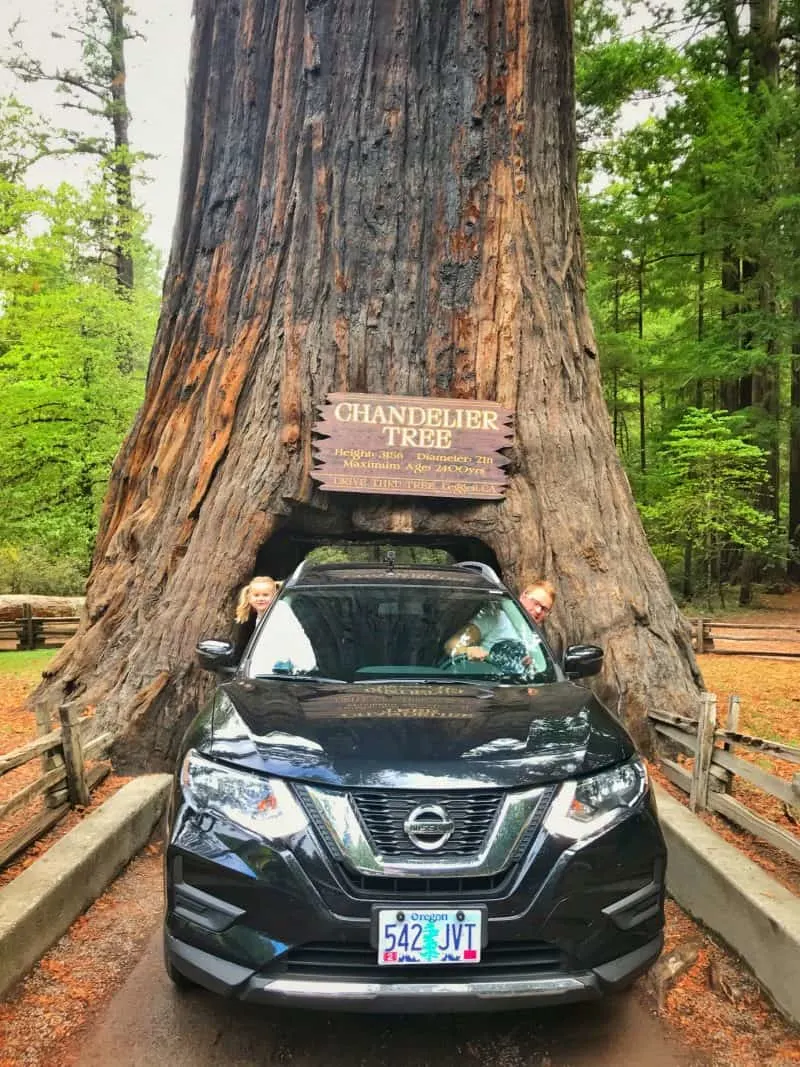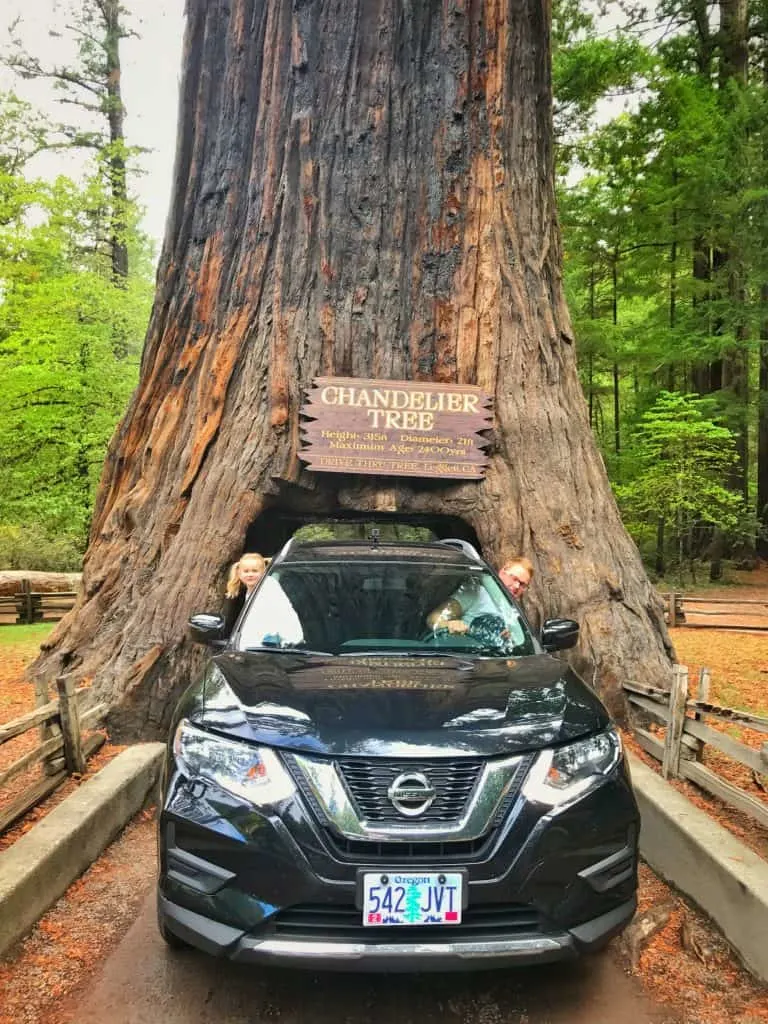 It's the best place to stay for nature lovers. We roasted marshmallows in the evening after our hikes in the local area and our little one played in the massive onsite playground.
There was a big swimming pool too. We arrived mid-week but I can imagine it's a popular place on the weekend with families.
There are some funny things to do nearby, like the drive-thru tree and confusion hill.
Skunk Train At Fort Bragg
Fort Bragg sits approximately ten miles (16 kilometers) north of charming downtown Mendocino. Some may find it a bit grittier than its neighbor to the south, but it's an excellent detour and offers a lot of family-friendly things to do when catching a break during your Highway 101 road trip.
From beach walks to hiking trails, Fort Bragg offers a wide variety of activities for tourists and locals alike, making it a great spot for families looking for a lively, entertaining, and enjoyable time out with the children.
The Skunk Train at Fort Bragg is a historic railway that has been in operation since 1885. It runs along the scenic Mendocino Coast and offers a variety of activities, from train rides to hikes and camping.
Now, the Skunk Train Depot offers rail bike rides as well. Riders can enjoy a picnic or take a walk in the woods at Glen Blair Junction during the ride.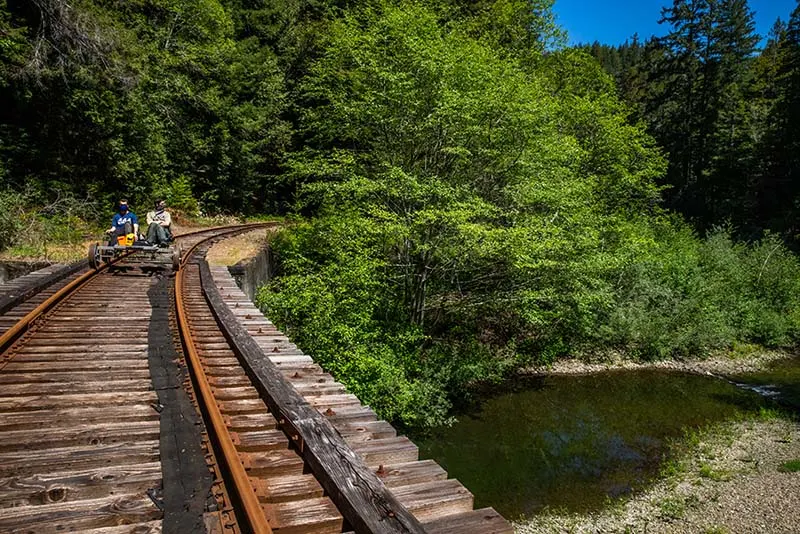 Kids from ages three and up can ride the bike; however, they need to sit either in the car seat or wear a harness that comes with the ride.
These rides provide a unique and fun way to take in the beauty and serenity of the redwood groves while biking along the historic railway, and sure an interesting way to learn about the history of the area and the unique wildlife that calls it home.
For more information on The Skunk Train.
Location: 100 W Laurel St, Fort Bragg, CA 95437, United States
Mendocino
Mendocino was so different from Leggett and Redwoods. Based on the Californian coast, this very charming, pretty little town was quaint and one of the stunning highway 101 road trip attractions.
There were lots of cafes, restaurants and boutique shops. The wooden fronts of all the buildings were painted in pastille colours with a backdrop of aqua blue coastline.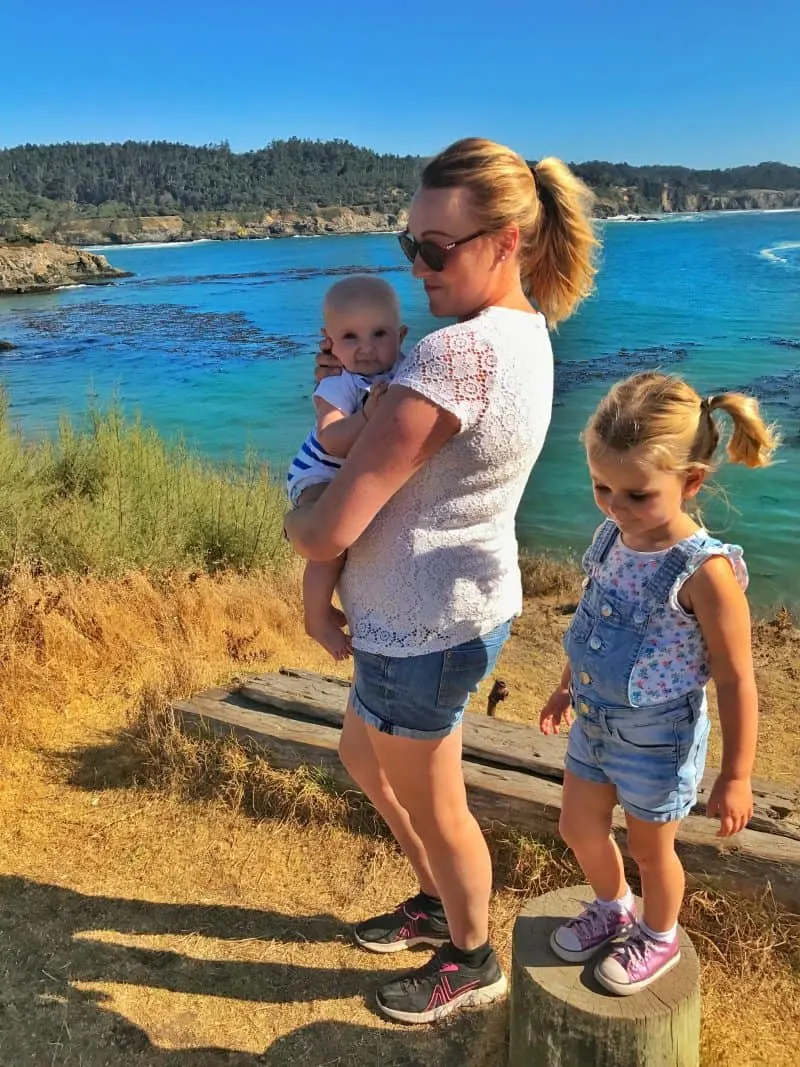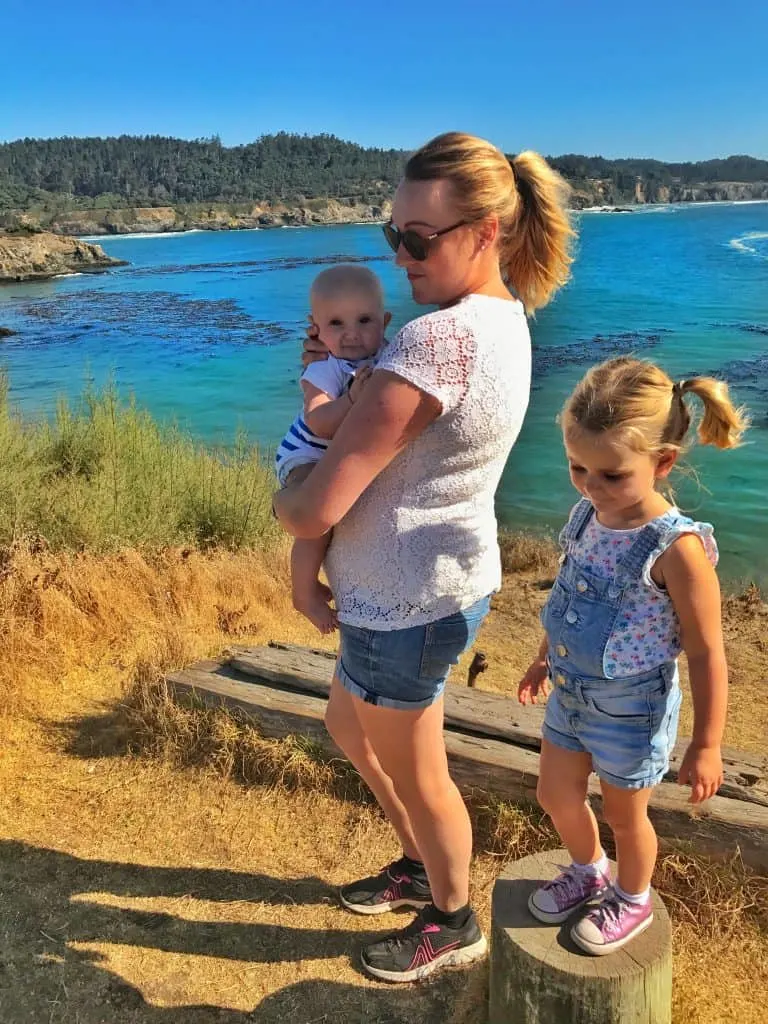 There are some beautiful trails around the Mendocino cliffs and a nice beach near the town that is ideal for kids. We stayed at Little River Inn just ten minutes outside the town.
It had a classic Victorian feel to it and had stunning views from most of the rooms. We had a big deck where we spent our evening sipping on local Californian red wine when the kids were tucked into bed.
Hands-On Exhibition At Bay Area Discovery Museum
Apart from the Golden Gate Bridge views, the Bay Area Discovery Museum also offers a variety of activities for children of all ages, including art and science workshops, hands-on exhibits, and interactive play spaces.
The museum also has a café and a store, making it an ideal place for the whole family to take a break and relax.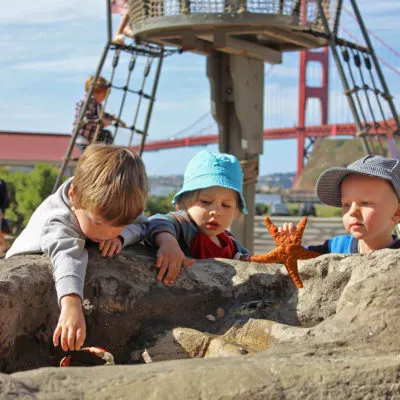 Among the top activities for kids are Stick-lets, Imagination Playground, Hopscotch Reimagined, Instrument Walk, BADM Beach, and many seasonal activities like camping and "iceless" skating.
Check out Bay Area Discovery Museum's website for more details and tickets..
Timings: 10 AM to 4 PM (Wednesday to Sunday)
Location: Sausalito-Lateral, Sausalito, CA 94965, USA
San Francisco
San Francisco blew my mind, most people say it's the best place to stay along the Highway 101 road trip! I've only been to two or three places (out of 88 countries) where I left thinking that I could live there.
It was a pretty impressive entry to the city crossing the Golden Gate Bridge early morning. The cloud was low and we could only see some of the bridge but it made it quite picturesque.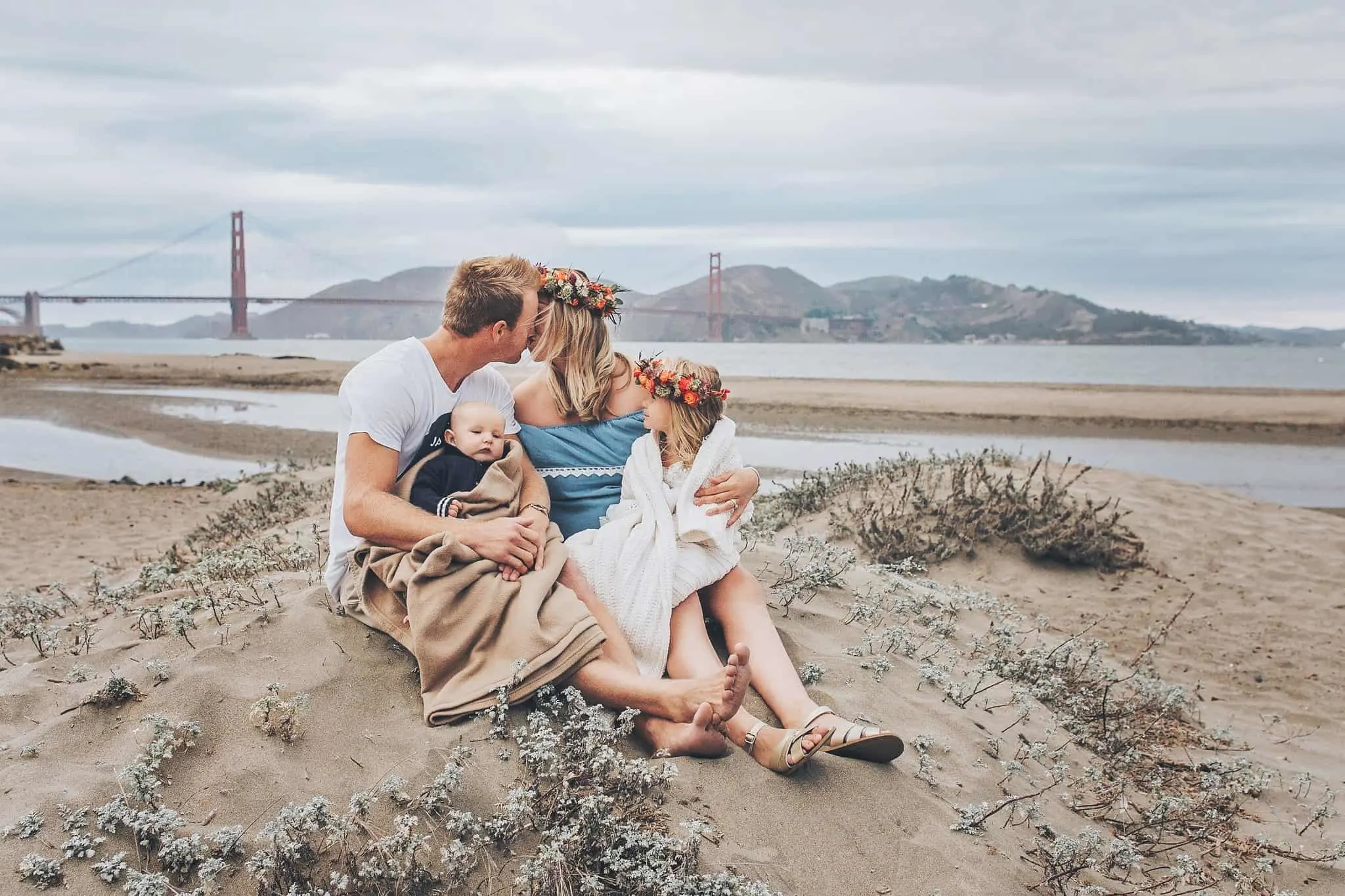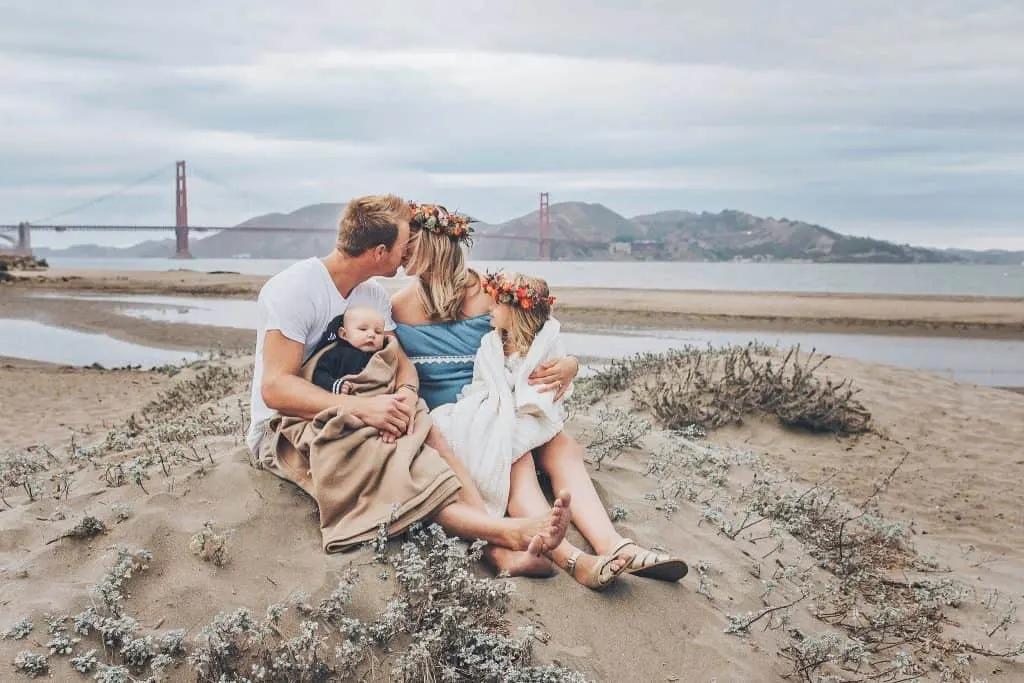 There is plenty to do in San Francisco from the beaches to the waterfront and parks, it's quite an outdoorsy city. If you are spending some time exploring it might be worth investing in a city pass. They include hop on hop off tours, bike tours and bike rentals and entry to most of the sites. You can check out prices here.
We spent some time on Pier 39 looking at the hundreds of sea lions. Man, they stink! We also had a look around some of the boutique stores in the area. There are also many unique restaurants in San Fransico too.
We had a photo shoot on Crissy Beach which is an awesome spot to get a good view of Golden Gate. It was only a few minutes drive from Hotel Zephyr where we were staying.
It's a funky building predominantly made out of recycled materials. Featuring a van cafe, giant 'connect four' and a fire pit in the garden, it's the best chill out spot after a busy day of site seeing. You can check rates and availability here.
We had been staying in self-catering places up until San Francisco, so we really missed having a kitchen. The best thing for a young family on a road trip in California is vacation rentals.
It makes life so much easier with the kids. Not to mention having our respective rooms so we don't have lights out at 7 PM for everyone.
If you are doing it in an RV, check out the Santa Cruz area! We wanted to visit Burns State Park but the road was shut at the time due to a landslide on the west coast road.
Yosemite National Park
Yosemite National Park is not typically one of the places to visit on a highway 101 road trip, it's a bit of a drive inland, but worth it if you have the time. It has been high up on my travel agenda for some time.
Whether you drive through for a day or stay in a campground to fit in a Yosemite two day Itinerary – the Yosemite Glacier Point is most impressive.
I also loved the Yosemite Falls but its very busy over the weekend and best visited early morning during the week. The sheer rock face of Half Dome is jaw-dropping.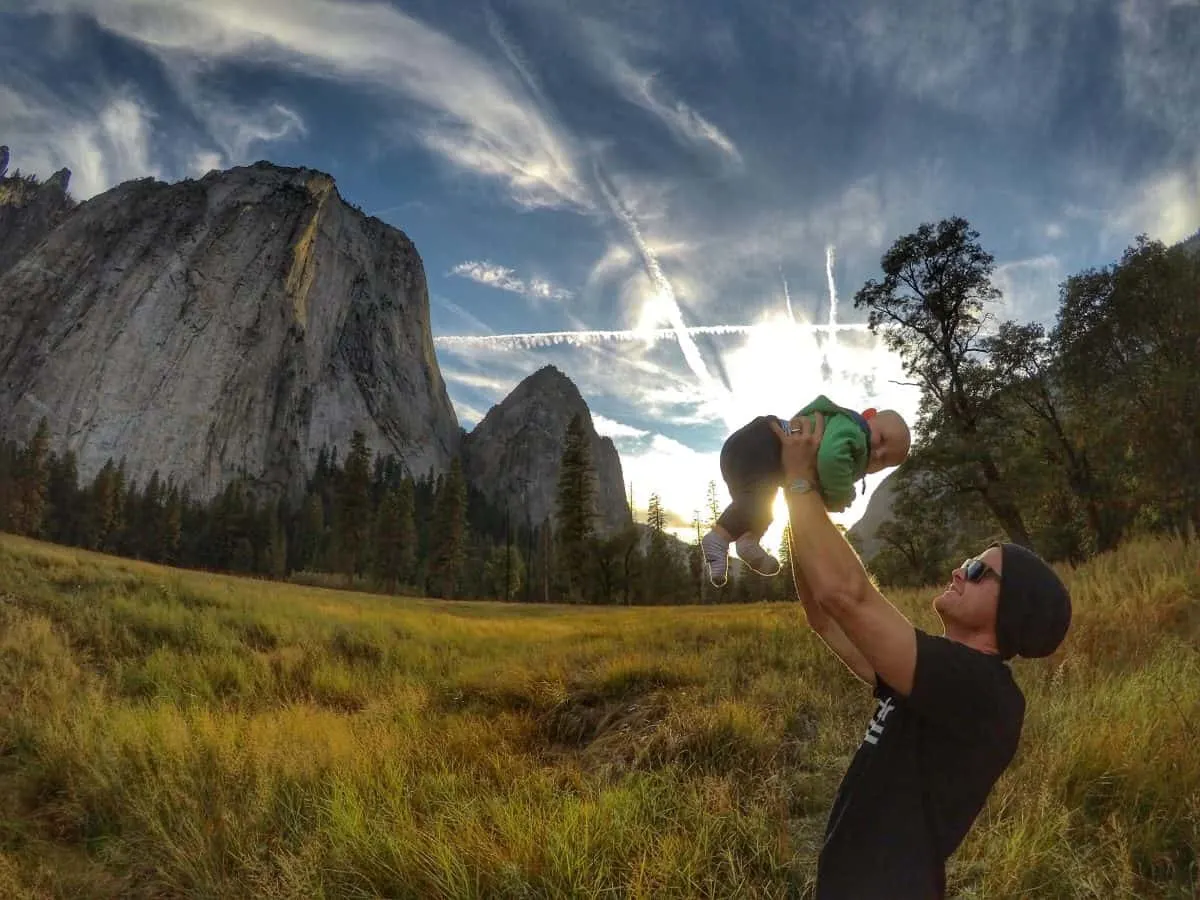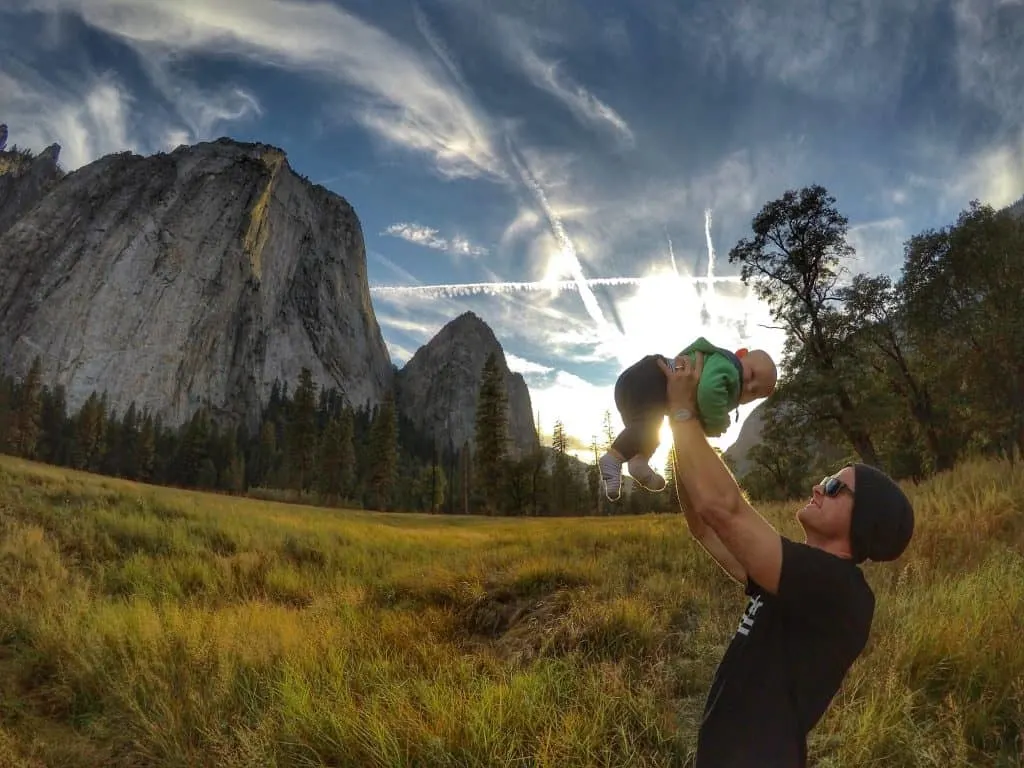 It's such a pretty drive but also long and needs to be planned well. Especially as the weather can change easily in the park. April in Yosemite is the perfect time to see the waterfalls that the park is famous for.
We stayed at a campground inside which helped us to see lots more and keep drive times down for the kids.
For a more complete guide check out things to do in Yosemite with kids.
Visit The Pigeon Point Light Station State Historic Park
Pigeon Point Light Station is a lighthouse located on the coast of northern California near Pescadero.
In terms of height, it is one of the tallest lighthouses in the United States and stands at 115 feet. The lighthouse has been in operation since 1871 and is still in use today.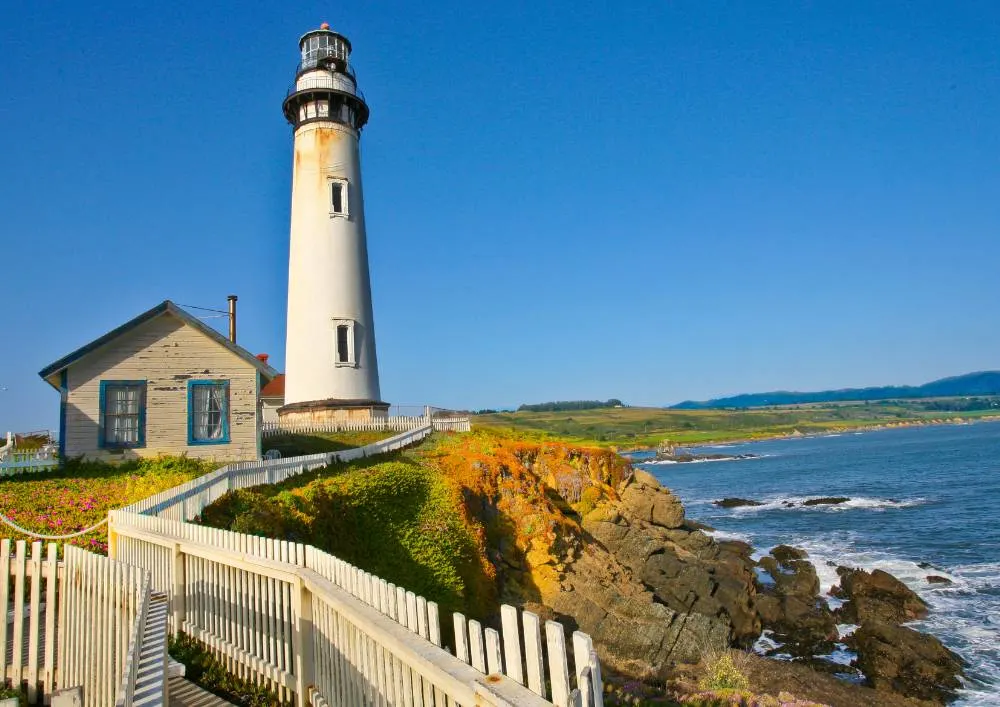 Its light comprises an array of Fresnel lenses that guide ships safely through treacherous coastal waters. The lighthouse is also a popular spot for whale watching and has become a California Historical Landmark.
Their former Light Station buildings are now unique hostels run by Hostelling International for guests who wish to stay the night.
Visitors can experience an unbeatable lodging experience while they explore the stunning ocean views, tidepools, and beach – all within steps of the Light Station buildings.
For more information on Pigeon Point Light Station State Historic Park.
Location: Pigeon Point Rd, Pescadero, CA 94060, USA
Explore Santa Cruz Beach Boardwalk Amusement Park With Kids
A classic seaside amusement park, the Santa Cruz Beach Boardwalk dates back to 1907 and is one of California's oldest surviving amusement parks.
It is home to numerous rides, games, and attractions, including the famous 1924 Giant Dipper wooden roller coaster and the carousel installed in 1911.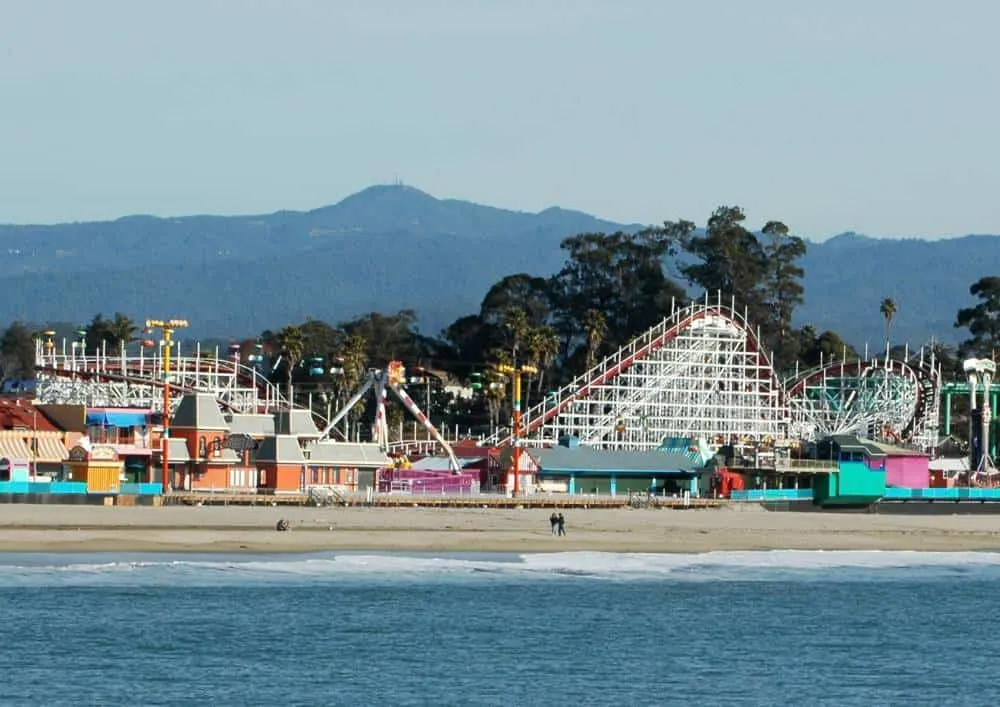 With all the beaches and rides, it's easy to spend an entire day enjoying the activities that this beach boardwalk has to offer.
Remember to take a moment to appreciate the historic beauty of the Amusement Park that is responsible for fun and memories for generations.
For more information and tickets.
Location: 400 Beach St, Santa Cruz, CA 95060, United States
Monterey
After an amazing few days inland at Yosemite, we were ready to head back to the Californian coast and get back on our Highway 101 road trip. We left on a whim not really sure where we were heading.
So many of our followers suggested Monterey as another one of the Highway 101 road trip sights so we decided to go. If you are an ocean lover the beaches are some of the best places to stop on Highway 101. There are also amazing whale watching opportunities in Monterey.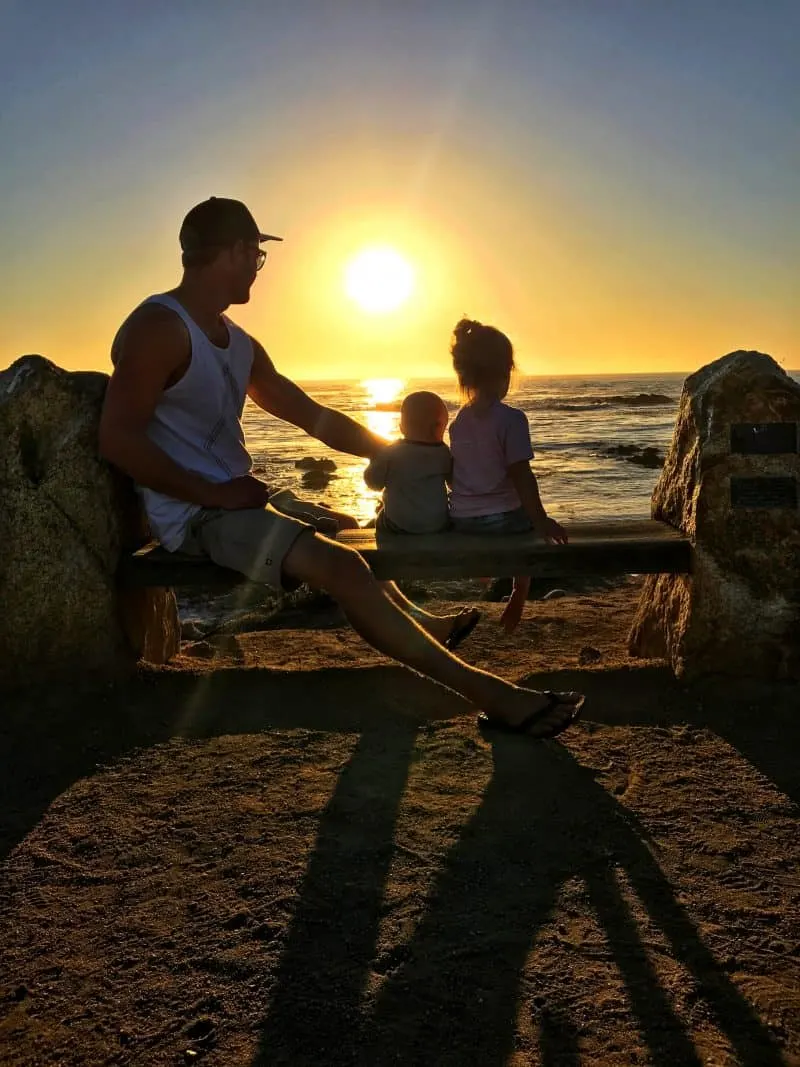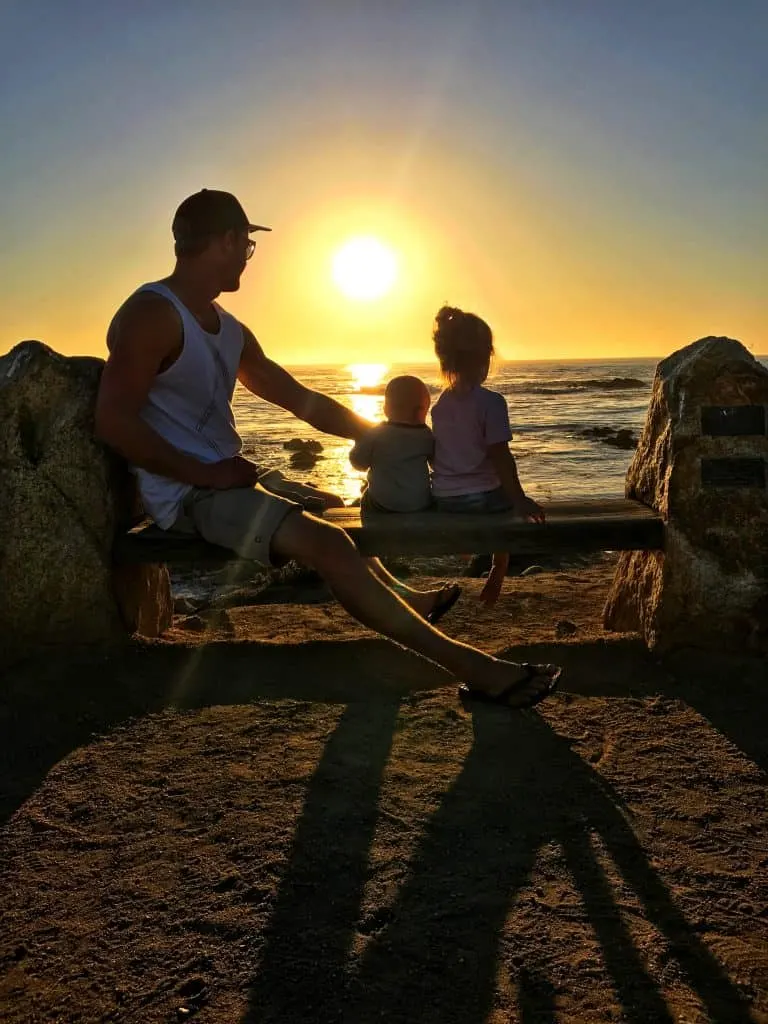 The Aquarium seemed to be a big hit with most so we brought the kids. They loved it! Even the 4 month old was stimulated by the surroundings. They have an ingenuous kids' area, tidal pools and some incredible species. It was expensive but totally worth it.
Monarch Butterfly Grove At Pismo Beach
A slight detour off Highway 101 is the most amazing place to stop on the Central Coast, The Monarch Butterfly Grove.
As one of the best and the most enchanting places to visit for free during a Highway 101 road trip, it allows visitors to observe these beautiful creatures in their natural habitat.
Imagine hundreds or thousands of orange and black-striped butterflies fluttering in a series of waves encircling eucalyptus trees.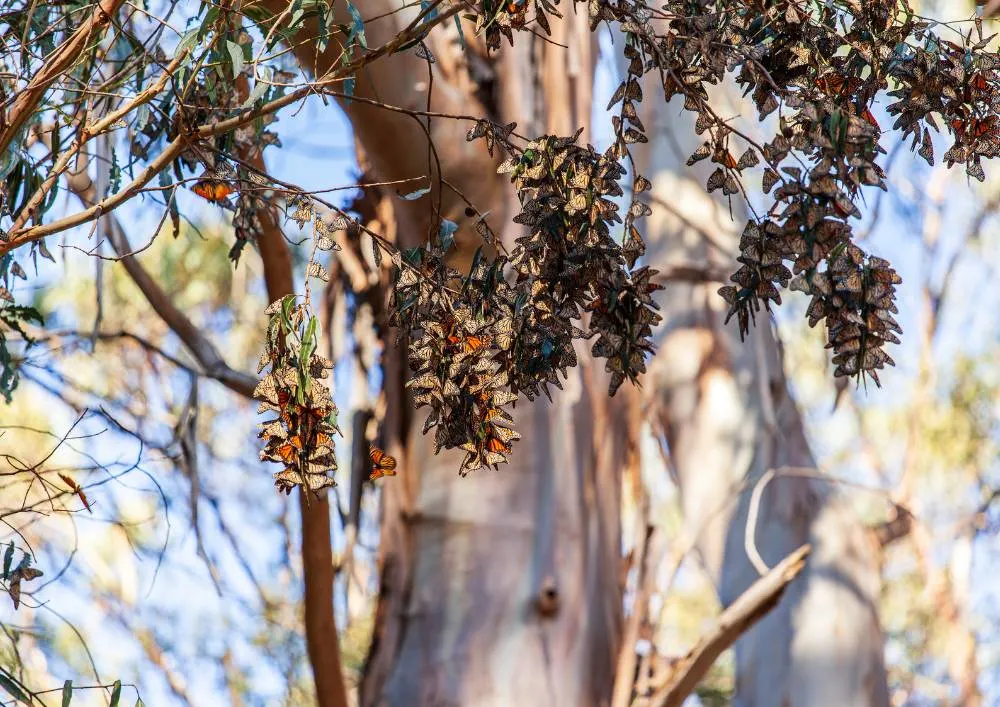 Among the five butterfly groves in every state of California, the Pismo Beach Monarch Butterfly Grove is the only one with an annual count of more than 10,000 butterflies.
It is a destination essential to Monarch Butterflies' successful migration, sheltering them from the freezing northern winters (October to February).
The staff at the zoo are friendly and knowledgeable and are ready to assist visitors from all over the world with tours and talks on a daily basis.
Location: 400 S Dolliver St, Pismo Beach, CA 93449, United States
Carpinteria
Just after Santa Barbara, Carpinteria is another cute coastal Californian town, a little similar to Mendocino. They had a farmers' market going on, lots of independent shops and a camp site with beachfront views.
There were hundreds of dolphins in the water swimming past where we had parked up on the state beach campsite. We just spent one night, but it was really relaxing place to respite from traveling Highway 101.
If you are looking for one more town that comes recommended in California, San Luis Obispo is a place many suggested just off the highway road.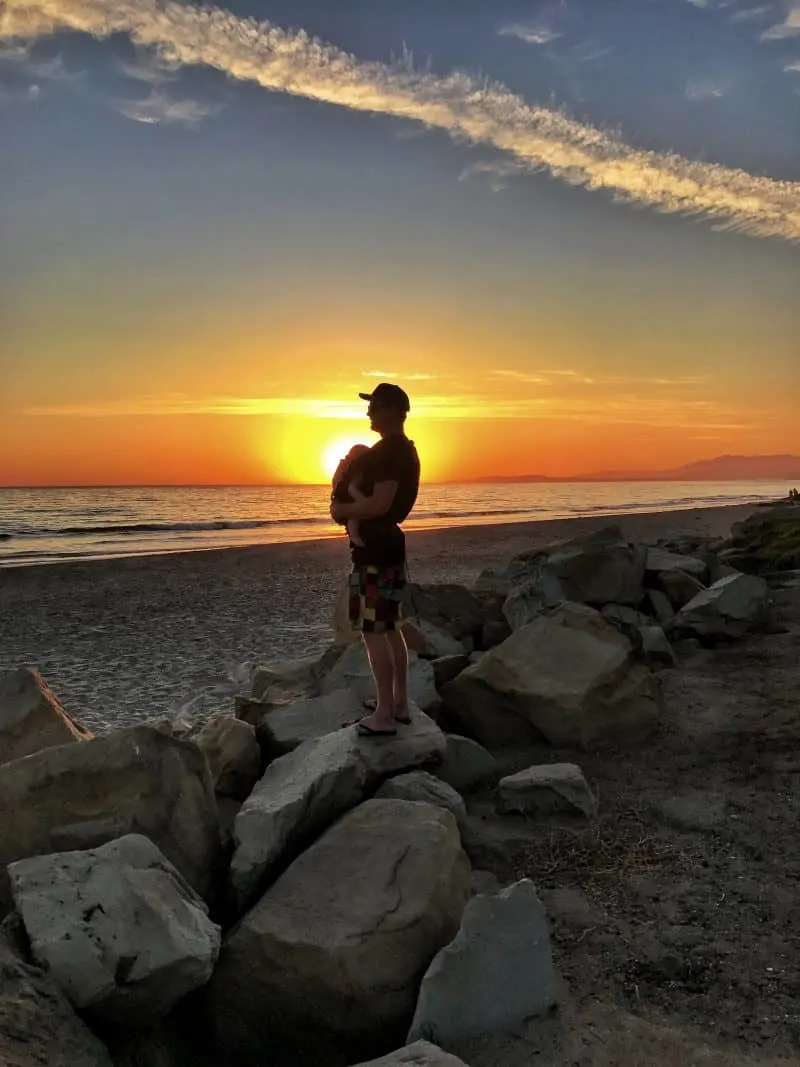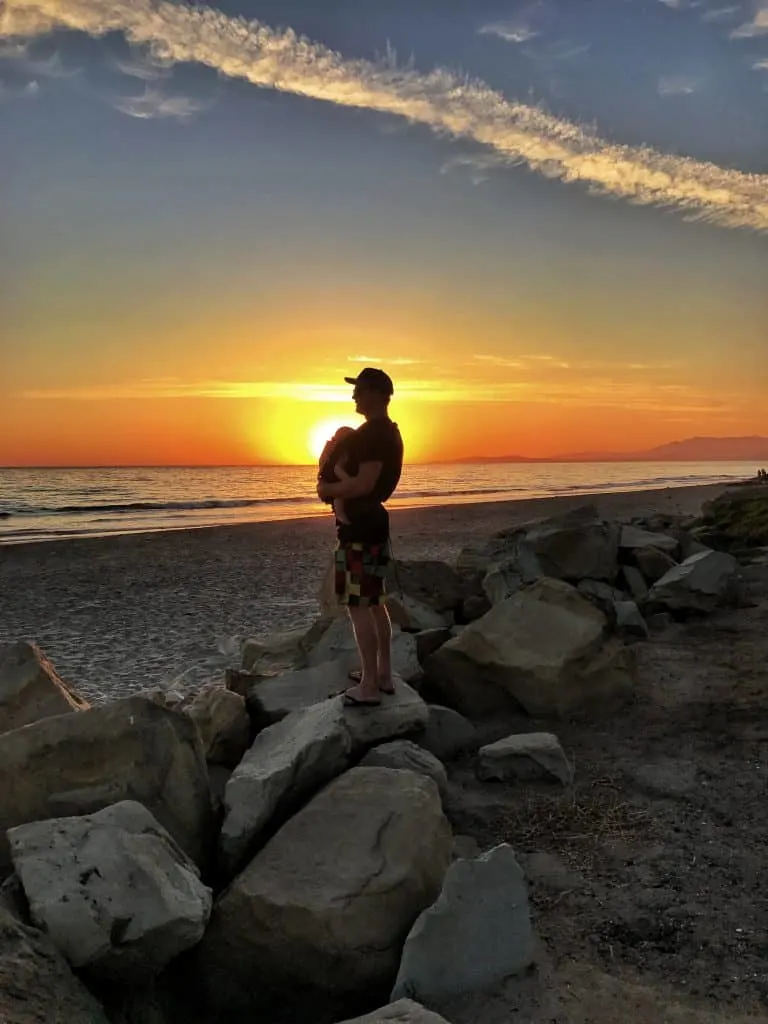 Take A Break And Beachcomb Arroyo Burro Beach
Arroyo Burro Beach also known as "Hendry's Beach" by the locals is a pristine stretch of coastline in Santa Barbara, California.
It is a popular destination for swimming, surfing, fishing, whale watching, and picnics. Plus, it is also a great spot for families, as it is dog-friendly and offers beachfront restaurants and stunning views of the ocean.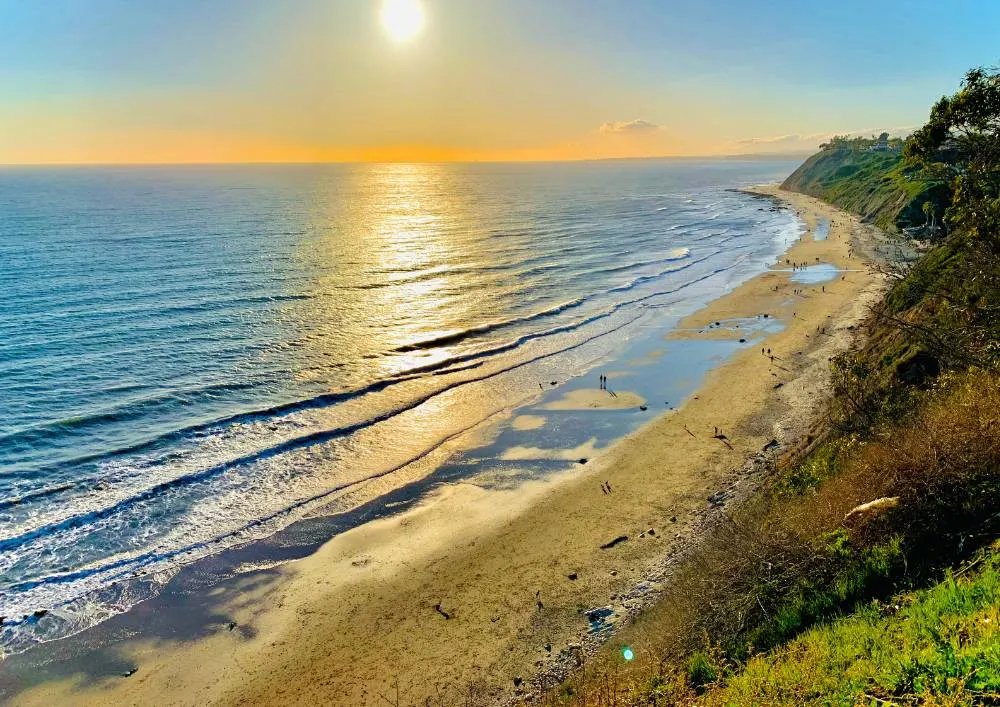 The city maintains the beach well and offers a variety of amenities for visitors. Multiple access points for the beach make it easy for everyone to access the area.
Additionally, the beach is surrounded by picturesque cliffs and lush vegetation, making it a stunning and tranquil spot for visitors to enjoy all year round.
Location: 2981 Cliff Dr, Santa Barbara, CA 93109, United States
Los Angeles
Our last and final stop was in LA. There are loads of things to do so be sure to check out this list of some of the best family days out in Los Angeles. We stayed in downtown Hollywood at the Hilton Gardens Inn. We were predominantly relaxing after a busy few weeks of driving but we did manage to see Hollywood Boulevard and the views of the city from the heights.
I found it quite full on after being out in the wilderness for a while. It's quite a crazy place in a good kind of way. If you plan on spending time in LA seeing the sites, it can be expensive so we highly recommend investing in a city pass – you can check out what the city pass includes here. You can also pick up theme park tickets here.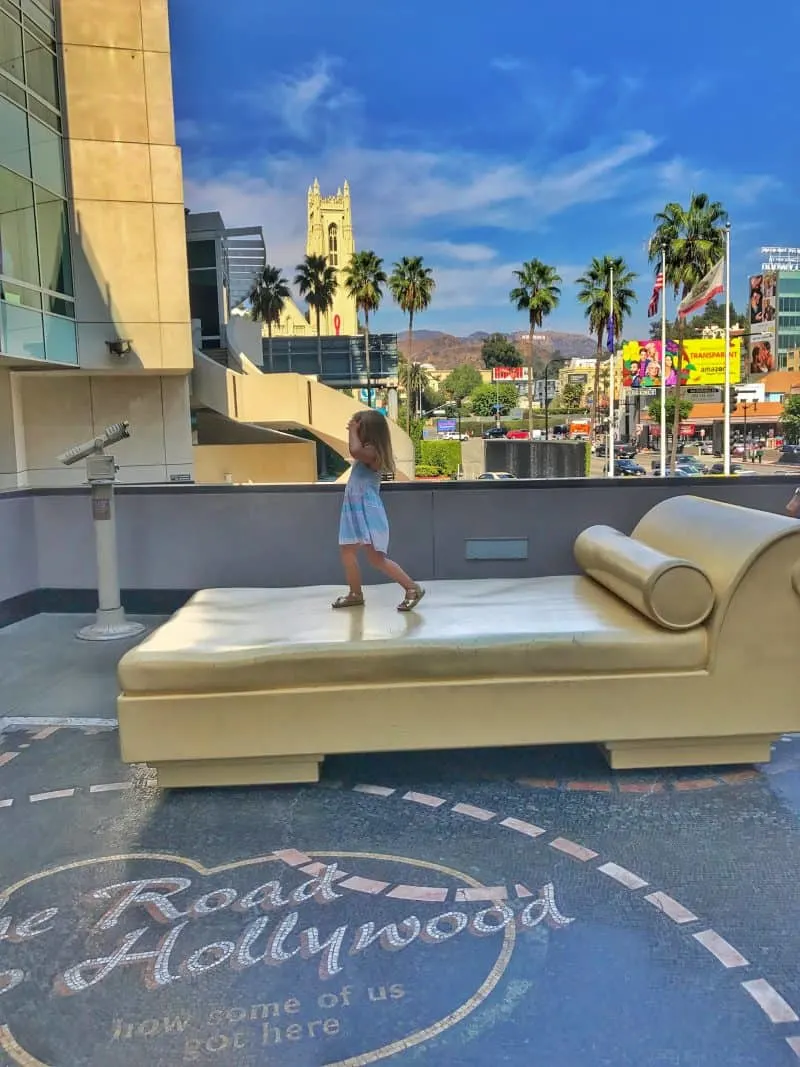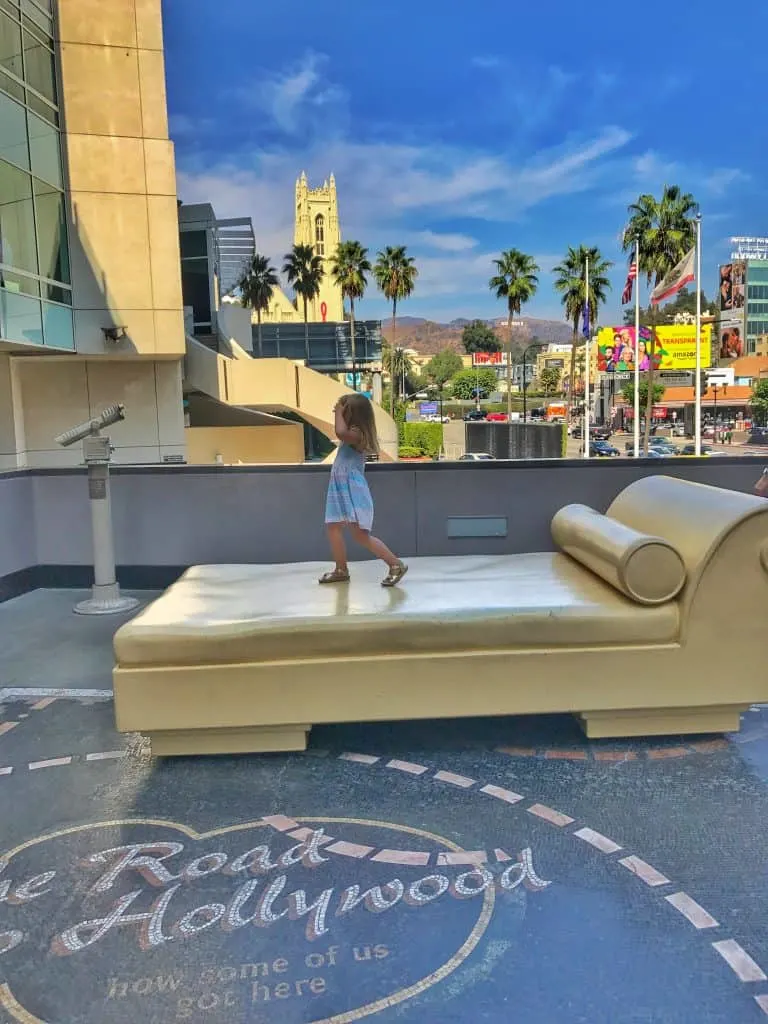 Some people continue onto San Diego to complete the Highway 101 road trip in its entirety. We ran out of time before needing to move on to our next destination! However next time we will be sure to check out some of the best beaches in San Diego.
Santa Monica Pier
Highway 101's iconic Santa Monica Pier remains a road trip necessity, offering an abundance of restaurants and seaside views.
By detouring a little from Highway 101, travelers can find this charming pier just a short distance from Ocean Avenue.
In the early days of the West Coast, the Santa Monica Pier was a pioneering structure on the West Coast, built in 1909.
The pier began attracting people because it offered the unique experience of being able to sail and fish so close to the shore.
It also provided a great view of the ocean, unlike anything they had seen before.
As word spread, more and more people started to visit the pier, and it quickly became a popular attraction.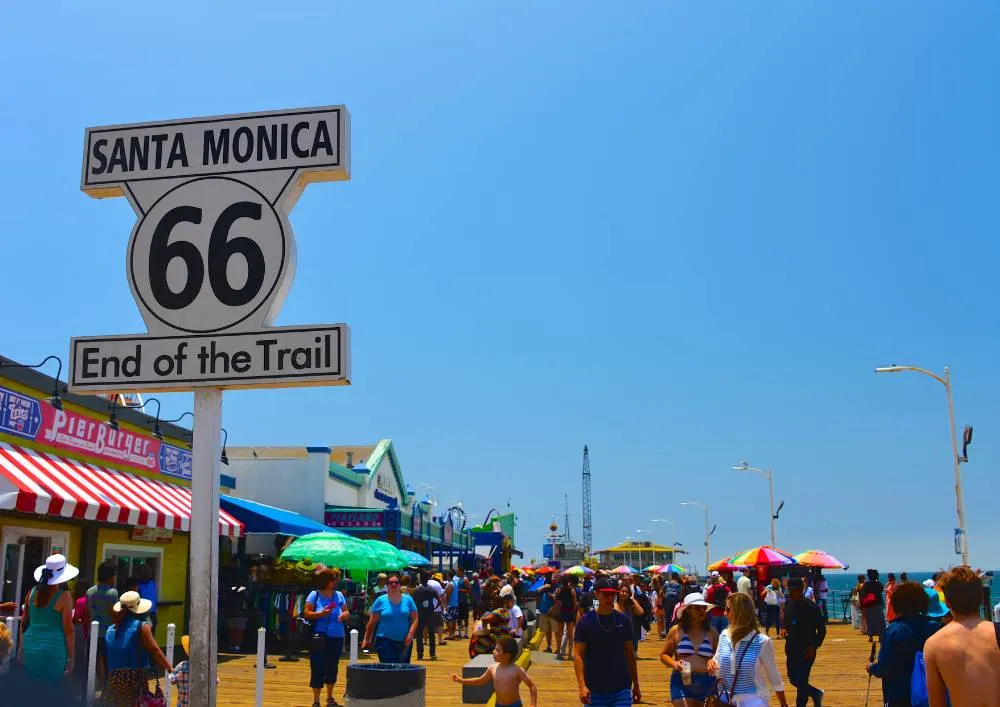 Today, from carnival rides and street vendors to the iconic carousel, there's something for everyone to enjoy. The pier also hosts special events such as fireworks, classic car shows, and concerts, making it a perfect destination for family fun.
Amid waves crashing on the shore, the South Bay and Malibu receive a luminous glow by evening.
Santa Monica Pier is the perfect place for fun in the sun. Whether you're looking for a peaceful day at the beach or a bustling day of amusement rides and carnival games, the pier has something for everyone.
Location: 200 Santa Monica Pier, Santa Monica, CA 90401, United States
Underwater Exploration At The Aquarium Of The Pacific
Are you looking to add excitement to your already fantastic Highway 101 road trip?
Experience the Pacific Ocean in its natural habitat at Long Beach Aquarium of the Pacific.
Children will have the opportunity to interact closely with a variety of sea creatures. From sharks in a kid friendly touch tank to listening to the eerie melodies of an underwater whale song, the experience is sure to be out of this world.
Families can also take advantage of the warm Californian weather by exploring the outdoor Harbor Terrace overlooking the Shoreline Village, which has two popular exhibits: the Moon Jelly Touch Lab and an exhibit featuring two species of amphibious mudskippers.
Other exhibits include coral reefs, Sea Otter habitat, Lorikeet forests, June Keyes Penguin habitat, the Tropical Pacific gallery, and much more.
For bookings at the Aquarium Of The Pacific.
Location: 100 Aquarium Way, Long Beach, CA 90802, United States
Highway 101 Road Trip Stops – Map
Highway 101 Self-Driving Audio Tour (Pacific Coast Highway)
Highway 101 self driving audio tour is a convenient and affordable way to explore the stunning California coastline.
Families can drive their car or RV at their own pace unfolding the beauty and history of Highway 101 without the need for a guide.
The app guides your entourage from San Francisco to Los Angeles by featuring an audio narration. It shares facts and stories about the cities and landmarks you visit along the way.
And the best bit is that the GPS functionality of the app is also available offline.
Undoubtedly, this is an excellent way to discover one of the spectacular driving routes in the United States.
Secure your Highway 101 self driving audio tour here.
Highway 101 Road Trip – Mode Of Travel
We used a few different options on our Highway 101 Road Trip! For the most part, we used a rental car and we also used a mini campervan.
Rent A Car
No matter where you start your journey along Highway 101, you are bound to find rental cars along the way. We have always used "Kayak", a travel search engine when travelling and always find them an incredibly reliable mode of transport.
They are a broker which is great for finding the best deals. Of course, you will have the added cost of accommodation or camping so it's worth figuring out the costs all things considered. Click here to see a range of rentals!
Rent A Mini Camper
We also rented one of the bright green and purple Jucy Camper vans that are a popular and cost effective choice for people travelling along Highway 101. There are different options depending on your requirements.
These camper vans manage to fit all of the essentials for a fun filled trip including a kitchen, beds, table and fridge. It can be quite cramped depending on how much luggage you bring with you and is more suited to the adventurous traveller at heart. Check out our review of the Jucy Camper Van rental here!
Rent An RV
An RV would be our most favourite way to travel on a Highway 101 Road Trip. It's so nice to have the space and all you need in one space. in my opinion, it is a luxurious way to travel whilst soaking up what nature offers!
For renting an RV I recommend checking out "Outdoorsy". It is a great place to search for an RV!
Highway 101 Road Trip Essentials
I am a big fan of bringing my sat nav as it saves the battery on my phone. Most car and RV rental companies charge top money for one so it's definitely better to bring your own. I highly recommend the Garmin Sat Nav.
Click here to check out the prices of this Garmin Sat Nav!
Another awesome top tip is to bring mobile WIFI console. I have the NETGEAR one and we take it everywhere! We don't even have the internet at home because it's that good! All you need is a SIM card with internet minutes.
Click here to check out this awesome NETGEAR mobile router.
On a long road trip without constant access to plug items into main power, these Solar Powered Battery banks come in super handy for recharging phones, cameras etc.
The battery bank can be recharged using the built in solar panel meaning you can be travelling off the grid for that much longer.
Click here to check out these portable Solar Powered battery banks.
Frequently Asked Questions Highway 101 Road Trip
What is the length of Highway 101?
The length of Highway 101 differs depending on the route you plan to take and your destination.
This 1,540 mile (2,478 kilometers) route passes through the states of Washington, Oregon and California, providing travelers with breathtaking views of rugged coastline, pristine beaches, and towering redwoods.
Along the way, travelers can explore a variety of attractions, including the Columbia River Gorge, the San Juan Islands, the Lost Coast, and the world famous Big Sur.
What are the other names of Highway 101 in the United States?
US Highway 101 is also known as the Oregon Coast Highway in Oregon and as the Pacific Coast Highway in parts of California.
Most people in Southern California refer to this road as "The 101", whereas people in Northern California, Oregon, and Washington know it as "101".
How long does it take to traverse the entire Highway 101?
As there are so many exciting things to see and do along Highway 101, we suggest you set aside at least five days for the experience. Taking a road trip like this is one you should put on your bucket list.
If you were to drive Highway 101 non-stop, it would take 30 hours to go the total distance of almost 1,540 miles (2,478 kilometers).
To Sum Up Highway 101 Road Trip
Are you hoping to drive the length of Highway 101? Be sure to Pin this article for later!
I love to hear your thoughts, leave a comment and I will get back to you.
Ready to book? Find great deals on flights, travel insurance, hotels, reliable internet, and rental cars!
Disclaimer: We worked in partnership with a number of clients throughout this trip. In particular, Visit California and RentalCars.com. As always all views expressed are entirely our own and have not been influenced in any way.
YOU MAY ALSO LIKE: