If you just have one day in Yosemite, you might be wondering what you can squeeze in. Even though the park is around 750,000 acres most of the main attractions are quite close together.
This means that you could fit many of them in as long as you plan your trip to Yosemite well.
You can find many scenic wonders in Yosemite National Park. People love to explore the park's waterfalls, granite cliffs, sequoia trees and walk some of the best hikes in the country. Some adventure seekers even go rafting in Yosemite or the surrounding area.
It is known for its natural beauty and abundant wildlife which draws in four million visitors each year from summer to winter.
Yosemite Valley is the hub of the park. Not only does it have many places to stay including campgrounds and RV parks and eat, nearby is some of the most recognizable scenery in the country. With its majestic Half Dome and El Capitan monoliths, many visitors head to capture them at the best photo spots in Yosemite.
If you just have one day in Yosemite it is the best place to start.
To be honest, it would be better to spend about 3 days in Yosemite. There is so much to do and see that it is difficult to select just a few things.
However, don't write off your trip, there is still a lot you can accomplish. Whether you want to plan the trip yourself or go on one of the many tours from San Francisco, this guide covers it all including what to pack and what to include in your itinerary.
Getting to Yosemite in One Day
Let's start with the logistics of your trip. If you plan on spending just one day in Yosemite you need to factor in how long it takes to travel to the park and the best entrance to take. You want to save as much time as possible travelling so you have more time exploring Yosemite.
If you are travelling from the east side of the park, then you can enter using the Tiago Pass entrance. This is probably the most scenic route to the park. However, it is not open all year round. The entrance is usually open from late May or early June until some time in fall, usually around October or November.
If you are planning on visiting Yosemite in April or before that you need to use the South Entrance. This adds a couple of extra hours to your journey, so it might be worth considering a 2 day Yosemite itinerary. From Las Vegas, it takes around six to eight hours to reach Yosemite.
Those travelling from Los Angeles reach the South Entrance first. This entrance is open all year round and it is on Highway 41. It takes around five hours, so a one day trip to Yosemite is still possible.
The closest major city is San Franciso as it only takes four hours. There are three entrances to the park; Hetchy Hetch, Big Oak and Arch Rock. Big Oak Flat and Arch Rock are the quickest and most direct routes. If there is a lot of traffic, then Hetchy Hetch is a great choice.
It takes a little longer, but the scenery is beautiful and it is the quietest route into Yosemite. In fact, it might even end up taking less time as you probably won't be stuck in any traffic.
All of the above are based on driving to Yosemite either in your own car or renting a car. If you are planning on travelling by public transport, then you may need more time in Yosemite.
Depending on the time of year you may need to make a reservation to enter the park. Tickets can be purchased at the entrance for around $35.
America the Beautiful Pass is also accepted at Yosemite. It is very affordable and can be used at over 2000 sites across the US.
If you visit National Parks regularly this pass is very cost-effective! Just one pass covers the entrance fee for a driver and all passengers. REI also donate 10% of pass sale proceeds to the National Park Foundation.
To find out more about the annual Beautiful National Park pass click here.
How to Start your One Day Yosemite
With just one day in Yosemite, you need to make the most of every minute. Your Yosemite 1 day itinerary starts the moment you step into the park.
Take a look around you and prepare to be amazed. In fact, there are plenty of opportunities to get out of the car, stretch your legs and snap a few photos.
The drive into Yosemite National Park offers visitors a scenic winding drive through towering mountains and forests. The views are always changing, so you never know what you'll see on the drive, no matter the entrance you take.
Few people who visit the park forget about their trip into Yosemite Valley, as it provides a stunning view of some of America's most pristine natural landscape. On your way into the Valley, you can stop to admire El Capitan, Bridal Veil Falls or even Tunnel View.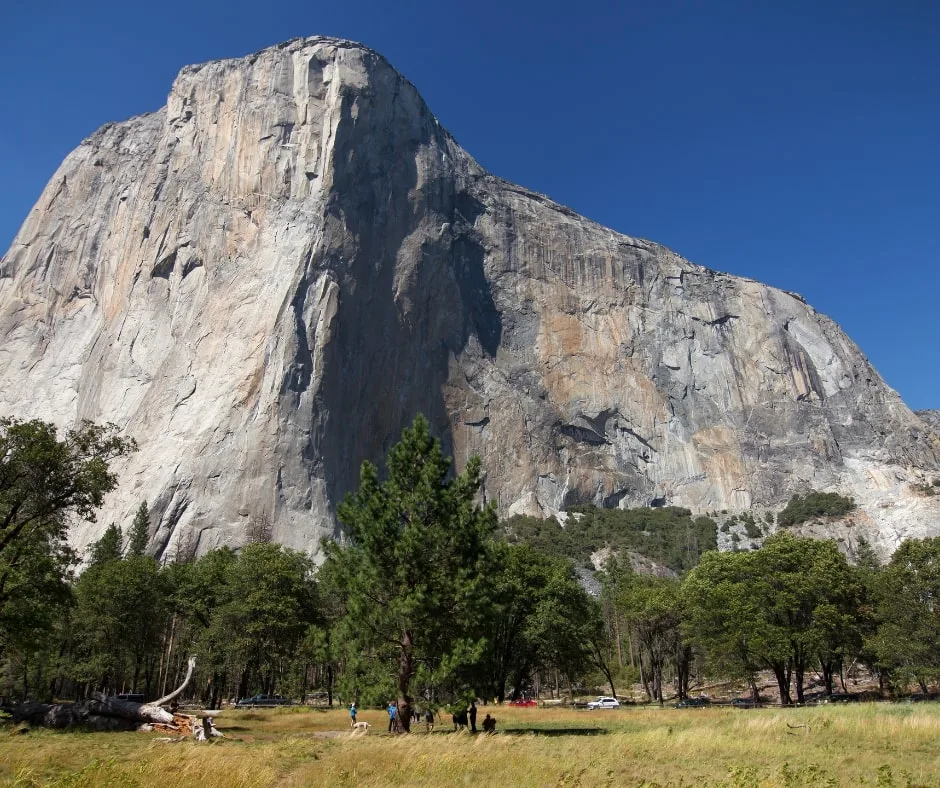 One Day at Yosemite Valley
After driving into the Valley you can park your car in the car park and set off on foot. You can walk to many places in the Valley or simply hop on the free shuttle service. It leaves at regular times throughout the day.
The Valley also has a visitor centre if you want to know more about Yosemite and there is also a place to rent bikes. These are a great choice from many of the hikes, many kid-friendly and they can let you explore the park faster.
There is also the choice of taking a guided Valley Floor Tour. You can either hop on an open-top tram or a bus, depending on the weather and take a two-hour tour of the valley.
The tour sets off from Yosemite Valley Lodge and they are led by park rangers who can fill you in on the history of the park. If you want to explore Yosemite by yourself then the itinerary below can help.
Try One of the Best Day Hikes in Yosemite
You really can't visit Yosemite and not hike one of the many trails located around the park. There are hundreds to choose from, but with only a day it is best to opt for one near the Valley. With just a day in Yosemite, you want a hike that ticks all the boxes.
It should only take a couple of hours to complete, have plenty of scenery and not be too strenuous as you have a lot more to fit in. Luckily there are still plenty of hikes to choose from.
This guide plans on fitting in several hikes into just one day in Yosemite. The first hike begins in the Valley at shuttle stop #6 and leads you to North America's tallest waterfall, Yosemite Falls. You could hike to the top of the falls, but that would take a long time and eat away at your time in the park.
The Lower Falls trail is just thirty minutes and it is an easy kid-friendly hike to the foot of the falls. If you are hoping to see the waterfalls at their most stunning, then it is best to visit Yosemite in April, May or June. The waterfalls in Yosemite are due to the ice melting so they have usually dried up by July and August.
The walk is still beautiful any time of year and you may even spot a few deer. With the water cascading down, it is considered one of the best photo spots in Yosemite.
Alternatively, you could climb over the rocks to the pool of water the falls have left behind. This is a great warm-up to what the day has in store and a perfect trail if you are visiting Yosemite with kids.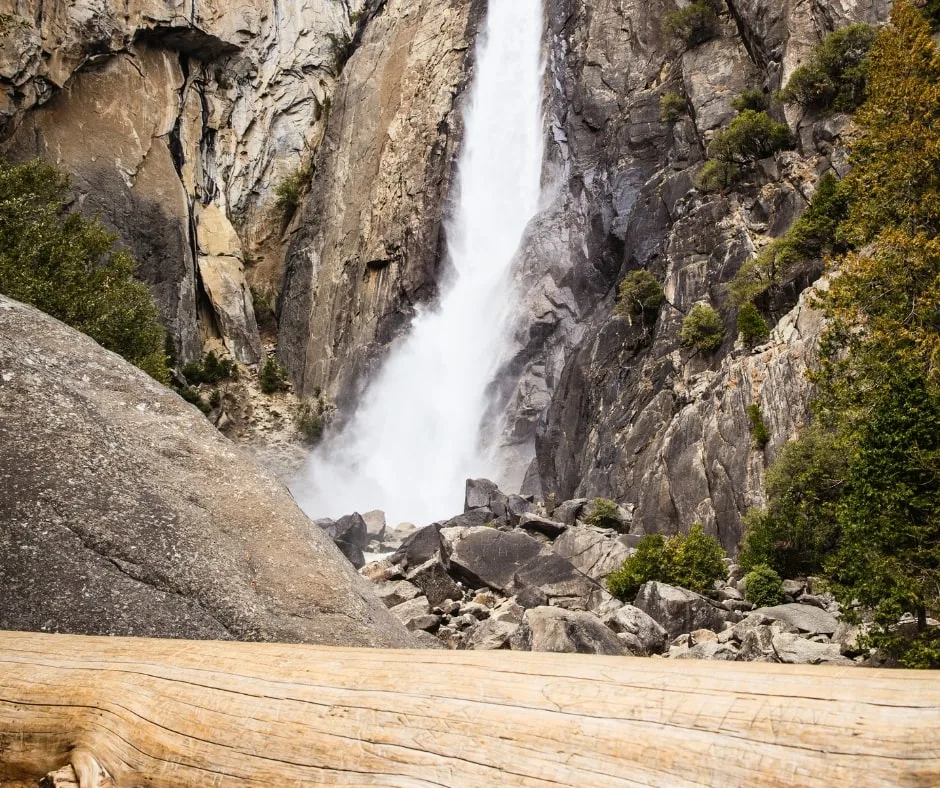 Take a Trail in Yosemite in a Day
Next, you can take the free shuttle to shuttle stop #17, or drive to the far east end of Yosemite Valley. Here you can find the starting point of your next hike. This one is a little longer as it usually takes around two and a half hours to complete. However, the Mirror Lake Loop Trail is easy and one of the best hikes in Yosemite.
Like the waterfalls, the lake dries up by July. If you visit before then, expect to see the beautiful scenery around you reflected in the lake. You could even take a quick dip in the refreshingly cold water.
This trail is still recommended in the summer. Not only are the views superb with local flora, fauna and large boulders everywhere, but there is also plenty of wildlife around. Some bears and deers have been spotted around the lake.
Mosquitoes also love this area, so make sure to take your bug spray with you!
Have Lunch One Day in Yosemite
There are a few options for lunch. You could bring a picnic with you and sit beside the lake. If it is too early, then you could have lunch back at the Valley. You can find a number of restaurants to grab a quick bite to eat.
If you are looking for a change of scenery then the Valley also has plenty of picnic areas scattered around. Some of them can be found at The Cascades, Cathedral Beach, Sentinel Beach, Swinging Bridge, Church Bowl, Lower Yosemite Fall and El Capitan.
Most of the picnic areas have grills and some have potable water. Remember that there are bears in Yosemite. Always keep your food within arms reach and clean up all of your food and rubbish before you leave.
Unlike other National Parks, bear spray is prohibited in Yosemite. in the unlikely event that you do see a bear, it is recommended to make loud noises to scare them off and of course call a ranger!
See the Sequoias in 1 Day in Yosemite
After lunch, you can jump back in the car and head to Mariposa Grove. To combine your trip, make a stop at Tunnel View. It is probably one of the most famous sights at Yosemite and it is a tourist attraction that many people visit.
It includes the Tunnel Viewpoint which offers picturesque views of Yosemite Valley. The vista includes El Capitan, Yosemite Falls, and Half Dome.
There are also some hikes one can make to get to the Tunnel Viewpoint such as the Panorama Trail or the Four Mile Trail but with just one day in Yosemite, there just isn't enough time to explore them.
The drive from Tunnel View is one hour, but it is just so majestic you can not miss it. It is the home of the world's largest living sequoia trees and it is one of the most breathtaking sites in Yosemite National Park.
The Mariposa Grove has a hiking trail that takes you to its famous fallen giant, the Grizzly Giant Tree. It is the perfect place to explore if you are visiting Yosemite with kids.
There are also plenty of picnic tables to have a rest and a quick snack before you move on to the last leg of your one day Yosemite itinerary.
Just remember that the road to the grove closes in fall, so you may have to hike two miles instead of taking the bus.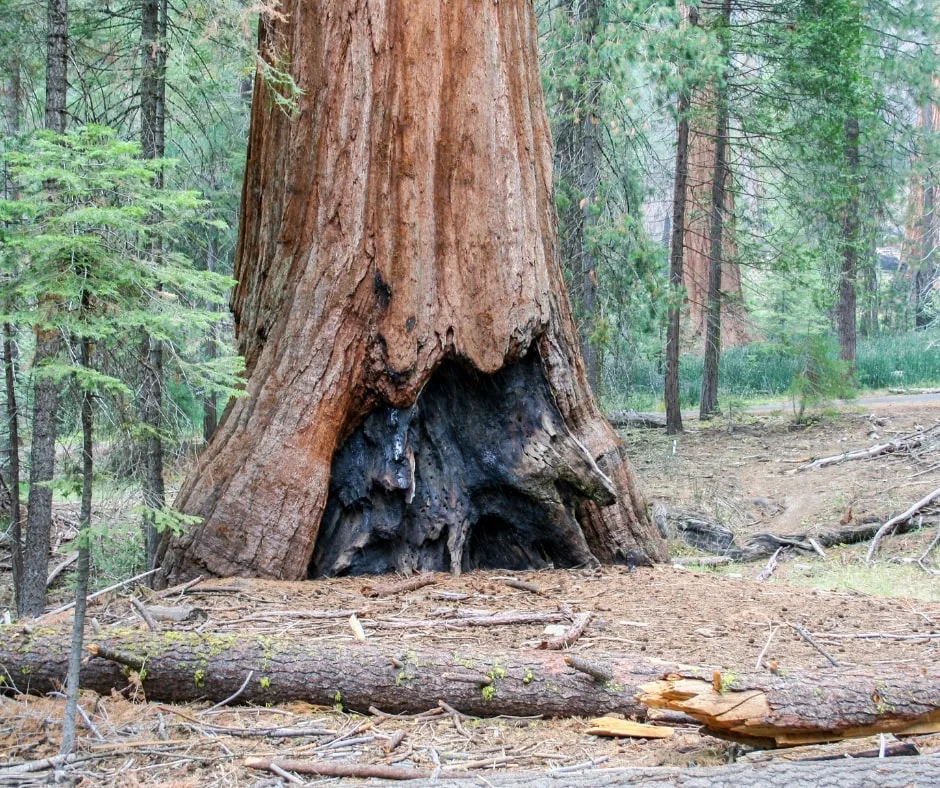 Yosemite One Day Itinerary View Point
After seeing Yosemite from the ground it is time to have a look at it from a different vantage point. From Mariposa Grove drive one hour to Sentinel Dome. From here you can truly get a sense of the scale of Yosemite National Park.
With 360 degree views, there are plenty of opportunities for photographs or just sit there to take in the incredible view 3,200 feet above the valley floor.
To the north is Yosemite Valley, including El Capitan and Yosemite Falls. To the east Nevada Falls, Half Dome and Clouds Rest, and some of High Sierra peaks. Over to the west, you can see down Yosemite Valley and even the Merced River canyon.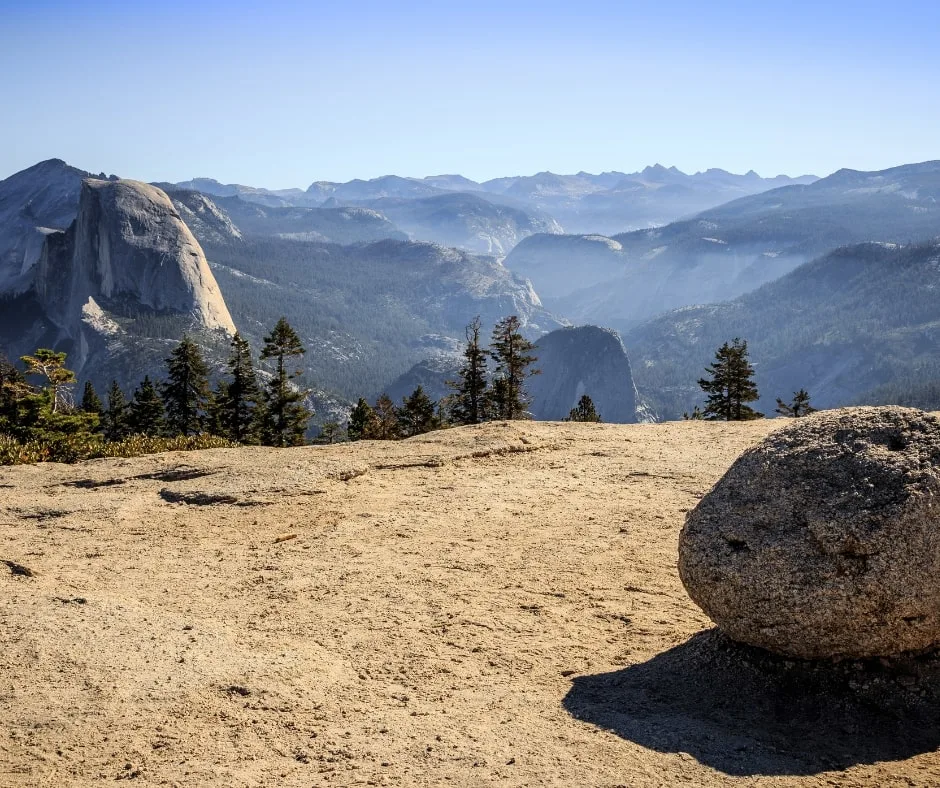 What to do in Yosemite in One Day?
From Sentinel Dome, you can take the trail to Glacier Point or if you are pushed for time you could drive. Glacier Point is a very popular tourist destination.
It offers a view of the Yosemite Valley, Half Dome, and El Capitan. Tourists visit Glacier Point to experience the natural beauty of Yosemite.
The observatory at Glacier Point provides tourists with a stunning view of Yosemite National Park's breathtaking scenery. It is also a great place to watch the sunset.
Watching the tip of the mountains turn beautiful shades of orange and red is the perfect end to your day before heading back to the valley for dinner.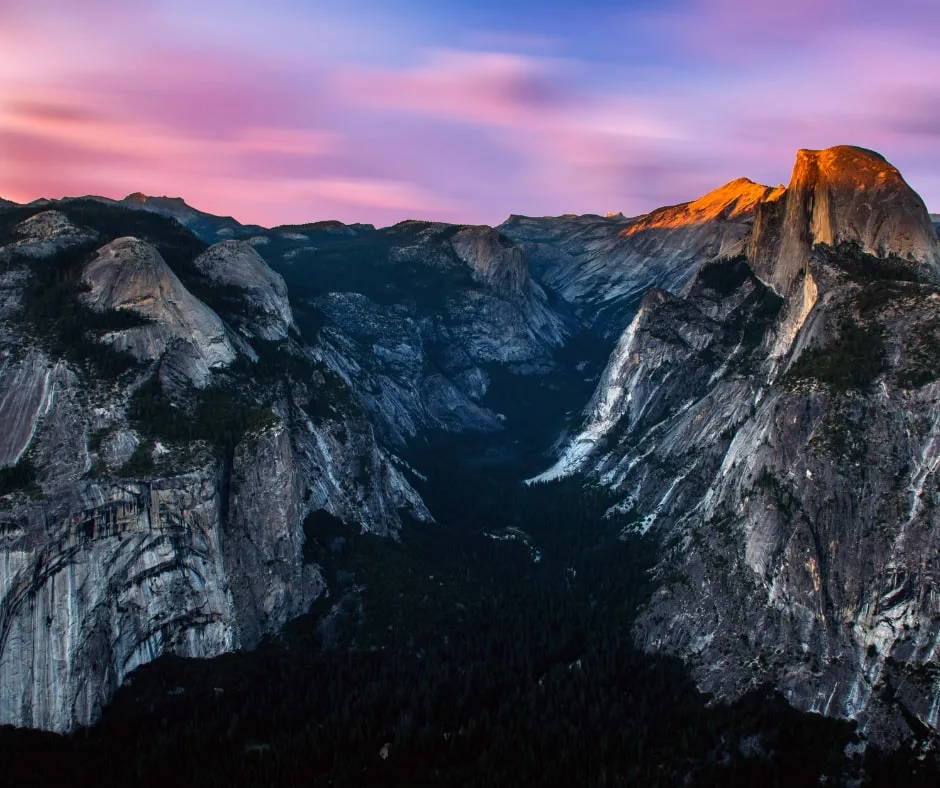 One Day Itinerary Yosemite Evening Meal
It has been a long day, so it is time to end your trip to Yosemite itinerary with dinner. There are a few options inside the park or you could make a stop in one of the towns on your way back.
If you are looking for something quick and easy then Curry Village has plenty of choices. However, if you are looking to splash out, then consider a formal dinner at The Ahwahnee. It is a bit pricey but the service and food are exceptional.
The Ahwahnee is a historic landmark in Yosemite National Park. It is one of the most historically significant buildings. Just like any other building that has been around for decades, the Ahwahnee has gone through a lot of changes over the years.
The Ahwahnee was completed in 1927 and it was built in the style of a Native American Indian lodge. The name "Ahwahnee" means "big mouth" or "big opening". This name was given because it is located on a promontory with an open view of Yosemite Valley below.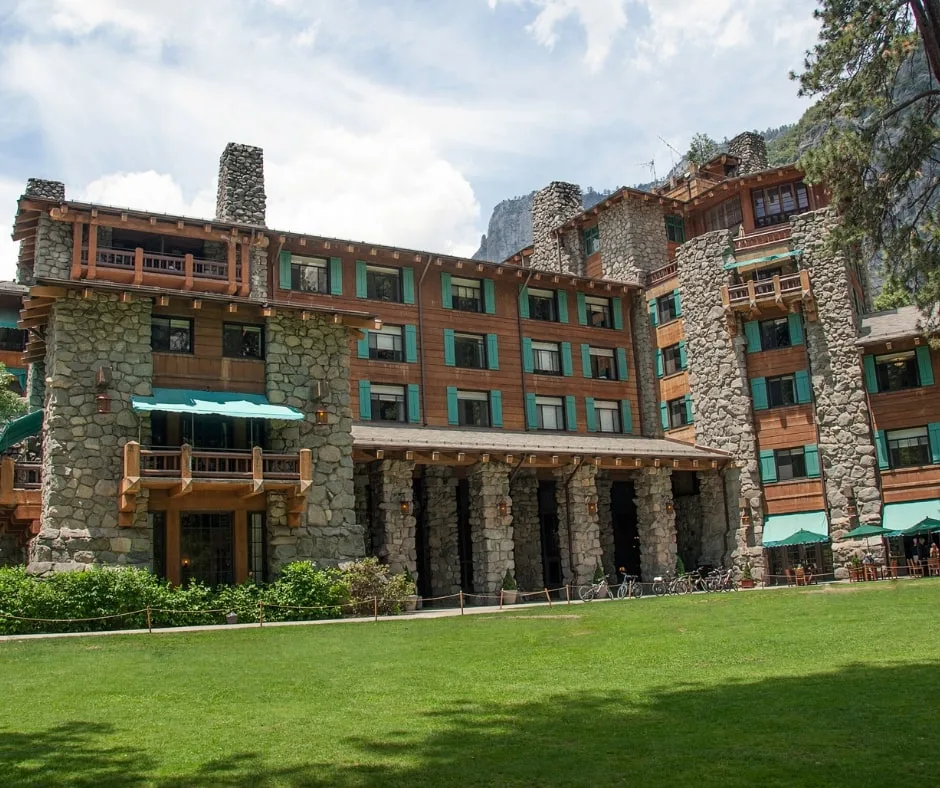 A Day Trip to Yosemite National Park
Another option to see Yosemite National Park in one day is a tour. There are a number of tours from San Francisco that pick you up in the morning and drop you off late at night.
A Yosemite tour includes a bus tour to many of the most popular places in the park including El Capitan, Bridalveil Falls, Vernal Falls, Yosemite Falls, Cathedral Spires and Half Dome.
You also get some time to yourself to explore the park and even go on a hike near the Valley. Your guide is on hand to help you figure out what to do and to give you extra information about the history and geology of the park.
You can bring your own food and have a picnic or buy some food at one of the restaurants in the valley.
To book a Yosemite Tour from San Francisco click here.
What to Know Before Spending One Day in Yosemite National Park
Trying to fit in all of what Yosemite has to offer is no easy task. The itinerary above requires you to leave at the crack of dawn and arrive home in the dead of night. If you think it is too much then feel free to pick and choose what you would like to see.
This guide is also about visiting the park from spring to autumn. If you are planning a trip to Yosemite in winter, you might need to make some changes to the itinerary.
Many of the places in the valley are open all year but you would need to bring snowshoes. The way to Mariposa Grove may be covered in snow in winter months of January, February and March. You won't be able to drive it, but it is still possible to hike there.
Additionally, Sentinel Dome and Glacier Point are off the Glacier Point Road. While this road is open the majority of the year, closes in December due to snow and doesn't reopen until late May or early June.
If this is the case during your visit you don't have to include them in your itinerary. Alternatively, you can spend more time in the Valley or take your time on some of the other trails.
Another thing to consider before you leave is that there won't be very much service in Yosemite. Surfing the net or making calls is probably the last thing on your mind when you are surrounded by so much beauty, but it also means you won't be able to access maps easily.
AllTrails is a great app it allows you to download maps of trails straight to your phone.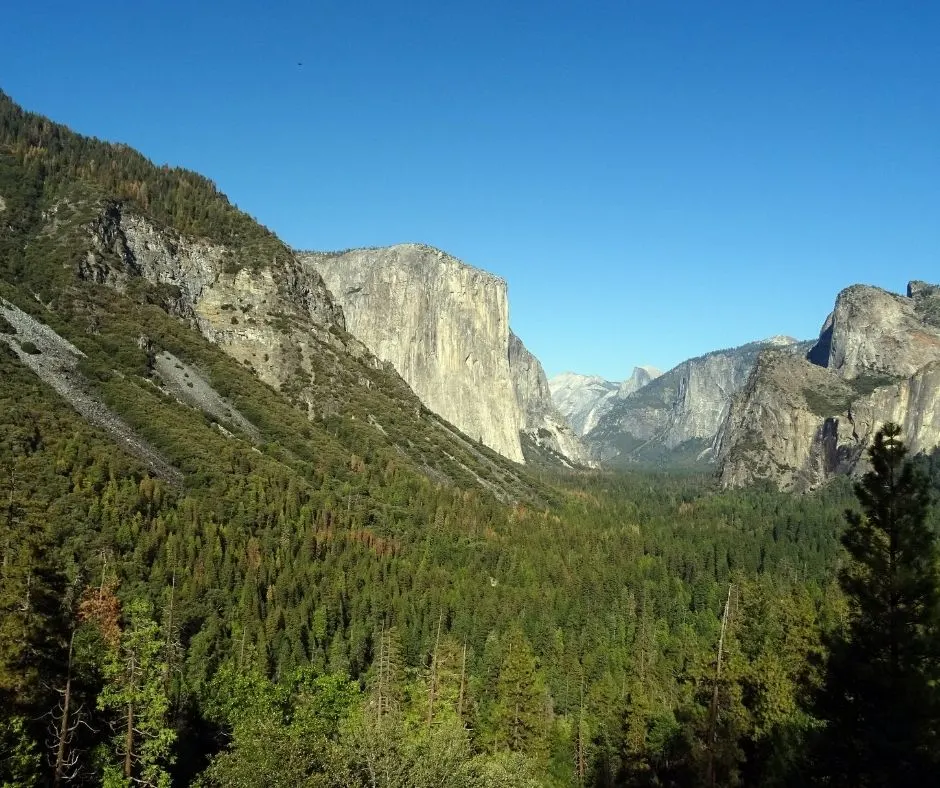 One Day in Yosemite with an Overnight Stay
Due to this being a long trip, you may want to consider spending the night and driving home the next morning. With hikes and long drives, it can all get too much. There are a few places to stay in Yosemite, or you could stay in some of the towns in the surrounding areas.
If you were just planning on spending one day in Yosemite then the campgrounds and RV parks near Yosemite will more than likely be full. On the west side of the park, there are plenty of holiday homes for you to stay in.
Many of them do require guests to stay for a least two nights. But there are plenty to choose from and you may get lucky with a cancellation or a day between a booking.
To book a vacation rental at Yosemite National Park click here.
One Day in Yosemite with a Night in a Lodge
If you are heading back to San Francisco then there are plenty of towns and cities along the way. Just outside Yosemite is El Portal. It is near the Arch Rock Entrance and it is the closest town to Yosemite and is popular for visitors that come to try their hand at rafting.
As Yosemite gets booked up months in advance, El Portal is the next best choice for accommodation as well.
El Portal is along Highway 140 and a fantastic place to rest your head for the night. Yosemite View Lodge has four pools and a hot tub onsite. The hotel has a restaurant and there is also a nearby convenience store if you need to grab a few things.
Make a reservation here for Yosemite View Lodge.
One Day in Yosemite Hotels
If you are exiting by the South Entrance on your way to Los Angeles, then you may want to stay at a hotel in Fish Camp.
Tenaya Lodge has lots of amenities to help you relax and prepare for your trip back home. You can relax in the spa, enjoy a gourmet dinner at the on-site restaurant.
The hotel is nestled in the mountains, but it is just two miles from the entrance of Yosemite. It is a lovely hotel that provides everything you need for a good night's sleep after a fun and exciting day in Yosemite.
Book your stay at Tenaya Lodge here.
Stay One Day in Yosemite
With Las Vegas being so far away, an overnight stay should definitely be on the cards. If you are leaving from the South Entrance, then you may decide to stay in Fish Camp also. However, if you are exiting using Tioga Pass then there are a few hotels not far from the entrance.
You are not going to find five-star hotels here, but there are still great places to get some rest. Thirteen miles away from the entrance is Lake View Lodge. Choose from a guestroom or cottage. They both have some amenities to make a quick bite to eat and freshen up.
The Garden House Coffee Shop is open during the summer and autumn months. and there are shopping and other dining areas less than 10 minutes walk away.
To find out more about Lake View Lodge click here.
One Day in Yosemite Packing List
You may not think you need to take a lot with you on your trip to Yosemite, but you may be surprised. While it depends on the time of year you visit there are a few items that you should always include in your Yosemite packing list.
Clothes to suit the season. It is recommended to alway have layers of clothes, no matter the time of year. The temperature and weather can change in the blink of an eye in Yosemite so it is best to be prepared.
If you don't want to download AllTrials, you might consider bringing a a map of Yosemite National Park. While you might be able to purchase one on your way there, you could have it all mapped out before you arrive. This would save a lot of time and energy.
Another item for any trip is a first aid kit In fact, it is best to have one in your car at all times. Howver, if you are hiking or camping them make sure to make some space for it in your backpack.
You might think that suncream is only for the summer, but don't forget to bring it in autumn and spring. Many of the trails in Yosemite are not shaded so plan on being in the sun a lot of the time.
There are storms in Yosemite all year round. It would be foolish to visit the park without any rain gear. Choose lightweight jackets that are easy to carry.
Last but not least is Hiking boots. you can expect to do a lot of walking in Yosemite. Whether you are hiking or strolling around the Valley choosing the right footwear is important. Wear them a few times before you visit to get comfortable with them.
Is it Possible to Spend Just One Day in Yosemite?
Yosemite National Park is a beautiful and incredible tourist destination. It has a lot to offer in terms of scenery, wildlife, and activities for all ages. It is no wonder that Yosemite National Park is one of the most popular parks in America.
You might have thought you needed more time to see Yosemite, but this itinerary shows you can fit in most of the famous attractions in one day. Yosemite National Park consists of over 1,200 square miles and can take at least one full day to explore.
If you are only there for one day, make sure you have a plan that includes the best attractions in the park so that you will not miss anything!
While it is possible to see Yosemite in one day, your itinerary is jam-packed with things to do so expect to be on the go all day.
You may also like:
How to Plan a Trip to Yosemite | April in Yosemite | The Best Hikes in Yosemite National Park | One Day in Yosemite | The Ultimate Yosemite Packing List | Yosemite in Fall | RV Parks Near Yosemite | Rafting in Yosemite | 10 Kid Friendly Hikes in Yosemite | Winter Hikes in Yosemite | The Magic of Yosemite in December | Christmas In Yosemite | Best Photo Spots in Yosemite | Why Yosemite Weather in May Makes it the Best Time to Visit | 10 Reasons to Visit Yosemite in January | The Perfect Guide to Visiting Yosemite in March | 10 Amazing Things to do in Yosemite in February | 10 + Things to Do in Yosemite in June | Pumpkin Farms in Maryland
Best pumpkin farms in Oregon | Flying With A Toddler | Best Pumpkin Farms in Florida | Best Pumpkin Farms In California
Will you be needing travel insurance, flights, rental cars, or hotels for your trip?
Disclaimer: This post may contain affiliate links. By using them it will not cost you any extra, we will receive a small percentage of the sale.