With so many amazing Christmas markets, each with their own unique feel, it's nearly impossible to choose the best one.
Each market has it's own identity with plenty of local treats, fun family activities and classics like mulled wine and nativity scenes to explore whether you go for a Christmas Market weekend break or even Christmas market trips in a day.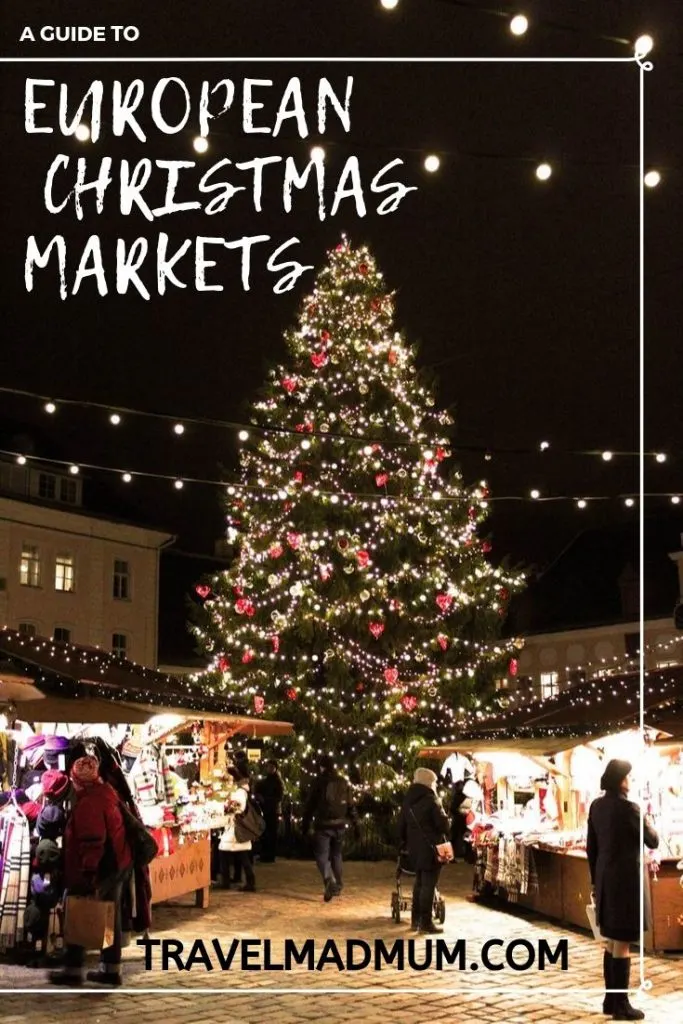 With the help of our fellow bloggers we've compiled this list of what we think are the best Christmas market trips in Europe. By the end of this list you should be set with enough options for Christmas market trips to keep you exploring new destinations every December for the next decade!
If you get through this list and still need more Christmas destination inspiration, check out this epic trip to Santa's Lapland.
European Christmas Markets
French Christmas Markets
1. Amiens Christmas Markets
There are quite a few Christmas Markets on throughout France but Amiens was my first choice because it's not quite as touristy and expensive as other places such as Lille.
The town is just as quaint and authentic as others during the festive period and the rest of the year.
The Christmas Markets in Amiens are set up towards the end of November, and run until New Year's Eve.
Hundreds of rustic huts fill the Main Street, each complete with their own delights. Everything from chestnuts roasting on an open fire, to craft gifts and mulled wine.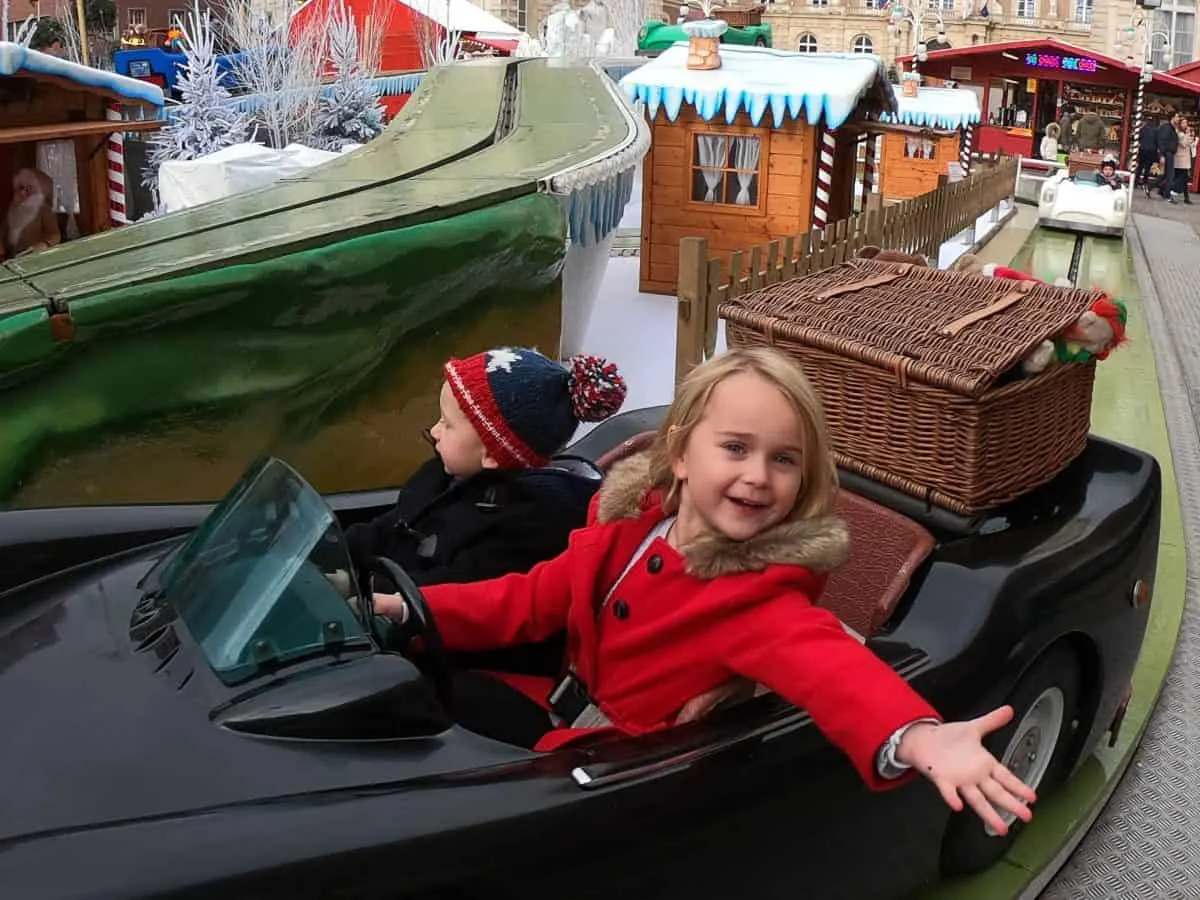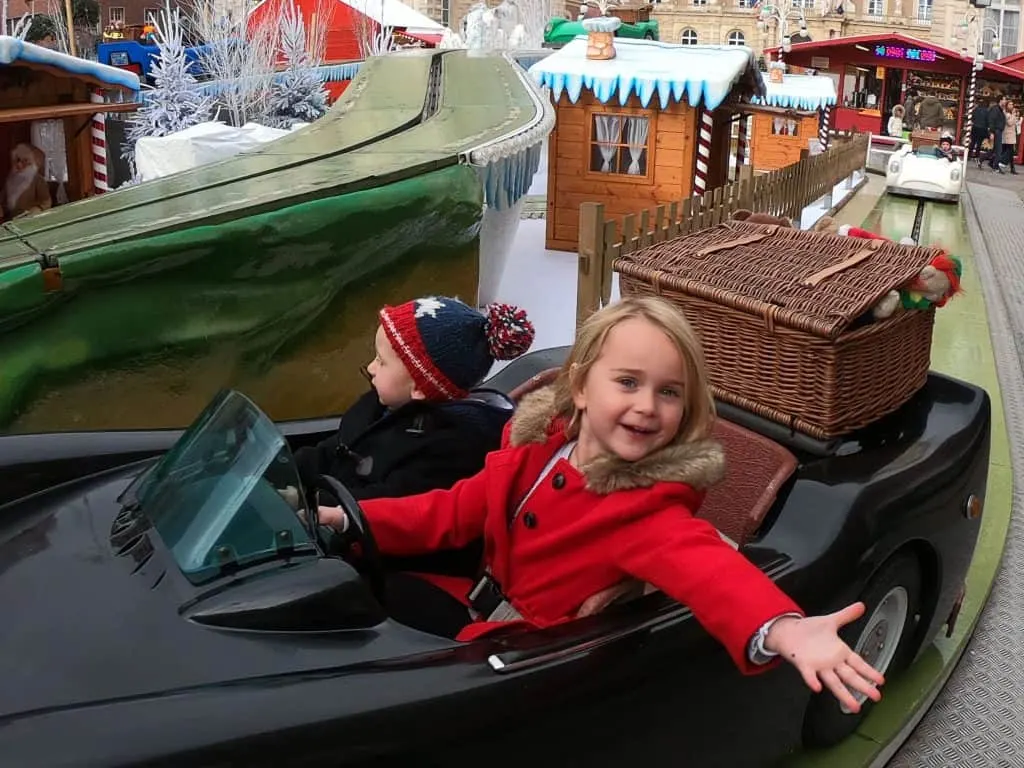 Every 100 yards along the road there is a Christmas-themed ride. It was a lot of fun, from cute cars filled with pretend Christmas gifts to a tree with gigantic bobbles to ride around on.
For older kids there was an ice skating rink and ice zorbing to name a few.
Read more about the Amiens Christmas Market trip and things to do in the area here.
Find the best prices on flights and hotels in Amiens here.
German Christmas Markets
2. Stuttgart Christmas Market Trips
Germany is known for its Christmas markets which each have their own unique energy, so its hard to choose the best Christmas markets in Germany.
I came across Tübingen in Germany when my search narrowed to "best kept secrets" and "unusual markets". The pictures of its cobbled streets and traditional buildings looked too good to miss.
We based ourselves in Tübingen because it is only half an hour from Stuttgart, The Black Forest and Hohenzollern Castle. We went to three different Christmas markets in the Stuttgart area on our 4 day trip.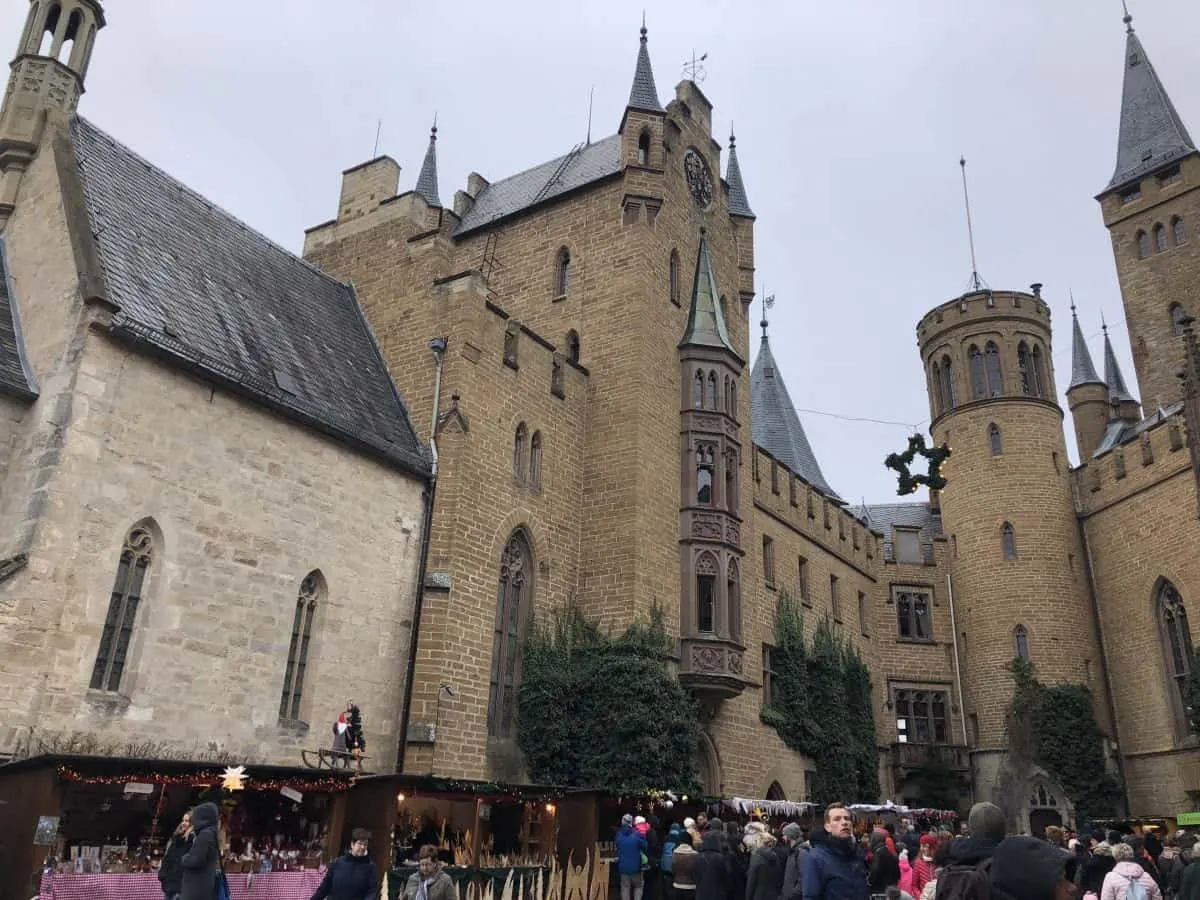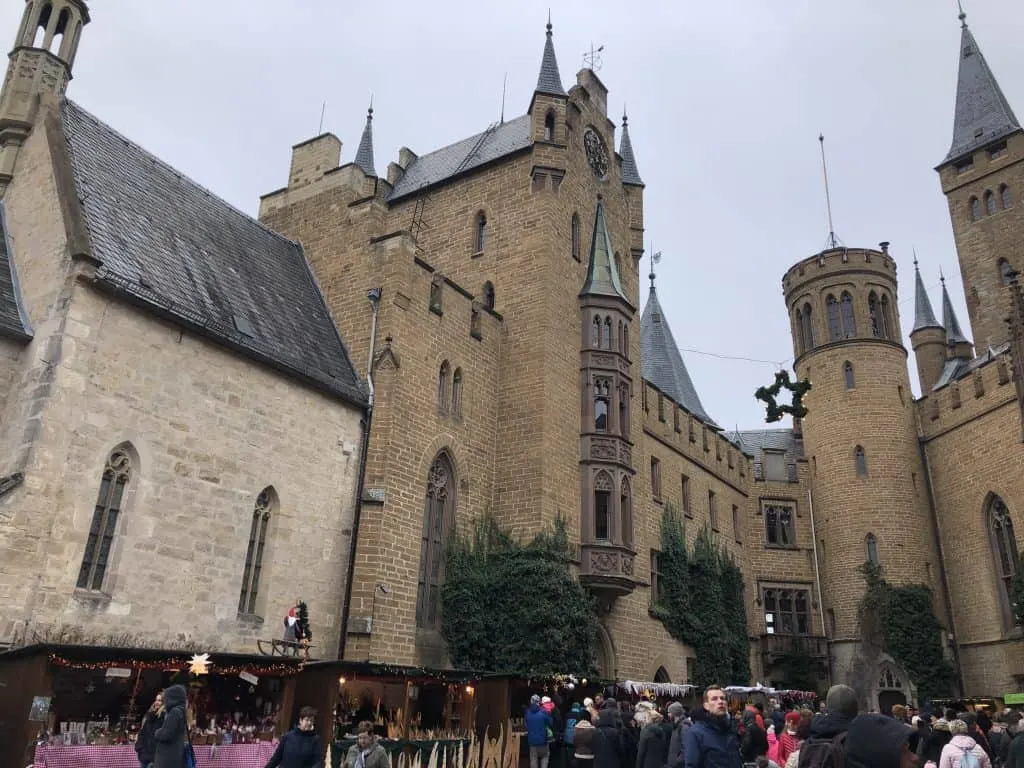 The highlight was visiting the Christmas market that opens within Hohenzollern Castle for two weeks in December. The location itself is so stunning it's worth a visit, but it's made even more amazing decked out for Christmas.
The biggest German market we visited with the largest variety of stalls was in Stuttgart. My son also enjoyed this market the most due to the kids fair.
All the roofs of the market stalls were elaborately decorated and it sprawled over a vast area. This location also had an ice rick and several traditional food zones.
Read more about visiting the Stuttgart and surrounding Christmas markets here.
3. Berlin Christmas Market Trips
Germany is home to some of the best places to go for Christmas markets in the world so it's barely surprising that the capital city, Berlin, knows how to put on a stellar festive celebration or two!
Before you set off though check out this post on some things to know before visiting Berlin.
Though there are a number of bucket-list Christmas markets around the city, we have three clear favourites for a Berlin Christmas Market Holiday; the Gendarmenmarkt Christmas market, Wintertraum am Alexa and Breitscheidplatz Christmas Market.
The Gendarmenmarkt Christmas market is a traditional market, targeted as a luxury experience. You'll find tasty food, quality gifts and the most gorgeous little market stalls there.
Set amongst beautiful classic German buildings, this is the quintessential market experience you're probably imagining from within Germany.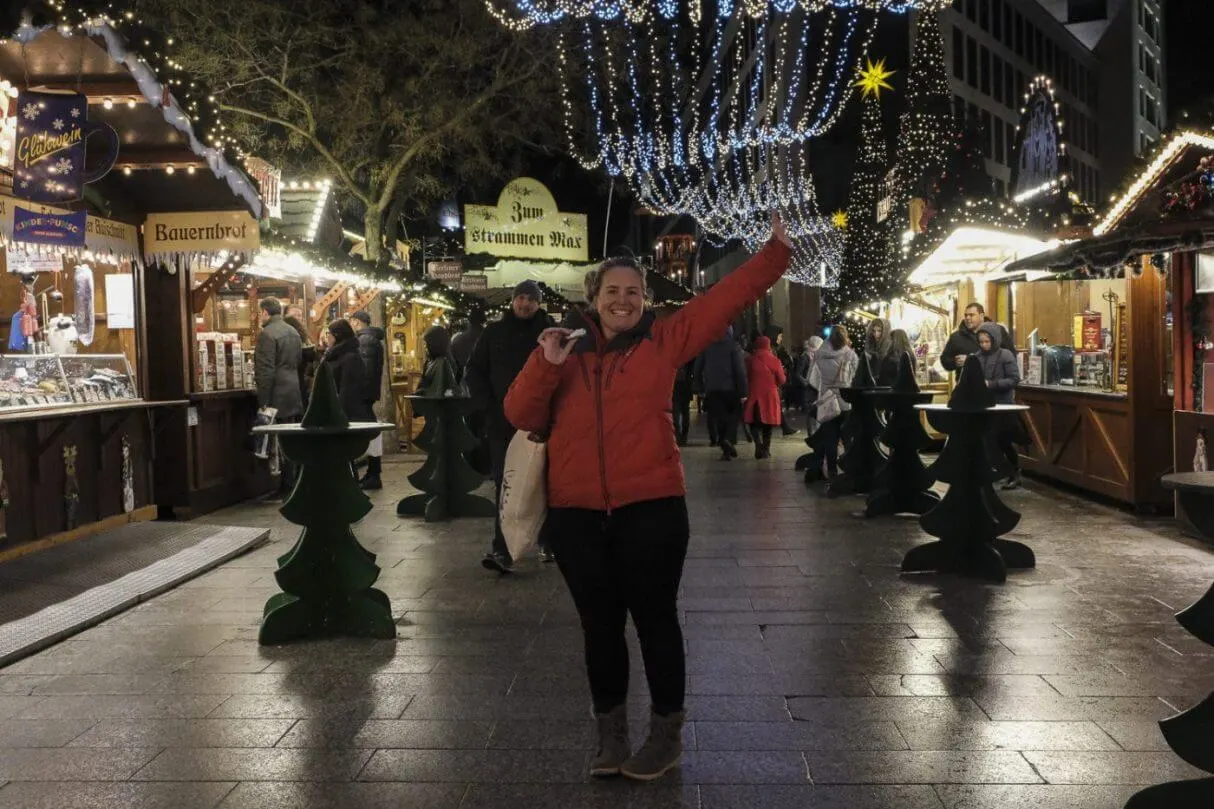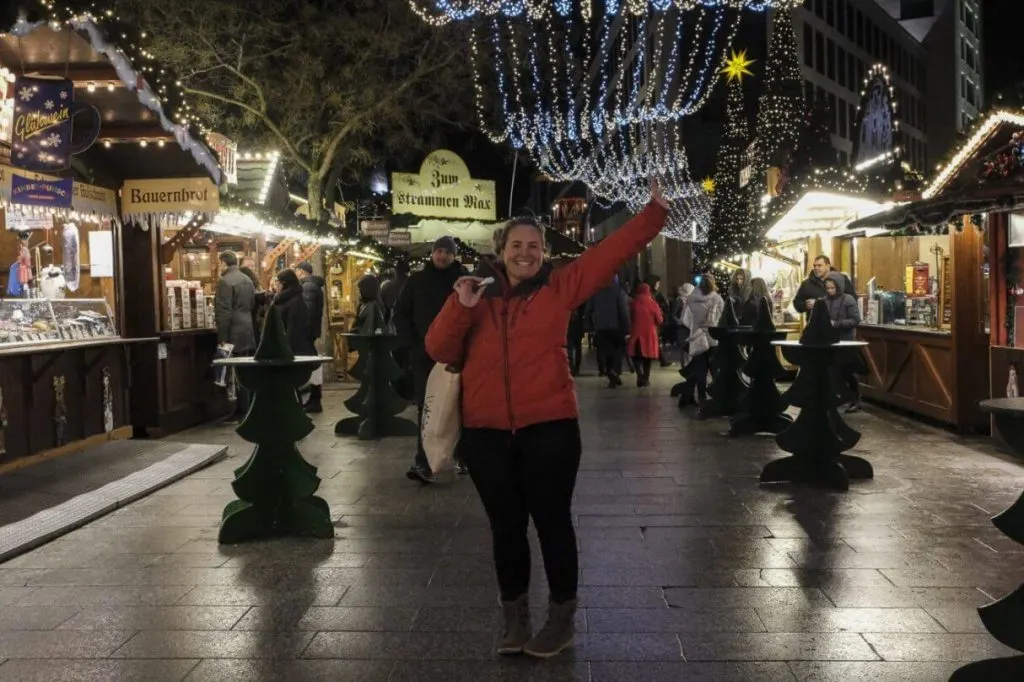 By comparison, you'll find serious fun at Wintertraum am Alexa! With an awesome carnival feel and endless rides, games and entertainment, it makes for an incredible afternoon out for the young and young-at-heart.
Finally, the Breitscheidplatz Christmas Market is another firm favourite in Berlin. Home to a tragic terrorist attack on December of 2016, this market bounced back remarkably well and still hosts festive fun at the base of one of the most beautiful churches in the city.
If you're planning a visit to Berlin during the festive season, a visit to each of these Christmas markets should be top of your list.
Find the best prices on flights and also hotels in Berlin here.
4. Trier Chistmas Market Trips
I don't know about you but if I think Christmas markets I think Germany. Maybe that's because I grew up in the Netherlands and going on German Christmas market trips was something many of us looked forward to every holiday season.
Over the years I've been to a good number of Christmas markets in different European countries but my favorite is the Christmas market in Trier.
Trier is Germany's oldest city and often nicknamed "Rome of the North". With its cobblestone streets and beautiful historical buildings Trier, to me, offers the perfect setting for a traditional German Christmas market.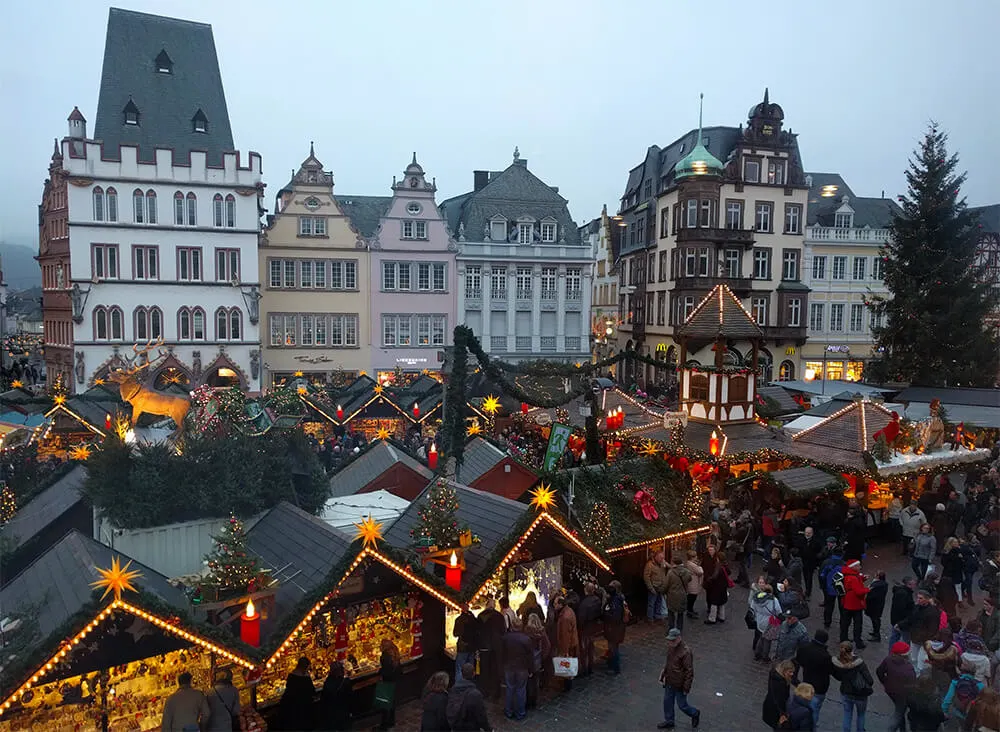 Located on the Hauptmarkt, in the historic center of the city it's a cozy Christmas market that's fun both during the day and in the evening.
Have some delicious gluhwein, try a bratwurst and browse around the market for some great Christmas gifts or to pick up some Christmas ornaments to decorate your house.
And you'll find some fun activities for the kids on the Christmas market as well!
The Christmas market in Trier starts on November 22nd and continues until December 22nd. If you are looking for an authentic German Christmas market and a gorgeous city to visit, I can highly recommend Trier!
Plus, the city is compact and has a very cozy feel to it which makes it an easy city to explore, especially with kids.
Find the best prices on flights and also hotels in Trier here.
5. Dresden Christmas Market Trips
Dresden has one of the best European Christmas Markets I know and definitely one of the top Christmas markets in Germany. Dresden happens to be the oldest!
Imagine mulled wine, gingerbread, the famous German sausages, and beautiful historic buildings everywhere you look. There are definitely plenty of things to do in Dresden.
And now picture a Christmas workshop at the entrance where parents can book a Christmas cookie workshop for their kids, while they go shopping? Wouldn't that sound awesome?
Your kids are not into baking? No problem, there's also a fairy tale house where they can sit down and watch Christmas movies, hear a story from Santa Clause or enjoy a wonderful animated Christmas exhibition.
There's also a huge stage where they have hourly performances – most of them specially designed for kids. In the evening it will be mostly Christmas carols from all around Germany.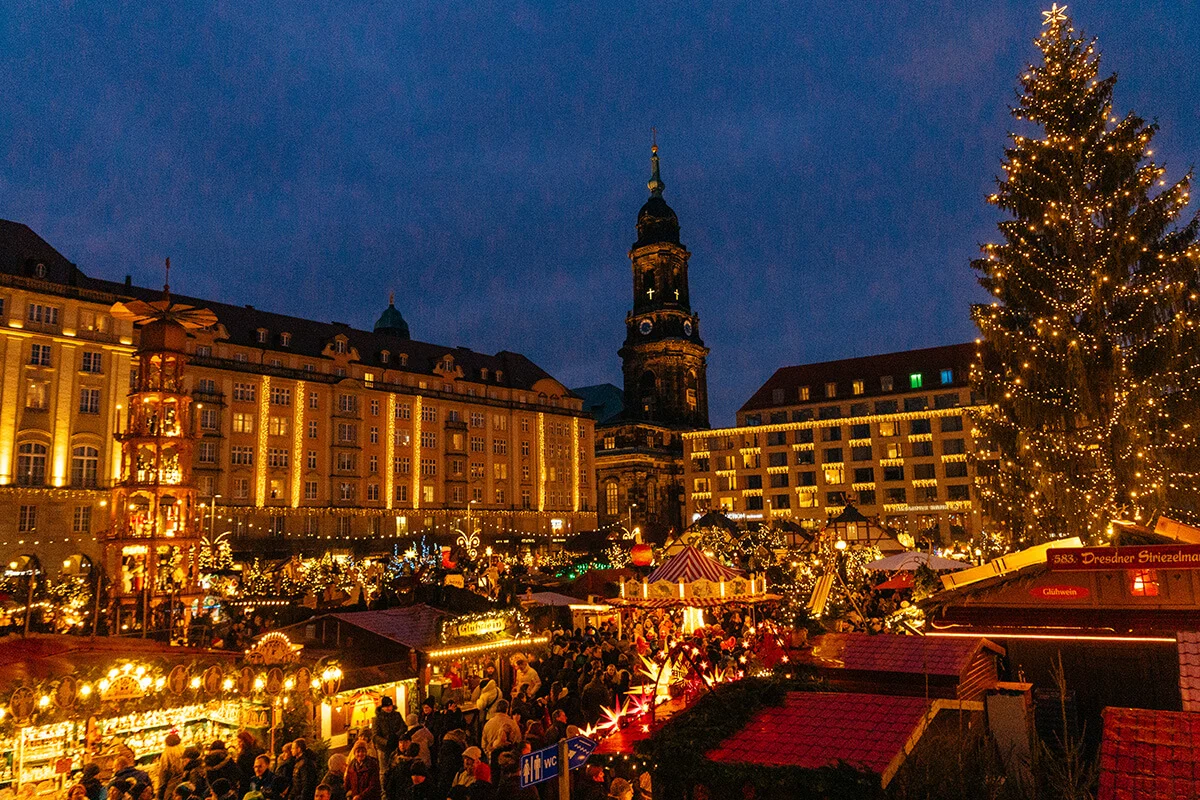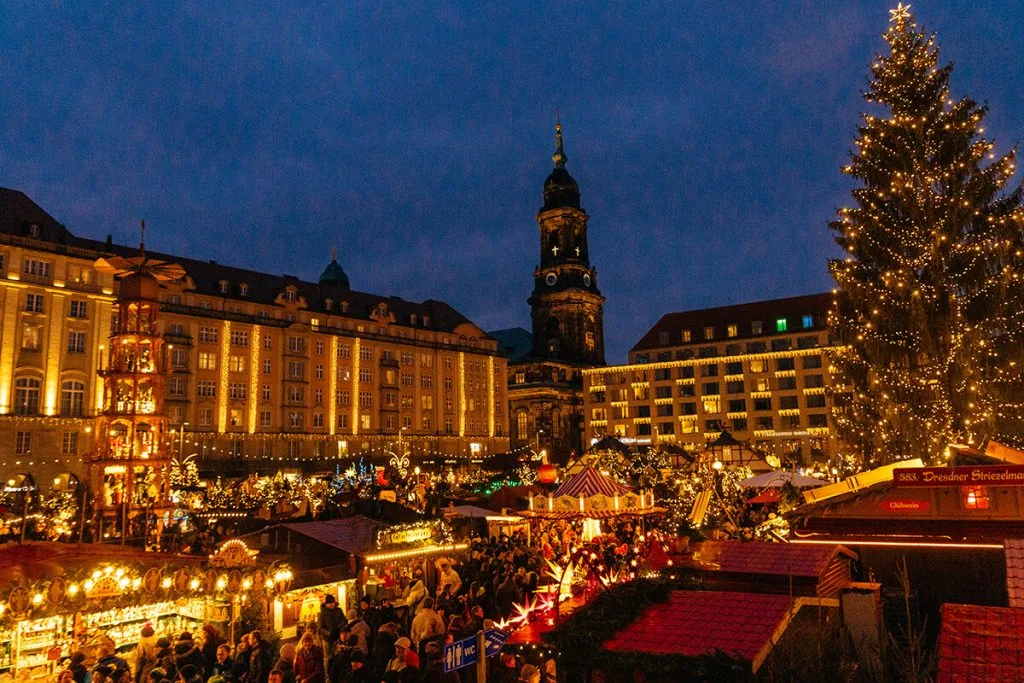 As a kid, I always loved the gigantic Christmas calendar the most. Every day at 3:45 pm, there is a puppet show at the calendar where they open one window and tell a story about it!
It was just exciting to find out what they would reveal. Naturally, I also loved the ferries wheel and the historic carousel.
But here is the best part: In December, basically the whole old town of Dresden is converted into one gigantic Christmas market.
Besides the world-famous Striezelmarkt, there is also a medieval section with a more ancient approach to the festive season.
Right below the famous Church of our Lady, you'll find the Renaissance part of the Christmas market in Dresden. There is just so much to explore that one evening seems hardly enough!
Want to take a Dresden Christmas Market tour? Click here to find out more!
Find the best prices on flights and also hotels in Dresden here.
6. Norwegian Christmas Market Trips
Tromsø is an Arctic city that's famous for the Northern Lights and has a cozy Christmas market you won't want to miss.
In Tromsø, starting from mid-November and going all through December, there are these awesome Christmas markets all around the city.
They're like big holiday fairs. But that's not all! You can also find some fantastic shops selling really unique gifts from the northern part of Norway.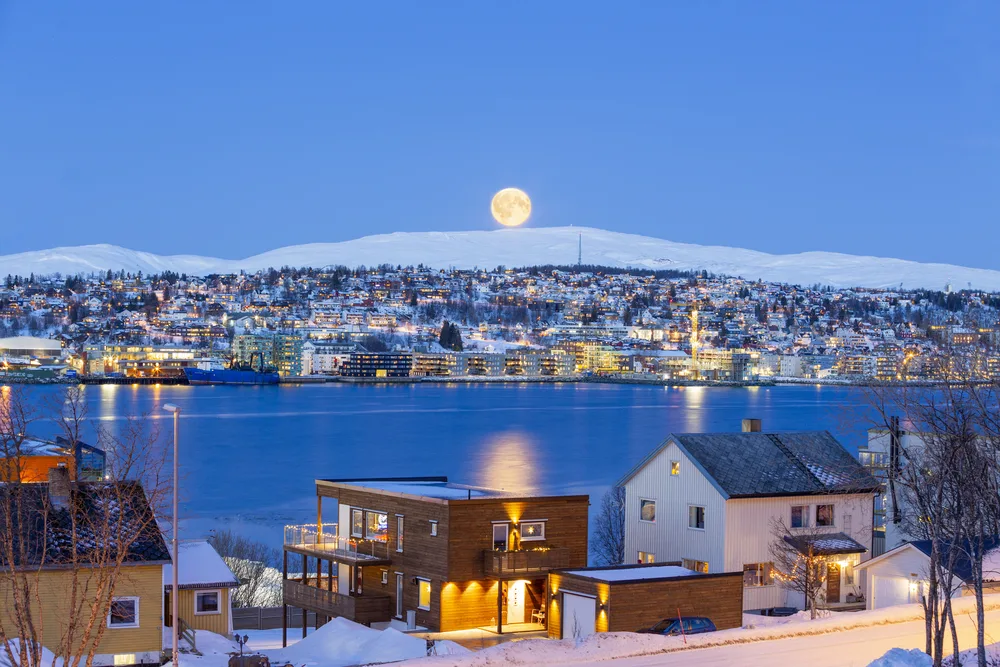 Think of handmade jewellery, bags, cosy knitted stuff, and cool art. Places like Husfliden, Wabi Sabi, and Galleri Nord have some of these treasures.
If you prefer shopping in malls, check out Jekta, Nerstranda, and Veita – they've got you covered for all your Christmas shopping needs.
Now, let's talk about the food! Christmas is a big deal in Norway, and they have some tasty traditions. When you're in Tromsø, make sure to try "lutefisk" (dried cod soaked in a special solution) and "ribbe" (pork belly) at Mathallen.
If you're a fan of seafood, head to Fiskekompaniet for some ocean delicacies, and if you're into craft beer, Tromsø Mikrobryggeri has you covered.
Hungarian Christmas Market Trips
7. Budapest Christmas Market Trips
From mid-November until early January, Budapest hosts some of the best Christmas markets in Europe.
From the popular Vorosmarty Square Christmas Market and the stunning Advent Market at St Stephen's Basilica, to a number of delightful local Christmas markets, Budapest certainly turns on the festive charm.
Surrounded by fairy-tale architecture, Budapest in winter becomes even more scenic with Vorosmarty Square transforming into a real-life Christmas village in the heart of downtown Pest.
With charming wooden cottage-style stalls, Vorosmarty Square Christmas Market showcases traditional Hungarian folk art with local craftsmen displaying their handmade artisanal Christmas fare and gifts.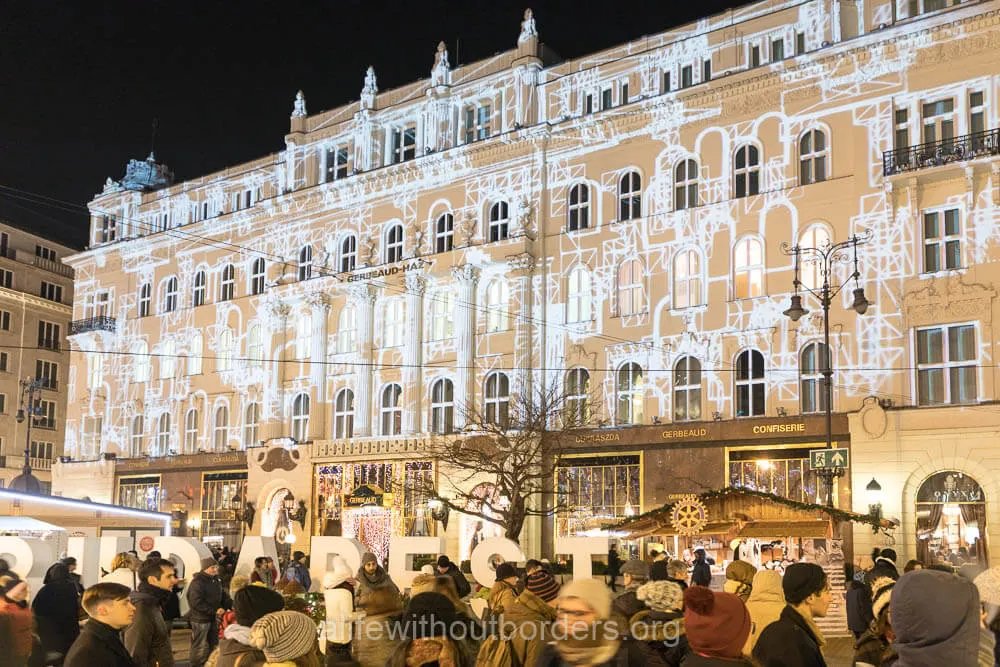 With an open-air kitchen taking pride of place in the center of Vorosmarty Square, there are plenty of opportunities to sample traditional Hungarian dishes until you're fit to burst.
Of course, no Budapest Christmas market would be complete without a hot spiced wine, blackberry punch or krampampuli to help keep you warm.
Who can resist sampling at least one piping-hot kürtőskalács, or traditional chimney cake?
Families can enjoy the nightly light shows projected on the surrounding shops, galleries and cafes as well as a variety of free live performances and concerts on the outdoor stage.
On the weekends, children can also join in one of the many enjoyable Christmas activities and workshops on offer.
If you're looking for even more Christmas cheer, head over to the nearby Advent Market at St Stephen's Basilica to take in the majestic surroundings of this glorious Christmas market.
Situated in the shadow of the grand Basilica, families will enjoy the nightly laser-light show, traditional Hungarian Christmas songs and other free entertainment.
Find the best prices on flights and also hotels in Budapest here.
Czech Christmas Market Trips
8. Brno Christmas Market Trips
Christmas in central Europe is truly magic, both in terms of atmosphere and sights. There is little doubt that one of the best things to do in the Czech Republic is visiting its incredibly scenic Christmas markets.
While most people spend their time browsing the many stalls scattered around Prague, Brno, the second largest city in the country, is a lovely destination for a Christmas market holiday, that feels incredibly less touristy but just as atmospheric.
The markets in Brno officially start on 29 November 2019 and go on until 1 January 2020. You can really buy anything there – from small local souvenirs to traditional food; from hand crafted winter clothing to Christmas tree decorations and wooden toys which children usually love.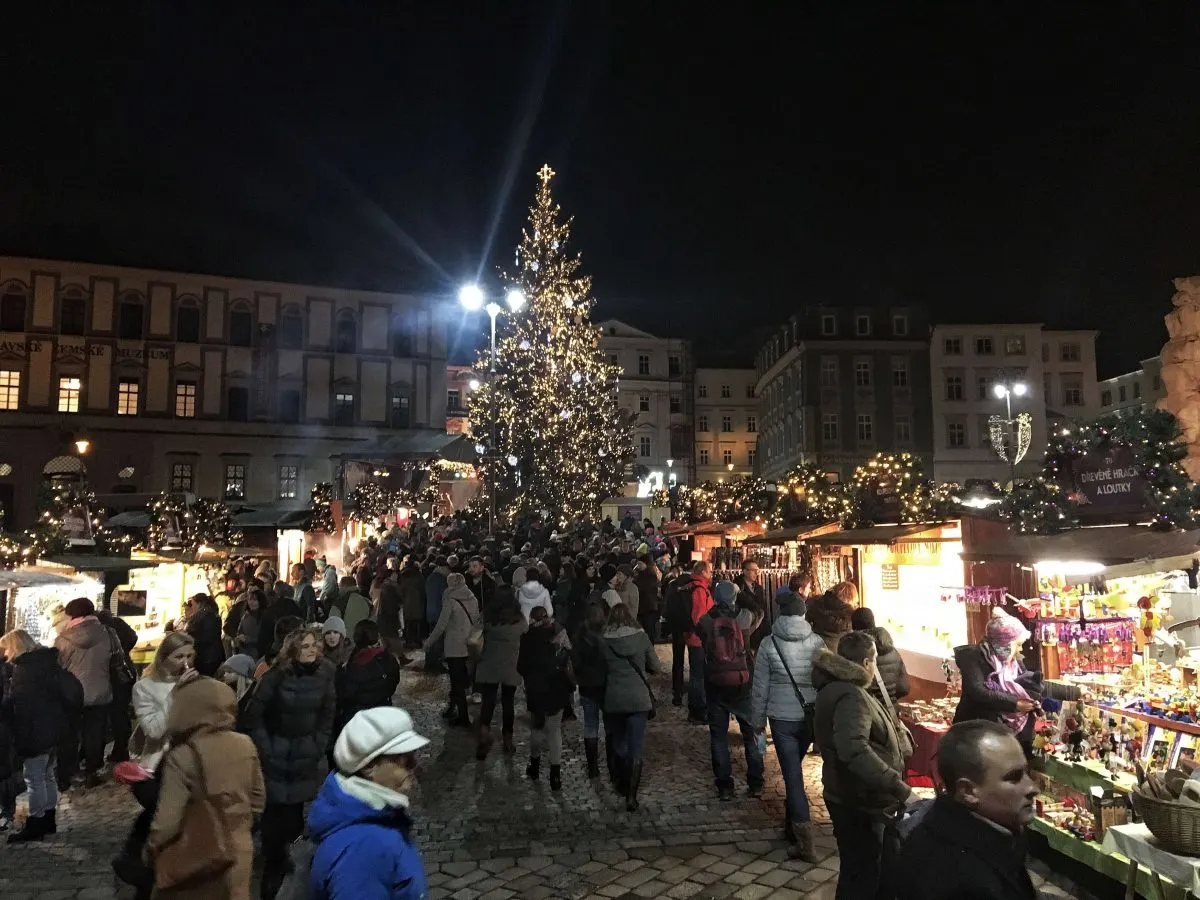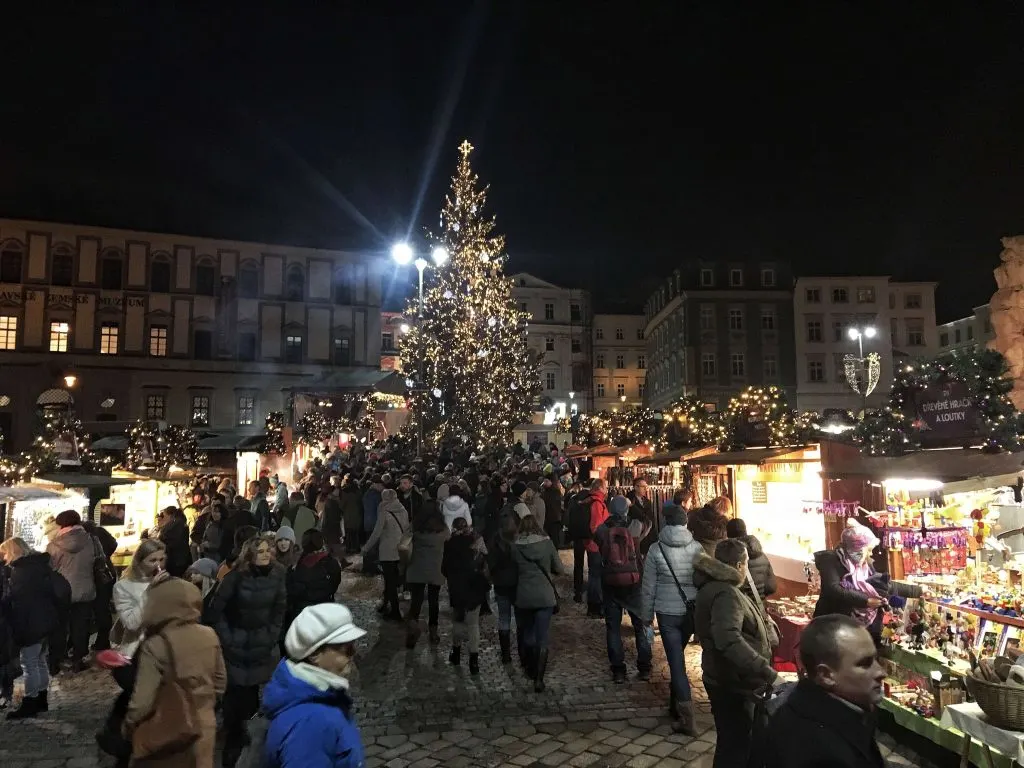 The markets are festive and family friendly, with beautifully decorated trees; people dressed in traditional seasonal costumes that are ready to pose for photos; plenty of performances to entertain children and adult alike; carols; musicians and nativity scenes.
The nicest market is the right by the City Council, where you'll find the largest selection of special seasonal food and drinks – the best is mulled wine, which is bound to keep you warm on the cold nights of the Czech winter.
Children will love trdelnik, a sweet pastry topped with sugar, cinnamon and almonds – make sure they try the one filled with whipped cream for an extra sweet touch.
The best views of the market are those from the tower of the City Hall.
Find the best prices on flights and also hotels in Brno here.
Ireland Christmas Market Trips
9. The Galway Christmas Market Trips
Although Ireland is home to its fair share of Christmas Markets, few are as long-running (or as loved) as the Galway Christmas Markets, which take place in the city from late November until mid-December each year.
The arrival of the much-loved festive markets sees the City of Tribes transformed into a Christmas wonderland. The streets of Galway (Shop St. and Quay St. in particular) are donned with a blanket of fairy lights, which can be perfectly admired from the confines of the city's many lively pubs, restaurants and cafes.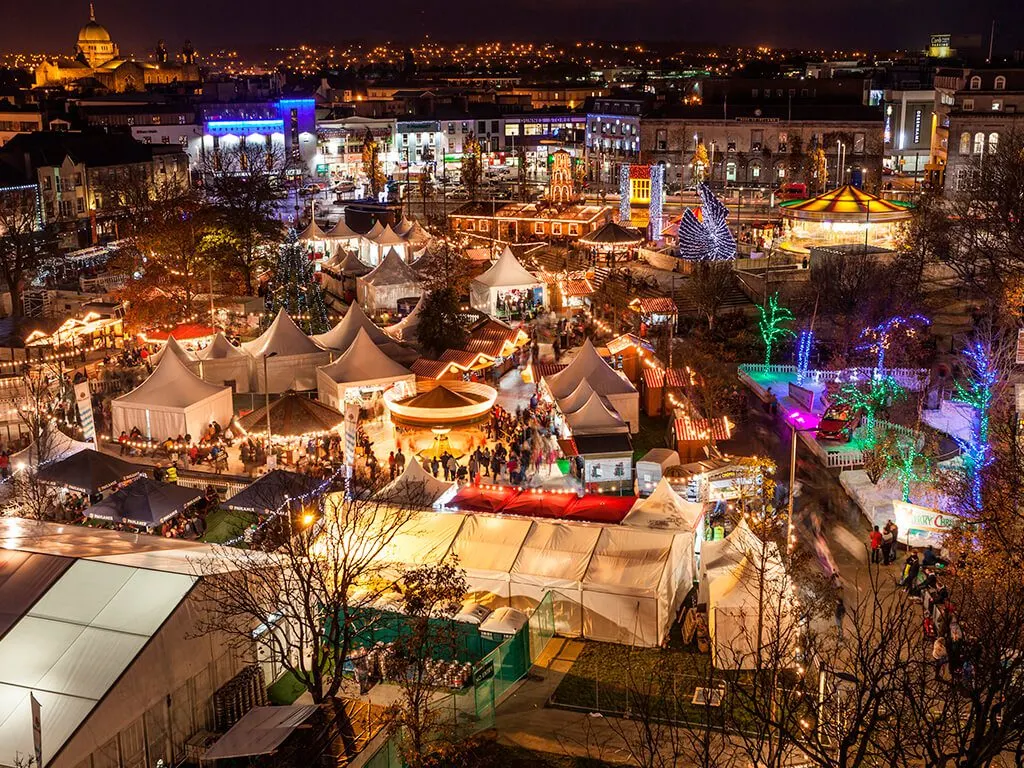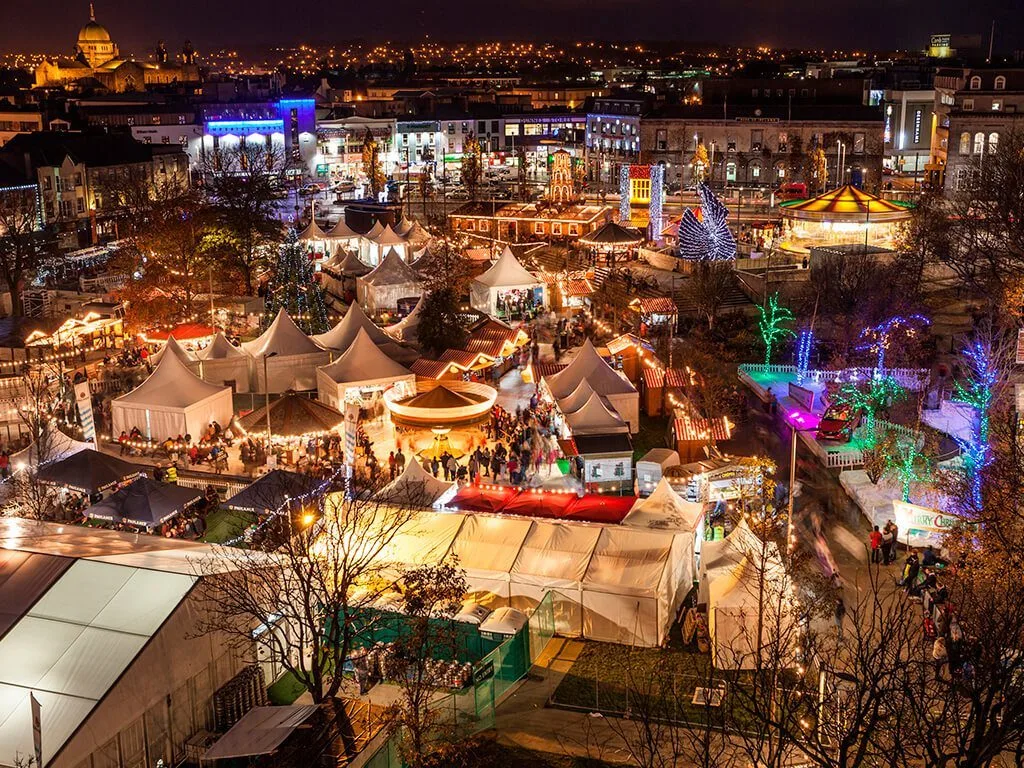 While the Christmas markets mainly take place in Eyre Square and the in the area right next to it, there are several different attractions dotted across the city, from amusement rides to carol services.
One of the biggest draws for families (aside from the vendors that set up in beautiful wooden chalets, selling sweet treats and tasty bites) is the enormous Ferris wheel and the traditional merry-go-round.
Top tip: these tend to attract crowds throughout the day, so if you plan on visiting, try and arrive early in the morning.
For those adults visiting the markets with a family member that's open to minding the kids for a few hours, you can take a little detour into the German Beer tent (you'll find it in Eyre Square) or into one of Galway's many (and I mean many) buzzy pubs.
For lovers of traditional music, the iconic Crane Bar will be the ideal refuge for those seeking some respite from the cold.
Check out Dublin with Kids post here.
Find the best prices on flights and also hotels in Galway here.
Christmas Market Trips in England
10. London Christmas Market Trips
Christmas in London is very magical. Shops start to decorate their windows around the middle of November and the first Christmas light displays also appear. Christmas train rides also start at this time of year too.
Oxford Street and Regent Street have more traditional lights, while Carnaby Street always has something wacky, which isn't to everyone's taste. It is certainly unique and well worth a visit every year.
There are tonnes of Christmas lights trails in the city.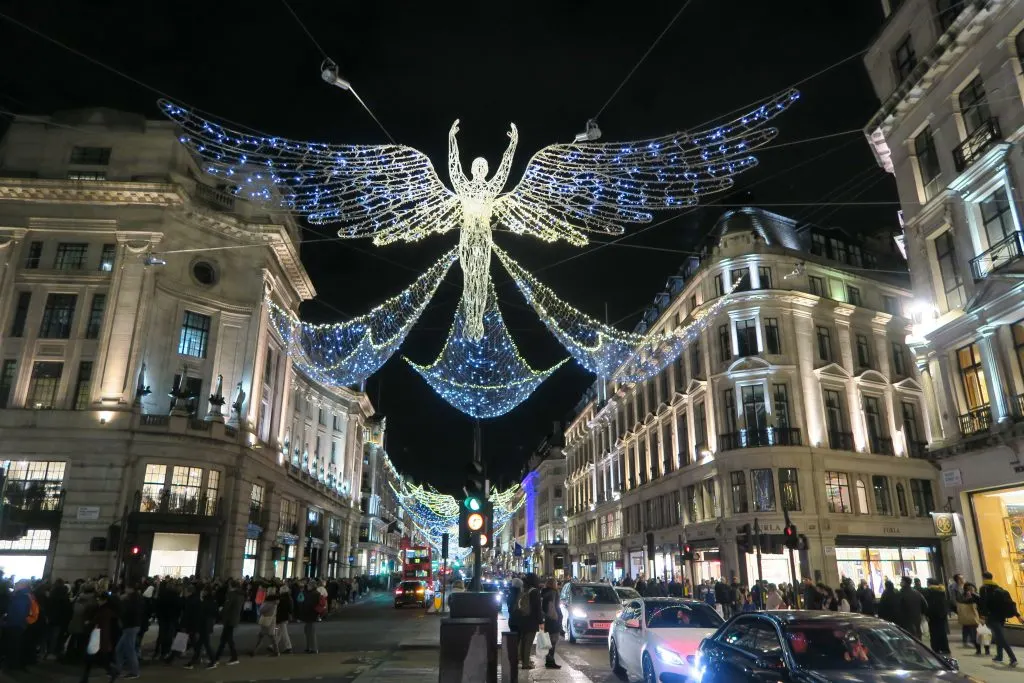 The city has many good Christmas markets. Winter Wonderland is the most popular one. There is something for everyone.
The place is a bit similar to a theme park, as there are many rides including roller coasters, Ferris wheel, haunted house, merry-go-round, bouncy castles and mirror maze.
You can also book tickets for performances like magic shows, concerts and theatre plays. If you get hungry there is a lot of option in terms of food and drinks.
Winterville at Clapham is another fun Christmas market. It is also home to the Backyard Cinema, where you can watch festive movies.
But only after you find your way out of the maze, that they set up. It is really fun, especially for Christmas in London with kids.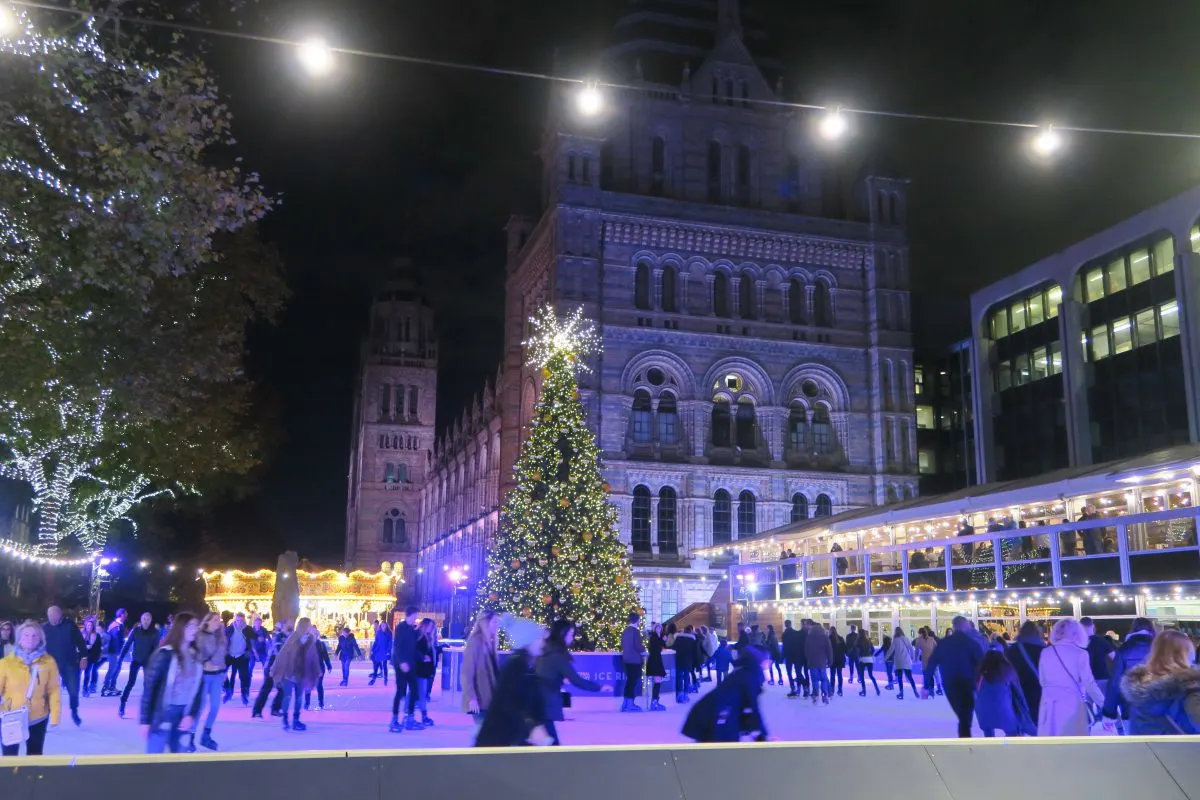 London also has lots of pop up events. Christmas at Kew is the local families' favourite. It is a 2.6 km long trail, which is illuminated with festive lights.
The London Zoo also has a similar trail, so there are lots of options. If you enjoy ice skating you can visit one of the many open-air ice rinks in London.
The National History Museum, Somerset House and the Tower of London are all great options. You can rent Penguin pals, which are fantastic skating aids for children.
Discover more exciting places to visit in London with kids here.
Find the best prices on flights and hotels in London here.
11. Winchester Christmas Market Trips
Whether you're at home, travelling or living abroad for Christmas, a festive market is always fun!
European Christmas fairs are famous for their delicious food, cute souvenirs and fun entertainment and Winchester Cathedral Christmas Market is no different.
It's just an 80 minute train ride from London, and only 15 minute walk from the station.
Set in the grounds of the incredible Winchester Cathedral, the English Christmas market usually begins towards to the end of November so there is plenty of time to enjoy the winter cheer.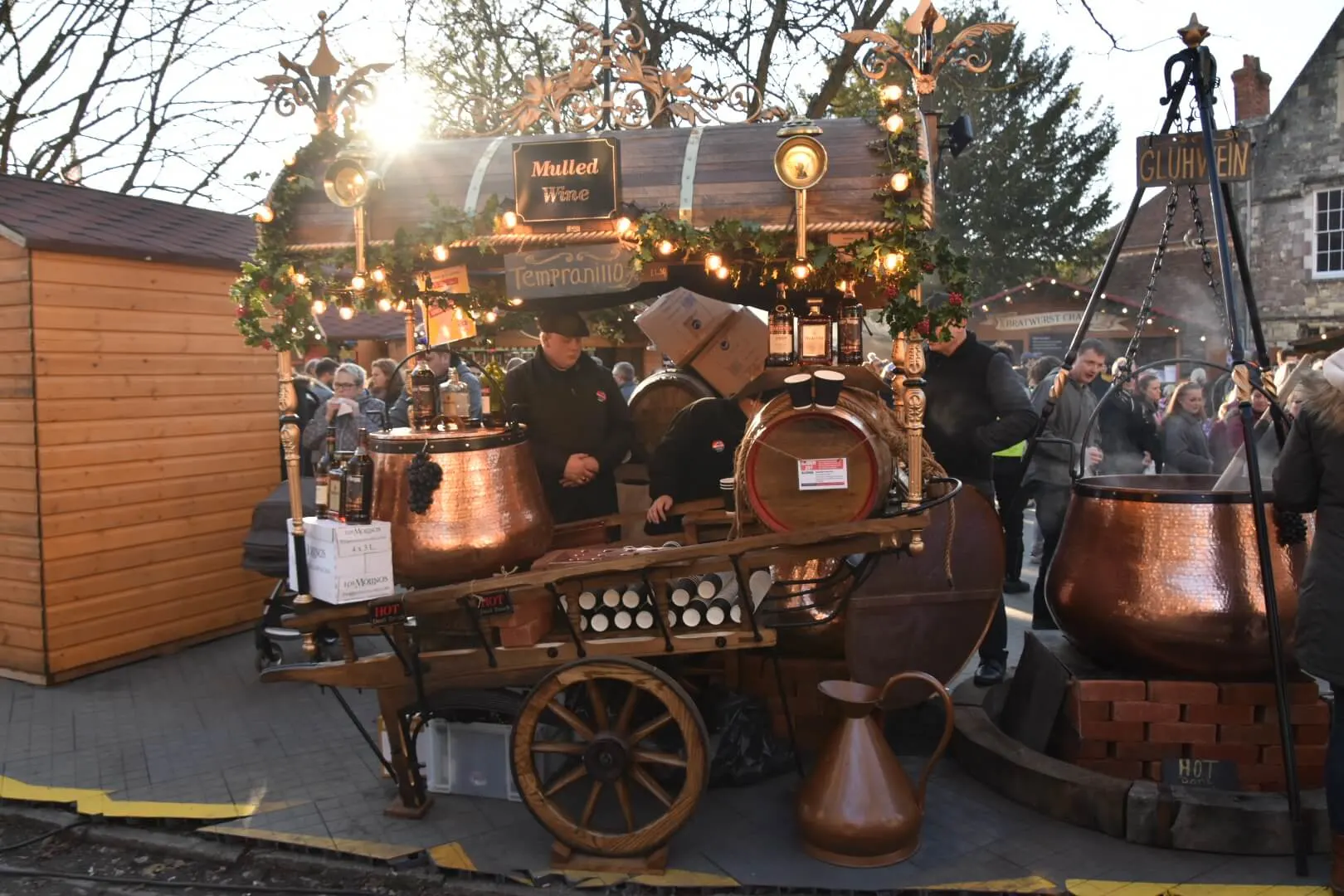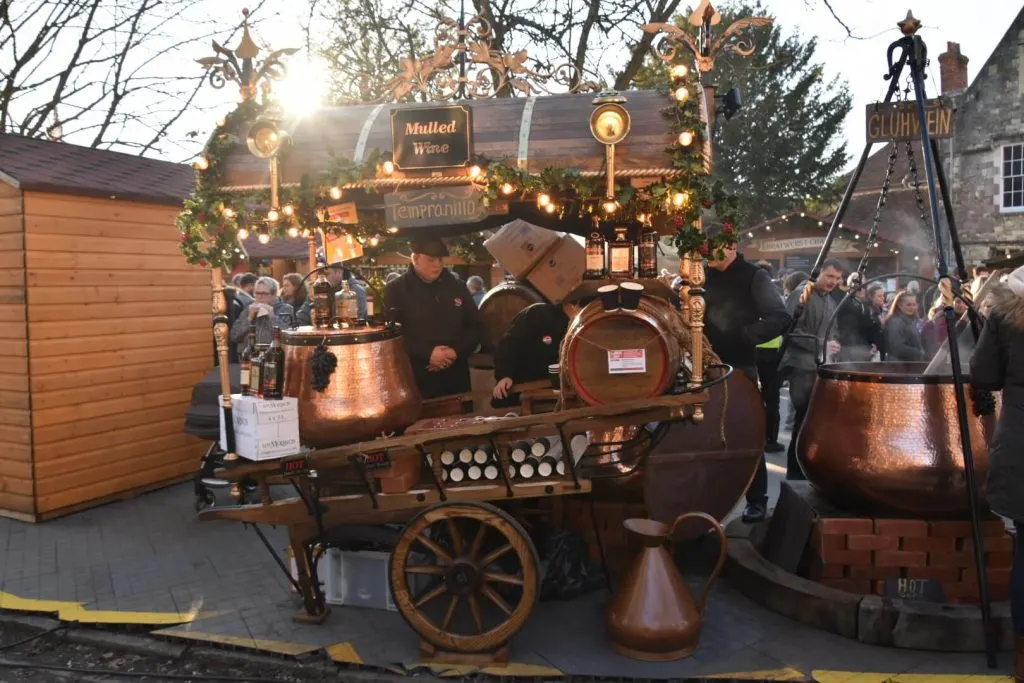 You'll find locally made handicrafts, gifts and high-quality clothes throughout the market, housed in delightful wooden chalets. Take a lunch break at the café or stick to merry mince pies, mulled wine and bratwurst.
Once you've shopped to your heart's content, it's time to take a spin on the real ice rink! Book your tickets in advance to make sure you get the best time slot.
There are penguin aids for children, and you can enjoy a Parent and Toddler session if you and your little ones want to avoid the adults clumsily making their way round!!
Like most top Christmas markets, it's better to visit Winchester on a weekday, to avoid the crowds of locals who can only go on the weekend!
Stay in the city for a few days and explore the medieval historical attractions dotted around.
The Cathedral itself is fascinating, the city museum tells of some thought-provoking stories of the past and Jane Austen's House Museum is such an interesting place to spend a few hours.
Swiss Christmas Market Trips
12. Geneva Christmas Market Trips
If you are looking for a family friendly, pretty Christmas market trips in the heart of Europe, then you will love the one in Geneva, Switzerland.
The festival market is open in December (4-31 December in 2019) and happens in Parc Des Bastions, a lovely historical park sitting just below Geneva's old town.
It is a delightful place for all types of visitors but especially for families, who can make the market the main activity for the day or just add it as a children friendly stop while sightseeing. The Christmas marketplace is centrally located and very well served by public transport.
The market is small but well laid out.
Check out our Campervanning in Switzerland post here.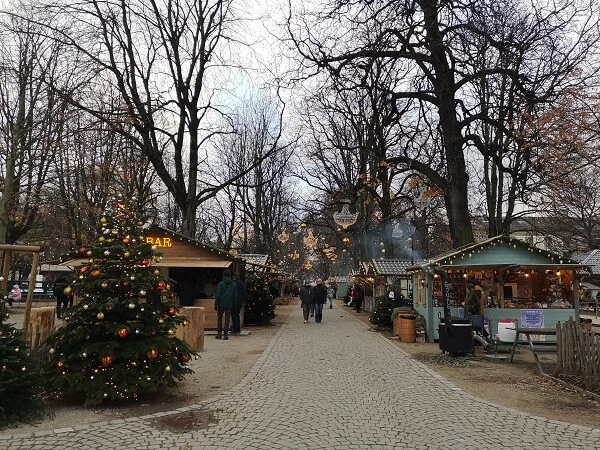 Coming in from its main entrance, you first find a carousel, light displays and Christmas trees and immediately after you have the Christmas village.
This is a series of wooden cabins selling Christmas crafts and food of all types. If you want a traditional food experience, you can head to the fondue chalet, which sells fondue made with the local cheese Switzerland is famous for, while if you prefer to tap in the rich multicultural food of contemporary Geneva, you will be spoilt for choice with stalls selling from falafel to ramen!
This is a great Christmas market to visit with small kids especially: the location in the park makes it easy to mix time at the stalls with free play and its compact size makes it pleasant yet not overwhelming.
Besides the convenient park location and the carousel, the market caters for kids with a small ice rink and of course lots and lots of sweets!
The Geneva Christmas market is perfect for families visiting Geneva in winter. The festive Christmas market stalls and the backdrop of snowy Alpine peaks make it the perfect destination for Christmas market city breaks!
Find the best prices on flights and also hotels in Geneva here.
Portugal Christmas Market Trips
13. Lisbon Christmas Market Trips
Have you considered a little sunshine and warmth with your mulled wine and Christmas shopping? Portugal's capital city, Lisbon, is perhaps not an obvious choice for Christmas market breaks, but the city is in full crimbo swing throughout December complete with twinkling displays and festive markets.
We visited Lisbon with kids (aged 3 and 5) in the second week of December last year and there were Christmas markets at seemingly every main square.
Or your can head to Wonderland Lisboa at Parque Eduardo VII (which generally runs from the 1st December to 1st January) to go ice-skating, meet Father Christmas, and peruse even more Christmas markets. A ride on the festive Ferris Wheel is also a must; the views are fantastic.
Entry to Wonderland is free, but you pay individually for the attractions. Arrive early to avoid the queues. It's situated right by Marquês de Pombal and Parque metro stations, and also on main bus routes, so very easy to get to.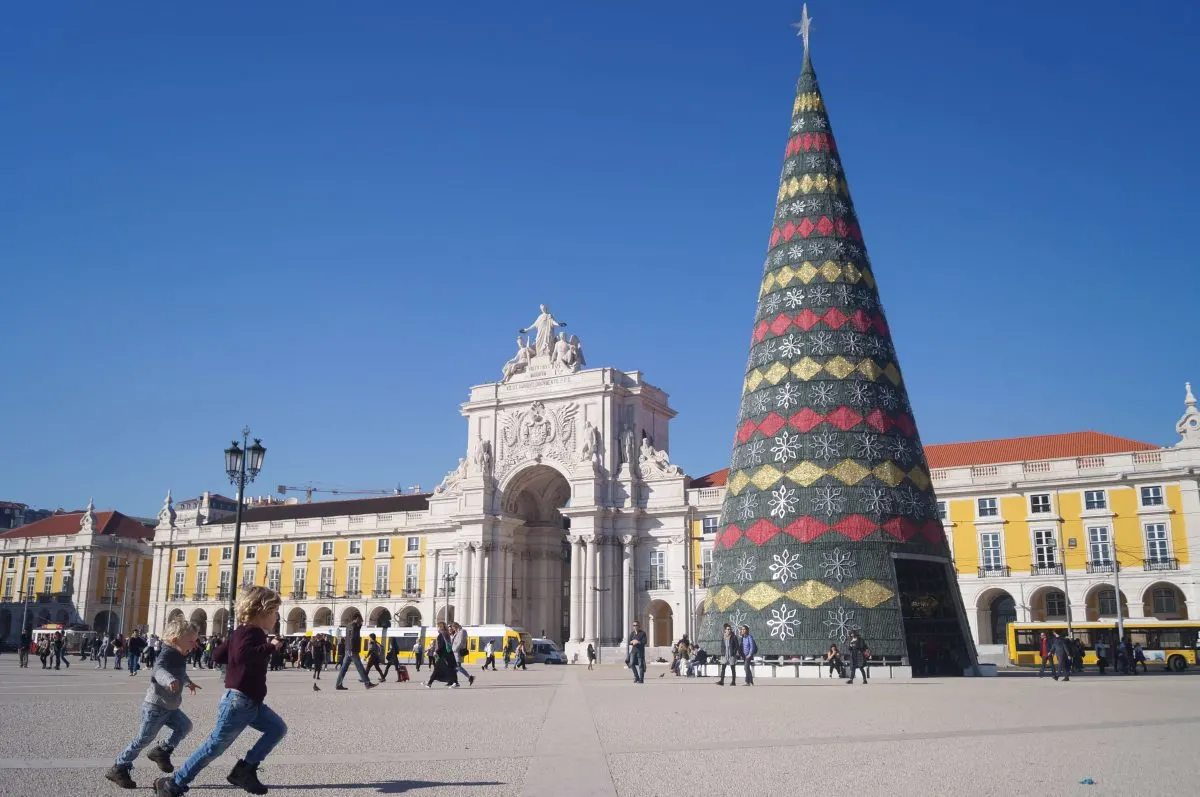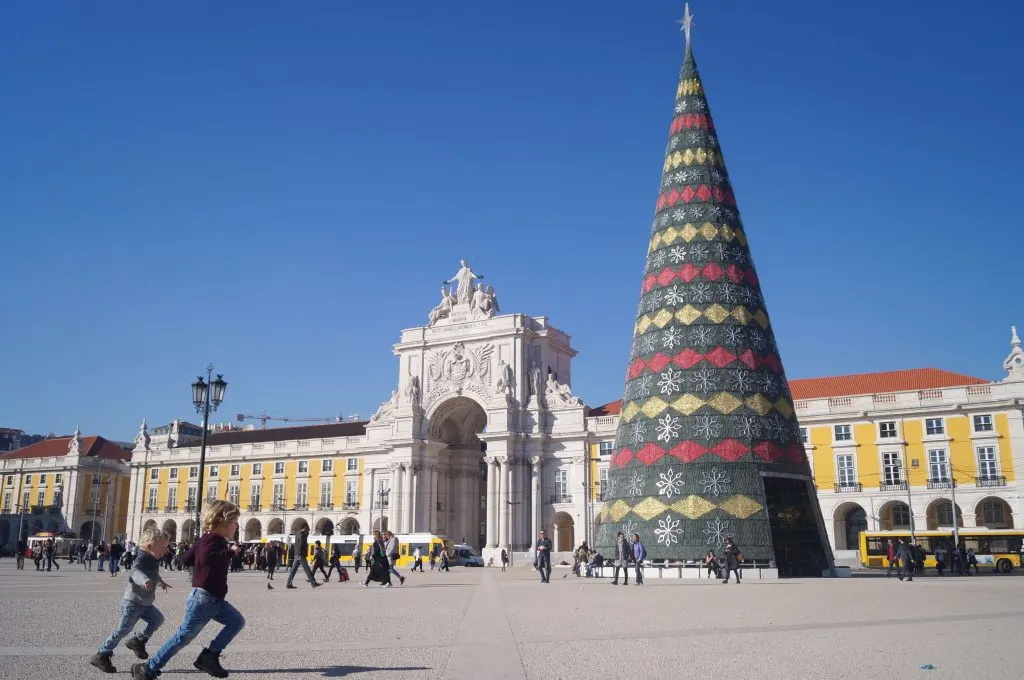 You will also find the main shopping streets decorated with twinkling lights, and we absolutely loved the conical tree in the main square of Comércio Plaza, which you can sit inside and looks magical when lit up at night.
Lisbon itself is also a great destination for families. Our boys (aged 3 and 5) loved riding the trams. But a huge highlight for them was the Oceanarium and Science Museum, which are handily situated next door each other.
Discover more fun things to do in Portugal with kids here.
Both are open during the winter months, and a good place to visit should it be a wet winter day (which does sometimes happen around Christmas in Lisbon!)
Find the best prices on flights and hotels in Lisbon here.
Austria Christmas Market Trips
14. Vienna Christmas Market Trips
If you're in Vienna at Christmas time, then you are in for a real treat! The streets are full of beautiful decorations and lights and it seems there is a Christmas Market and Christmas tree on every corner! However if you only have time to see one Christmas Market in Vienna make sure it's the Vienna Christmas World at Rathausplatz.
The setting alone of the Rathausplatz is stunning. With the lit up Gothic Revival City Hall in the background and the various little stalls in the foreground, with Christmas decorations galore, the scene is just magical!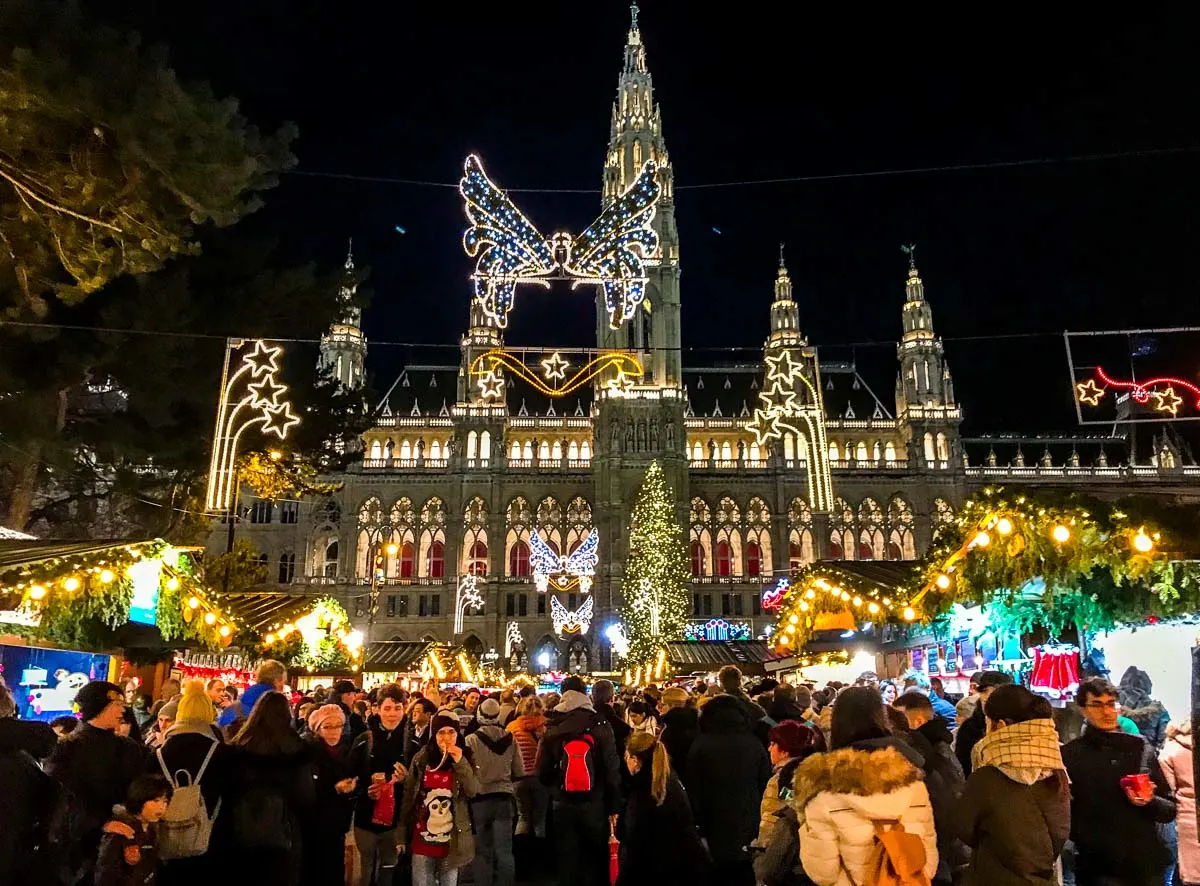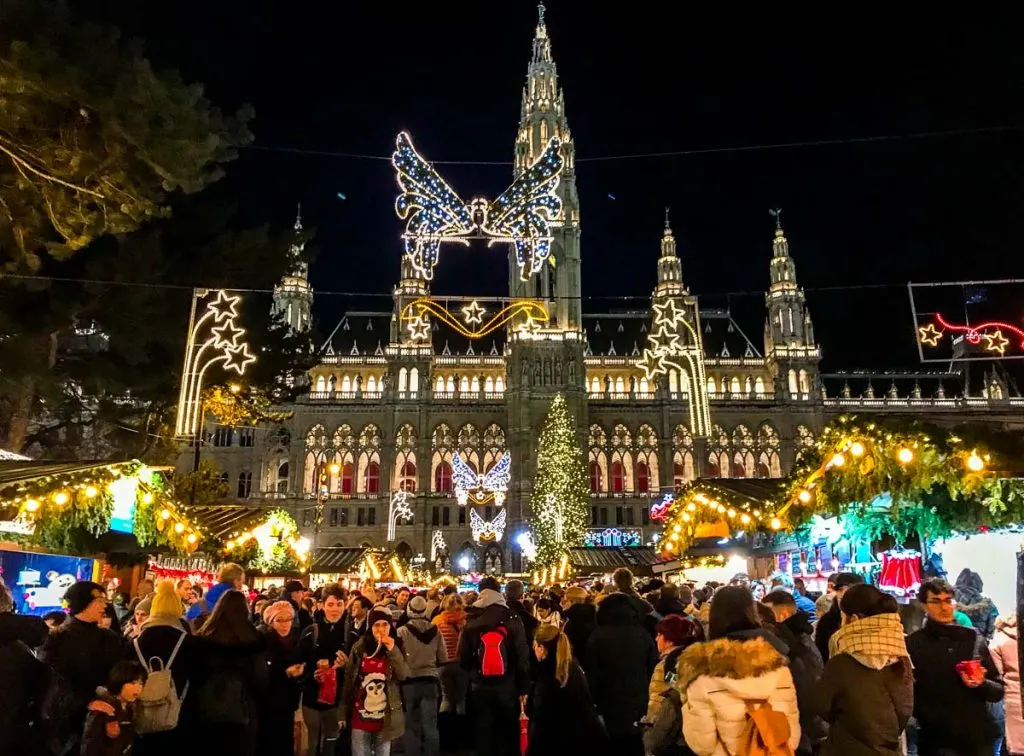 Throughout the stalls you will smell delicious aromas from the delightful traditional foods, baked goods and mulled wine that are served.
Not to mention the numerous Christmas market stalls selling gorgeous little handicrafts perfect for souvenirs to take home or for Christmas gifts.
But one of the most unique things about the Rathausplatz is they have a massive ice-skating rink there too.
Apparently this is the largest artificial ice skating rink in the world! For the little non skaters there is even a little practice area where they can wizz around safely with the aid of penguins.
The Vienna Christmas World is open from mid November to 26 December and is well recommended for families visiting Vienna.
Explore more of Austria in winter here!
Find the best prices on flights and also hotels in Vienna here.
Spanish Christmas Market Trips
15. Madrid Christmas Market Trips
Many people may not consider celebrating Christmas in Spain. However it is a beautiful country to visit at this time of year, In fact, Madrid is a wonderful city to visit year-round, but it gets particularly atmospheric at Christmas time.
The main Christmas market takes place in Plaza Mayor, a charming square that no visitor can miss. This is basically the main square and meeting point in the city and even if you were to visit Madrid in 3 days, it's impossible to miss it. Here you'll find nativity figurines, hand made items and tons of Christmas tree decorations.
Another nice-to-visit market is the one organized in Paseo de Recoletos. This is a showcase of artisanal items from Madrid and the surrounding area, and it's almost guaranteed that after shopping here, you'll need to check in extra luggage.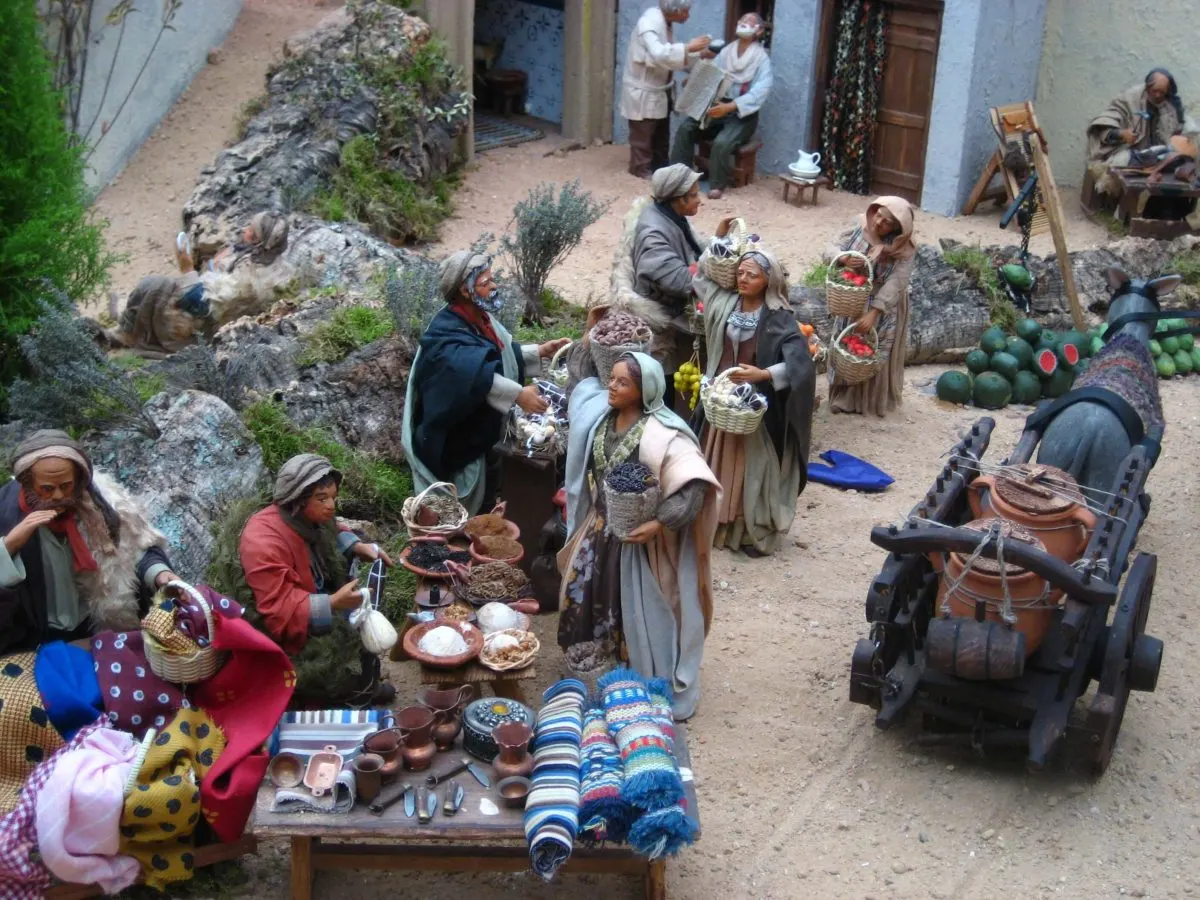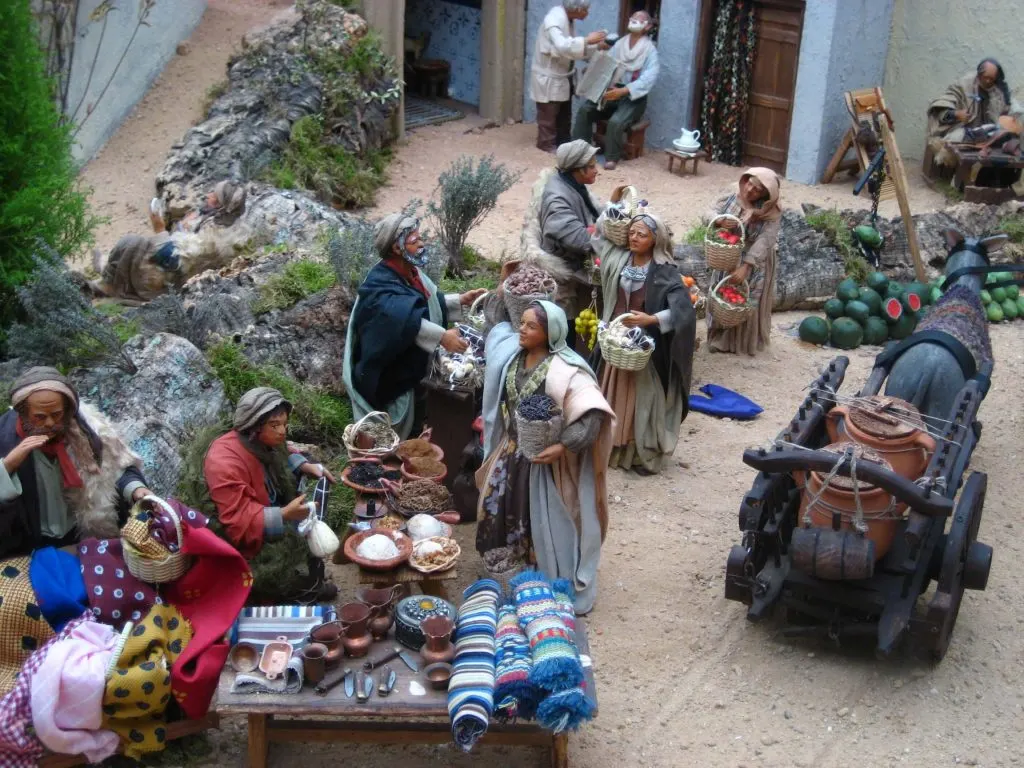 Besides these, Madrid organizes seasonal antiquity fairs, while other markets open year-round are interesting to visit this time of the year as well. If you're in shopping mood, you'll surely find something to put under the Christmas tree!
Besides this, Madrid is magical at Christmas, even more so if it's covered in a blanket of snow (it can happen). The Three Kings parade on the 5th of January is another not-to-be-missed event, especially for the little ones.
The Three Kings come to town riding camels and throwing candies, so it's a reason for joy for the whole family. Spaniards love this time of the year and you'll surely feel welcome and have tons of fun!
Find the best prices on flights and also hotels in Madrid here.
16 Barcelona Christmas Market Trips
When you try to think of the most beautiful Christmas markets in Europe, you will certainly not immediately have Barcelona in mind. But there are even four Christmas markets to discover in the Catalan capital during the Christmas season.
The biggest and most popular Christmas market of the four is the Fira de Santa Lucía, which is located on the square in front of the Cathedral of Barcelona.
Although you will not find typical mulled wine here, you can try Turrón. This is a delicious Christmas candy that is eaten throughout the whole of Spain during the Christmas season.
Besides this, there are also typical Catalan things to buy. One of these is the so-called Caganers. These are small statues that do their business with their pants down. Even though it might sound super weird to foreigners, those statues are absolutely normal in Catalonia and part of the nativity scene.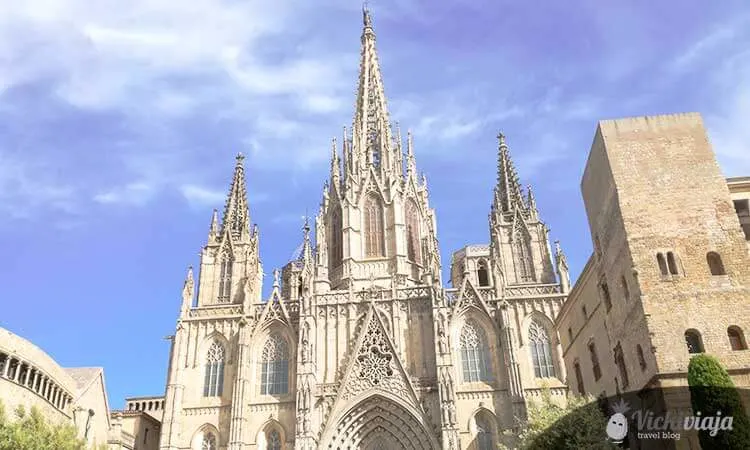 While there are the typical Caganers with traditional Catalan outfit, there are now also various other statues such as celebrities or characters from films or comics, such as Darth Vader.
Another typical Catalan figure that can be bought here is the Tió de Nadal or Cagatió. This is a small wooden trunk with Catalan hat and a face, which, according to ancient tradition for the children on Christmas or the Epiphany, poops presents when being beaten with sticks while singing the Cagatió song. Almost like a Catalan Christmas piñata.
Another popular Christmas market in the city, the Fira de Nadal Christmas market can be found right next to the famous Sagrada Família. In addition to the typical Catalan souvenirs, you can also buy small Christmas trees while enjoying the view of the imposing Sagrada Família.
Find the best prices on flights and hotels in Barcelona here.
Estonia Christmas Market Trips
17. Tallinn Christmas Market Trips
Tallinn, the capital of Estonia, is a fantastic destination to visit in December or in any other winter month.
It is a UNESCO World Heritage city that looks like it belongs in a fairy-tale offering its visitors plenty of historic building and sightseeing opportunities.
The beauty of the city is enhanced by the soft snow carpet on the ground, which is expected at this time of the year.
Tallinn is also the home of one of the coziest Christmas markets you will ever see in Europe, perfect for families with small children!
It is located in the Old Town Square where transit is already limited so it is a great place to walk around freely with the little ones.
The market is open from November to January each year, showcasing several wooden huts beautifully decorated in Christmas lights.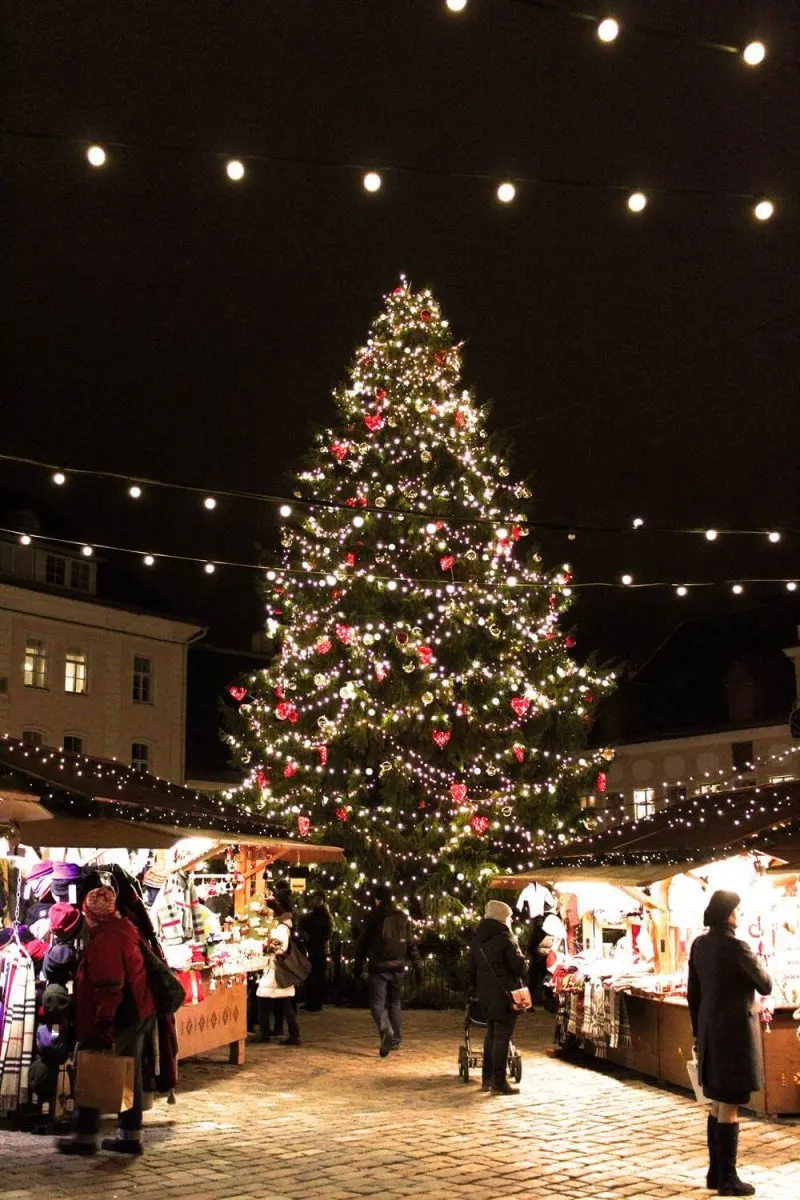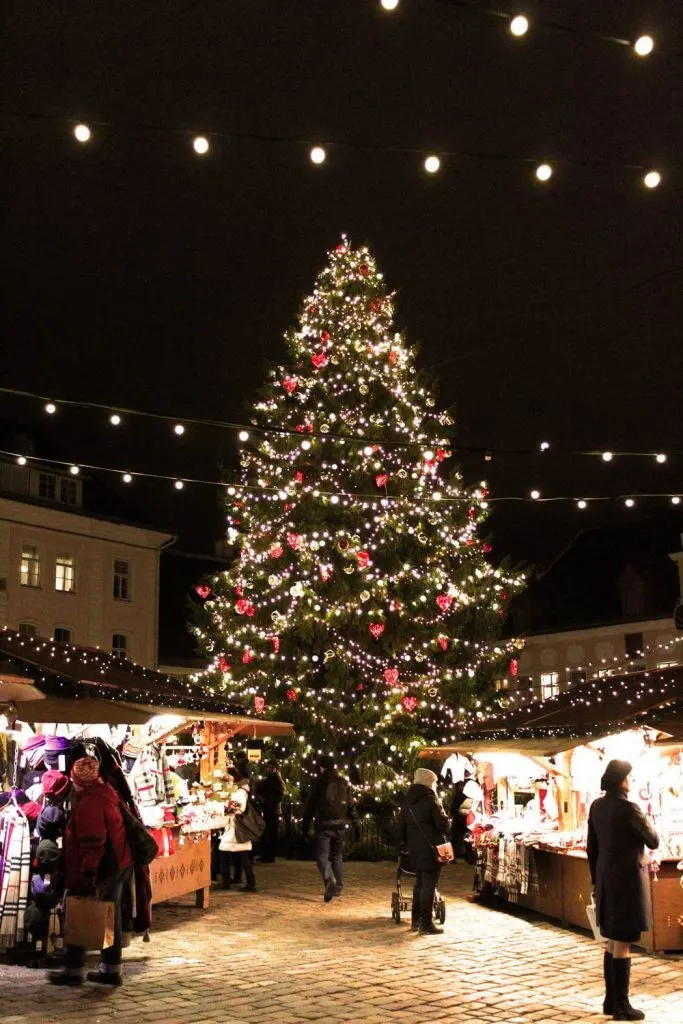 Here you will find vendors selling a variety of gift items, local handcrafted products, plenty of traditional Christmas food and drinks and entertainment.
For the kids there is a super popular Christmas road train that departures from the market and take you around the whole town.
There is also a small carousel and fair stalls with games to keep the little ones occupied while the parents enjoy the relaxing and cozy ambiance.
A huge Christmas tree is set in the middle of the square and illuminated with hundreds of electric light which is sure to mesmerise young an old visitors.
Apart from the amazing Christmas Market, visiting Tallinn in the winter is a great idea for families.
It will not only help you avoid the summer crowds, meaning that you and your family will enjoy the city even more, but also give you a true feeling of winter wonderland.
Tallinn was also voted one of the top Christmas Markets in Europe this year.
Find the best prices on flights and also hotels in Tallinn here.
Belgium Christmas Market Trips
18. Bruges Christmas Market Trips
From Friday 22nd November 2019 to Wednesday 1st January 2020, the gingerbread houses of medieval Bruges will illuminate as the twinkling Christmas lights create the most magical wintry setting.
Celebrating Christmas in Bruges makes for a memorable family experience. This year even more so, since for the first time there'll be three Christmas markets in Bruges instead of two.
The new concept starts from the railway station, with a light and experience trail to all three markets. Kids will love following the enchanting lights which shine brighter as you approach your destination.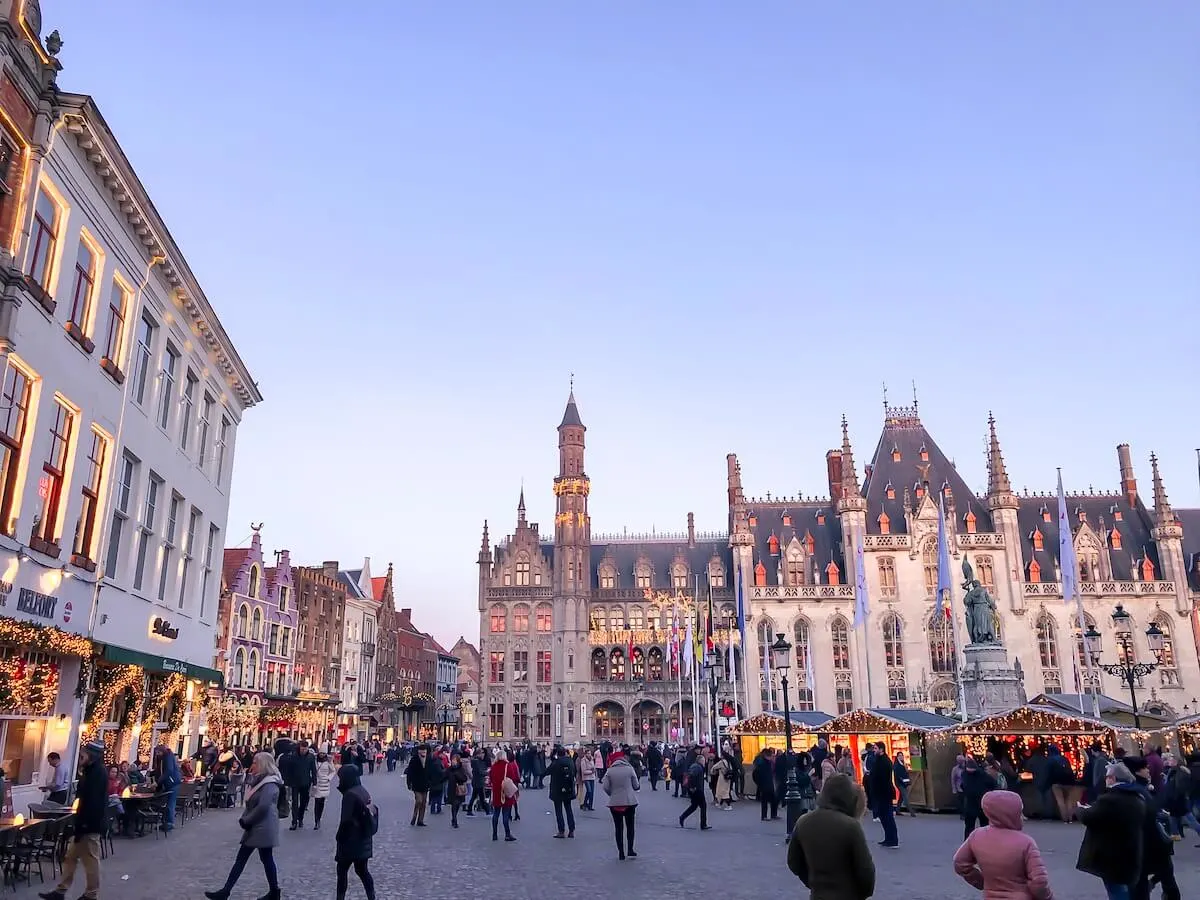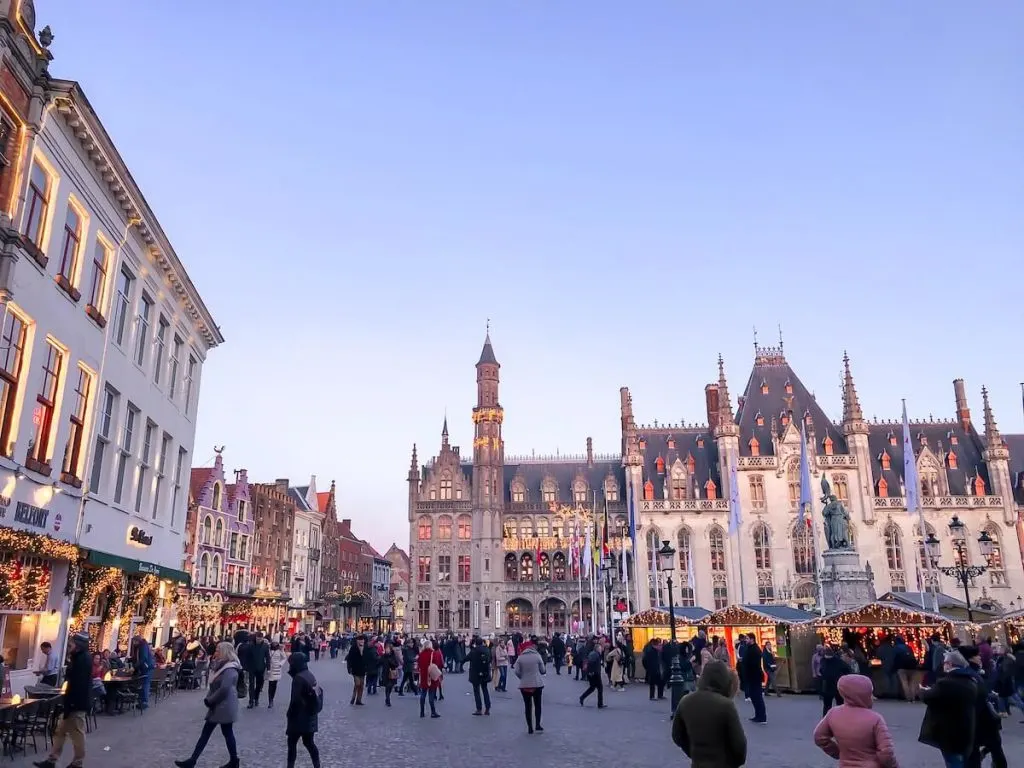 The classic markets in the heart of the city feature a collection of chalet-themed stalls. Markt square is the place to be for sumptuous treats topped with Belgian chocolate and for a slice of heart-warming bûche de Noël under the giant Christmas tree.
Take your little ones to the top of the Belfry for a magical view over this traditional Christmas market.
Then follow the twinkling lights to the second and more intimate Bruges Christmas market at the Simon Stevin square.
The linden trees that fringe this square wear strings of sparkling lights and the festively decorated stalls display handmade Christmas ornaments and unique gifts.
The eye-catcher at the third and new location Minnewater, one of the most romantic locations in the city, will be the artificial ice rink on a pontoon. A unique and inviting setting for families to join in on the icy fun.
A large winter bar will complete the festive picture. All three markets are within walking distance, allowing visitors to soak in the atmosphere at different enchanting settings.
Read more about more things to do in Bruges with kids here.
Find the best prices on flights and hotels in Bruges here.
Polish Christmas Market Trips
19. Krakow Christmas Market Trips
The Christmas market in Krakow is one of the best in Poland. Located in the heart of Krakow's Old Town it's full of colourful stalls where you can buy clothes, handicrafts, souvenirs, and of course… food!

Be sure to try Polish mulled wine which (in my opinion) is so much better than German or French one. If you are hungry, try hearty bigos made of sauerkraut and sausage. Vegans may enjoy pierogi with cabbage.

If you are visiting Krakow during Christmas time, be sure to see the famous Cracovian Nativity Scenes that are listed by UNESCO.
You May Also Like: