So here we are one year on from the beginning of our journey, and many road trip adventures around the world. We rented cars in eight countries, across five continents on our gap year. Some of the most exhilarating moments and breathtaking views were during our roady adventures.
I love the fact having a car gave us so much freedom, allowing us to get to otherwise hard to reach destinations. We tried the bus thing, the taxi thing and the train thing, but found the car most feasible.
Parents, you shouldn't be put off having adventures with kids, as renting a car makes it so much easier for transporting your stuff and the little ones! You can also check out our top road trip with kids tips if you are worried about long trips with little ones!
Before setting off on any adventure make sure to get travel insurance! We like World Nomads.
I wanted to share a little snippet of each place we've road tripped to inspire your next trip. As always, we rented through Kayak.
We love the system they have with their app and handy reminders. It is quick and easy and of course, being a broker, they search for the best price which is always good for saving money.
If you need to arrange an international driver's licence E-ITA is a great way to arrange it quickly and easily. Without further ado, here are the highlights from our road trip adventures around the world in a car!
ROAD TRIP ADVENTURES AROUND THE WORLD
CANADA ROAD TRIP
Canada was the first stop on our around the world gap year. We picked the car up in Calgary, Alberta and spent three weeks driving through Banff National Park, and onto Vancouver through British Colombia.
On our first day, we were a little jet lagged so drove to a nearby trail for an early morning hike. Funnily enough our two Canadian friends came with us. They had lived in the area for years, however, it was that morning they had their first ever bear encounter!
What a start to our trip. We came face to face with baby grizzly bears. Knowing mum couldn't be far, we quickly took a different route only to be met by a black bear! None of us could believe what we'd just seen.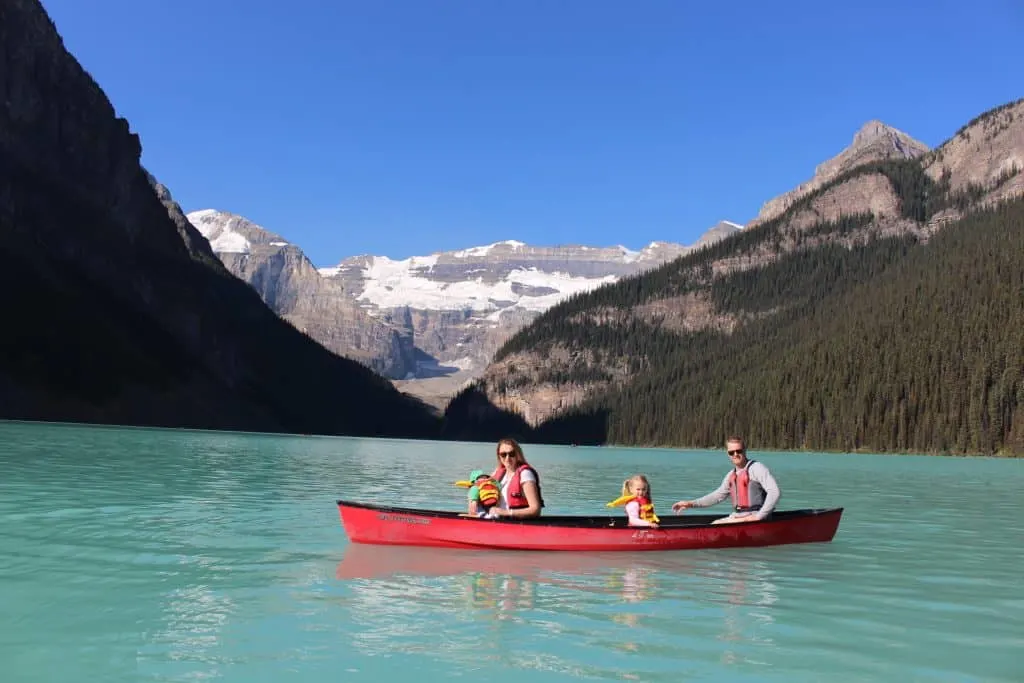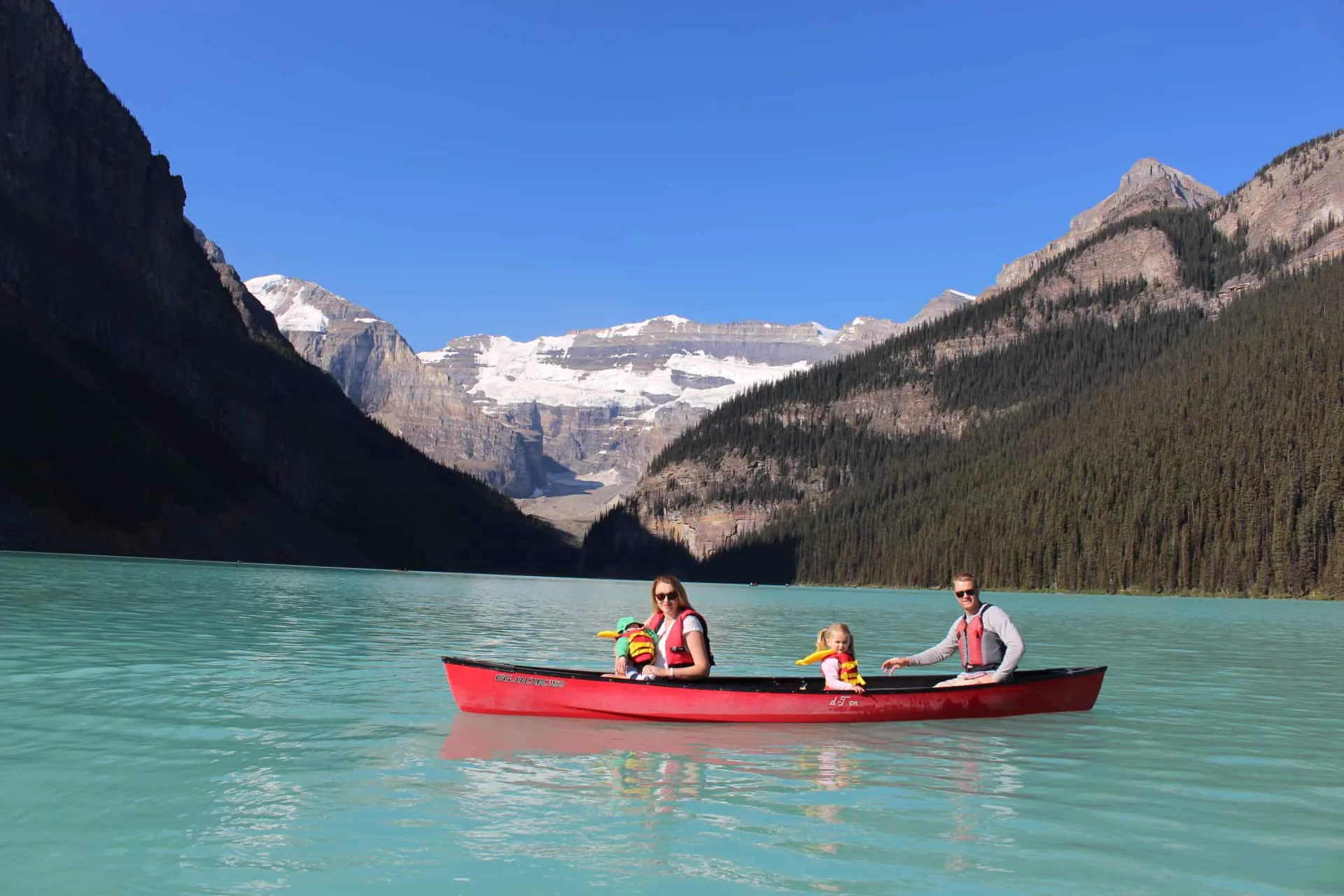 Needless to say, we quickly made our way back to the safety of our car. Whilst it was a scary experience, it was also pretty incredible to see bears in the wild. In Banff National Park we also saw some of the most pristine lakes in the world, Moraine and Lake Louise.
The colour is exactly like you see in the pictures. Emerald green with a perfect reflection! We later moved onto one of the adventure capitals, Revelstoke, where we tried out the infamous mountain coaster.
Who would have known that Canada also has vineyards? Passing through Kelowna in BC, we came across some really beautiful vineyards. Our other favourite spots in BC included Whistler and of course, Vancouver.
All round Canada was the perfect start to our journey. We had some once in a lifetime adventures. Whether it was seeing bears, or zipping around mountains.
THE ULTIMATE ROAD TRIP USA
We crossed from Vancouver to Seattle, USA, on the scenic Amtrak train. Once we arrived, we again picked up our rental car to drive one of the most famous routes, Highway 101!
I was completely amazed at how long one road can go on for! It runs the entire length of the USA on the west coast. We did veer off a couple of times to visit attractions such as Yosemite National Park.
April in Yosemite is the best time to see the stunning waterfalls. If you are planning a trip to Yosemite on spending a few days there then check out this 2 day itinerary.
We spent three weeks driving along Highway 101. Visiting the fjords of Washington, to the buzzing city of LA, we saw just about everything you could imagine across three states.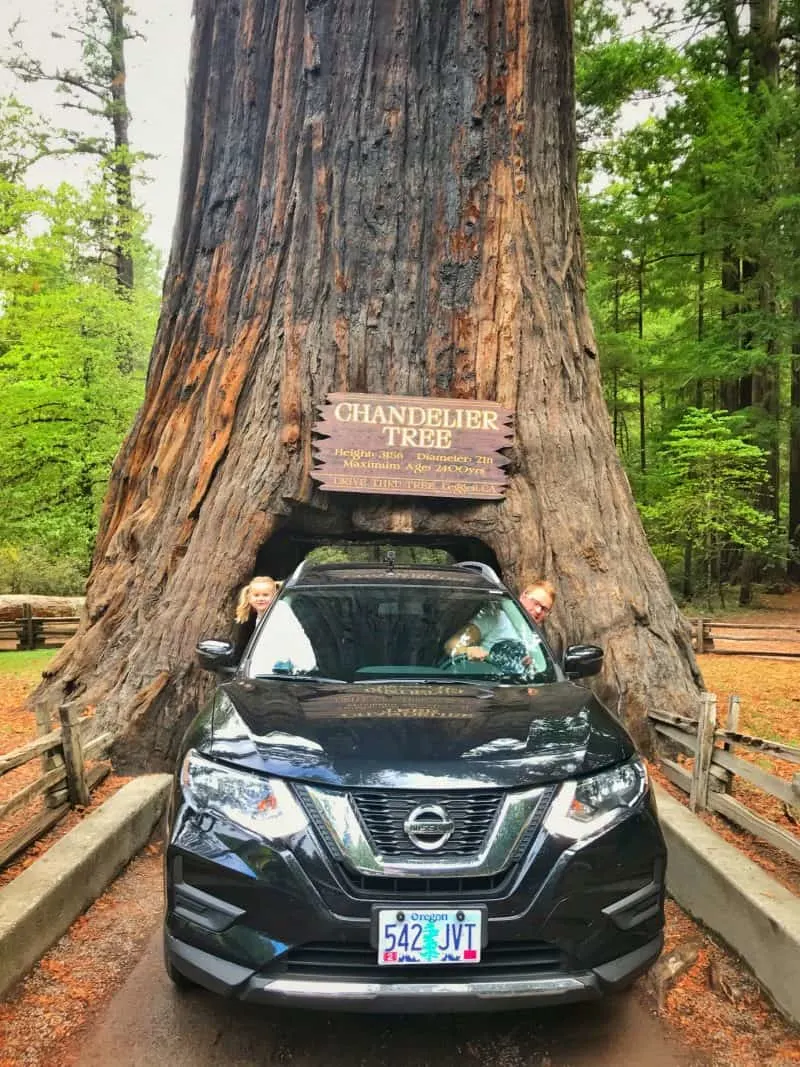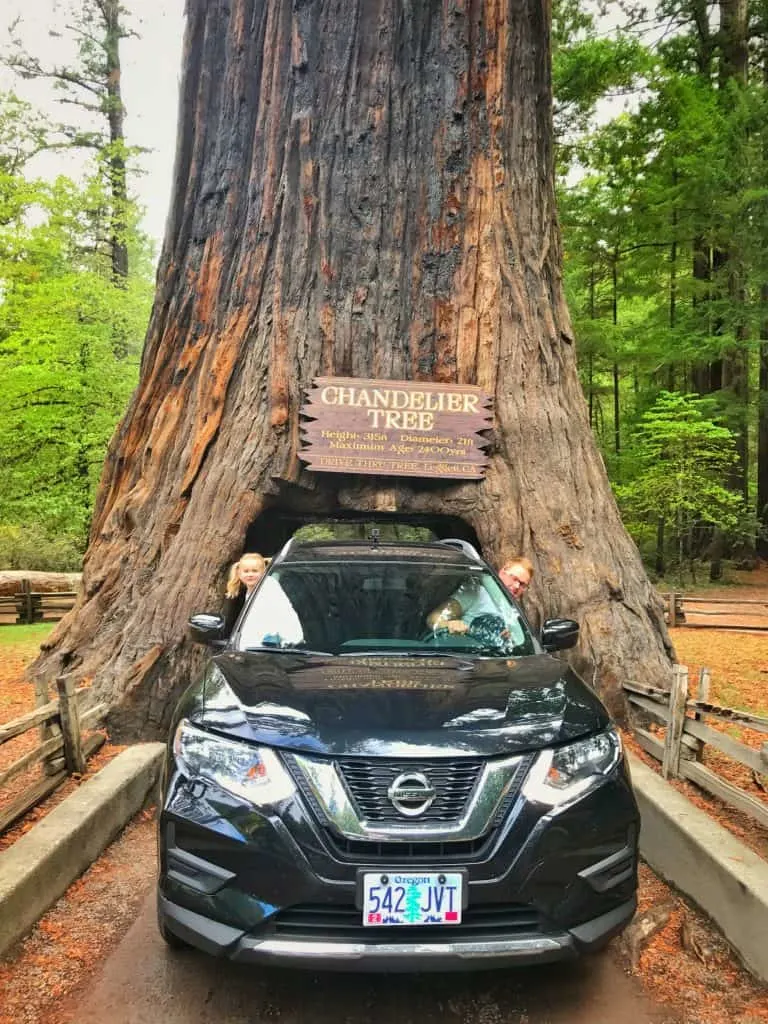 The highlights for us were most certainly Yosemite but also the giant Redwoods at one of California's National Parks.
If you asked our kids they would tell you that they loved swimming in the crystal clear river of Olympic National Park and seeing the Elks roaming freely in California.
The Oregon Coast was probably the most picturesque part of the drive. The highway wraps around rugged coast, the views were just stunning! Not to mention the 99% guaranteed chances of seeing the grey whale out at sea.
If you are planning on visiting a few of the national parks this year then check out America the Beautiful Pass. It is an annual pass that allows you to visit over 2000 sites including the national parks. It is relatively inexpensive and a great investment.
Check out America the Beautiful Pass here.
CITIES IN GUATEMALA
Guatemala was the next place we rented a car on our Pan-American trip. By this point we were desperate for a car again after trying to navigate buses in the scorching hot weather of Central America with luggage, travel car seats, a newborn and a toddler.
This is where a road trip packing list comes in handy!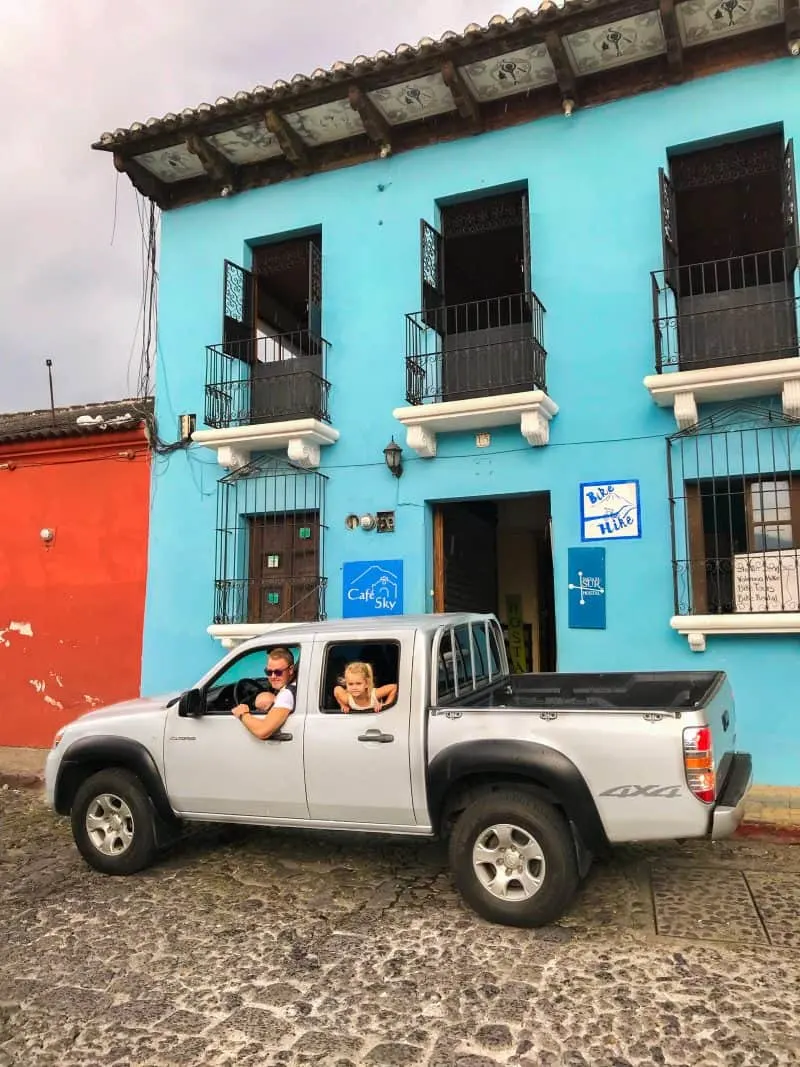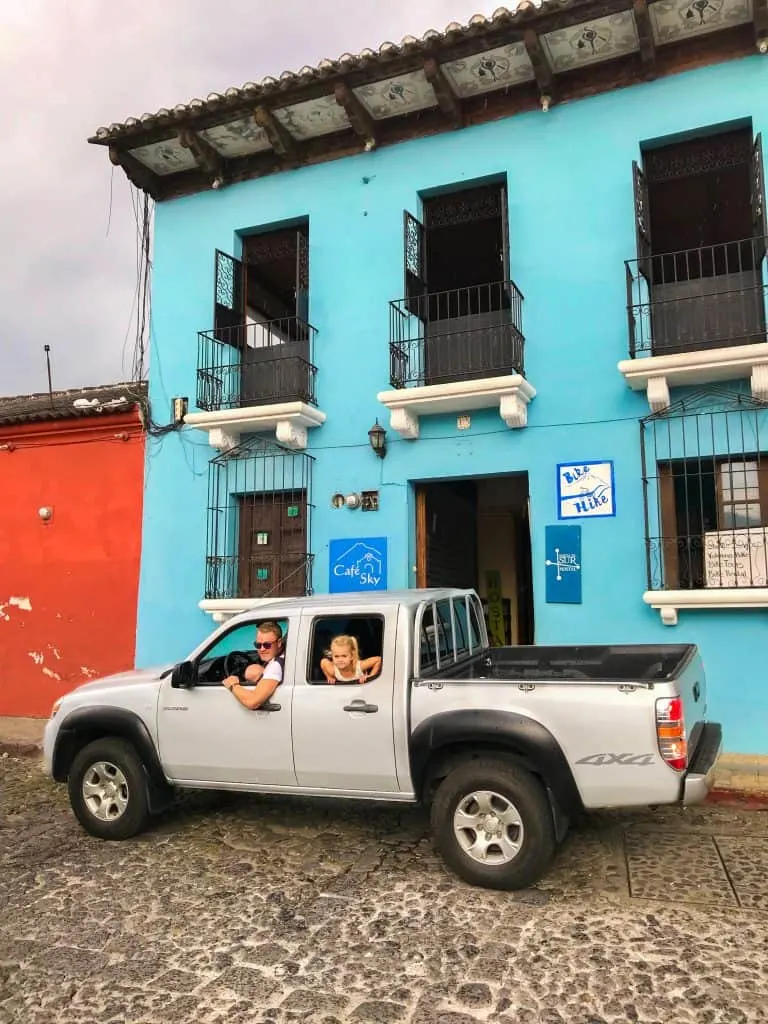 We jumped from city to city in Guatemala, but our absolute favourite places were Antigua and Lake Atitlan. Driving in Guatemala is not for the faint hearted. We had a pick-up truck, which was very appropriate for the situation. There was a lot of off-roading and driving through mud slides. It made our trip interesting.

ROAD TRIP ADVENTURES AROUND THE WORLD
That said, there is no way I would want to do those bumpy roads in the back of a bus full of people with our two kids. We were happy to have our own vehicle to get around and met some incredible people along the way.
One of the most heart-warming moments of our trip happened in Guatemala. We were visiting an avocado farm when we came across two young boys carrying bundles of logs on their back. They would have weighed at least 30 kgs and were balancing them on their head.
My husband pulled in to help and it was that moment something important happened. Our toddler daughter showed such compassion. All I have ever wanted from travelling with my children was for them to be open and welcoming of other cultures, to understand their impact of the world, and most of all to develop compassion for less fortunate people.
All three of us helped the boys into the back of the pick-up and took them to their home. They were delighted with the help, I just wish we could do it every day.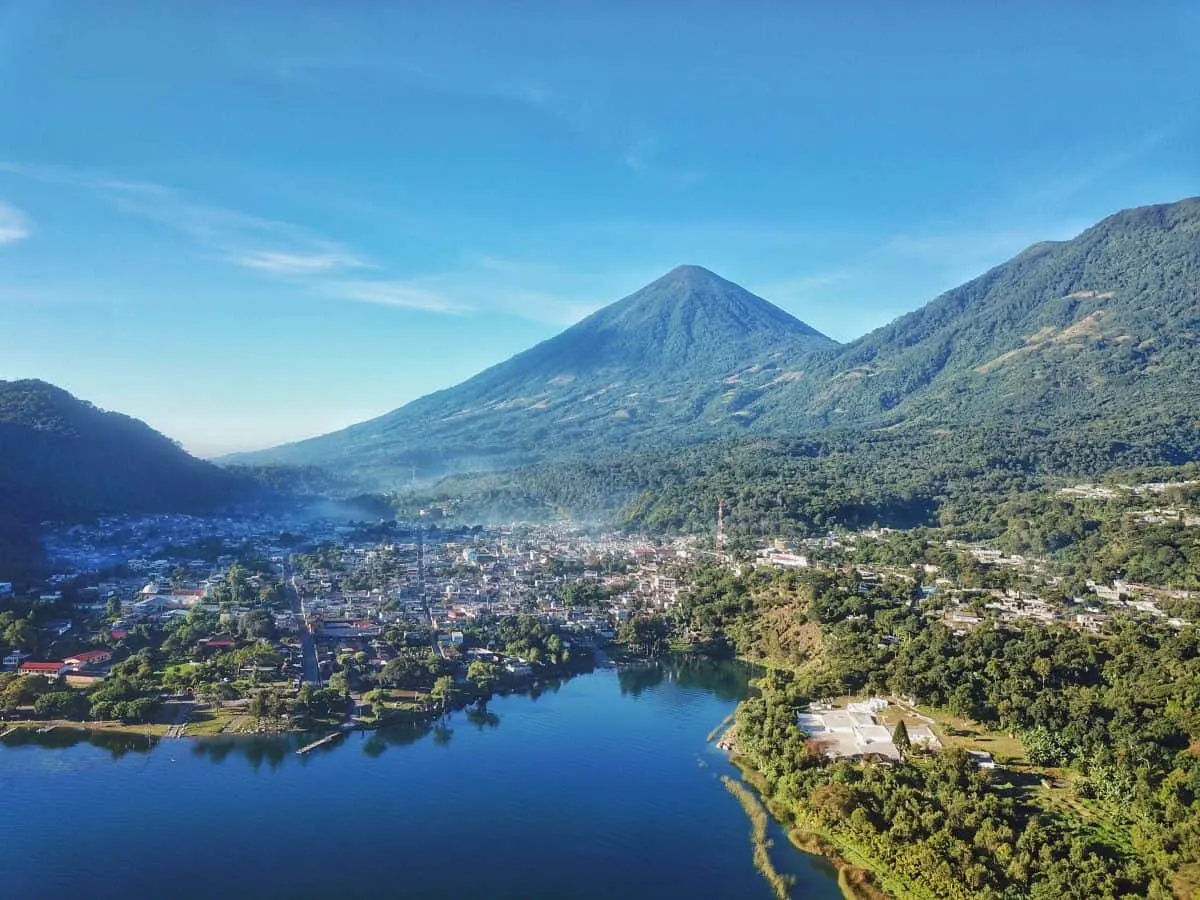 Driving around Lake Atitlan, a body of water in a massive volcanic crater, was incredible. The little villages dotted around the edge were colourful and bursting with culture and traditions. The bright textiles and zippy tuk tuks gave the villages so much vibrancy.
We arrived during the Festival of The Dead. I know that sounds creepy but it's actually a Latin-American tradition that is a colourful and happy celebration of missed loved ones. Locals welcomed us and were happy to show us how things worked.
DRIVING IN COSTA RICA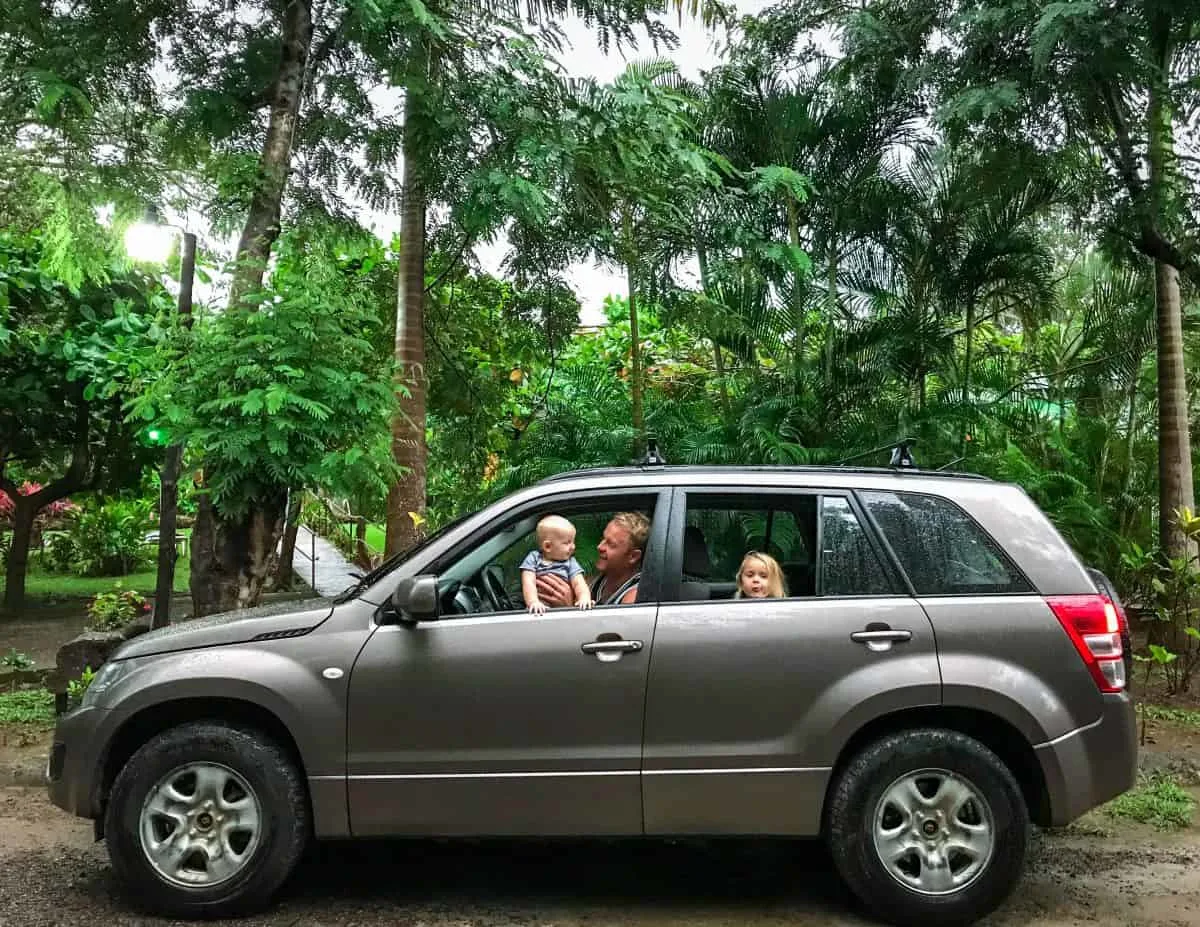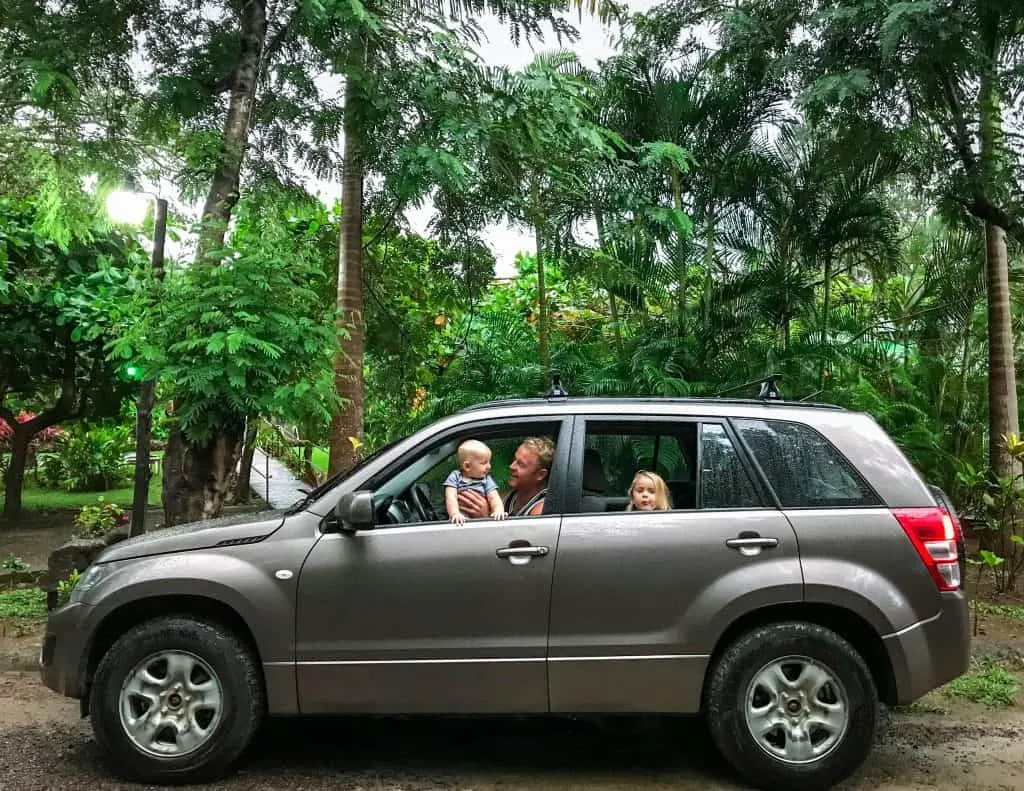 Our arrival into Costa Rica was an interesting one! Hubby left me at the Nicaraguan border with two kids and our entire life in luggage. He left his £800 phone in a taxi and decided to chase it back into the depths of San Juan.
Meanwhile, I was trying to navigate customs and a difficult border crossing. We had a rental car booked on the Costa Rican side of the border. All I needed to do was cross the 0.5km no-mans-land and get to the rental car store. One man took my belongings on a tuk tuk as far as he could.
He took all my cash and then I had to get another one the rest of the way to the rental car store. I didn't have any cash left at this point, my husband was nowhere in sight and it was 30+ degrees Celsius with a toddler hanging off my leg and a baby in my arms.
I've never been so happy in my life to be given the keys to a rental car. In we jumped, luggage loaded up, and AC on as a high as it would go. I sat breastfeeding baby and pacifying the toddler whilst keeping my eye on the rear-view mirror for hubby.
After an hour or so I could see him still in Nicaragua but slow pace running towards the store. He made it phone and all! We took off on our Costa Rica adventure.
We spent a couple of nights in the north checking out the Canyon De Viajes. By this point we were fully immersed in Central American jungle. Monkeys were a familiar sight!
ROAD TRIP ADVENTURES AROUND THE WORLD
We spent the majority of our time in Costa Rica in Santa Theresa. We explored the mesmerising waterfalls, pristine coastline with epic surfing spots and my personal favourite was seeing baby turtles make their way to the ocean for the first time.
The roads in Costa Rica are pretty crazy. Most are gravel and getting stuck in a pot hole, wheel spinning, was a regular occurrence. We had a burst tyre and our car was completely coated in dust.
We were expecting to pay lots to have the tyre fixed but it was the equivalent to £5GBP. Well it happens so regularly, I guess the mechanic gets plenty of business?
ROAD TRIP ADVENTURES AROUND THE WORLD
ECUADOR
Ecuador was the first country in South America where we rented a car. We had been travelling through Colombia just before Ecuador. We arrived in the dizzy heights of Quito in January this year.
The change in altitude was immediately notable. Minimal exertion was key to adjusting – this made our rental car a handy addition to our trip! After a couple of days exploring Quito we made our way through the Andes to the infamous Baños.
We were initially worried about driving through extreme mountainous terrain. However, the roads in Ecuador are of incredible quality in comparison to neighbouring countries. The driving routes around Baños are amazing! We were literally driving through waterfalls, hugging canyons and taking part in adventure activities along the way.
My daughter and I zipped across the canyon at one point and we also did some hikes. Ecuador was probably one of my favourite places to road trip.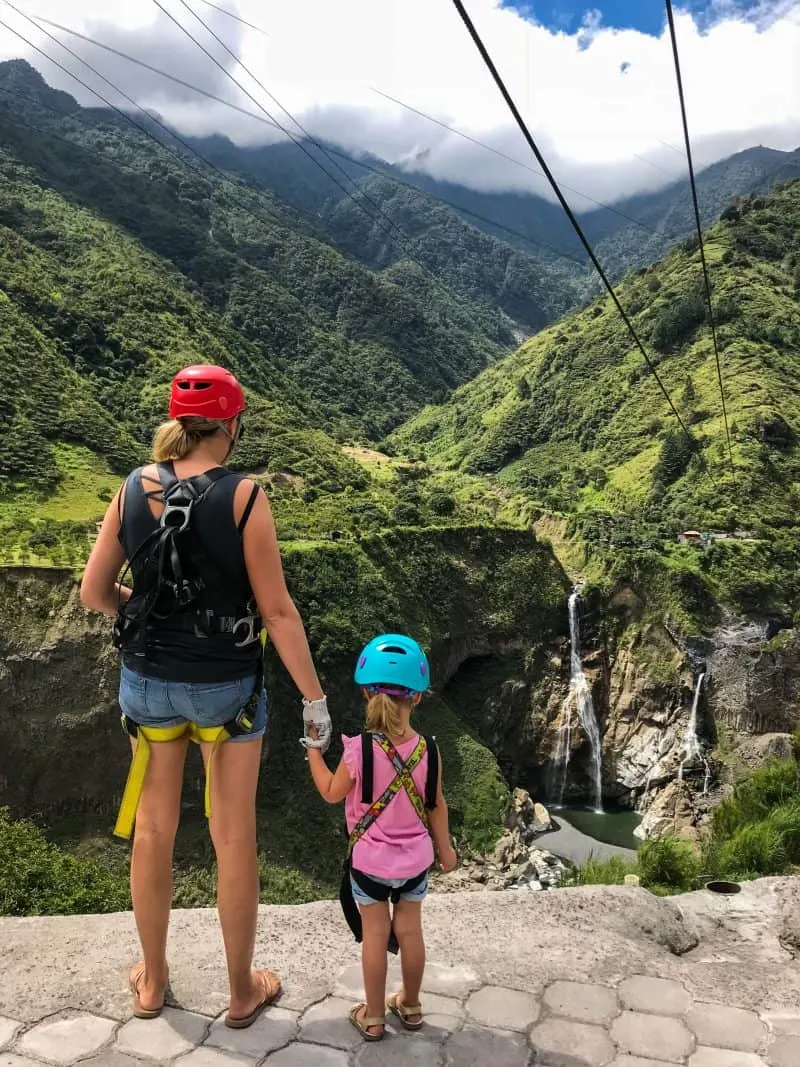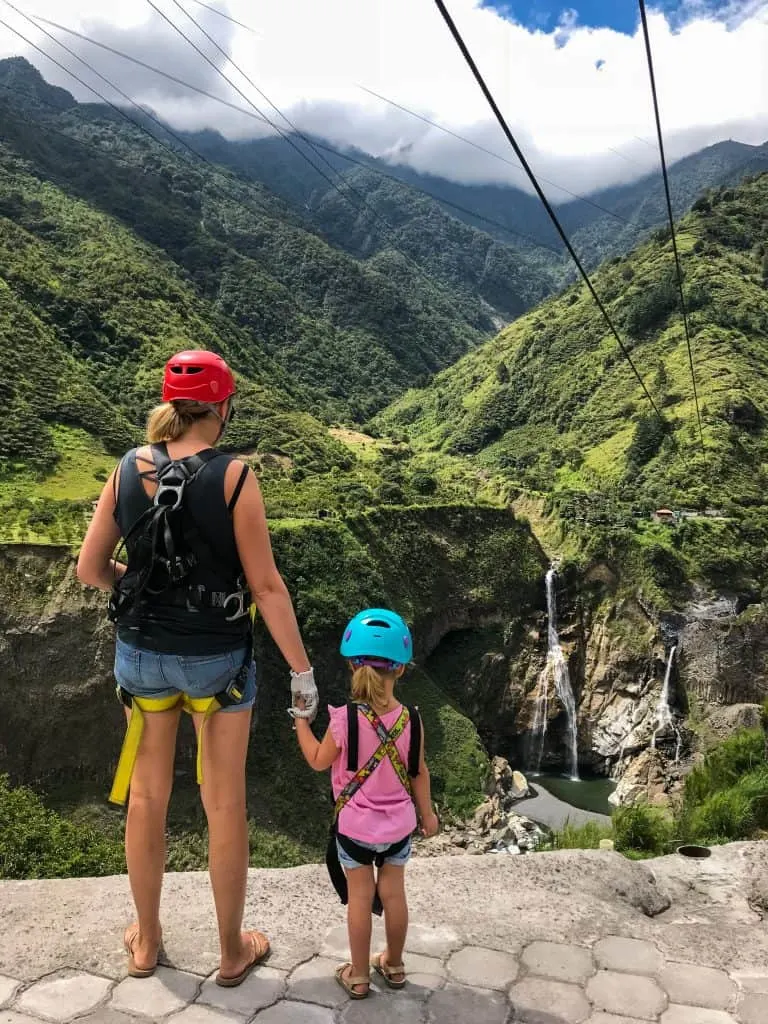 ROAD TRIP ADVENTURES AROUND THE WORLD
NEW ZEALAND
After a long flight from Argentina we landed in Auckland, New Zealand, my husband, 'Travel Mad Dad's', home country. New Zealand is incredibly scenic, so road tripping is the ideal way to do it.
We drove to the geothermal wonderland, Rotorua. Visiting Maori villages, jumping in natural warm mud baths and seeing geysers erupt were just the tip of the iceberg! Rotorua is well known as an adventure hub.
We loved the luge and the skyline gondola. It's the perfect destination for kids. Besides from Rotorua, we also visited some places north of Auckland. We spent time on pristine quiet beaches and checking out quirky little towns such as Matakana – it's well known for its vineyards and weekly markets.
Some other great spots to visit on the North Island are the Bay of Islands, 90-mile beach, Waitomo Caves and Hawkes Bay. The South Island is a whole other adventure!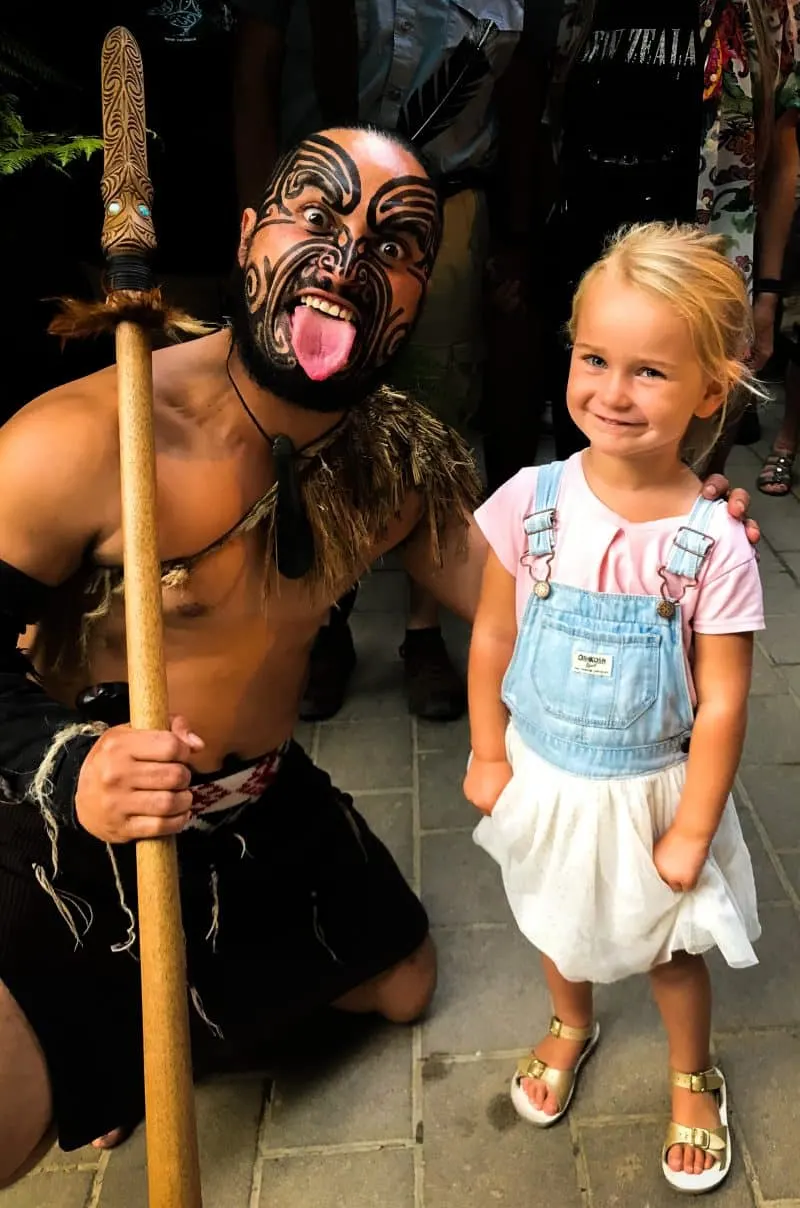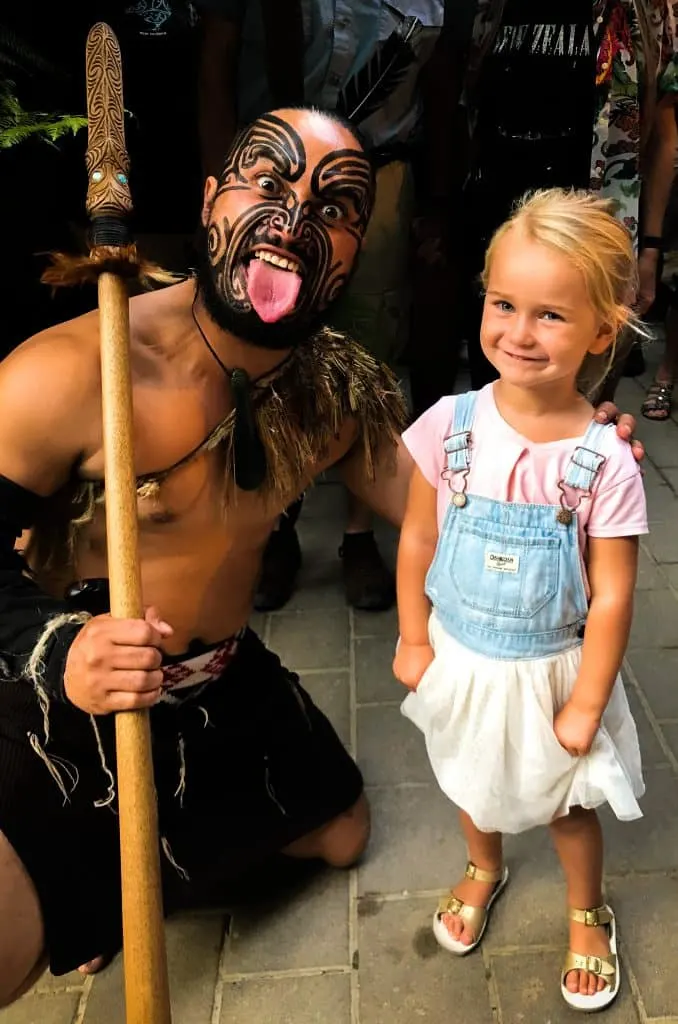 ROAD TRIP ADVENTURES AROUND THE WORLD
SINGAPORE
Most people asked us why we rented a car in Singapore with such good transport links? It was a good question. Parking can be costly in Singapore. However, we were looking to make the trip as easy as possible.
Most taxis in Singapore will not take kids unless they are in a car seat. Dragging two car seats around the sites was less than appealing. Everywhere had parking, it was never an issue, but of course it cost.
We visited some stunning places. From the Marina, to Gardens by the Bay with its Avatar like tree structures. Not to mention the incredible man made island of Sentosa!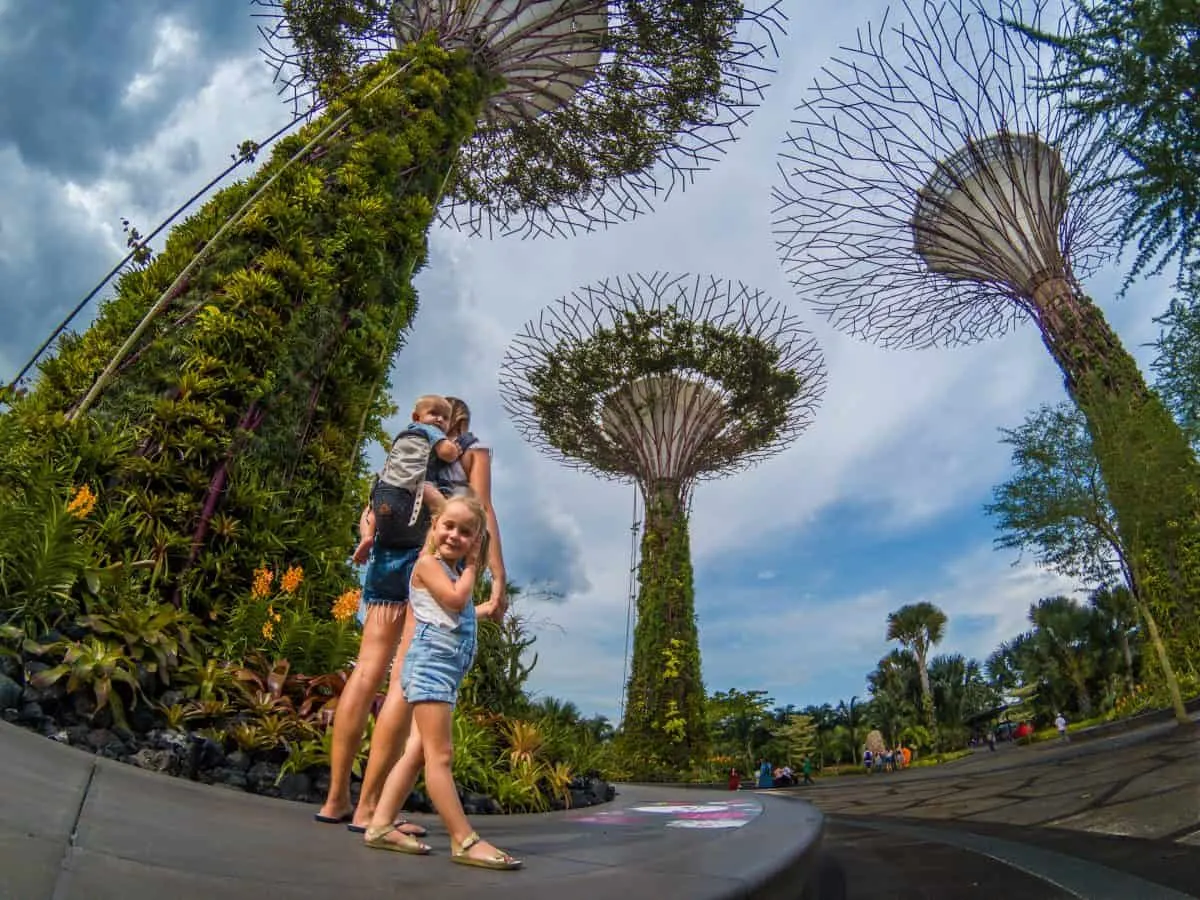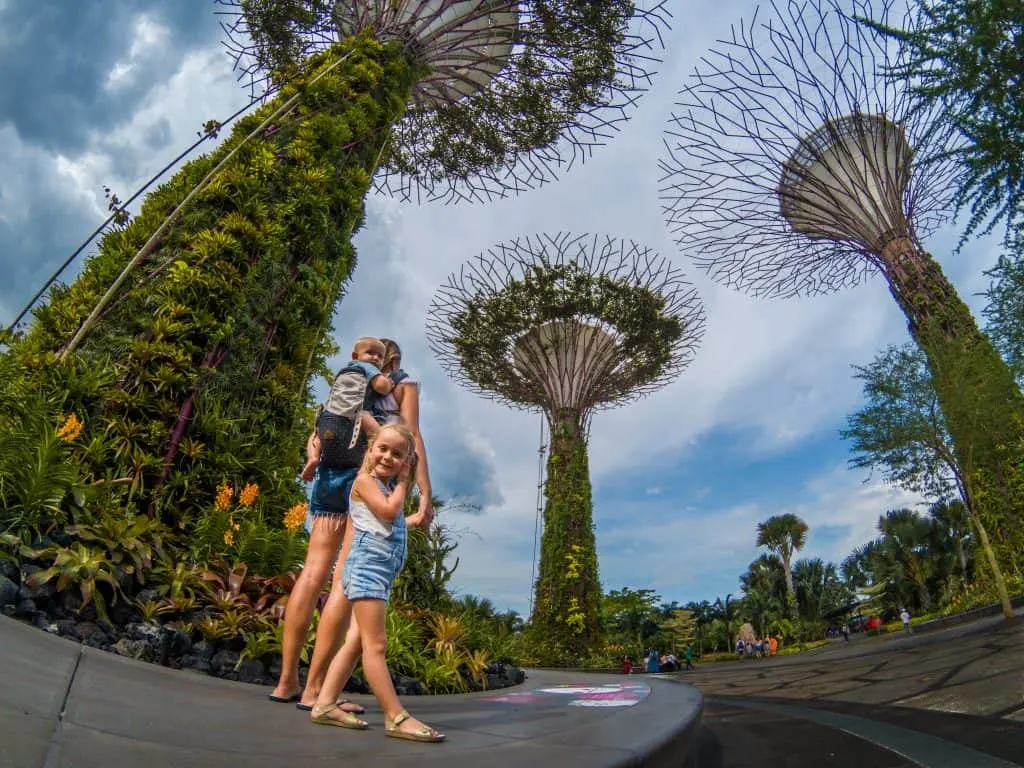 ROAD TRIP ADVENTURES AROUND THE WORLD
IRELAND
Our final stop on our round the world trip was my home country, Ireland. We drove from Dublin to Kerry in the South West. The Ring of Kerry is a well-known tourist route. W
e drove around it, stopping at some of the more off the beaten track places, such as Valentia Island! The rugged Atlantic coast, pristine beaches and quirky villages were just stunning. Some days were amazing, and others were rainy, making us want to cosy up in front of the fire with a hot drink.
That's Ireland for you. It's possible to have all four seasons in one day! That said, one of my favourite moments was seeing the beautiful cliffs pictured below on a rainy day. The mist and blistering wind made it all the more majestic!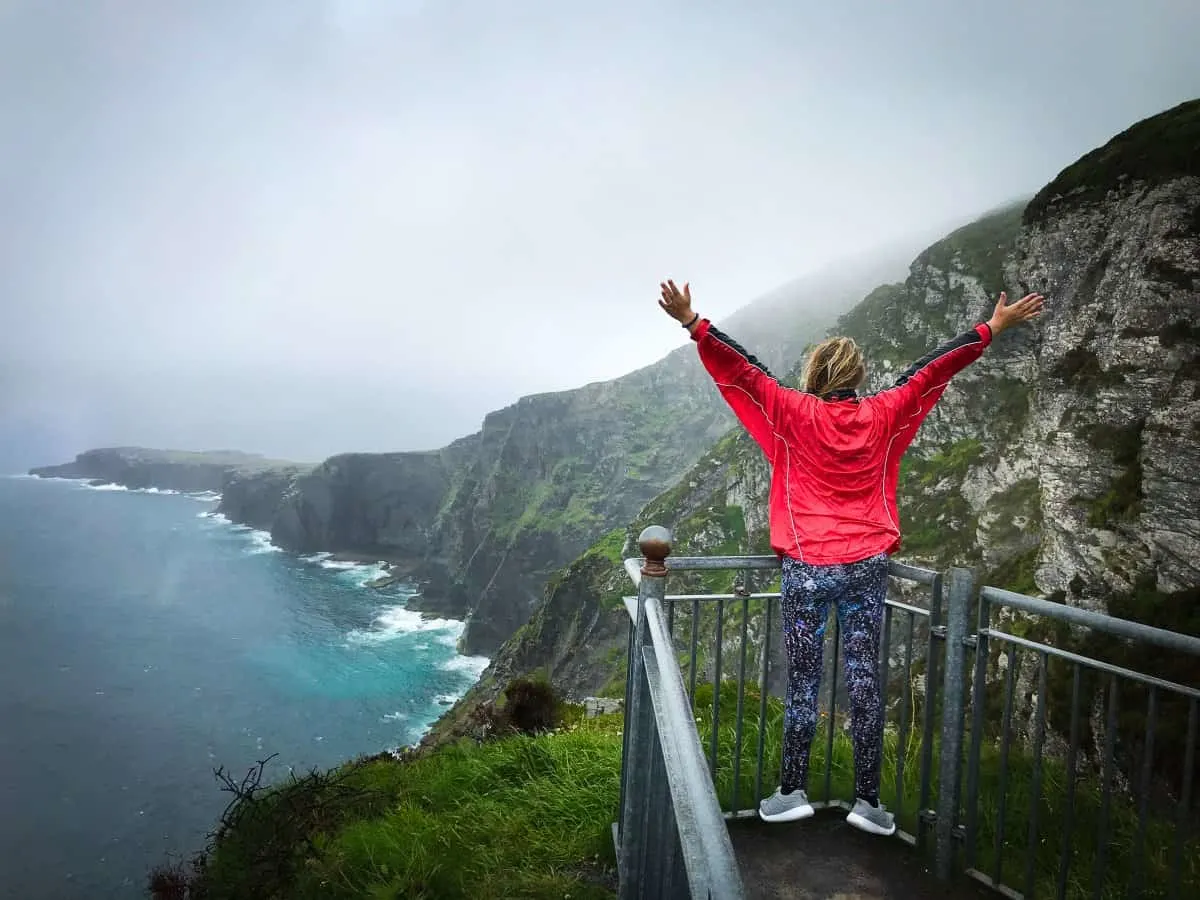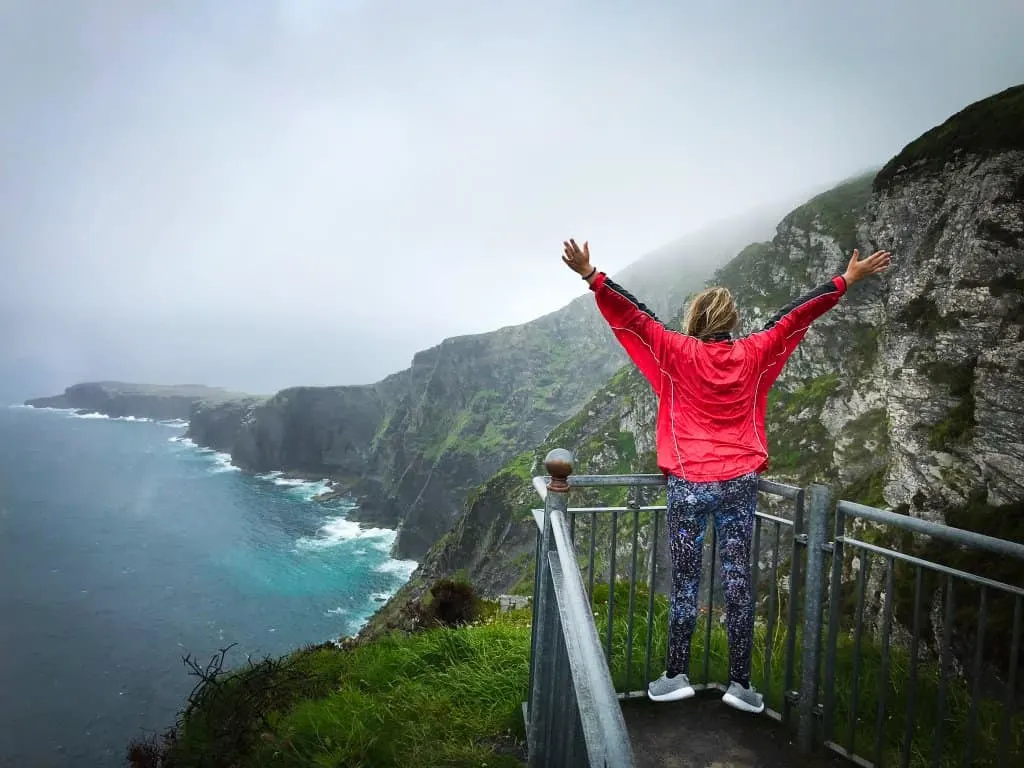 Ready to book your trip? Get the best price on your travel insurance, rental cars and hotels. Or get £25 off your first stay with AirBnb.
I hope you've enjoyed this post about our gap year roadys. Let us know what you think in the comments.
You May Also Like:
TOP TIPS FOR TAKING A ROAD TRIP WITH KIDS
An Olympic National Park itinerary
This post about road trip adventures around the world is sponsored by rentalcars.com