Vancouver was the final stop on our three-week Canada road trip. Before we got there we had stopped in Banff and Whistler to name but a few. We knew we were going to be tired and needing to relax, so we were really excited to be staying in one of Vancouver's best hotels, The Westin Bayshore.
Based on the waterfront, the hotel is in prime position for some of the most stunning views in all of Vancouver. I also really loved the fact the hotel is next to a seaplane port. I could've watched the sea planes landing all day from our bedroom window!
After a busy three weeks of travel, we made the conscious decision we were not going to do any site seeing in Vancouver. Both the kids and parents needed a break. We couldn't have picked a better hotel to relax and unwind.
From the moment we arrived and had the car taken off our hands by the concierge, we knew we were definitely going to feel relaxed after our two day stay. The hotel comes in at around the £210 mark per night, making it a treat for the most of us.
However I can safely say it is worth every penny! This is our review of The Westin Bayshore in the usual eat, sleep and play format.
The Westin Bayshore, Vancouver
Eat
Lunch & dinner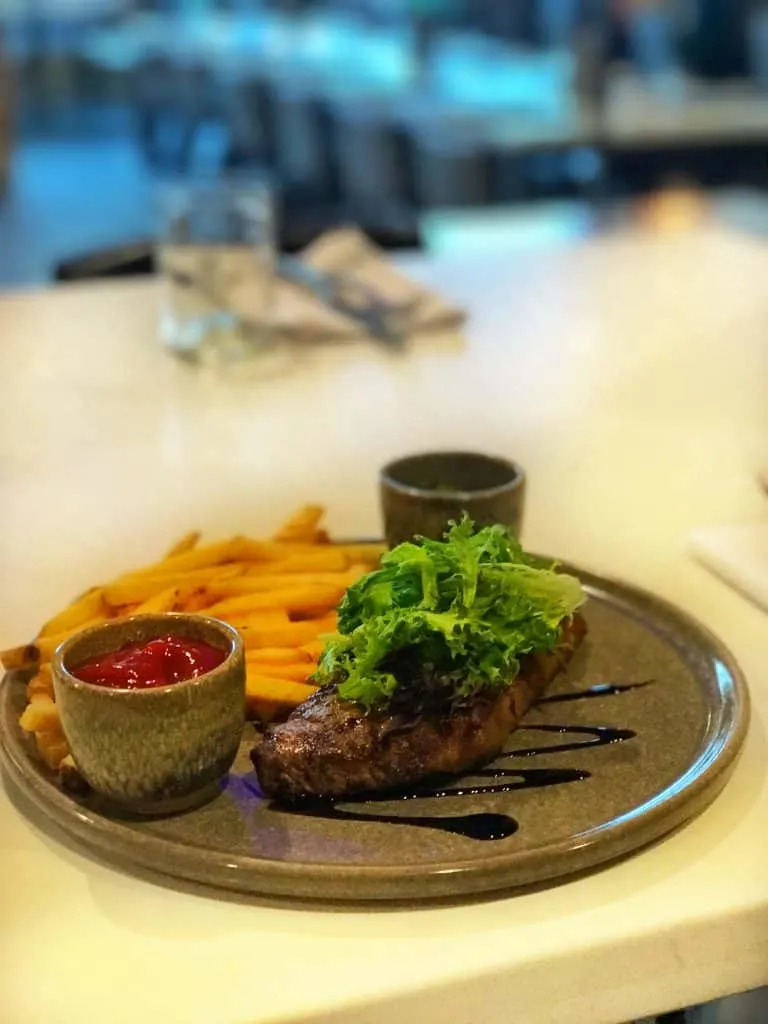 The hotels restaurant, H2 Rotisserie & Bar, is based on the ground floor. Breakfast, lunch and dinner is served in the large expansive dining room with views out into the courtyard. The outside area lights up in the evening with lots of fairy lights wrapped around the trees and the patio heaters add to the mood with the flickering flame.
Whilst guests are enjoying some of the fine dishes on the menu, live music is performed by a guitarist in the courtyard. It makes the entire experience so relaxing and enjoyable.
Given its name H2 Rotisserie & Bar, it's no surprise that the specialty is spit roasted chicken. Served with fresh coleslaw and delicious fries, they put a fine dining spin on a simple dish. Being a seafood lover, I really enjoyed the wild salmon with a summer BBQ twist, served with warm roasted corn and potato salad.
We had dinner in the restaurant and room service on the other evening when the kids were tired and asleep early. To say it was a real treat is an understatement!
Breakfast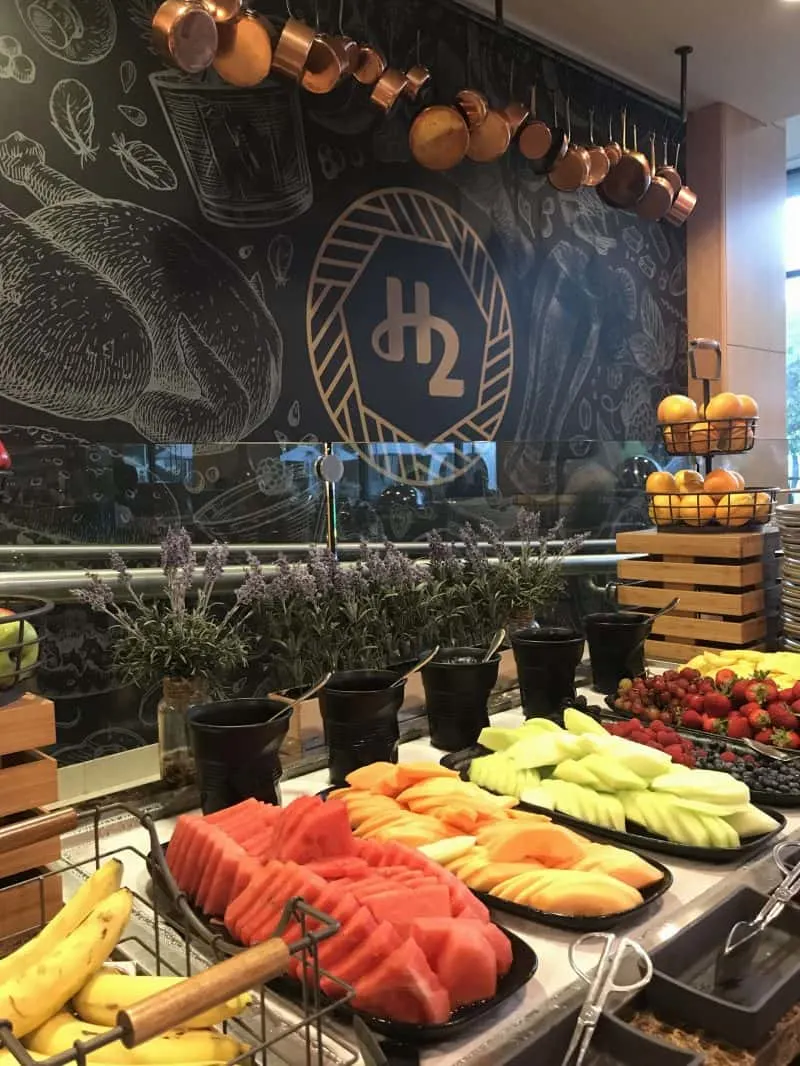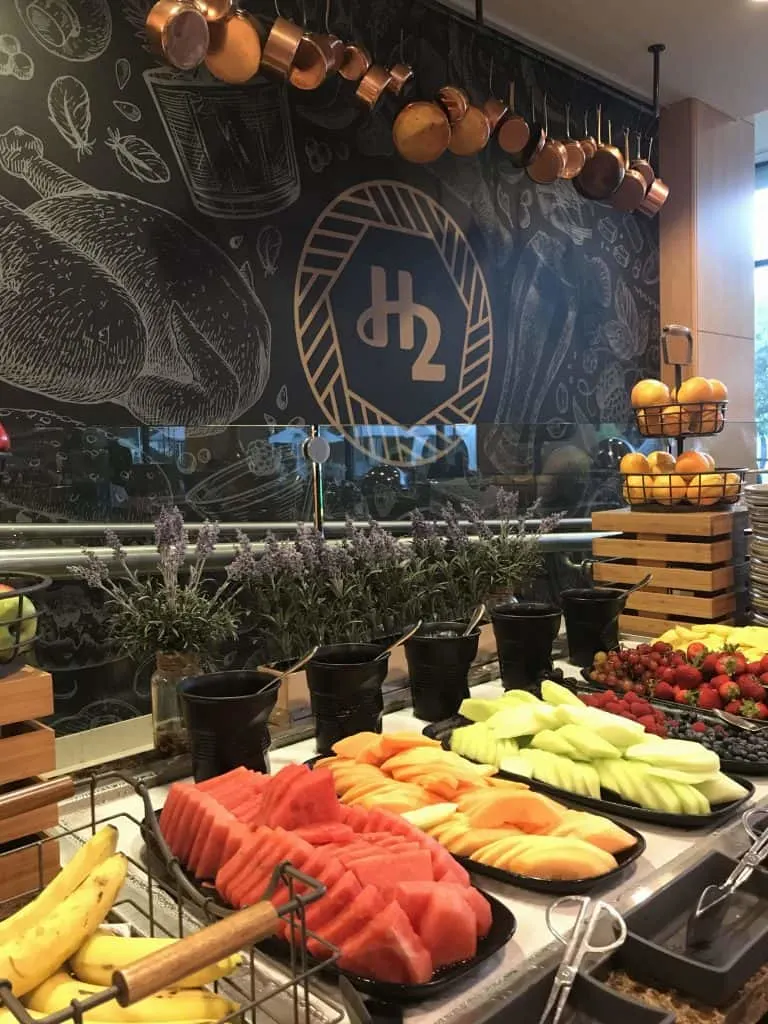 Breakfast is my favourite meal of the day. The Westin Bayshore offers a made to order menu, as well as a buffet breakfast. The trouble is choosing which option you want because both are amazing. Their spin on avocado toast is pretty special!
As for the buffet breakfast, all I can say is I was blown away! Unfortunately travelling a lot, has made it quite difficult to impress me with breakfast, since I have tried so many in different hotels.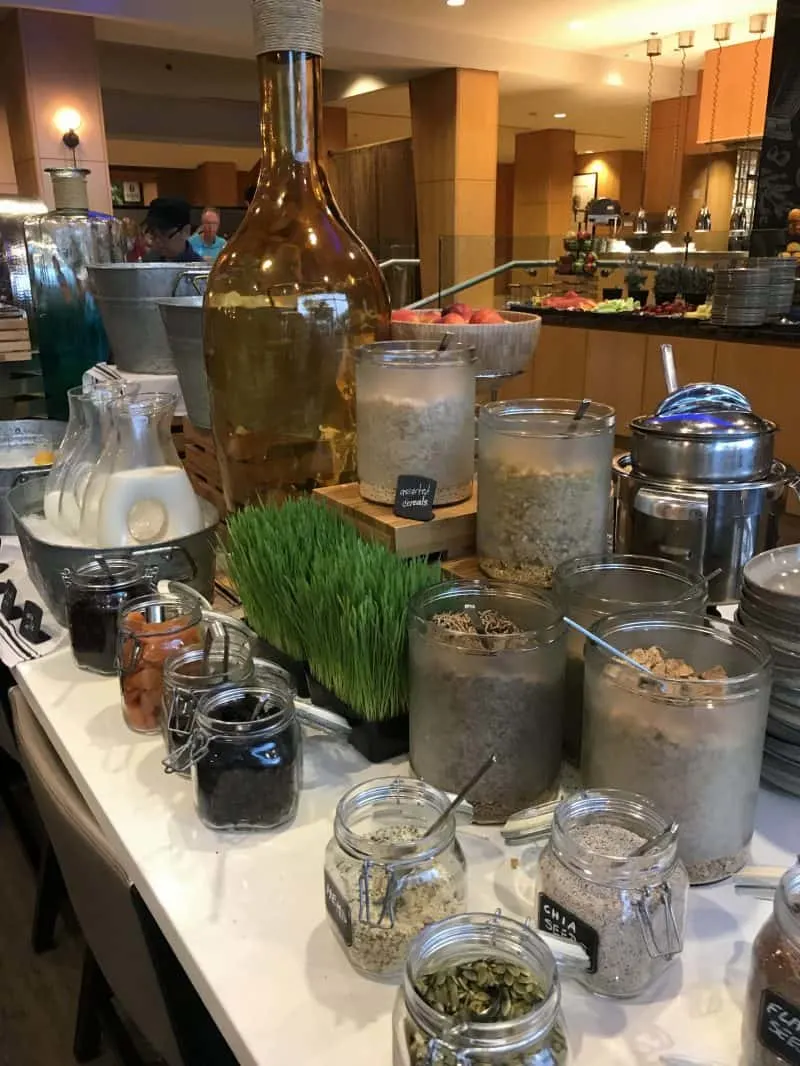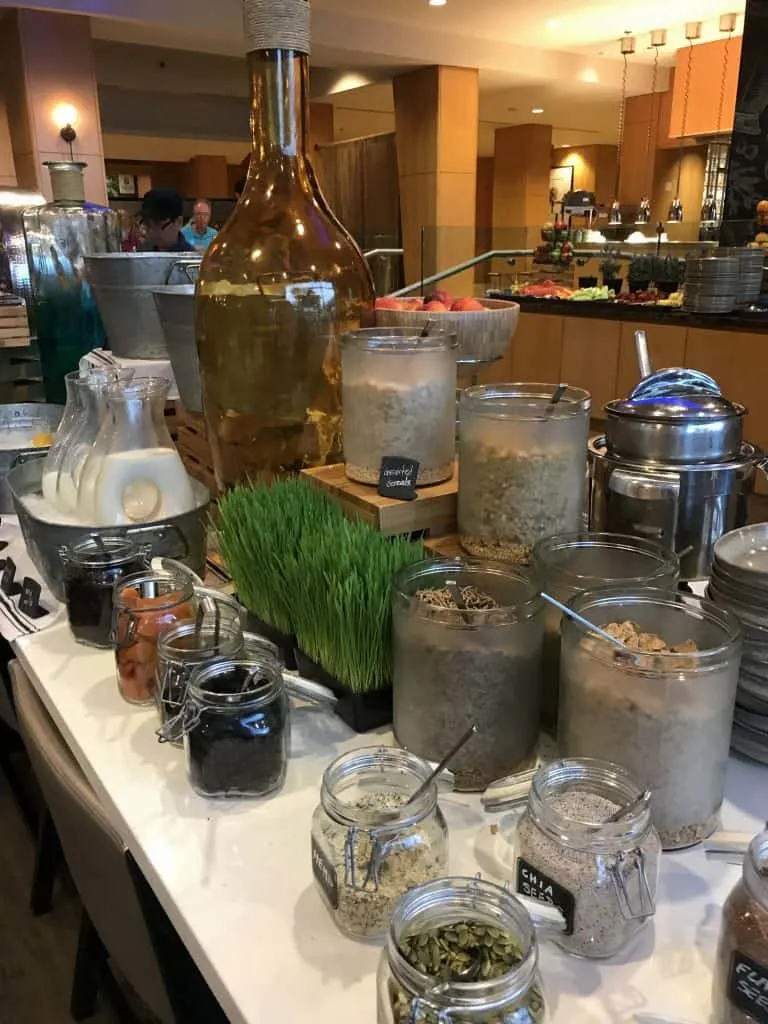 The Westin Bayshore is up there with my top two hotel breakfasts in the world! Delicate handcrafted chocolates (who doesn't love it for breakfast), smoothie shots, pastries presented in wooden box drawers and the freshest platter of fruits I have ever seen. There is also a chef that make fresh eggs, omelettes and pancakes at the buffet.
Sleep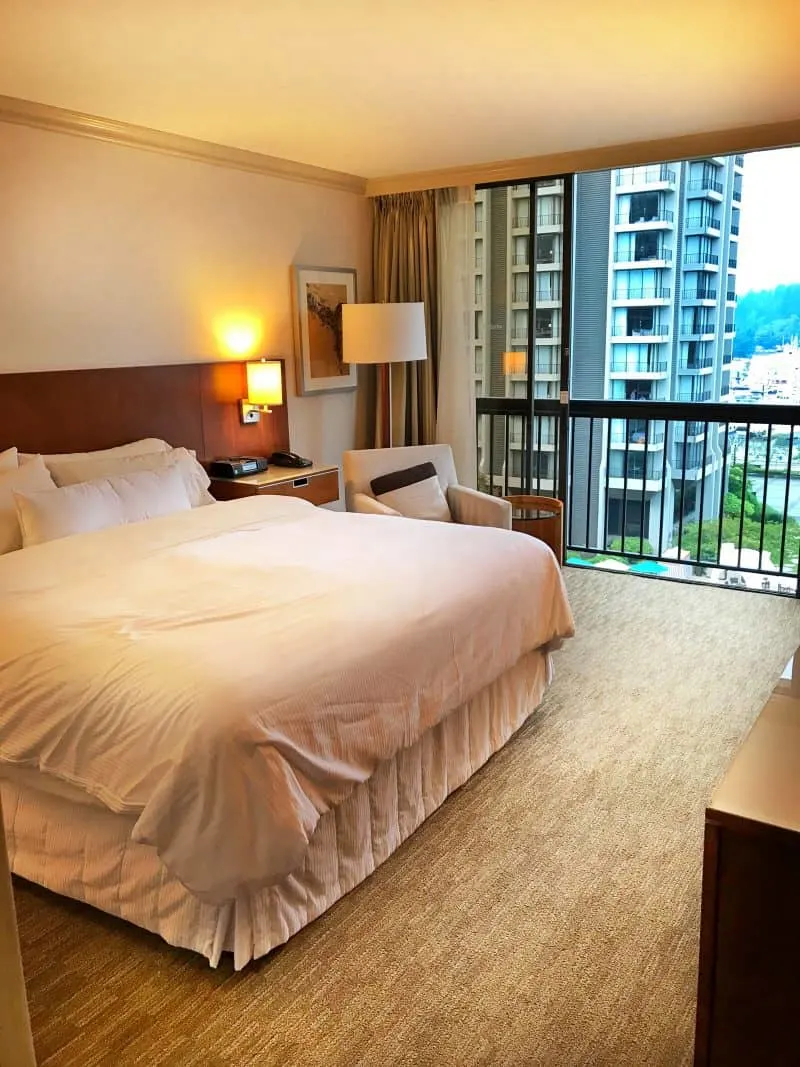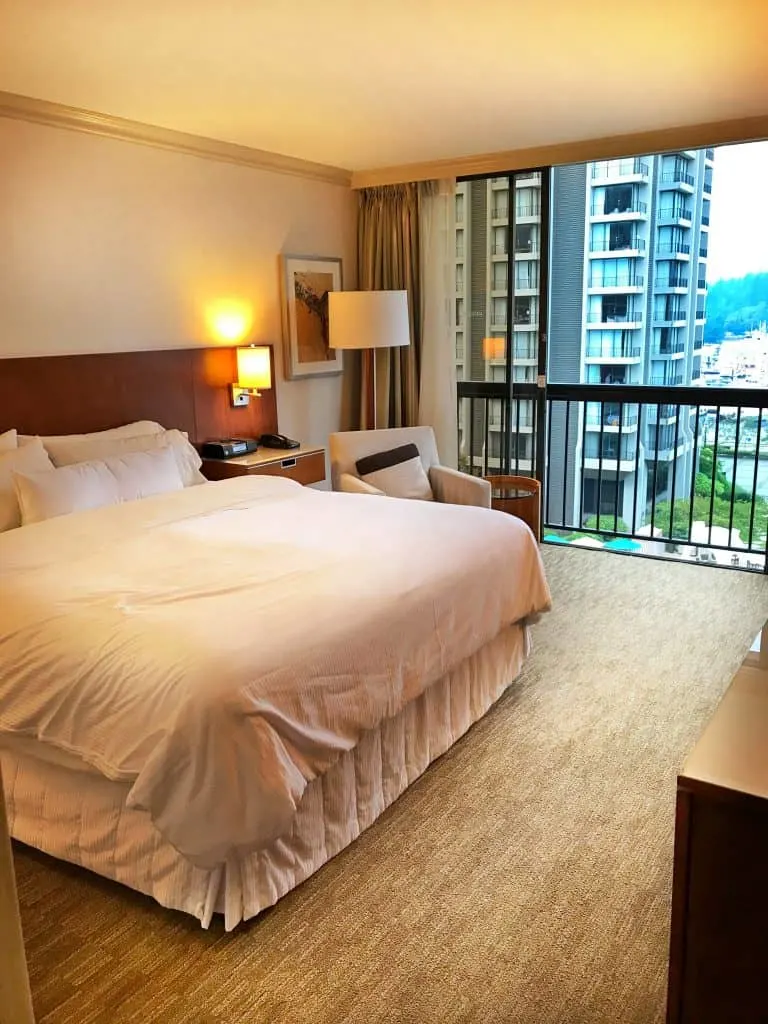 We were very lucky to stay in a large space for our family. We had two rooms interconnecting, one was a suite with a massive balcony and a lounge. The second room had two king beds. Both had incredible harbour and pool views.
We had three bathrooms, yes three! However we still lumped the two kids into the same bath in the evening. Once they were settled to bed we had a soak ourselves before lounging around in the comfortable gowns and ordering room service!
The appropriately named 'Heavenly Spa' products were so lush. I usually use my own hair shampoo and conditioner when I go to a hotel, but the products were really good and my hair actually felt conditioned after using them.
I loved how the bar of soap was in the shape of leaf. Our bed was so comfortable, it literally felt like a giant cloud. I woke up so rested and revitalised. The housekeepers offer turndown service which gives an idea of how amazing the hotel is!
Play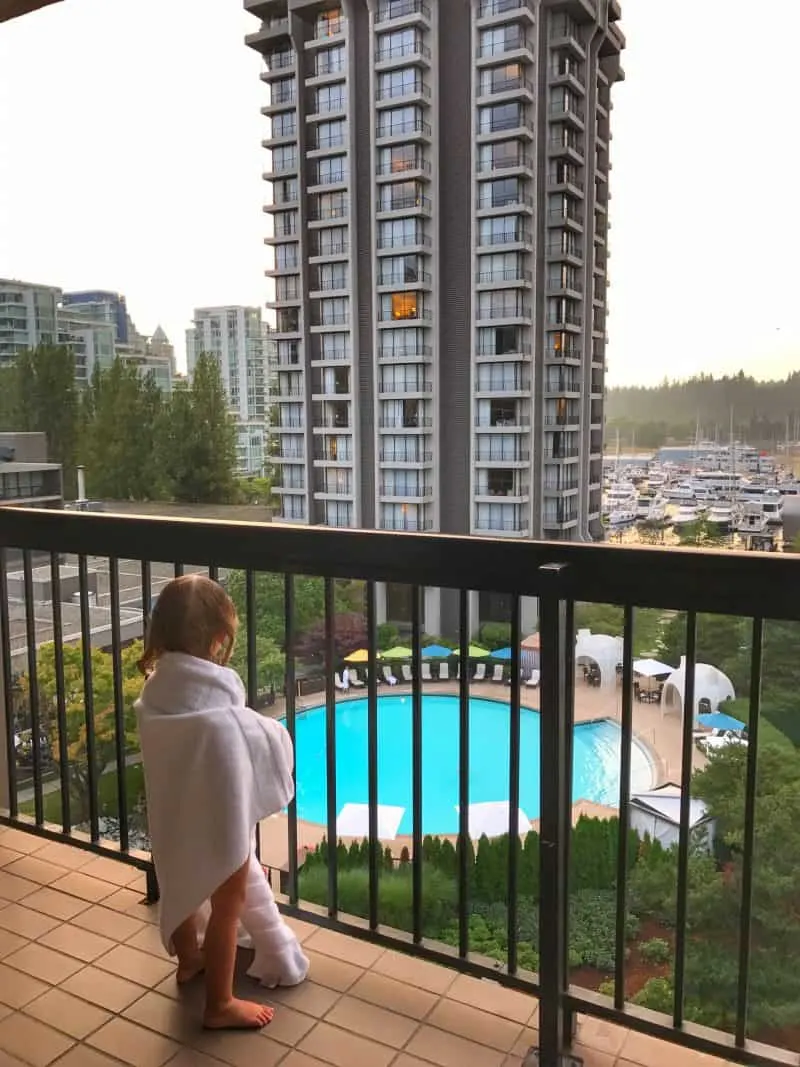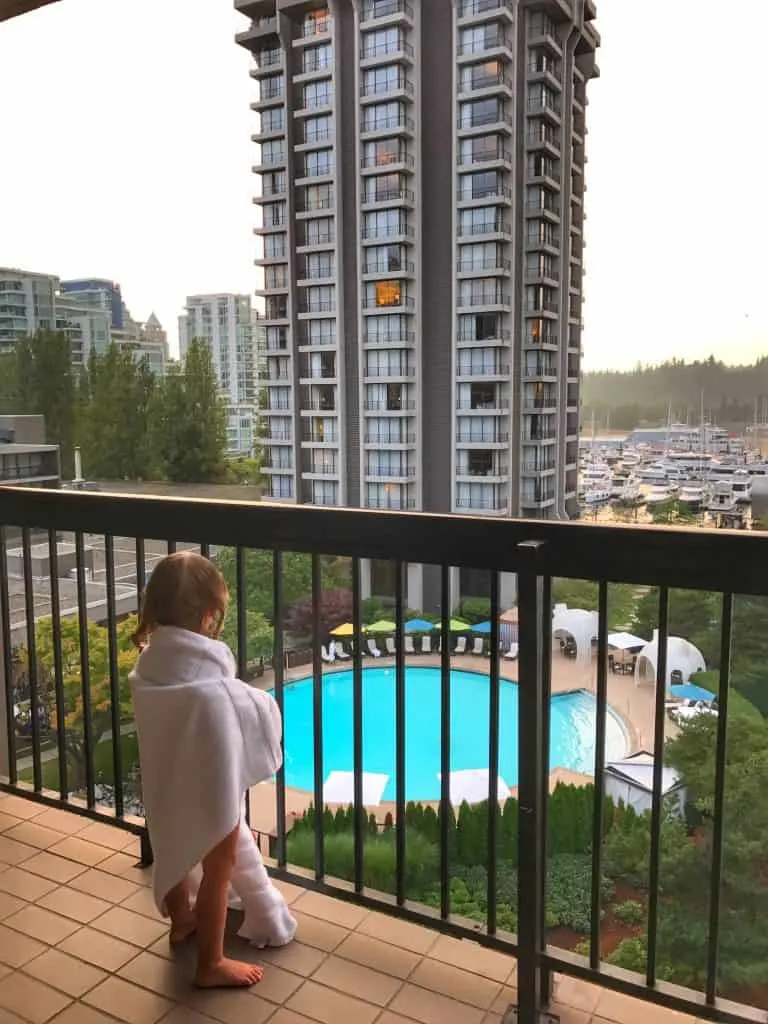 You guys know how much we love a swimming pool. Based in the centre of the courtyard, it makes for a gorgeous view from the higher rooms. It looks like it should be cold but in fact its quite warm for a very large outdoor pool. There are plenty of sun loungers around the edge with umbrellas for shade and towels to dry off! It was raining when we were in Vancouver but it didn't stop us from having a swim.
Yoga class
The Westin Bayshore run liquid yoga classes in the mornings. Its kind of like a surf board in the pool that replaces the traditionalist's yoga mat! I was booked in but I missed it because I was pooped and it started at 8am. I kind of regretted missing it when I was watching it from breakfast.
The spa
The Vida Spa, based on the ground floor of the hotel offer a range of treatments. Everything from massages to pedicures. We loved the idea of couples massage that they offer. However as we had been at a spa the night before on Vancouver Island we missed out but it's definitely something you should check out if you are looking to relax whilst you are there.
We absolutely loved our stay at The Westin Bayshore. I would go back in a heart beat!
Related: Fancy hiking in Vancouver?
For rates and availability click here.
Disclaimer: The Westin Bayshore had us as their guests. In return we were asked to write a review for publication on Travel Mad Mum. As always, all views expressed our entirely our own.