Dubai is UAE's most populous city, boasting jaw-dropping modern architecture, epic shopping malls, and fascinating man-made islands. There is plenty to do in Dubai with kids no matter their interests!
It is a city of glamour and culture, a fusion where East meets West, notable for the endless exciting facilities, restaurants, and cafes.
When you see pictures of Dubai it feels like a city of the future but culturally and historically, it has so much more to offer.
I love travelling to places where I get to experience the culture, so Dubai's old town did not disappoint with its abundance of markets, culinary delights, and cultural scenes.
I feel Dubai is less well known for its old town, but it is the part I personally found most fascinating.
Isn't it amazing when one destination caters to the entire family?
There are so many things to do in Dubai with kids and that's where the modern side of Dubai comes in to play at its best. The blend of old meets new is where the city thrives.
Are you flying into Dubai? Check out our flying tips with babies, toddler & kids.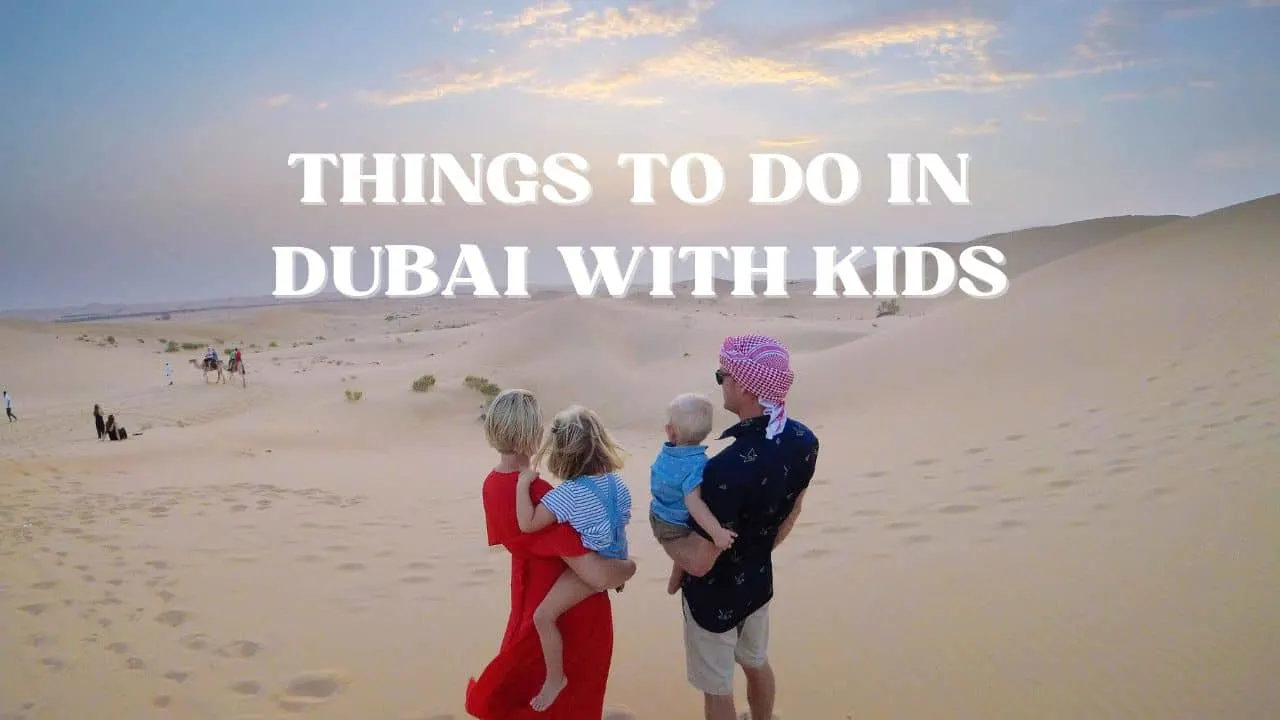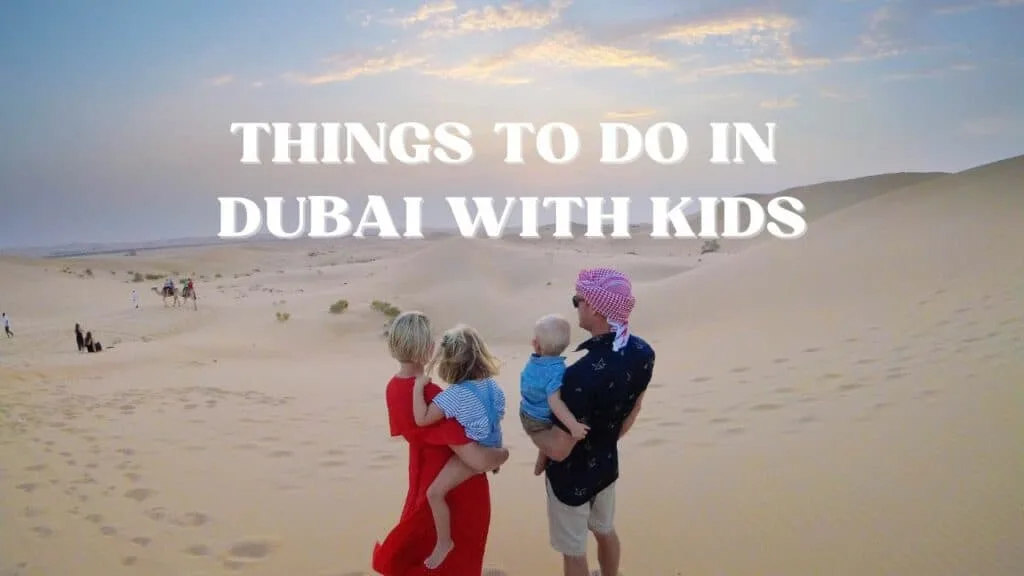 DUBAI WITH KIDS
From theme parks, to incredible family-friendly resorts, and dancing water fountains to sky scraper views, visiting Dubai with kids is action packed.
We spent six days exploring Dubai Parks and Resort, the Marina and Dubai Old Town. It was a varied experience and admittedly super easy with little ones.
All of our tickets and passes to attractions were booked through 'Attraction Tickets Direct', a company who find the best prices, saving the all important pennies and making holiday savings go further.
With the flight being only seven hours from London, glorious weather in the middle of our cold British winter was a welcomed break. Here are our top choices on things to do in Dubai with Kids, and also places to stay and eat in Dubai with kids.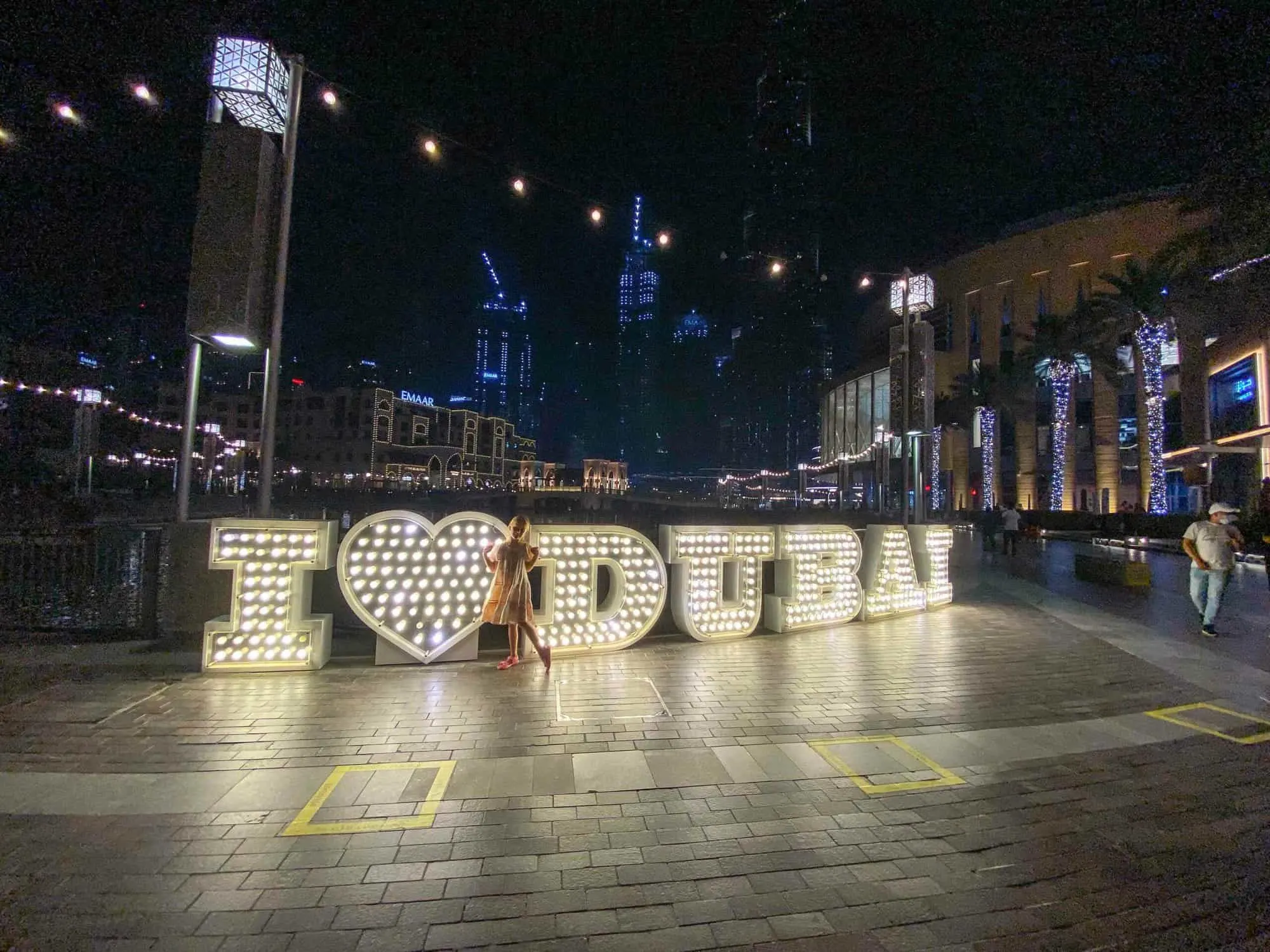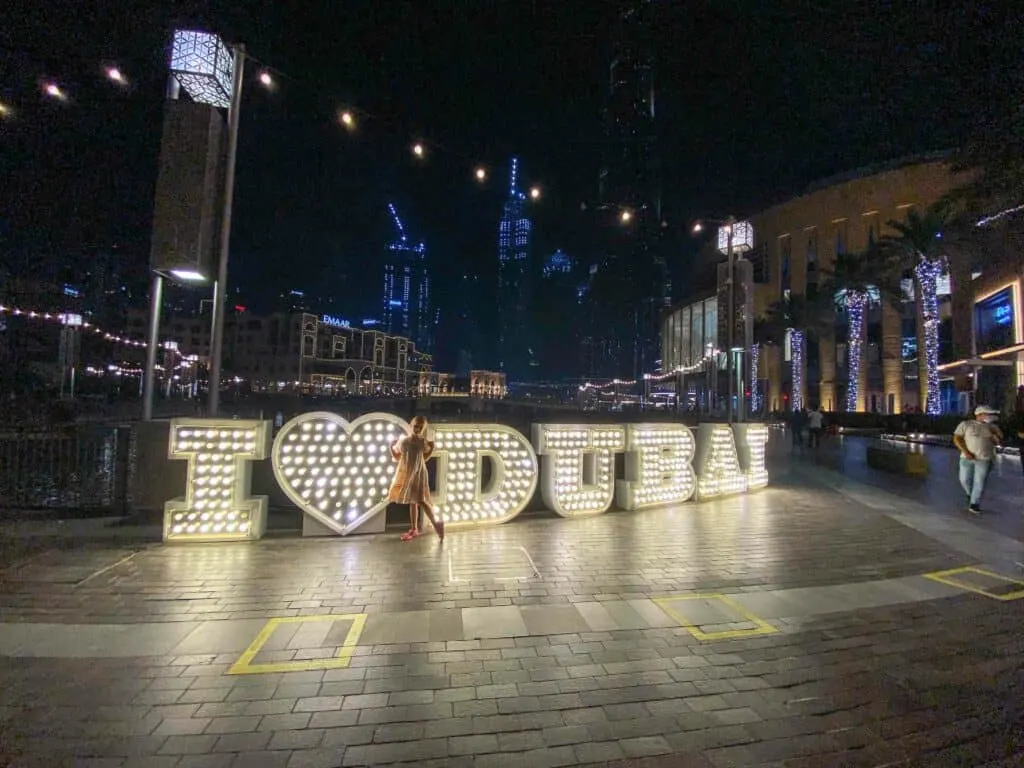 I've added a few extra tips and tricks we've learned along the way about this amazing metropolis that is Dubai. Also, check out this article if you are worried about dealing with jet lag when you arrive.
DUBAI PARKS AND RESORTS
Without a doubt, the most fun place in Dubai, nay, the world, for kids is Dubai Parks and Resorts. It's sort of a one-stop-shop. It's got hotels, restaurants, and endless entertainment for your little ones, that's why it's made the top of the list of activities for kids in Dubai!
We started off our seven-day Dubai adventure in The Dubai Parks and Resorts. We stayed in their very own Lapita Hotels (more info about that later) so we could be near the parks and see as many things as possible with two little ones.
It was so handy being a five-minute walk from Legoland, Bollywood, and Motion Gate, meaning we could fit nap times and our usual routine around our visit.
I have to be honest, I quite often find visiting theme parks stressful with kids.
The crowds, the queues, the long walks for little legs, it can all be too much. For the first time, I can safely say, I actually really enjoyed visiting theme parks.
The lack of crowds, the short distances, and the ease of getting back to our room really made the experience so much better.
I was also a little worried about the heat with two little ones, so we were happy to find many parts of the park were located inside air-conditioned buildings. It made a world of difference!
Riverland is the central part of Dubai Parks and Resorts. It's like a central hub where you can find all of the entry gates to the different parks. There are also a number of cafes, restaurants, and bars.
We visited just before the UK half term, but I understand Riverland has a number of firework displays and street performances in the high season.
LEGOLAND DUBAI
Our first park visit was to the amazing Legoland Dubai. Featuring a separate waterpark and theme park, they are right next to each other.
However it was the Legoland Waterpark we liked the best. Although we visited in the cooler months, the temperatures can be quite hot for little ones at the best of times.
Likewise our kids are aged 1 and 4 and we found Legoland Waterpark the ideal place to be with children of that age, not to mention keeping cool whilst having lots of fun.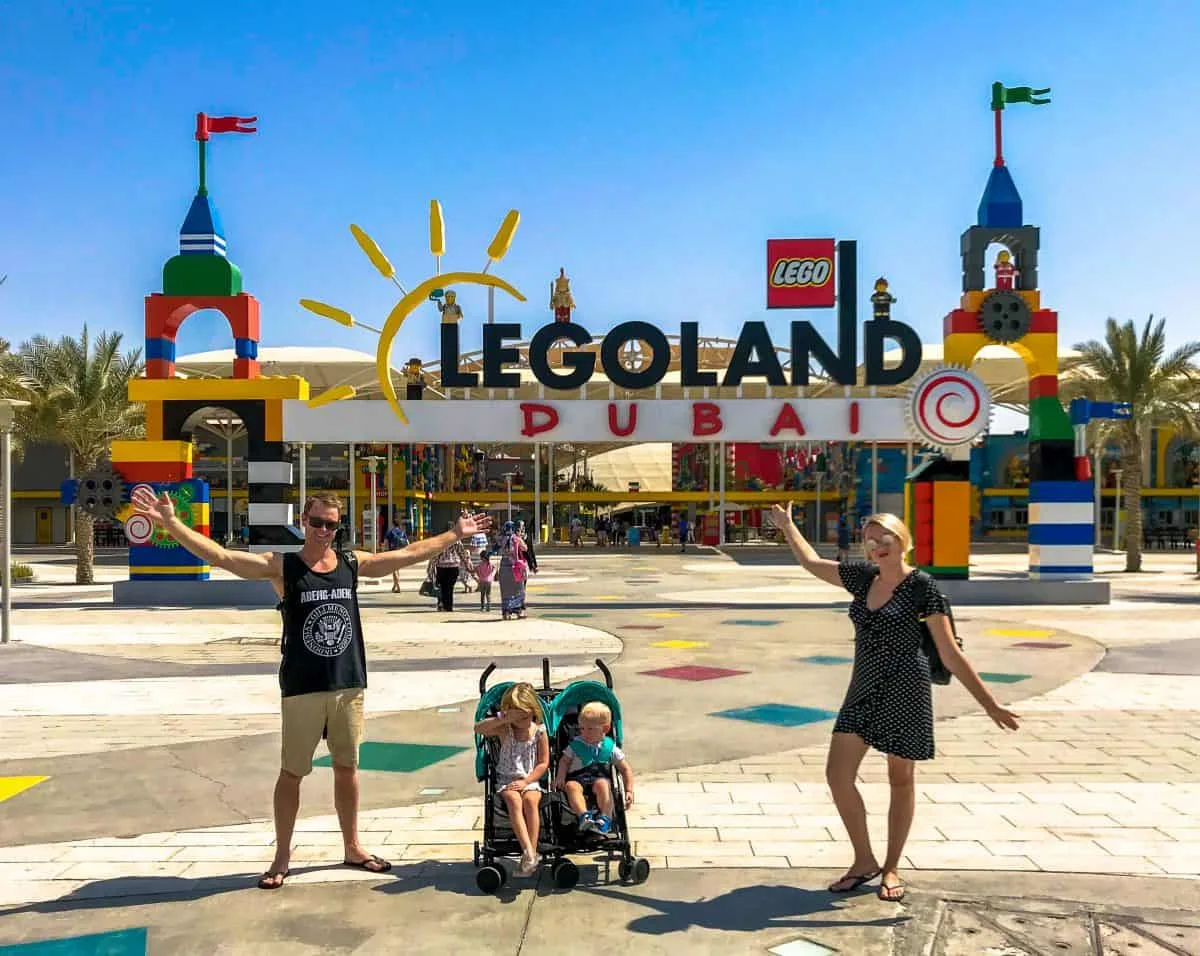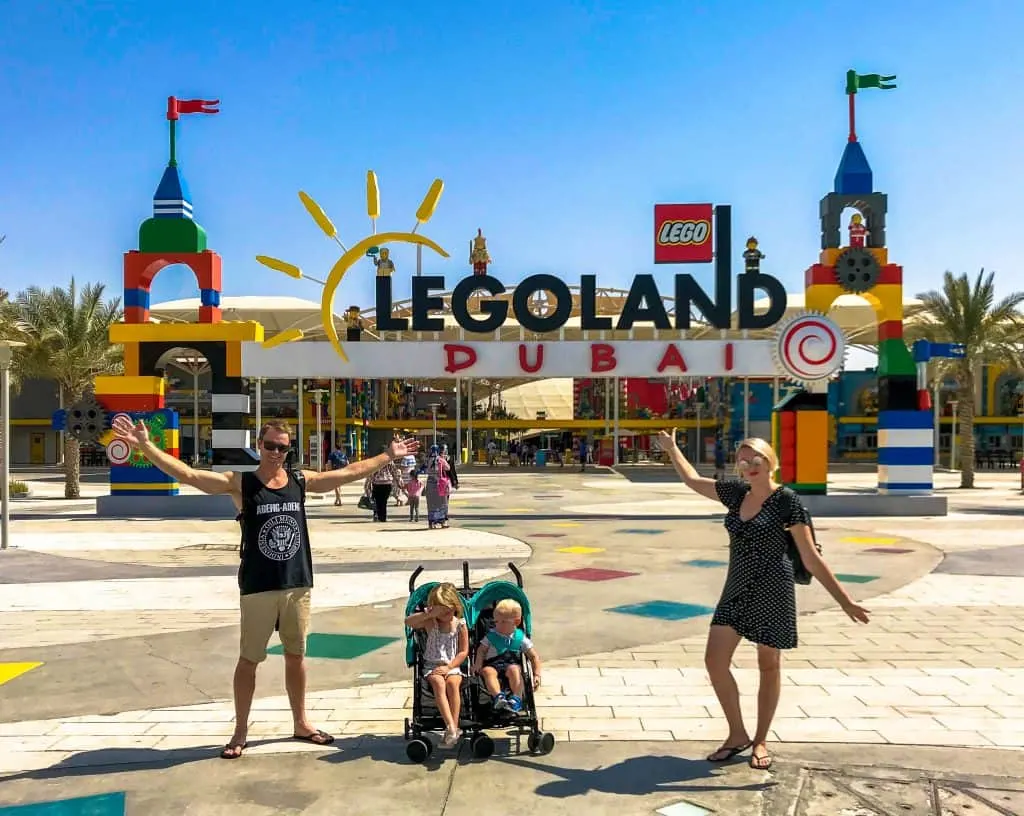 As water parks go it wasn't at all busy meaning we could relax, enjoy and not have to worry about queues. Legoland has some amazing features, one of them being the lazy river.
They call it ' make your own raft', the idea being you can do so on your journey around the lazy river with the many giant lego bricks.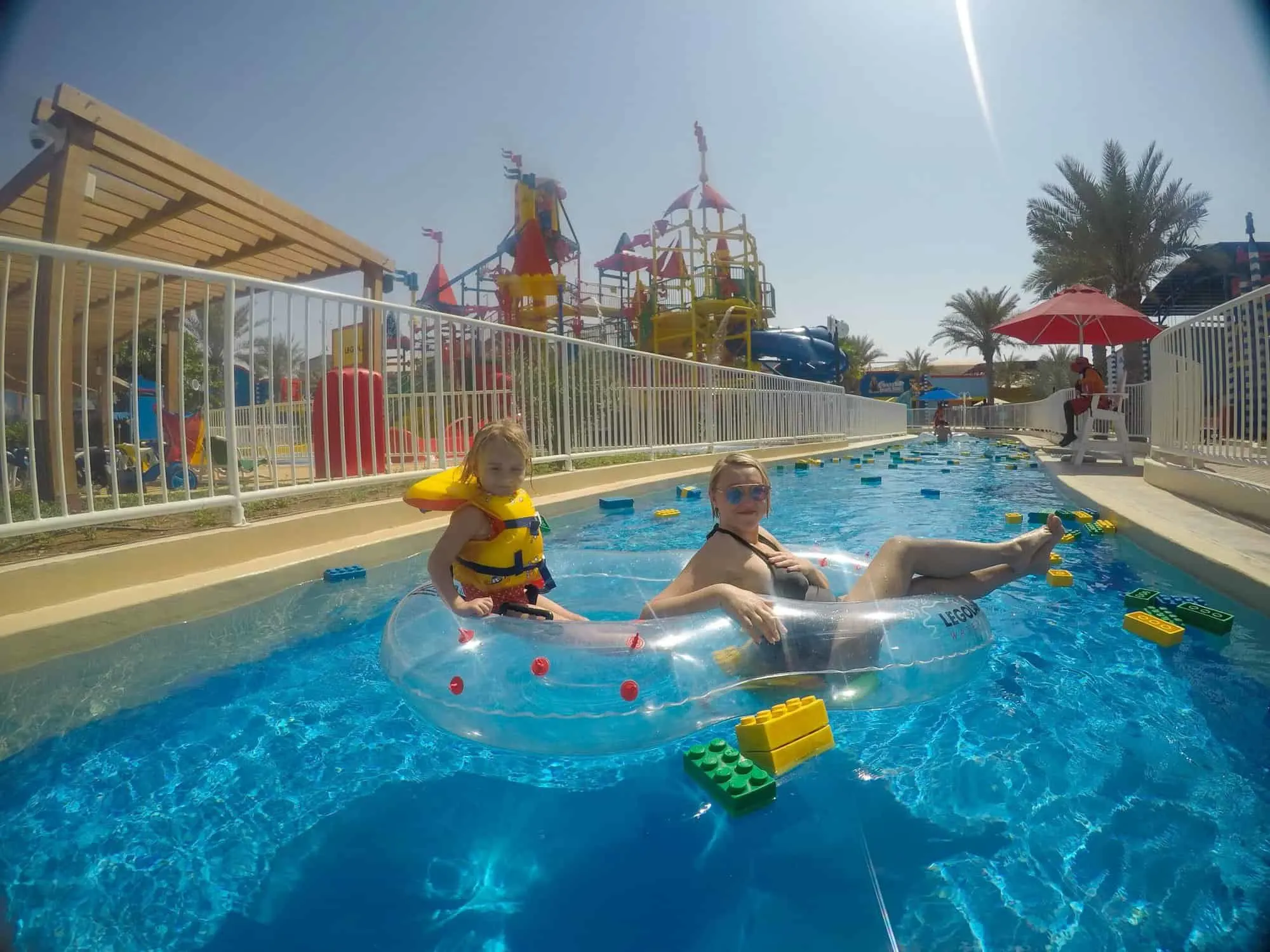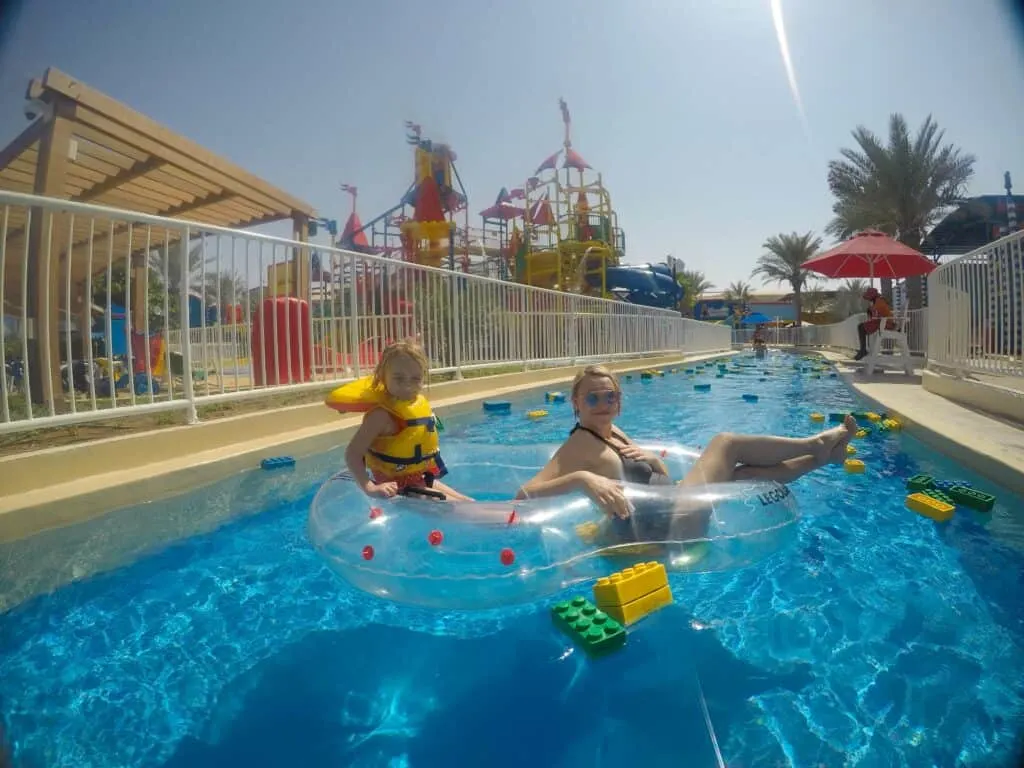 There were many slides in Legoland Dubai Waterpark, some were suitable for toddlers, whilst others were more suitable to older children or big kids like us parents.
We loved the fact there were very shallow pools with shade for our youngest little one.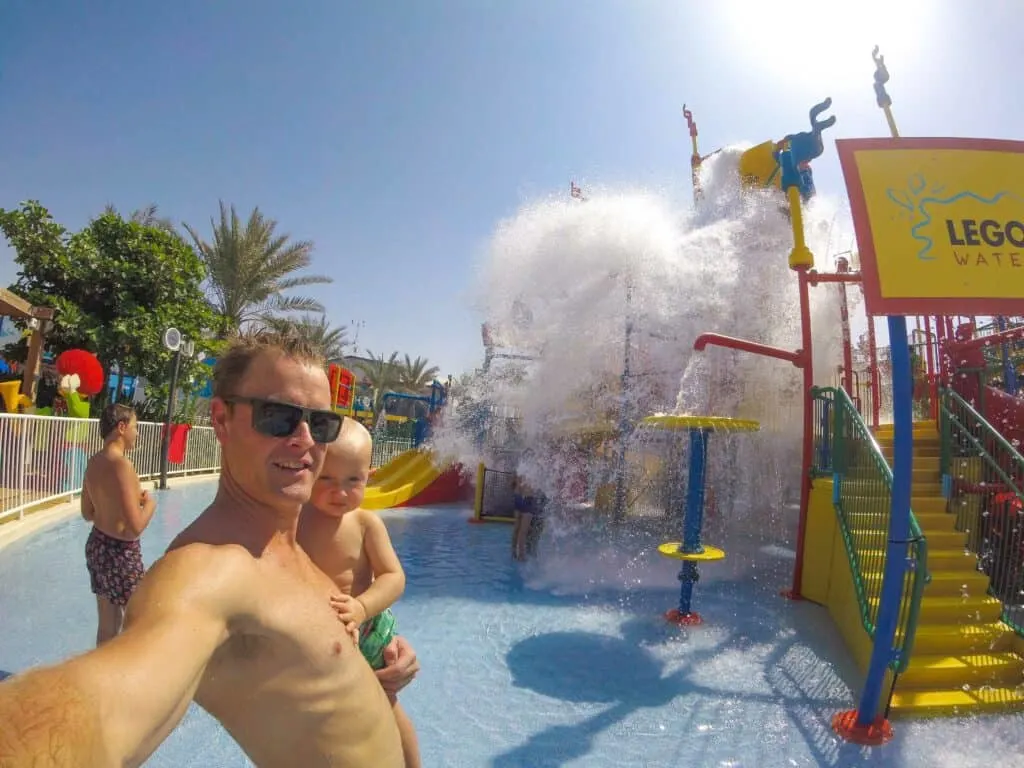 LEGOLAND DUBAI
Another feature our kids absolutely loved was the 'make your own boat'.
It was a station where they could build a small boat with regular-sized lego. Afterwards, they could sail it from the top of the water stream. Our little boy spent so long enjoying the sensory play element.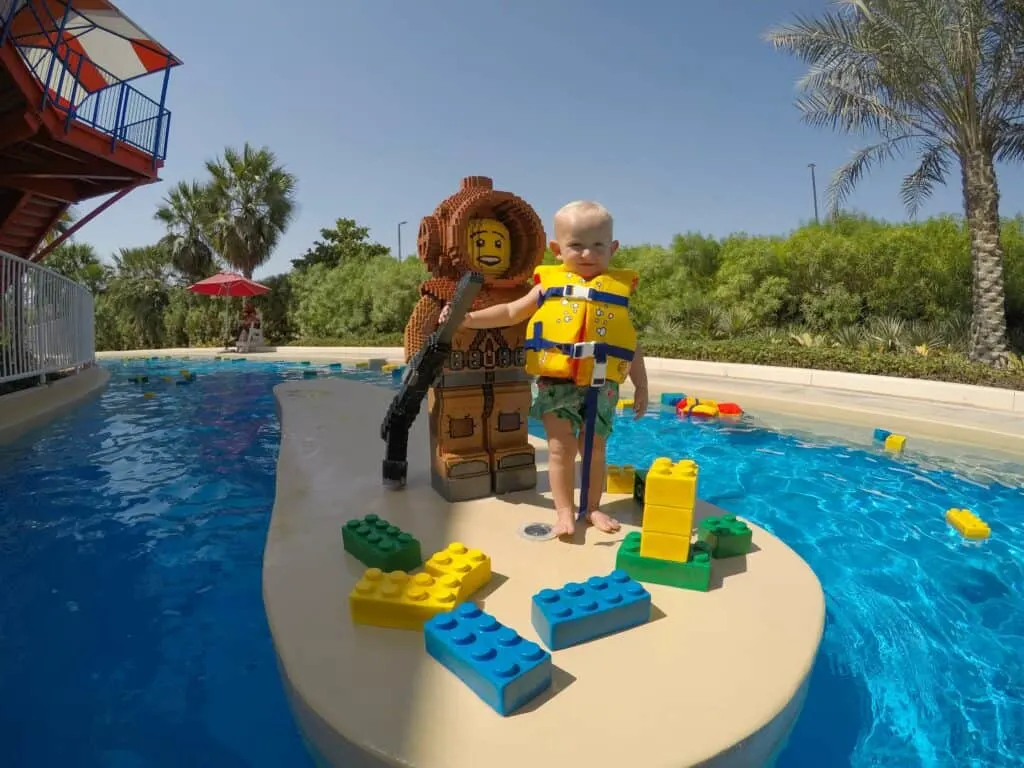 To finish off our visit we splashed around in the wave pool and chilled out in one of the cabanas on offer.
We had lunch inside the park, although there was not a great deal of vegetarian options and being eco-friendly we preferred to eat at our hotel restaurant to keep our waste production down. On the whole, the park is super organised with lockers, stroller and towel rentals.
For tickets to Legoland Dubai click here.
MOTION GATE DUBAI
On our second day at Dubai Parks and Resorts, we visited Motion Gate Dubai.
It's comparable to Universal Studios in Singapore. Again I found Motion Gate had something for both of our children.
In many other cases, they are often too young but I am happy to say they both got something out of the experience and thoroughly enjoyed it.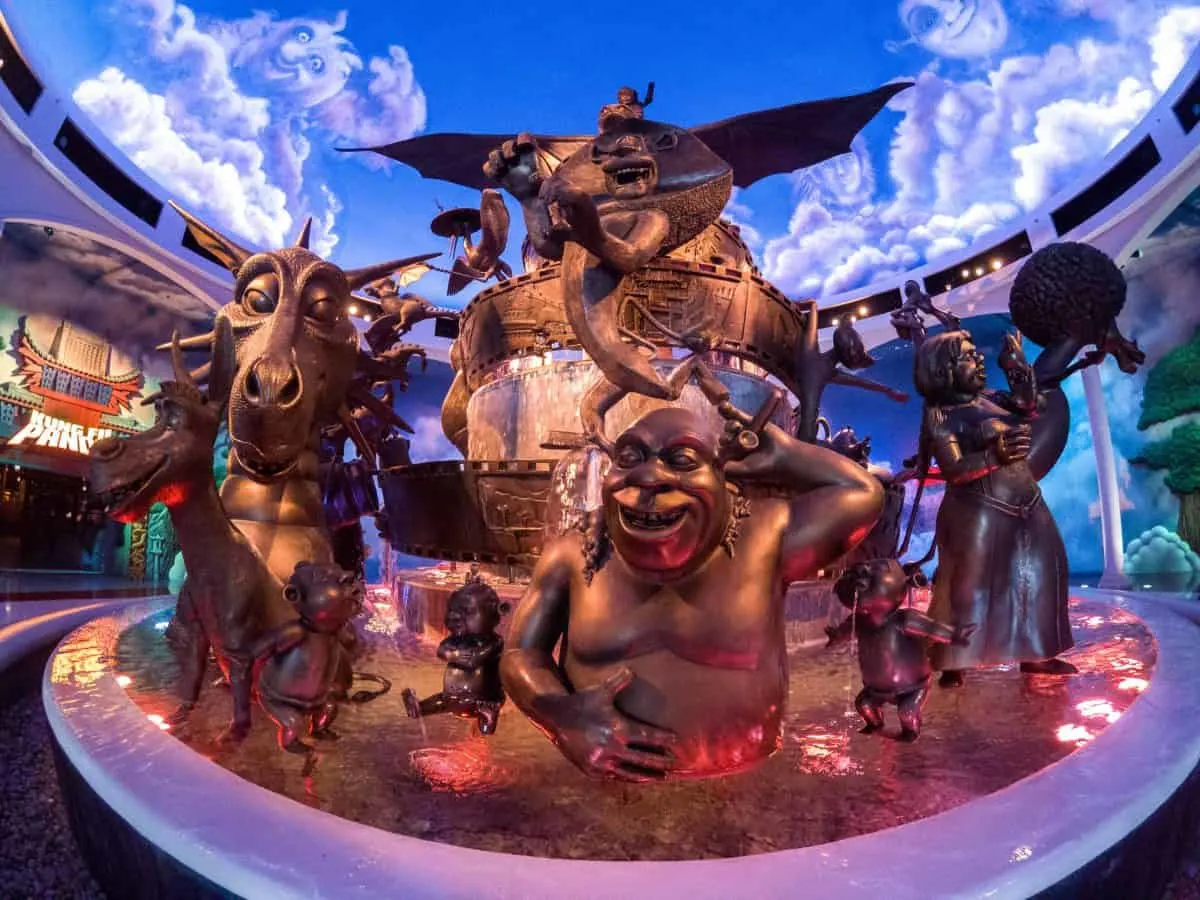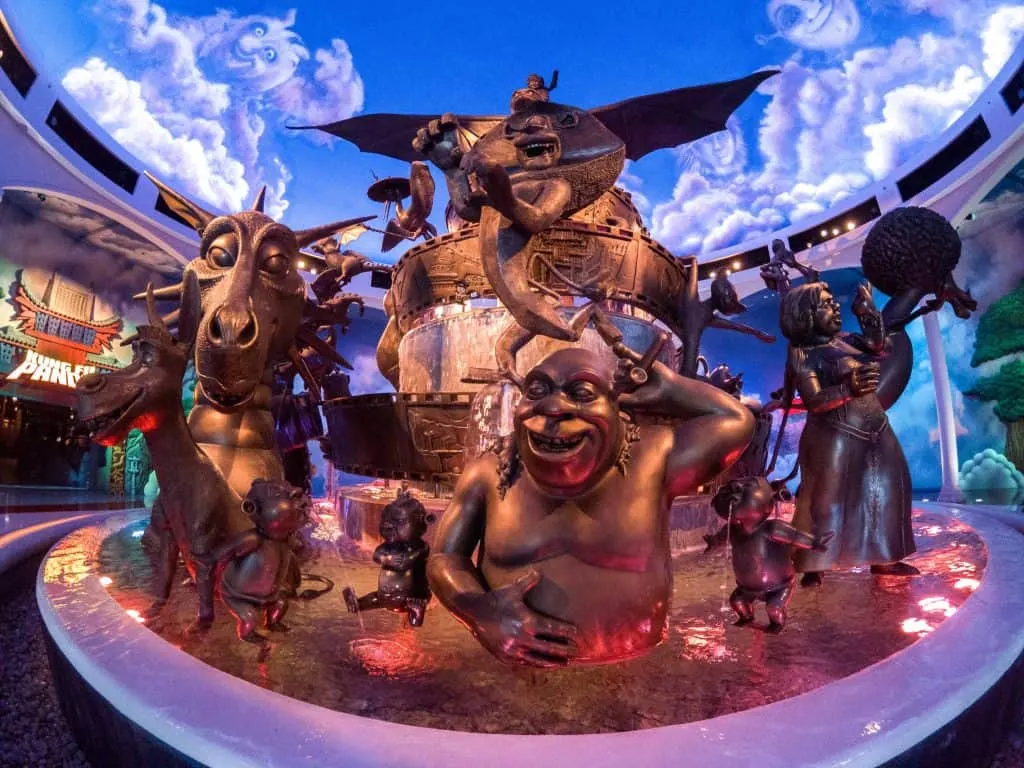 We started off by seeing all of the performances. From Kung Fu Panda dancing and teaching the kids his moves, to a full theatrical performance with the cast of Madagascar, it was a perfect day out.
Many people asked how we managed the heat and what I loved is that many parts of Motion Gate are indoors in a cool air-conditioned space. It made it so much more tolerable only spending short periods outside in the hot sun.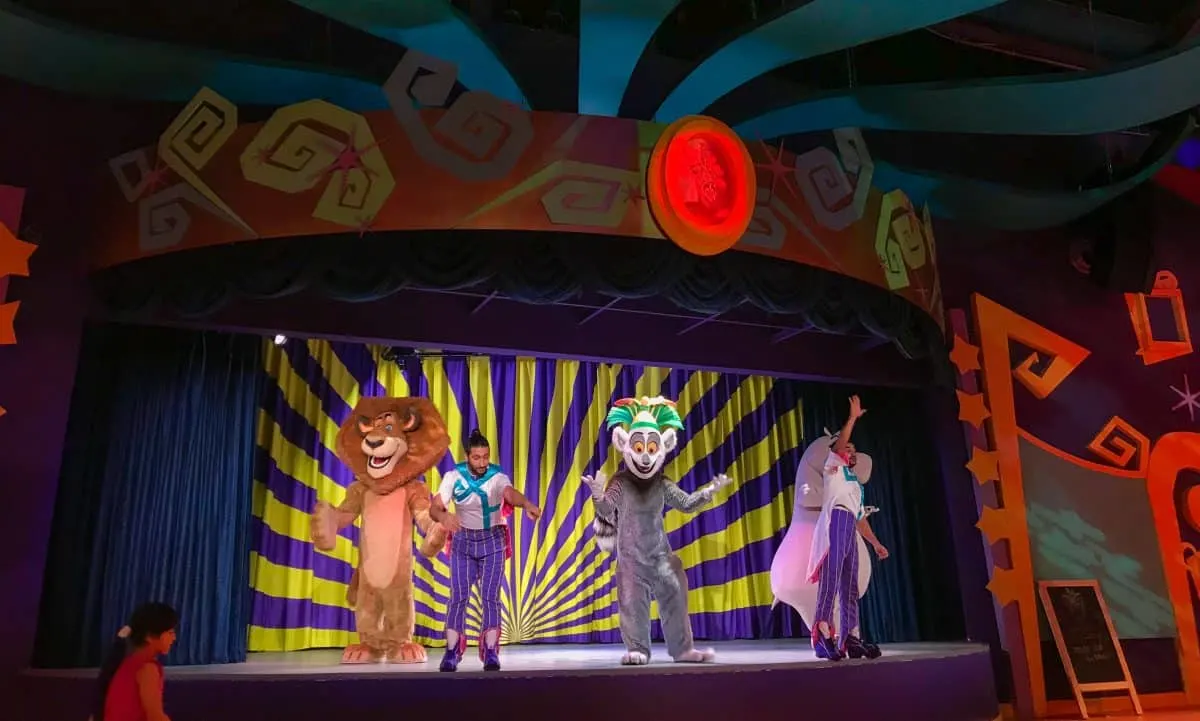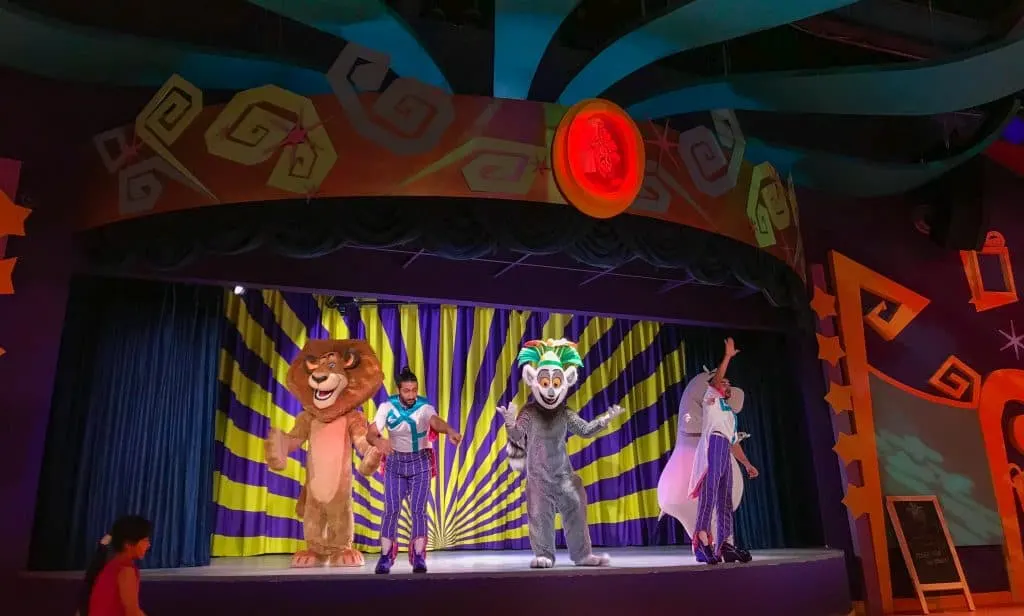 Our daughters favourite part was the cute train journey into Shreks World.
It felt like we were inside the movie. She also loved the street appearances of her new favourite cartoon character 'Smurfette'.
The park is not huge and more than manageable in one day, even with little ones.
BOLLYWOOD DUBAI
My personal favourite of the three Dubai Parks and Resorts was Bollywood Park.
It's not full of rides, but instead, beautiful replica's of Indian scenery and a very good copy of the Taj Mahal.
As we walked around the different parts of Bollywood, there were street performances on almost every corner.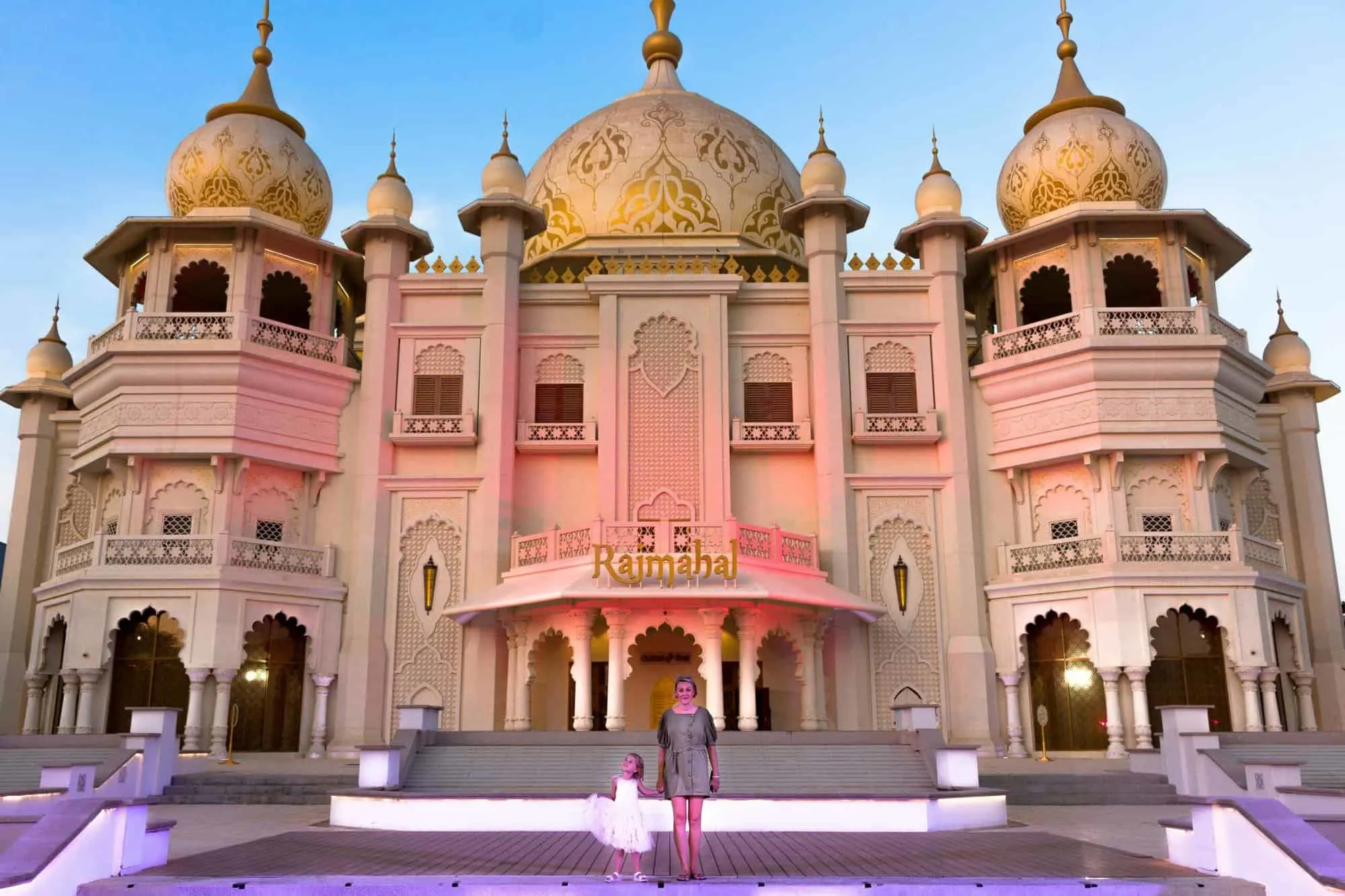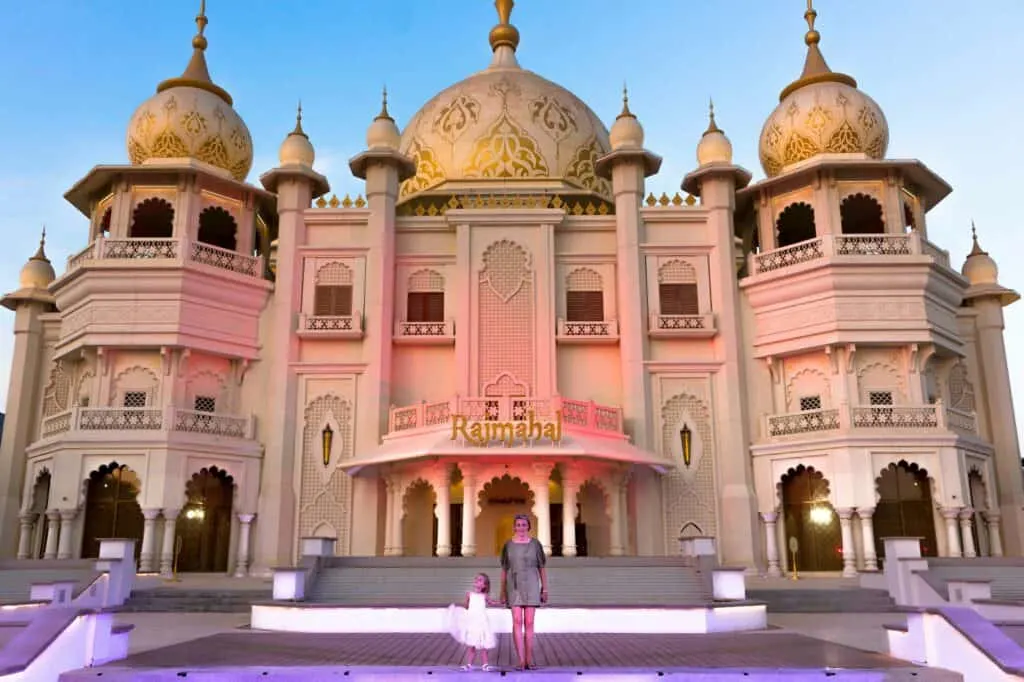 We loved the model of the Mumbai train station and the performance recreating life in that area of India.
We spent most of our time insIde the main theatre watching an elaborate performance. My 16-month-old boy doesn't sit still for longer than a minute usually and I couldn't believe he sat through the whole thing. I highly recommend visiting when looking for the best things to do in Dubai with kids.
For tickets to Bollywood click here.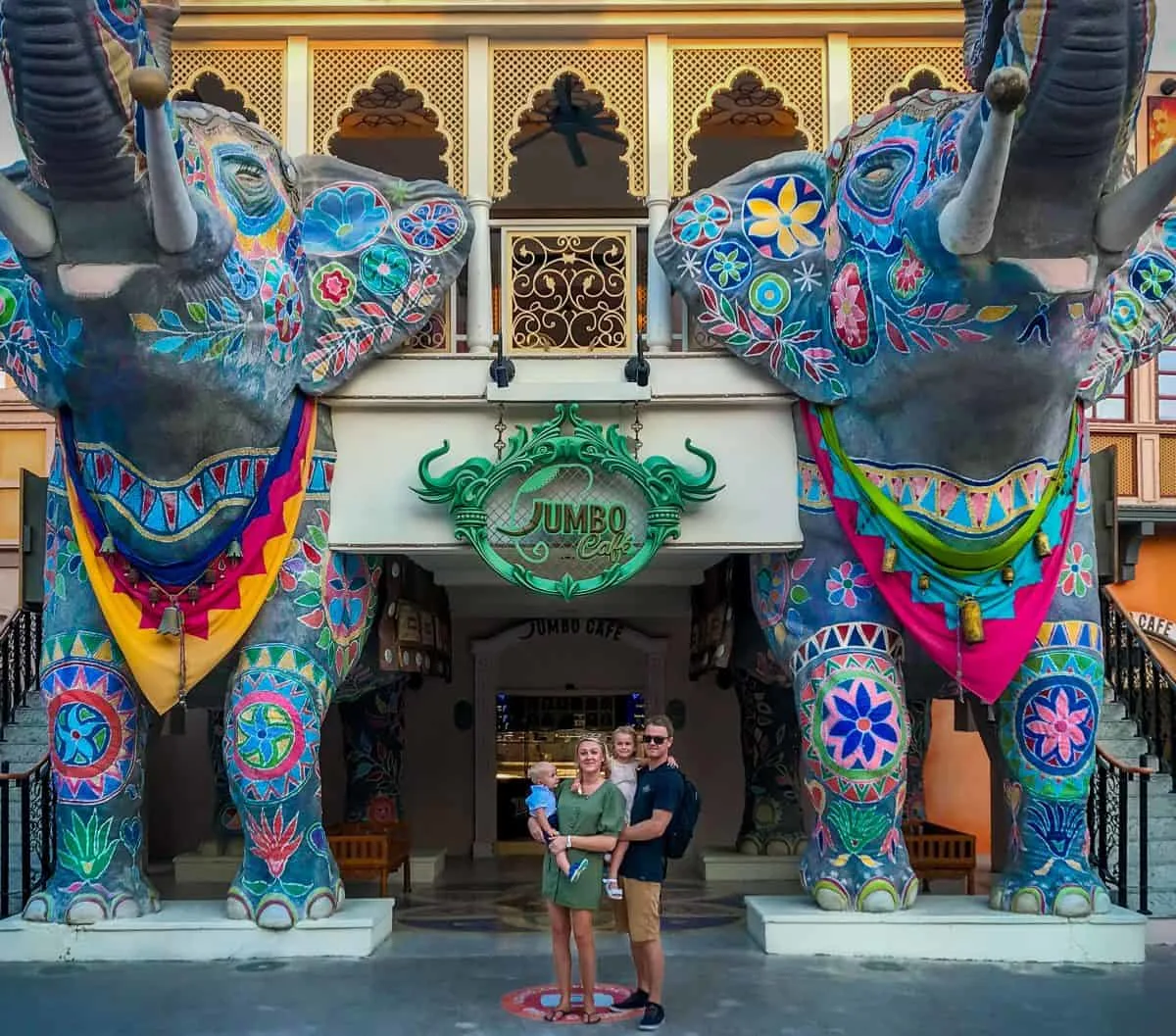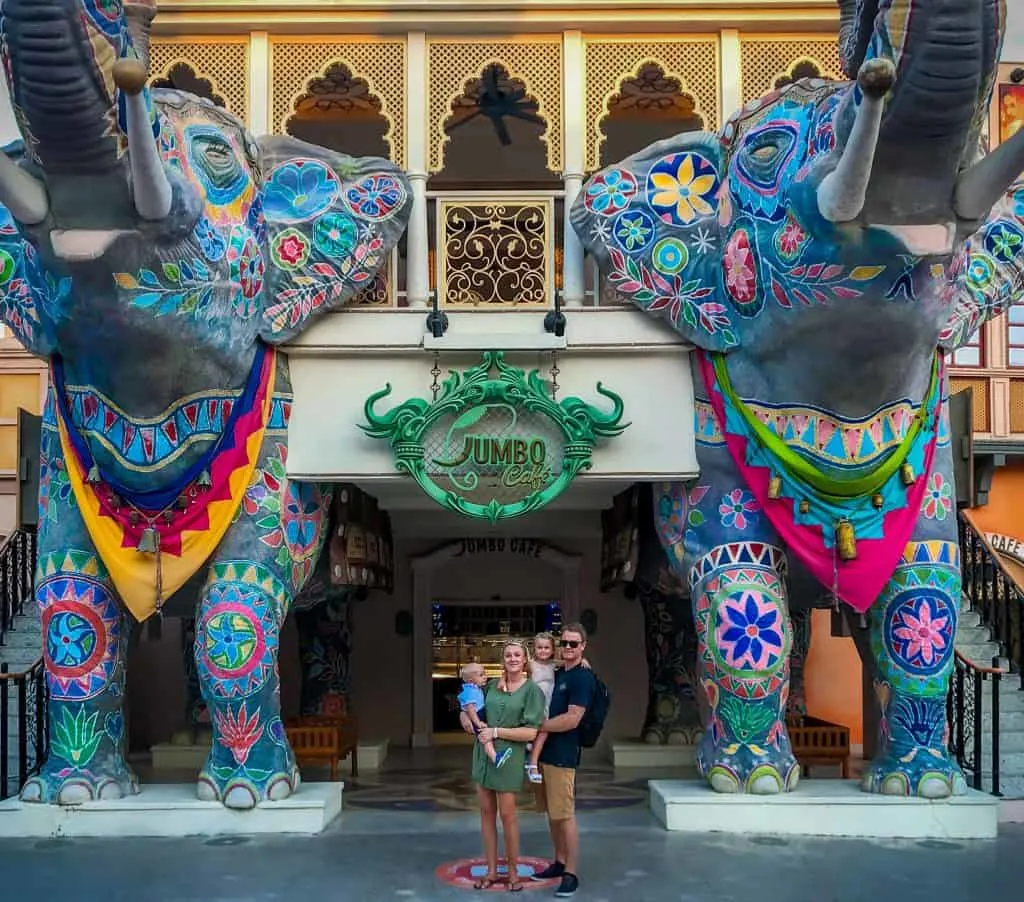 BEST INDOOR KIDS ACTIVITIES IN DUBAI
SKI DUBAI
If it's a particularly hot day in sunny Dubai and you are wanting to do something to cool down, you have to check out Ski Dubai. We took our four-year-old for the evening and she absolutely loved it.
Ski Dubai is based inside the infamous Mall of the Emirates. Featuring a huge slope, chair lift, bobsledding, zorbing, and snow tubing among many other activities, we felt like we were in the middle of The Alps.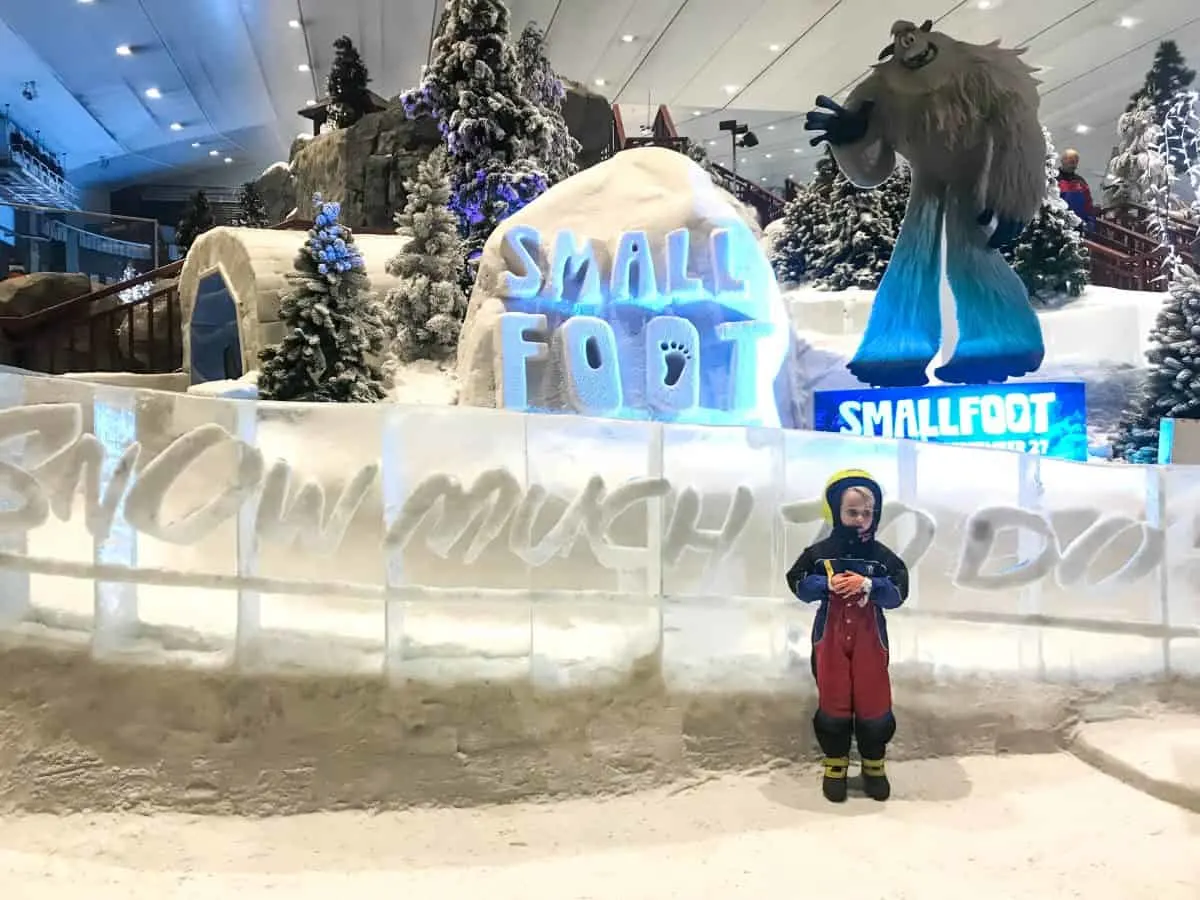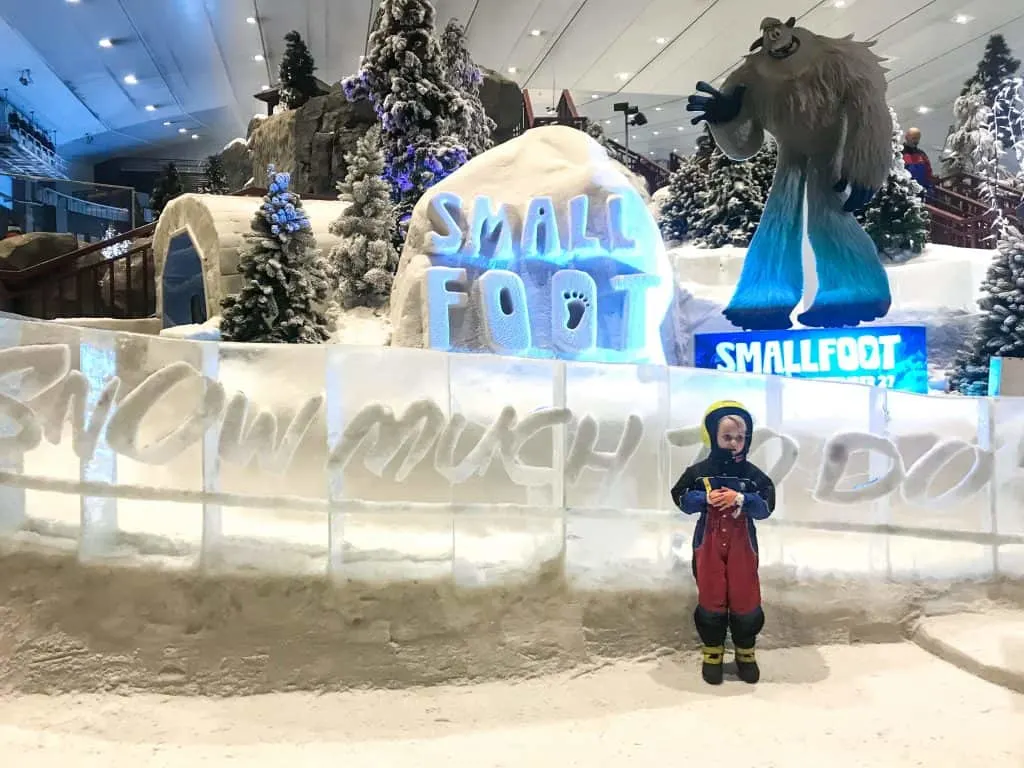 The play area for kids is super fun, especially the bumper cars. The basic ticket entry comes with all the snow clothing needed except for gloves. It includes a full snowsuit, socks, and snow boots.
To save money and if you know you are likely to visit Ski Dubai, you can bring a pair in your suitcase. It was such a fun evening and has only made our daughter's desire to have a ski holiday even greater.
I was so proud of her adventurous spirit, especially trying the bobsledding.
For tickets to Ski Dubai click here.
SKY VIEWS DUBAI
This latest attraction located 219.5m above Dubai in the Address Sky View Hotel, features activities that is sure to get the blood pumping. The Observatory gives guests a panoramic glass elevator ride to the 52nd floor where you can experience a 46m long glass walk looking down over Dubai.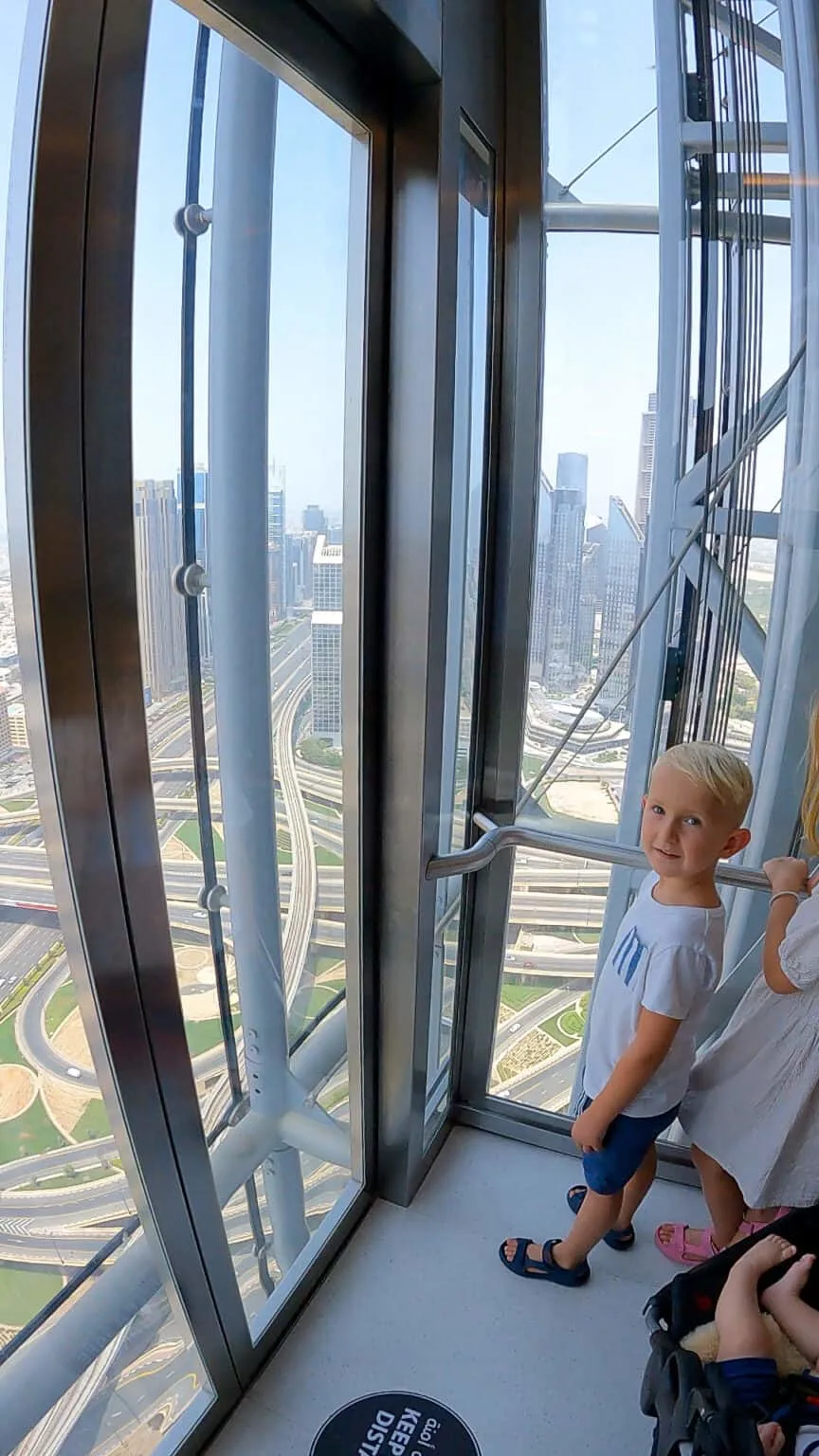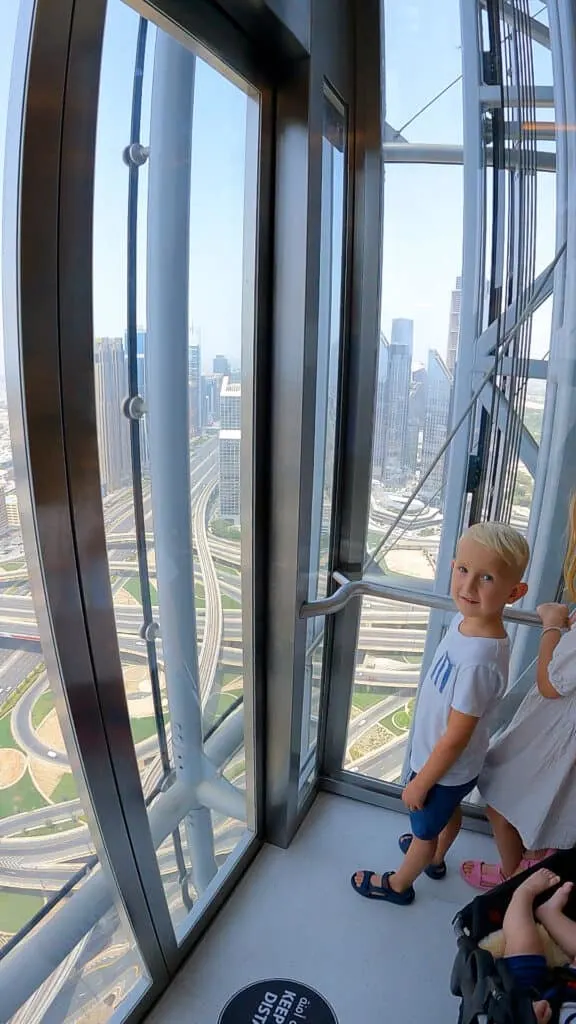 The Glass Slide is a favourite for the kids and adults alike. It involves sliding down a glass slide hanging out over the side of the building 53 floors up.
There is a height limit that children need to reach to do the slide which is 120cm so it is worth checking this before getting any little ones excited.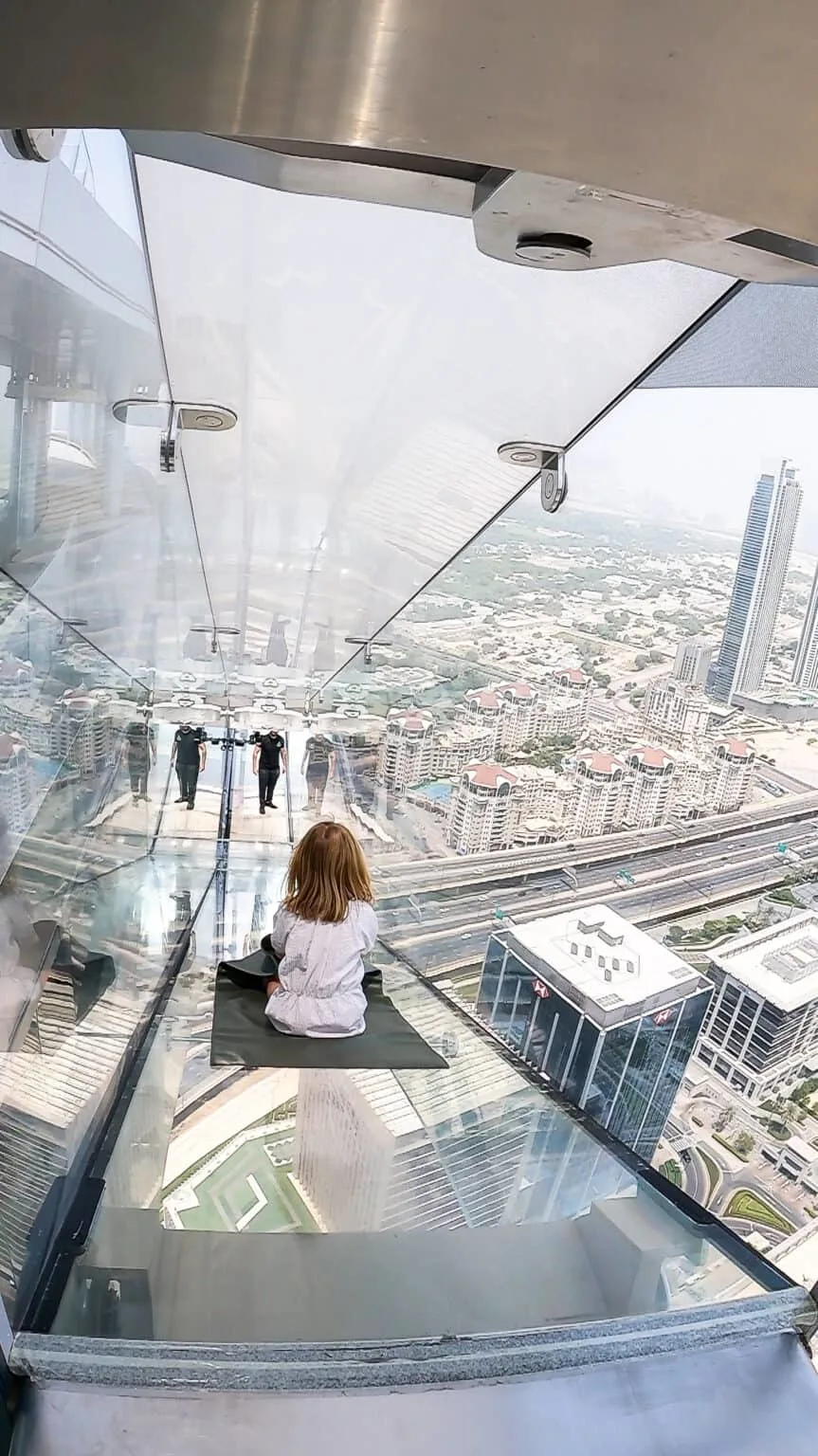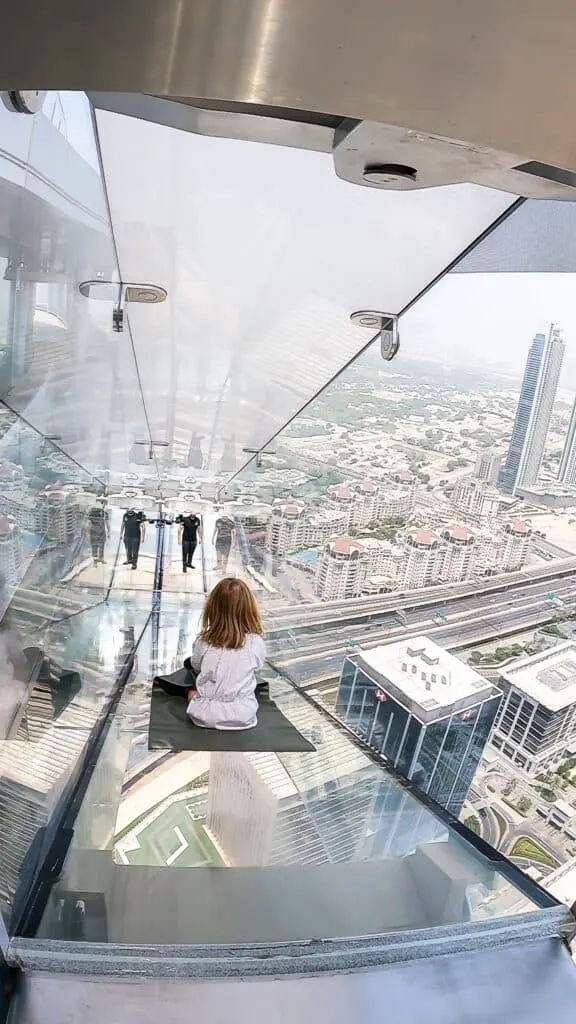 Sky View has an incredible vantage point of the Burj Khalifa, the tallest building in the world! It stands in all its glory and a full view is possible of the entire building.
The glass observatory is on the 52nd floor where you can walk 180 degrees around the building physically seeing the views below from the glass floor!
It is not for the faint hearted, however as usual with these things our little ones had zero fear and just ran around it as normal!
Book tickets to the Sky View Slide and Glass Floor Observatory here.
INFINITY DES LUMIÈRES
Infinity Des Lumières is a immersive digital art space located inside the Dubai Mall. They have different installation's throughout the year, the exhibition we saw was the Cosmos Feel The Infinite.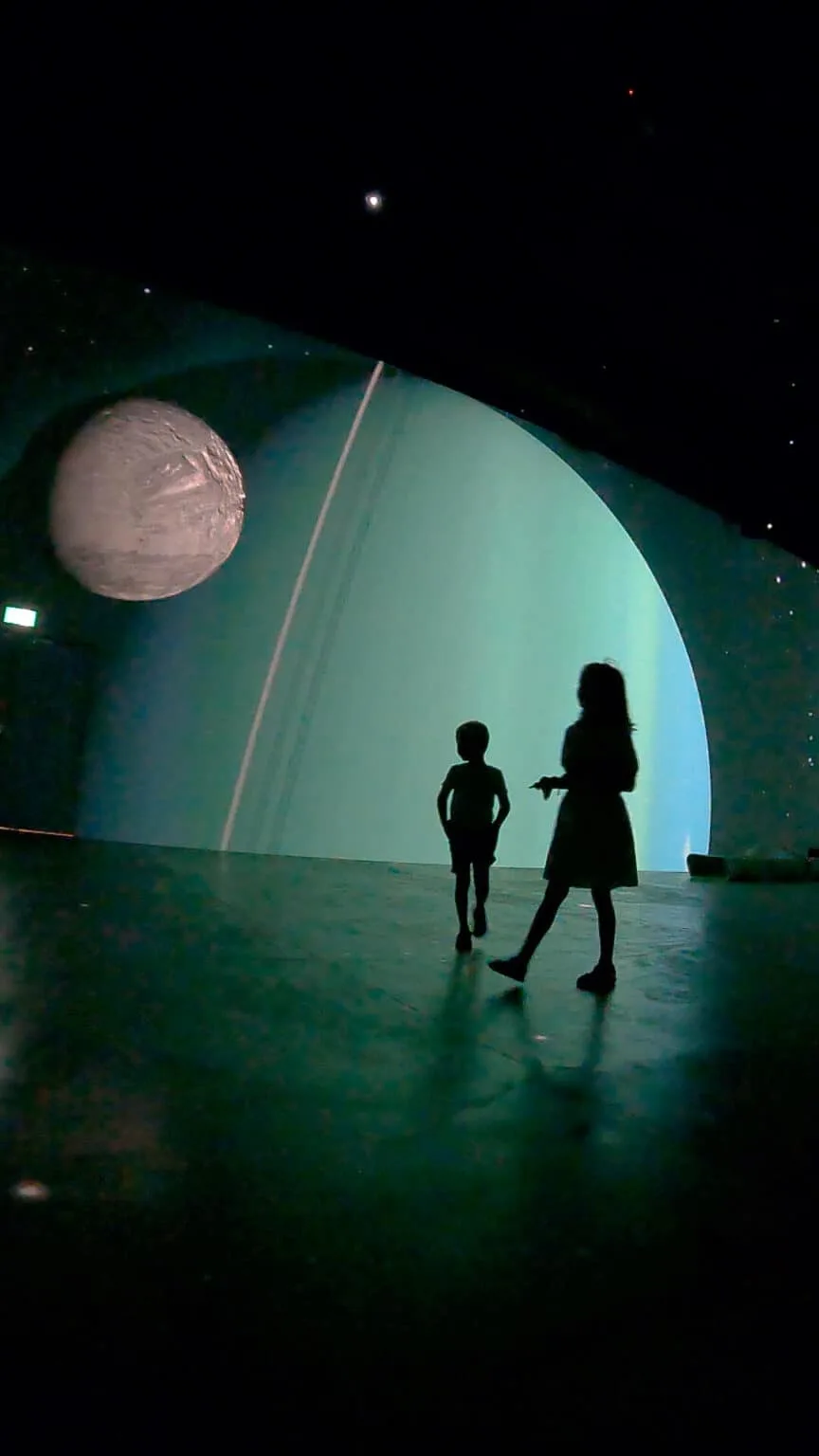 This exhibition was about planets, stars and rockets and is an incredibly visual experience all timed to selected music. The light show moves all around the room as you move through the exhibit.
At times it felt as though the ground was moving. We had our two babies and two older children, all of whom got something from the experience. There are lazy reclined seats to properly chill and watch the show!
Although it is good for kids, it is not the ideal setting for them to run around since there are so many others really relaxing and taking in the experience.
It is best to book tickets in advance as the showings are at certain times throughout the day. It is well worth a visit of you are looking for things to do in Dubai with kids.
KIDZANIA
Kidzania has franchises all over the world. They all have the same concept, a city run by kids.
The activities are for kids aged 2-14 years old. At KidZania children role-play various jobs and activities. In fact, there are over forty different real-world professions for kids to learn about.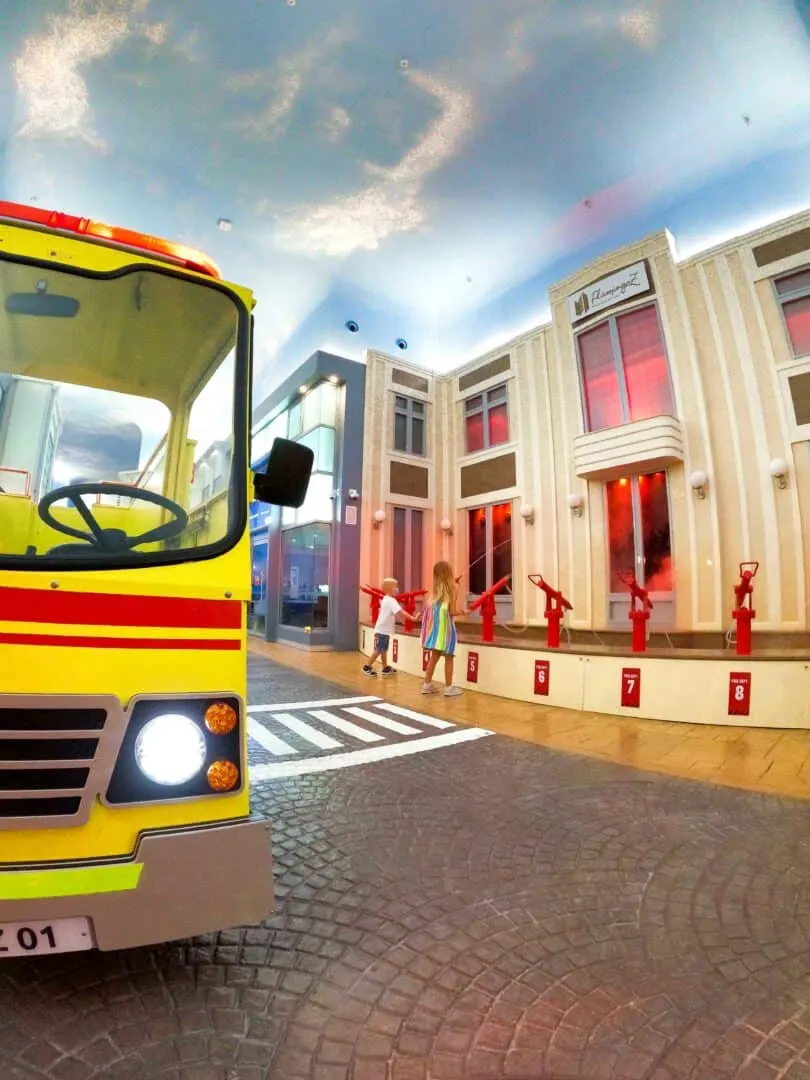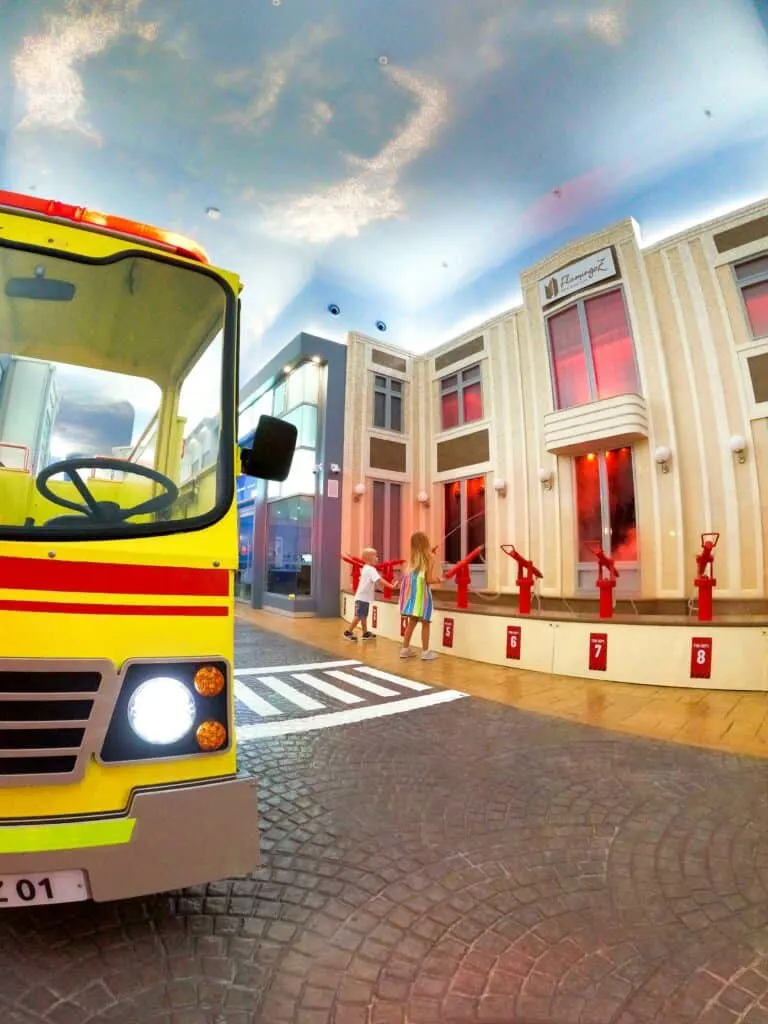 Each of the professions is split into sections. As kids explore they can spend time in a hospital, fire station, bank, radio and TV station, supermarket, pizzeria, and more. It is easy to book a ticket online and it is open every day except Sunday.
For tickets to Kidzania click here.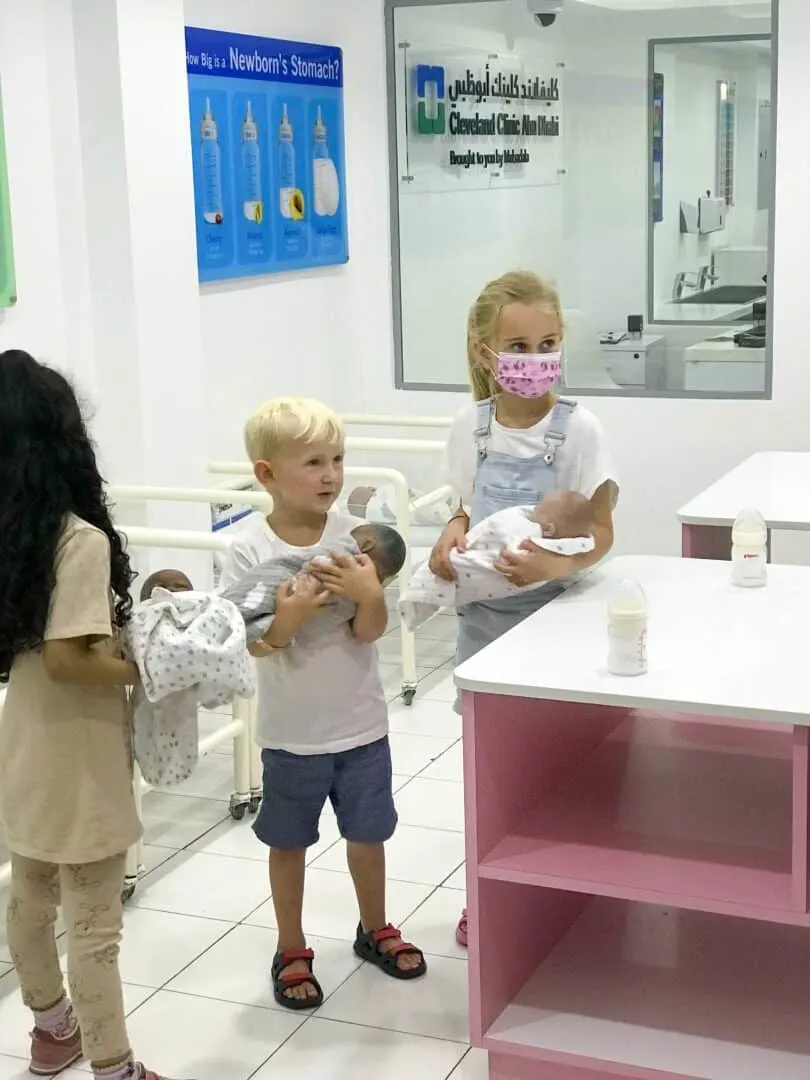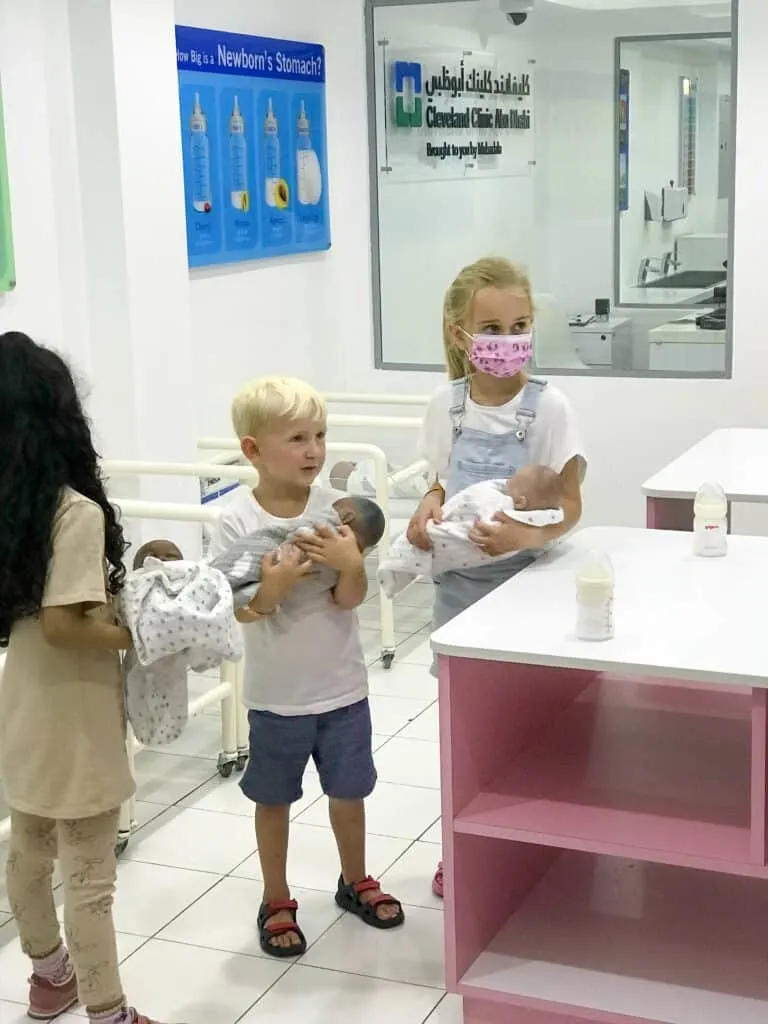 BOUNCE DUBAI
At Bounce, you can find trampolines, airbags and so much more. They want kids to leave their cares at the door and immerse themselves in fun and creativity. There are many different venues across various cities, but the venue in Dubai is different.
The Dubai venue is 4,500 square metres and it not only has trampolines but a ninja course and freestyle features. Only kids over two can enter and an adult must accompany all kids under twelve at all times.
It is very popular and tickets often sell out fast, so it is important to book a ticket online before you visit.
IMG WORLDS OF ADVENTURE
Another one to add to your list of things to do in Dubai with kids, IMG Worlds of Adventure. This will be another day of entertainment in Dubai's largest indoor theme park. A great one for those hotter days when you really need an indoor option to keep everyone happy!
There are plenty of adventure zones to choose from including Marvel, Lost Valley, Cartoon Network, IMG Boulevard, The Haunted Hotel, IMG Kids Zone, and even Novo Cinemas.
Marvel: Die-hard fans or casual watchers will be equally as impressed with this zone, You'll be transported into the Marvel Universe with rides like the Hulk Epsilon Base 3D.
Visitors will also get the chance to meet their Marvel superheroes like Spider-man, the Hulk, Iron Man, Thor, and the Avengers!
The Lost Valley: one of the most popular zones in the whole park, The Lost Valley is a very enjoyable prehistoric zone featuring many dinosaur-themed rides and attractions.
Cartoon Network: Cartoon lovers will be in their element in this section of the park. The Amazing World of Gumball, Adventure Time, The Powerpuff Girls, Ben 10, and LazyTown all come to life in this zone, a real favourite for the kids!
The Haunted Hotel: This zone is for the older kids and adults with a minimum entry age of 15, and for good reason! The house is a maze of corridors and terrifying encounters with scary characters as you try to escape through the exit.
IMG Kids Zone: This section is a brilliant inflatable adventure playground designed for the younger kids! It's a great place to watch your small kids enjoy the soft play area while you take a rest.
Novo Cinema: As if there wasn't enough in this theme park! Take a break from all the adventure by watching a film in one of the twelve screen theatres. It's a good option for calming the kids down before leaving, once the rest of the park has tired them out!
Click here for tickets to IMG Worlds Of Adventure.
VR PARK
Another 'world biggest/first', Dubai's VR Park is the world's largest virtual reality park. This is one that the adults can enjoy just as much as the kids.
There are a number of virtual realities visitors can experience, including joining the year 2050 where people travel on drones. Visitors can experience travelling through the busy sky in a drone taxi before it goes out of control!
Dune Bash, Stealth, Cozmo Jet, and Magic Bikes are just a few more experiences you can choose from.
VR Park is free to enter but you'll need to buy credits and packages to play the experiences. It's recommended to book beforehand so you don't have to stand in long lines or miss your chance to experience another reality.
AIRMANIAX
AirManiax is a home-grown company in Dubai. The founders are very family orientated and are passionate about entertainment for children.
This indoor playground is filled with trampolines, inflatables, and anything else a child could dream of! There are a number of sections to AirManiaxes Dubai location.
Inflatable Arena: Comprising 15,000 square feet of indoor arena filled with adrenaline-filled excitement including a few activities and features that have. never been seen before in Dubai.
Warrior Assault: The Warrior Assault is the ultimate test of strength, speed, balance, and agility. Challenge your children or partner to conquer this assault course.
Meltdown: The most popular attraction, the meltdown involves a revolving arm that contestants will have to jump over or dodge to avoid being wiped out!
This game requires both precision and stamina as well as a good eye and mind! Who will be the last man standing?
DUBAI MALL AQUARIUM
The Dubai Aquarium is located inside the mall and it is one of the largest aquariums in the world. It spans the third floor of the Dubai mall and there's plenty to see. In fact, it is home to 140 species including sand tiger sharks.
As you walk through the 48-metre tunnel you are surrounded by the stunning sea life swimming above and beside you, like an underwater zoo
The aquarium also offers a range of other activities. You can opt to take a glass-bottom boat tour, go swimming with sharks or have a mermaid makeover.
It is possible to view part of the aquarium from the mall and it is absolutely free. However, to see the whole aquarium then book a ticket online.
Click here for more information and to book your ticket to the Dubai Aquarium.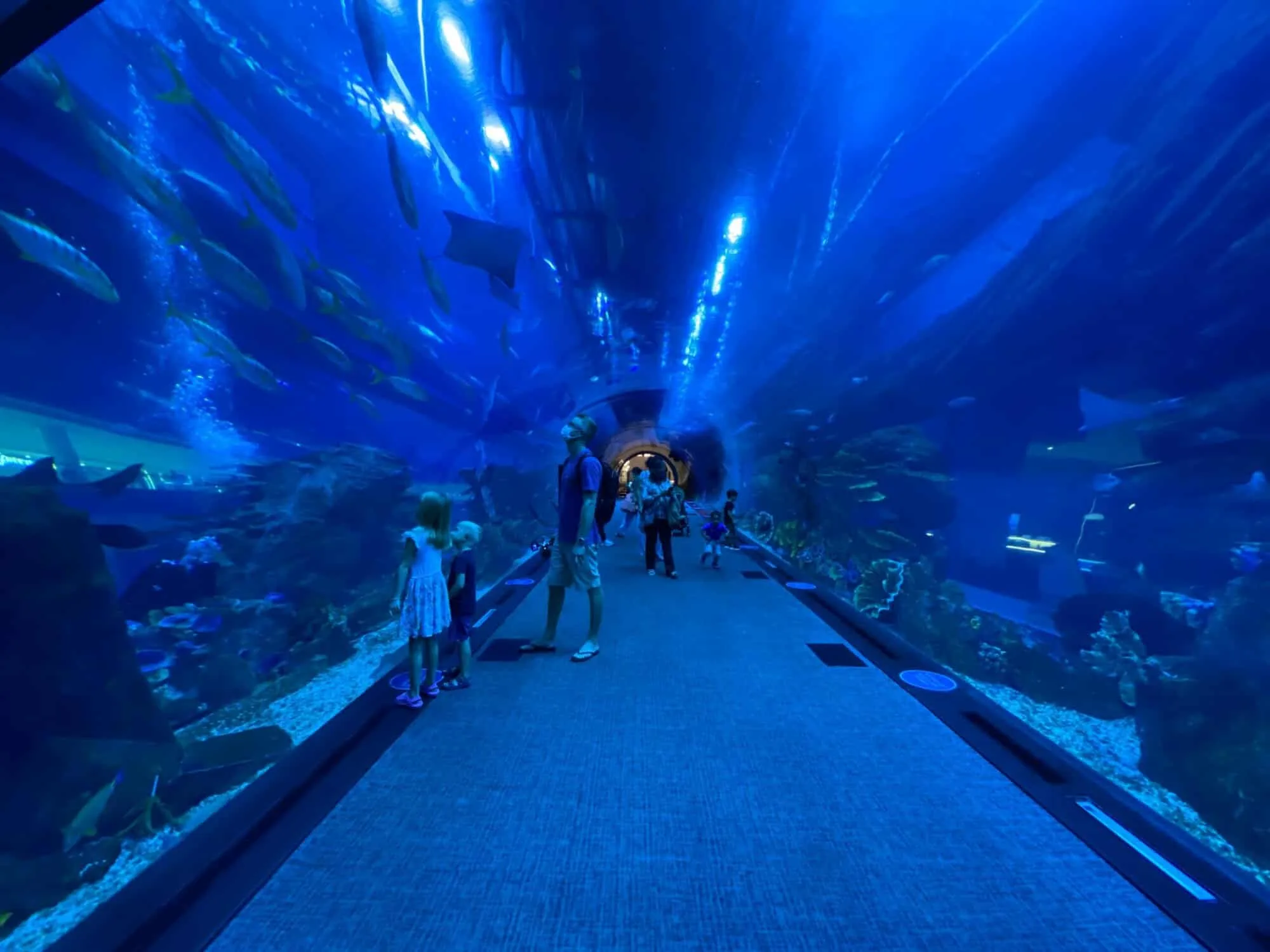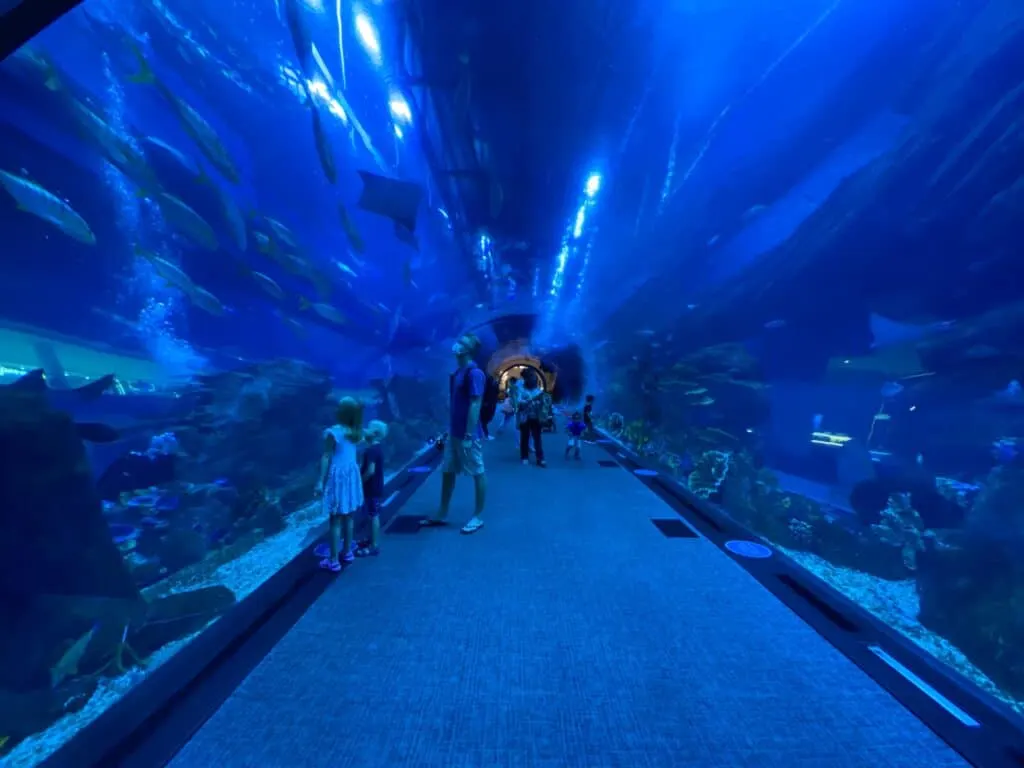 CHILDREN'S CITY
At the Children's City in Dubai, kids can learn about science, technology, space, and more. The centre was designed to coincide with what kids are learning at school. However, there is an element of fun involved and the activities are hands-on experiences.
Kids six and over might enjoy learning about the human body or watching the most amazing laser shows in the planetarium. While those under six can explore the play area with games and activities to suit their abilities.
The centre is open all day Sunday to Thursday and has shorter hours on Friday and Saturday. All times are shown on the website and it is easy to book tickets there too.
GREEN PLANET
A tropical rainforest is not the first thing that comes to mind when you think about Dubai. However, right in the centre of Dubai, you can find a biodome called The Green Planet. Inside is a tropical rainforest that is home to over 3000 plants and animals.
As you walk through the dome, you are immersed in a rainforest. Expect to see birds flying overhead and animals besides you.
Tickets are available to buy and general admission allows you to enter the main parts of the dome. However, there are optional extras including a camping experience, a bird encounter, and even the option to scuba dive.
Get Green Planet Tickets here.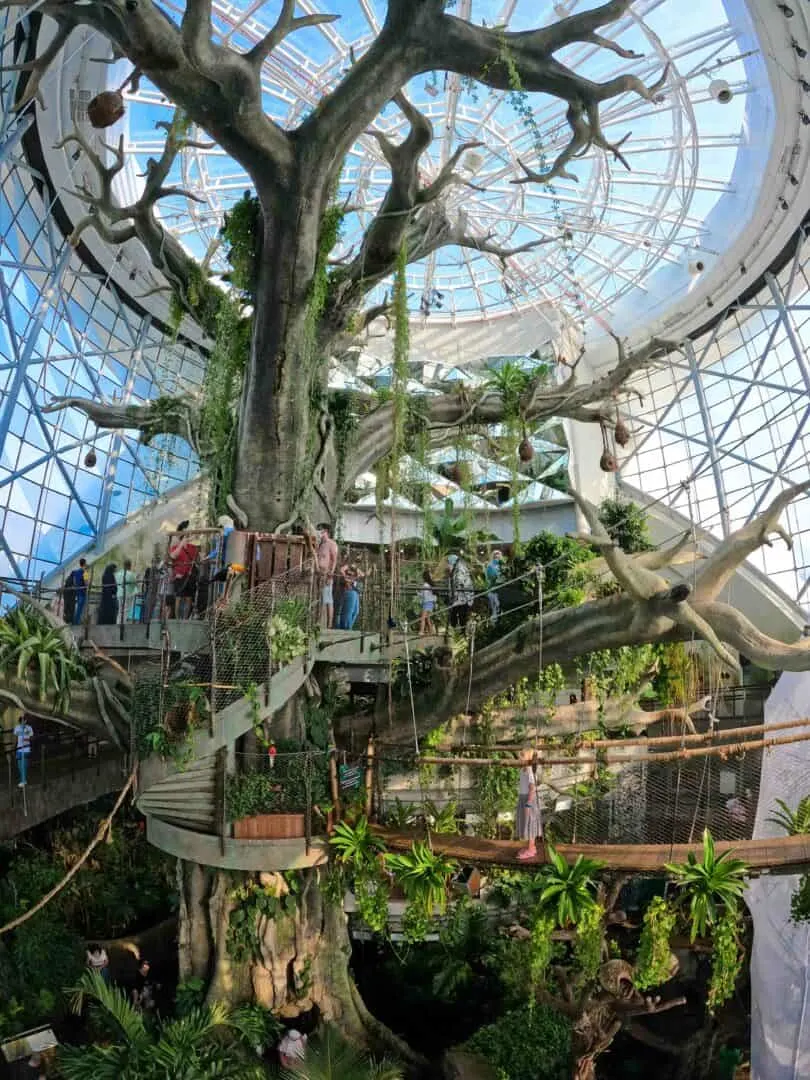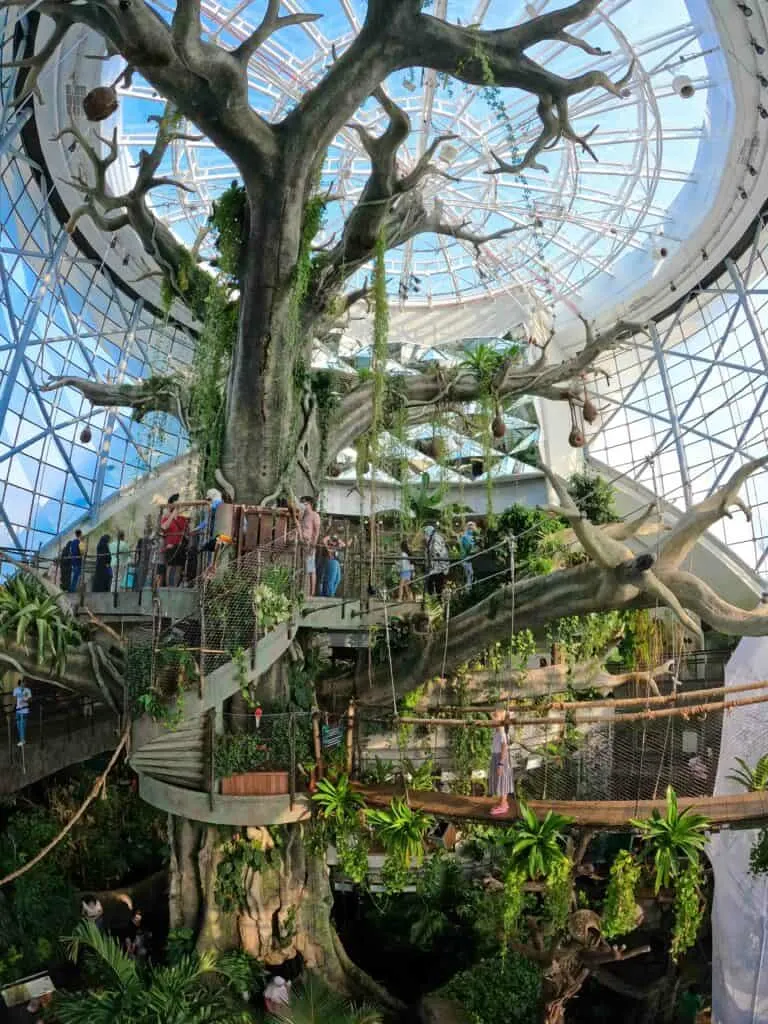 BEST OUTDOOR ACTIVITIES IN DUBAI
KITE BEACH
Kite beach is one of the most popular family beaches in all of the UAE – and for good reason. This park has absolutely everything you could think of for a great day out with kids!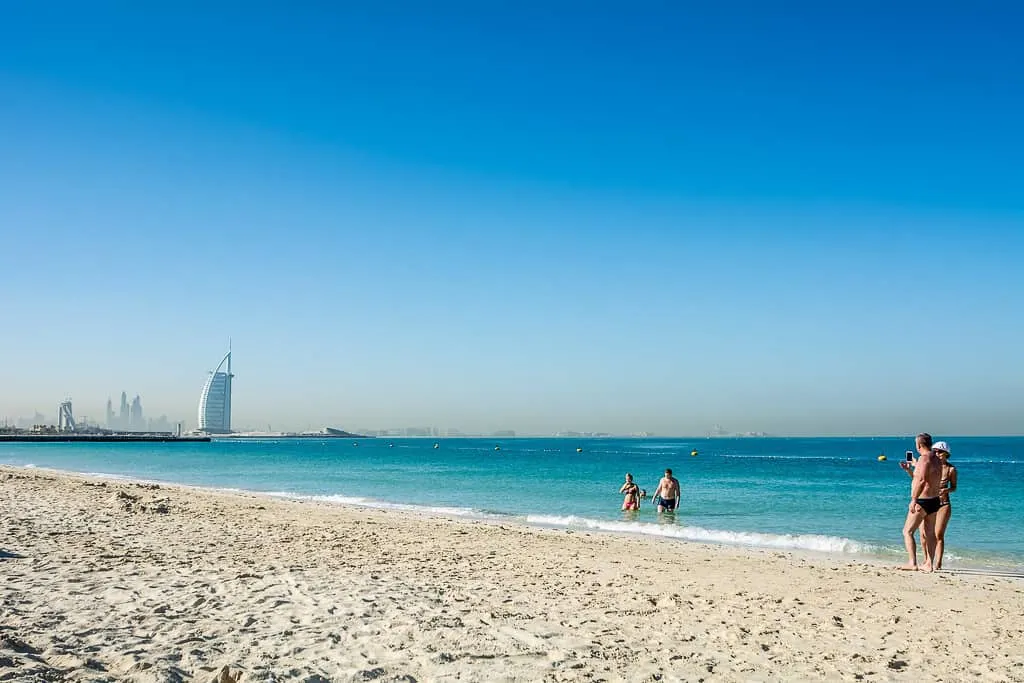 Aqua Park Leisure: Here the kids can play in Dubai's first freshwater swimming pool. Kids from 3 years up can join in in the water obstacle course with over 21 games and activities!
Dom Tak Entertainment: Here the kids can make the most of the trampoline park with trampolines, bungee-jumping, gyroscope, and lots more! This is a very popular park for children of all ages.
Just Padel: Both kids and adults can book a court here and enjoy a game of padel.
Kitesurf School: Fully certified by the UAE General Authority of Youth and Sports Welfare, this school is one of the best kitesurfing schools in all of the UAE.
My Jetski: Kite beach has a number of jet skis as well as jet ski instructors, allowing visitors to rent their own jet ski and soar across the Dubai waves!
Esperia Volley: Considered the best beach volleyball scene in Dubai, all levels, including kids and beginners are invited to play beach volleyball and get lessons from the best instructors around!
Sole Mio – Beach Club: This is a VIP section of the beach where visitors can get extra towels, better loungers, etc. not so popular among families but good to keep in mind if the kids are otherwise occupied!
Splash N Party: This is a kid's dream, Splash N Party is full of inflatable fun for children to enjoy, This inflatable water park includes loads of slides and obstacle courses.
Wire World Adventure Parks: The Wire World beach is a treat for kids of all ages. Full of sporty activities, kids can be attached to a harness as they explore the climbing and balancing tasks.
DUBAI DESERT SAFARI
Similar to the Safaris offered in Abu Dhabi, Dubai desert safaris are not to be missed!
Visit the Middle Eastern desert where guests can witness some of Earth's most exotic animals.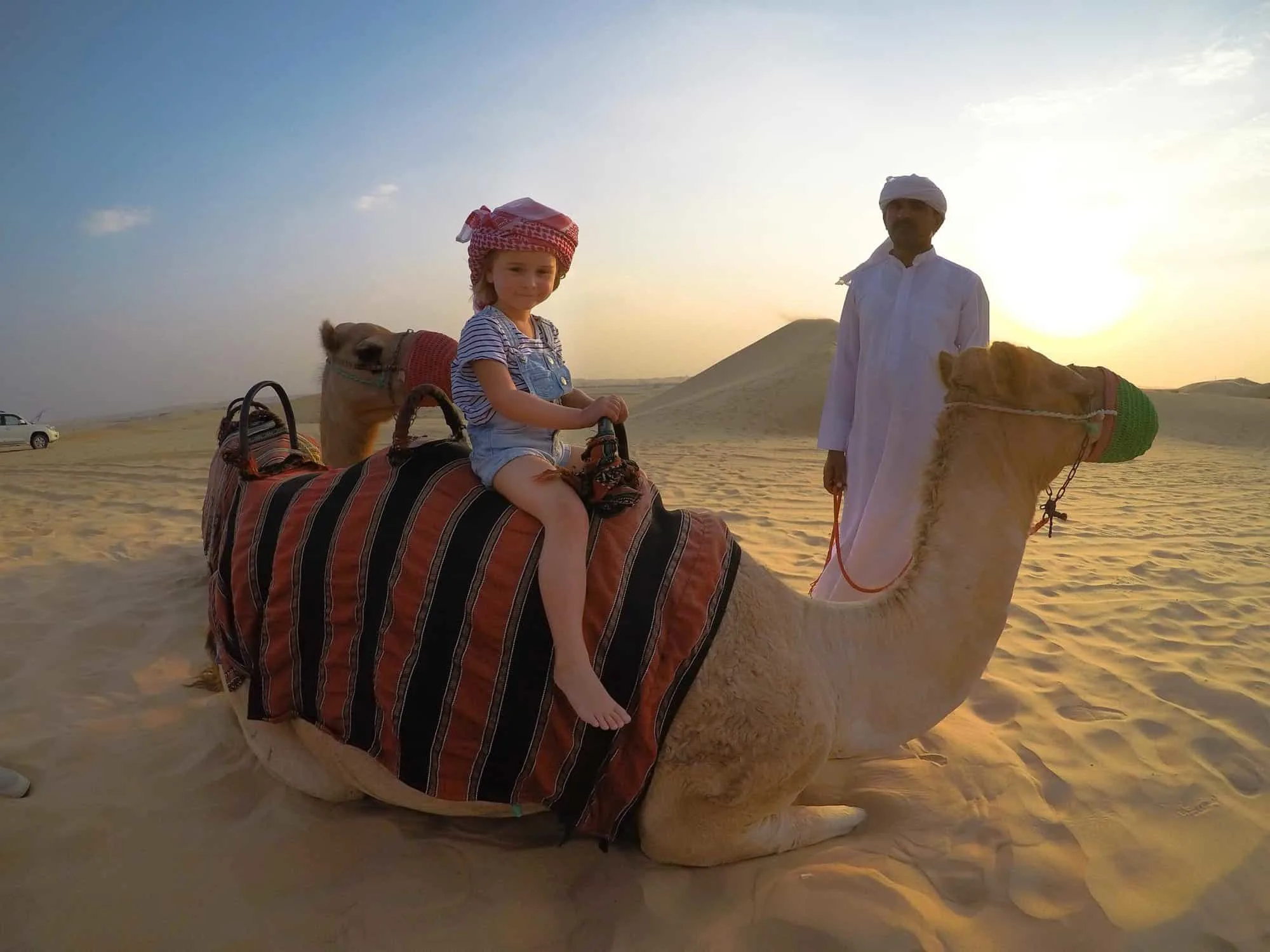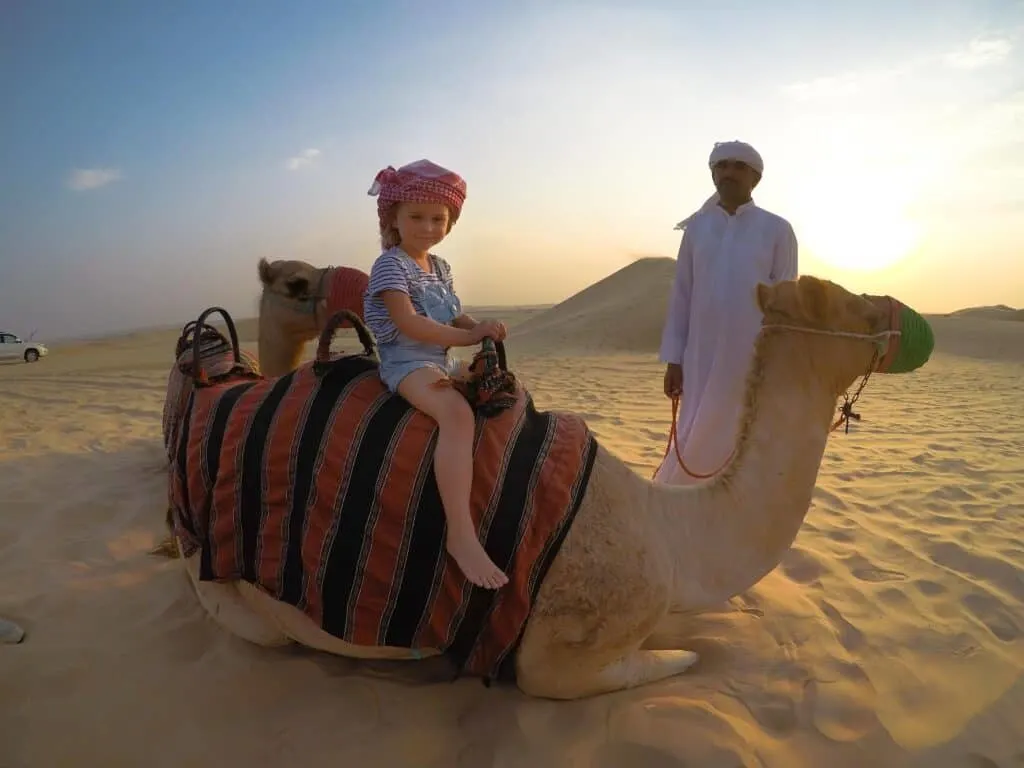 The first stop is at a camel farm, these well-adjusted desert dwellers have been around since before recorded history!
Guests can also usually drive 2-4 seater sand buggies around a designated area of the desert conservation reserve. This is usually at an additional charge however we certainly recommend doing this.
Take it in turns to ride around with family or friends or, if there are enough of you, have a race!
Usually, there will be a few market-type stalls or shops around the camel and buggy area. Here you can purchase things like traditional scarves and other clothing.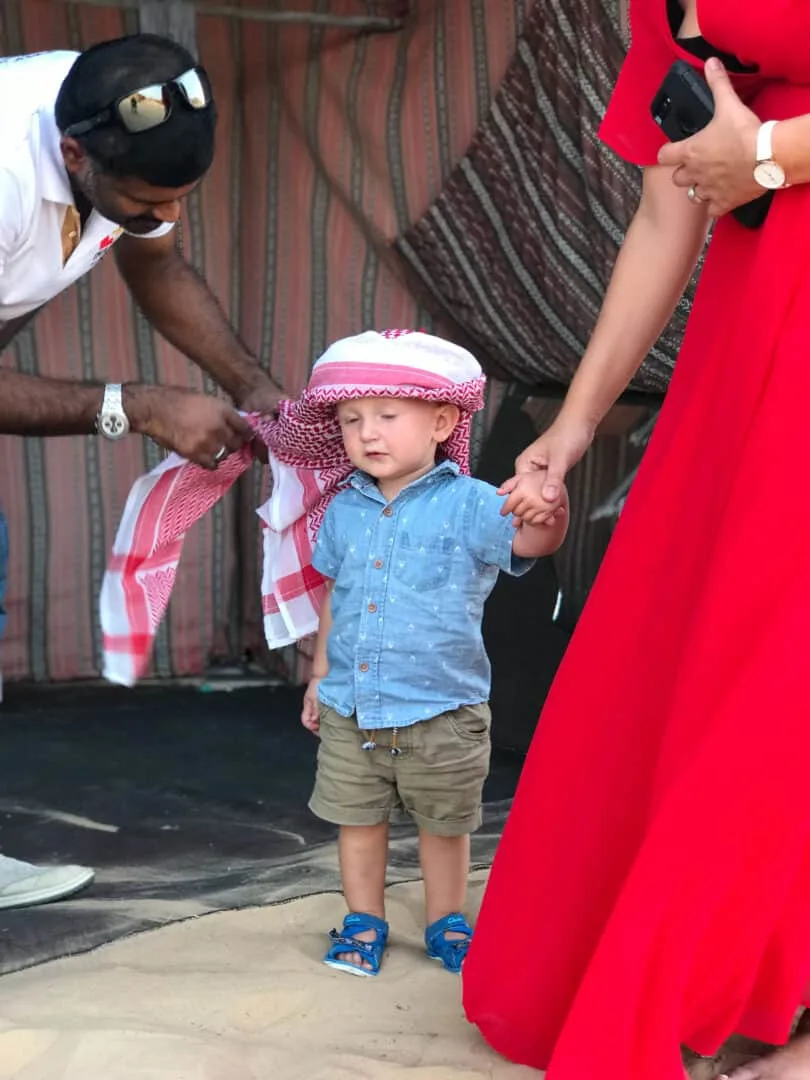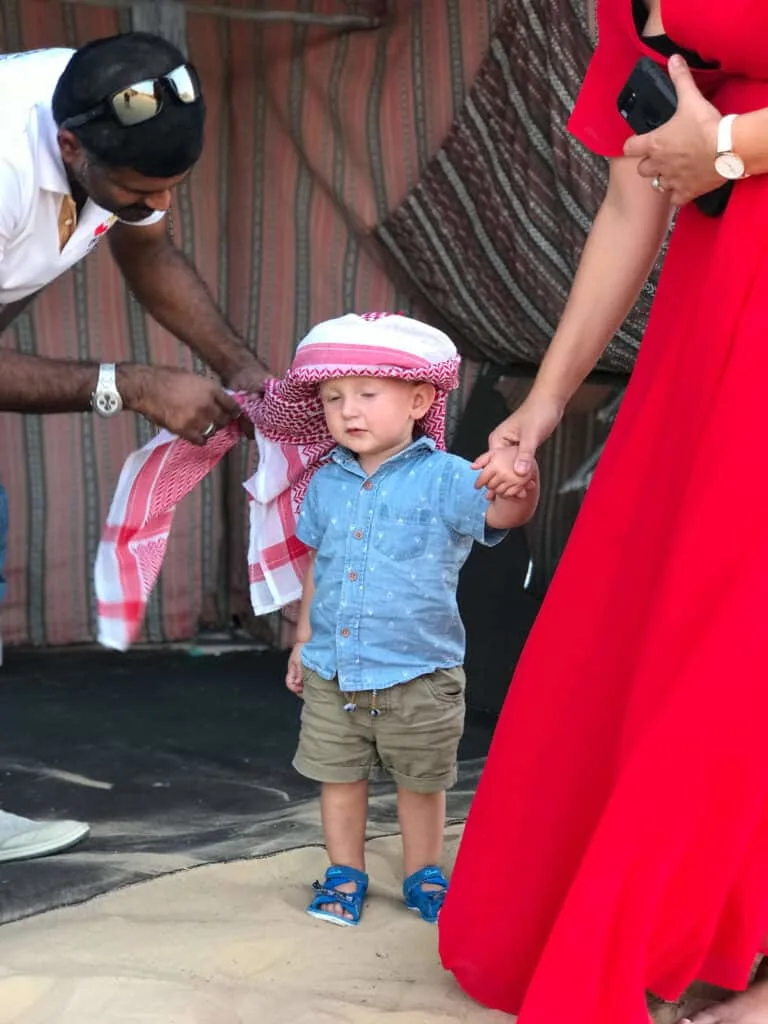 Similar to spending time in a traditional Arabian market or souk, the salespeople may be eager to put these items on you in an attempt to get you to purchase.
Next, it's off into the 4WD for some thrilling dune bashing, make sure to hold on tight as guests are driven up and down the mountainous sand dunes on the way towards the desert camp.
There is nothing quite as thrilling as desert bashing on one of these safari experiences.
You may be able to stop for a break from the exhilarating bashing to walk up some dunes and get some beautiful sunset pictures with your party.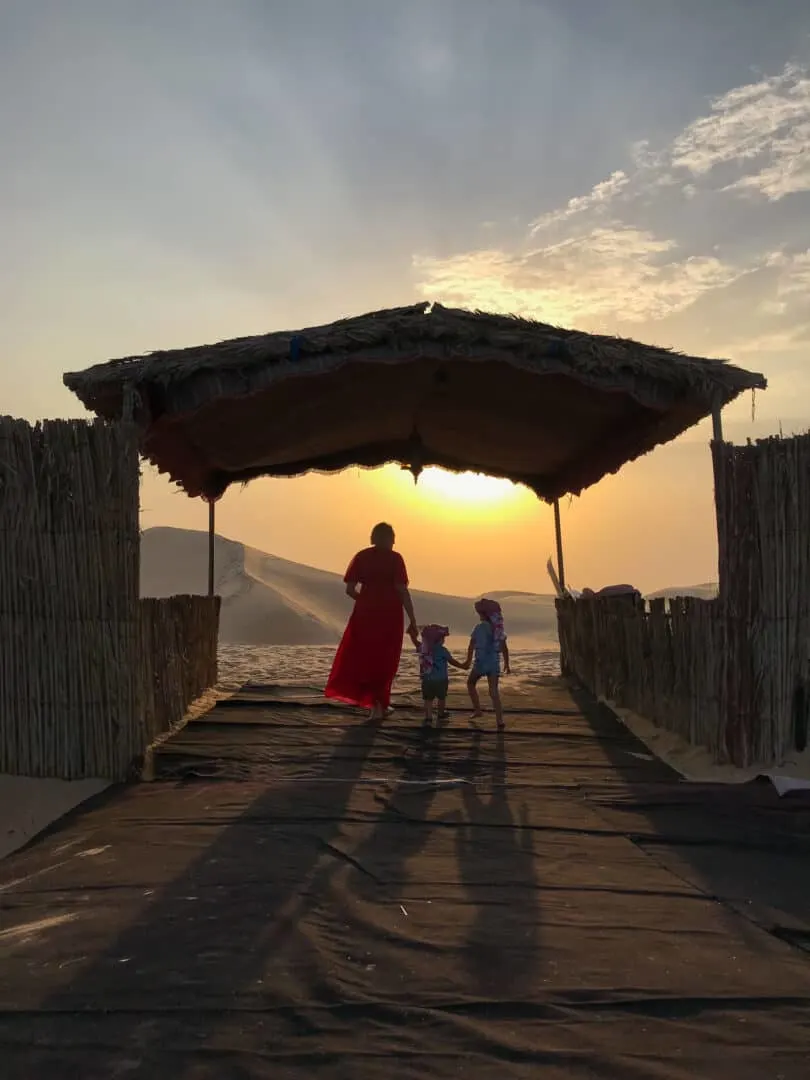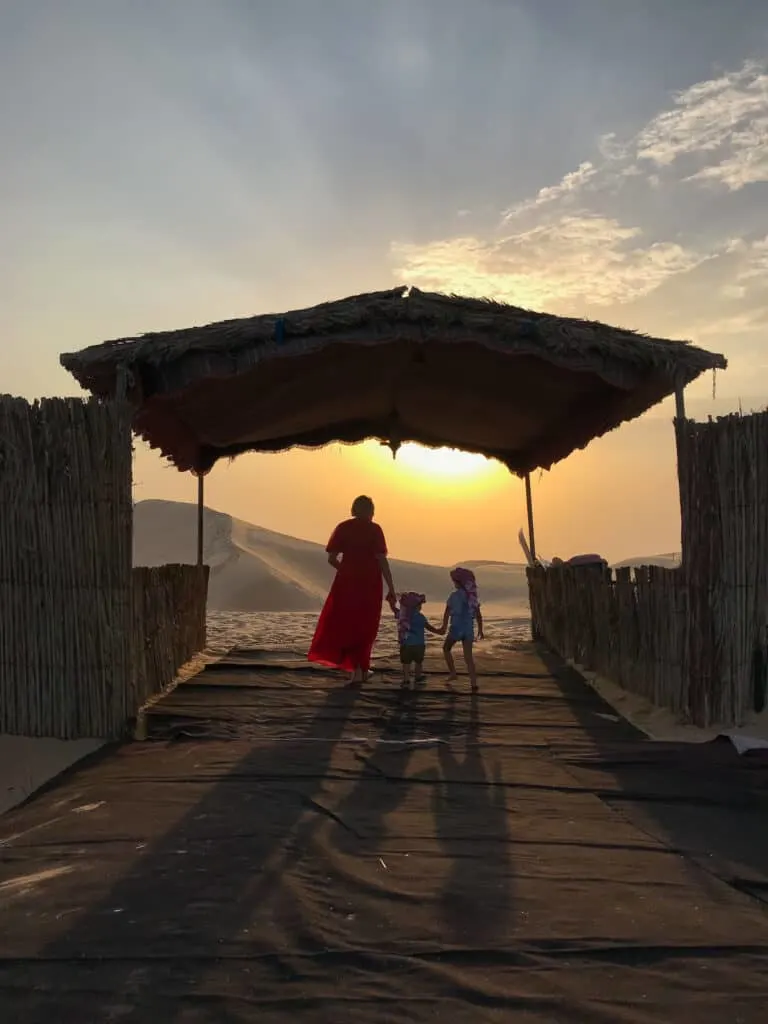 The campsite areas are very traditional with makeshift stalls and tents around a large stage.
Guests will be treated to a seated BBQ buffet dinner whilst enjoying a show, usually some dancing and music.
There will also be some camels and buggies or quads around the site which visitors can take advantage of at a small extra cost.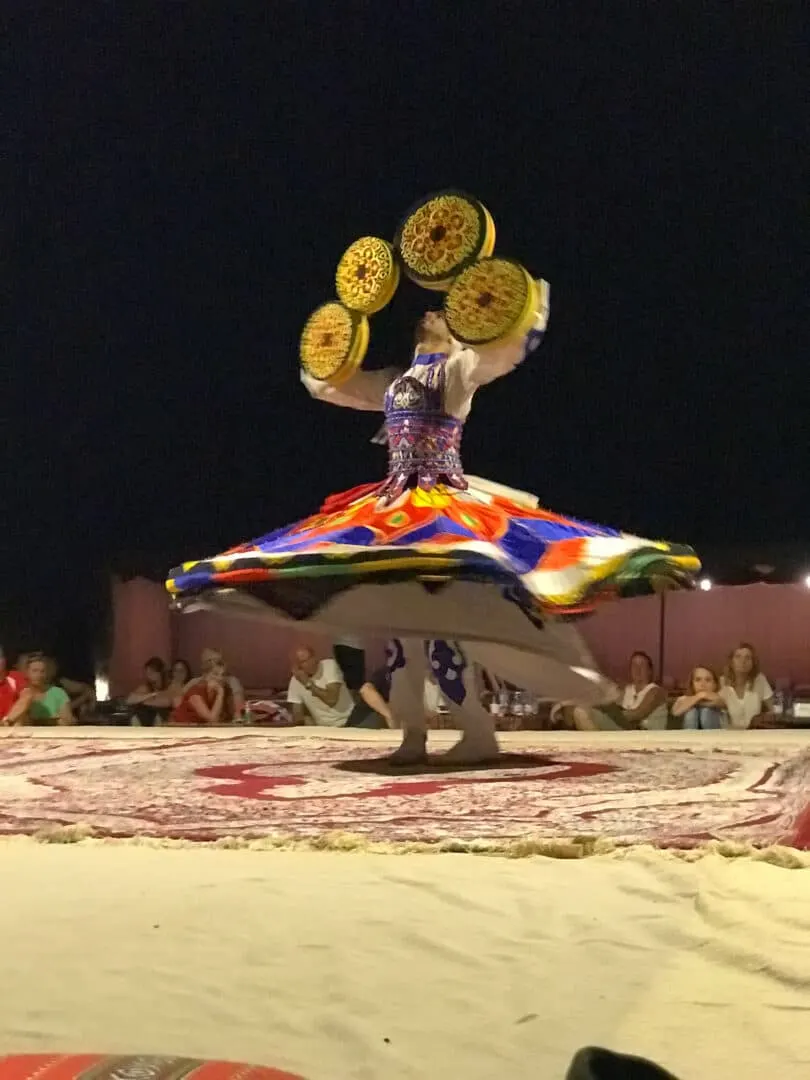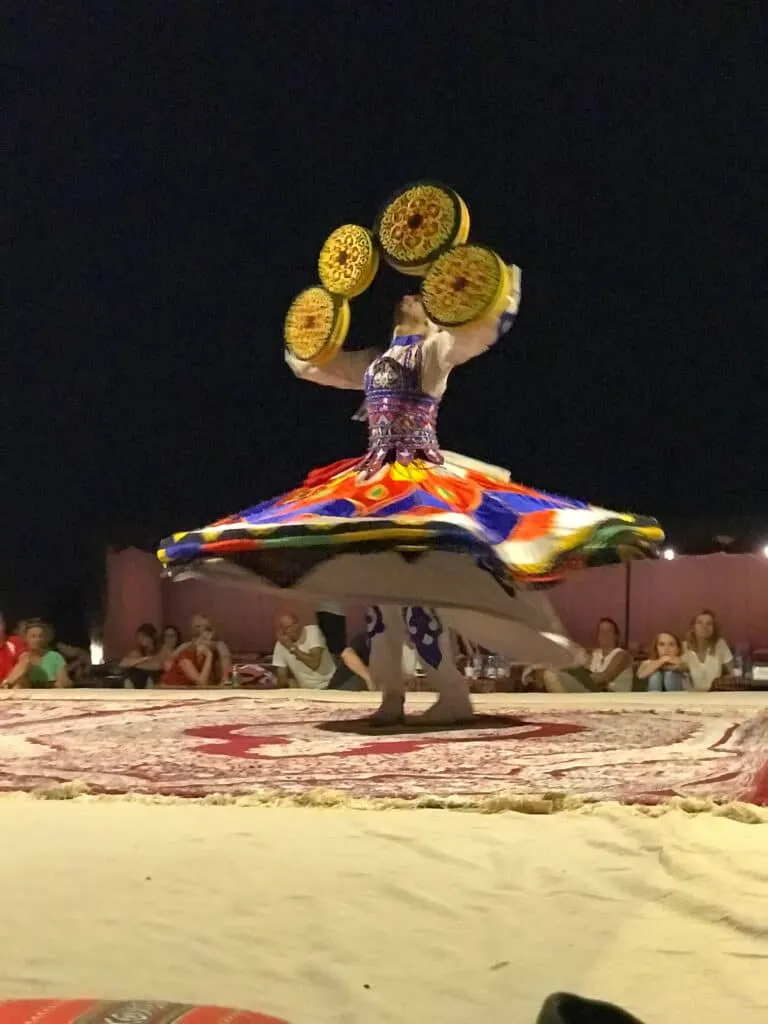 Then you will either be driven back to an agreed location or if you are staying the night you will be shown to your tent where you can sleep under the desert stars. Click here for tickets to the Dubai Safari.
If you do stay the night, you will also be treated to breakfast the following morning before being driven back to an agreed location.
DUBAI MIRACLE GARDENS / BUTTERFLY GARDEN
I must admit I was totally gutted to find the Miracle Gardens in Dubai are seasonal. We took a taxi and realised it was closed and due to open the following week.
Apparently, the intense heat in the warmer months makes the flowers die.
From the many pictures I have seen of the Miracle Gardens, there are stunning pieces, like a heart-shaped arch covered in roses.
Not to mention the life-sized aeroplane completely covered in colourful flowers.
The garden also comes alive at night with extravagant lighting displays. Click here for tickets to the Dubai Miracle Gardens.
Despite our garden of choice being closed, we did go into the Butterfly Garden across the road. I can't say it's as impressive but it was nice all the same.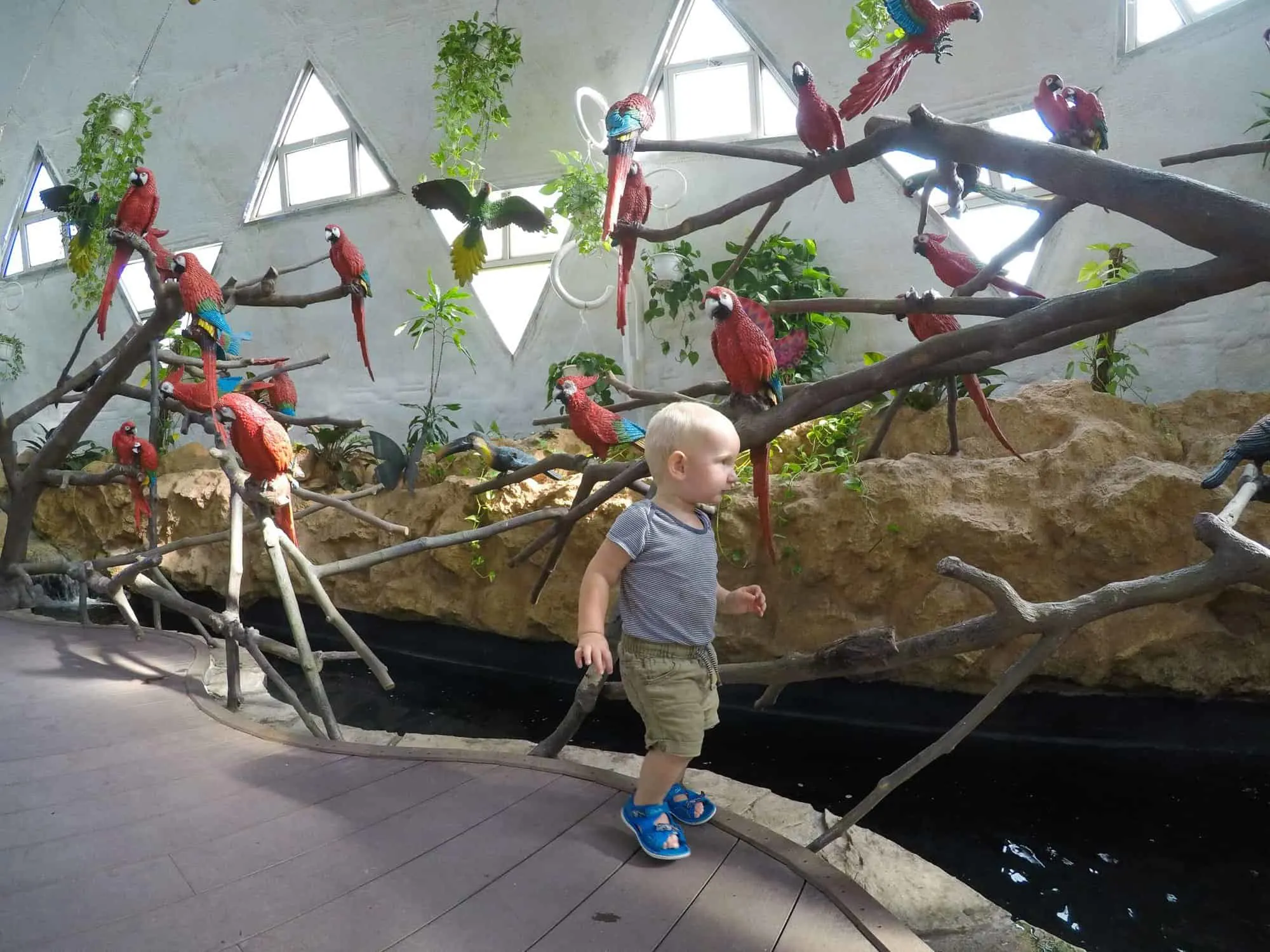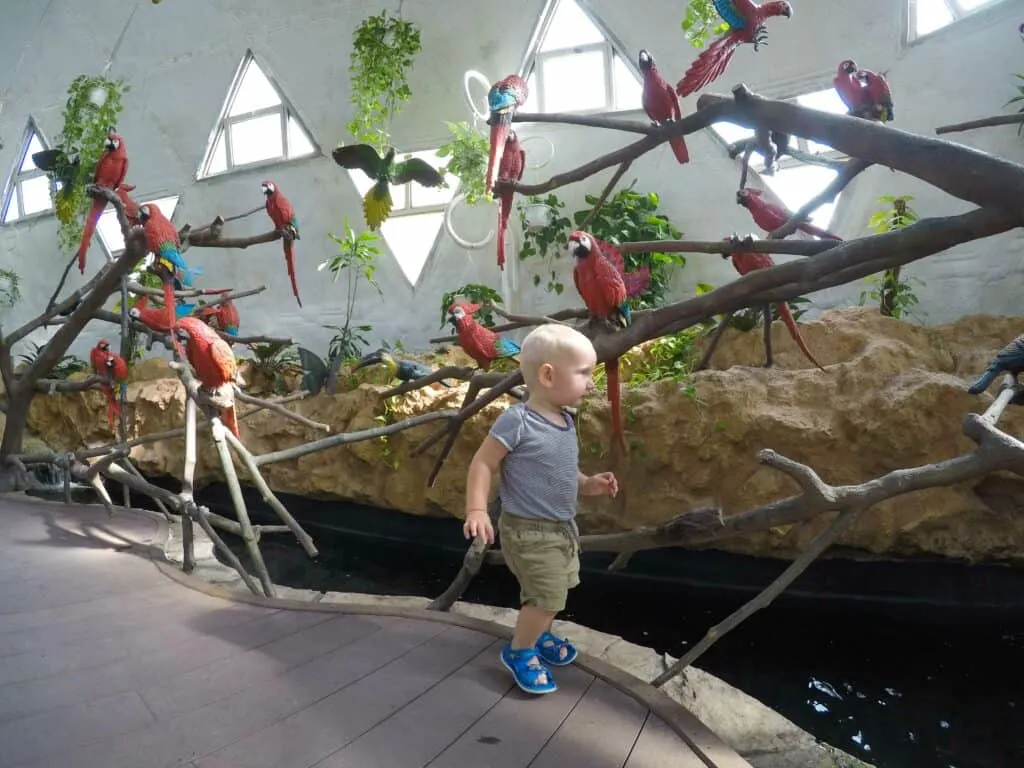 The Butterfly Garden consists of four domes, inside there are some stunning tropical plants and of course home to many butterflies.
A slightly strange combo but at the end of the four dome tours, there is a chill-out area with a movie and a cafe.
For tickets to the Dubai Butterfly Garden click here.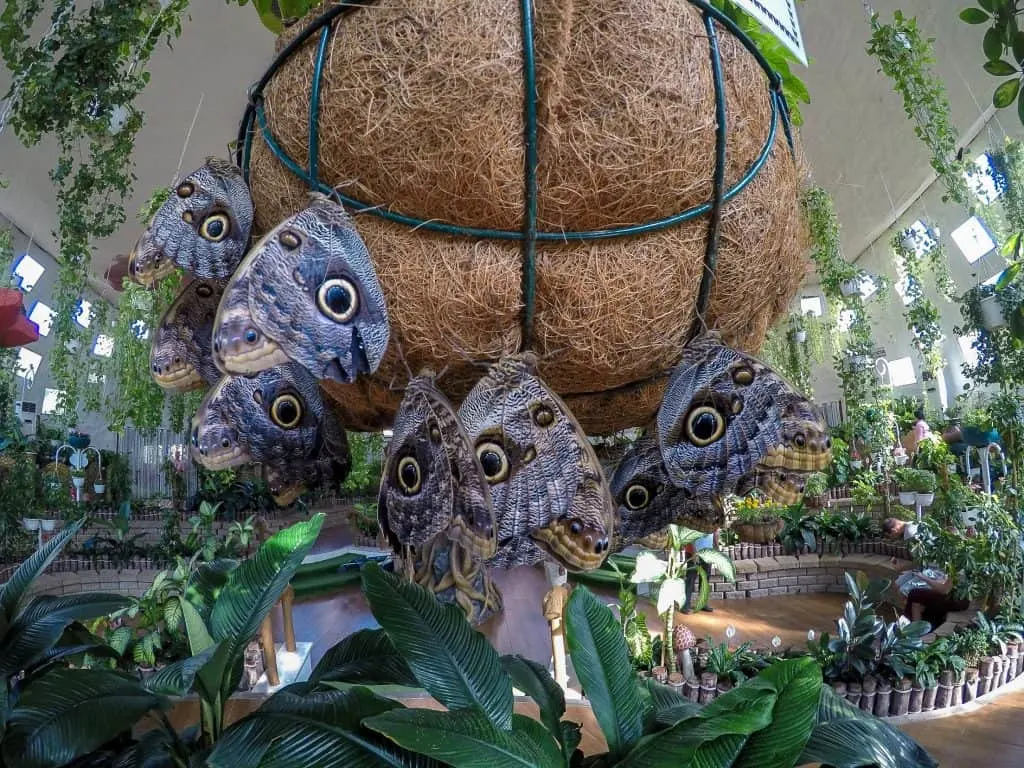 BEST WATERPARKS IN DUBAI
LAGUNA WATERPARK
There is a very popular waterpark in the lovely La Mer area of Dubai.
Based on the beach and next to the extravagant area made from old shipping containers is Laguna Waterpark.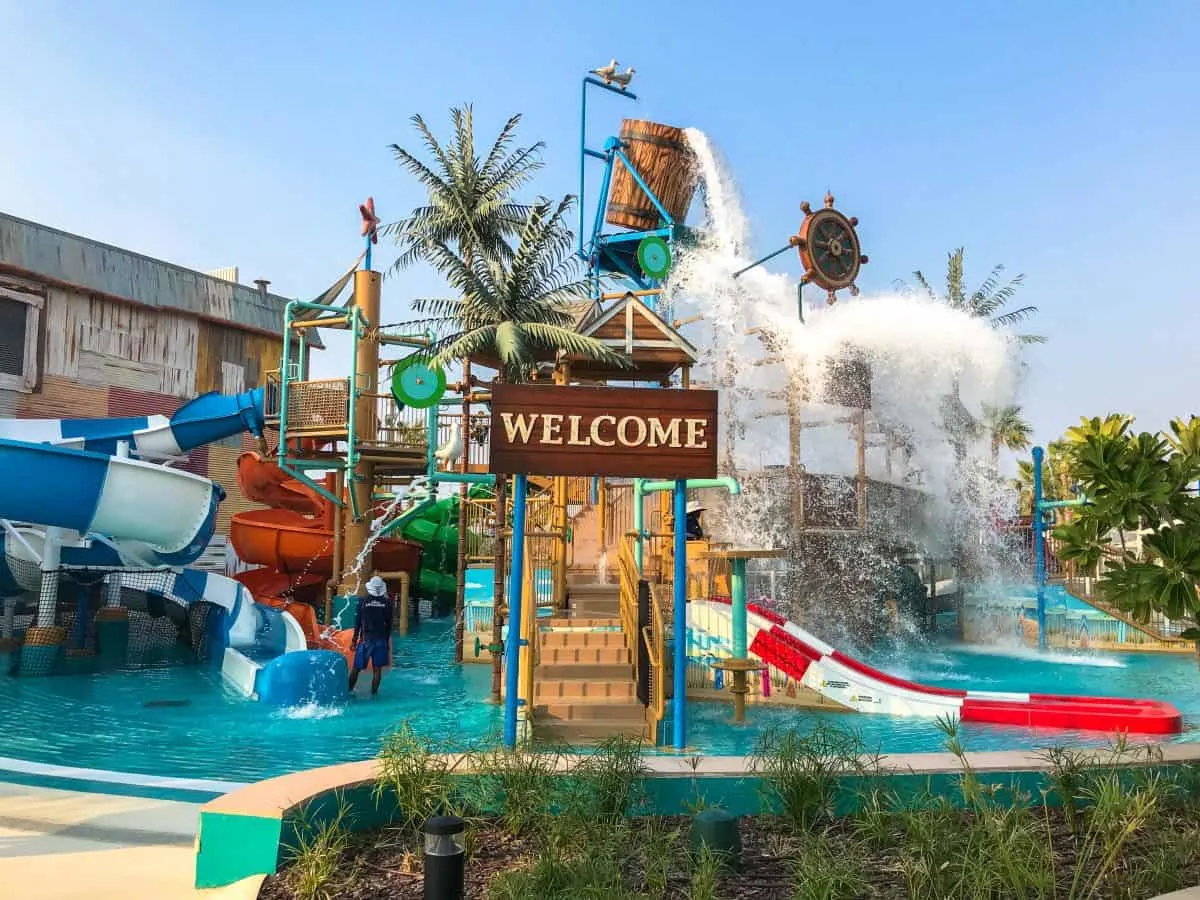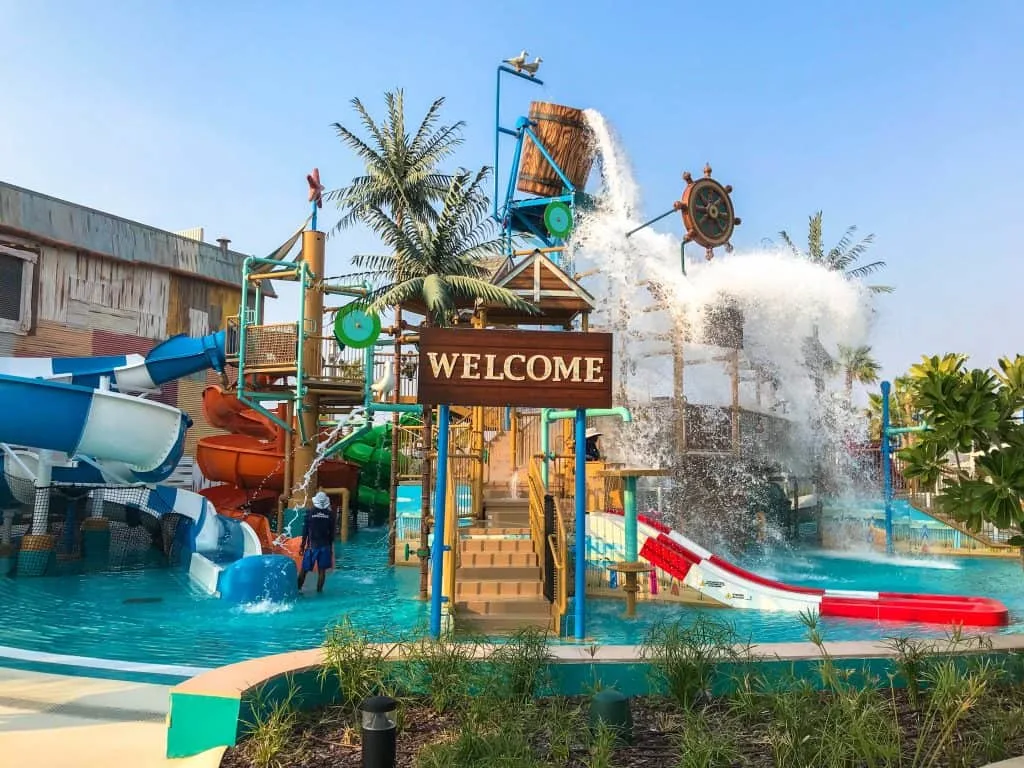 This waterpark has a variety of different slides to keep all ages entertained. Everything is so clean and perfect. The slides are another level of awesome, both hubby and I took turns trying them out and they were a lot of fun. If possible try and visit during the weekday as the weekends can get very busy.
Whilst we were taking turns being launched into the air in a raft, there was plenty for the little ones too.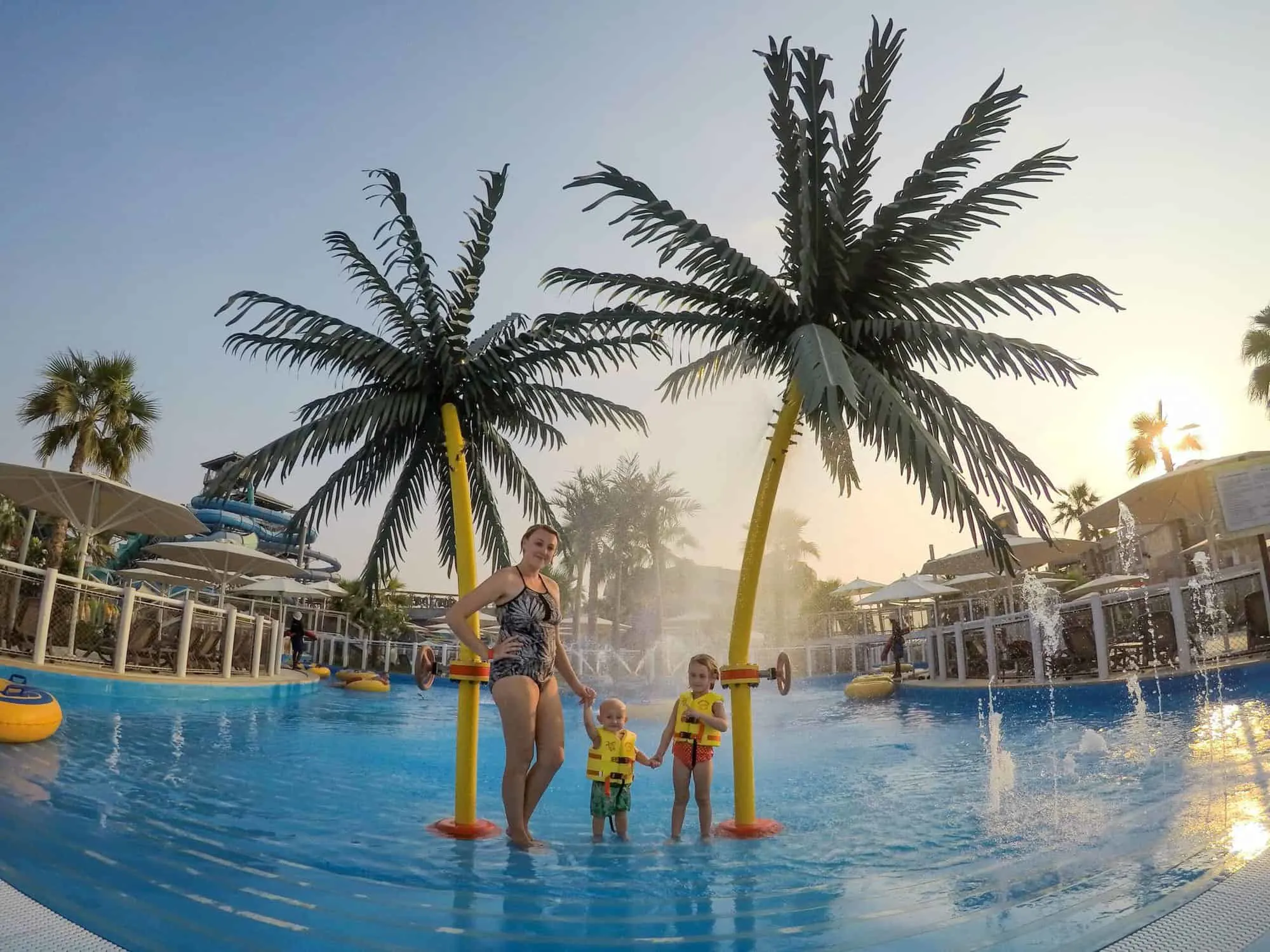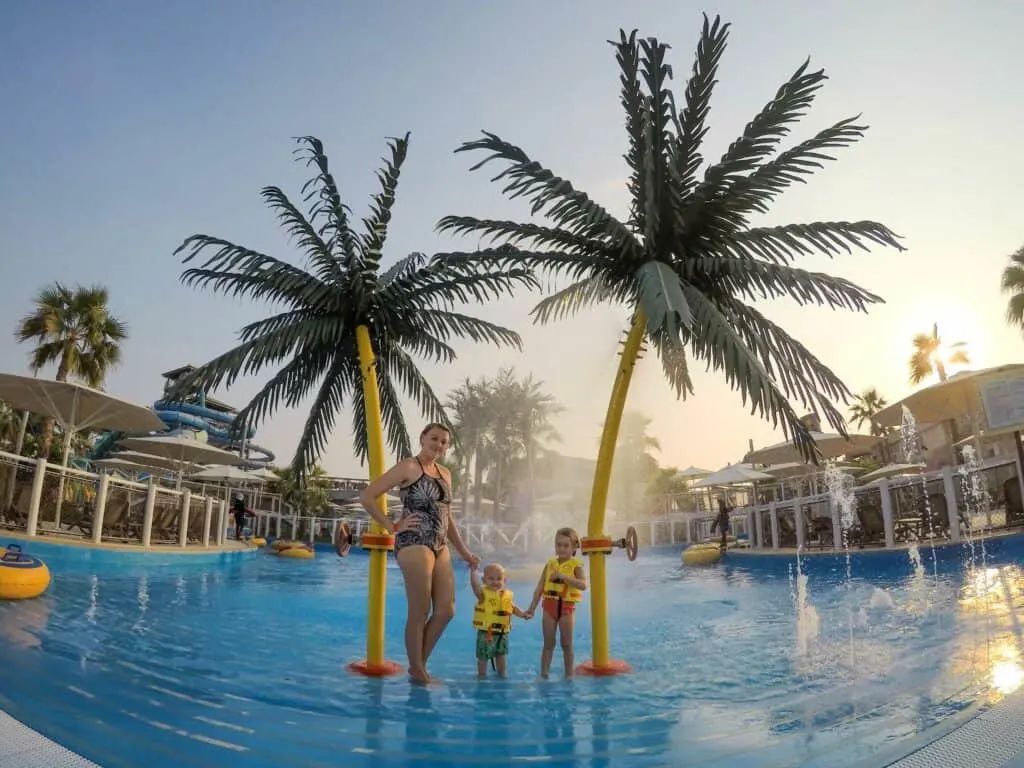 The splash area for kids is gorgeous with many interesting things that can keep babies, toddlers, and young kids entertained for hours.
Another very cool feature is the flow rider experience that hubby tried body-boarding.
He had a lot of fun, to say the least. No water park in Dubai is complete without a lazy river, something we tried out hundreds of times at Laguna Water-park! Get tickets to Laguna Waterpark here.
WILDWADI
If you aren't tired of waterparks, we would recommend one of Dubai's original and well-established waterparks, WildWadi.
This is one of the original family favourite waterparks in the UAE! The waterpark overlooks the Burj Al Arab and has 30 different water attractions!
There's a 32 metre slide, an artificial surf ride, and a beautiful 18 metre high waterfall. It's true, bigger is better over at WildWadi.
Even during busier times, you have lots of options and activities to partake in as the park can accommodate a lot of people. It's got 3 pools and 17 waterslides.
What's interesting is that the park is named after an Arabian folklore legend, and he watches over the park in the form of a friendly mascot!
If you're looking for some relaxing time in the sun while your kids play in the wild wadi water!
WildWadi is a kid-friendly day in the sun. For tickets to Wildwadi click here.
AQUAVENTURE
Start exploring Aquaventure, the world's largest waterpark and get your pulse racing with over 105 record-breaking slides, attractions, and experiences, make your way through the Raging Rapids, and relax on 1km of private beach.
The huge amount of rides will keep the family entertained all day. The group rides mean you can enjoy a lot with the kids!
Some of the group rides:
Shockwave – this rafting adventure is the longest family water coaster in the world! A wonderful mix of speed and power, this blasts you 449 metres forward at the speed of light through a series of dark tunnels. Be ready for the drop!
Zoomerango: experience a sense of weightlessness with this throughout the mix of plummeting drops and vertical zooms.
Aquaconda: the world's largest tube-water slide, the 9+ metre wide and 25 metre tall Aquaconda will bring you through twists and turns within the dark tunnels all at 35 kilometres per hour!
Odyssey of Terror: this is the world's tallest waterslide! experience sweeping up and down before accelerating towards an enormous drop! You'll feel weightless as you freefall down the curved wall.
There is also a great selection of individual 'body slides':
Leap of Faith – here you'll be zooming down a near-vertical drop from a height of nine stories before sliding through the famous shark-filled lagoon.
Poseidon's Revenge: for this slide, you'll step into a capsule before hitting speeds of 60km/h and looping upside-down!
Slitherine: the world's first twin-racing tube slide allows you to race the kids down to the finish line.
Blackout: similar to the Leap of Faith but referred to as its 'scary sister' as this slide is fully blacked out.
Vortex: this slide is full of unexpected excitement with turns, curves, drops, and 360-degree loops before finally plummeting down the lagoon to finish.
In addition to the exciting slides and riders, there are also a couple of adventure rivers to choose from.
River Rapids: this is the longest river in the region and sends riders twisting and spinning through vicious torrents with a surprise around every turn! There are a number of large pools scattered along the way allowing you to come and go as you please.
Raging Rapids: this mix of waves, currents, and high-pressure bubbles lets you feel what it would be like to attempt to get through raging water elements. For tickets to Aquaventure click here.
BEST FREE ACTIVITIES IN DUBAI
LA MER
As I mentioned, the stunning La Mer area is made out of old shipping containers re-modelled to build an entire beachfront neighbourhood with restaurants, shops, and cafes.
Funky and cleverly constructed features such as an old skip come tennis table are dotted around the area.
Despite being made out of recycled materials, La Mer is just as lavish, stylish, and luxurious as other parts of Dubai. We spent lots of time wandering around the area after our water-park experience.
La Mer is particularly stunning at sunset when the many lanterns begin to glow. It's a lovely area to visit for a stroll followed by dinner or lunch.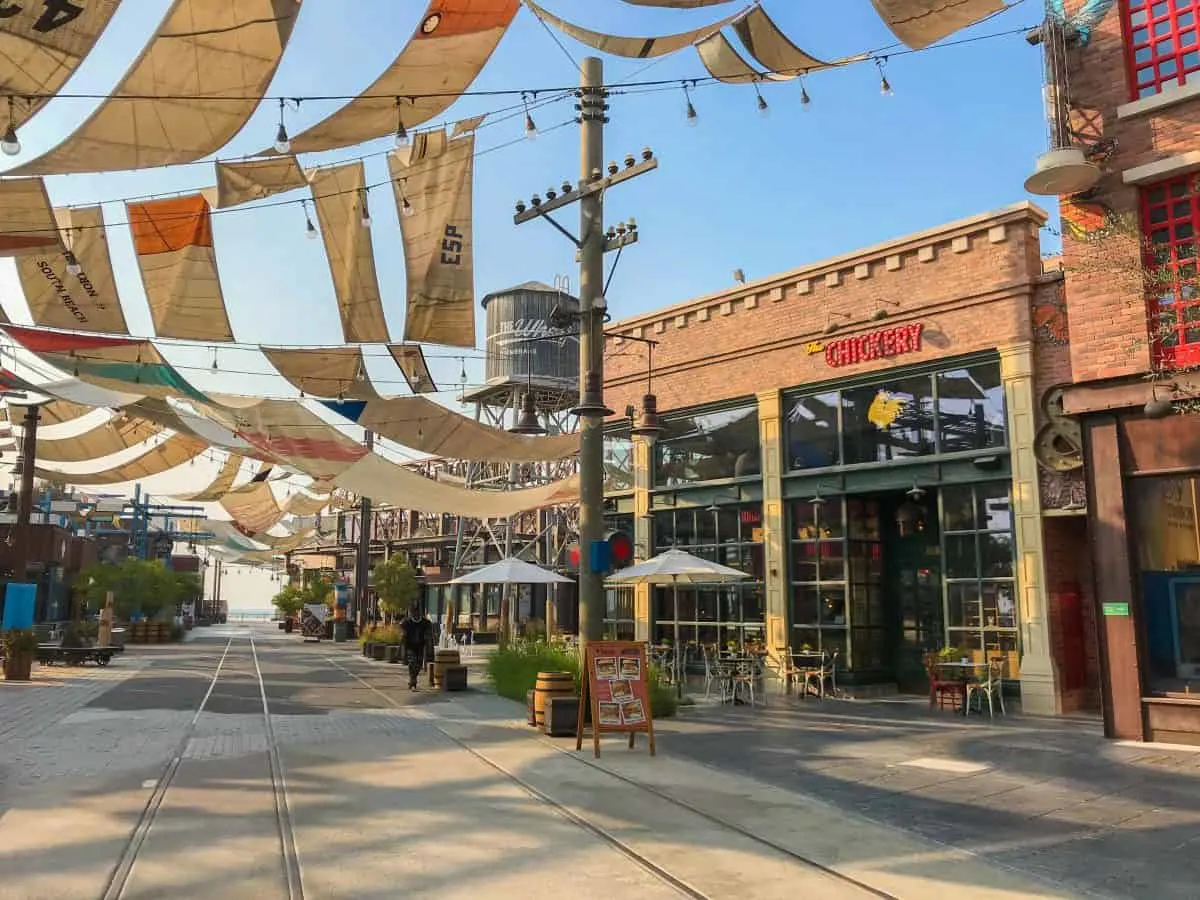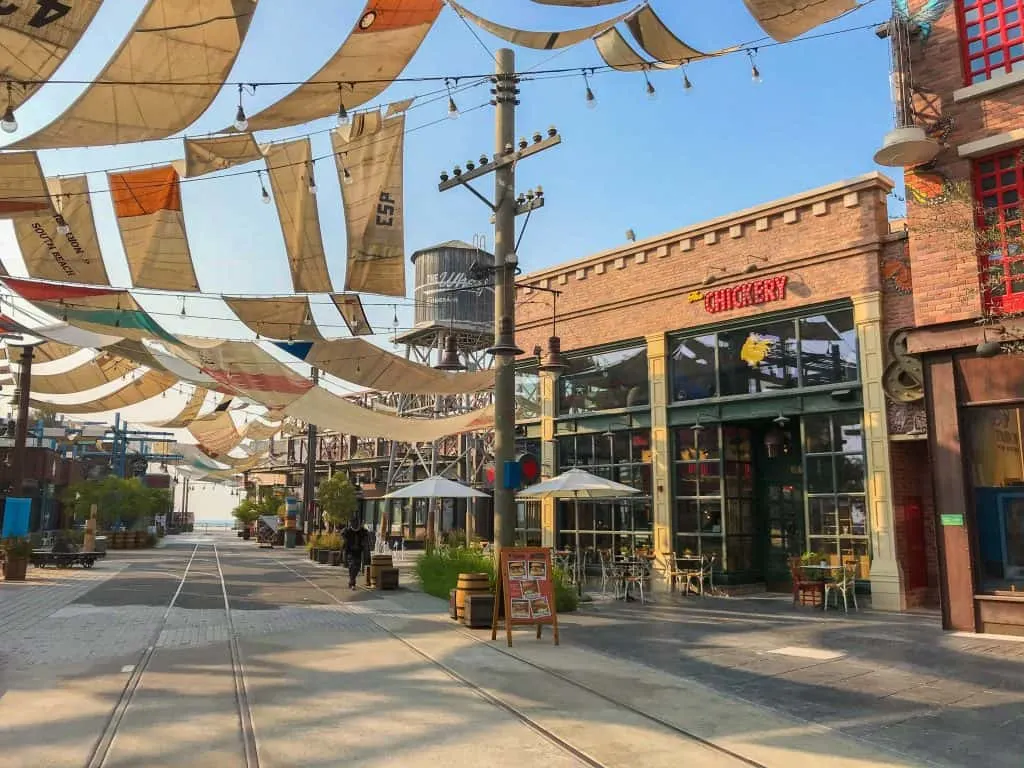 DUBAI FOUNTAIN SHOW
No trip to Dubai could be complete without stopping by the fountain show. It is right at the foot of the Dubai mall and starts at 6 pm daily.
The music, water, and lights make it a once-in-a-lifetime opportunity. As you watch the jets of water move in time with the music, you will probably recognize a hit or two. Make sure this is high on the list of things to do in Dubai with Kids.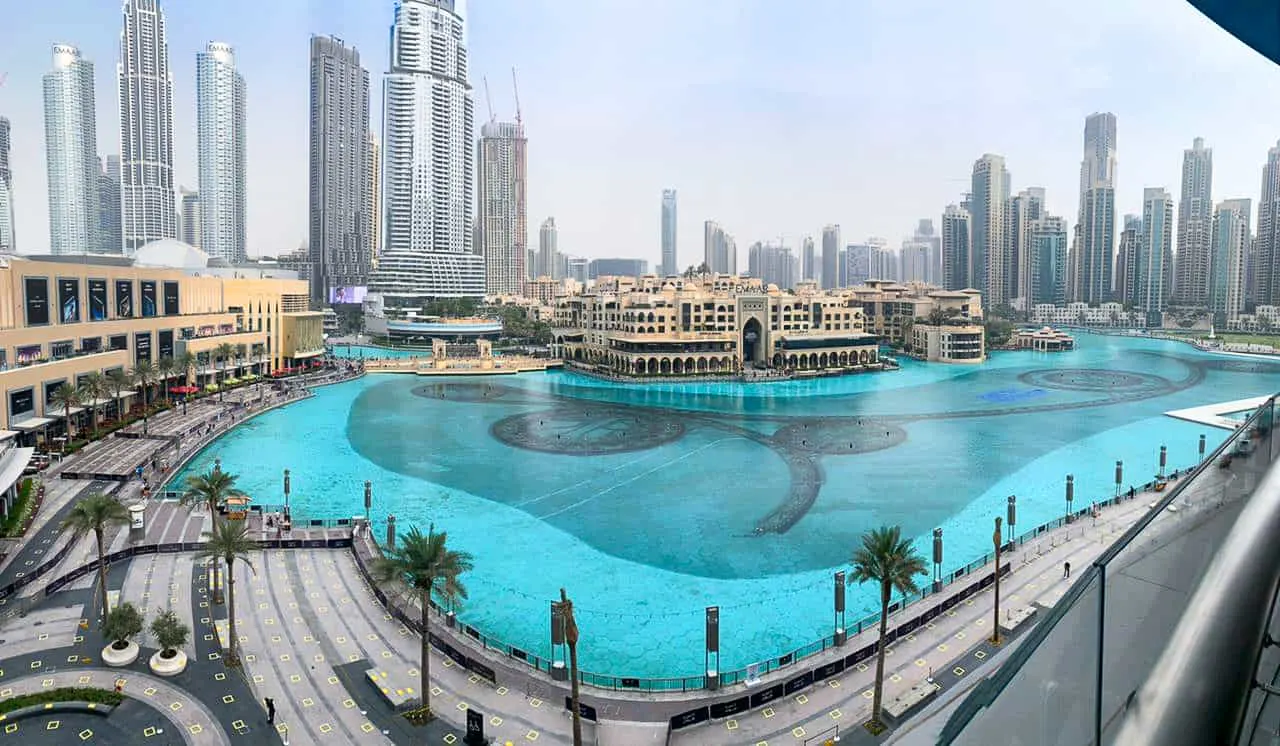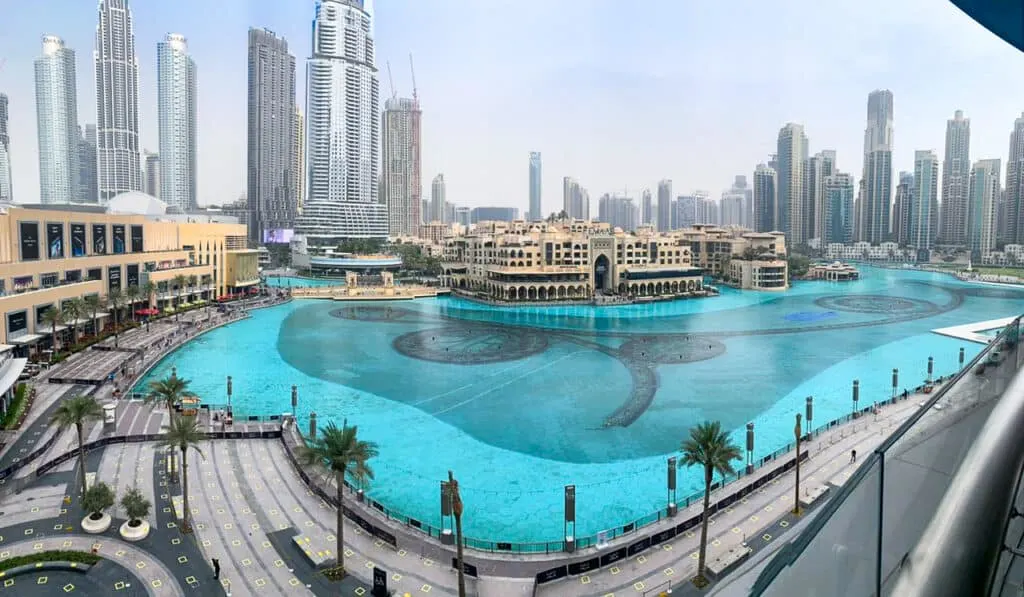 You are free to watch the show on dry land, but the best seats in the house are on board a boat on the lake. A boat ride takes you away from the crowd and gives you an amazing view of the fountain show as well as views of the Burj Khalifa.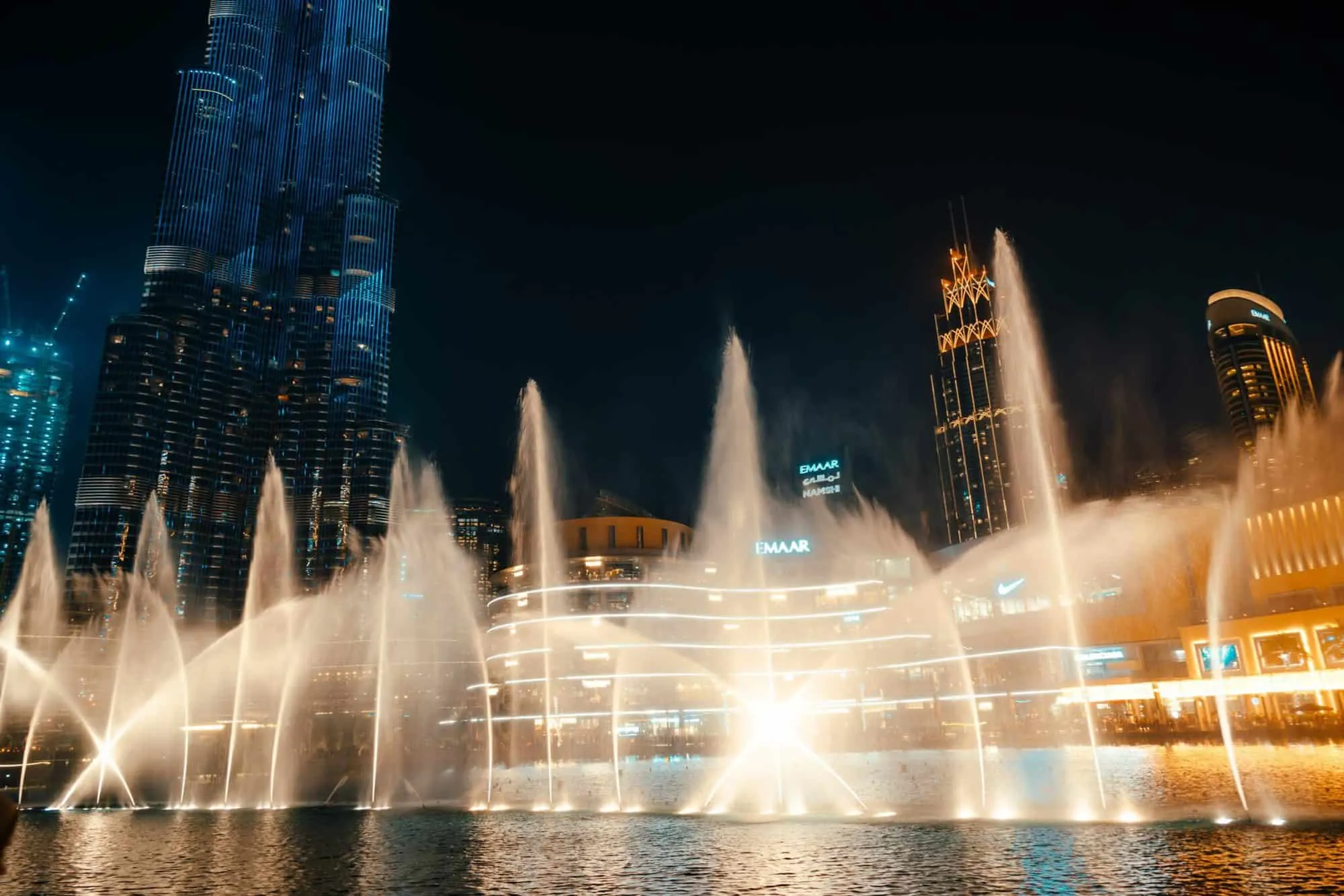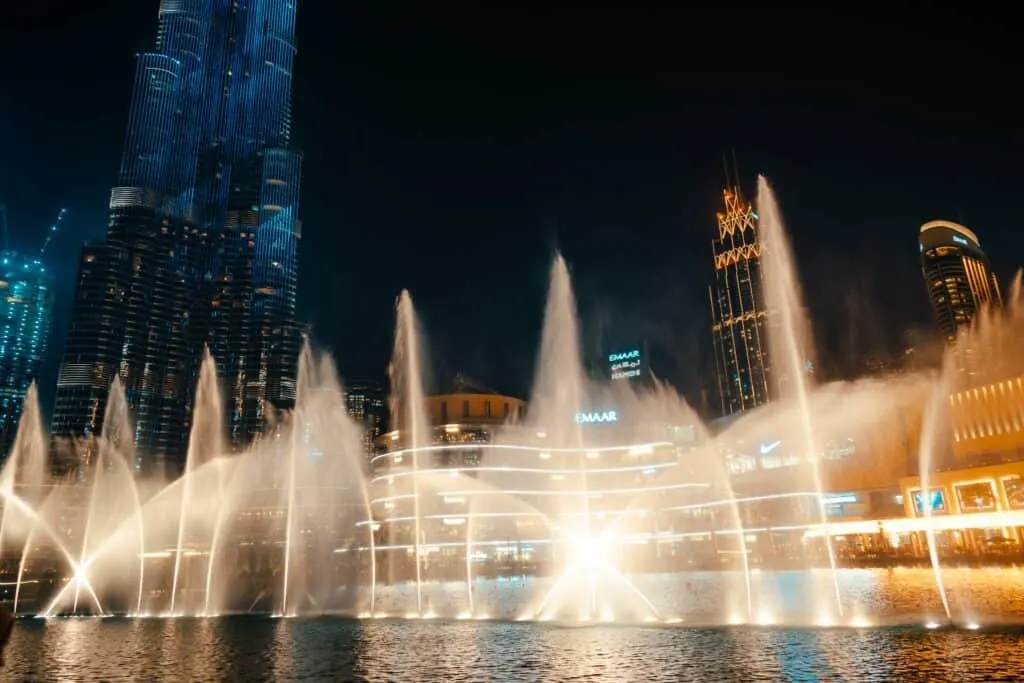 Book your boat ride to see the Fountain Show.
BEST MUSEUMS/TOURS IN DUBAI
BURJ KHALIFA
No visit to Dubai is complete without visiting the tallest building in the world, the Burj Khalifa! It is a paid ticket entry that can be purchased in advance on Attraction Tickets Direct.
The architectural wonder can be seen from almost everywhere in Dubai and the experience from entering to reaching the lookout deck on floor 125, is super cool!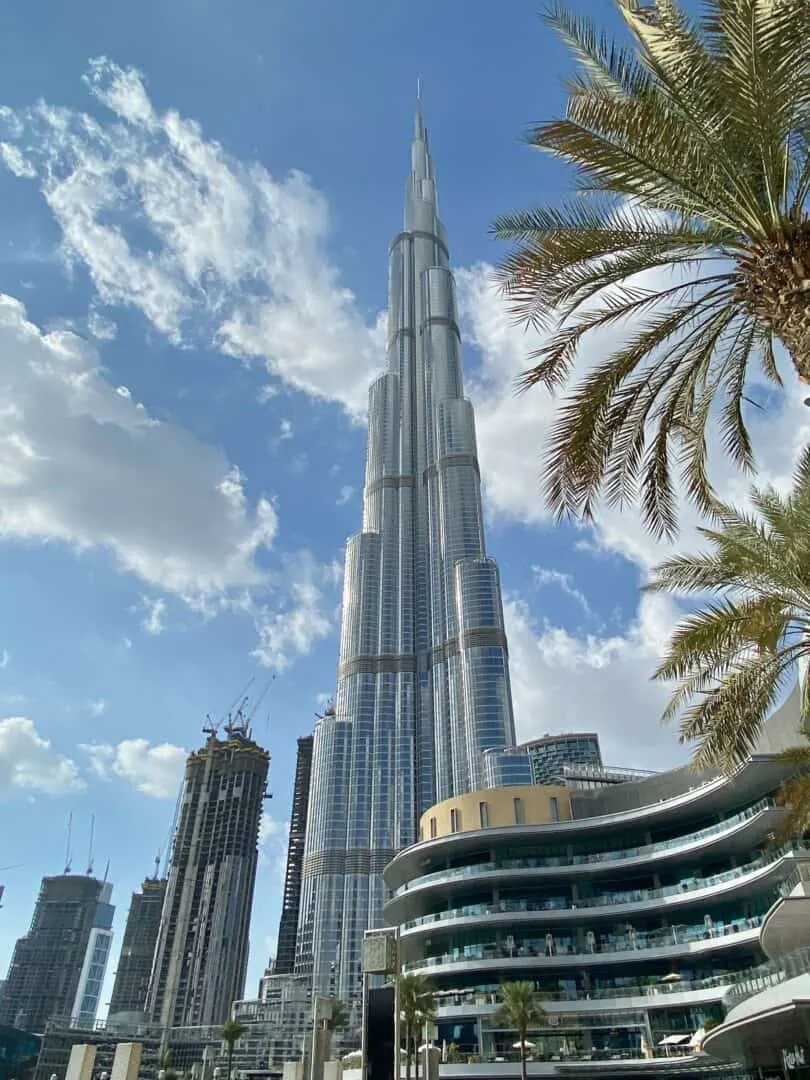 As we stepped inside the elevator, a 360 visual display was projected onto the four walls of the lift. It showed many other tall buildings around the world.
It gives a good insight into the scale and size of the 828-metre high skyscraper that dominates the city.
An interesting fact I read, you can see the sunset twice in one day. Once from the bottom and again from the top!
For tickets to the Burj Khalifa click here.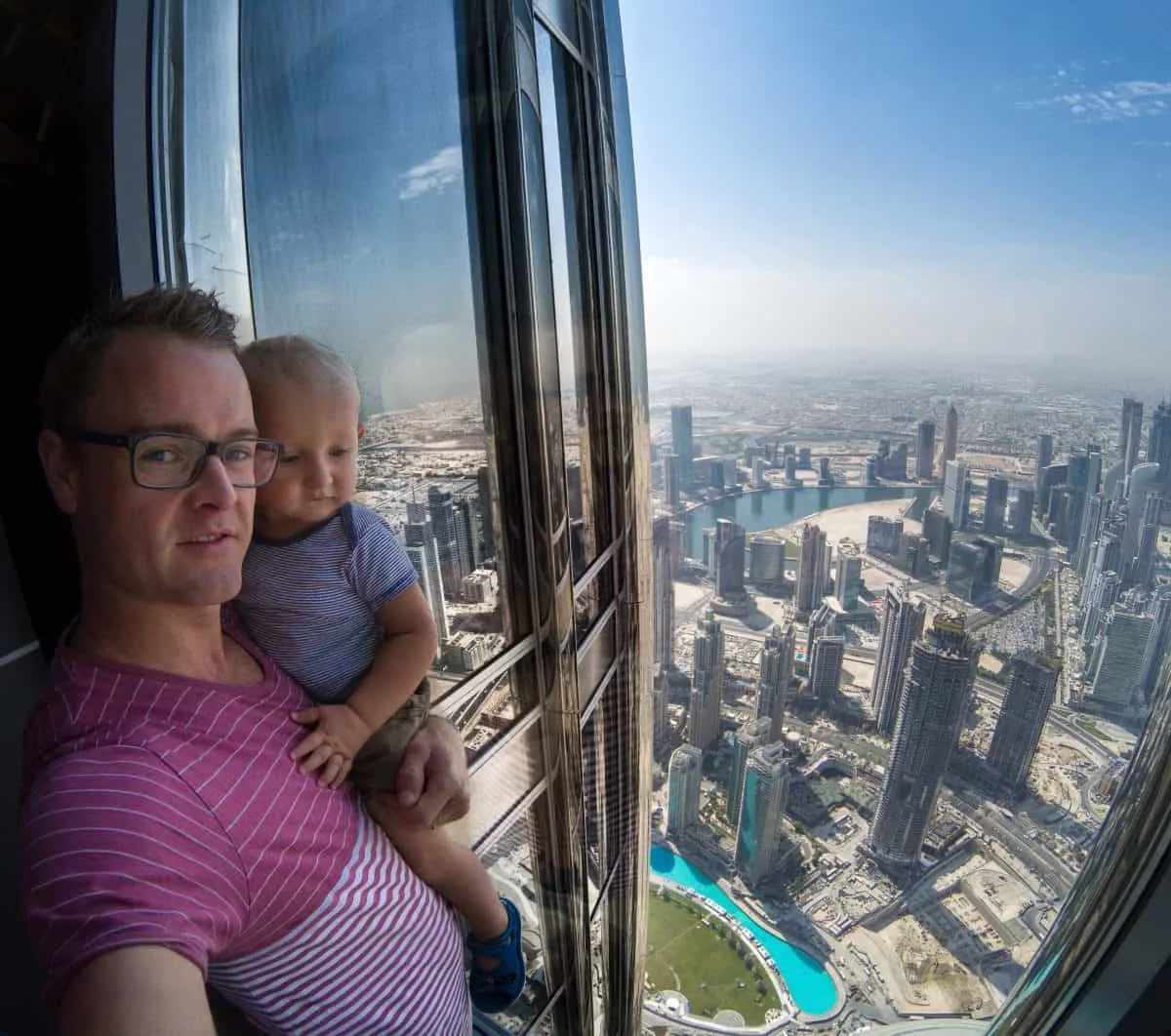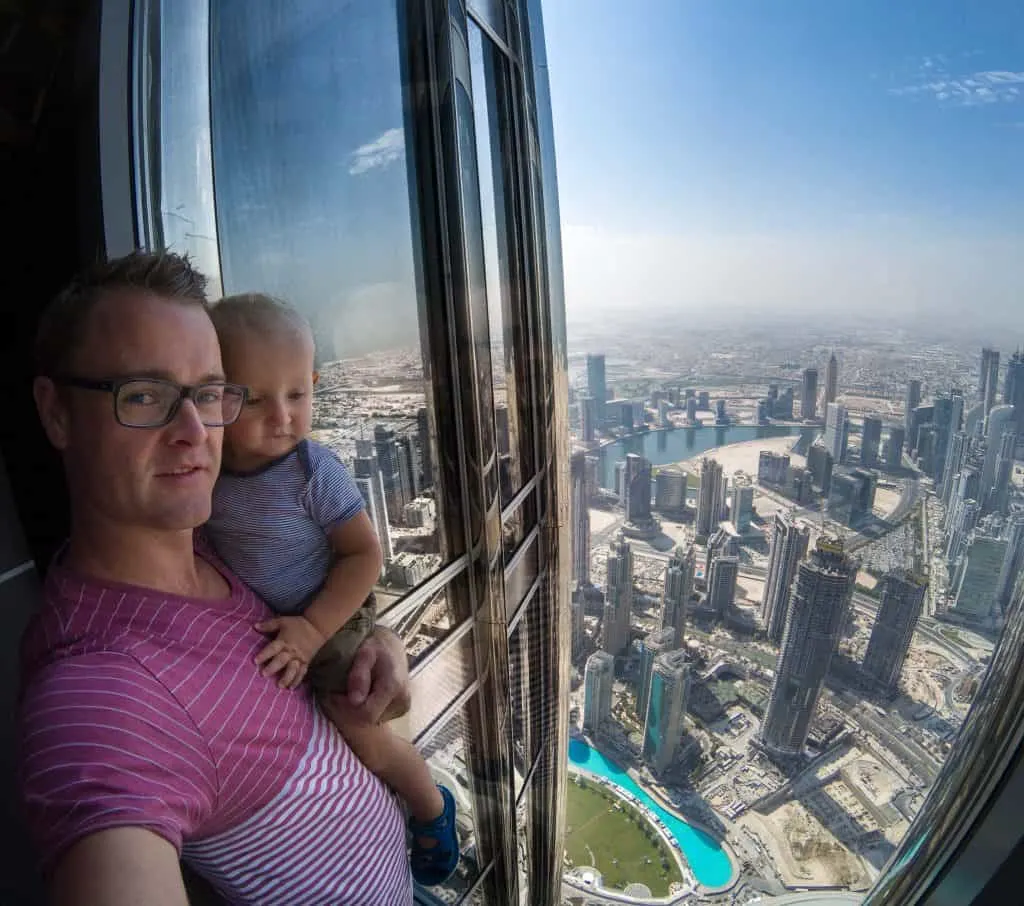 MUSEUM OF ILLUSION
The Museum of Illusion is in the Al Fahidi area.
It's a stunning part of Dubai on the shores of the Creek.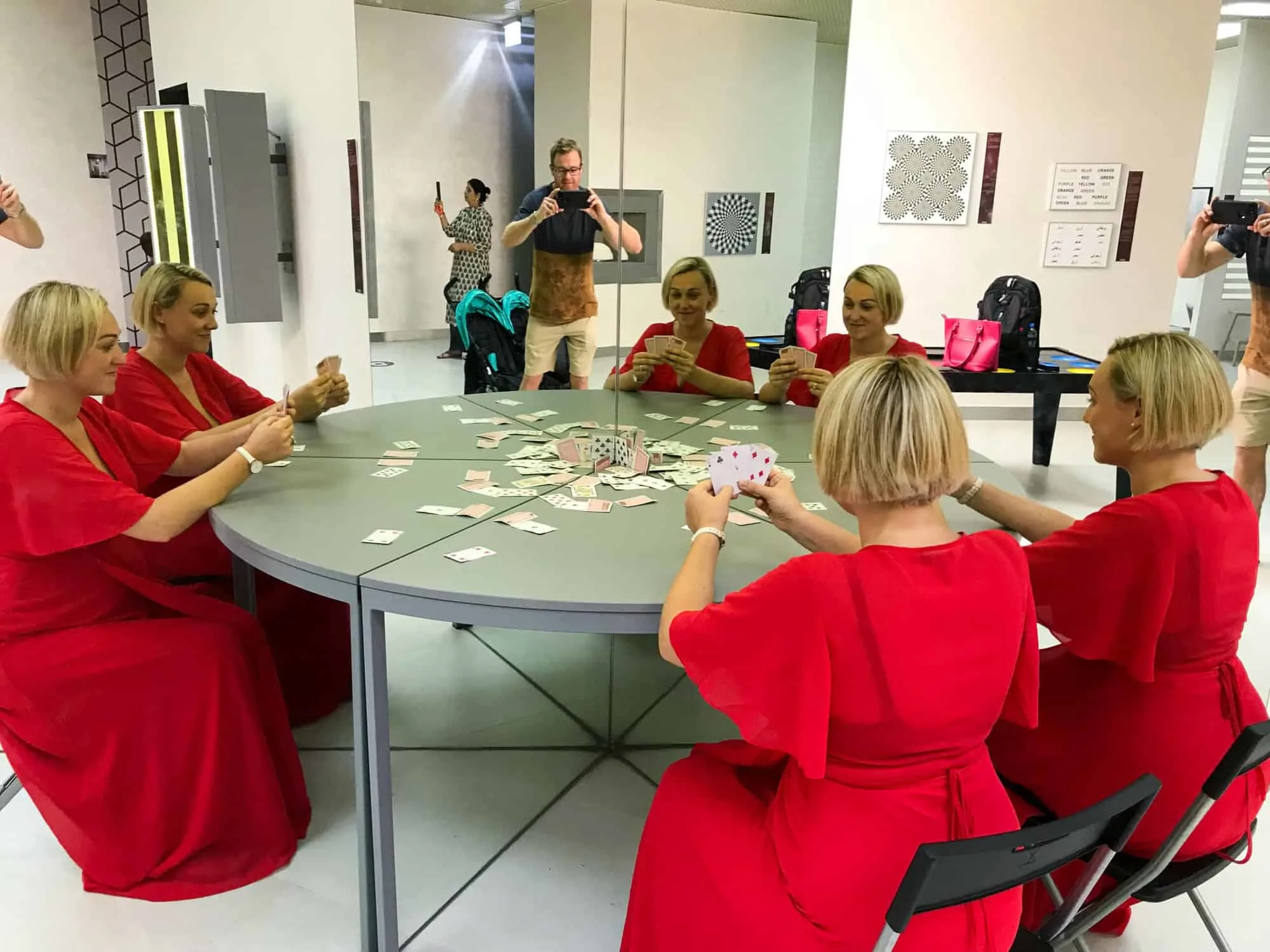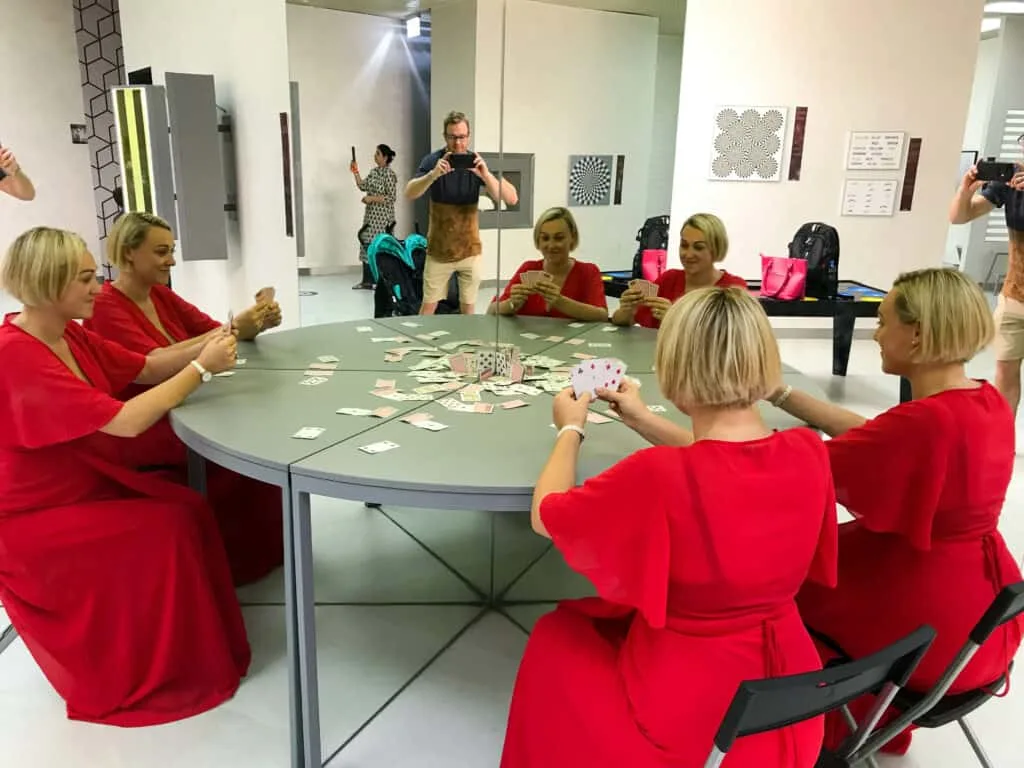 Again it was another experience that the whole family enjoyed. I love when our 16-month-old gets something out of an activity, as quite often it can be all about the four-year-old.
It's a very cleverly designed museum and every single display tricked our brains. I found it totally fascinating. An hour is plenty of time to spend at the Museum of Illusion.
For tickets to the Museum of Illusion click here.
OLI OLI
Oli Oli is Dubai's first experimental children's play museum. It is located near the Oasis centre and it is open every day. There is a range of hands-on activities for kids of all sizes to enjoy. In fact, you may find that the adults love it just as much if not more than the kids.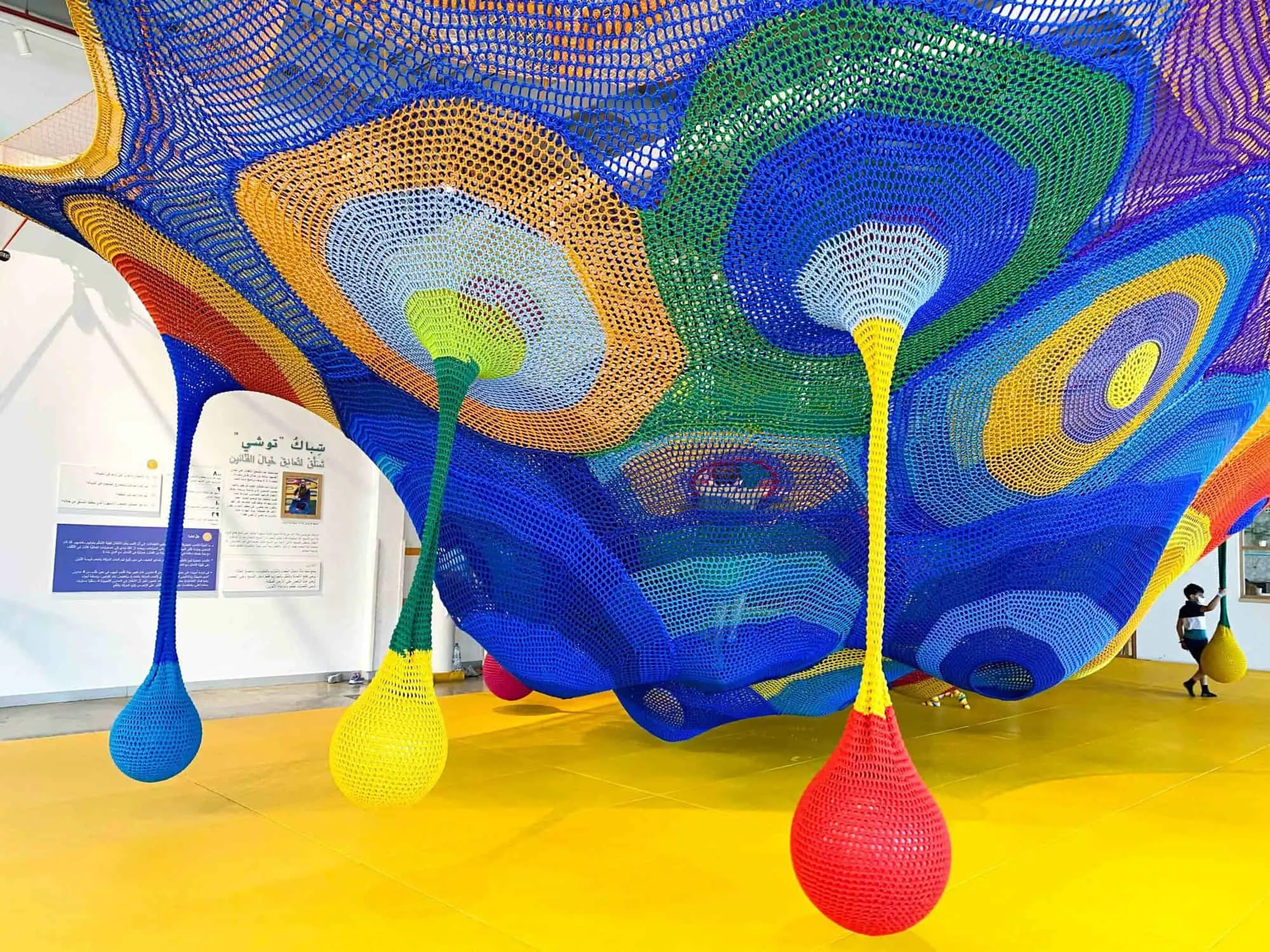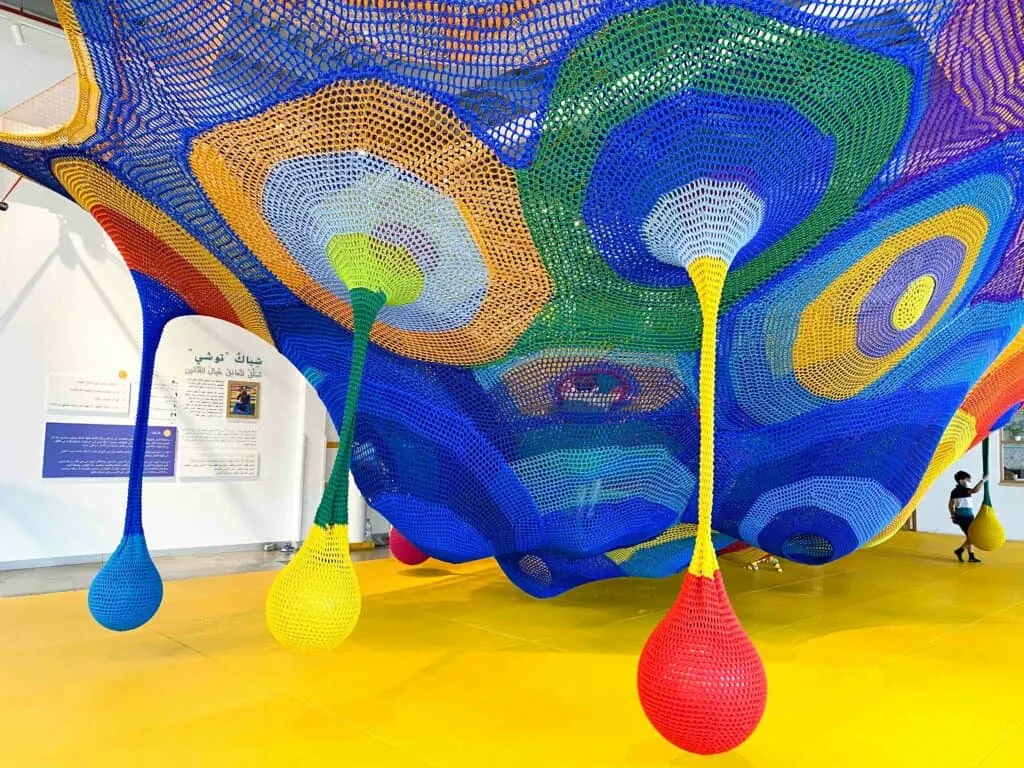 The children's museum allows kids to wander freely throughout. The experiences are designed with them in mind.
Some experiences encourage them to play, some want them to interact, and some want them to think and use their creativity. We have visited the museum multiple times and is one of our top things to do in Dubai with Kids.
Every experience is different and that is what makes it so unique. In fact, kids can expect to use all of their senses while they are at the museum.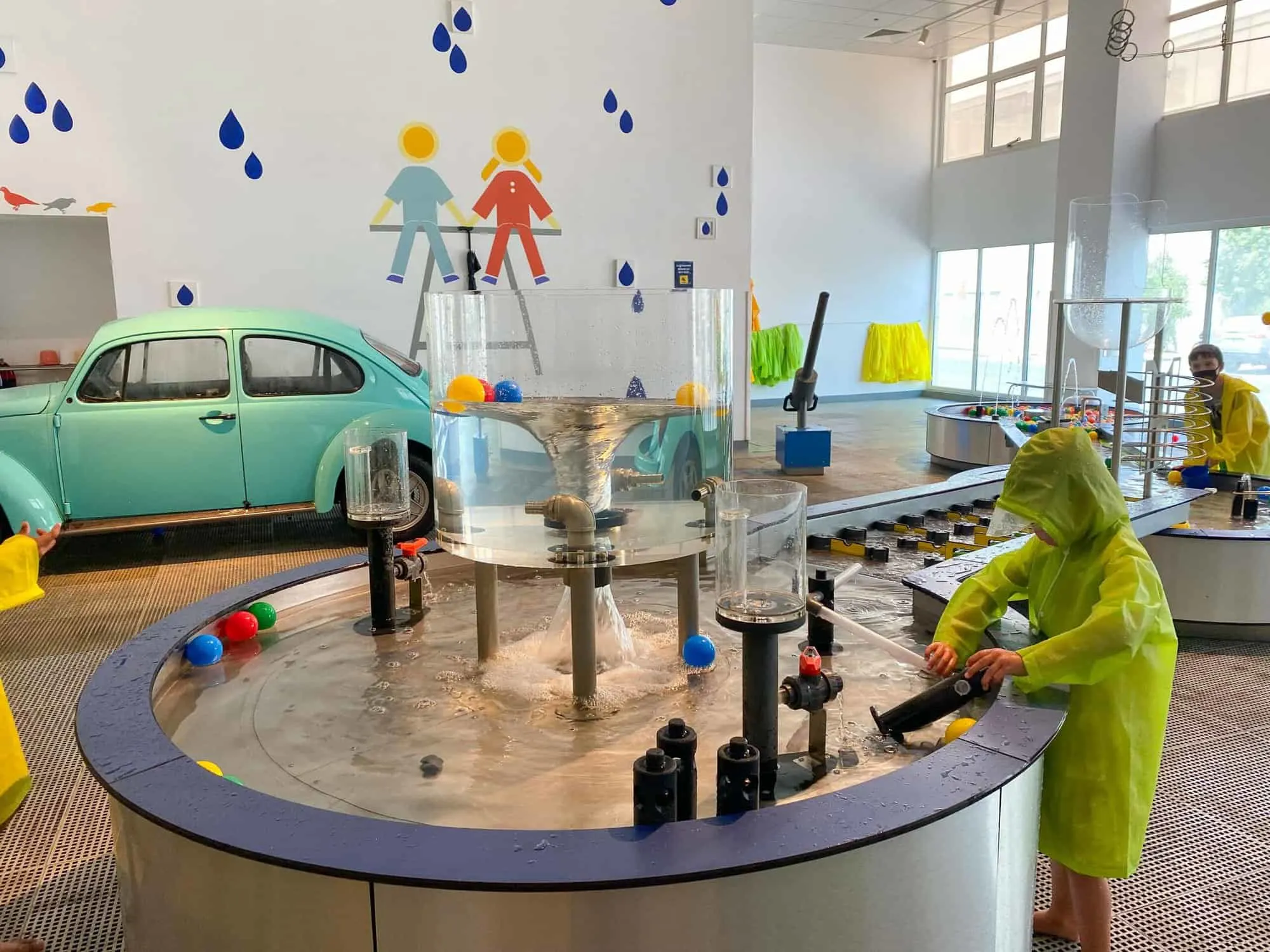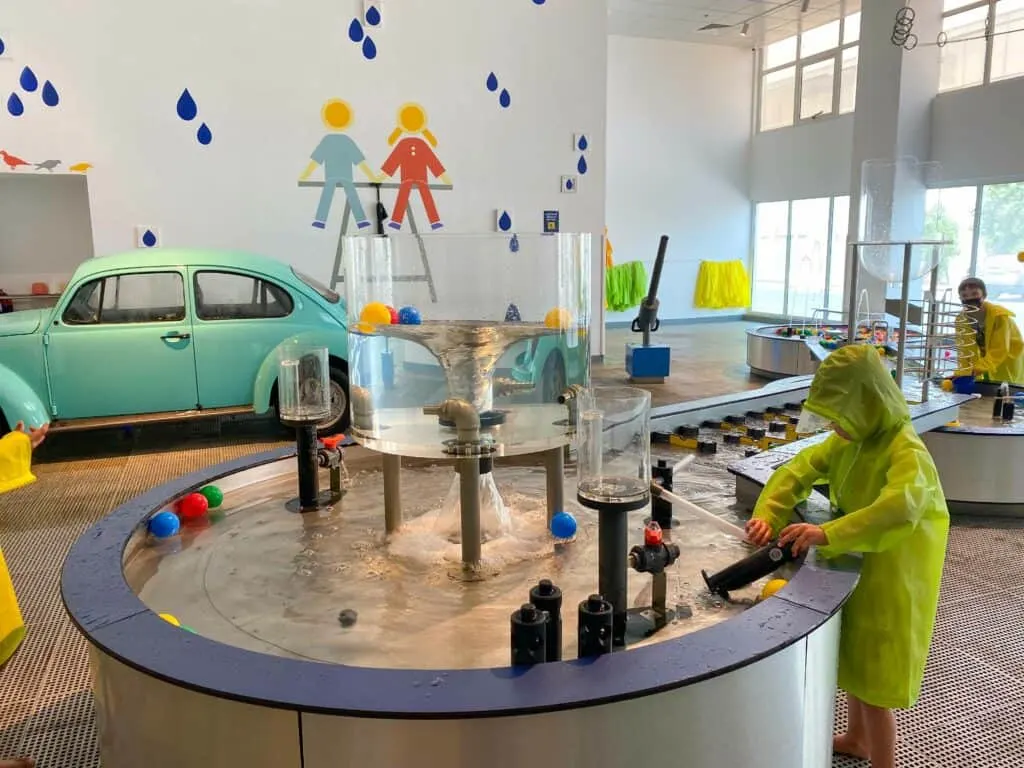 Tickets can be booked online and they allow you to spend two hours at the centre. To book tickets to Oli Oli or find out more about Oli Oli click here.
BEST CULTURAL EXPERIENCES IN DUBAI
VISIT THE SPICE SOUKS AND DUBAI CREEK
The cultural side of Dubai is less well known to tourists, however, there is an abundance of experiences.
The best way to cross the creek is in a traditional 'Abra' boat. An Abra is a wooden boat and a very cost-effective way of getting around. Riding on the Abra gives a unique and different perspective of Dubai from the glamorous city.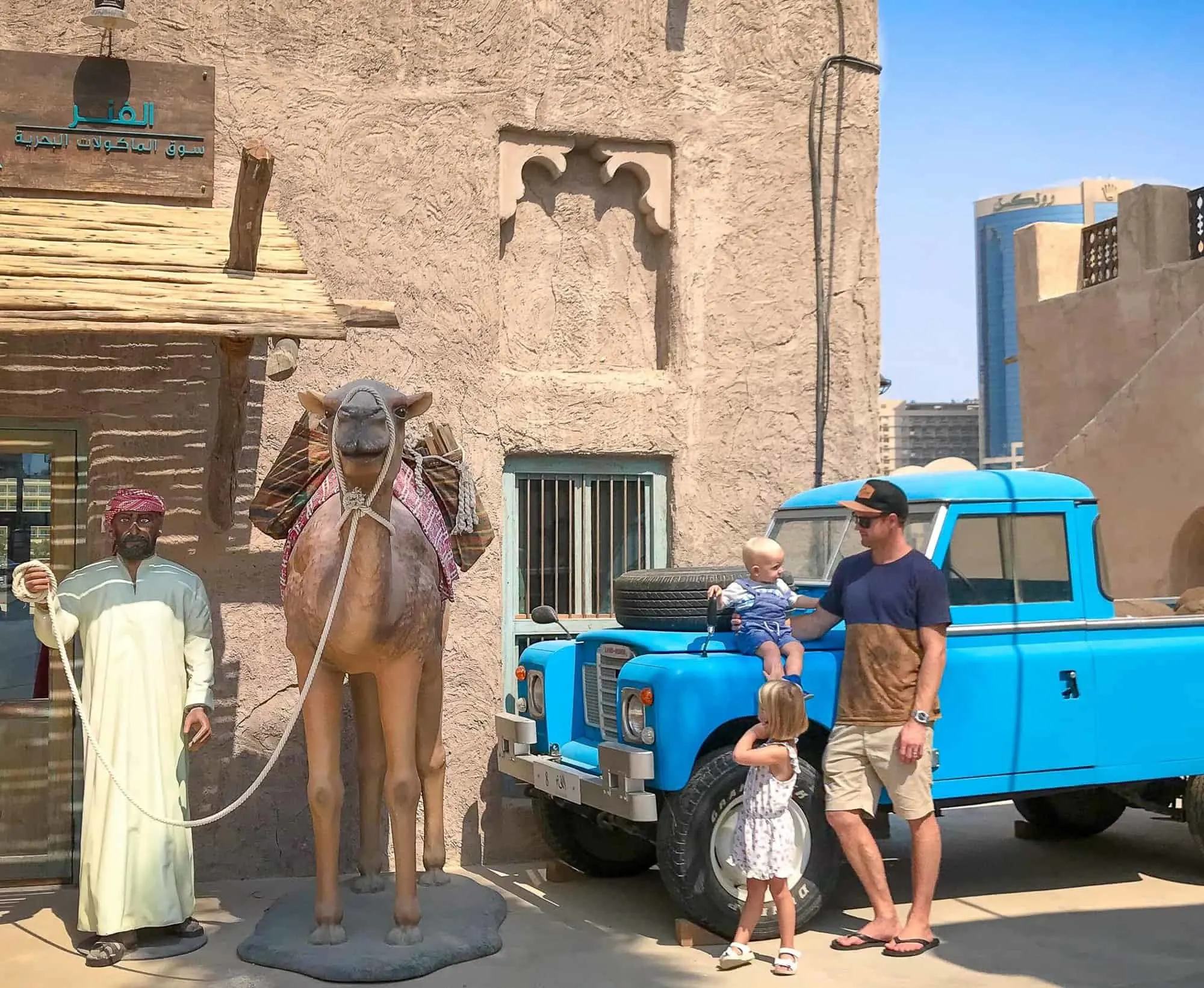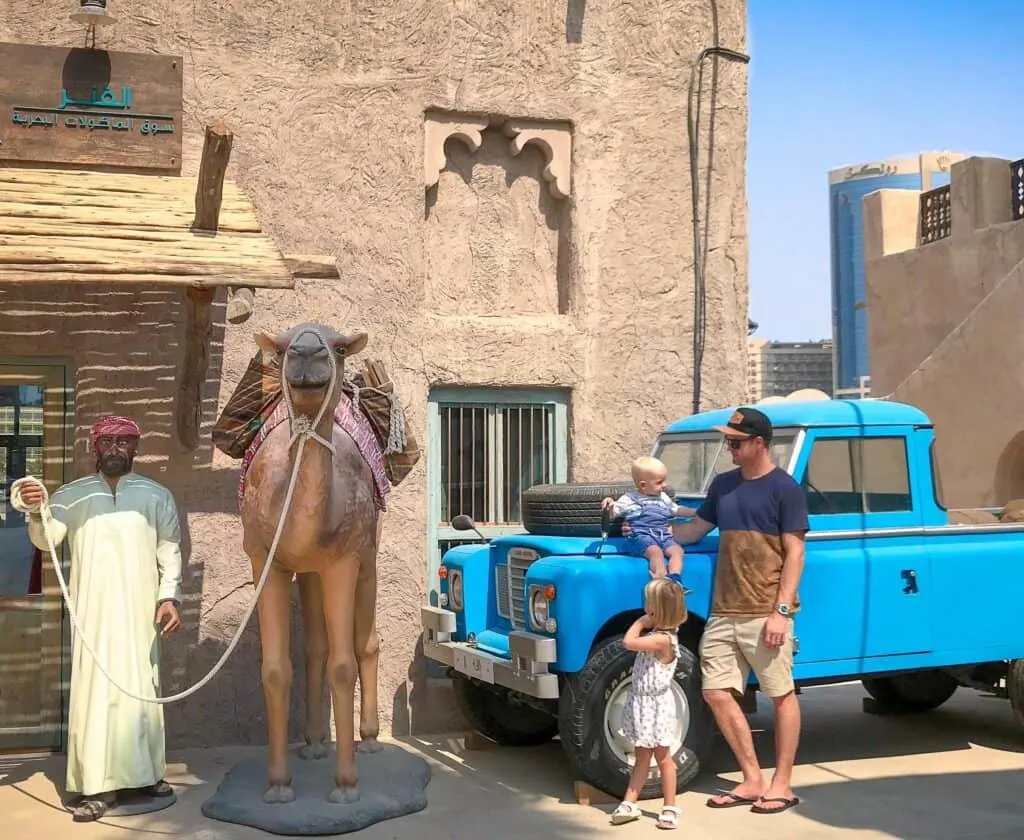 Just across from Al Fahidi is the spice souk, it is a chaotic place but an experience, to say the least. Many tourists buy saffron and other quirky cooking spices. For tickets to the Old town tour click here.
I did go a little crazy in the lantern and ceramic shop. I just loved the authentic Arabic design and it's worth noting the owners drive a hard bargain for their goods.
Be prepared to be bamboozled with offers to drink tea and smell spices, try on traditional dresses, and so on.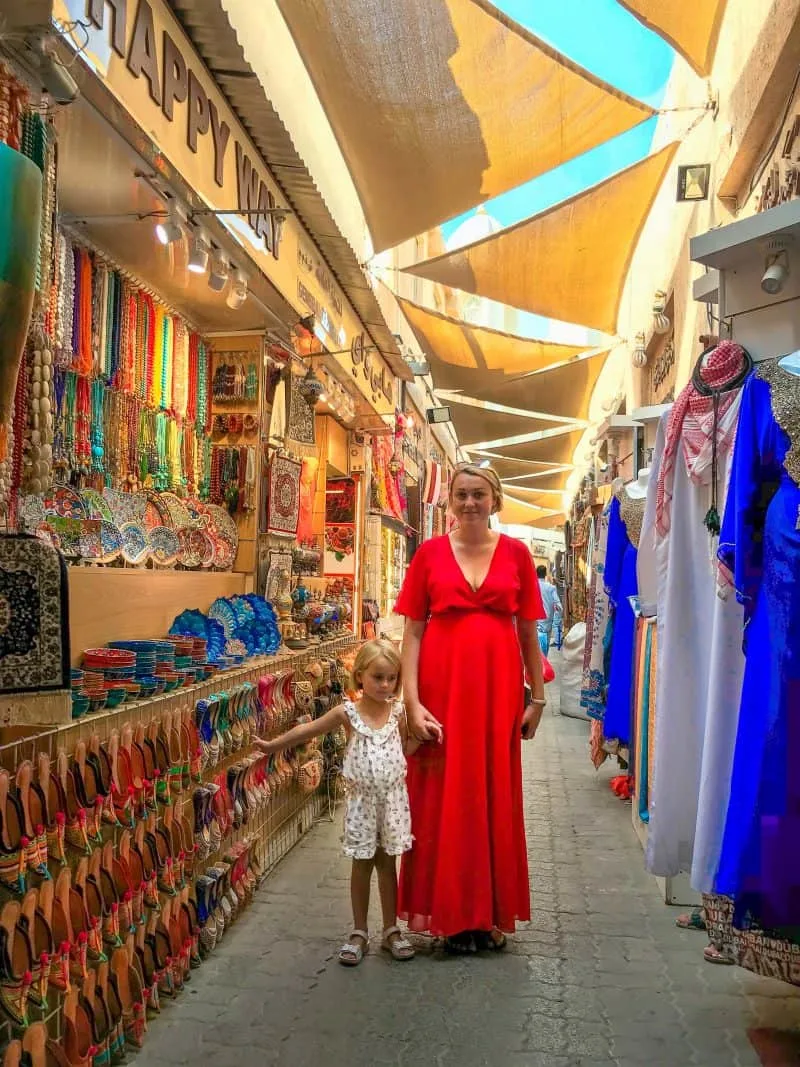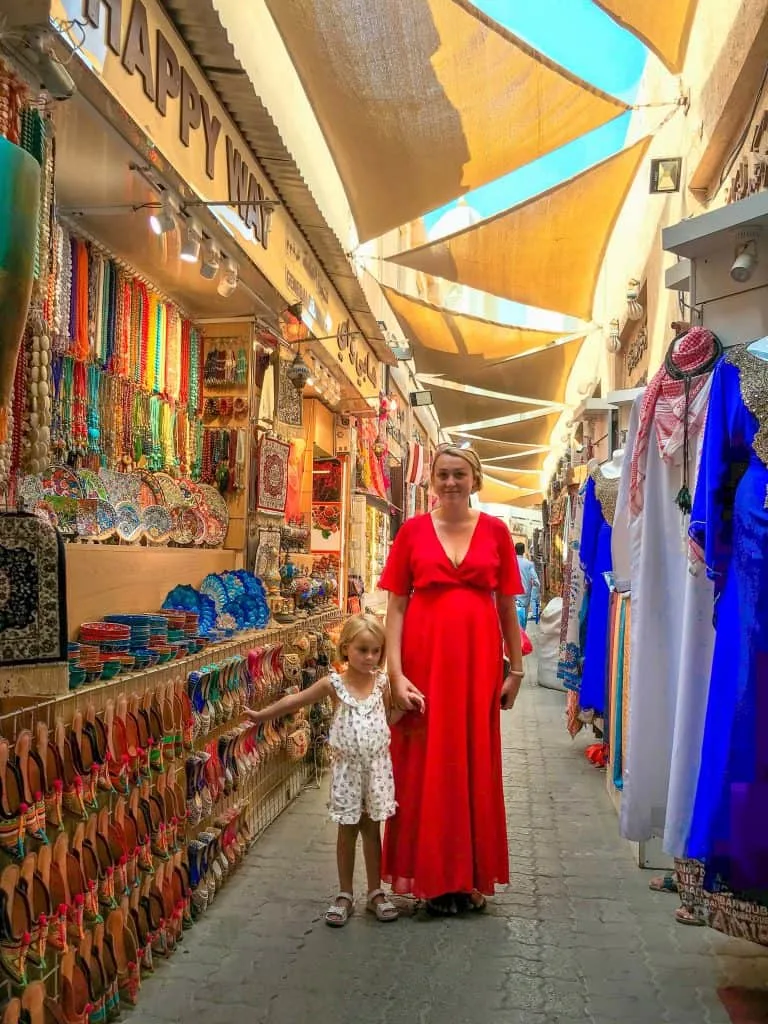 SHEIKH MOHAMMED CENTRE FOR CULTURAL UNDERSTANDING
The Sheikh Mohammed Centre for Cultural Understanding is the place to go to really understand the Emirate way of life.
The centre offers a breakfast or lunch, along with a presentation. The food offered at the meal is traditional local foods and guests are invited to have Arabic coffee.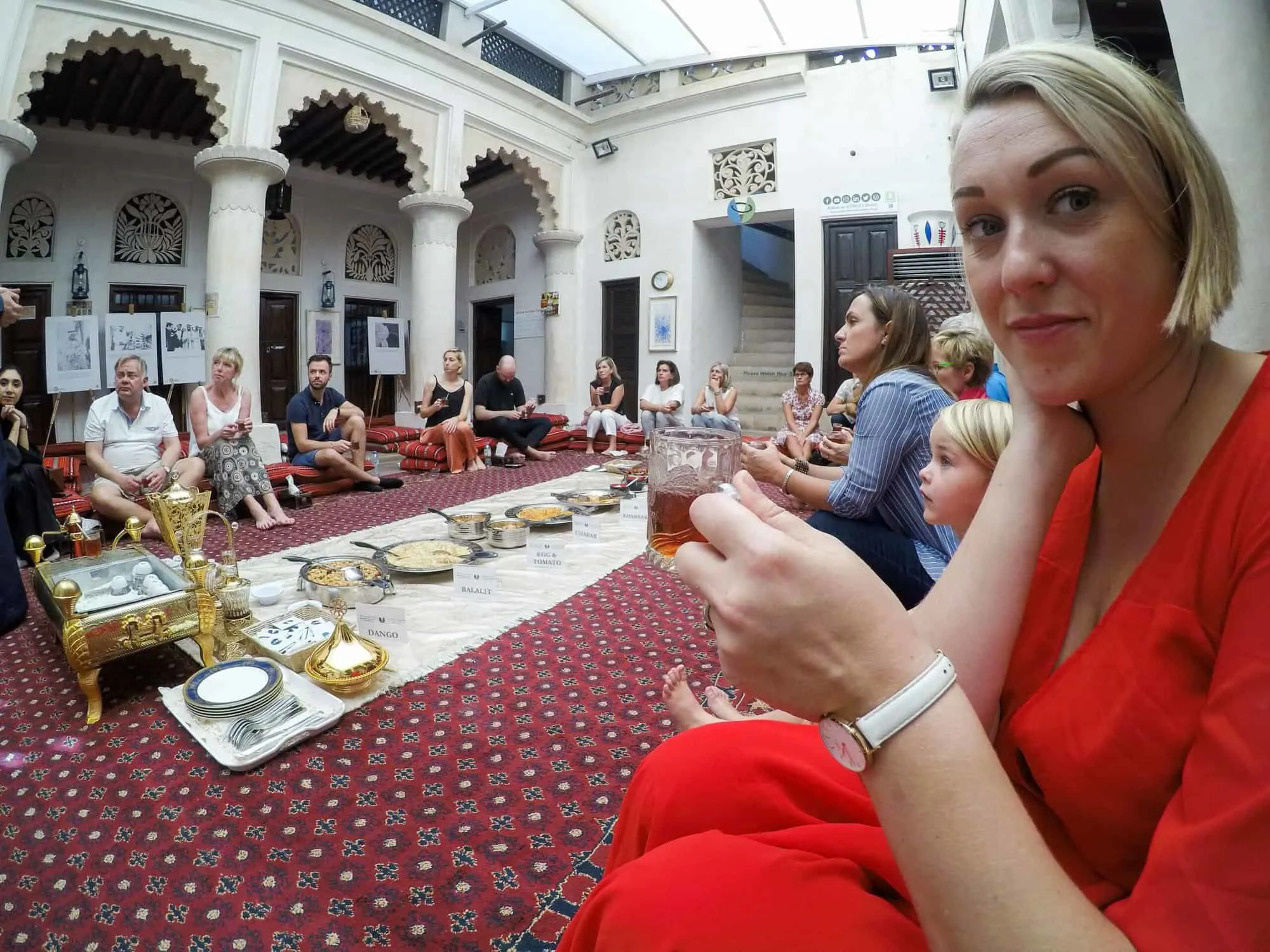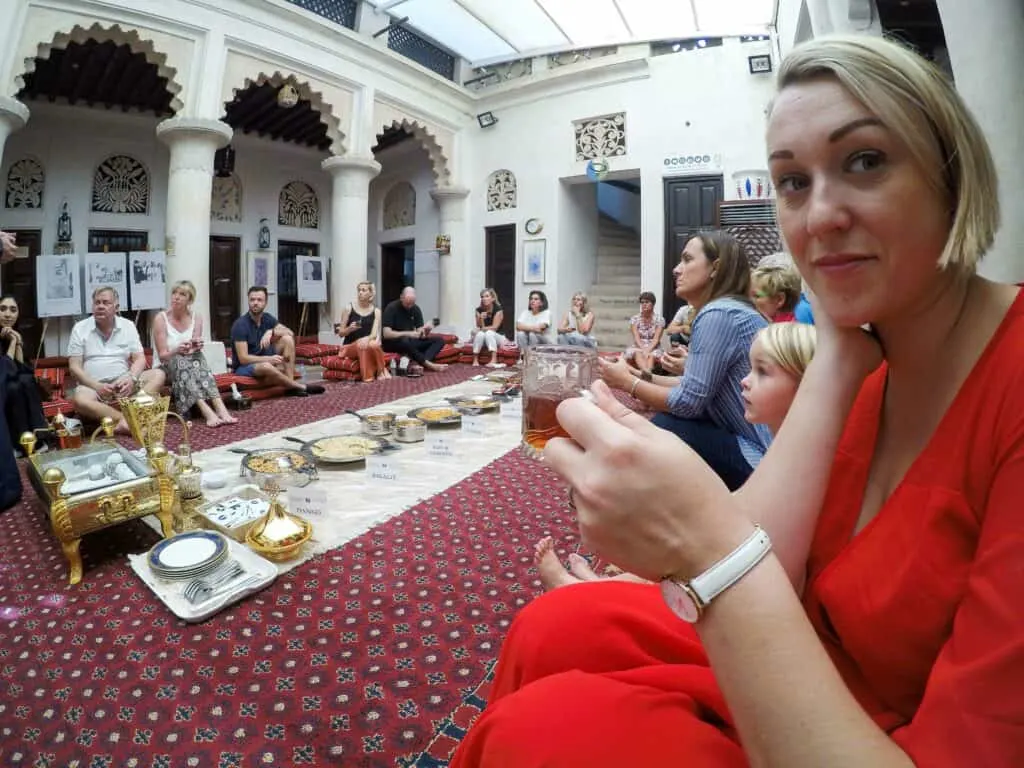 It is a relatively formal setup, however, we found the staff incredibly helpful with the little ones, finding ways to entertain them.
I was so surprised to see an area dedicated to children with a few toys in such a formal place.
They let our children try on the local attire, it was a lot of fun and also educational.
We love exposing our children to different cultures and I love how the experience stimulated so many questions and discussions with our four-year-old daughter.
It's one of the reasons we travel with her a lot and love for her to learn and develop cultural respect.
For tickets to the Sheikh Mohammed Cultural Foundation click here.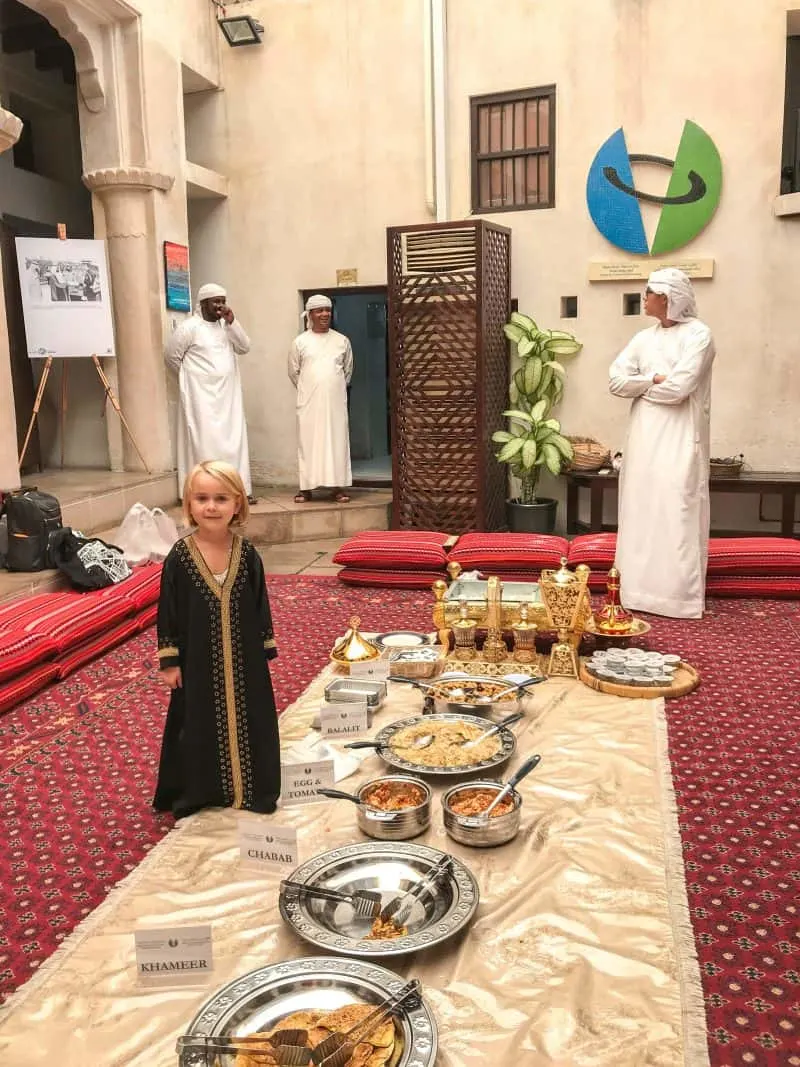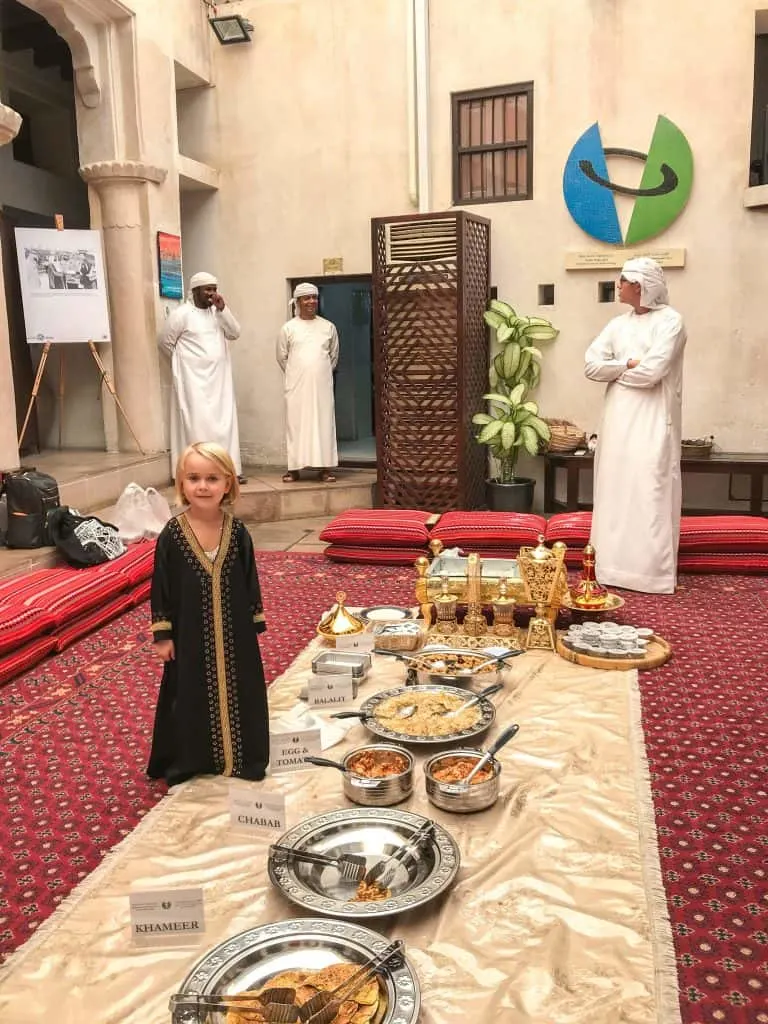 GLOBAL VILLAGE
Global village is a unique multi-cultural family destination. It's sort of a one-stop destination of dining, attractions, entertainment, and shopping, that takes you on a cultural journey around the world.
Here, the world really does feel like it's at your fingertips. It's home to the region's largest street food with over 200 dining concepts and over 80 cultures represented by 26 pavilions.
For food, the world is your oyster at Global Village! There are so many delicious street eats it would be impossible to name them all but there's a few highlights.
In the village, you can experience the hustle and bustle of a rustic bazaar at Indian Chaat Bazaar. There's also the Asian culinary haven, the Floating Market. You can sample foods from Vietnam, Korea, and Malaysia, just to name a few.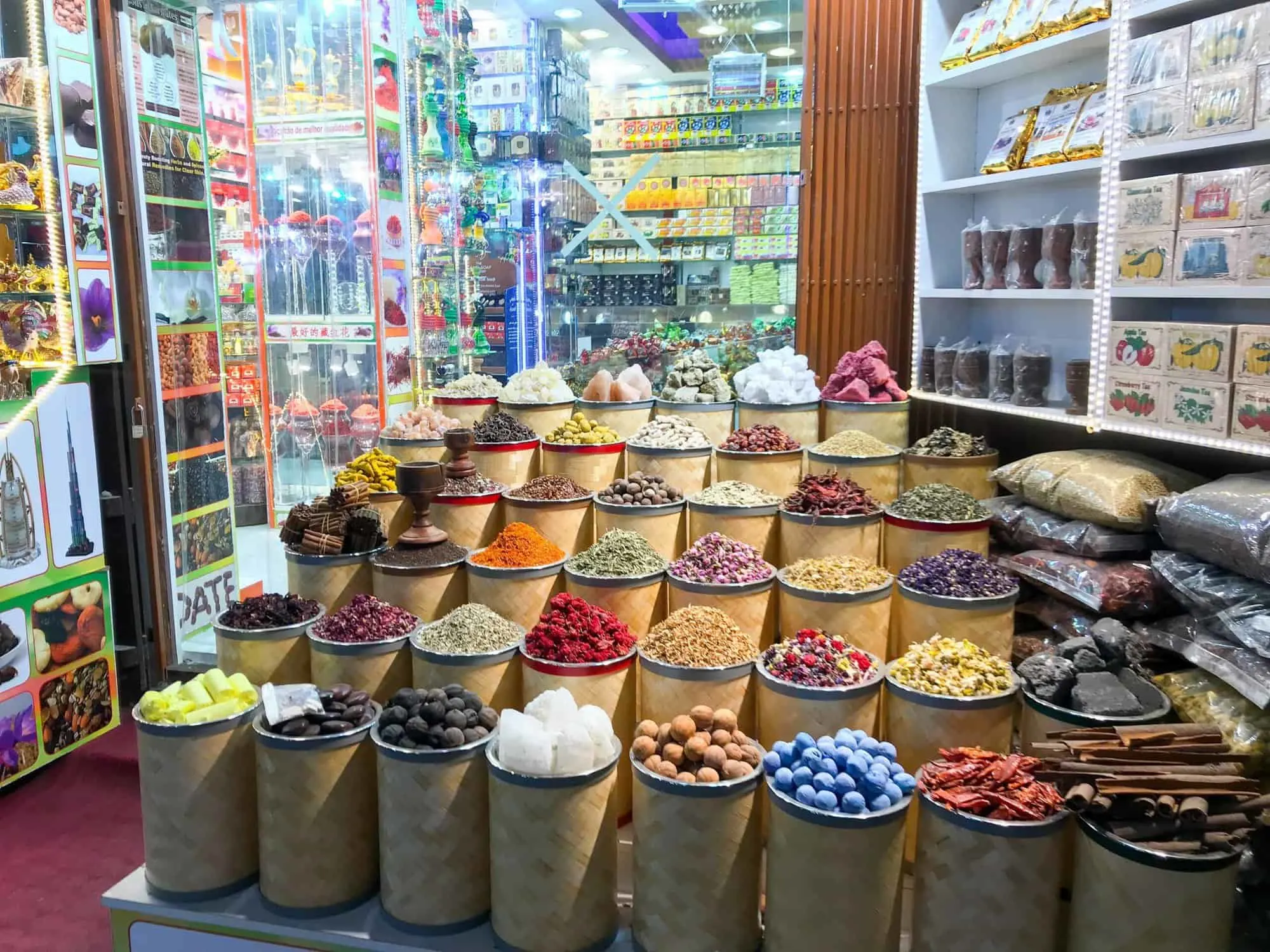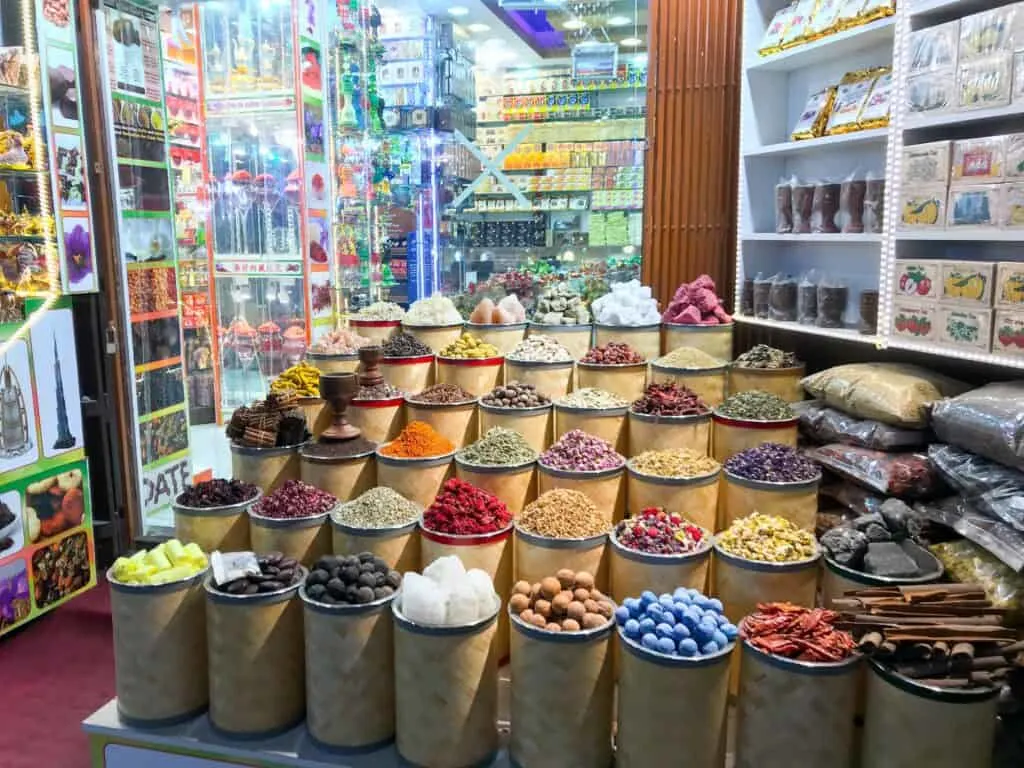 There's always some interesting entertainment at each pavilion-like amazing folk performances and music so you can experience a culture first-hand.
Global Village is perfect for kids and there's even an interactive app and scan codes that you can download. It introduces kids to adorable animated adventurers and you can follow their stories around the globe.
It's open from 4 pm to 12 am so it's a nighttime activity. The carnival lights up the night sky with the twinkling lights from each themed pavilion.
You'll need to plan your visit because unfortunately, Global Village is only open from October to April each year.
BEST ACTIVITIES FOR TEENAGERS IN DUBAI
LOST CHAMBERS AQUARIUM
This magnificent aquarium is beloved by all ages but if your teens are into mythology it'll definitely be a hit!
Lost Chambers was designed to recreate the Lost City of Atlantis, as designers and architects tried to recreate what it might have looked like below the ocean waves. Not only are the aquariums and sea life mesmerising, but the whole surroundings are so enchanting.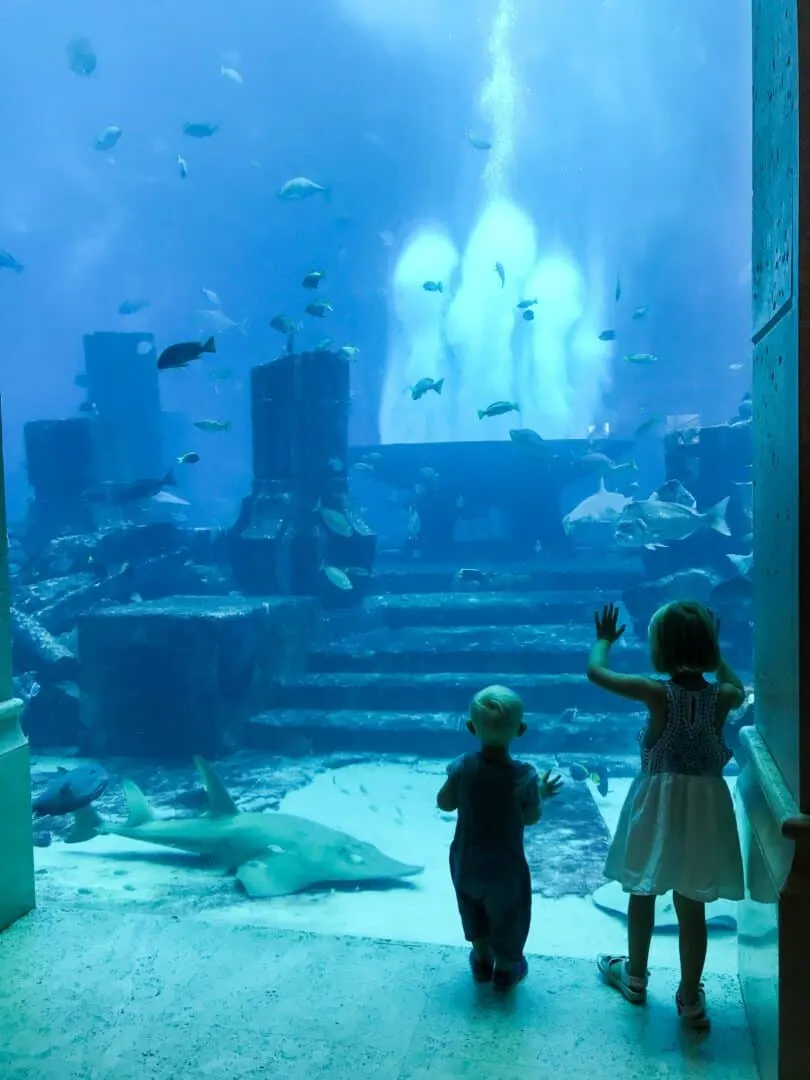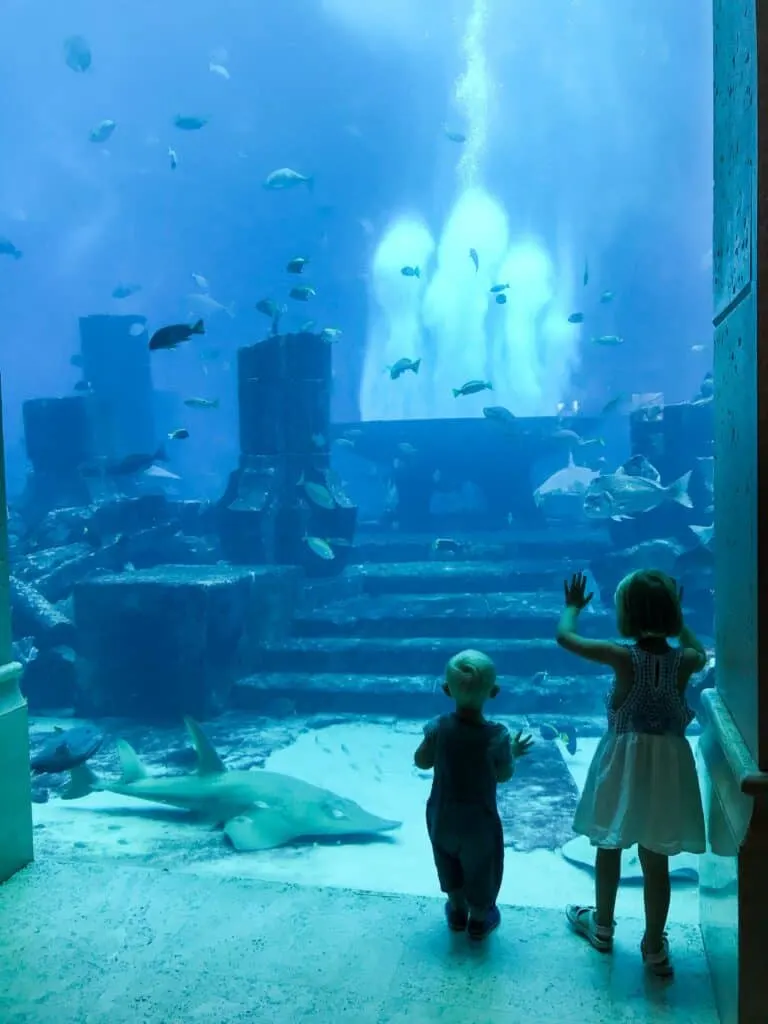 You can walk through glass tunnels and witness sharks, stingrays, lobsters, and even tiny seahorses. It's definitely high on the list of kids activities in Dubai.
There are 20 marine exhibits and kids can even help feed some creatures, with the help of a marine animal expert.
You can book a day experience at Lost Chambers Aquarium here.
BRAIN GAME ESCAPE ROOM DUBAI
Brain Game is a fun escape room where groups of up to four search for clues, solve puzzles and work together to try to unveil mysteries that'll lead to their escape.
There are many different rooms you can choose from. A popular one is Stalker where you must reveal the clues and discover the Stalker. Seven is another popular room where the way to redemption is only one.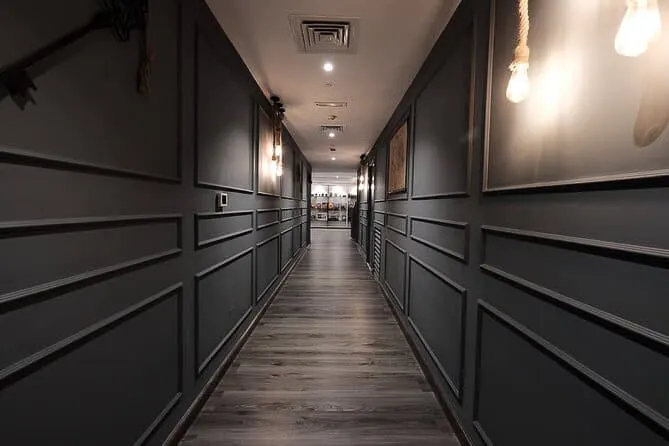 Players only have 60 minutes to try to solve the mystery and escape. It takes all different types of people to solve and players must work together making it a great family activity.
At Brain Game, they also have a bunch of unique board games on the terrace and a few snacks and refreshments so you can continue solving mysteries once you've successfully escaped.
You'll find the Escape Rooms on the rooftop of the Jumeirah Terrace Building. Be sure to bring along your problem-solving skills!
For tickets to Brain Game Escape Room click here.
ROCK REPUBLIC DUBAI
A great way to have fun on holiday and get a workout in! Rock Republic is the biggest bouldering venue in the Middle East and has epic climbing walls for all fitness level types.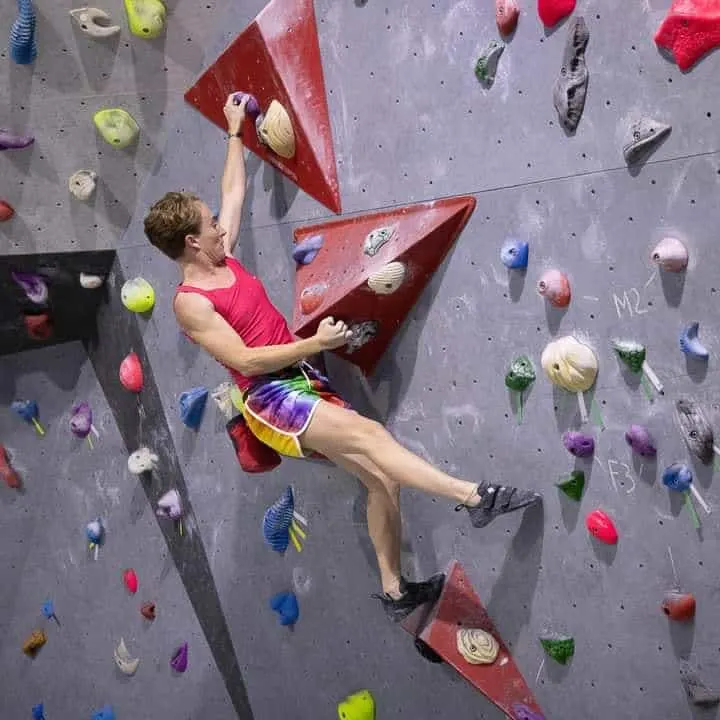 The venue is a walltopia of climbing walls where climbers of all abilities can scale along and try to get higher up each time.
What's great about Rock Republic is that there are a couple of on-site instructors walking around that can teach you or help you with a few techniques.
You can get a session pass or a 10-visit pass depending on how much fun you're having.
THRILL ZONE LASER TAG
Who doesn't love laser tag? Thrill zone Laser Tag is a fun competitive activity perfect for active teens.
You'll find a well-designed and well-equipped entertainment centre where players can take part in hi-tech combat team games.
The arena is massive, about 3,000 feet big so players have loads of space to run around the challenging course and has a fun Jurassic-themed interior that provides physical challenges and obstructions.
Thrill Zone also has short immersive 6D movies. You get all the normal features that immerse you, plus other simulations like wind, fog, and even rain. It's really a fun place that blends creativity and competitiveness perfectly.
With a ticket, you get two back-to-back laser tag games, each 15 minutes long, and can experience the 6D movies.
HYSTERIA HAUNTED HOUSE
This one is for older teens because honestly, it's said to be really quite scary, and there's an age limit.
But, if you've got some brave teens who enjoy a good fright every now and then, check out Hysteria Haunted House.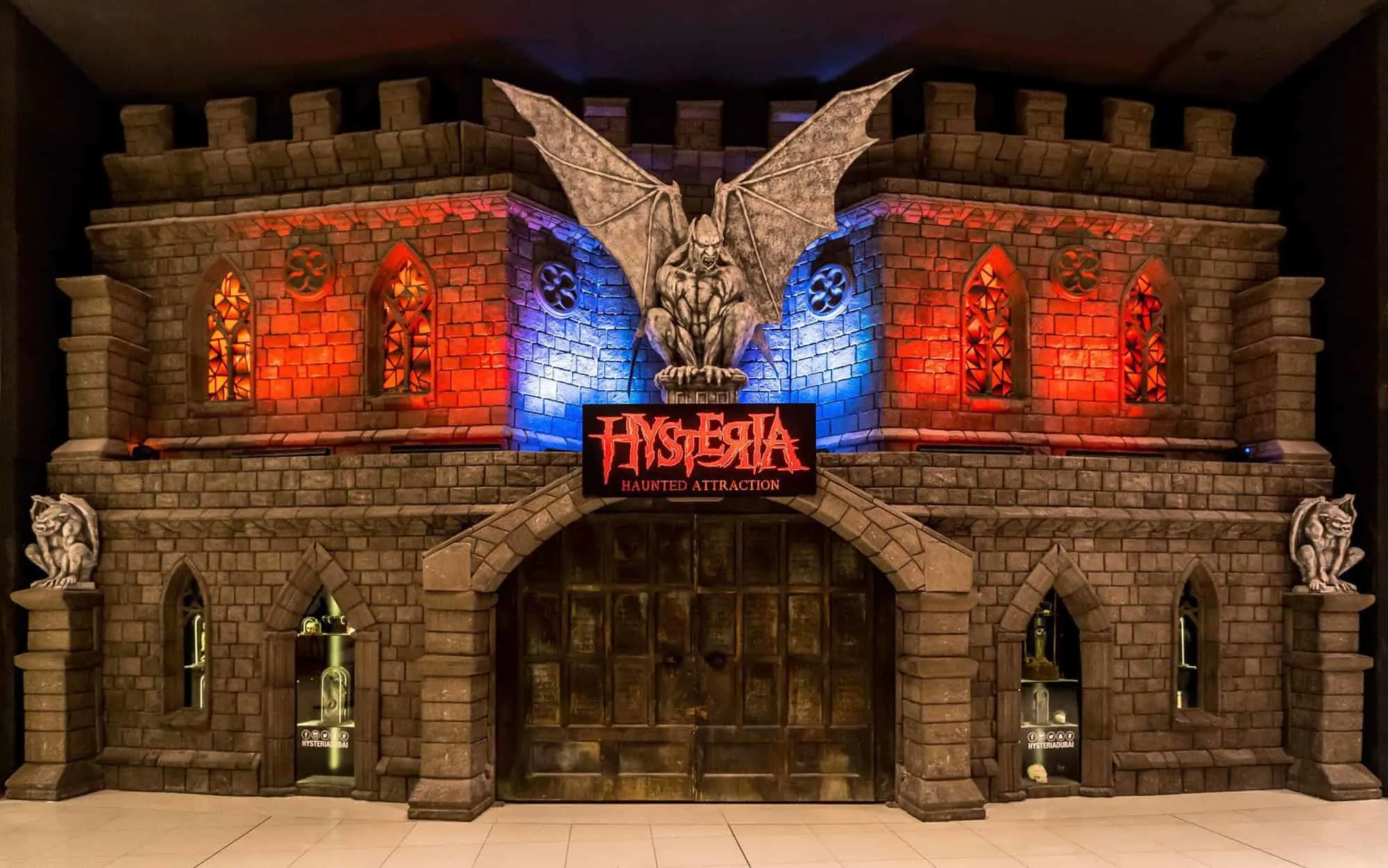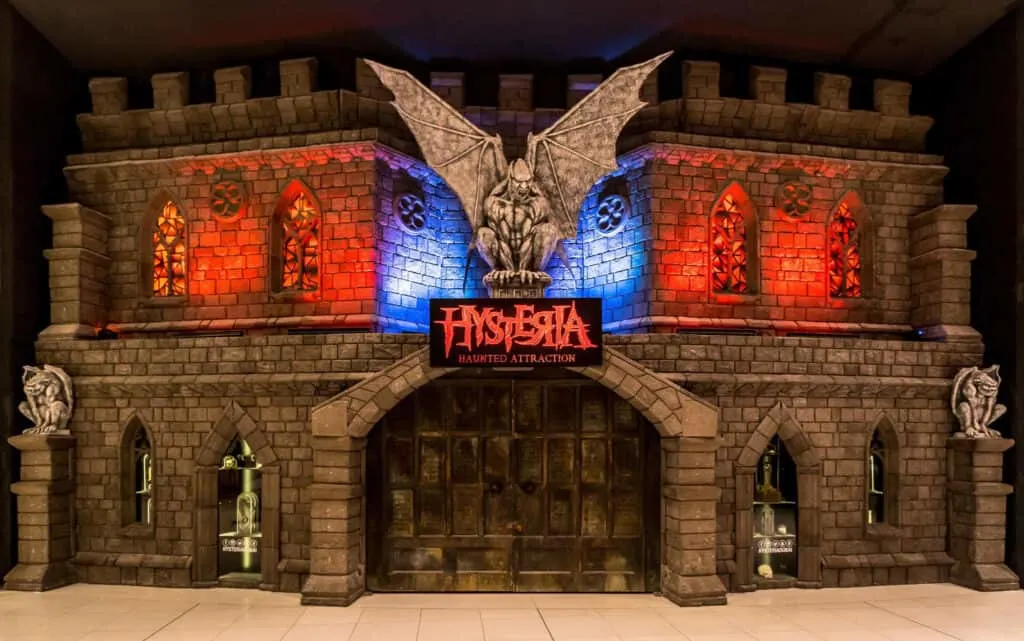 The made-up story around the haunted house begins with two hysterical and heartbroken parents who have lost their children and are out to take revenge on those who have wronged them.
You walk through dark corridors and dimly lit rooms, each with its own scary element. You'll also encounter fear-inducing characters so be prepared to let out a gasp or scream.
The special effects make the scenarios feel much more real so be sure that you can take a little horror.
3D BLACKLIGHT MINI GOLF
3D Blacklight mini golf really takes mini-golf to the next level with lots of multi-dimensional special effects that add to the vividness, colour, and fun.
All the floors, walls, and ceilings of the course are beautifully hand-painted by the world's best 3D artists. With a course of 18 holes, you'll feel transported to different places.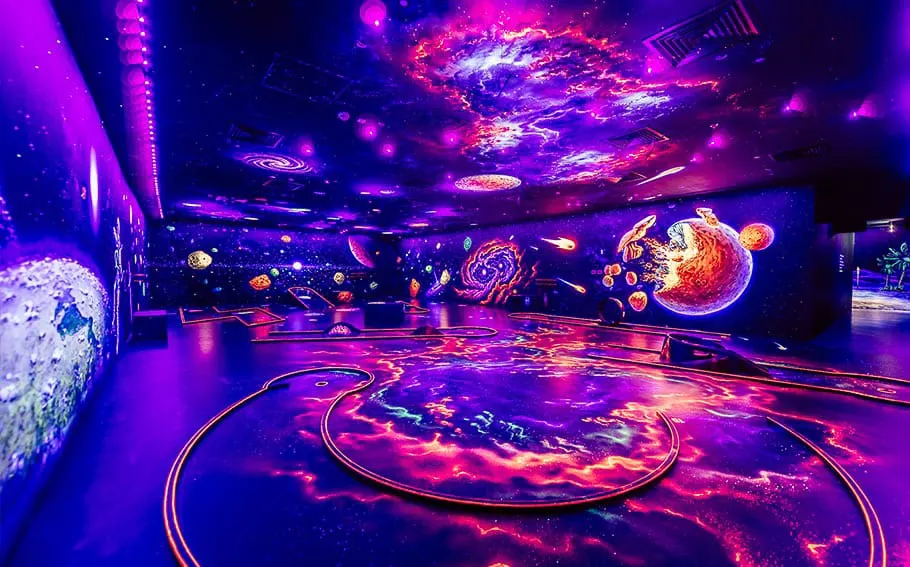 There are different trippy themes like an enchanting underwater world and a mystical solar system. Of course, there's also a desert theme!
The course sells refreshments like soft drinks, energy drinks, water, and non-alcoholic beers.
XLINE DUBAI MARINA
Xline is the world's longest urban zipline. It stands 170 metres high, is 1km long, and you can go up to 80km/h. It's definitely for the thrill-seekers among us.
The line goes across the Marina so you can enjoy a birds-eye vantage of the stellar high-rises and five-star yachts.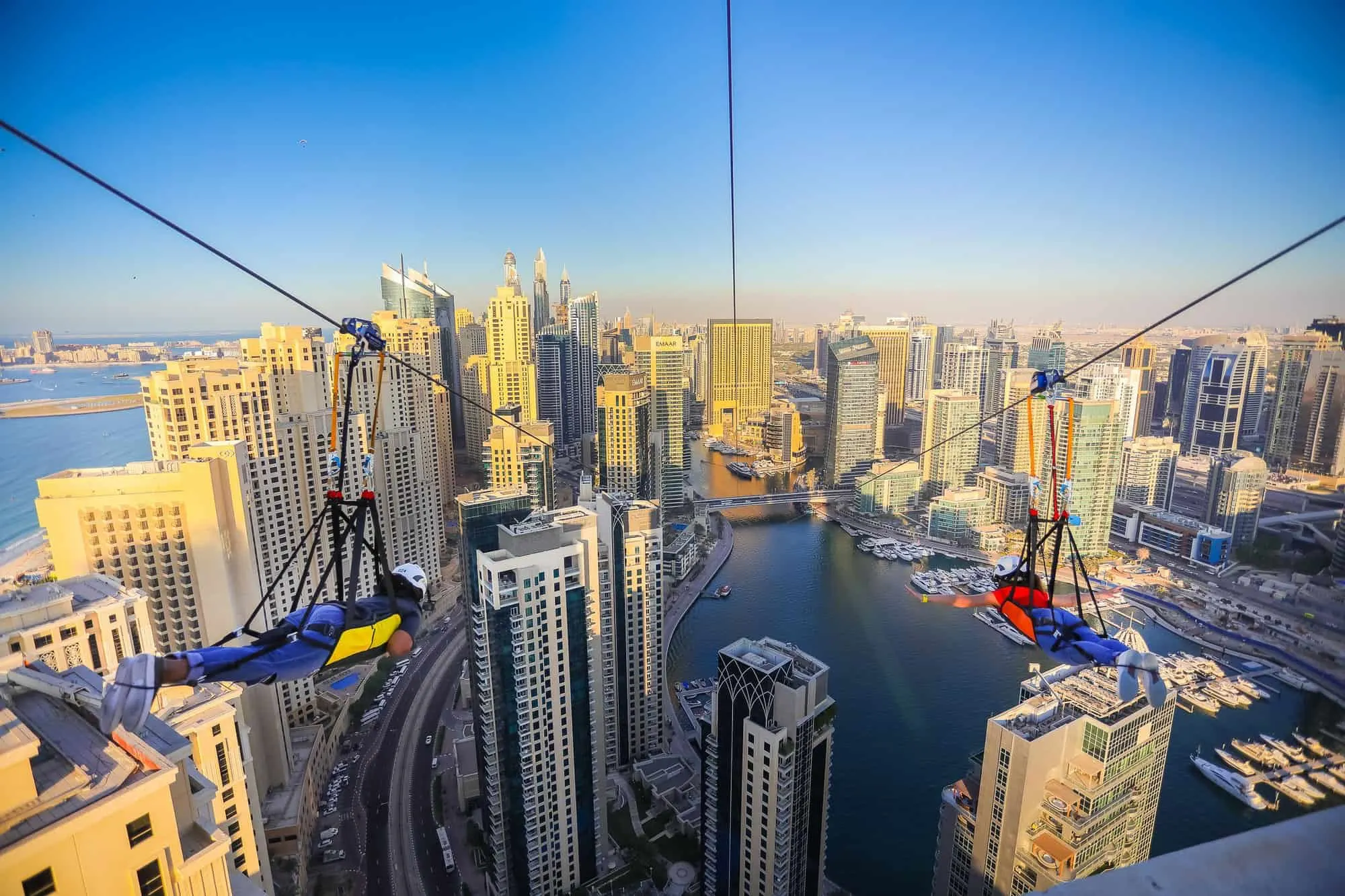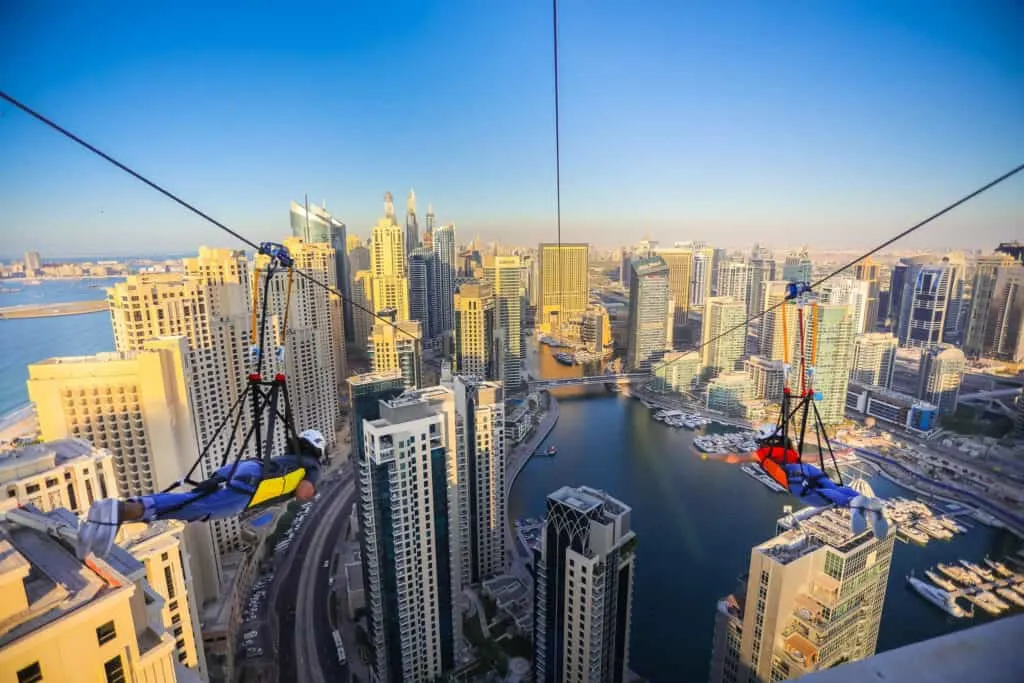 Safety comes first and Xline takes it very seriously. They use a 'superman' harness that allows people to lie flat and gives them the feeling like they're flying.
What's awesome is that there are two concurrently running zip lines so you can share the experience with your family!
You have to be 12 years or older to ride the Xline Dubai, and at least 50kg so be sure to check your teens meet the requirements before.
INFLIGHT INDOOR SKYDIVING
Inflight Indoor Skydiving gives you the experience of what it would be like to jump out of a plane! If you've ever wondered what it'd be like to free-fall in the air, gather your kids and head to one of the largest indoor wind tunnels in the world.
It's perfect for younger kids and teens as they have first-time flyer packages. They've also got return-flyer packages for the more experienced flyer.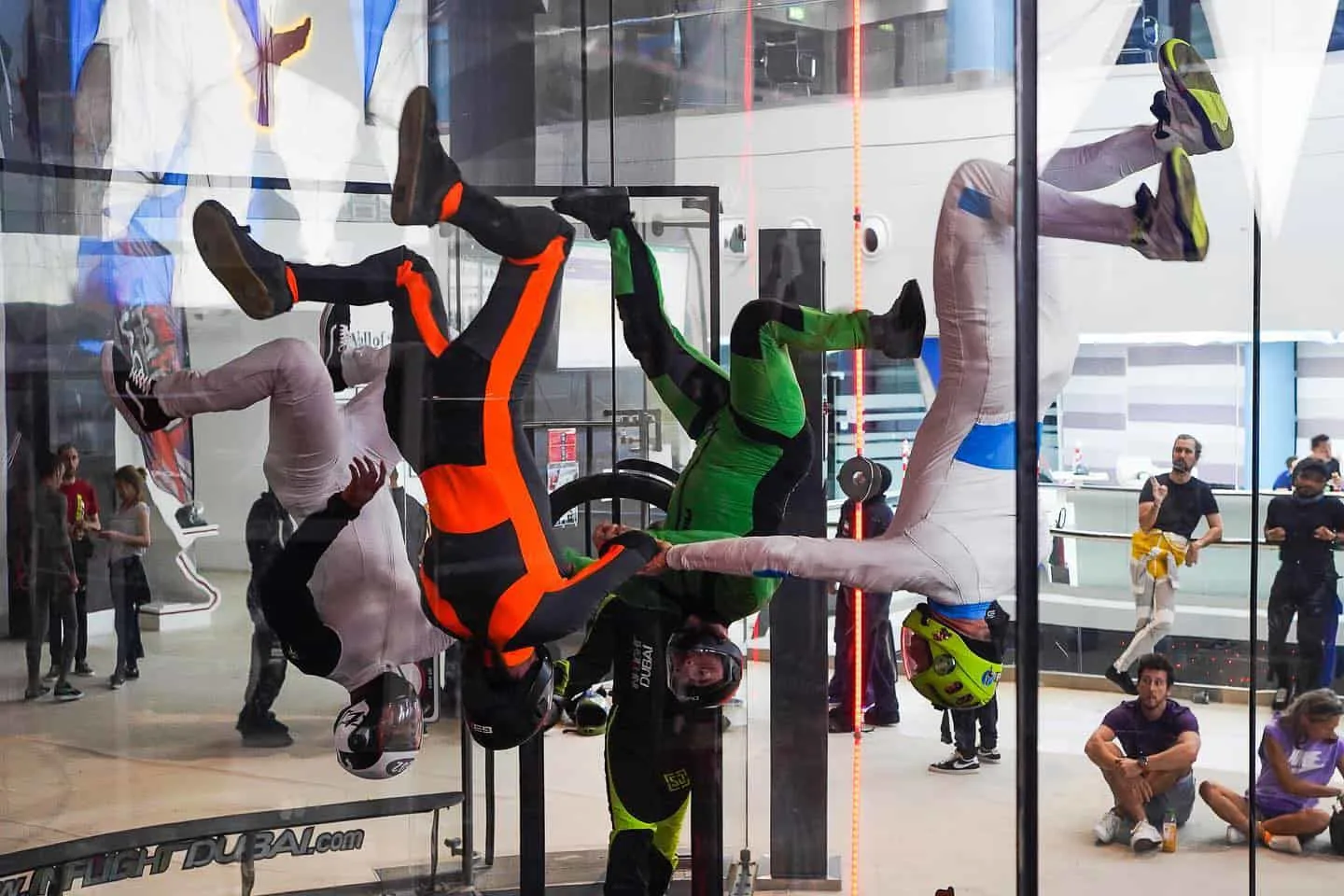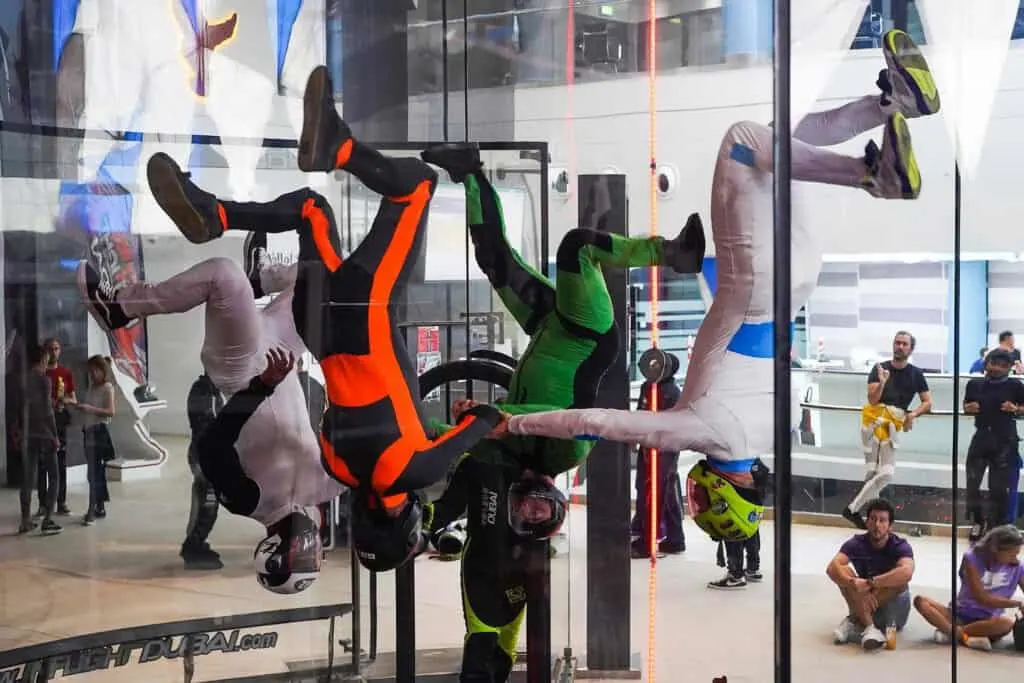 Included in the package are a flight suit, goggles, and a helmet so they are sure you are safe before hitting the wind tunnel. They'll also give a small introductory training lesson.
Day Trips from Dubai
PLACES TO STAY IN DUBAI
BUDGET FRIENDLY
ROVE DUBAI MARINA
Rove Dubai Marina is located in an ideal position to explore the beaches, the mall and many other attractions.
We loved the eclectic, modern and chic design, not to mention the food at breakfast and other meals throughout the day which were simply amazing.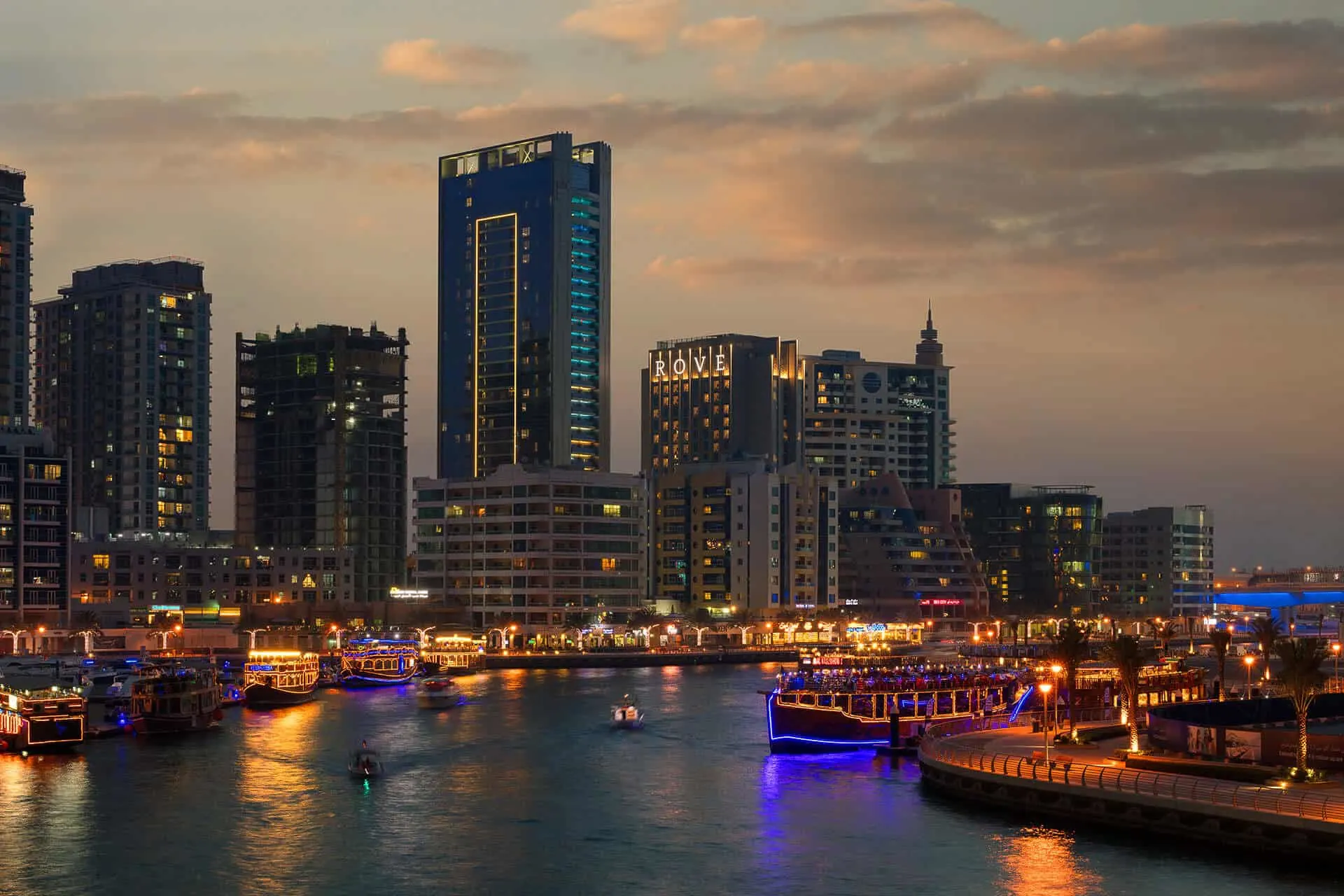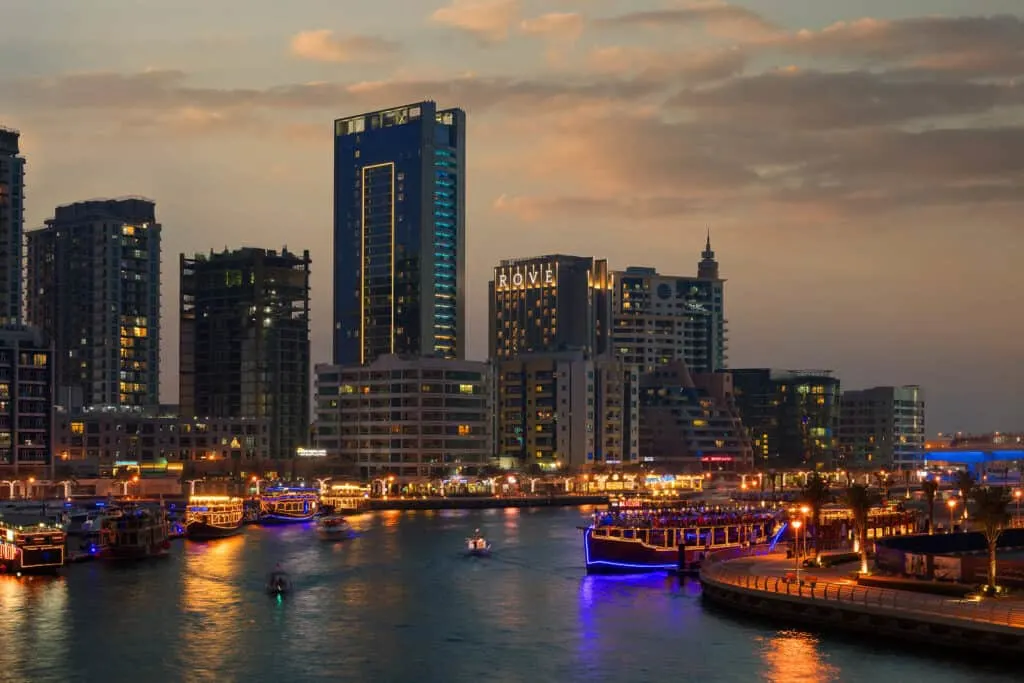 The breakfast was super healthy with lots of raw fruit and vegetable options, not to mention the best birch muesli mix ever!
Although there wasn't a specific kids area in Rove Dubai Marina, they did have toys in the restaurant for all the children to play with during their visit.
Likewise, they had a nice kids menu and were very adaptable to changing things to our vegetarian needs.
In comparison to many other places in Dubai, we found Rove Dubai Marina to be the most eco-friendly.
They serve water from glass bottles in the restaurant, they don't use plastic straws and every room had soap, shampoo and conditioner dispensers.
Every travel mums dream is to have access to a laundry and Rove Dubai Marina had their own self-service facility.
To make it more interesting they have games such as table tennis in the laundry room to make an otherwise boring task more fun.
I totally didn't mind nipping out during bath time to do the laundry!
As for the bedrooms, there are only two types in The Rove Dubai Marina. They are all the same size with configurations of two singles and a pull out sofa, or a super king with a pull-out sofa.
The space was quite small but we managed and as I mention it is a great base to satellite from when seeing Dubai attractions.
To book your stay at The Rove Dubai Marina click here.
LEVA HOTEL MAZAYA CENTRE
The hotel offers modern and stylish accommodation with all the amenities for travellers to enjoy their stay in Dubai.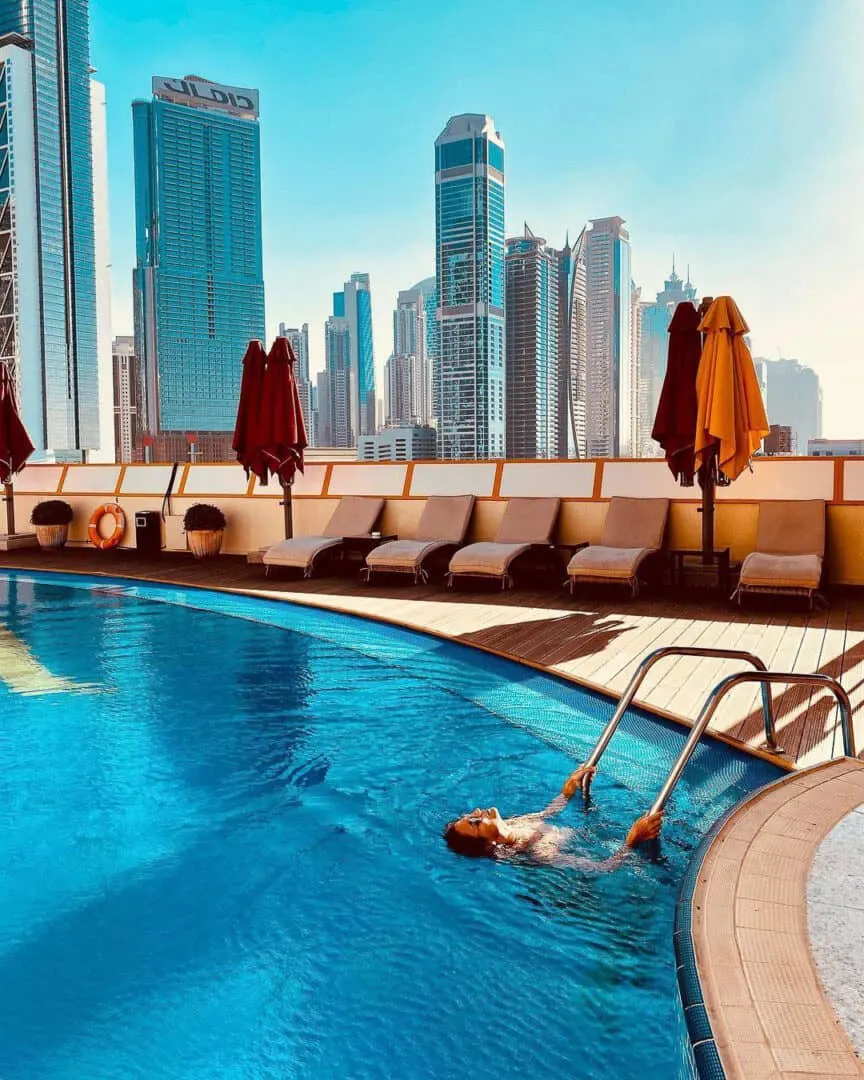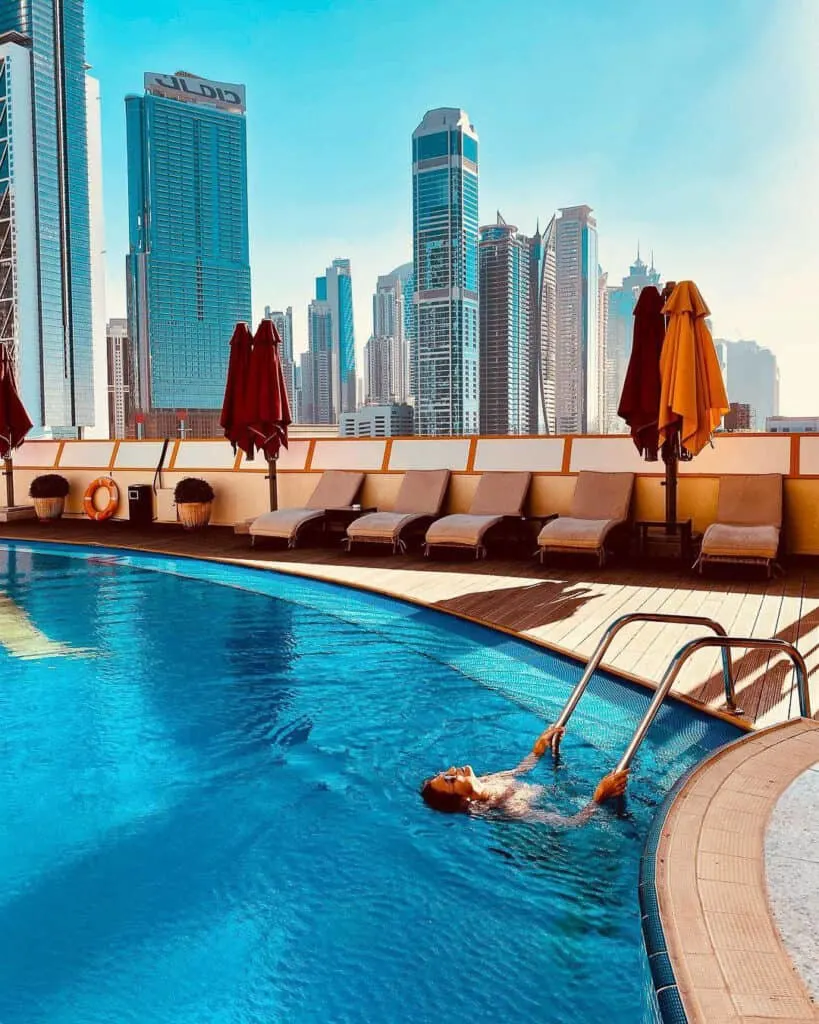 The hotel is adjacent to the Jumeirah Beach Residence and within walking distance of many major attractions in Dubai like JBR, Burj Khalifa, Burj Al Arab Hotel, Le Royal Meridien Hotel, Shangri La Hotel, and many other landmarks
Its location makes it a great choice for the family to hit up many tourist sites while not having to travel too far to go back to their home away from home.
The rooms are spacious and come with all the modern facilities you'd expect, including free Wi-Fi, flat-screen TVs with satellite channels, luxury bathrooms and bathrobes, a mini bar, a safe deposit box, and room service.
To book at The Leva Hotel Mazaya Centre click here.
GRAND COSMOPOLITAN HOTEL
The Grand Cosmopolitan Hotel has all you could need. There are three restaurants, outdoor swimming pools, family rooms, and a children's playground.
The hotel is located in the Al Barsha area, so it's easily accessible and within walking distance from the Mall of Emirates.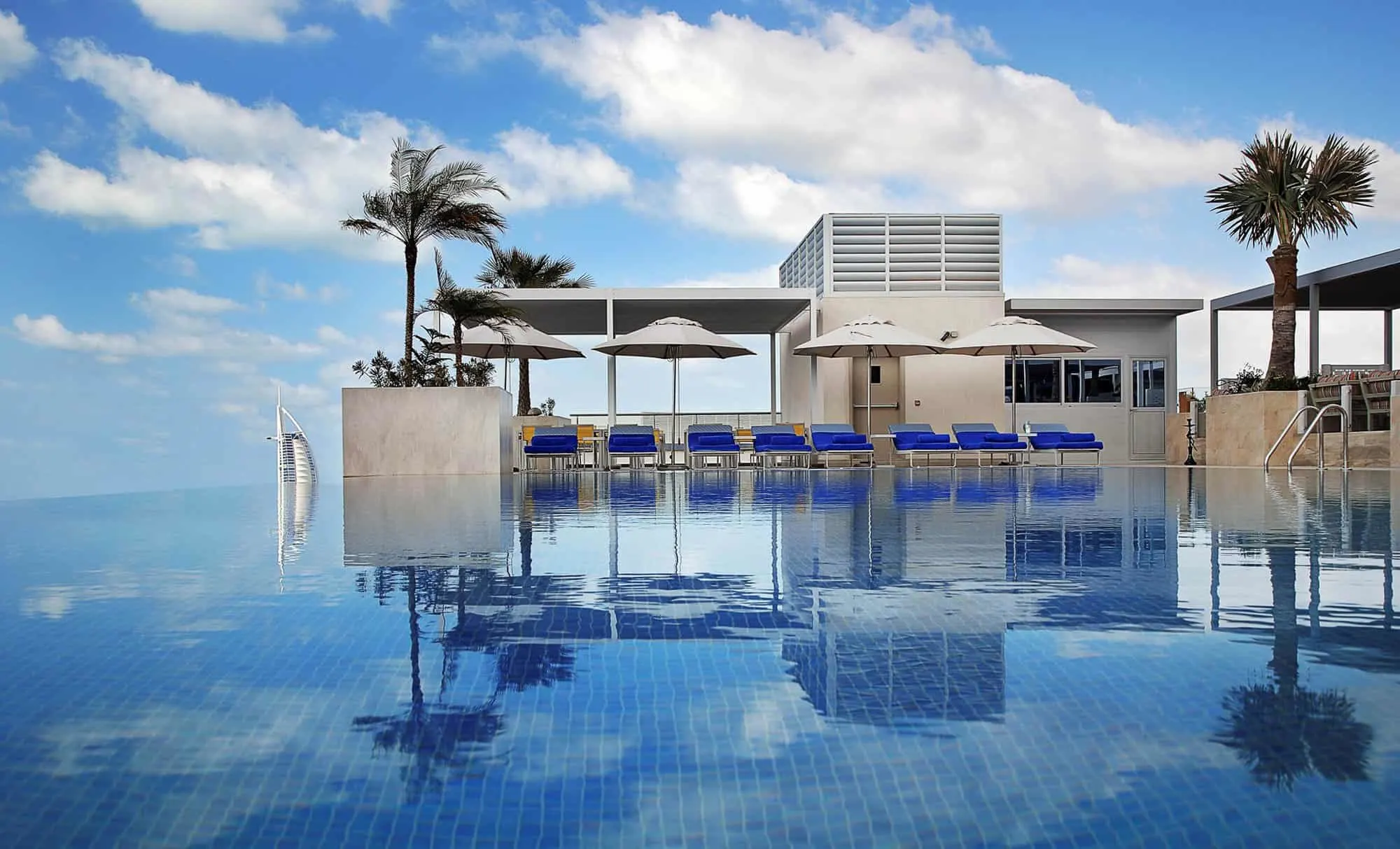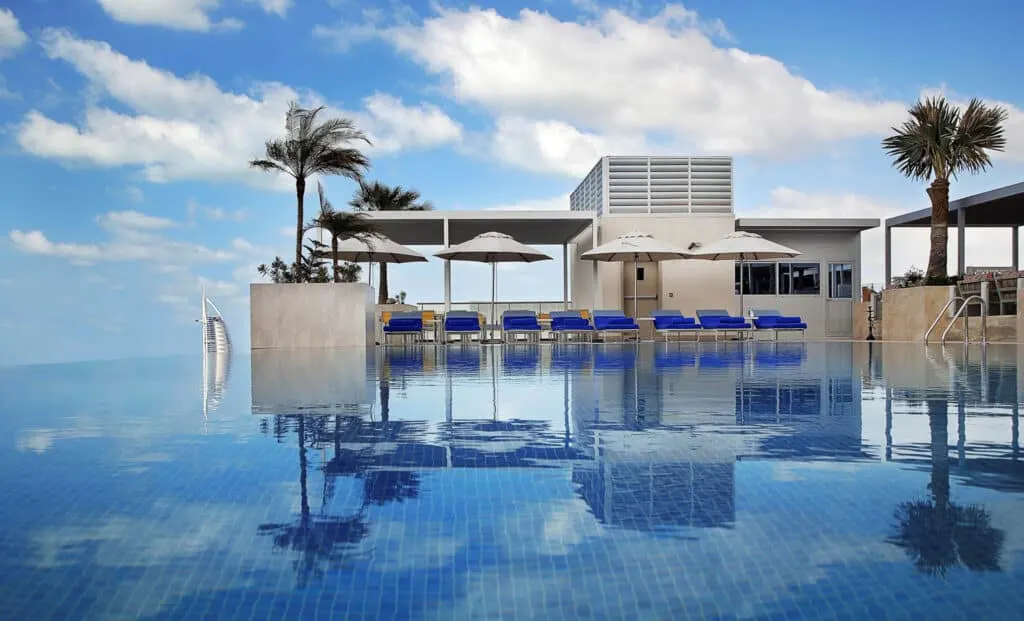 In the hotel, there's an Americano Cafe & Lounge, a buffet at Gardenia Brasserie, and Pacifico Terrace with a rooftop infinity pool and views of the skyscrapers.
Kids have lots of different activities to keep them entertained. There are a variety of activities from the children's pool to the outdoor play area and computer gaming room.
To book the Grand Cosmopolitan click here.
FORM HOTEL DUBAI- A MEMBER OF DESIGN HOTELS
FORM Hotel Dubai is a stylish and contemporary hotel, centrally located in Dubai Marina. It offers a unique experience with its architecture and decoration by renowned designers.
The property is close to the Burj Khalifa, Emirates Towers, and Jumeirah Beach Park. Its modern facilities include a fitness centre, steam room, sauna, outdoor swimming pool, and spas.
FORM Hotel offers guests a number of different dining options. There's Long Hill Brassiere on the ground floor and Salus that has a gorgeous rooftop pool.
The hotel offers loads of different Dubai experiences through their trusted tour guides. Some tours included Photography Tour with Dhow, Museum Tours, Emirati Neighbourhood tour, and even a Skydiving experience.
This is a great choice if you're looking to stay on budget and have something that suits the kids and mom and dad.
To book at The Form Hotel Dubai click here.
MID-RANGE PRICE (ALTHOUGH STILL LUXURY)
LAPITA RESORT
As I mentioned previously, Lapita Hotel is based in the Dubai Parks and Resorts vicinity. In theory, it is halfway between Abu Dhabi and Dubai, so either airport could be an option.
Just a short stroll from the entrance to all of the parks, it's the ideal base to explore at leisure and work around your kids usual eating and sleeping routine.
Lapita Hotel has a Polynesian inspired design and although I consider it to be a mid-range price hotel, it is still luxury in my opinion.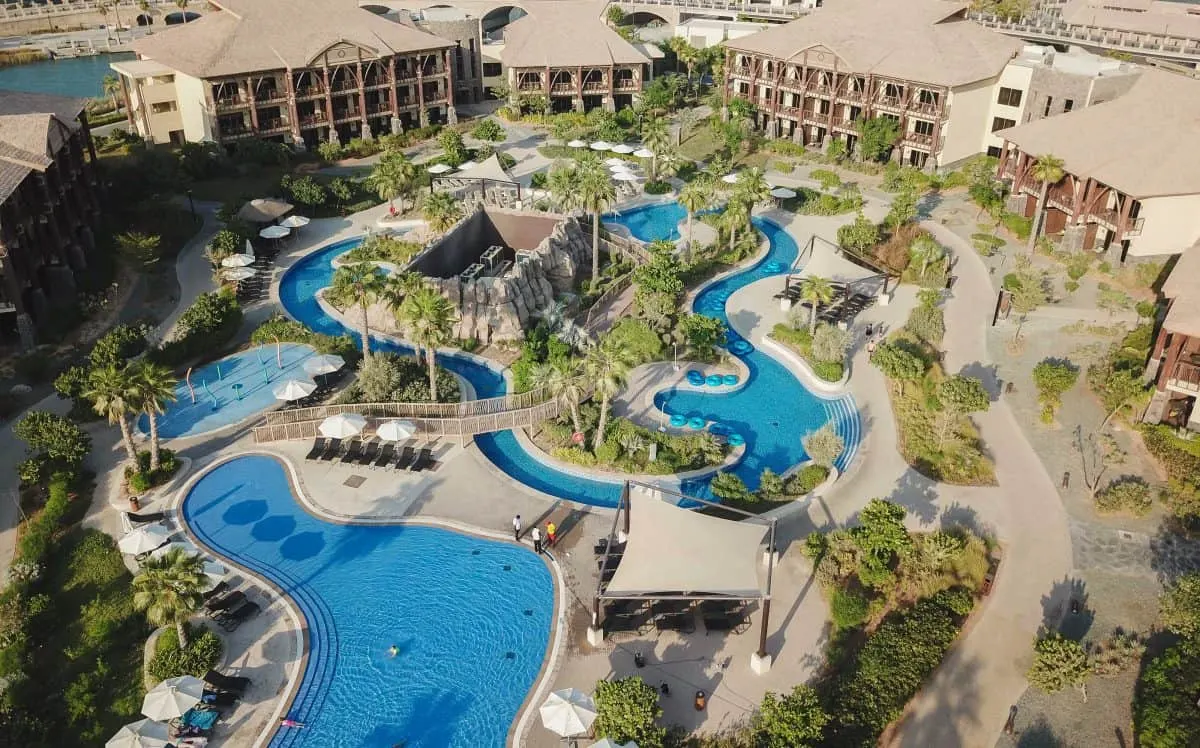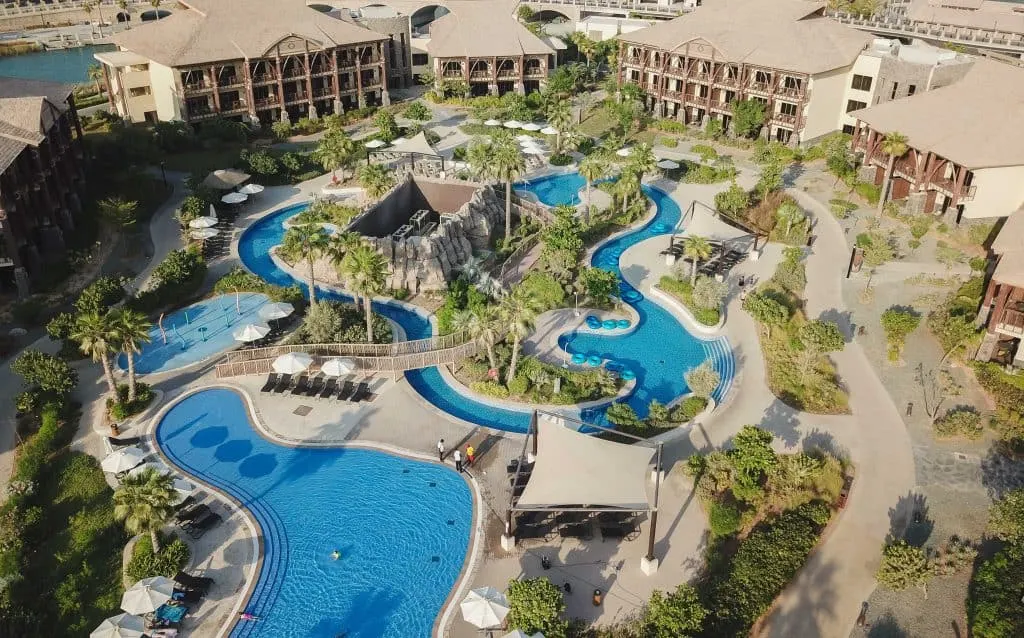 We really enjoyed our stay at Lapita Hotel from the incredible restaurants, stunning room interior and abundance of activities, the hotel deserves a full day to be explored in itself!
The kids club is one of the biggest I've seen inside a hotel and the staff are very proactive in playing games with the kids.
Our kids also loved the swimming pool, especially the lazy river with inflatables to float around.
To book a stay at The Lapita Hotel click here.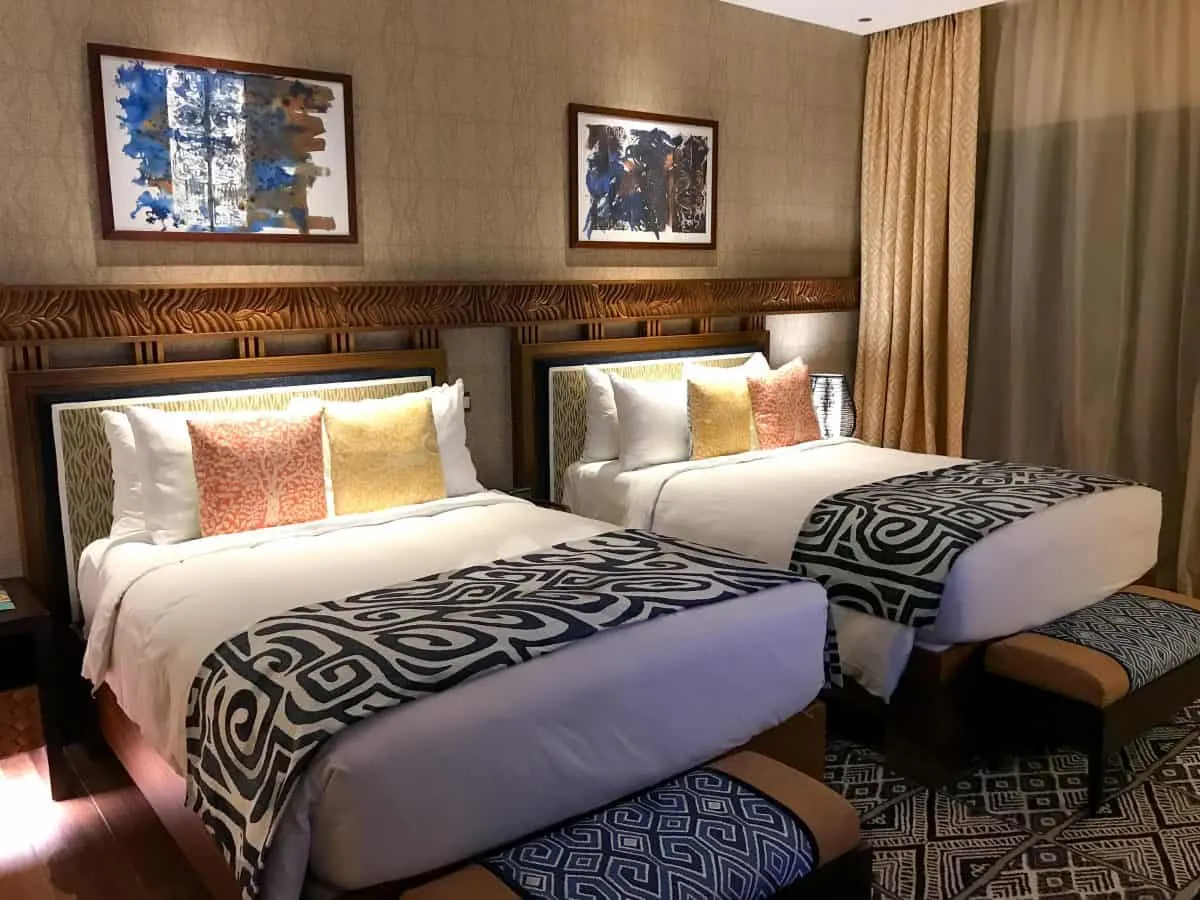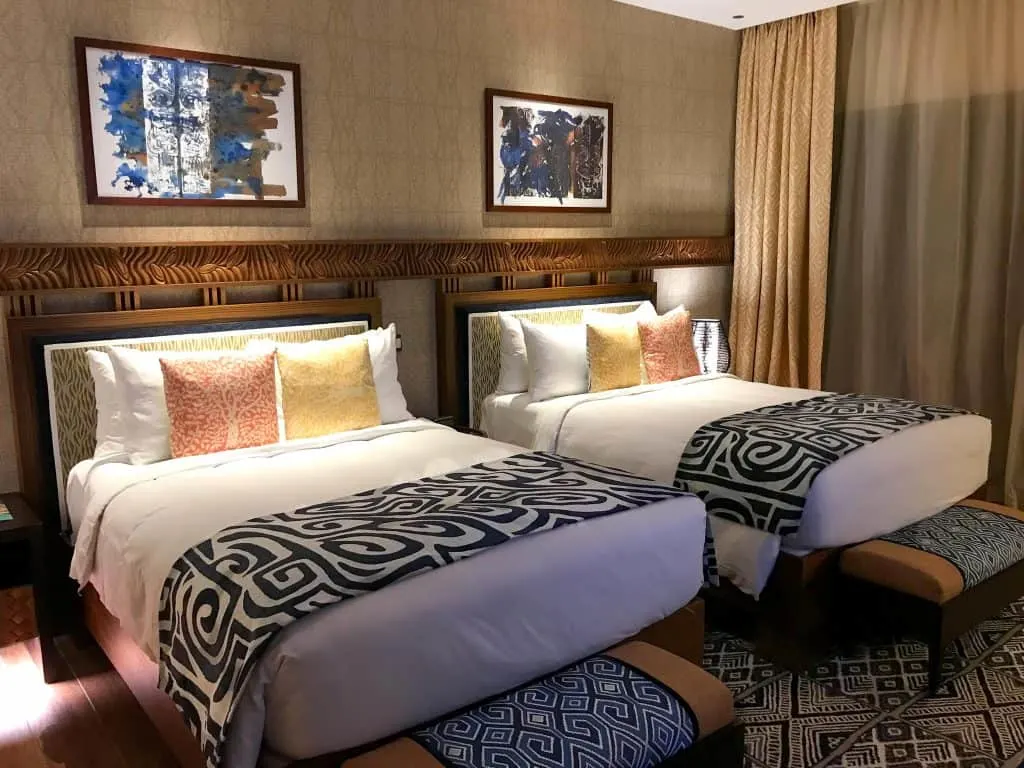 CENTARA MIRAGE BEACH RESORT
Centara Mirage Beach Resort is located in the heart of the Palm Jumeirah development which is surrounded by luxury shopping malls and entertainment venues.
It's a wonderful resort that features a wide range of amenities and all kinds of recreational activities such as water sports, tennis courts, golf courses, and much more.
There's an exciting adventure park right on your doorstep with lazy rivers, a kids' play area, waterslides, and even cliff jumping!
The Mirage Family Lounge & kids' club aims to entertain children while parents can have a relaxing time enjoying an afternoon tea or cocktail.
It's one of the more popular hotels in Dubai for parents because it offers everything you need for a great vacation!
To book a stay at The Centara Mirage Beach Resort click here.
QUEEN ELIZABETH 2 HOTEL
Queen Elizabeth 2 Hotel is truly a once-in-a-lifetime experience!
Docked permanently, Queen Elizabeth 2 Hotel sits in the Mina Rashid marina and offers guests culinary and adventurous experiences. The hotel's design reflects its heritage, with a nod to the 'British Style' of architecture that was popular during the 1930s.
It's located in the heart of Dubai with views of the Arabian Gulf and a man-made beach as well as being just a short drive from the city centre and shopping malls, as well as from world-class entertainment venues
The hotel features a restaurant, lounge bar, and swimming pool. There's also an afternoon tea at Queens Grill restaurant and a historical British pub, The Golden Lion aboard.
To book The Queen Elizabeth 2 Hotel click here.
THE CANVAS DUBAI – MGALLERY HOTEL COLLECTION
The Canvas Hotel Dubai is a 5-minute drive from Dubai Marina and Burj Khalifa. It's also close to the Dubai Mall and Mall of the Emirates.
There's an amazing swimming pool and beautiful gardens, perfect for relaxing with family after a busy day out in Dubai city centre.
The hotel has a modern design, with a light and airy feel, and each room is decorated to reflect its own individual character. Each has a different colour palette, with either white or black walls.
A complimentary breakfast buffet is available every morning at The Canvas Hotel Dubai MGallery Hotel Collection restaurant, which offers an extensive menu that includes everything from continental breakfasts to Middle Eastern dishes.
To book The Canvas Dubai Hotel click here.
LUXURY
ATLANTIS THE PALMS
We stayed at Atlantis the Palms for one night at the end of our Dubai trip.
The architecture, sheer grandness and facilities is just another level! I mean they have the most elaborate aquarium, the Lost Chambers right inside the hotel?!!
It's crazy to think you can roll out of your bedroom and go to an aquarium with stunning massive stingray gliding past, or go on a world-renowned slide that zips THROUGH the aquarium within seconds.
The waterpark has some of the most well-known waterslides in the world, my husband had the best time exploring them and of course, the kids loved the splash area and other swimming pool facilities.
To book a stay at Atlantis the Palms click here.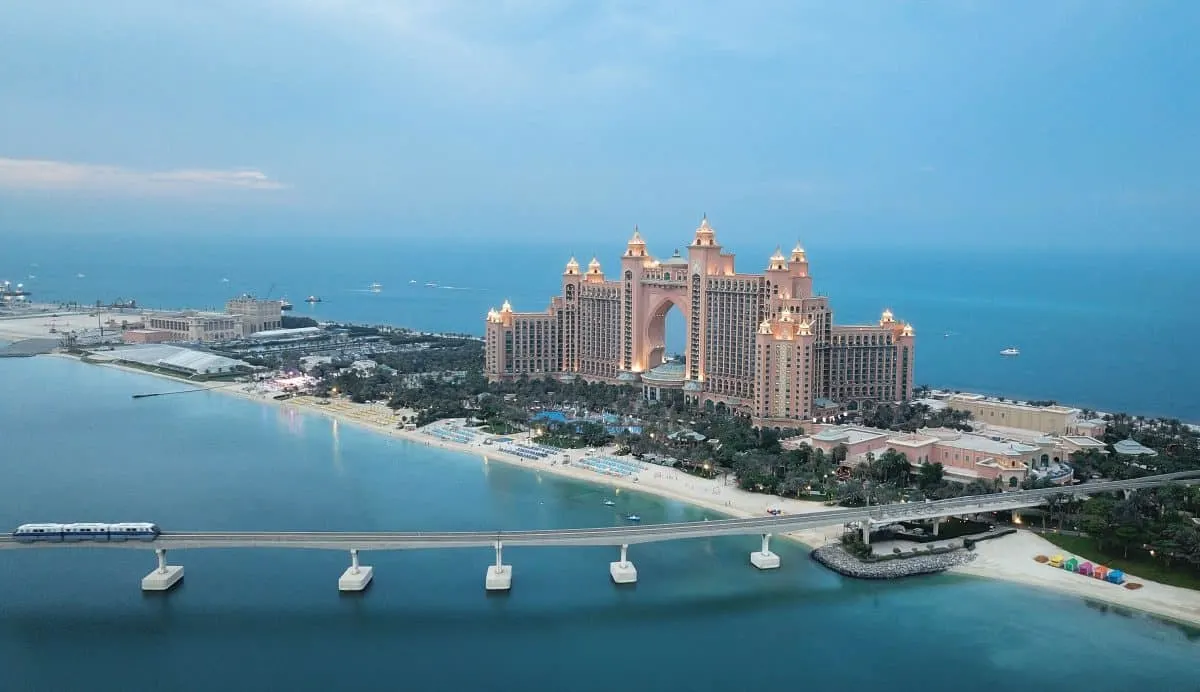 ATLANTIS THE PALMS
Unusually, our room had giant emoji cushions on the bed, and a massive poking finger on the wall, just like Facebook. The outlook over the Palm is incredible from the balcony and the sunset view its breathtaking.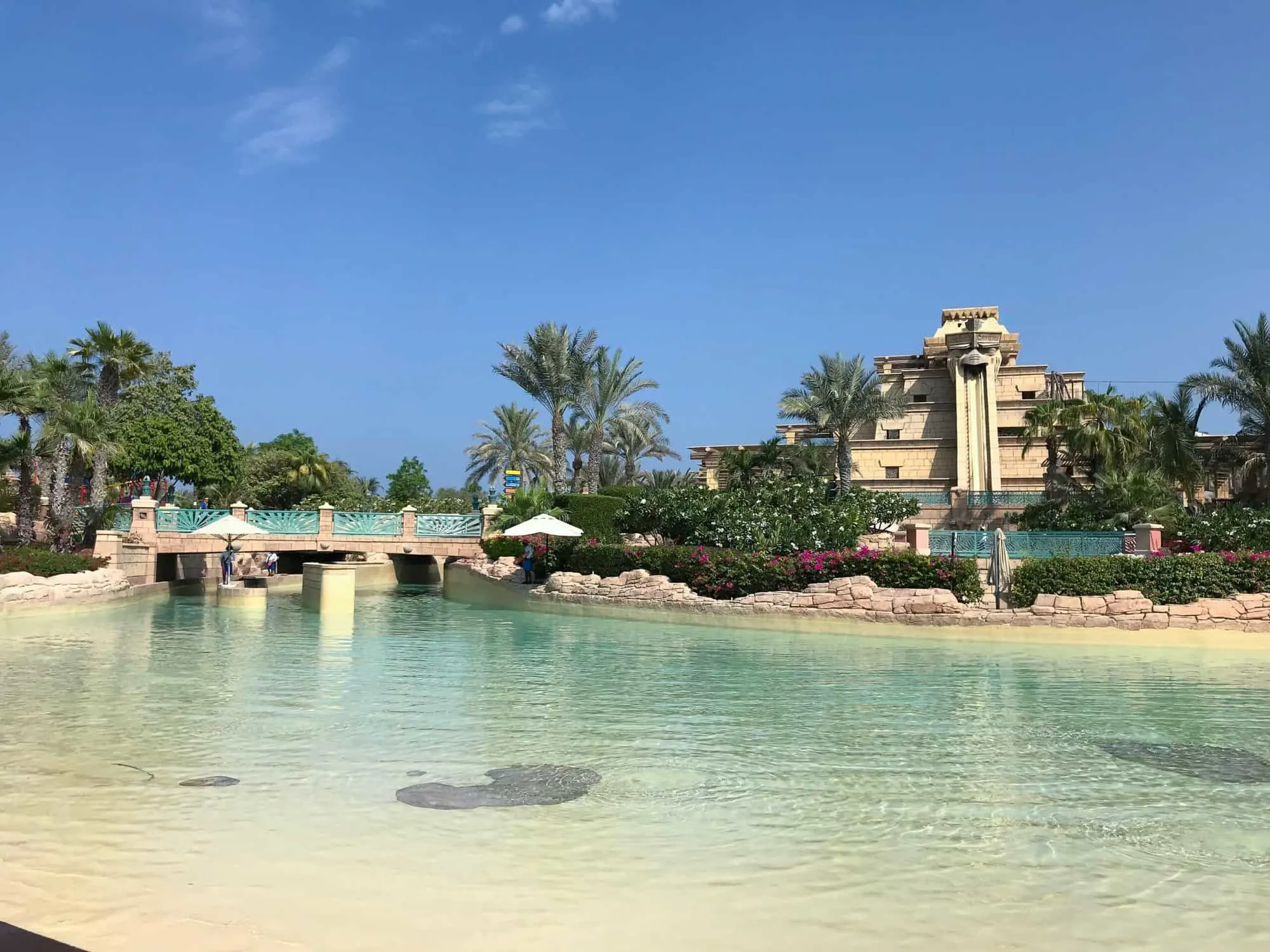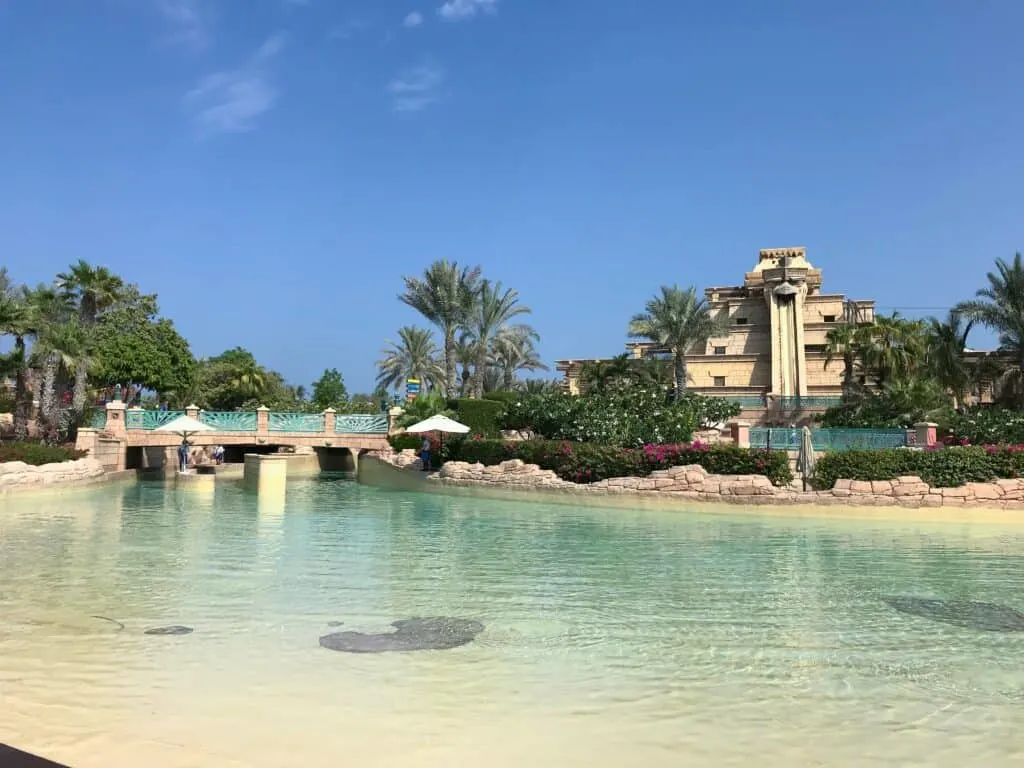 The bathroom has some amazing mod cons with the mirror turning into a touch screen computer and played tunes on YouTube.
We had stunning panoramic views over the infamous palm, and the beaches around Atlantis the Palm are really amazing.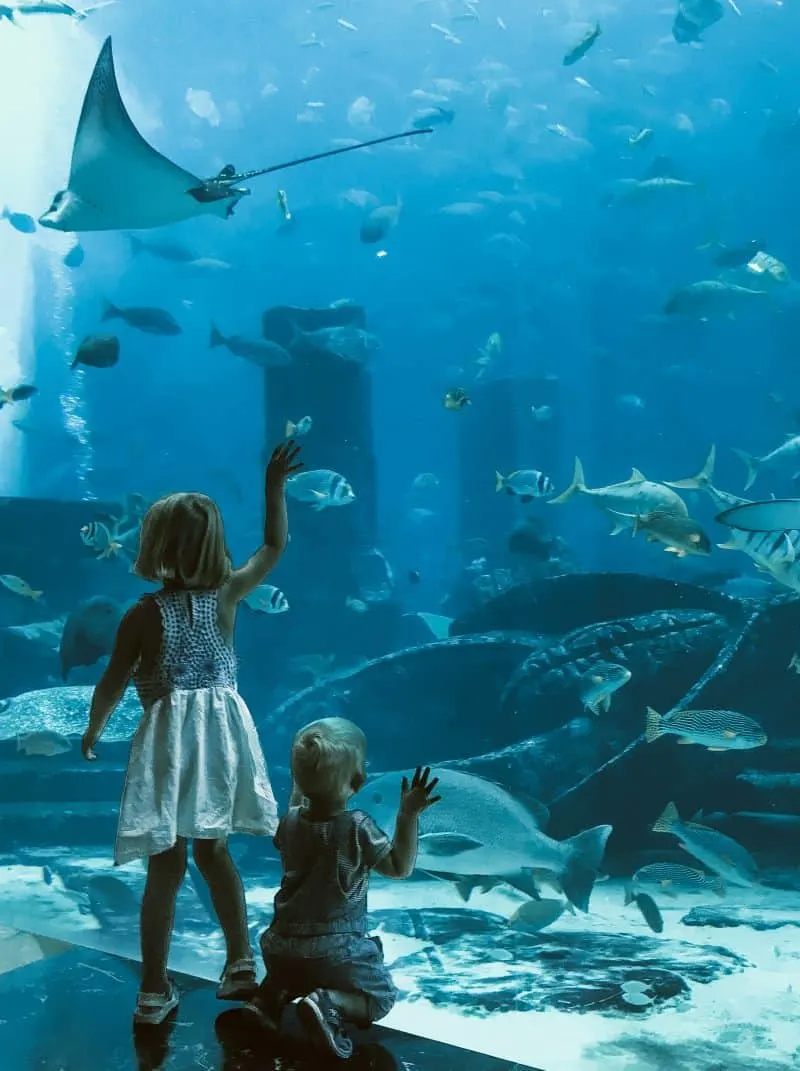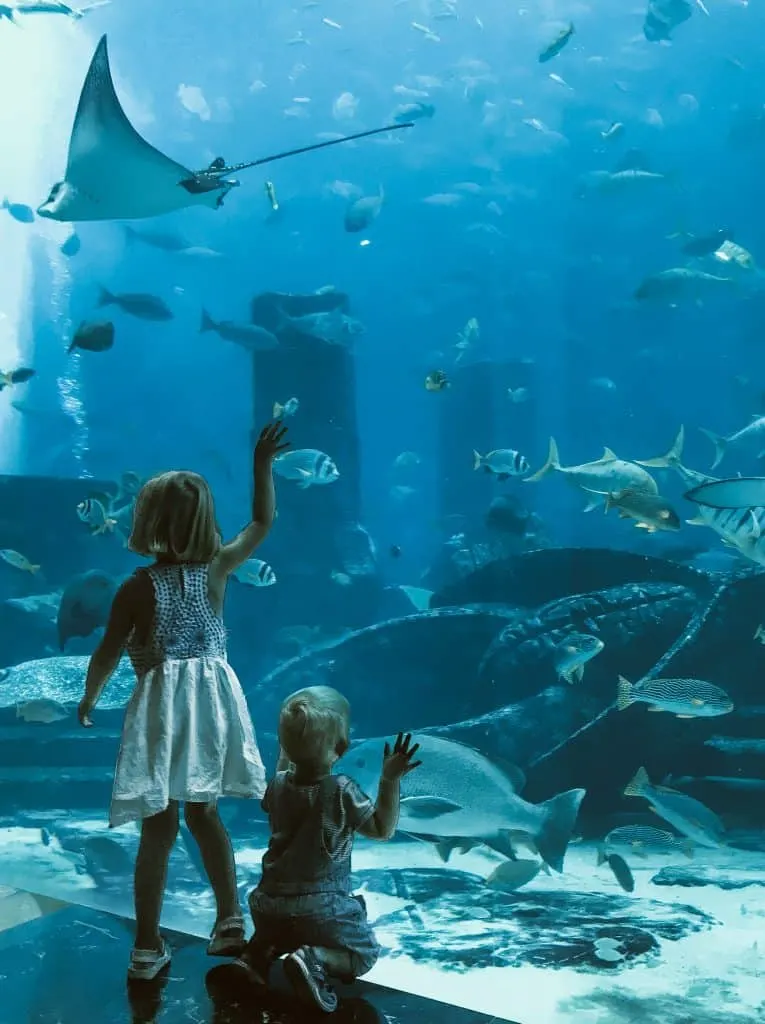 There are so many things for all members of the family at Atlantis the Palm, too many to fit in this blog, it deserves a whole other article.
Some of the other highlights for us was the kids club and eating dinner at the Lebanese restaurant Ayamna.
THE WESTIN DUBAI MINA SEYAHI BEACH RESORT AND MARINA
The perfect place for water babies! The Westin is a mecca of fun watersports and sandy beaches. Located on Dubai's pristine Jumeirah Beach, the huge resort oozes luxury with unique restaurants, bars, and the epic Jungle Bay waterpark.
All the rooms come with luxury amenities, WIFI, and a Nespresso machine, perfect for parents of early risers. Most of the rooms have sprawling views over the Arabian Gulf and Palm Jumeirah.
For the kids, the Jungle Bay Waterpark is the main attraction of the hotel. It's located virtually on your hotel doorstep and promises a super fun day!
To book a stay at The Westin Dubai Mina Seyahi Beach Resort click here.
TAJ EXOTIC RESORT & SPA THE PALM
If you're looking for something private and exclusive at any cost, Taj Exotic Resort & Spa The Palm is the way to go.
The property, with its own private beach, is located in the heart of Dubai, close to the Burj Khalifa, Jumeirah Beach Residence, The Palm Dubai, Jumeirah Zabeel Saray Hotel, and Burj Al Arab.
It's got a unique design with an open-air lobby that connects to the main building through a glass bridge.
The hotel offers spectacular panoramic views of Dubai Bay and the Arabian Gulf in all the rooms which is quite amazing in itself.
They all come with a balcony or terrace overlooking the sea or cityscape, so you can enjoy your morning cup of coffee looking out at the view.
The resort itself features swimming pools, Jacuzzis, a gymnasium, a kid's club, and a spa area. There are also a number of restaurants offering International, British, Indian & Middle Eastern cuisine. If you really wanted to, you could just stay on the property!
To book a The Taj Exotic Resort and Spa click here.
MARRIOTT RESORT PALM JUMEIRAH
The Marriott Resort Palm Jumeirah Dubai is located in the heart of Dubai. It is a high-rise hotel with a modern design and a great location.
The hotel also has a beautiful outdoor pool area where you can relax and enjoy the sun while enjoying views of the city.
The resort's beachfront location allows you to enjoy picturesque views while relaxing on your private balcony or sunbathing on the white sandy beach.
The lobby area offers a 24-hour reception and check-in desk, luggage storage, currency exchange facilities, and Wi-Fi access.
The hotel has several restaurants serving breakfast, lunch, and dinner as well as an à la carte restaurant offering international cuisine.
To book a stay at the Marriott Resort Palm Jumeirah click here.
THE BEST PLACES TO EAT IN DUBAI WITH KIDS
RAINFOREST CAFE
We visited the Dubai Mall on our way to the Burj Khalifa. Our kids immediately spotted the Rainforest Cafe with the giant frog standing outside welcoming guests.
It is a very good interpretation of a rain forest with many pretend animals making noises and moving around amongst the bushes inside the restaurant.
It's ideally located next to the Dubai Aquarium and has exclusive views of one of the main tanks. The food was good and it was an amazing sensory experience for the little ones.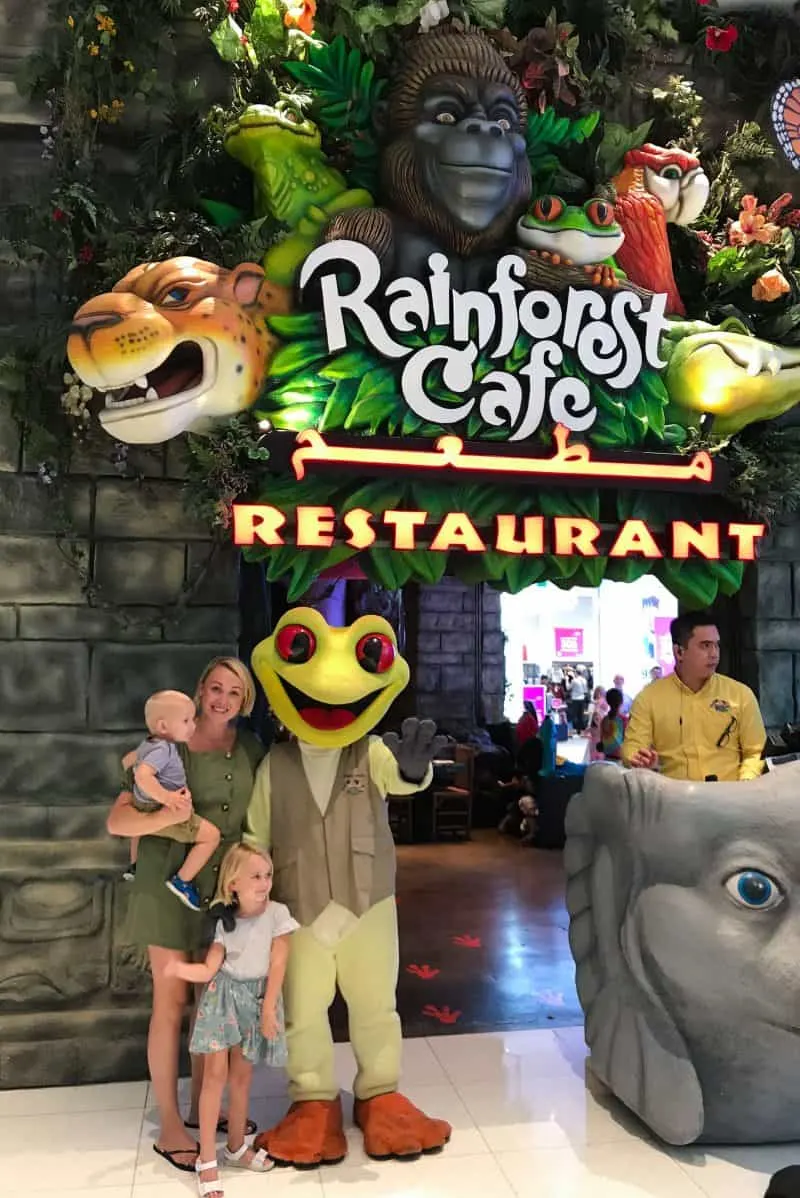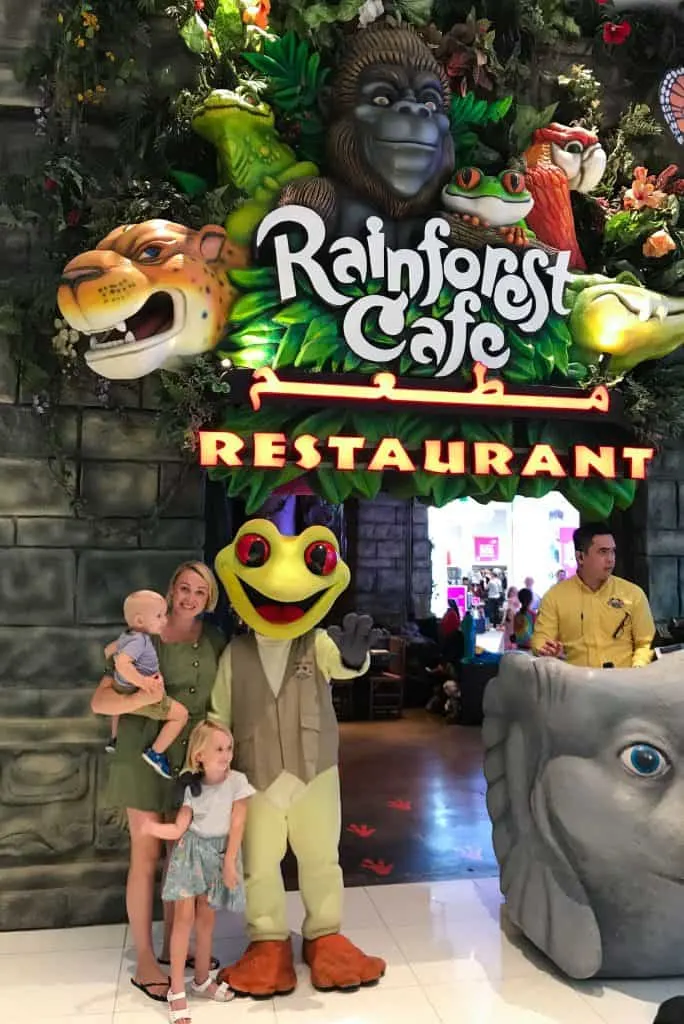 THE BREAD STREET KITCHEN
Check-in at Atlantis the Palm is at 3 pm so we utilised our early afternoon to explore the aquarium and have lunch at Gordon Ramsay's on-site restaurant, Bread Street Kitchen.
It was our children's favourite dining experience throughout our time in Dubai. We visited on a Saturday when the restaurant has its infamous brunch running.
Guests can pick nibbles from the huge buffet on offer of starters whilst an a la carte main is being prepared.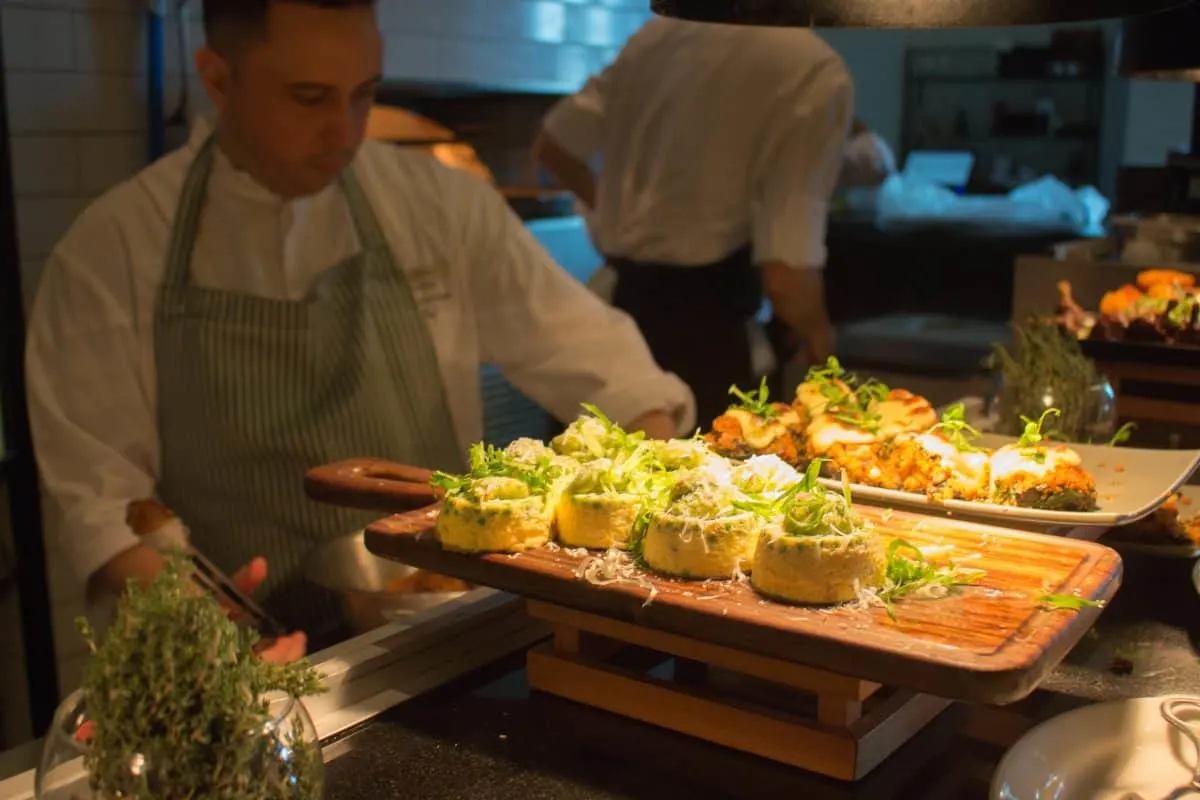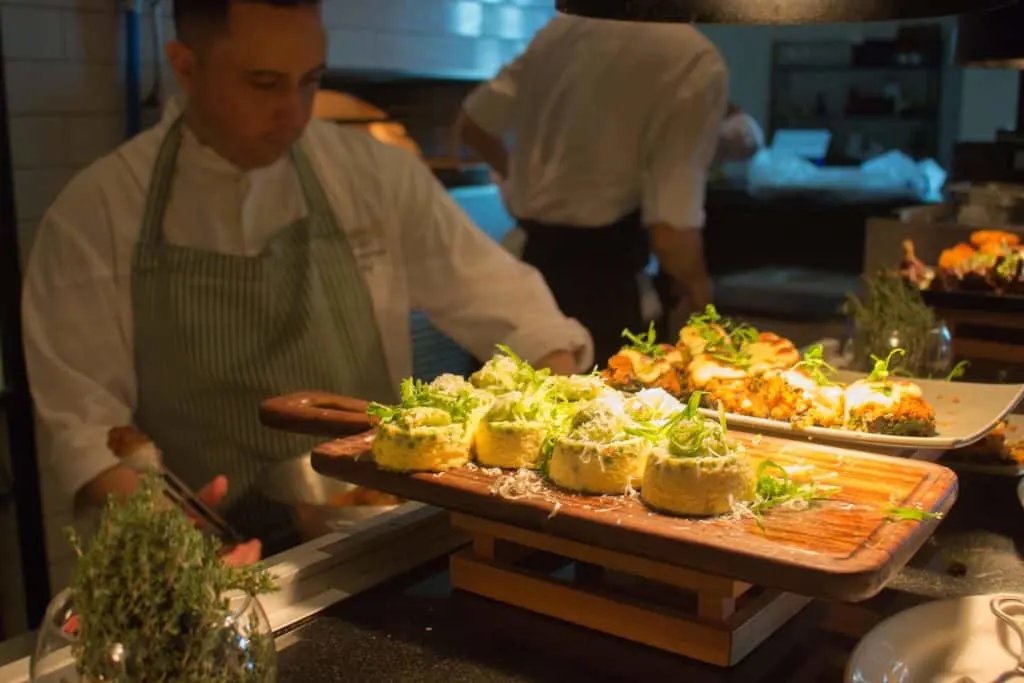 The best thing about this restaurant is it caters to the whole family. There is so much for the kids to do. From decorating cookies with the chef, to doing arts and crafts in the garden. I loved the vegan shawarma.
It's one of the few times we've been for a meal where it feels semi-civilised with the kids.
From what I could see a lot of local expats, not staying at the hotel go to Bread Street Kitchen, so it's definitely worth a visit on a Saturday even if your not staying at Atlantis the Palm.
BLACK TAP
It's easy to see why Black Tap is beloved by all family members, young and all. The restaurant is a huge hit with kids, especially their Freakshakes.
These milkshakes are truly insane! They are filled to the top and gleaming with cookies and sweets, with a generous portion of whipped cream to top it all off.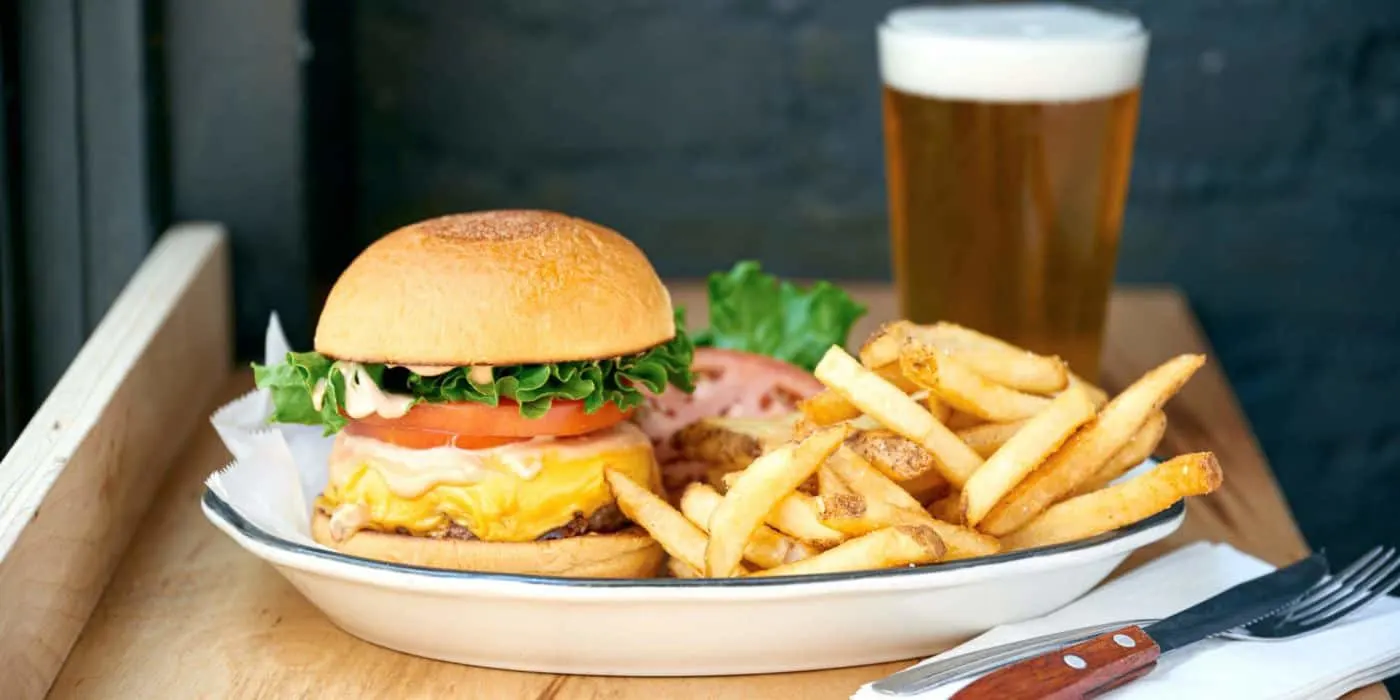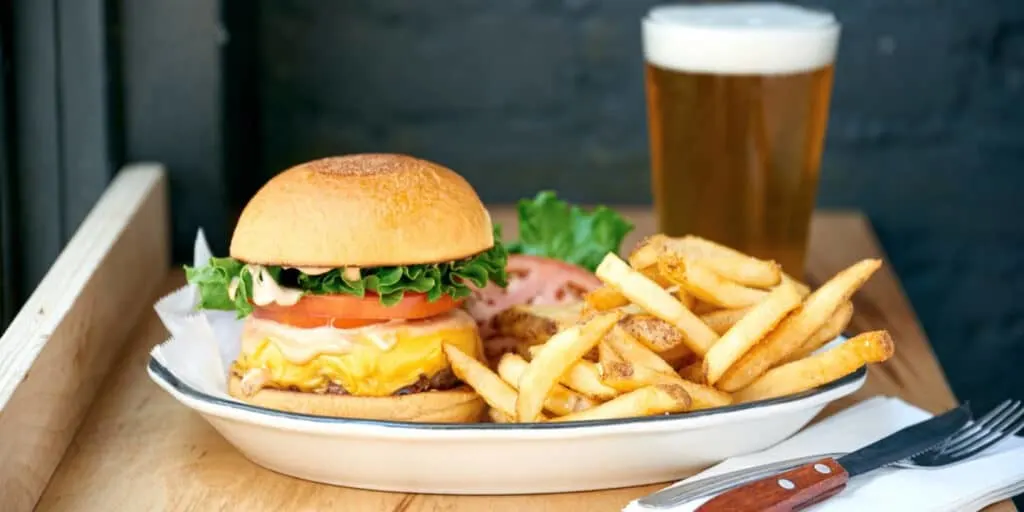 Moms and dads can choose from a large selection of the finest craft beers on tap and by the bottle. Oh, and the burgers, the deliciously juicy-looking burgers.
Black Tap is located on the lower ground floor of the Dubai Mall, just look for the funky design and cassette tapes adorning the walls.
SELLA
Sella brings kids and elegance together in an unusual combination that actually works!
The equestrian-inspired dining has an air of sophistication to it but welcomes kids with open arms. Parents can gaze over the horse riding arenas while kids play on the shaded playground equipped with loads of swings, ropes, and slides.
The My Little Pony breaks is the star menu item over the weekends offering a buffet and ala carte options. There's also a kid's menu with mini pancakes, fruit, scrambled eggs, and toast.
Top tip: Kids four and under eat free at the breakfast buffet so bring them along!
THE CHEESECAKE FACTORY
It might sound like a basic choice. Why come all the way to Dubai and go to a Cheesecake Factory? Well, if you've got picky eaters, this restaurant has you covered.
The Cheesecake Factory has a hugely extensive menu that covers pretty much all culinary grounds. Their meals are more comfort-food focused which works well for kids.
The portion sizes are massive so one meal can definitely be shared between two. Start looking up the menu now, it'll take ages to get through all the choices!
CARLUCCIO'S
Who doesn't like pizza? And boy does Carluccio's know how to make them.
A favourite among locals and tourists, Carluccio's is an authentic Italian restaurant that serves meals made from only the freshest ingredients.
What's great for kids is that waiters hand out colouring in paper and free crayons to keep kids entertained while they wait for their pizza.
Among favourites on the menu are the creamy Prawn and Pistachio Pizza, the Chicken Risotto, and the refreshing Lemon Sorbet.
Sip on a glass of wine and look out at the fantastic view of the Dubai Fountain and the Burj Khalifa!
THE TALK RESTAURANT
What makes The Talk Restaurant a kid-favourite? It's right next to the pool! You can splash off in the pool while listening to live entertainment.
The Talk has fun theme-night buffets with live cooking stations so the chefs can show off their skills. The "Kids Power Bites" menu is always available
SHEIKH MOHAMMED BIN RASHID AL MAKTOUM CENTRE FOR CULTURAL UNDERSTANDING- CULTURAL MEALS
If you're after local food, SMCCU is your best bet!
Set in one of Dubai's oldest communities, the Al Fahidi historical neighbourhood, you can enjoy traditional Emirati cuisine and learn the culture firsthand.
Here you can taste all sorts of different foods and you know what they say, do as the locals.
BEST SHOPPING FOR KIDS
If your kids are so lucky and they're in for a toy or two on top of an awesome Dubai trip, there are loads of lovely kids' stores. Like a lot of things in Dubai, most of these stores are over the top in the best way which makes it one of the best things to do in Dubai with kids.
HAMLEYS
Hamleys is one of the biggest and oldest toy stores. The British store has a great location for all the new arrivals as well as staying true to some classics.
Hamleys Dubai is in the Dubai Mall and the visit is an engaging experience. There's a life-size teddy that greets kids at the entrance.
They'lll often have magicians that walk around and keep kids entertained. Also, if you happen to visit during a launch event, it's highly likely your kids will meet their favourite characters and life-sized toys!
THE LEGO STORE
Dubai, the land of Lego, or so it seems. At the Mall of Emirates, there's a massive The Lego Store that has every imaginable Lego kit you could think of!
The store itself looks as if it's made of Lego and has huge Lego-instalments like a Lego Ferrarii and a life-sized Lego Batman.
There is also the "Pick a Brick" section where you can take a cup and choose your own single pieces of Lego.
HELLO KITTY BEAUTY SPA
The Hello Kitty Beauty Spa is a perfect day out for mothers and daughters.
They have a menu divided into Queens and Princesses and all products are completely natural and non-toxic.
At the beauty spa, they also specialise in rainbow colourful braids, glitter 'tattoos', manicures, and haircuts.
They also sell Hello Kitty Products like nail polishes and teddy bears.
BEST PHOTO SPOTS IN DUBAI
If you're looking for your new Christmas card, Dubai has some fantastic insta-worthy spots that'll take your breath away. Here are a few photogenic places where you can capture memories of a lifetime with your kids.
DUBAI DESERT
Probably one of the most iconic photo spots, The Dubai Desert is nothing short of a fun place to go in Dubai with kids and get some exciting photos.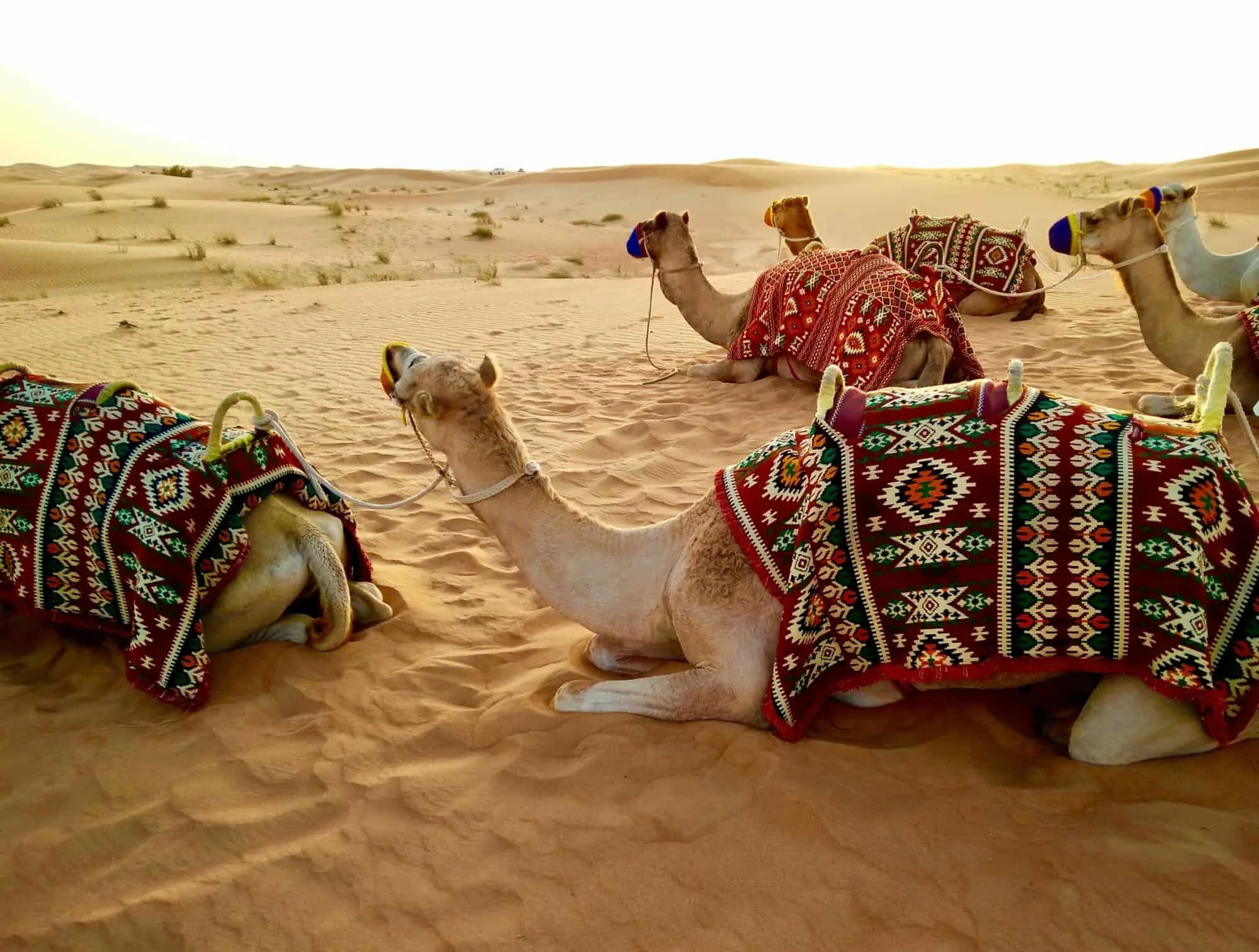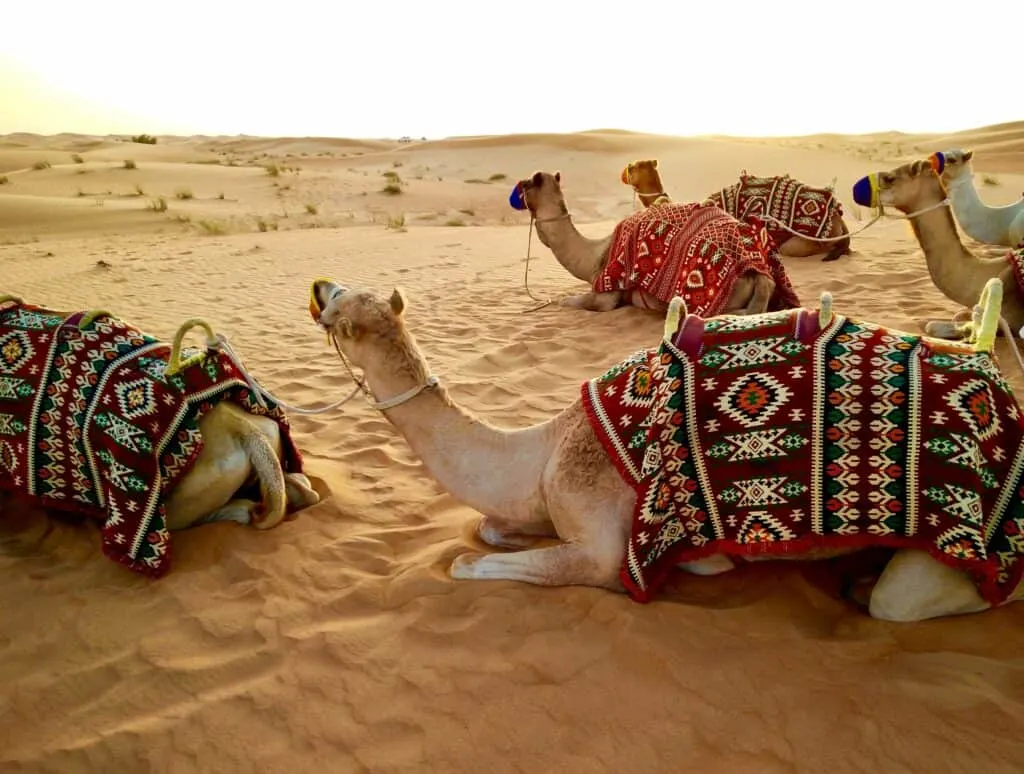 A photo highlight of desert tours is capturing the sunset going over the desert. Riding camels is also at the top of the list!
DUBAI MIRACLE GARDEN
Dubai Miracle Garden is not only a great place with loads of kids' activities in Dubai, but it's also one of the best backdrops.
The colourful flowers and perfectly manicured gardens will make our photo feel like it was taken in a dream world!
Head up to the castle steps covered in rows of flowers for a family portrait.
AL BASTAKIYA HISTORICAL DISTRICT
In the historical district of Dubai, there are lots of opportunities for pictures.
The historical district is in sharp contrast to the modern downtown area and gives you a different feel to Dubai.
You can take photos of the original city walls or bustling market stalls for a more traditional picture.
PALACE DOWNTOWN
Another fantastic view of the Burj Khalifa, the Palace Downtown is a gorgeous photo spot to check out.
You can go to the hotel's pool area outside, even if you're not a guest, and get a snap of the beautiful building framed by the hotel's extravagant pools and palm trees.
DUBAI CREEK HARBOUR
Dubai Creek Harbour is in a newer neighbourhood of Dubai. There may be a little construction around but don't let that put you off.
Once you reach the harbour there are gorgeous panoramic views over the water and you can see Dubai's skyline.
Head there at sunset and you can get the perfect family picture of the sun setting over the Dubai skyline in the distance. Also, the golden hour glow will ensure you've got a couple of great pictures to choose from.
ARABIAN TEA HOUSE
Visit an Arabian tea house and the historic Al Fahidi neighbourhood. At The Arabian Tea House, there are beautiful outdoor dining spaces with Bougnavilla, terracotta blue vases, and mats with pillows on the floor.
The tea house closes at 2 pm so be sure to have one of over 150 types of tea they have!
ATLANTIS, THE PALM
The iconic Atlantis, The Palm is a great choice for photos as it has loads of photo opportunities and really captures the extravagant side of Dubai. Head to the Lost Chambers Aquarium to take a few snaps of the epic indoor aquarium.
Atlantis, The Palm is probably one of the most iconic and photogenic places in Dubai and you don't need to be a guest to enter. You can go to one of the restaurants or cafes to get inside.
GETTING TO DUBAI
Dubai is only a seven-hour journey from London with a number of flights throughout the day. Whilst Emirates are the main carrier, there is also an option to fly into Abu Dhabi with Etihad.
Here is a helpful post about Emirates versus Etihad. Find the best prices on flights here.
HOW TO GET AROUND DUBAI
It's really easy to get around Dubai and you'll find a lot of tourist attractions are located pretty close to each other. There are a couple of options you can look into when travelling around the city.
TAXI
There are a range of different taxi companies that you can hail all around the city but the easiest would be to download Uber and use the ride app.
If your budget isn't very tight I think Uber is one of the best options if you have kids. It's stress-free and you won't need cash. Also, using Uber will ensure you're getting a fair price for the trip.
METRO
Dubai has a metro system with two convenient lines. What's even better is it runs from Dubai International Airport and through to the central and busiest parts of the city.
It's a great affordable option to get around, all you need to do is buy a single-use ticket at the station. You can also buy a Nol card and top it up with credit if you're planning on going on the metro multiple times.
There's a convenient journey planner that'll help you navigate. All you need to do is select from the list of stations. A bonus, the metro has air con!
BUS
Buses are another low-cost option to get around. The public buses run 24 hours a day and more or less arrive every 30 minutes.
With more than 1,500 air-conditioned buses it's a great hassle-free hop-on and hop-off. You'll need the Nol card as the public buses don't accept cash.
There is also the City Sightseeing Hop-on, hop-off tours that connect you with the city's most fun-filled tourist experiences.
BOAT
Boats are a super fun way to explore the city!
There's a wide range of different boating options. From water taxis to luxury yacht rentals, Dubai has the right boat for your budget.
The water taxis and the Dubai Ferry are a fun and unique way to tour the coastline and stop off at some neighbourhoods along the way.
The abra, Dubai's water taxi, is a wooden boat or dhow and there are 43 stations across the city. It's inexpensive and definitely shouldn't be missed.
DUBAI INTERNATIONAL AIRPORT WITH KIDS
Dubai International Airport is considered one of the most kid-friendly airports in the world. There are dedicated zones for families and young children so you can be sure your kids won't get bored.
COMPLIMENTARY STROLLERS
You can pick up a complimentary stroller near the Emirates check-in desk in Terminal 3. The process is super easy. Simply pick it up for however long you're needing it, and drop it off at the stroller park at the boarding gate. All the strollers are regularly sanitised so you can be sure your little one is safe.
BOUNCE TRAMPOLINE PARK
Bounce is fantastic for kids before a long flight! It's a trampoline playground for all ages and will tire your kids out before flying. Bounce is located in Terminal 3
NUTELLA CAFE
Ok, so a sugar rush isn't the best thing for travelling with kids, but you'll have to make an exception when it comes to Nutella Cafe! There are all things Nutella, from crepes and waffles to pancakes, donuts, and cookies.
If your family is on the healthier side, there's Treehouse Juicery with amazing healthy juices and smoothies.
FREE MOVIES
If you've arrived early or had a delayed flight, you can access ICFLIX, sort of like a Netflix, and stroll through loads of current movies and cartoons. All you need to do is log onto the complimentary wi-fi. It's as easy as that!
Here is a helpful post about Emirates versus Ethiad. Find the best prices on flights here.
TIPS FOR FLYING WITH KIDS
Being a parent means you can never have the perfect travel day. Your kids will be fussy, your flight could be delayed, and the weather forecast could change at the last minute.
But no matter what happens, there are some things you can do to make sure your trip is as enjoyable as possible. Here are some tips for flying with kids:
Pack snacks that your kids like. Pack some snacks that don't require heating up or refrigeration. This way, you won't have to worry about finding something in the airport for them when it's time for takeoff.
Bring along some games that help keep them entertained during the flight (and after). They'll probably want to watch movies or play games on their own devices during the flight, so think about bringing along some books or toys that they can use to pass the time
Don't pack anything that requires batteries or plugs (toys, books). Make sure you've charged those items beforehand so there's no need to worry about running out of juice mid-flight.
On most airlines, parents of kids have the privilege of early boarding. Take advantage of it! It's a great way to settle your kids in and tuck your carry-on luggage away without people pushing past each other trying to find their seats.
If you are travelling with your partner, why not have a "sanity seat". Basically, this gives each parent a little child-free travel time to catch up on a book or series. When the other parent is overwhelmed, you'll tag the team and help out.
There are so many more things that'll help your trip like Sleep-on-Beds and Ride-on Kids luggage. Take a look at a few more of our tips for travelling with a newborn, baby, toddler, and kids,
WHAT TO WEAR IN DUBAI
Dubai welcomes tourists with open arms, however, this can make it easy to forget it is at the heart of conservative Islam. It can be difficult to figure out what to add to your Dubai packing list. I asked a former expat, Carrie, what she felt was best to wear in Dubai as a tourist and this is what she said:
Do wear normal beach clothes at the hotel beach and swimming pool but ladies, don't go topless. If you visit a public beach, be aware that as a woman you are more likely to be stared at in your bikini.
It's allowed but just be prepared. It's probably not a good idea to wear a thong bikini. If you visit places like the Jumeirah Mosque or the Sheikh Zayed Grand Mosque in Abu Dhabi, then cover-up as a sign of respect.
Men should wear long trousers and full sleeve shirts or half sleeves in summer. Women are required to wear a Hijab or Shayla (a headscarf and abaya the black cloak), which is available free of cost at the entrance.
In the malls, you can generally wear your normal attire but avoid low-cut dresses, bare shoulders, and short shorts. For men, longer shorts are better too, and always keep your top on unless you are at the pool.
The malls provide a cool retreat from the sun, and have effective air conditioning – so you won't be hot in jeans and a t-shirt! Definitely take a cardigan, a pashmina, or a lightweight jacket in case you get too chilly.
You will often see reminder dress code signs asking you to be dressed modestly as you enter a mall. These say wear clothing below the knee and cover shoulders.
I've not seen anyone confronted about it if they are not conforming but remember you are a guest in the country so please respect their customs. When in doubt, carry a shawl! Children of course can wear anything.
If you have never been to Dubai before, then check out this checklist for first-timers in Dubai.
CHECKLIST- WHAT TO PACK FOR DUBAI
This should be the first item on your packing list because it gives you easy access to anything your kids might want and avoids time rummaging through suitcases.
Headphones are always useful! They are particularly helpful when travelling with kids as they can zone out and watch their favourite movies. Be sure to have them charged!
A good pair of walking shoes or sandals are essential for walking around new cities and adventuring.
Sun Cream with SPF 30 or higher is essential for Dubai. It gets hot, real hot. Waterproof will be best for the beaches and waterparks. If you're not sure which sun cream to choose, take a look at our round-up of the best suncream for kids.
Not only do lightweight clothes make travelling just that bit easier, but also they'll be great for hot Dubai days. Think cotton and linens.
IS DUBAI SAFE FOR TOURISTS?
Dubai is one of the safest places in the world. If you are visiting Dubai for the first time, you will notice that all of the hotels, restaurants, and other places are very clean and well maintained.
There are private hospitals that cater to foreigners and expatriates like Sheikh Mohammed Medical City, Burjeel Hospital, Rashid Hospital, and many more. These hospitals have experienced doctors who know how to treat tourists' ailments. The doctors at these hospitals speak English fluently so there's no language barrier.
However, it's always good to take a few safety precautions when you are travelling. Here are a few tips to stay safe in Dubai.
Islamic law is followed in Dubai so it's important to have respect.
Drinking is legal for non-Muslims in Dubai but only at licensed venues, like certain hotels and private homes, so be sure that the venue you're at is licensed.
Be aware of your surroundings when walking at night, especially when travelling alone or late at night.
Don't walk around with heavy bags or backpacks. Leave them in a hotel, hostel, or someone else's car when you go out for a walk at night.
When entering and leaving hotels, stores, restaurants, and other public places, always be aware of your surroundings and potential threats.
10 INTERESTING DUBAI FACTS
If you're still not quite sold on whether to holiday in Dubai with kids, here's a few interesting facts about this weird and wonderful city!
Dubai is one of the most popular cities in the world, with a population of over 4 million people.
The city has been chosen as a global business and financial centre for the United Arab Emirates and is home to many multinational organisations.
One of the most surprising facts about Dubai is that 29% of its most famous buildings are uninhabitable.
Dubai Mall is one of the largest shopping malls in the world with over 50 soccer fields under one roof!
When the Dubai Metro was opened in 2009, it was the longest automated rail network in the world.
The Palm Jumeirah, is the world's largest man made island and can be seen from space!
It's hard to believe but in 1991, there was only one skyscraper in the city, the Dubai World Trade Centre.
Sheikh Zayed Road is known for having many famous conic skyscrapers. Currently, around 130,000 vehicles use Shaikh Zayed Road every day.
Dubai's population consists mainly of expatriate workers from South Asia who are employed by construction companies working on large infrastructure projects in Dubai or elsewhere in the UAE.
Dubai is also known as a "city of gold" because of all the gold decorations on buildings and trees.
There are a few ATMs that distribute gold, not cash. You can see one of these gold dispensing ATMs at the Dubai Mall and Atlantis, The Palm.
TO SUMMARISE
Dubai is a beautiful city, and it's the perfect place to visit if you're looking for a vacation with your kids. The city is filled with culture, history, and lots of fun things to do.
You can also find plenty of places to eat and drink in Dubai, which means that this city is really great for tourists who want the whole package.
This is one of the most visited cities in the world because it's a place where you can find everything that you want. You will definitely have an unforgettable experience when travelling to this city!
Brainstorming where to travel next? Check out other popular destinations like Bali and Singapore on our blog!
You May Also Like:
Dealing with Jet Lag in Babies, Toddlers and Kids
This post is sponsored by Attraction Tickets Direct Visit Dubai and Dubai Parks and Resorts. As always all views expressed are entirely our own.