Dubai is UAE's most populous city, boasting jaw-dropping modern architecture, epic shopping malls and fascinating man-made islands.
It is a city of glamour and culture, a fusion of East meets West, notable in the facilities, restaurants and cafes.
I love travelling to places where I get to experience the culture, so Dubai old town did not disappoint with its abundance of markets, culinary delights and cultural scenes.
I feel Dubai is less well known for its old town, but it is the part I personally found most fascinating.
Isn't it amazing when one destination caters to the entire family? There are so many things to do in Dubai with kids and that's where the modern side of Dubai comes in to play at its best.
Check out this article if you are worried about dealing with jet lag when you arrive.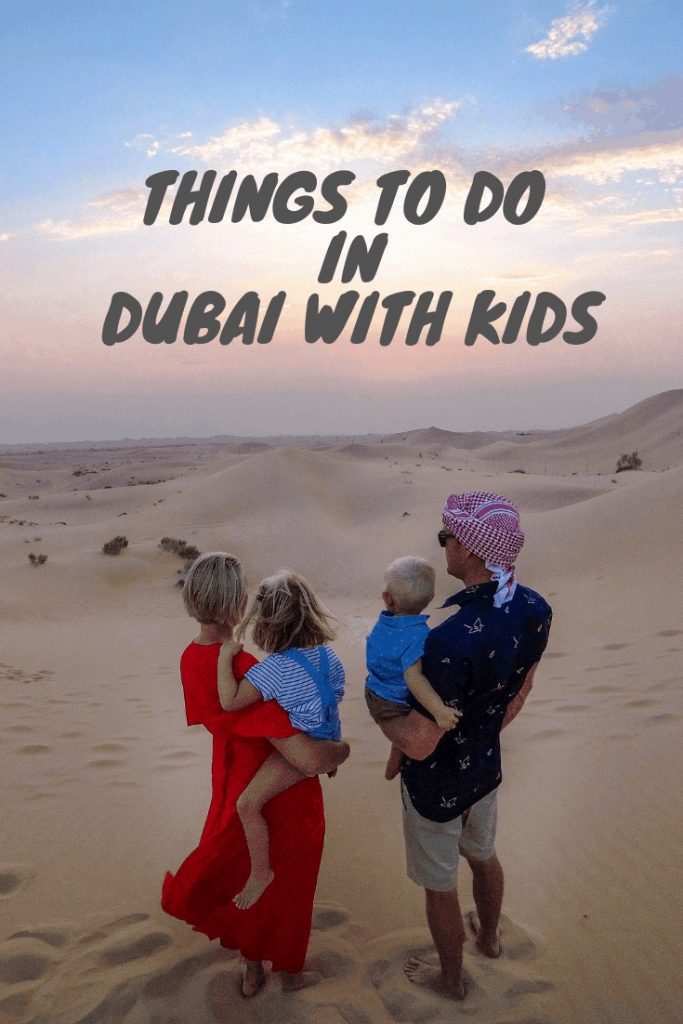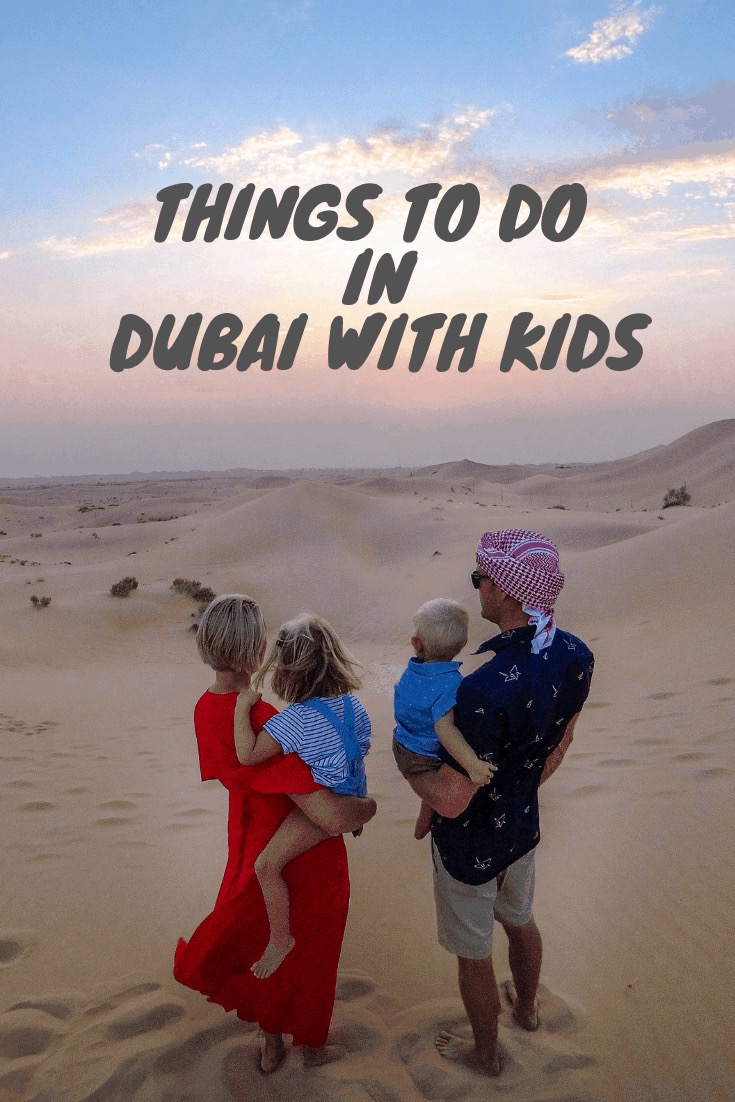 DUBAI WITH KIDS
From theme parks, to incredible family-friendly resorts, and dancing water fountains to sky scraper views, visiting Dubai with kids is action packed.
We spent six days exploring Dubai Parks and Resort, the Marina and Dubai Old Town. It was a varied experience and admittedly super easy with little ones.
All of our tickets and passes to attractions were booked through 'Attraction Tickets Direct', a company who find the best prices, saving the all important pennies and making holiday savings go further.
With the flight being only seven hours from London, glorious weather in the middle of our cold British winter was a welcomed break. Here are our top choices on things to do, places to stay and eat in Dubai with kids.
DUBAI PARKS AND RESORTS
We started off our seven day Dubai adventure in The Dubai Parks and Resorts. We stayed in their very own Lapita Hotels (more info about that later) so we could be nearby the parks and see as many things as possible with two little ones.
It was so handy being a five minute walk from Legoland, Bollywood and Motion Gate, meaning we could fit nap times and our usual routine around our visit.
I have to be honest, I quite often find visiting theme parks stressful with kids.
The crowds, the queues, the long walks for little legs, it can all be too much.
For the first time, I can safely say, I actually really enjoyed visiting theme parks.
The lack of crowds, the short distances and ease of getting back to our room really made the experience so much better.
I was also a little worried about the heat with two little ones, so we were happy to find many parts of the park located inside air conditioned buildings. It made a world of difference!
Riverland is the central part of Dubai Parks and Resorts. It's like a central hub where you can find all of the entry gates to the different parks. There is also a number of cafes, restaurants and bars.
We visited just before the UK half term, but I understand Riverland has a number of firework displays and street performances in high season.
LEGOLAND DUBAI
Our first park visit was to the amazing Legoland Dubai. Featuring a separate waterpark and theme park, they are right next to each other.
However it was the Legoland Waterpark we liked the best. Although we visited in the cooler months, the temperatures can be quite hot for little ones at the best of times.
Likewise our kids are aged 1 and 4 and we found Legoland Waterpark the ideal place to be with children of that age, not to mention keeping cool whilst having lots of fun.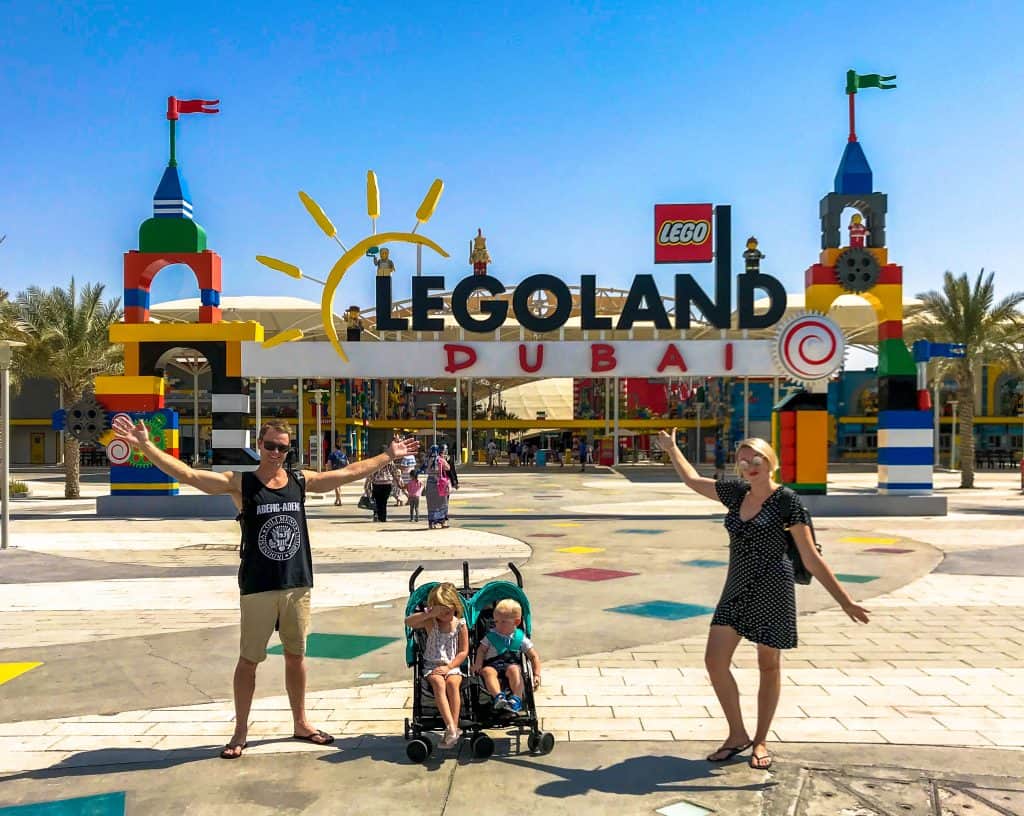 As water parks go it wasn't at all busy meaning we could relax, enjoy and not have to worry about queues. Legoland has some amazing features, one of them being the lazy river.
They call it ' make your own raft', the idea being you can do so on your journey around the lazy river with the many giant lego bricks.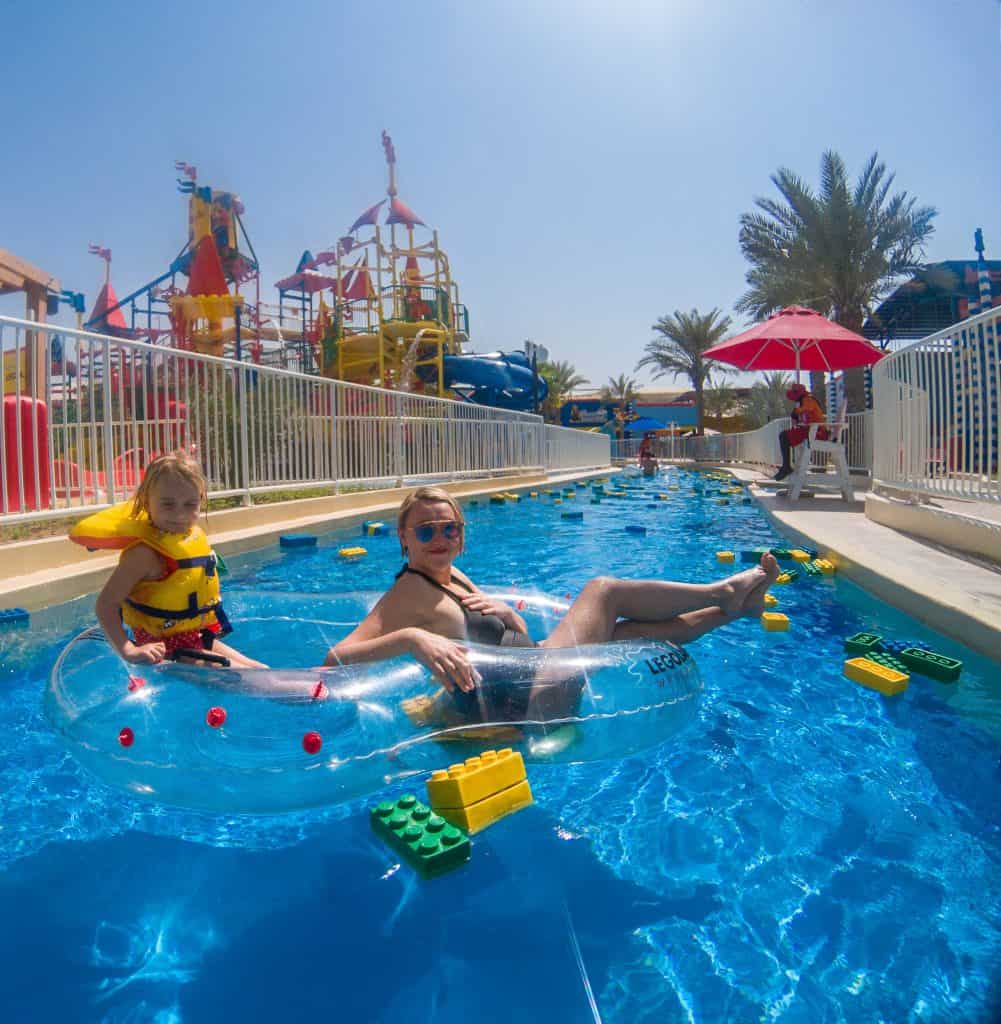 There were many slides in Legoland Dubai Waterpark, some were suitable for toddlers, whilst others were more suitable to older children or big kids like us parents.
We loved the fact there were very shallow pools with shade for our youngest little one.
Another feature our kids absolutely loved was the 'make your own boat'.
It was a station where they could build a small boat with regular-sized lego. Afterwards, they could sail it from the top of the water stream. Our little boy spent so long enjoying the sensory play element.
To finish off our visit we splashed around in the wave pool and chilled out in one of the cabanas on offer.
We had lunch inside the park, although there was not a great deal of vegetarian options and being eco-friendly we preferred to eat at our hotel restaurant to keep our waste production down.
On the whole, the park is super organised with lockers, stroller and towel rentals.
MOTION GATE DUBAI
On our second day at Dubai Parks and Resorts, we visited Motion Gate Dubai.
It's comparable to Universal Studios in Singapore. Again I found Motion Gate had something for both of our children.
In many other cases they are often too young but I am happy to say they both got something out of the experience and thoroughly enjoyed it.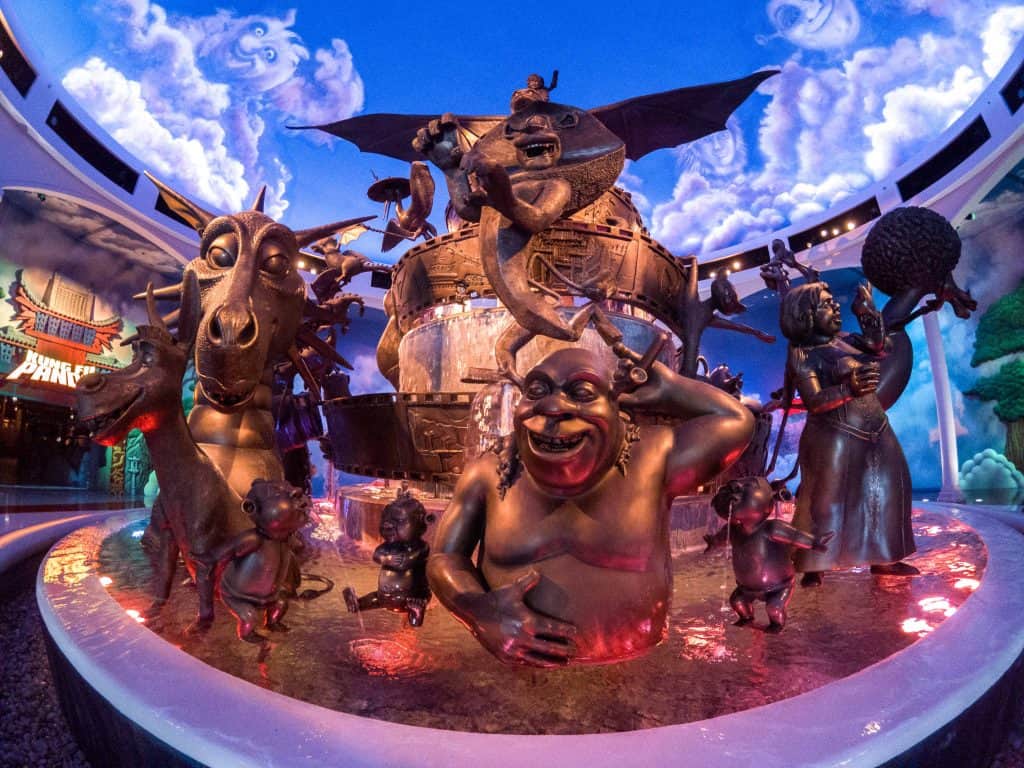 We started off by seeing all of the performances. From Kung Fu Panda dancing and teaching the kids his moves, to a full theatrical performance with the cast of Madagascar, it was a perfect day out.
Many people asked how we managed the heat and what I loved is many parts of Motion Gate is indoors in a cool air conditoned space.
It made it so much more tolerable only spending short periods outside in the hot sun.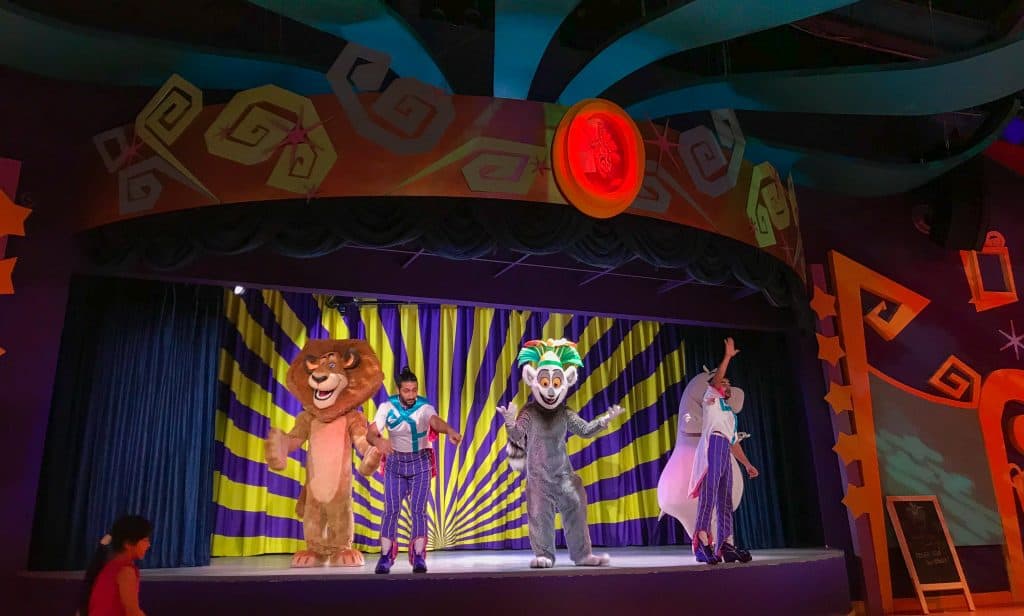 Our daughters favourite part was the cute train journey into Shreks World.
It felt like we were inside the movie. She also loved the street appearances of her new favourite cartoon character 'Smurfette'.
The park is not huge and more than manageable in one day, even with little ones.
BOLLYWOOD DUBAI
My personal favourite of the three Dubai Parks and Resorts was Bollywood Park.
It's not full of rides, but instead, beautiful replica's of Indian scenery and a very good copy of the Taj Mahal.
As we walked around the different parts of Bollywood, there were street performances on almost every corner.
We loved the model of the Mumbai train station and the performance recreating life in that area of India.
We spent most of our time insIde the main theatre watching an elaborate performance.
My 16-month-old boy doesn't sit still for longer than a minute usually and I couldn't believe he sat through the whole thing. I highly recommend visiting!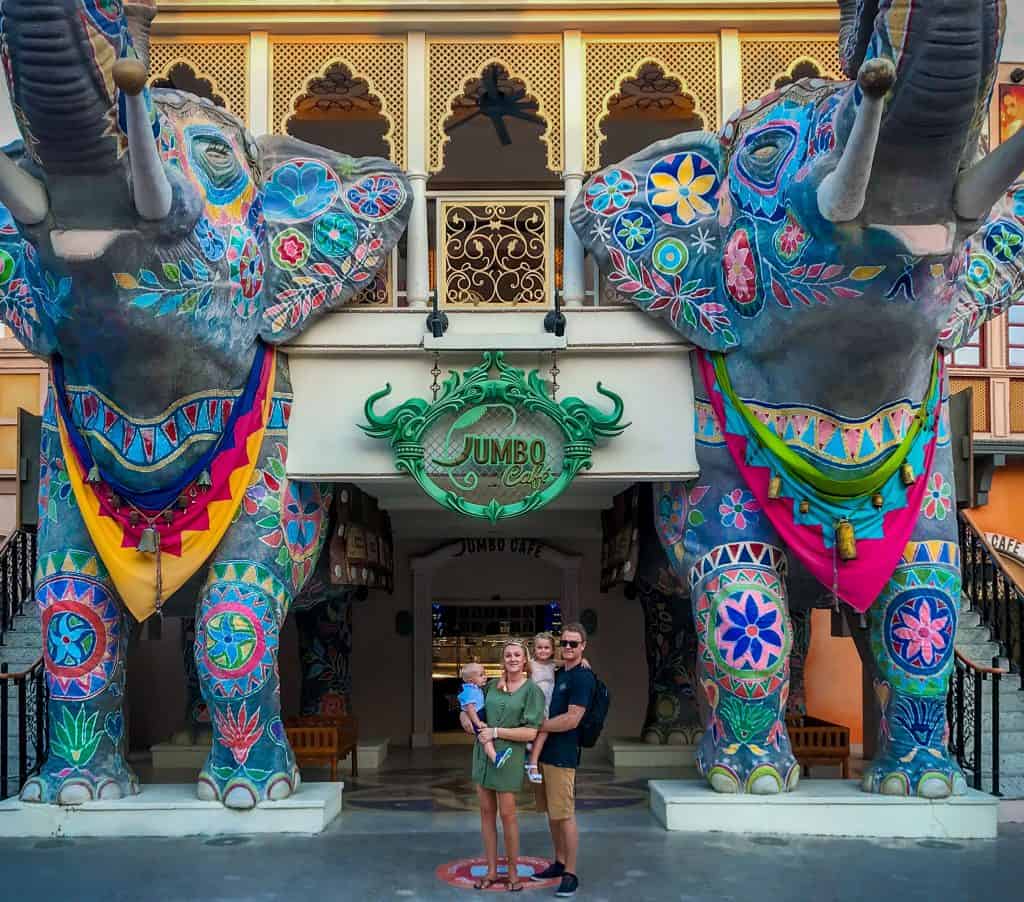 BURJ KHALIFA
No visit to Dubai is complete without visiting the tallest building in the world, the Burj Khalifa! It is a paid ticket entry that can be purchased in advance on Attraction Tickets Direct.
The architectural wonder can be seen from almost everywhere in Dubai and the experience from entering to reaching the lookout deck on floor 125, is super cool!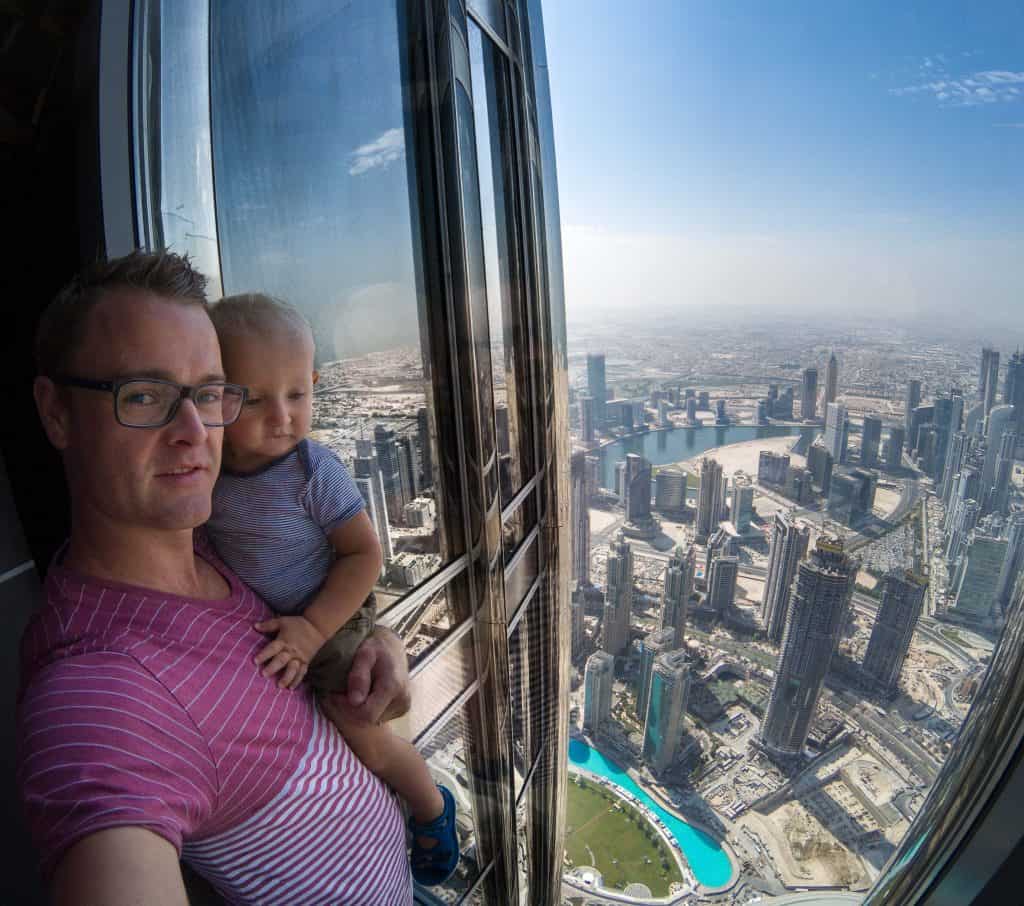 As we stepped inside the elevator, a 360 visual display was projected onto the four walls of the lift. It showed many other tall buildings around the world.
It gives a good insight into the scale and size of the 828-metre high skyscraper that dominates the city.
An interesting fact I read, you can see the sunset twice in one day. Once from the bottom and again from the top!
LAGUNA WATERPARK
There is a brand spanking new waterpark in the lovely La Mer area of Dubai.
Based on the beach and next to the extravagant area made from old shipping containers is Laguna Waterpark.
You can feel the newness of the place, everything is so clean and perfect.
The slides are another level of awesome, probably more so for older kids and adults. Both hubby and I took turns trying them out and they were a lot of fun.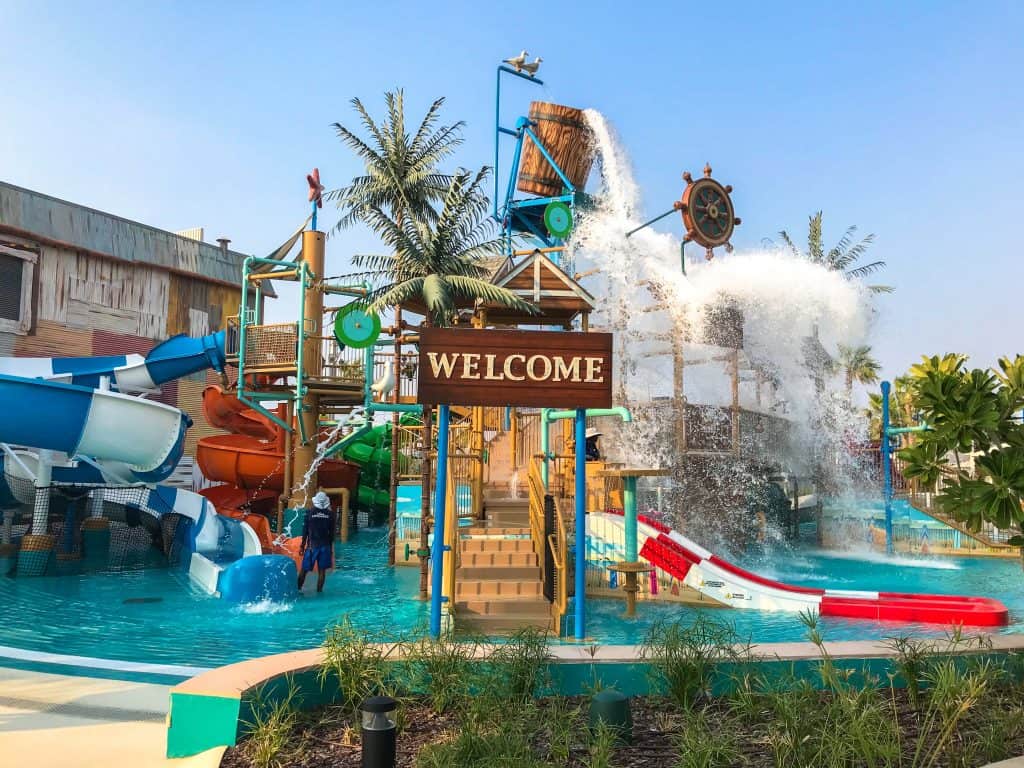 Whilst we were taking turns being launched into the air in a raft, there was plenty for the little ones too.
The splash area for kids is gorgeous with many interesting things that can keep babies, toddlers and young kids entertained for hours.
Another very cool feature is the flow rider experience that hubby tried body-boarding.
He had a lot of fun to say the least. No water-park in Dubai is complete without a lazy river, something we tried out hundreds of times at Laguna Water-park!
LA MER
As I mentioned the stunning La Mer area is made out of old shipping containers re-modelled to build an entire beachfront neighbourhood with restaurants, shops and cafes.
Funky and cleverly constructed features such as an old skip come tennis table are dotted around the area.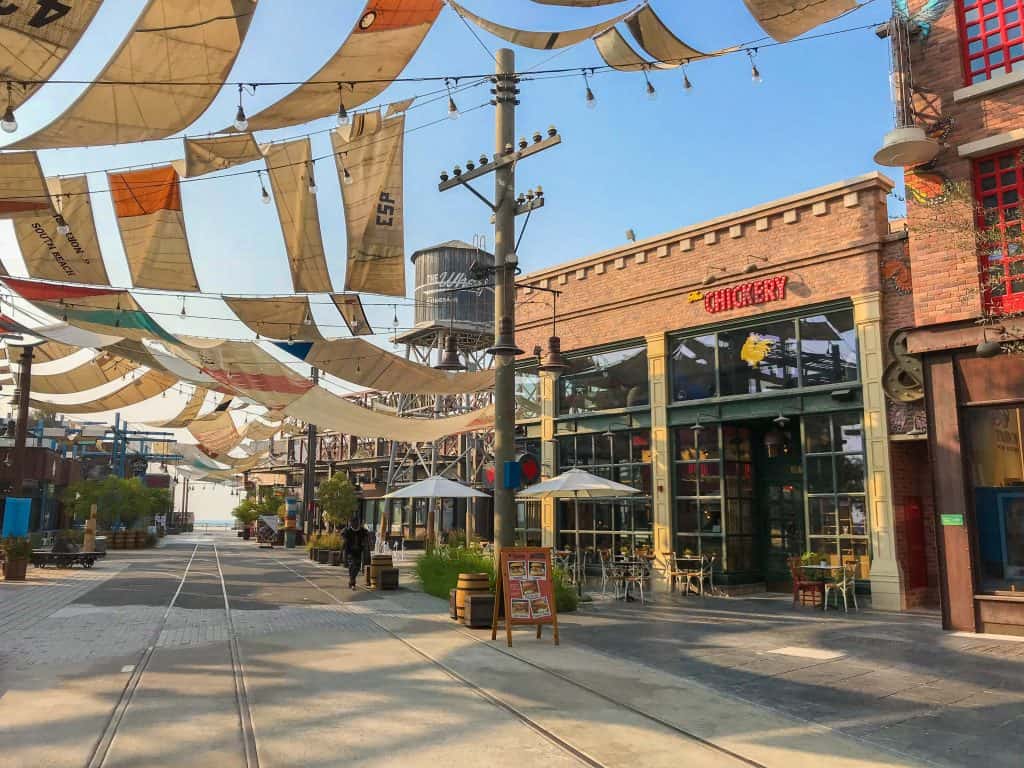 Despite being made out of recycled materials, La Mer is just as lavish, stylish and luxurious as other parts of Dubai. We spent lots of time wandering around the area after our water-park experience.
La Mer is particularly stunning at sunset when the many lanterns begin to glow. It's a lovely area to visit for a stroll followed by dinner or lunch.
SKI DUBAI
If it's a particularly hot day in sunny Dubai and you are wanting to do something to cool down, you have to check out Ski Dubai. We took our four-year old for the evening and she absolutely loved it.
Ski Dubai is based inside the infamous Mall of the Emirates.
Featuring a huge slope, chair lift, bob sledging, zorbing, snow tubing amongst many other activities, we felt like we were in the middle of The Alps.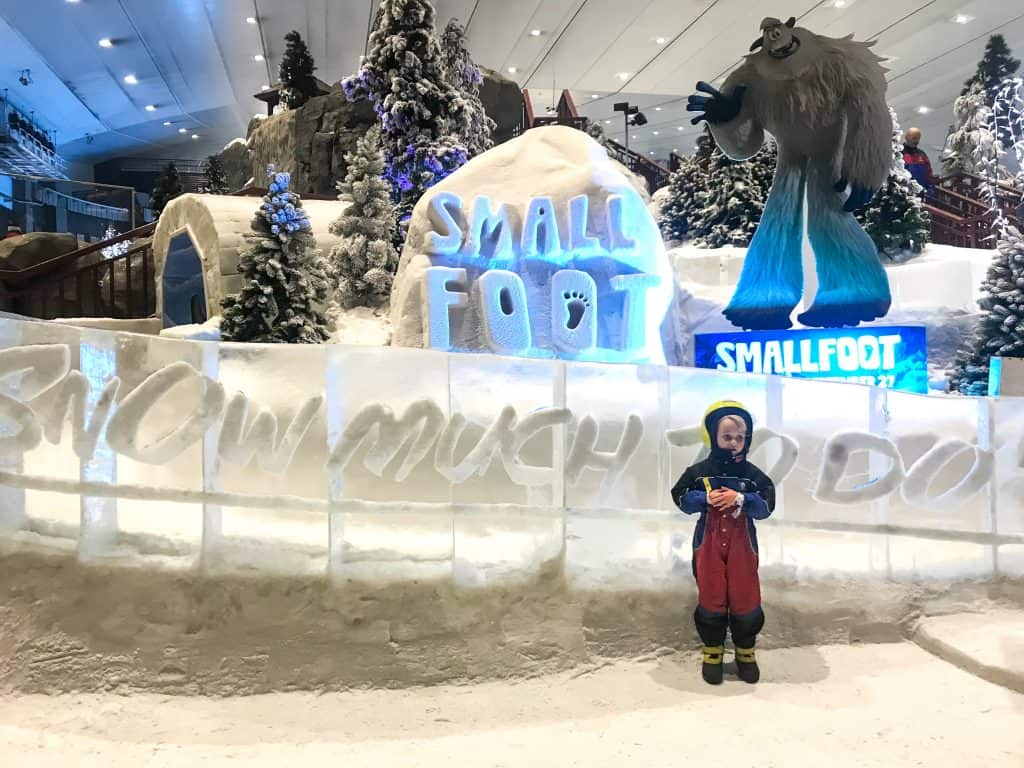 The play area for kids is super fun, especially the bumper cars. The basic ticket entry comes with all the snow clothing needed except for gloves. It includes a full snowsuit, socks and snow boots.
To save money and if you know you are likely to visit Ski Dubai, you can bring a pair in your suitcase. It was such a fun evening and has only made our daughters desire to have a ski holiday even greater.
I was so proud of her adventurous spirit, especially trying the bob sledging.
MUSEUM OF ILLUSION
The brand new Museum of Illusion opened in September in the Al Fihaidi area.
It's a stunning part of Dubai on the shores of the Creek.
Again it was another experience where the whole family enjoyed it. I love when our 16-month-old gets something out of an activity, as quite often it can be all about the four-year-old.
It's a very cleverly designed museum and every singly display tricked our brain, I found it totally fascinating. An hour is plenty of time to spend at the Museum of Illusion.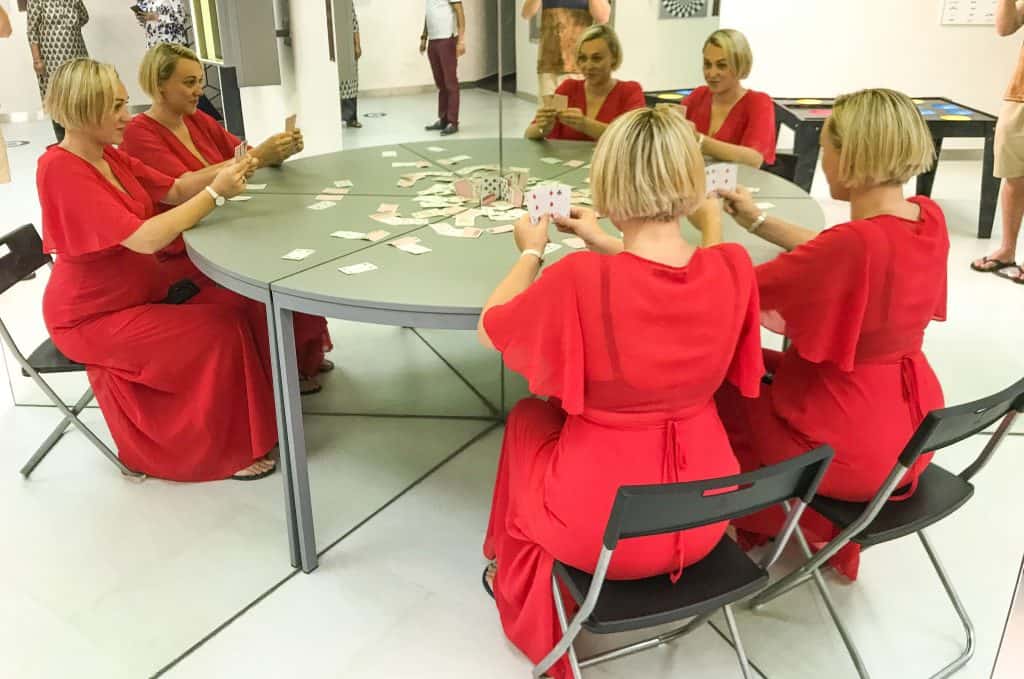 OLI OLI
Oli Oli is Dubai's first experimental children's play museum. It is located near the Oasis centre and it is open every day. There is a range of hands-on activities for kids of all sizes to enjoy. In fact, you may find that the adults love it just as much if not more than the kids.
The children's museum allows kids to wander freely throughout. The experiences are designed with them in mind. Some experiences encourage them to play, some want them to interact, some want them to use think and use their creativity.
Every experience is different and that is what makes it so unique. In fact, kids can expect to use all of their senses while they are at the museum.
Tickets can be booked online and they allow you to spend two hours at the centre.
To book tickets or find out more about Oli Oli click here.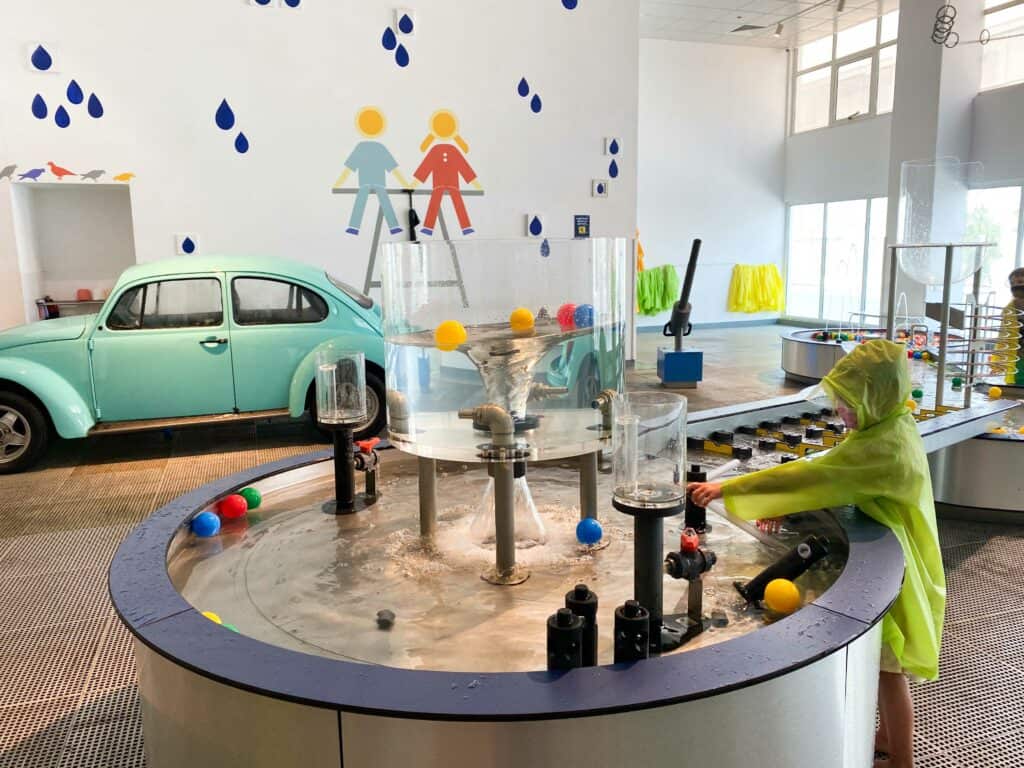 KIDZANIA
Kidzania has franchises all over the world. They all have the same concept, a city run by kids. The activities are for kids aged 2-14 years old. At KidZania children role-play various jobs and activities. In fact, there are over forty different real-world professions for kids to learn about.
Each of the professions are split into sections. As kids explore they can spend time in a hospital, fire station, bank, radio and TV station, supermarket, pizzeria and more. It is easy to book a ticket online and it is open every day except Sunday.
DUBAI MALL AQUARIUM
The Dubai Aquarium is located inside the mall and it is one of the largest aquariums in the world. It spans to the third floor of the Dubai mall and there's plenty to see. In fact, it is home to 140 species including sand tiger sharks. As you walk through the 48-metre tunnel you are surrounded by the stunning sea life swimming above and beside you.
The aquarium also offers a range of other activities. You can opt to take a glass-bottom boat tour, go swimming with sharks or have a mermaid makeover. It is possible to view part of the aquarium from the mall and it is absolutely free. However, to see the whole aquarium then book a ticket online.
Click here for more information and to book your ticket to the Dubai Aquarium.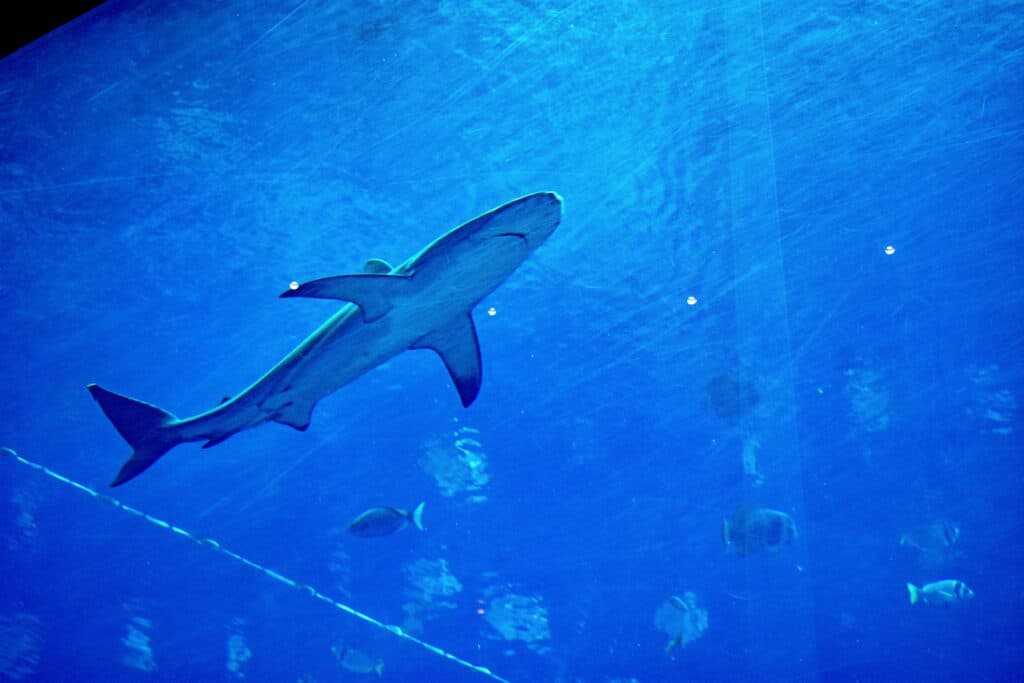 GREEN PLANET
A tropical rainforest is not the first thing that comes to mind when you think about Dubai. However, right in the centre of Dubai, you can find a biodome called The Green Planet. Inside is a tropical rainforest that is home to over 3000 plants and animals.
As you walk through the dome, you are immersed in a rainforest. Expect to see birds flying overhead and animals beside you. Tickets are available to buy online and general admission allows you to enter the main parts of the dome. However, there are optional extras including a camping experience, a bird encounter and even the option to scuba dive.
BOUNCE DUBAI
At Bounce you can find trampolines, airbags and so much more. They want kids to leave their cares at the door and immerse themselves in fun and creativity. There are many different venues across various cities, but the venue in Dubai is different.
The Dubai venue is 4,500 square metres and it not only has trampolines but a ninja course and freestyle features. Only kids over two can enter and all kids under twelve must be accompanied by an adult at all times. It is very popular and tickets often sell out fast, so it is important to book a ticket online before you visit.
DUBAI FOUNTAIN SHOW
No trip to Dubai could be complete without stopping by the fountain show. it is right at the foot of the Dubai mall and starts at 6 pm daily. The music water and lights make it a once in a lifetime opportunity. As you watch the jets of water move in time with the music, you will probably recognize a hit or two.
You are free to watch the show on dry land, but the best seats in the house are on board a boat on the lake. A boat ride takes you away from the crowd and gives you an amazing view of the fountain show as well as views of the Burj Khalifa.
To book your boat ride to see the fountain show click here.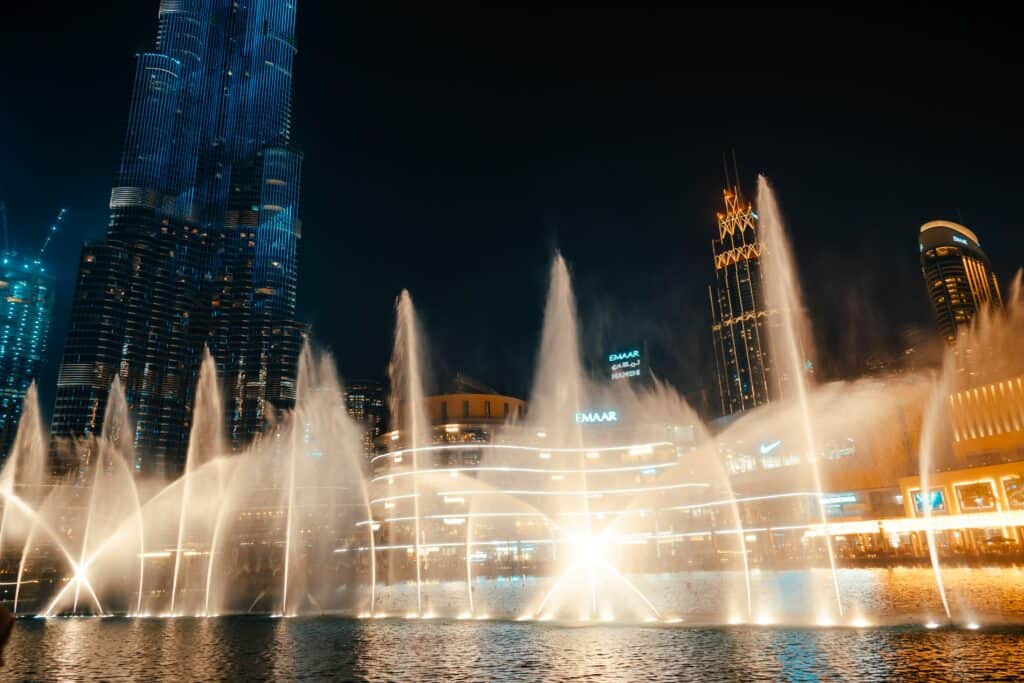 CHILDREN'S CITY
At the Children's City in Dubai, kids can learn about science, technology, space and more. The centre was designed to coincide with what kids are learning at school. However, there is an element of fun involved and the activities are hands-on experiences.
Kids six and over might enjoy learning about the human body or watching the most amazing laser shows in the planetarium. While those under six can explore the play area with games and activities to suit their abilities.
The centre is open all day Sunday to Thursday and has shorter hours on Friday and Saturday. All times are shown on the website and it is easy to book tickets there too.
VISIT THE SPICE SOUKS AND DUBAI CREEK
The cultural side of Dubai is less well known to tourists, however, there is an abundance of experiences.
The best way to cross the creek is in a traditional 'Abra' boat.
An Abra is a wooden boat and a very cost-effective way of getting around. Riding on the Abra gives a unique and different perspective of Dubai from the glamorous city.
Just across from Al Fihaidi is the spice souk, it is a chaotic place but an experience, to say the least. Many tourists buy saffron and other quirky cooking spices.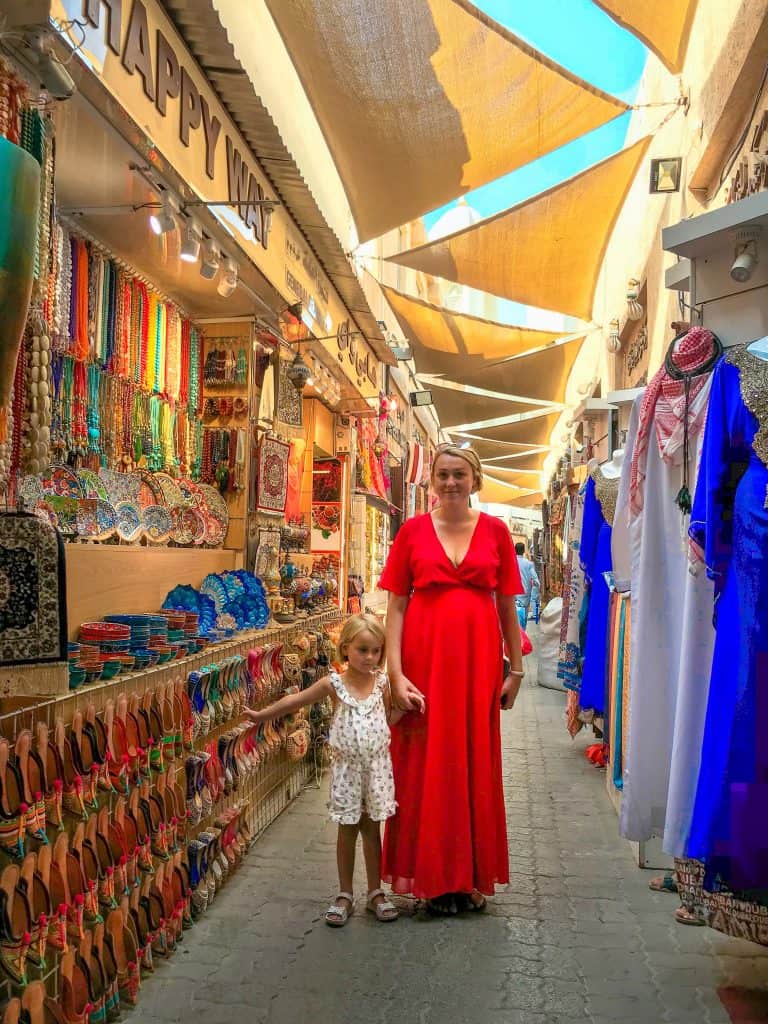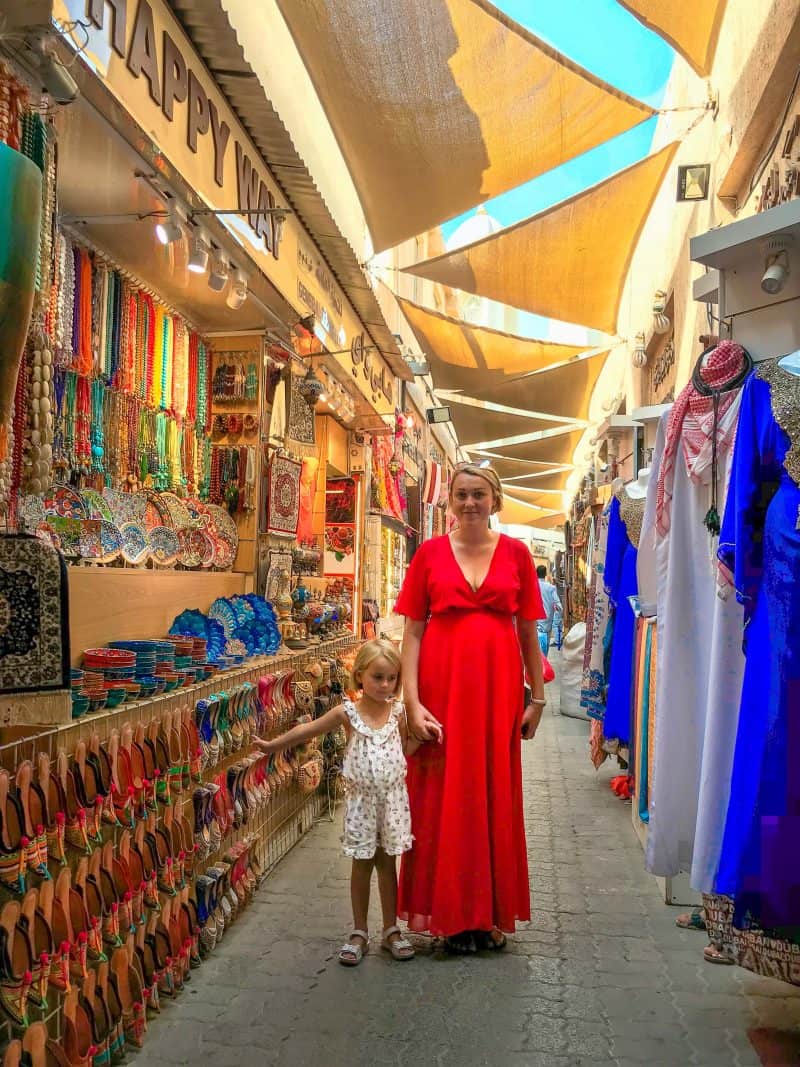 I did go a little crazy in the lantern and ceramic shop. I just loved the authentic Arabic design and it's worth noting the owners drive a hard bargain for their goods.
Be prepared to be bamboozled with offers to drink tea and smell spices, try on traditional dresses and so on.
SHEIKH MOHAMMED CENTRE FOR CULTURAL UNDERSTANDING
The Sheikh Mohammed Centre for Cultural Understanding is the place to go to really understand the Emirate way of life.
The centre offers a breakfast or lunch, along with a presentation. The food offered at the meal is traditional local foods and guests are invited to have Arabic coffee.
It is a relatively formal setup, however, we found the staff incredibly helpful with the little ones, finding ways to entertain them.
I was so surprised to see an area dedicated to children with a few toys in such a formal place.
They let our children try on the local attire, it was a lot of fun and also educational.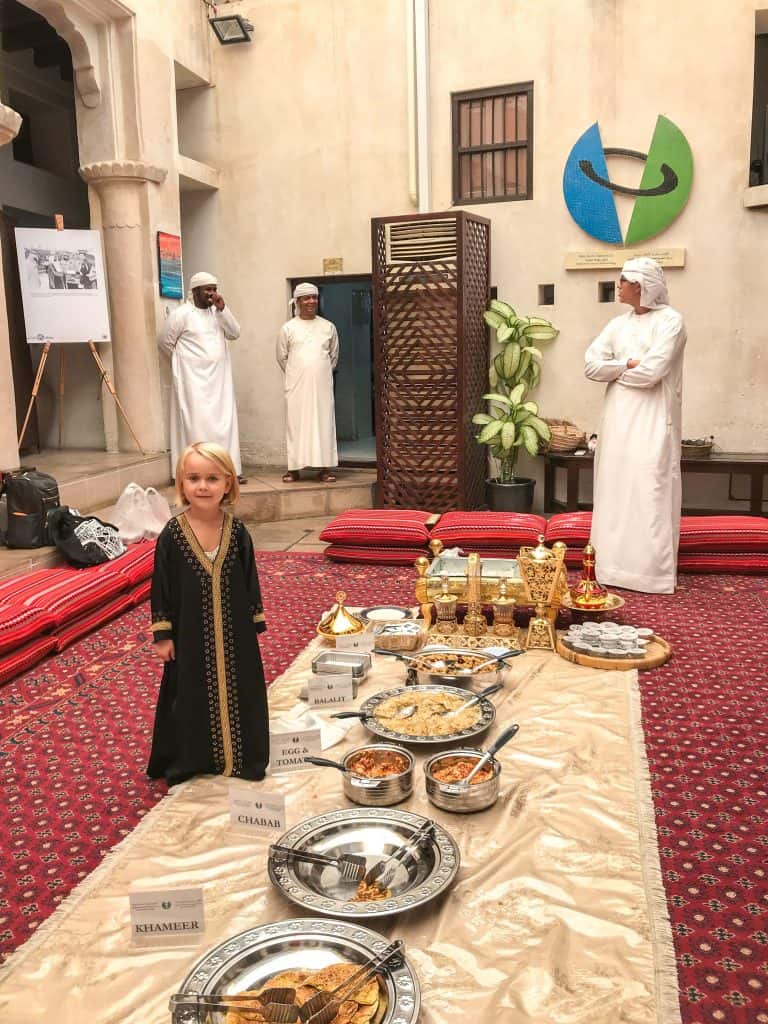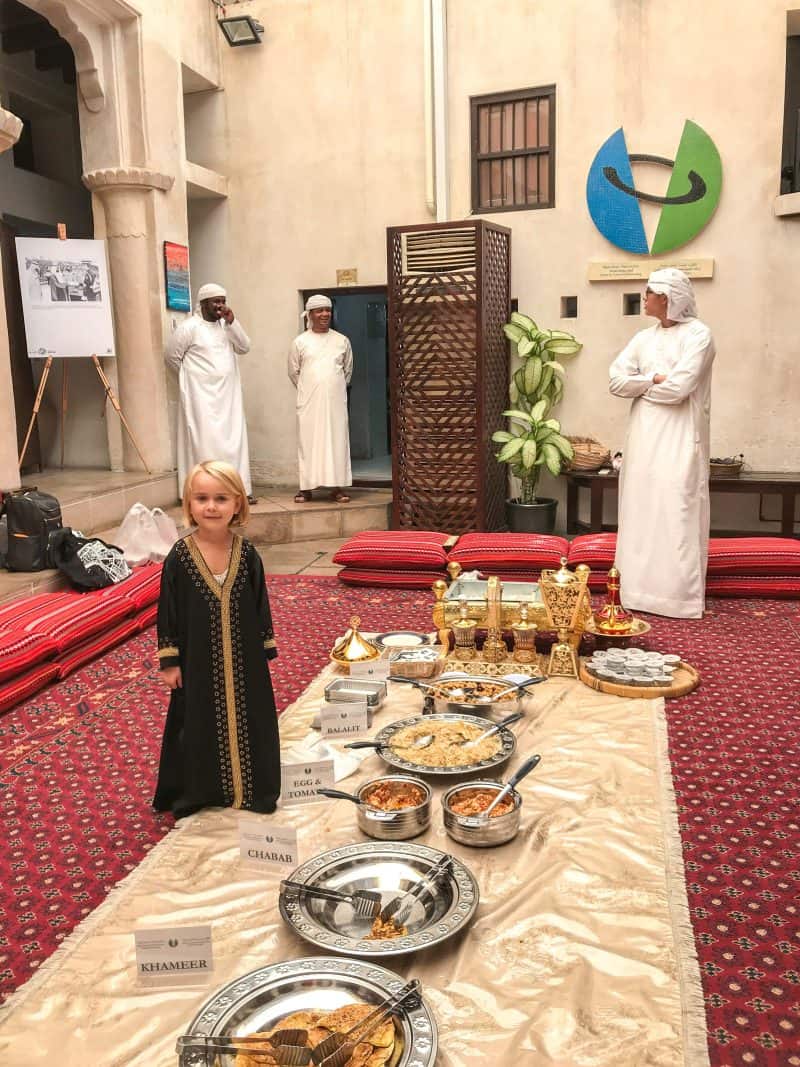 We love exposing our children to different cultures and I love how the experience stimulated so many questions and discussion with our four year old daughter.
It's one of the reasons we travel with her a lot and love for her to learn and develop cultural respect.
MIRACLE GARDENS / BUTTERFLY GARDEN
I must admit I was totally gutted to find the Miracle Gardens in Dubai are seasonal. We took a taxi and realised it was closed and due to open the following week.
Apparently, the intense heat in the warmer months makes the flowers die.
From the many pictures I have seen of the Miracle Gardens, there are stunning pieces, like a heart-shaped arch covered in roses.
Not to mention the life-sized aeroplane completely covered in colourful flowers.
The garden also comes alive at night with extravagant lighting displays.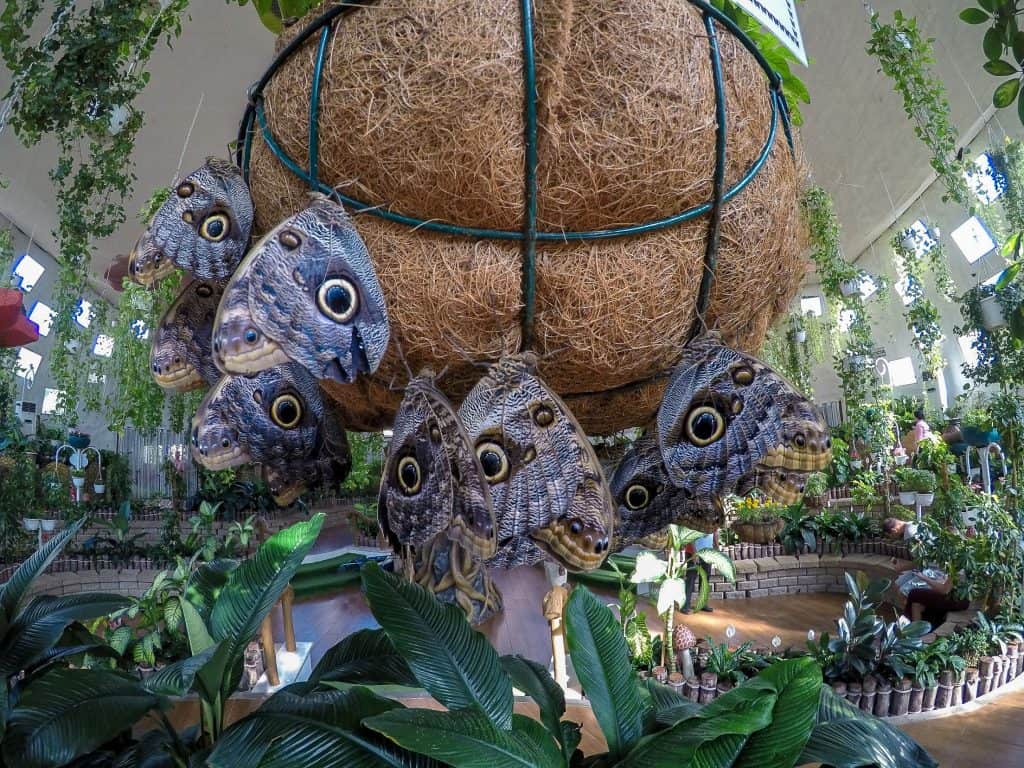 Despite our garden of choice being closed, we did go into the Butterfly Garden across the road. I can't say it's as impressive but it was nice all the same.
The Butterfly Garden consists of four domes, inside there are some stunning tropical plants and of course home to many butterflies.
A slightly strange combo but at the end of the four dome tours, there is a chill-out area with a movie and a cafe.
PLACES TO STAY IN DUBAI BY BUDGET
BUDGET FRIENDLY
( Best price found online £94 per night )
Rove Dubai Marina is located in an ideal position to explore the beaches, the mall and many other attractions.
We loved the eclectic, modern and chic design, not to mention the food at breakfast and other meals throughout the day which were simply amazing.
The breakfast was super healthy with lots of raw fruit and vegetable options, not to mention the best birch muesli mix ever!
Although there wasn't a specific kids area in Rove Dubai Marina, they did have toys in the restaurant for all the children to play with during their visit.
Likewise, they had a nice kids menu and were very adaptable to changing things to our vegetarian needs.
In comparison to many other places in Dubai, we found Rove Dubai Marina to be the most eco-friendly.
They serve water from glass bottles in the restaurant, they don't use plastic straws and every room had soap, shampoo and conditioner dispensers.
Every travel mums dream is to have access to a laundry and Rove Dubai Marina had their own self-service facility.
To make it more interesting they have games such as table tennis in the laundry room to make an otherwise boring task more fun.
I totally didn't mind nipping out during bath time to do the laundry!
As for the bedrooms, there are only two types in The Rove Dubai Marina. They are all the same size with configurations of two singles and a pull out sofa, or a super king with a pull-out sofa.
The space was quite small but we managed and as I mention it is a great base to satellite from when seeing Dubai attractions.
MID-RANGE PRICE (ALTHOUGH STILL LUXURY)
(Best price found online £148 per night )
As I mentioned previously, Lapita Hotel is based in the Dubai Parks and Resorts vicinity. In theory, it is halfway between Abu Dhabi and Dubai, so either airport could be an option.
Just a short stroll from the entrance to all of the parks, it's the ideal base to explore at leisure and work around your kids usual eating and sleeping routine.
Lapita Hotel has a Polynesian inspired design and although I consider it to be a mid-range price hotel, it is still luxury in my opinion.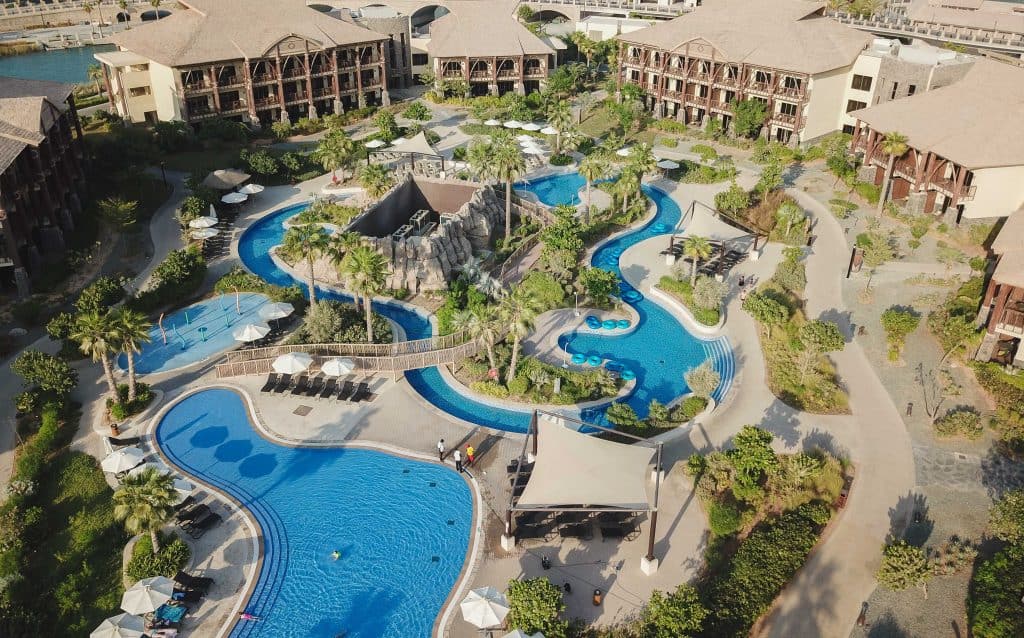 We really enjoyed our stay at Lapita Hotel from the incredible restaurants, stunning room interior and abundance of activities, the hotel deserves a full day to be explored in itself!
The kids club is one of the biggest I've seen inside a hotel and the staff are very proactive in playing games with the kids.
Our kids also loved the swimming pool, especially the lazy river with inflatables to float around.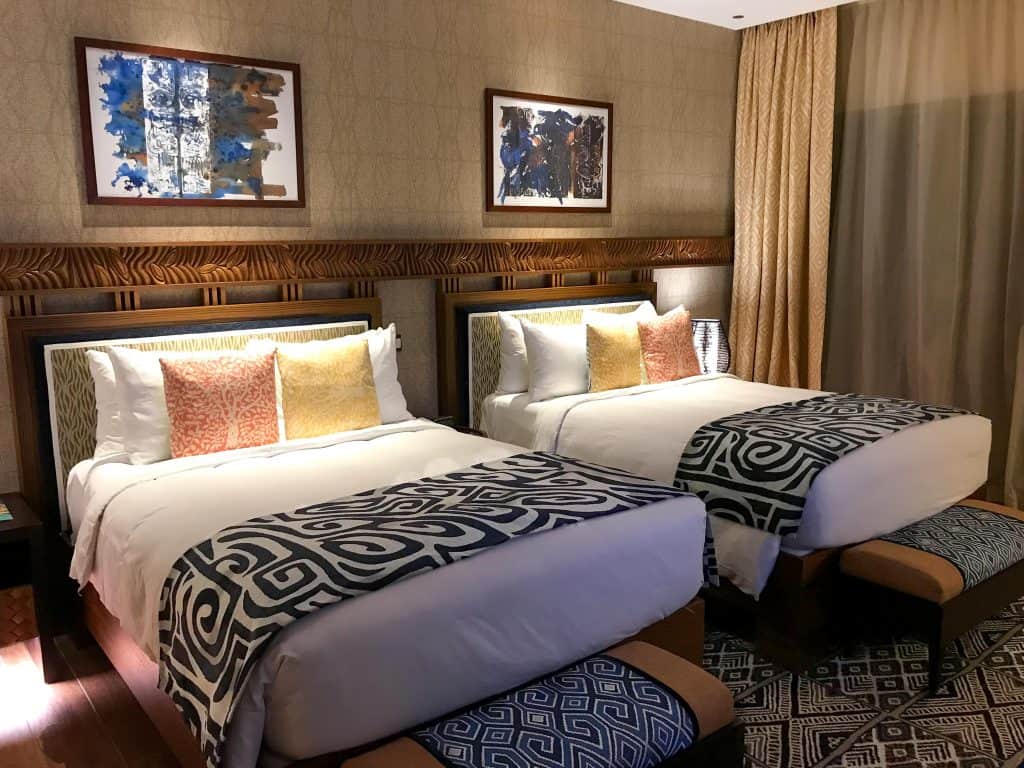 LUXURY
(Best price found online £348 per night)
We stayed at Atlantis the Palms for one night at the end of our Dubai trip.
The architecture, sheer grandness and facilities is just another level! I mean they have the most elaborate aquarium, the Lost Chambers right inside the hotel?!!
It's crazy to think you can roll out of your bedroom and go to an aquarium with stunning massive stingray gliding past, or go on a world-renowned slide that zips THROUGH the aquarium within seconds.
The waterpark has some of the most well-known waterslides in the world, my husband had the best time exploring them and of course, the kids loved the splash area and other swimming pool facilities.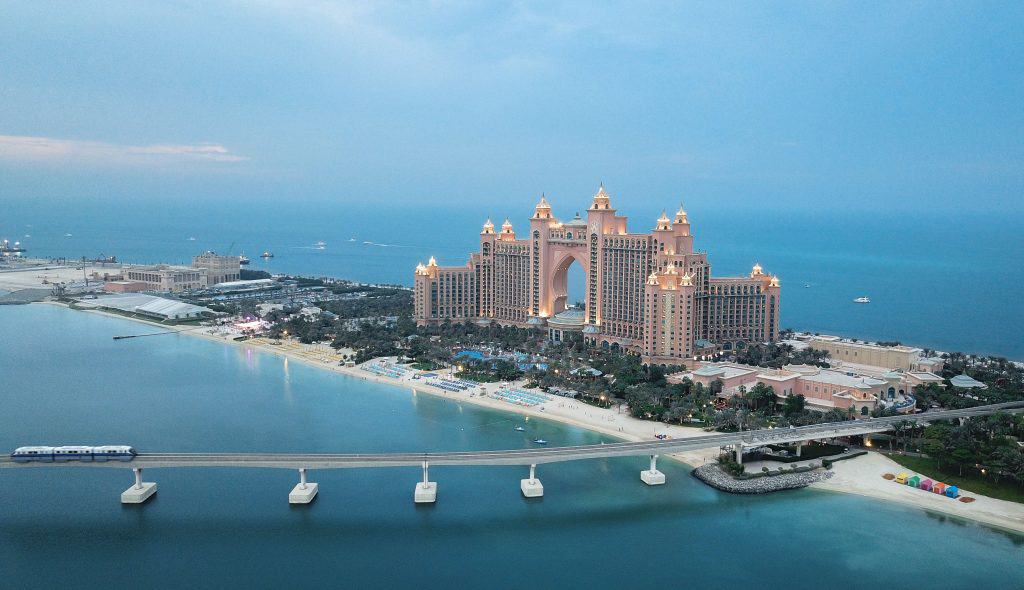 Unusually, it had giant emoji cushions on the bed, a massive poking finger, just like Facebook.
It was actually a telephone for room service.
The bathroom has some amazing mod cons with the mirror turning into a touch screen computer and played tunes on YouTube.
We had stunning panoramic views over the infamous palm, and the beaches around Atlantis the Palm are really amazing.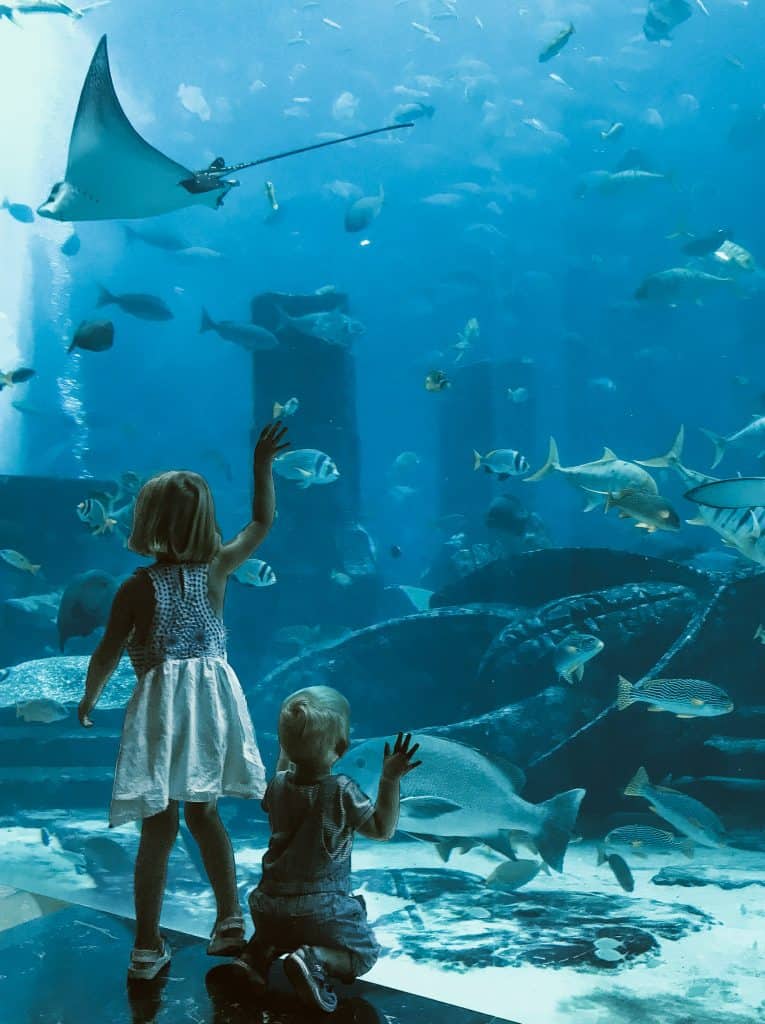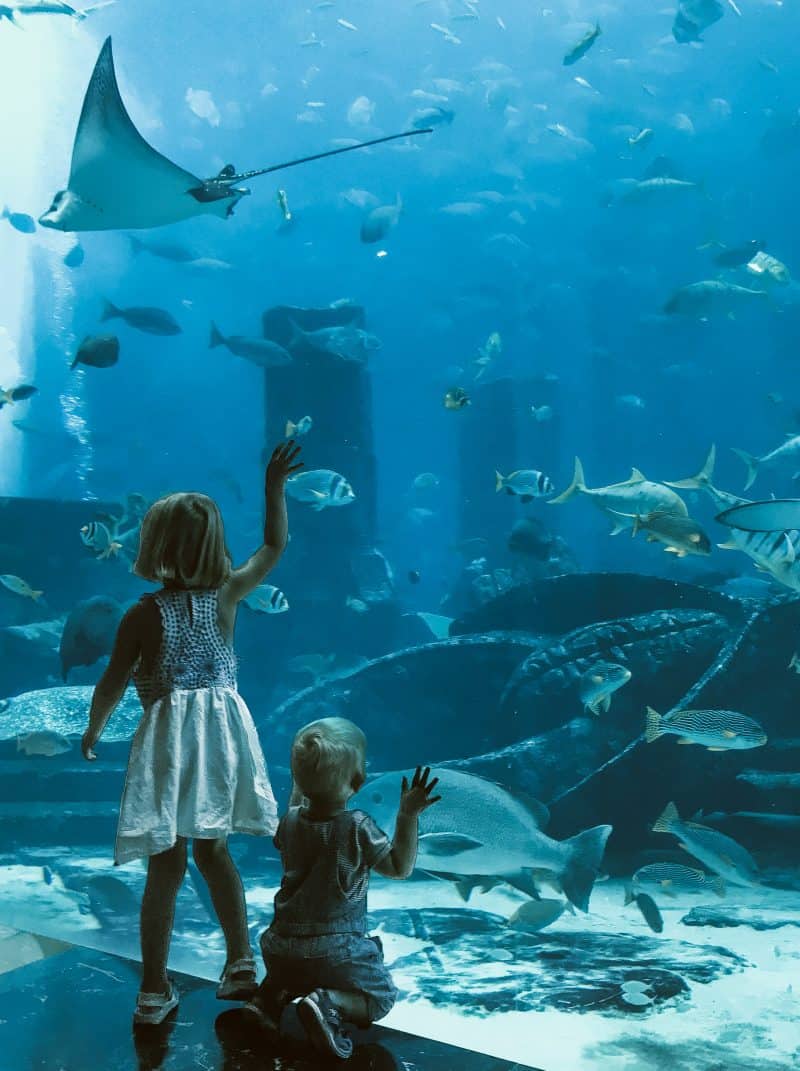 There are so many things for all members of the family at Atlantis the Palm, too many to fit in this blog, it deserves a whole other article.
Some of the other highlights for us was the kids club and eating dinner at the Lebanese restaurant Ayamna.
THE BEST PLACES TO EAT IN DUBAI WITH KIDS
RAINFOREST CAFE
We visited the Dubai Mall on our way to the Burj Khalifa. Our kids immediately spotted the Rainforest Cafe with the giant frog standing outside welcoming guests.
It is a very good interpretation of a rain forest with many pretend animals making noises and moving around amongst the bushes inside the restaurant.
It's ideally located next to the Dubai Aquarium and has exclusive views of one of the main tanks. The food was good and it was an amazing sensory experience for the little ones.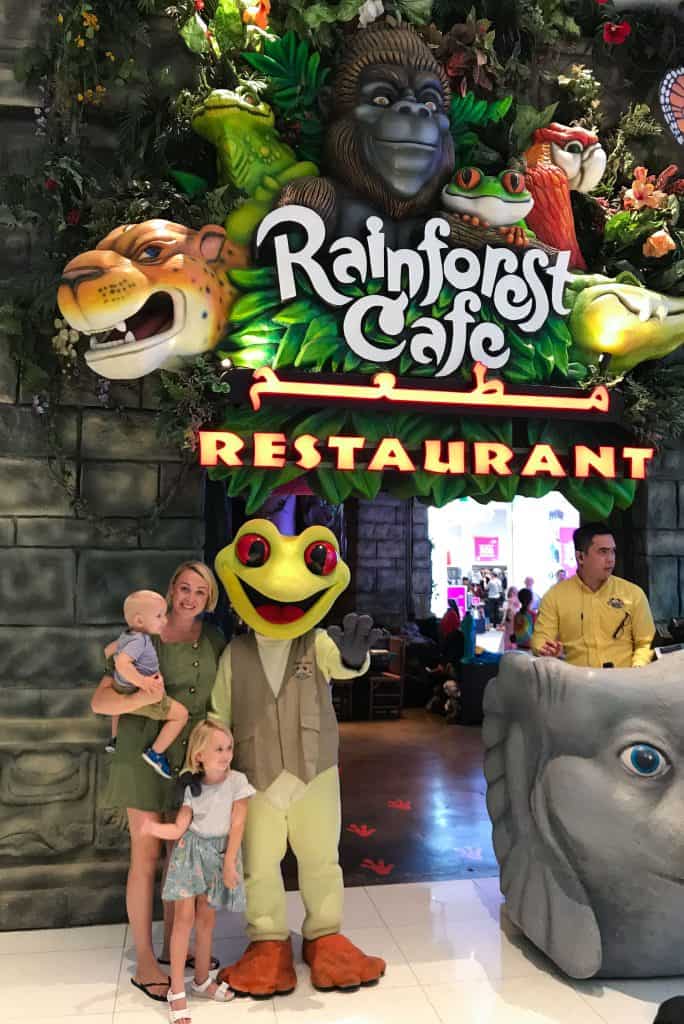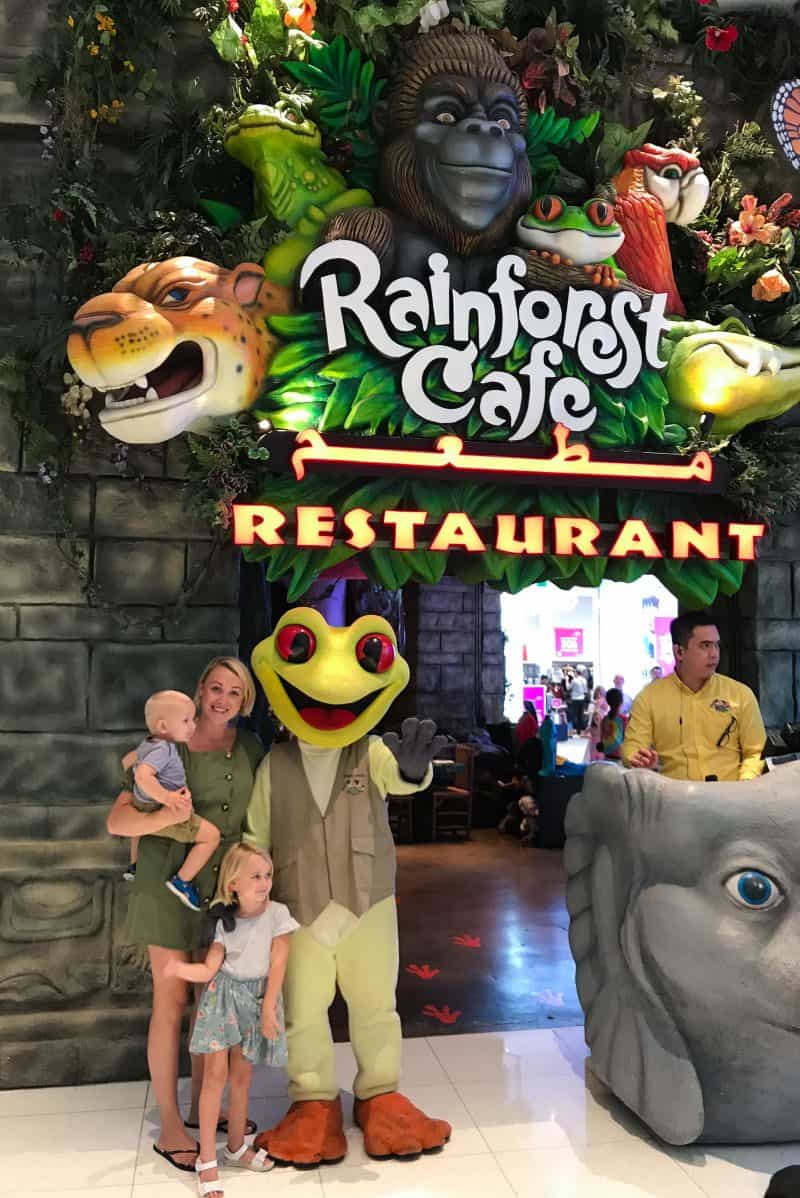 THE BREAD STREET KITCHEN
Check-in at Atlantis the Palm is at 3 pm so we utilised our early afternoon to explore the aquarium and have lunch at Gordon Ramsay's on-site restaurant, Bread Street Kitchen.
It was our children's favourite dining experience throughout our time in Dubai. We visited on a Saturday when the restaurant has its infamous brunch running.
Guests can pick nibbles from the huge buffet on offer of starters whilst an a la carte main is being prepared.
The best thing about this restaurant is it caters to the whole family. There is so much for the kids to do. From decorating cookies with the chef, to doing arts and crafts in the garden. I loved the vegan shawarma.
It's one of the few times we've been for a meal where it feels semi-civilised with the kids.
From what I could see a lot of local expats, not staying at the hotel go to Bread Street Kitchen, so it's definitely worth a visit on a Saturday even if your not staying at Atlantis the Palm.
WHAT TO WEAR IN DUBAI
Dubai welcomes tourists with open arms, however, this can make it easy to forget it is at the heart of conservative Islam. It can be difficult to figure out what to add to your Dubai packing list. I asked a former expat Carrie what she felt was best to wear in Dubai as a tourist and this is what she said:
Do wear normal beach clothes at the hotel beach and swimming pool but ladies, don't go to topless. If you visit a public beach, be aware that as a women you are more likely to be stared at in your bikini.
It's allowed but just be prepared. It's probably not a good idea to wear a thong bikini. If you visit places like the Jumeirah Mosque or the Sheikh Zayed Grand Mosque in Abu Dhabi, then cover up as a sign of respect.
WHAT TO WEAR IN DUBAI
Men should wear long trousers and full sleeve shirts or half sleeve in summer.
Women are required to wear a Hijab or Shayla (a headscarf and abaya the black cloak), which is available free of cost at the entrance.
In the malls, you can generally wear your normal attire but avoid low cut dresses, bare shoulders and short shorts. For men, longer shorts are better too, and always keep your top on unless you are at the pool.
The malls provide a cool retreat from the sun, and have effective air conditioning – so you won't be hot in jeans and a t-shirt! Definitely take a cardigan, a pashmina or lightweight jacket in case you get too chilly.
You will often see reminder dress code signs asking you to be dressed modestly as you enter a mall. These say wear clothing below the knee and cover shoulders.
I've not seen anyone confronted about it if they are not conforming but remember you are a guest in the country so please respect their customs. When in doubt carry a shawl! Children of course can wear anything.
If you have never been to Dubai before, then check out this checklist for first-timers in Dubai.
GETTING TO DUBAI
Dubai is only a seven-hour journey from London with a number of flights throughout the day. Whilst Emirates are the main carrier, there is also an option to fly into Abu Dhabi with Etihad.
Here is a helpful post about Emirates versus Ethiad. Find the best prices on flights here.
You May Also Like:
Dealing with Jet Lag in Babies, Toddlers and Kids
This post is sponsored by Attraction Tickets Direct Visit Dubai and Dubai Parks and Resorts. As always all views expressed are entirely our own.