After our last holiday when we were backpacking and constantly on the move, we decided our next trip would be somewhere beach side. We wanted to put little to no effort into planning for the complications that come with travelling with a toddler.
We started looking at all the things to do in Cyprus with kids and it checked all our boxes. Beautiful Cyprus hotels on the beach with kids clubs, entertainment, and pools with watersides, we knew it was going to be fun and relaxing for all of us.
Cyprus is the perfect destination wether your travelling with a baby, toddler or older children.
We started researching where to go in Cyprus and decided that Paphos as well as Ayia Napa seemed like the best places to visit in Cyprus with kids. So, we decided to spend a few days in each!
We ended up loving both and could have easily spent a full week in either.
As I mentioned, we wanted to make sure it would be an easy trip, so we made sure to find the best places to stay in Cyprus for families, as well as the best things to do in Cyprus with kids. So without further ado here is our Cyprus travel guide!
Cyprus For Kids
Paphos
We started our trip in Paphos. There are super affordable flights to Paphos and our hotel was only a short 15 minute drive away.
If you've got a super fussy kid, or just want to really minimise transit time, this might be the best place to go in Cyprus with kids. The airport is so close to the city, and the airport is very small.
It took almost no time to make our way through customs and out of the airport. Check out ticket prices here!
Many of the Cyprus historical sites are located in Paphos, although we didn't visit most of them, anticipating that ruins wouldn't peak our 2.5 year old daughter's interest. Nonetheless, we found quite a lot of things to do in Paphos with kids!
Did you know that Cyprus is also one of the warmest destinations in Europe in February?
Where to Stay in Paphos
We stayed at the Constantinou Bros Athena Beach Hotel. Located directly on the beach there were literally Mediterranean sea views every place we went in the hotel. It gave the whole stay a very calming feel to it.
We stayed in one of their sea view, one bedroom suites with their Elite Class package. It had a fantastic view of the pools and the sea, and a great balcony to appreciate it from.
We also had a sitting room with two couches, one of which they had turned into a bed for Maya. This room had a door that was great for nap/bedtime, we actually had somewhere to go and have a life without worrying about waking her up.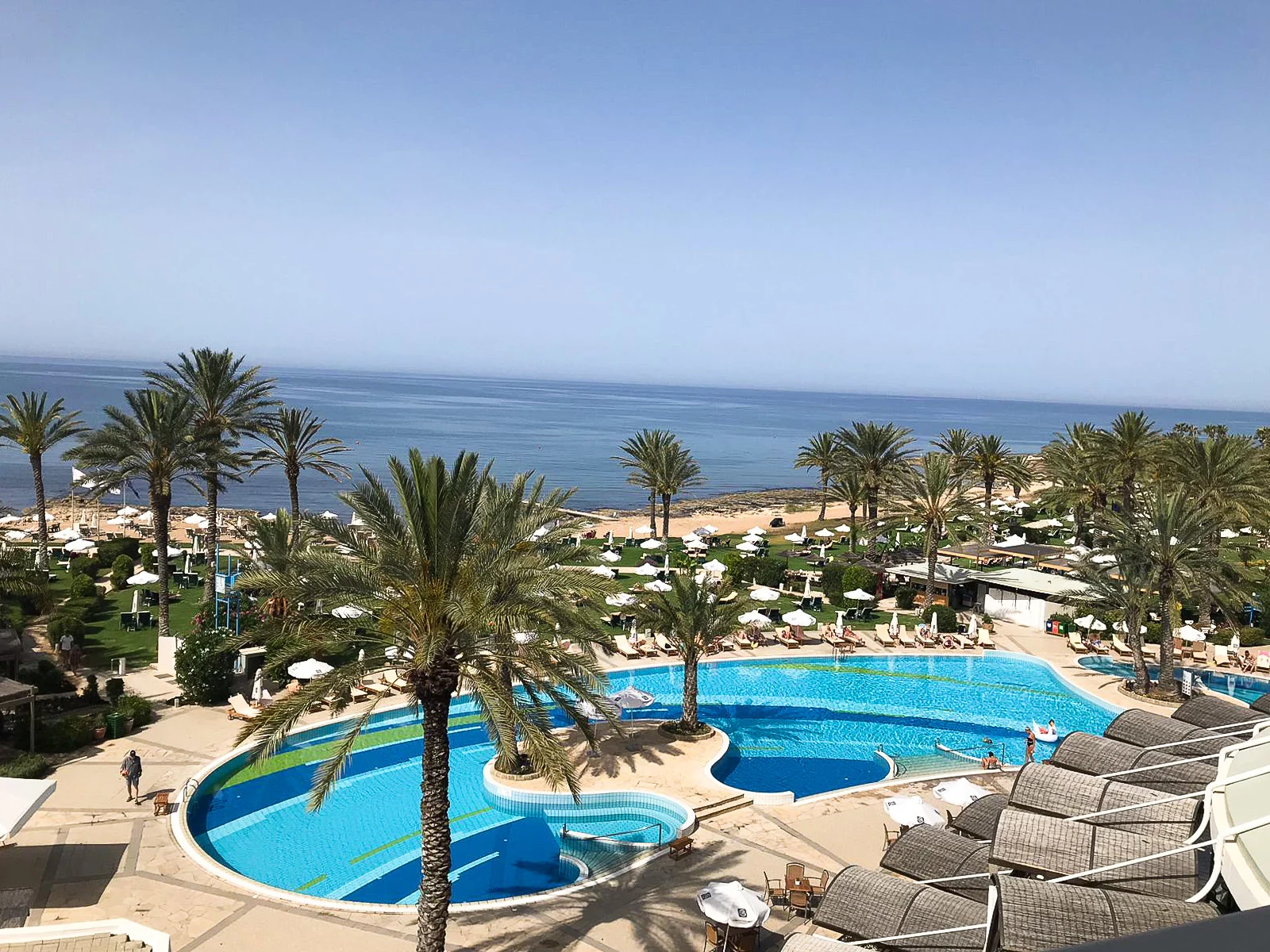 If you have a late return flight we would definitely recommend going for the Elite Class, among a ton of other perks, they allow you free late checkout until 6 PM. As someone who's gotten stuck in a "where the heck will she take a nap situation" this is definitely an awesome perk.
The Food
One of the great things about this hotel is you can really customise your package to your needs. We stayed there on half board term, it gave us an excuse to leave the hotel and explore the area.
The hotel has three indoor restaurants with a huge variety of options and, of course, outdoor restaurants by the pools. All the restaurant have lovely outdoor seating so you can appreciate the ocean even while you eat.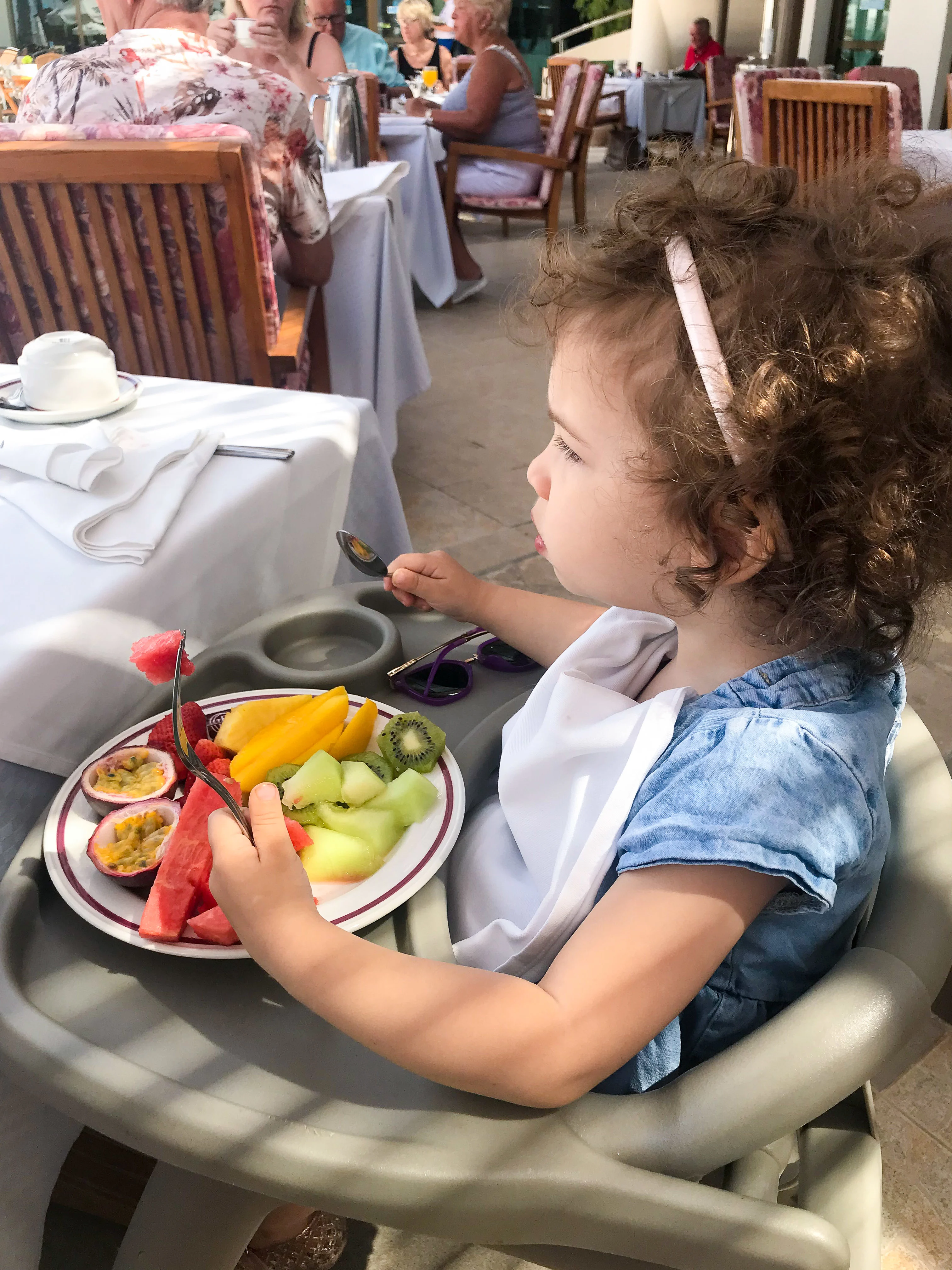 They have one dining room which is fancier and because we had Elite class it was included in our package. We chose to eat there for breakfast every day.
The larger buffet restaurant was ideal for dinnertime, we thought the slightly less formal option with loads of choices was easier in terms of accommodating the whims of a toddler.
We found loads of great options in both restaurants for a two year old's tastes and our own. When we asked for soy milk in the morning for her the first day, they made sure to bring us a small jug of it every day thereafter.
The Activities
The Athena Beach hotel has tons to do whether or not you are travelling to Cyprus with kids. Here are the best activities that we discovered during our stay.
Kid's Club
If you are looking into Cyprus with children you probably are also checking out the kid's clubs. We especially loved the kid's club here for a few reasons.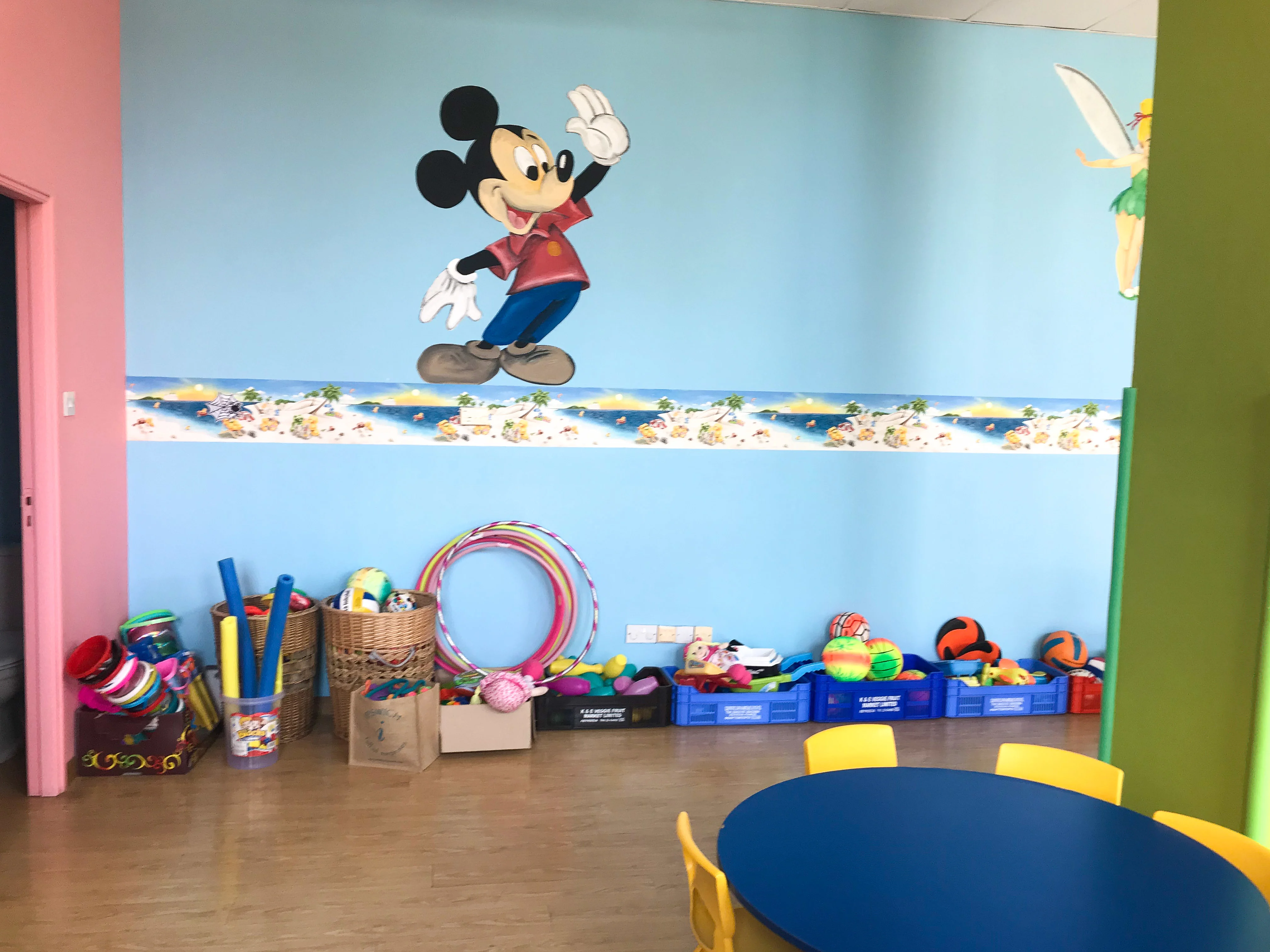 The first is the staff; Mary, who runs the club, brought so much energy and joy even when there were very few kids.
We were there in May during a quieter period, but it didn't stop them from having a full list of fun activities for the kids. Maya's favourite was getting her face painted.
The other reason I loved the kid's club is they let us borrow toys. We like to pack very light so it was so nice that Maya was able to borrow a ball and a doll (or what ever else she had chosen) which she dragged around with her everywhere as long as we were staying there.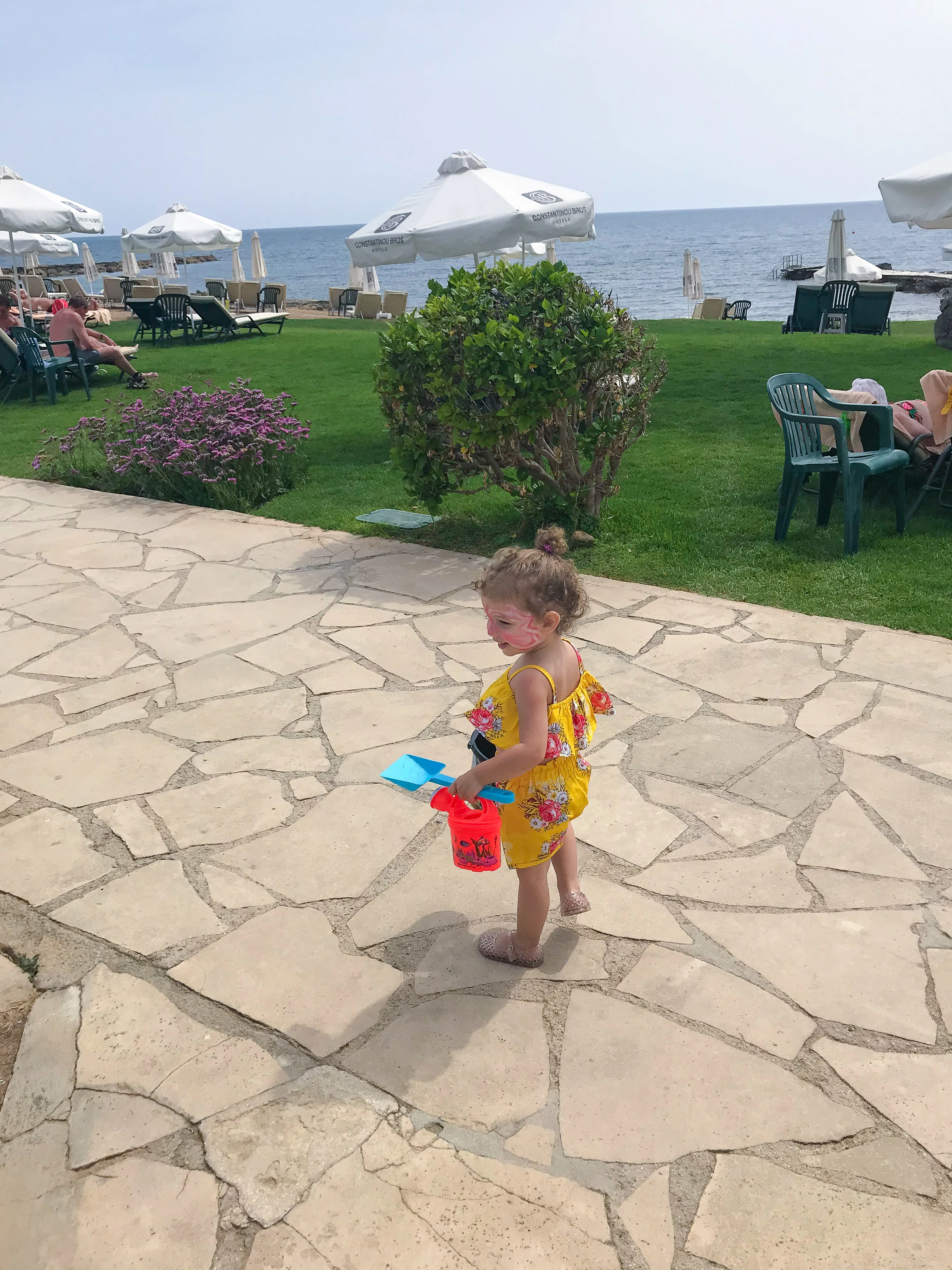 They also had a huge collection of sand toys which we got to borrow and bring down to the beach so I could be a bum for a little whilst Maya was happily occupied digging in the sand. For this alone, I feel like it is one of the best family hotels in Cyprus.
The only thing to note about the kid's club is that at 2.5 years old Maya was too young to leave her there alone. For us this wasn't a big issue, we tend to be on the attachment side of the parenting scale. Older kids can of course be left in the club.
Pools
The hotel has a lot of pools which we loved hopping between. They break them up in such a way so that the hotel feels much smaller and more intimate.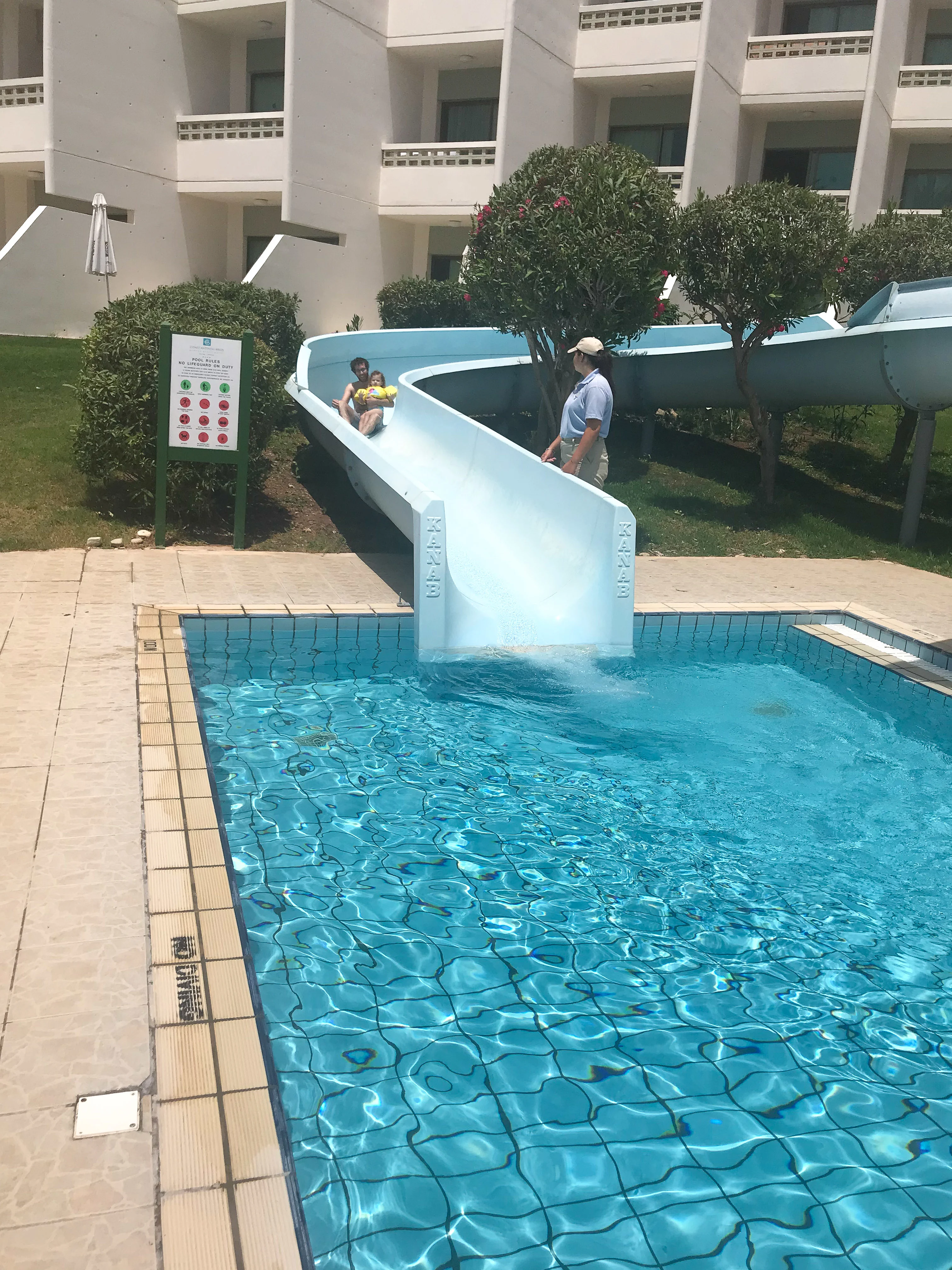 They have three kids pools; one covered, one not, and one that's a little larger and deeper with a water slide! Maya absolutely loved the water slide, and so that is the pool where we spent most our time playing.
Classes and Events
The Athena Beach hotel holds different classes and events throughout the day. They have a whole bunch of different exercise classes every day, around noon, they have a food oriented one that takes place right near the pool.
We attended the Cyprian wine tasting class (read: drinking lots of free wine) and while we were there they also had a 'make your own tzatziki class' and an ouzo cocktails. Both of which we definitely would not have missed if were staying longer.
They had evening events with live music and games every night (we participated in a music quiz) and for the kids they have mini disco.
Once again, I really have to give a shout out to the staff that run these events. There weren't many other children around, however when we were the first to show up to the mini disco, they immediately turned the energy up to 100% and really made it so fun.
Maya had the greatest time dancing with them and the kids that showed up later.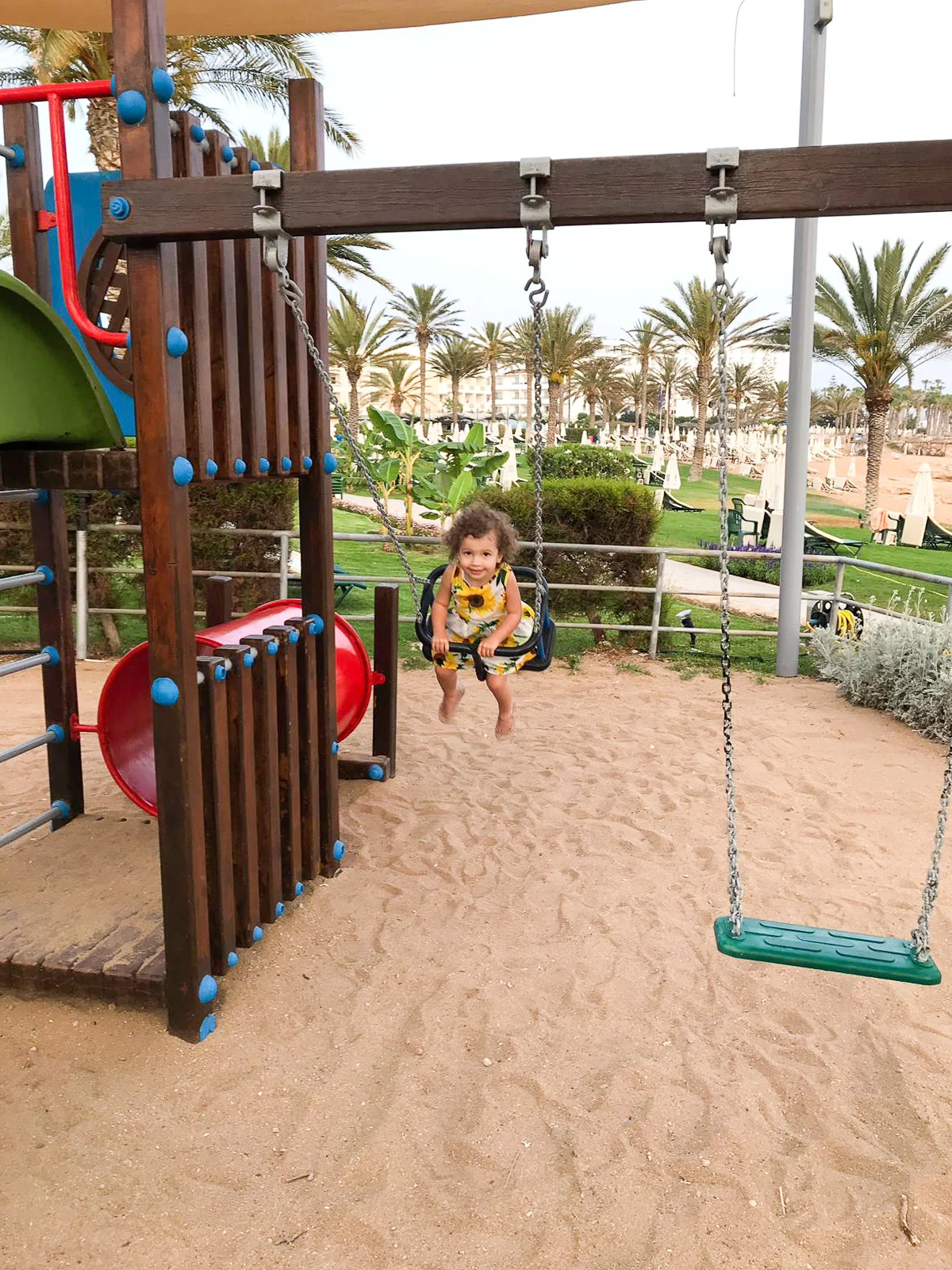 Playground
The hotel has a nice little playground on the grounds which was great in the late afternoon when we retired from the pool but Maya still had energy to spare.
We spent a few afternoons there and had to drag her away at dinner time. We really felt that this was one of the most child friendly hotels in Cyprus.
Check prices and availability of the Athena Beach Hotel here!
Best Things To Do In Paphos For Families
If you are looking to leave your hotel and explore Paphos there are plenty of things to do. If you've got older kids who are interested in history and archaeology you can check out tomb of the kings, the archaeological park and many more sites.
For those who's kids won't stand for being dragged to historical sites and are looking for what to do in Paphos for kids here's the list we came up with.
Stroll Around the Marina
There are plenty of things to see in Paphos but our favourite was just to stroll around by the marina. We found a lovely gelato shop that had some vegan options and we took our ice cream for a stroll around, seeing how clear the water is there and enjoying the laid back vibe.
There are a lot of shops and restaurants in that area, not to mention lots to see, so it's a nice place to spend an afternoon.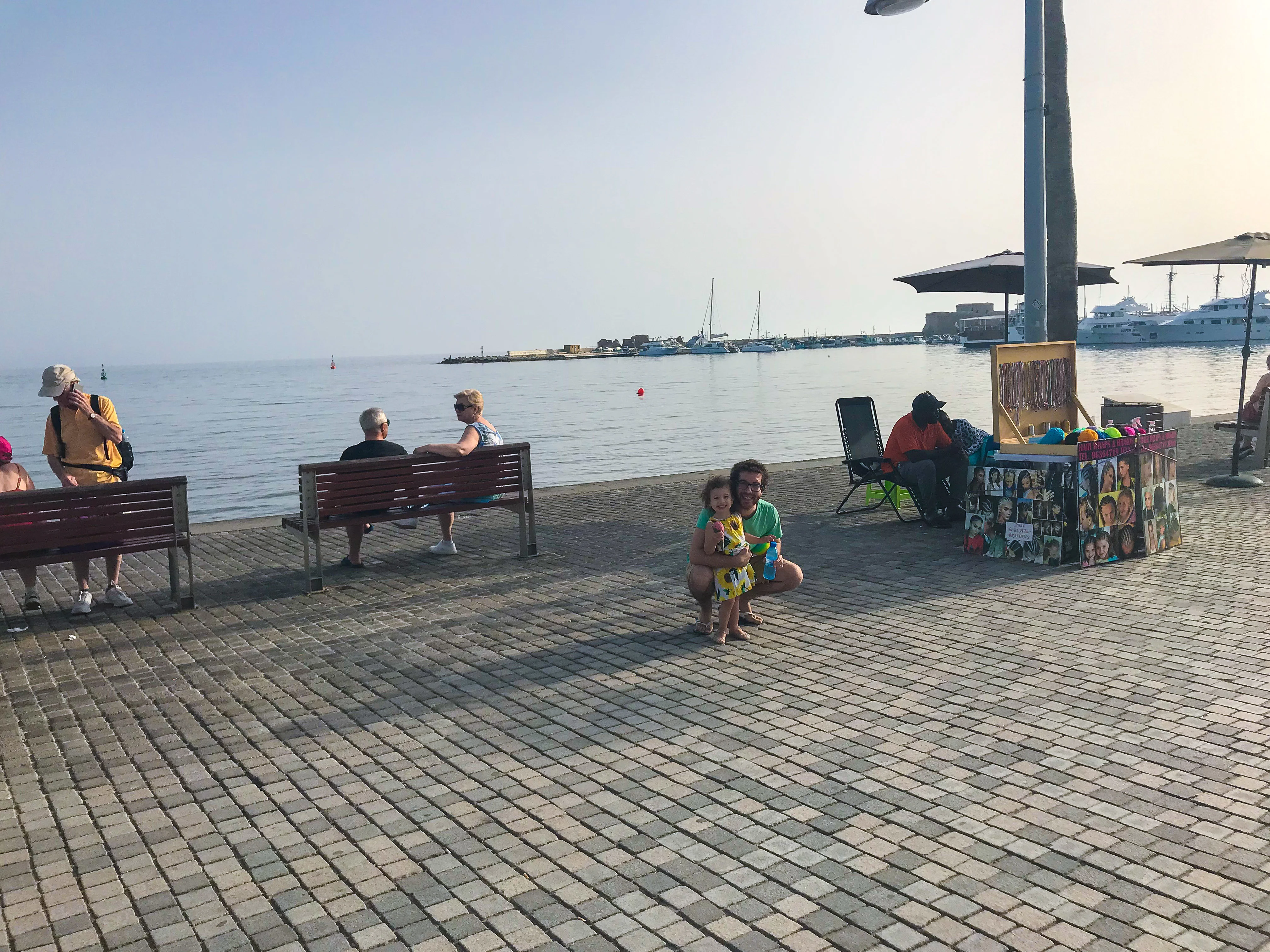 Luna Park
If you are looking for more fun and adventure you can head to Luna Park. It's a small funfair for kids with ferris wheels and carousels.
Aphrodite Water Park
We didn't have time to hit the water park but if you are looking for more places to visit in Paphos, it's a great way to shake things up. The Aphrodite water park is a large water park with fun for all ages. You can buy tickets here.
Take a Cruise
A visit to Cyprus with kids would not be complete without at least one boat ride. Luckily there are plenty geared towards kids.
The most notable would be the Pirates Cruise. On a four hour cruise you get to enjoy the beautiful views which includes a onboard buffet of greek specialties. Find out more about the cruise here.
Things To Do Near Paphos
There are plenty of Cyprus tourist attractions located near enough to Paphos to throw in some day trips if you are feeling adventurous.
We mostly went beautiful beach hunting, but there are also cultural excursions and visits to the mountains as well as lots of other fun things to do in Cyprus with kids depending on your tastes.
A great place to browse through your options if you are interested in finding a Cyprus tour guide to take you into the mountains or a local village is on GetYourGuide. You can also check out this guide to Paphos day trips.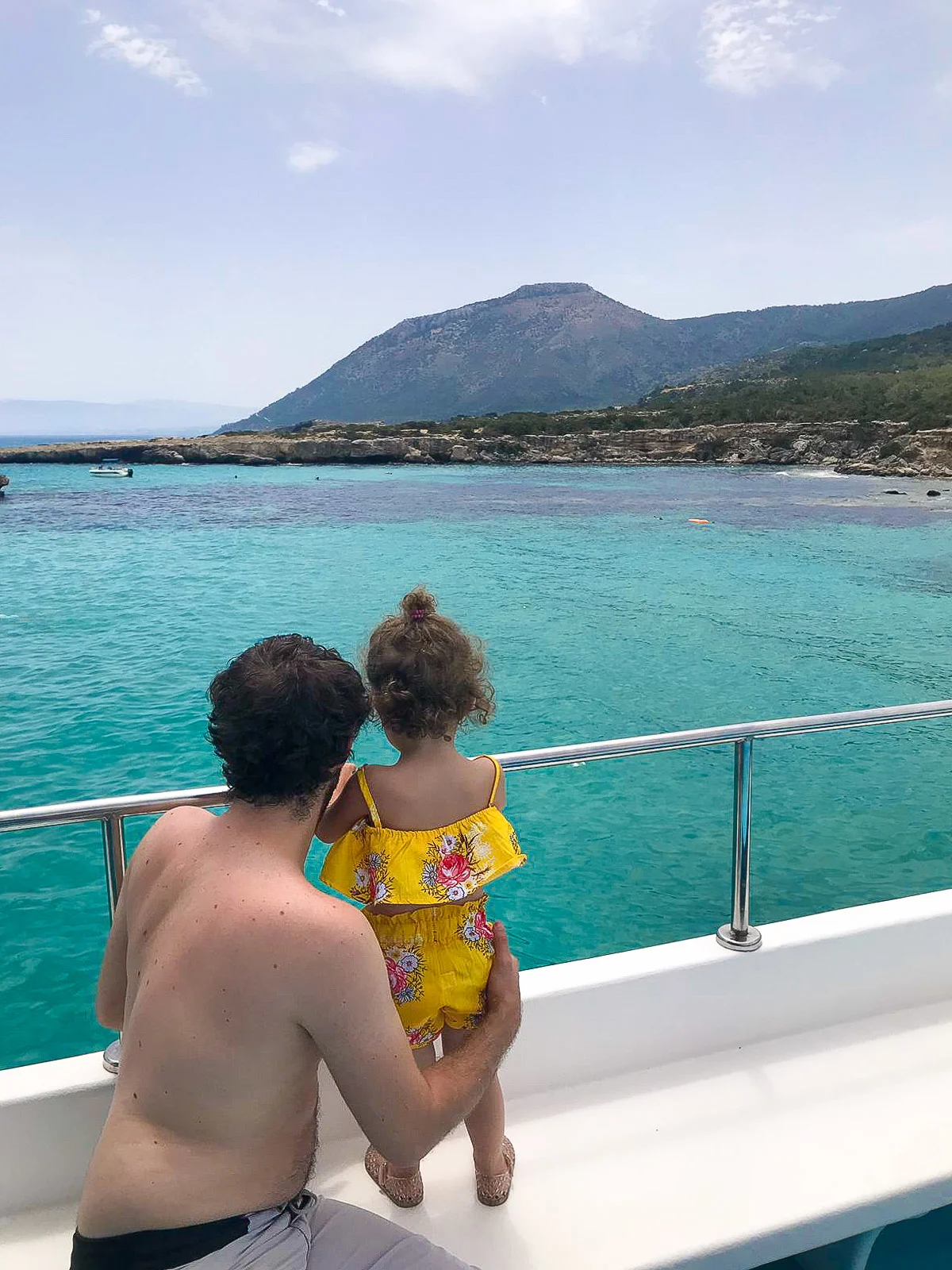 The Akamas Peninsula and Blue Lagoon
The Akamas Peninsula is in the northwest of the island and is mostly untouched nature. There are plenty of ways to visit, including mountain buggy safari tours, but we chose to take a boat ride out to see some of the sites, most notably the Blue Lagoon.
We didn't think Maya would handle a full day out in the heat well so the boat tour seemed like a great idea.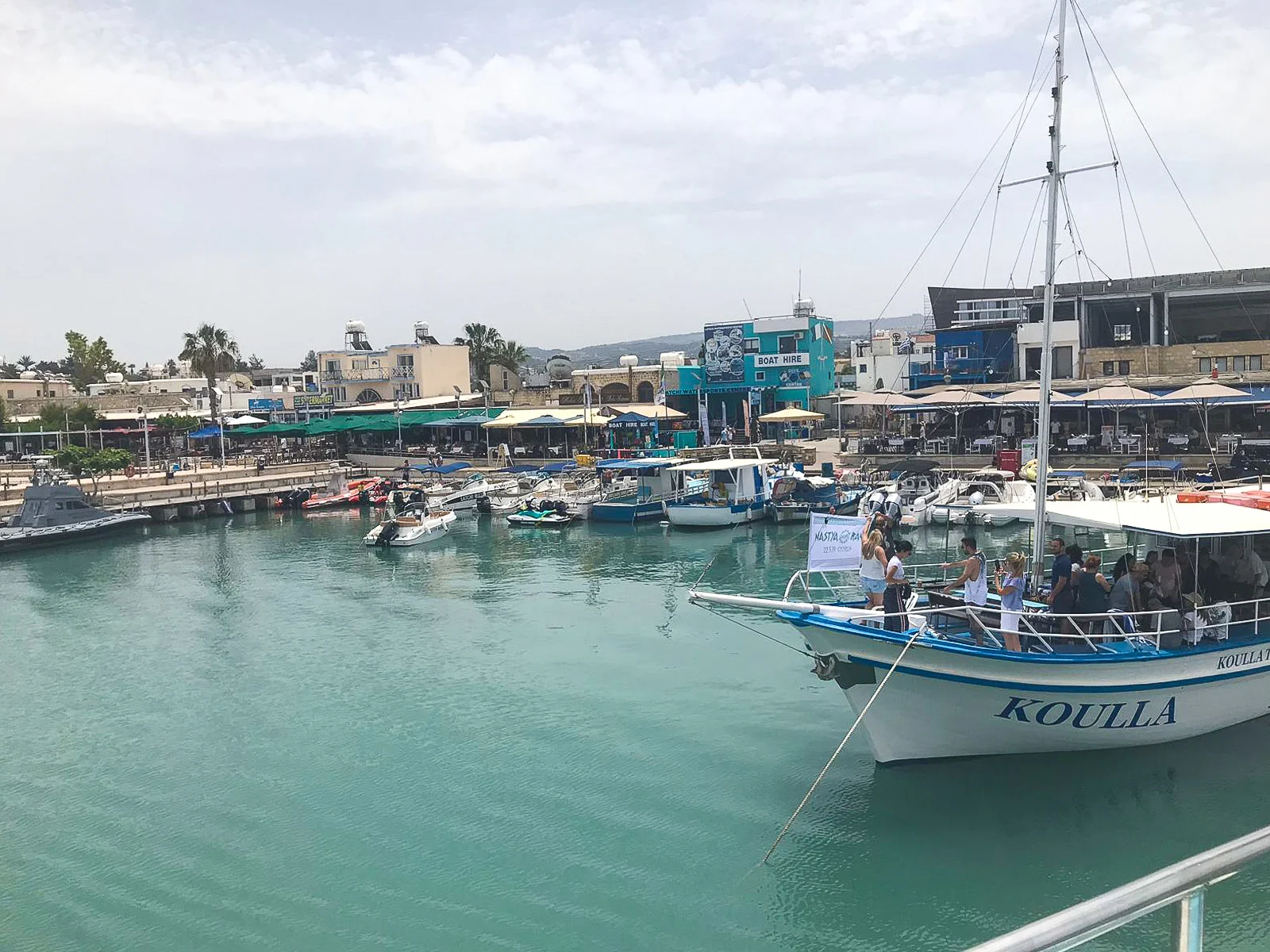 We rented a car for Cyprus which was great for us and we chose to drive to Latchi harbour instead of a tour that picked us up at our hotel.
The harbour is a beautiful place and if you drive yourself you can explore the area a bit after your cruise or settle at one of the waterfront restaurants for lunch.
We showed up around the time all the boats were leaving and easily found a place on a boat due to leave two minutes later.
We all had a great time on the boat and got to see a lot of inaccessible parts of the coast line. My daughter's favourite part, of course, was just that we were on a boat "like grandpa Pig".
The highlight of the trip for the rest of us was when they dock in the Blue Lagoon so you can swim.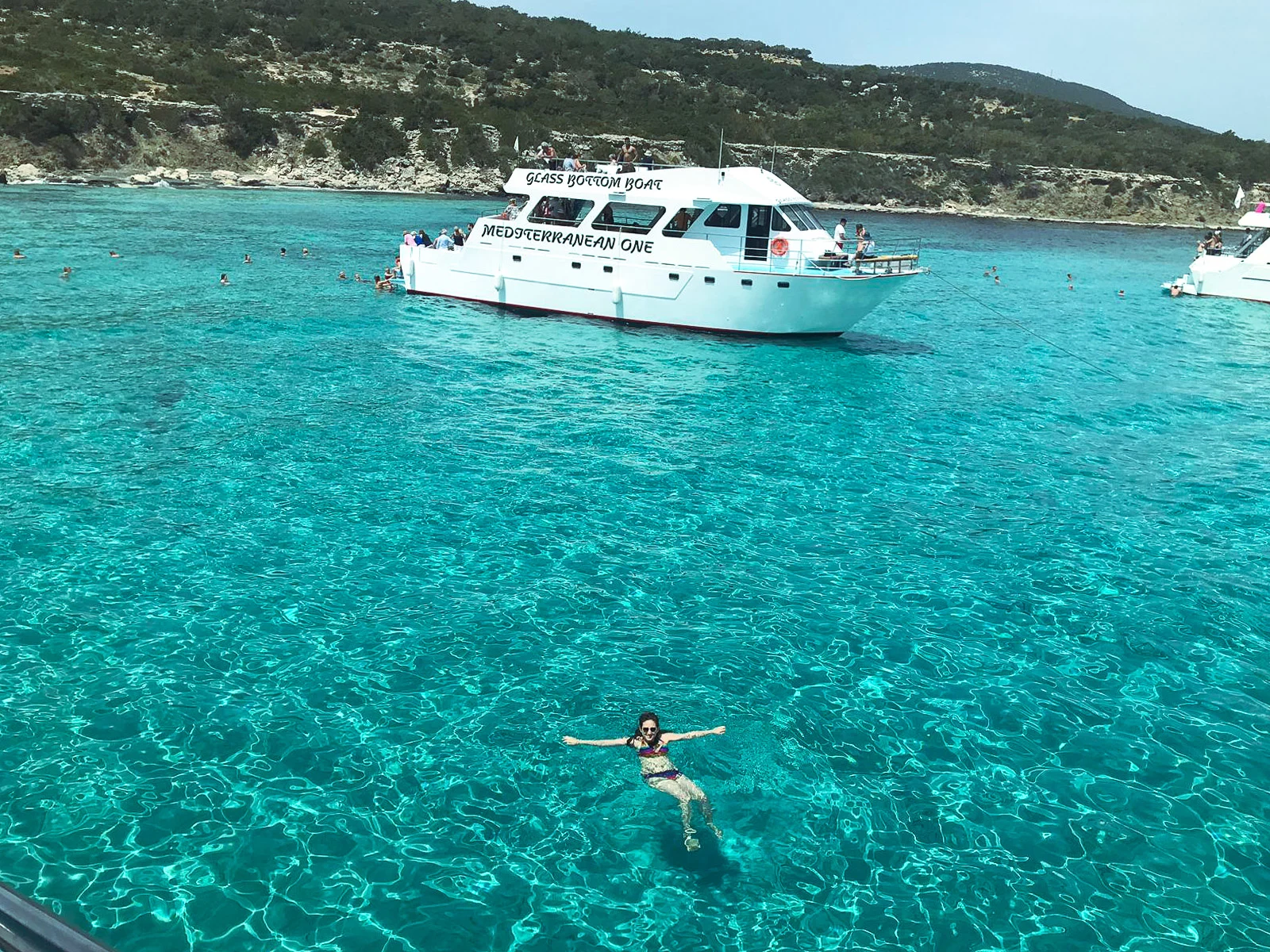 Despite the heat outside the water is always nice and cool and it's some of the clearest blue water I've ever seen in the most unique shade. I think the pictures speak for themselves.
I highly recommend this trip for anyone coming to visit, it's definitely on our list of the best places to visit in Cyprus with kids.
Petra Tou Romiou
Another one of the top things to do in Cyprus is to visit Petra Tou Romiou, also known as Aphrodite's rock. Greek mythology claims that this place, on Cyprus' south coast, is the birthplace of Aphrodite, the goddess of love.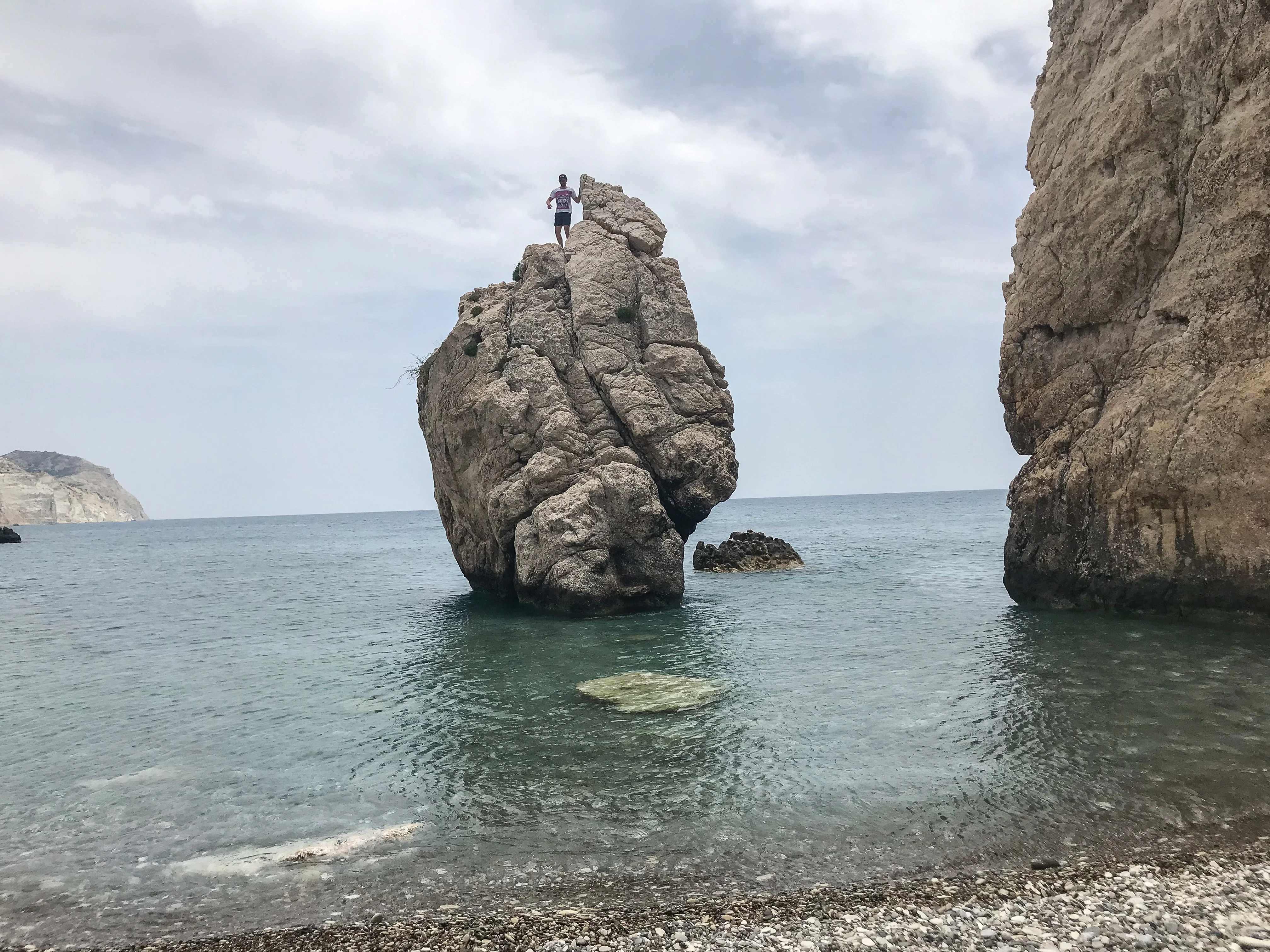 Aside from its fame in mythology, it's also a stunning, albeit rocky, beach with massive formations coming out of the water.
Maya was in a terrible mood when we went so we didn't stay long but she had fun looking at the hundreds of colourful rocks while we took turns taking a dip in the water.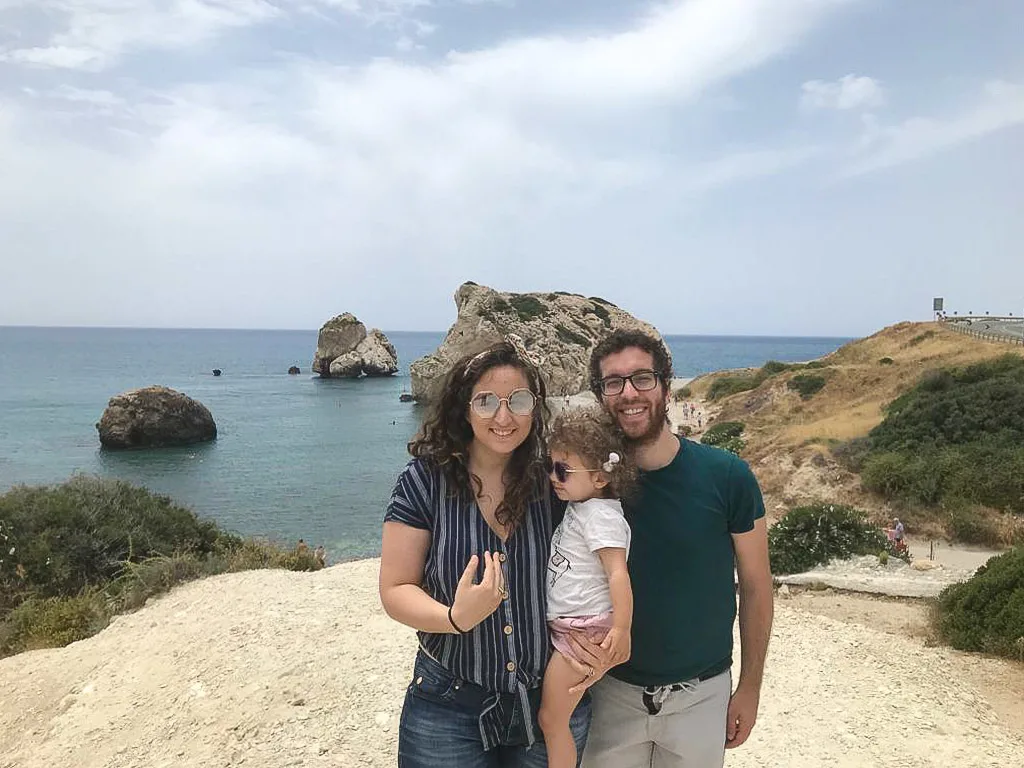 The rocky part of the beach is the prettier part but if you are looking for a proper place to sit down, make sure to just keep walking past the big rock.
It seems like that's the end so we almost didn't walk up there, but when we did we realised, there was a huge stretch of coastline just past it.
Cyprus Holiday Destinations – Ayia Napa
If you are looking for the best holiday destinations in Cyprus, Ayia Napa has to be on that list. With some of the most beautiful beaches, fantastic resorts, and plenty of activities, you definitely will fall in love with this city.
We had a hard time tearing ourselves away from our hotel, although, there are loads of Ayia Napa places to visit and we will cover the best of them for you.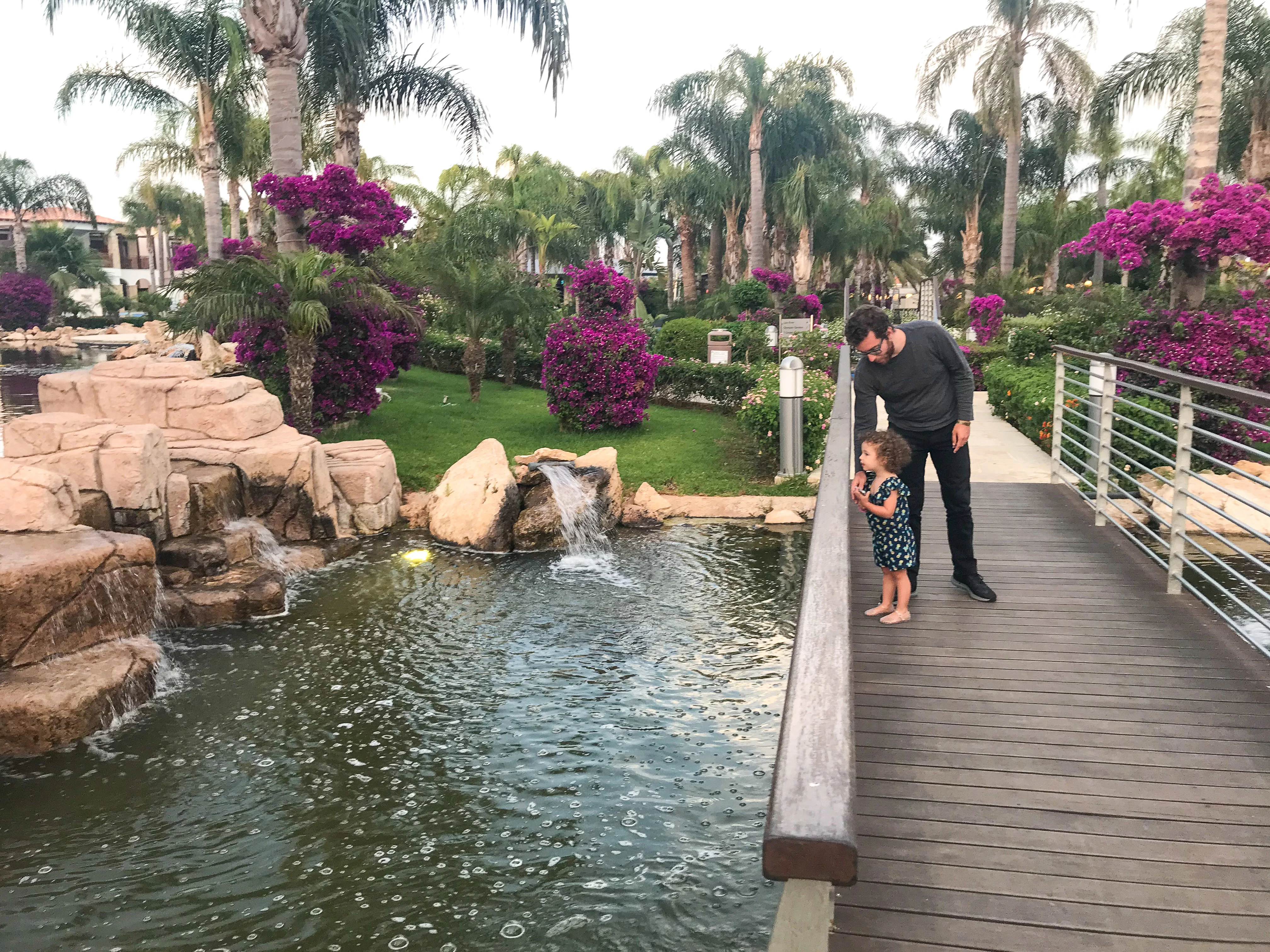 Best Resorts in Cyprus For Families
In Ayia Napa we stayed at the Olympic Lagoon Resort. The Olympic Lagoon Ayia Napa has to be one of the best all inclusive hotels in Cyprus.
With 5 pools, 7 different themed restaurants, and kid's clubs for every age group this is a great option for people who are looking for a 5 star all inclusive holiday in Cyprus with kids.
The Room
We stayed in a beautiful suite with views of the pool. We had a living area with a couch, turned bed for Maya and a fridge stocked with free waters, juices and sodas.
What we were most impressed with was that they had given us kids toiletries as well as adults, which I've never seen before! They also brought us a tray of sweets and champagne to enjoy when we checked in.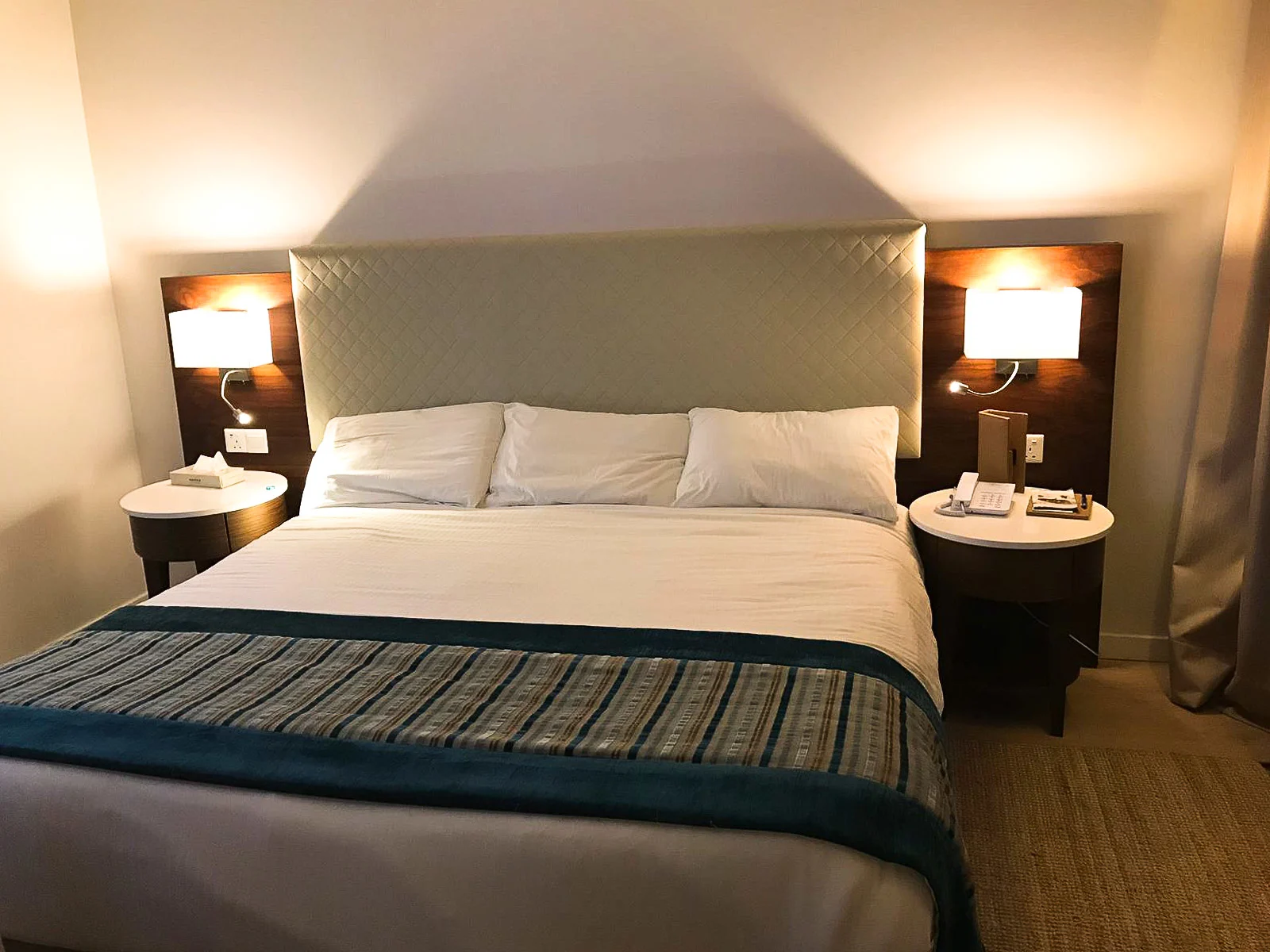 The only thing worth noting is that if you are a light sleeper you may want to check with the hotel about where your room is located.
We had great views of the pool but it came with some noise at night from the pool bar. We are not sensitive to noise so it didn't affect our trip but it's something to be aware of.
The Food
When this Cyprus holiday resort says all inclusive, they mean it. Aside from three meals a day they also have a snack shop and ice cream shop open from 10 in the morning until dinner time.
For dinner, there were quite a few options, from the main buffet, to their Pan Asian restaurant and a 50's American diner. There were plenty of options everywhere we went for Maya and the staff were very happy to accommodate special requests.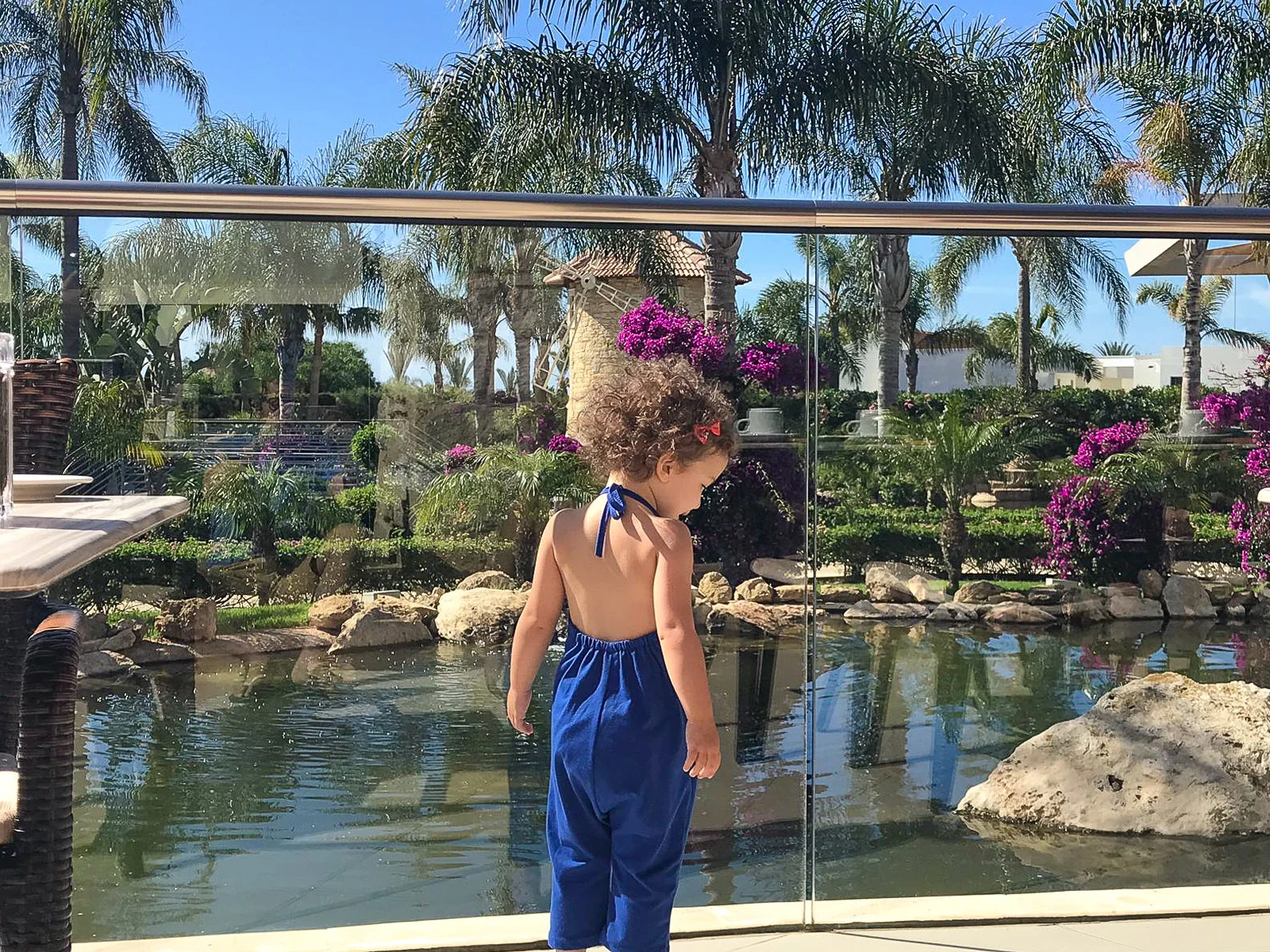 In the main restaurant you can sit outside, we did every day, whilst Maya watched the fish in the pond that surround the outdoor seating area.
This was a fantastic distraction for her when she would get bored with eating and made it so we didn't have to try and scoff down our food and be ready to leave when she decided she'd had enough.
There were also several places to get drinks all throughout the day and we sipped many a delicious frozen cocktail throughout the time we were there.
Activities
Olympic Lagoon really is a fantastic Cyprus family resort and there was so much to do, although we found it hard to drag Maya from the pool to actually experience any of it. Its a great choice if your visiting Cyprus with kids so here are the best things we found:
The Pools
There are many pools but we mainly hung out by the kid's pool and the lazy river. The kid's pool is a large pool with all sorts of fun water gadgets and games, not to mention a massive ship in the deeper end with water slides.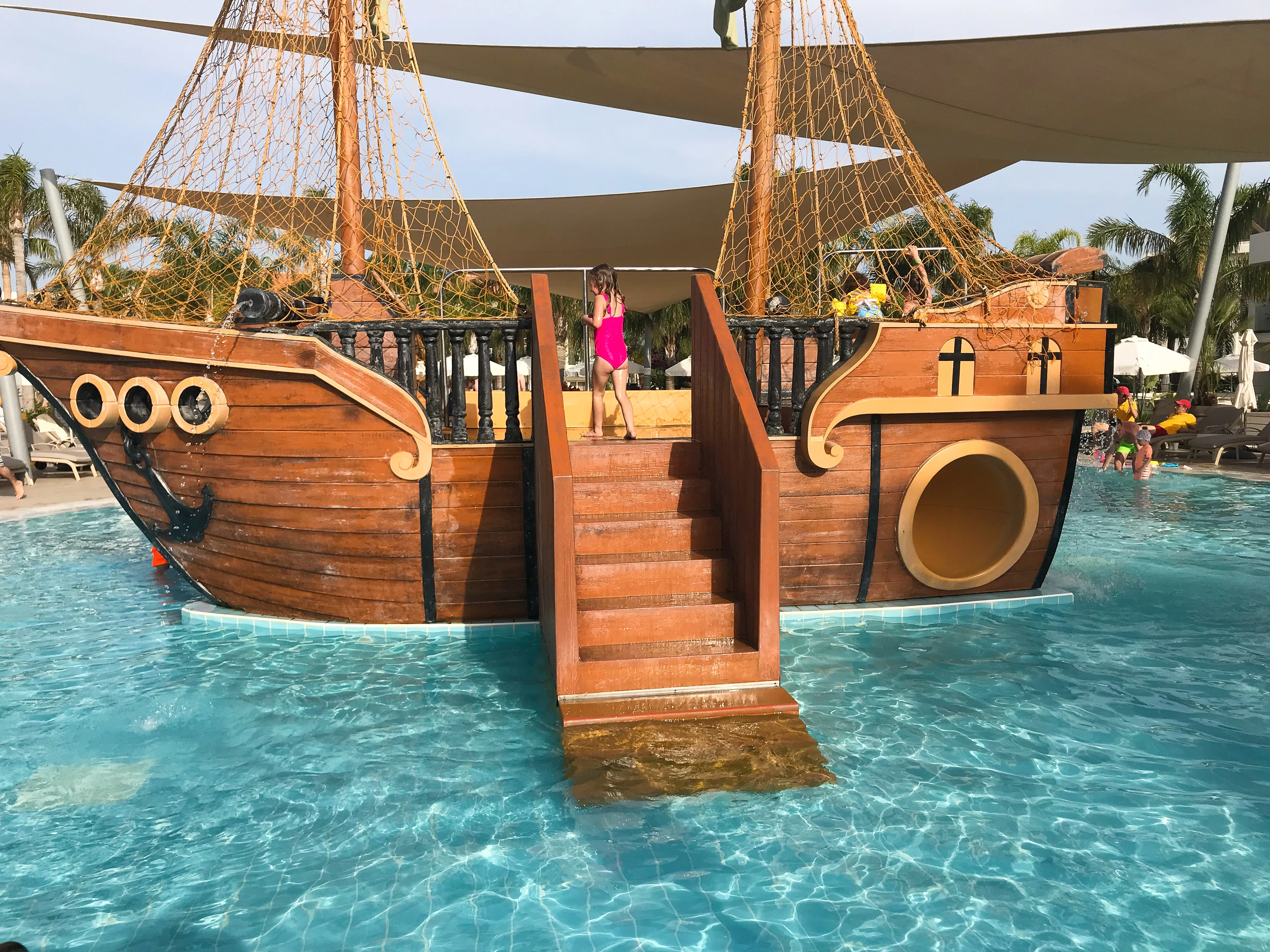 Needless to say, despite our begging, Maya did not want to go in the big pool once she discovered this pool. We also went around the lazy river a few times which she loved.
The Beach
Although not on the beach, the resort is only a five minute walk to a really lovely sandy beach.
The Kid's Club
The Olympic Lagoon Resort has several kid's clubs, one for each age group all the way up to a teens club. Maya was still considered in the youngest group for which you need to make a reservation a day in advance.
Guests can only leave their kids for one 1.5 hour session at a time. (You can do a total of two non consecutive sessions a day).
We decided to leave her once, only if she was happy, and it turned out she was fine with it. So off we went to play tennis with a pager the club gave us in case we were needed.
She had a great time with the lovely staff and brought us a picture she made that was mostly just a brown blob that she said was a picture of Mommy and Daddy.
The Playground
Right next to the ice cream shop they've got a nice little playground that we again used for the evenings when it was time to gently separate from the pool but not yet dinner time.
Evening Entertainment
In addition to music by the pool bar, the resort also has an entertainment venue with live shows every night. We got to see their performers put on The Greatest Showman with awesome acrobatics and Grease the next night.
We sat in the back so that Maya could dance along the whole time. It was really a lot of fun.
To book a stay at the Olympic Lagoon Ayia Napa click here!!
Places To Visit In Ayia Napa
Ayia Napa has plenty of beautiful beaches, water sports, and fun kid's activities. Here are the ones we thought were the best for families.
Cape Grekko and The Sea Caves
A must see in Cyprus with kids has to be Cape Grekko. There are a few places along the cape worth seeing but the one we were most looking forward to was the sea caves.
It was only a 10/15 minute drive from our hotel and the views were spectacular. It really is one of the most beautiful places in Cyprus.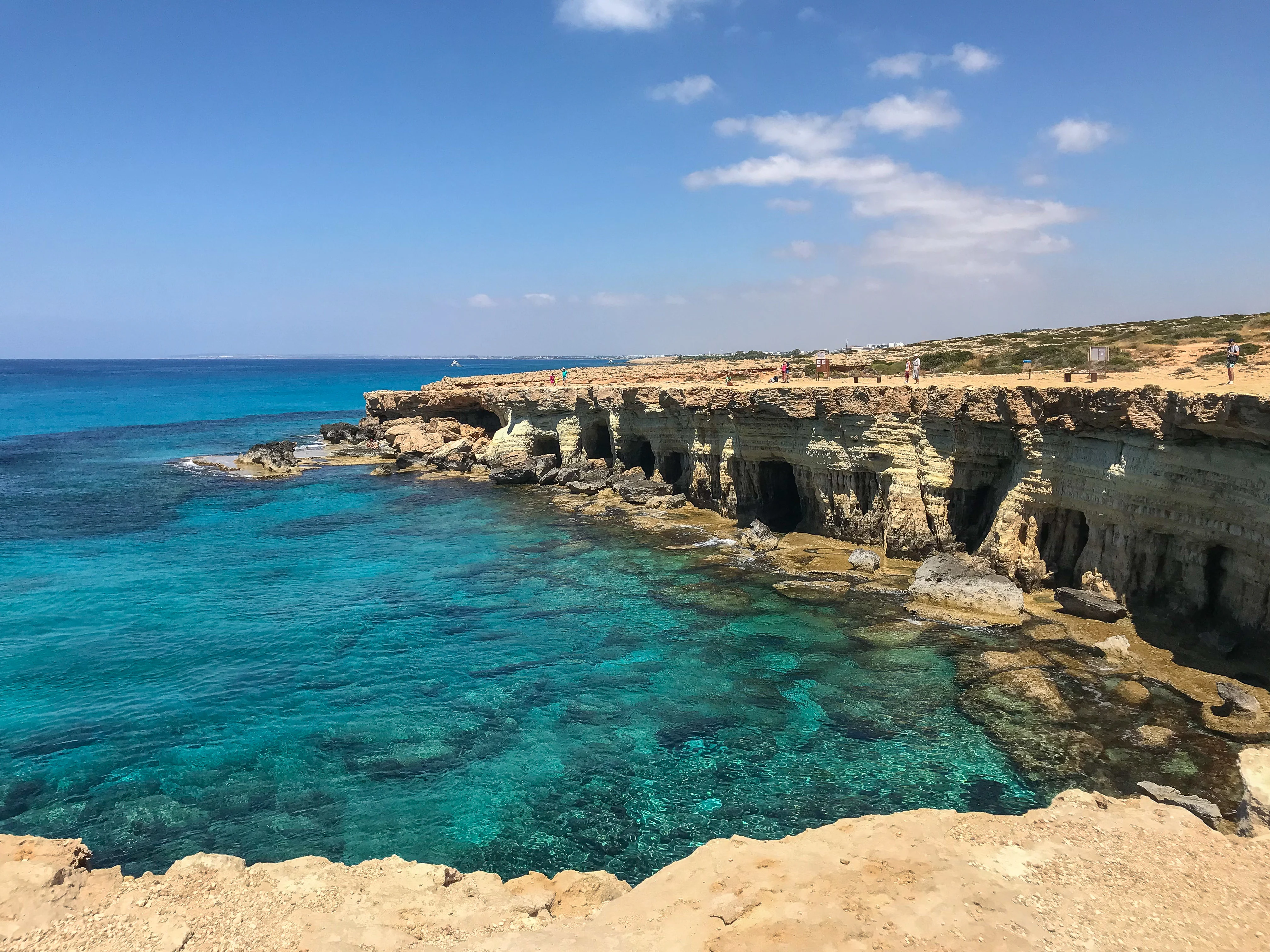 Now unfortunately my research had failed me and I thought we would be able to climb down and go into the water and explore the sea caves.
However, when we got there we found out the "path" down was incredibly precarious and we did not feel safe trying to get down carrying a toddler.
If you go and would like to swim in the caves I would suggest going by boat, as many of them make swim stops. If you just want to appreciate the view or don't have a toddler to drag down it's very easy to get there by land.
It was so disappointing to me that I hadn't decided to go by boat – nothing is worse to me than seeing beautiful water that you can't swim in!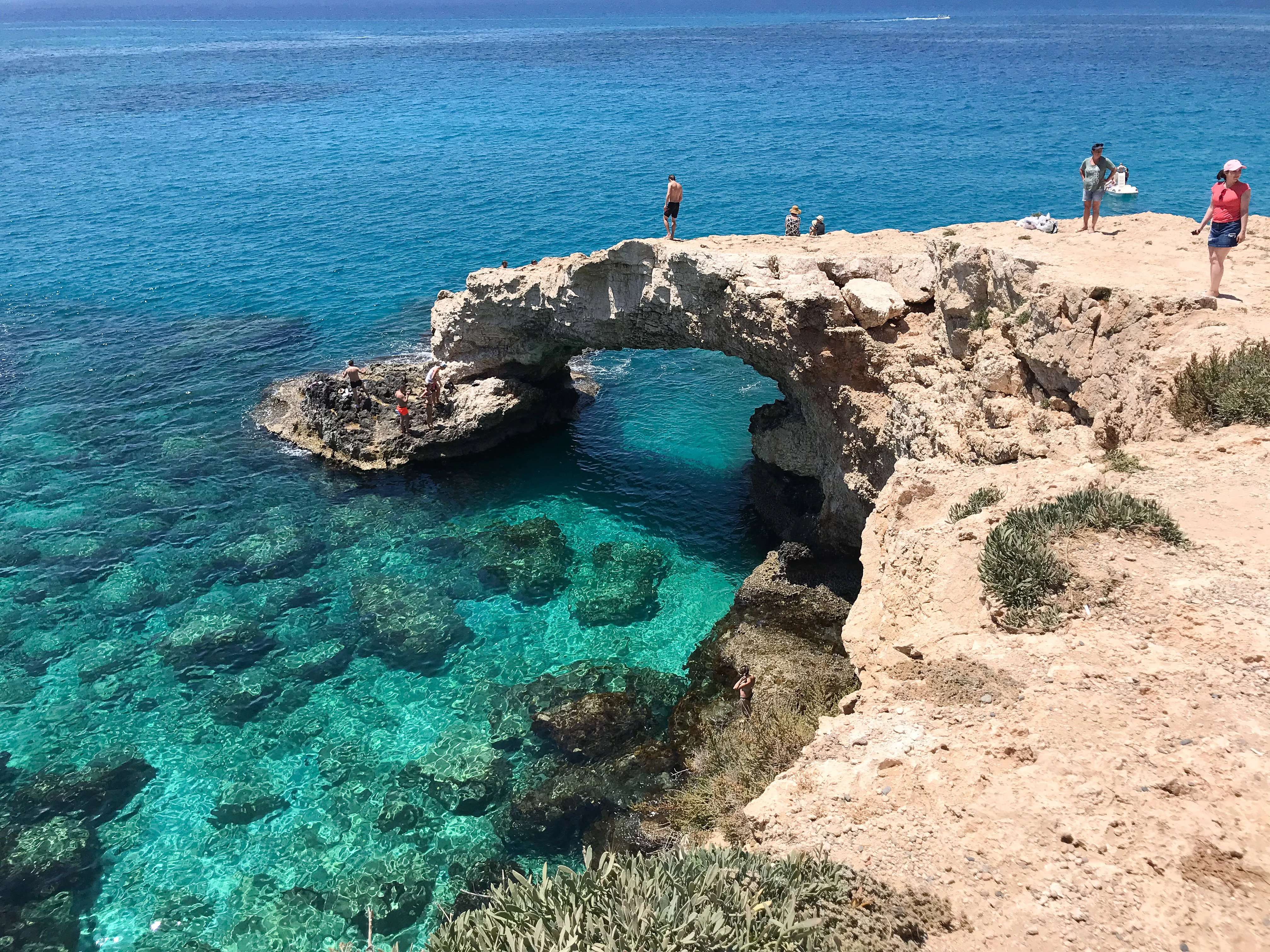 Along the Cape is a place called the love bridge, which is a natural bridge that supposedly if you kiss someone and make a wish while standing there, it will come true.
We went to visit but didn't actually stand on it because once again between my choice of flip flops as shoes and holding a toddler, that path to stand on it seemed too precarious.
Other areas on the Cape worth noting are another natural arch and a beautiful blue and white chapel. Right next to Cape Grekko is also a sculpture garden worth a visit if you can get your kids on board.
You can read more details and get directions to the different places on the cape here.
Boating Trips
The Yellow Submarine is a really great option for families with smaller children. They take you to the sea caves and have a water slide off the boat for you to snorkel in the water but the best part for kids is that it has an underground section of the boat with large windows.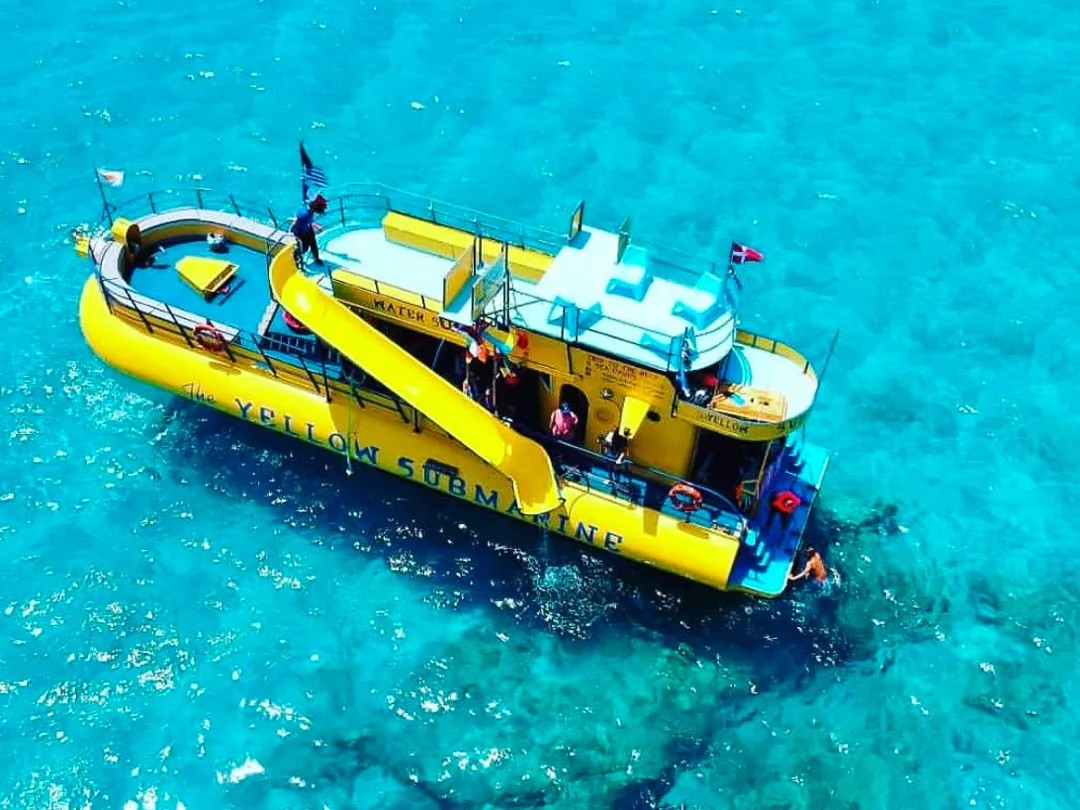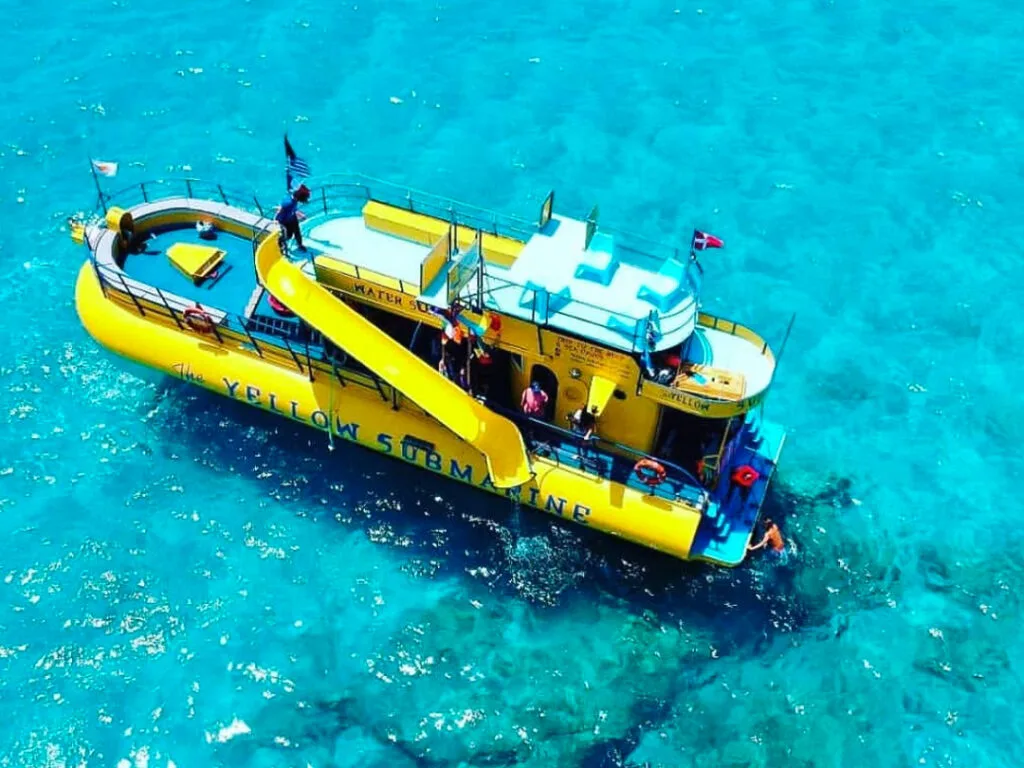 Your little ones (and you!) will be able to watch the fish and the divers from the safety of the boat. For kid's who are too young to snorkel and don't have a long shelf life, this 1.5 hour cruise seems like the best option when visiting Cyprus with kids.
Fun Fairs
There are multiple carnival style fun fairs to explore if you are looking for some more variety in your days.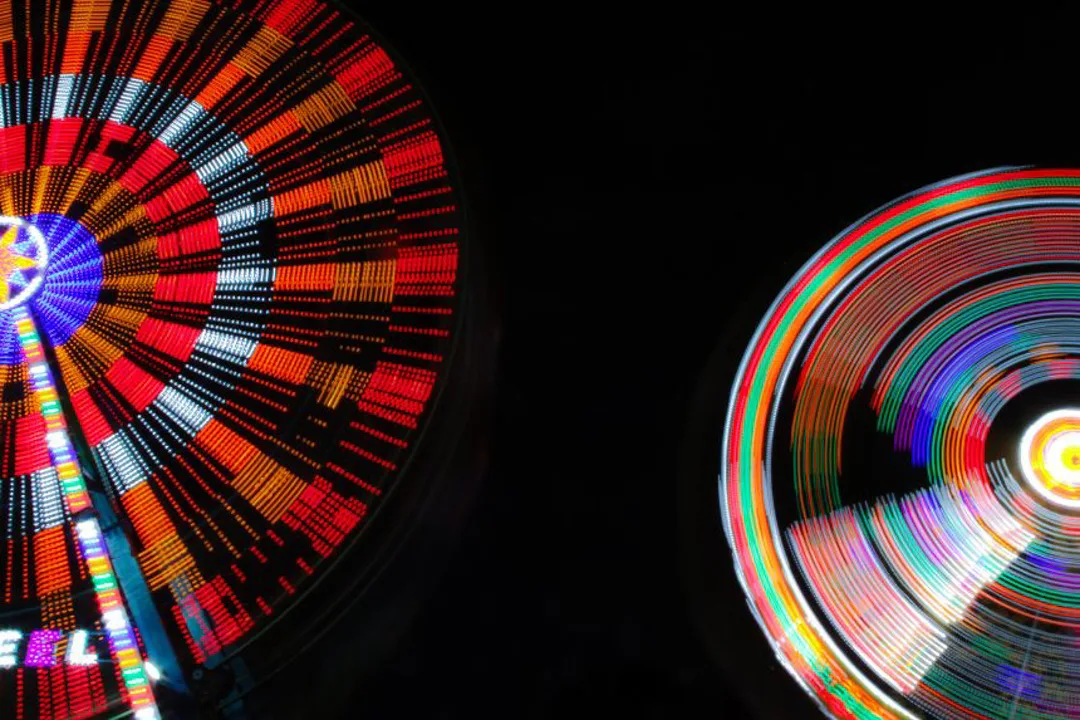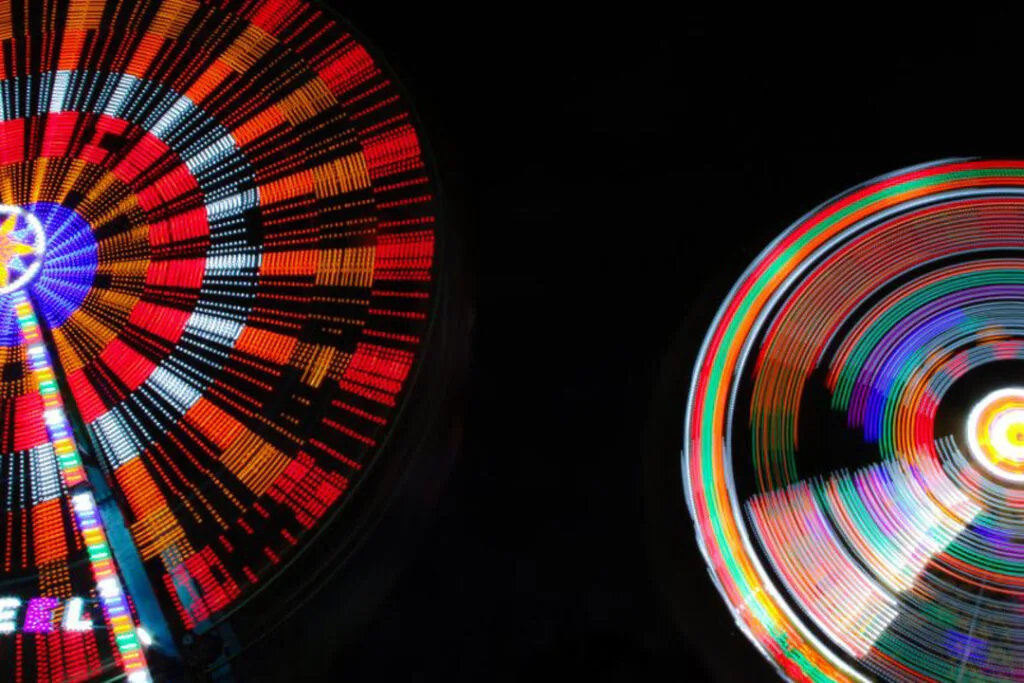 Like the one in Paphos the costs can add up fast for all the rides and games so it's not the cheapest option.
Water World
A large water park all set to an Ancient Greek theme, this is a great day out for the family. It was also conveniently located only about 2 minutes from our hotel! With multiple sections, they've got something for every aged child and cabanas with lock boxes if you choose to rent one.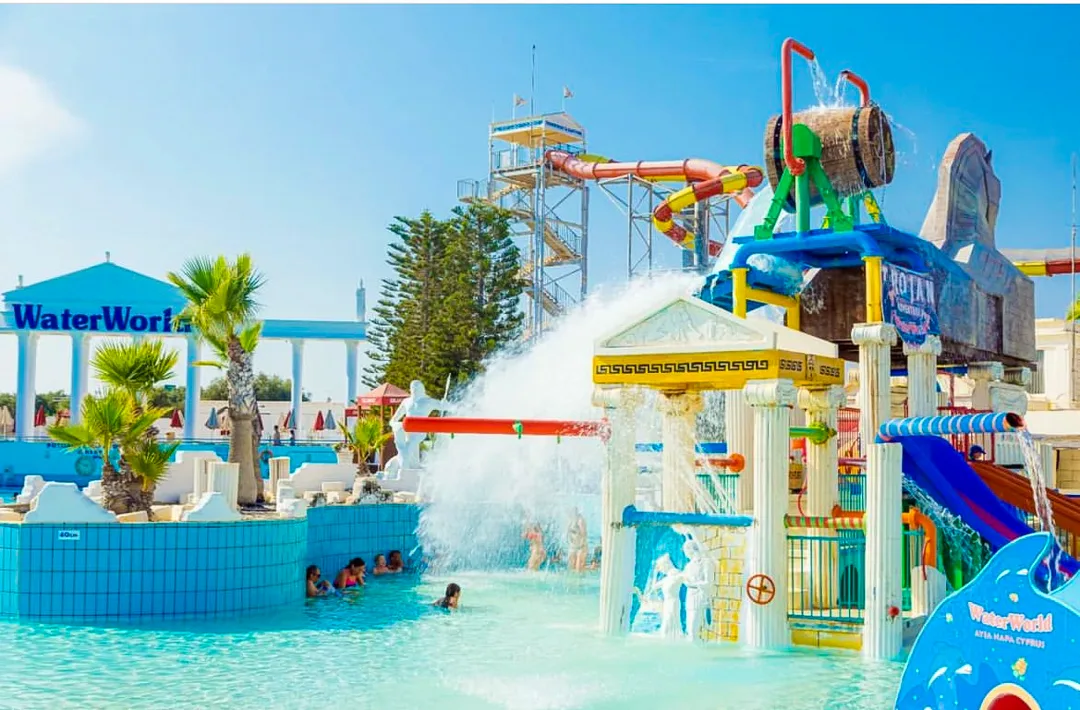 Check Ticket Prices Here!
Disclaimer: Our stay at the hotels in Paphos and Aya Napa were hosted in return for an honest review. As always, all views expressed are entirely our own.
Have we missed any of your favourite activities or any of the best places in Cyprus with Kids? Let us know in the comments and be sure to Pin this article for later!
Ready to book your trip? Find the best prices on flights, hotels, travel insurance, and rental cars!
You May Also Like:
How to Deal with Babies and Kids in Hot Climates
The Best All Inclusive Resorts for Families