Exactly a year to the day, I found myself back in Canada's breathtaking Alberta. I have traveled to 80+ countries and I have simply never seen such stunning natural landscape in all my life.
Words can not describe the soaring Rocky Mountains encapsulating pristine lakes, fast flowing aqua blue rivers and cute towns with wooden buildings. Not to mention the cities within the province that boast a skyscraper skyline, gastronomic delights and a buzzing nightlife.
Then there is the wildlife! Grizzly bears, black bears, wolves, mountain goats and moose to name a few.
Alberta has more than 8.2 million hectares of protected space for wildlife to inhabit. This might give you insight into the sheer size of Alberta. With more than 600 lakes, thousands of hiking trails and an abundance of culture there are so many things to do in Alberta!
We spent ten days on our second trip rediscovering our favourite places and checking out some new spots too. On our first trip, we road tripped and stayed in different hotels along the way.
This time around, we spent a couple of days checking out Calgary before renting an RV to explore Alberta differently. Here are our highlights and recommendations on things to do in Alberta, Canada!
THINGS TO DO IN ALBERTA, CANADA
CALGARY
As we were travelling long haul with two little children to Calgary, we wanted to rest up and ride out the jet lag before hitting the road in an RV. On our first trip, we skipped the city but I'm so glad we checked it out on our second trip. Calgary is a super fun city with plenty to do. It's not too big meaning you can walk around easily exploring the different sites.
There are also plenty of cities close by. Even if you don't have a car there is a great bus service to many of them. One of the most popular is the bus from Calgary to Edmonton. It is a great trip if you have time to spare.
PRINCE'S ISLAND PARK
On our first morning, we were up early with still being on UK time. After a scrumptious breakfast and a nice coffee at the Westin, Calgary we explored the nearby neighbourhood. In particular Prince's Island Park! It is so close to the city, but far enough to get a view of the skyscaper skyline. The park has a nice playground for the kids and stunning views of Bow River.
The fast flowing aqua blue colour comes from the nearby Rocky Mountains. It was crazy to think we were only a stones throw from our downtown hotel, The Westin, Calgary (I mean, literally a ten minute walk) but already felt like we were in the heart of Canadian nature at its best.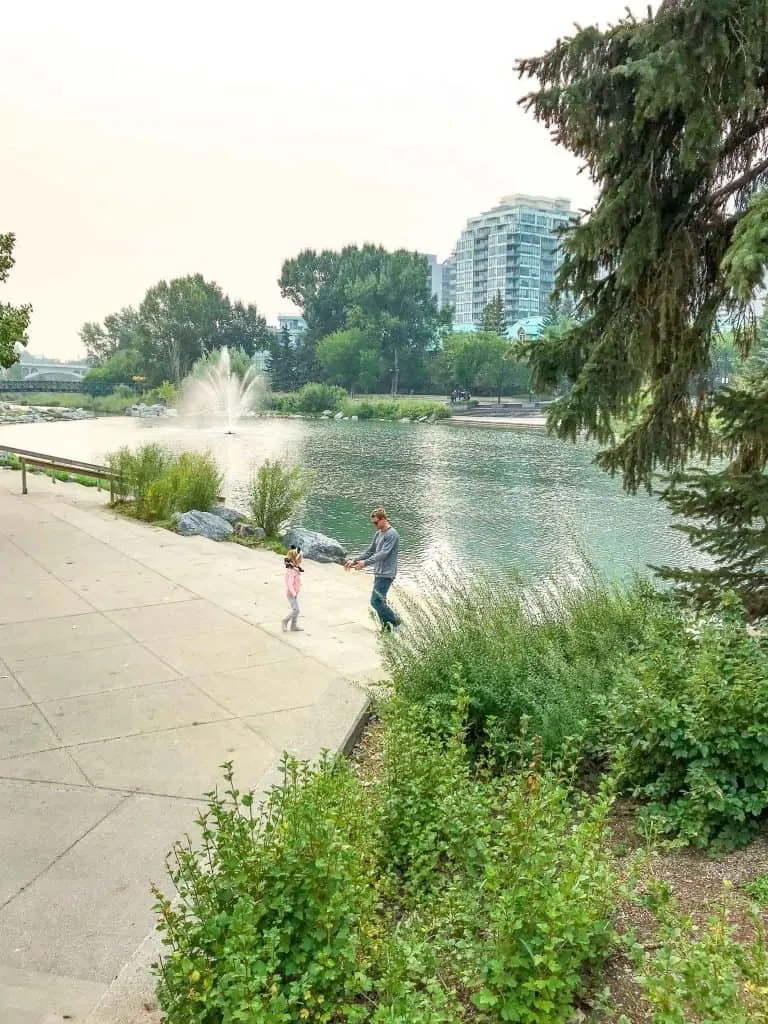 THE SKYTOWER
I've been to many Skytowers in different cities around the world. Each have their own quirks but our four year old loved the Calgary one the most.
The lift to the top is super quick and has a screen that makes you feel like you can see outside. It shows the skyline during the day on the ascend and the night view on the descend.
Our little one spent at least a half an our sitting on the glass bottom floor looking at the tiny cars and pedestrians moving around like ants on the streets below.
It was a little smoky during our visit due to fires in British Columbia but the views of the city were still stunning. I especially loved the LGBT rainbow pedestrian crossing below. I feel the skytower is definitely worth a visit.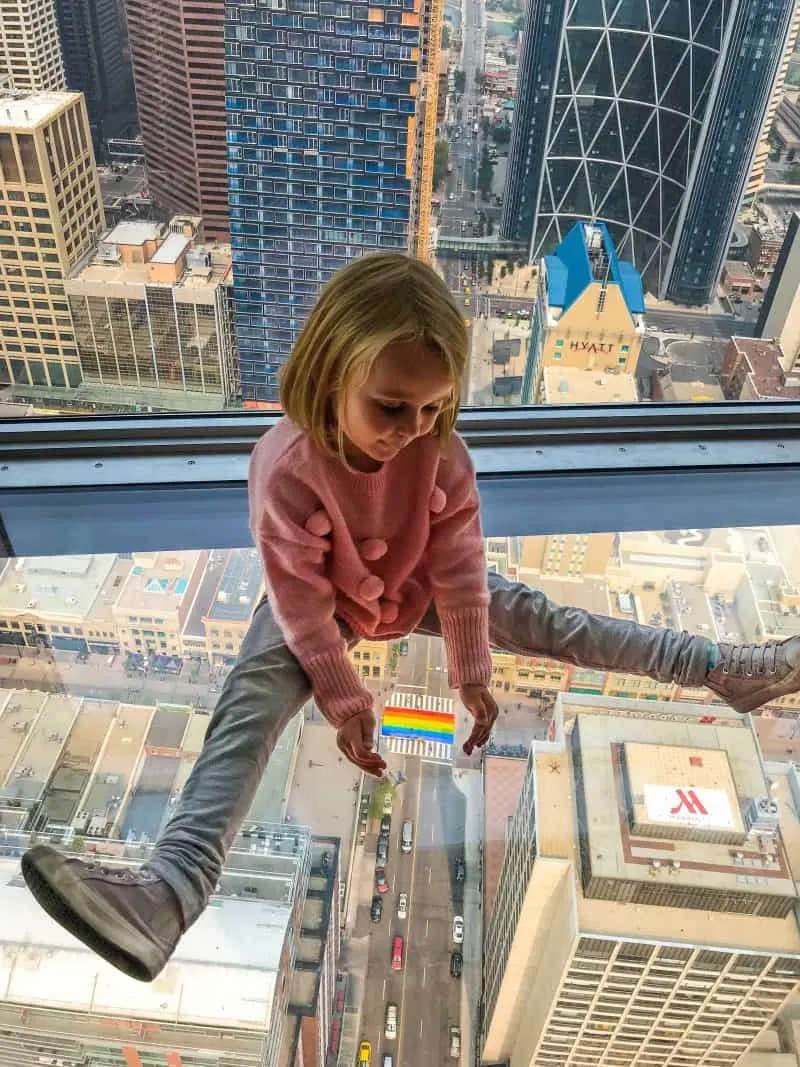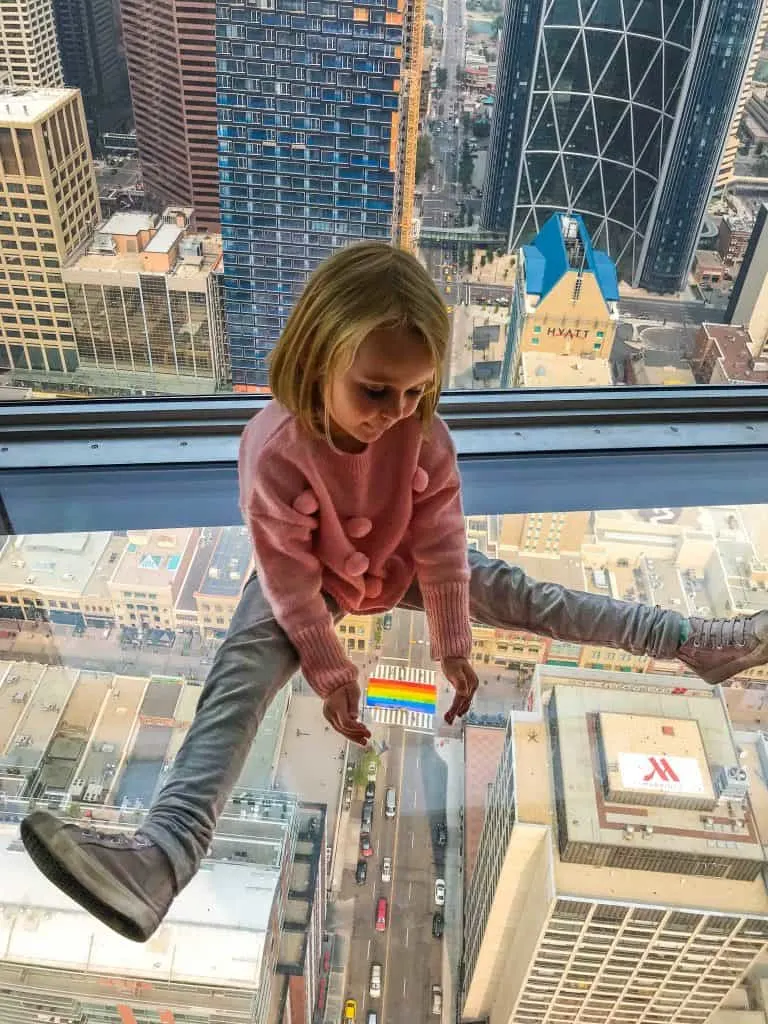 SKYLINE LUGE
Calgary is not all about downtown. There are many places to eat and have brunch in Calgary. Not to mention plenty of amazing and fun things to do just on the outskirts of the city.
We visited Skyline Luge. Having been to the one in Singapore and New Zealand, it would have been rude not to!
The Calgary Luge did not disappoint. We took the chair lift to the top of the hills and whizzed down on the Mario-like carts.
Our kids had the best time, it's definitely a fun way to spend an afternoon in Calgary. Skyline Luge is based inside the Olympic Park. There are huge ski ramps, mountain biking and zip lining inside too. So much to do in both winter and summer!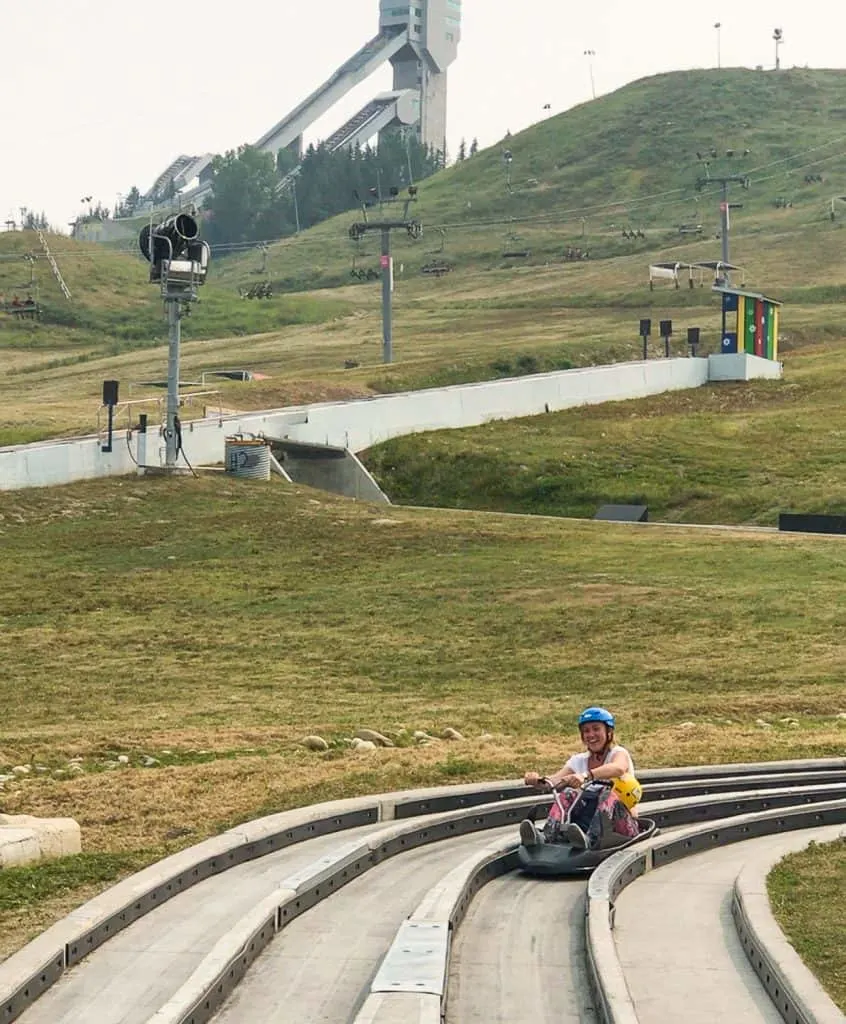 SASKATOON FARM
The Saskatoon berry farm is based on the outskirts of Calgary. Featuring what feels like a cowboy village with saloon style architecture, its a picturesque setting to say the least. There is a nice walk around gardens, beautiful sunflowers grow amongst old vintage rusted cars with the backdrop of countryside in the distance.
The building houses a restaurant, deli and gift shop. We had a coffee and some of their specialty, Saskatoon pie which I highly recommend. It's a lovely way to spend a morning while seeing a different angle of Calgary.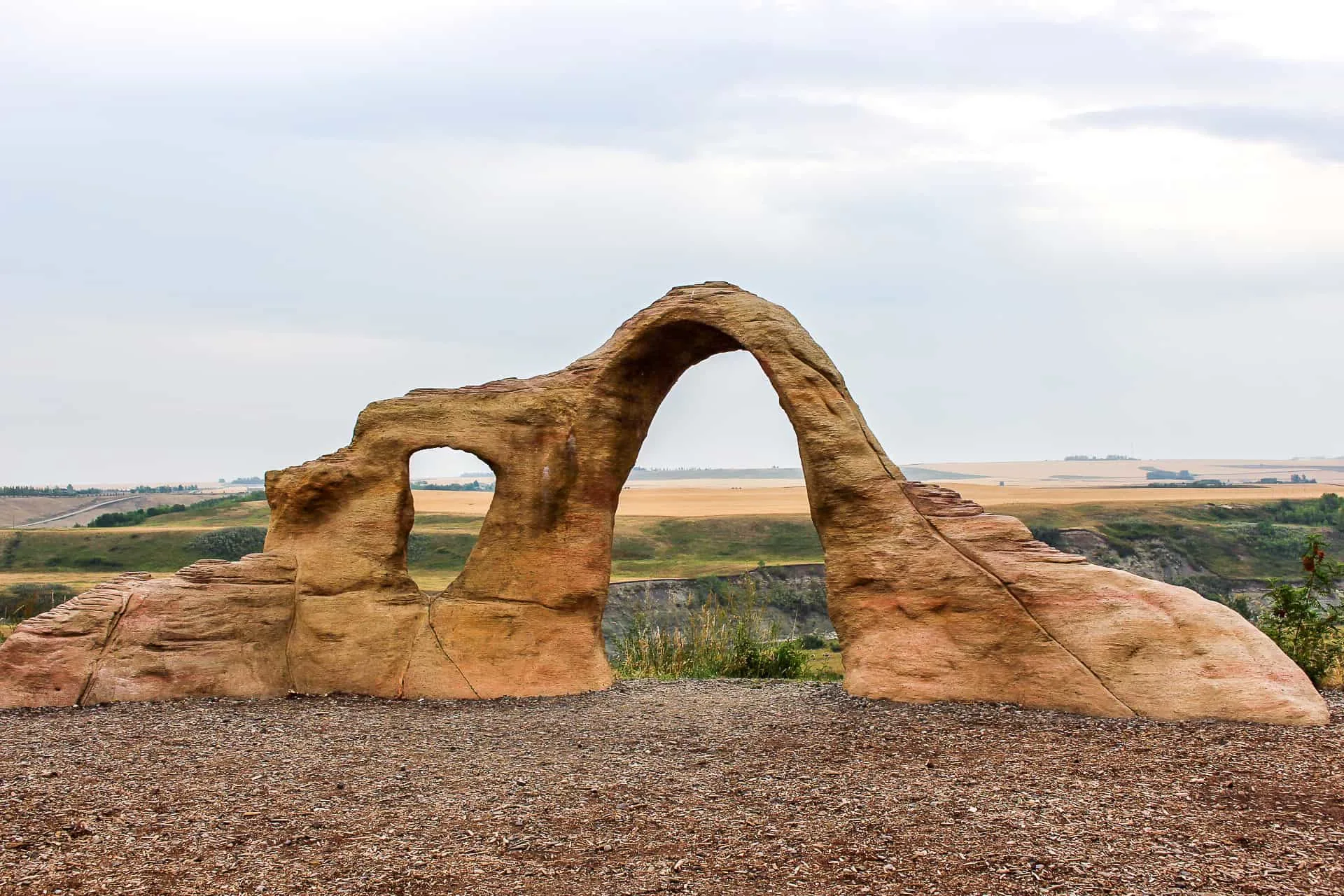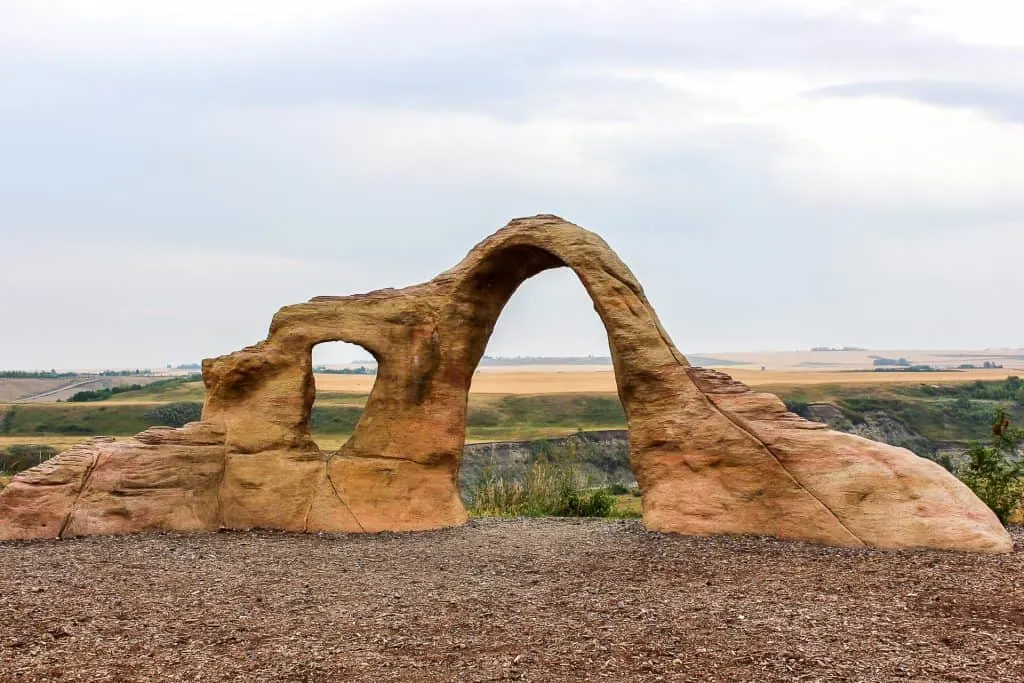 CALGARY HOTEL RECOMMENDATION
As I mentioned previously, we stayed in the Westin, Calgary, right in the centre of the city and only moments from the banks of the Bow River. The hotel featured several restaurants and it's very own Starbucks. We had perfect conjoining rooms for our family. Featuring a lounge area ,as well as three double beds, there was ample space for our two kids to play and for us adults to relax and unwind.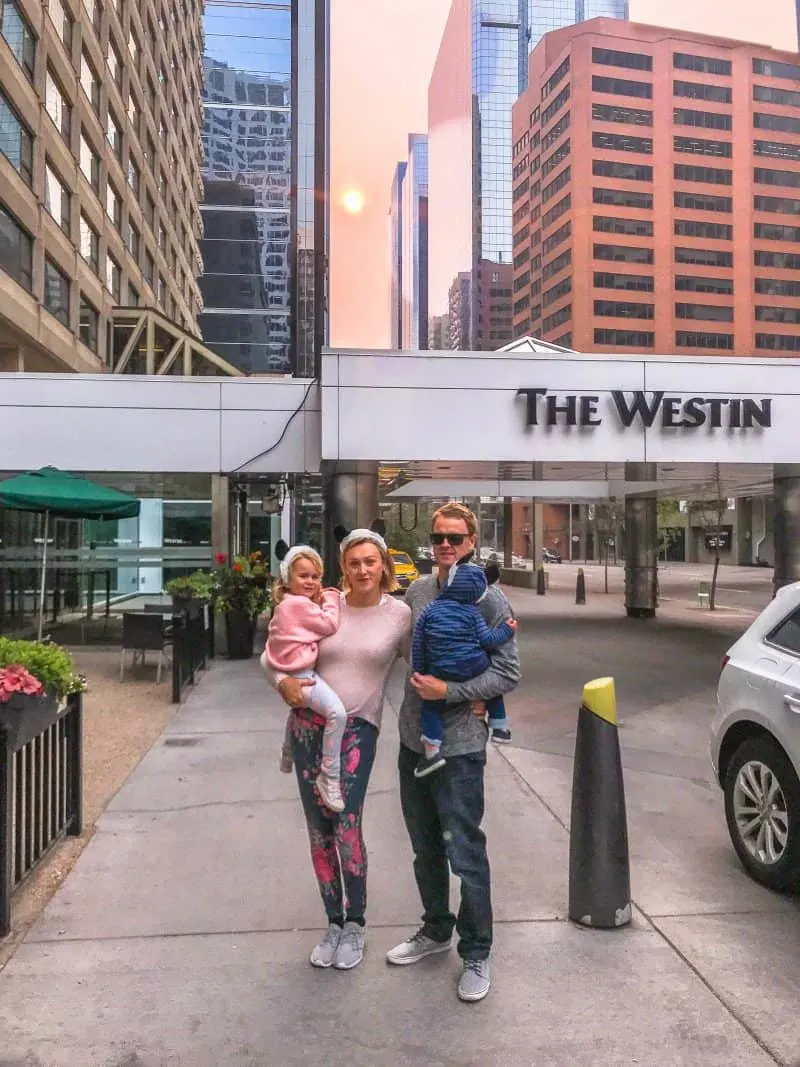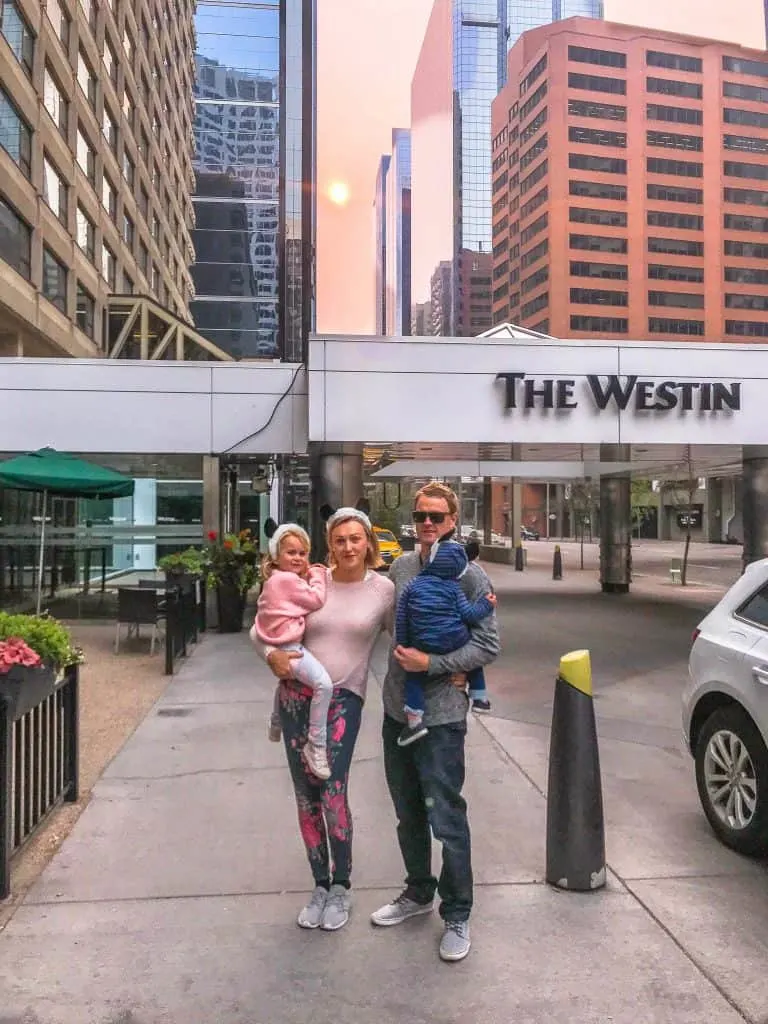 Westin, Calgary is incredibly family-friendly. They provided the kids with colouring books and cute panda ears that we ended up wearing everywhere we went. They still have them some weeks later and have enjoyed playing with them. We spent most of our time in Calgary exploring the surrounding area, however there were a few moments of downtime when we got to enjoy the amenities.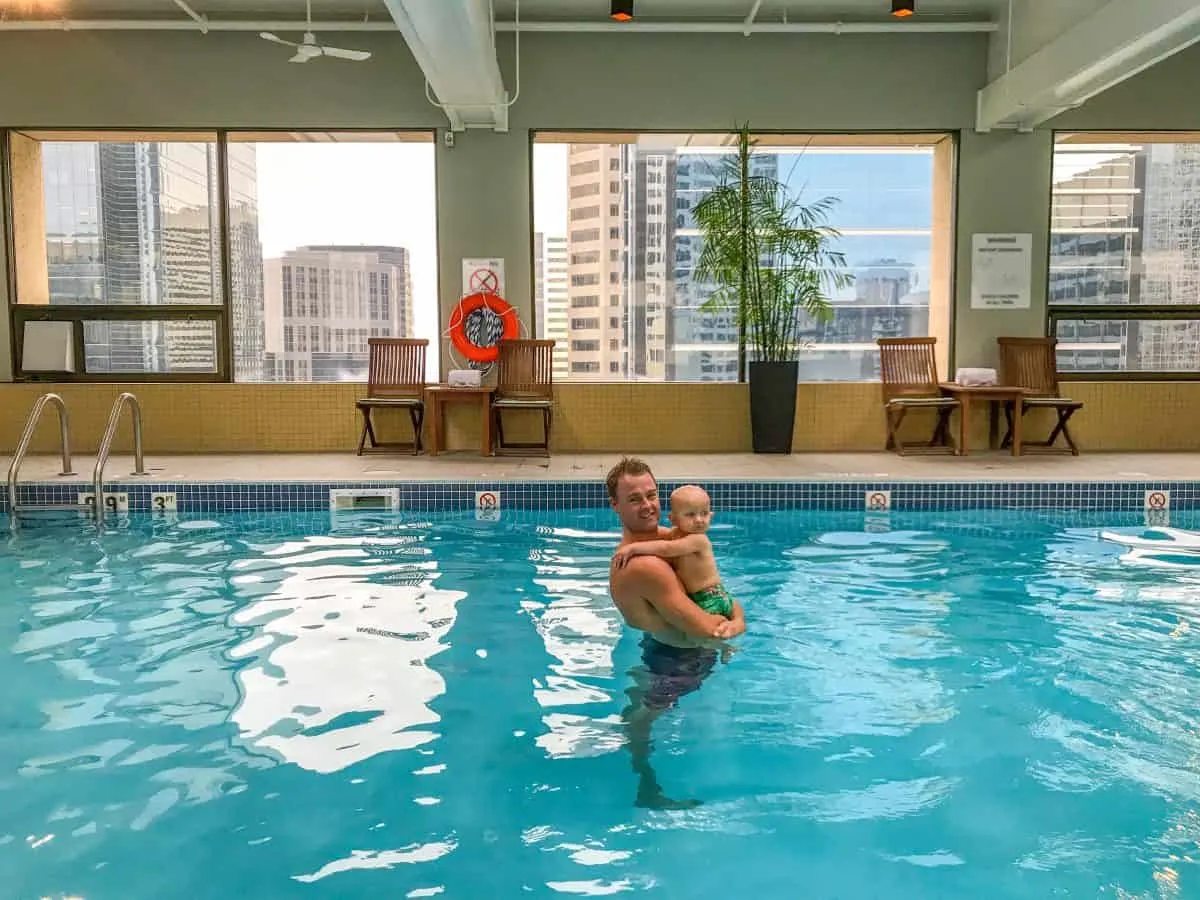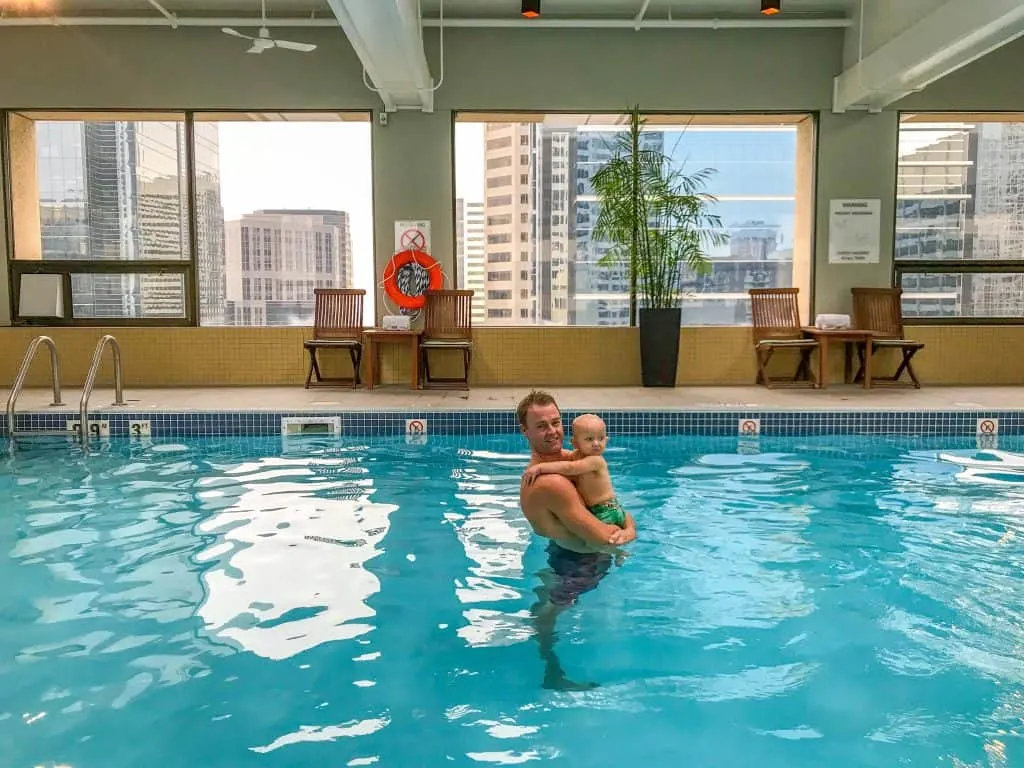 WESTIN CALGARY
They have a gorgeous roof top pool. It's a huge space with stunning views over the city. Our kids loved having access to a pool, it always makes their holiday! There was also a gym with everything you could want (not that I used it) but hubby managed to fit a little workout in. He's s much better than me with these things!
There were a couple of times when our kids were just too tired to eat out, so we got room service. The food was amazing and had everything we could possibly want. They were super accommodating with my vegetarian requests. It was an all-round awesome stay before we hit the RV for a week!
BANFF
Having watched so many documentaries about Canda's national parks, I was most excited to visit Banff national park! It's only a couple of hours from the city and is literally my most favourite place on the planet!
There is so much to do in Banff, it deserves at least five days to see all the highlights at leisure. We visited in summer but you can also check out this guide to Banff in winter.
We stayed at Tunnel Mountain camping ground in our RV overnight but on the whole we spent the entire day out. An RV gives so much freedom in that way, especially with kids. However, camping in Alberta is also popular and there are a lot of options.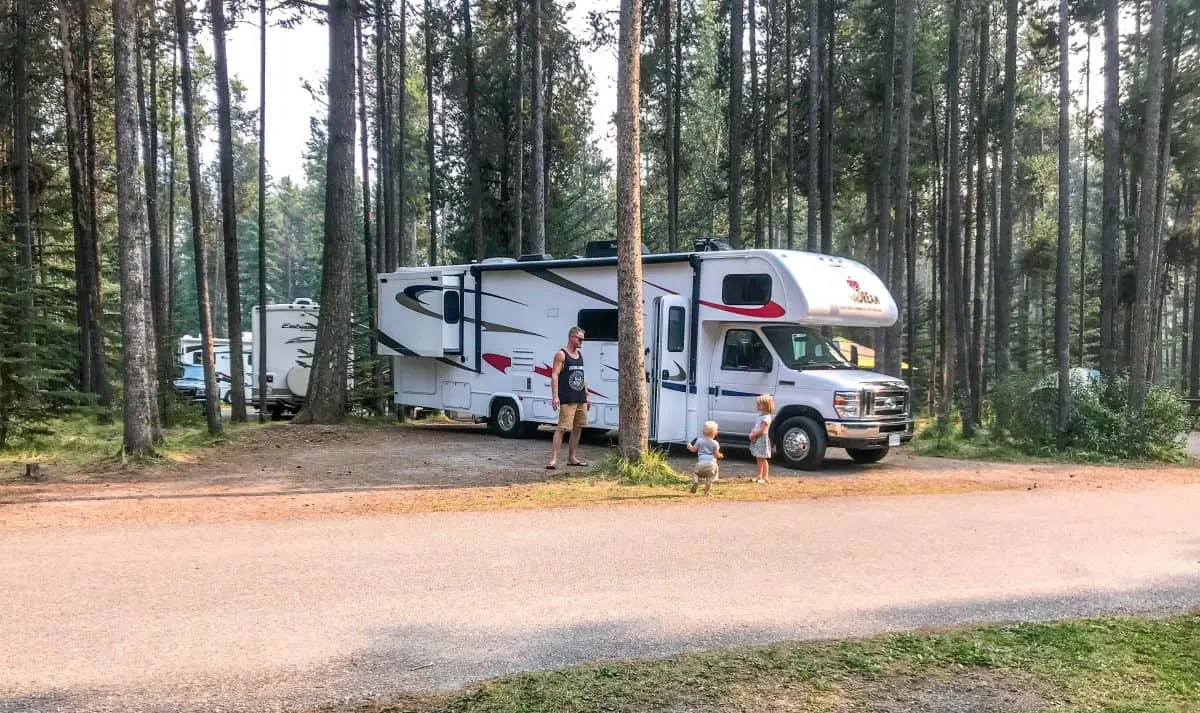 LAKE LOUISE
Banff National Park is a popular tourist destination and as such it helps to get up early to see some of the hot spots before they get too busy. Jet lag comes in handy sometimes! Especially as the car park can close at any point meaning visitors may have to take a shuttle from a car park further away.
On our first morning we visited Lake Louise early in the morning. This stunning glacier lake is one of the perfect Canadian postcard images. The emerald green water with the backdrop of snow capped mountains is one of the most infamous landscapes in the world.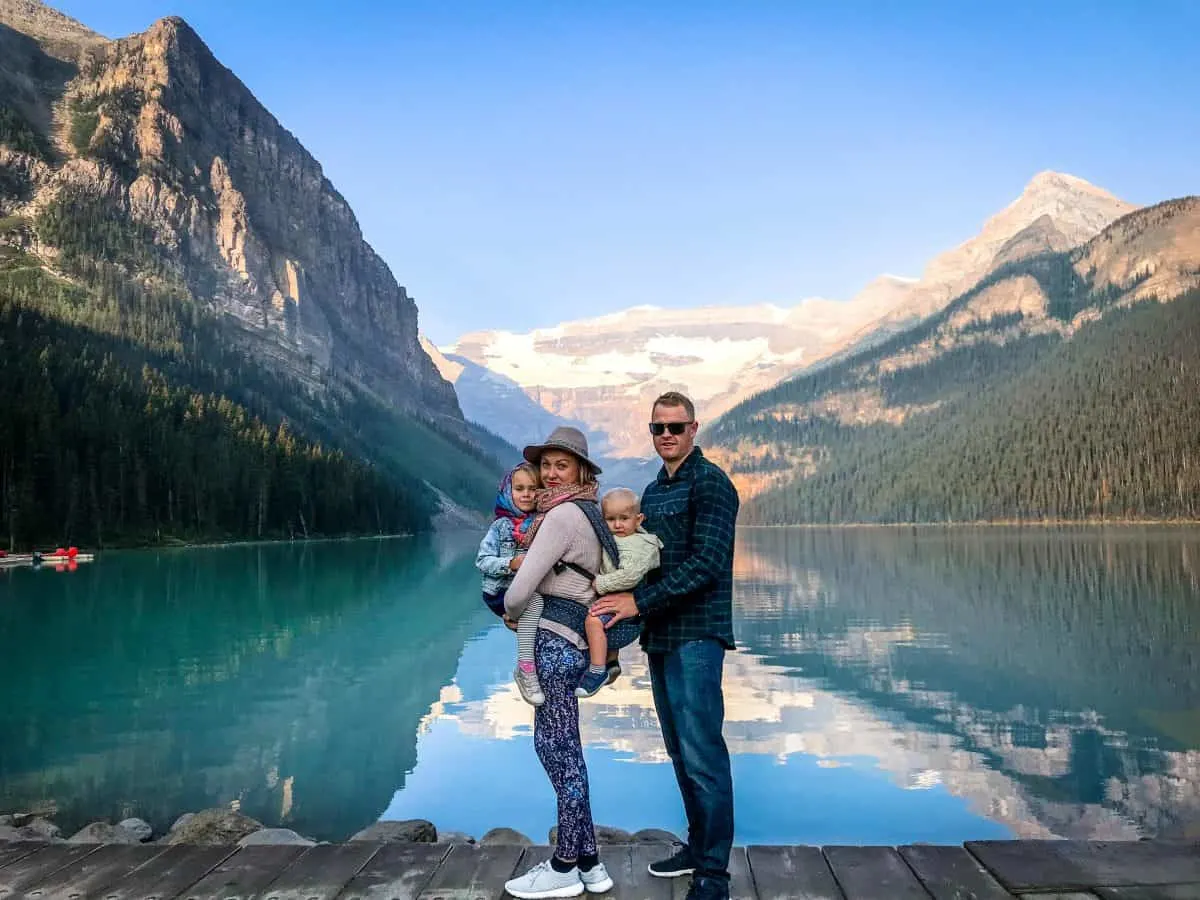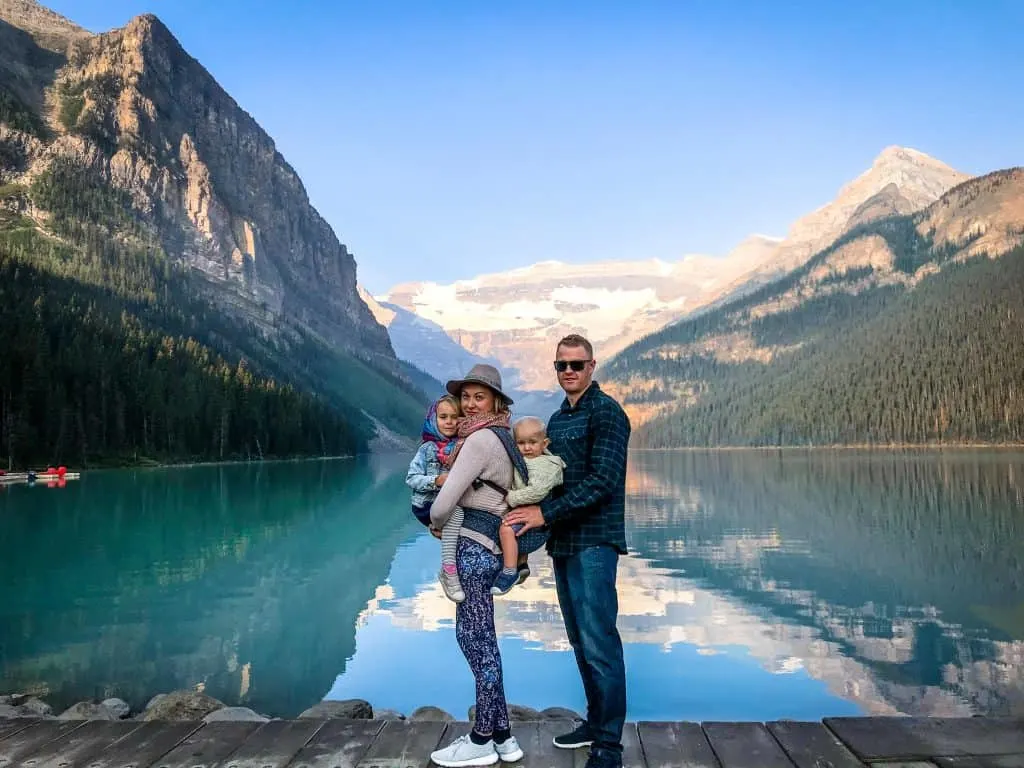 There is a beautiful boardwalk around the banks of the lake and of course you can take a canoe out for a half an hour. It is expensive, at 100 CAD for 30 minutes, however it is worth every cent in my opinion. We did the hike 5km up around the edge to the Beehive.
Its a relatively difficult hike. We did it with a child each on our back so it was our workout for the week! It was worth it for the stunning aerial views of Lake Louise, not to mention the mirror lake along the way. There is a cafe at the top that gets very busy but sells tea, cake, sandwiches and soup for those colder days. It's worth noting they don't take card, only cash, something we learned the hard way.
JOHNSTON CANYON
Johnston Canyon is a very easy hike, especially with little ones. A man-made walkway, hugs the inner wall of the canyon. The scenery of rock erosion, gushing waterfalls and ferocious rivers is just stunning! The walkway is very safe and can get quite busy during the peak of the day.
There are both upper and lower falls on the walk. Both are easy hikes and take around a 1.5 hr round trip. There is also a 'hidden cave'. Not many people know about it and it's not listed in many of the major travel books. The cave opens up to a massive rock on a pinnacle. We were determined to find it, as it's not sign posted on the walk. There are a few guides online but the information is not that clear.
We set off in search of the 'magical pathway' only to find (after a lot of searching) it was illegal to walk through the area due to endangered birds laying their eggs. The fine of 25K CAD was enough to put anyone off. That said, the canyon and waterfalls were enough excitement!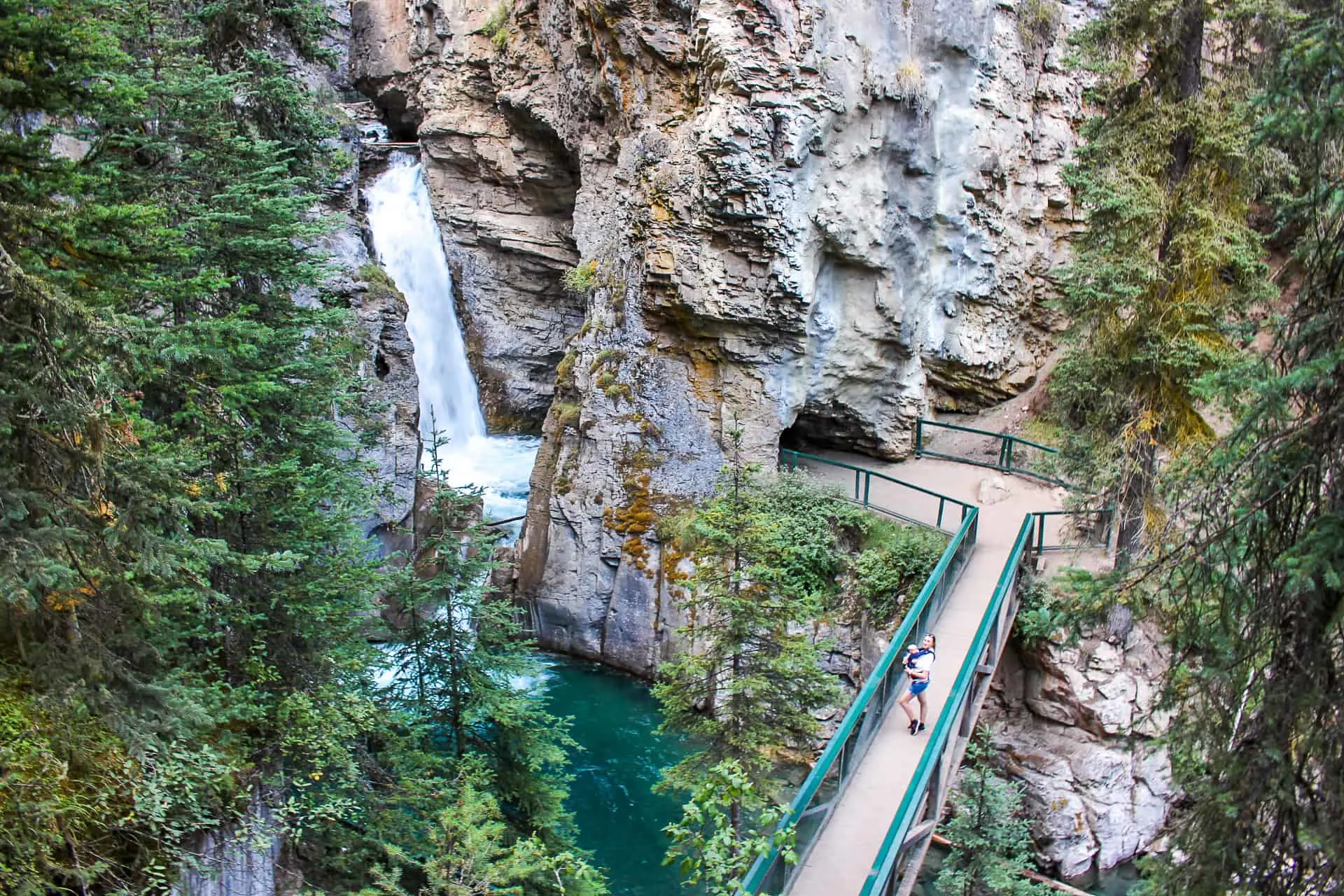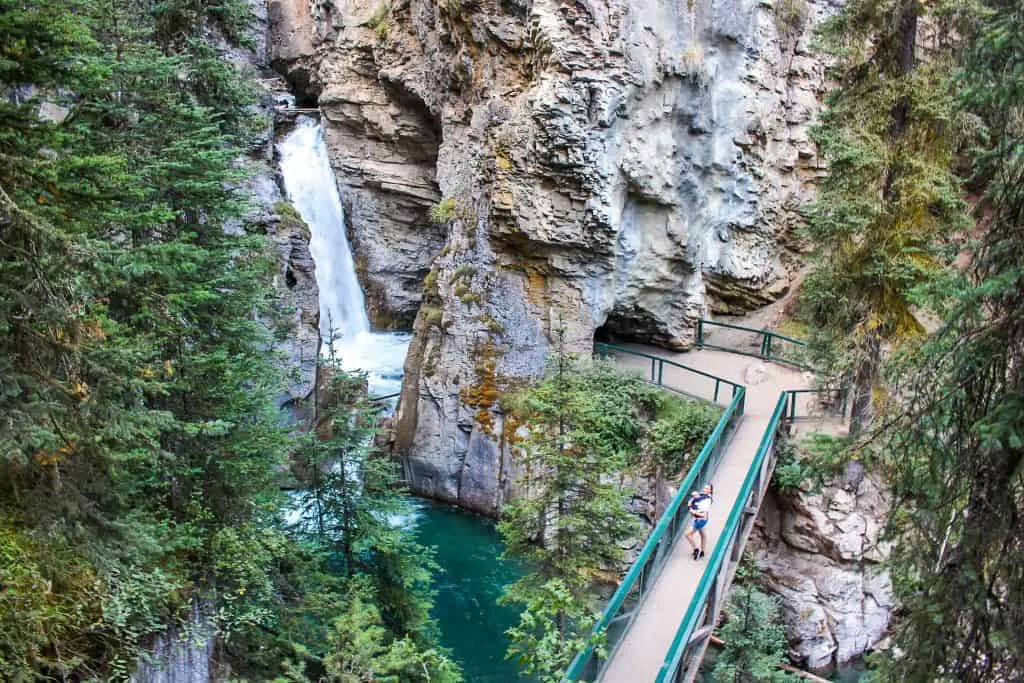 DOWNTOWN BANFF
We spent our early evening strolling around downtown Banff. It's a lovely little town, full of restaurants, cafes, bars and boutique shops. If you are travelling by RV, there are plenty of parking spaces on the outskirts of town, and some shopping malls to stock up on essentials.
We didn't eat out too often but we did make it to Nourish restaurant. When I heard people drive from Calgary, just to eat at this restaurant, I thought I would have to try it, especailly as they are very creative with plant-based dishes. It did not disapoint!
They have a selection of tapas and bigger meals with a variety of flavours. Everything from, comfort vegan mac and cheese to the most amazing asian noodles I have ever tried. My hubby tried the local delicassy 'poutine'. Don't follow Trip Advisor advice about this. Honestly we tried a few and by far Nourish do the best!
MORAINE LAKE
Moraine Lake is another place you have to be super organised for early in the morning. We arrived in the car park at 5:30 am. By that time it was already starting to fill up. Having the RV gave us such freedom to be able to chill whilst we were waiting for the sun to rise.
They call it 'golden hour' when the light slowly lights up the snow dusted mountains encapsulating Moraine Lake. The colour of Moraine Lake is like no other. The bed of the lake can be seen through the pristine blue water. The reflection of the pine trees and mountains, along with the colourful canoes is perfection!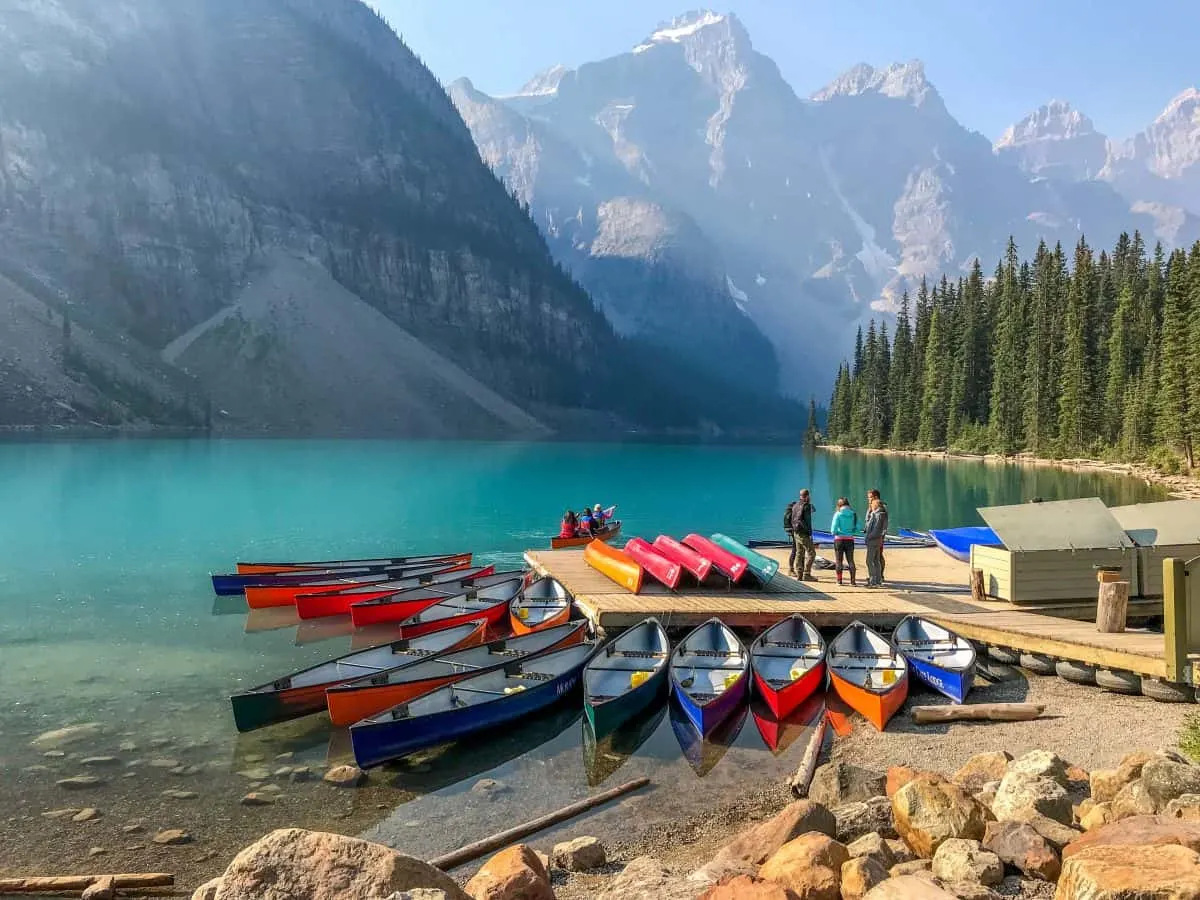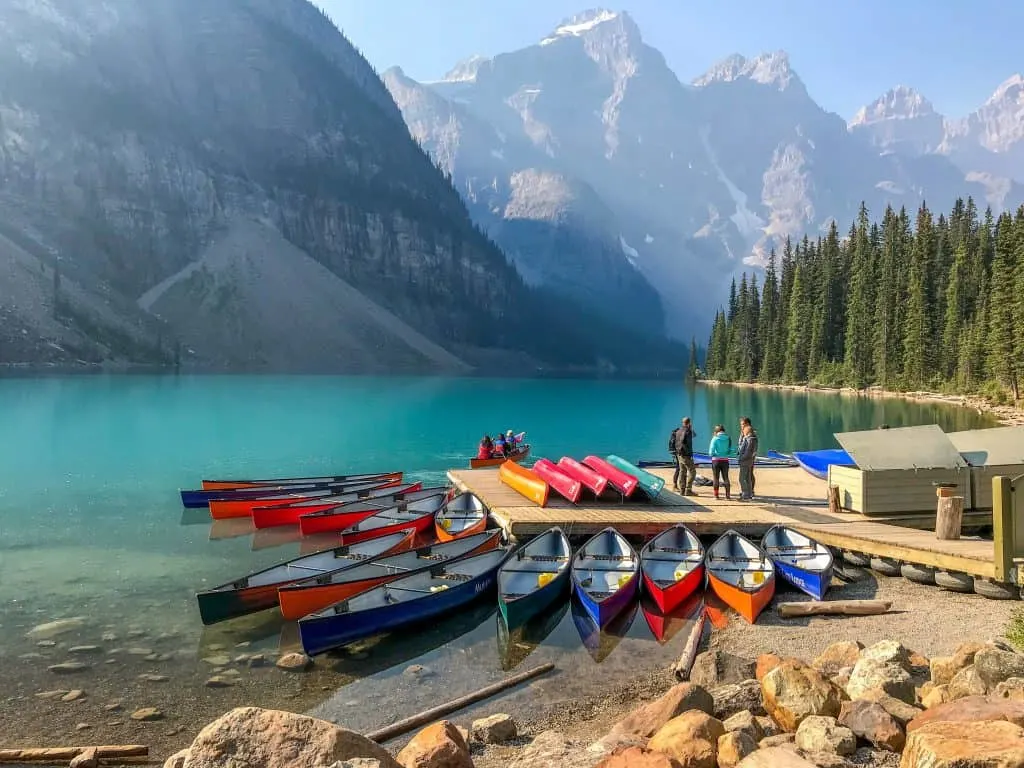 There are many trails around the area but we spent most of our time sitting on 'rock pile' pondering the view! It's not an ideal place for little kids but we had both of them in backpacks. Rock pile gives a unique uninterrupted view of the entire lake.
Its mesmerizing, somewhere I could visit time and time again. Looking in the opposite direction offers vast views of mountains completely covered in pine trees, rolling for miles and miles. The golden glow of the morning sun across the horizon was simply breathtaking. You haven't been to Alberta until you've been to Moraine Lake!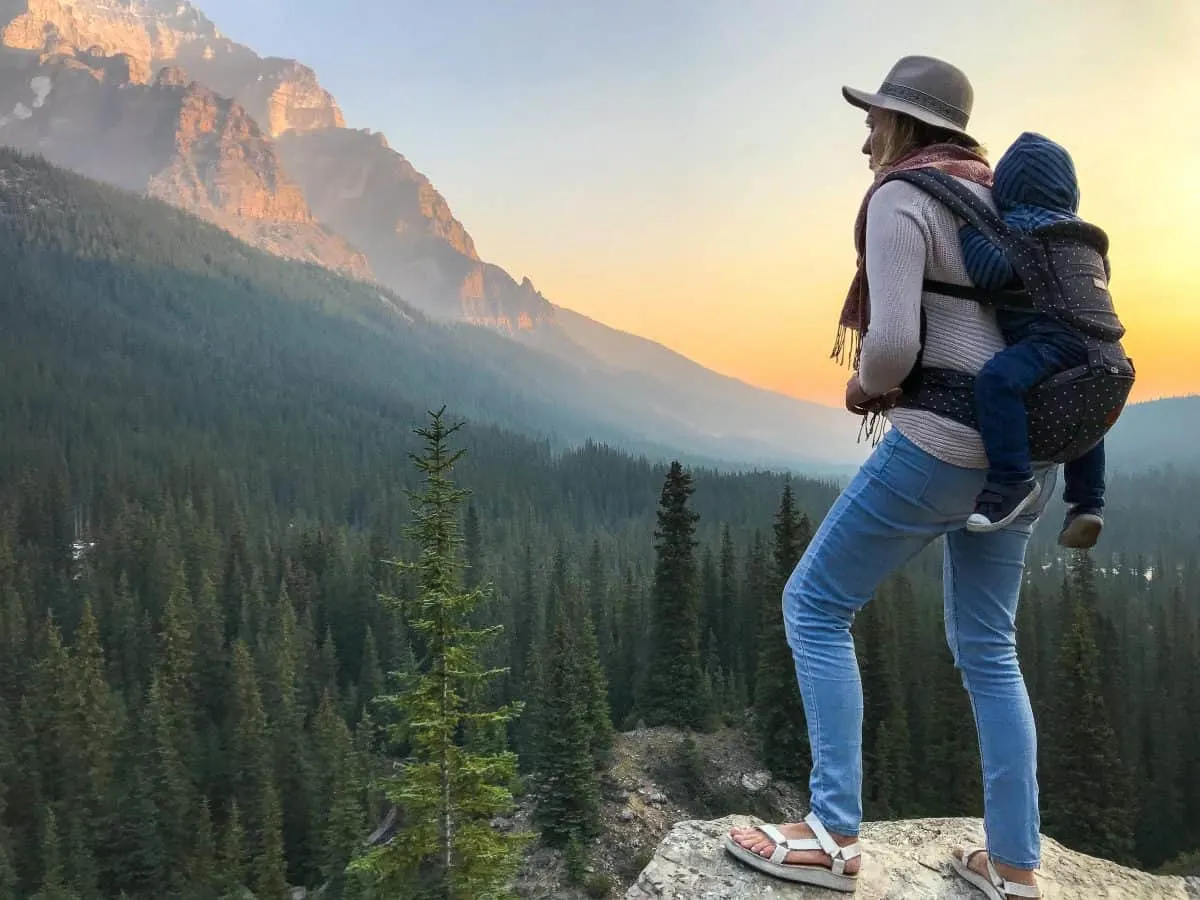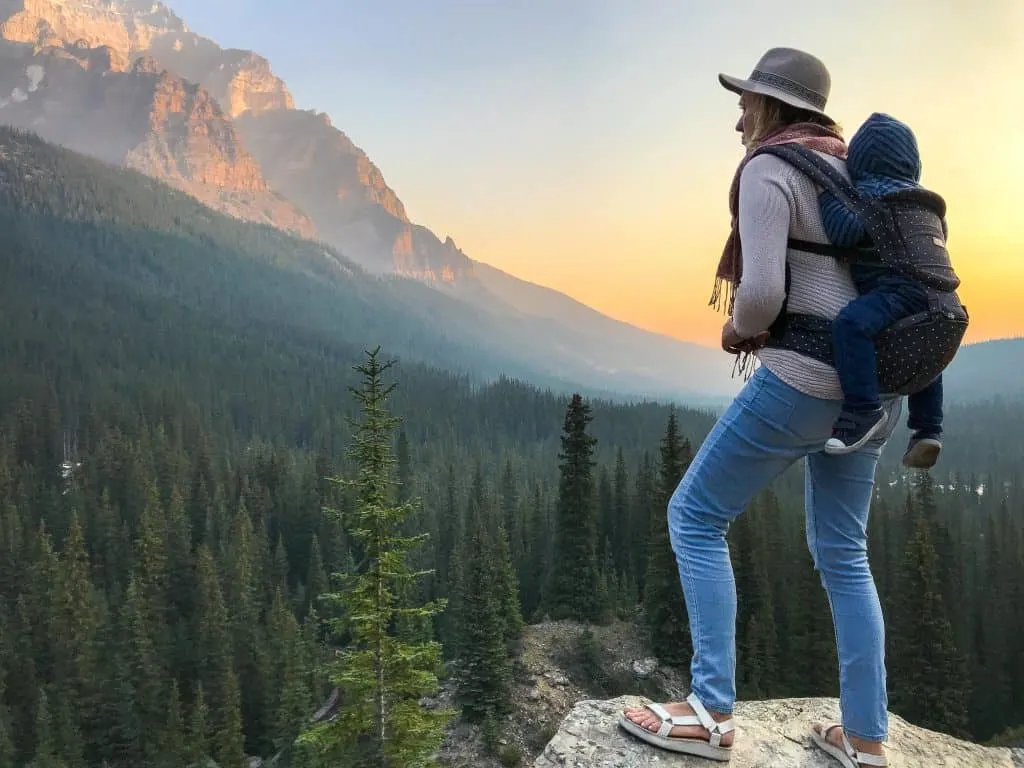 Footwear: Teva Sandals I loved wearing my Teva Sandals for all of my hikes. They're not too bulky for the bag like a big pair of boots and could be worn for a variety of situations.
SUNSHINE MOUNTAIN
Another beautiful place to visit is the Sunshine Mountain hike if you have the time. It's quite a long journey to the top by cable car where many of the trails start. We did a one hour hike on our last visit.
The area is stunning and not well known to tourists as a place to visit in the summer. It's most popular in the winter, during ski season. The flora and fauna around the area in summer is a photographers haven.
Bright coloured flowers, an array of pinks, purples and yellows, with green grass and perfect lakes was literally like a painting. If you take the cable car to the top, the trails are more than suitable for little ones.
We stayed at an amazing mountain lodge in the area – find out more about it here!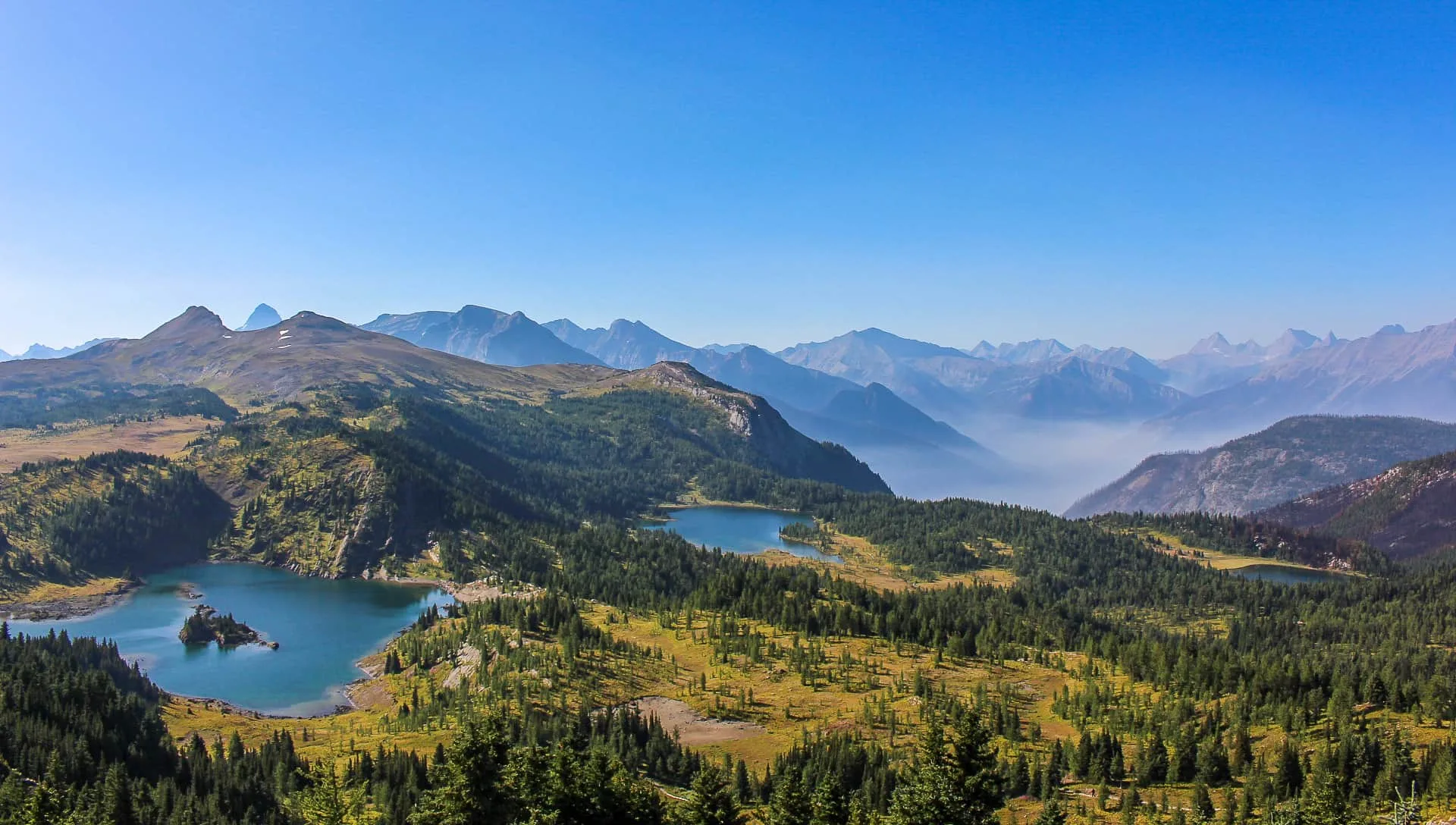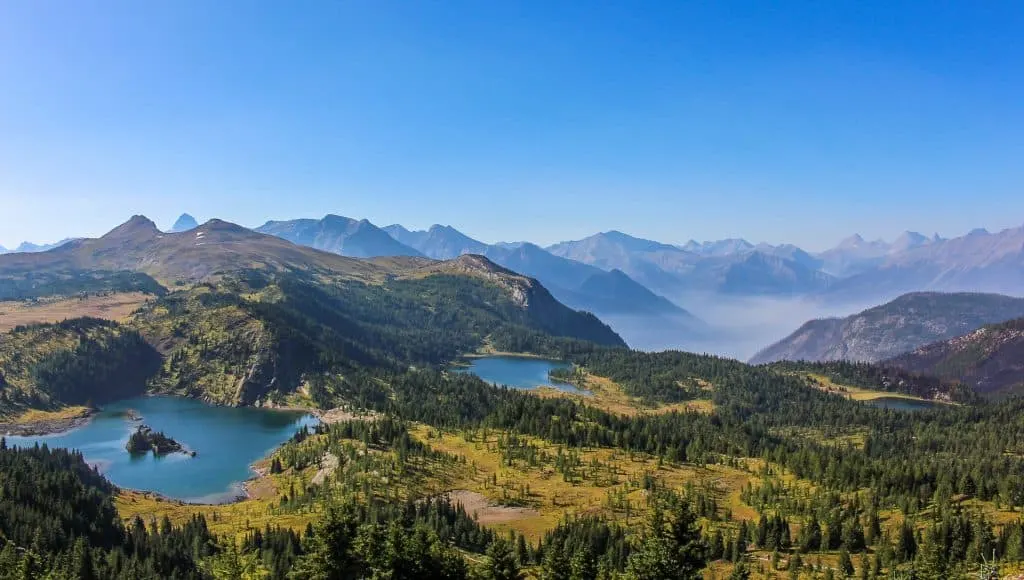 JASPER
I was so excited to visit Jasper on our trip, especially as we hadn't been before! The park is a lot more expansive than Banff and has the most condensed number of black bears in all of Canada. If you are going to see a bear, your chances of seeing them in Jasper are considerably good. Especially first thing in the morning or at dusk.
They say the road leading to Maligne Lake from Jasper is one of the best opportunities. Many of the park attractions are before downtown Jasper when travelling from the east. We managed to see quite a few things on our way in!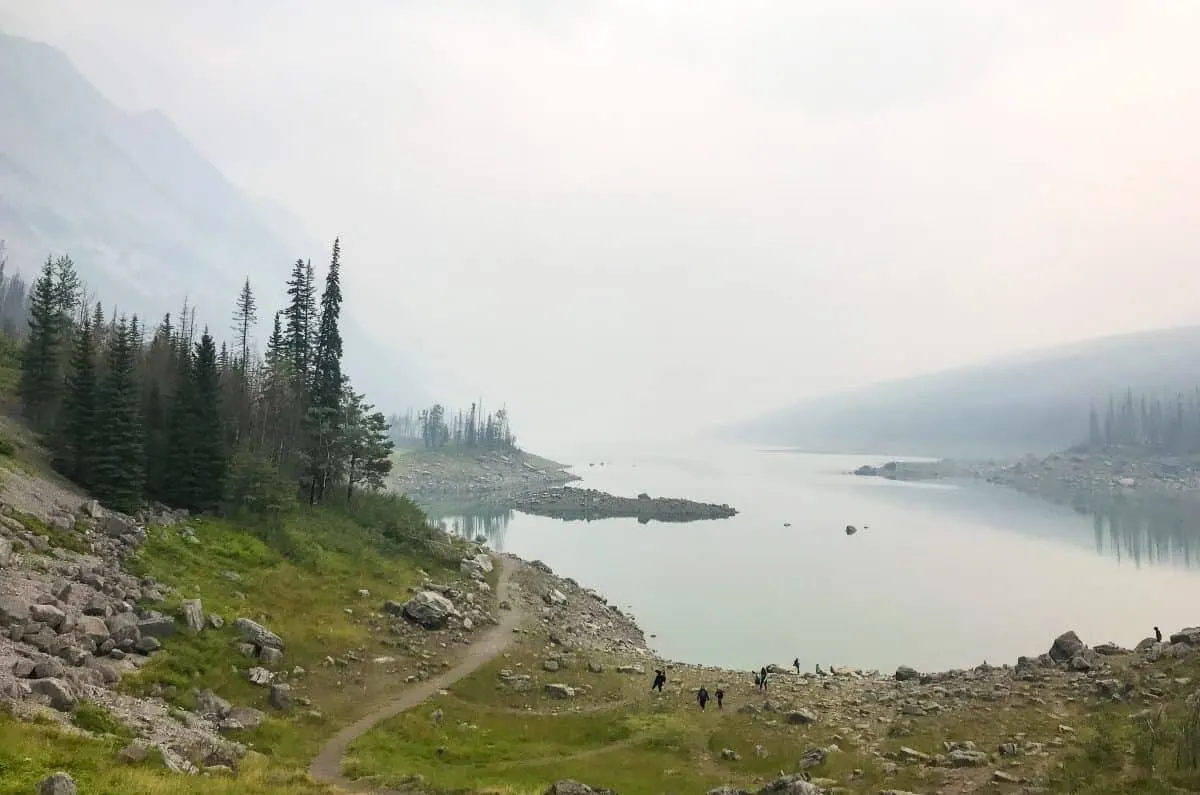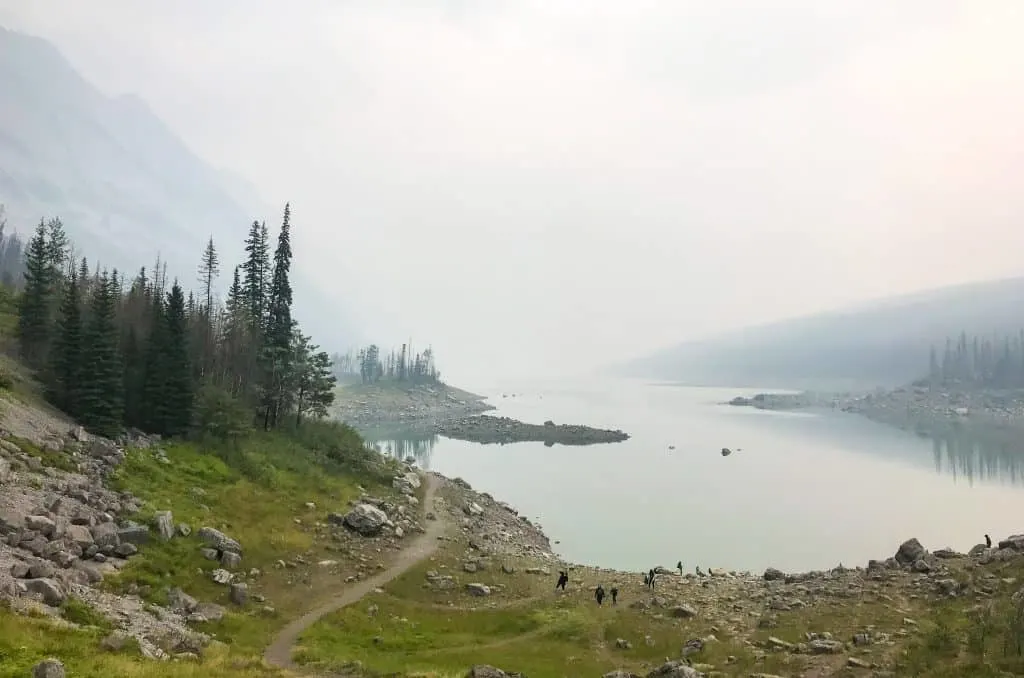 GLACIER SKYWALK
Our first stop was at Glacier Skywalk, a man-made cliff edge bridge. As if that wasn't enough to get the adrenaline pumping, the platform with a 918m drop beneath is made of glass. The walkway leading to the platform is 1 km long and provides views of waterfalls, fossils and wildlife.
The platform is not for the faint-hearted as the structural masterpiece takes some level of courage to step upon. Even though I've jumped out of aeroplanes and dived off bridges, there is something quite nerve racking about it. Needless to say our four year old dare devil thought it was the best thing, running along it as if it was our hallway at home with no fear.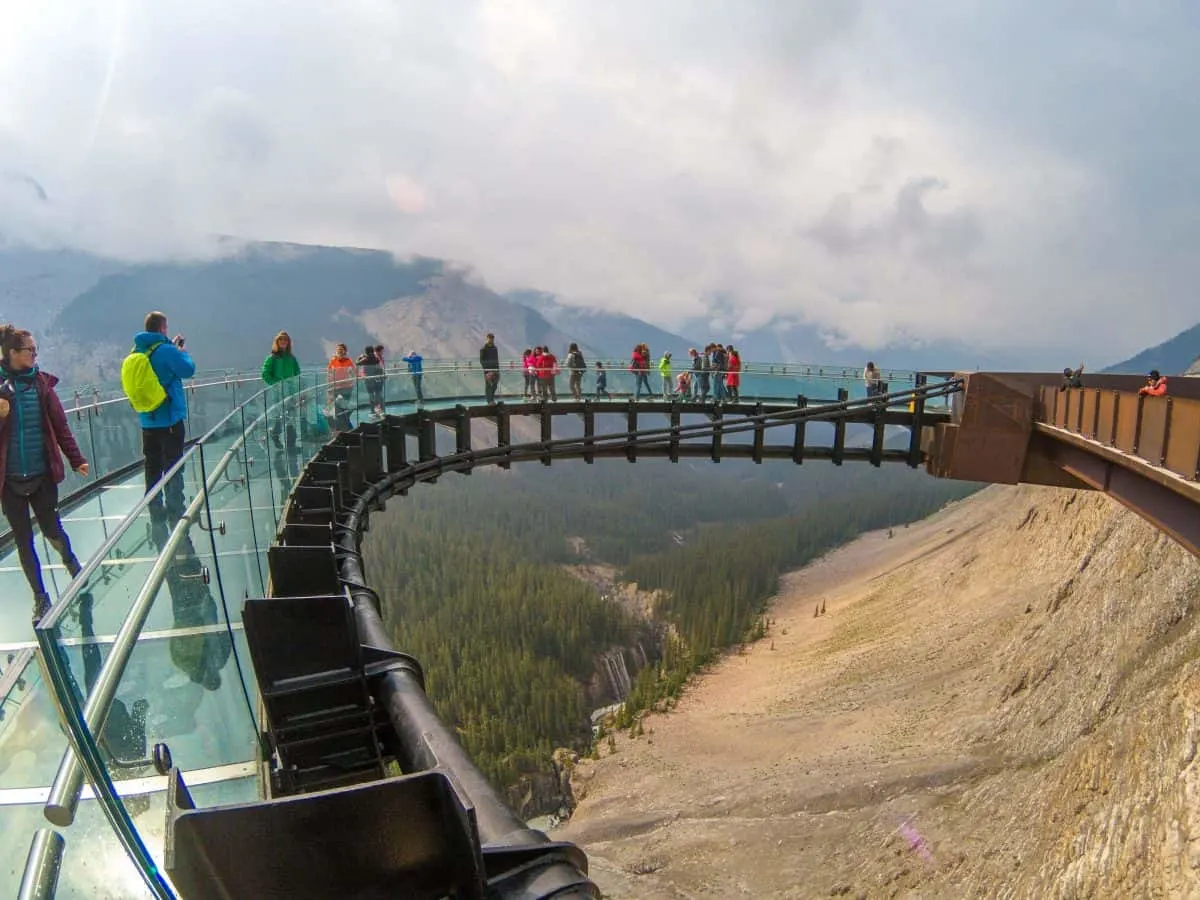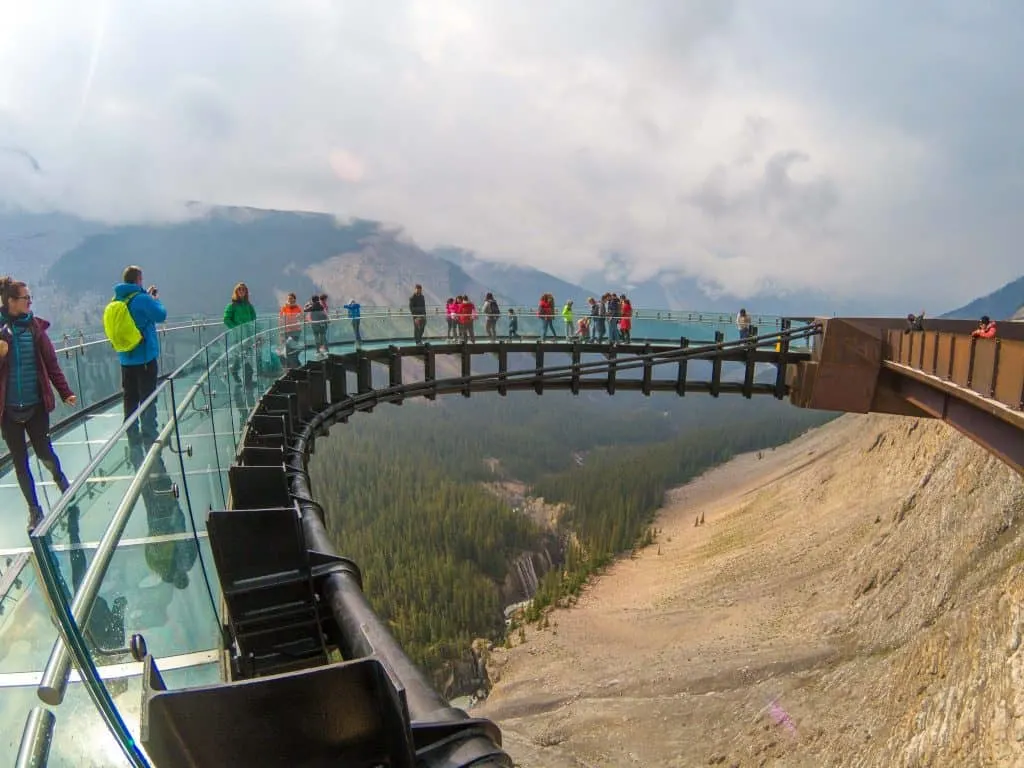 ATHABASCA FALLS
A few miles further west on the Icefields Parkway Highway, we came across the Athabasca Falls. I love attractions that are only a short hop skip and a jump from the car park. It makes it so easy to see a few things in one day.
Athabasca falls is all about the force of nature with the volume of water gushing through the gorge, it's quite impressive to say the least! A boarded walkway runs around the main viewing points. It's a very easy low key walk that only takes a few minutes to see everything. That said, it's definitely worth a stop.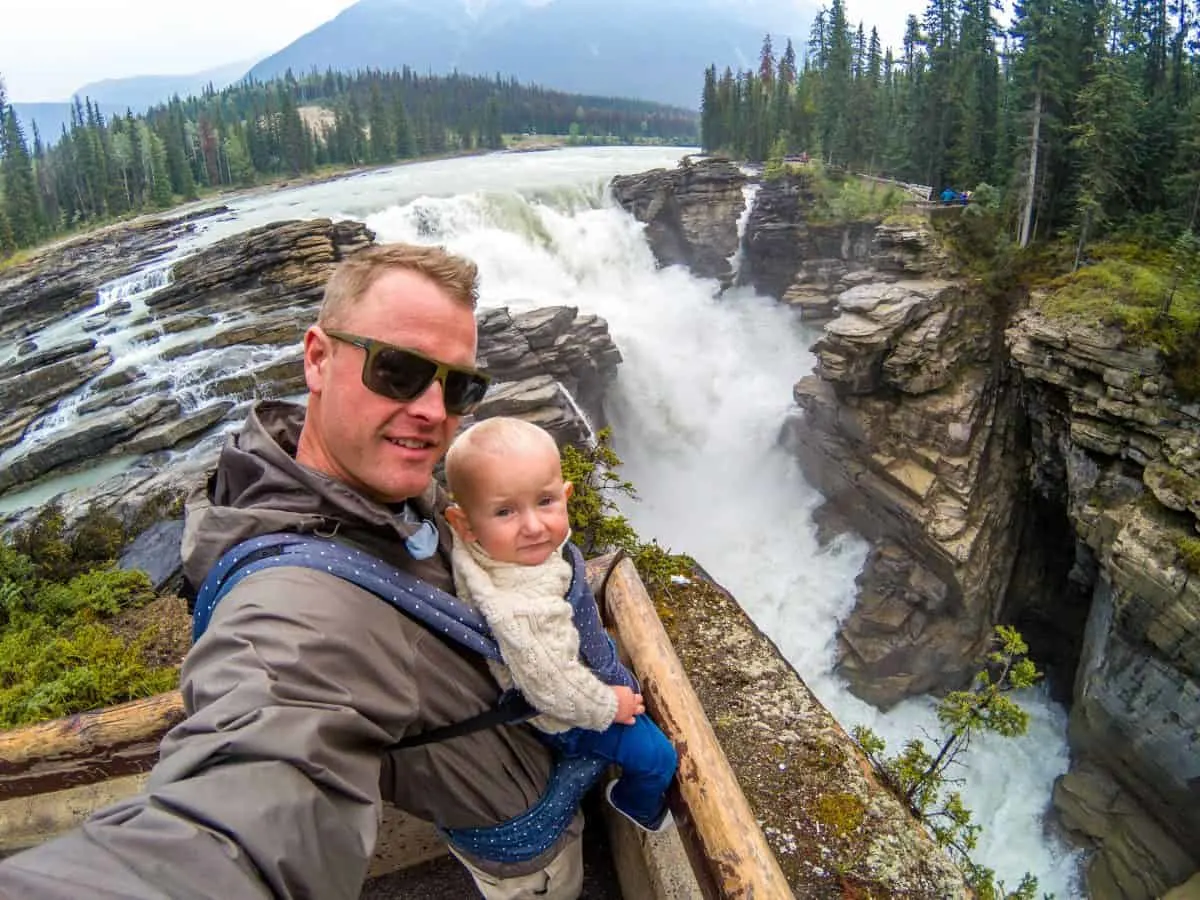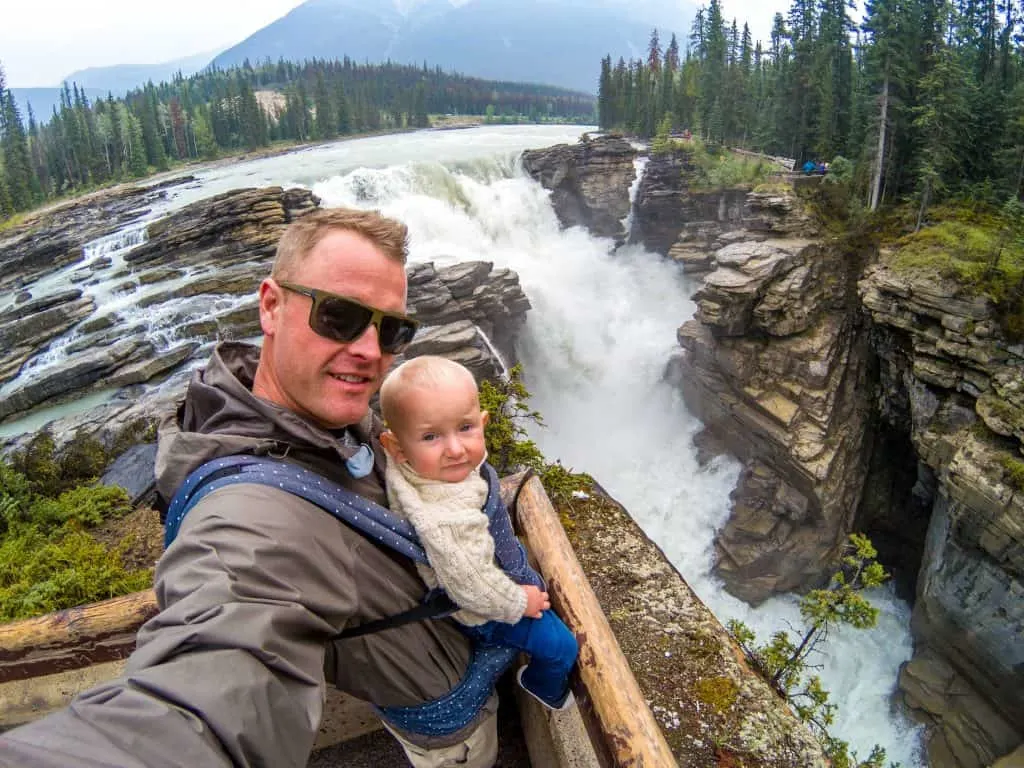 MALIGNE CANYON
We set off on our second morning to Maligne Lake. Along the way we were looking out for bears and moose and saw a number of cars stopping, most of whom said they had seen wildlife. It took about an hour to get to Maligne Lake from downtown Jasper. We were really keen to take the boat to Spirit Island but it was super expensive for a short trip.
We boycotted and made our way to Maligne Canyon. It's even more impressive than Johnston Canyon, due to its 50 metre gap. The rock formation and colour is quite a lot more dramatic, featuring several bridges crossing from one side to the other. The hike around Maligne Canyon was our favourite places in Jasper National Park.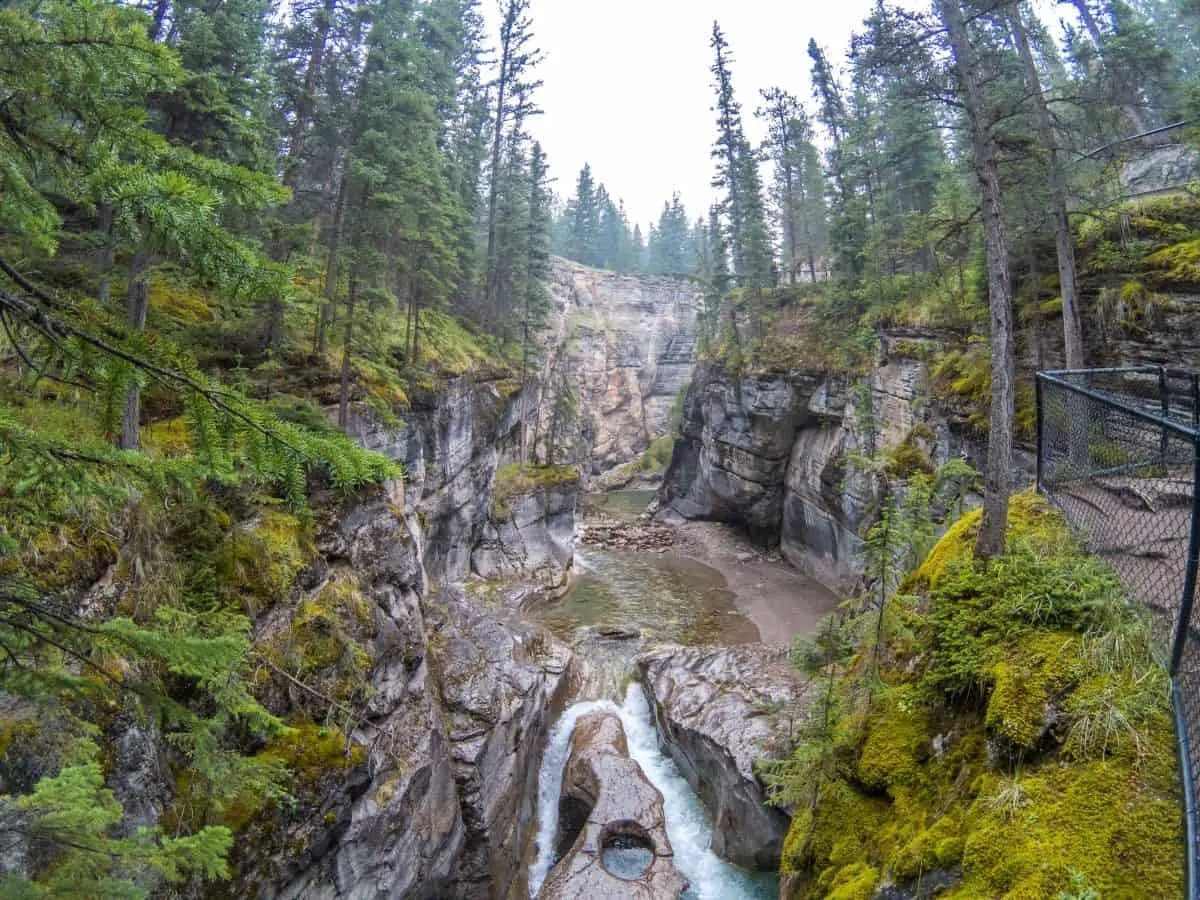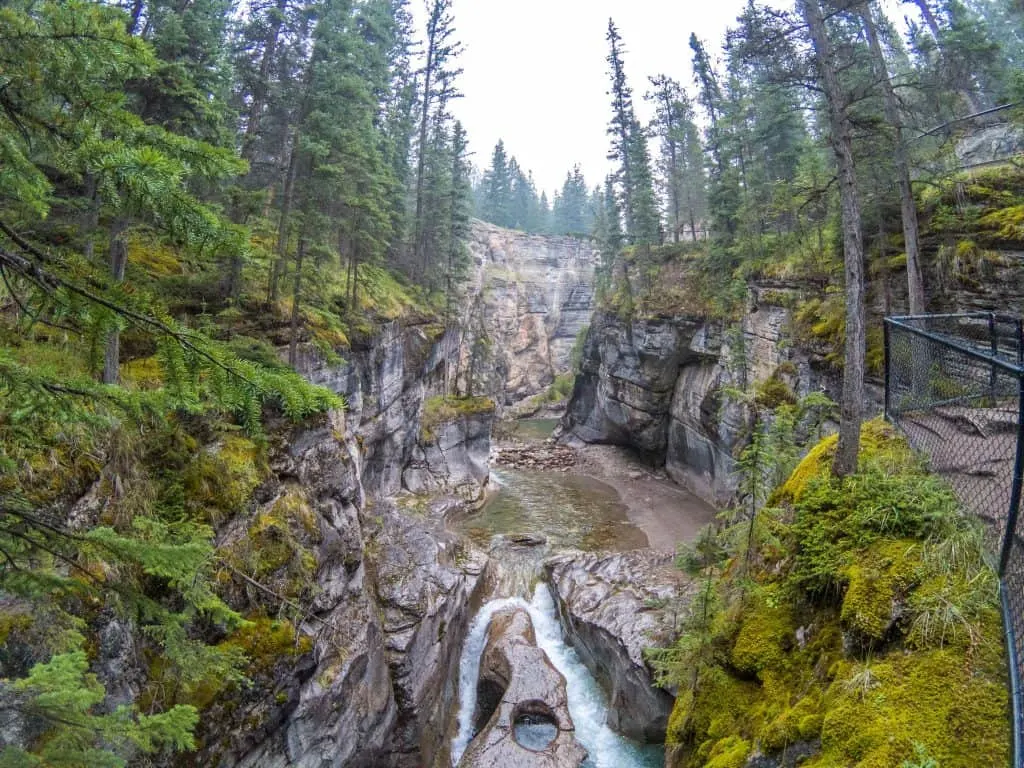 As you can see there are so many things to do in Alberta. We didn't even manage to visit everywhere and still managed to jam pack two different trips. Although we had our children with us, I feel all of the sites we visited are more than suitable for all types of travelers. My favourite part about this trip was travelling around in an RV. The freedom was incredible and allowed us to experience Alberta in its rawest form.
Ready to book your trip? Find the best deals on flights, hotels, travel insurance, tours, reliable internet and rental cars!
You may also like:
Calgary to Vancouver road trip
This post was supported by Travel Alberta, Visit Calgary and Westin Calgary. As always, all views expressed are entirely my own.