Ad – It's that time of year again when the weather is changing, the days are getting shorter and we are looking for things to do with the kids over the Halloween period.
We love the Halloween festivities, from getting dressed up as our favourite villain, to watching scary movies, what's not to love?
Whilst trick or treating is a common way to spend Halloween, it's not that viable living in London. Instead of waiting around for the doorbell to go, we decided to hit Cineworld in the iconic Leicester Square.
Cineworld cinemas are showing lots of Halloween movies, from funny zom-com Zombieland: Double Tap, to Stephen King's terrifying book adaptation Doctor Sleep. However it was the latest Addams Family film we wanted to see with our two little ones.
At aged 2 and 5, we wanted to see a film that wouldn't be too terrifying for them but still have the spirit of Halloween. The latest Addams Family is now an animation of an old classic that so many of us will remember from our own childhood. I mean who doesn't remember that Missy Vic theme song so iconic to the spooky but lovable family? 'Click click'.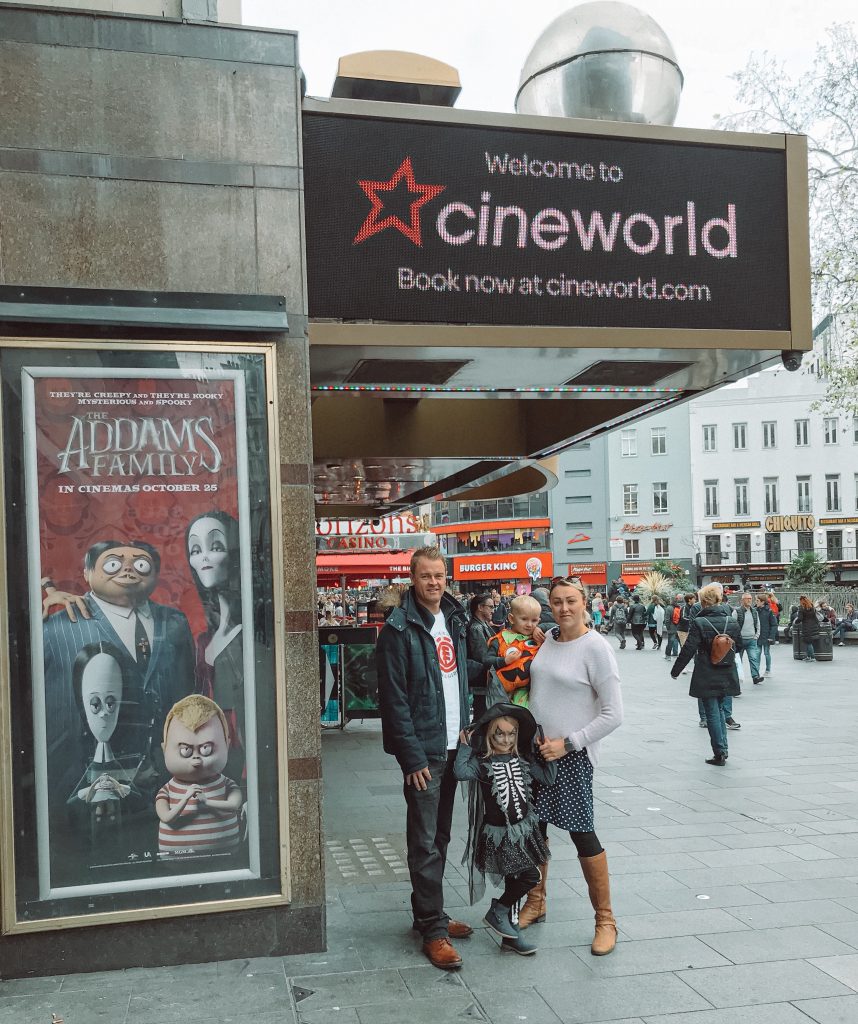 We love visiting Cineworld, it's always our cinema of choice due to their family friendliness. They often have movies for kids in the mornings on the weekend, so it's a great way to introduce juniors to the cinema. We also love the immersive experience of the IMAX cinema at Cineworld, Leicester Square.
From the moment of walking through the door, the staircase comes to life with clips from different showings. Our kids ran in so excited, we had decided to dress them up in true Halloween spirit. Can you visualise our little witch and pumpkin scaling the stairs before you can 'click click', excuse the pun.
After loading up with fresh popcorn, we got ourselves settled in our seats. One of the great things about Cineworld is the booster seats they offer small children. Not only does it stop the seat from flipping up, it also raises them up a little so they have a good view of the epic screen.
By epic screen, I mean massive screen! Wow it really is impressive just how the Cineworld IMAX cinema maximises your field of vision. It's 6 times bigger than a regular theatre. The sound is phenomenal and our kids were completely tuned into the entire experience. There were a few occasions throughout the movie where I had expected them to say they were frightened, but, they were so drawn into the multi-sensory experience, they couldn't quite get the words out.
It was super cool to reminisce over some of the classical characters in this new age animation. Uncle Fester, Morticia and Wednesday to name a few, the cartoon is the ideal Halloween movie for young families to watch this year.
To book Cineworld Tickets for your own Halloween experience with the kids, wherever you are in the UK, click here.