The "River City" is often described as a business city and tourists can be too quick to overlook Brisbane when planning their family trips around Australia.
Give it a chance though and you'll see that there are actually tons of fun family friendly activities, both in the city and close by.
One of the great things about Brisbane is its prime location. Brisbane is located right between the Gold Coast and the Sunshine Coast, making it the perfect base from which to explore the surrounding coastline.
The Gold Coast is just a 1 hour drive south or the Sunshine Coast is a 1 hour and 20 minute drive north, so they're both easy to explore on a one day trip out of the city.
Also for families visiting Brisbane you will soon discover how incredibly kid friendly Brisbane is. Families are spoilt for choice with activities and trips to fill their days.
There are even a lot of free things to do in Brisbane! So, take a look below at some of the best things to do in Brisbane with kids and fill your family holiday with fun and exciting activities.
Best Things to do in Brisbane with Kids
1. Hangout at South Bank
Brisbane's South Bank is the most popular area in the city for families and, when you see it, it'll be no surprise why. South Bank is effectively a huge playground for kids, right in the middle of the city, it's full of fun things to do and close to heaps of attractions.
The real draw is the enormous man-made beach pool called Streets Beach. There are tons of shady spots to relax while the little ones dig in the sand or splash around at aquativity (the splash park surrounded by rock pools) and older kids can enjoy swimming in the deeper pools.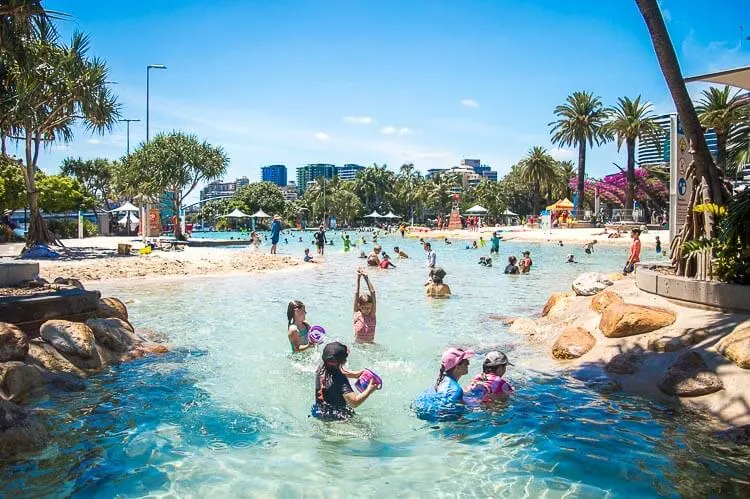 There are a number of great playgrounds to keep kids of all ages entertained. Riverside Green is the most popular, it's bright and colourful and full of interactive things to do. It even has a separate toddler zone for the little ones.
If you've had enough of playgrounds and swimming, you can take a ride on the Brisbane wheel for great panoramic views of the city. The Riverside markets are great for exploring too, with heaps of crafty and handmade things for sale and there is always a swarm of kids around the stall that sells bright and colourful iron on badges!
2. Take a Cruise
A great thing to do with kids in Brisbane is to hop on a boat and take a river cruise! You can choose to take a relaxed river cruise or take one of the fast boats for a more exhilarating trip and both will give you some more information about the attractions you pass on the way.
3. Lone Pine Koala park
The kids will love spending a day at Lone Pine Koala Park meeting some of Australia's most cuddly animals. It's the largest Koala sanctuary in the world and has over 130 of the beautiful creatures as well as kangaroos and other native wildlife.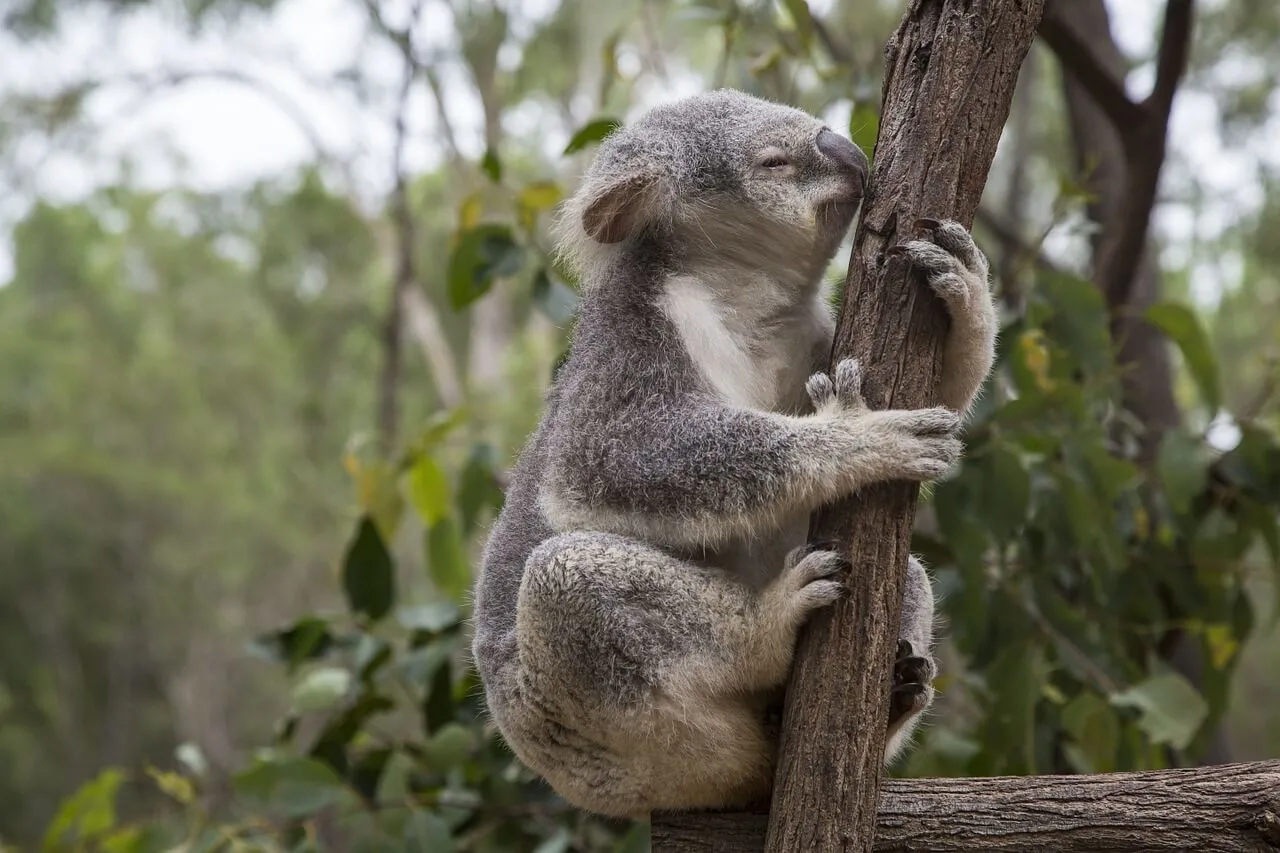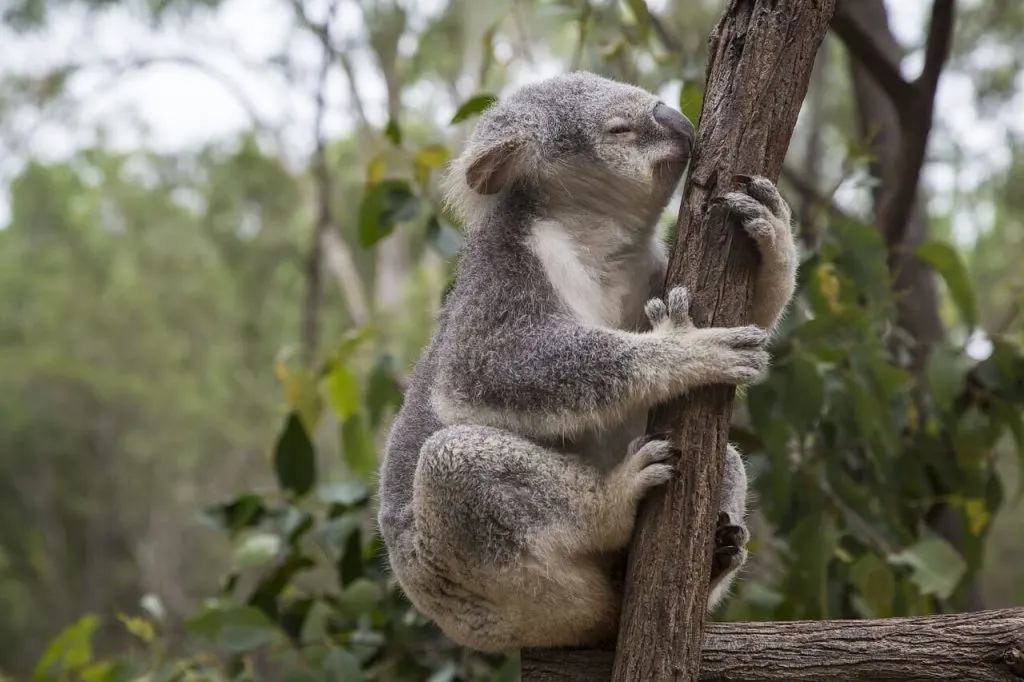 Kids will really love getting up close and personal with the animals, cuddling the koalas and hand feeding the kangaroos.
Get Your Cruise and Koala Park Tickets Here.

4. Free things to do in Brisbane – Visit the Museums and Art Galleries
Brisbane has some great free museums and art galleries on offer that could easily keep the whole family occupied for a few days.
The Museum of Brisbane lets you discover the history of the city with interactive displays and films and there are plenty of kid friendly activities on offer and you can even take a free tour round the clock tower.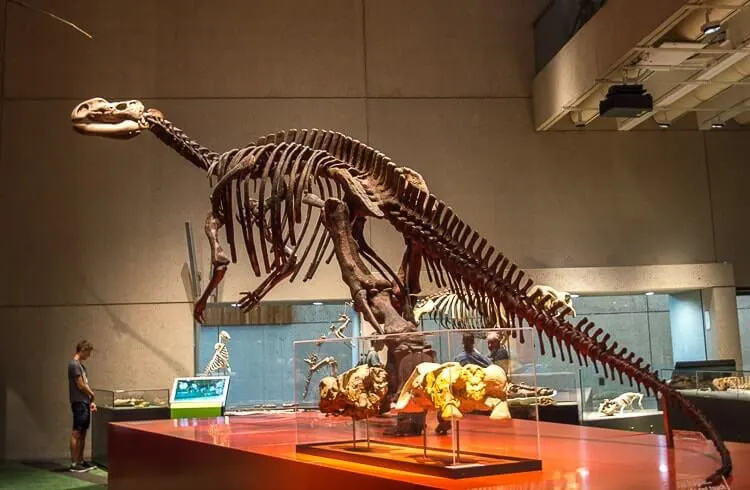 A personal favourite of ours is the Queensland museum, which showcases some of the best natural history of the state and their native animal exhibit is really extensive and sure to intrigue kids of all ages.
They also have a super cool science centre there now too but that is an optional extra – but so worth it – the kids will want to spend hours and hours here.
Other options include the National Maritime Museum, Queensland Art Gallery and the Gallery of Modern Art. All of these Museums have fantastic sections for the kids.
5. Spend the Day at a South East Queensland Beach
Queensland is home to some of the most beautiful beaches in the world and Brisbane is a fantastic base to explore them from. Best of all, it's a totally free day out that the kids are sure to love!
The Sunshine Coast is a short drive north with heaps of beautiful beaches on offer including the popular Noosa beach, which is a must if you want a fun-filled day with the kids with convenience close by. Other great child friendly beaches on the Sunshine Coast include Caloundra, Coolum and Cotton Tree.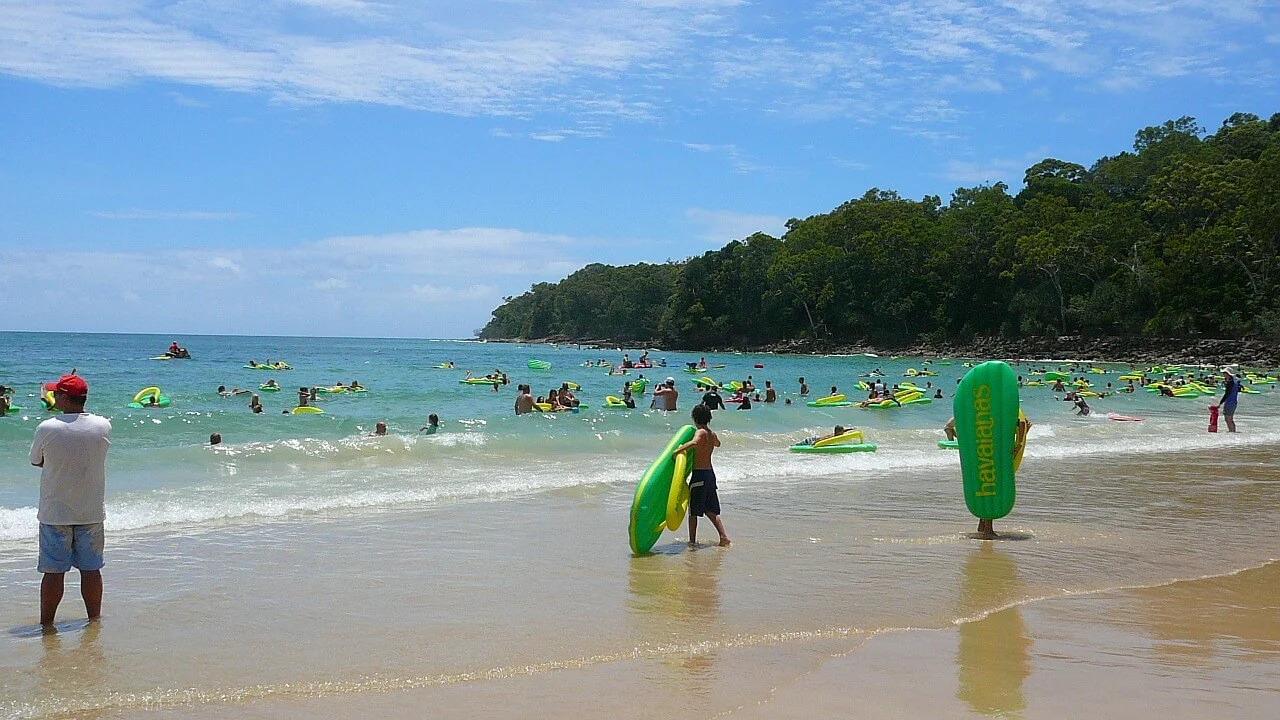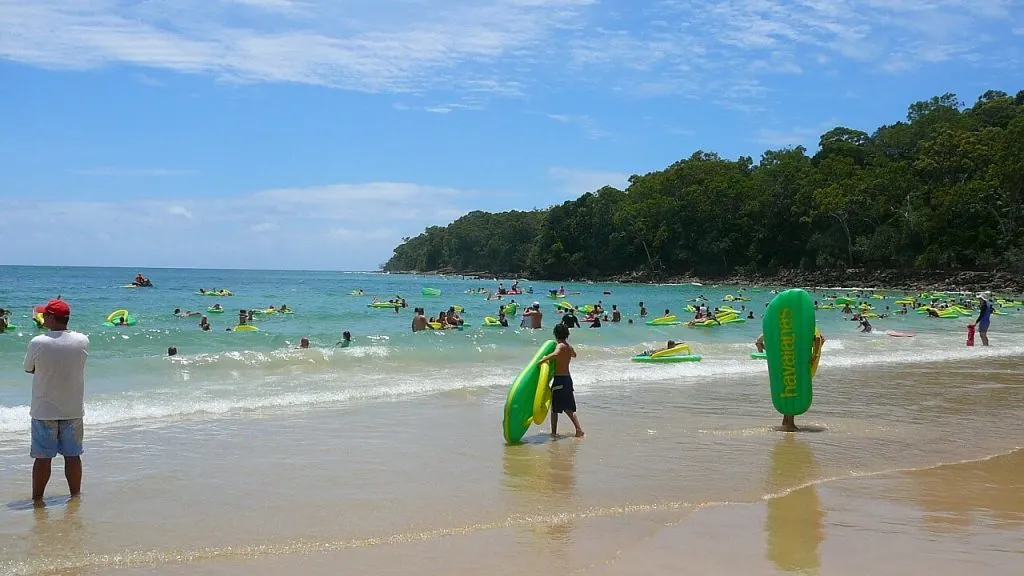 To the south of Brisbane are the stunning beaches of the Gold Coast with their white sand and beautiful clear waters. Some of my personal favourites include Burleigh Heads, Coolangatta and Broadbeach.
There are plenty of opportunities to take surf lessons or just hire boogey boards and have fun in the waves. When you're done playing in the surf, be sure to stop at one of the many surf clubs along the coast for lunch with a view.
Check out tours to the Gold Coast here.
6. Spend the Day at one of the Famous Gold Coast Theme Parks
The Gold Coast theme parks are easy to get to by car and just a 1 hour drive down the motorway. There are 2 main choices, Dreamworld or Movieworld but, if you have kids who love the water, then Wet n Wild water park might be a good option too.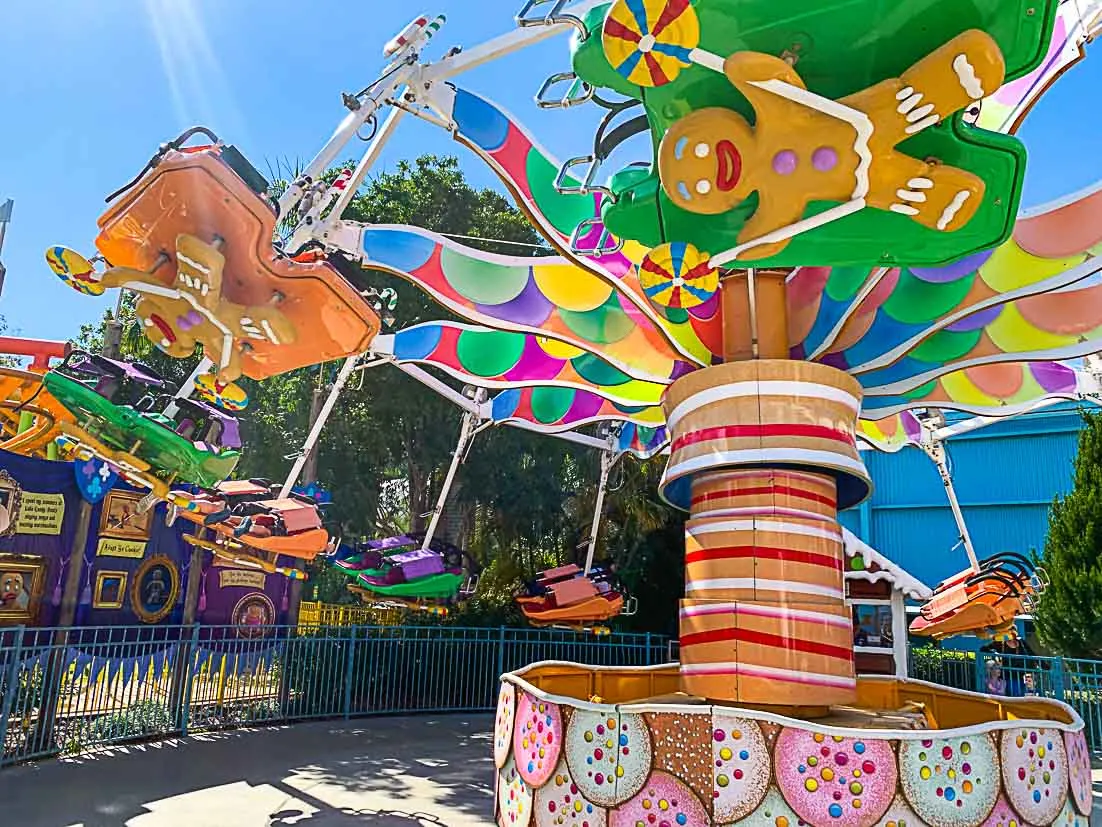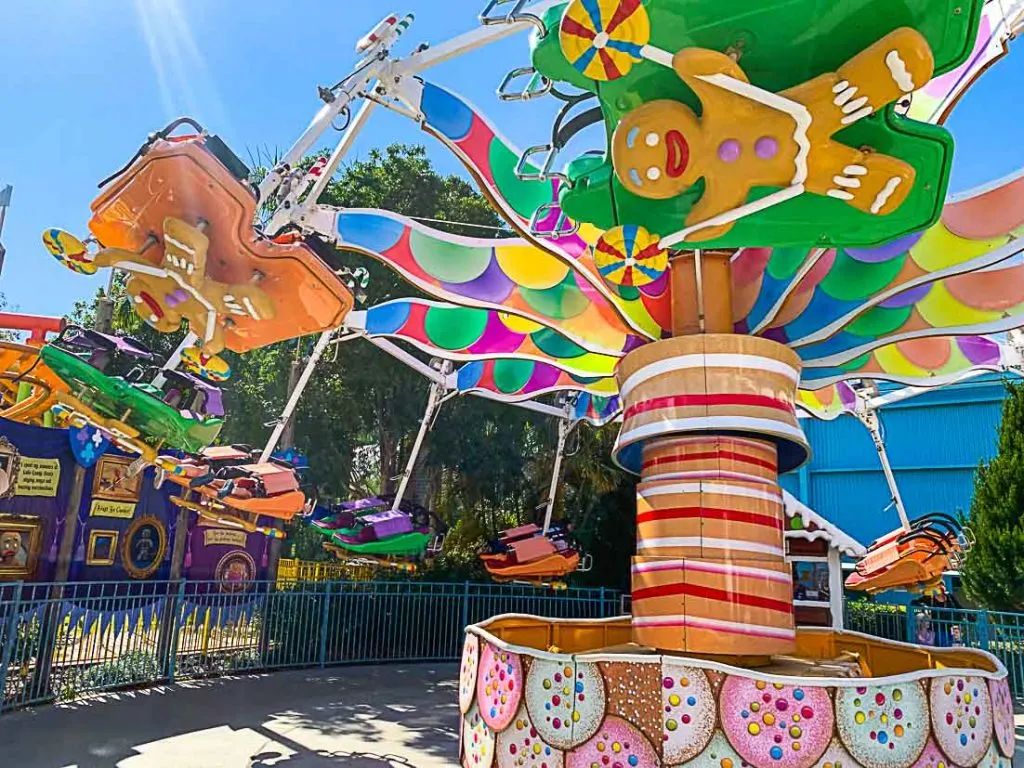 Movieworld is a great option for thrill seekers with plenty of rollercoasters on offer.
Dreamworld is good for kids of all ages. It is home to the Big 9 thrill rides for the older kids whilst also having great things like ABC Kids world for the little ones.
If you want to save some money you can even pre-book a bundle ticket online and get access to all the parks, although you will need a good few days to fit everything in!
Buy your theme park tickets here for the best prices! Dreamworld, MovieWorld, and Wet n' Wild. There are also ticket bundling options at those links.
7. Stroll Along the River Walk to New Farm Park
If your kids have their bikes and scooters, or you just want a great way to have them burn off some energy, Brisbane Riverwalk is a great way to get out and about. Walk the 870 metre path along the edge of the Brisbane River, from the CBD all the way to New Farm, taking in the sights and sounds of the city as you go.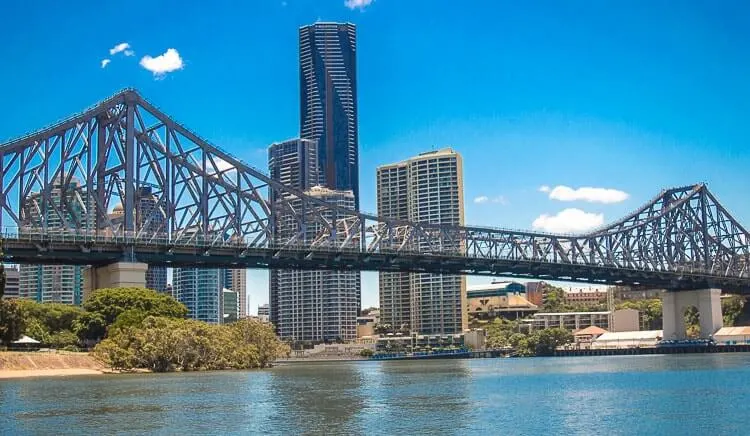 Once you arrive at New Farm, it's well worth a visit to the park, which is one of the largest in the city and offers good facilities like picnic areas and BBQs as well as a great playground for kids to climb and explore.
When you're done for the day and have tired little legs to worry about, there is a ferry terminal right at the park so you can take the free CityCat back to the CBD.
8. Climb the Story Bridge
Did you know there are actually only 3 bridge climbs in the entire world? I know, crazy! Well, one of them is Story Bridge in Brisbane, so what better chance to do something fun and unique on your family trip.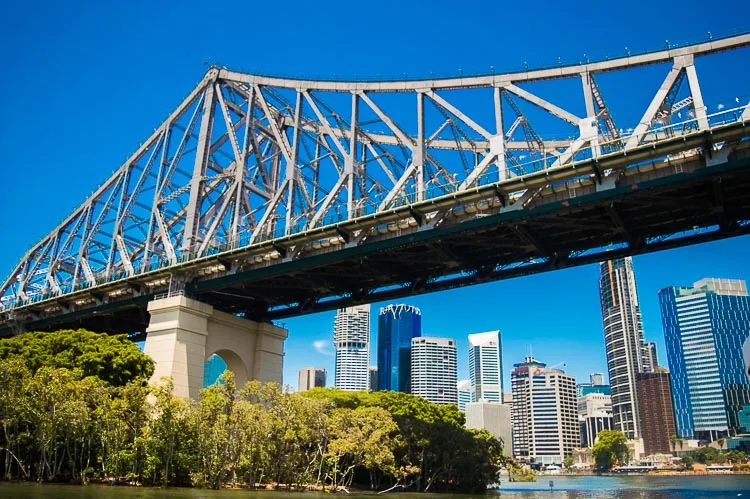 Thrill seeking kids will love the chance to climb 72 meters all the way to the top and get some great views over the city. Your guide will also give you some interesting information about the city along the way.
The climb isn't super difficult but it does obviously involve climbing steep stairs so kids will need to be reasonably fit and it is only for ages 10 years and up.
Book your spot on a Story Bridge climb here.
9. Visit a Tropical Island
What kid doesn't love island life? Brisbane may be a bustling metropolis but it's actually really close to both Stradbroke Island and Moreton Island. Take a short ferry ride straight from the city wharf and in around an hour you could find yourself on either.
Moreton Island is a particular favourite with tourists and home to the well-known Tangalooma resort where you can snorkel the reef or older kids could learn to scuba dive. If you're kids aren't keen on getting wet, there are even glass bottom boat rides to see the reef marine life.
Buy tickets to Moreton Island including resort passes here. You can also check out these tickets that take you to Moreton Island including a 3 hours whale watching tour where you will get to see humpback whales in their native environment!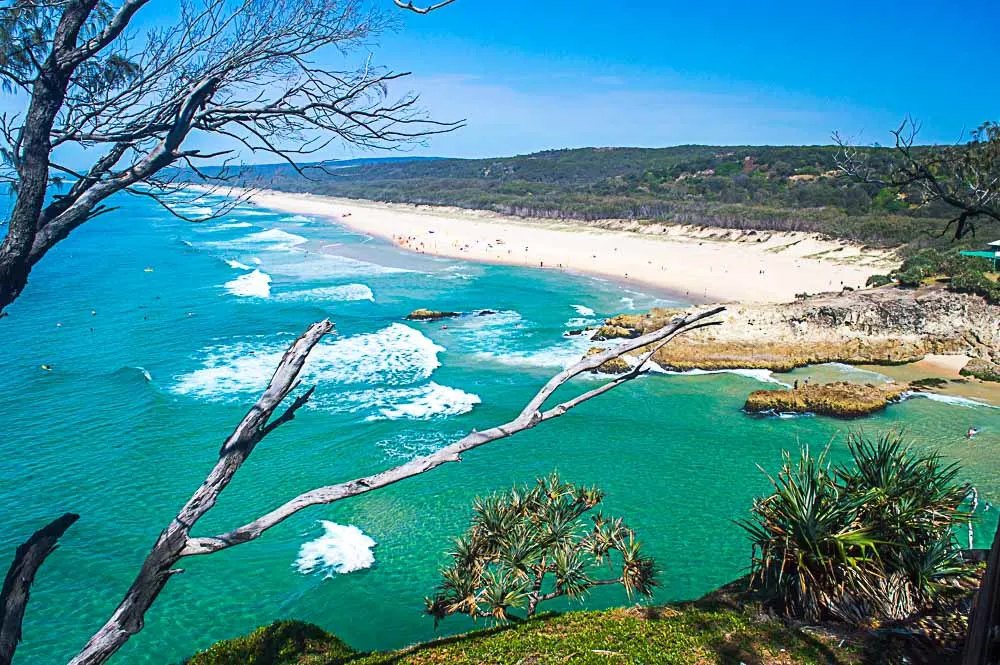 Stradbroke Island is a little less of a tourist hotspot but loved by locals and great for a bit of a quieter getaway. You can spend your days lazing around on a beautiful white sand beach while the kids learn to surf.
Learn more about a trip to Stradbroke Island here.
My recommendation would be to spend a few days exploring either (or both) of the islands, but if you are short on time a day trip is an absolute must while in Brisbane.
10. Climb Mt Coot-tha
Mount Coot-tha is a great day out for families who just love being out in nature and exploring together. You can either walk to the top or rent bikes and cycle up if you fancy something a little more testing.
Once you reach the summit, you'll be rewarded with some of the best panoramic views of Brisbane city and all the way out to Moreton Island. Take a stroll around the boardwalk to soak it all in and then treat the kids to ice cream at the café.
Don't forget to stop in at the Botanic Gardens at the base where there is more to explore and a great playground for the kids to enjoy.
Where to Stay in Brisbane
It's possible to get an affordable hotel either right within the CBD or close to South Bank, where you'll find most of the kid friendly attractions. Some of our favourites are the Novotel Brisbane City or the Ibis, which is closer to South Bank.
A great option for families is to stay in one of the many self-contained apartments around the city. It can be so much more convenient to have your own kitchen after a long day of exploring, especially if the kids need an early night.
Search for the best hotels and apartment rentals here.
When to Visit Brisbane
Brisbane is a great city for a family holiday at any time of year but it might be a good idea to be mindful of the school holidays. If you have school age kids, a trip during the holidays will still be super enjoyable, just be aware that attractions like Streets Beach will, obviously, be busier during the Brisbane school holidays.
If you don't mind the heat, Brisbane summers are very hot, making it a perfect time to explore the South East Queensland beaches or visit some of the famous landmarks in Queensland. You could even take a ferry over to a tropical island. There can be rain during the hottest months but it's usually just a shower in the afternoon and there are plenty of indoor activities, like museums, if it does.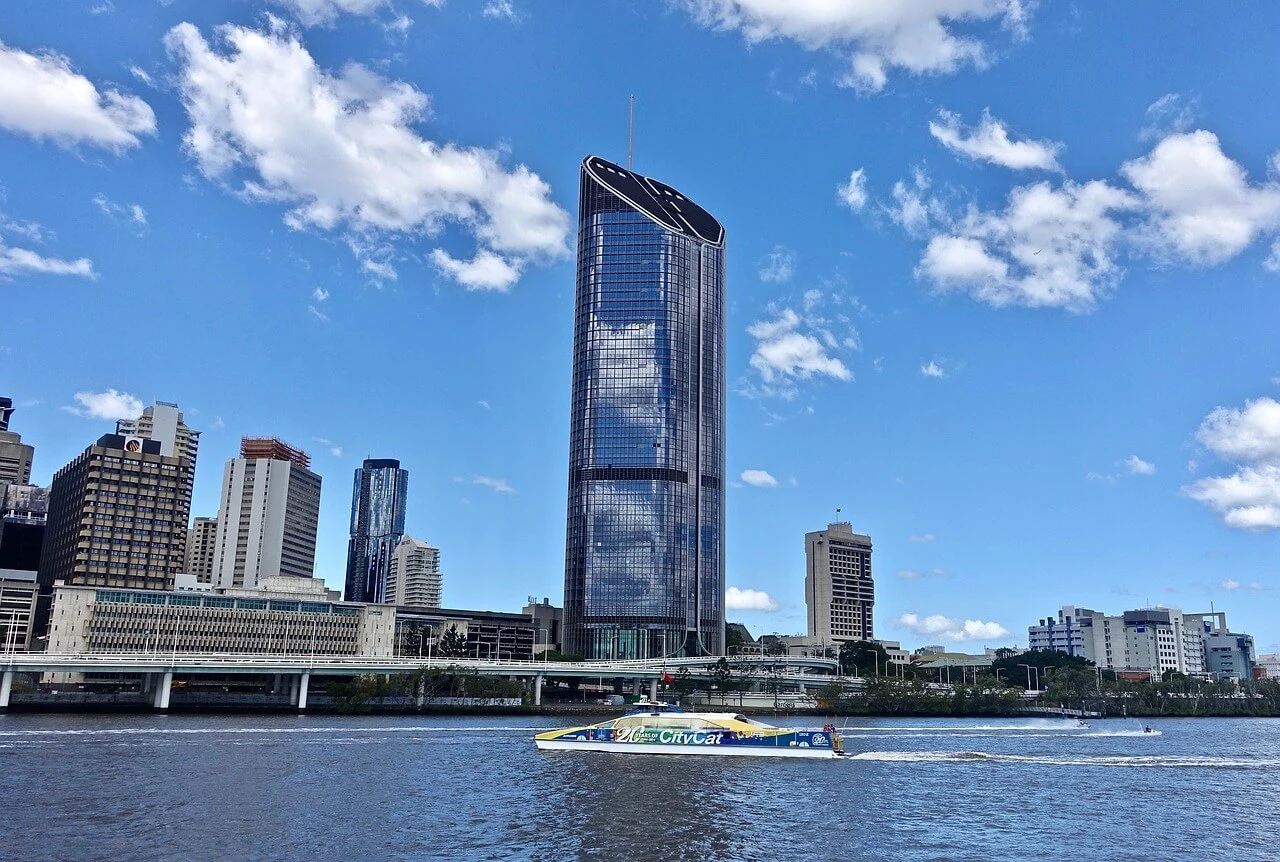 Winter is dry and cool and many people choose to visit during these months because it's much cooler but it might not be as fun to spend time at the beach or visit Moreton Island if the temperature drops.
Getting Around Brisbane
It's incredibly easy to get around Brisbane on foot and many of the attractions are within easy walking distance of each other. If you have young kids who will tire easily though, we have amazing free public transport options like buses and ferries that cover most of the main sights – check out my getting around Brisbane article for more information.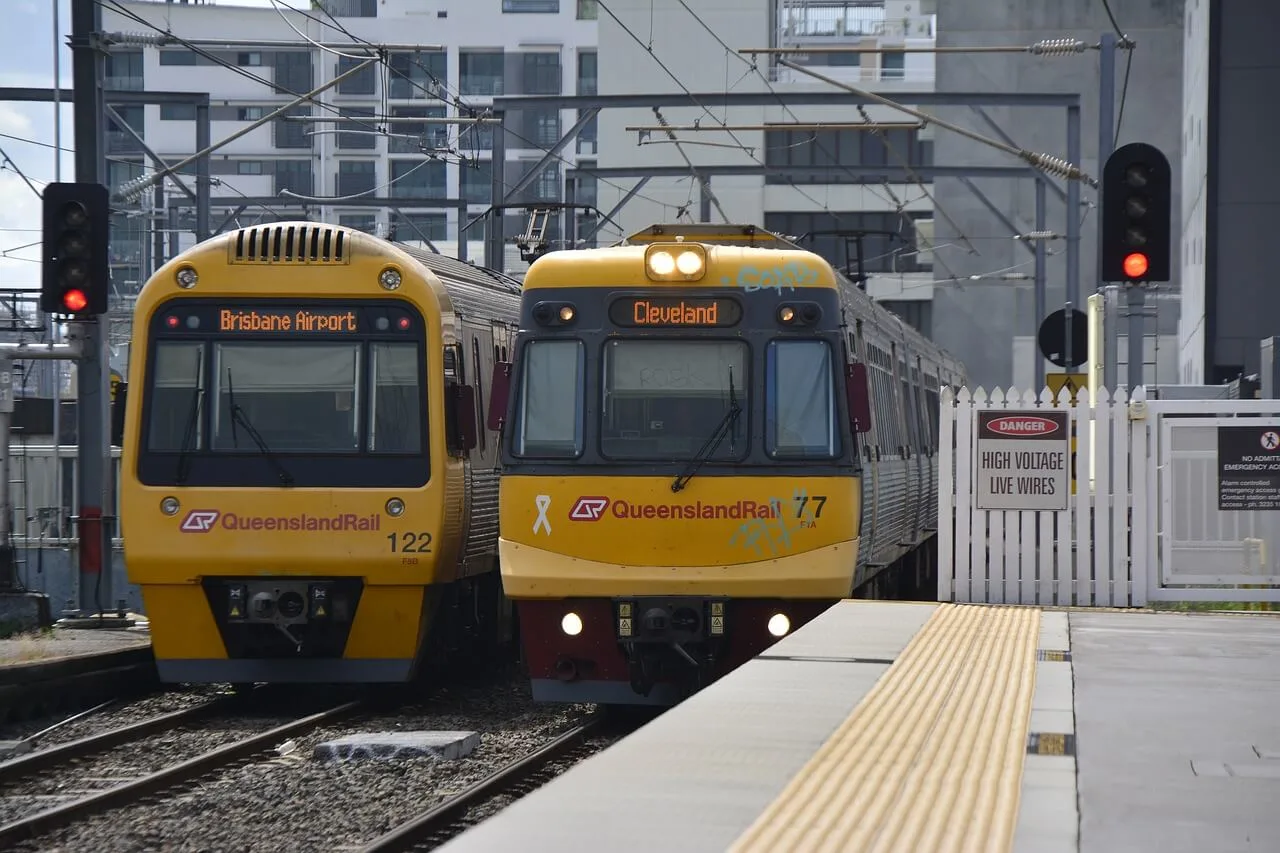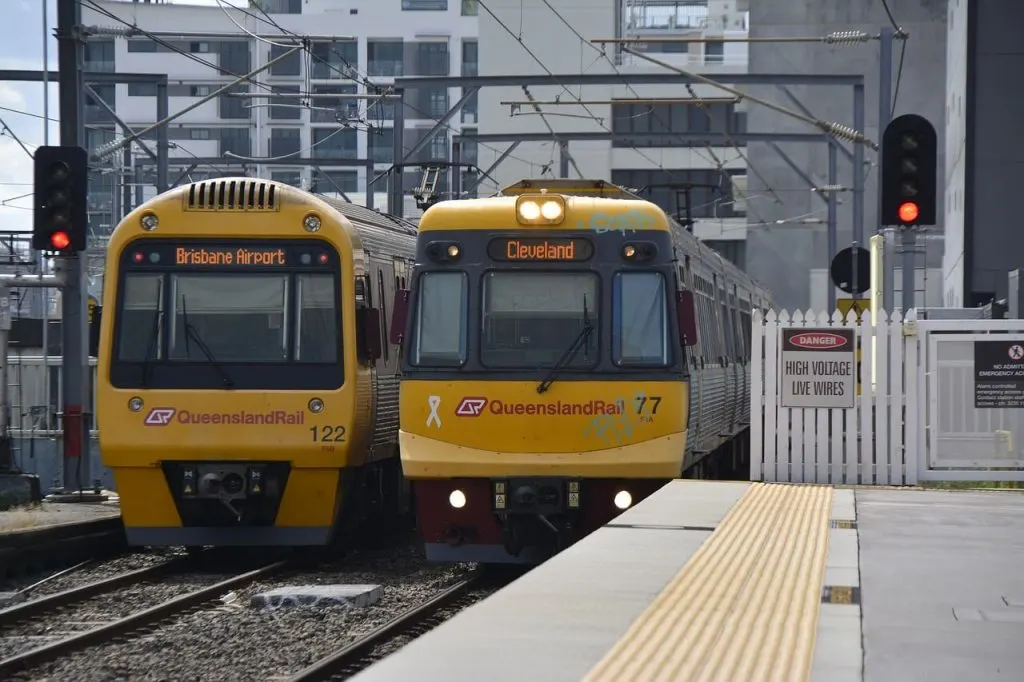 Just be aware, if you want to visit some of the attractions outside of the city, like Australia Zoo, it might be easier to hire a car although there are a lot of tour operators who will book packages for you including transport.
Find the best prices on car rentals here.
Author Bio: Melissa is the creator and writer for the Thrifty Family Travels website; which details her family's travels both locally and across the globe. Together they travel the world, experience new cultures, indulge in local delicacies, and explore every corner of our beautiful earth, navigating their way around the world. Thrifty Family Travels hope to inspire other families to travel and to show them all the fantastic places the world has to explore.
Ready to book your trip? Find the best prices on flights, hotels, travel insurance, and rental cars!

You May Also Like: