As we were going to Thailand, I thought we may as well make a quick trip to Cambodia. They are next door neighbours and it is otherwise difficult to get to Cambodia directly from home.
I specifically chose to go to Siem Reap with a baby for the beautiful iconic temples. Unfortunately many other areas in Cambodia are high risk of malaria, so we played it safe with the little one and stuck to Siem Reap.
Although the locals are really helpful and nice to children, if you are travelling to Siem Reap with a baby you should know that there are a few things westerners are used to that are non-existent in Cambodia. Namely high chairs and decent cots.
So my suggestion would be to bring a light-weight clip on high chair and a pop-up travel cot if you are considering going to Siem Reap with a baby. Equally many of the roads are not 'buggy worthy' so its a good idea to bring a baby carrier.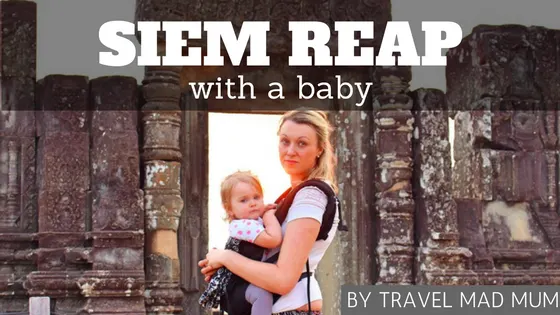 Siem Reap With A Baby
We just loved Cambodia, it was much more than we had expected and I found it totally safe with Esmé. The local cuisine known as 'Khmer' was really good and there was plenty to do. We spent four days in Siem Reap which was just the right amount of time to fit in everything as well as some relaxation. If you are interested in seeing even more of Cambodia check out this Cambodia with kids guide! Here are a few of our highlights:
Temples
Visit the beautiful temples of Angkor Wat. I highly recommend getting a tuk-tuk to take you around the many temples. They are reasonable and it keeps you shaded in the day time. You won't get all the temples done in one day with a baby. So I would suggest buying the pass that gives you a couple of days to play with. We went at sunrise and sunset on two separate days just to break it up for Esmé. We did the main Angkor Wat which is densely populated with tourists but at the same time can't be missed. At Angkor Wat you may notice there are many Cambodian children trying to sell things. They do this instead of going to school so that they will be able to afford basics like food. If you want to help them read this article about Jimmy's School in Siem Reap. He is a lovely man trying to educate the kids in the evenings so that they can build a better life!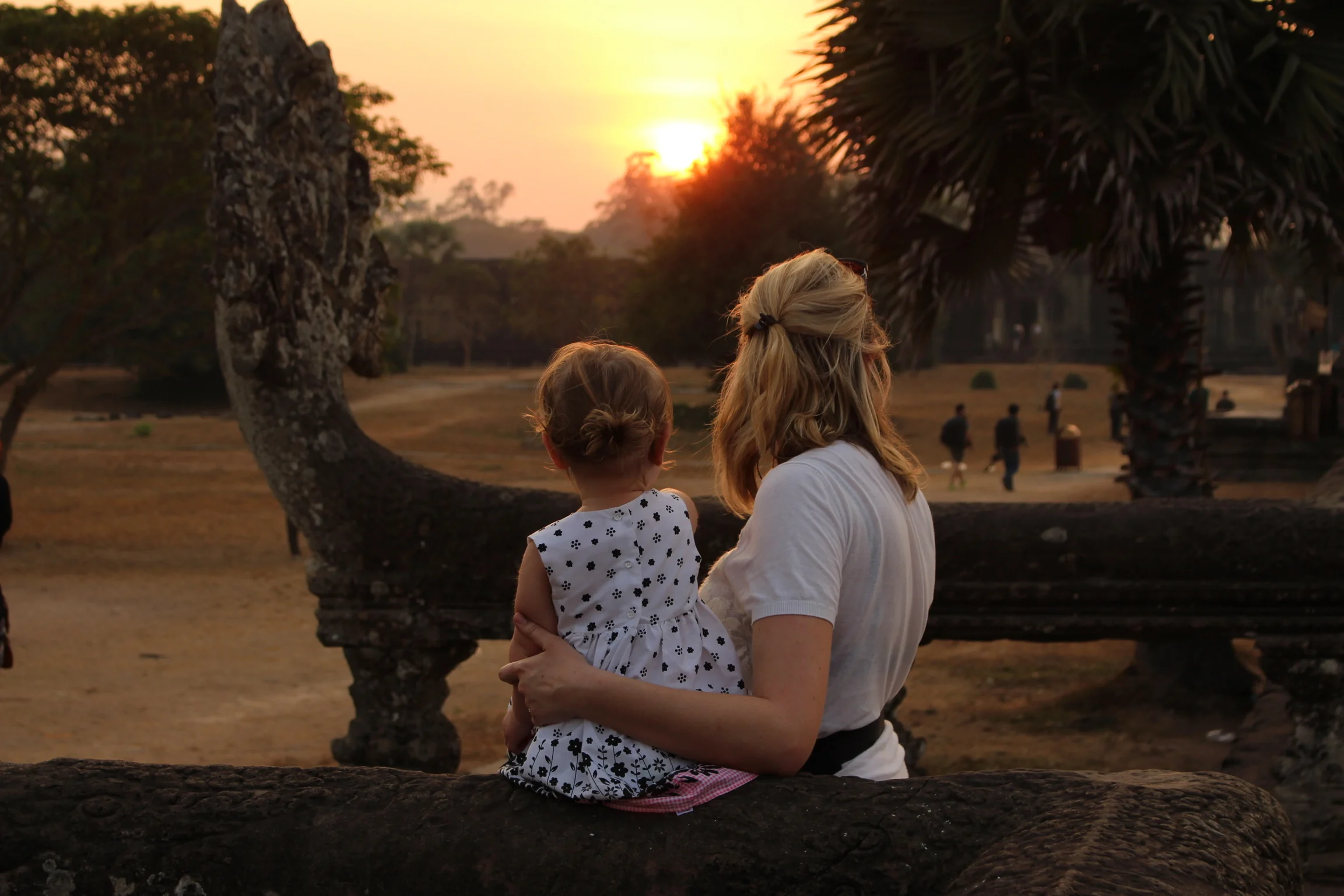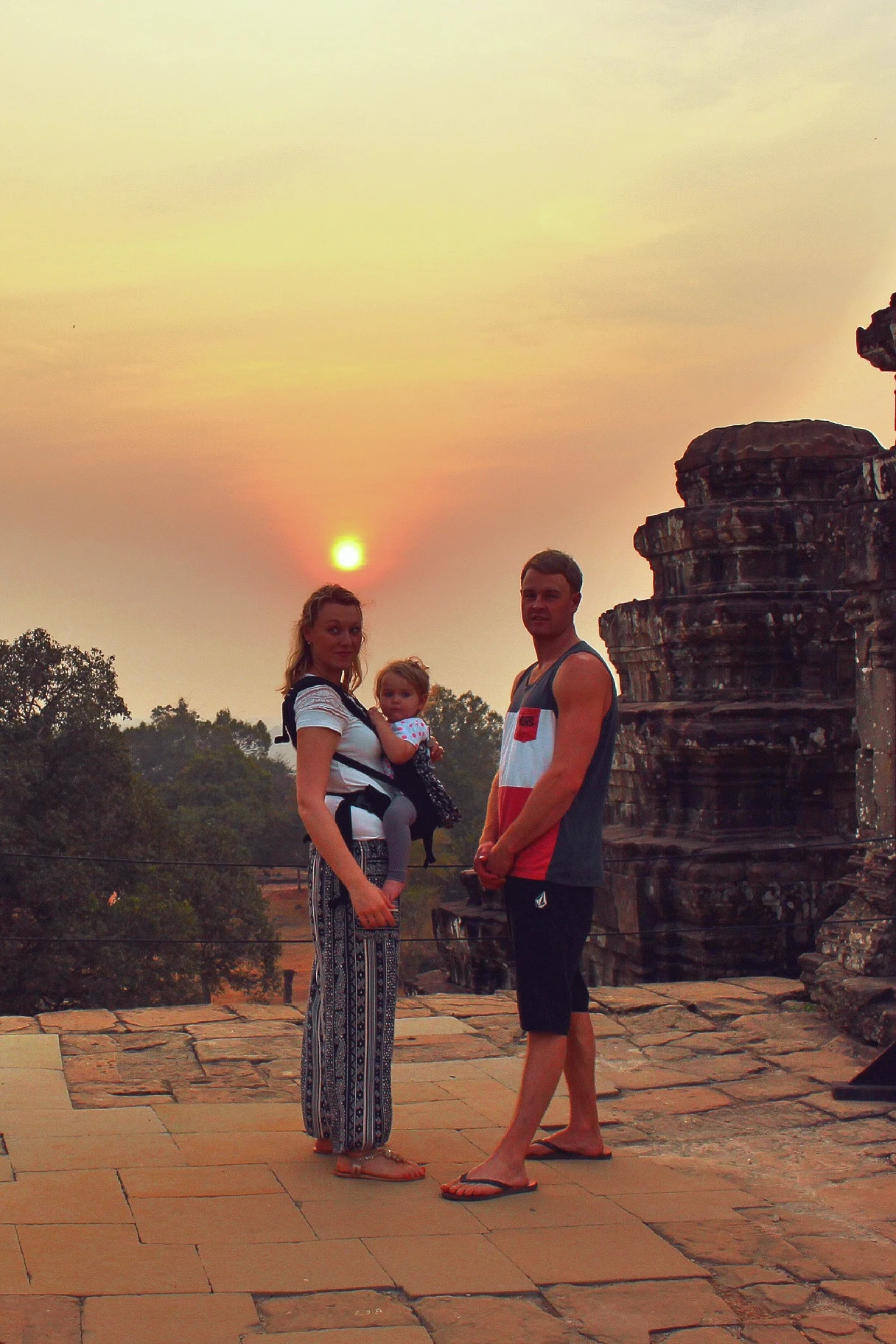 On the third day we got up at silly o'clock, bundled Esmé into her baby carrier still intact in her PJs (score on the transfer) and made our way to the Phnom Bakheng Temple. You climb to the roof top to watch the sun rise over the horizon. The beautiful pinnacle structures on top of the nearby temples make the view extremely pretty. If you plan to go up there, bring a torch and you will need to wear your little one. We were using our phone light to find our way up a pitch dark hill that we had been dropped at the bottom of. I could hear monkeys and animals nearby. It was quite surreal but very cool.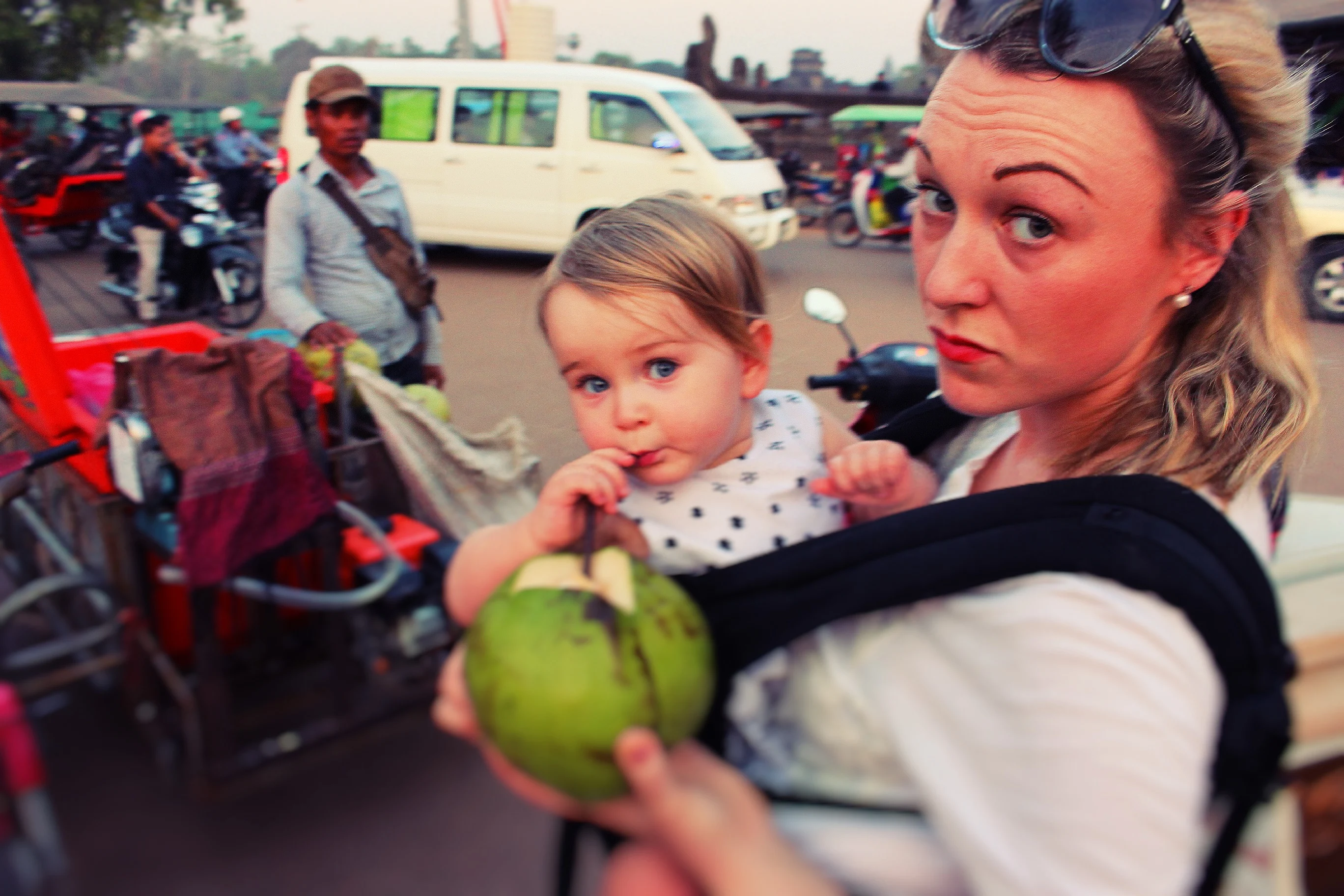 There are plenty of stalls and restaurants between temples if you need food or a drink. Esmé loved the fresh cold coconuts with a straw!
Massage
Have a massage… Yes you think I am crazy, how would you do that with a baby?
Well even I didn't know this was possible. At the beautiful Body and Soul spa, they do baby massage too. Have you ever known of a family friendly spa? I hadn't realised they provided this service until I was already sitting down, Esmé was asleep on me and I saw a little girl pulling her mum into the shop. I couldn't figure out why. She told me it was because the little girl had a massage there the day before and was begging for another one. She was no older than two! Of course, when Esmé woke up she had a little one too. We left re-generated, giddy and relaxed!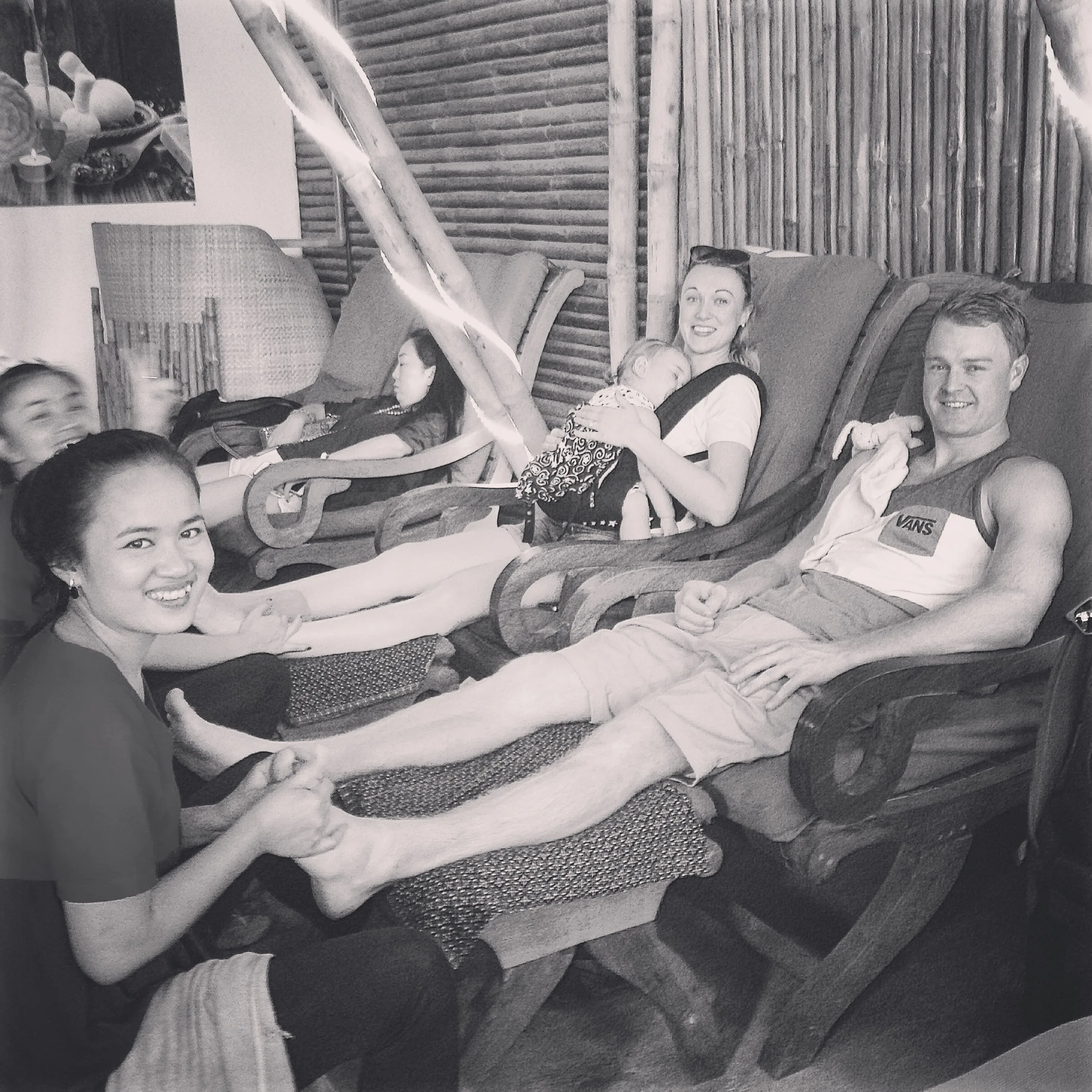 Explore the markets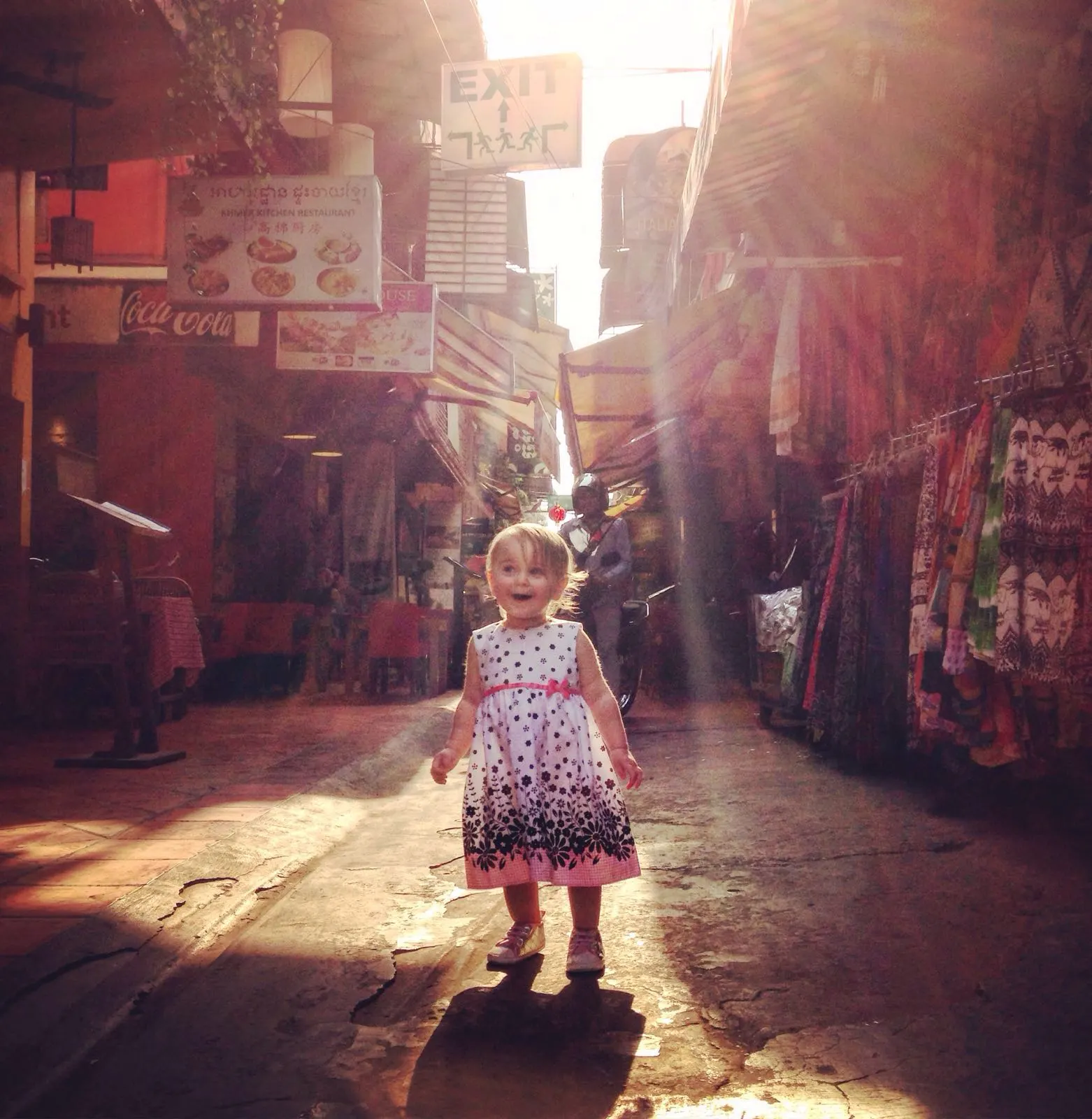 There are many little pockets of markets around Siem Reap Central. They are colourful and vibrant with lots of prints, fabrics and more. Esmé loved wandering through and looking at all the new objects. She had just started walking at this point so we were starting to get a taste of what it is like to travel with a moving baby (a whole new game)! Within the markets there are many restaurants and café shops. I highly recommend trying some of the local Khmer food. It is so reasonably priced and it tastes amazing!
Ready to book? Check out this hotel review of Templation, Siem Reap or find great deals on hotels here!
See also: