When I decided to go backpacking with our baby and realised that many hotels charge extra for a cot, I decided to look for a portable one
. I really did not think I would find anything small enough to carry around easily. Initially I searched for an inflatable cot.
Instead I found the amazing Koo-di pop-up travel cot. I felt mega excited to find it, pondered a bit and then I bought one as there really did not seem to be anything better on the market.

Koo di pop up Travel Cot Review
We have used it a lot when Esmé was between 6 – 18 months old. We took it on weekends away in practice for our big trip. It is quite different from many cots for a baby as it has a wee roof and the net needs to be zipped up to prevent any climbing out! We used it for day time naps so little lady would be 'ok' with it when we were tripping through Asia. I am going to keep it simple here and break it down into what I love about the Koo-di and what I am not so keen on:
Small and compact
This is by the far the smallest portable cot you will ever come across. We could fit it in our backpack inside its own little bag. This is perfect for trips where you may have to carry it for long distances.
Easy to set up
It is very simular to a pop-up tent in a way. It has some framing that is fed in around the edge and walla it otherwise pops up. Once the framing is ready, we put the mattress liner that comes with the Koo-di inside. We also purchased the inflatable mattress that comes as an extra for more comfort. Blowing up the mattress with a foot pump doesn't take too long. It also comes with a fitted sheet, so all you need is a baby and a blanket before it's ready to go!
Cosy
Esmé always looked super comfortable inside and seemed to sleep well. That is obviously the number one priority. We didn't want to compromise her comfort for the sake of having something smaller. Luckily that wasn't the case!
Mosquito net
As we spent most ouf our time travelling through SE Asia when using it, we were so happy it had a moquito net! There are not many portable cots on the market that have one. It also doubles up as a security net so they can't go for walkies in the middle of the night!
Weighs only 2.2kgs
This is most certainly the lightest cot on the market. Most weigh in at the 6kg mark. This was massively helpful when trying to lug a baby, a buggy and a car seat around.
Esmé grew out of her Koo-di at around 18 months-old. She got about a year and a half use out of it in total. I will definitely be looking at using one for our second who will be with us in June.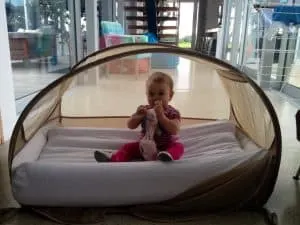 What could be improved …

The standard mattress that comes with it is not sufficient. It would be nice if the inflatable mattress came as part of the package. Equally, I would love if she got longer use out of it. Being so handy, it was hard to accept she had grown out of it!
My last point is after significant use, being dragged around the world several times, it did show some wear and tear. So we will probably need to buy another one for our next baby. On the whole, this cot is pretty darn awesome and I would recommend it to anyone that travels regularly with their baby.
Buy the Koo Di Pop Up Cot Here!
You May Also Like: