We took the most amazing trip campervanning in Switzerland with our four children recently. After the last couple of years and the crazy times we have all experienced, my biggest 'travel craving' was to trip around the Alps!
Switzerland has been at the very top of my bucket list, I visited many years ago but this time was quite different with four little ones in tow. The last time I visited I was on a backpackers budget staying in hostels.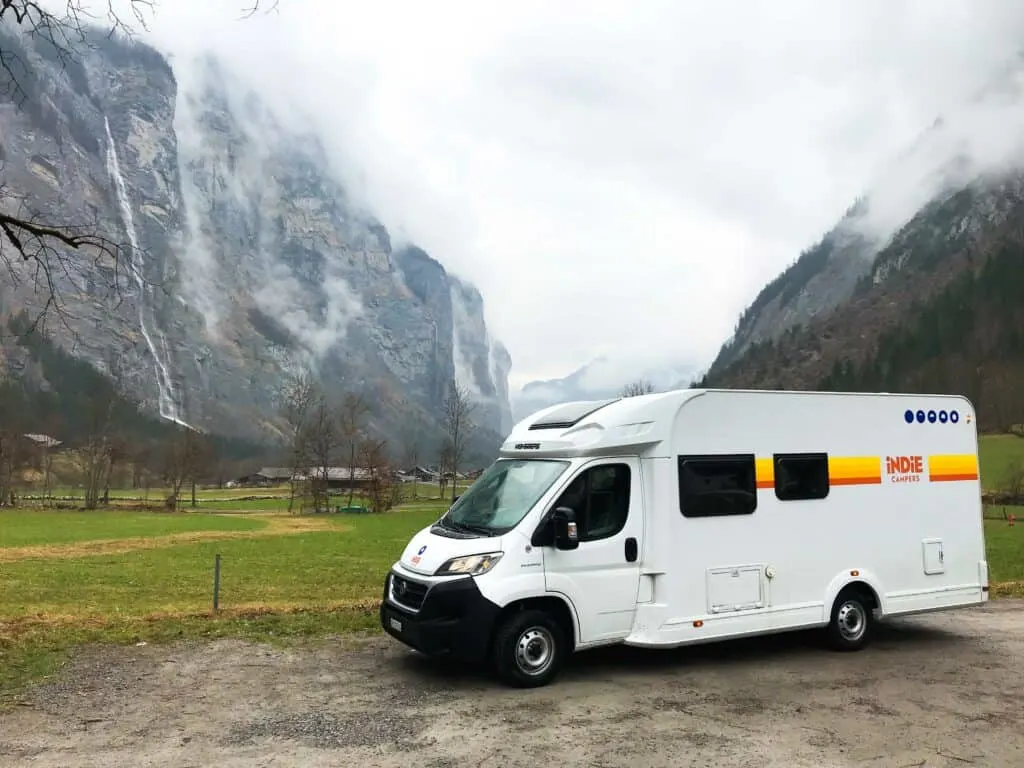 This time around, I wanted to make sure we could still get a lot out of Switzerland without breaking the bank. It is an expensive destination, however doing it in a camper van makes it a lot more affordable.
In my opinion travelling in a camper van is one of the easiest ways to explore with children. You can just role up to an activity or restaurant and leave 'home' when you are ready. 'Home' is always close by for any emergency nap, nappy explosion or meal time for little ones.
Yes, life is quite compact, however camper vans have such clever designs with plenty of storage solutions for clothing, food and everything else required.
The main thing is not to pack a massive suitcase and use soft bags instead so you can decant once you pick up the camper van.
If you follow us on social media, you will know we lived in an RV in the UK for a year before moving to Abu Dhabi!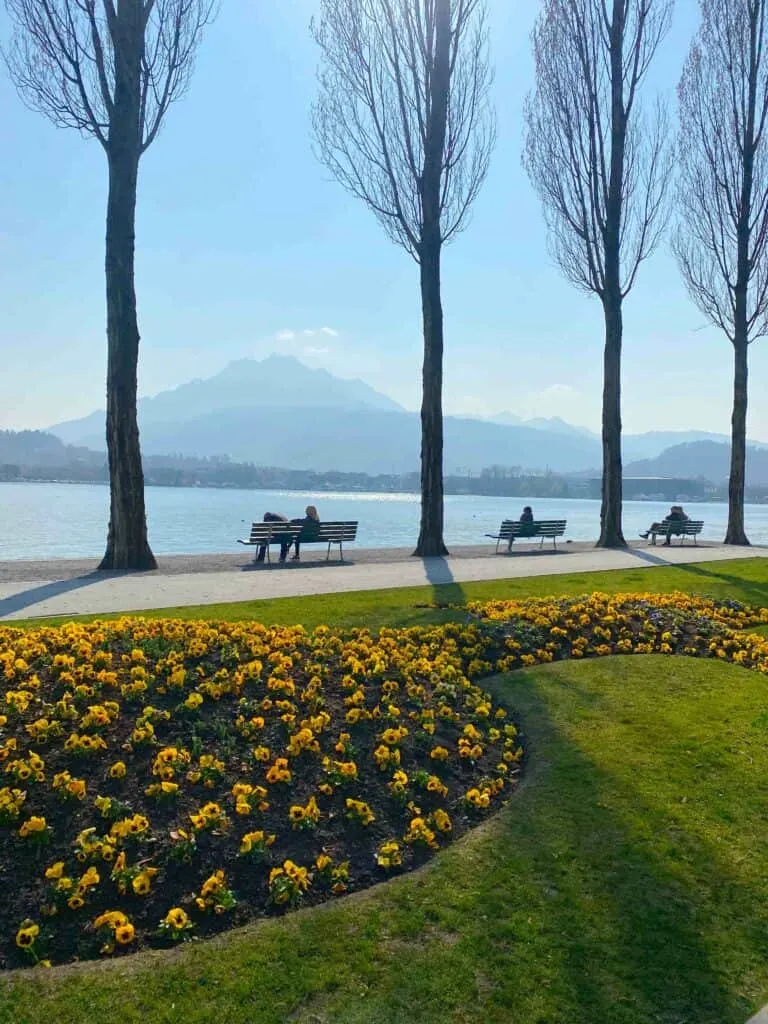 Having lived in the desert for almost a year, I had been wanting to visit somewhere cooler with lush mountainous landscapes, also waterfalls and lakes are my favourite! Travelling in a camper van is one of our greatest passions and Switzerland did not disappoint!
We flew into Zurich and spent two weeks tripping around. This blog covers where we rented the camper van, the route we took, campsite recommendations and of course great activities.
We also cover some top tips and considerations for travelling in a camper van around Switzerland.
Table Of Contents
We booked our trip last minute, many campervan rentals seemed quite expensive. The most affordable option with enough space was Indie Campers, a 5 seat belt 6 bed option. We chose the Atlas camper van and it was fantastic for all of our needs.
For 2 full weeks it was approximately £900. There are extras such as bed linen, crockery, outdoor chairs & BBQs you can add to the booking. There is also an option of adding a small heater for the colder months.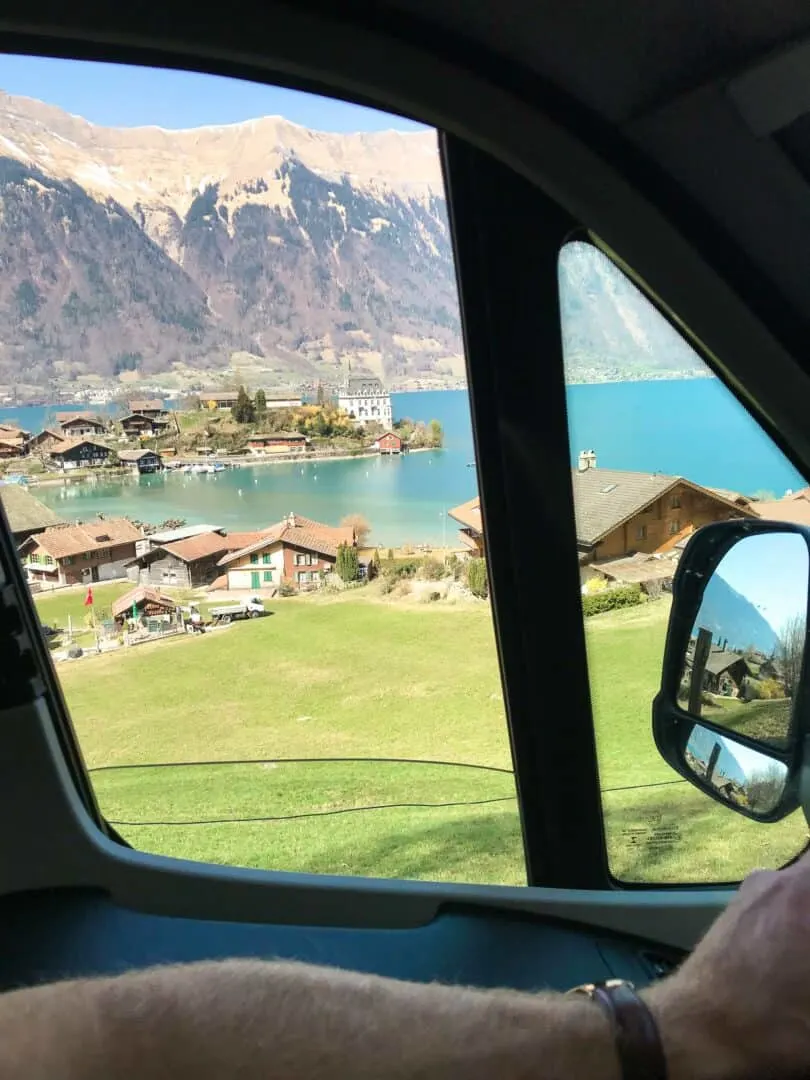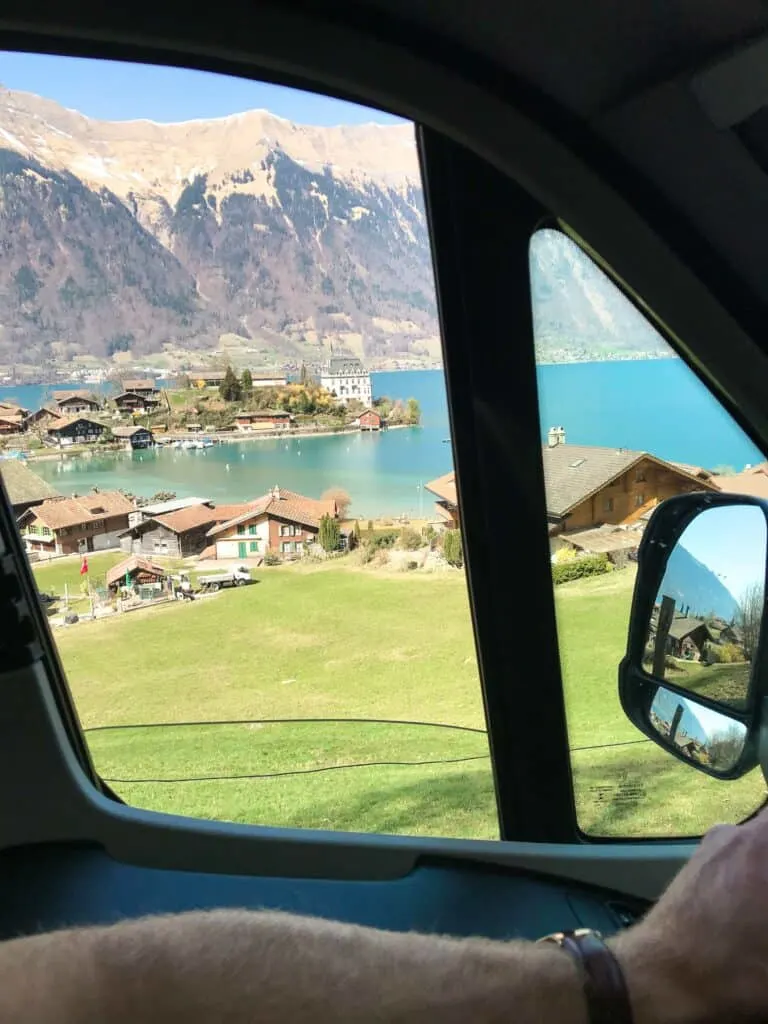 Truthfully the bedding you get from indie Campers is mediocre so it is something you might want to consider. This is my only criticism of the whole experience. We rented a car seat for our babies and they were super comfy.
Indie Camper Features
As mentioned although the camper van can sleep 6, it has 5 seatbelts. The back of the vehicle had a double bed and also has access to a massive carriage underneath for storage. Perfect for anything bulky like strollers, sports gear or heavy winter clothing.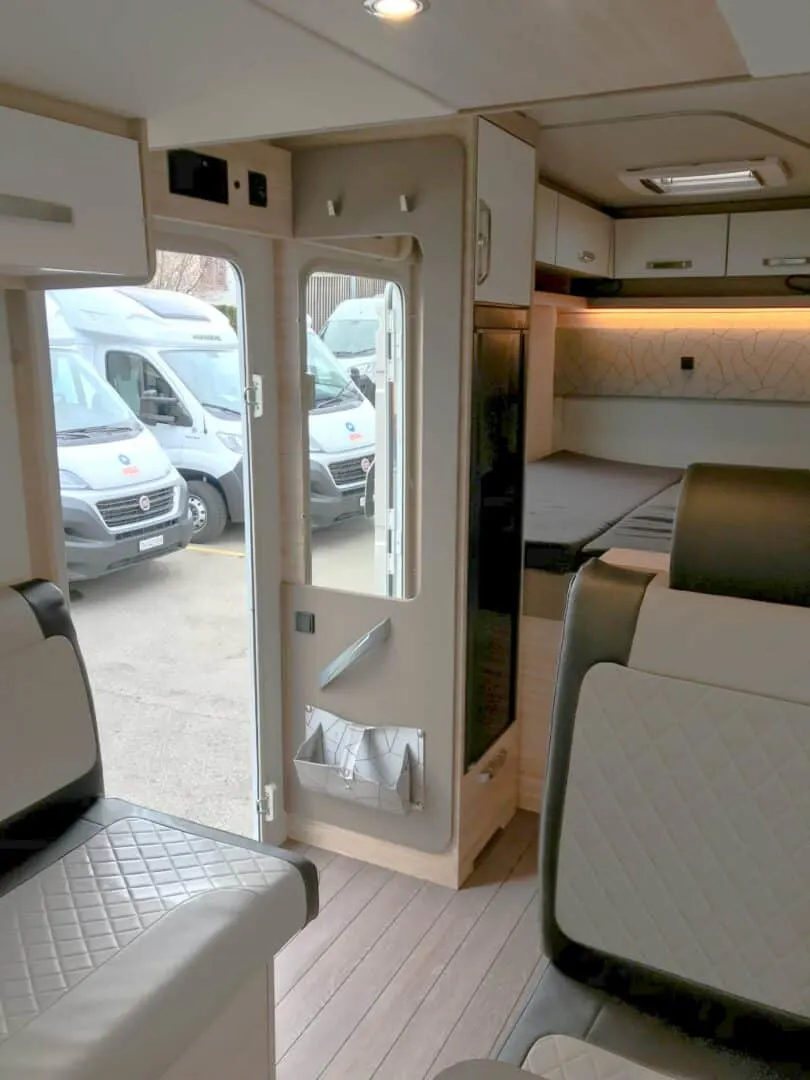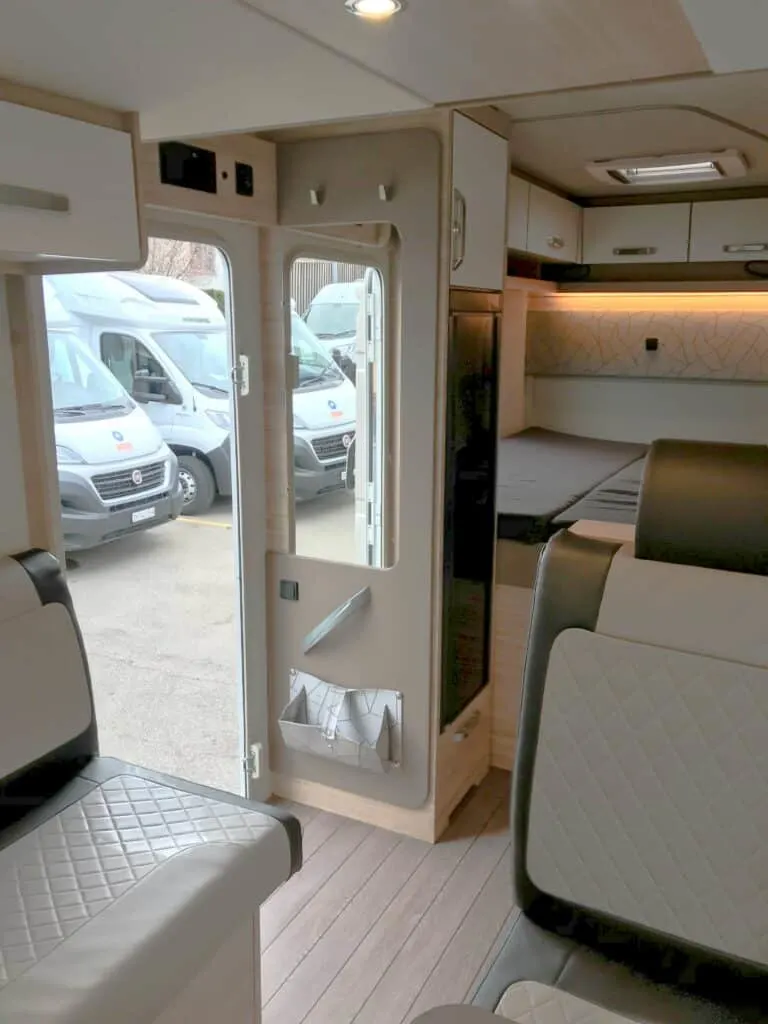 The bed did not look massively comfortable, however I was pleasantly surprised as we slept pretty well in it aside from the bedding. There was a little curtain that went around the bed and although it is not sound proof it was helpful to stop our lights from disturbing the kids.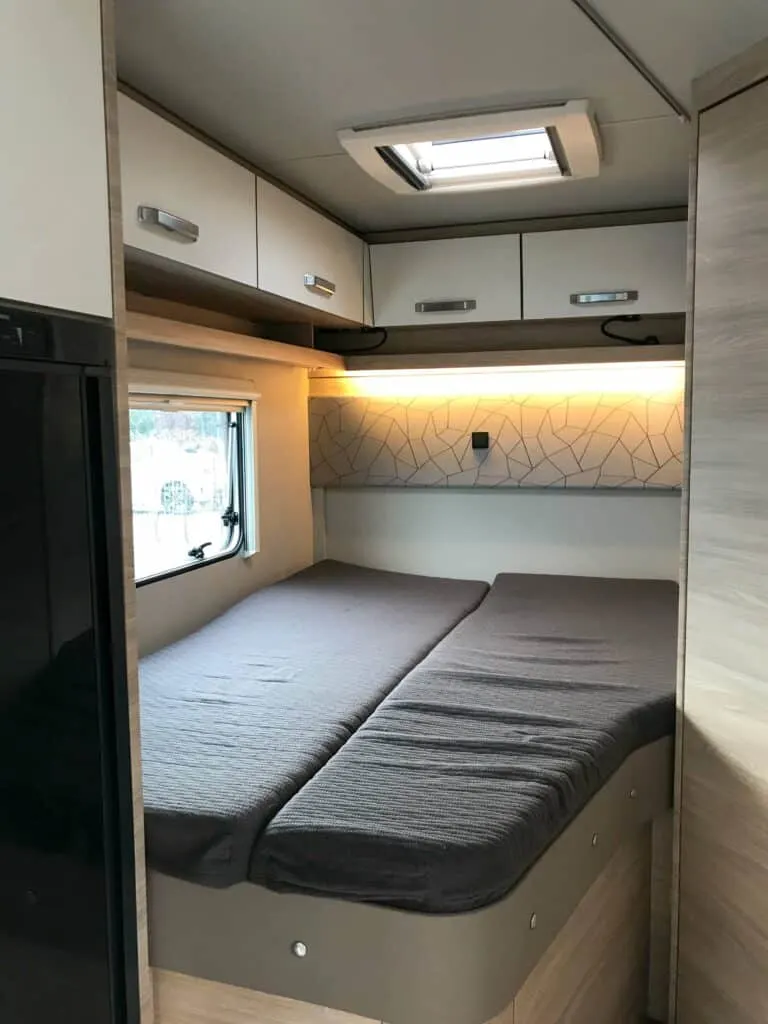 There was a shower, toilet and sink in the bathroom. We chose to shower at the campsites as there were 6 of us and although the water heater was pretty good, the volume of water needed for an entire family is a little unrealistic.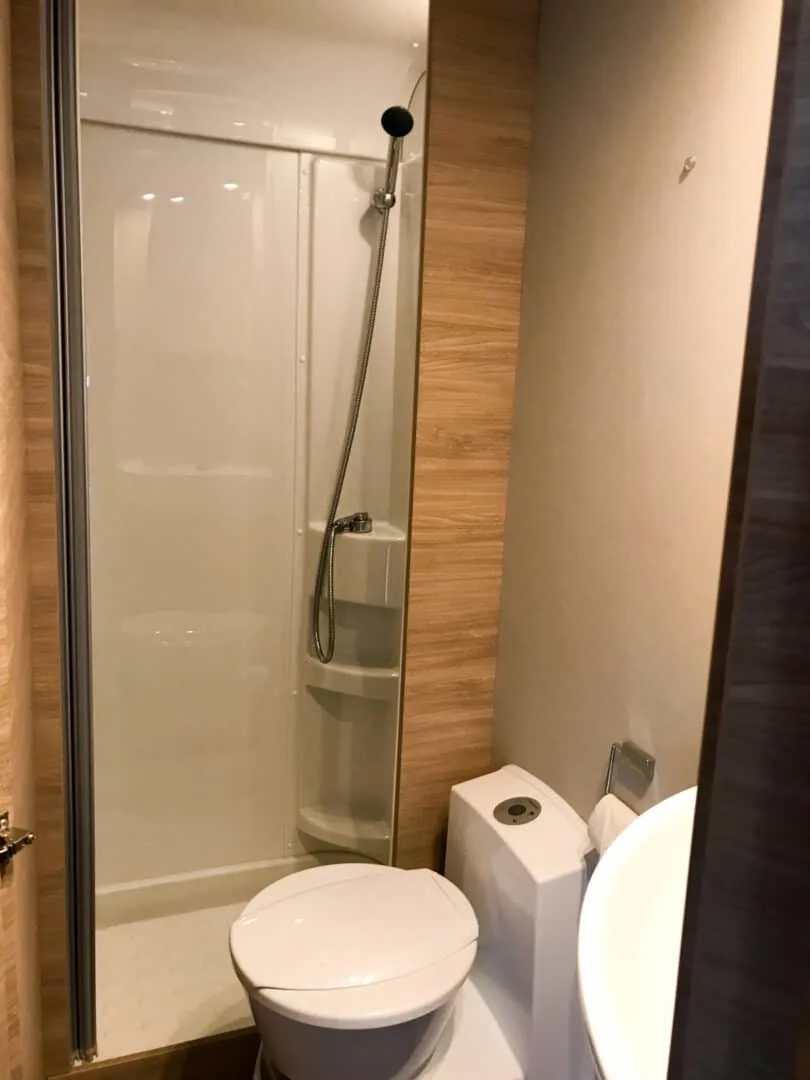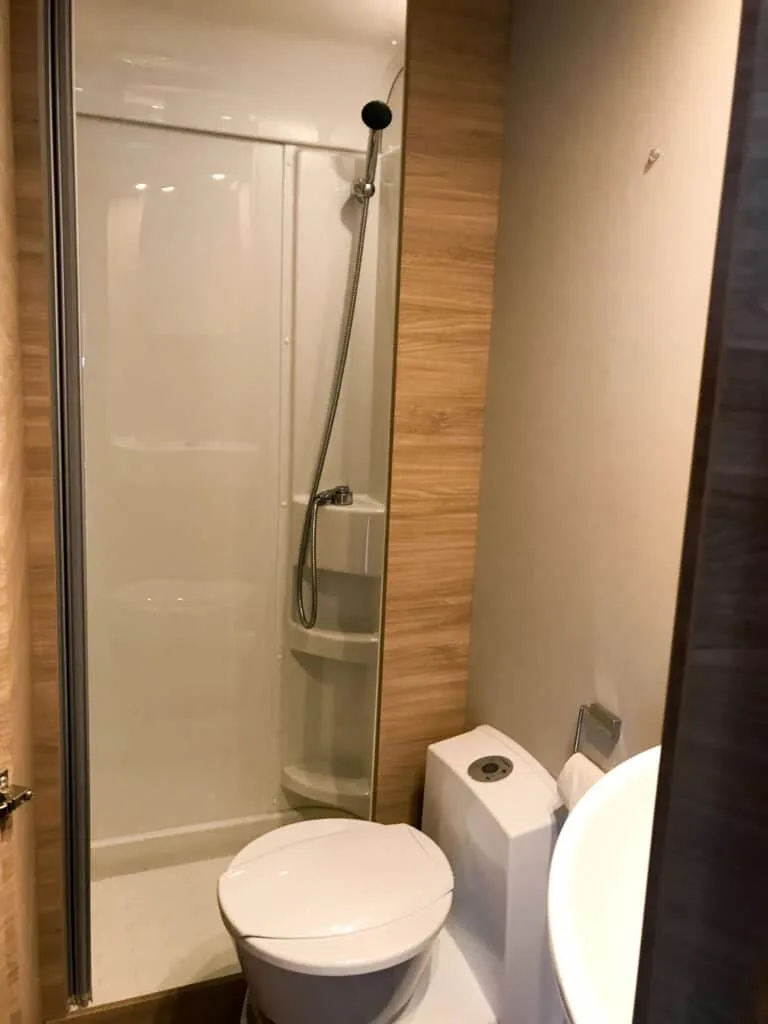 Generally all of the campsite bathrooms were pretty nice. We needed to change the water / toilet every 3 days or so. It is quite easy to do it, the staff give a full demonstration when picking up the campervan.
The kitchen had a 2 stove burner, a good sized fridge and a small freezer section. There was plenty of cupboards and drawers for storing the crockery and groceries and overall great storage for a campervanning in Switzerland trip.
Everything has a really good lock system for when it is time to drive so we did not have any accidents with things flying out of cupboards.
The second double bed was cleverly concealed above the living space. It was super easy to set up. All we had to do was pull it down in the evenings.
The mechanism was on hydraulics so it worked really well. All of the bedding could stay in place when it was raised so it is quite easy to jump straight into bed.
The living space had a little table with a fold out extension. The driver and passenger seat swivelled around to make comfortable 'arm chairs'. It worked perfect for meals or a game of cards in the evening.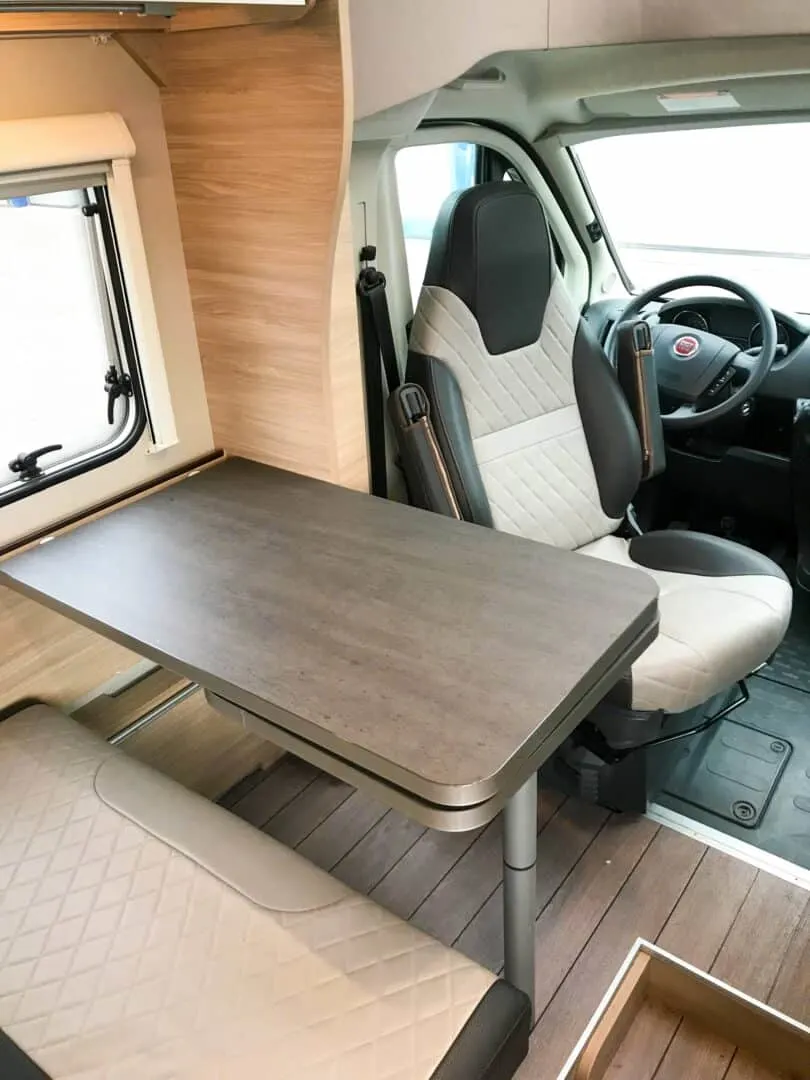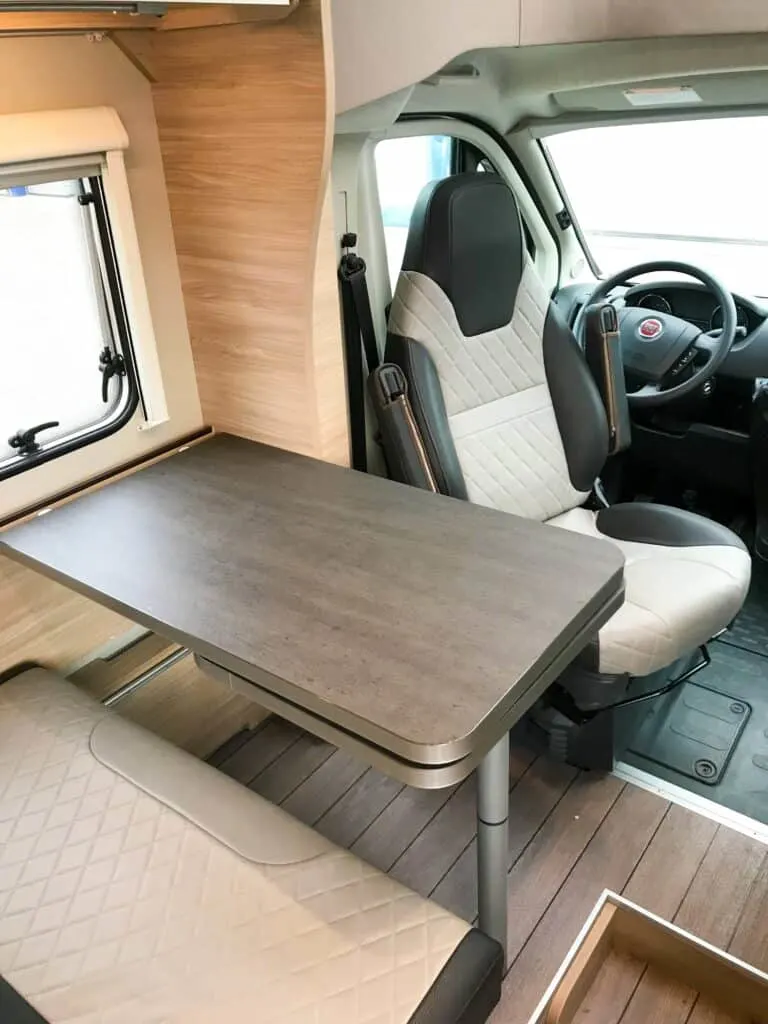 All of the blinds in the camper van were blackout so we really slept well. Above the driver seat was a panoramic window. It allowed us to see the tops of the mountains as we were driving through the alps. This was a lovely feature.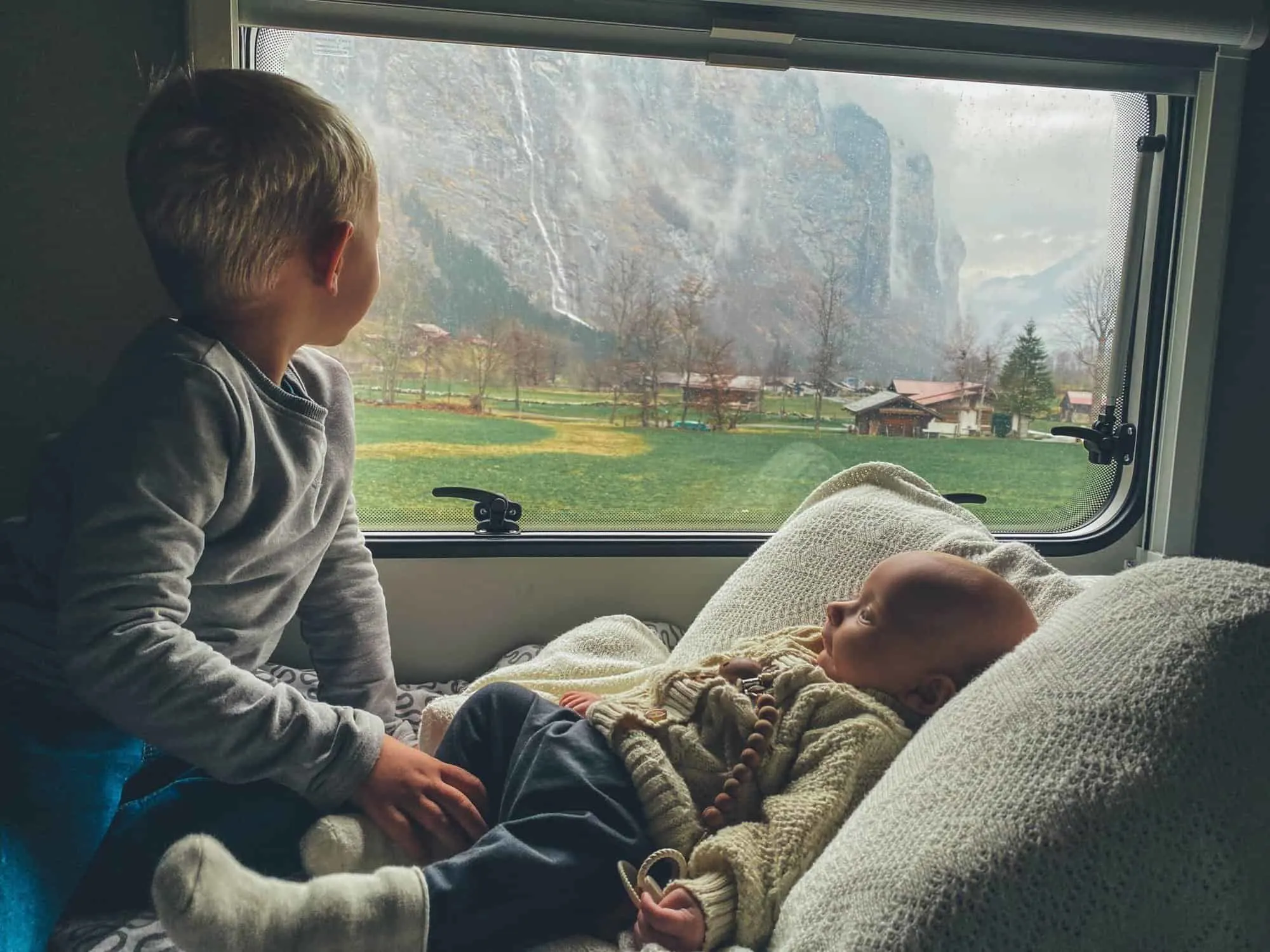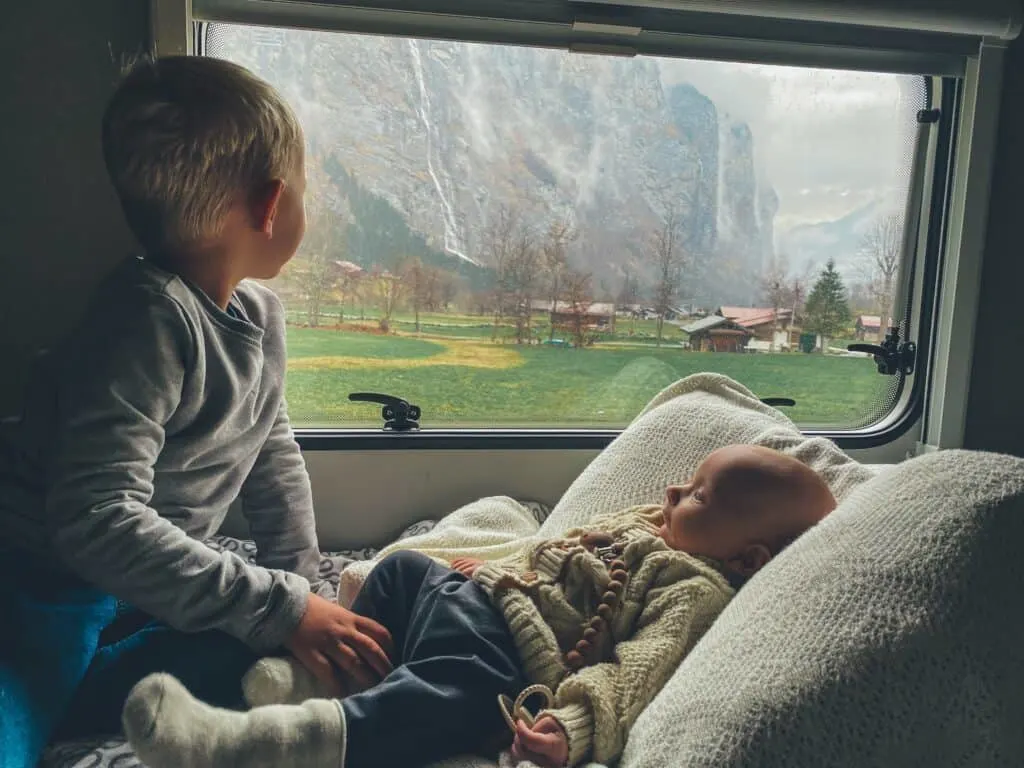 We often opened the blind on the panoramic window in the mornings. The kids would to stay in bed a little longer cozied up with a hot chocolate taking in the views.
As mentioned previously the under bed storage could also be accessed from outside the camper van. It was the perfect spot to store stroller. luggage, BBQ and outdoor seats.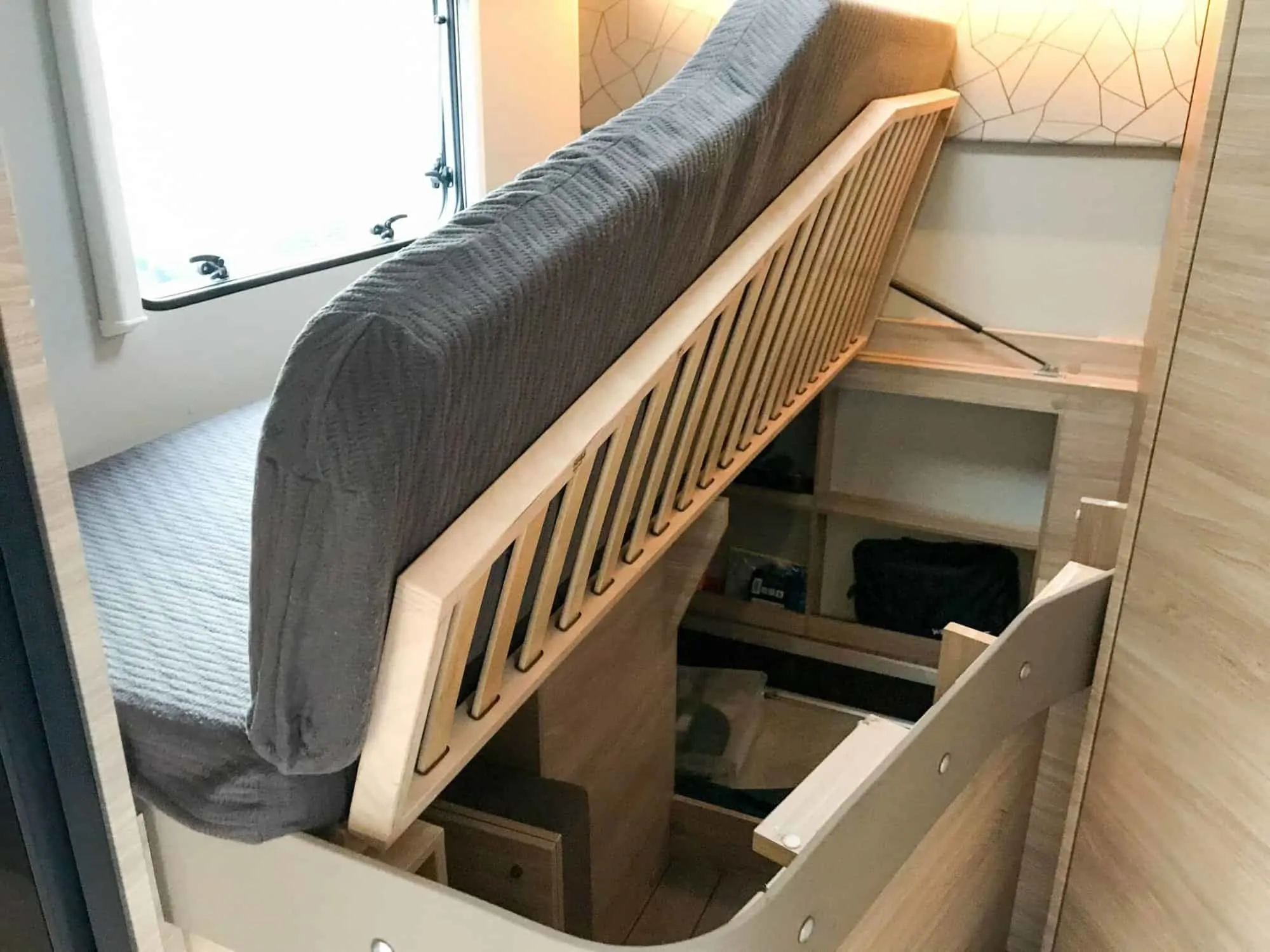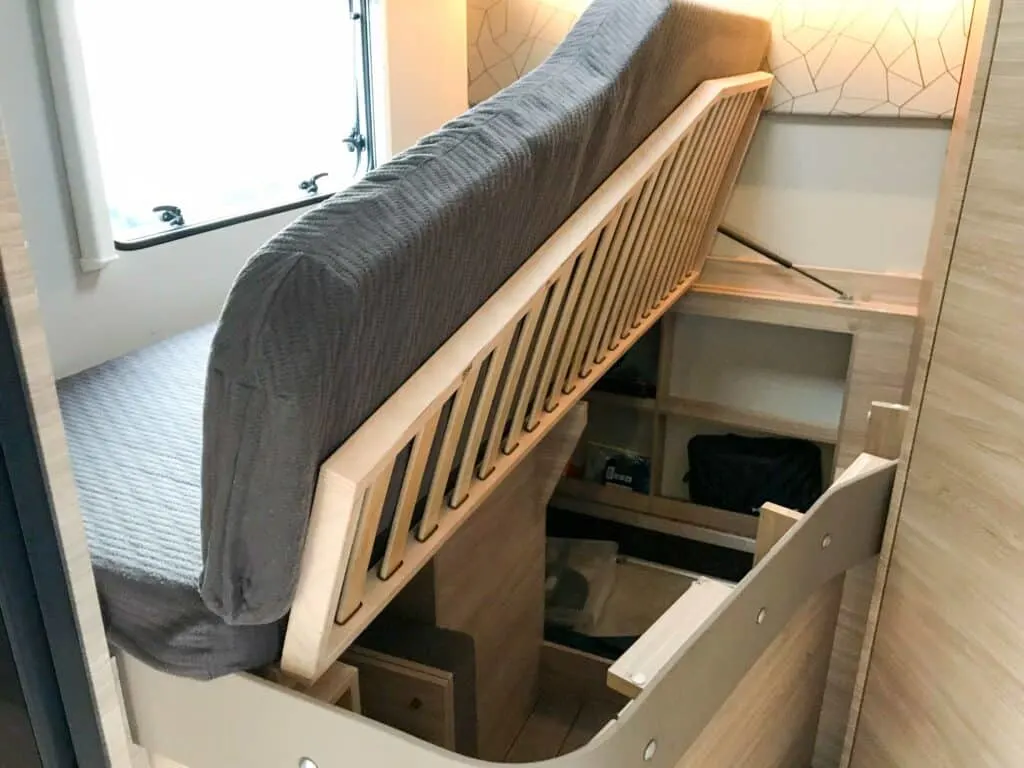 Indie Camper Pick Up Point – Campervanning In Switzerland
We flew into Zurich, Indie Campers was just a short distance on a train directly from the airport or a 20 minute cab ride.
You need to ensure to tell them the time you plan to pick up and drop off on your booking form. They spent quite a bit of time showing us all the features of the vehicle.
They were always available on WhatsApp throughout our trip when we had questions or weren't sure about something. Overall I found the service pretty good while campervanning in Switzerland.
The Swiss Pass
Whilst we could easily get direct to many of the places we visited in the camper, there were some spots that required a gondola or train ride, particularly up some of the popular mountains.
These modes of transport are expensive in Switzerland but also needed to reach the beautiful spots. It is best to buy a Swiss Pass to ensure you do not break the bank when it comes to transport.
It covers boats, trains, gondolas and more. It is worth it to keep the costs of travelling around Switzerland down.
Check out Swiss Pass options here.
Zurich Campsite
We arrived into Zurich late afternoon so decided to stay on the outskirts of the city. We found an incredible site called Fischers Fritz right on the bank of lake Zurich with a fantastic restaurant.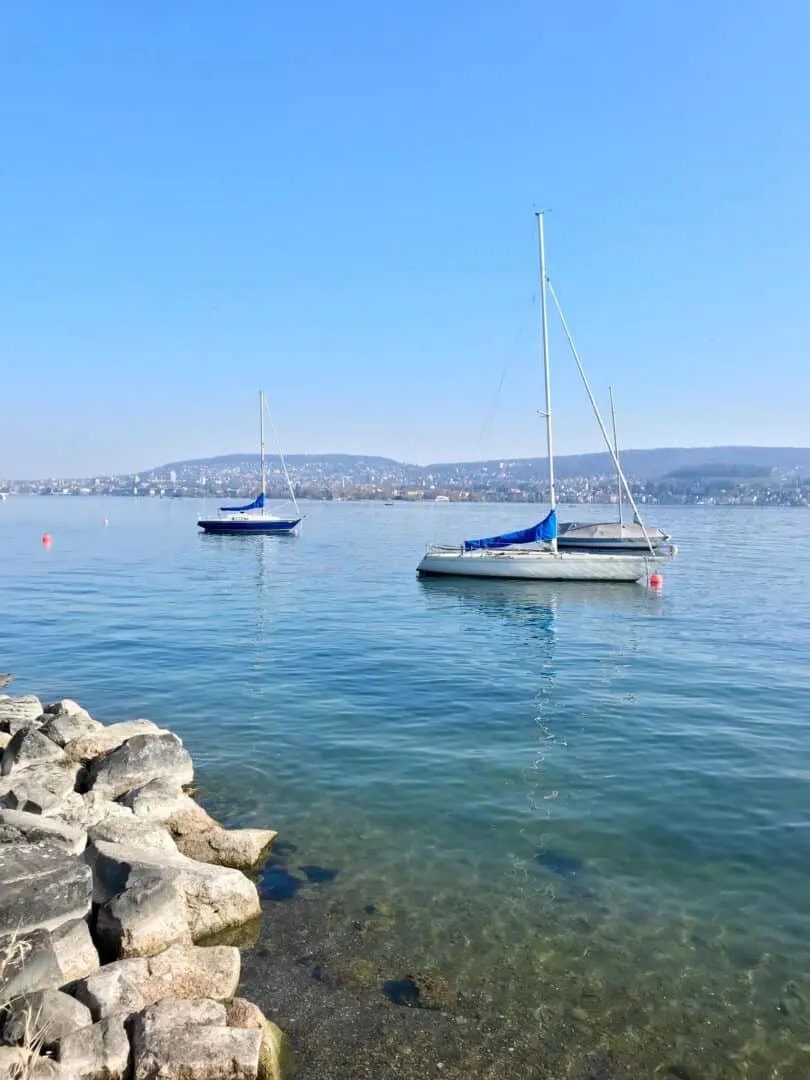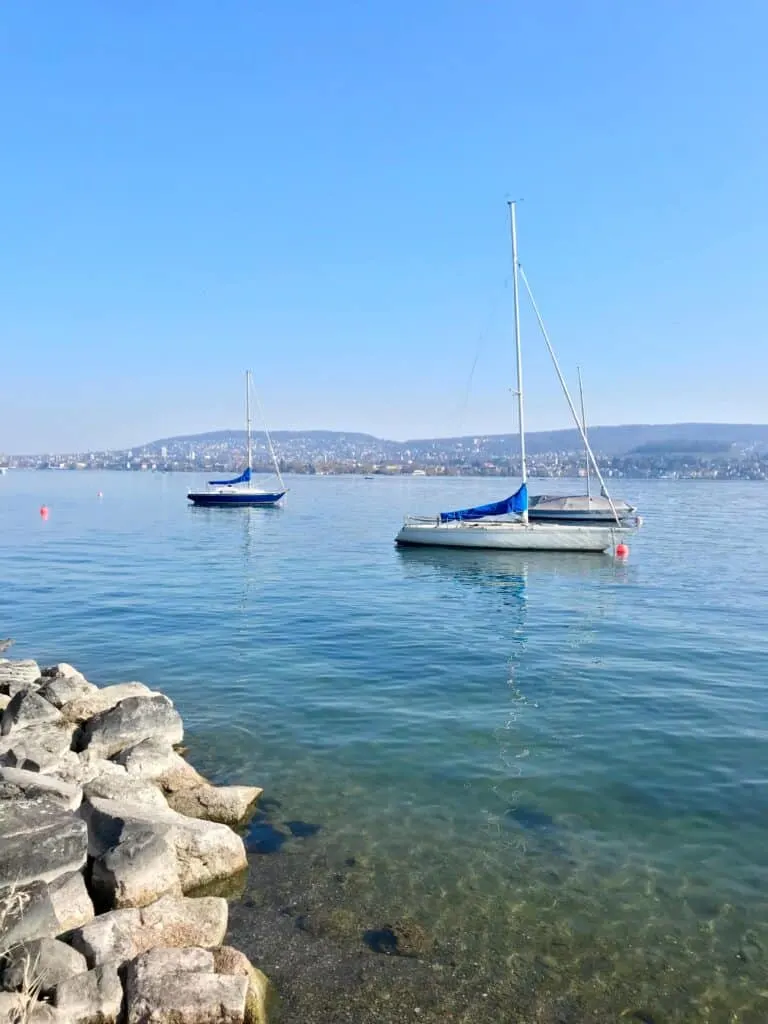 The view from the campsite was incredible, we could see snowcapped mountains on the horizon. The trampoline and playground was also a massive hit with our kids. For those more adventurous, there was also wake-boarding available onsite.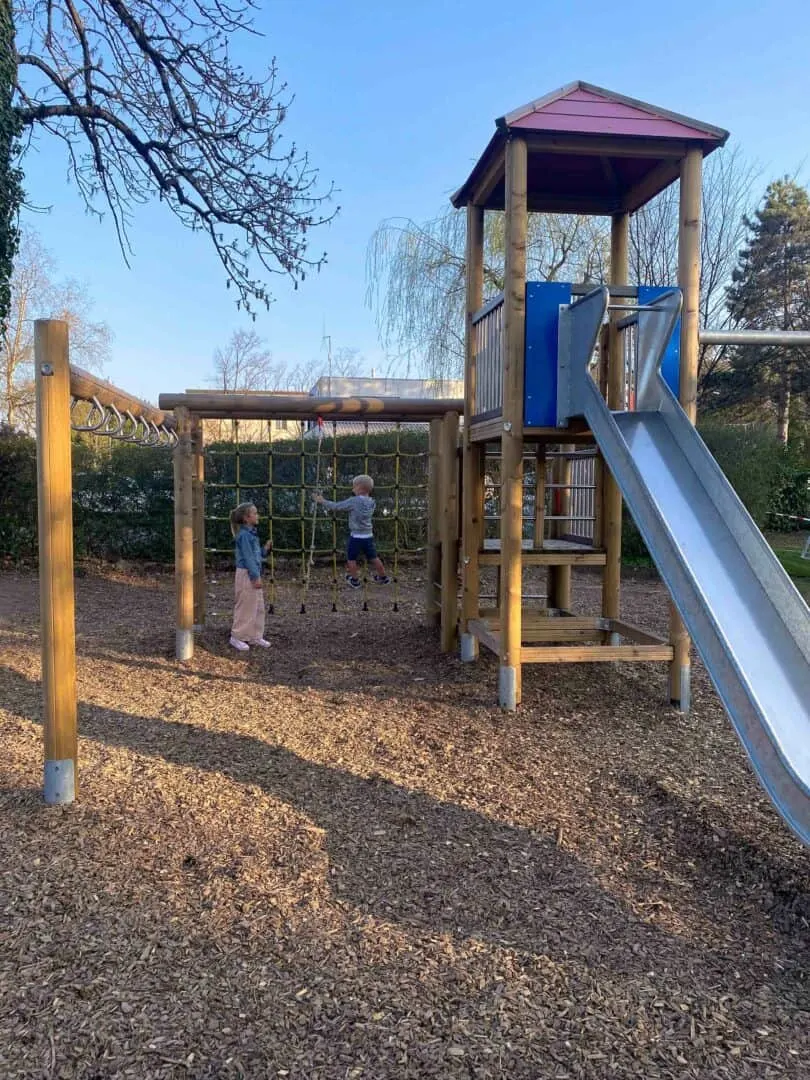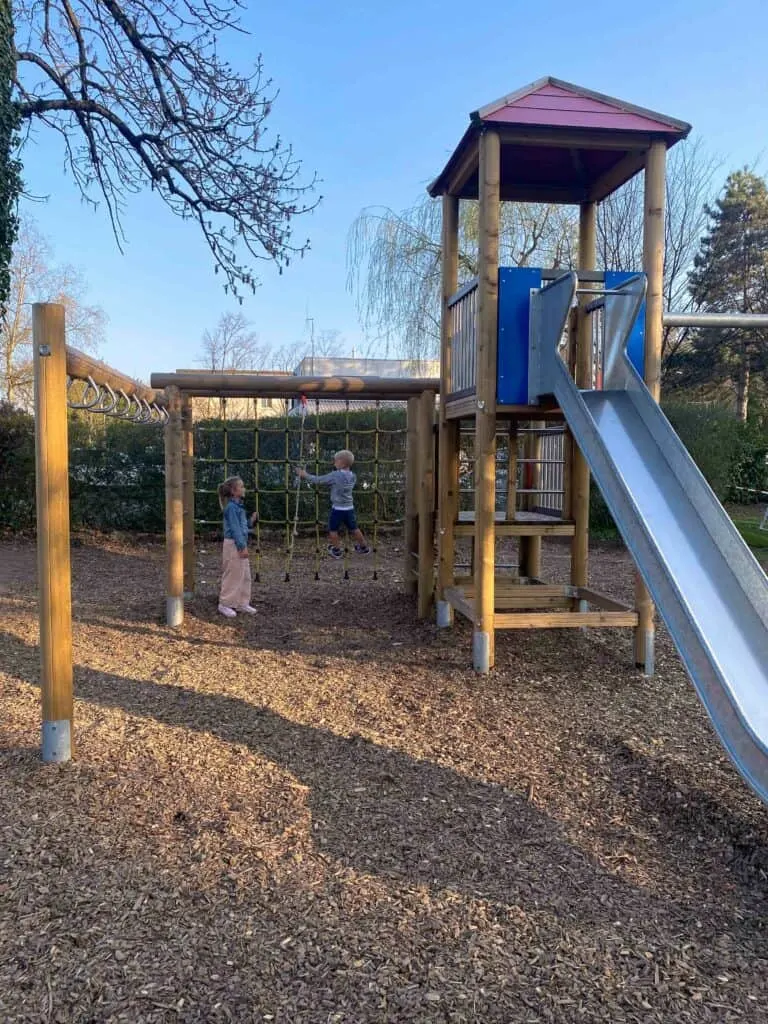 We absolutely loved the restaurant, it seemed a real hit with the locals. They had both indoor and outdoor seating, we just loved the massive outdoor fire pit against the stunning backdrop of the lake. It is a little expensive but the food was amazing.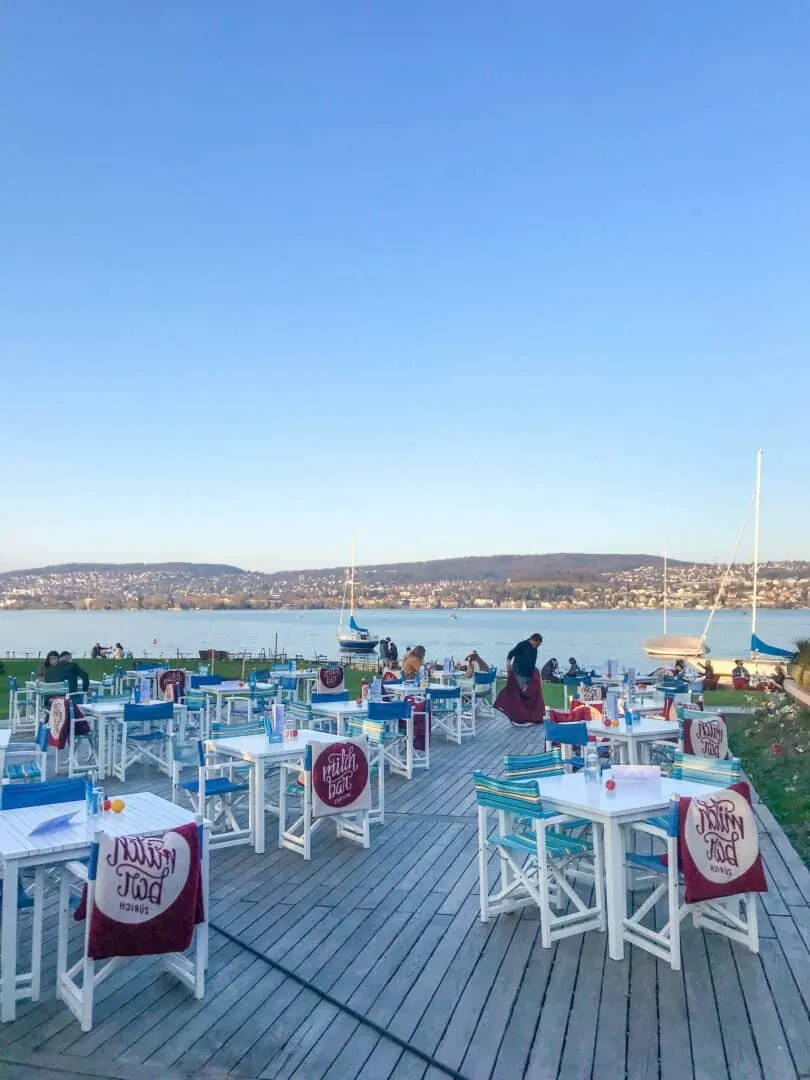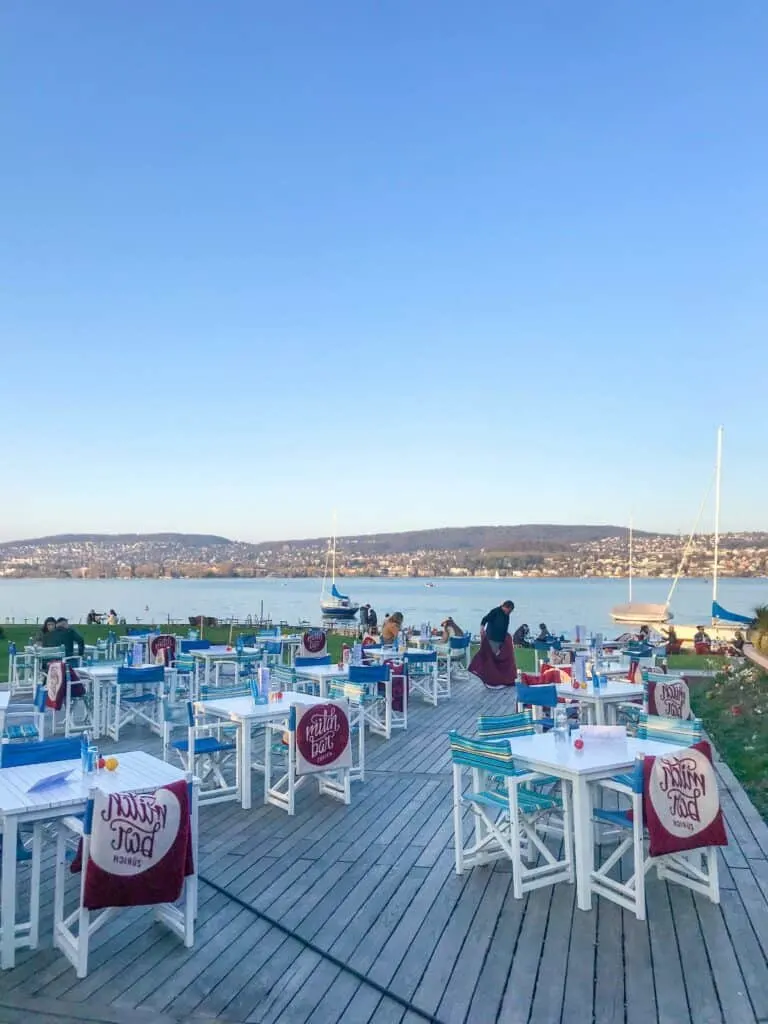 Fischer Fritz is the perfect base to explore the city. We took a bus to the centre from right outside the campsite, it only took 10 minutes.
Zurich
We had a lovely day walking around Zurich and an incredible lunch at Hitl, the longest serving vegetarian restaurant in the world. It is super popular, even with meat eaters. They have a daily lunch buffet, you pay by the plate.
After filling our tummies with hearty food, we wandered the medieval streets. Some great things to do with little ones include Wow Illusion Museum, take a boat trip on the lake or visit the Lindt Chocolate Museum.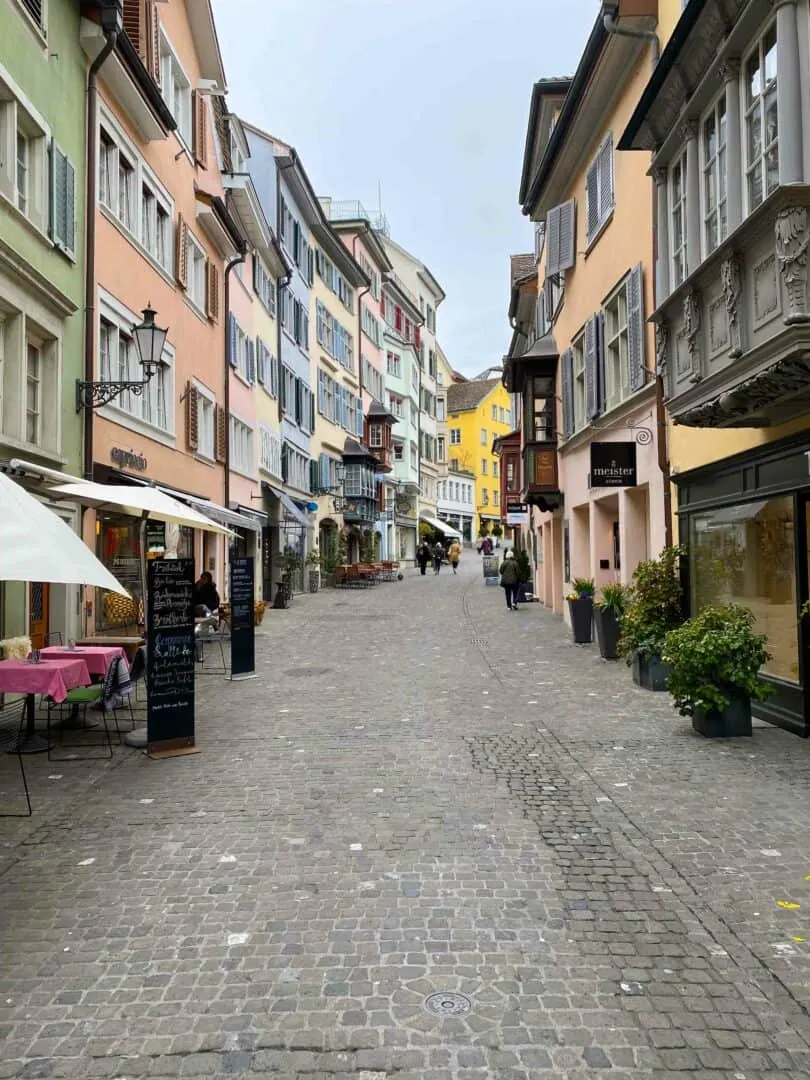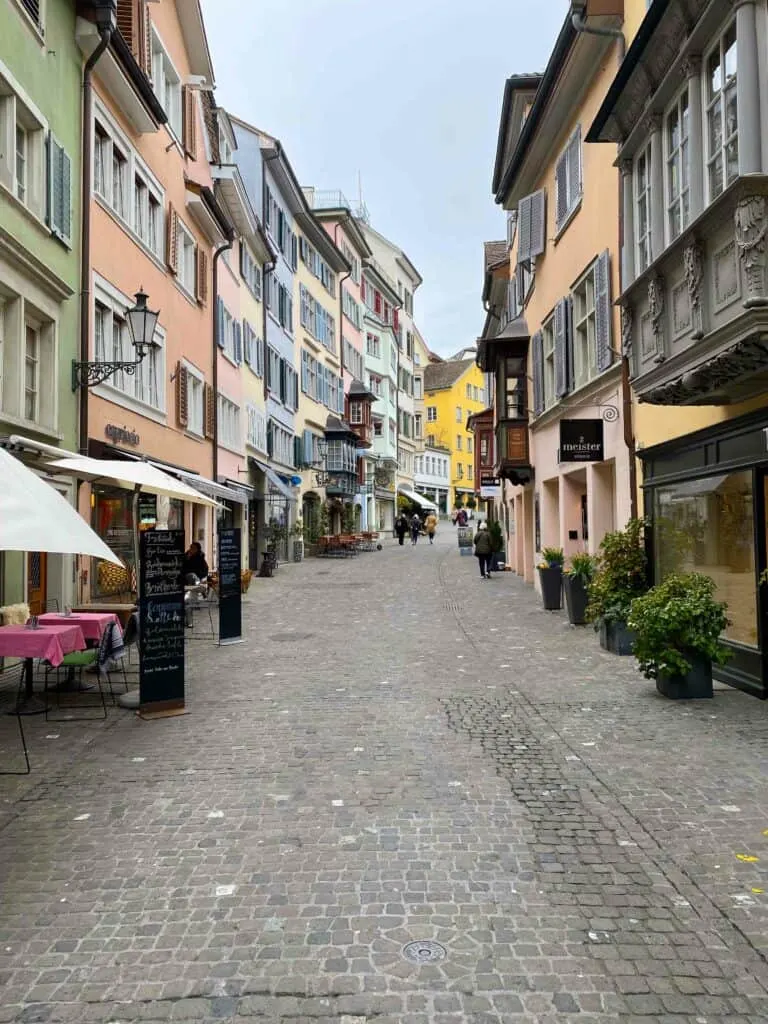 Some local families that follow us on Instagram also recommended, Zurich Zoo or taking a train to the top of Uetliberg.
We visited some attractions on the outskirts of Zurich, approximately a 30 – 40 minute drive from the campsite.
Technorama Science Museum is absolutely incredible for adults and children. Spanning across three floors with hundreds of experimental installations, it takes nearly an entire day to explore it comfortably.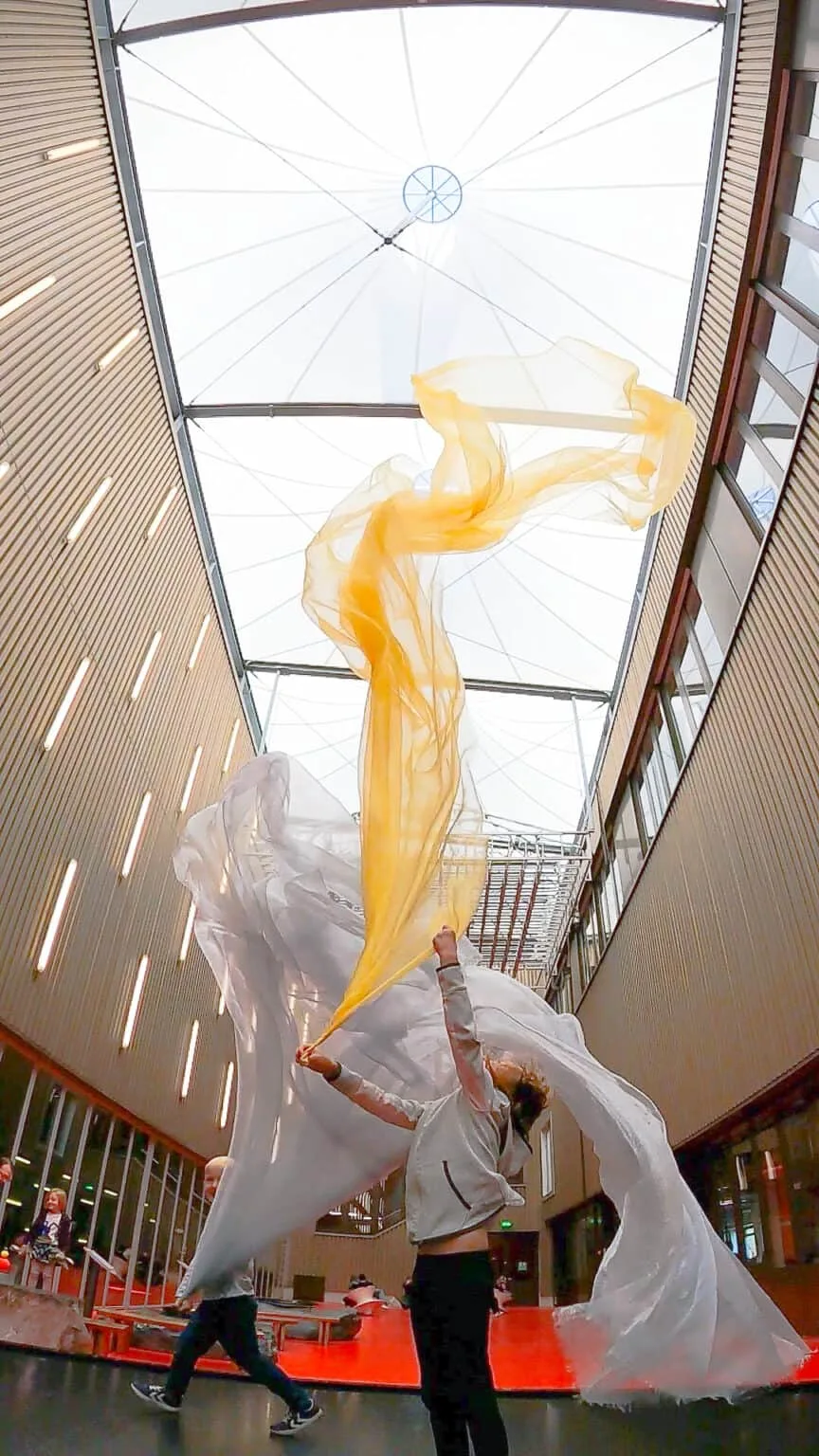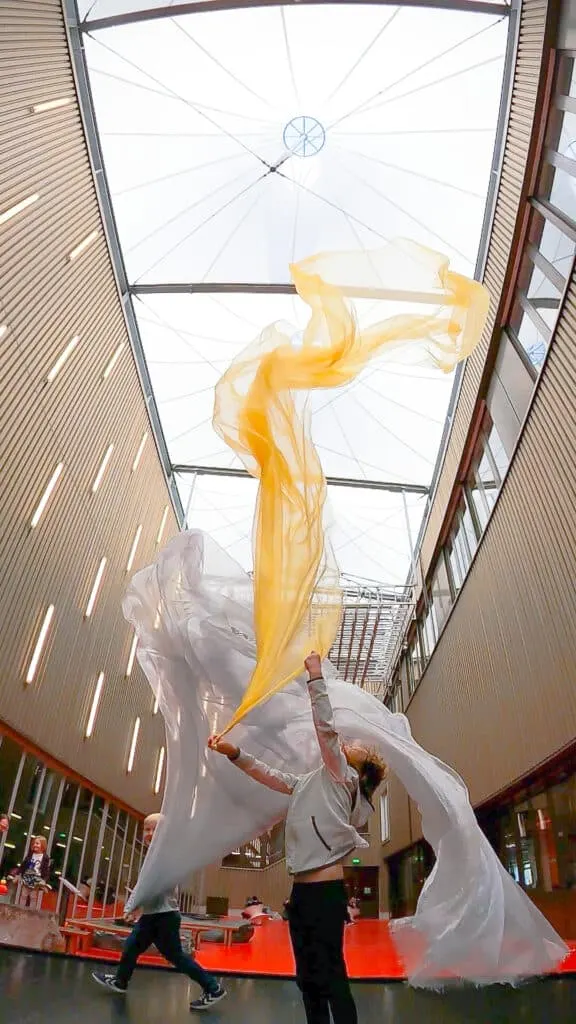 Another 'must visit' on the outskirts of Zurich is Rhine Falls which is one of the most powerful waterfalls in Europe. It is located quite close to the Swiss / German border so would be quite easy to nip across if you have time.
A lot of savvy travellers take advantage of the nearby countries, nipping in for grocery stock up as it is much more affordable.
Rhine Falls has a stunning walkway weaving down the side of the cliff edge. Along the way, the vantage points vary from an elevated 180 view of the river and falls, to getting wet from the waterfall spray at the base.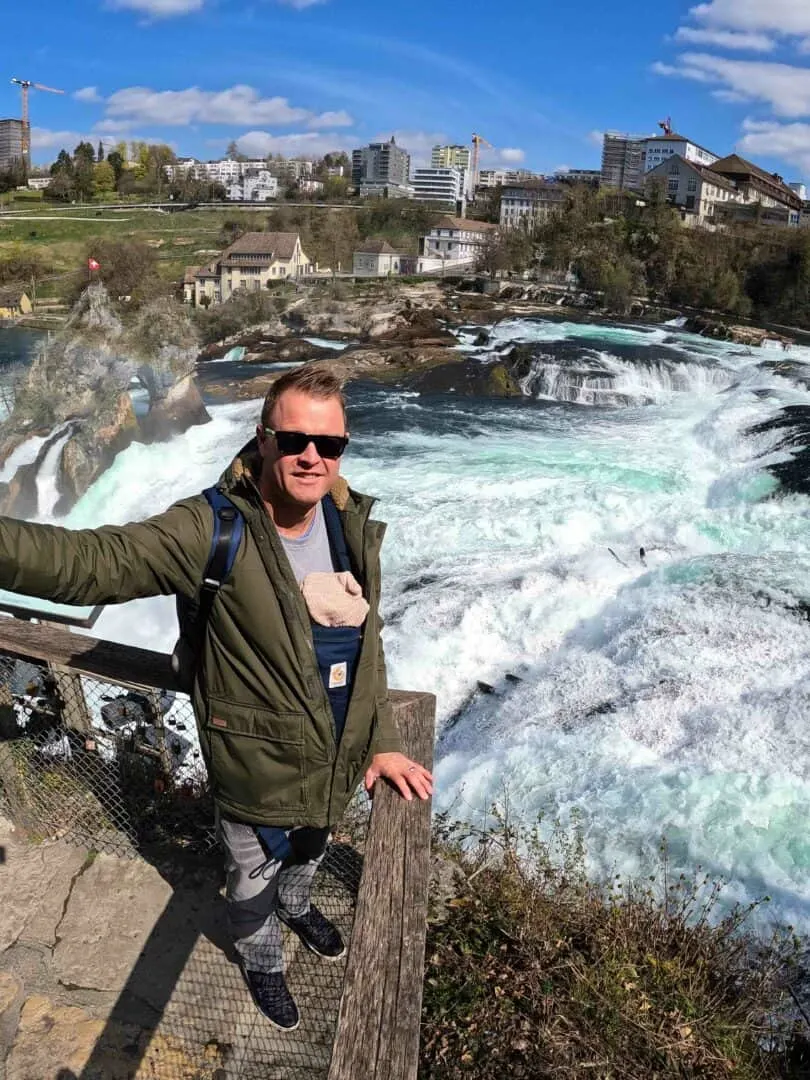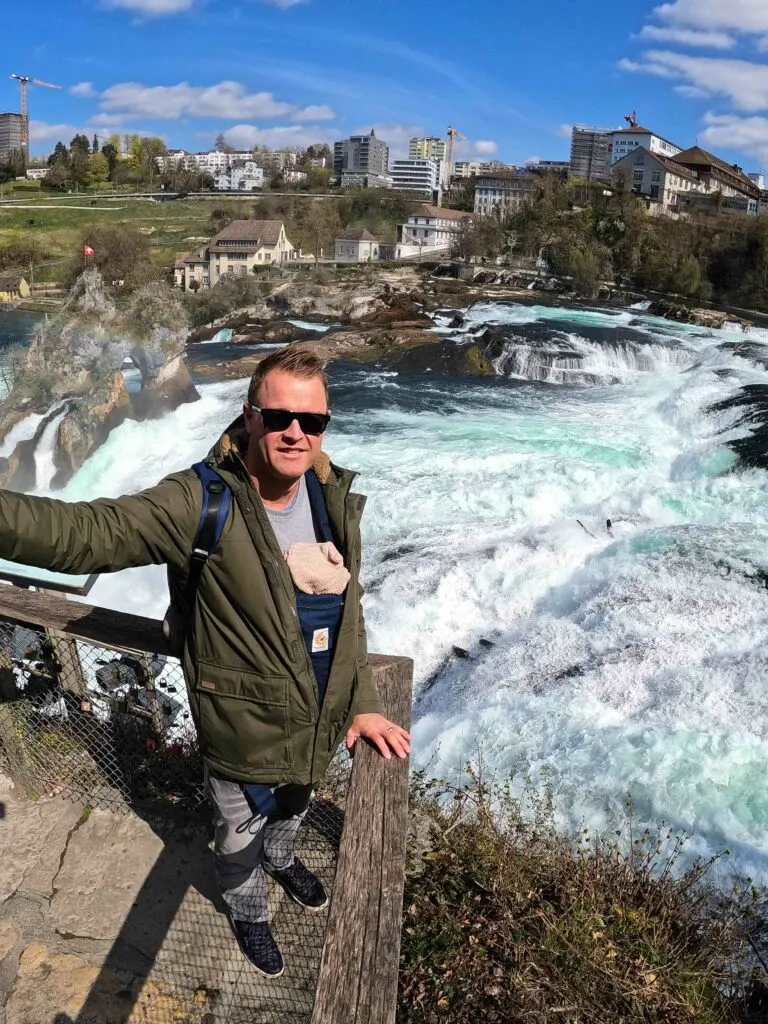 Everything is perfect about Rhine Falls, from the colour of the water to the watch tower quite literally in the middle of the fall (which makes a stunning photo).
You can take a boat tour from the other side of the river. It's just a short 15-20 minute trip across the river which takes you as close as possible to the waterfall and back again.
Be prepared to get splashed! There are longer options for a boat trip in the area which progresses further down the river.
Book a boat trip on Rhine Falls here.
Lucerne
Lucerne is a stunning town just 45 minutes drive from Zurich. We loved the fact moving around Switzerland does not require hours on the road.
This beautiful medieval town is based on the crystal clear waters of Lake Lucerne and dwarfed by the sight of nearby Mount Pilatus and Rig in the Swiss Alps.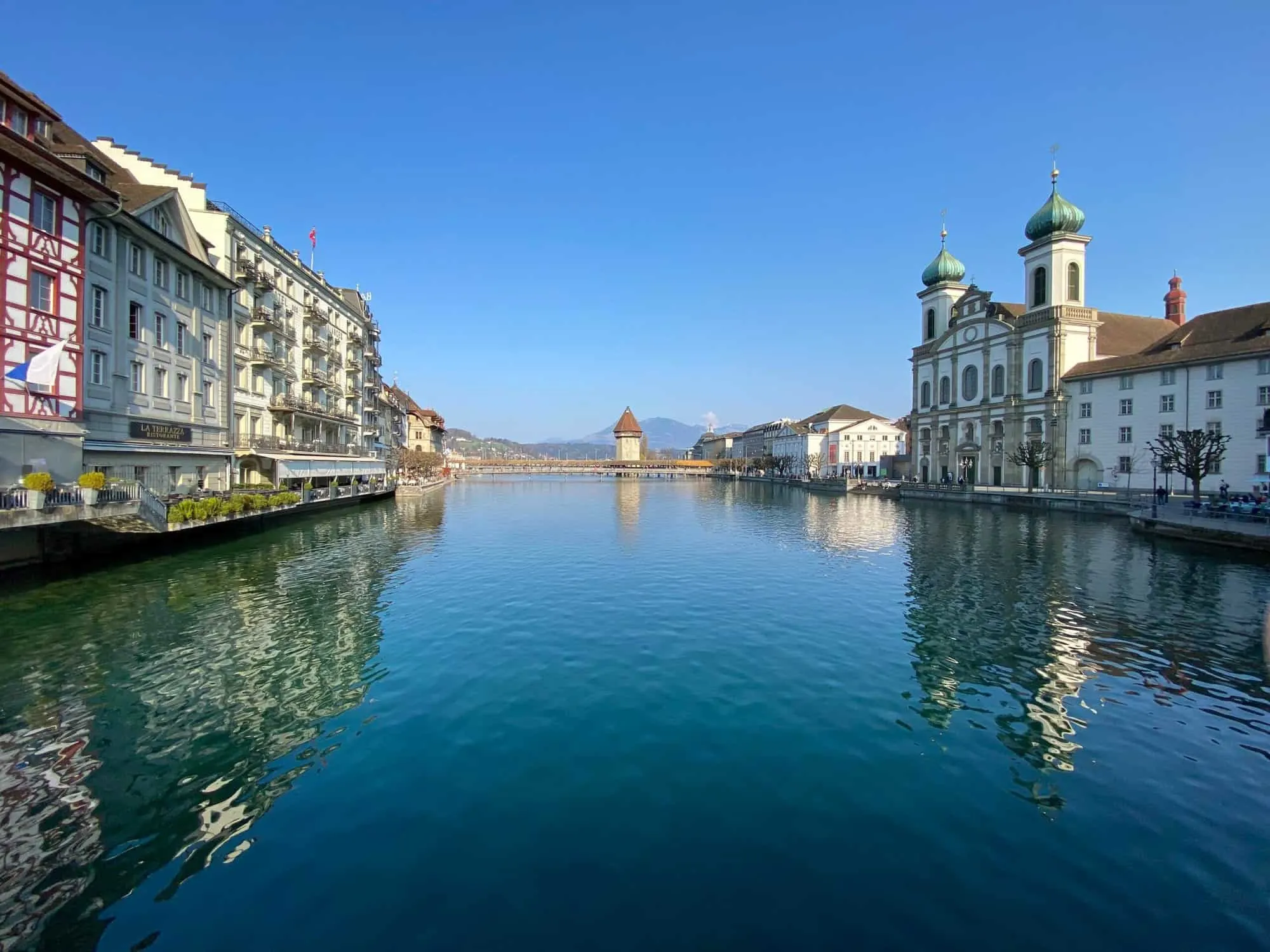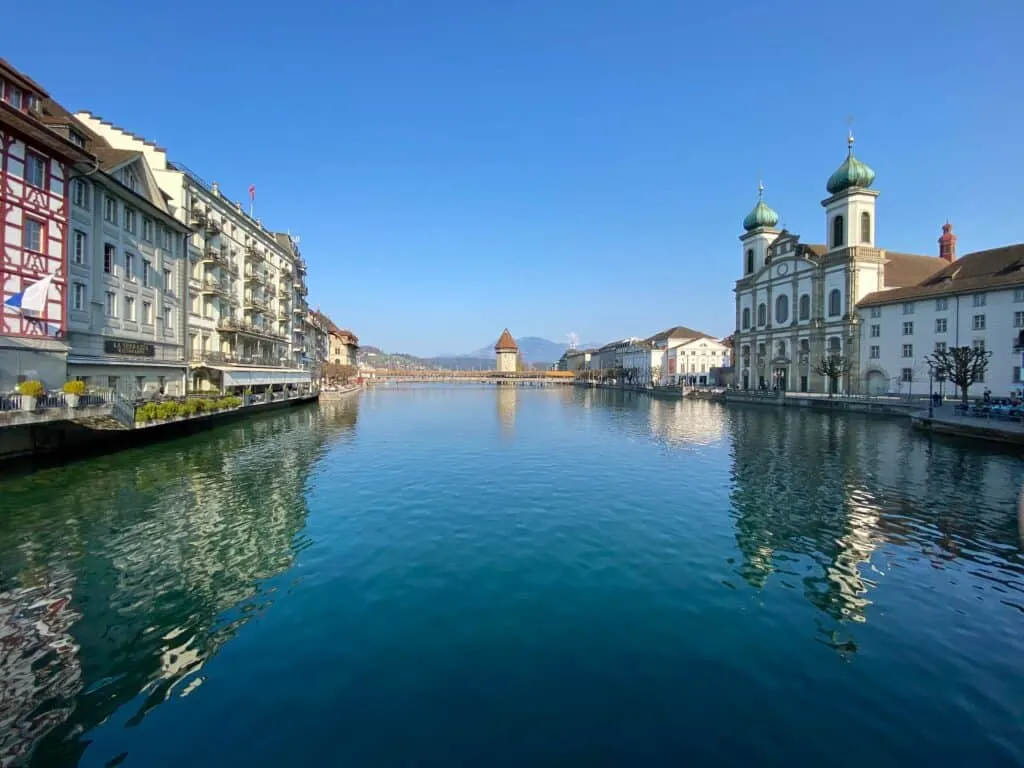 The town oozes history from the 14th Century Wooden Bridge to the quaint chocolate box back streets. It is the perfect place to wander.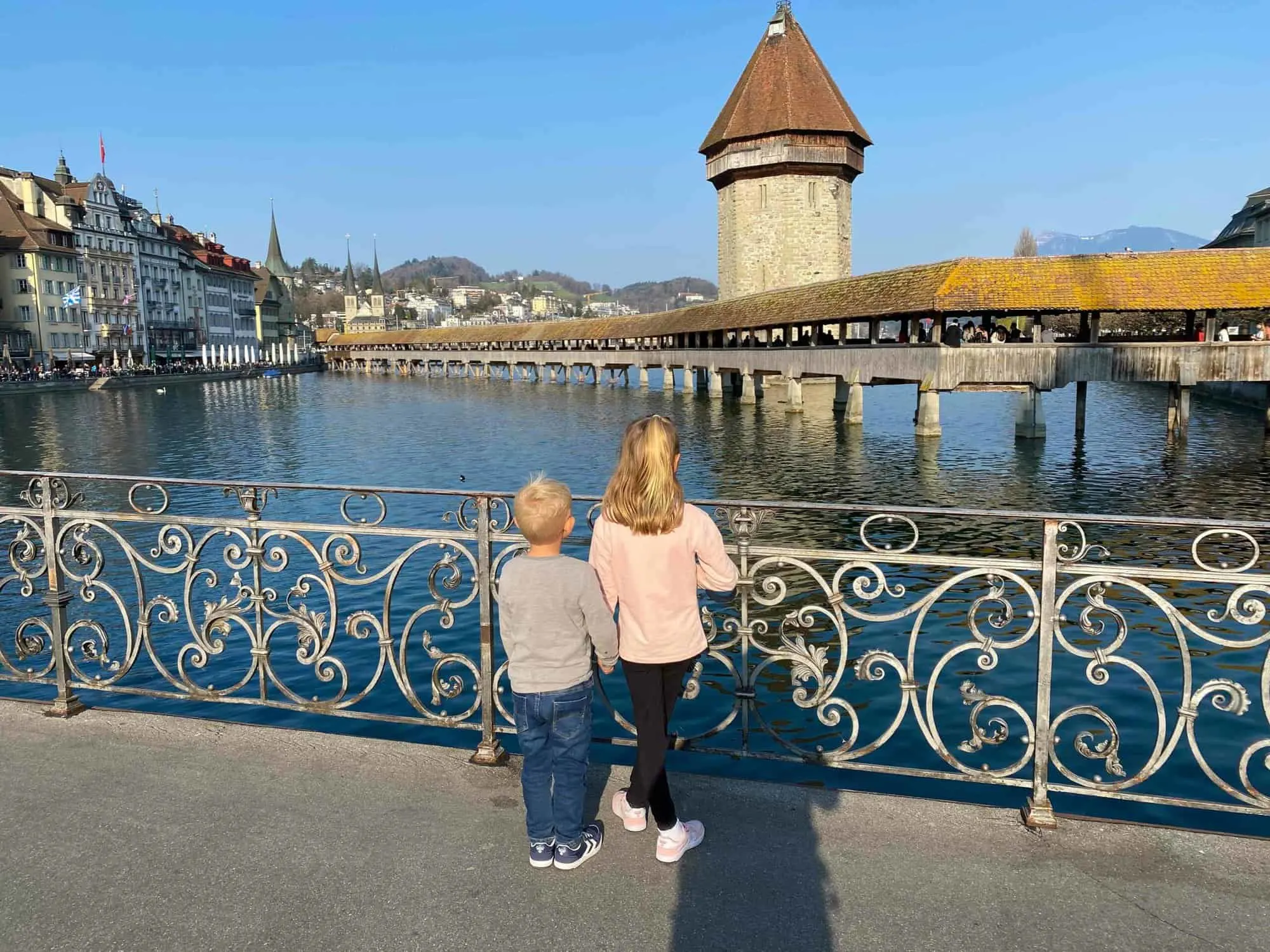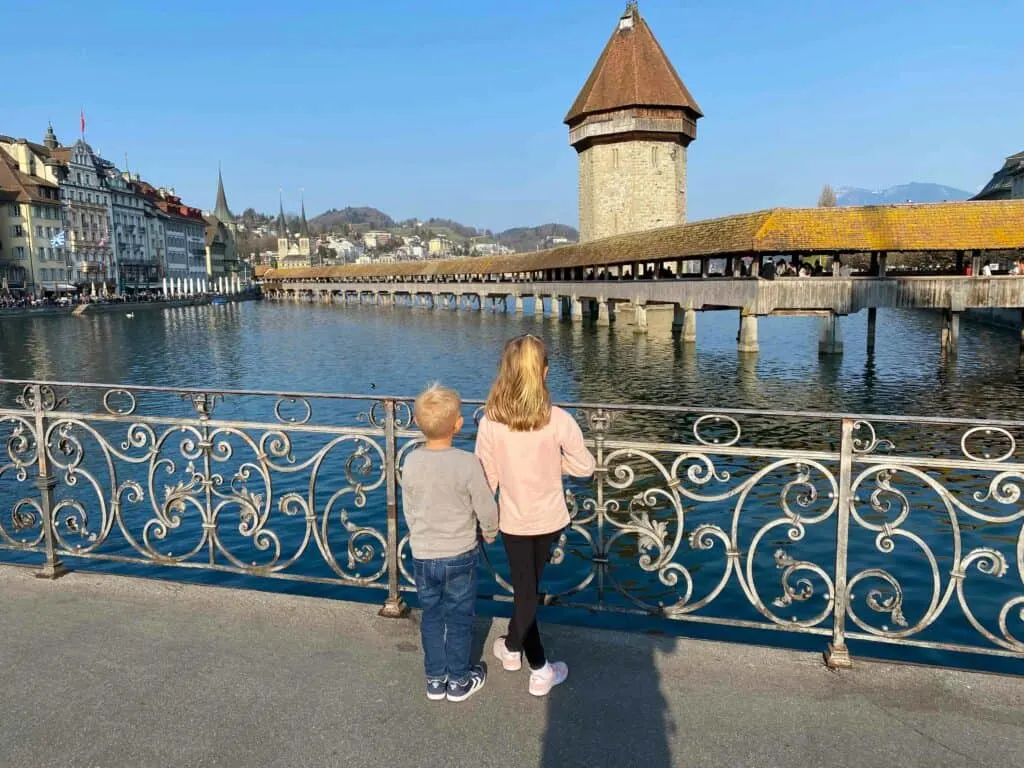 There are some beautiful restaurants along the river banks just past the wooden bridge, perfect for lunch! The vibes are cozy nestled behind arches, big blankets to keep warm and candles to set the mood. Red wine is a necessity!
Mount Pilatus
You can not visit Lucerne without going to the top of Mount Pilatus. It is a little on the expensive side to ride to the top but worth every penny. The views over the Alps are just incredible.
The gondola terminal is just 10 minutes out of town on a bus which comes quite regularly. Starting off with a small family sized gondola, the ride passes through different stops on the way up the mountain.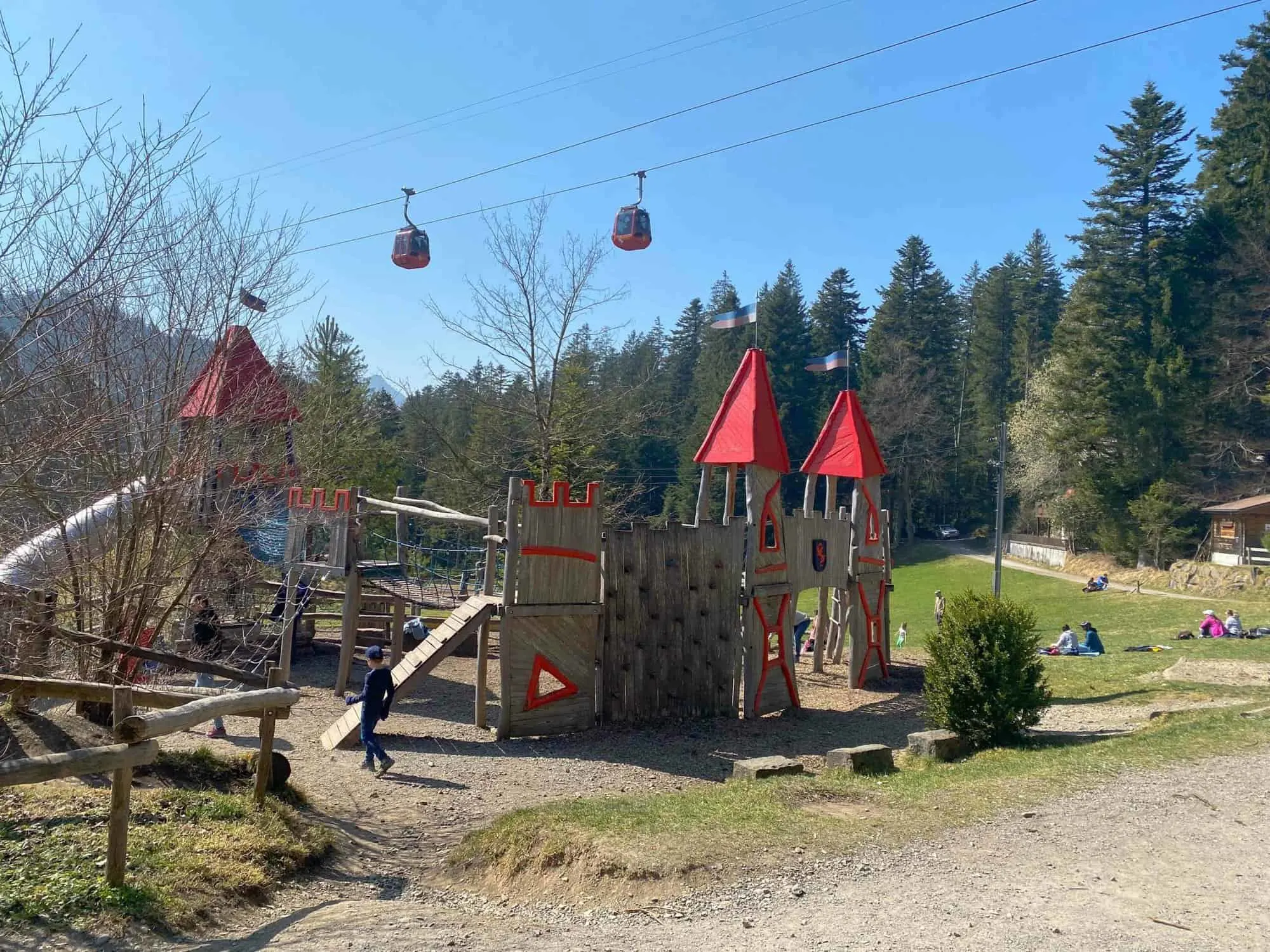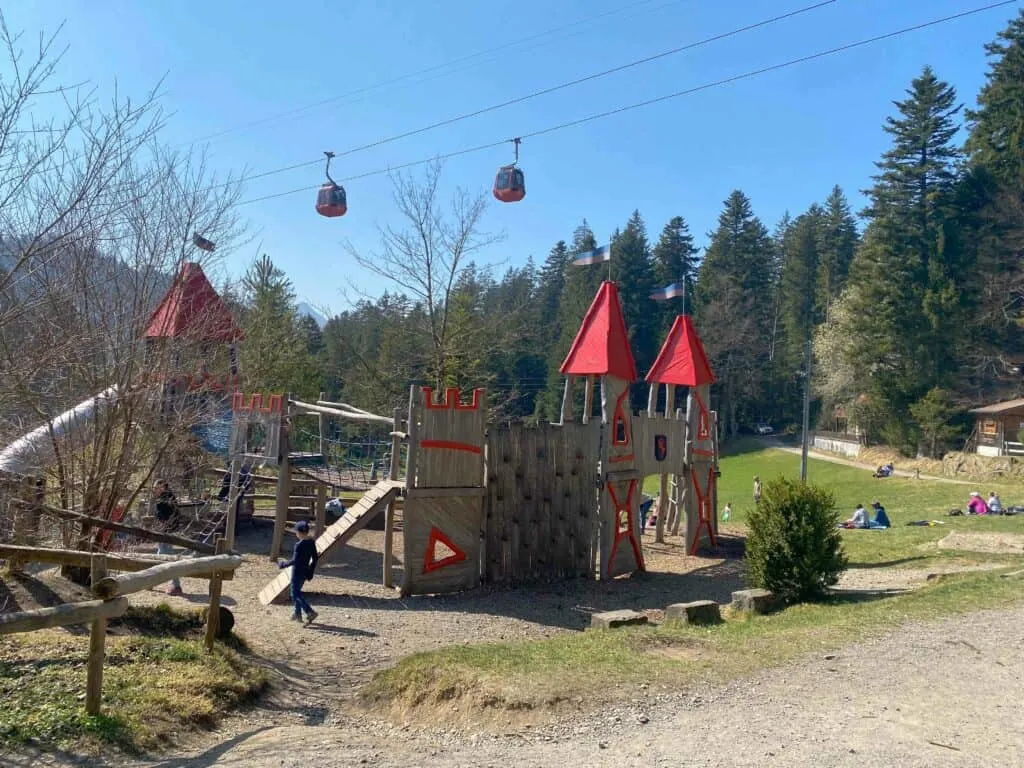 There is an incredible Alpine Playground at the first stop. Picture the backdrop of green fields with Mount Pilatus otherwise filling the entire view. There were a lot of locals cooking on mini BBQs as it was a Saturday afternoon.
Get tickets to Mount Pilatus here!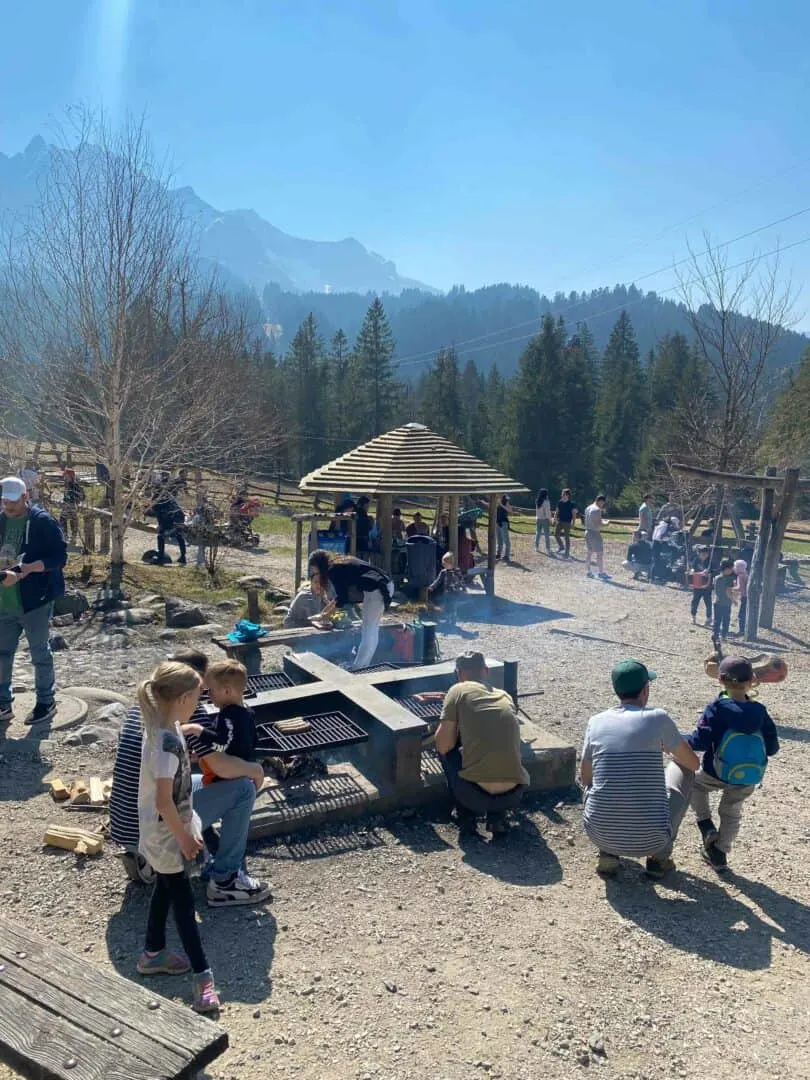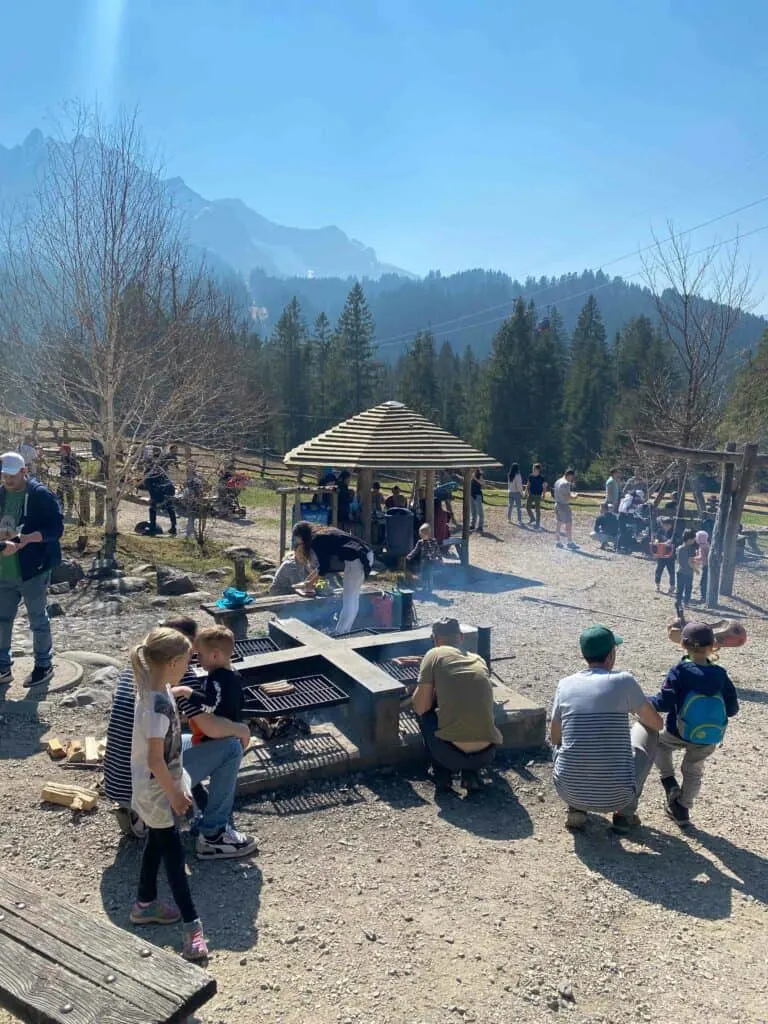 The smell of the bratwurst sausages was filling the air whilst the kids were loving the slides and zip-line. A lot of people hike to this point so it is possible to reach it without the expensive gondola ride.
The next stop along the gondola is an adventure area with a tree-top obstacle course. It is only open at certain points of the year, so if it's something you want to do, make sure to check ahead.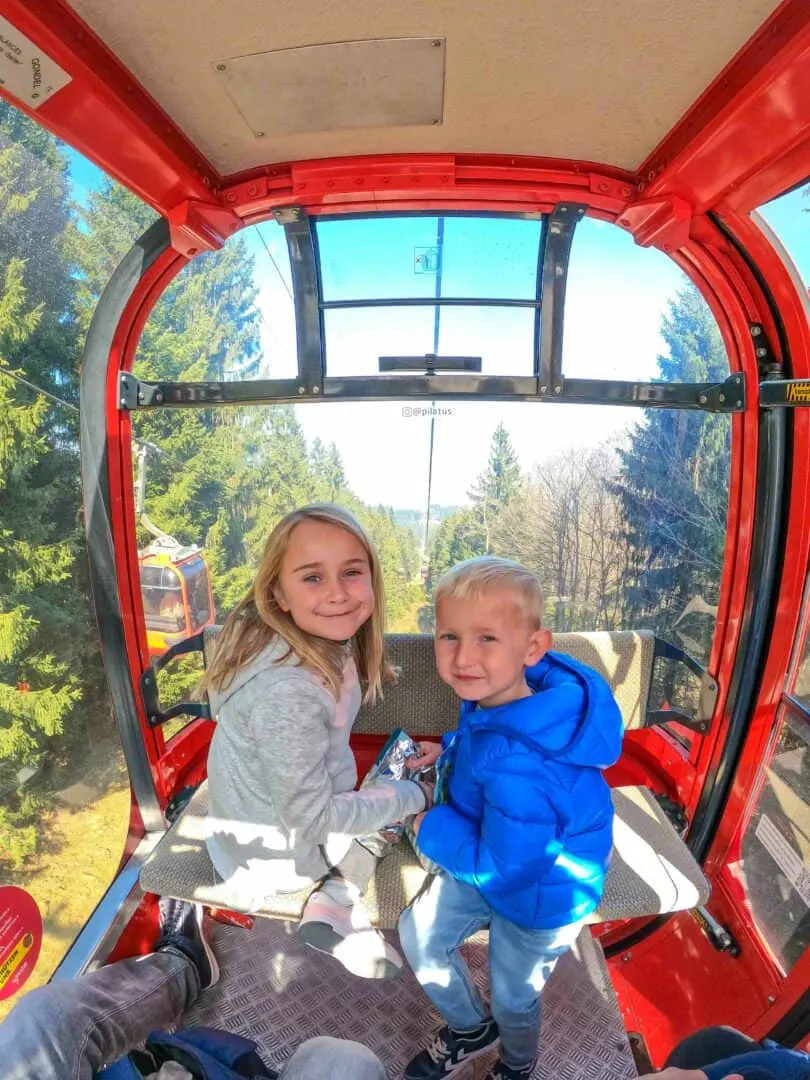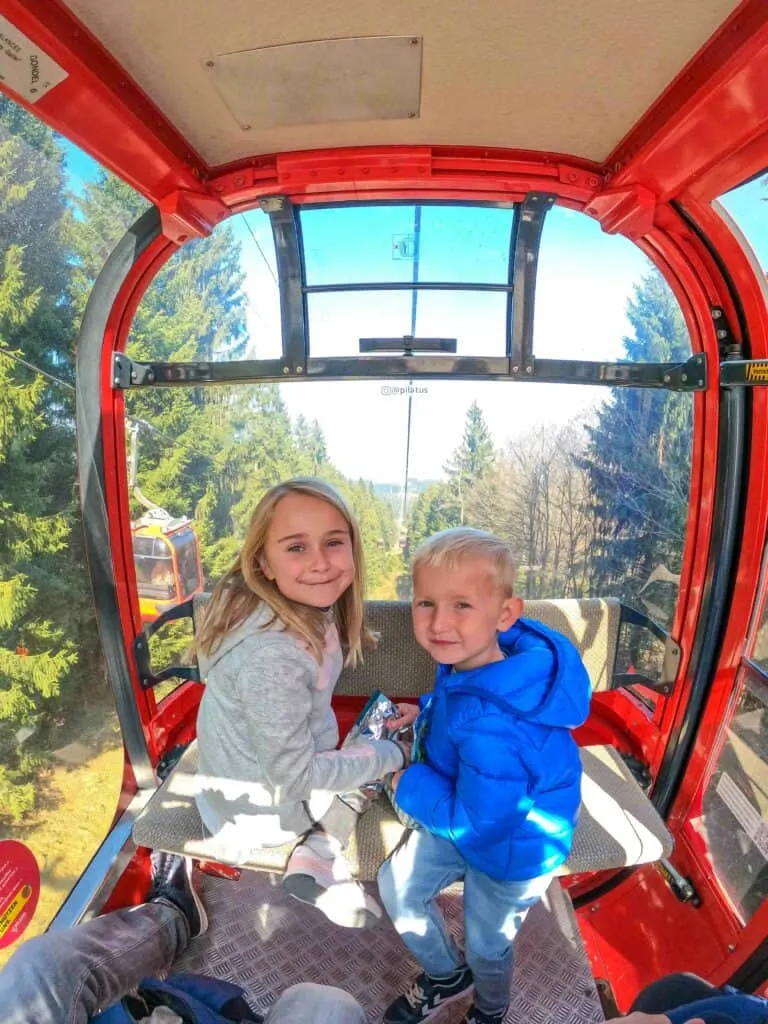 The final stage of the trip to the summit is a much larger gondola which holds tens of people. The views on the last leg are another level of beautfiul. I particularly remember a chapel perched on top a sheer cliff face.
At the top of Mount Pilatus there is plenty of indoor space with a bar / cafe. There was also a digital 'dragon' experience which the kids loved.
Appropriately named the 'dragon walk' there is a path around the edge through caves with incredible openings.
The arched 'window' framed the view impeccably and is something that will stay with me forever. It has to be one of the most stunning outlooks in Switzerland.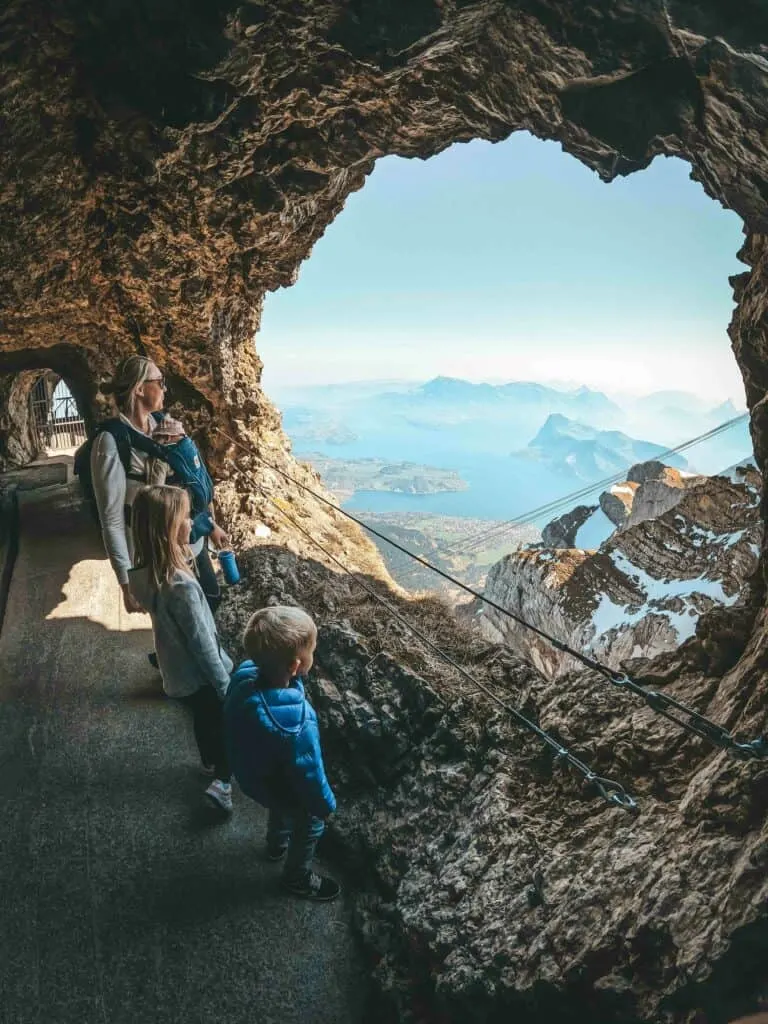 The very last leg to the top is a 200 step staircase winding around the pinnacle. Keep in mind the altitude when exerting yourself on the stairs.
I reminded my kids to take their time. It gets a little colder and windier with no shelter whatsoever but it is absolutely worth it for the pinnacle view of the Alps.
Peak on peak is the view as far as the eye can see. It truly was a magnificent experience.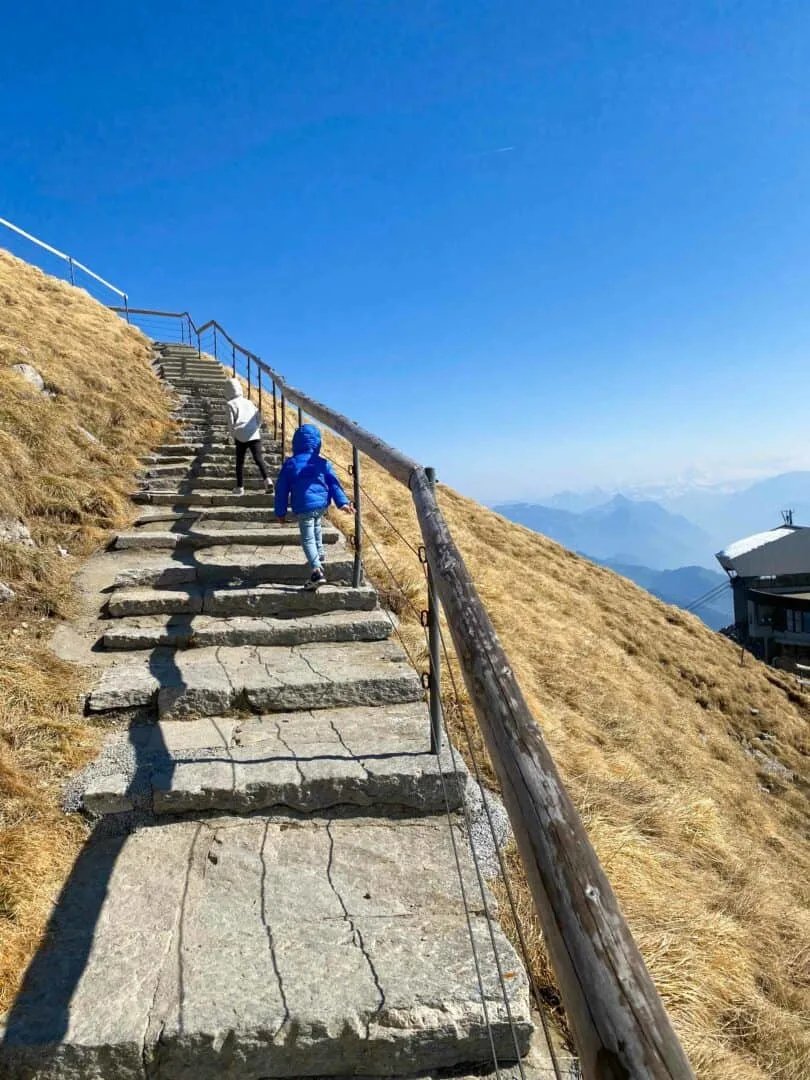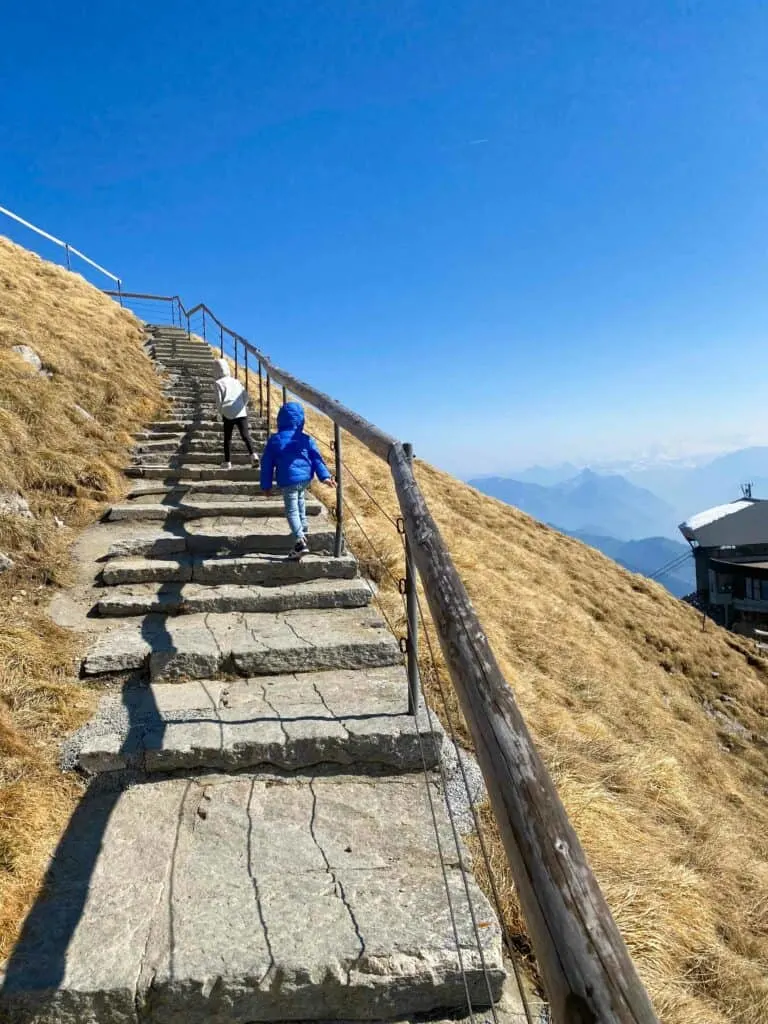 At the foot of the steps is a large patio where paragliders begin their flight. There is lots of seating and sometimes live music with traditional Swiss instruments.
It was such a super relaxing experience, true to Switzerland, a BBQ with bratwurst was filling the air with smells and everyone was chilling with a drink and a blanket on deck chairs.
If the cold is too much to bare, particularly in the winter and spring months, there is also indoor seating space with a restaurant.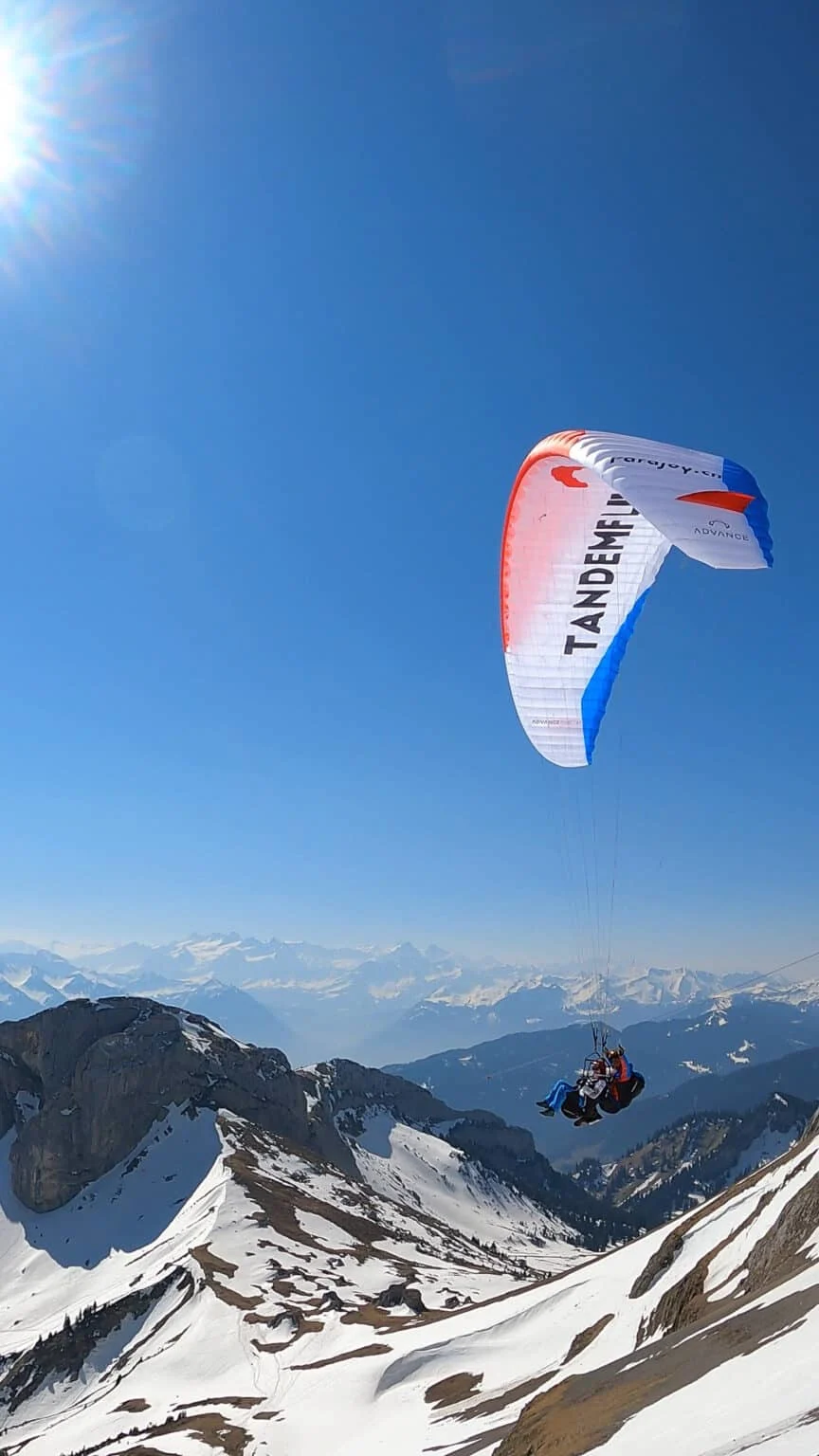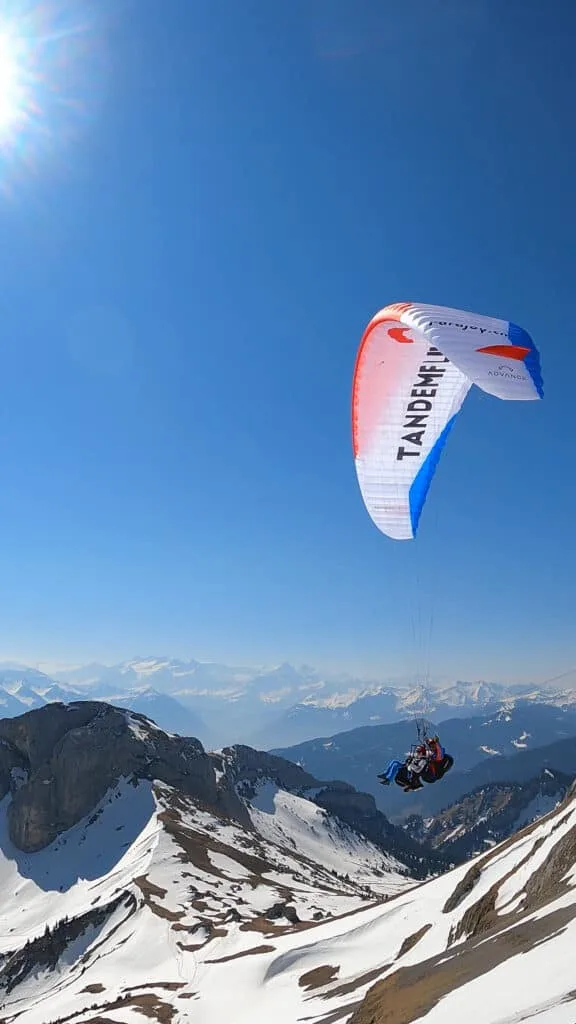 The main campsite in Lucerne is right next door to Verkerhaus, one centre with several museums under the same roof! It was perfect for a rainy day.
Within Verkerhaus is the Swiss Transport Museum which is loved by locals and tourists alike. With ride on mini trams, go karts and a tonne of simulation and digital media experiences, our kids really loved the day!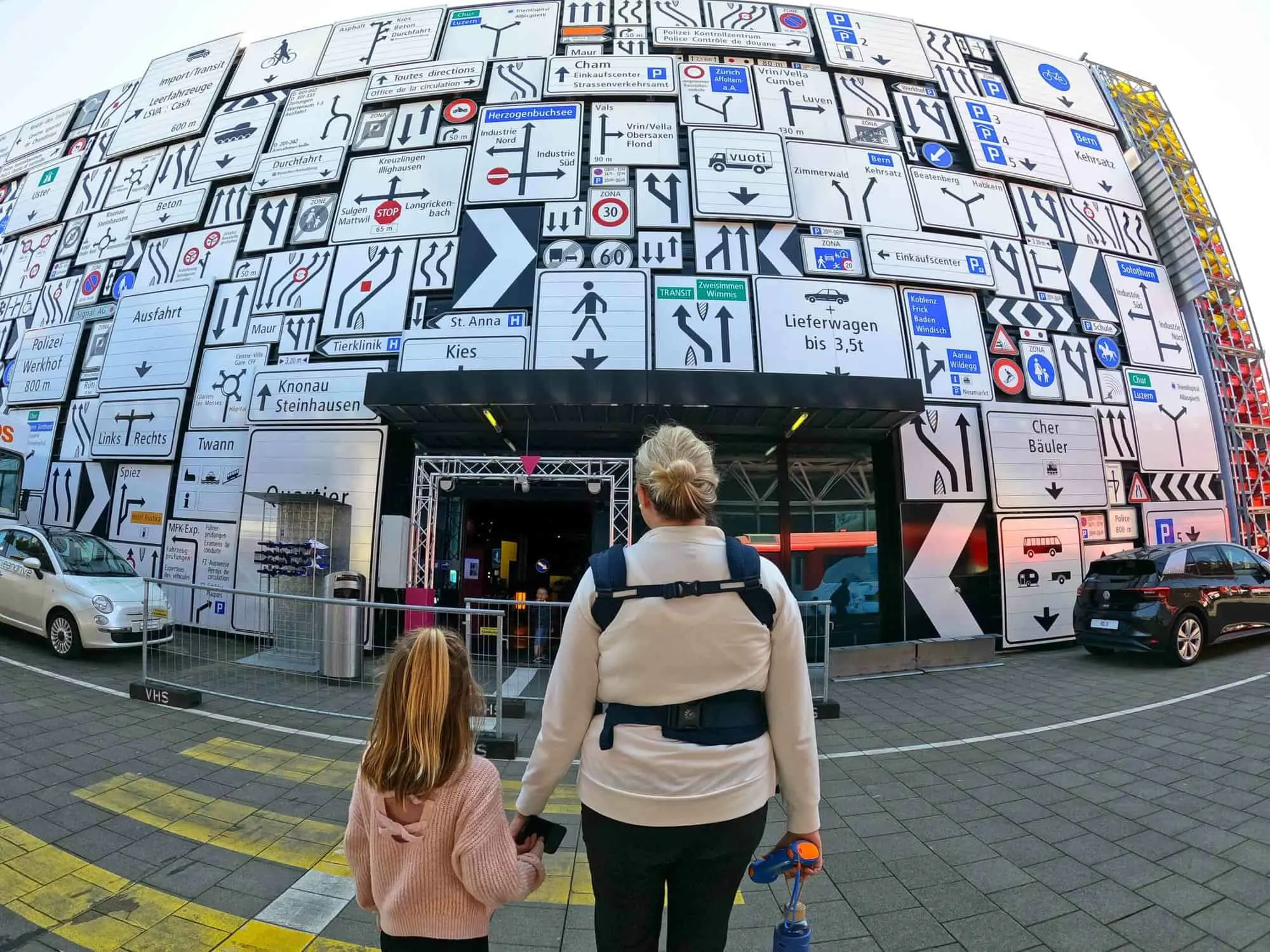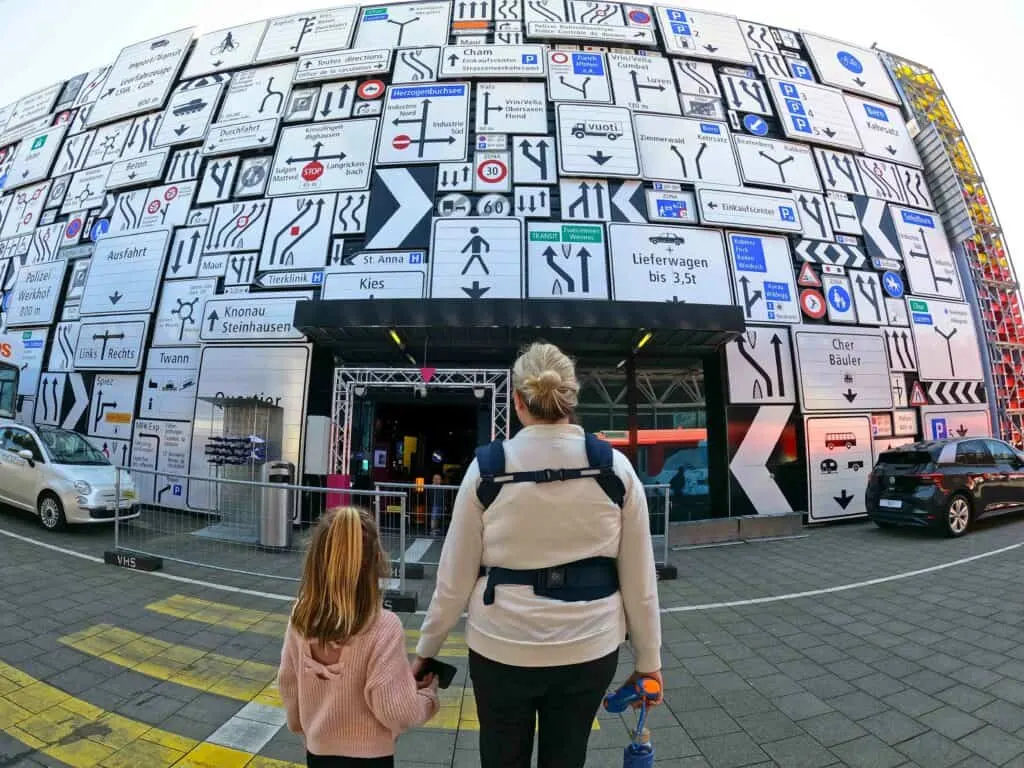 We actually returned to Lucerne towards the end of our trip and spent a second day checking out the 3D Filmtheatre Planetarium and Swiss Chocolate Factory within Verkerhaus.
It is worth booking ahead for the Planetarium and 3D Filmtheatre if you want to go to a kid friendly showing, especially on weekends as it was booked out. Both last about 30 minutes so is perfect for little ones.
Our kids watched a BBC under water documentary in 3D and absolutely loved it. Other showings include Dinosaurs of Antartica and the Serengeti!
As for the Planetarium, the morning kids show was a beautiful trip around the planets with their resident mascot on the dome shaped ceiling.
If you arrive early, you might get one of the super comfy beanbags in the centre of the room which is a lovely full 360 degree view of the show!
Check out tickets to all the Verkerhaus museums here.
Lake Lucerne Boat Trip
Cruising on the crystal clear waters of Lake Lucerne is an absolute necessity when visiting the area. The lake is nestled between Rigi Mountain and Mount Pilatus, it really is a postcard perfect scene!

There are many types of boat trips, from a yacht cruise to something more adventurous like kayaking there is something for everyone. Sunset is a beautiful time to take a trip on the water, especially on a clear day.
The day we cruised the sky was pink and the water was super still. The mountain was reflecting on the water perfectly as swans glided past!
The campsite is around a 15 to 20 minute walk from the centre of town. It's possible to walk predominantly along the lake the entire way which is definitely worth it!
Check out Lake Lucerne boat trip here.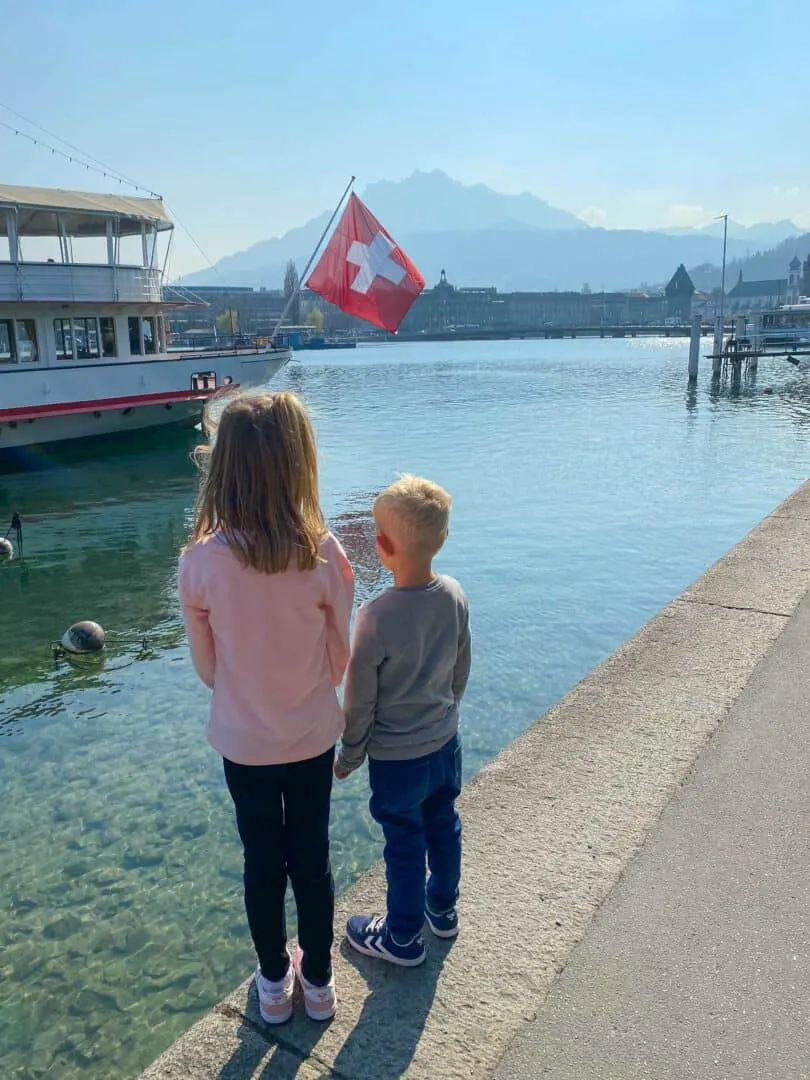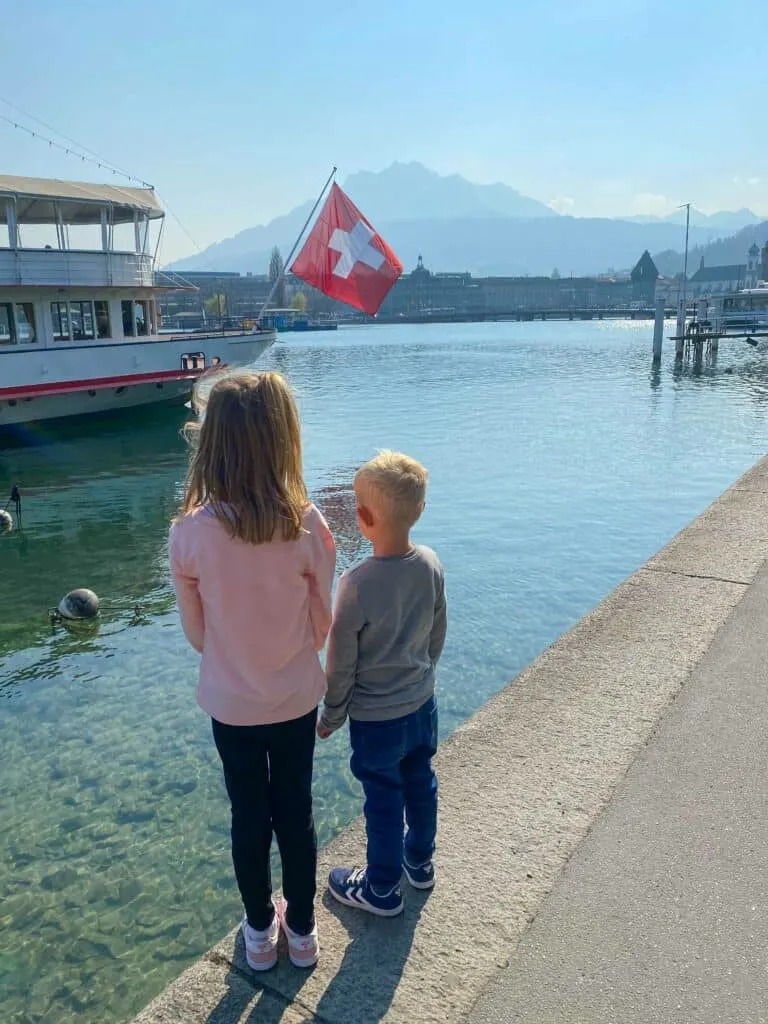 It is worth noting different times of the year have completely different experiences. We travelled in April which is an awkward time weather wise as the snow is starting to melt, however summer hasn't fully arrived.
It also meant some of the train ride experiences only available in summer weren't running.
There are pros and cons to visiting at the beginning of spring. For example we got last minute availability in some very popular campsites.
Lucerne Campsite
We stayed at Lido Lucern Campsite just a short distance from the town. It was just one street back from the lake and in such a perfect location for exploring everything in the area.
All guests get free travel on local transport around Lucerne which was super handy as a bus stopped right outside the campsite.
The pass also provided discounts to local attractions including the Mount Pilatus Gondola. Of course if you have a Swiss Pass already, you at least have the benefit of discounts on attractions.
The campsite has a playground for little ones, a cozy restaurant and all the usual laundry and showering facilities which are always helpful with kids. There were views from around the campsite of Mount Pilatus which were lovely in the evening sunlight.
We only intended to stay for a couple of nights, however we returned towards the end of the trip as we loved it so much! Lido Lucerne Campsite is one of the few open in low season when campervanning in Switzerland.
Iseltwald Wharf, Lake Brienz
As we left Lucerne our first stop was Iseltwald Wharf on Lake Brienz! I have previously travelled to Banff, Canada and had never seen lakes that come anywhere near the infamous Moraine Lake but Lake Brienz was pretty much the same colour and just as beautiful.
There is a tiny lazy village with typical Alpine buildings. It was a dream seeing our kids play on the swings in front of the beautiful houses with the backdrop of the blue lake.
We had lunch in the campervan with the door opening onto the view. We spent a long time just sitting and watching the world go by!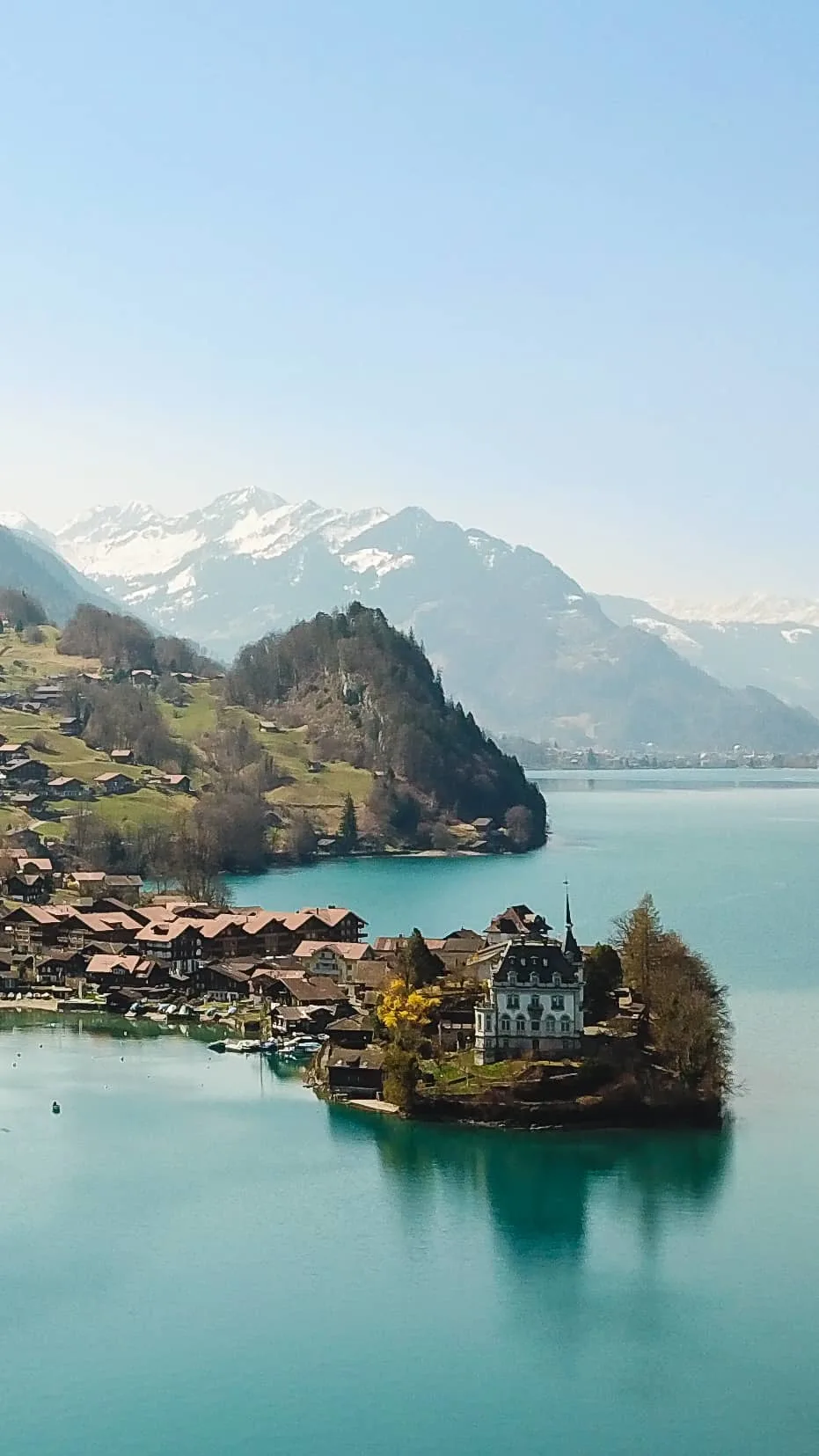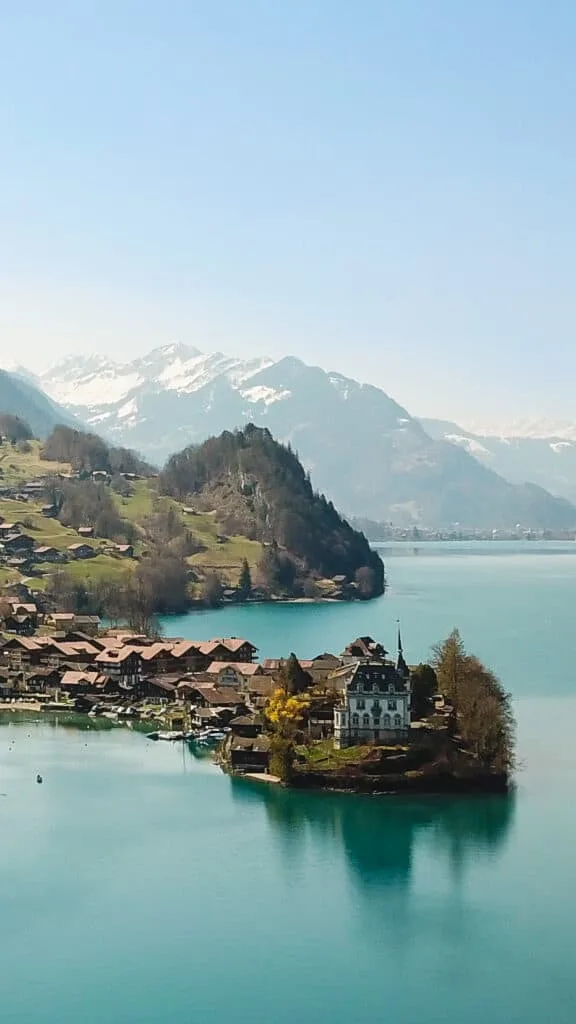 The wharf itself is a beautiful spot for a photo. The water is from a glacier, hence it being a blue colour from the minerals. This perfect reflection is a photographers dream!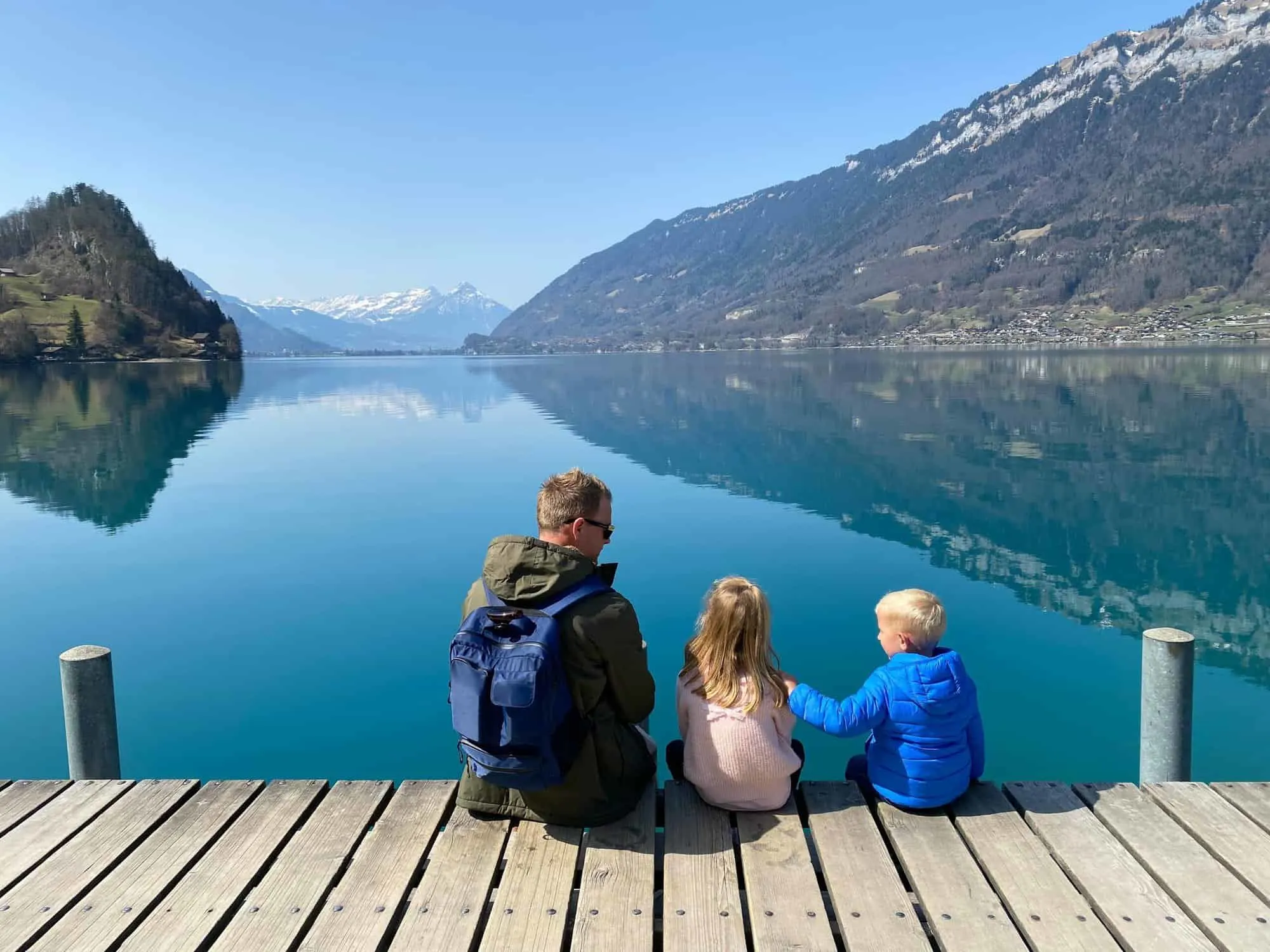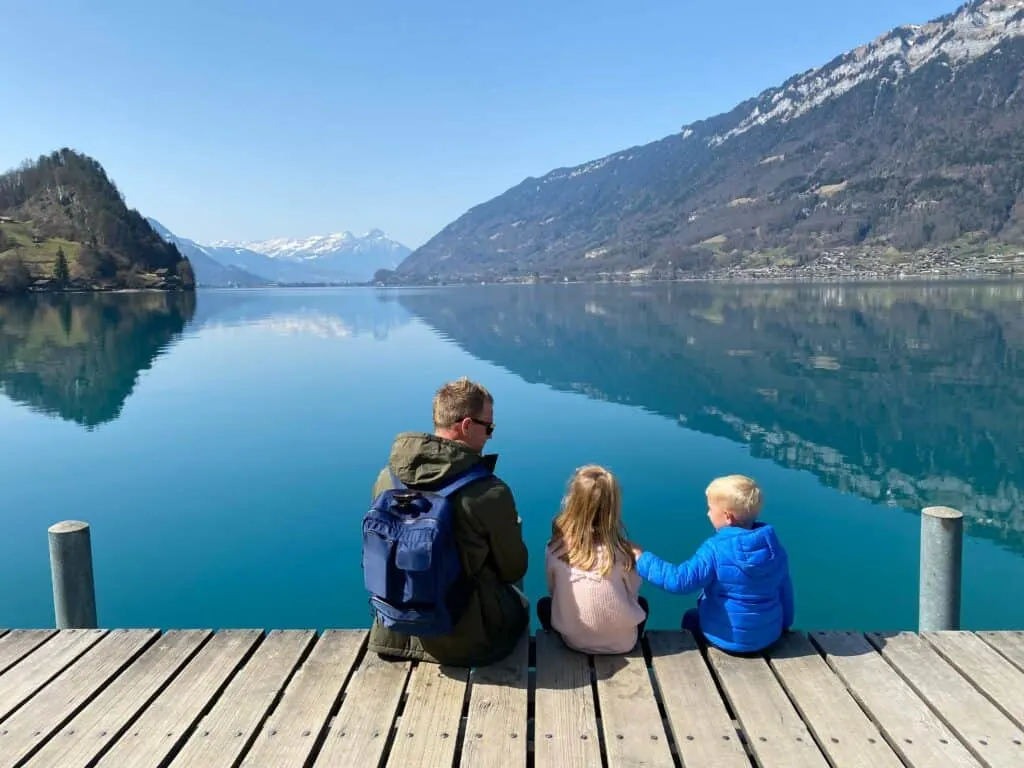 There are a couple of restaurants in the area to stop and have lunch or dinner. Equally there is a campsite right on the lake with stunning views and glamping options.
We didn't stay at Lake Brienz as it was a last minute find so we moved onto Lauterbrunnen!
Check out boat trip on Lake Brienz here.
Lauterbrunnen
The drive to Lauterbrunnen is super windy and not for those who get car sickness. Remember to bring wristbands for the journey. That being said, it is worth ever single minute.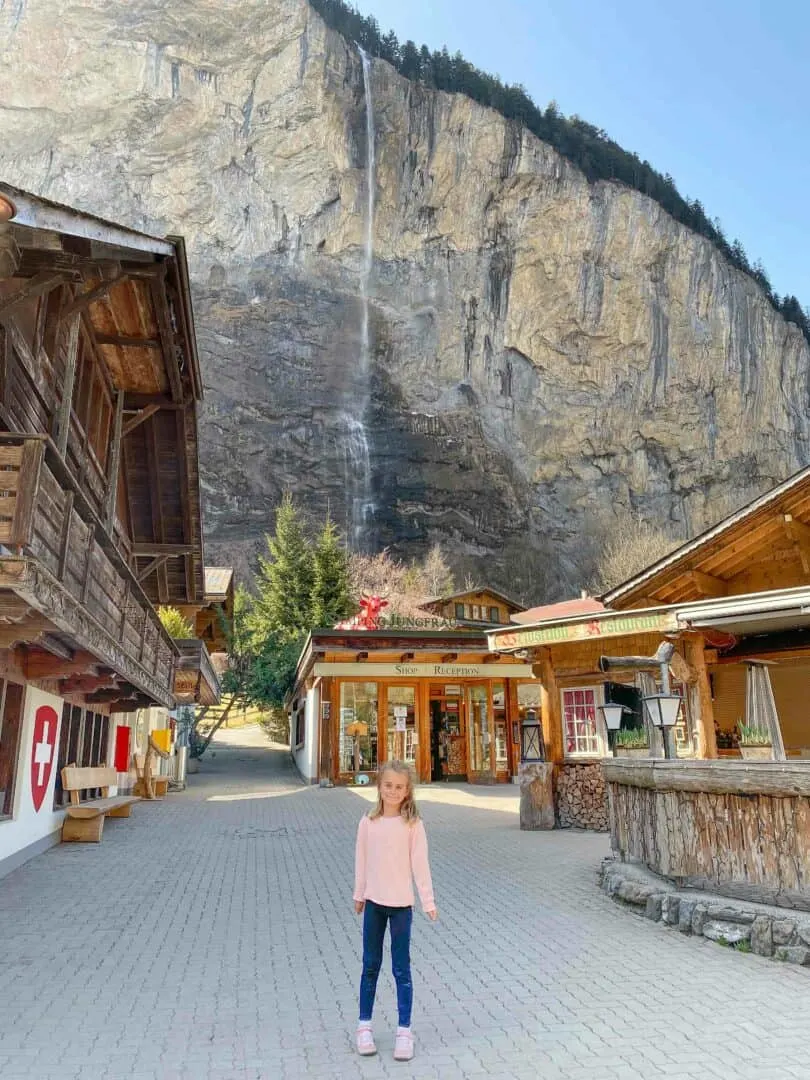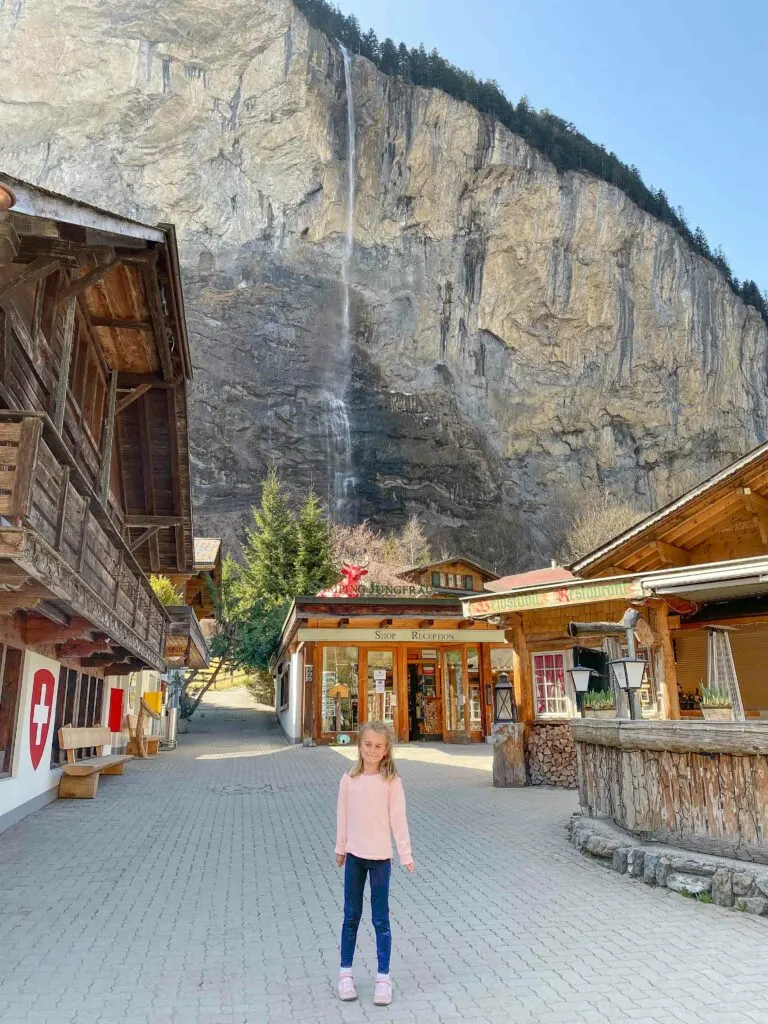 Nicknamed the Valley of 72 Waterfalls, you guessed it, you are likely to see some stunning scenes! The valley has some steep rock faces and towering mountains, not to mention gushing glacier rivers and picturesque trails.
Again it is worth noting Lauterbrunnen is completely different in each season. We were lucky to have two sunny days and two snowy days. We were not prepared for the latter!
Despite our lack of preparation we still got out and explored all of the local popular spots for hiking. There are a tonne of different trails some easier than others.
The village is served by gondolas and trains which weave around mountains and pop out at stunning elevated towns such as Wengen and Grindelwald.
Wengen
We particularly loved walking around Wengen, a ski town with a buzz. There are plenty of nice restaurants to choose from, many with outdoor seating serving up some true Swiss dishes.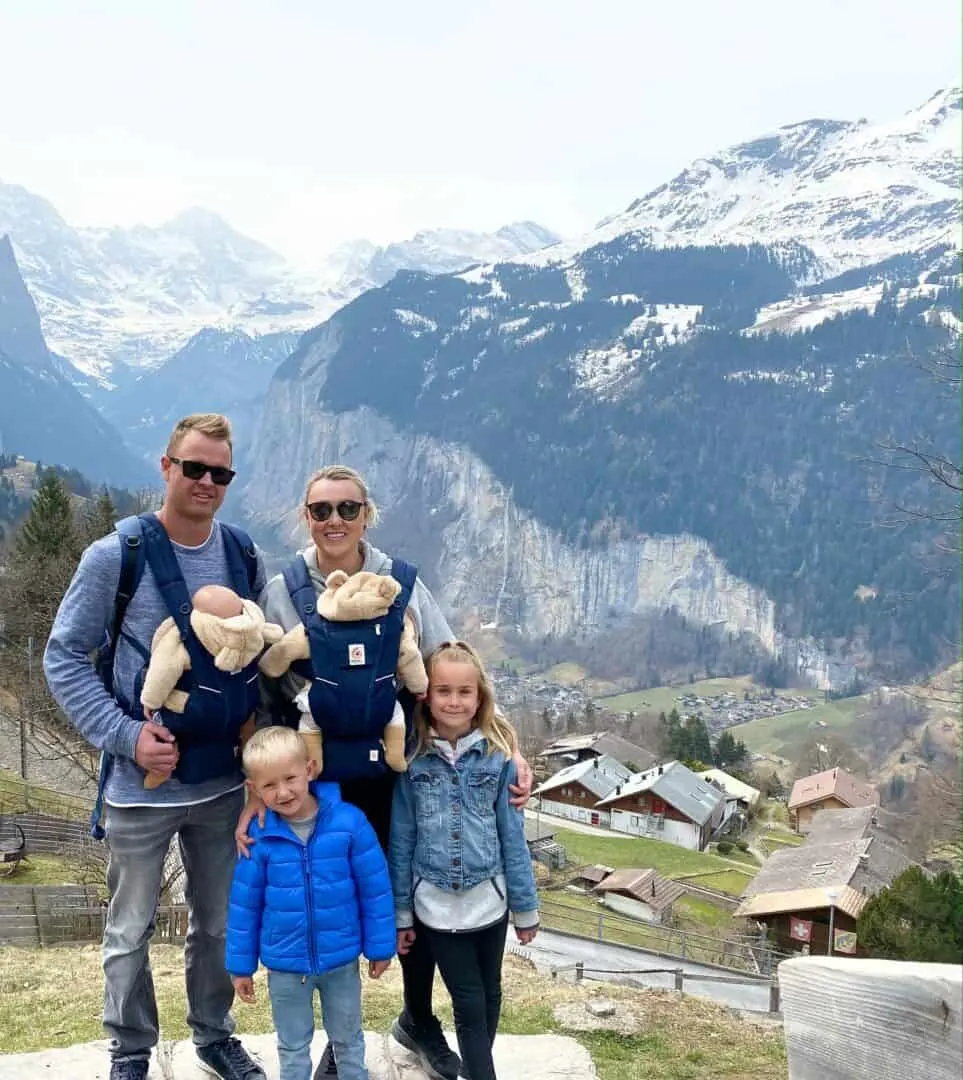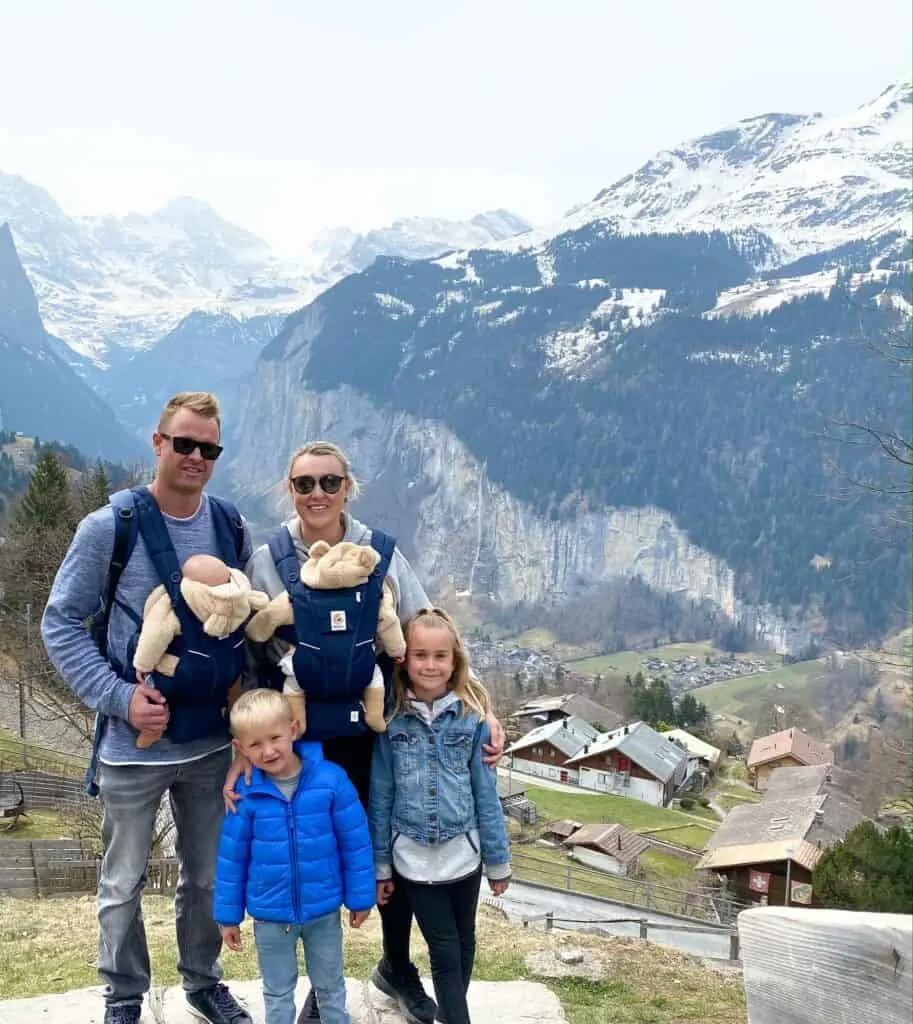 Pasta and More serve up some delicious Rostis with veggie options. Hubby had a cheese fondue, the beer was pretty good too.
If you visit make sure to walk around the chapel, the views of the valley from above are some of the best in the whole area.
Jungfrau
Jungfrau is one of the highest peaks in the Alps, not to mention it is home to the highest train ride in Europe. It is possible to ride on the train all the way to the top from Lauterbrunnen train station.
Tickets are expensive but worth it. The top of Jungfrau is a UNESCO World Heritage Site.
There is plenty to do at the top from an observatory deck you can view the Aletsch Glacier on a clear day.
You can also visit the Ice Palace, where you can walk through glacier tunnels and see all kind of ice sculptures. It is a definite 'must see' if you visit the top of Jungfrau.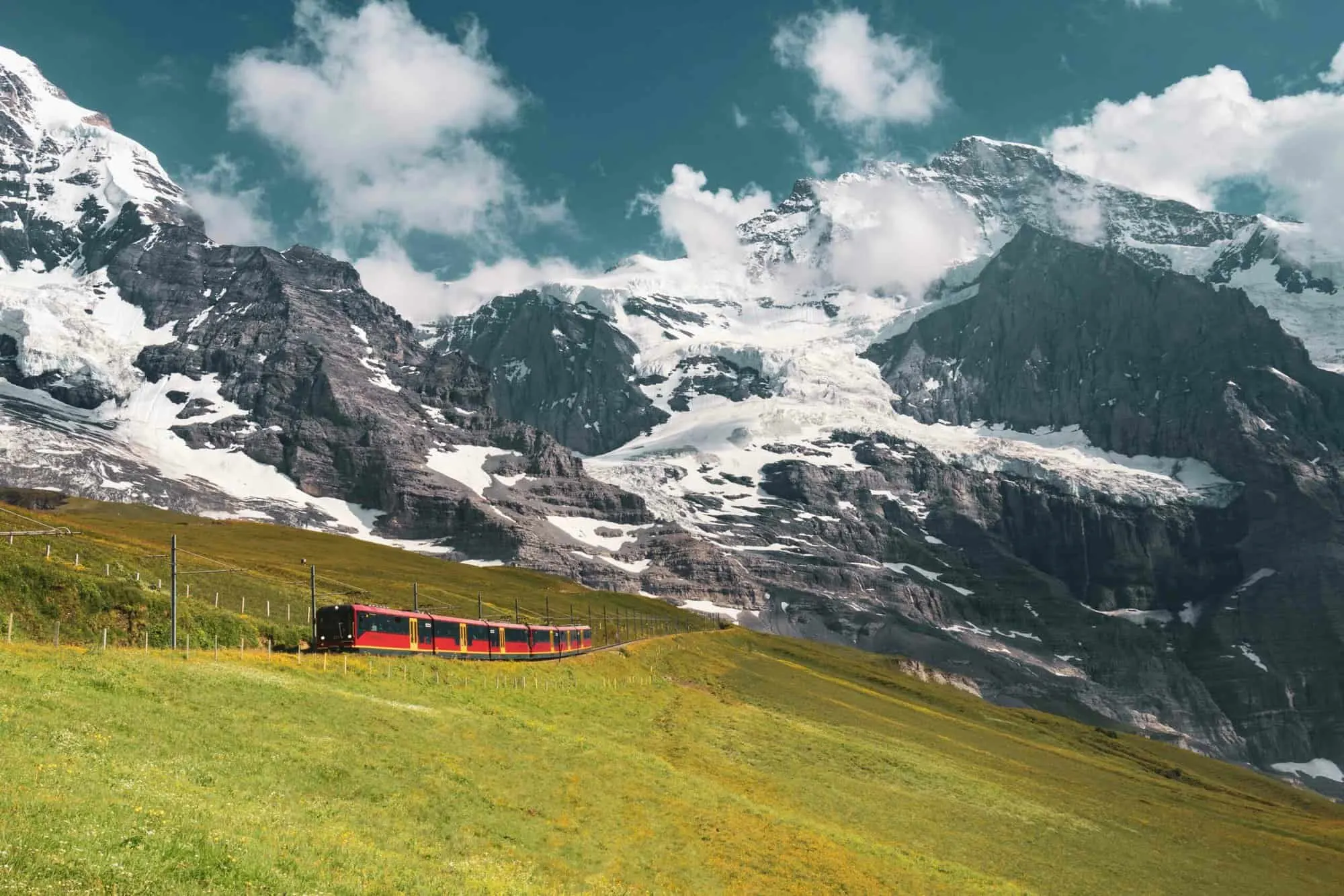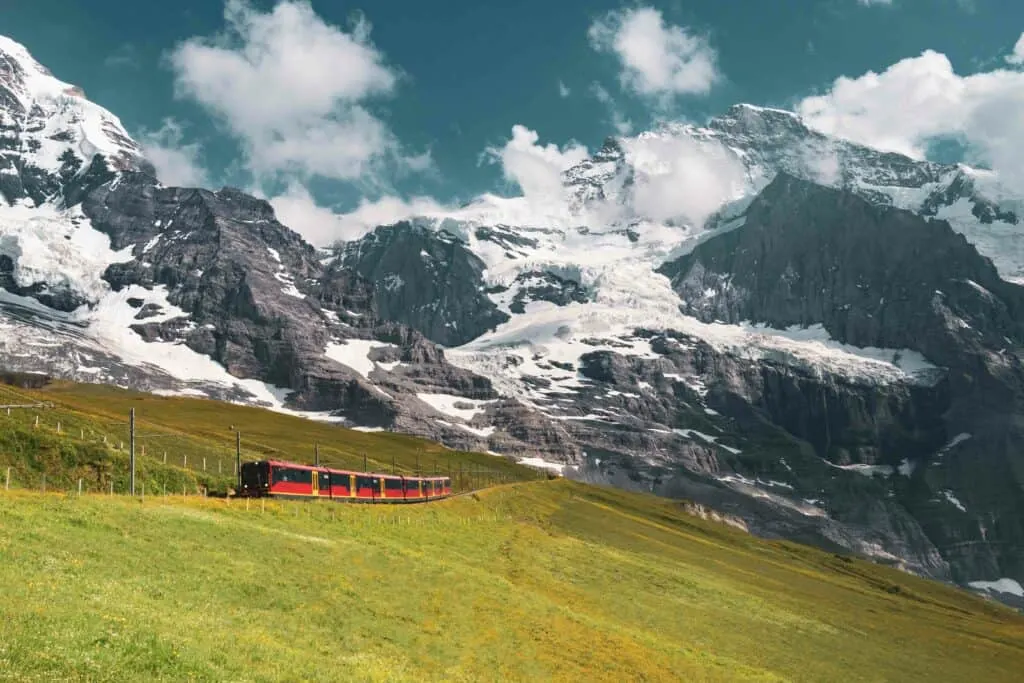 The Alpine Sensation is another hit, a multimedia experience along a corridor with a giant snow globe, the kids love it!
Other experiences include the Jungfrau 360 film experience and the fun park for some outdoor adventures such a sledding.
No matter what you choose to do, it is guaranteed there is a tonne of educational experiences for all visitors!
Check out tickets to Jungfrau here.
Lauterbrunnen Campsite
We stayed at the most spectacular campsite named Camping Jungfrau! This place was everything and my favourite campsite I have ever stayed in! Perched on the river edge with views of the gushing waterfalls, it was all the nature experiences rolled into one!
We loved sitting around the fire pit at night with a hot chocolate. We could hear the river and the waterfall was illuminated with lights.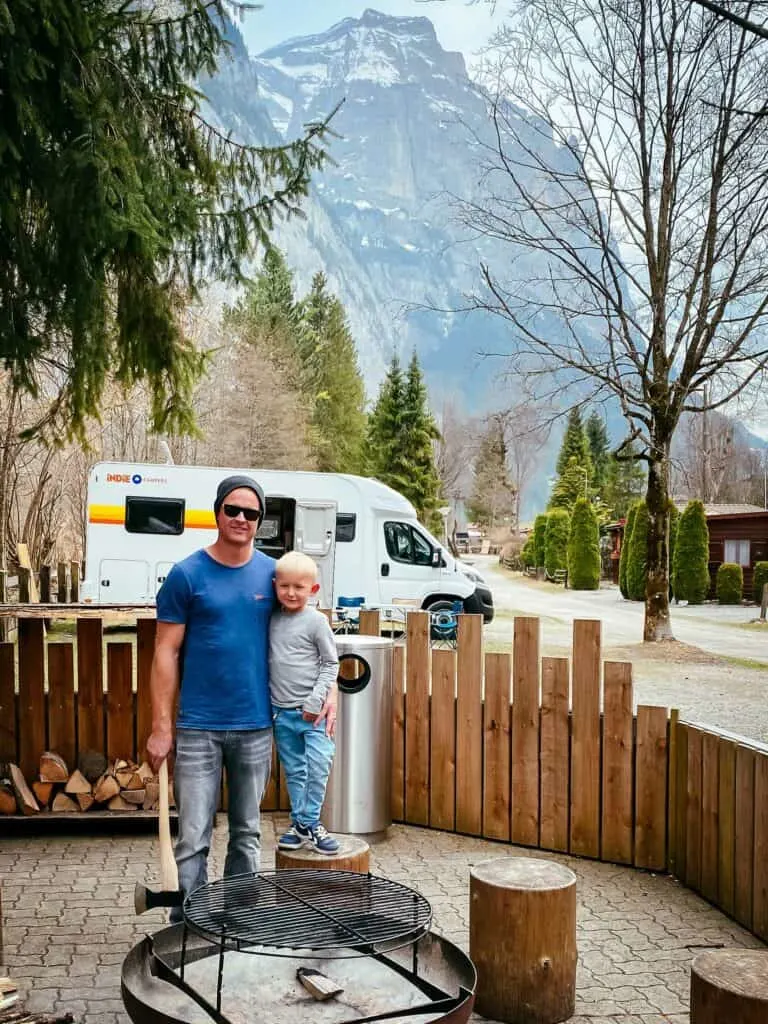 The campsite also had a shop where we could pick up basic groceries, fresh warm bread and pastries each morning.
There are lots of other accommodation options on site including log cabins of various sizes. They are such perfect little dwellings with stunning views, not to mention comfortable and cozy.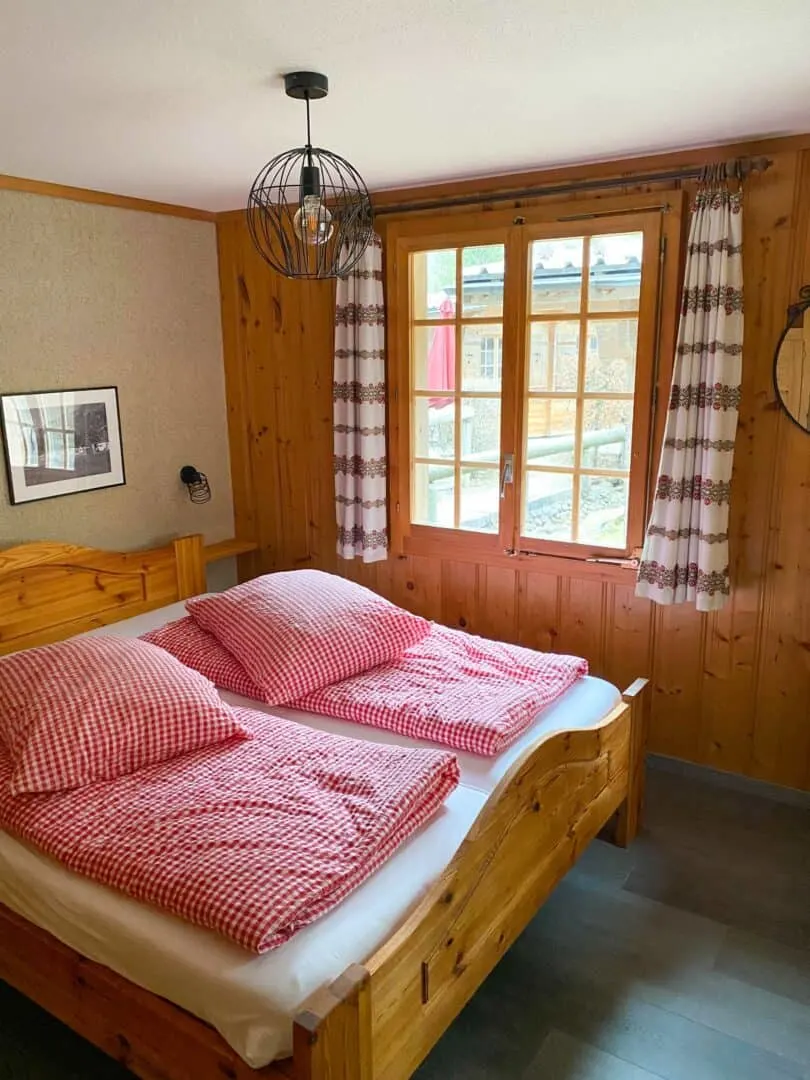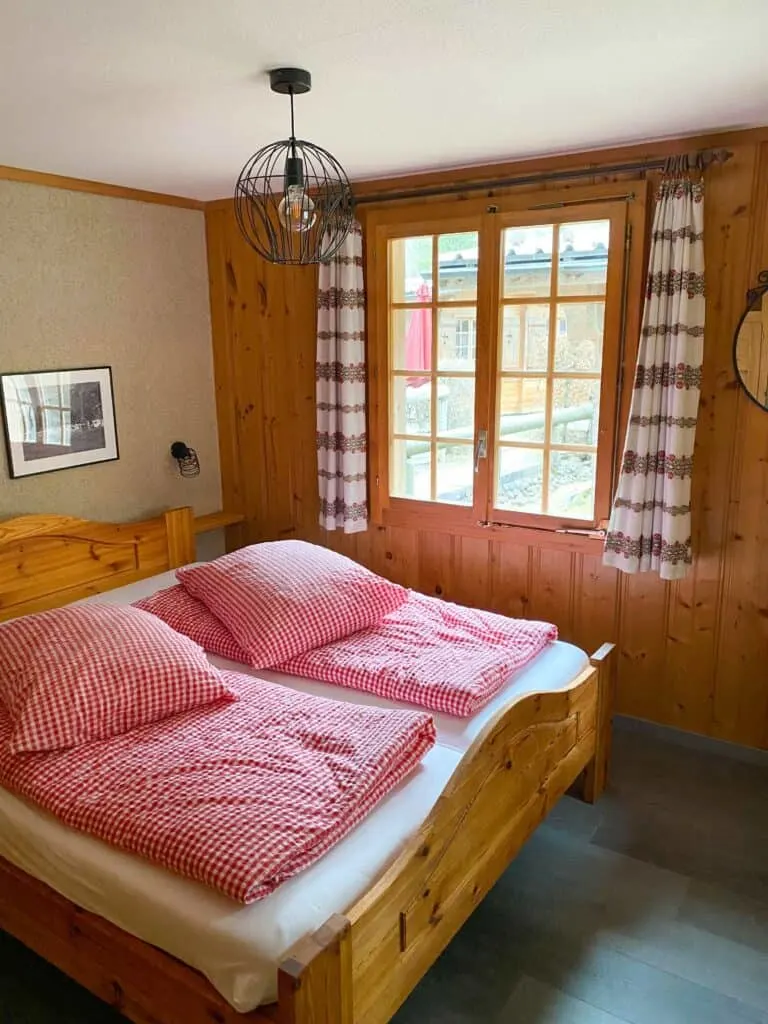 The on-site restaurant is another popular spot with both locals and tourists so it is worth booking ahead.
Restaurant Weidstubli is an incredibly cozy spot with blankets and candle lit tables. The food is great and they are so fantastic with kids providing crayons and an activity book.
The food was great and they were so accommodating with special diet requests.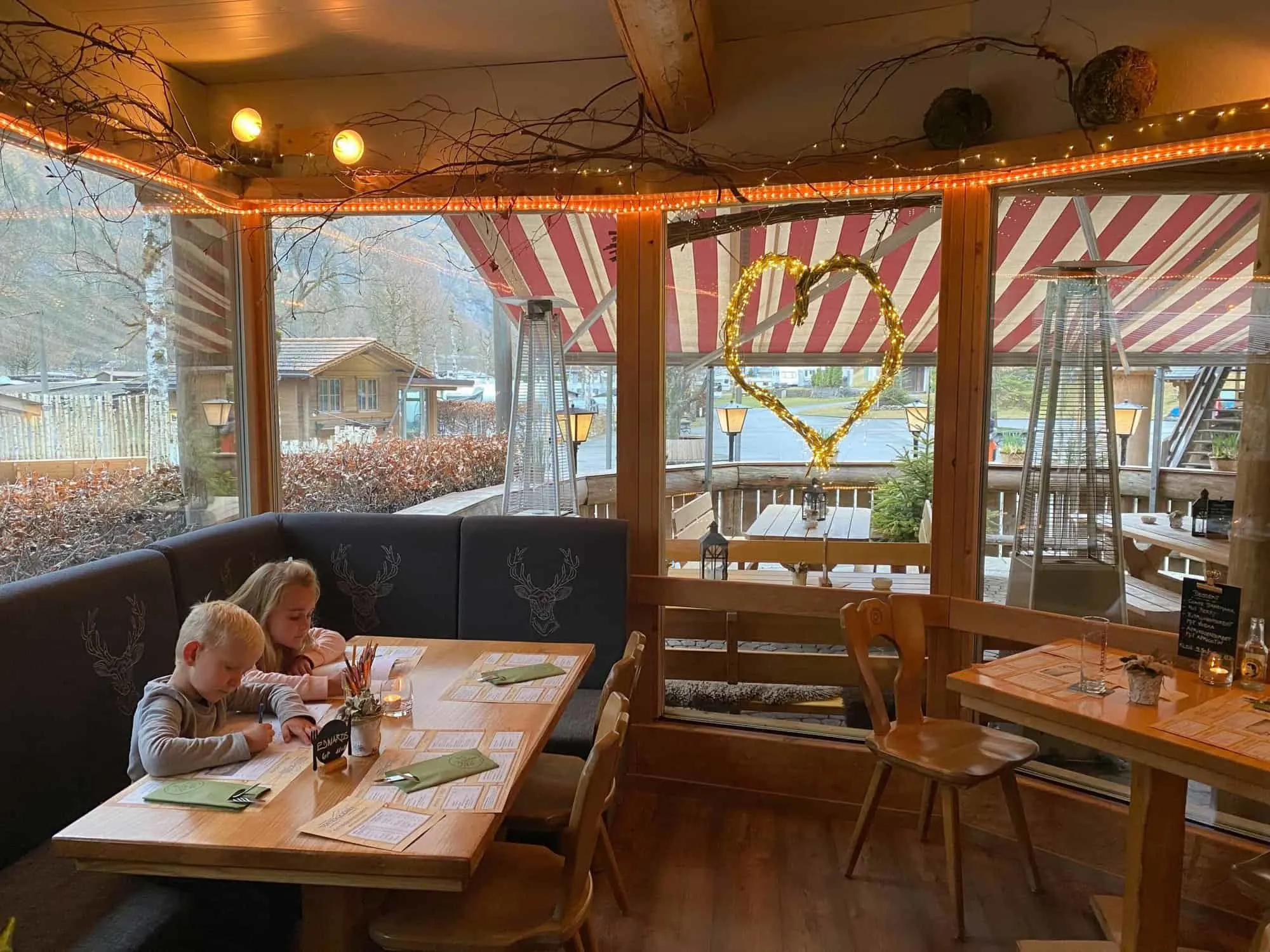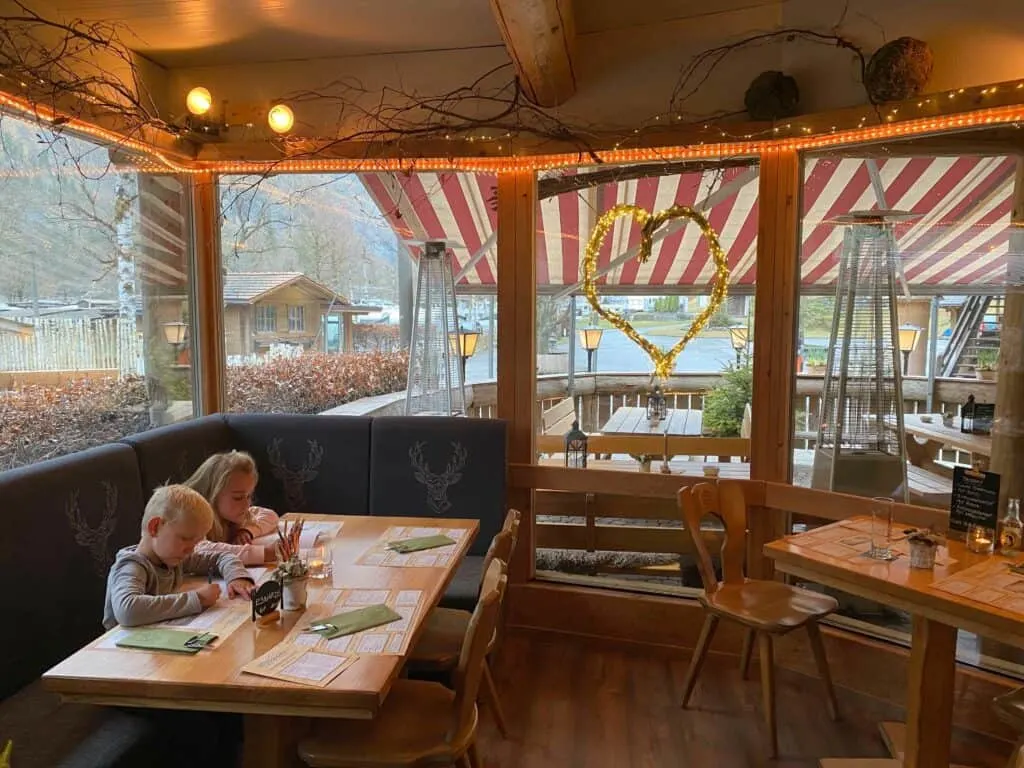 Bern
Many people think Zurich is the capital of Switzerland but it is in fact Bern. We struggled to find a campsite in low season other than a self-serve car park which was ok as we did not stay too long. Mainly as it was snowing and we wanted to get back towards Zurich for our flight home.
Bern is a charming city with beautiful chocolate box streets, a typical medieval look and feel!
Many of the central streets had covered walkways, it was super helpful with the stormy weather.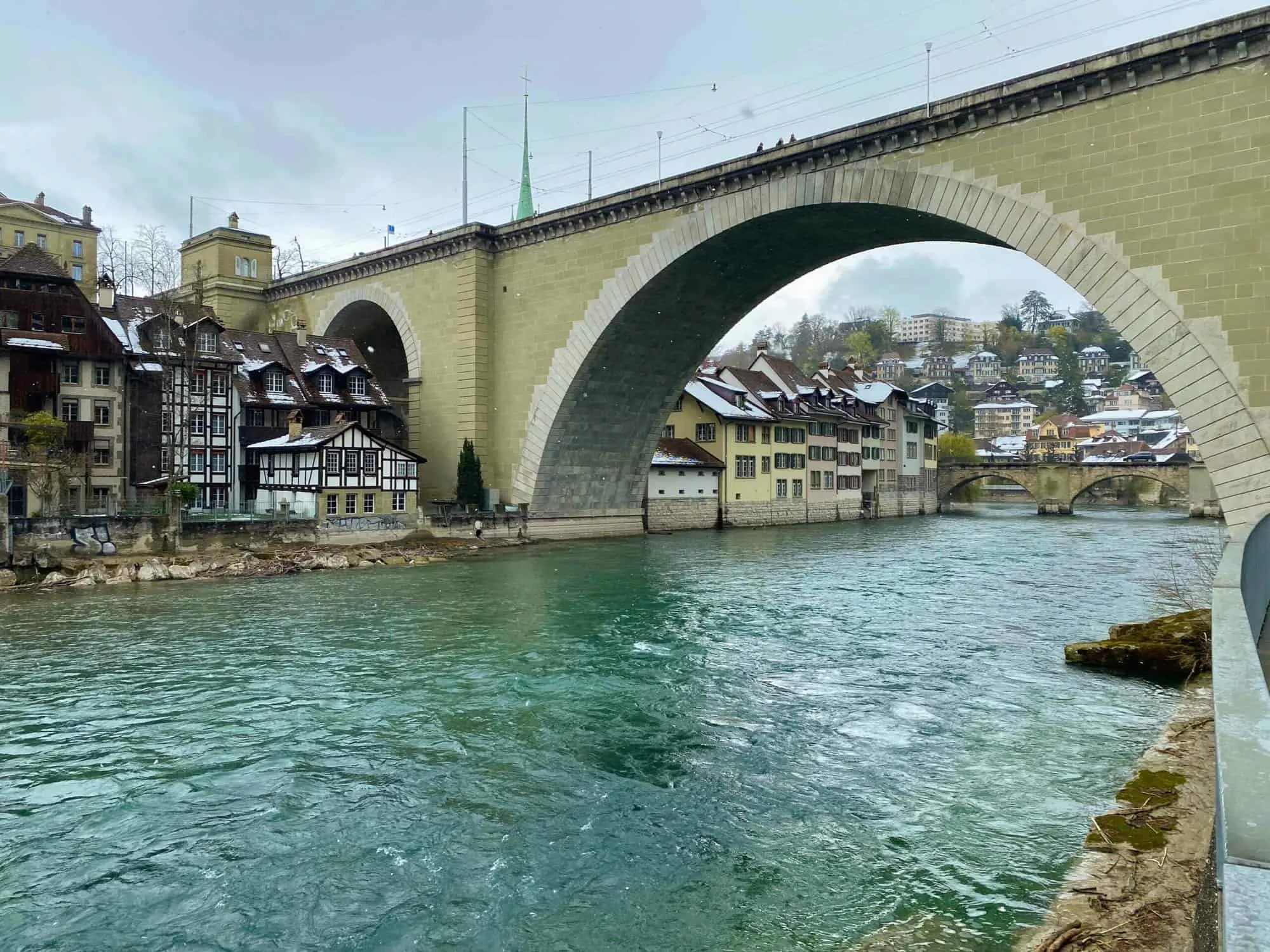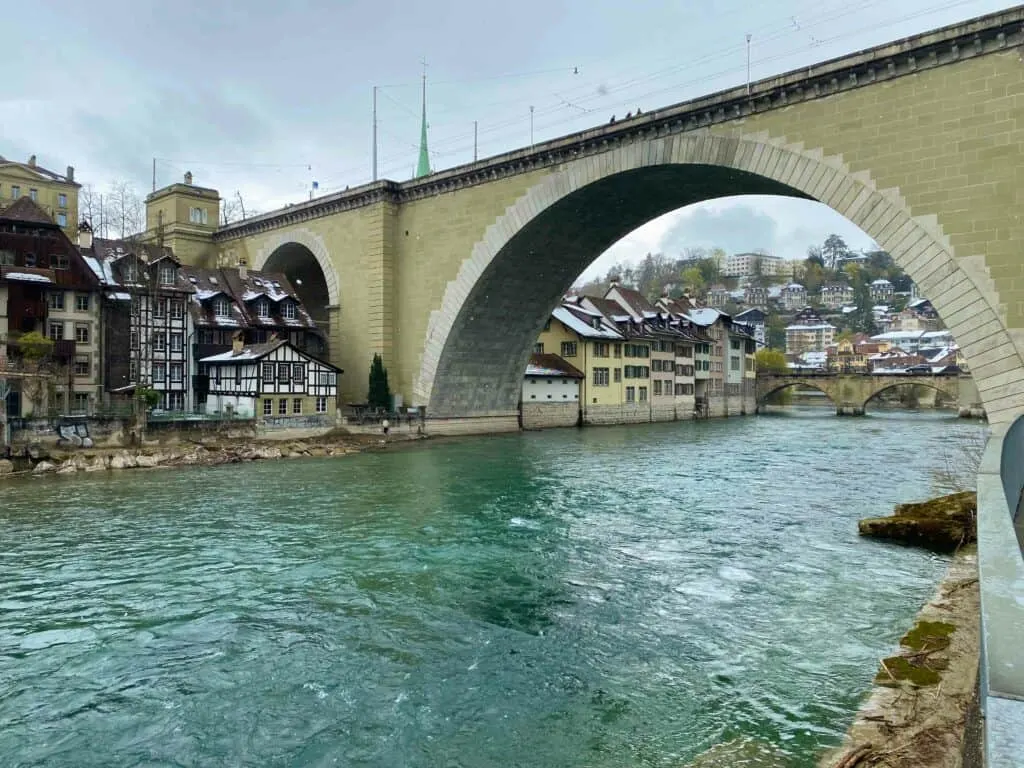 Bern is infamous for the brown bears in the centre of the city. They can be seen on a hillside next to the river.
I found it strange to see wild animals in the centre of a Swiss City and some really conflicting opinions online about it being tradition versus unethical. Each to their own opinion!
The Old Town is another UNESCO heritage site and the perfect place to stroll around. It is well worth taking a walking tour to get all of the interesting historical facts and information.
Check out this walking tour of Bern.
Be sure to keep an eye out for the giant clock which dates back to 1530, it is like something from a fairy tale book!
Another great spot if you are looking to escape the cold (which we were) is the Museum of Communication! It is right in the centre of town.
Featuring a lot of quirky experiences such as lip sinking to some famous movie scenes which are shown on the museum screens, to games and activities.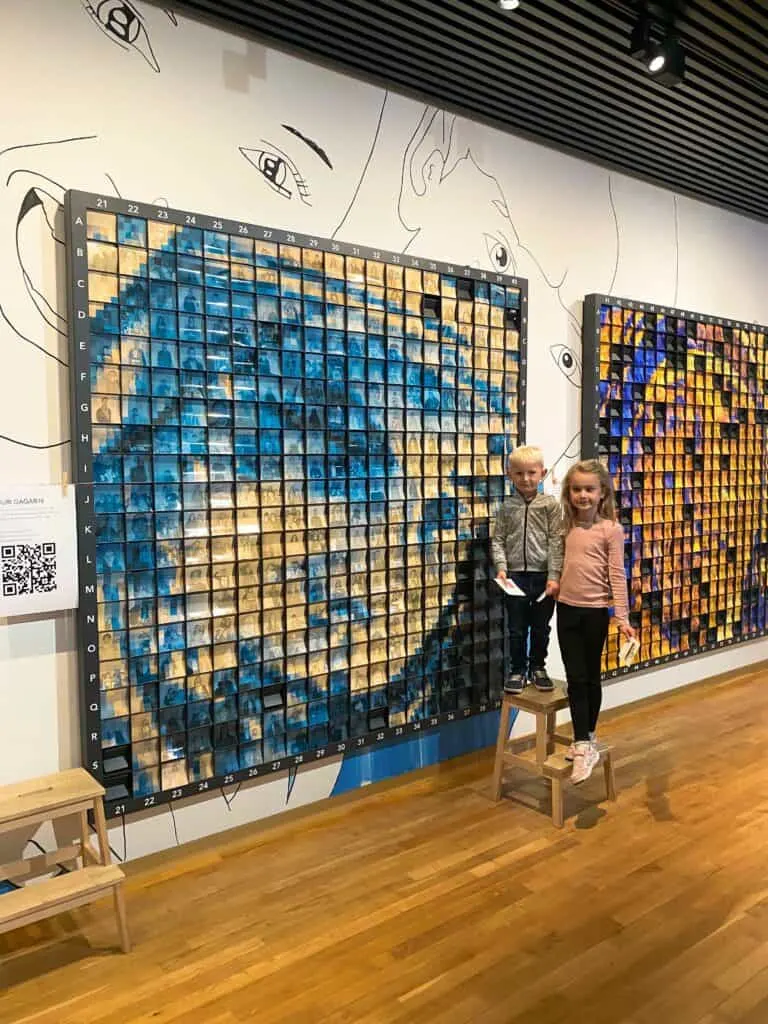 We even made our own stamps and made a tile for a collage of Yuri Gargarin. There is hours of fun and education at the Museum of Communication.
We were so lucky with the campsites we chose while campervanning in Switzerland. We travelled off season and did not book, we just turned up.
From lakeside camping in Zurich to waterfall views in Lauterbrunnen, the campsites are simply incredible in Switzerland, making it an exciting way to see the country.
Tips for Taking A Trip Campervanning in Switzerland
If you are staying near a border with a neighbouring country, nip across to stock up on supples. otherwise Co-op is a pretty good place to shop.
If you are travelling in high season, book the campsites far in advance to avoid disappointment.
Ensure to pack soft bags that can easily be packed away.
Pack clothing for all weathers scenarios. The weather can change drastically, with all 4 seasons in one day so make sure you are prepared!
Consider purchasing the Swiss Pass to keep costs down with transport such as gondolas in particular.
Consider snow chains if you are travelling during winter and spring season.
Will you be needing travel insurance, flights, rental cars, or hotels for your trip?
Disclaimer: This post may contain affiliate links. By using them it will not cost you any extra, we will receive a small percentage of the sale.
You may also like: