Whether they're thrill-seekers, budding scientists or animal enthusiasts, there's plenty of things to do in with kids in Algarve.
Whilst the Algarve, located in southern Portugal, is known for its incredible beaches, almost year-round great weather and not to mention the stunning rugged, golden cliff and rock formations that line the coast, there is so much more to see, do and explore on an Algarve family holiday.
As such, I've decided to go ahead and list my top suggestions for planning the best family-friendly Algarve holiday, to make the best of your time in this incredible part of Portugal!
Algarve With Kids
Have a Beach Day
Algarve is home to some of Portugal's best beaches. You and your kids will be able to spend the day swimming in the sea and relaxing in the sun. There's also plenty of room for young athletes to show off and get some exercise.
Cove beaches like Paia de Marinha allow for some awesome photo opportunities. And curious minds will love searching for dinosaur footprints on the Salema beach.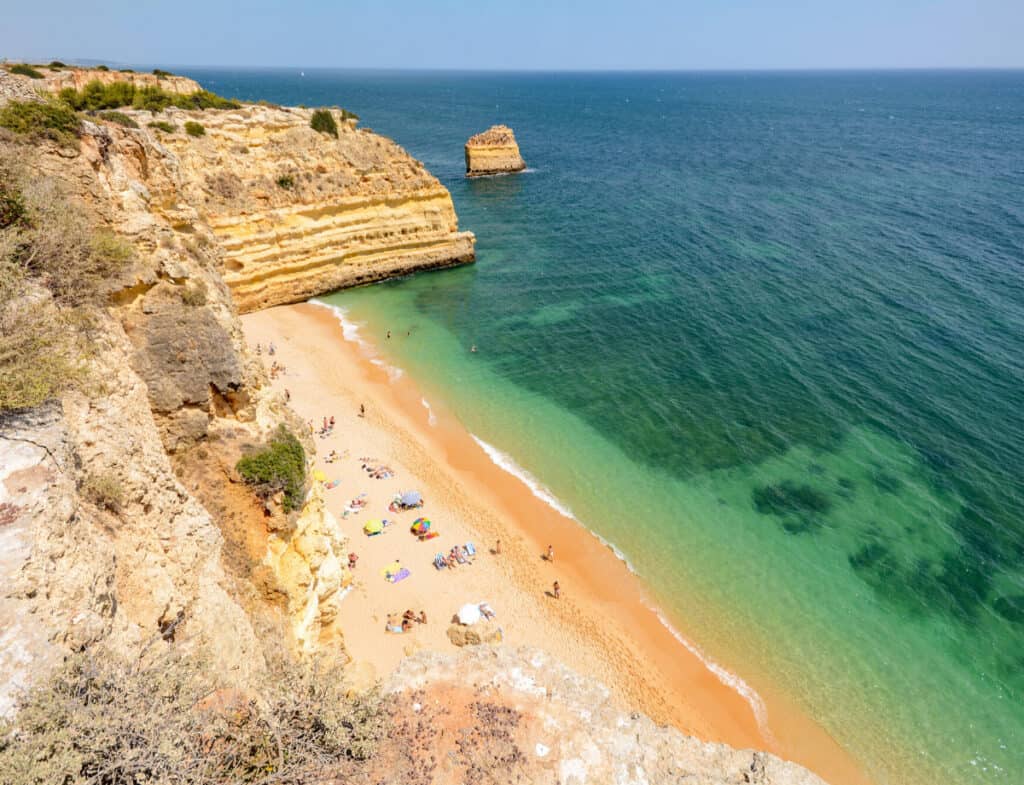 Another fun thing to do in Portugal is surfing. The Algarve offers some awesome waves. And there are plenty of surf schools that'll teach you and your kids the art of riding a wave.
Visit Zoomarine
Another best thing to do in Portugal for kids is to spend the day at Zoomarine, Algarve's biggest attraction. The marine theme park has so much on offer that it'll be tough to get your kids to leave.
With incredible shows, water slides, pools and a beach, this attraction offers a fun and educational adventure. There's also a Ferris wheel, carousels and an aquarium..
Play Some Mini Golf
A visit to a golf course is one of the top things to do in Portugal, and Algarve is home to some of the best greens on the planet. Luckily, they have their fair share of kid-friendly courses as well.
Dinosaur lovers will have the time of their lives at Adventure Golf Alvor. This mini-golf course has 18 Jurassic Park themed holes that will delight both you and your children.
Alternatively, you can experience Ancient Rome, or at least a mini-golf replica of it. The Family Golf Park is one of the best things to do in Vilamoura. It's full of fun obstacles, exciting water features and beautiful landscapes.
During the summer months, the course also organizes live music, face painting as well as arts and crafts fairs.
Go On a Boat Trip
Your Portugal family vacation would be incomplete without a boat trip. While sitting still might not be their favorite pastime, most kids love a good excursion out on the water. Especially if it takes them to hidden caves and sandy beaches.
You can tailor your boat trip to your kid's interests. For animal lovers, a dolphin-watching cruise will allow your family to see these mammals in their natural habitat. For kids who like adventure, there are plenty of boat tours that explore the magnificent caves and coves of Algarve.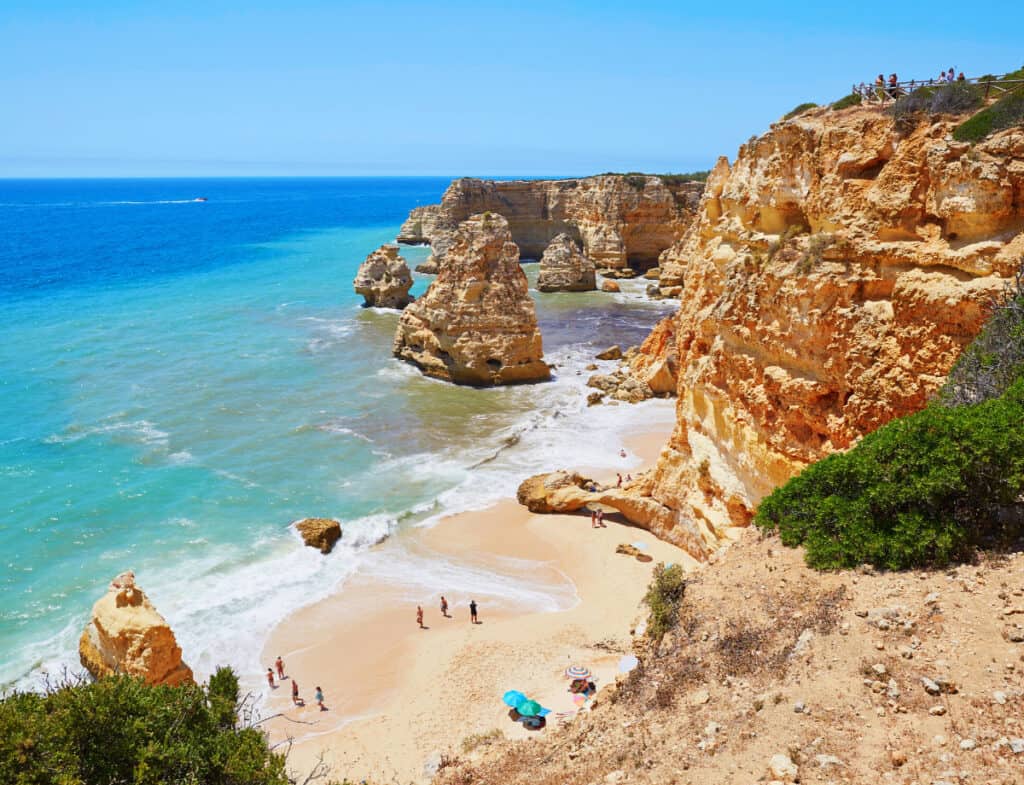 There's something for all kids out on Portugal's waters. Plus, it's the best and most enjoyable way to explore the Algarve coastline.
Make a Splash at Aqualand
If your kids love a little thrill, then Aqualand Algarve is the place to go. An entrance ticket will give you access to the park's amazing activities which are suitable for older kids (and adults too).
Older kids will love the range of waterslides that this park has to offer, especially budding adrenaline junkies.
The Hydra slides are perfect for competitive youngsters, challenge them to a race and see who reaches the water first. The wave pool is great for water-confident kids, allowing them plenty of room to splash around. And the whole family can regroup and take a break on the relaxing winding river.
If your kids are a little younger, there's a water playground with mini waterslides and shallow pools.
Try Some Indoor Karting
Another great thing to do with children in Portugal is indoor karting, perfect for those with a competitive streak. Hot Wheels Raceway is great fun but it's definitely better suited for older kids who can drive their own kart.
The 400m track features 12 tricky corners to test your skills as well as long stretches that provide the perfect opportunity to overtake other drivers.
With older kids, you can book group races which include practice laps, longer race time and a podium for the winner. After racing, you can celebrate your victory at the bar or head to the bowling rink for even more fun.
Spend Some Time at Lagos Zoo
While there are plenty of educational things to do for children in Portugal, this is one of the most fun. Besides their extensive conservation efforts, Lagos Zoo also offers an incredible experience for kids. There's even a restaurant where you can grab lunch.
The zoo is home to over 140 thriving animal species from all over the world. Whether your kids are into mammals, reptiles, amphibians or birds, Lagos has it all. Some of the animals even wander freely. Various feedings are offered throughout the day that will fascinate your youngsters.
The zoo is involved in many captive breeding programmes through the European Association of Zoos and Aquariums. They are also home to many endangered species like Darwin's Rhea and Tapirs.
Explore the Lagos Ciência Viva Science Centre
Your kids will be fascinated by this educational adventure. The Lagos Ciência Viva Science Centre is perfect for curious children and budding scientists.
You'll be able to unpack the history and science of discoveries and navigation with the main exhibition, entitled "From Astrolabe to GPS". There's even a submarine and pirate ship, just waiting to be explored.
With plenty of displays and interactive activities, the Living Science Centre offers entertaining hands-on learning for the whole family.
Visit a castle
One of the things that make Portugal such a great family travel destination is its enchanting history. And there's no better way to see this than on a trip to a castle.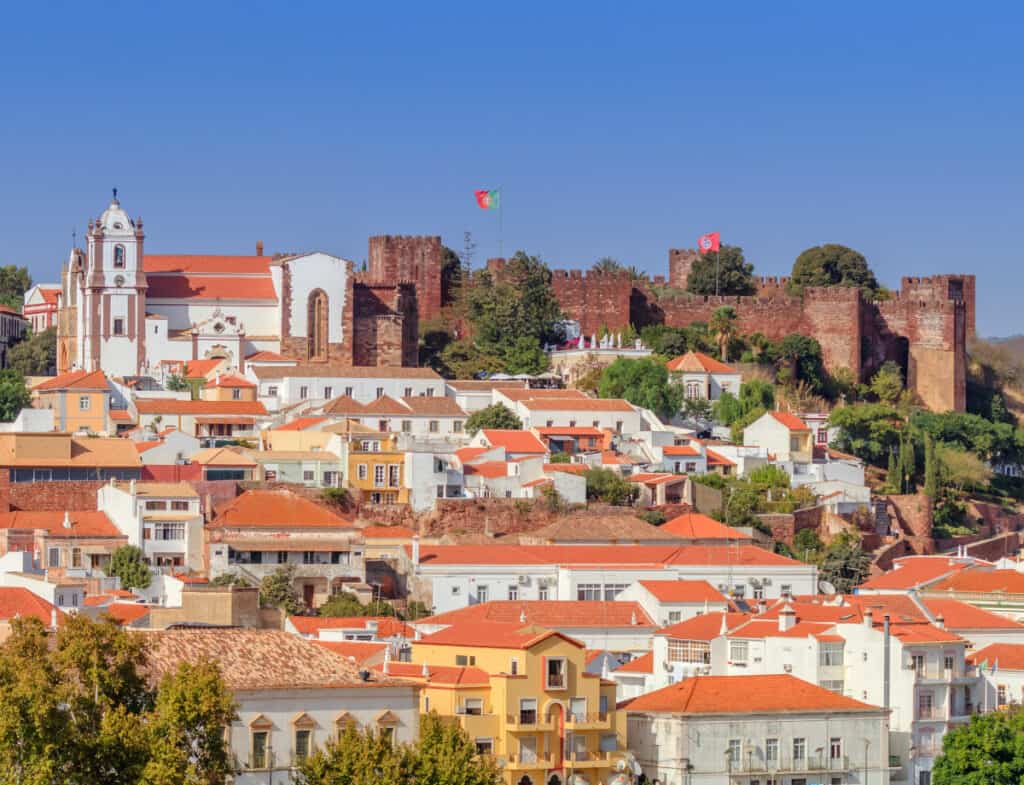 One of the things that make Portugal such a great family travel destination is its enchanting history. And there's no better way to see this than on a trip to a castle.
Your kids will love exploring the ancient architecture and imagining themselves as kings and queens.
Algarve's castles are quite impressive and well-preserved. And make a great backdrop for some awesome family photos. Great palaces like the Castle of Silves, Tavira Castle and the Castle of Castro Marim will excite your little ones to no end.
Where to Stay in the Algarve, Portugal For Kids & Families
Having a comfortable home base makes any trip with kids a lot more enjoyable. Resorts offer plenty of room for kids to get rid of extra energy while you kick back and relax.
Monte Santo Resort
This 5-star resort is perfect for kids. With a kids' swimming pool, awesome restaurant and kids' club, your family will love the Monte Santo Resort. The resort even has a spa, perfect for a little pampering for the adults.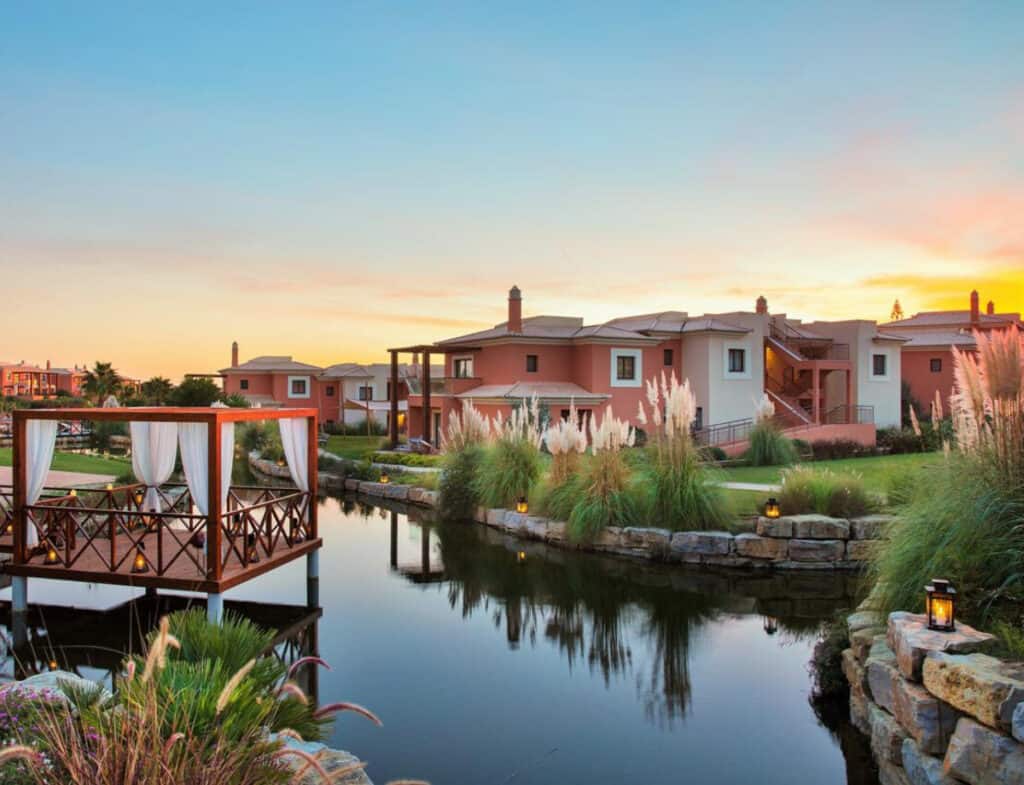 Pestana Palm Gardens
Pestana Palm Gardens overlooks the ocean and is within walking distance of the beach. It has a stunning pool and a leafy garden, perfect for active youngsters. There's also a gym and sports court.
Rocha Brava Village Resort
Rocha Brava Village Resort is located on a cliff, offering magnificent views. The gardens are the perfect place for your kids to run around while you soak up the sun. The resort has a heated pool and an on-site supermarket. There's even a Crazy Golf course which your kids will love. There's even transport to the beach three times a day.
Author Bio:
Born and raised in South Africa, Marco Santos from Travel-Boo, together with his partner moved to sunny Lisbon over 3 years ago. With an absolute love for Europe, he is on a mission to rediscover his own Portuguese heritage along the way. Marco has set out to blog and share his passion for travelling through and exploring both Portugal, Spain and throughout Europe, through his blog Travel-Boo.
Blog Links:
Homepage https://travel-boo.com/
Social Media Links:
Facebook https://www.facebook.com/thetravelboo/
Pinterest https://www.pinterest.pt/marcopsantos/
Twitter https://twitter.com/Travel_Boo