The Masai Mara is an infamous national reserve in Kenya that skims the Tanzanian border in the South West of the country. Best known for the great migration and traditional Maasai villages, visiting the Mara is a once in a life time experience. I honestly found it life changing!
We had visited Nairobi with kids initially and felt we had got such an amazing experience seeing wildlife in the national park. Just when we thought our trip couldn't get any better, Kenya kept blowing our mind!
Literally everything took me by surprise, from the lush green landscape on our arrival, to the sheer luxury of our camp in the Mara. Not to mention the utter raw and heart warming experience of visiting a Massai tribe, our trip will stay with us forever.

We arrived in the Mara by plane, its just a short journey from Nairobi domestic airport and certainly the easiest way of getting there. It was our first time on a small plane and it was a novelty to say the least.
Flying over the plains we could see herds of elephants and many giraffe, the larger animals were easy to spot. I was expecting to see dry land, but instead it was lush vegetation as far as the eye could see. It was our first glimpse of what felt like another planet, a million miles from the place we called home.
MASAI MARA WITH KIDS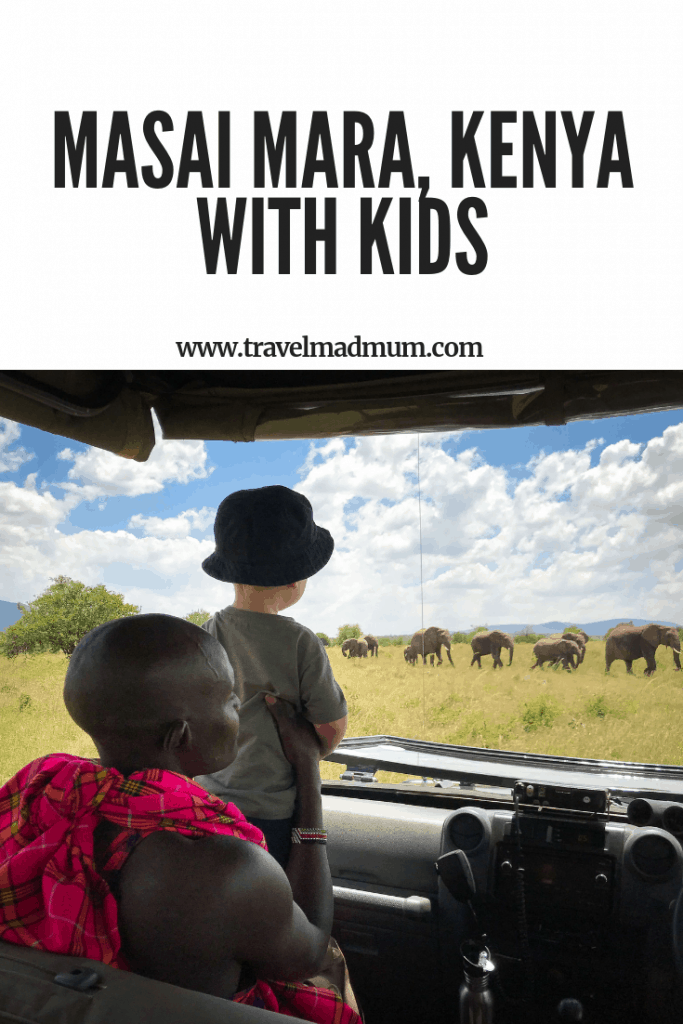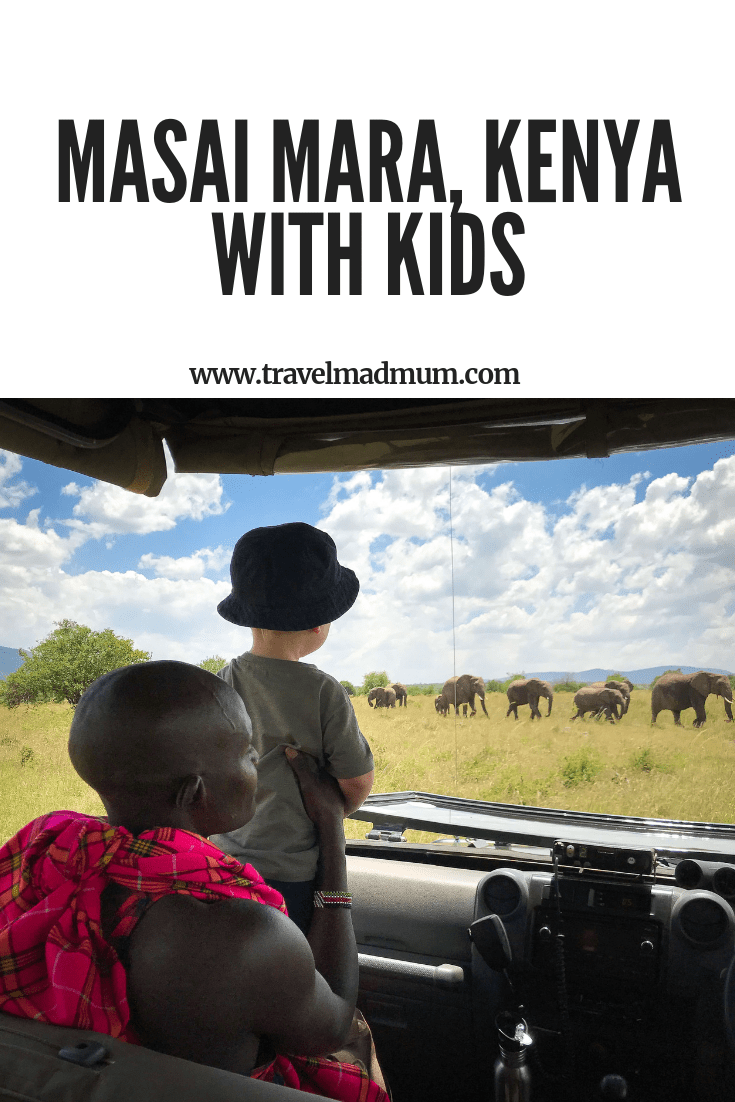 As we touched down we were immediately greeted by our safari guide Ken and Salesh who were staff from Cottars 1920's Safari Camp. Salesh is a Maasai and he was dressed in a traditional red checkered sheet wrapped around his body.
With the combination of his striking outfit and stretched ears, Salesh was an immediate introduction to the Maasai culture. Of course kids being kids askied questions and we loved chatting about this different culture on our way to Cottars!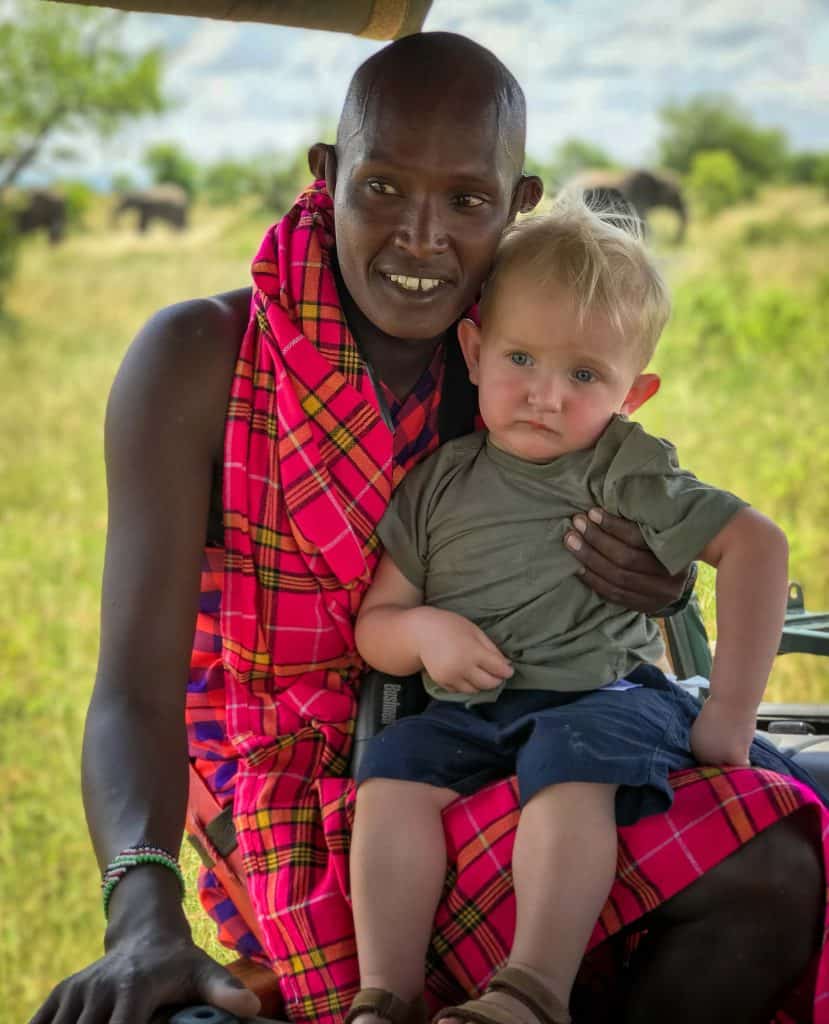 We were handed stainless steel bottles filled with cold water, each personalised with our name. You know when you step off a plane in a really hot place? It could not have been more welcomed to have our own new bottle. It also gave us a really good insight into Cottars commitment to sustainability in the Mara.
GETTING TO OUR ACCOMMODATION
It took us around an hour and a half to get to Cottars from the airstrip. However we were completely mesmerised by the animals we were seeing ( I'll tell you about that in a bit).
We were also given charcoal activated 'tree bombs' to throw out along the way. They are essentially tree seeds covered in charcoal and can grow without planting once activated with water. I thought it was a really awesome thing to do with our kids.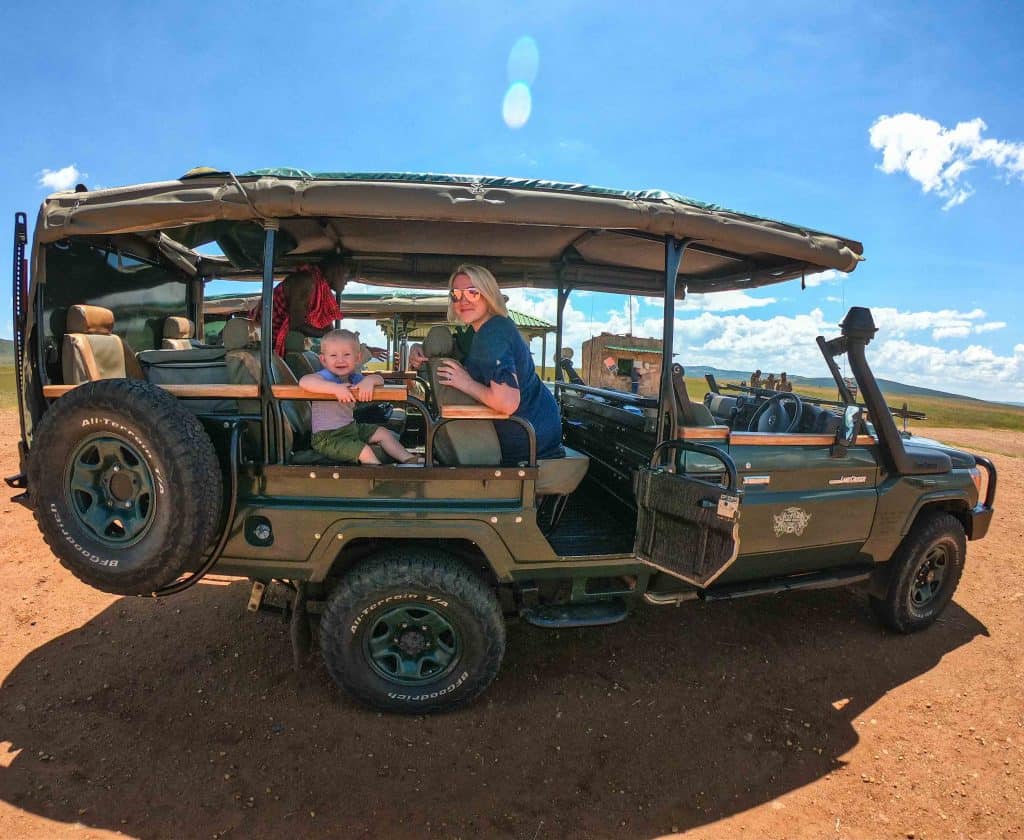 Ken was our driver and Safari guide from Cottars that we spent all our time with! He knew every step of our itinerary made by Audley Travel, a tour operator specialised in Safari trips.
The jeep was super comfy for all the family and was kitted out with a cooler filled with cold drinks and snacks. I mean if the journey was amazing, you can only imagine what the camp was like?
COTTARS 1920'S SAFARI CAMP
We arrived at the camp just in time for a late lunch, Ken had radioed ahead to put in our order and we were so warmly welcomed by the staff, it was so sweet. Our bags were whisked to our tent whilst we made our way to the main area.
Sitting down for lunch we were taking in the views of the valley below. Cottars is elevated and in perfect position to catch the epic sunsets in the Mara. It felt like we were taken back in time with the decor inside the main cream canvas tent. Patterned rugs, vintage furniture, ancient books, oil lanterns and old record players set the ambiance of the camp.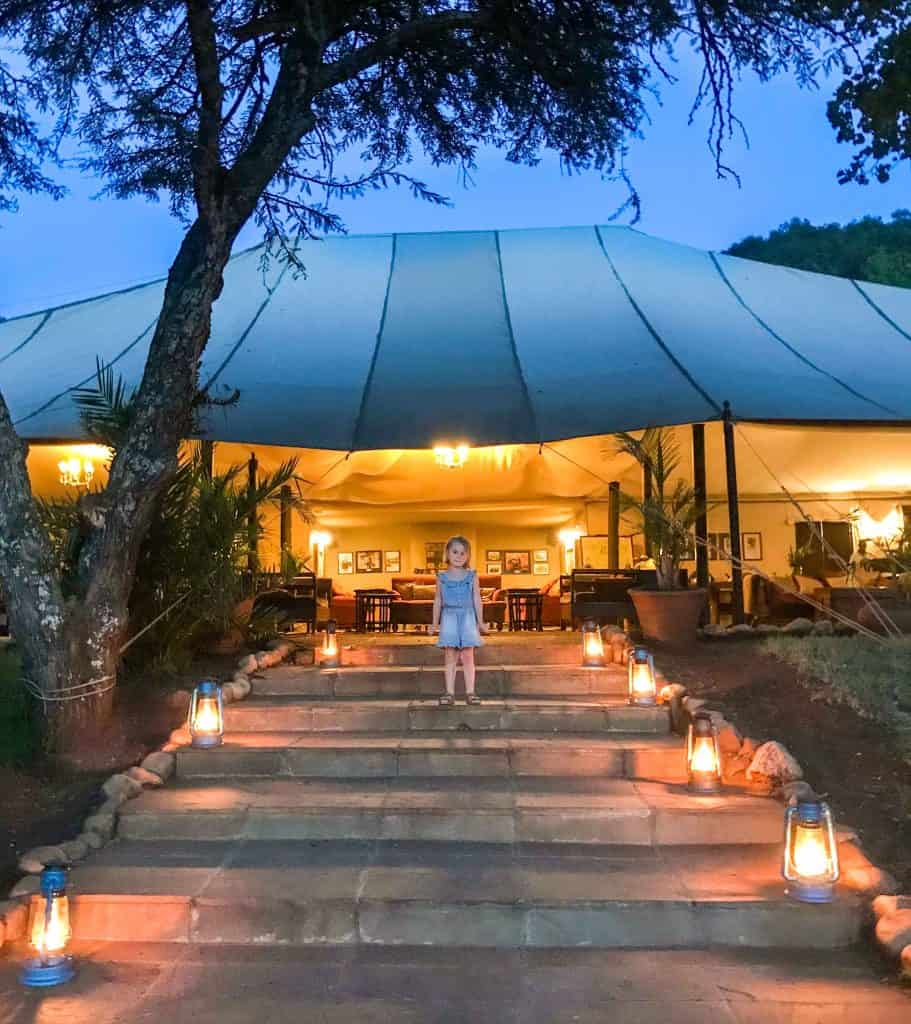 THE FAMILY TENT AT COTTARS 1920'S SAFARI CAMP
After exploring the main area we were so excited to visit our very own family tent. It had the most beautiful dining area in the centre, a living space and two bathrooms. Not to mention the four posted king bed and two singles. It was definitely the most luxurious and beautiful tent I have ever seen.
Similar to the main area, our family tent was decorated with vintage retro furnishings and ornaments and the outdoor veranda had massive lounging chairs that fitted in with the decor.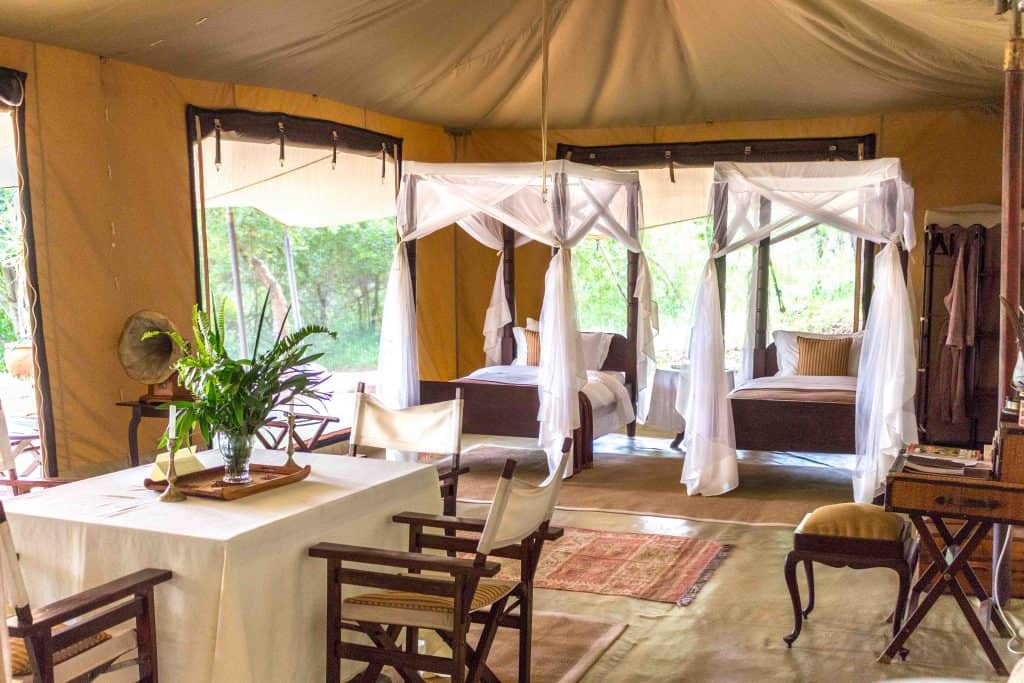 It was a tranquil haven of peace and serenity, everything was literally perfect. The decor, comfortable chill out areas and the private outdoor space, we couldn't have asked for anything more!
We wanted to explore the Maasai Mara as much as possible but it was so hard to leave our tent! Just listening to the birds chirping and the animals moving around was amazing. At night time each tent has their own security.
I asked one of the staff why it was necessary and she said it was so the guests felt safe, nothing had ever happened but there was a resident leopard that often visited. We felt really safe and were grateful to have someone if needed ( I would have loved to see the leopard).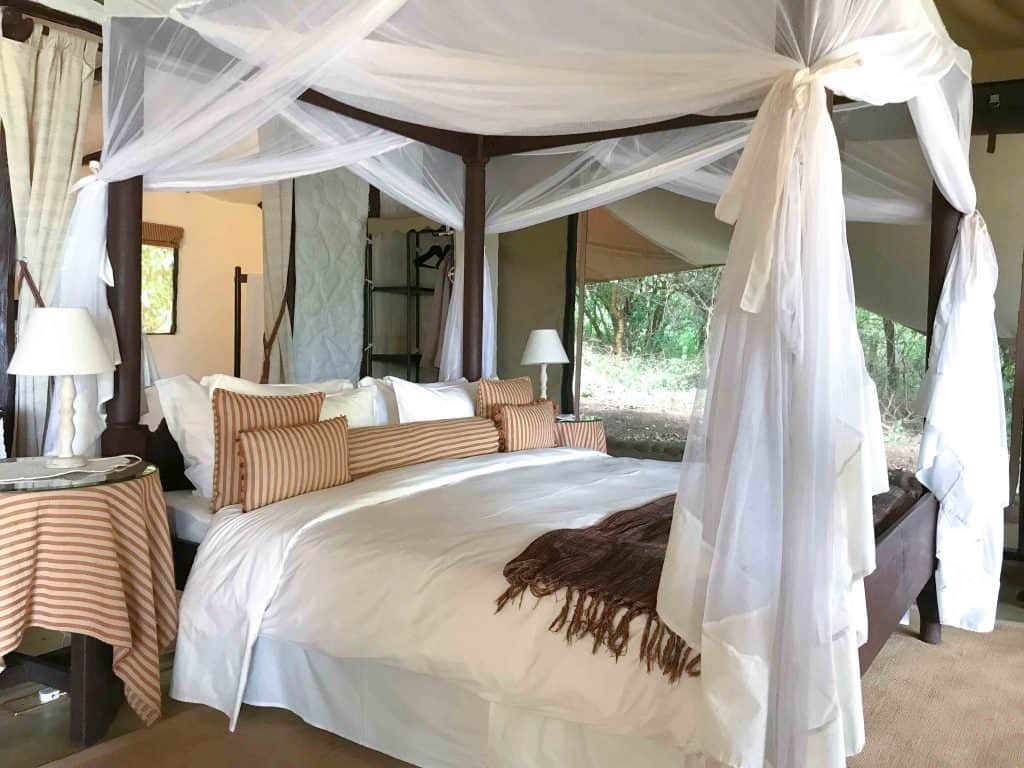 THE FOOD AT COTTARS 1920'S SAFARI CAMP
Cottars have there very own garden where they grow fresh fruit, vegetables, herbs and salad. They were amazing at altering food to our vegan preference and always asked us at the beginning of the day what the kids would like.
Being in such a secluded place I was blown away at how they could make us just about anything. We loved sitting in the main tent for our meals and our kids loved being with the staff (special shout out to Giulia). Breakfast and lunch was always a buffet, but of course they took special orders too. Dinner was a set menu and was my favourite meal of the day!
GAME DRIVES WITH THE KIDS
Every evening we sat down with our safari guide Ken to make a plan for the following day. We were still adjusting to the time zone and didn't want to get the kids up too early so we always opted for a later drive.
Getting up early increases the opportunity to see cats but we weren't too concerned about seeing them. We were very lucky to see a pride of lions in Nairobi National Park and another on our drive to Cottars. The other thing is I wasn't sure how easy it would be to keep an 18 month old quiet.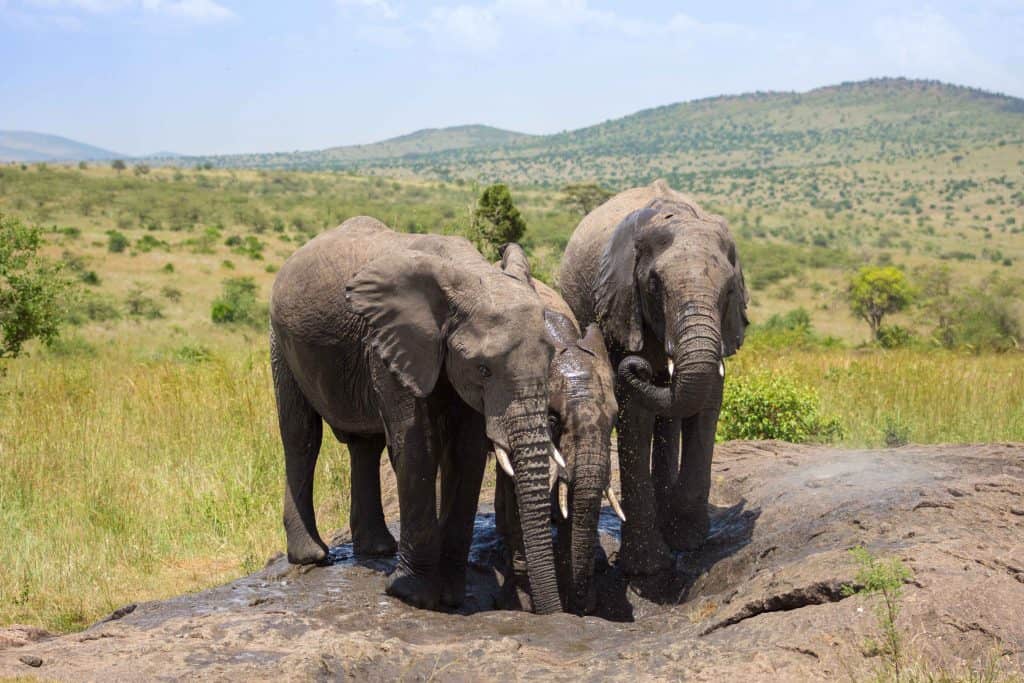 We were really happy to go in search of the other animals that are more obvious to little eyes, such as giraffe, zebra, elephants, warthogs and so on. Whilst in the Maasai Mara we had some of the most amazing wildlife experiences beyond our wildest dreams.
From watching a herd of elephants have a bath in a muddy waterhole just metres from us, to giraffe every 500 yards, it was truly incredible. Our little boys speech hadn't developed much but we found he came along leaps and bounds, forcing himself to say the names of animals with the excitement of seeing them on our trip to the Mara.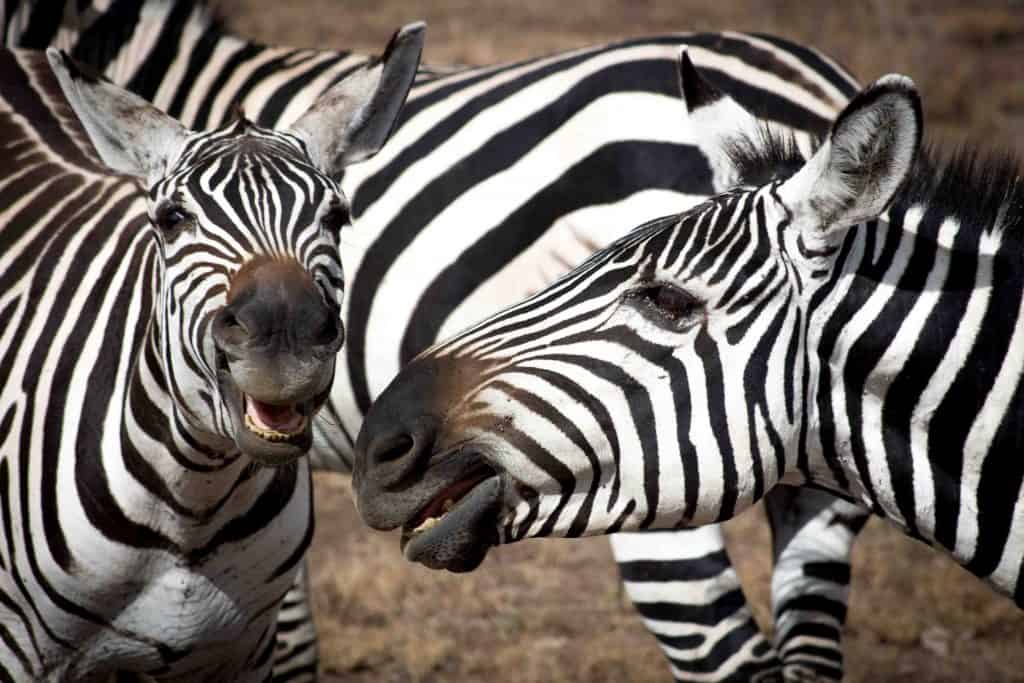 Having our own safari guide was one of the best parts about staying at Cottars. We could come and go as we pleased and didn't need to worry about the kids getting too tired as we could return whenever. For the most part, we stayed on the drives for way longer than anticipated because the kids were thoroughly enjoying it.
VISITING A MAASAI VILLAGE WITH KIDS
There are lots of things to do in the Mara aside from a game drive. We couldn't visit the area without having an opportunity to meet the locals and get to know about the culture. At Cottars, 60% of the staff are from local Maasai villages, so we were lucky to have the culture around us all of the time. However it wasn't until we visited the village that we got a really good understanding about how the Maasai people live.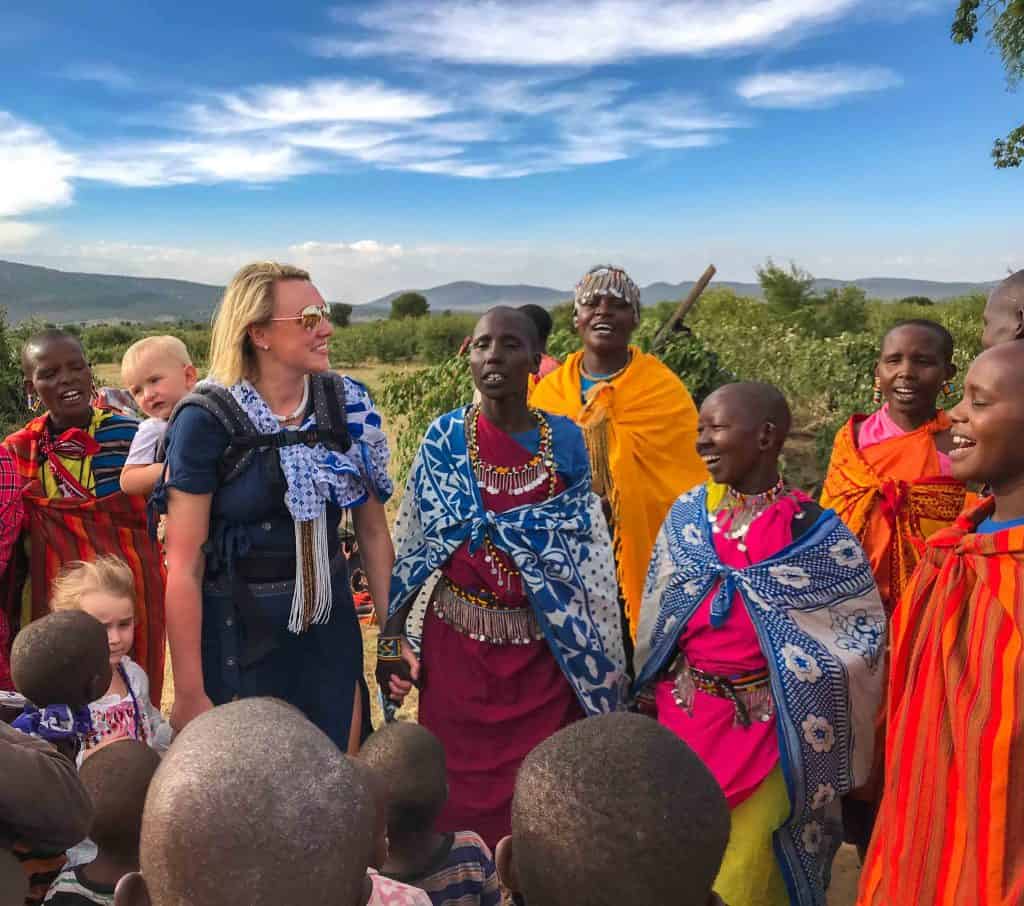 We visited the closest village just before sunset one evening. I have never felt so welcome ANYWHERE in my entire life. The village only gets visitors, once maybe twice a week. and were immediately greeted with crowds of women and children all around our truck. They draped us in traditional sheets and hung beautiful beaded necklaces around our necks.
PREPARING KIDS FOR A VISIT TO A MAASAI VILLAGE
We didn't know what to expect ourselves so it was difficult to prepare our kids for the experience. Obviously life is very different in a Maasai village from our own lifestyle. Whilst everyone was incredibly warm and welcoming our daughter couldn't get her head around why some of the children weren't clothed.
Traditionally Maasai only started clothing in colourful prints in the 1970's. Before then, they used animal skin to hang around their waste. The experience was quite raw and I guess its worth prepping kids in advance for the different cultural setting.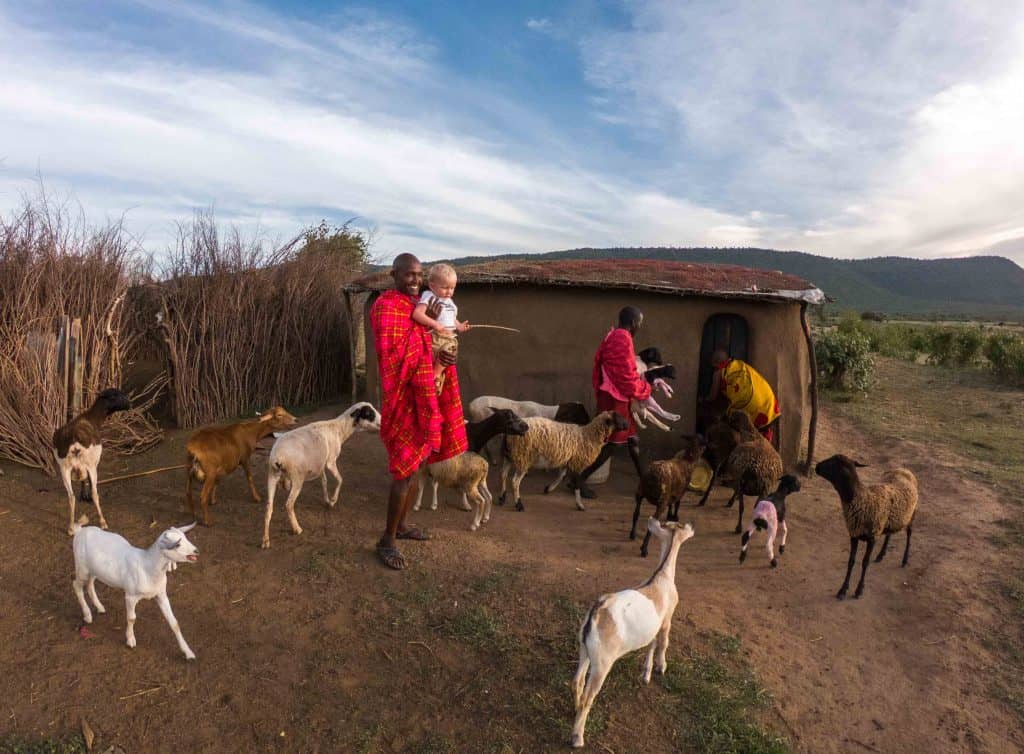 Esme settled in well when the women began singing and dancing, displaying their customs and traditions. It was amazing to be apart of such an authentic experience. Later on, they all laid out their necklaces and craftwork on the ground.
BUYING CRAFTS AND BEADS FROM A MAASAI VILLAGE
Like I mentioned previously, the village only gets visitors once, maybe twice a week maximum. Although their wealth is measured in how many cattle they have, it is an opportunity for the women to sell their beads and crafts. They spend hours and hours making the beautiful necklaces and bracelets whilst the men take the cattle to graze.
From what I understand the village women share their money and wealth. It's very different from how you or I work with our finances. We walked around the village and chose tonnes of different bracelets as well as necklaces. There were so many people but we did our best to show gratitude to each one of them, I found that part quite hard.
The experience was completely different from any other, and again, a great lesson for all of us on how you don't just tap a credit card when you want something. We bought lots from the village because we knew it would go directly back into their community.
Our kids absolutely loved the experience of choosing some colourful beaded necklaces and bracelets. They are a keepsake forever to remind us of our time in Kenya.
A TOUR OF A MAASAI VILLAGE
We were so honoured to be shown around the village, each area has a similar layout and an interesting reason behind the specific design. The centre is a pen where the cattle stay overnight and it's surrounded with the homes of different family members.
From what I can understand, the Maasai people are happy with what they've got and feel incredibly proud of their culture. I haven't made any assumptions about the Maasai village we visited. Ken and Salesh our guides spent the entire time explaining everything to us.
ACTIVITIES FOR THE KIDS
Just in case going on game drives, visiting a Maasai Village and hanging out at the most amazing luxury camp wasn't enough, there was still plenty of other things to enjoy. Our kids absolutely loved the Maasai Warrior school at Cottars.
It's a very simple concept but it was such an incredible experience for all of us. We learned how to make fire from scratch as well as how to make bows and arrows. Salesh our spotter showed the kids and thought them how to fire them into a dartboard. We had a lot of fun learning new skills.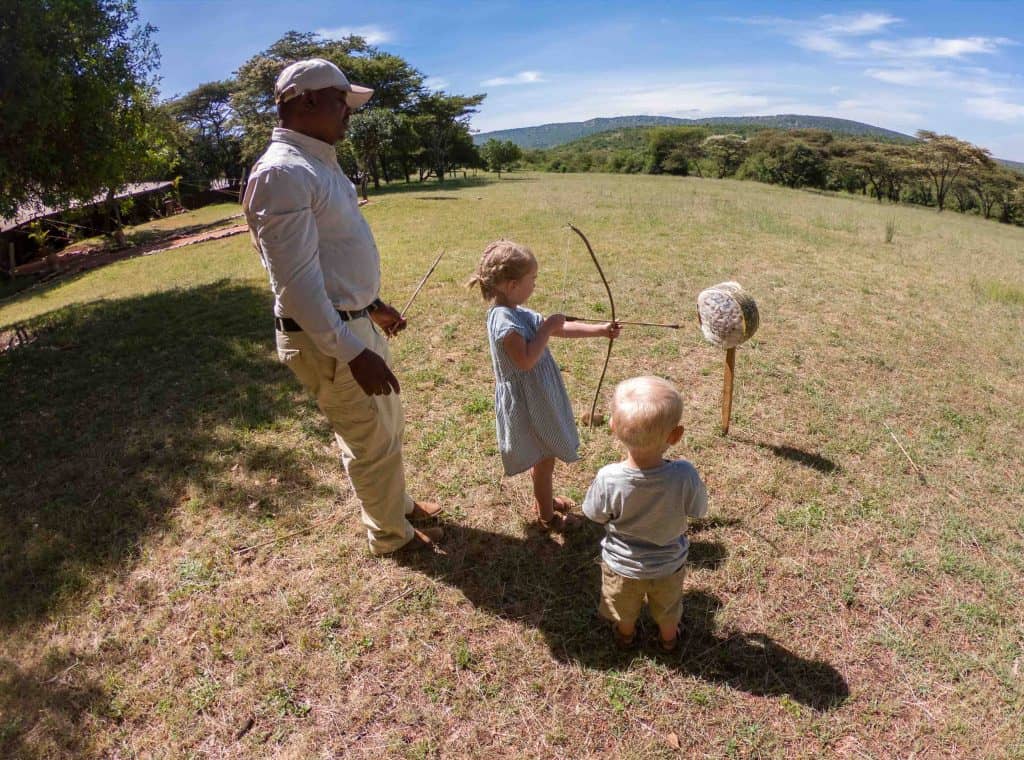 We spent most of our afternoons hanging out at the camp after lunch. The kids loved playing at the amazing swimming pool at Cottars, the views of the valley were just stunning. We spent many hours swimming and chilling in the communal poolside tent.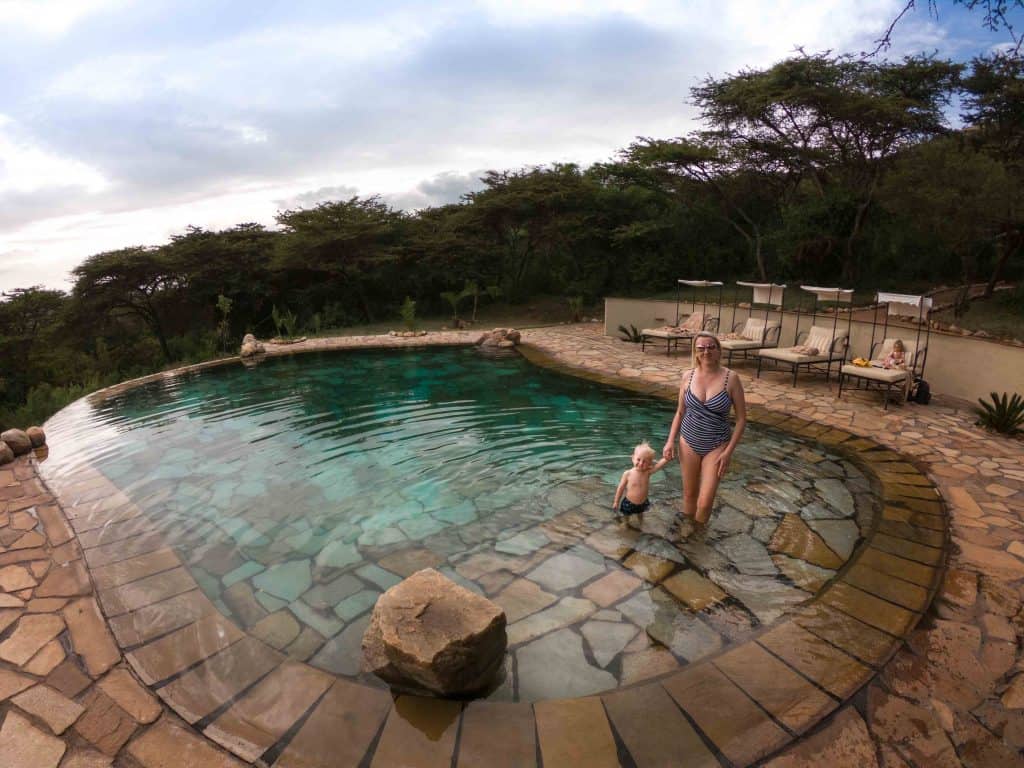 Another amazing thing to try is the Cottars 'bush bath. It's a vintage canvas bath tub, the staff set it up on the veranda filled with bubbles along with some yummy snacks. It should have been the most idillic romantic situation ever, but you know how kids are! They had so much fun bathing outside, getting bubbles everywhere and eating snacks in the bath was beyond a novelty for them.
In the evenings after our bath, we loved sitting around the campfire near the main tent. It was lovely to talk to other guests and hear about each adventure from the day.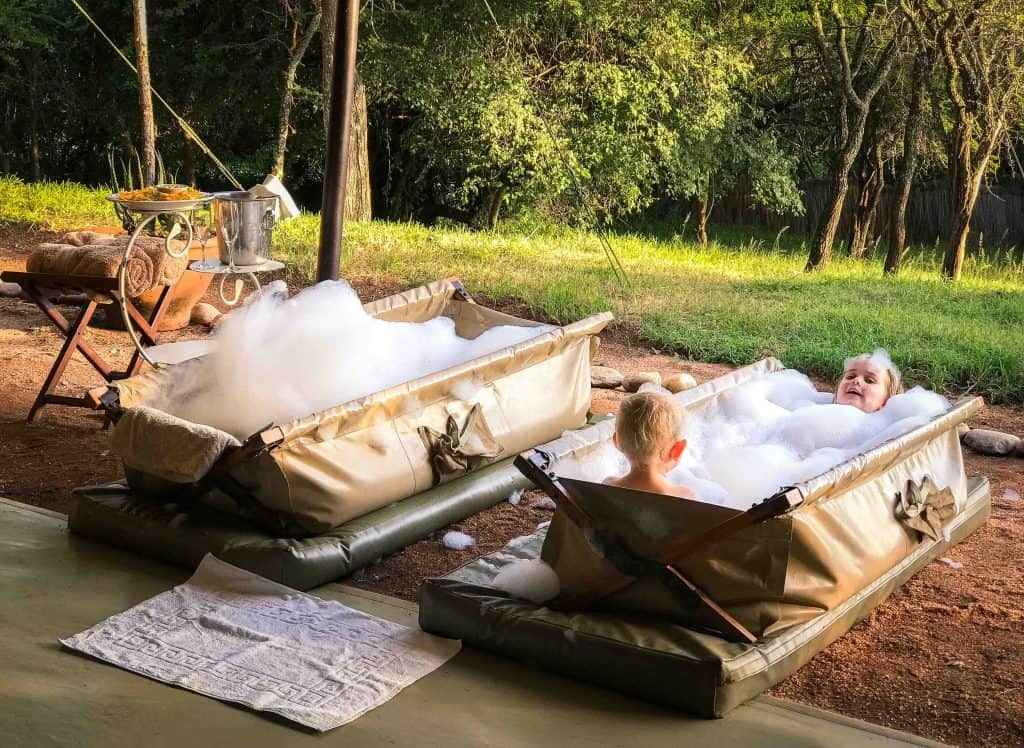 IN SUMMARY
Cottars was an all round incredible experience as a family. I think many people worry about bringing young children on safari but this was totally worth it and our kids genuinely had an amazing time. Sometimes far flung destinations can seem too difficult with kids.
Audley Travel, a tour operator with destination specialists were amazing at arranging part of our Kenyan adventure. I know finding accommodation that will accept kids on safari is challenging. I learned that when I tried to organise my itinerary in South Africa.
Luckily Audley Travel knew exactly where to send us in Kenya to ensure all of us had an amazing trip. We 100% realise that Cottars may not be within everyones budget but Audley Travel work to your budget.
VIDEO OF KENYA WITH KIDS
WHEN TO VISIT MASAI MARA WITH KIDS
Due to the 'great migration' The Masai Mara is a popular destination from July through to October. Climate change is altering the behaviours of the animals so if you wanted to witness the migration, it may not happen during the anticipated time. We visited in February, during the dry warm season and it worked out well for us.
Disclaimer: Audley Travel and Cottars 1920's Safari Camp hosted our stay in the Maasai Mara. As always, all views expressed are entirely our own.
You May Also Like:
Overnight safari with a toddler
Audley Travel offers tailor made trips to Kenya. An eight night trip including 2 nights at The Emakoko and 3 nights at Cottars in a family tent (both on a full board basis, with drinks and safari activities included) and 3 nights at the beach in Diani on a B&B basis costs from £4,400 or $5,200 per person (based on two adults and a child sharing, with an infant travelling for free). The price includes internal fights, transfers and park fees and the GBP price also includes international flights from London. Flights are not included in the USD price. For more information visit www.audleytravel.com/Kenya or call 01993 838510 (UK) or 1-833-640-8022 (US)