Cusco is an incredible city, high in the Peruvian Andes. Well known for its altitude and gateway to Machu Picchu, its often missed off itineraries. Many people have been known to suffer from altitude sickness in Cusco so travel insurance is essential.
If planned properly and altitude is adjusted to, it is possible to enjoy the wonders of its culture, architecture and culinary delights. On our initial arrival to Cusco, we took a taxi to Sacred Valley, approximately an hour away. It's where you can take the Inca or Peru Rail to Machu Picchu.
Many people that fly into Cusco use this as a technique to get away from the initial higher altitude and return after a few days of acclimatising. It's definitely something that needs to be considered when visiting Cusco with kids.
Downtown Cusco and the surrounding countryside is the ultimate Andean experience. Women dressed in traditional attire. Llama's around every corner and beautifully preserved Incan sites make it so special.
We visited Machu Picchu first. On our return the grandeur of the town could be seen on the horizon. Large dome shaped cathedrals, soaring steeples and brown brick buildings perched all along the sides of the rolling green mountains.
There is no doubt the Spanish Colonial influences give Cusco character and beauty. It's a great place to visit. In our usual format, this is our play, sleep and eat guide to Cusco with kids .
CUSCO WITH KIDS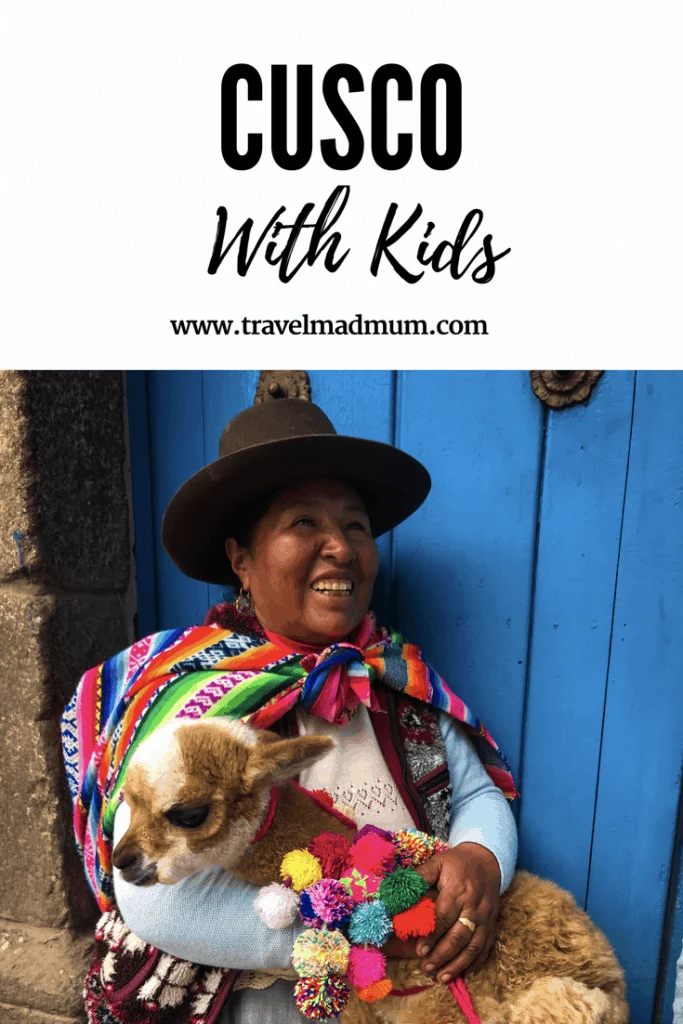 PLAY
CHOCOLATE MUSEUM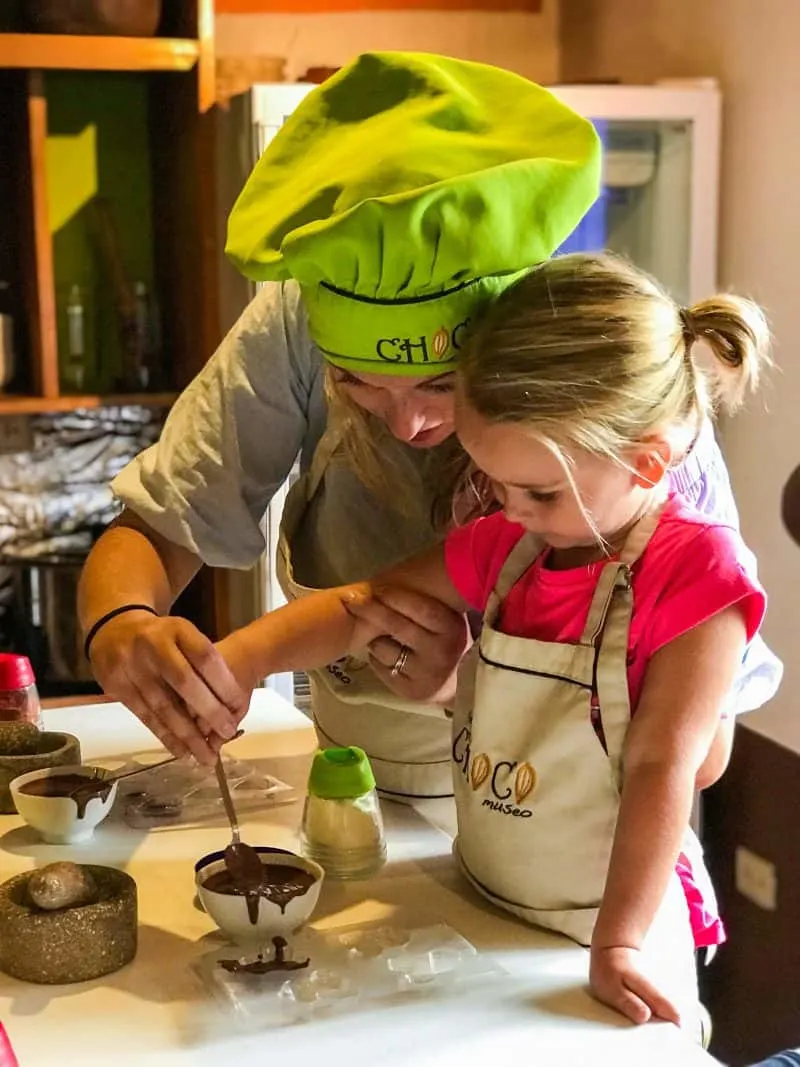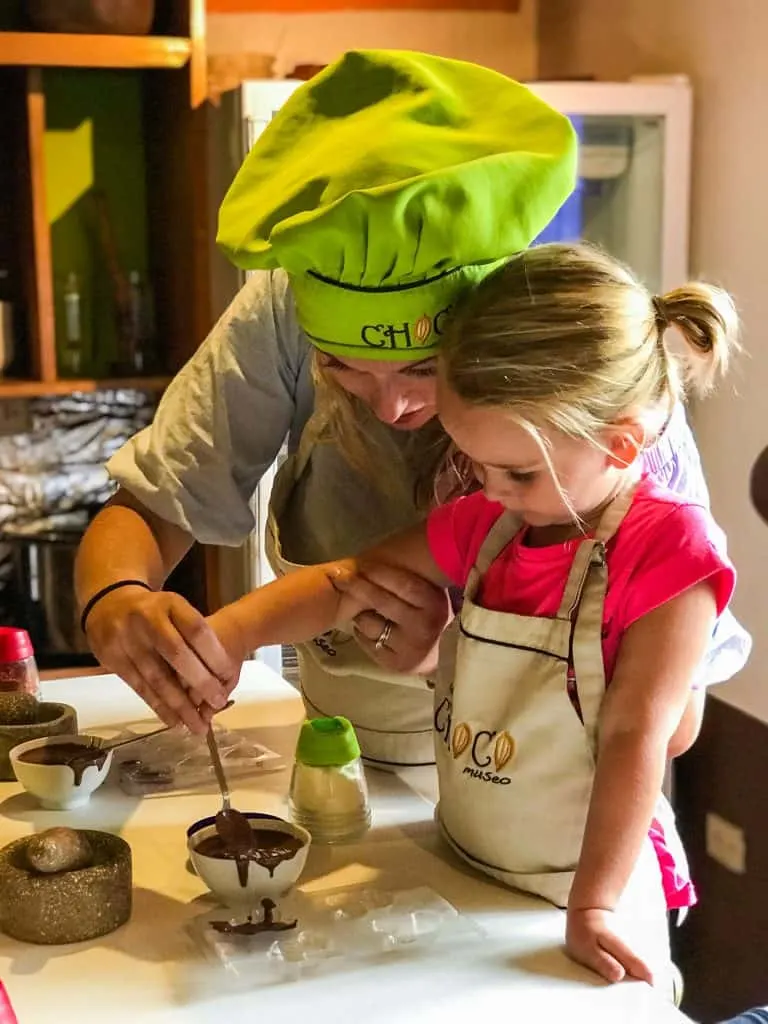 We visited Cusco in low season. No doubt being high in the Andes, it was a little cold. The perfect all round indoor experience with kids is visiting the Chocolate Museum (Coco Museo). They have a big space where they teach about the production of cocoa and how it gets to the final stage of chocolate.
We took the 45 minute chocolate making class. At the start we had a whistle stop lesson before moving onto the chocolate making. They do have more informative sessions but they are a little long with the kids.
First we crushed the beans, before making it into a paste. Esme chose the shape of moulds from an array of different trays. She loved the hearts and micky mouse. Our teacher lined up so many jars with all sorts of flavours that we could add. Everything from marshmallow, to Himalayan salt.
After we made our treats we put them in the fridge. We sat and had a nibble in the cafe onsite whilst we waited for them to set. When we came back they were all nicely packaged with a little bow to take home. It was an awesome morning activity with our three year old.
TOUR SACRED VALLEY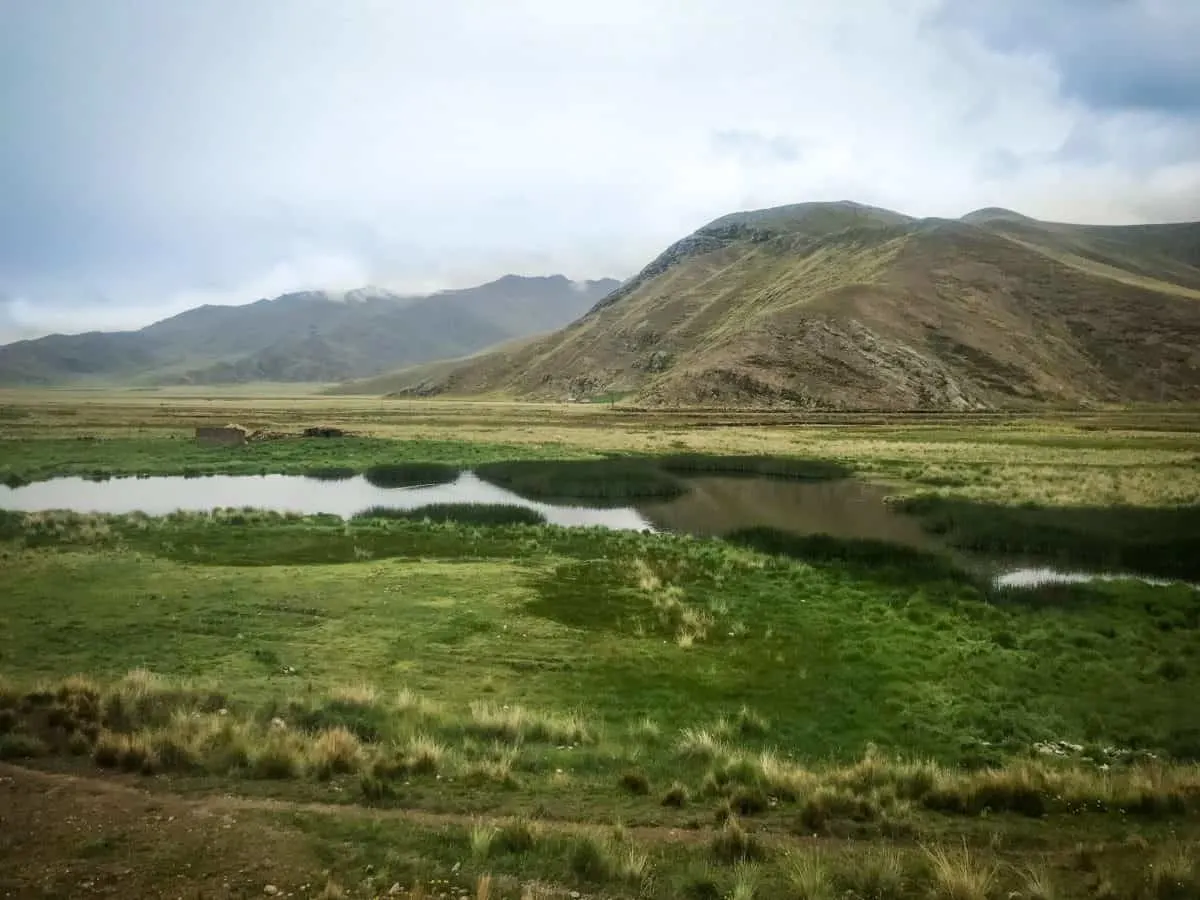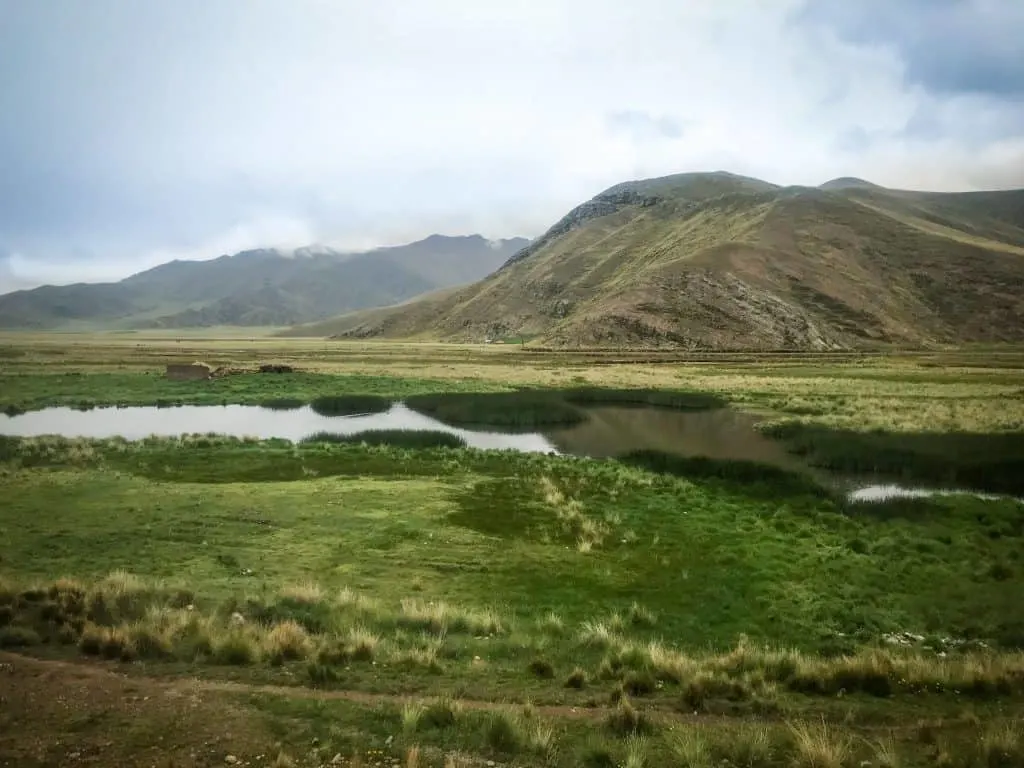 The sacred valley is one of the most beautiful places in all of Peru. The drive through colourful flower fields, surrounded by dramatic mountains is spectacular. I loved the drive just as much as the tour.
The Incan ruins in both Pisac and Ollatayambo are stunning. They can be quite busy in high season but there was hardly anyone around when we visited.
EXPLORE THE CITY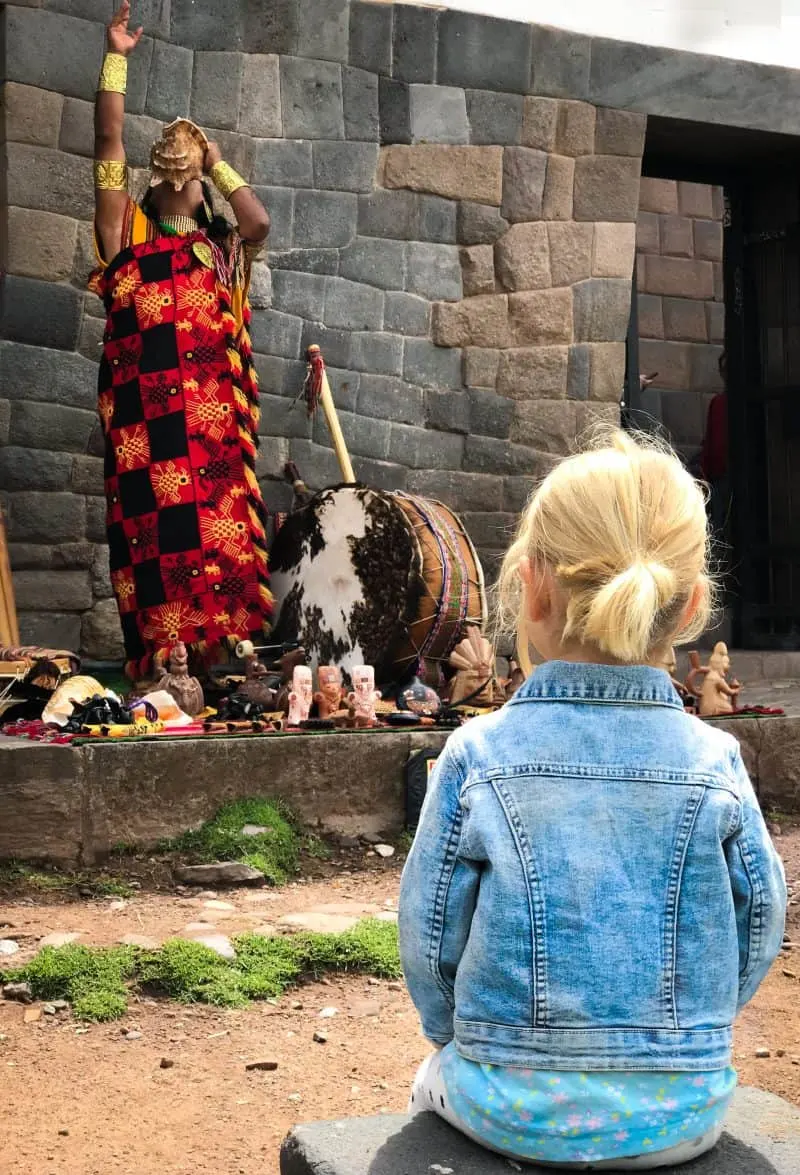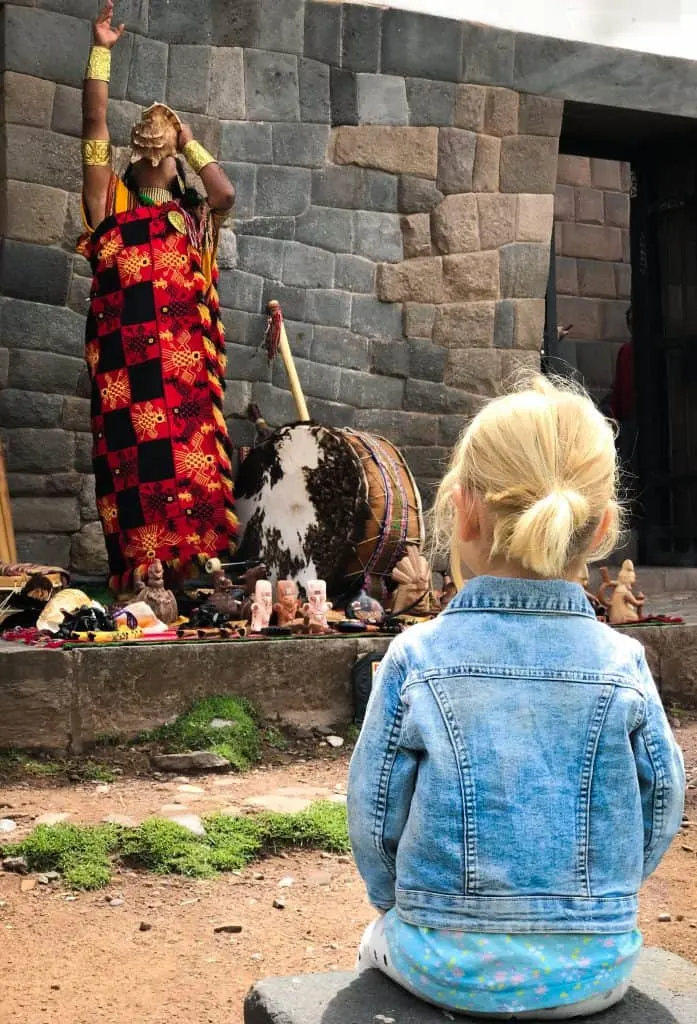 I loved exploring the city by foot. Although parts of Cusco are quite hilly, we had acclimatised to the altitude, so it wasn't too bad. We loved sitting in the Plaza del Armas for people watching.
Locals approached us with their arts and crafts for sale. Overlooked by the iconic Cusco Cathedral, its a very pretty part of town. Around the plaza there are many restaurants and cafes. There is even a Starbucks! I don't ordinarily get excited by Starbucks, but when you've been travelling for several months, a soya cafe latte is all I wanted!
Just behind the cathedral, there is a courtyard where locals sell textiles and the most amazing musician. He could make music out of anything with giant feathers, ceramics and whistles. We found him so entertaining that we purposely went back to see him twice.
In the same spot, there are two or three beautiful llama's that are super cute. Its a tourist hotspot but our toddler really loved the experience. There are some other markets that sell beautiful hats, bags and traditional patterned materials. Woollen sweaters are incredibly affordable if you fancy shopping in Cusco.
SLEEP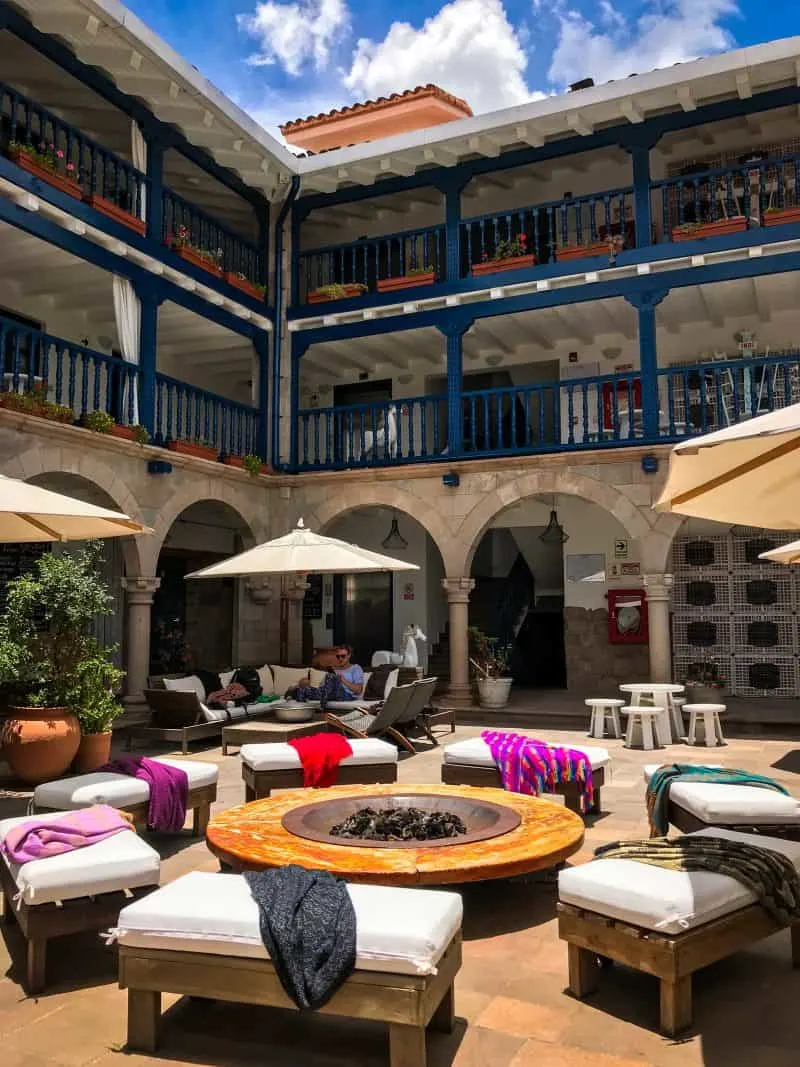 We stayed in Cusco for four days. We are not very good at figuring out where to stay in Cusco or how long we want to stay in one spot, so we ended up staying in two hotels for two nights. They were both so different and awesome for their own reasons. Firstly we stayed in El Mercado. Its a luxury hotel in the centre of town.
As the name suggests, it was an old market that has been converted. It is in an ideal location with gorgeous interior themed decor. The courtyard had so much character with the colonial influences. There is a fire pit in the middle and they play live music every evening.
The food in the restaurant is awesome. In particular the breakfast is incredible! We loved choosing the ingredients for our freshly pressed juices from the market style vendor. The rooms were so cozy and they were amazing with the kids.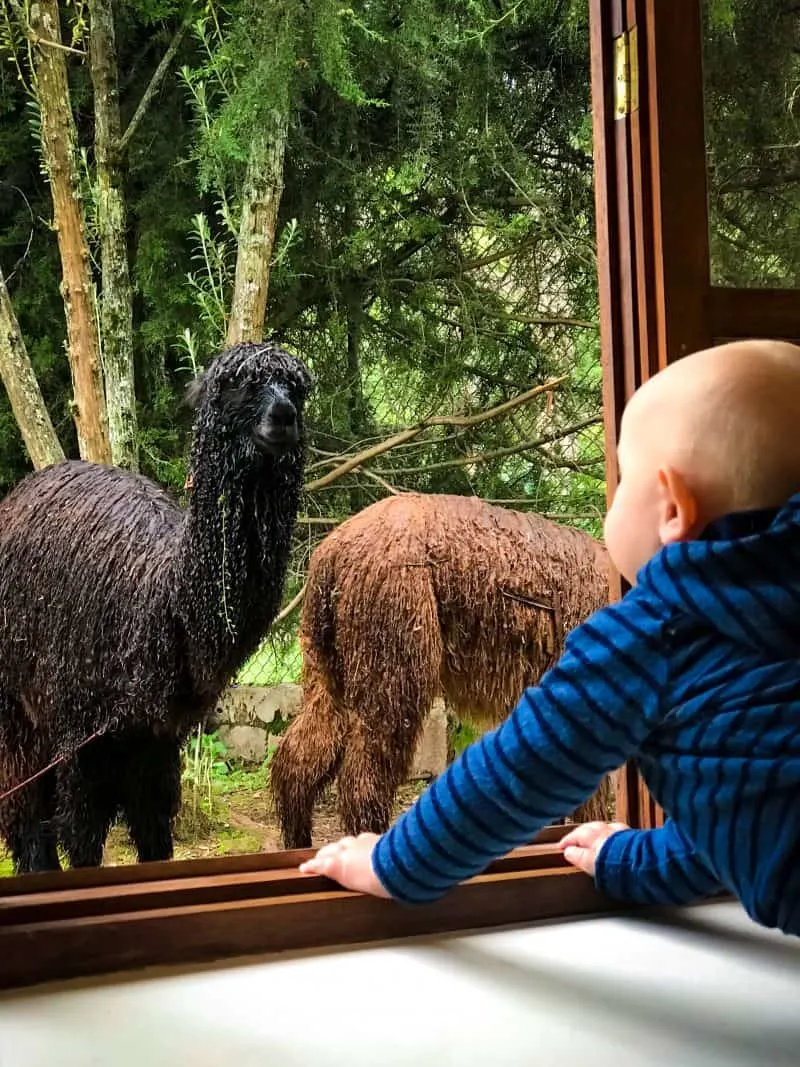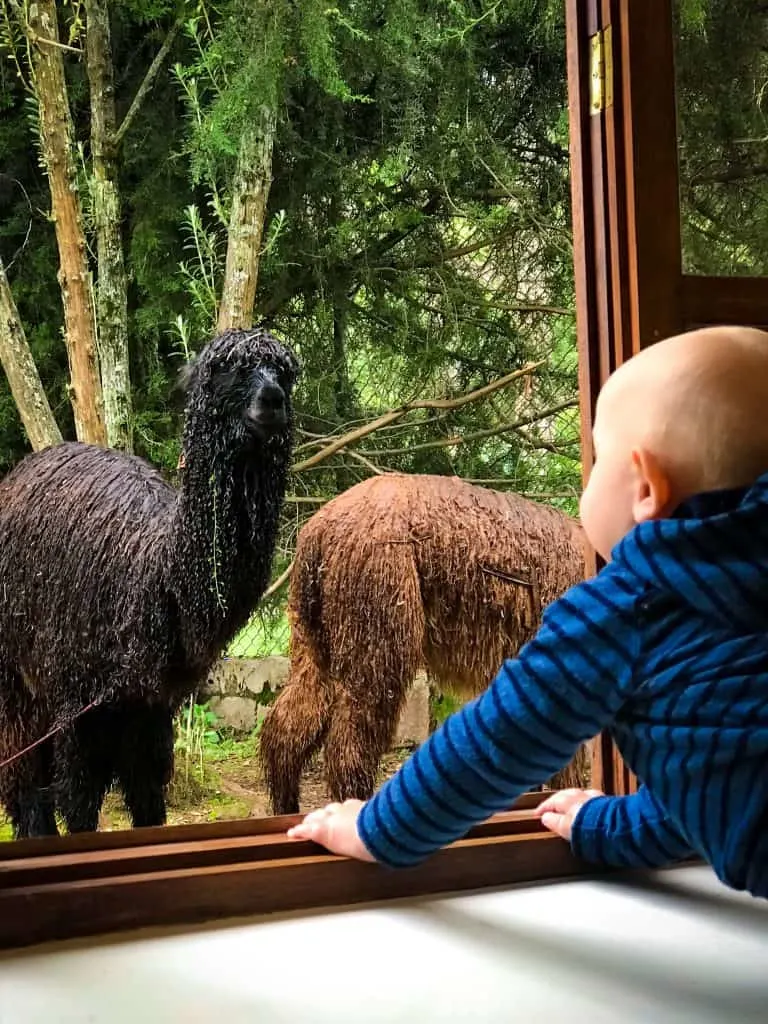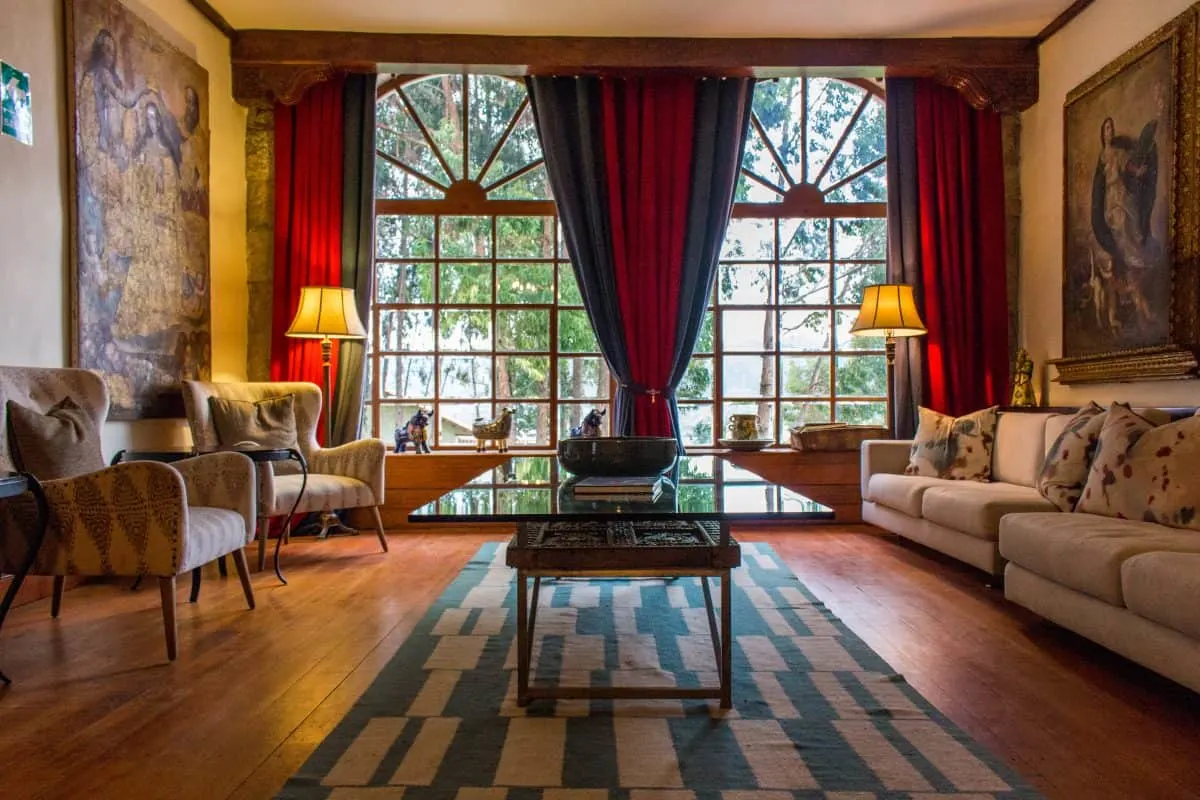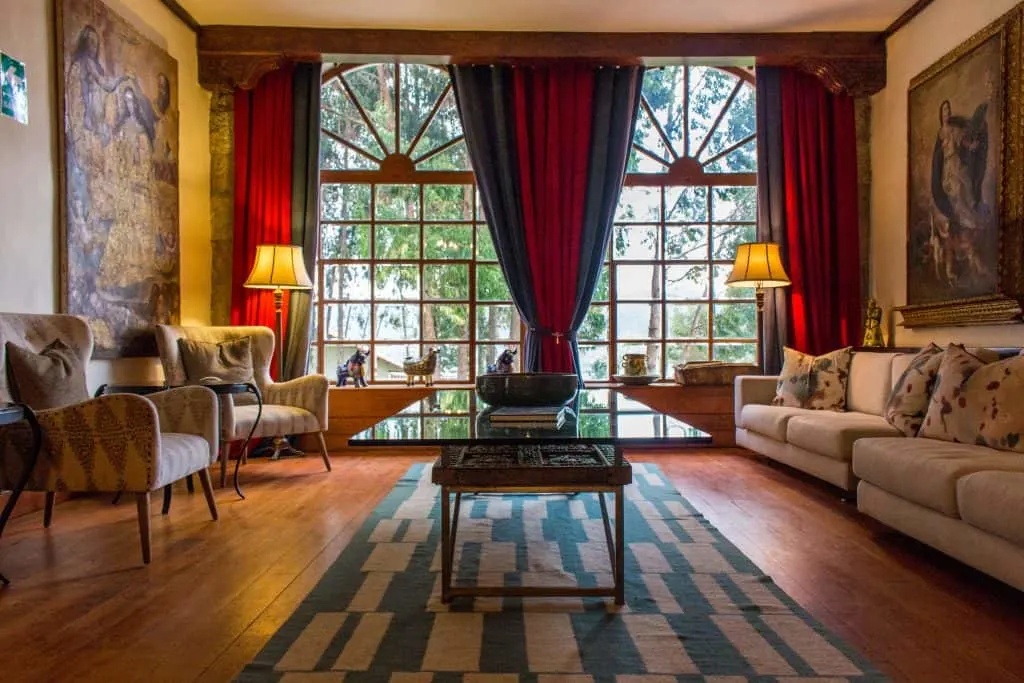 Ten minutes from town, up the hill from the town we stayed at Palacio Manco Capac. It was literally a restored palace and it certainly felt regal. The preservation of the building was incredible and I feel they replicated how it would have been back in the day very well.
We absolutely loved the owners llama's. They were shy but so incredibly intrigued by humans. Every morning when we woke up, they were peering in the window. It made our stay so enjoyable. The Palacio was also amazing for the elevated views of Cusco!
EAT
Limo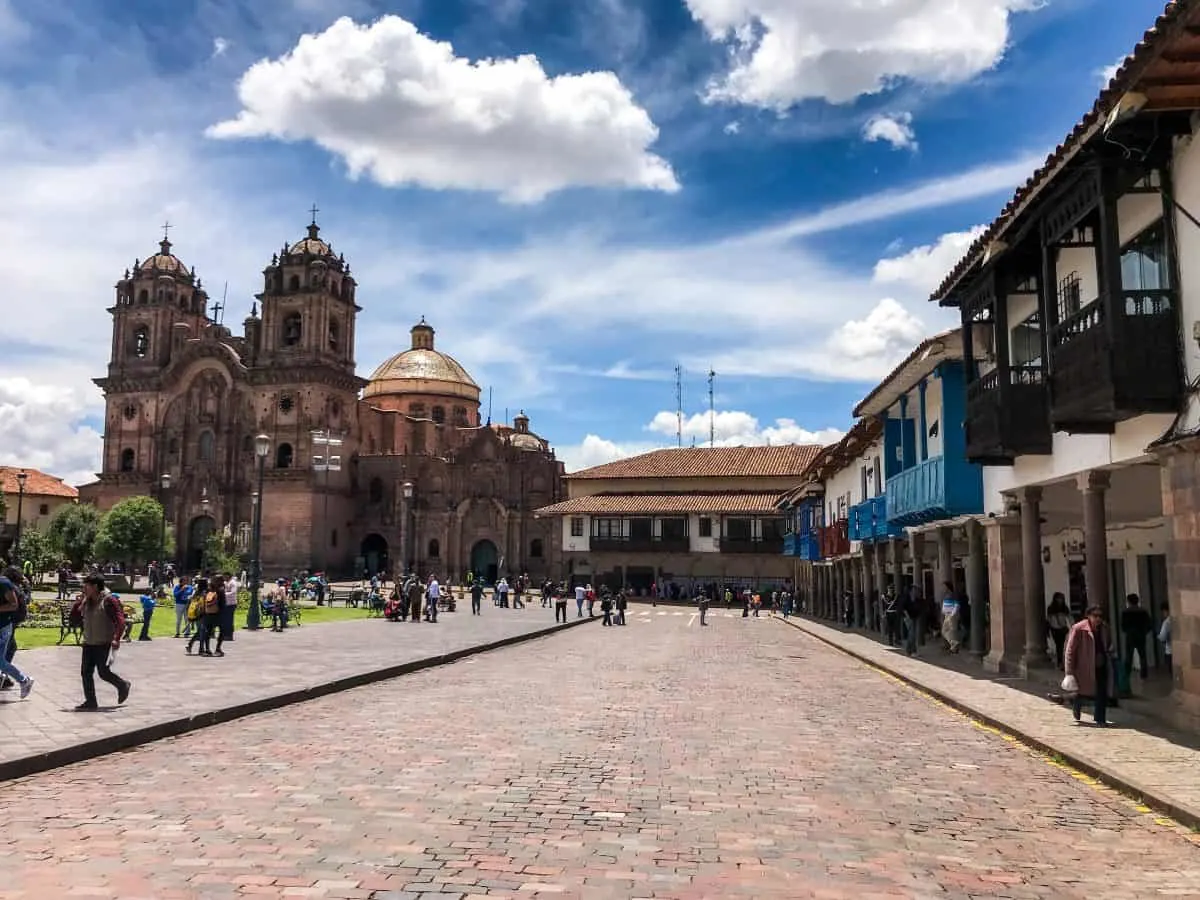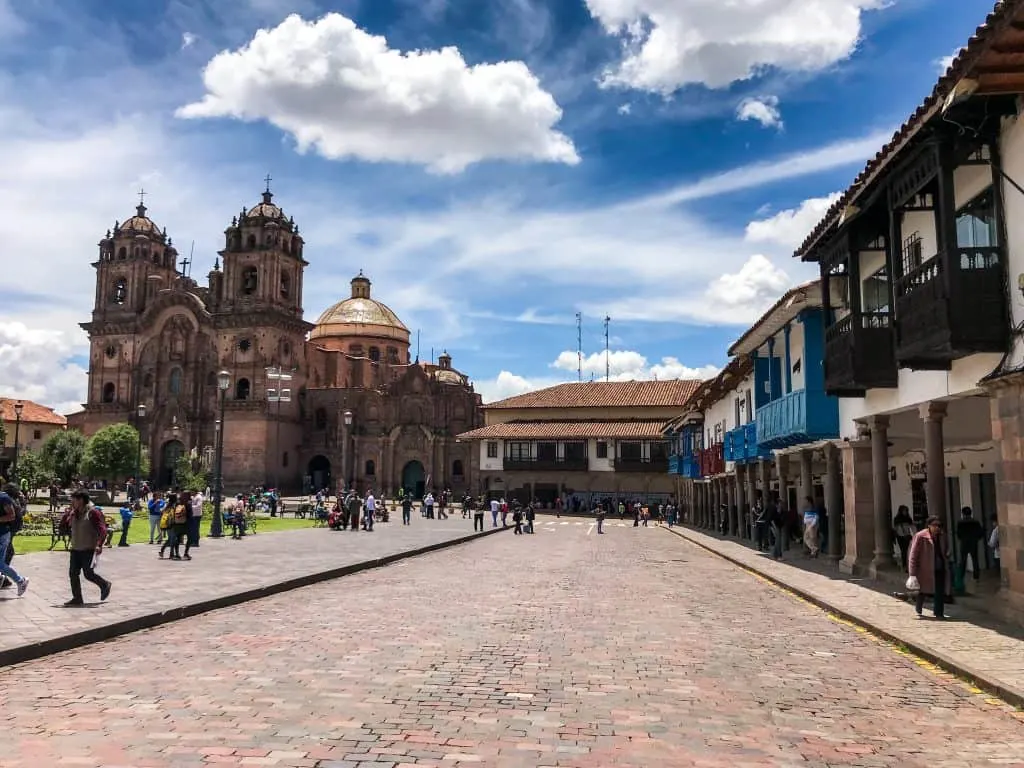 Our hotel recommended Limo Restaurante. Based on the first floor of a building in Plaza del Areas, the views of the square are stunning. Cusco Cathedral is framed perfectly in the arched windows. Interestingly they have Japanese cuisine. A mixture of dishes from teriyaki noodles to sushi. Its slightly more on the pricey side for restaurants in the area but the food is great.
TIPS FOR VISITING CUSCO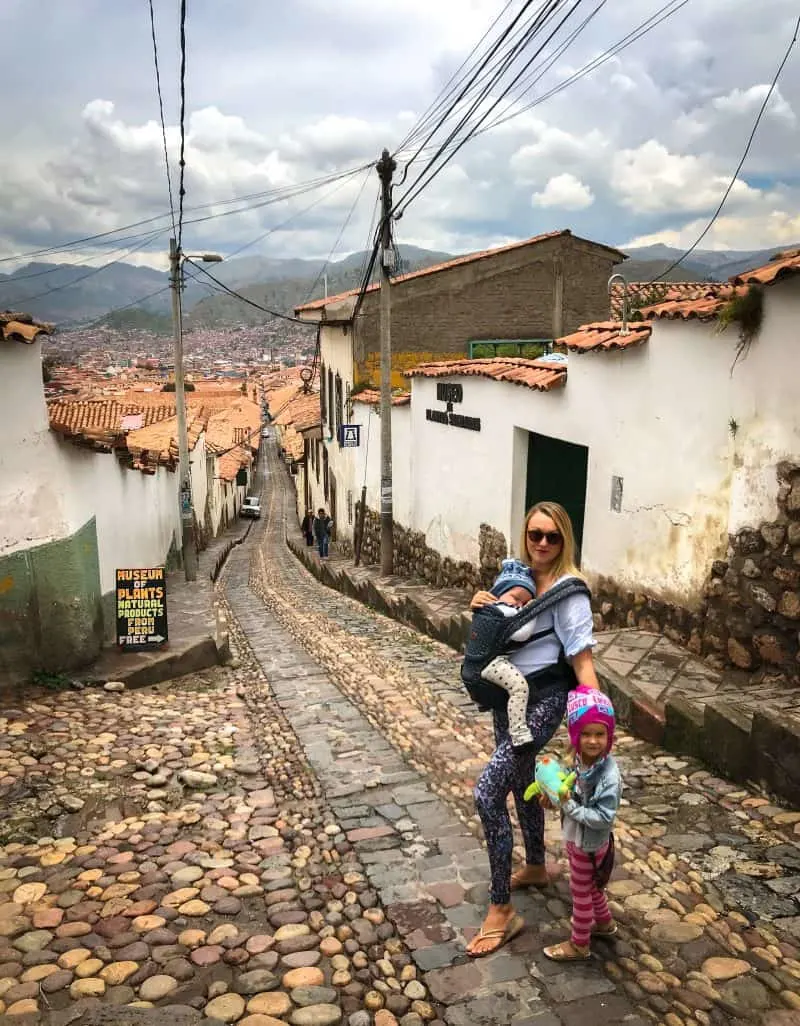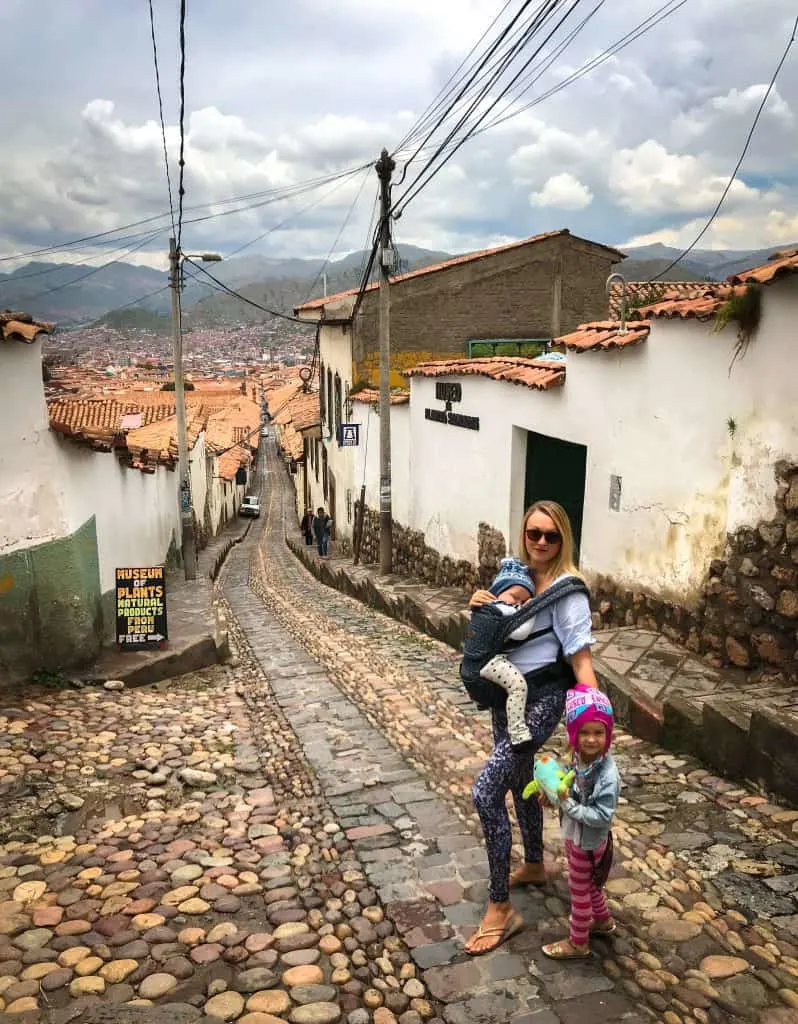 The weather is something to keep in mind. You may need some warmer clothes. It feels like all four seasons can happen in a matter of hours in Cusco. Its worth wearing sun screen. I had major mum guilts after our baby boy got a burnt face. It wasn't even warm but because of altitude the sun is so much stronger.
If you don't have your own car, you can use Uber as a way of getting around. I find it very useful to get a fair priced taxi and not have to worry about bringing cash. I was amazed at how many places you can pick up a Uber throughout Peru.
Have you found this helpful? Leave a comment, we would love to hear from you. If we've helped you in some way, we would love if you could help us too. In this digital age there is a demand for immediate information online.
Being a patron is a new-age way of giving a small token of appreciation for this information, which takes time to put together, with no financial return. We offer exclusive access to blog posts before they are published as a thank you. We also offer travel advice and consultancy at different payment tiers. You can sign up to our Patron program here.
You may also like:
Disclaimer: This post CUSCO WITH KIDS, has affiliate links. Some of our stay was complimentary in return for an honest review. As always all views expressed are entirely my own.