Visiting the Uyuni Salt Flats has been high on my travel agenda for a very long time. In truth, it was the main reason we visited Bolivia. I know there are many other beautiful parts, but Uyuni was our number one goal. We arrived from Peru, into La Paz and stayed for a few days to break the journey up.
The difference on crossing into Bolivia from Peru is quite notable. Although many women living in the Andes look very similar, in terms of dress and features, the most notable thing was many Bolivians live in poverty. It is one of the poorest countries in South America.
When we shared that we would be travelling to Bolivia with kids on our social media platforms, many people emailed telling us they got food poisoning on their visit. At this point we had been travelling though Central and South America for nearly six months, so we weren't too concerned.
We always try to eat at higher end places to save such situations. Despite that, both myself and my three year old girl got a diarrhoea and vomiting bug. It was not the best start to our time in Bolivia. Travel insurance is absolutely essential when travelling in Bolivia, with or without kids. As you may know we use World Nomads.
Equally there were many political protests going on in La Paz during our stay. Roads were blocked, museums were shut, and it made our time stressful. We didn't know if our bus would make it to Uyuni Salt Flats, our main reason for travelling to Bolivia.
We tried to fill our days with fun things for our kids in La Paz, but we often made a trek to a museum only to find it was closed. This sounds very harsh but it was disappointing and we are always so positive about all of our travel experiences. Despite it not being the best time, we want to tell you abut the things we did enjoy.
BOLIVIA WITH KIDS
LA PAZ
We arrived on a bus from Peru into La Paz. Being one of the highest cities in South America, I could not get over the views when we started to get a glimpse of the buildings in the valley below on our approach into La Paz. At a whopping 3640 metres above sea level, altitude sickness is something that has to be considered. We had been in the Andes for a long time at that point, so we were mostly, okay.
Valle De Luna
We missed out on a lot of La Paz because of sickness and closed roads. That said, we did lots of research about things to do in the area with little ones. We wanted to visit Valle De Luna! We got very close one day but Esme had fever so we went back to our hotel.
If you don't already know, it's an incredible area on the outskirts of La Paz. It's a dense mountainous area with rock formations that are incredibly tall. The rocks are different colours and it creates optical illusions of those far and near. We've heard there is a board walk around the area and is a lovely day out with little ones.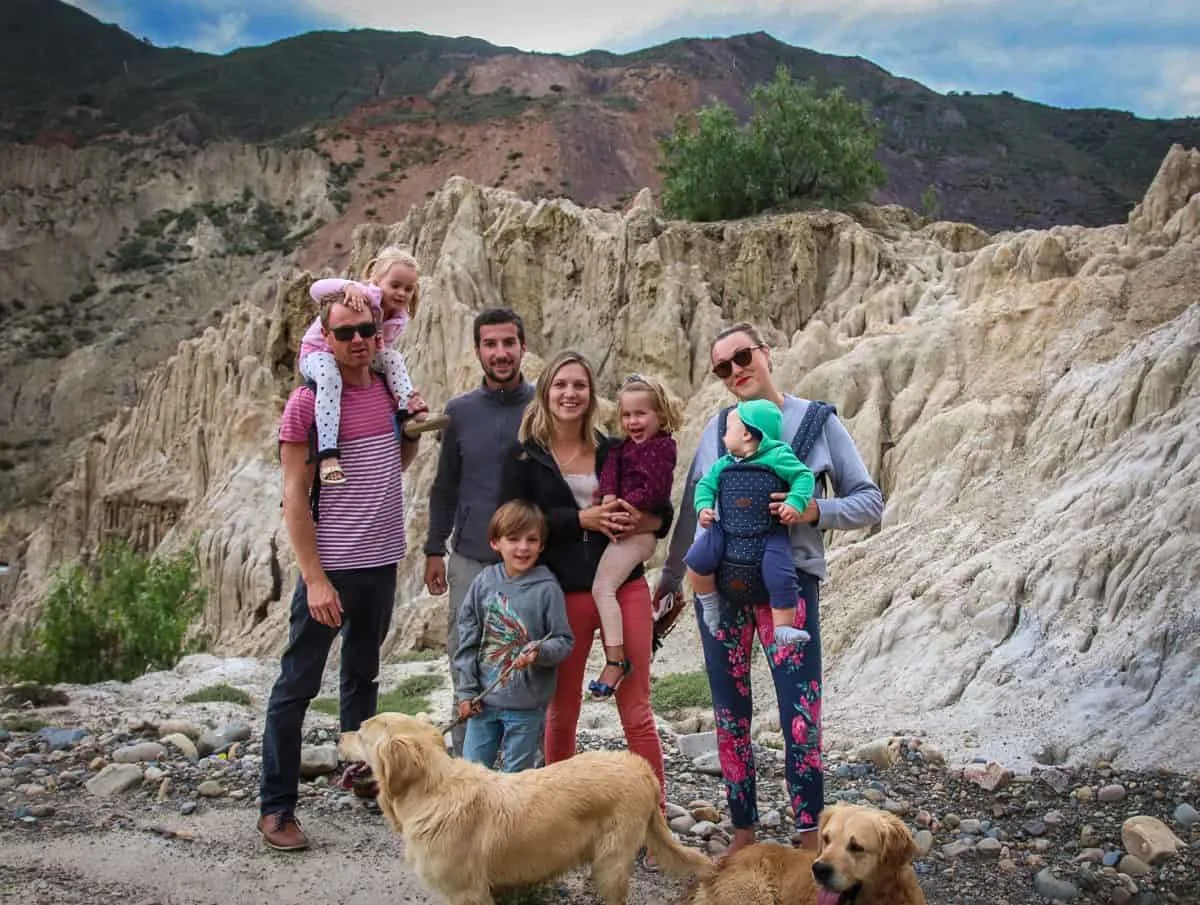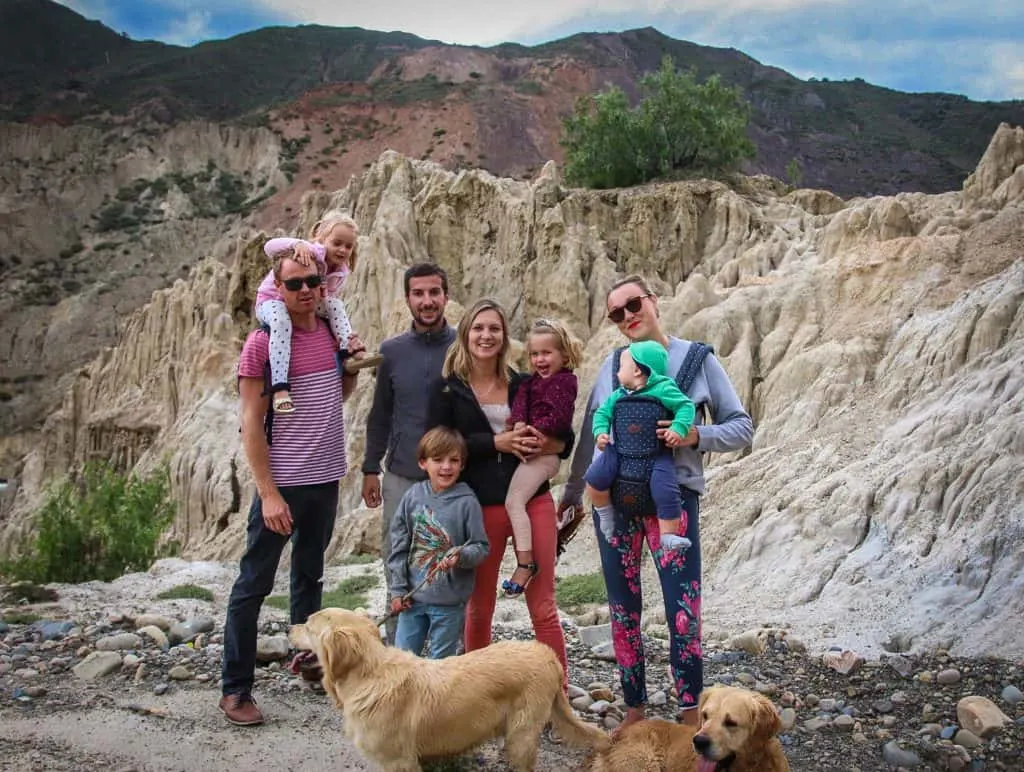 Cable car
La Paz is well known for many dramatic cable car rides. Locals use it as a way of transport, so a scenic ride is incredibly affordable. There are several lines, some spanning the entire length of the valley from one mountain to another. It was so incredible! I took both kids on my own one day whilst Travel Mad Dad was working.
We tried out several lines, taking in all of the views. Our three year old loved it. The orange line is the most impressive in terms of views. Some of the other lines climb very high, above 4000m. I learnt that the hard way when we took the red line to the top. Esme was running around and then wondering why she was feeling faint. I learnt my number one altitude sickness tip for kids that day. Do not let them run around!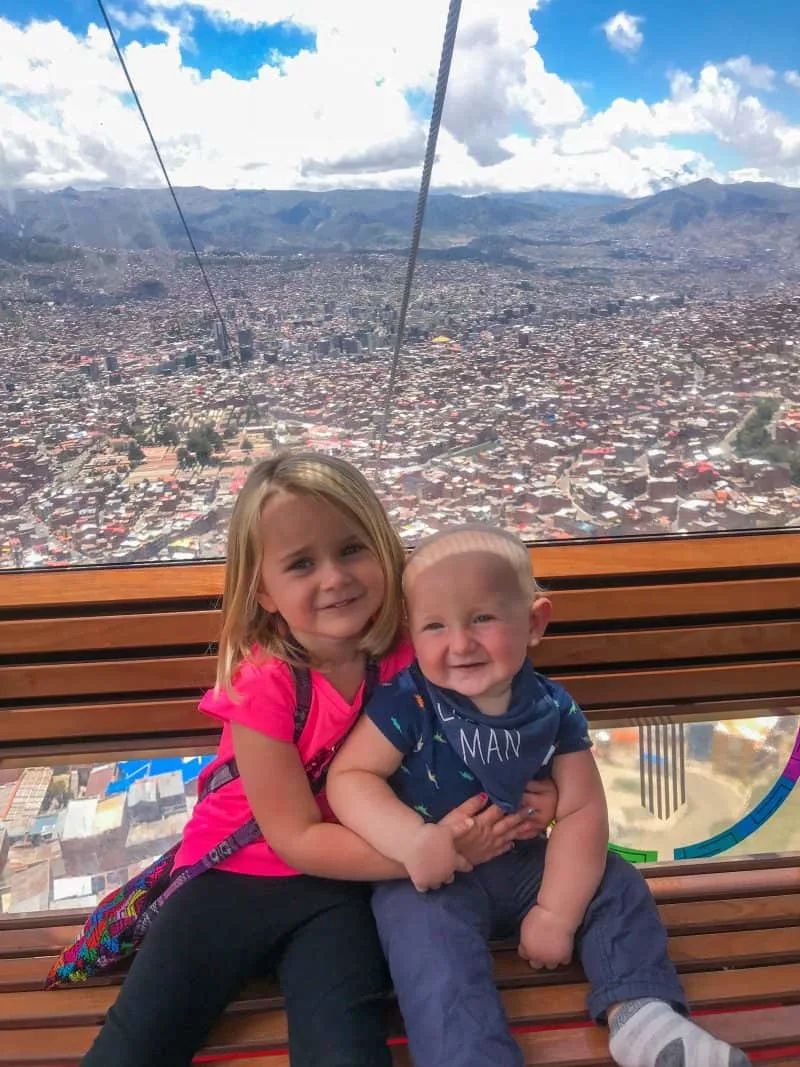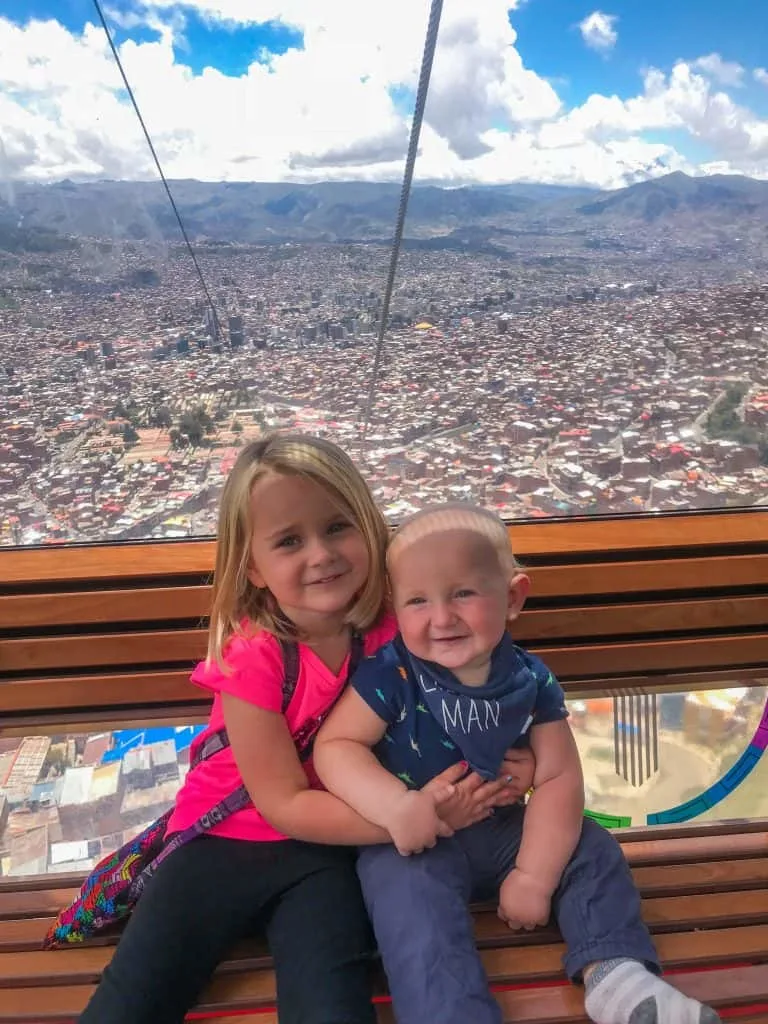 BOLIVIA WITH KIDS
The Witches Market
Exactly as the name says, the Witches Market was interesting and weird at the same time! We were staying right next to it in La Paz. They sell all sorts of potions and remedies. The most bizarre thing I saw was llama foetus. Whilst I don't think it's the most child-friendly place in the world, it was an eye opener to say the least.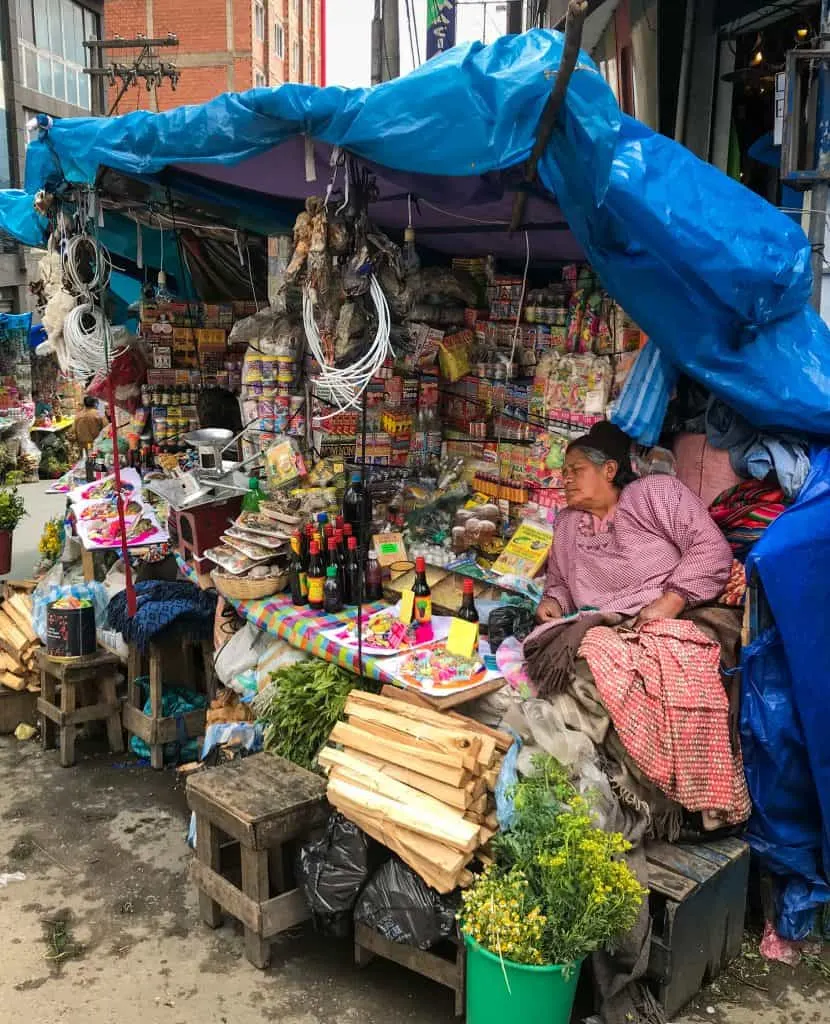 HOTEL ROSARIO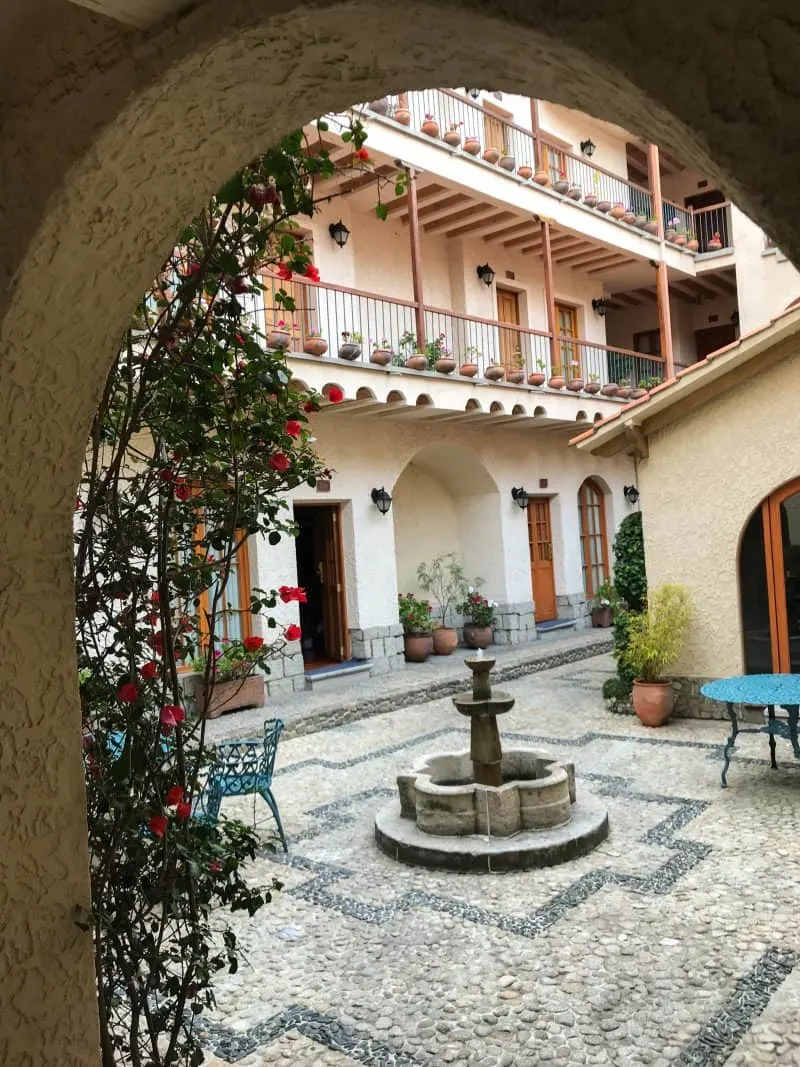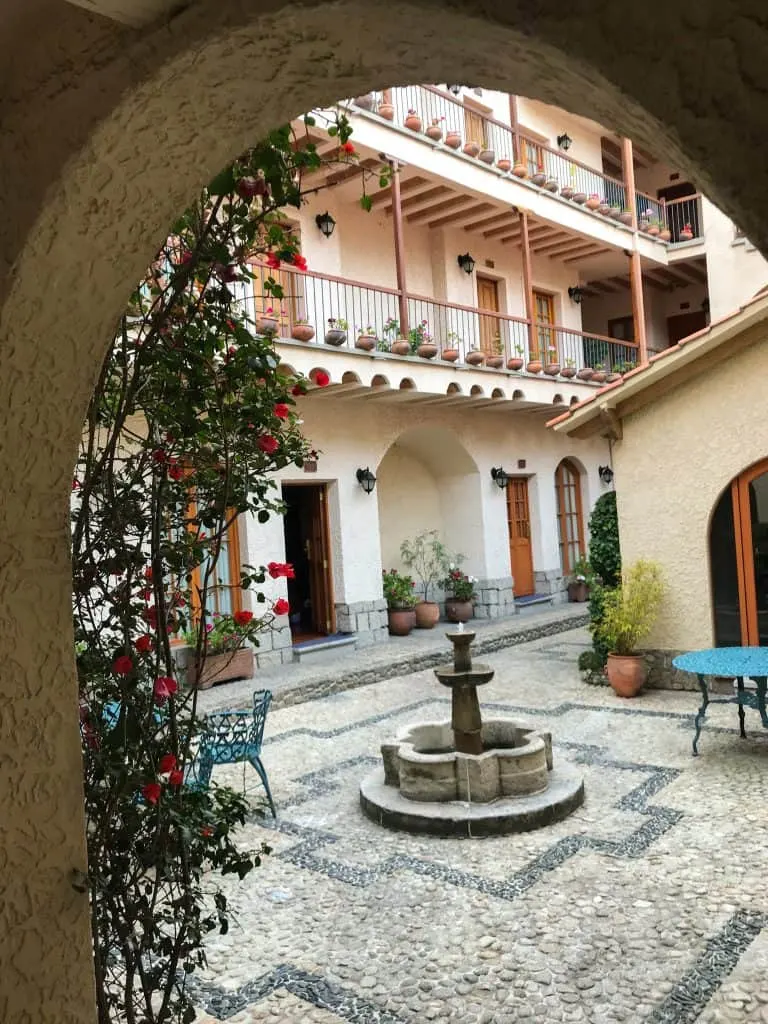 As I mentioned we were staying near the Witches Market so it was quite full on around our area. Hotel Rosario was like stepping into another world. We were very keen to stay somewhere nice with the kids, especially after hearing stories of food poisoning issues.
That said, we did eat outside the hotel which ended up being our problem. Hotel Rosario is a fabulous colonial style place with a central courtyard, arched promenades and detailed rooms. We loved the touch in our room with figurines and landscapes depicting the surrounding area.
We were so comfortable in Hotel Rosario and I was very grateful to be in a safe, nice hotel with everything we had going on. The food in the restaurant was really good and it was so cozy! Hubby and I had a bottle of red whilst having dinner a couple of evenings. They were quite good with vegetarian options and flexible with making something special for the kids.
If you are looking for some other ideas about places to take kids in La Paz, we tried to visit both the Pipiripi kids space and Cota Cota Lagoon. Both were out of bounds due to a protest, that resulted in road closures. We were sad to miss these places, so we can't tell you an honest opinion.
UYUNI SALT FLATS
BOLIVIA WITH KIDS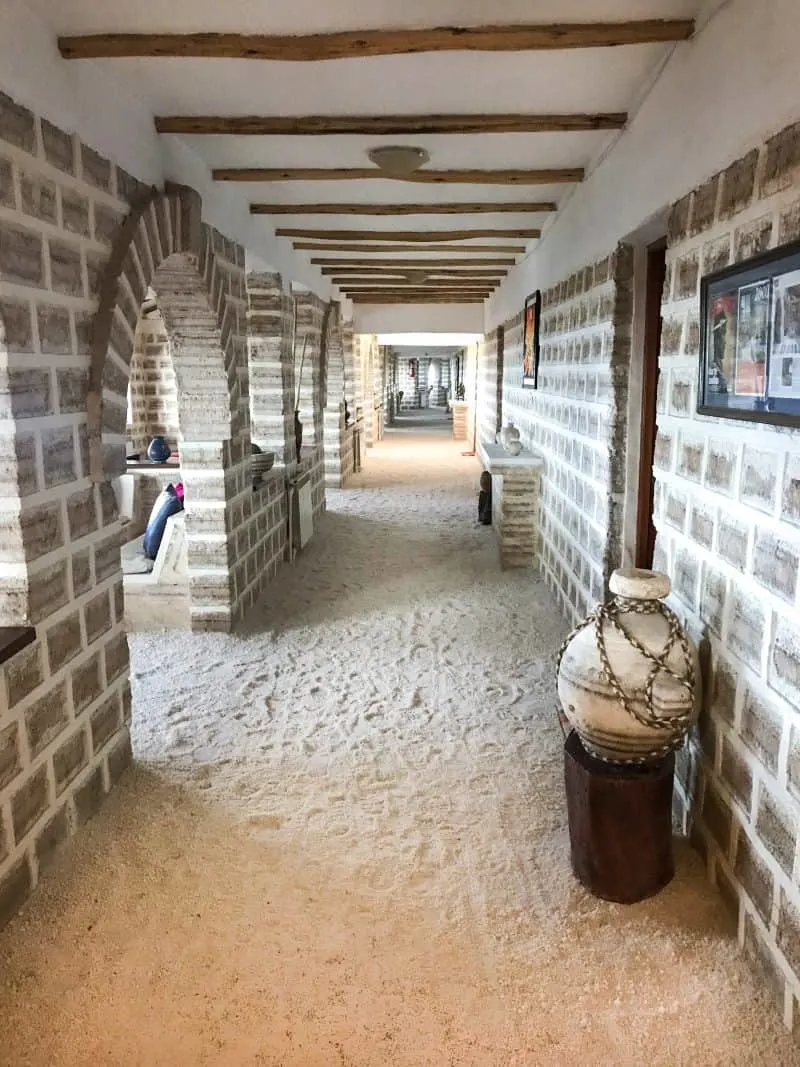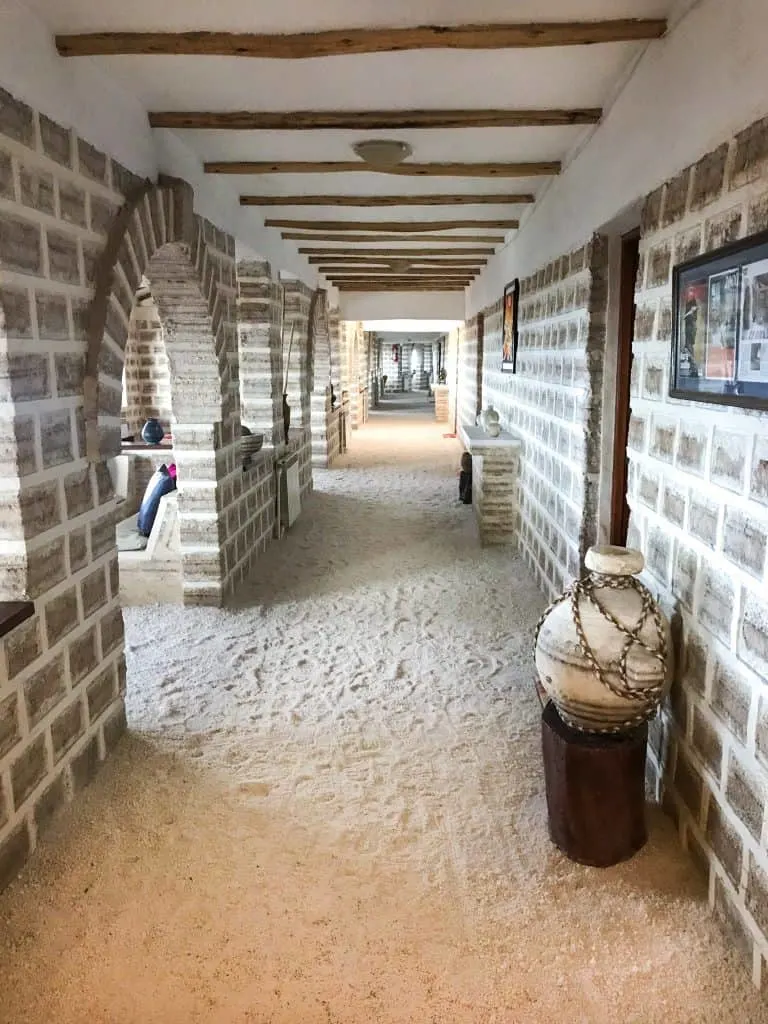 We arrived in Uyuni at 4.45am after our bus decided to leave. It was dark, raining and cold, but we found a taxi fairly easily to take us to the Salta Hotel, around a 35 minute drive out of town.
We were really keen to stay close to the Salt Flats so that we could explore them easily and not have an additional journey from the town. Likewise, we thought it would be really cool to stay in a hotel completely made out of salt. Yes, the bricks, the floor and the bed!
We rocked up at Hotel Luna De Salada in the early hours of the morning. Luckily they were happy to check us in at that time. We were blown away by the features. Massive salt bricks, the floor was covered in massive pebbles of salt.
You can just about see the salt flats on the horizon, otherwise it is baron desert with cactus as far as the eye can see. The sunsets from the deck were epic. Of course it can be very cold in Uyuni, so we loved the log fires for cozy factor!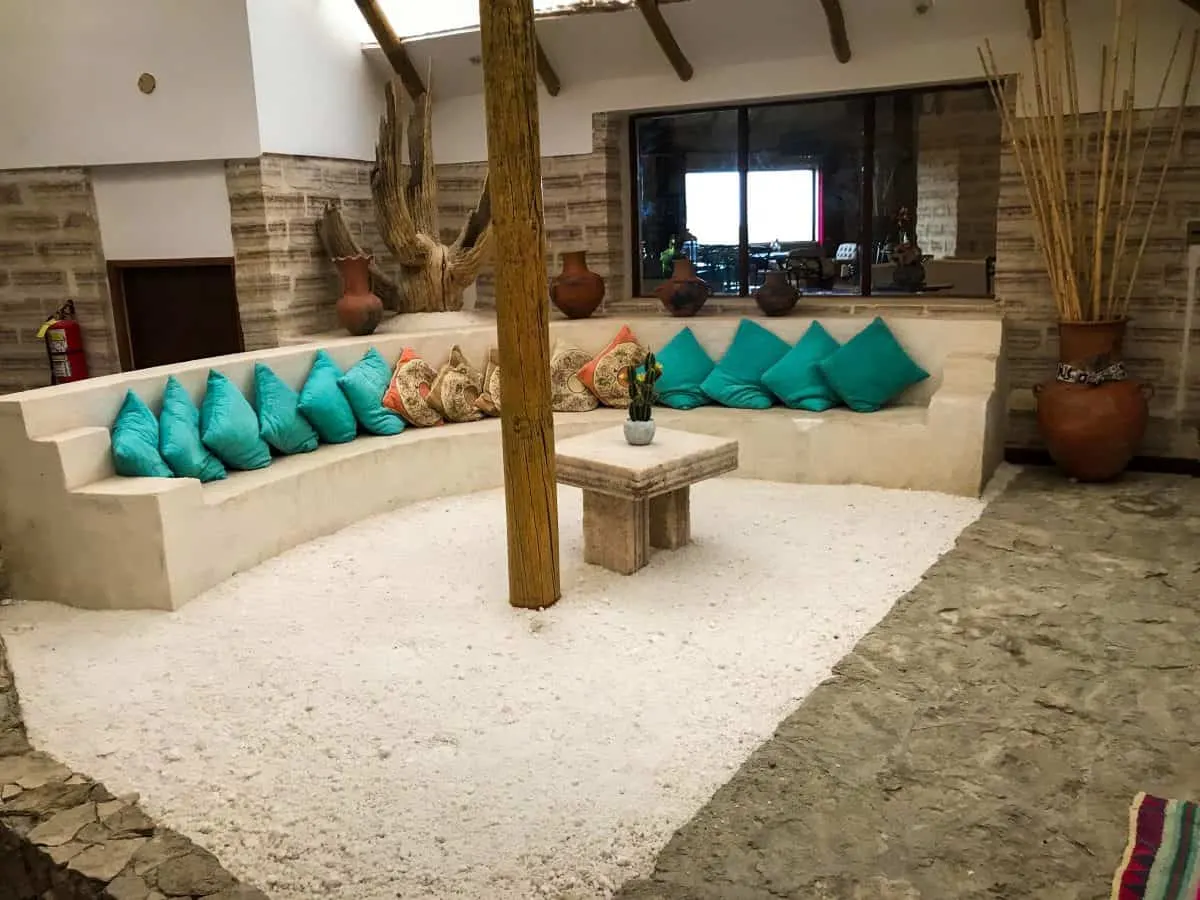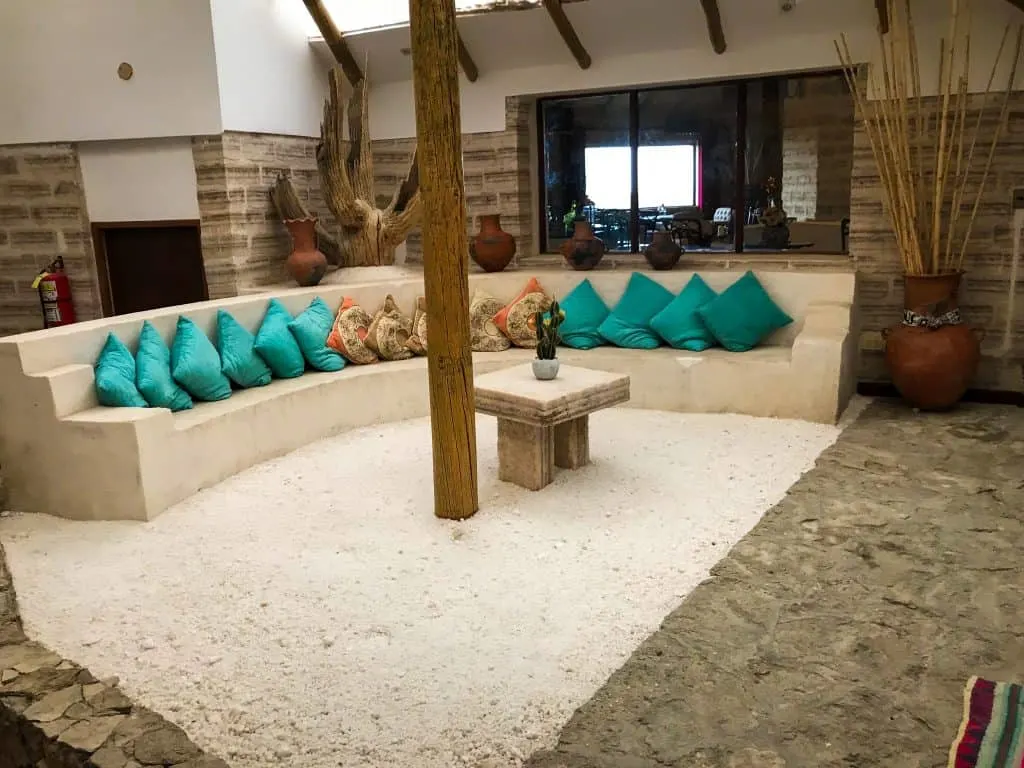 Once we were at Hotel Luna De Salada, we were fairly trapped. When we researched online about day trips of the salt flats, there was very little to be found. Everything is geared towards the three day tours, which are not ideal for young children.
Taking kids on group tours doesn't work for us. After reading a little more, we found out that the majority of tours can be negotiated on arrival with local drivers. I feel like that was a big mistake. There was such a huge mark-up on the price and it was near on impossible to get someone to take us only for the day.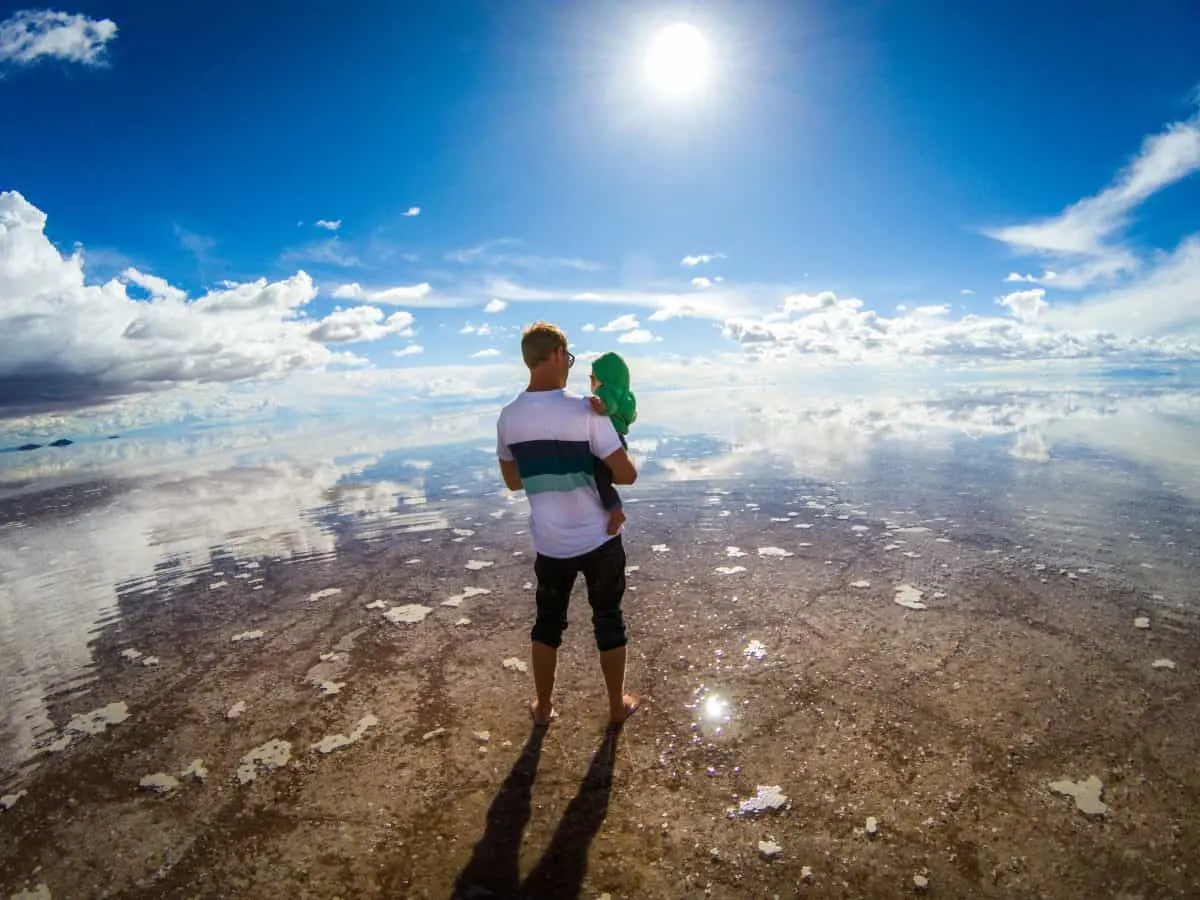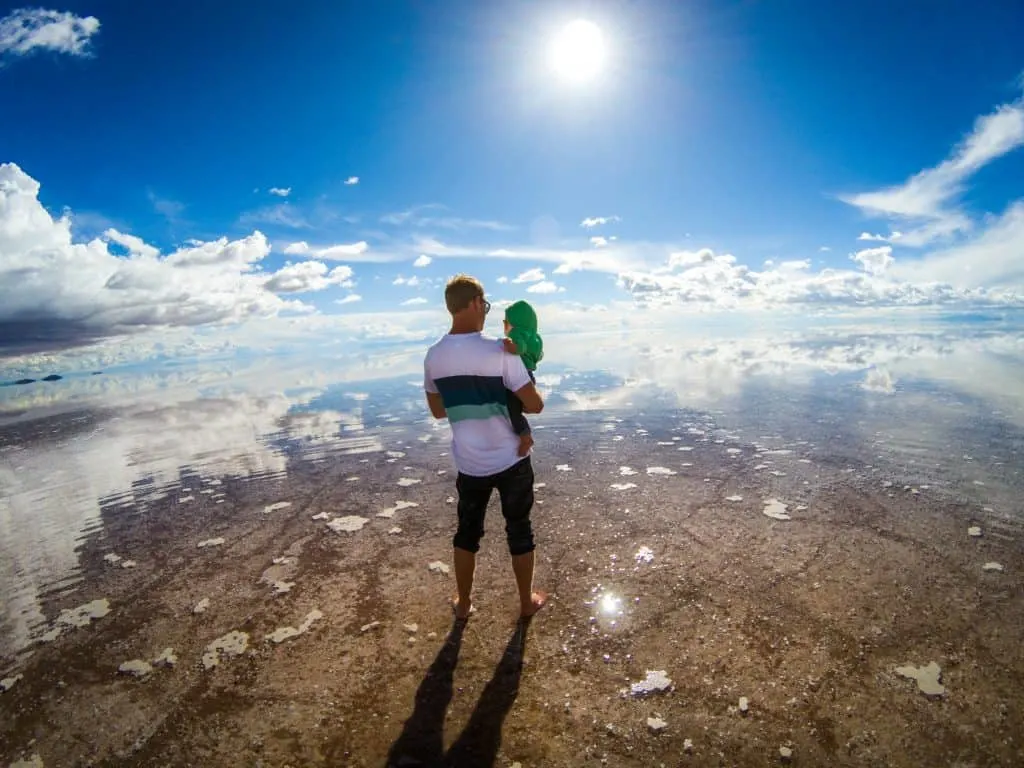 Bolivia with kids
To say it was an anti-climax is an understatement. Especially as we were so excited to visit this wonder of the world. We spent our first two days negotiating to get a fair price. In the end it cost us 120USD to drive 15 minutes to the flats and have a look around for a couple of hours.
There are many factors to consider when visiting if you want to see the salt flats in all their glory. Obviously weather being the biggest determinator for the visit. The ideal situation is clear blue skies and minimal wind. If there is any wind, you can not see the reflection on the water. Alternatively if you visit when the salt is dry, thats not such a concern.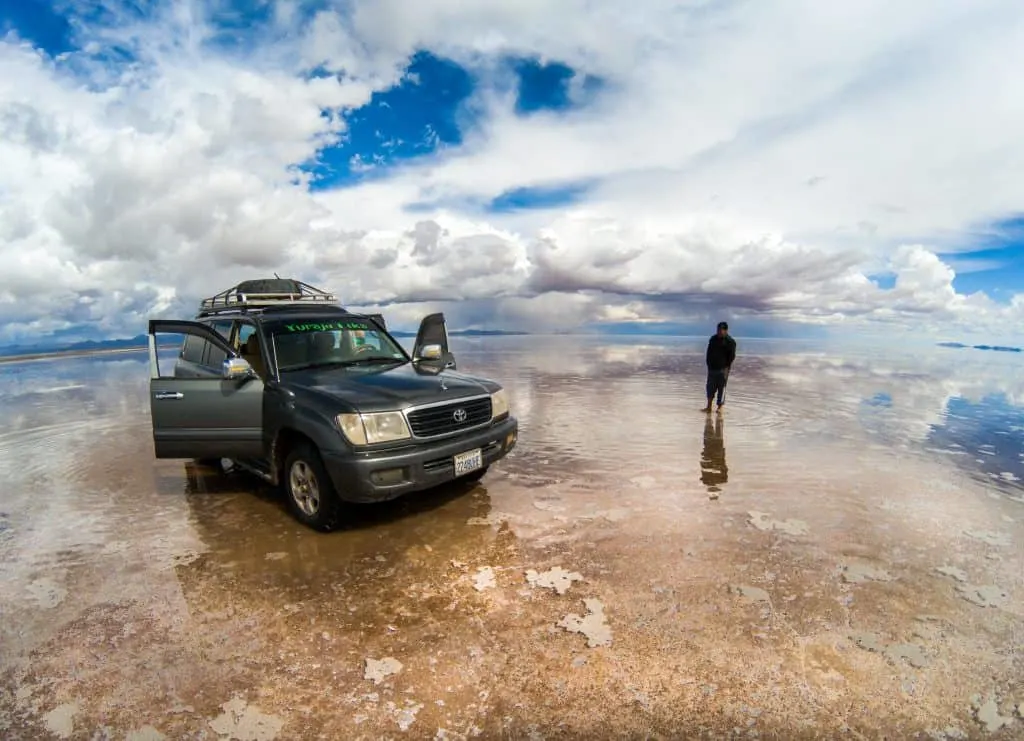 Luckily, the first hour of our visit was amazing weather! The sky was blue, the water was still and we got some epic shots. It was one of the calmest most surreal moments. Especially as the beginning of the sky and the end of the earth just blended into one! Other than some other 4WD in the distance it was just sky! 360 degrees of sky, above, below and to our sides.
If you are still looking for more inspiration: 8 Places to Visit in Bolivia
Bolivia with kids
The big question, was it worth all the hassle? Do you know what, my raging inner travel spirit says yes, yes, yes. But my mummy heart says no. That said, did we just have a run of bad luck? Could we have made it better? I guess the answer is with more cash and organisation, yes.
I personally feel it would be better to fly from La Paz and have a private tour, as well as transfers organised before arrival. If you are thinking of going to Bolivia and are reading this I really hope we don't put you off but we pride ourselves on honest experiences.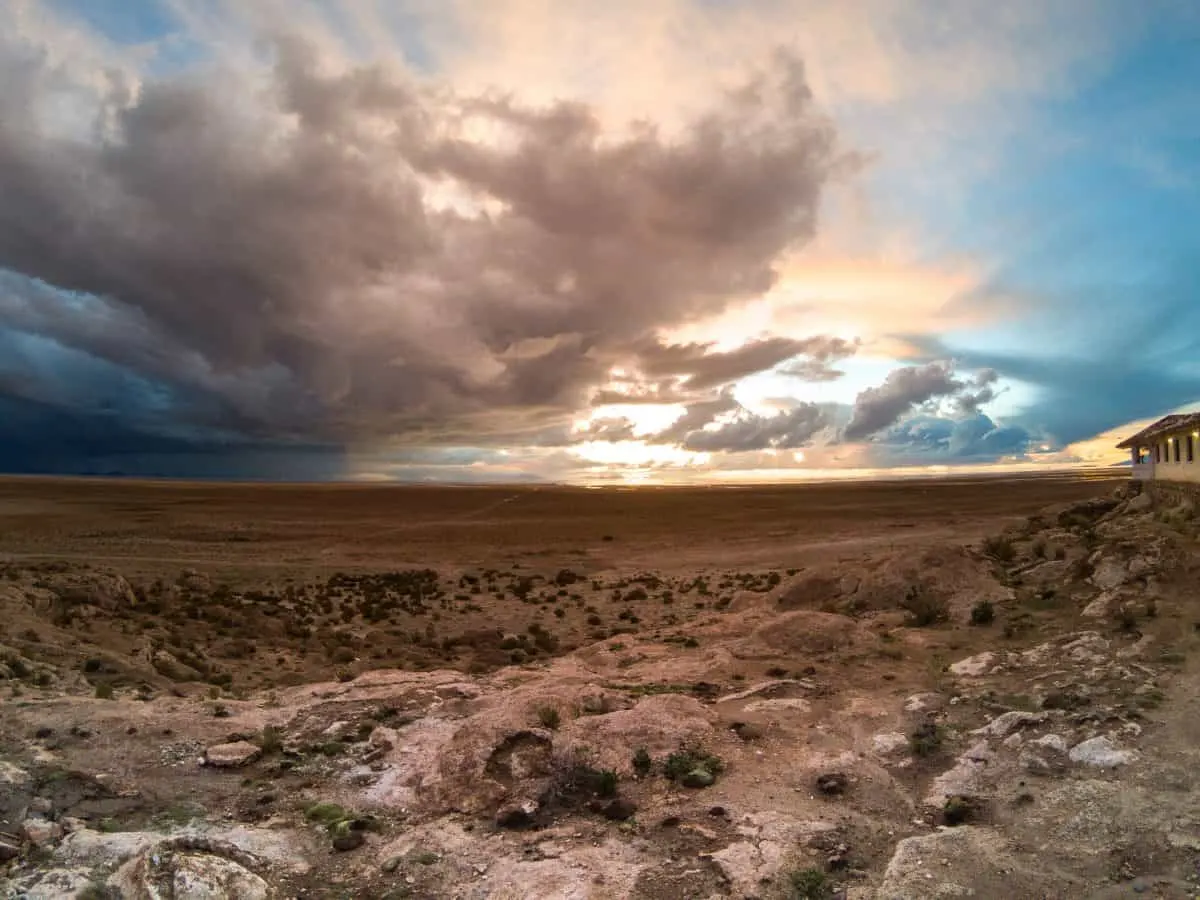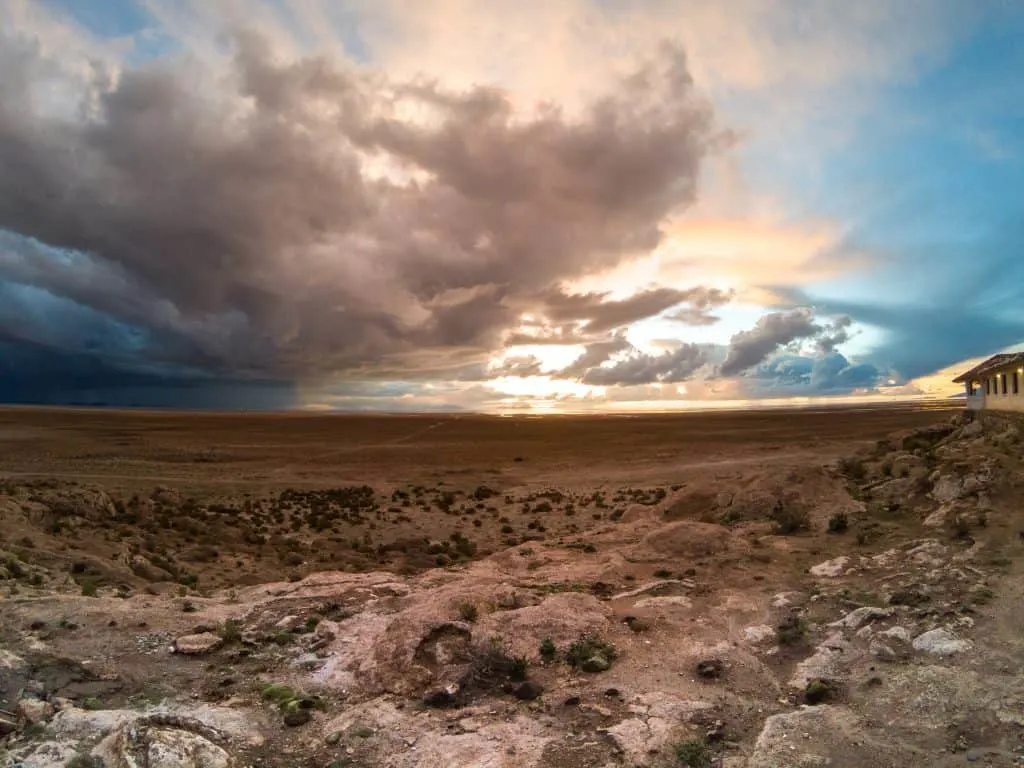 How you can help
Have you found Bolivia with Kids helpful? Leave a comment, we would love to hear from you. If we've helped you in some way, we would love if you could help us too. In this digital age there is a demand for immediate information online.
Being a patron is a new-age way of giving a small token of appreciation for this information, which takes time to put together, with no financial return. We offer exclusive access to blog posts before they are published as a thank you. We also offer travel advice and consultancy at different payment tiers. You can sign up to our Patron program here.
You may also like:
Disclaimer: This post Bolivia with kids has affiliate links. Some of our stay was complimentary in return for an honest review. As always all views expressed are entirely my own.