When we started planning our Central America trip we were a little put off and frightened by the El Salvador reputation online.
There are a lot of forums discussing crime. I wanted to investigate further and we came to the conclusion it was going to be safe as long as we were sensible.
There are many beautiful landscapes in El Salvador, lakes, caves with natural pools and of course the volcanoes. However it was the surfing in El Salvador that really caught our eye.
Hubby has always been a keen surfer and our little girl loves the water so we wanted to introduce her to surfing in El Salvador.
We had intended to stay two nights in San Salvador City before heading to the coast for five days. However the bus we wanted to take from Guatemala City was full so we ended up with only one night in San Salvador.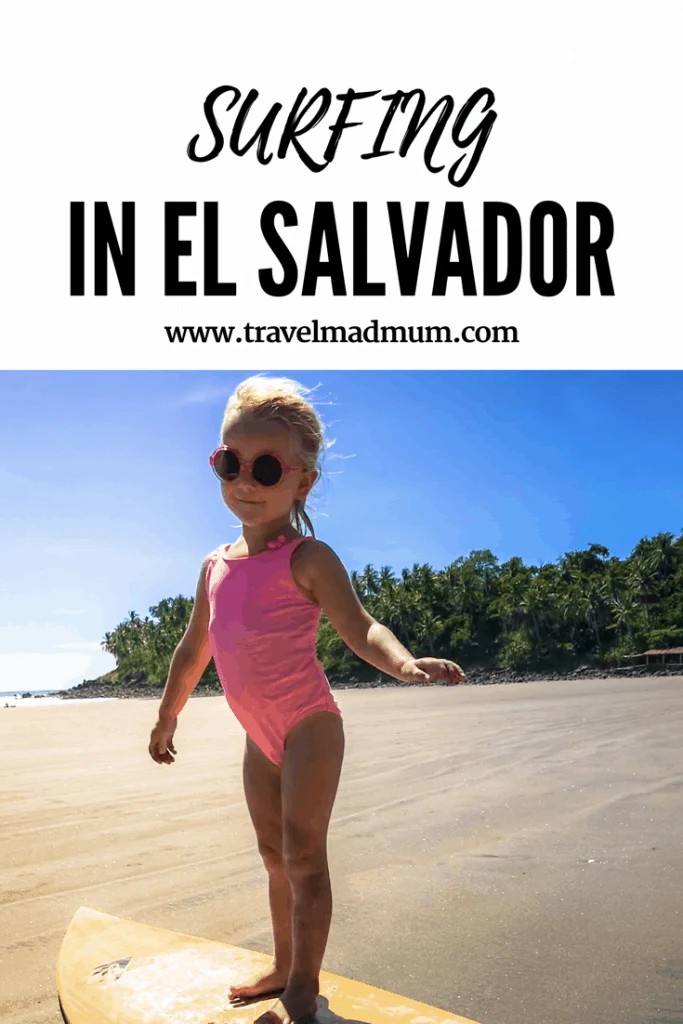 SAN SALVADOR
We stayed at a very small hotel in San Salvador, Laurentia Boutique Hotel. Owned by the most adorable couple, the hotel only had five rooms and a really good steakhouse restaurant attached to it.
It's a relatively new place and doesn't have any reviews on booking.com however it was a really good find. Not only for location, but also the fantastic food and comfortable room.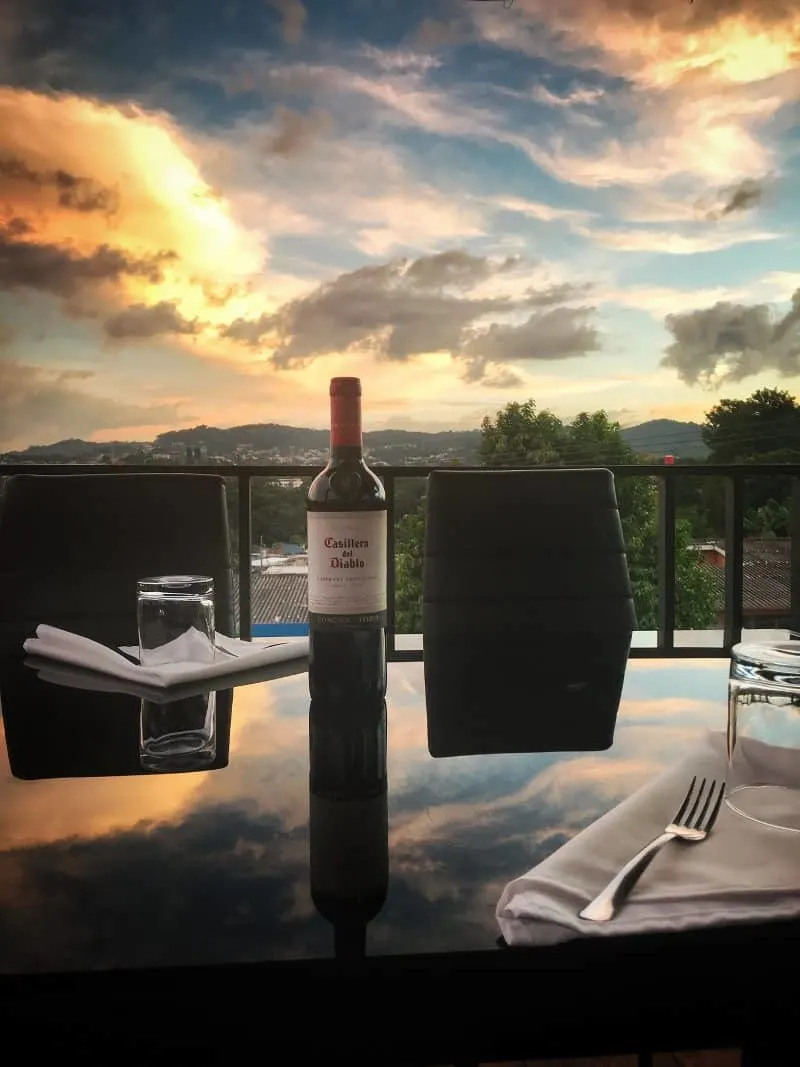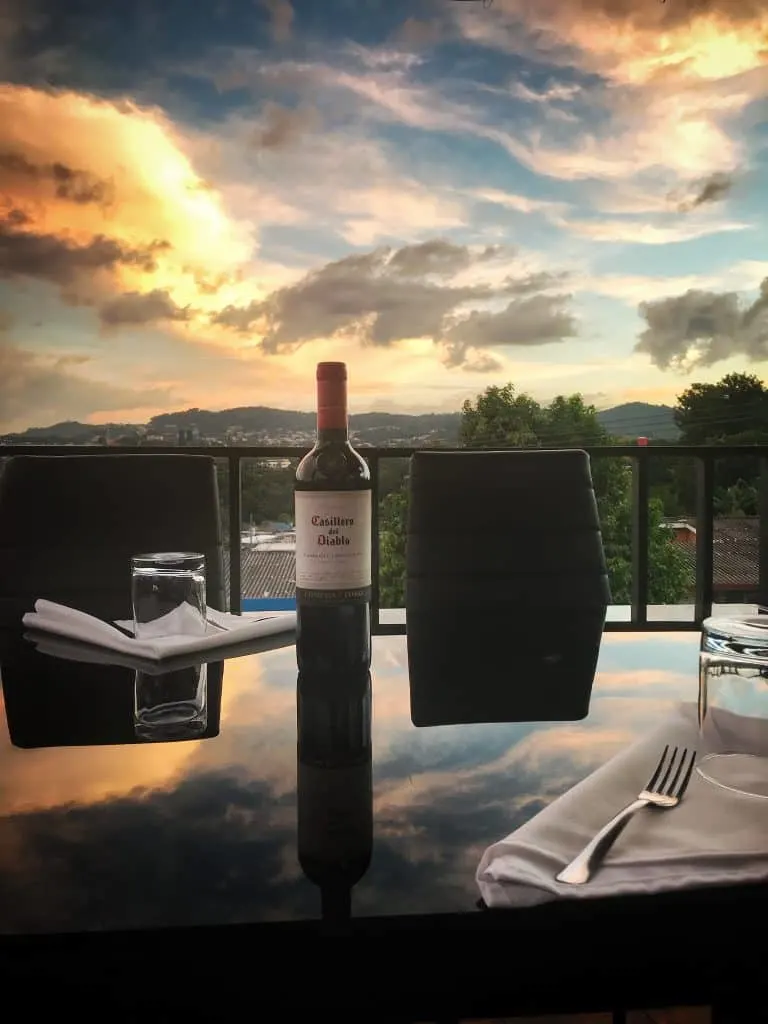 We had a big family room with two double beds and a huge bathroom with a walk in shower, everything is new.
The restaurant is on the second floor and has incredible views to the nearby volcanoes. It's especially pretty around sunset. The food is SO good.
They have a selection of antipasti sharing platters, breads, pizzas, pasta's and the speciality is steak.
The sangria is also really good and it's the perfect place to have a romantic dinner.
When we read up about safety in El Salvador, downtown San Salvador was one of the places its advised to be extra vigilant. Laurentia Boutique Hotel is in the tourist district and it seems to be a very safe part.
It's only a few minutes walking from the bus stop if you are coming from Guatemala, so it was ideal for us.
Whilst we were in the area, we had lunch out and visited the local mall. We didn't brave going into town predominantly because there was mixed opinions from locals.
SURFING IN EL SALVADOR
EL CUCO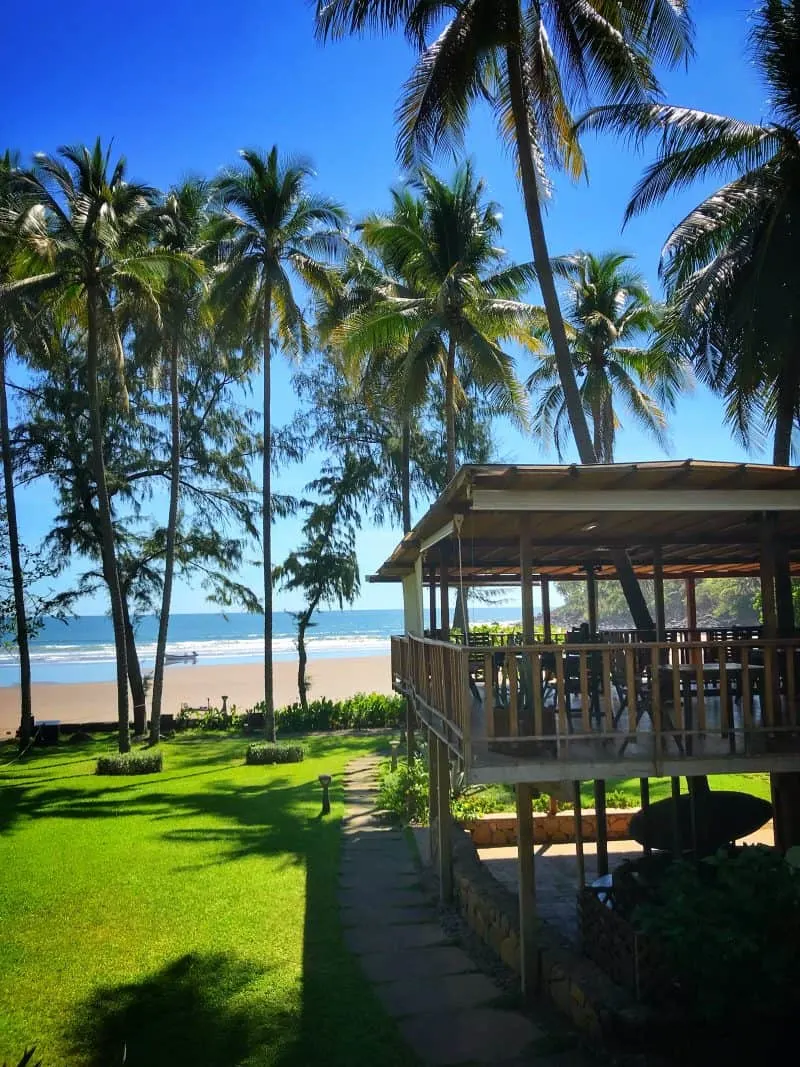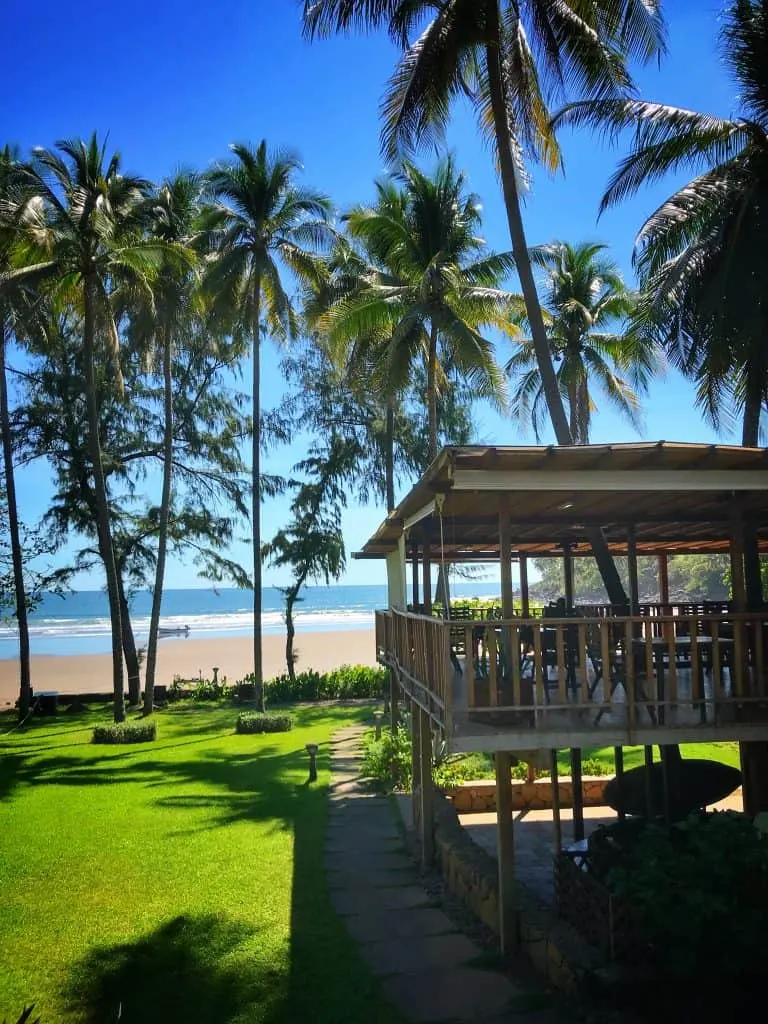 After our very short stay in San Salvador we made our way to El Cuco on the coast. El Salvador is a small country with miles and miles of pacific coast.
The combination of vast ocean and storms from the Southern Hemisphere, create perfect waves in many spots throughout El Salvador's coast.
Las Flores Surf Club is widely recognised as one of the best places to stay and for surfing in El Salvador. With the luxury rooms, beautiful surf beach and intimate family friendly surroundings, we had our eyes set on staying there for five days.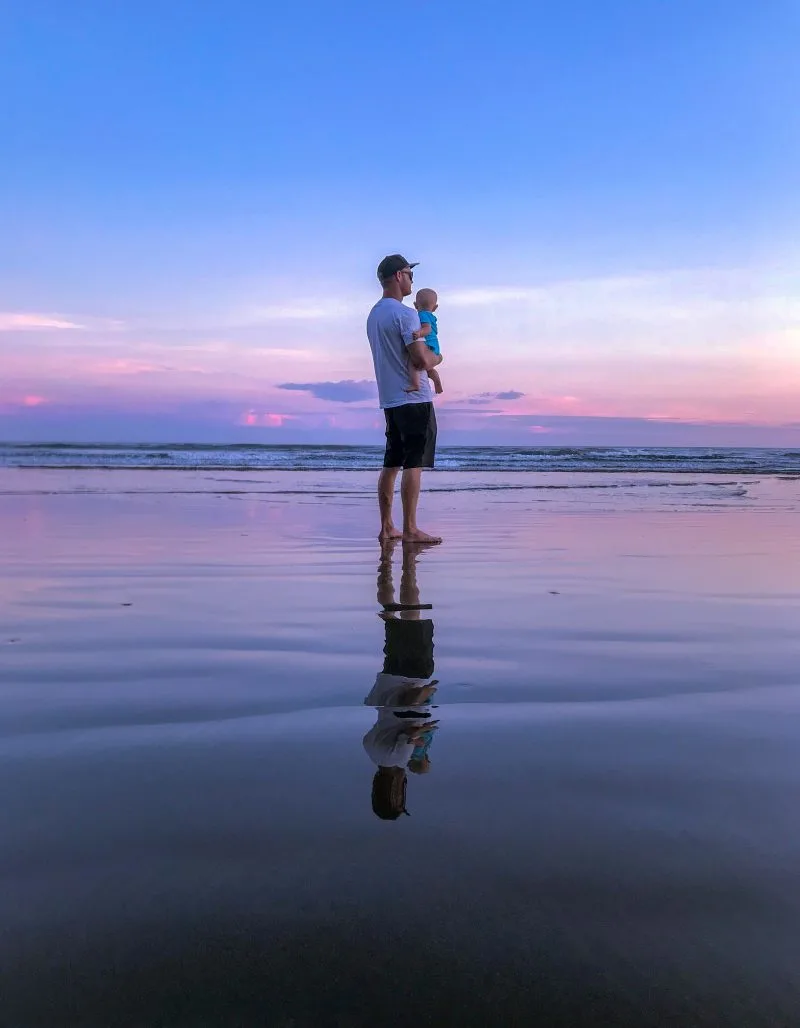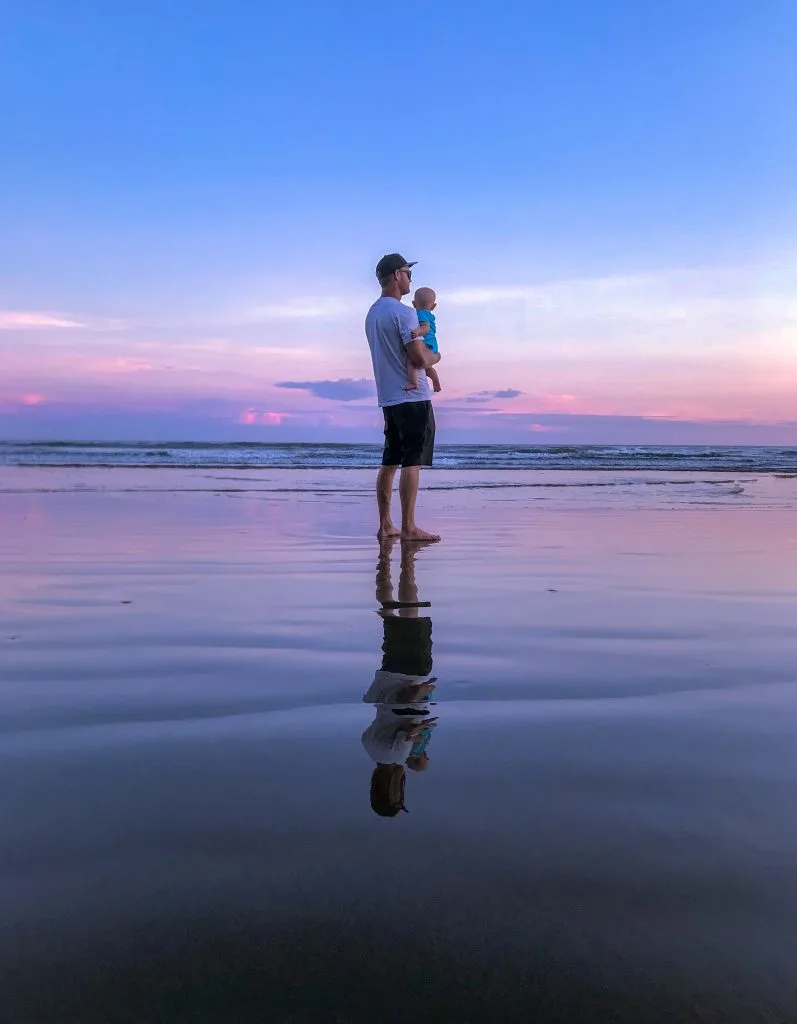 I've been to nearly 70 countries, and I have to say the beach at Las Flores Surf Club is one of my favourites. It's not what you expect. It's a black sand beach (due to the nearby volcanoes), the water is like a bath and it is super clean.
The point is covered in wild palm trees and when the tide is out the reflection on the wet sand, is similar to the Bolivian salt flats.
I particularly loved this spot because it's so peaceful. Mass tourism is not an issue in this part of the world. In fact, you will only find the odd intrepid surfing lover. I am sure it's not going to stay like that for long.
LAS FLORES SURF CLUB
Other than the surf, there is not much going on in nearby El Cuco. I was therefore very happy that Las Flores Surf Club provide three meals per day as part of the rate.
We were more than happy spending our time with the kids enjoying the resort and taking turns going for a surf. That kept us busy for the entire day!
PLAY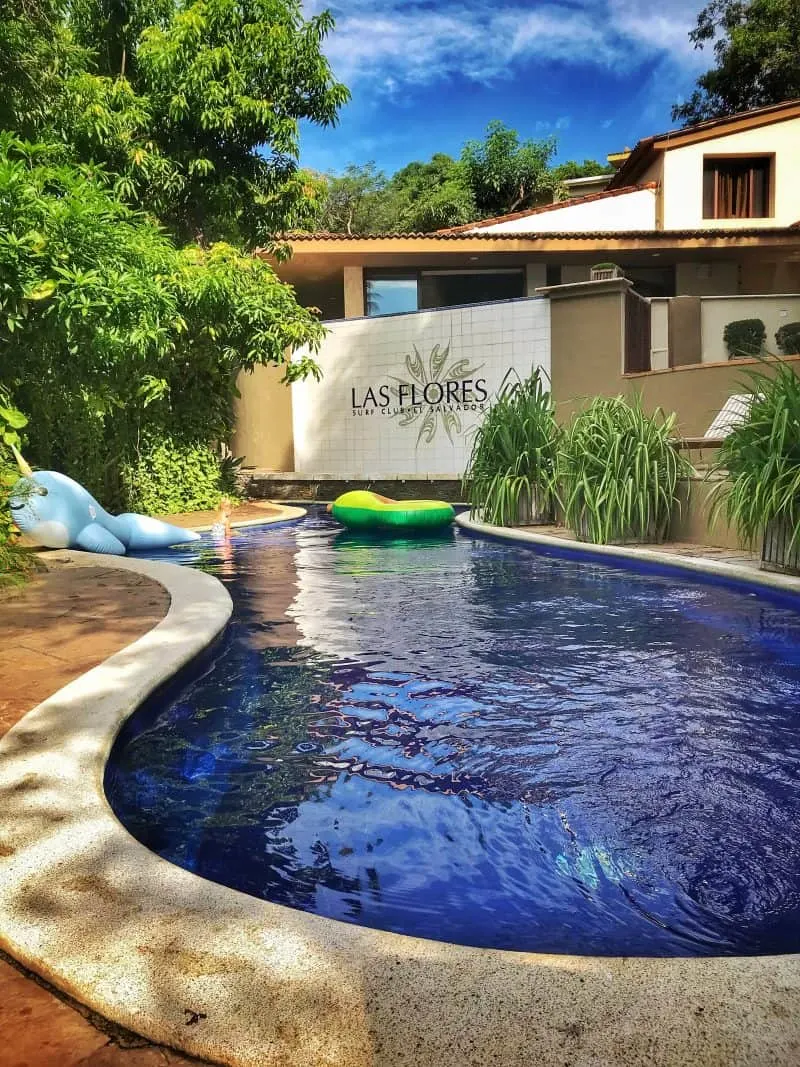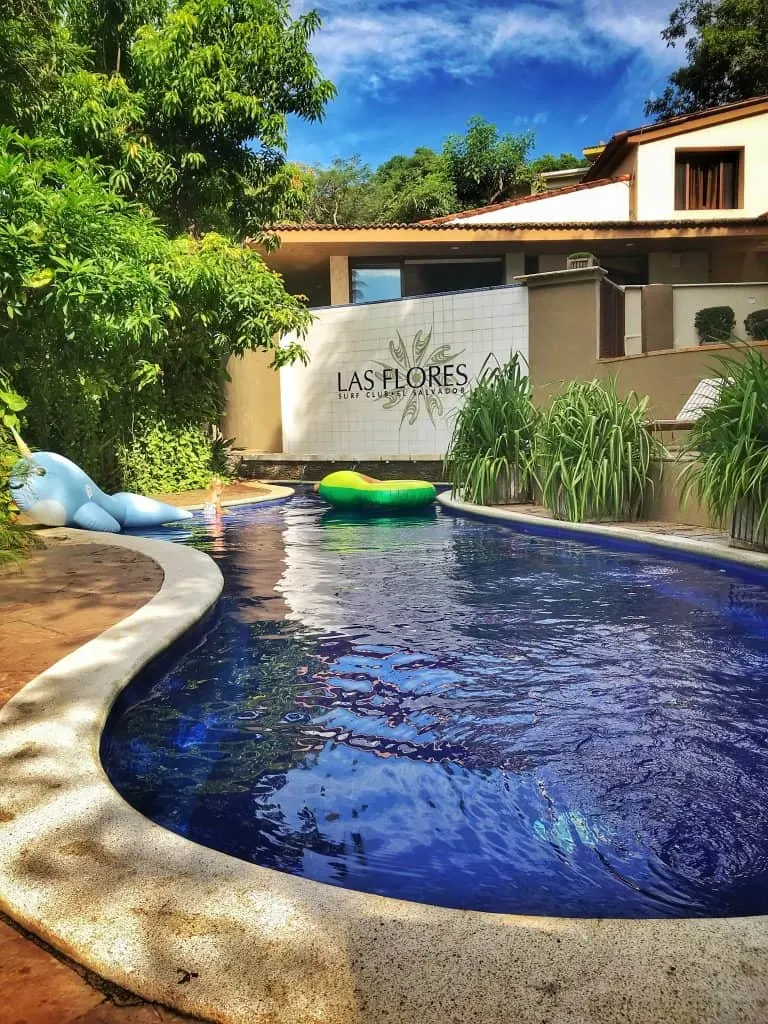 We spent so much time hanging out at the beautiful pool at Las Flores. It was the perfect place to watch hubby surfing whilst I took the kids for a dip.
There are another two pools, one is ideal for kids and the bigger infinity had a bar which was great on the evening we had a babysitter!
Next to the beach there are a number of hammocks and sun loungers to relax. Conveniently they were right beside the onsite playground which our three year old loved!
There were a couple of fitness retreats taking place whilst we were there. They seemed to use the hill top yoga platform quite regularly. The views from up top along the coast are stunning.
We generally took turns surfing. One of us would go early morning and the other went in the evening. The tide was in and the waves were generally perfect for all levels of surfing abilities.
As a learner surfing in El Salvador I felt really comfortable because the water wasn't too deep and the waves weren't overly intimidating.
Surf lessons are available to all guests. Unlike many other surf clubs, most guests get one on one lessons which is amazing when learning.
The intense critique is really good to progress quickly. I really liked Emmanuel. He comes across abrupt but he is a really good instructor.
SLEEP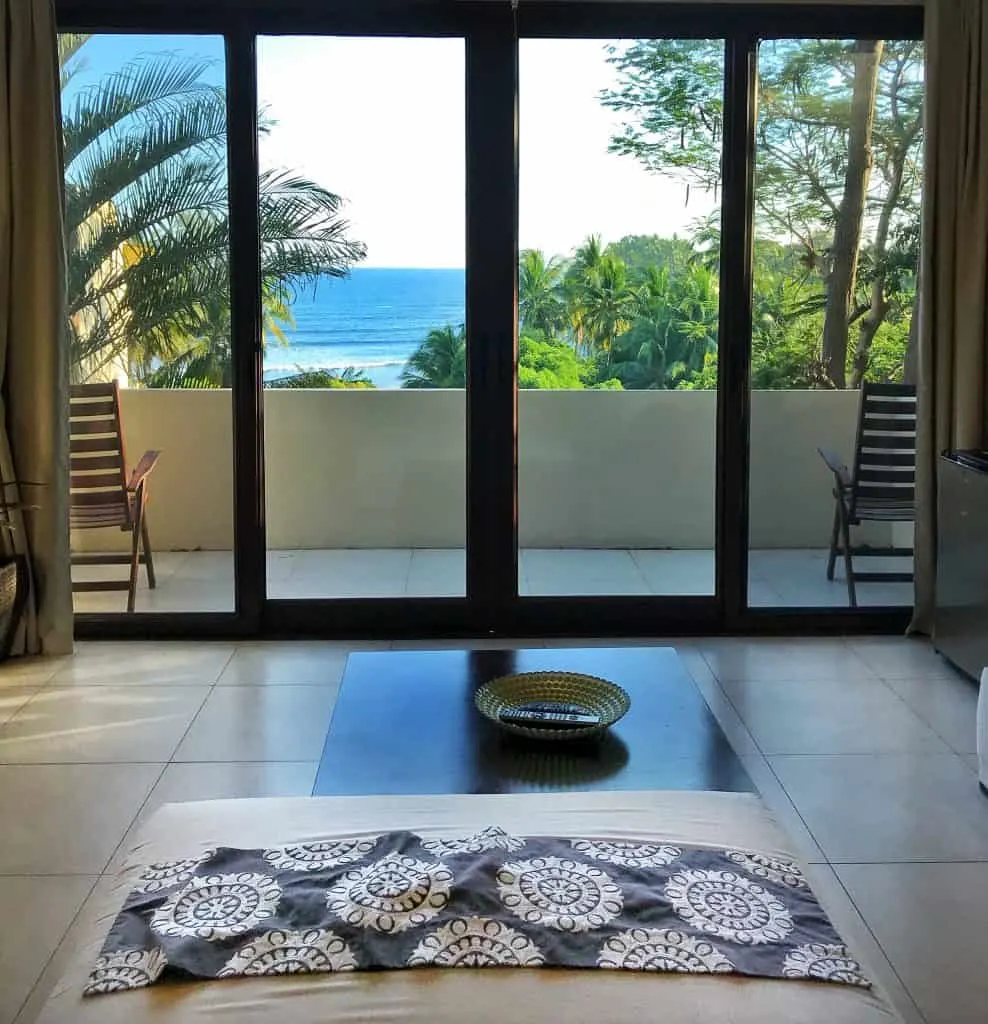 Las Flores Surf Club is tiered so the walk from the beach back to our room was a little steep. That said, we had stunning elevated views of the ocean.
We had two bedrooms and I feel it's the luxurious interior design that sets Las Flores apart from others. Everything is modern clean and comfortable. The AC was a welcomed escape from the hot day.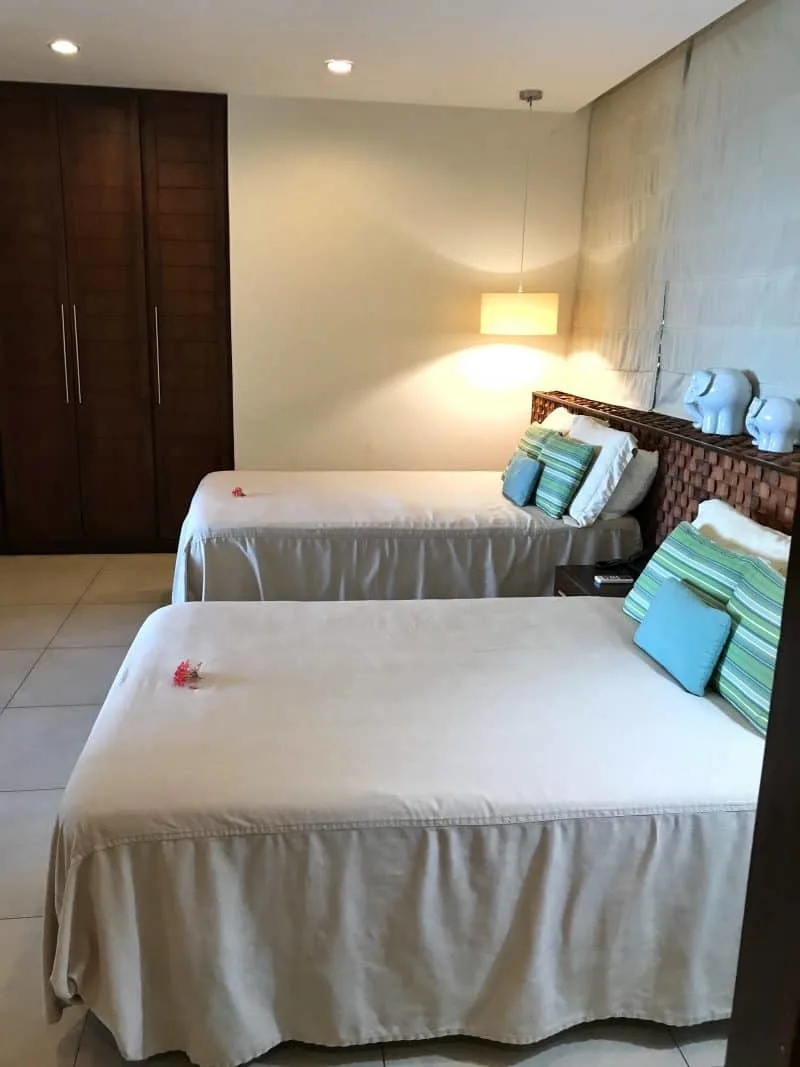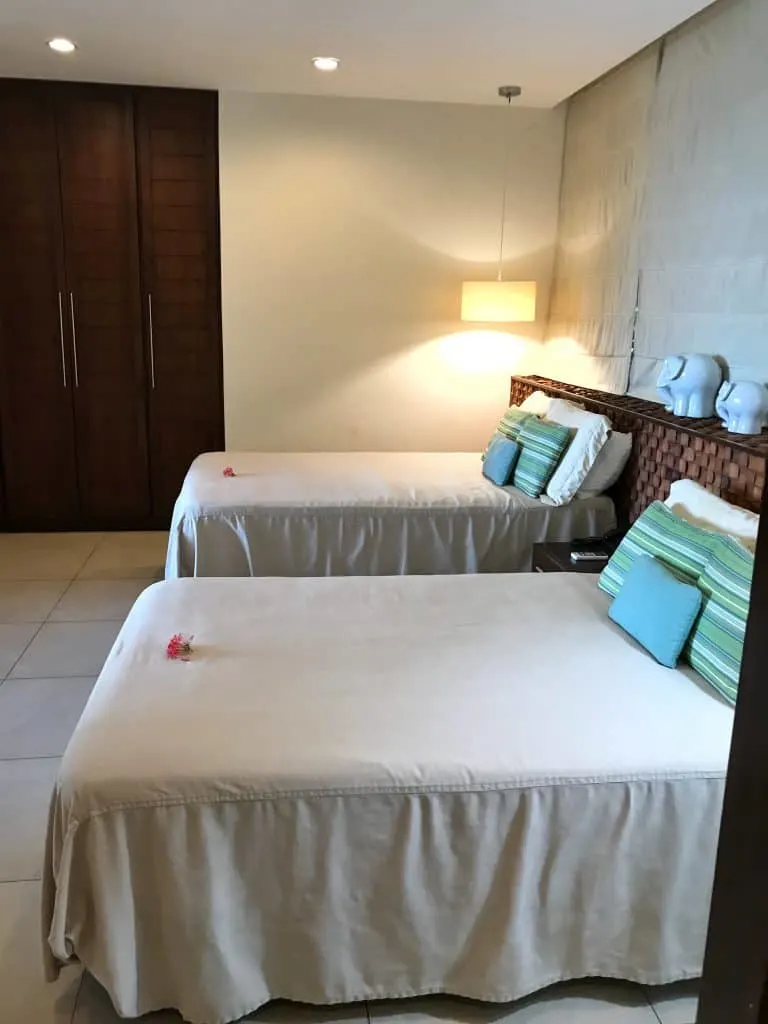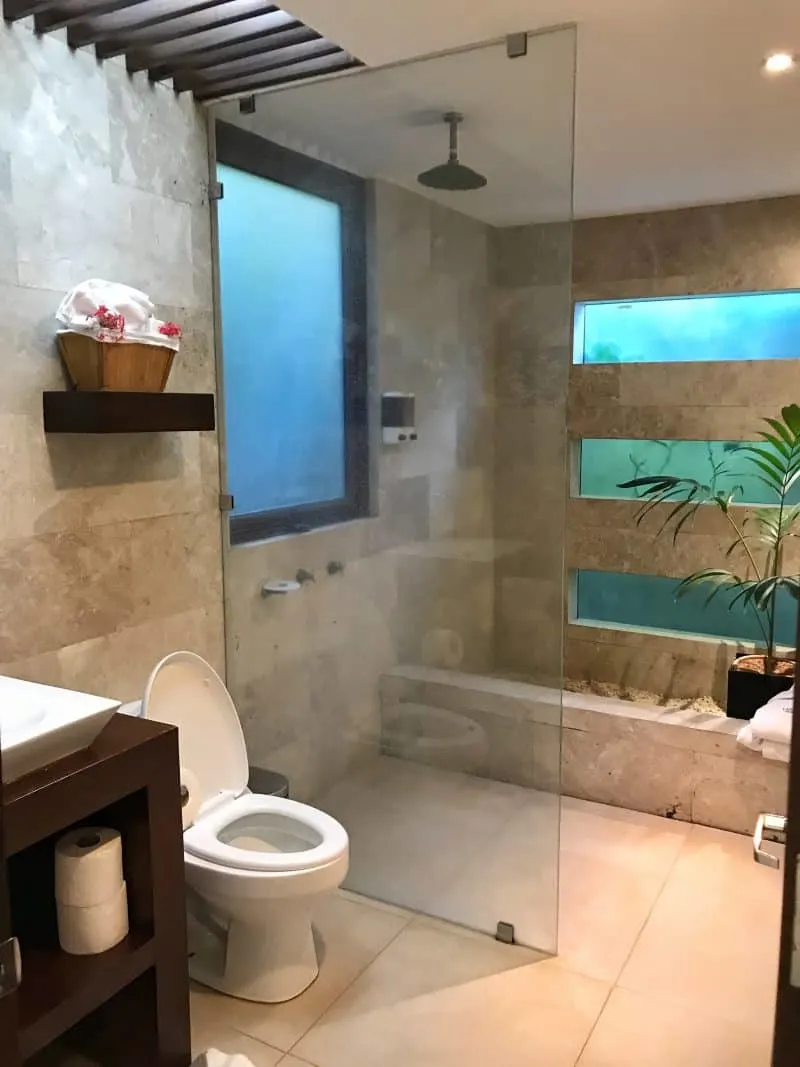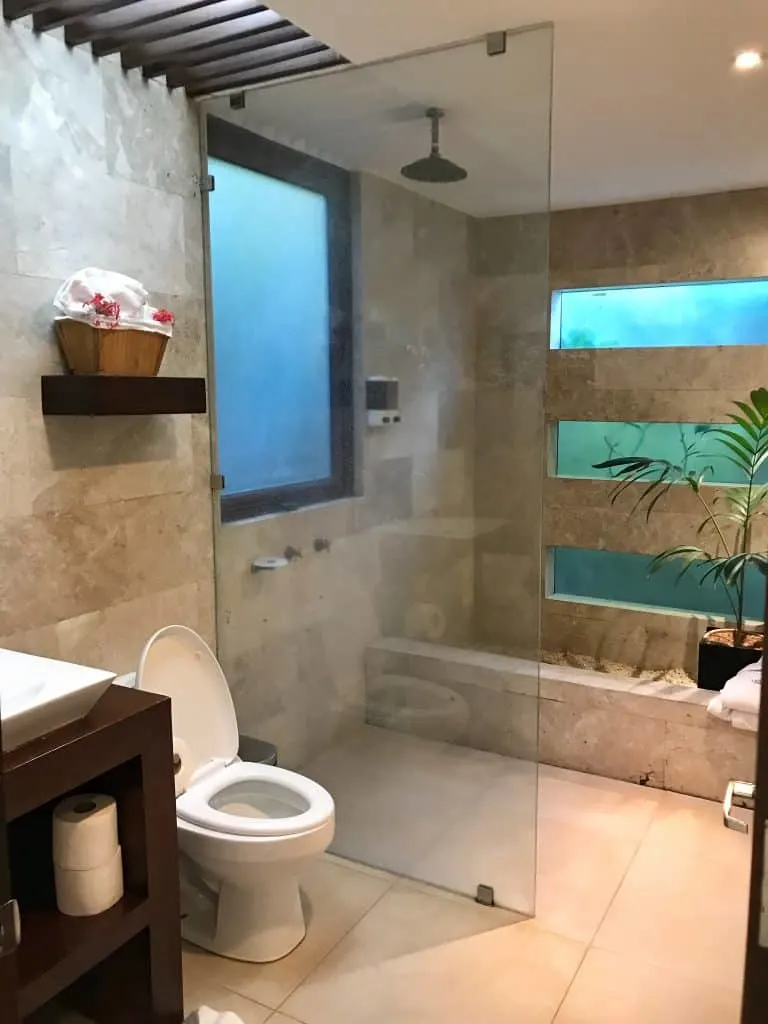 We had two bedrooms and a lounge area so it was perfect with the kids. It's always a bonus when we don't have to go to bed too early.
We had ceiling to floor sliding doors onto the balcony so we never felt we were missing out if the kids needed an early night or a little rest during the day.
We had stunning views all the time. The combination of a massive walk-in shower, windows facing into the landscaped gardens and natural products was refreshing.
I could stay in the shower for ages! It was so relaxing.
EAT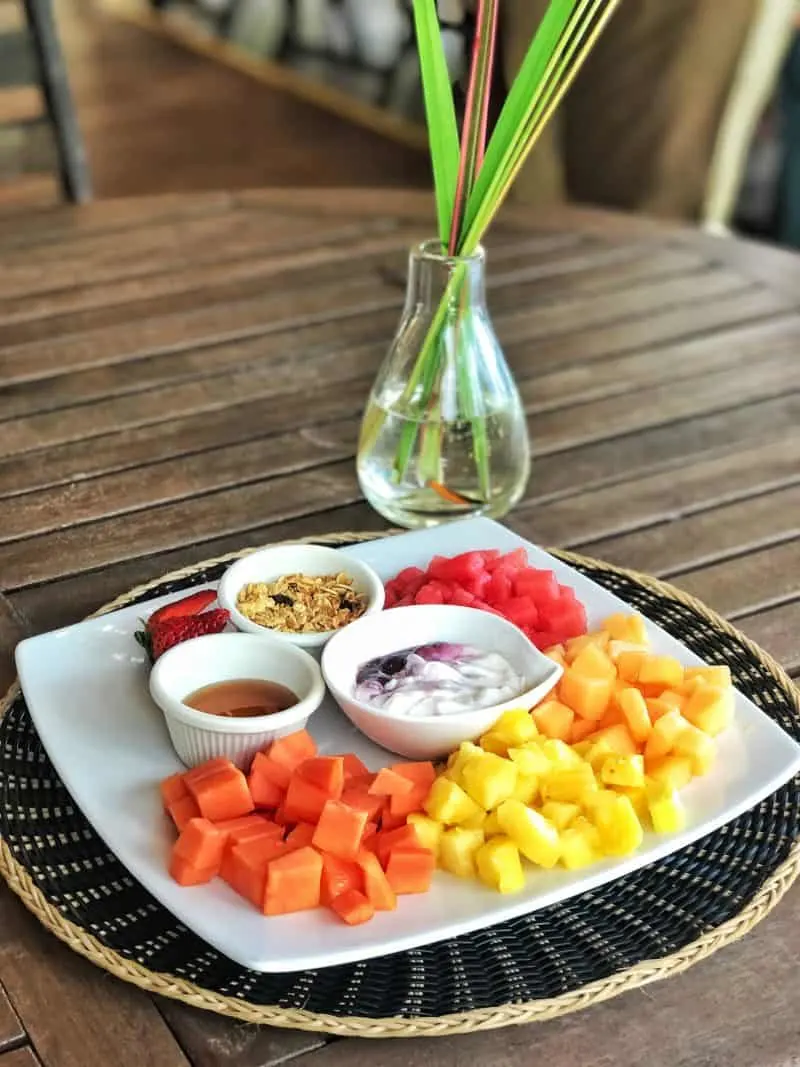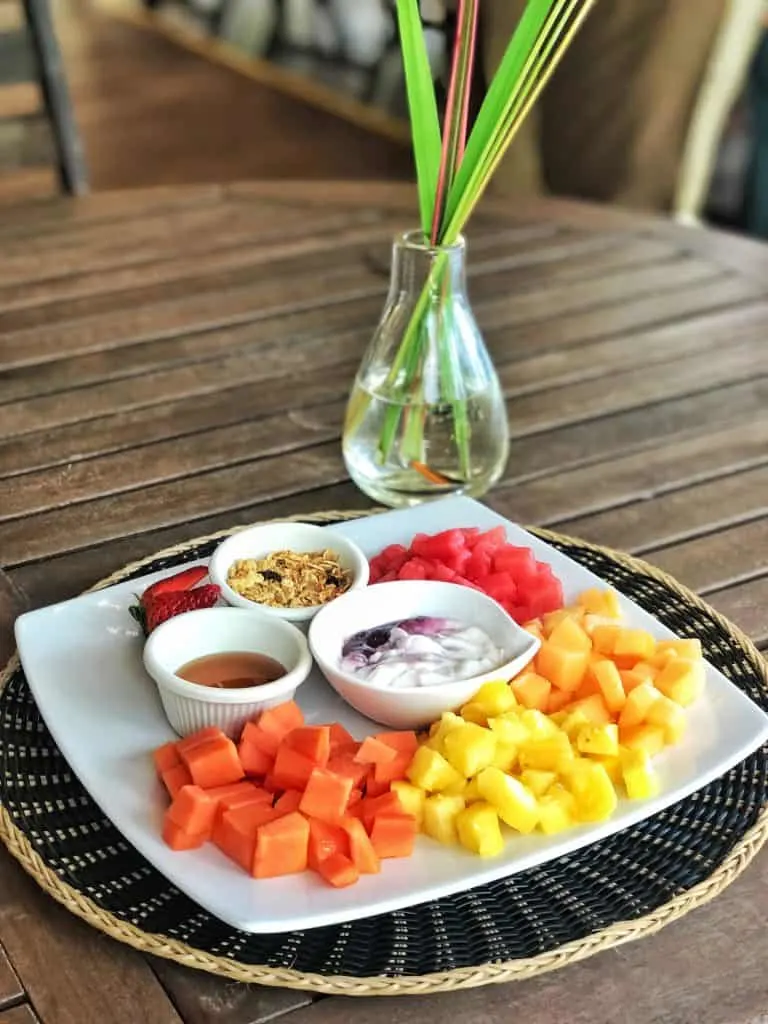 The food at Las Flores was absolutely delicious. I am quite fussy about food in general but everything on the menu was pretty much meals I love to eat.
Healthy, refreshing, organic and nutritious are what springs to mind when trying to explain what is on offer.
Every morning I had the 'healthy start' option. It consisted of a massive plate of chopped tropical fruits, yoghurt and granola. I always had a side of avocado and one of the fresh juices.
The food on offer was the perfect accompaniment to a days surfing in El Salvador
The staff were always amazing with our daughter, who is also very fussy. They made her morning pancakes in the shape of a teddy bear decorated with strawberries. I've never seen her woof food down so quickly. Thanks – Las Flores, I hope I can beat the new expectation of awesome food decoration for kids!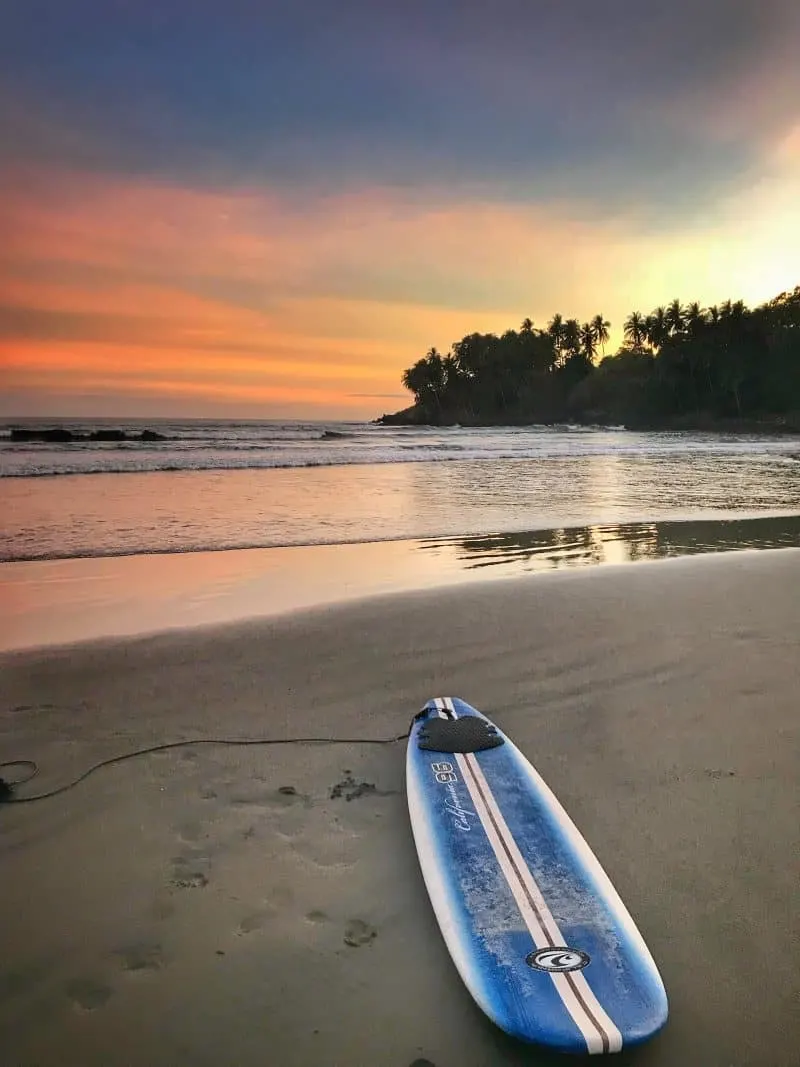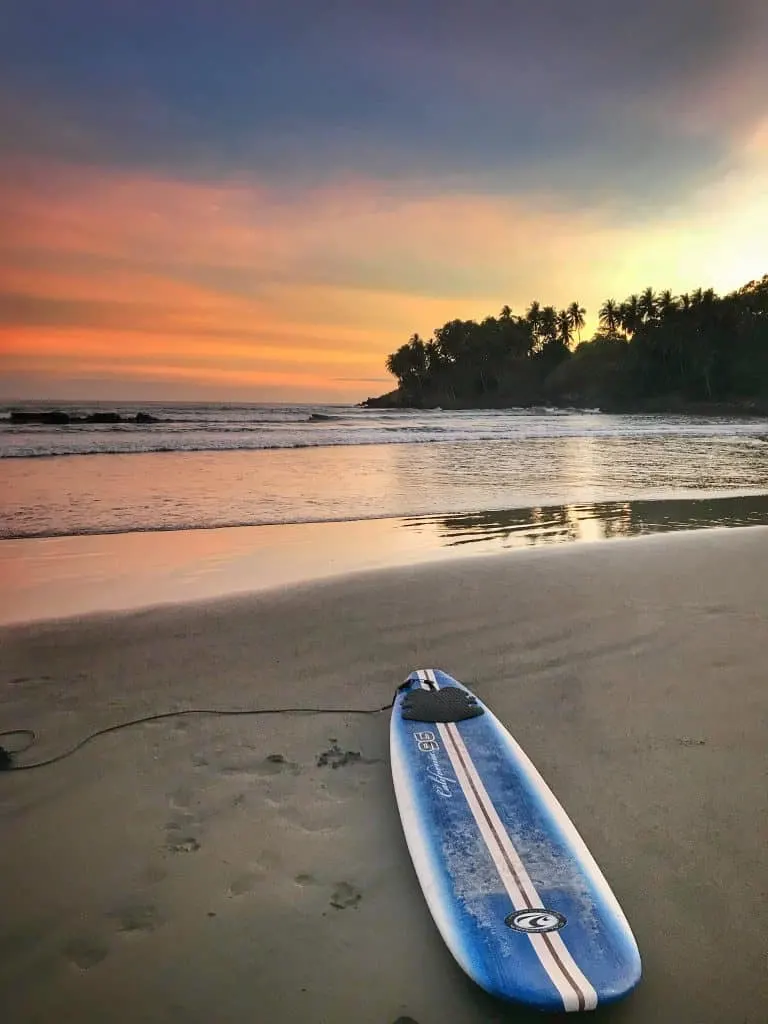 The lunch menu had options of sandwiches, salads and pasta. Whilst dinner had two different choices each night.
Orders were taken during the day and they always had a non-meat option for me. Every few nights they did something different and special.
They had a seafood feast one evening with live music and on another night they served dinner on the hill. I very much enjoyed the food and I came away feeling healthy. The combination of the food and daily surfing really helped.
Would you go surfing in El Salvador ? Leave a comment, I love to hear from you.
Disclaimer: Our stay at Laurentia Boutique Hotel was hosted. We had a media discounted rate at Las Flores. As always, all views expressed our entirely our own.
There are affiliate links in this article. It does not cost you any extra to use them. We get a few pennies of the sale towards our travels.