If you visit Guatemala, make sure to include Lake Atitlan in your itinerary. The stunning volcano crater lake, based in the Sierra Madre Mountain range, is unsurprisingly a national park.
Three perfectly formed volcanos and several, small, but colourful villages sit on the banks. Can you imagine the scenery? Its most certainly a photographers haven when the sky is blue and the geographical wonder can be seen in all its glory.
There are two roads leading to Lake Atitlan. On a map, one looks very straightforward and half the distance of the other. Don't be fooled. There is a reason why google maps will lead you the long way around. You will definitely need a 4 wheel drive if you choose to take the crazy way.
That said, it was incredibly scenic weaving around volcanos, through rivers and over mountains. Disclaimer: Not for the faint hearted! We were lucky to have a suitable rental vehicle that we picked up in Guatemala City. It was ideal for road tripping around the not so great road conditions of Guatemala.
Despite being in close proximity to each other, all of the villages are quite different. We stayed at the less touristy Toliman San Lucas as our base during our four day stay.
We allocated enough time to see the highlights, but like anything, we could have stayed for longer. There are so many things to do in Lake Atitlan and the areas surrounding it.
In our usual format, this is our Guide to Lake Atitlan!
A GUIDE TO LAKE ATITLAN
PLAY
Village Hopping
Lake Atitlan is the perfect place to go village hopping. Whether you are driving around the perimeter or taking one of the many ferries that go from port to port, its quite accessible to get to most of them. We were staying in Toliman San Lucas. It's one of the less touristy villages but no less colourful or vibrant in my opinion.
Check out some Guatemala safety tips here!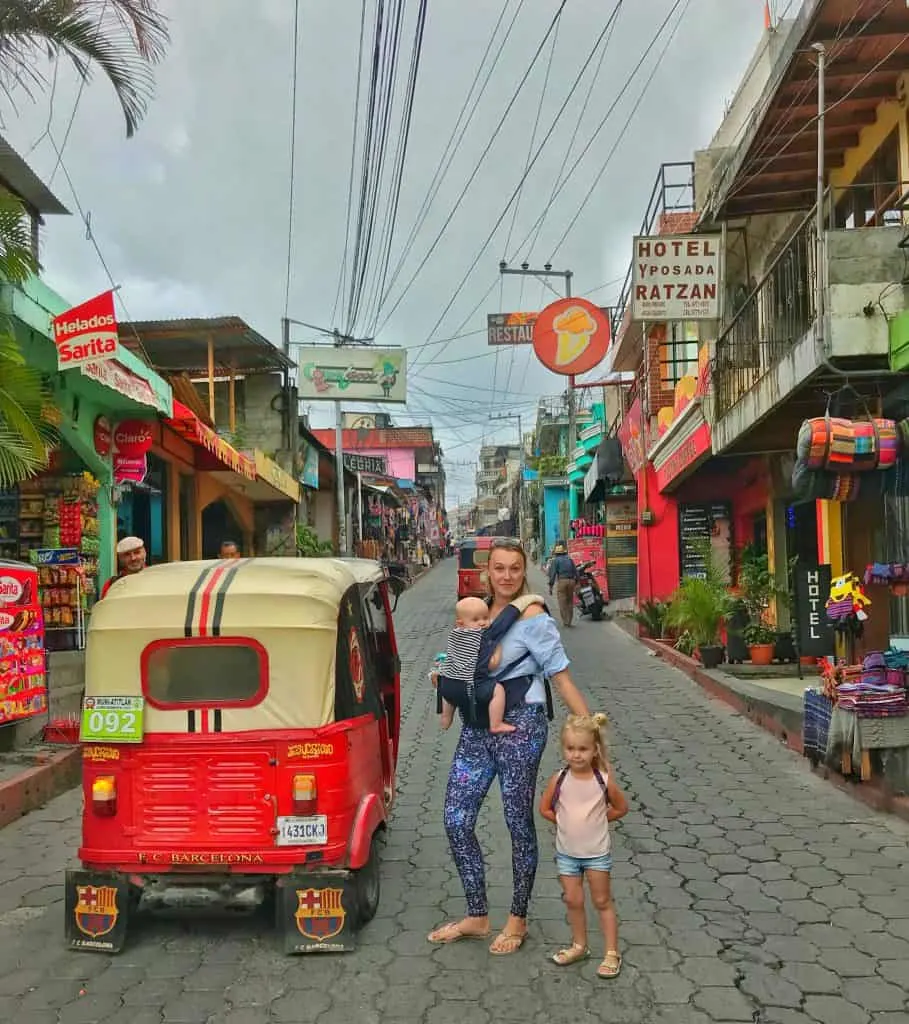 Some of the more popular tourist towns include Santiago, San Pedro and San Marco. Funnily, each area seems to attract different types of people. For example San Pedro is renowned for hippies. We spent an afternoon wandering through the many colourful shops and cafes in Santiago.
The rest of the day we explored the beautiful San Pedro. It's quite a steep walk to the town from the port so we took one of the popular red tuk tuks to a nice spot for lunch.
Again, San Pedro has some very nice cafes and little bars. Our daughter loved the one with a swing inside! Although we realised its probably not that safe, it was a lovely decorative touch to the cute little place.
Related: Cooking classes in Guatemala
Kayaking
Kayaking seems to be the number one activity in Lake Atitlan when you look at tourist guides. Of course, its easy to see why. The view of the volcanoes from the water is absolutely stunning. The best time to go out is sunrise or sunset. However it wasn't entirely possible for us with really young kids. Another option is a boat trip, hotels can assist in organising.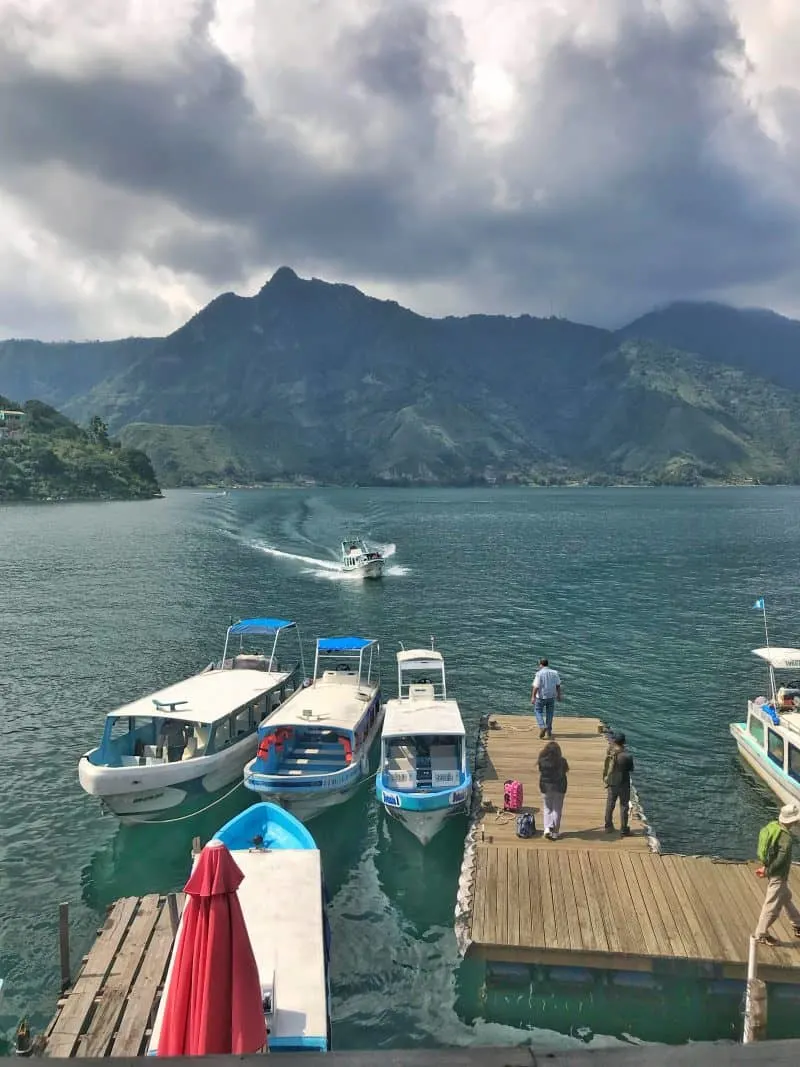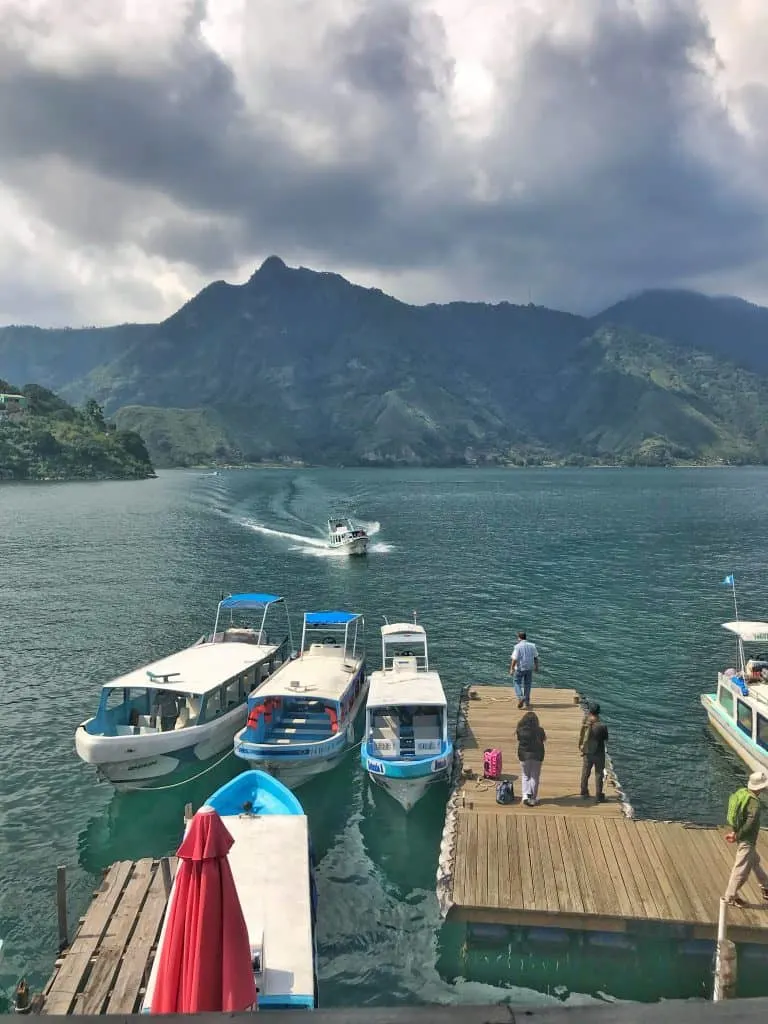 Hike
The climate in Lake Atitlan is different from neighbouring places like Antigua. It's definitely much cooler due to its elevation, making hiking more bearable. There are a few different hikes but some of the easier ones are the Mayan Tzuthill Peak, only moments form Toliman San Lucas village. The views of the San Pedro volcanoes are pretty special.
If your looking to explore other parts of Guatemala, there are a tonne of things to do in Antigua. Don't miss it! It was a joint favourite of ours along with Lake Atitlan. Needless to say there are so many top places to see in Guatemala.
Check out this guide on hiking Acatenango with kids.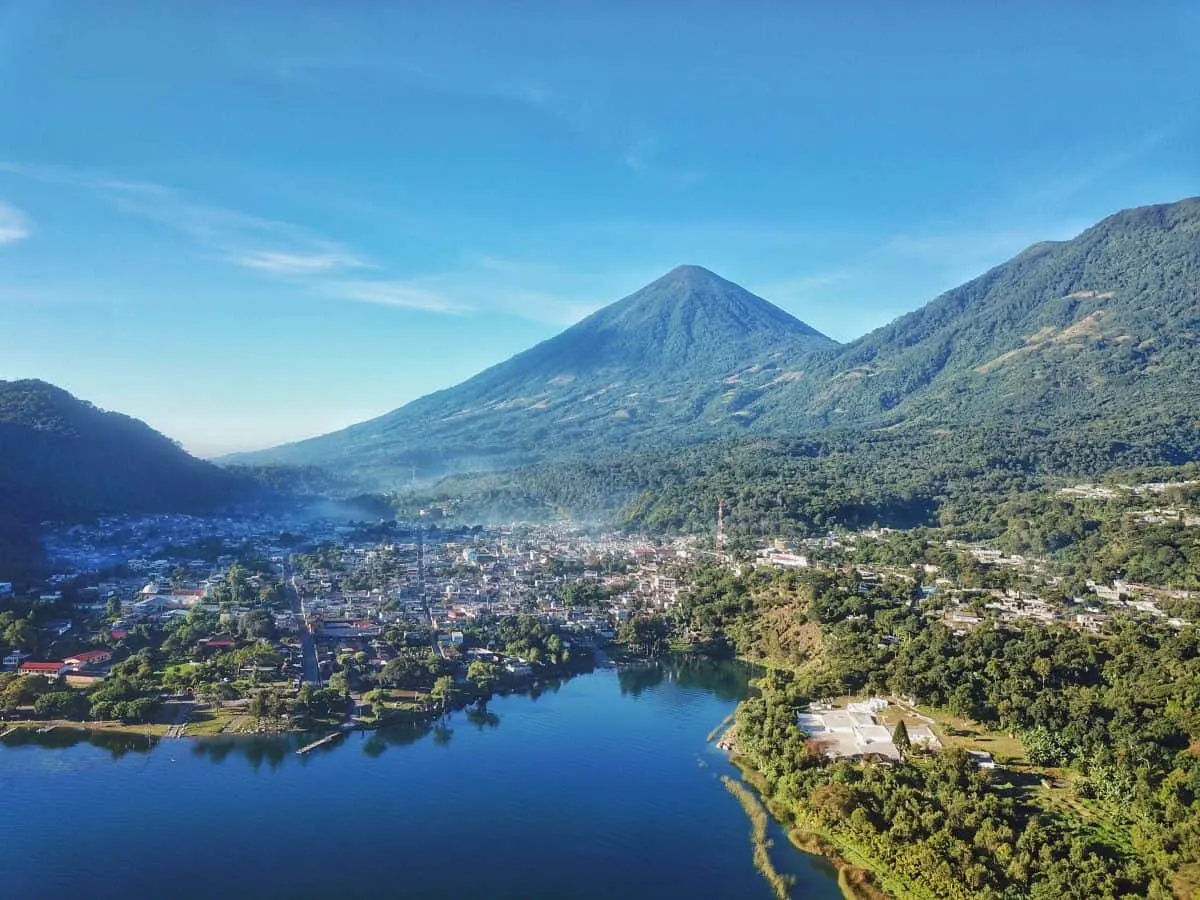 SLEEP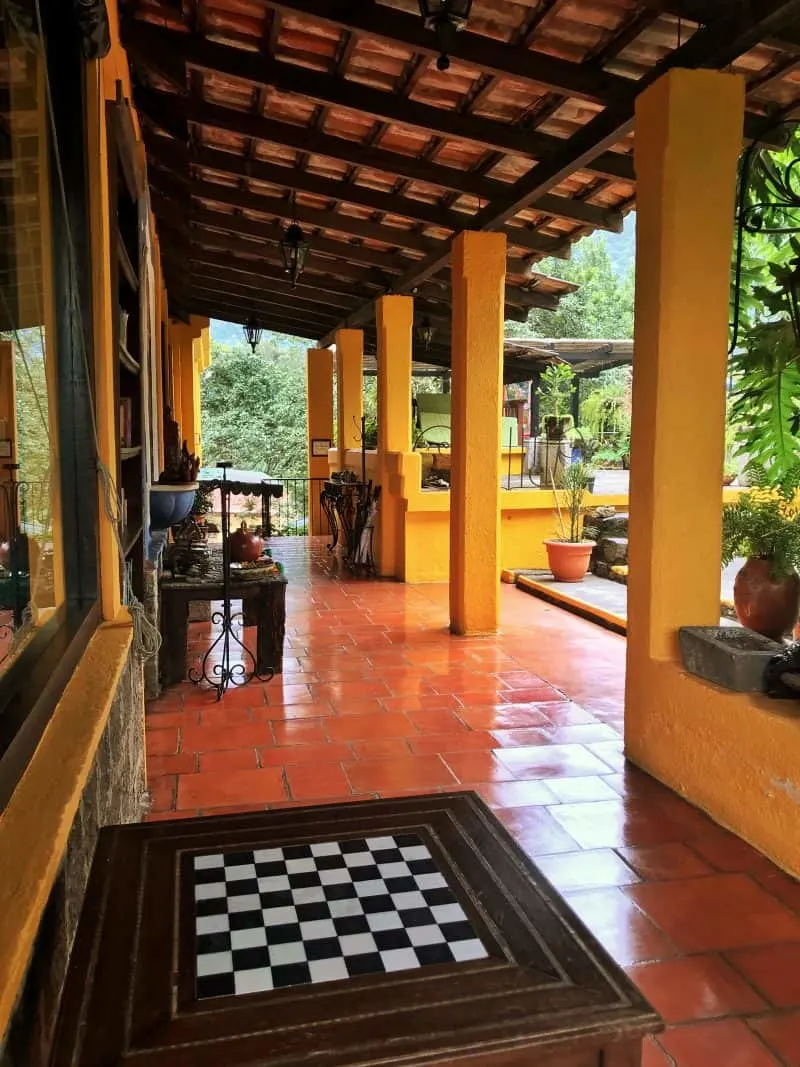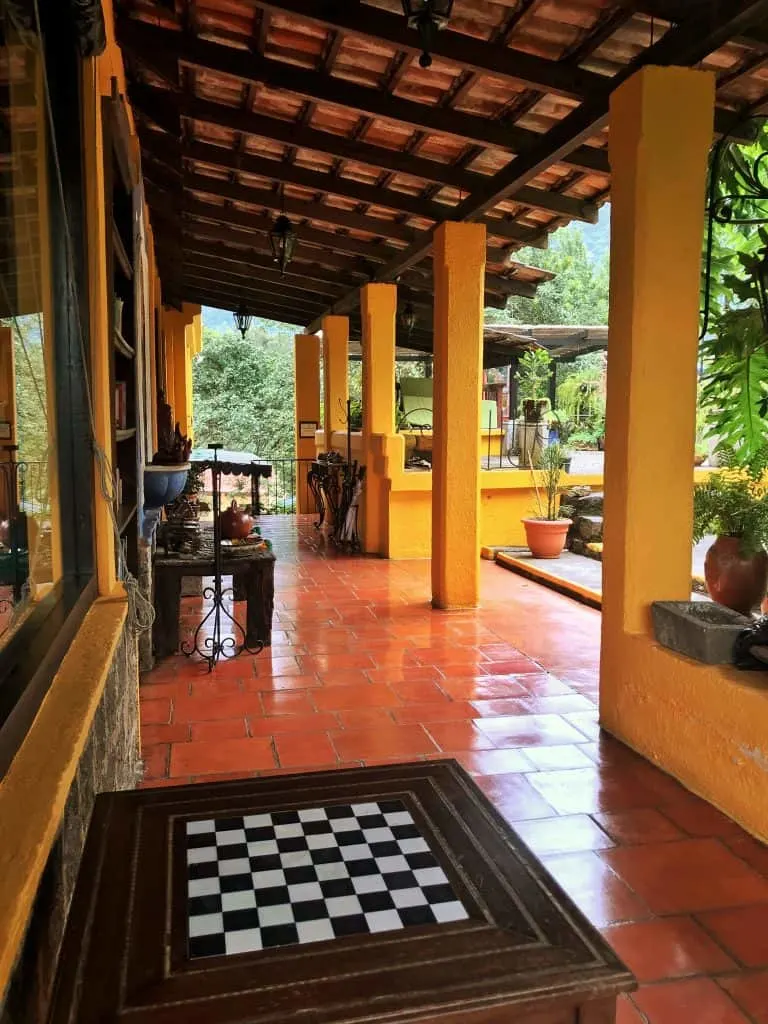 If you go to Lake Atitlan, you will not be disappointed if you choose to stay at Hotel Toliman! I cannot say enough good things about this place. Its based right on the edge of the lake and is owned by the most intriguing Guatemalan woman – Chati.
Similar to me, she was quite the intrepid mother when her kids were young. Although, she spent a lot more time off grid in very rural parts of Honduras, doing community type work.
She is super interesting and has created what feels like a homely family environment with a splash of elegance and luxury at Hotel Toliman. All of the staff are very attentive and are such adorable people.
Our Room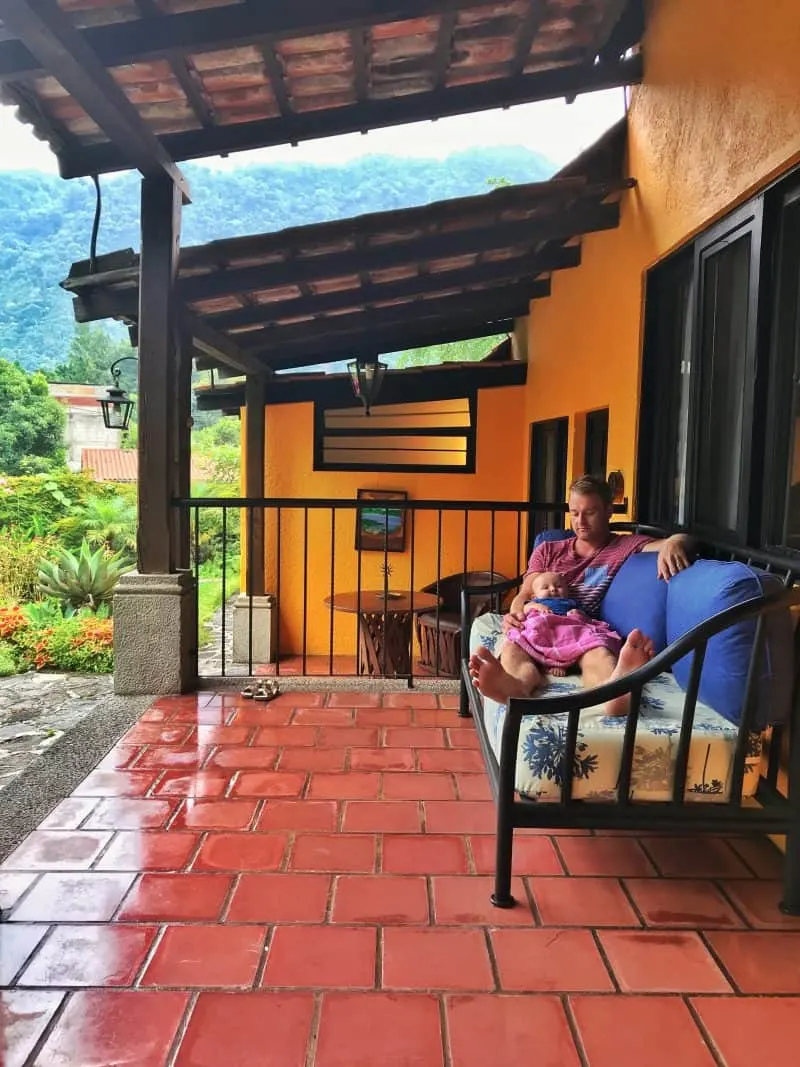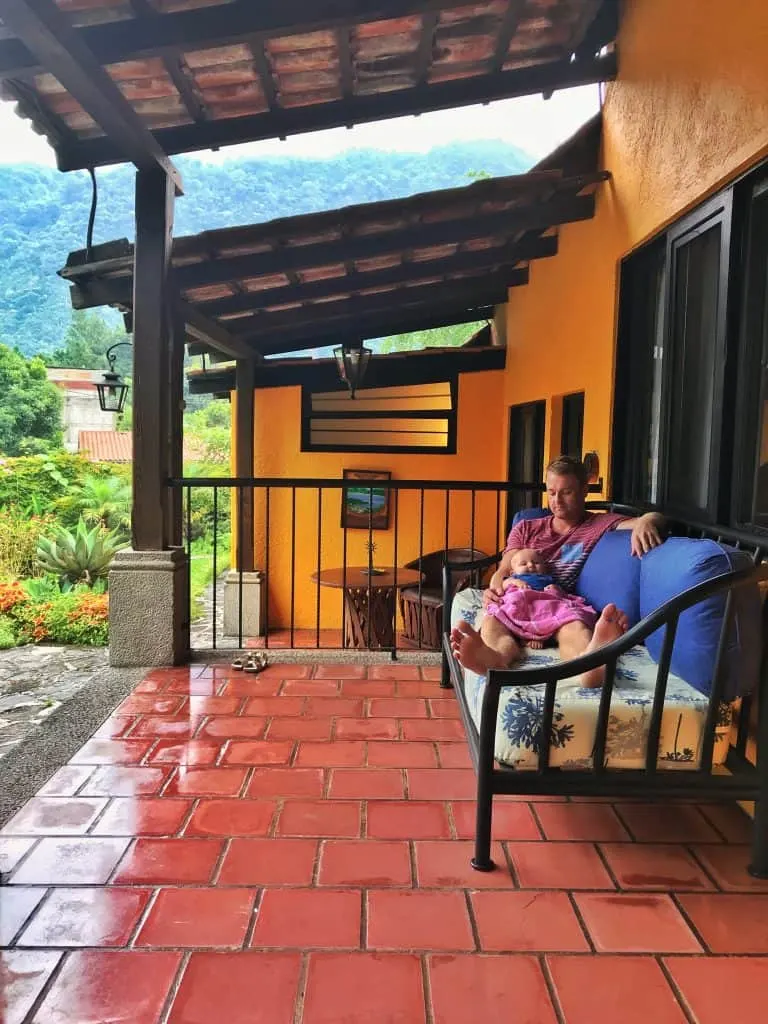 We stayed in a villa style room set in the manicured gardens. We had two massive rooms with a total of four big beds. It was a great size for our little family to spread out comfortably. The high ceilings with exposed beams and fire place added character to the rooms.
We spent a lot of time lounging on the very comfortable sofa on our terrace. Especially with the stunning views of the lake. It was the perfect place to unwind after a day of exploring.
The Grounds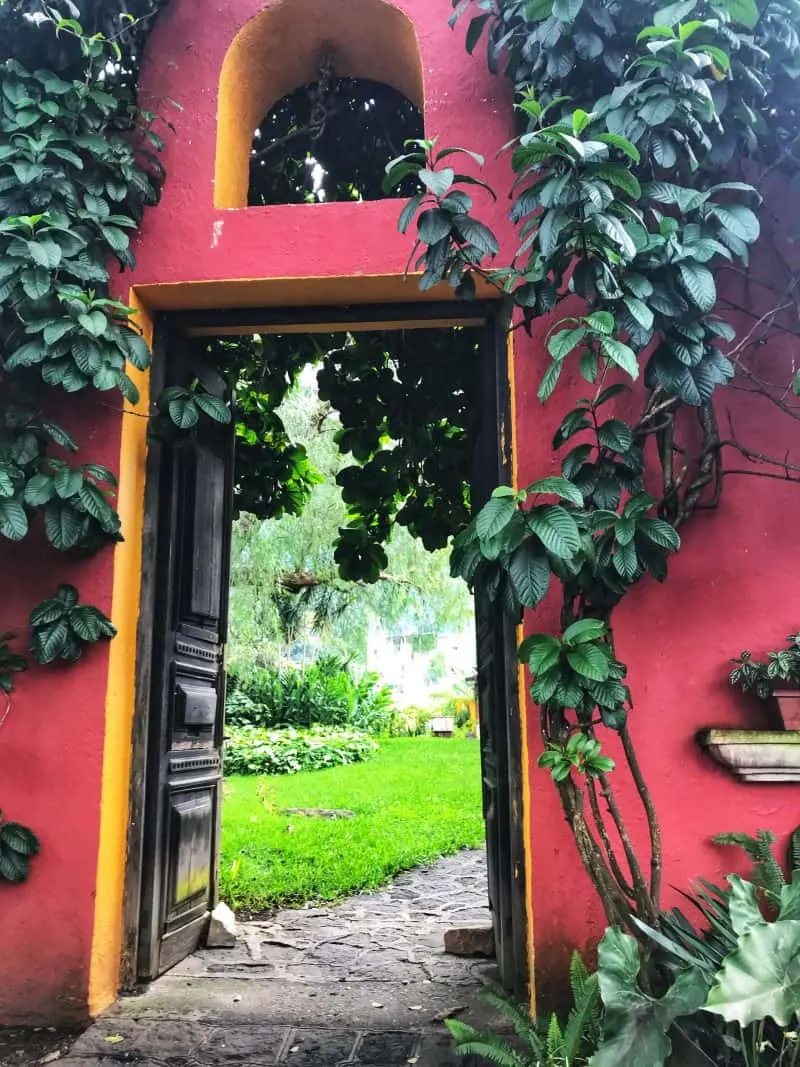 Within Hotel Toliman there is a lot going on. As I mentioned there is a beautifully manicured garden. The entry is a massive shabby chic wooden door. It reminded me of the Secret Garden Book! Through the doors are hammocks to lounge in, shaded by beautiful trees. The exterior of the rooms are painted yellow, bringing a Spanish colony feel to the area.
The organic garden was incredible and we loved so much of the food in the restaurant was home grown! The complimentary garden tour is well worth it. We learnt a lot about non-chemical pesticide and all of the wonderful fruit and vegetables that grow in the Lake Atitlan climate. They had everything from herbs, to citrus fruits and all kinds of vegetables.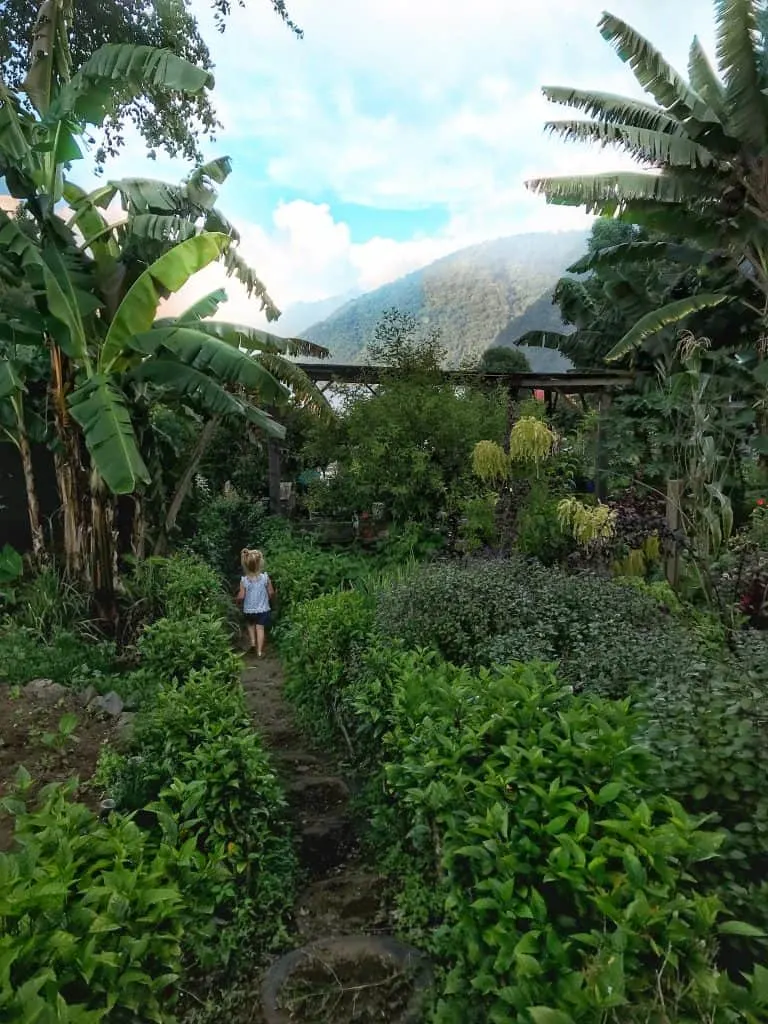 The swimming pool has the most perfect reflection of the surroundings. Although the water was a little chilly, it was a nice and relaxing spot to hang out with the kids. Our daughter especially loved the giant tree swing next to the pool.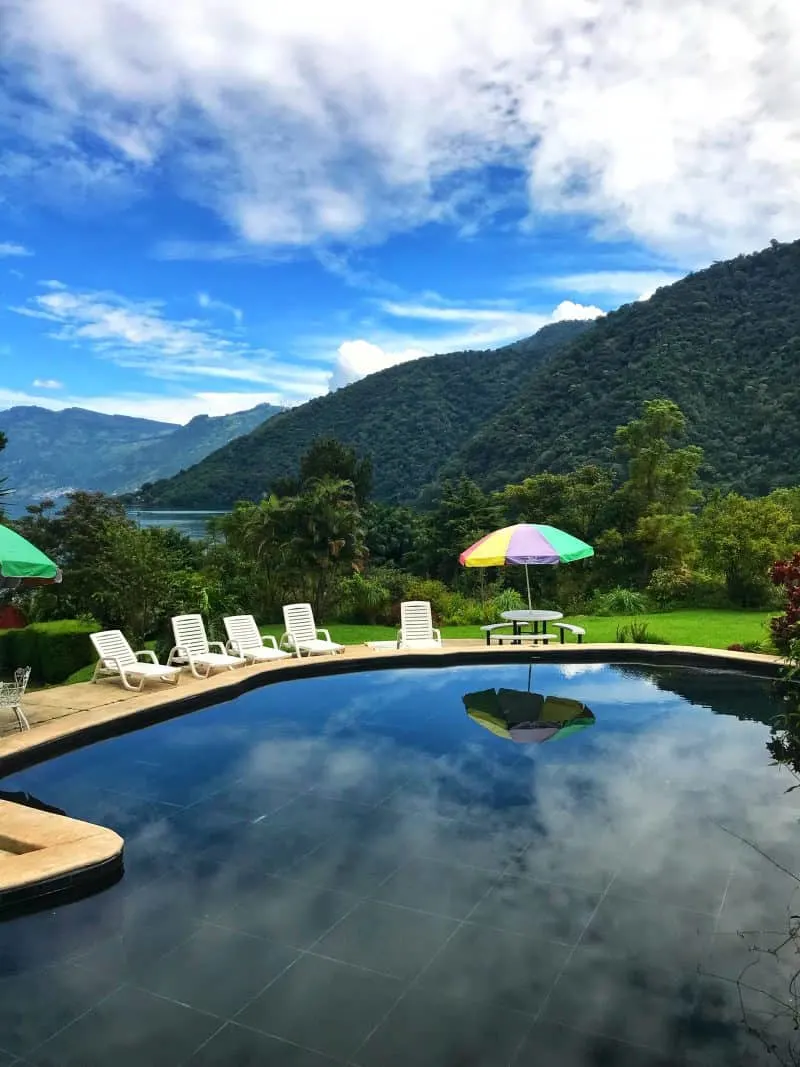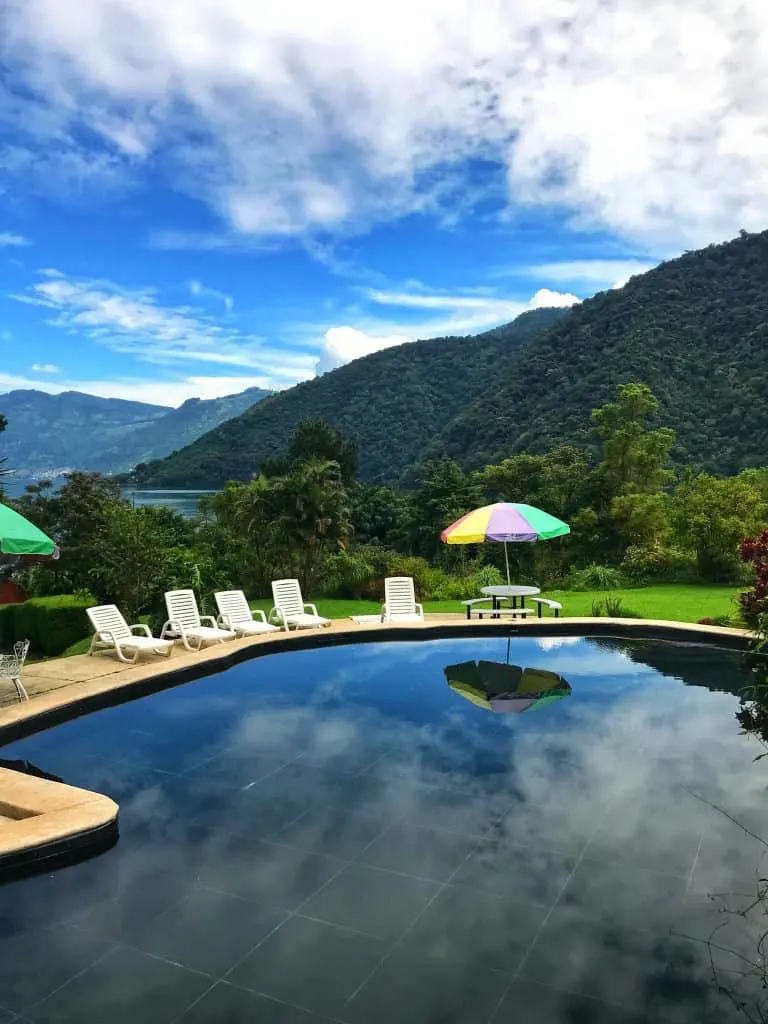 Hotel Toliman have kayaks and canoes that guests can use on the lake. The staff helped with getting us in and out of the boat. Our daughter wasn't so keen on sitting still for long so we rowed a few meters and came back again! It was a little unstable with an energetic toddler. It would be perfect for adults and more grown up kids.
Restaurante Y Toliman
There is no doubt the food in Guatemala is pretty incredible. Restaurant Y Toliman is testimony to the growing culture of world class fine dining experiences in Guatemala. The views from the restaurant are the best of the entire hotel. I could sit for hours if I didn't have two kids pulling on my leg!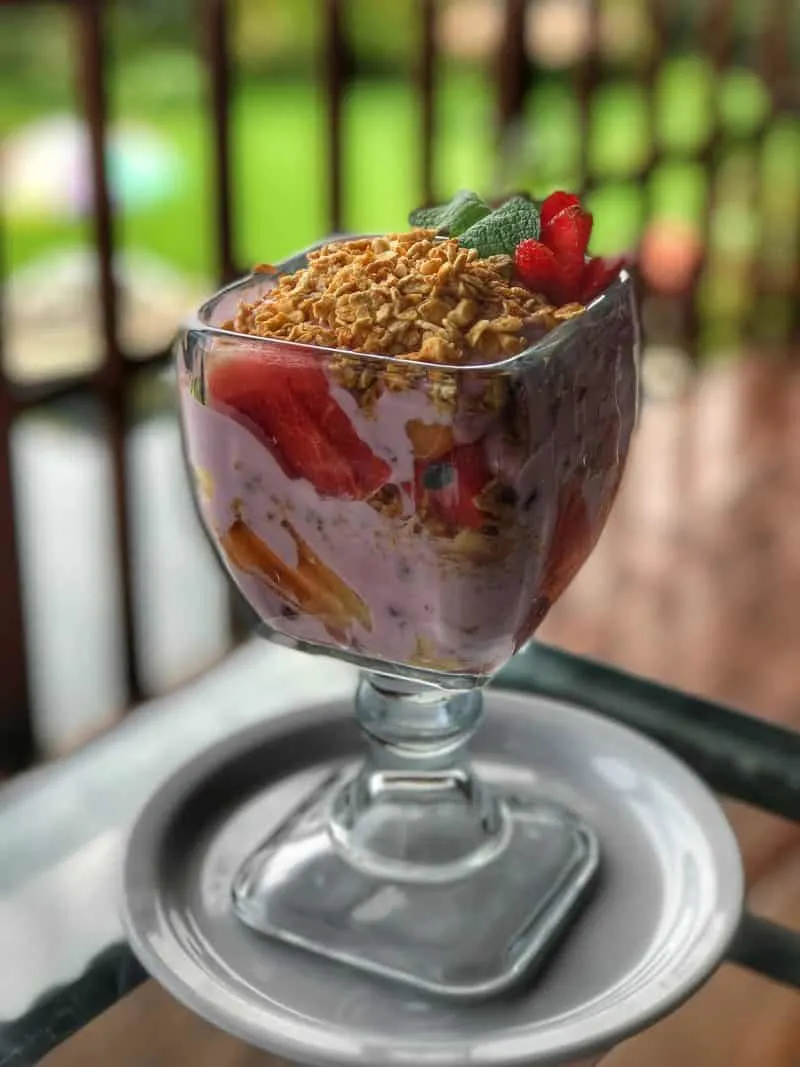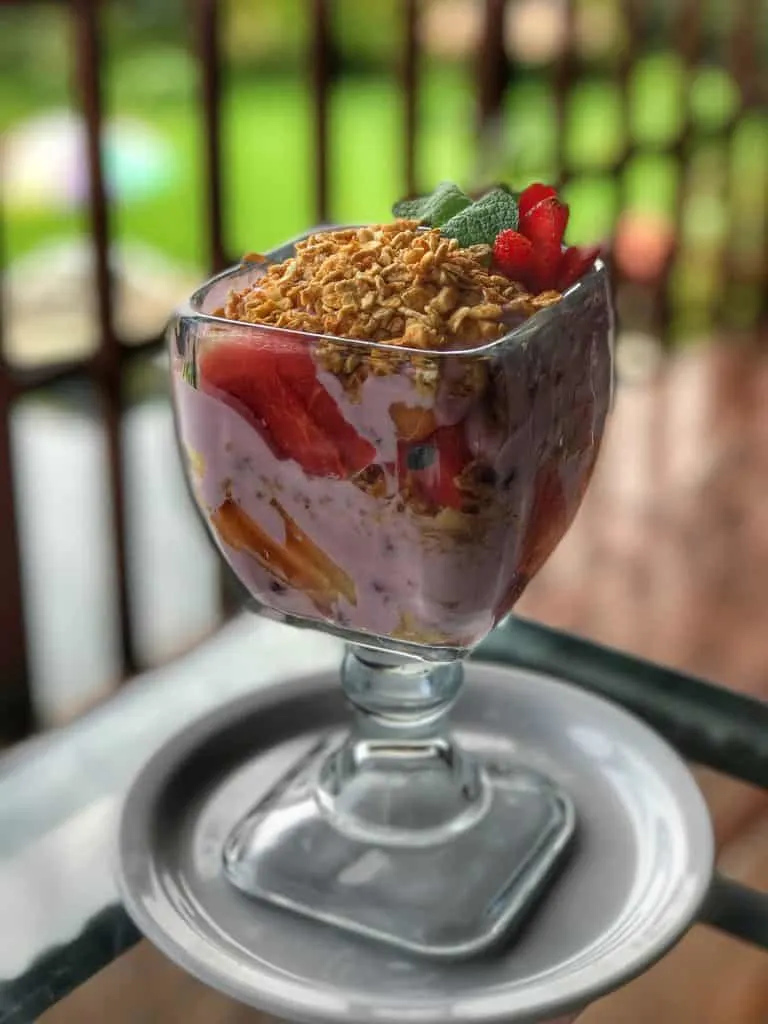 If you ask for granola and yoghurt for breakfast, expect a delicious work of art to turn up at the table. Breakfast is always my favourite meal of the day and I was not disappointed!
There were also fluffy pancakes, oats and freshly chopped tropical fruits from the garden. It's no surprise the coffee was amazing and I'm sure it is from their very own coffee farm.
The afternoon and evening menu had everything from pastas and burgers to steak and vegetarian options. There were also plenty of more traditional Guatemalan dishes. Everything is impeccably presented. It made it difficult for us to go and explore other restaurants because the food was so good!
Community Work
Besides from running the best hotel in Lake Atitlan, Chati also contribute's to the community in a number of ways. Local children with physical disabilities have their weekly therapy in the pool. Chatti told me of plans to have the water heated in order to make it more comfortable for them.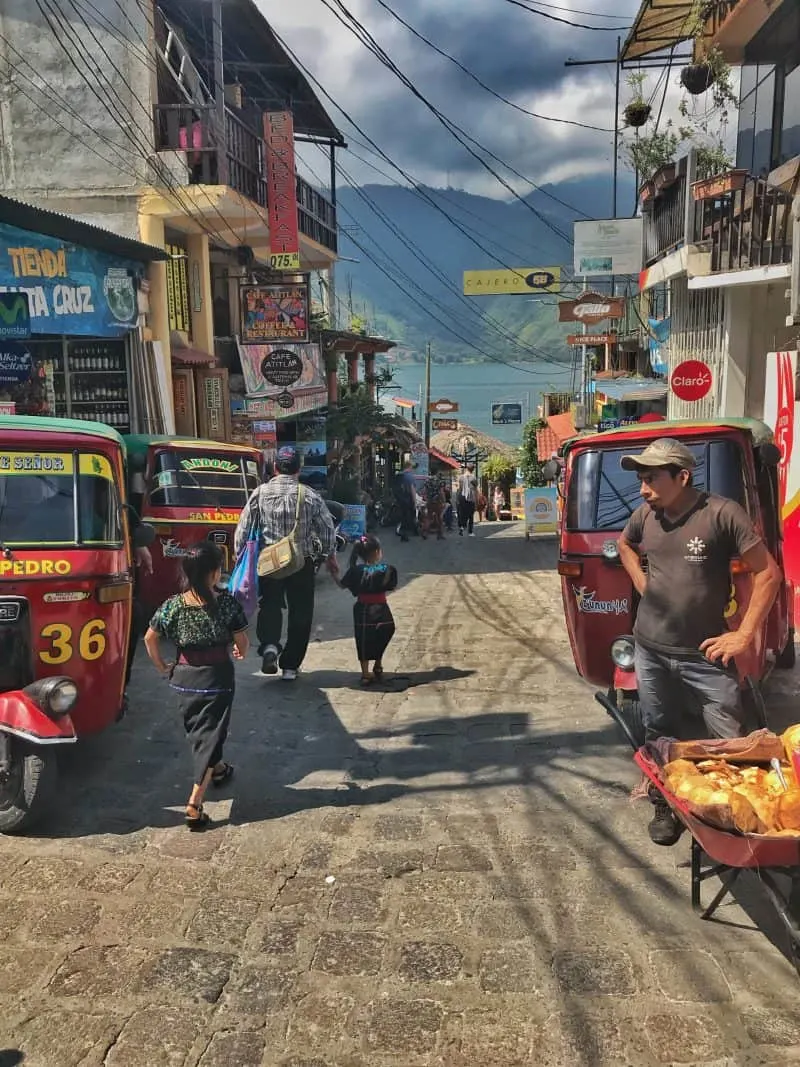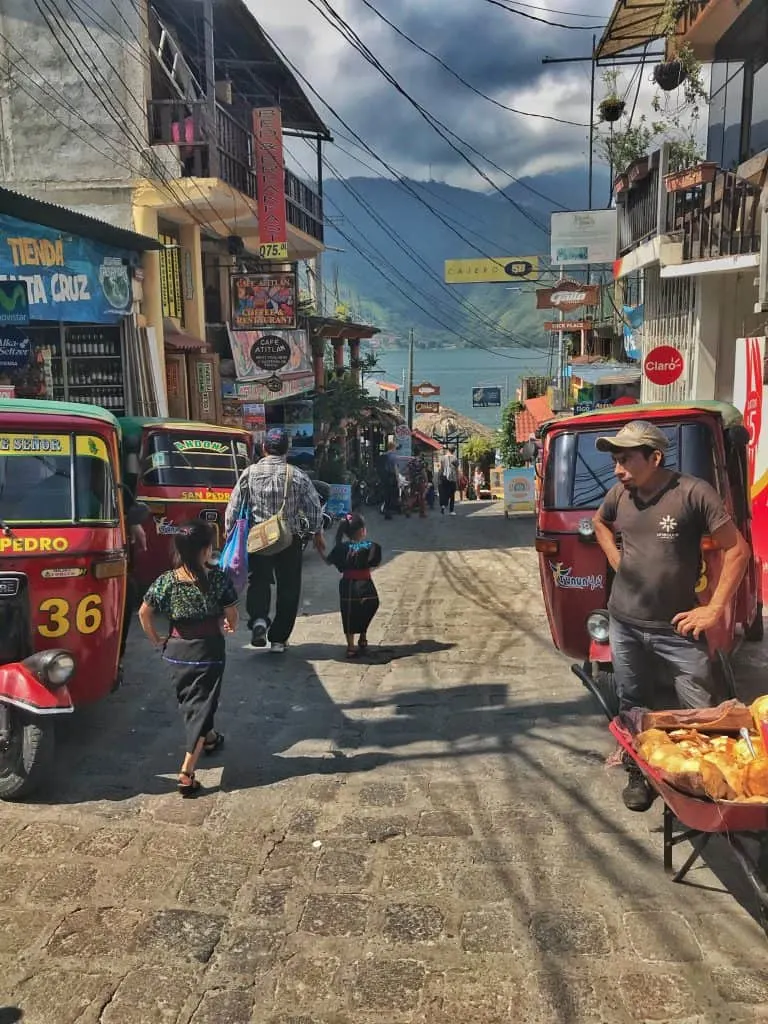 She also set up a woman's refuge in the village and welcomes women of domestic violence with no where to go. The house is a couple of miles away from the hotel. I found it heart warming and refreshing to see a hotel give back to the community in this way.
If you visit Hotel Toliman, you will see a mural on the wall leading to the restaurant. It's quite colourful and vibrant. An artist from the US designed and made it along with some members of the community. They used it as an opportunity to teach the locals how to create murals. The hotel bought additional materials to also put a mural at the entry of the local graveyard.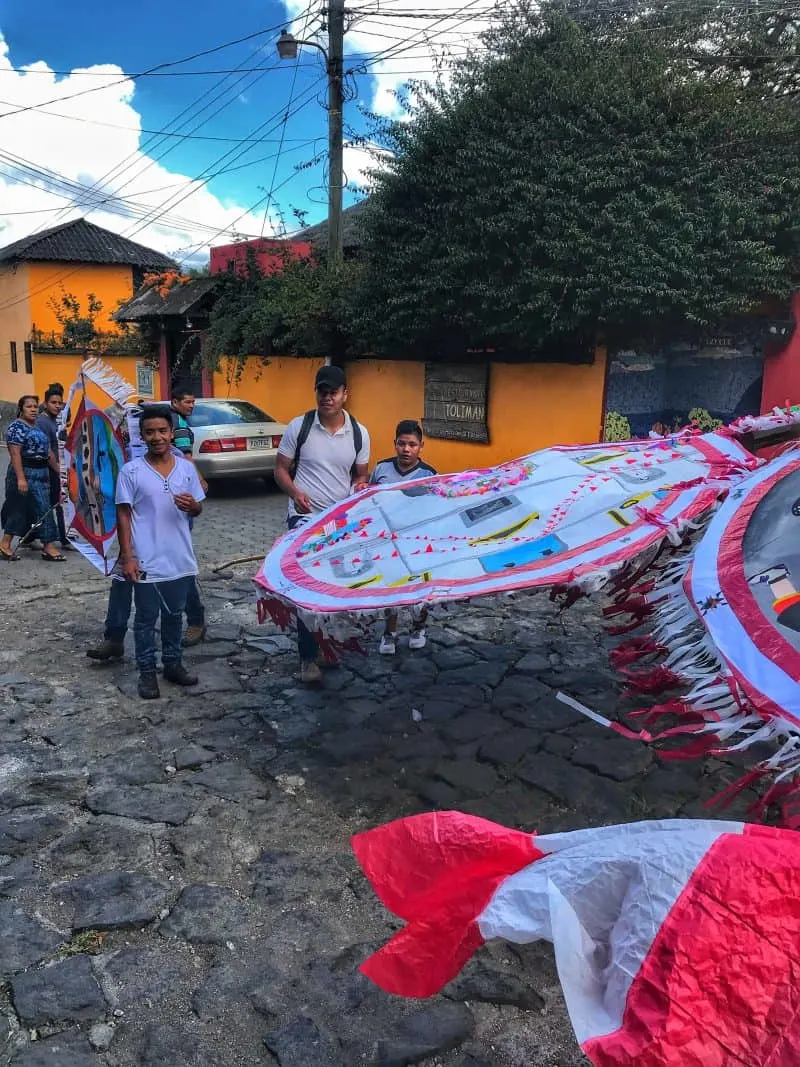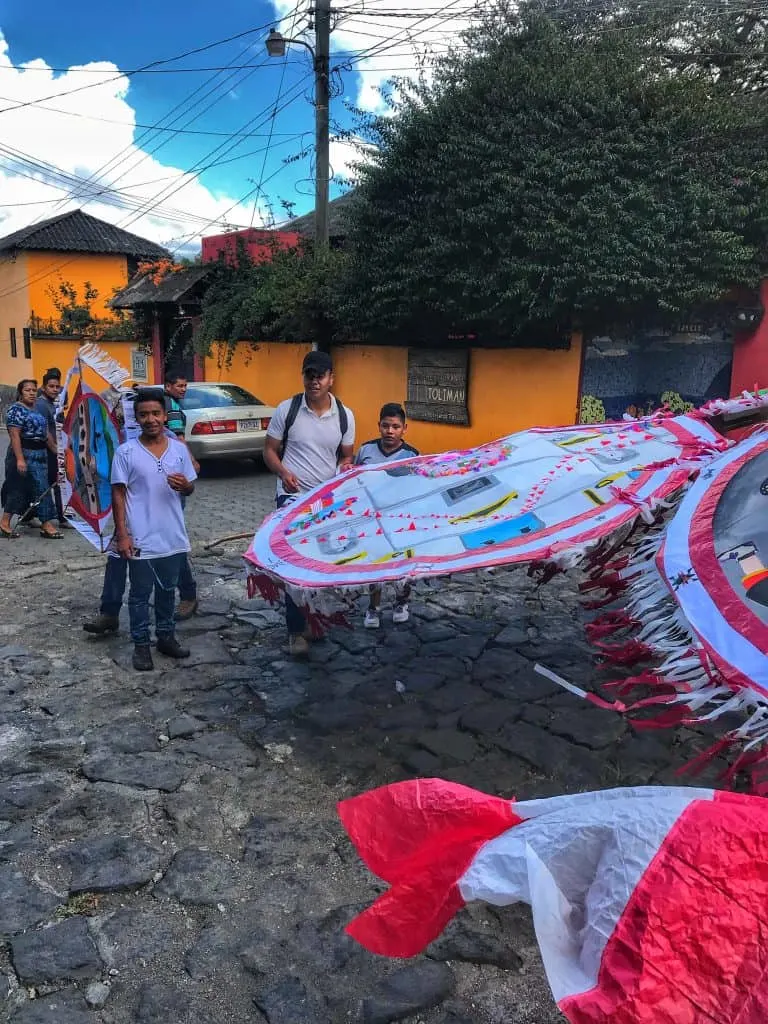 So as you can see, its no ordinary hotel. It's a luxury experience, all the while knowing some of the profit is reinvested into the community in a multitude of ways.
For rates and availability click here.
Disclaimer: We stayed at Hotel Toliman on a complimentary basis. We covered all the costs of meals and everything else covered in this article. There are also affiliate links in this post. It does not not cost you any extra to if you use the link. We get.a very small amount of the sale as a referrer to put towards our travels. As always, all views expressed our entirely our own.
You may also like: