Bermuda was the dreamy option we came up with in our search for a tropical destination for a zika free babymoon. As I wrote this article, I was twenty-one weeks pregnant and had recently returned from our babymoon in Bermuda.
I am a keen traveller and was fairly devastated that so many destinations were out of the question due to zika virus.
However, with every cloud there is a silver lining! I was doing some researching and came across Bermuda as a zika-free destination.
I did quite a bit of online investigating but there isn't actually that much marketing of the country which surprised me. Once we decided on Bermuda we booked the tickets, got our travel insurance and started planning.
IS THERE ZIKA VIRUS IN BERMUDA?
If you are thinking of a babymoon in Bermuda or are considering kids in the future, you will be happy to know that Bermuda is considered a Zika-free destination.
As of May 2018, there had been no cases of Zika Virus in Bermuda since February 2017 and the 6 cases before that were imported cases (there was no local transmission). But it is always best to check with the Bermuda Government Authority.
Babymoon in Bermuda
We had an amazing week for our babymoon in Bermuda. From massages to exploring the caves, long walks and all the beautiful scenery, it was the perfect destination for a babymoon.
As we were pregnant with our second baby, our toddler came along for the ride as well. Want to know where to stay, what to do and what to eat in Bermuda?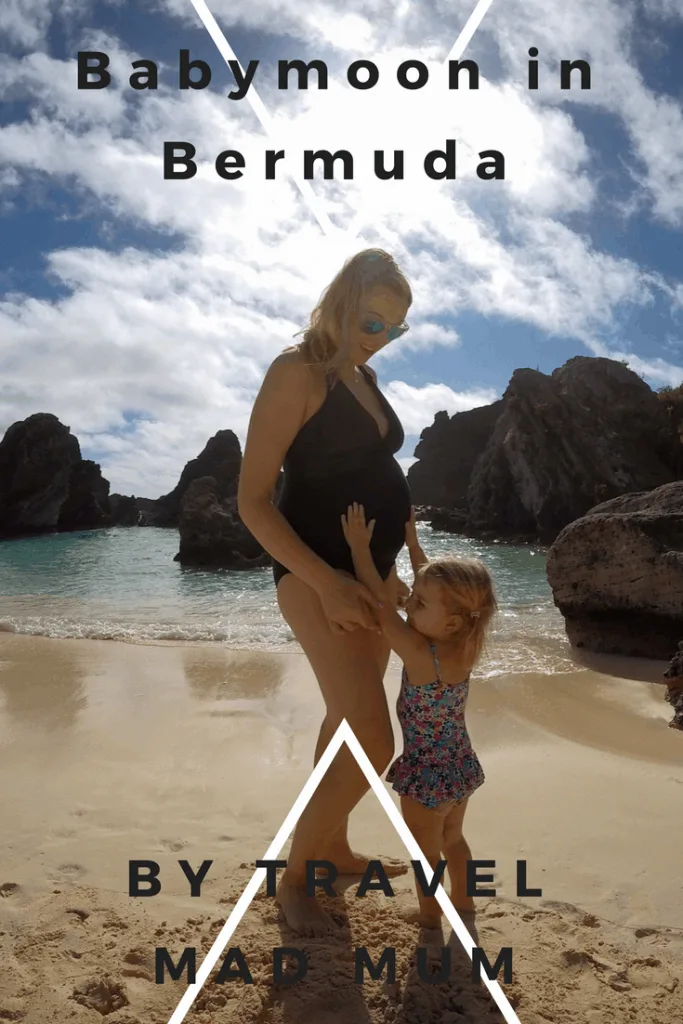 Where to stay in Bermuda
We stayed at the all inclusive Grotto Bay Beach Resort. It is very close to the airport and it's in a great location for getting to many of the attractions. There are some great low intensity walks nearby with beautiful scenery.
Within the hotel they have their very own underground cave where you can swim in the crystal clear water. They also have the only spa in the world that is inside a cave and suspended above water. I cover this below. We loved the private beach and jacuzzi.
I have always loved being in the water when I am pregnant because it makes me feel weightless when carrying around so much extra weight.
Bermuda can be quite expensive so I love that Grotto Bay offer an all-inclusive rate. This makes it so much more affordable.
The quality of the food is not compromised like you may expect of all-inclusive resorts. It is cooked to order from a delicious menu.
Drinks are also included so your other half can try the local 'rum swizzle'. The all-inclusive rate also gives you free island wide transport, both buses and ferries.
I don't normally advocate all-inclusive because I think it's important to share the money around the community. However, in the case of Bermuda, it is probably not so affordable for the average family.
This is why I feel it's important to mention Grotto Bay's package. For rates and availability, click here.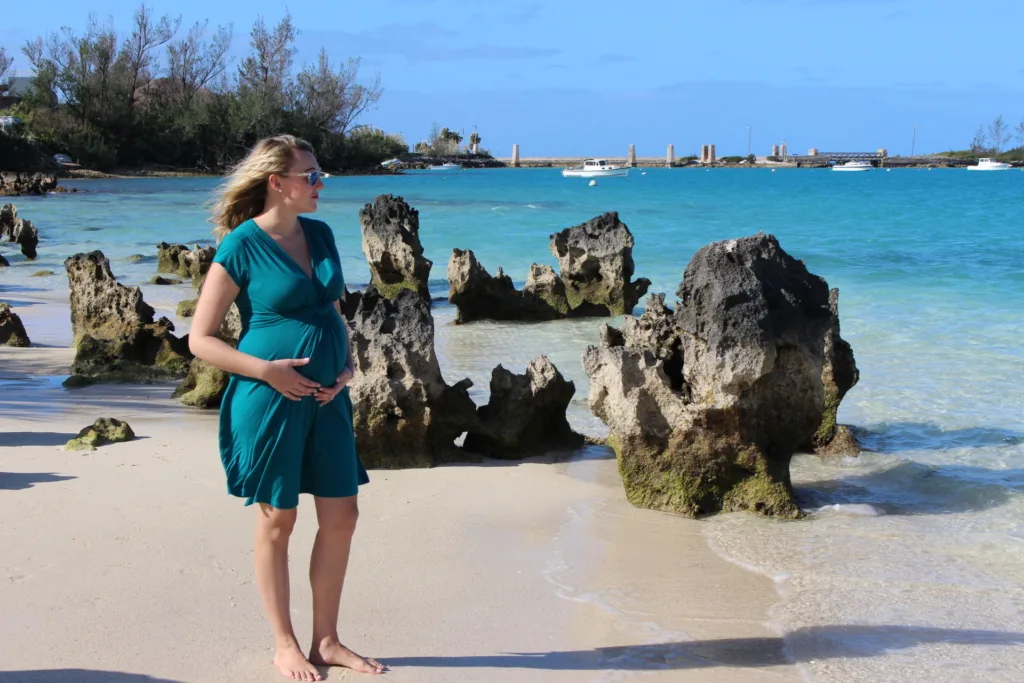 Where to eat in Bermuda
As we stayed a week in Bermuda, we did half our time as all-inclusive. In the rest of the time, we looked for the most affordable places to eat to keep within our budget. We enjoyed the food at the following places:
Henry VIII
This pub-type establishment is very close to Gibbs's lighthouse on the west of the island. It is very British, well it would be with it's name.
However the food doesn't necessarily have British inspired dishes. They have a variety of meals from sandwiches and wraps to pastas and seafood dishes, there is something for everyone.
It was one of the more affordable menus we came across. Perfect for a lunch sitting out on the patio with views of the sea.
Swizzle Inn
The Swizzle Inn is based next door to Grotto Bay Beach Resort and is one of the oldest buildings in Bermuda. It is also home of the islands famous rum swizzle drink.
Despite its medieval decor, the place had the feel of an American diner. They serve a variety of food but the burgers are for sure the highlight. My fav was the swizzle burger with garden salad. The salad is to die for!
What to do in Bermuda on a Babymoon
We were surprised to find so many things to do on our babymoon in Bermuda. As I mentioned, there isn't a great deal of online marketing so it was a lovely surprise to come across so many gems. Here were my favourite spots as a pregnant mum.
Caves
The east of the island has several caves which are a mesmerising wonder of nature. The stalactites and stalagmites are incredible. The main one to visit is the Crystal Cave.
A bus stops right outside and you can treat yourself to an ice-cream after at the Baileys shop next to it. If you do decide to stay at Grotto Bay, I would say you don't need to pay into a cave because they have their own on site. Not only that but you can swim in it.
You can't do that at the bigger caves where tourists visit regularly. Whatever your choice, you need to see one of them.
Spa and massage
The most unique spa in the world is within Grotto Bay Resort. It is the only one that is in an underground cave. Massage tables are on a pontoon floating on top of the caves crystal clear natural pool.
They offer antenatal massages. I had one and it was the most surreal experience and something I will never forget.
There are plenty of other places to take a massage but I think this one is by far the most special. They have two tables side by side, so your partner could have one at the same time.
The pitter patter of water dripping off the stalactites into the pool is so incredibly relaxing!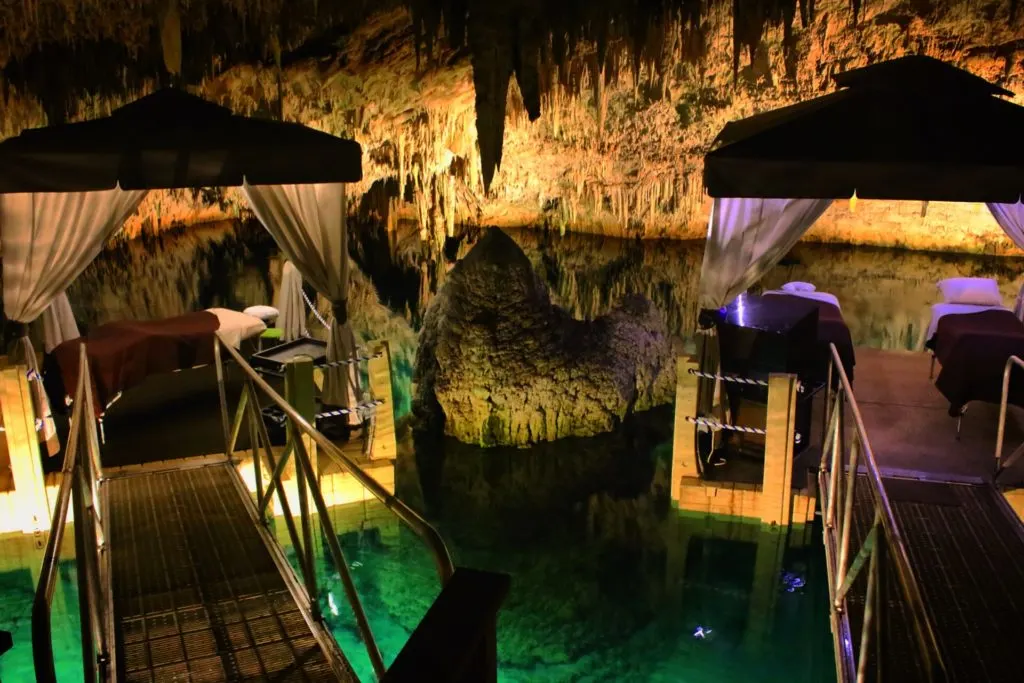 Nice walks
There are many great nature walks in Bermuda. Most of them are not very strenuous as it seems like a fairly flat island in my opinion. We did a small section of the Bermudian rail trail.
It is an absolutely incredible walk along the coast and runs the length of the island. The views are stunning along the way. If you get fed up or tired, it's quite easy to get back onto the main road and take a bus into town.
Our second favourite walk was the Blue Hole nature trail. It is on the east side of the island. We walked through bush and around the most amazing blue lagoons. It is not a particularly long walk.
Along the way you will come across a small beach. There was literally no one around, it felt like a lovely peaceful place to be.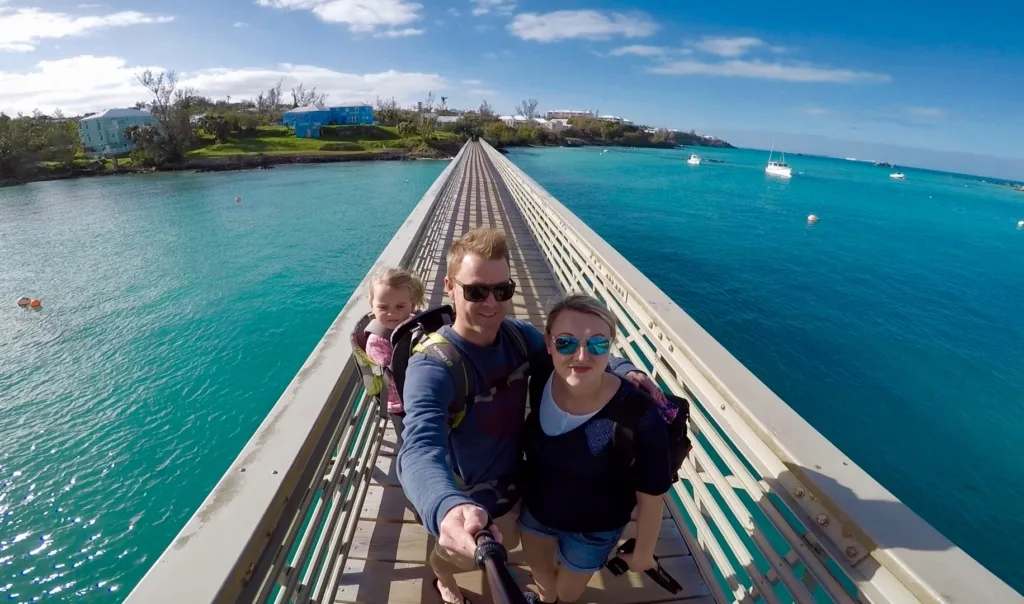 Beaches
The beaches are incredible along the west side of the island. There are a number of small beaches very close to each other. The most famous being Horseshoe Bay.
It is known for its pink sand and beautiful water. This was one of our best days out in Bermuda. It's definitely worth your while dedicating some time to exploring a few of the beaches near there.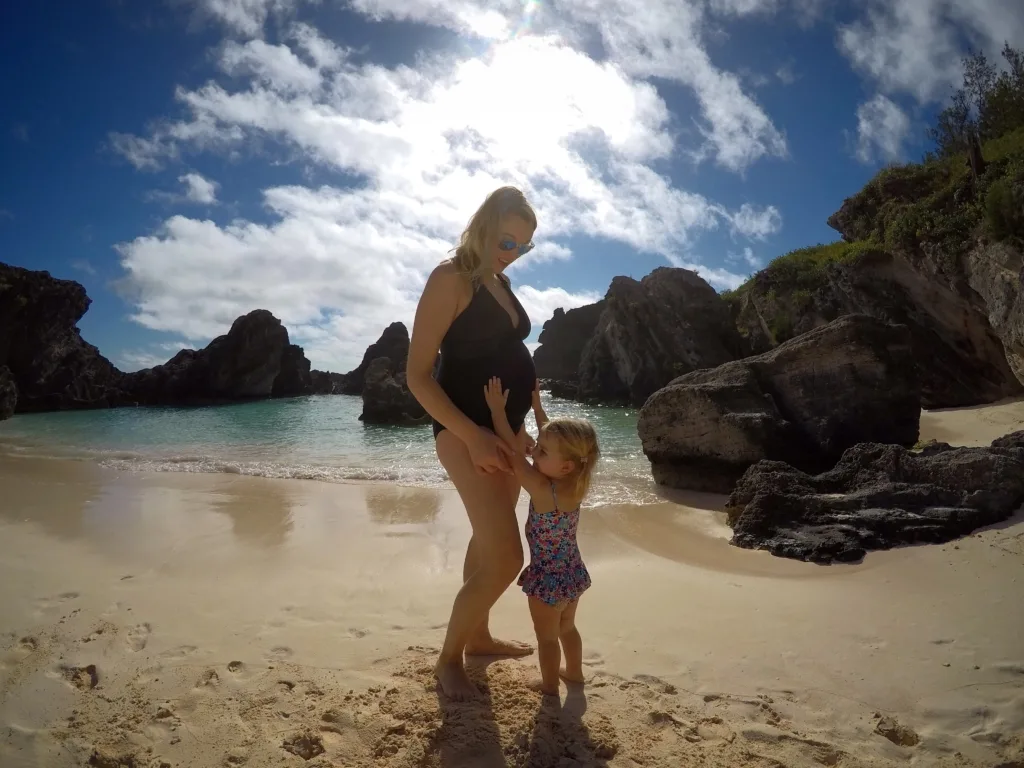 Yoga
There are several places on the island you can do yoga. It is such a good exercise to get involved in whilst pregnant. I just wish I had more time to do so when I am at home.
In Bermuda, there are several places to take a class. If you want to keep it simple, you may be able to do it at your resort. They ran aqua yoga classes at Grotto Baby. If you are staying in Hamilton, Elephant Yoga studio has regular classes.
However, if you want to go all out and do something completely different, you could do yoga in Crystal Cave! It is available on selected mornings.
What a surreal and relaxing environment to take a yoga class. I think it is definitely a special babymoon activity.
Date night
Having a date night is always important on a babymoon, whether you have another child in tow or not. The whole point of it is to have some relaxing down time as well as one to one with your partner.
There are some great evening tour packages. Some include a full trip around the island with a massage, dinner and a glass bottom boat ride.
There are some smaller packages that are less expensive with a dinner and glass bottom boat ride. See Island Tours Bermuda for all evening options.
Alternatively you could head to Hamilton for an explore and fancy dinner. The restaurants around there tend to be pricey but its nice to treat yourself once in a while.
Disclaimer: There are affiliate links in this post. Using these links will not cost you any extra. As a referrer, we are given a few pennies of the sale for our travel piggy bank. We were lucky enough to be hosted on this trip but all opinions are our own.
You may also be interested in: