Turkey is a unique country. While the majority of the country is in Asia, there is a small portion of it in Europe. It has land borders with eight countries and four seas surround it. It is no wonder that there are a staggering 463 blue flag beaches to choose from. You are also spoilt for choice with the best resorts in Turkey for families.
It is one of the most popular holiday destinations in the world due to the warm weather and the hospitality of the locals. What makes it so appealing for families is the amenities and the affordability.
Best Family Resorts in Turkey
Turkey is just a short plane ride away for the UK and Ireland. This is great if you are flying with babies or flying with kids for that matter.
Unsurprisingly, most of the resorts are scattered along the coast and near a beach. There are hotels for every budget. Five-star hotels with waterparks and funfairs, budget-friendly resorts near the centre or quiet resorts in Turkey.
Take a look at some of the best resorts in Turkey for families below.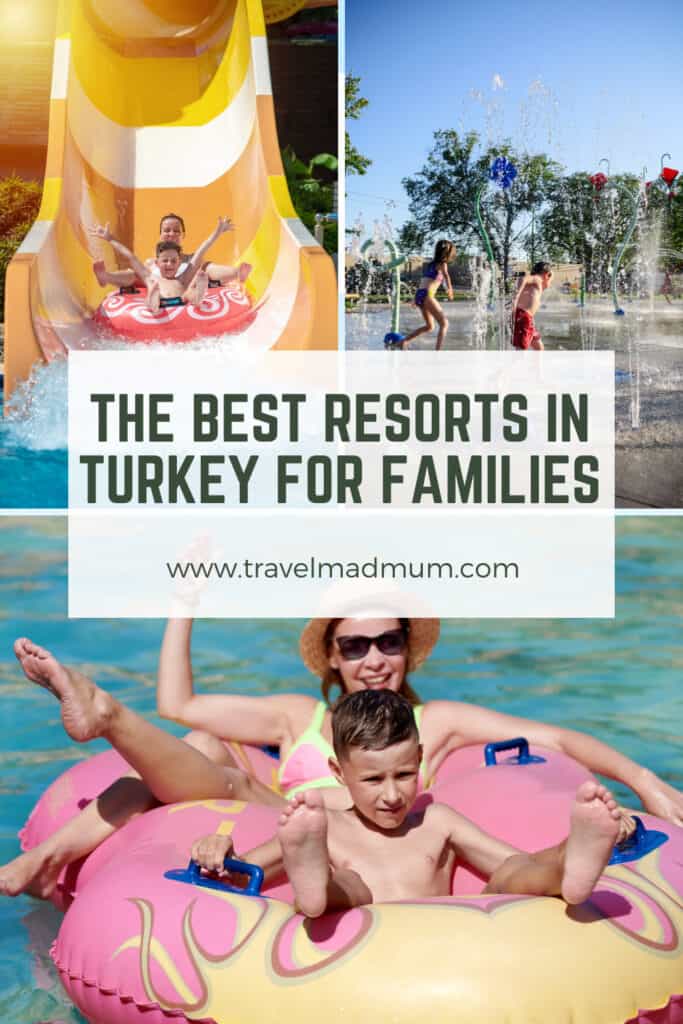 Best Family Resorts in Turkey All-inclusive
Antalya is surrounded by the Taurus mountains. Unlike many of the other holiday destinations, Antalya is popular all year round. It is incredibly hot during the summer and cool and wet in the winter. It is soaked in history with ancient ruins, amphitheatres and artefacts.
With the Mediterranean sea on your doorstep, there are plenty of pristine beaches to choose from. This also makes it home to the best beach resorts in Turkey.
Antalya is known for its lavish all-inclusive hotels and the Delphin Imperial Lara certainly doesn't disappoint. The beachfront property looks the part with its unique architecture and breathtaking views.
You have everything you need at the hotel, including a choice of five swimming pools. The hotel is close to the airport, so you can get your holiday started right away. Once you arrive, there are several restaurants and bars to choose from.
For prices and more information click here.
Best hotels in Antalya for families
You can't visit Antalya without strolling around the cobbled streets of Kaleici. There you can find traditional houses, numerous souvenir shops, restaurants and bars. It is the heart of the city and the main entrance is Hadrians Gate.
If you like to be in the middle of things there are plenty of hotels to choose from in Kaleici. The Suit Apart Hotel & Rooms has a great pool area and garden. It is the perfect place to relax away from the hustle and bustle.
You feel like you have stepped back in time with the Ottomon decorations around you. It is a short walk away from Antalya's iconic Hirdirlik Tower and the owners are on-site to help answer any questions you have about the area.
Check here for more information
5 Star Resorts for Families
On the other side of Antalya, there is a popular holiday resort called Belek. It is popular with golfers but just a short twenty-minute drive away from Perge and the famous Aspendos Amphitheatre. Belek is around forty-five minutes to the airport and has the best all-inclusive for families.
The Limak Atlantis Deluxe Hotel is a great choice for families on a budget. It is a luxury hotel that offers great deals for families. On arrival, all guests are given a complimentary bottle of wine and fruit basket.
The hotel is on the beachfront with plenty of beach accessories but also has a choice of five swimming pools. The all-inclusive concept not only includes the main restaurant, but you can book an evening meal at one of the a la carte restaurants during your stay.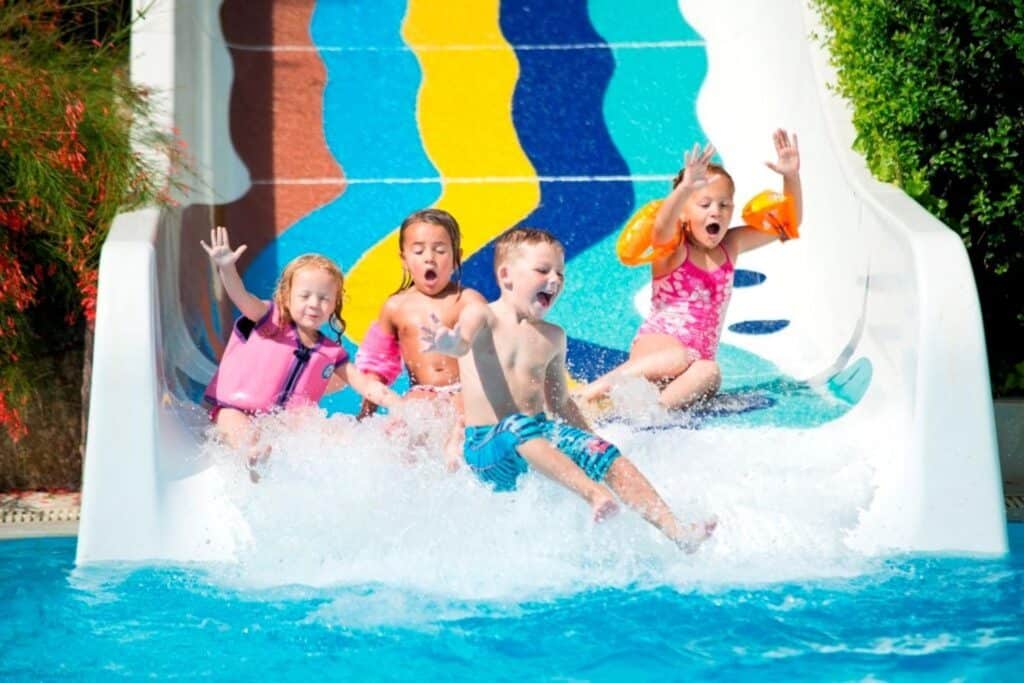 Best Holidays for Families in Turkey
Belek made headlines all over Turkey a few years ago when it opened a theme park. The Land of Legends Theme park promises a multi-sensory experience. It is home to a water park, a 5D cinema, a 4265 feet-long Hyper Coaster and so much more.
The Land of Legends hotel onsite is out of this world. Each room is custom-designed with kids in mind. While it is not an all-inclusive hotel, there are restaurants offering cuisines from all over the world. In the evening take time to stroll the park and enjoy the light shows.
Staying at the hotel allows you a complimentary ticket to the theme park. There are over 55 water slides and several that are sure to get the heart racing. Younger kids are not forgotten with areas inclusively for them.
Check out more information for the Land of Legends here
Best Place in Turkey for families, Side
Side is a small resort about an hour away from Antalya airport. Right at the centre of the Antik town lies the Apollo Temple. From there you can snap the most amazing pictures at sunset while standing the same place Mark Anthony is said to have proposed to Cleopatra.
A short dolmus ride away is the Royal Dragon Hotel. The hotel has a Chinese theme throughout and amazing amenities. Not only is there a water park and several pools to choose from, but at night you can find an amusement park.
There are several restaurants onsite that are part of the all-inclusive concept. It is right on the beachfront and some rooms offer a panoramic sea view. As well as a luxury spa and hammam, there is also a bowling alley for families to have fun throughout the day.
Click here for more information and prices.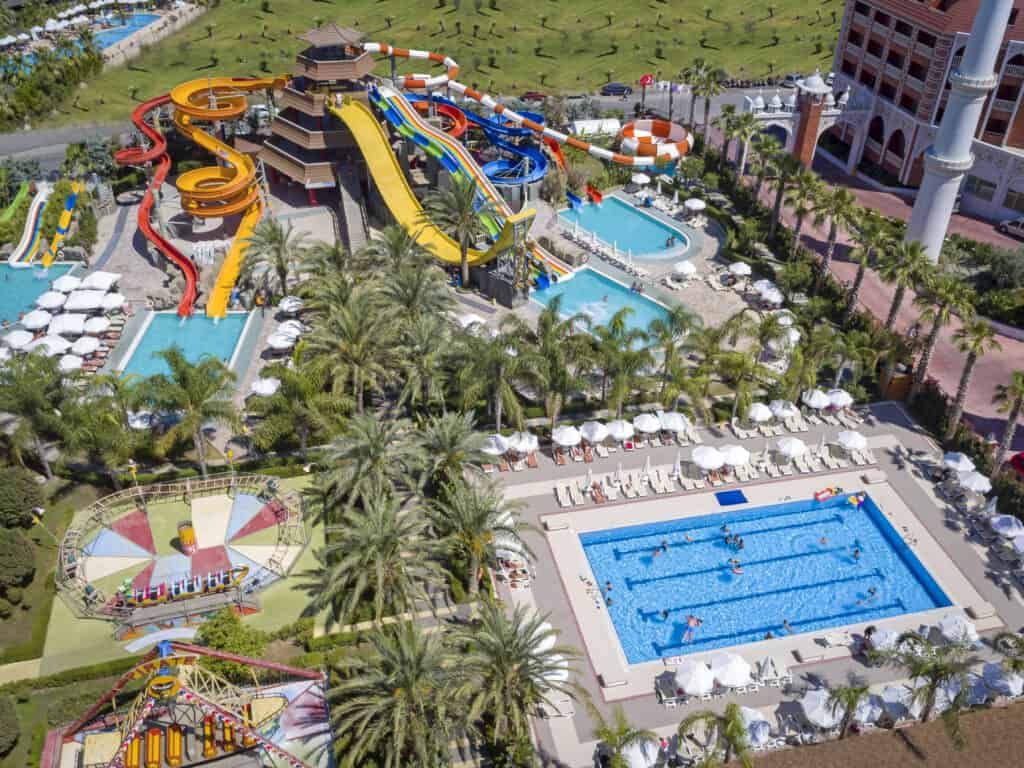 The Best Resorts in Turkey, Alanya
Alanya may be a few hours from the airport, but it is worth the journey. In the city centre, you can walk around the 13th-century castle or take a relaxing boat trip. Venture a bit further out and you can find caves and canyons. If you are brave, you could take a dip in the freezing cold water at Dimcayi.
Alanya doesn't have the same luxury hotels as Antalya, but it makes up for it with the crystal clear waters and lively atmosphere. The Riviera Hotel & Spa is a short walk from both Kleopatra beach and the harbour.
It is the perfect place if you want to dine out and soak up the local culture and scenery. The hotel has three swimming pools and sun loungers can be used by guests at the beach.
To find out more information and to book click here.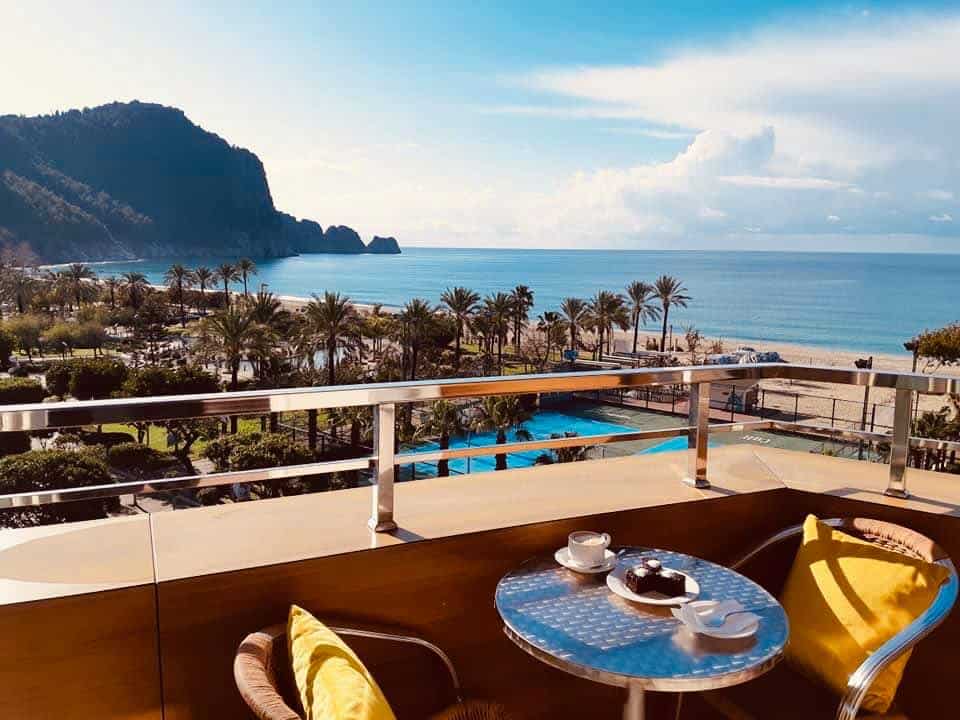 Resorts in Turkey All-Inclusive, Fethiye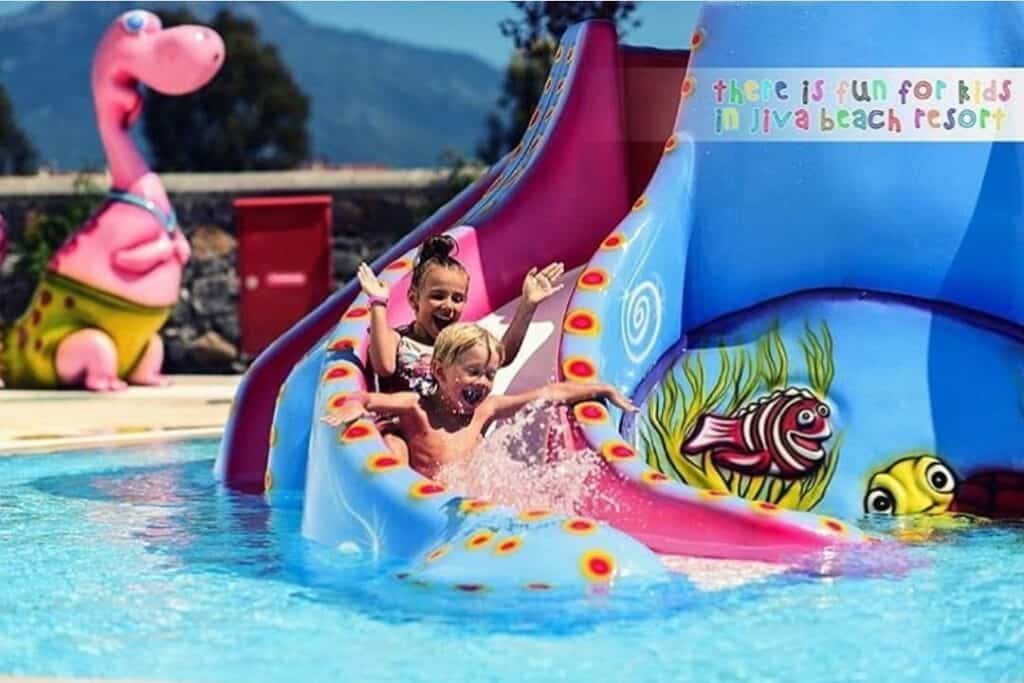 Fethiye is the perfect place to stay if you want to combine a beach holiday and exploring the region's ancient Lycian culture. It is a small resort, that is popular with British ex-pats due to the laid back atmosphere and great location.
Jiva Beach Resort is near the city centre and the beach, but there is also plenty to do at the hotel itself. The kids can be kept amused day and night with the different entertainment and night shows arranged by the hotel staff.
The property has a natural lake and also a beachfront view. There are pools with slides and some rooms even have direct access to the pool. It is possible to eat 24 hours at the hotel and you have a choice of three restaurants.
Find out more about this hotel here.
Beach Resorts in Turkey for Families, Oludeniz
Oludeniz is home to the Blue Lagoon. It is a great choice for a relaxing beach holiday. With shades of aquamarine and turquoise, it is no wonder this blue flag beach is popular with both tourists and locals.
Nestled in a pine forest and on the Lycian Way walking trail is Montana Pine Resort. The entertainment team are on hand to keep you and the kids busy night and day. While the beach is a good 20-minute walk from the resort, the hotel provides a free shuttle service.
If you are up for a bit of adventure then Mount Babadag is not far from the hotel. Here you can try paragliding which is popular in the area due to the spectacular views and good weather. You can also hop on a shuttle bus service from the beach to Butterfly Valley, an ecotourism area that is home to butterflies of several colours and varieties.
Find out more information and check availability here.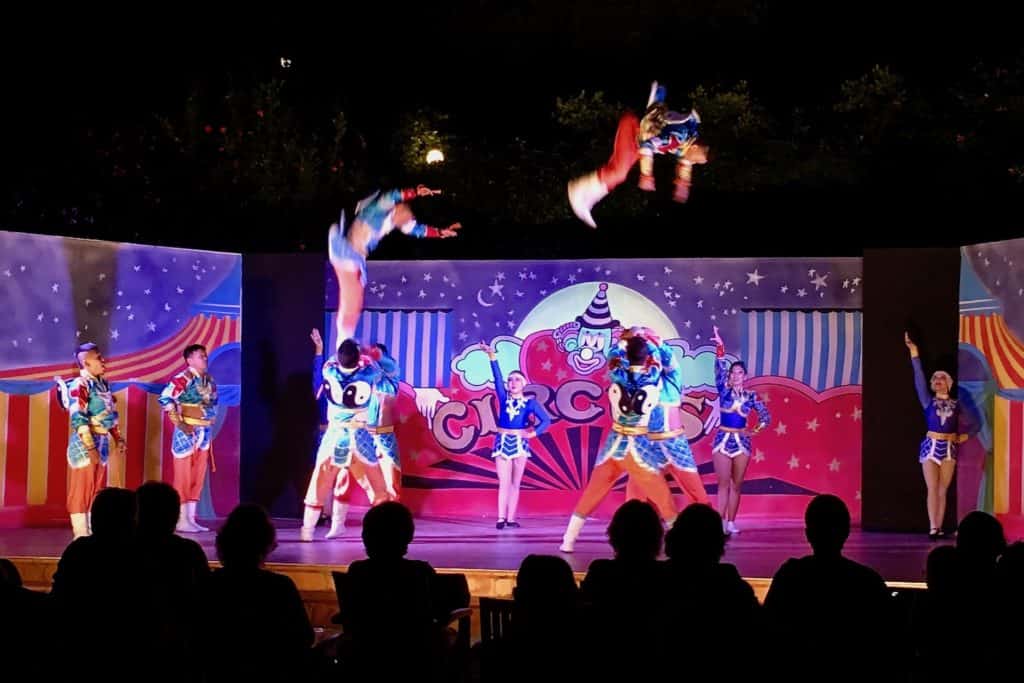 Best Hotels in Turkey for Families, Bodrum
Bodrum has been popular with guests from the UK and Ireland for many years. It is a great place to stay if you want both history and adventure. You can find water sports on the beach, and also day trips to jeep safaris and Pammukule.
The city centre is hiving day and night. Families may want to explore it during the day but escape to the peace and quiet of a small hotel. The Bitezyalihan Hotel is a short drive from the centre and just a few steps from the beach.
Check out more information here.
The Best Resorts in Turkey, Marmaris
Marmaris has it all; beaches, beauty and nature. It is a great choice if you want to travel but miss British food. The area is swarmed by British tourists every year so much so that prices are sometimes given in GBP.
Another reason Marmaris is so popular is for the markets. You can find fake handbags as cheap as chips along with many other 'designer brands'. The Marmaris Park Hotel is a short drive away from the famous Thursday Market.
It is also right by the beach with plenty of sun loungers for guests. The hotel is surrounded by trees and even though you are near the city centre, you would never know it.
Find out more information about the hotel here.
Best Luxury Resorts for Families, Bodrum
Bodrum is by the Agean Sea. While it is the ideal location for a sailing holiday, you are spoilt for choice when it comes to activities and things to do. Along the Peninsula, you can find coves beaches and bays that are popular with both tourists and locals.
The area is well known for its stunning hotels and the Jasmin Beach Hotel lives up to that reputation. It is paradise right next to all the attractions including the Bodrum windmill and the Pedasa Antique city.
The hotel as stunning views and three swimming pools to choose from. It is also has a private beach with a great selection of water sports to choose from. The hotel entertainment team are there day and night with activities for both adults and kids.
To find out prices and to book click here.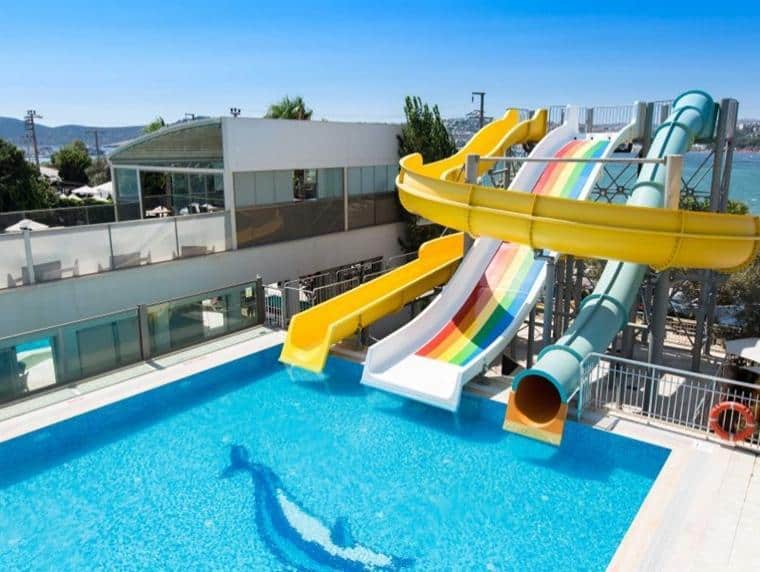 What to Expect in Turkey with COVID 19
When you arrive at the airport, there are several thermal scanners. If passengers display any symptoms they are asked to undergo a PCR test. Masks are mandatory at all times outside of your hotel. If you are caught without a mask, be prepared to pay a hefty fine.
On entering your hotel your temperature is taken again. You are also required to obtain a HES code. The code is used to check you into the hotel and to use on public transport. It is a quick and simple process that the reception staff can help with.
During the pandemic, all hotels have replaced the buffet-style service with table service. Social distancing measures have been taken and both tables and sun loungers are placed 1.5 metres apart.
Curfews can be imposed quickly with shops and restaurants closing early. Tourists are not asked to adhere to the curfews, and it should not affect any services at the hotel.
Tips When Travelling in Turkey
Turkey is a secular country but the majority of citizens are Muslim. However, there is no need to cover up except if you are entering mosques. Ramazan is celebrated every year and many locals fast between sunrise and sunset. It can be quite difficult in the long hot summer days. While It does not affect any restaurants or services, it is good to be mindful and respectful while out and about.
Police can carry out spot checks and photographic IDs must be carried with you at all times. A photocopy of your passport is sufficient and easy to carry around. Your passport is also required when checking in to your hotel and the reception staff will take a copy.
Prices in the resorts can vary especially at markets. Never accept the first price and prepare to barter. The local currency is TRY. In all resorts, USD EUR and GBP are widely accepted but you get more value for money when using the local currency.
Will you be needing travel insurance, flights, reliable internet, rental cars, or hotels for your trip?
Disclaimer: This post may contain affiliate links. By using them it will not cost you any extra, we will receive a small percentage of the sale.