Community post by Jane ~ My husband and I love Scandinavia. The outdoor living, fresh air and stunning scenery make it an ideal place to visit. With many low cost airlines flying to the region its relatively cheap and quick to get to from the UK.
Our very first trip together as a couple was to Sweden, kayaking around the St Ana archipelago. However, we now have a two year old son, Bruno, and a week's kayaking was not really an option when were planning a return visit.
It may be cheap to get to Sweden, however, once you are there, the costs start to escalate. In this blog I give my top tips for visiting Stockholm with kids whilst not breaking the bank! We went in August for 3 nights staying in both Stockholm and on Grinda Island.
Stockholm with kids
Stockholm is a beautiful city sprawling across 14 islands. The water ways are beautiful and remarkably clean. If you glance down as you cross one of the many bridges fish can be seen swimming below . Having been to Stockholm before, we knew how expensive it is so limited our time there to two full days. In hind sight, we could have done with an extra day as there is so much for kids to do and see.
Stockholm with kids
We chose to stay at Freys Hotel, a four star family run hotel next to the main station. Compared to other hotels in the city, Freys Hotel is well priced and in an excellent location. Our room also came with a small kitchenette which is always really useful.
Having a microwave, fridge and sink is always great when travelling with kids. The breakfast is served in the Belgian Pub adjoining the hotel and the food was wonderful.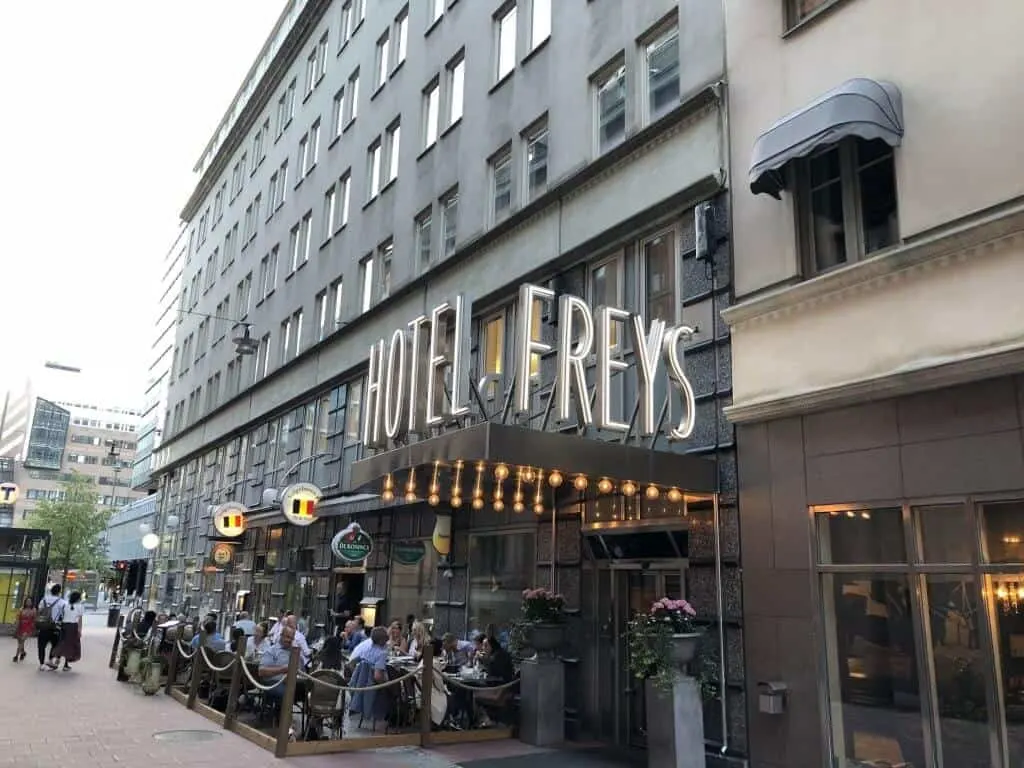 Our hotel was situated right next to the main station, however, a short walk through the main shopping area is Gamla Stan. Gamla Stan is the "old town" on an island in the centre of Stockholm. Dating back to the 13th century, the tiny cobbled stone lanes are great to explore. It does get incredibly busy, especially in the summer when a cruise ship is docked in the city.
The best time to explore is first thing in the morning or later afternoon. We found a playground right in the middle of the island called Junotäppan. This was great for our son as he could burn off some energy and have a break from looking in the shops.
It is rather hidden behind a wall and closed doors but worth the hunt. My son loved playing on the tractor and with the other kids.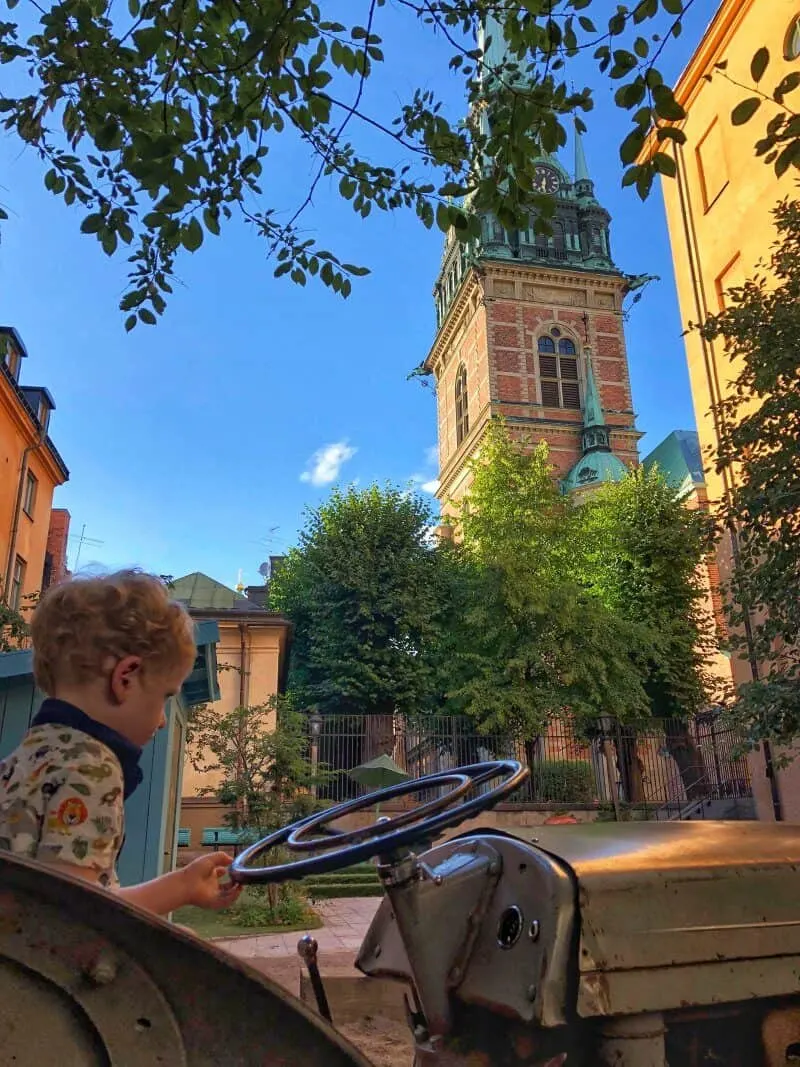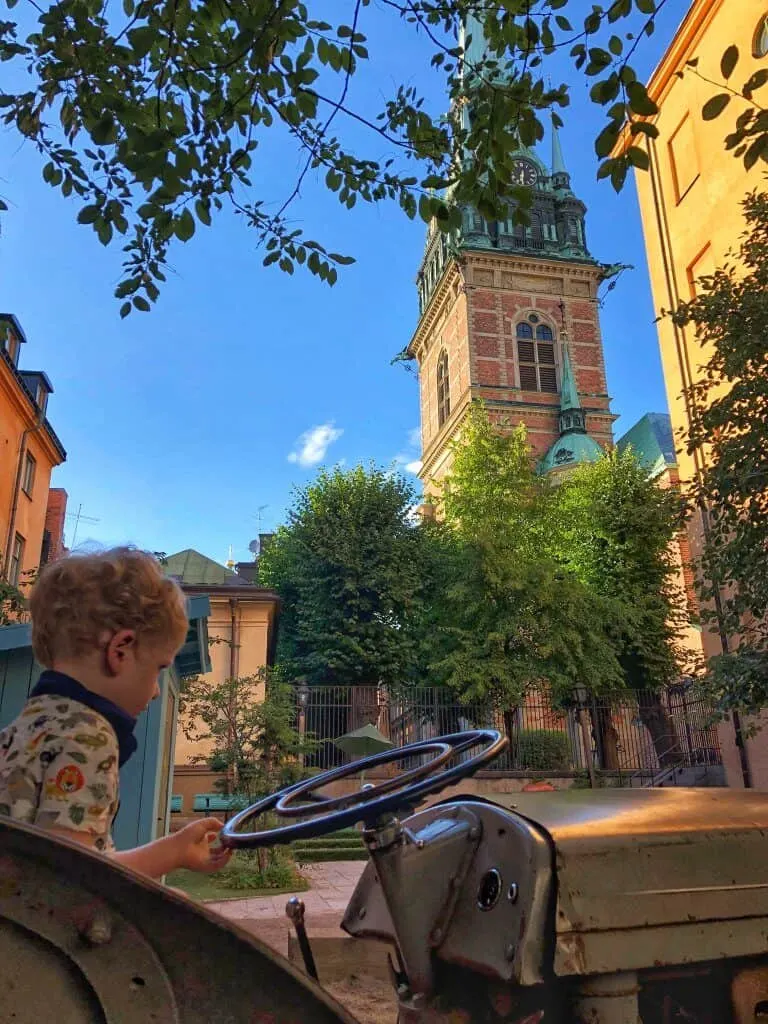 Food hall Stockholm
If you are looking for an authentic eating experience, you should head to Östermalm's Market Hall. Östermalm's is currently in a temporary building whilst the old market hall is being refurbished. You can get every type of food here in a very informal atmosphere.
Each venue has take away options, with the stalls around the outside edge also having an "eat in" dining area. Sweden is famous for its meatballs and it only seemed appropriate to give them a try. We were not disappointed! If you are visiting Stockholm, I really recommend you pop in here. Mainly used by locals, it gives you a real flavour for Scandinavian cuisine.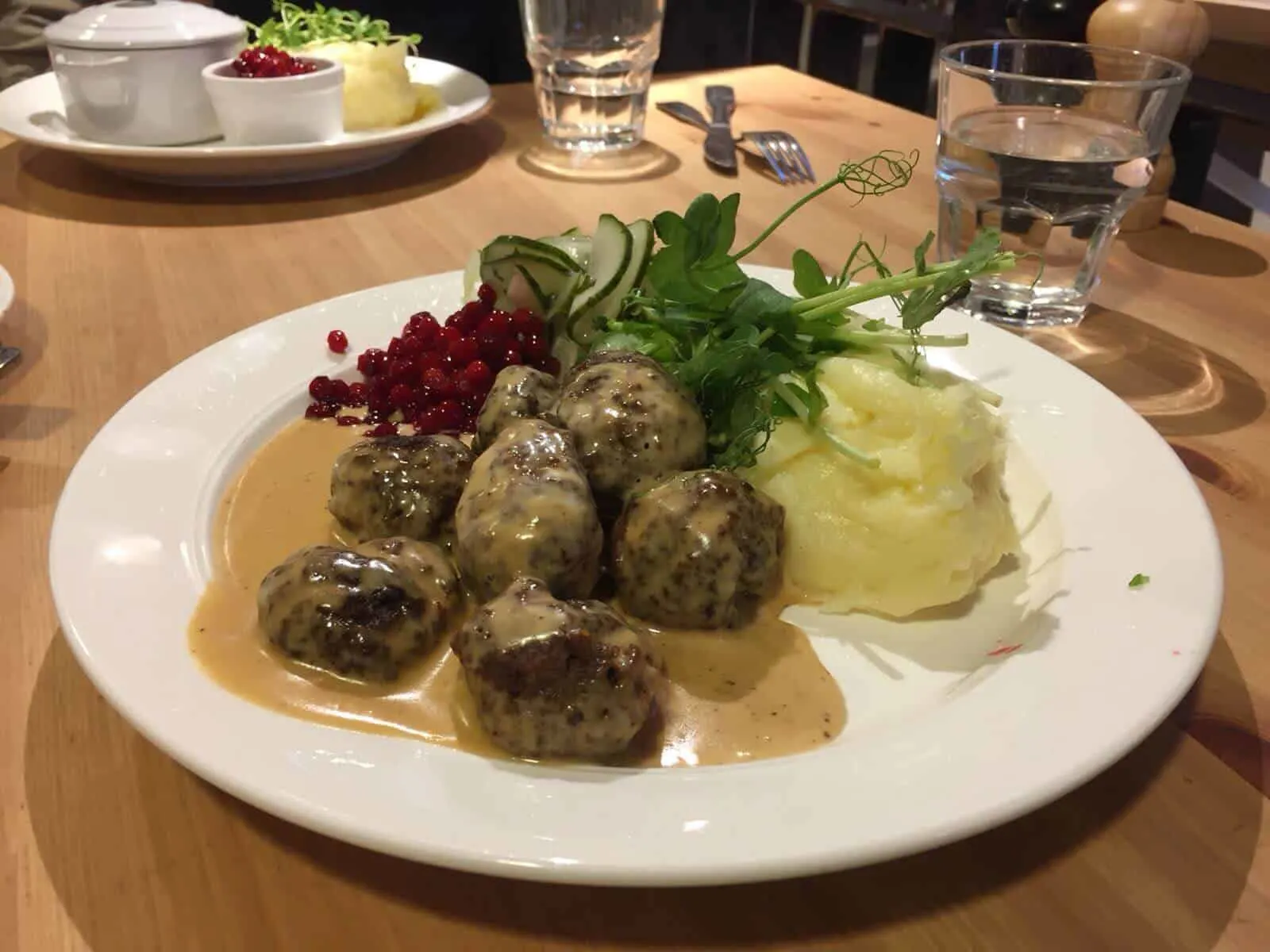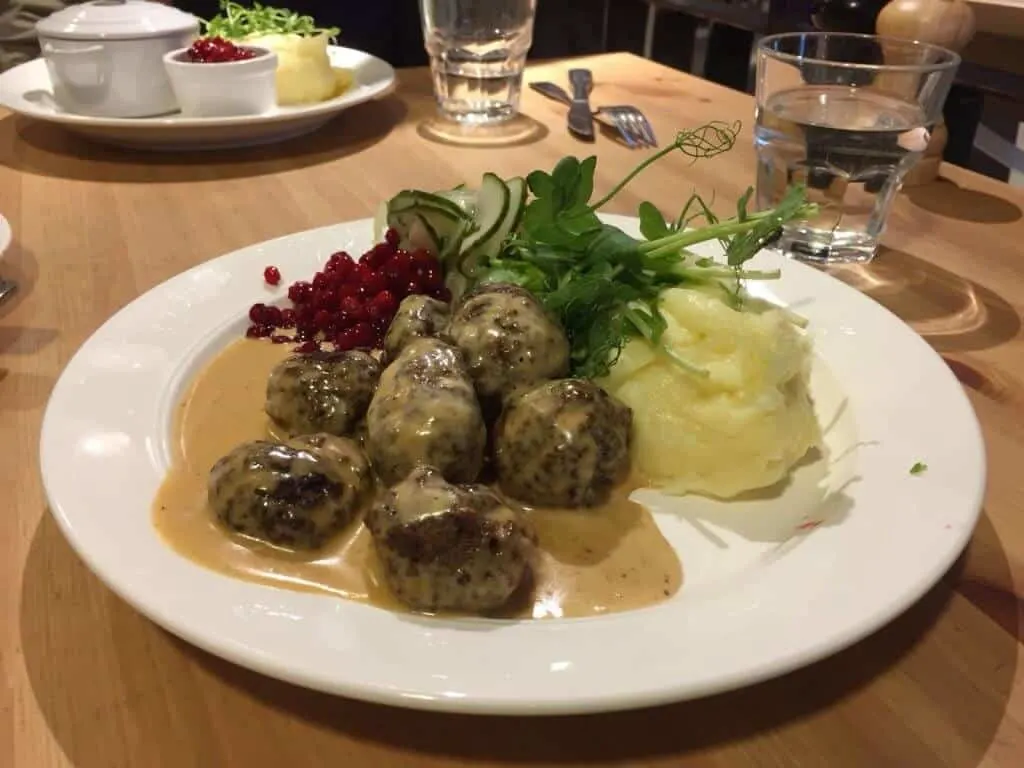 Budgeting for food
Eating out is expensive so be careful to budget for this. Two main courses at Östermalm's cost in the region of $50USD without drinks. We knew this would be the case so we stayed away from the formal restaurants. We spent around $100USD a day on food for the three of us.
This was done by enjoying the breakfast at our hotel which is included in the room rate. Lunch was in the form of another Swedish delicacy, hot dogs! There are vendors on most street corners as well as in shops. At less than $2USD, hotdogs are an affordable option.
We then supplemented these with fruit from the supermarkets, spending the rest on a more substantial evening meal. I packed lots of my sons snacks in our luggage which also saved money when we were there.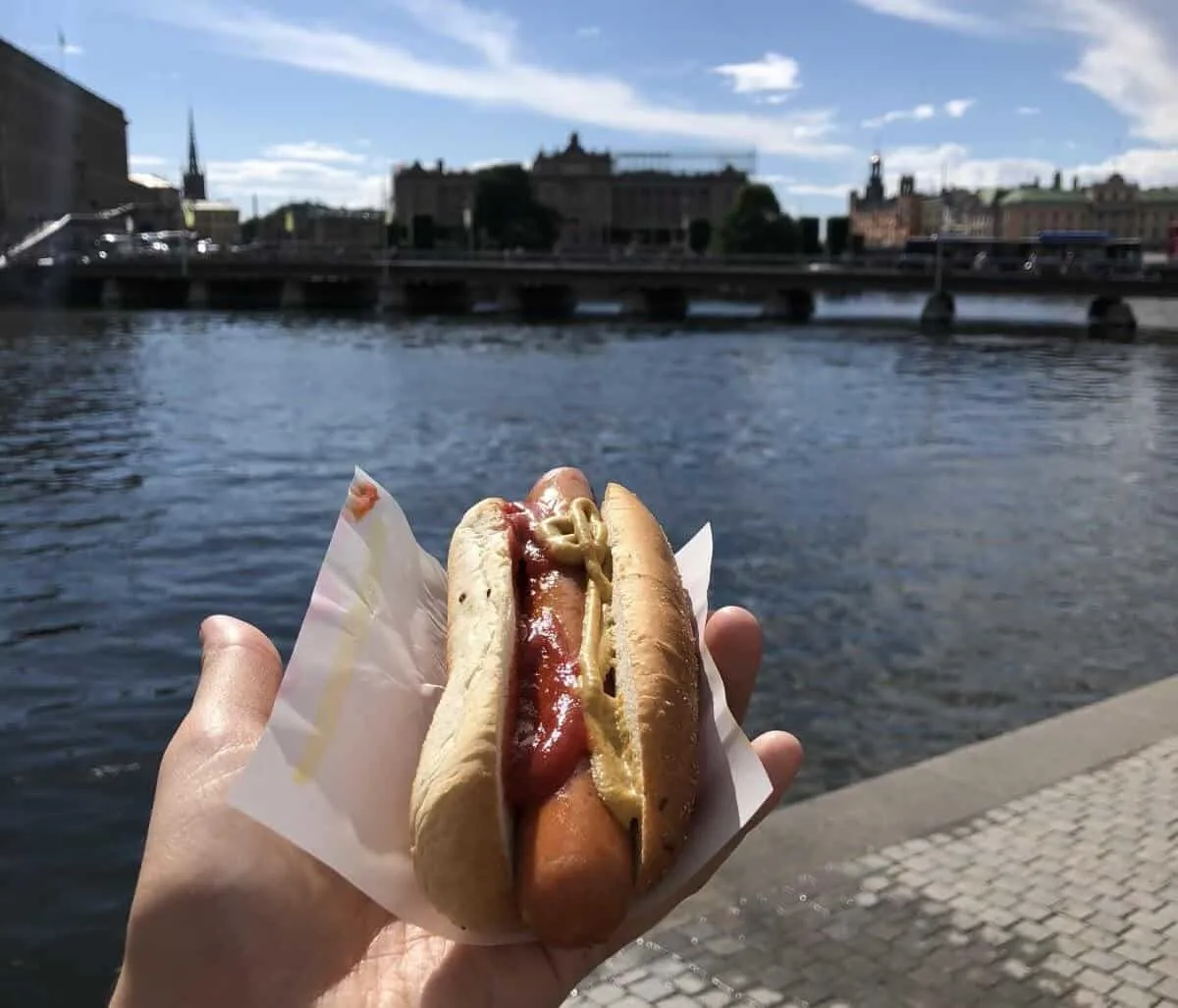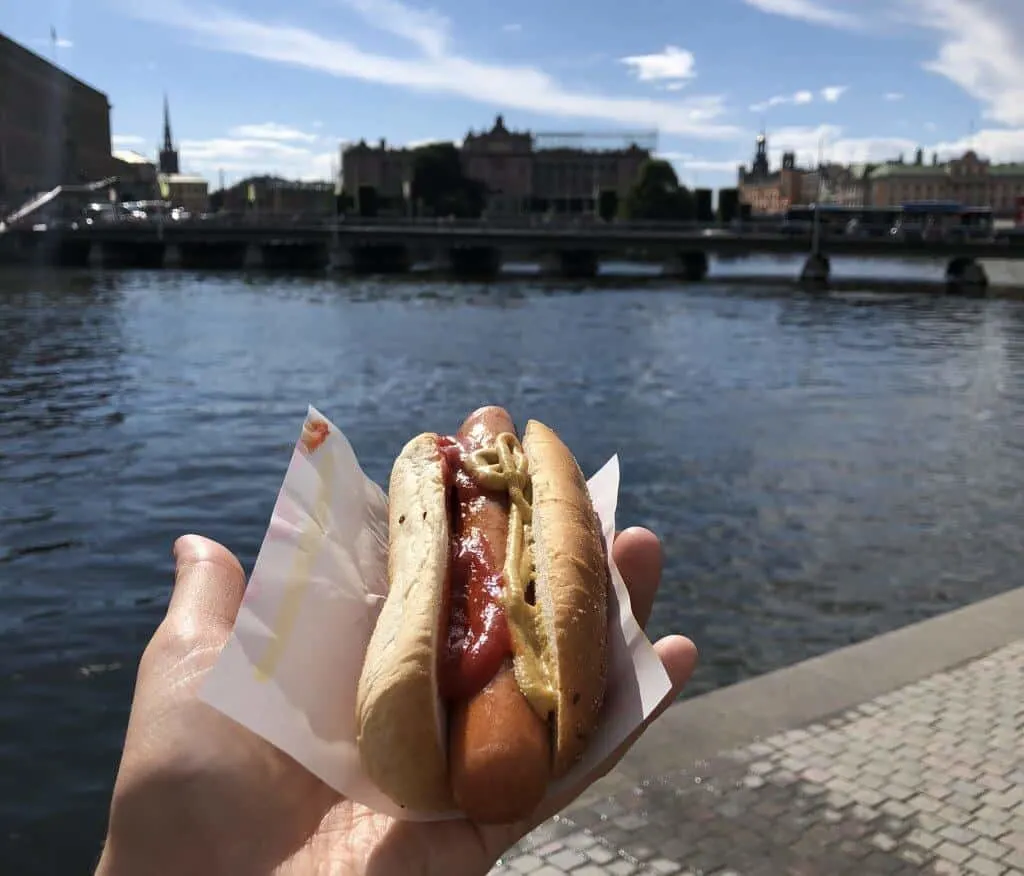 Things to do in Stockholm
When visiting Stockholm with kids, you should definitely go to Skansen. Skansen is the worlds oldest open air museum which receives over a million visitors each year. It sits on a vast 75 acre site and we spent all day enjoying everything it had to offer.
There is a full replica 19th century town, each shop making and selling their wares. I can vouch for the cinnamon rolls from the bakery! There are also old-fashioned farms and village buildings to explore. They also have a selection of Scandinavian animals to view in large enclosures.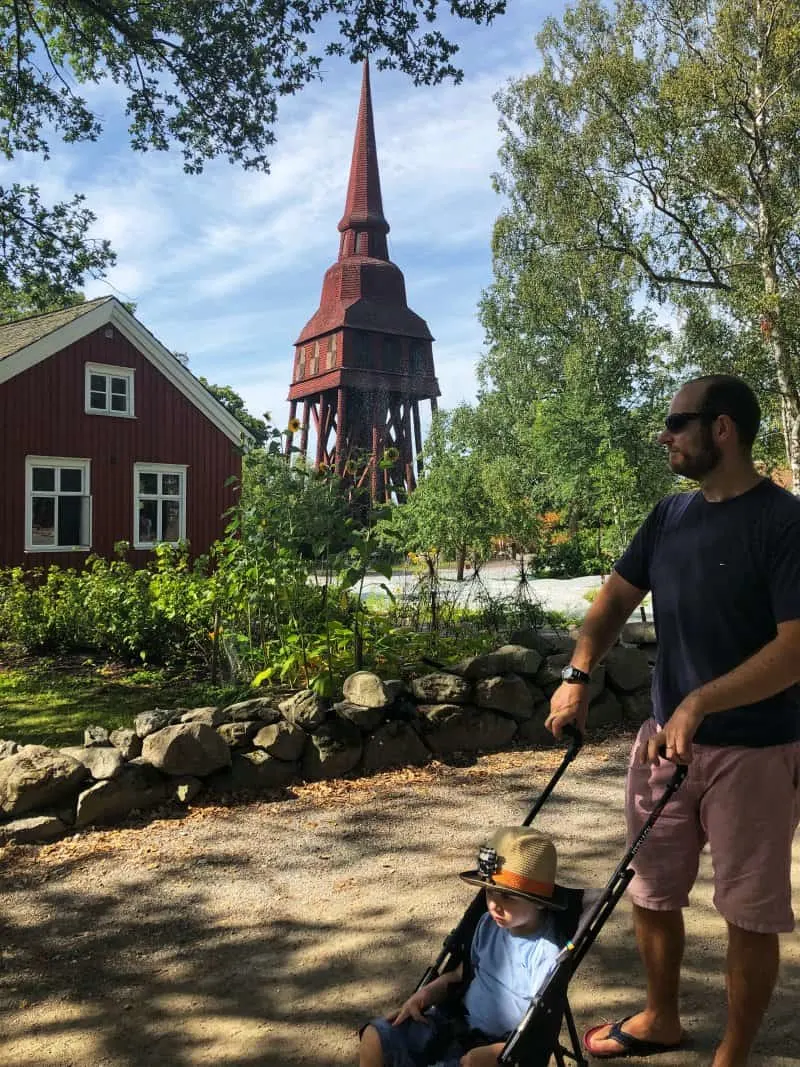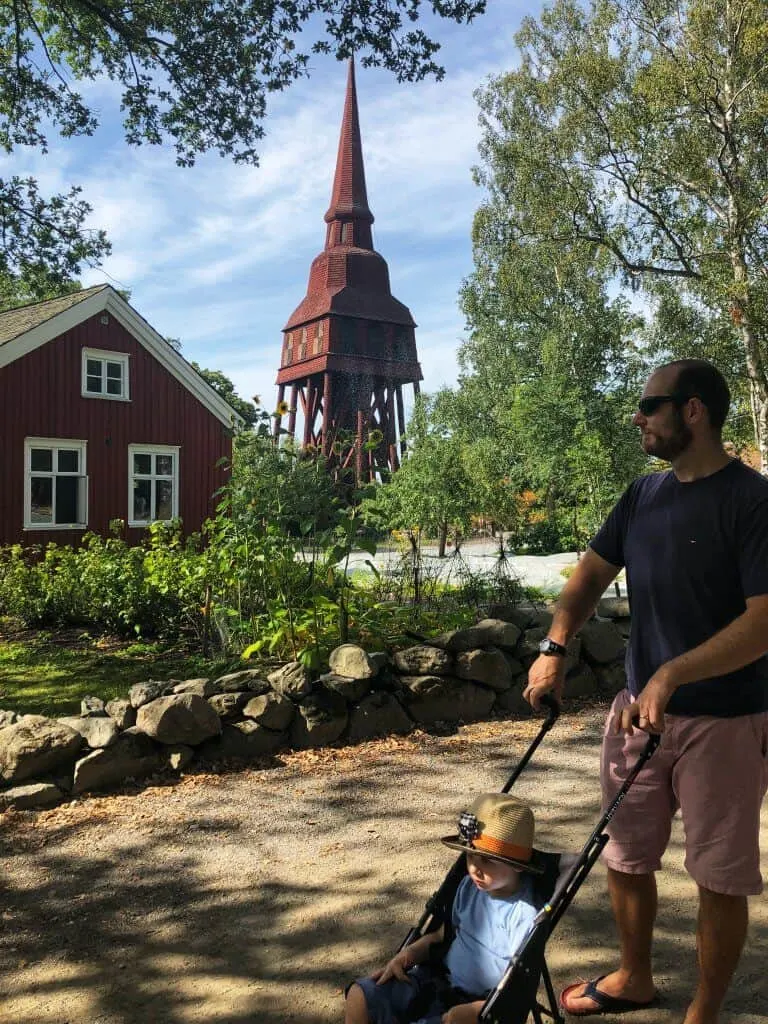 Due to the size of Skansen and the wide range of things to do and see, we spent a lot longer here than we had planned to. We hired a stroller for approximately $5USD which really helped our son with the large distances we covered. The play areas were really diverse and a we spent a lot of time exploring them.
Grinda Island
We were keen to experience the islands of the archipelago on this trip, as we love the scenery. I wanted to split the holiday to spend half the time on an island and the other half in the hustle and bustle of the capital city. When researching this trip I knew that accommodation and food would be our main cost.
I focused my search on cheaper, self catering accommodation for the island stay. Grinda Island, just over an hour by ferry from Stockholm, was the perfect choice. There is a wide variety of accommodation options, from camping, to a plush hotel.
We opted for a cabin with shared bathroom facilities. The cabin itself is basic but fully functioning. It comes equipped with a kitchen, living space and room to sleep 4-5 people.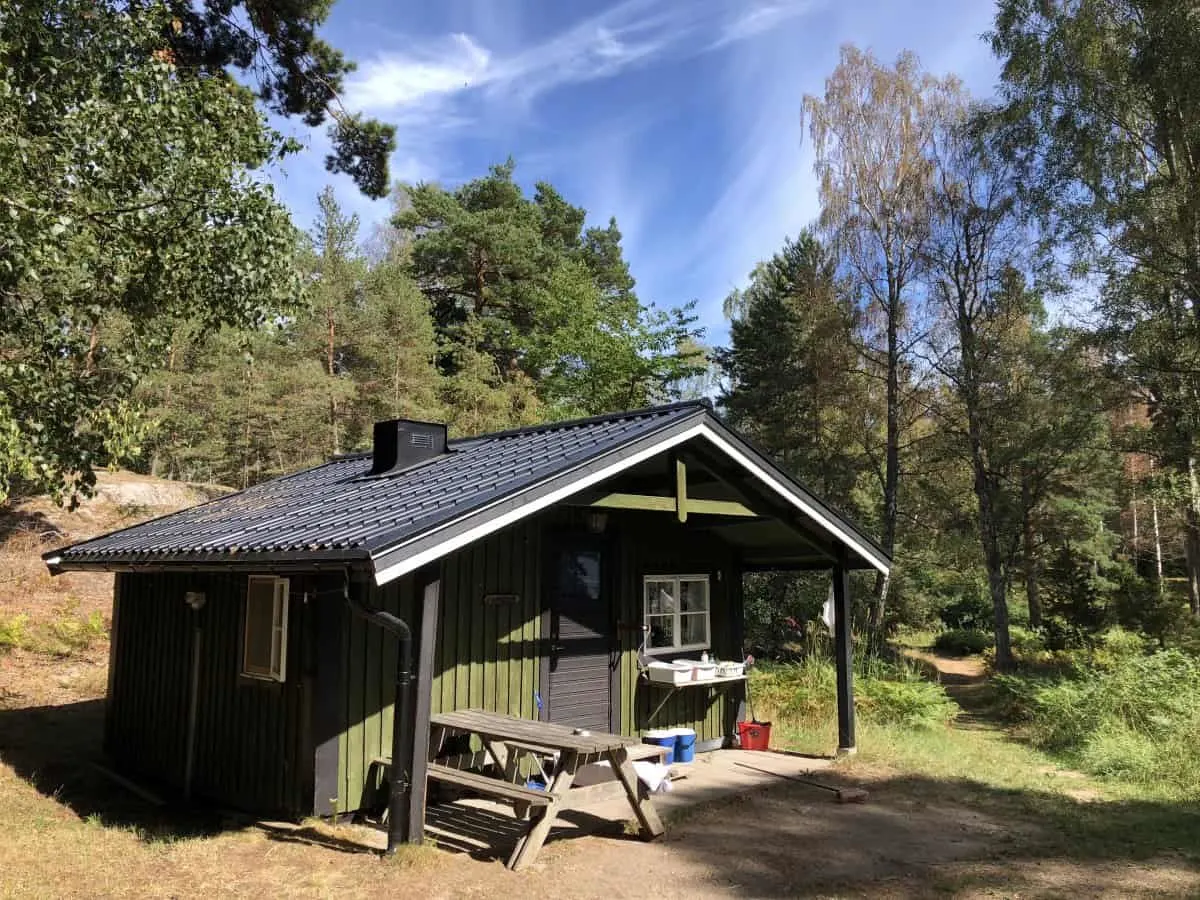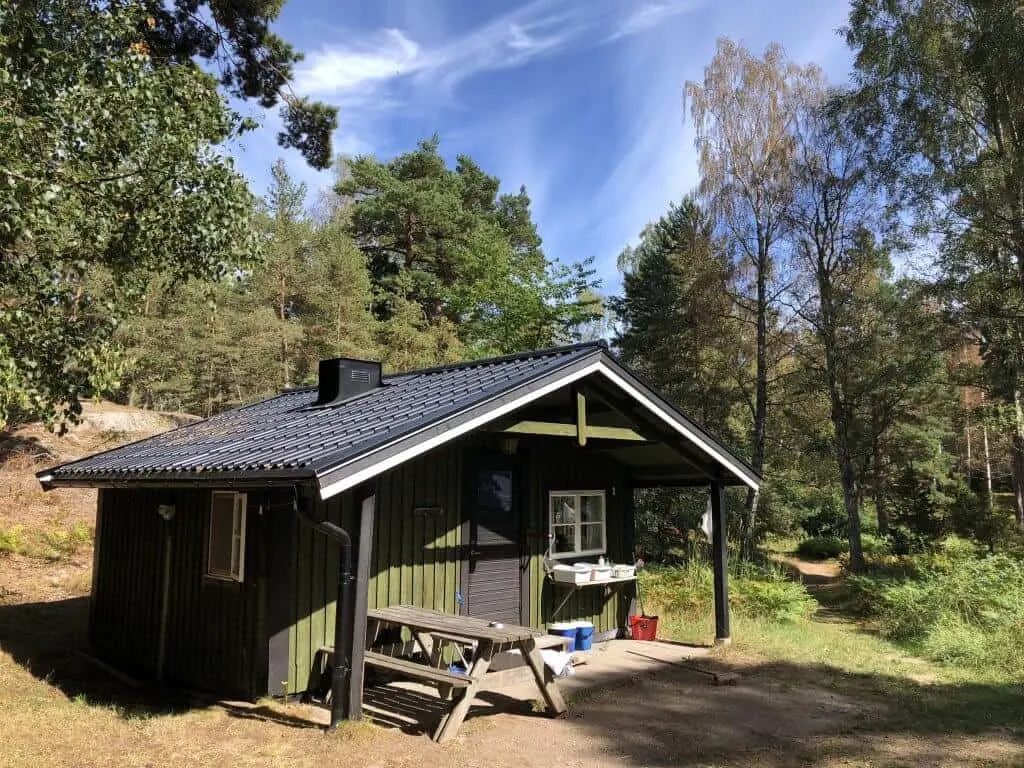 Grinda Island
The island is relatively large so we really felt secluded and remote. There are 18 cabins all discretely hidden away on the south of the island, all a stones throw from the water. Due to the remote nature of the island, there is no flushing toilets, only compost. This did not bother us at all but its worth noting.
There is no running water in the cabins, but our water tap was 20 metres away and the toilets less that 100 meters. On the island you will find a cafe and shop, bistro and fine dining restaurant. The cafe and shop are really well stocked with all you need to cook in your cabin. I
can really recommend the bistro which serves excellent pizzas and salads. It's right on the dock overlooking the sailing boats which is such a beautiful spot.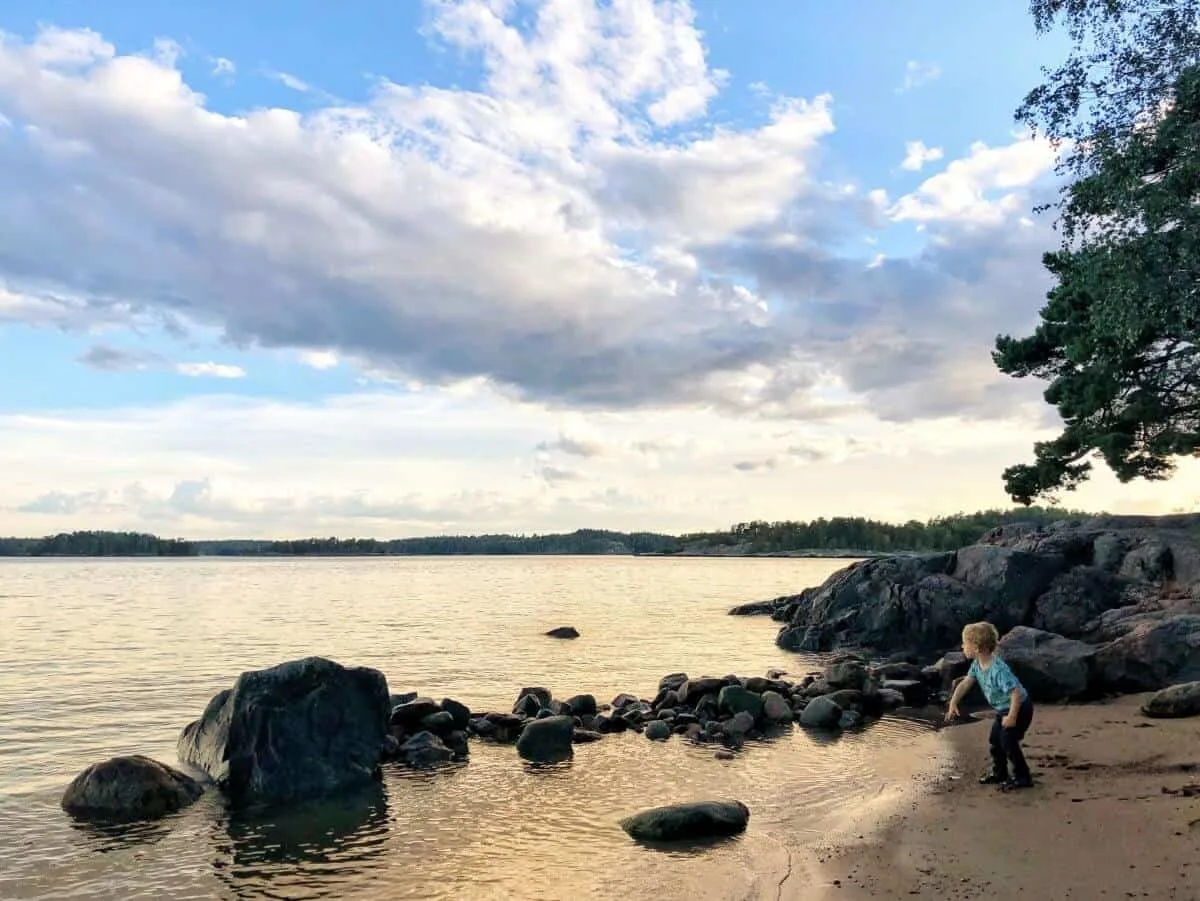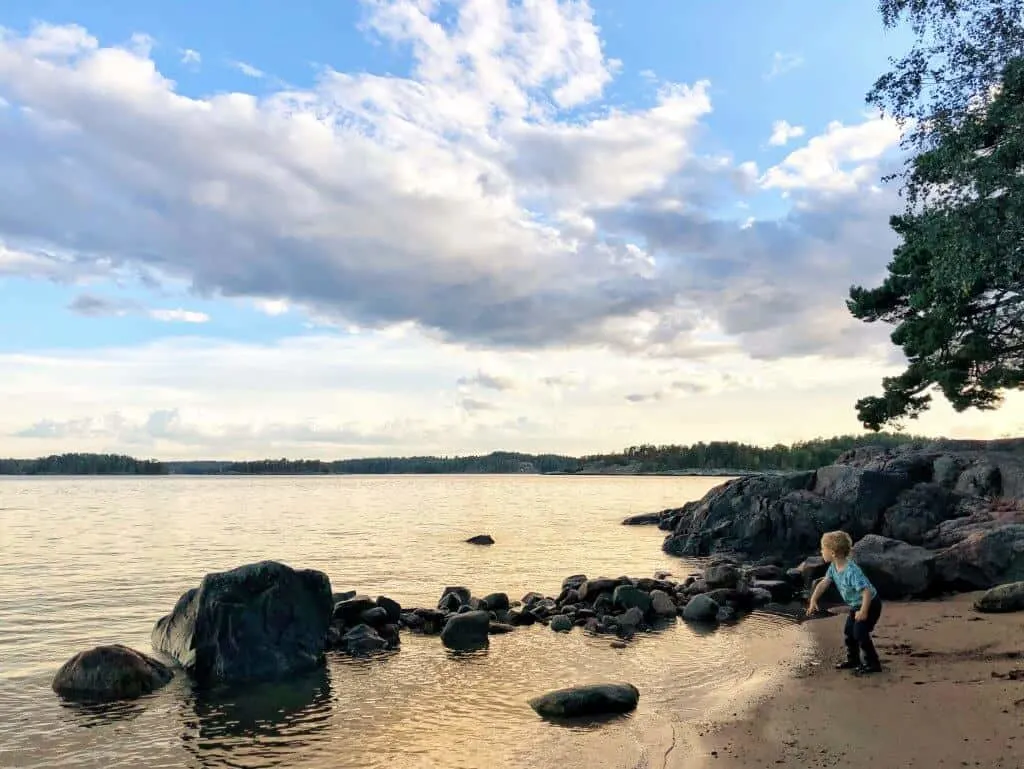 Exploring Grinda Island
We were incredibly lucky with the weather when we visited in August. Most of Europe was experiencing a heat wave and it was warm enough to swim in the sea. The island is a children's paradise because of the beaches to play on and large rocks to climb.
We spent the majority of our time exploring the island and enjoying the great outdoors. It was an easy climb to the highest point and our son loved scrambling over the rocks. There are lots of animals on the island, both wild, and on the farm. We saw deer, red squirrels and foxes on our stay and our son enjoyed seeing the horses.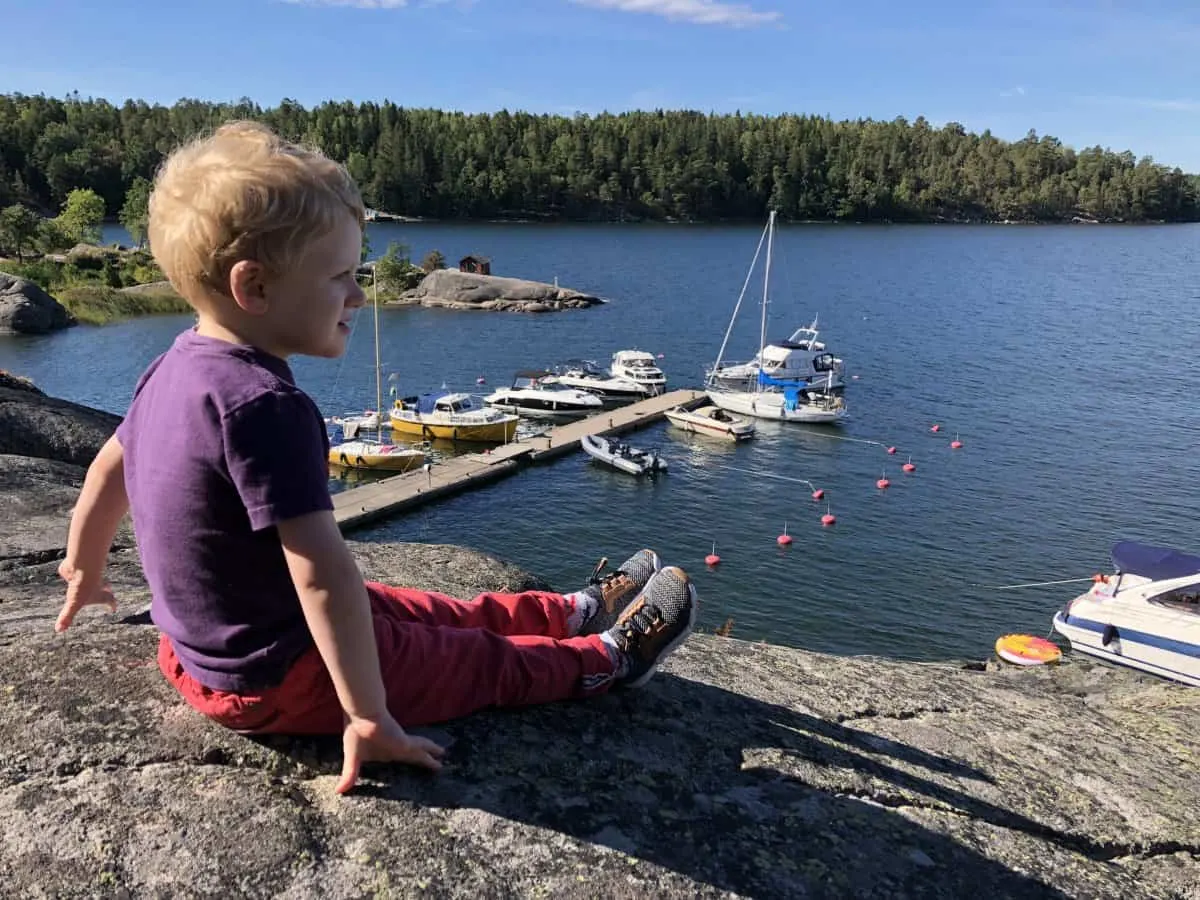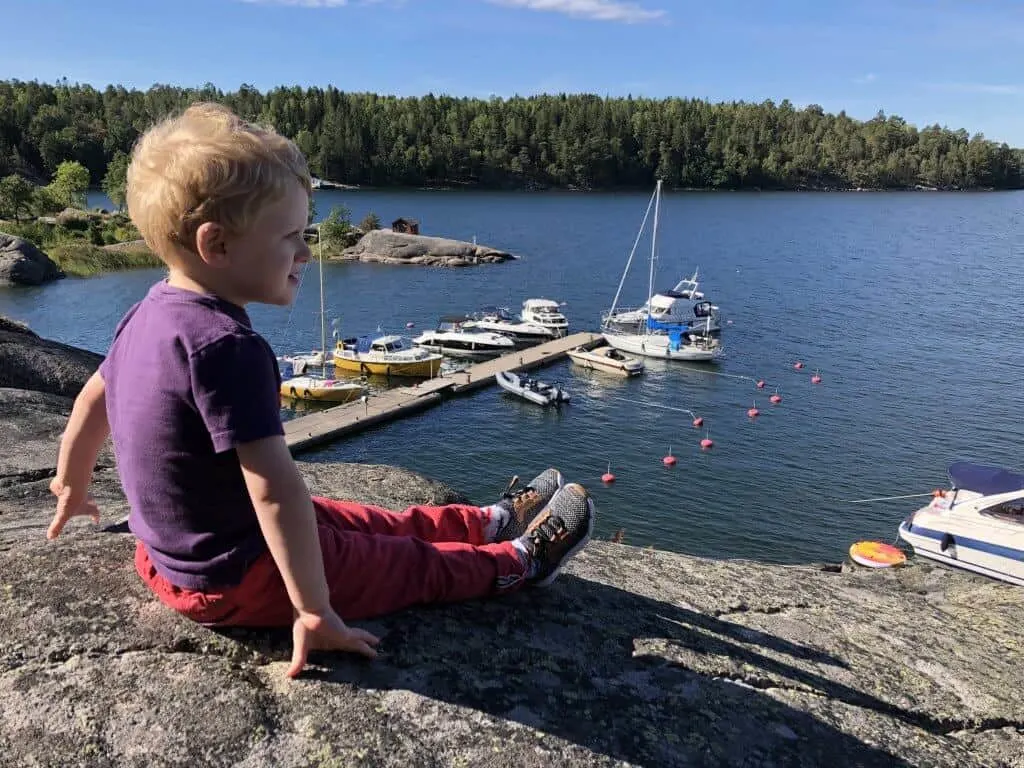 Whilst Sweden is not on everyones bucket list, its definitely worth a visit. The country is well suited for travelling with kids so do not let the perception of huge expense put you off. If you plan carefully and budget, it is easily affordable to visit Stockholm with kids. I know we will certainly be going back, maybe when my son is old enough to join us in a kayak!
Have you enjoyed reading this post about Stockholm with kids? Leave us a comment, we love hearing from you.
Disclaimer: This post has affiliate links. As always all views expressed are entirely my own.