Cuba with kids is a fun destination and offers a wide variety of experiences to every families taste. We loved the mix of beach bumming for relaxation and play time, along with the immersive cultural experience in Havana and Vinales.
We kicked off our trip in Varadero, a place popular with all-inclusive holiday makers and those after the tropical beach vibes. Once we had the relaxation out of the way we moved onto Havana and Varadero.
Cuba is a destination so many people are interested in visiting, especially with its vibrant architecture, rich culture and history. Crumbly old colourful buildings, old-school bright cars, endless mojitos and glorious sun, what's not to love?
Cuba is one holiday where I really felt satisfied with the balance of relaxation and adventure, there is so much to see and do on this beautiful tropical island in the Caribbean. We were blown away with the friendless of the locals and how much interest they took in our daughter.
CUBA WITH KIDS
One thing about visiting Cuba with kids is to go prepared. Out of the 40+ countries I have visited with my children, Cuba was the hardest place to find nappies and general supplies. I always say to people just bring what you need for the journey and get the rest on arrival, this is not the case for Cuba.
So if your child is fussy, or you think you may need some snacks to tide you over on trips between destinations, bring your own non-perishable kids snacks. We made the foolish mistake of only bringing enough diapers for the first few days. We hadn't done our research and so here I am hoping this will help someone else planning their trip to Cuba with kids, go prepared!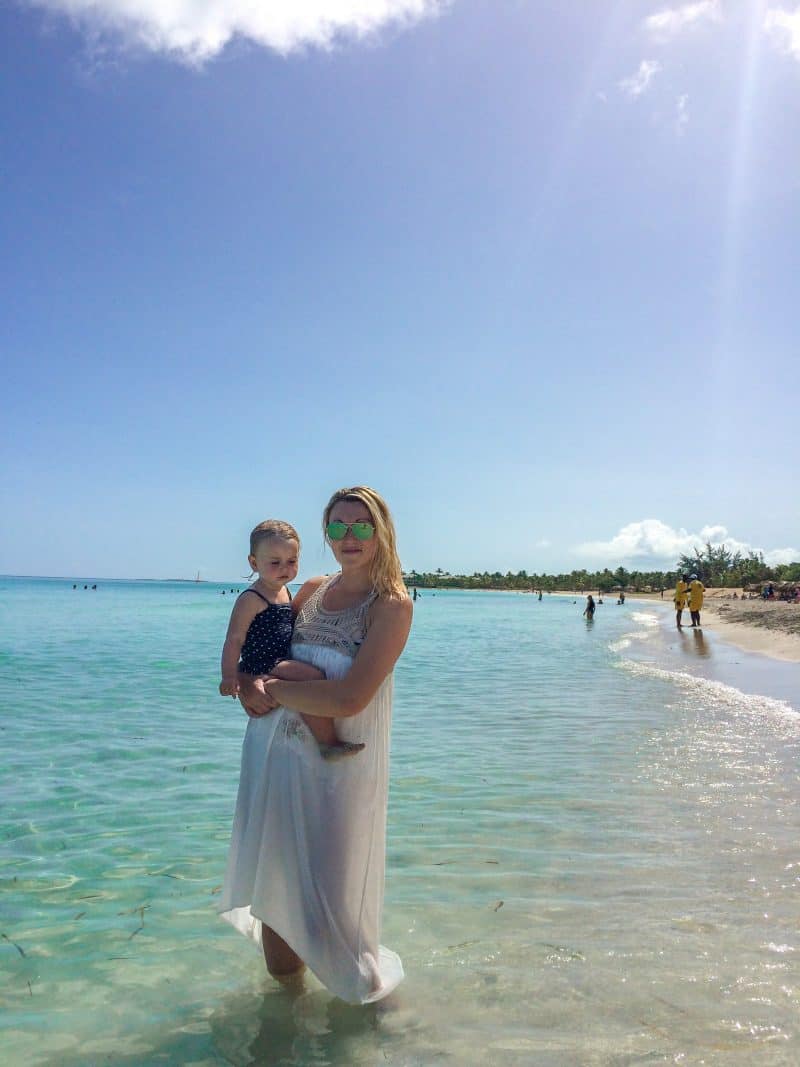 HOW TO BOOK YOUR TRIP TO CUBA
We booked our trip through The Holiday Place, however I think it's equally as easy to book it independently, depending on how much time you have to research both options. The Holiday Place call it a 'multi centre' trip, so they organise everything from the flights to the transfers between each destination, and of course the hotels! We loved the fact they had car seats for the kids in the transfer vehicle. It made it a lot easier for us not having to bring our own.
If you prefer to book it yourself, good 'oul' booking.com and Kayak are always my 'go to' tools for researching trips. As for transfers, I do think it is handy to have them pre-booked and I found this page where you can arrange it all before you leave for a really good price!
THE BEST TIME TO VISIT CUBA
The best time to visit Cuba is between December and May, as such this is the countries 'high season'. It is during this time the best weather is predicted with clear sunny days. As for the other months, it can be rainy, and sometimes, there may be hurricanes.
That said, we visited in July, it did rain, and to be honest, it was really nice to cool down from the hot sun intermittently. There were a few times when it delayed excursions, but on the whole it was ok! With the flight being direct and only 10 hours, it's doable with little ones. Make sure to check out my flying with kids post for long haul and entertainment tips.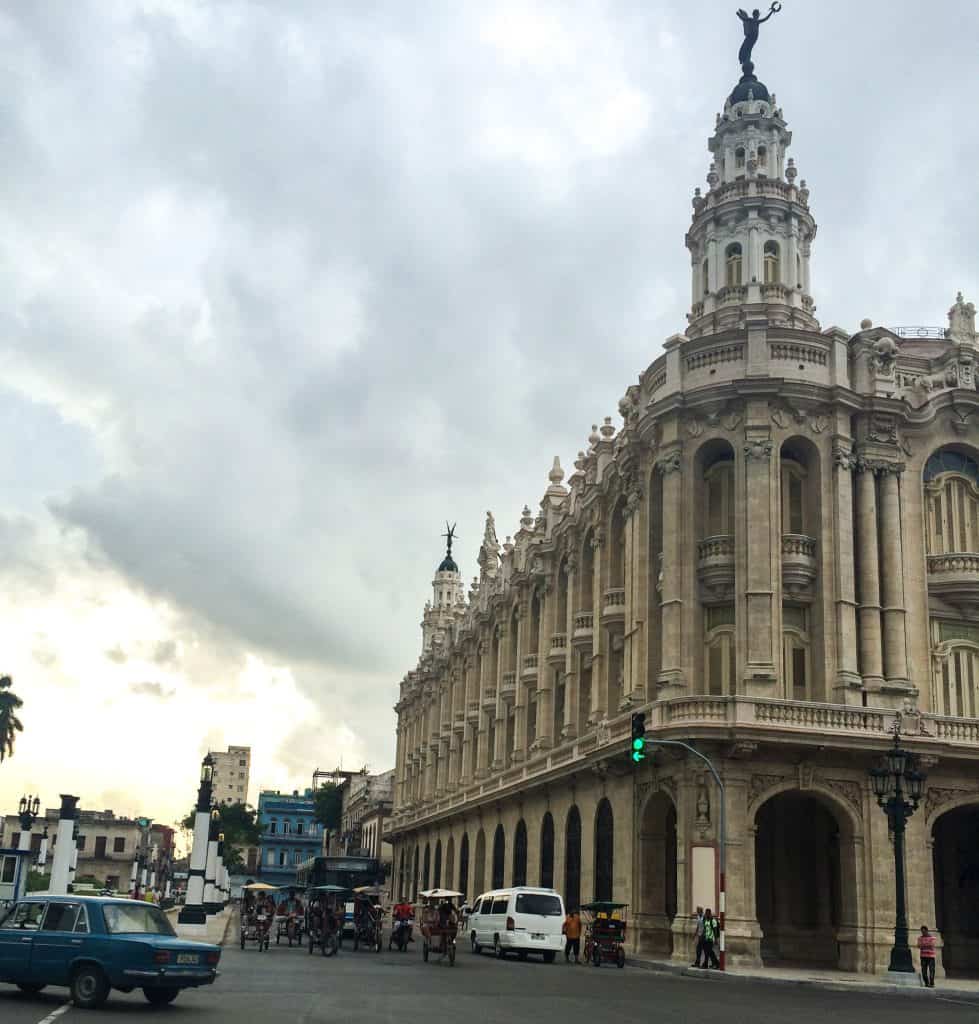 From May to December temperatures average from 29 Celsius to 32 Celsius. Having some beach or pool time is essential with little ones to cool them down. If you like music , December is a great month to visit due to the Havana Jazz Festival!
The streets of Havana are filled with locals salsa dancing, so I can only imagine the atmosphere during the festival. I have such fond memories of our daughter breaking out into dance on the streets with locals.
BEST FAMILY RESORTS IN CUBA
VARADERO
As I mentioned we kicked off our trip in Varadero. It was the ideal place to start with the long beach stretching for miles and miles. The aqua blue water and white sand beach was just incredible!
We loved sipping on our mocktails and getting involved in the aqua sports available. We were SO lucky with our hotel The Iberostar Varadero. It was incredibly family-friendly and our daughter loved every minute of our stay.
Varadero is all about the resorts, so as you can imagine, we spent most of our time within the complex and it is safe to say we were never bored. From the massive swimming pool, to the kids splash park, and the glorious beach at our doorstep, it was a pool or beach 'first world problem' kinda situation.
Varadero is also a great place to go snorkelling or diving which ranks as one of the best things to do in Cuba.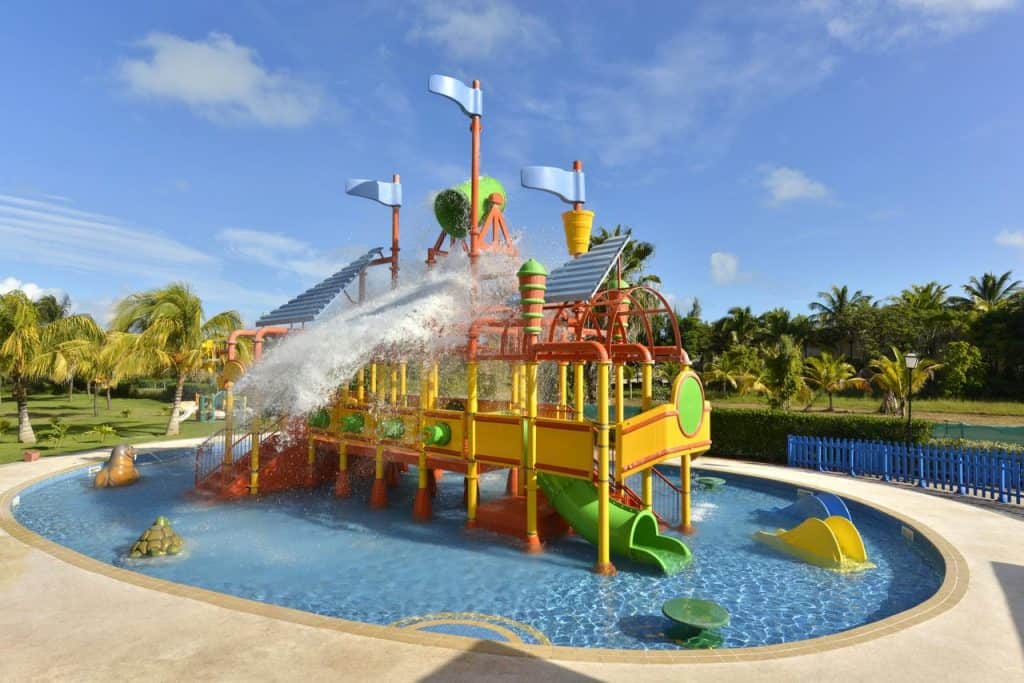 There were lots and lots of organised activities on throughout the day. From beach volley ball, to dancing and so on, our little one loved the interactive experience. The staff were so bubbly and really made it special for her.
My personal favourite, ehemmm, was the foam party at the pool. It was so much fun! In the evenings they had themed events, and of course our favourite was 'Cuban Night". There was lots of dancers, traditional cars were dotted around the resort and mojitos were on tap!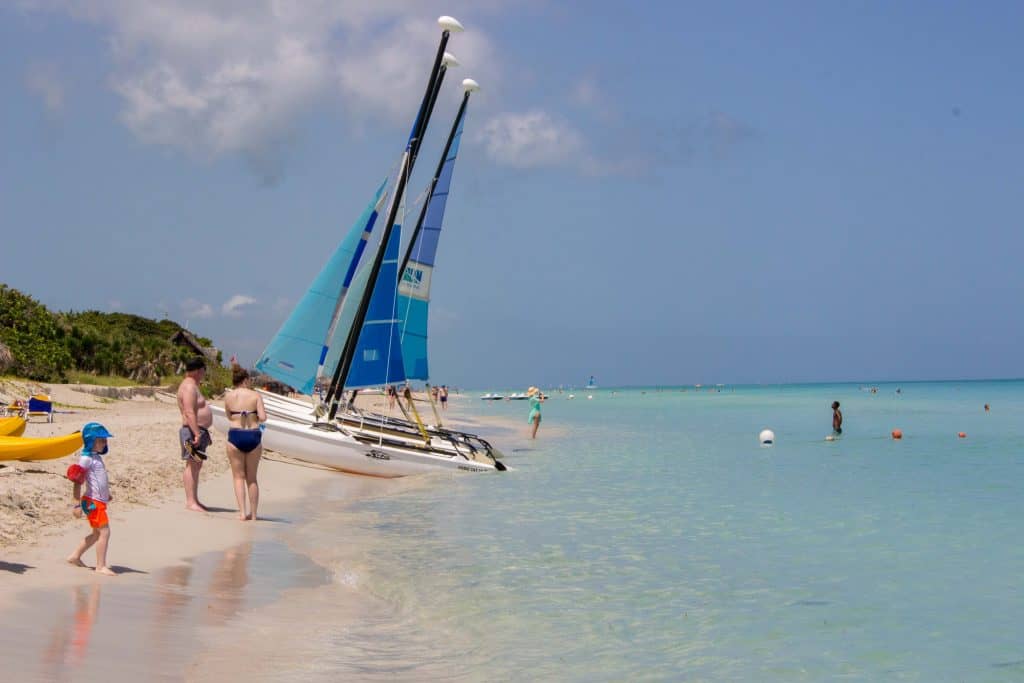 HAVANA WITH KIDS
After three days of utter relaxation it was time to move on to Havana where the culture literally blew my mind. I was obsessed with the beautiful buildings, the architecture, it was really like stepping back in time. I have to be completely honest when I say I don't think our daughter enjoyed Havana as much as we did.
Other than our old classic car tour in a 'pink' convertible, there wasn't a whole lot specifically for kids. Ordinarily, we don't seek out 'children' specific places because it's usually easy enough to entertain them with the new sights, smells and sounds. However, it was incredibly hot and humid meaning she didn't cope so well with the heat.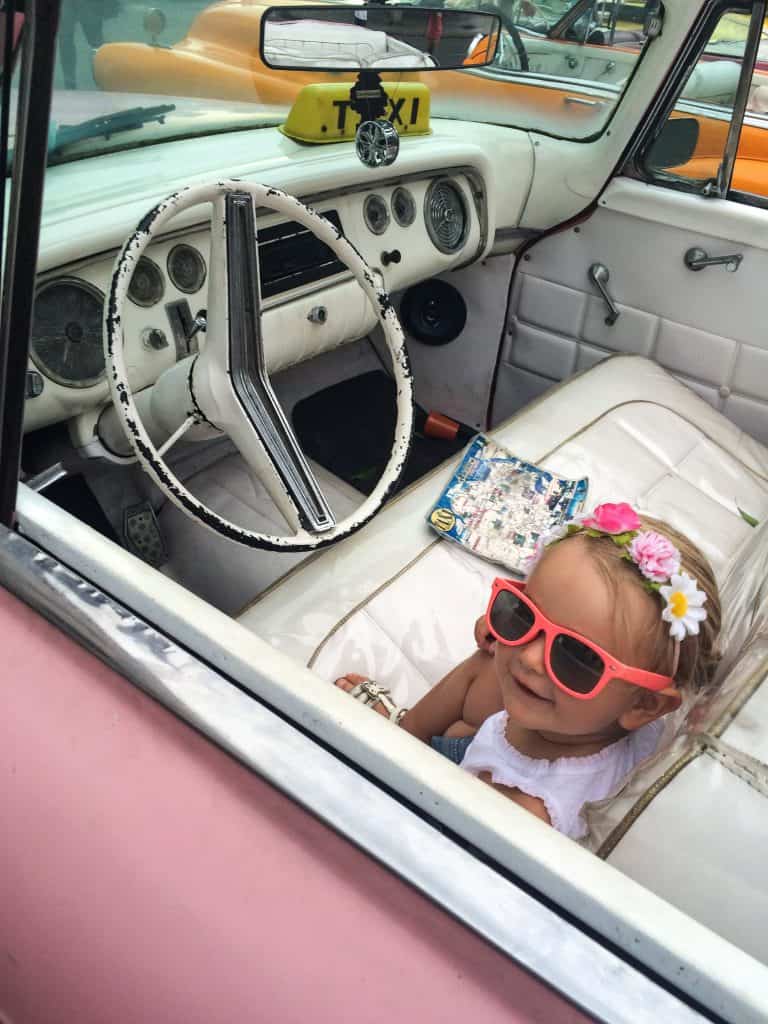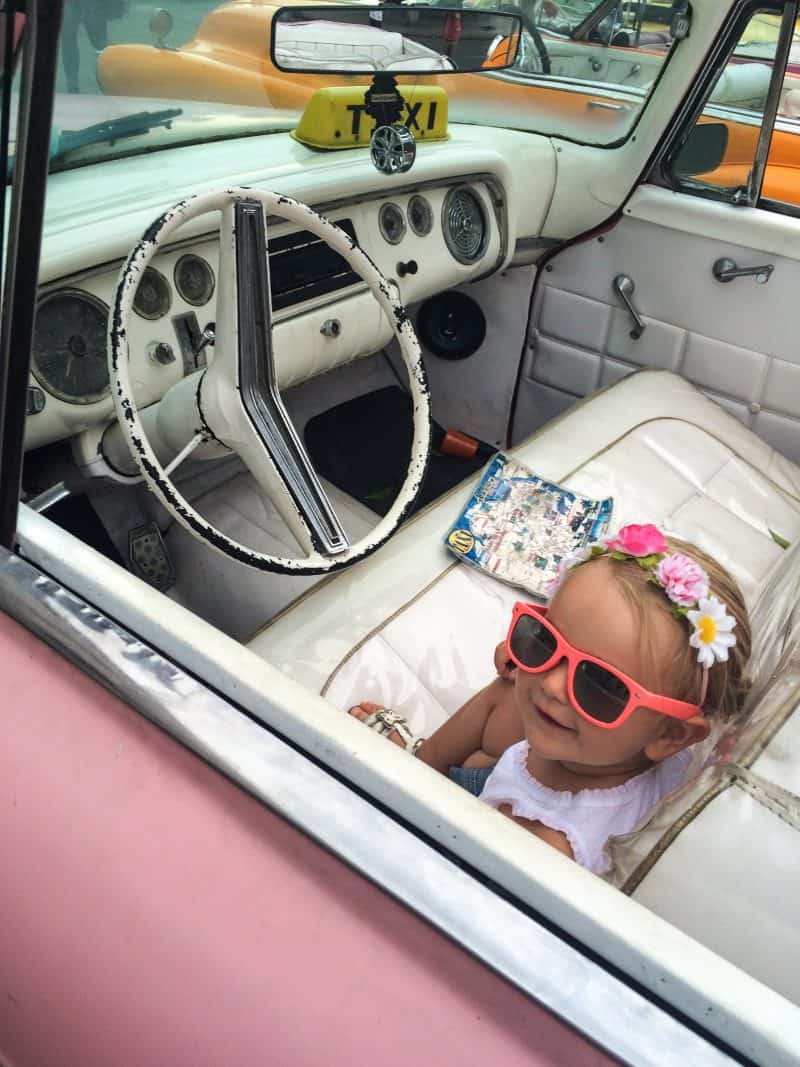 I was very happy to be staying at The Iberostar Havana. They had a gorgeous roof top pool where we could take our little one could escape. It was the perfect central base where we could relax but also take short trips out to see all of the sites. There are plenty of things to see and one way of doing it is in an old Cuban car. We found it the most fun way of getting around.
During our trip, we got to see most of central Havana, street art murals, Museo De Revolucion, Macelon and Castillo de los Trentos Santos. It took a couple of hours all up and we learned a lot about the history of Cuba, it was so interesting! We didn't get a chance to visit Trinidad but it is another popular city of Cuba that you may want to check out.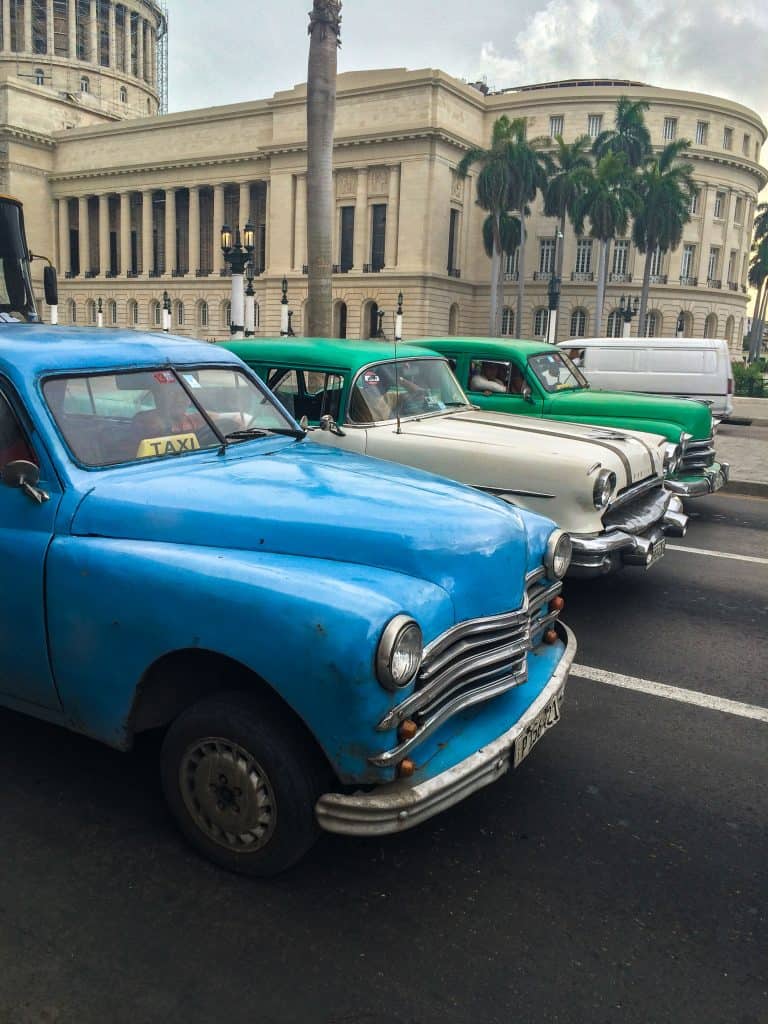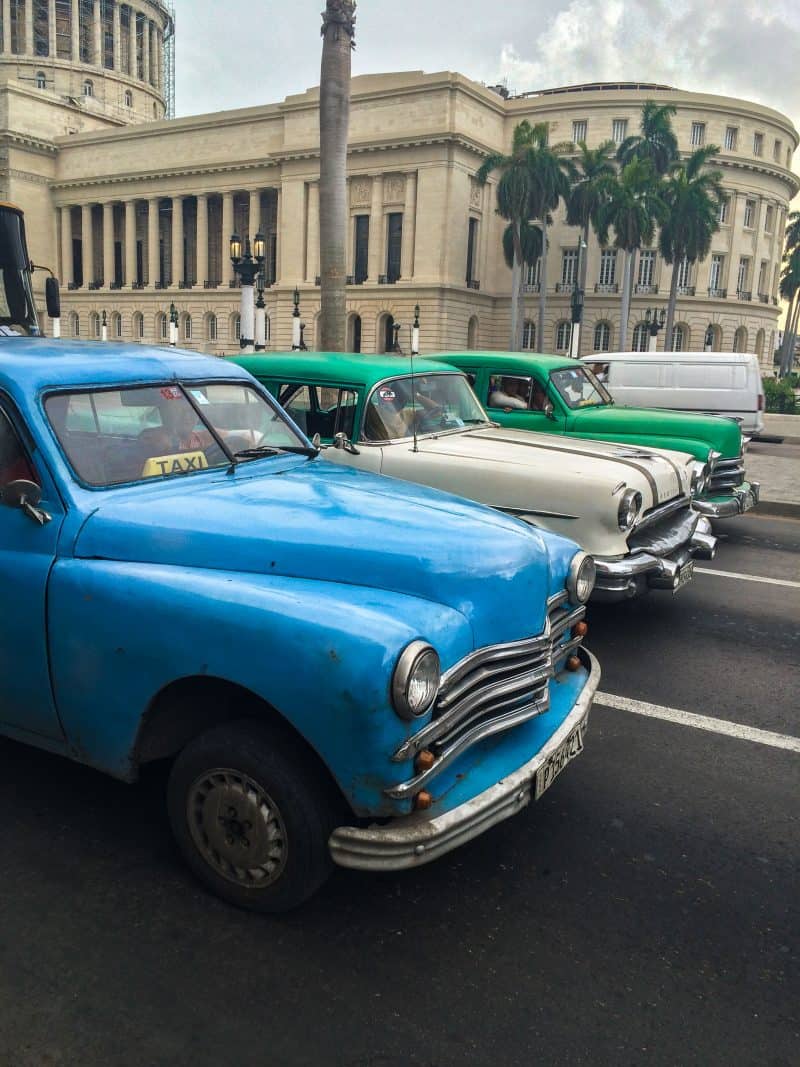 HAVANA WITH KIDS
We wandered the streets most evenings when it started to get a little cooler, soaking up the atmosphere and we also ate at a Paladar which I recommend. Cuba is not well known for its cuisine. A Paladar is an in-house dining experience, yes, that's right you go to a locals house for dinner and you can find plenty of recommendations from Trip Advisor. It's worth booking well in advance as they get busy especially during high season and even more so if it comes recommended.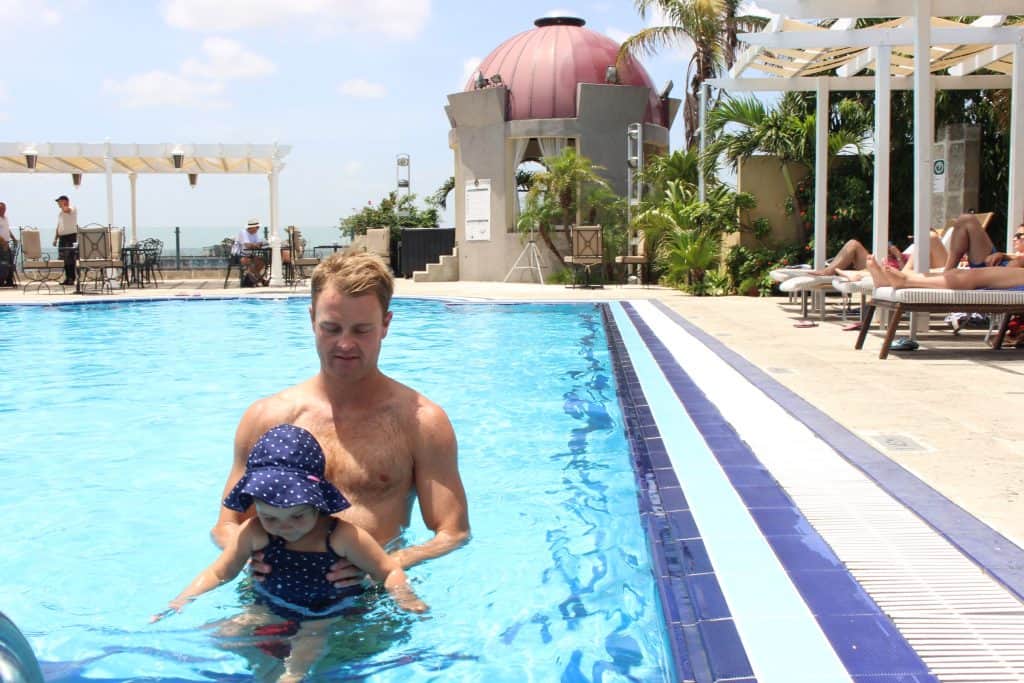 We did feel Havana was all about the night life in some ways. So, we booked a babysitter at our hotel for a couple of hours to go and enjoy a salsa bar. It was a lot of fun and the babysitter from the hotel was really good with our little one. She was fast asleep by the time we got home, Esme had only good things to say the next day.
VINALES WITH KIDS
Our last and final stop in Cuba was Vinales, where on the whole, we felt it was a much better destination than Havana to take a child. There were plenty of excursions she seemed to enjoy more. We stayed in a 'Casa Particular". It's essentially a home stay with a local family in their spare room. I must admit I loved the authentic experience of staying in someones home.
However, if you like luxury and really high standards, this is not for you! The house was really clean, as was our room, but everything is just a bit old and outdated. Just like Cuba, in general, stuck in a time warp. Vinales is the most authentic place we visited in Cuba, although I am sure that is set to change as it becomes increasingly popular.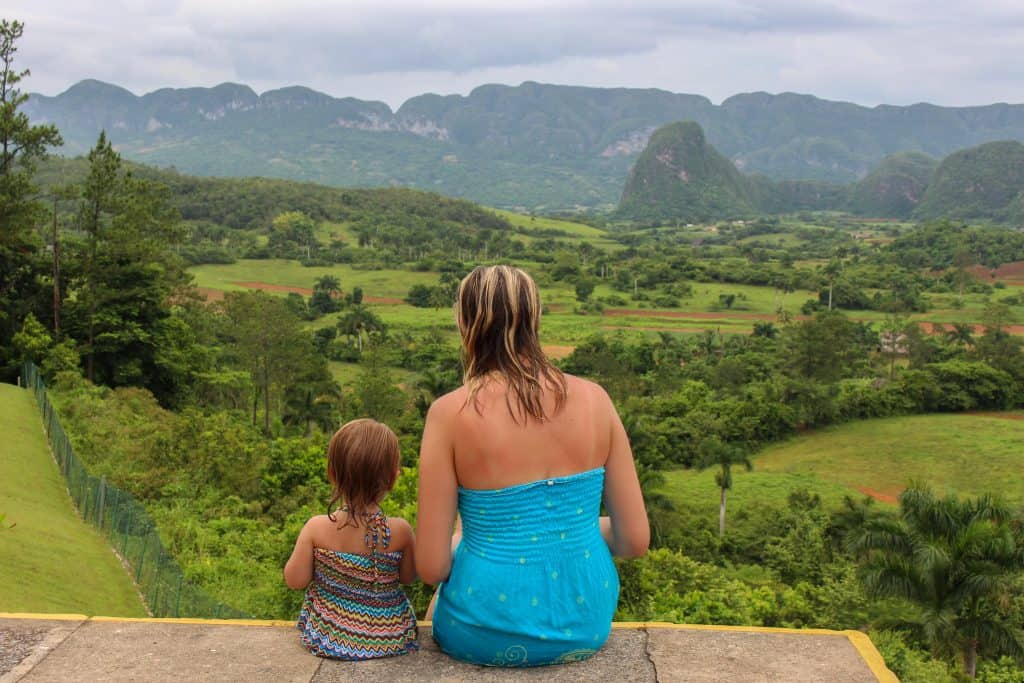 We stayed at Villa Las Croton a Casa Particular run by the adorable Tatty and Renee. We found them really helpful in recommending excursions and organising them on our behalf. There is an option for dinner at an extra cost if you fancy it.
Something I loved is they noticed Travel Mad Dad's birthday when they did the passport checks and made him a birthday cake on the day. How lovely! Staying in a family home may not be for everyone but we just love getting as close to the real life experience as possible. We sat in their rocking chairs of an evening whilst Esmé played on the porch.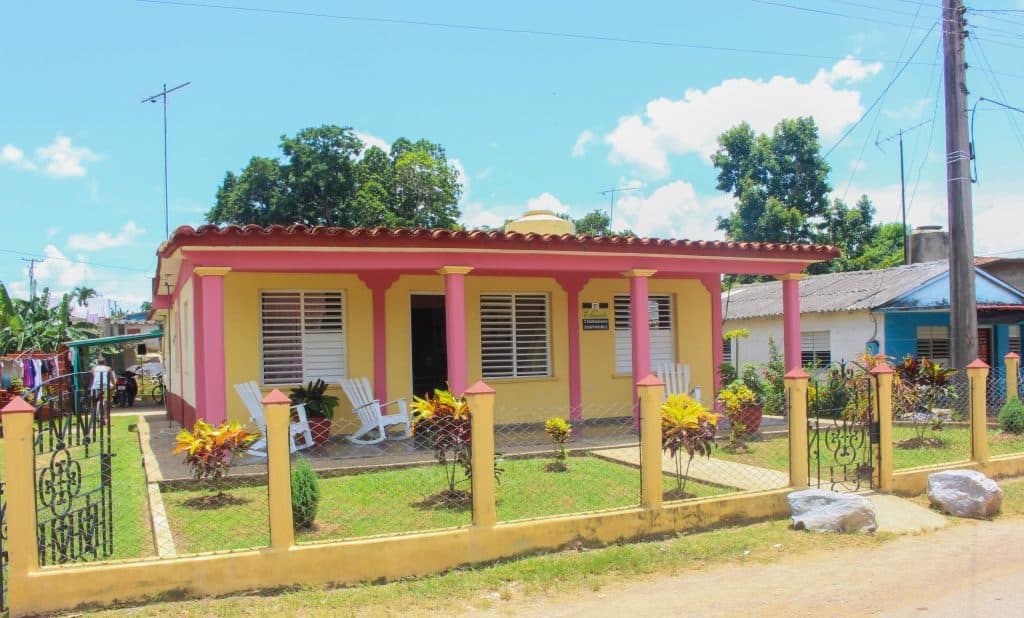 VINALES RESTAURANT RECOMENDATIONS
Again on the whole, we found the restaurants in Vinales much better than those in Havana. We were quite surprised at the standard after everything we read online. If you are going to find decent food in Cuba, Vinales is the place. I can recommend the following two restaurants:
El Paraiso Organic Farm is set on a hill looking down into the valley. As it says in the title, it is a beautiful organic farm growing fresh vegetables and salads for their very popular restaurant. It is by far one of the best in the area and you really do have to book in advance to avoid disappointment.
The owner is quite the character and is sure to make you laugh while he gives you a guided tour around his farm. There is plenty of green space for the little ones to play. We did however have to stop a few little sneaky hands from picking the strawberries.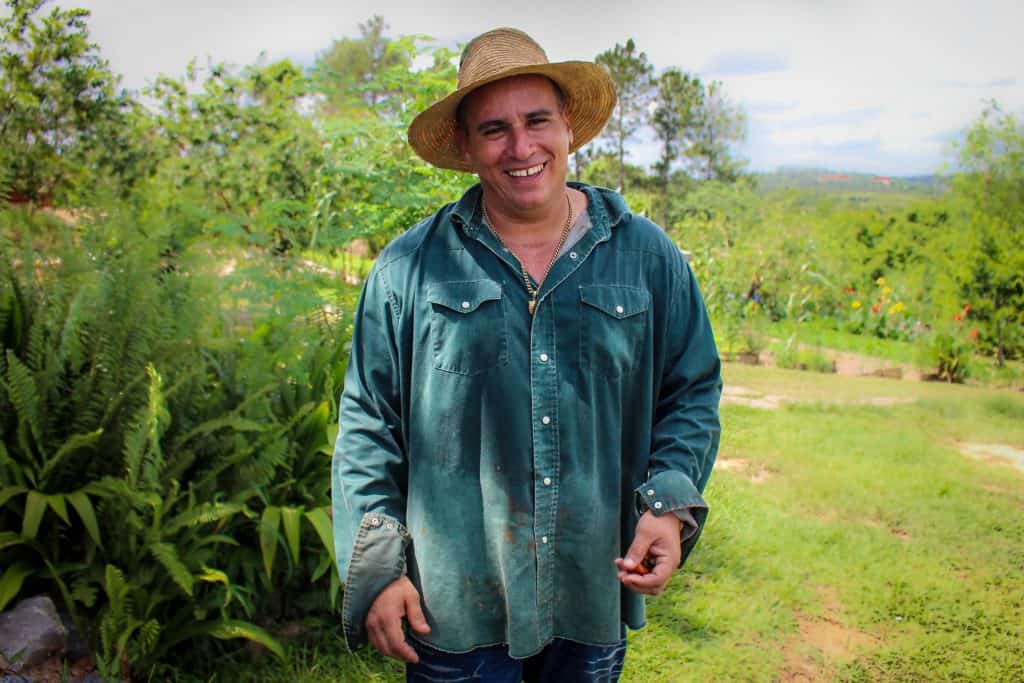 La Cocinita is in the main part of town. I asked for a recommendation for the most authentic Cuban food that tasted good. Unfortunately good Cuban food is hard to come by with its culinary history. This little family run Palador have the right idea. Just two options daily but everything is fresh and cooked perfectly.
VINALES
This beautiful town is set in a valley with dramatic rock formations just blew us away with it's stunning beauty and authentic Cuban experience it offers. I love the fact the locals do not try to cover up or hide their culture from tourists. It just is what it is!
From their horses tied to the front of their house, and the tobacco fields down the road, it is all a very relaxed way of life. All houses are one story and are roughly the same size, all have a porch and all most certainly have a rocking chair where the owners sit and watch the evening arrive.
Be prepared to say 'ola' a hundred times if you walk through the neighbourhood in the evening, everyone is outside chatting! I loved copying them from our casa and watching Esmé play.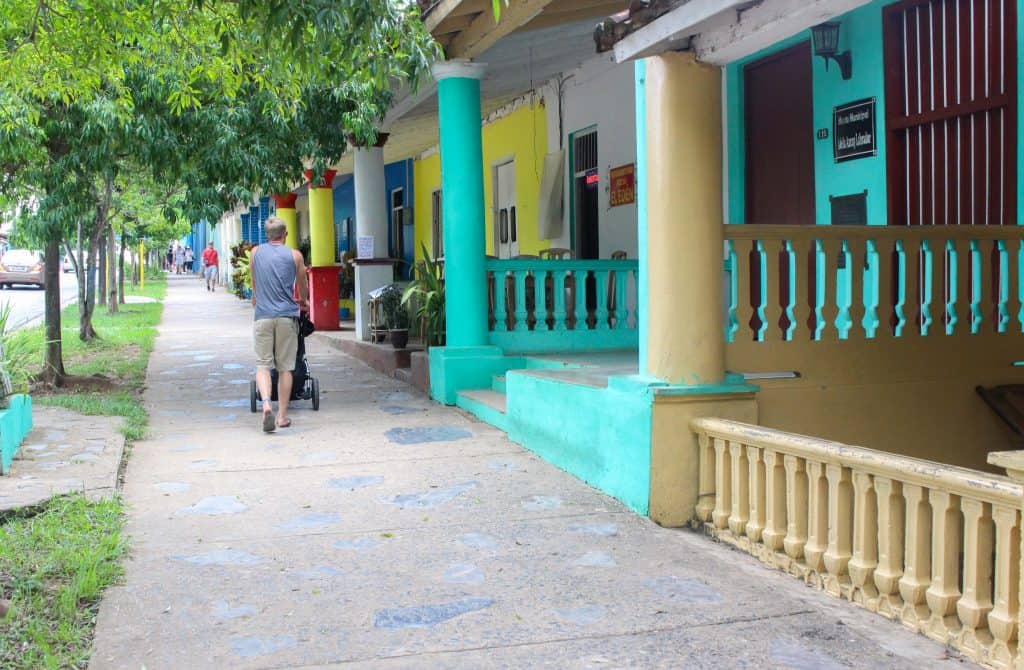 The local town is heaving with culture, a town hall which vibrates salsa music from it daily as well as the traditional classic cars, horses and carts going about their business. It was such an awesome place to sit and watch the world go by.
Just minutes from the town you can reach dramatic country side. The valley reminded me a little of Ayers Rock in Australia, only everything was green. Men trotted through the fields around the valley with huge cowboy hats. Truly iconic!
THINGS TO DO IN VINALES
Take a private family salsa lesson. This was one of my favourite activities, although we were really terrible at it. We took our lesson in the old town hall, it was so authentic and Esmé could get involved as much as she wanted. She was shaking maracas with the other children and dancing around, it was so cute!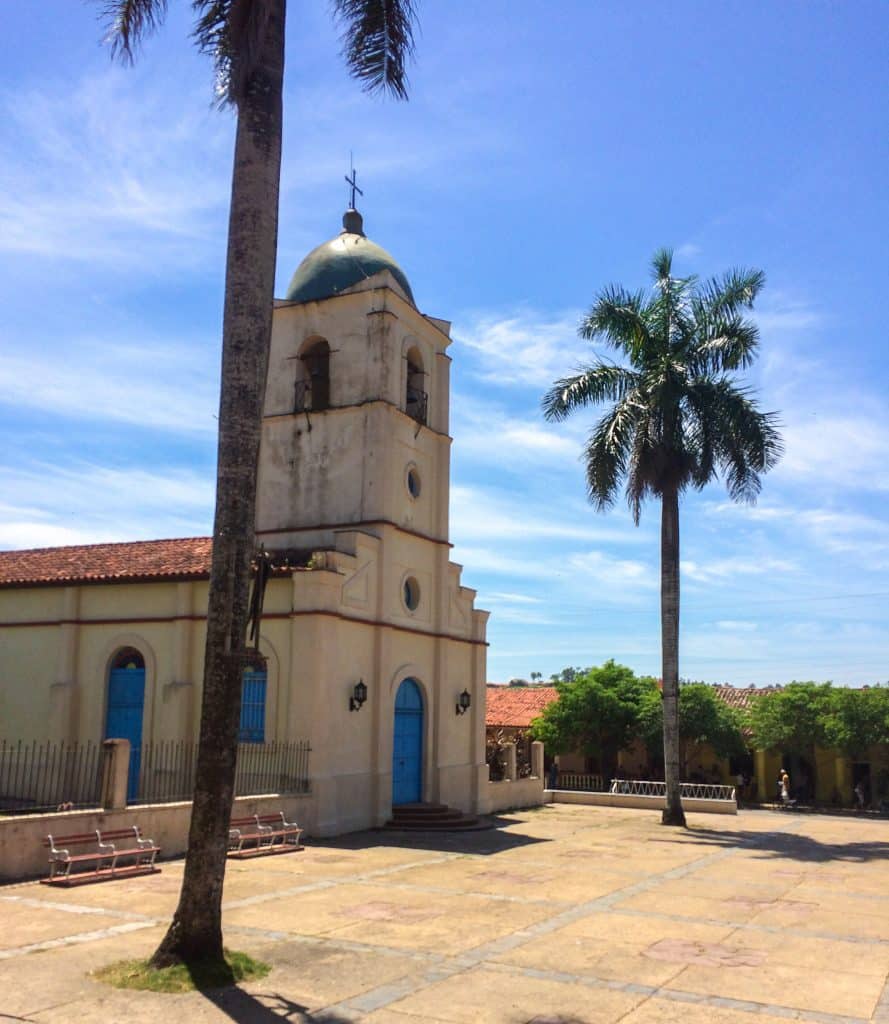 Go on a tour with 'Discover Vinales'. We had a lovely tour guide named Yaniel, his English is perfect and he loves to take his customers off the beaten track away from the main tourist hubs. He took us to an amazing underground cave where we went on a boat.
We also visited a non-tourist tobacco farm, as well as the beautiful El Paradiso restaurant. He was really good at tailoring the trip according to our needs with having a little one in tow.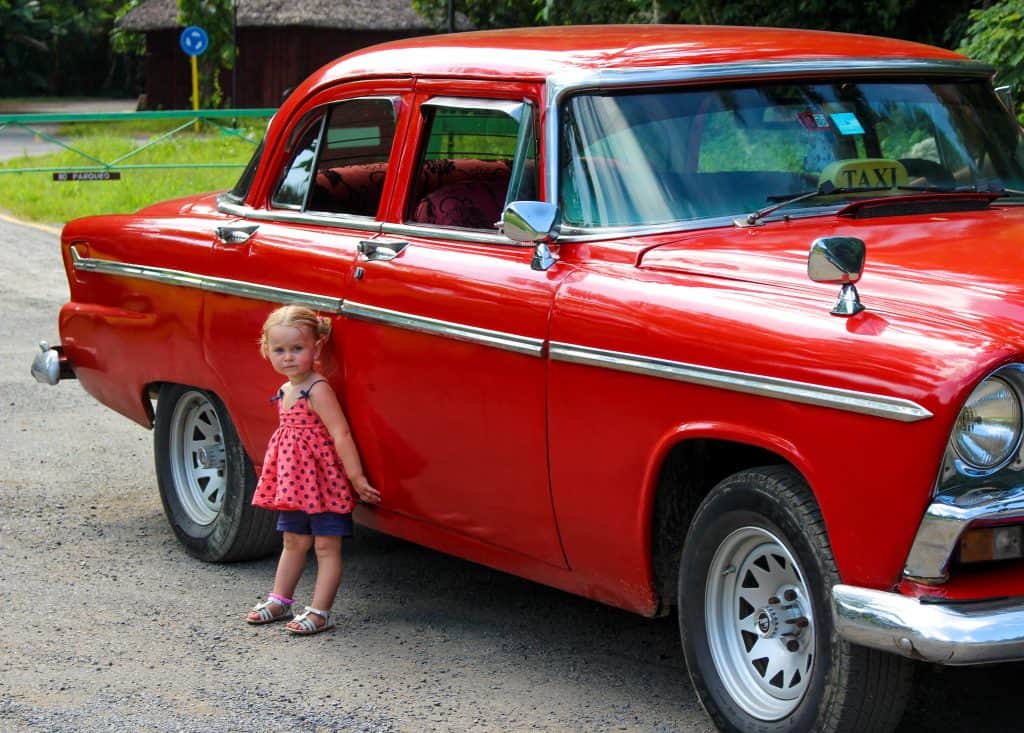 VINALES
Horse riding is a very popular way of exploring the tobacco plantations in the valley. The landscape is just stunning and going by horse is a really nice way to do it.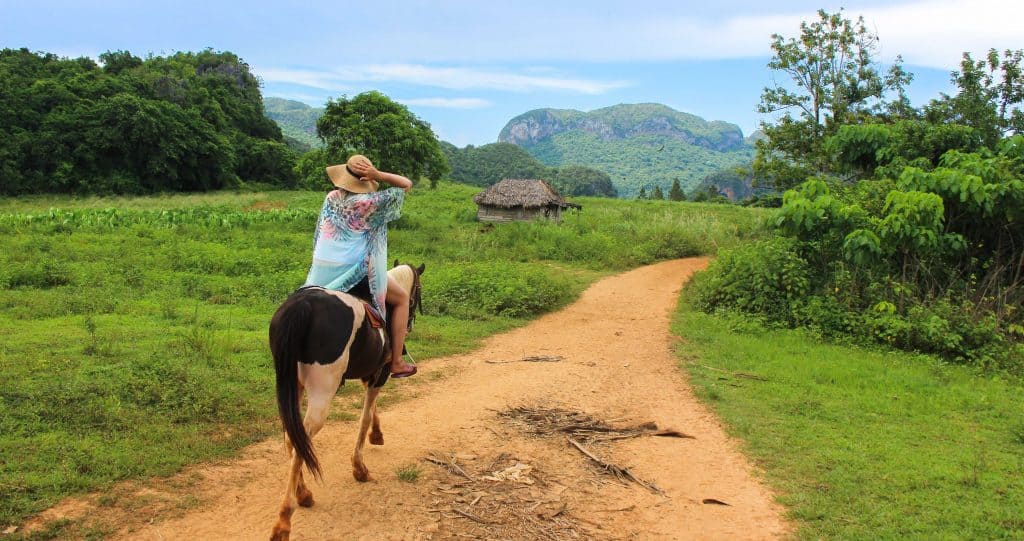 Cool off – we really felt the difference with not having a pool or the beach. Cuba is hot!!! There is a really nice hotel called Hotel Los Jazmines at the top of the valley that allows guests to pay a small amount to use the pool.
We visited one of the afternoons and although it was busy it was a really big space with insane views. It could be a good place to stay if you are not keen on a Casa Particular.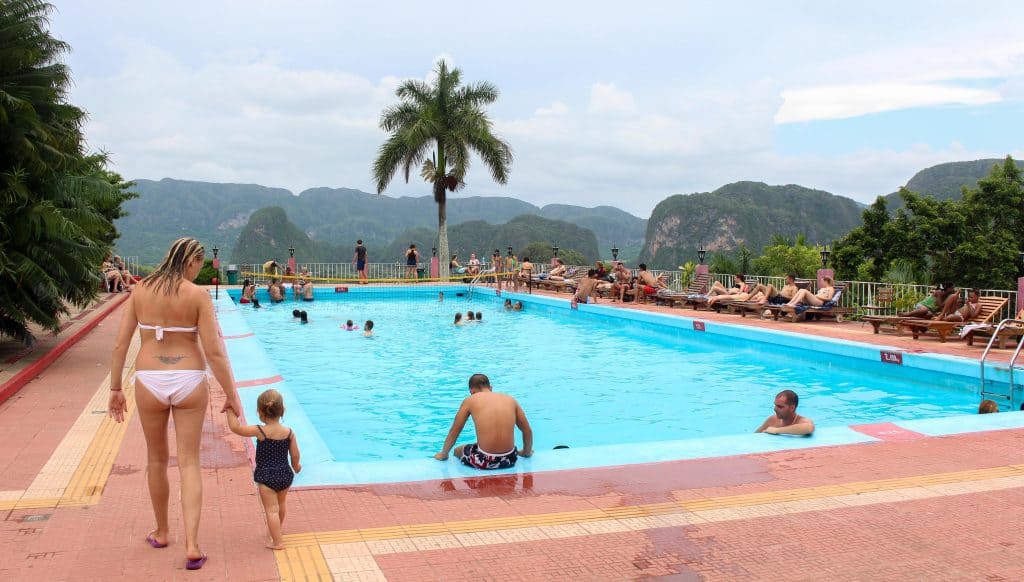 WHAT CURRENCY TO TAKE TO CUBA?
There are two currencies used in Cuba! Cuban Pesos are predominantly used by locals whereas Cuban Convertible Pesos are used mostly by tourists. It's worth checking with all merchants before purchasing / eating what currency they accept. Most places accept one or the other.
The best thing to do is bring Cuban Convertible Pesos with you, so you will have to order it in advance. The charges to change other currencies whilst in Cuba are quite high and whatever you do, don't rely American dollars. You can safely exchange euros and sterling but as I mentioned it is expensive. We found ATM's in all three towns we visited.
IS CUBA SAFE?
All world authorities excluding The White House consider Cuba a safe place to travel. Of course like all cities, there are pick pockets in the city, especially at night time.
Exercising usual precautions of safety is the best way to tackle the issue. Don't walk down abandoned streets, stay in the main areas, don't flash your valuables around. As mentioned previously hurricanes can potentially pose a risk in low season.
Cuba's healthcare system is one of the best in the world and is widely sited across the internet. Many international medical students go to Cuba to gain experience in this world renowned national healthcare system.
Of course this doesn't mean you should travel without travel insurance. I use World Nomads and found it very helpful on previous claims.
WHAT IS THE LANGUAGE IN CUBA?
The most prominent language in Cuba is Spanish, however the population is diverse and more than 300,00 people speak Haitan Creole. For the most part, a few words of Spanish would be helpful to get by. We have travelled a lot in Spanish speaking countries across Central and South America and our daughter loves to learn new words. A good way of preparing little ones is with an online language class suitable for a wide age range. We use The Cultured Kid!
We have travelled a lot in Spanish speaking countries across Central and South America and our daughter loves to learn new words. A good way of preparing little ones is with an online language class suitable for a wide age range. We use The Cultured Kid!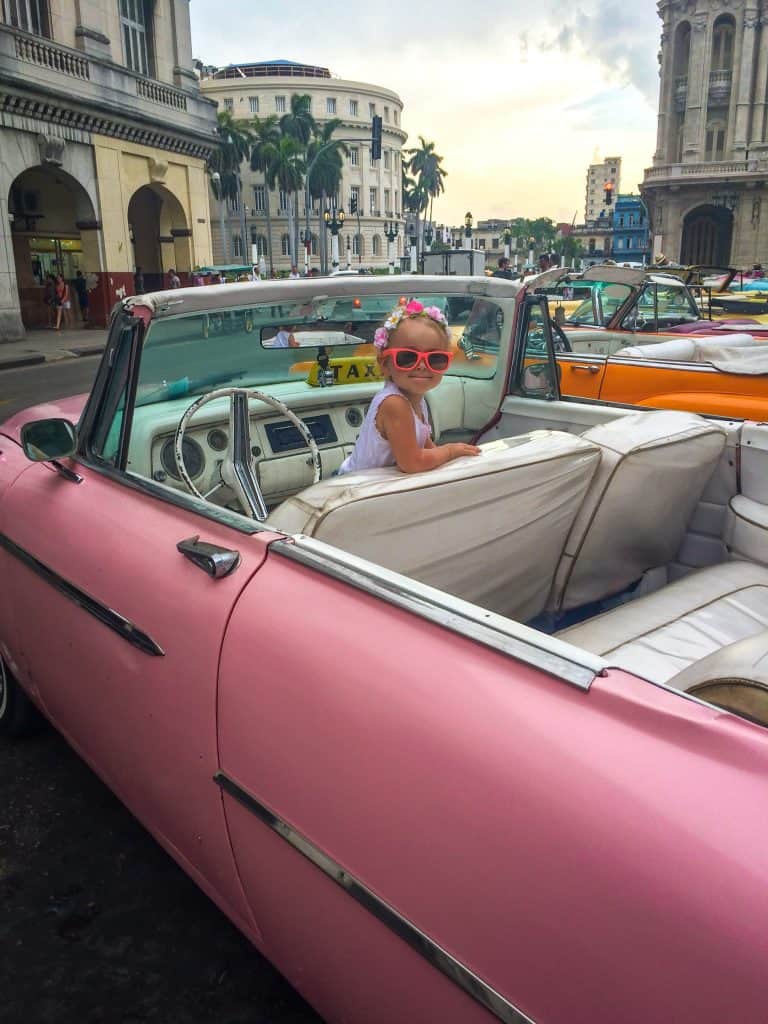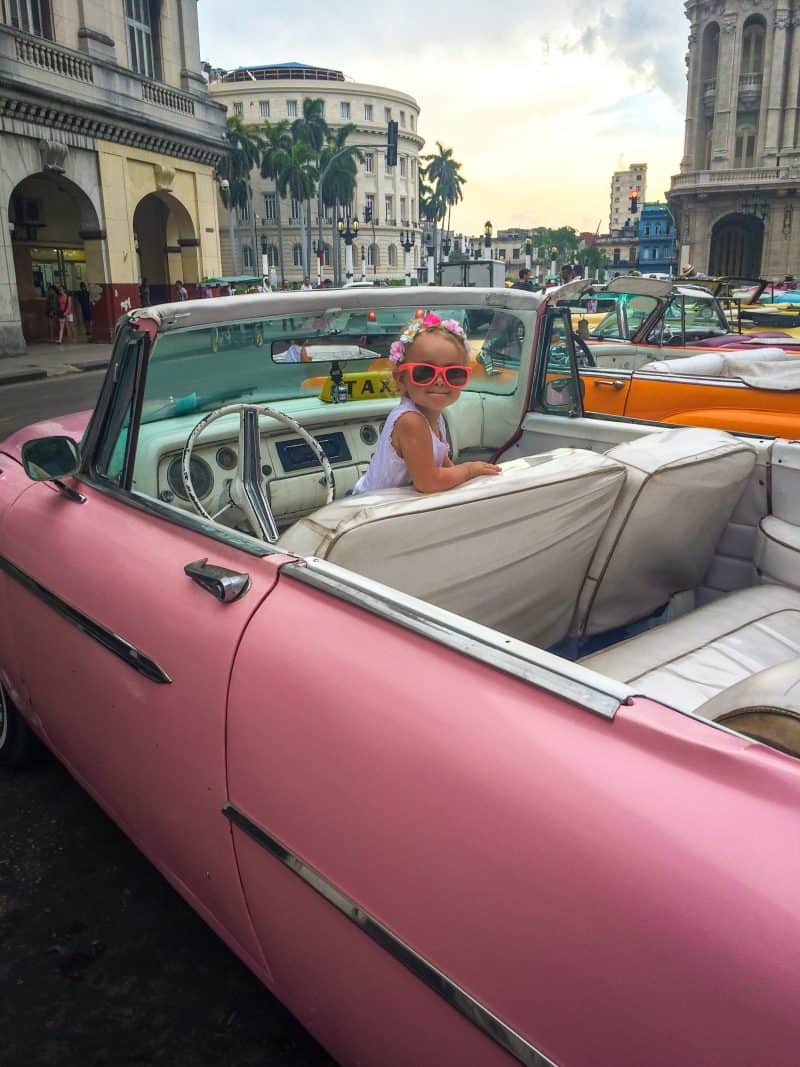 If you do decide to book the same trip as us, we would be most grateful if you could use our affiliate link to The Holiday Place. By using the link, we get a small percentage of commission. Similarly, if you book flights or hotels based on the recommendations, the links provided to my trust sites above, helps me to continue writing at no extra cost to you.
I can't tell you how helpful it is when it comes to setting up a blog as a job. I spend hours and hours writing and editing photos for readers. Thank you in advance : )
You may also like: