We spent an unusual amount of time in Cartagena when we visited recently. The benefit of a prolonged period of time in the beautiful town meant we tried out so many different restaurants. If you Google the best restaurant in Cartagena, Colombia it's no surprise that Carmen and Moshi, its sister restaurant pop up.
Situated inside an old colonial house, with many preserved original features, are these two incredible fine dining restaurants. Out of all the places we ate at in Cartagena, Carmen was our favourite. We were really flattered to visit by invite. Moshi is an elegant Japanese restaurant that uses Colombian techniques and ingredients.
We chose to eat at Carmen because we were interested in the modern twist on traditional and local cuisine. I loved the outdoor courtyard dining area. Surrounded by beautiful original patterned tiles and a giant mango tree in the centre, there was so much ambiance and character.
We visited for lunch, it was a blazing hot day but the big fans and the tree kept us nice and cool. We were lucky enough to meet Carmen and Rob, the owners, who organised a tasting menu for us. Ordinarily it takes some time, but they were super flexible and served us a little quicker with the kids. We are always a little worried about taking our kids to fine dining restaurants but they were very accommodating and welcoming.
THE BEST RESTAURANT IN CARTAGENA, COLOMBIA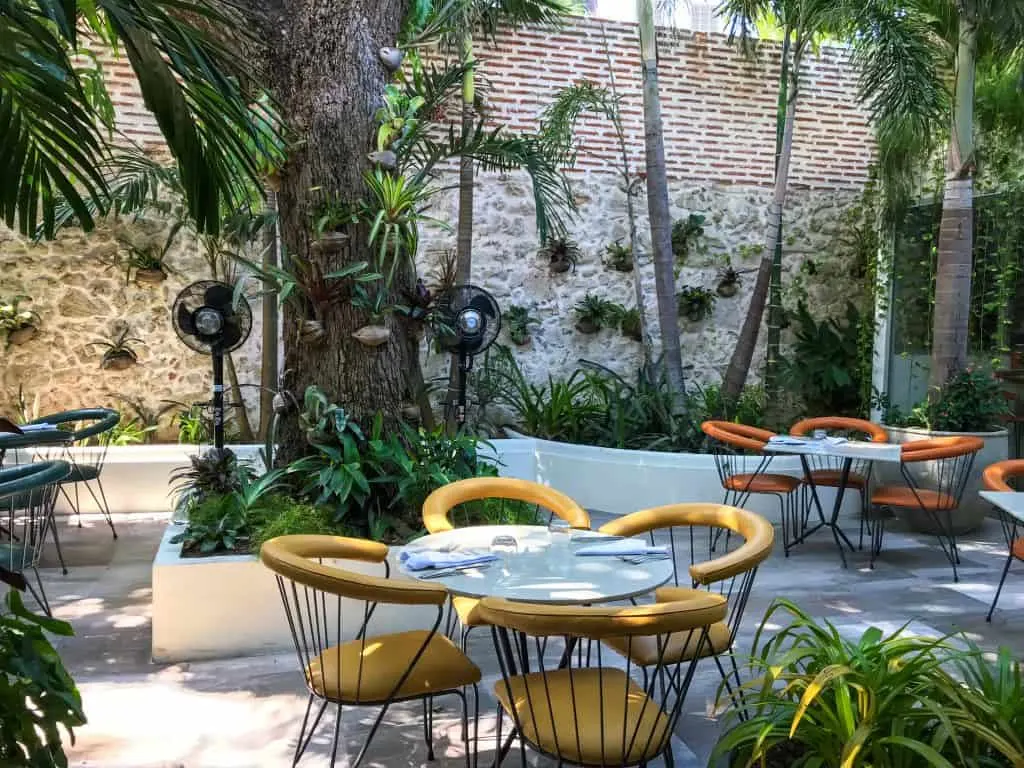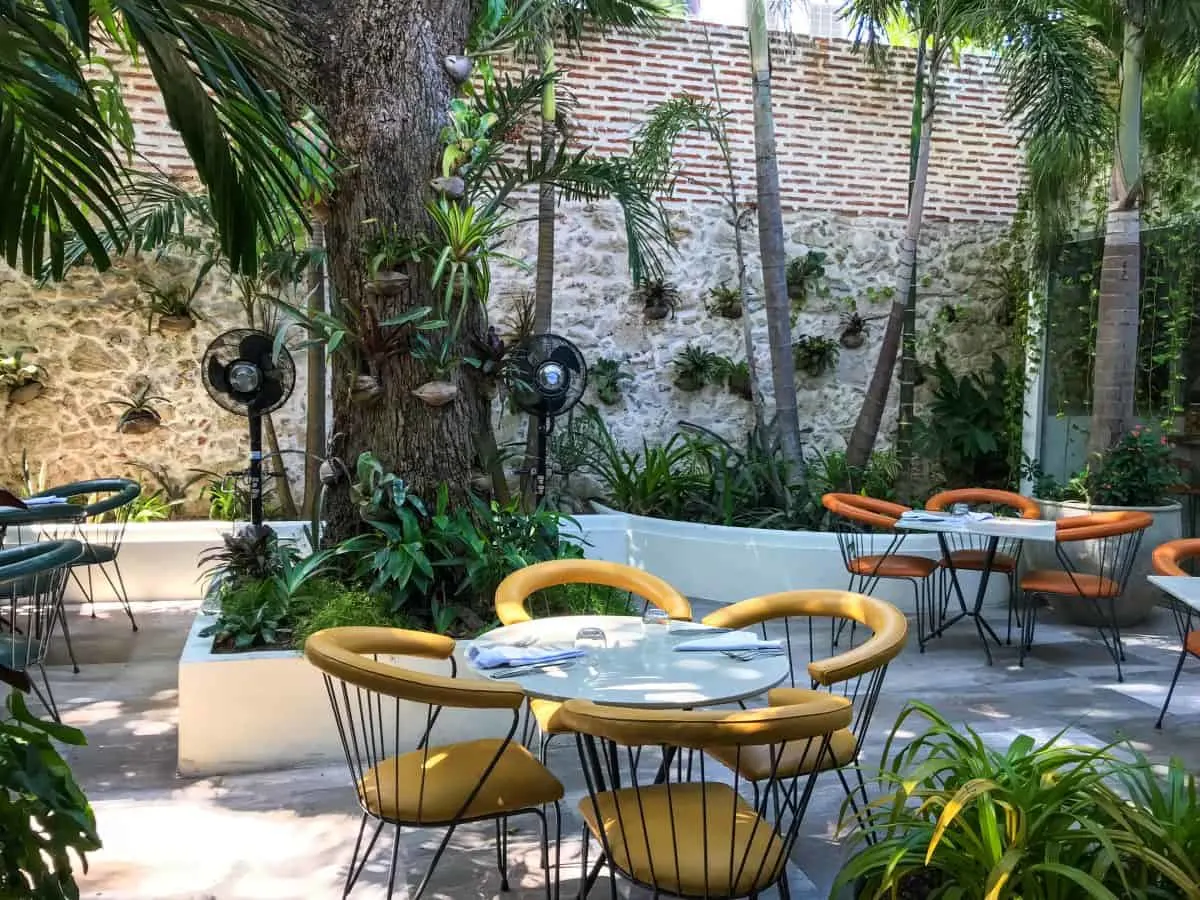 THE COCKTAILS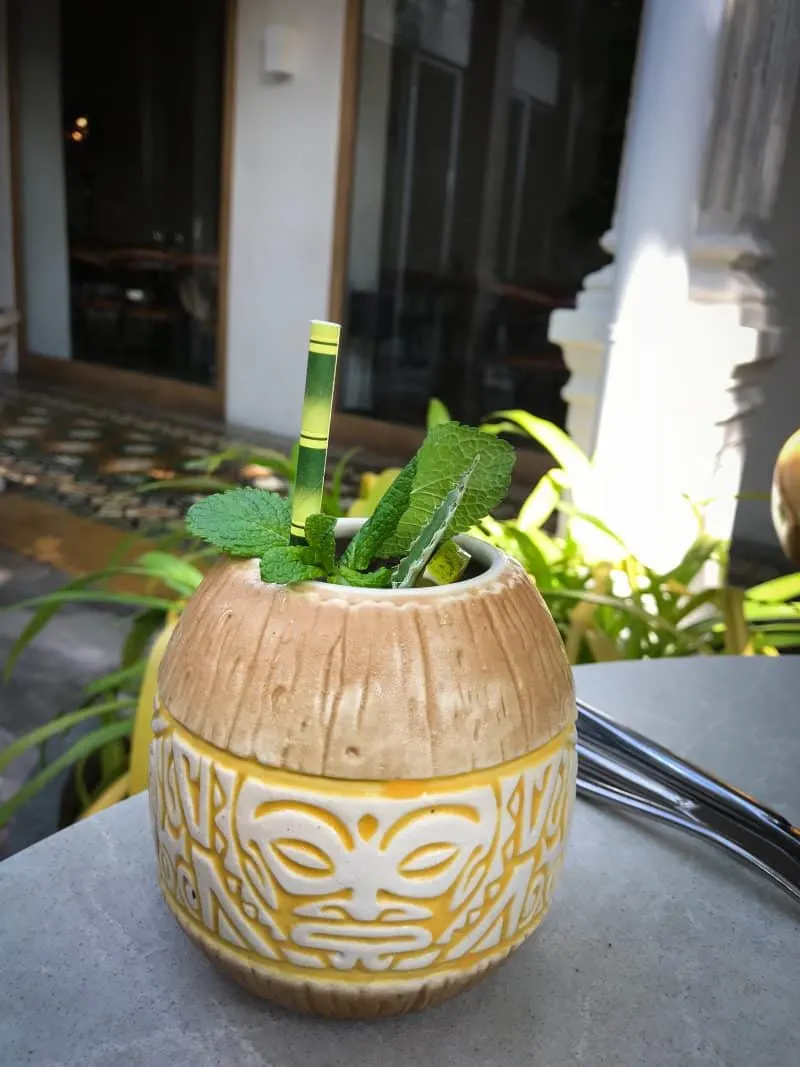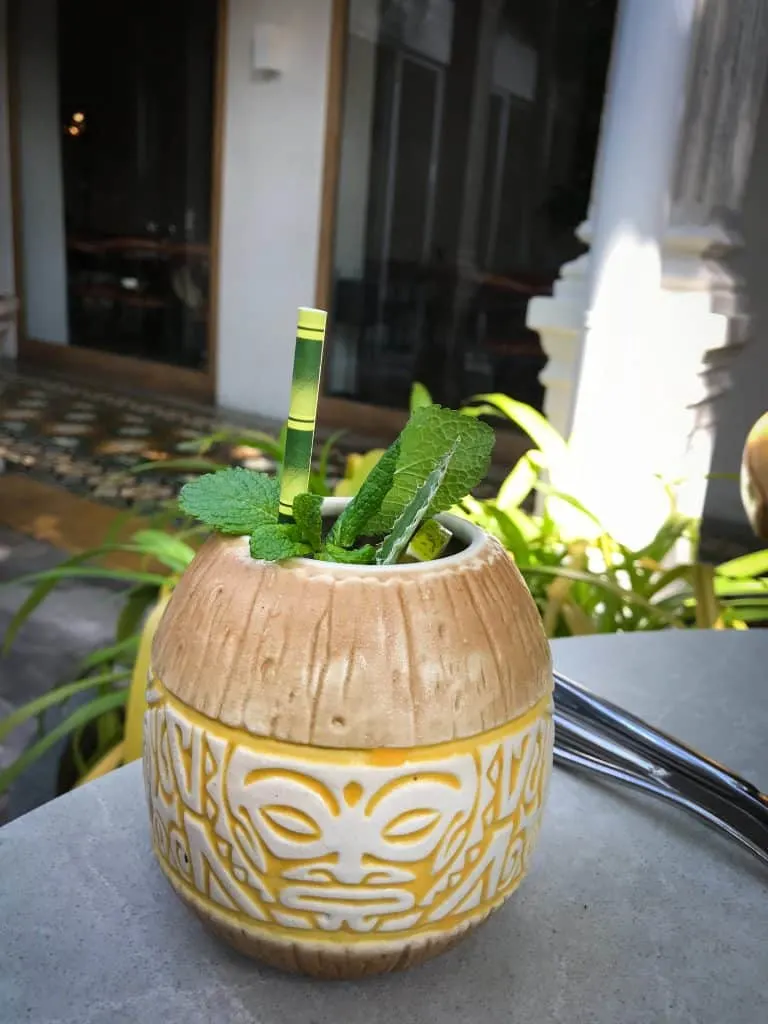 We started off with some cocktails. As rum lovers, I had the 'Zombie' and hubby had the 'Pirate Booty'. My 'Zombie' cocktail embodied every Colombian flavour I could think of. Limes, pineapple, cinnamon and high quality Colombian rum, all served in a gold pineapple! It wasn't overpowering but one was enough to create relaxed vibes for our prolonged lunch. Ordinarily, Carmen Restaurant offers wine pairing with a tasting menu.
THE SERVICE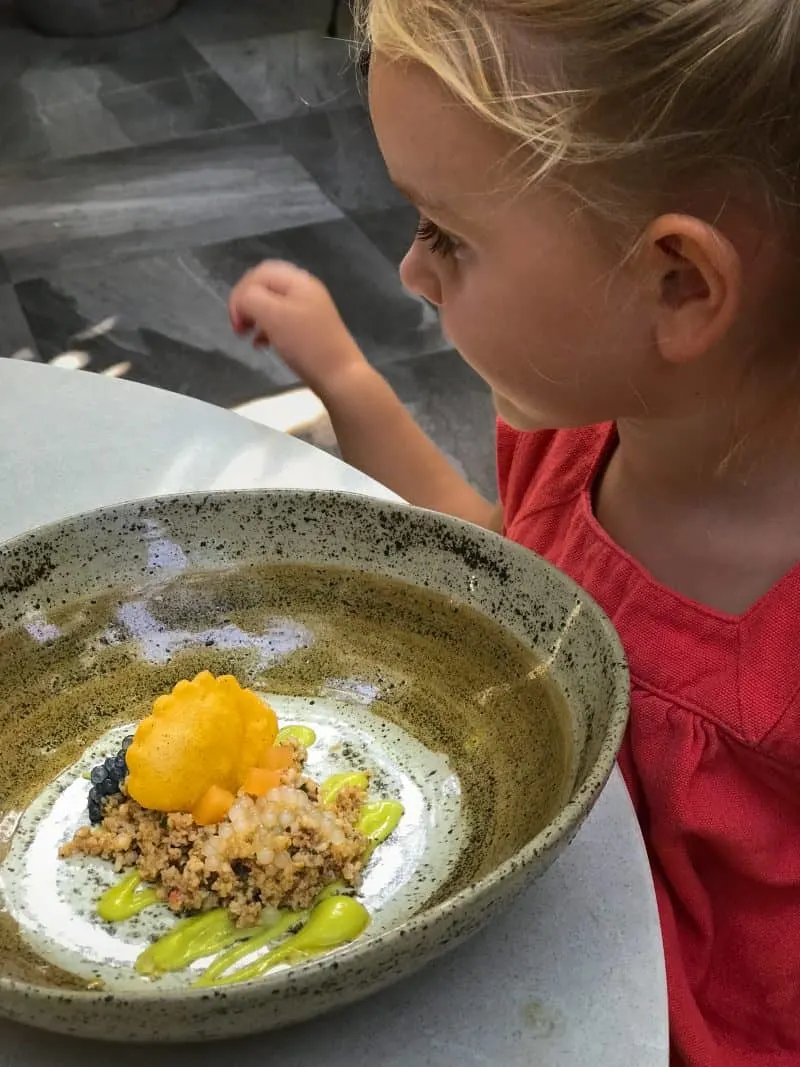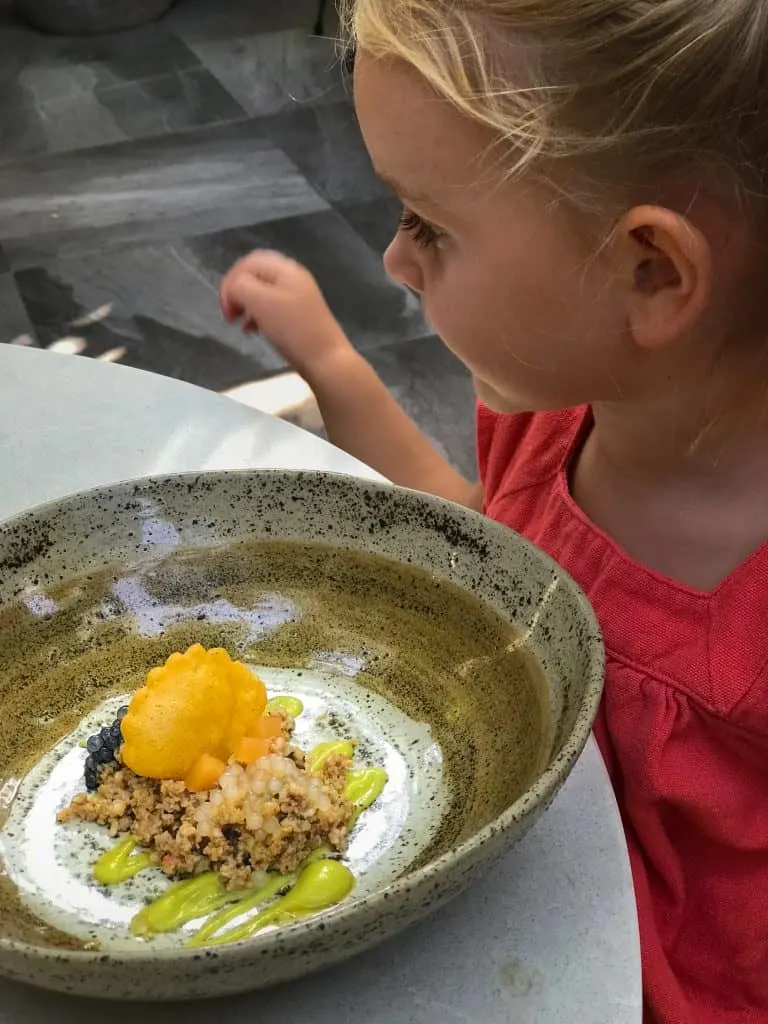 We had an adorable waiter who was attentive and incredibly knowledgable about every last ingredient in each of our dishes. He was also really awesome with our three year old who is usually super fussy with food.
As you can imagine, Carmen Restaurant presents food immaculately with such attention to design and detail. I was a little worried she would turn her nose up to it and I was totally shocked when she was tucking into ceviche! She ate a lot by her standards.
THE BEST RESTAURANT IN CARTAGENA, COLOMBIA
SEVEN COURSE TASTING MENU
Initially the waiter and Carmen checked in with us about likes, dislikes and allergies. Although I generally eat vegetarian, I knew seafood was a highlight on the menu and I heard awesome reports from our friends who visited a few days previous to us. I didn't declare any preferences knowing quality was really good. We left it all up to Carmen and the team to pick us her favourites and we were not disappointed.
APPETIZER
After sipping on our ice cold cocktail for a few minutes, We kicked off with an 'amuse bouche'. Apparently it changes daily, so it's not listed on the menu. The shrimp on the right was full of flavour with an infused oil, citrus flavours and a sprinkle of chives. It was the perfect opening to an incredible menu.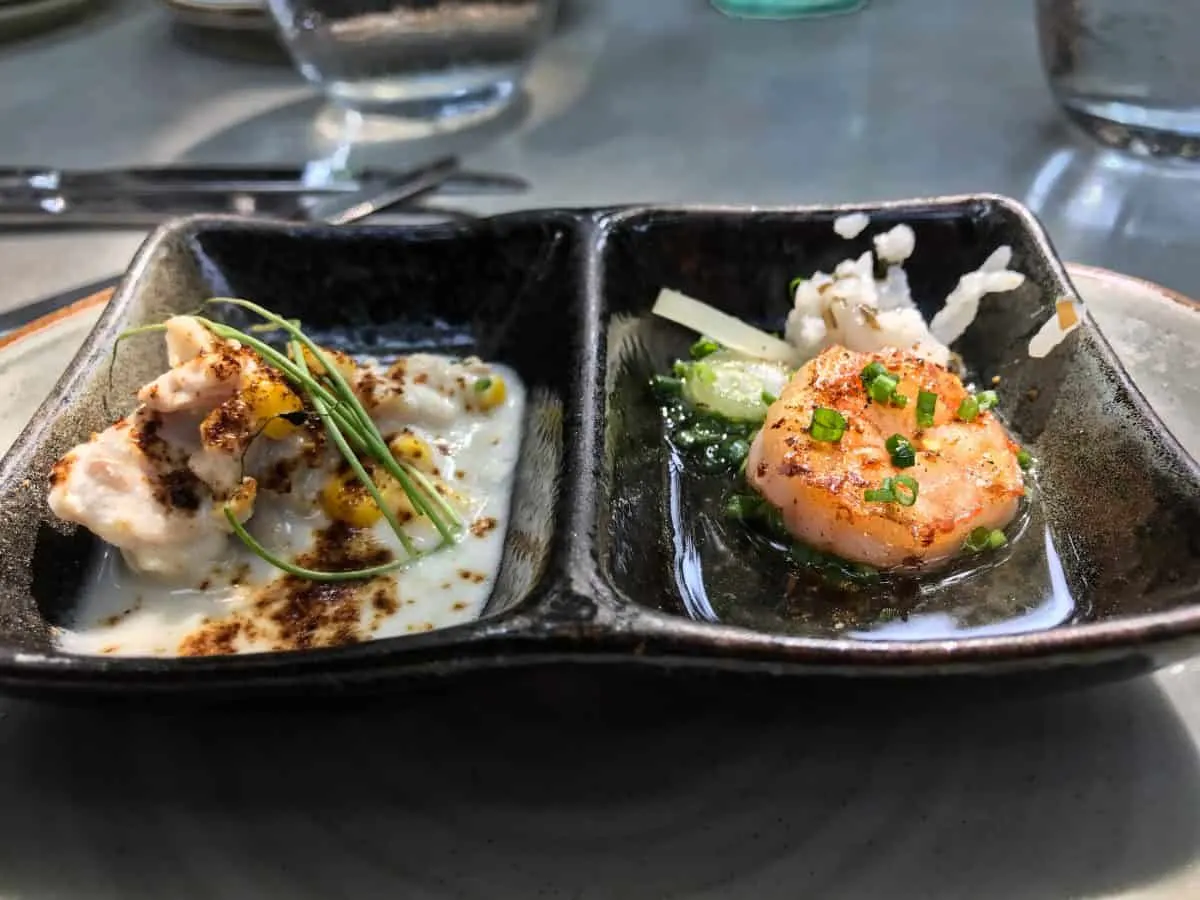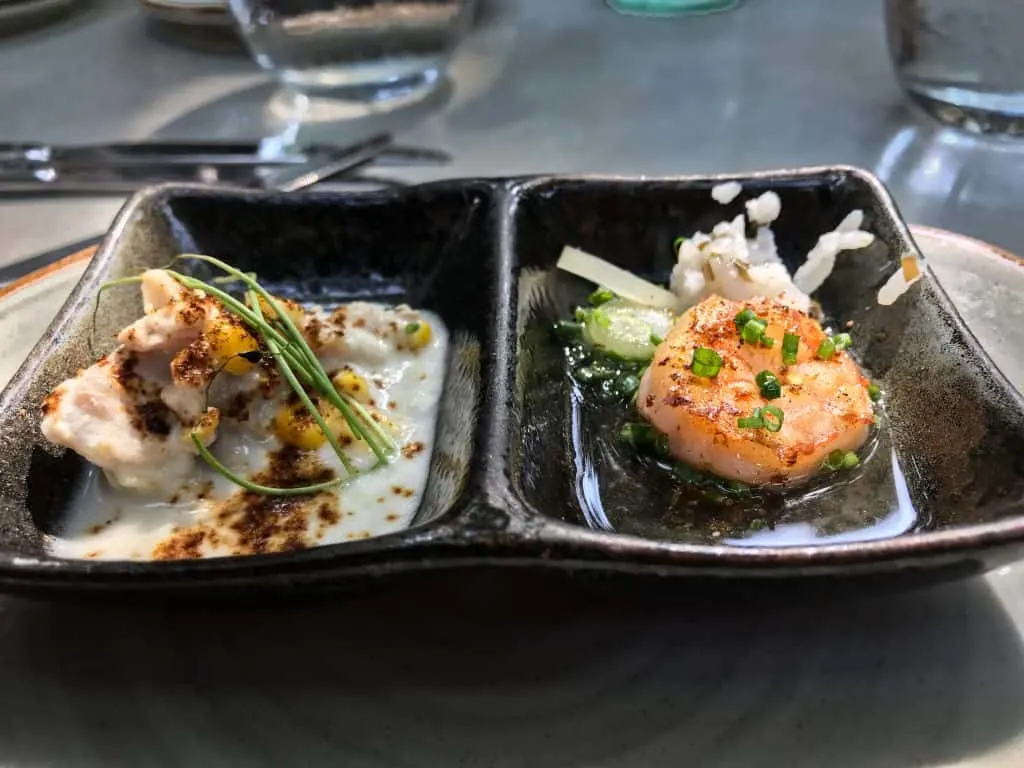 APPETIZER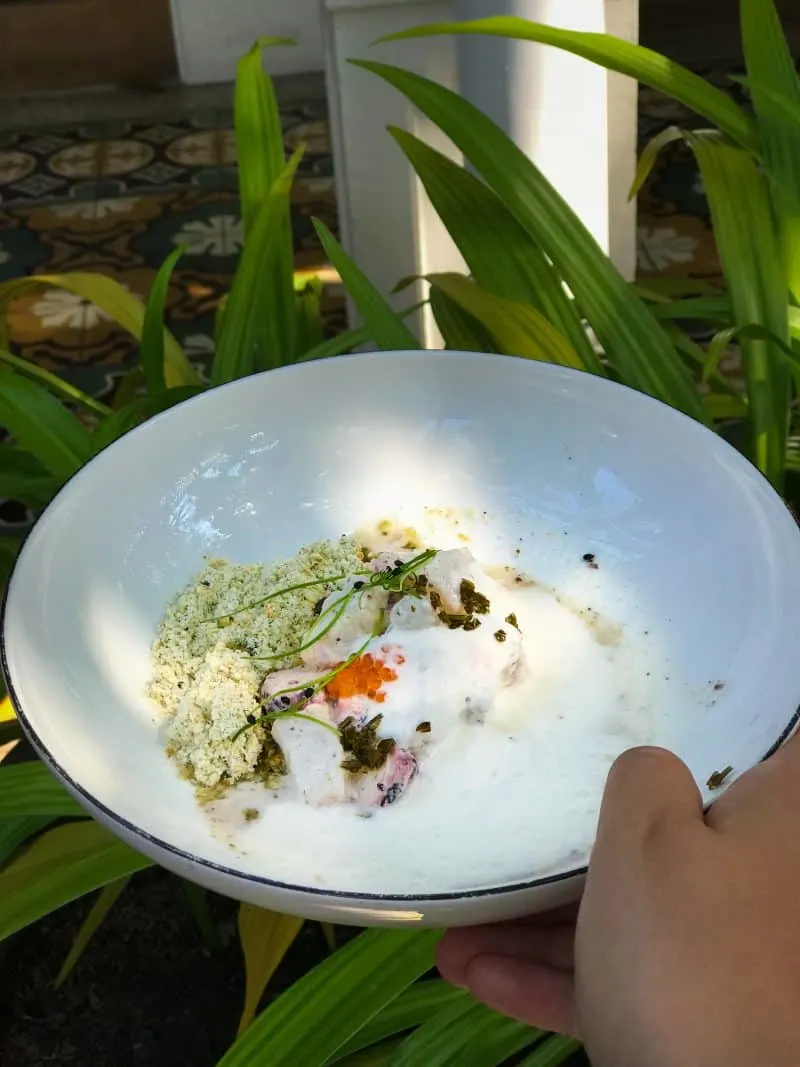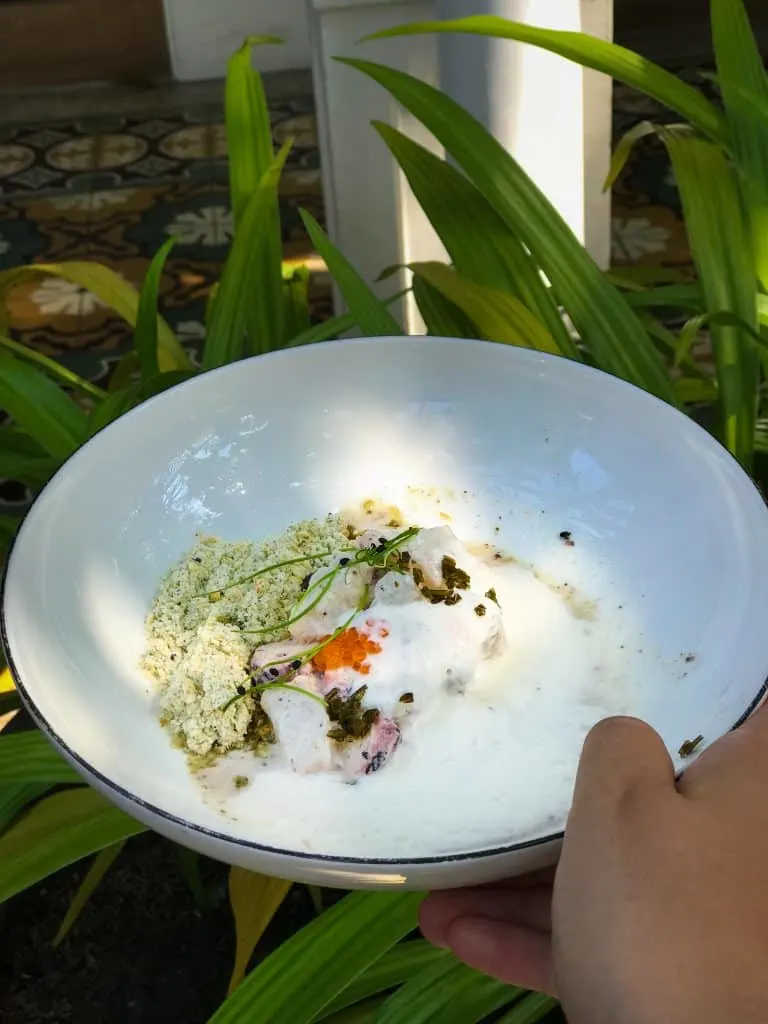 Our first dish was the appropriately named 'Playa Blanca'. As it suggests, the theme embodied the idea of the ocean with octopus, rock shrimp & white fish ceviche, fermented coconut tiger's milk, coconut rum sea foam, red caviar and cilantro.
The edible sand, that I can best describe as a crumble symbolised the sand near the ocean. Our waiter suggested mixing it all up to get all of the flavours and textures at once. I really loved the creamy consistency with the crunchy 'edible sand'. I have to be honest and say I was a complete ceviche virgin before I tried this dish but I really enjoyed it.
Next up we had the 'Cangrejo' appetiser. I absolutely love crab so I was excited to try this salad dish. The ingredients were centolla crab, Caribbean vadouvan, avocado, puffed masa, crab dashi, black pearls, mandarin orange & ginger. It was an explosion of citrus in my mouth, so flavoursome, I could have eaten bucket loads of it.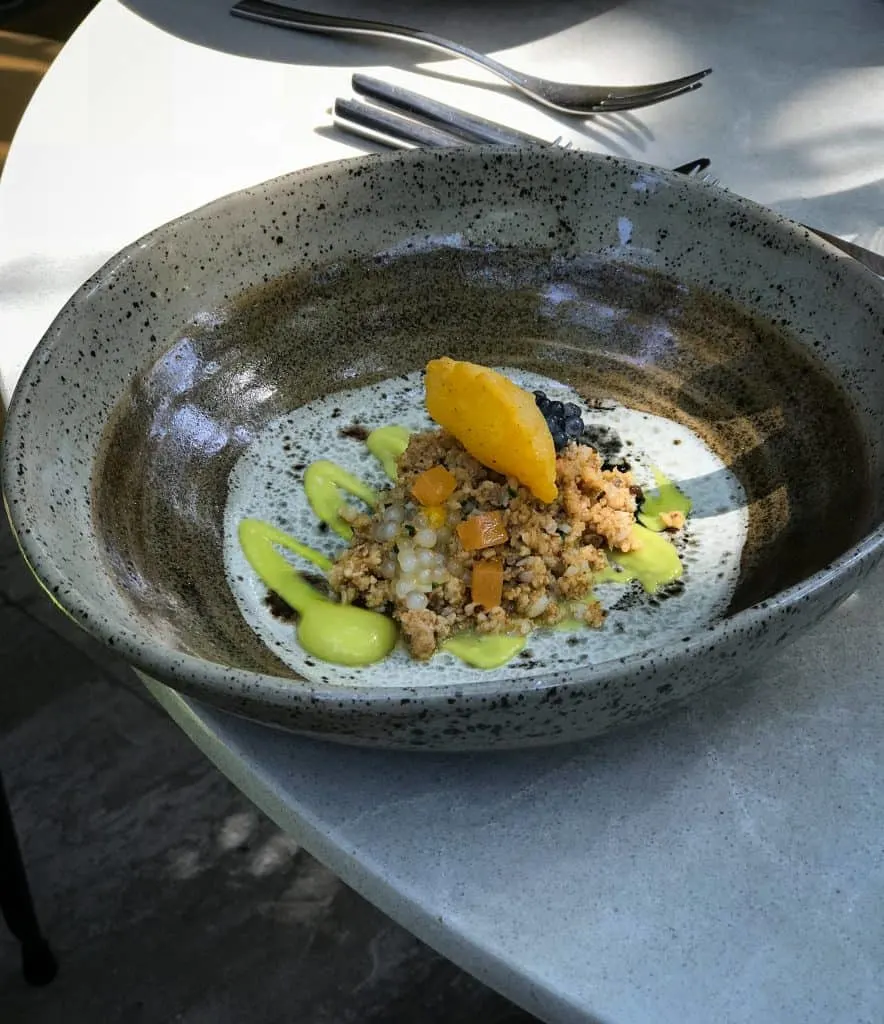 ENTREE'S
Moving onto entree's, we started off with Caribbean snapper, 'Pargo Platero'. It was seared to perfection with accompanying flavours of fermented pineapple, cachaça butter, yellow curry, lychee chimichurri and cilantro. Whilst in South America, I have been enjoying the variants of yams and plantain. Colombian coastal yam and black tempura banana were also served. I really enjoyed the full flavoured banana with the creamy consistency of the dish.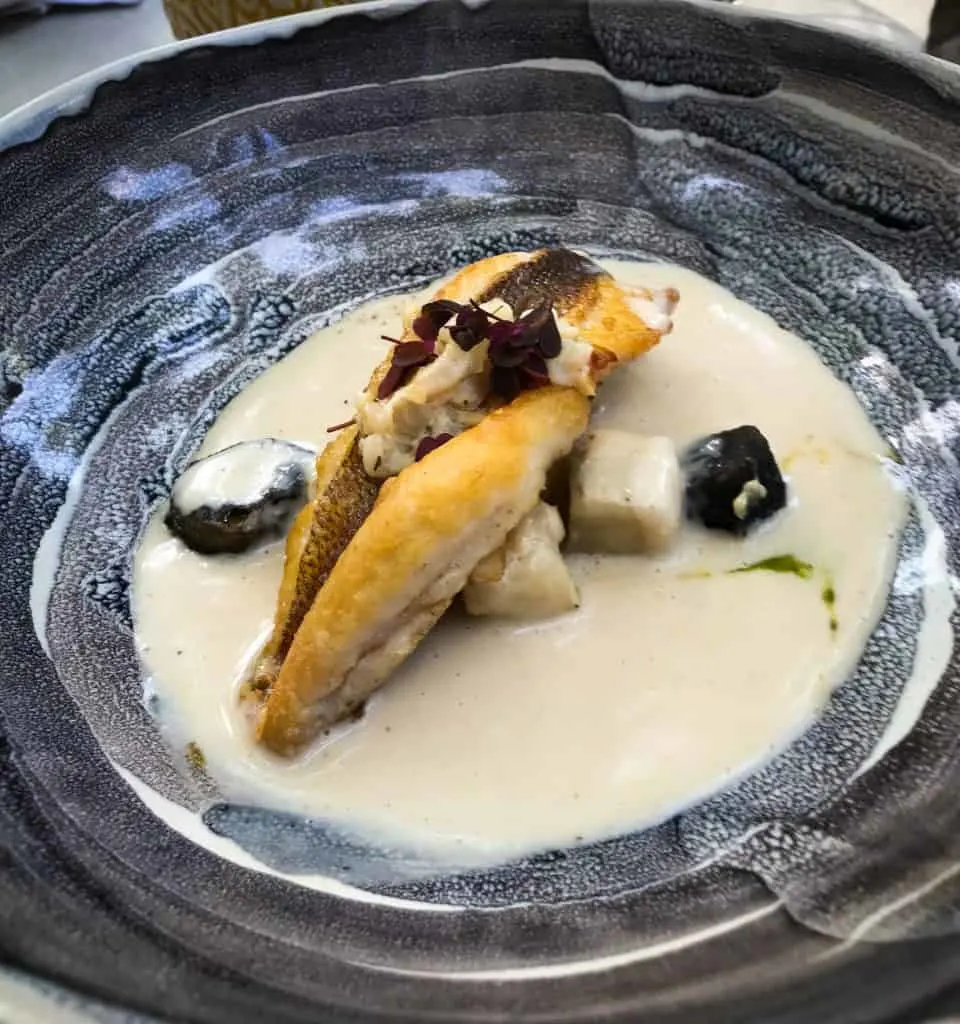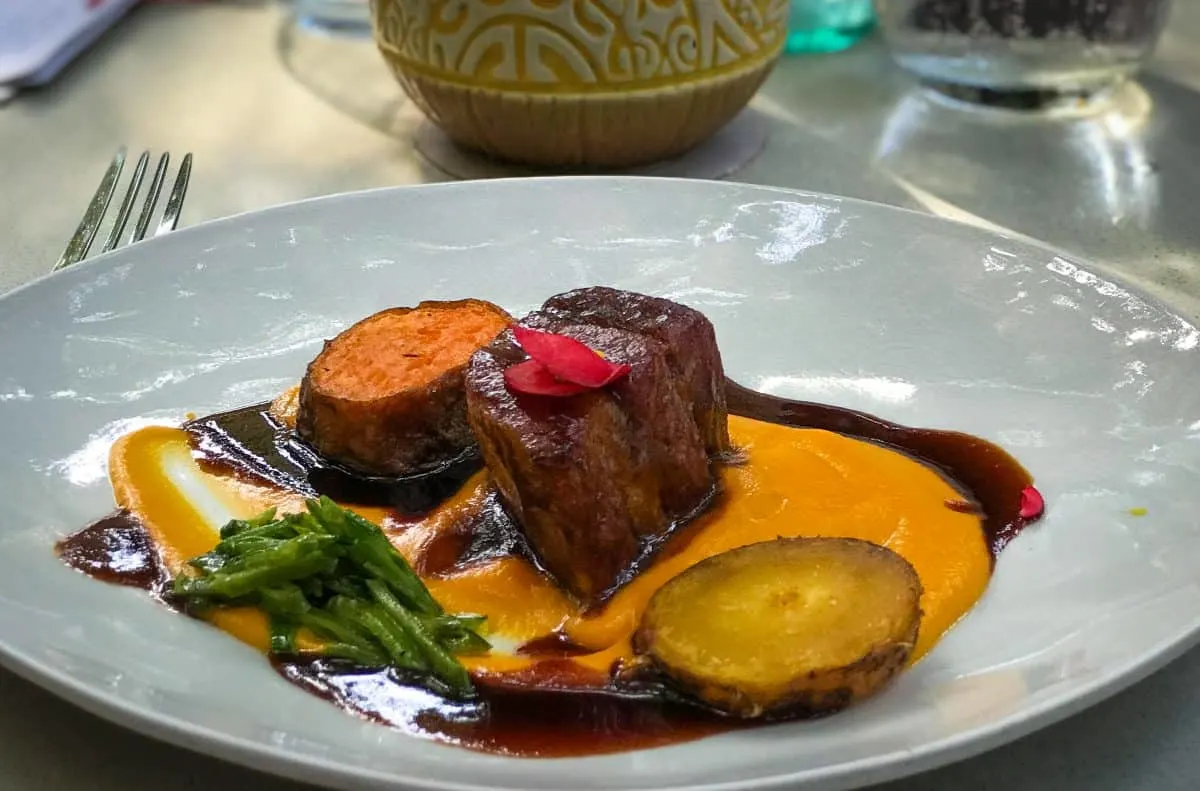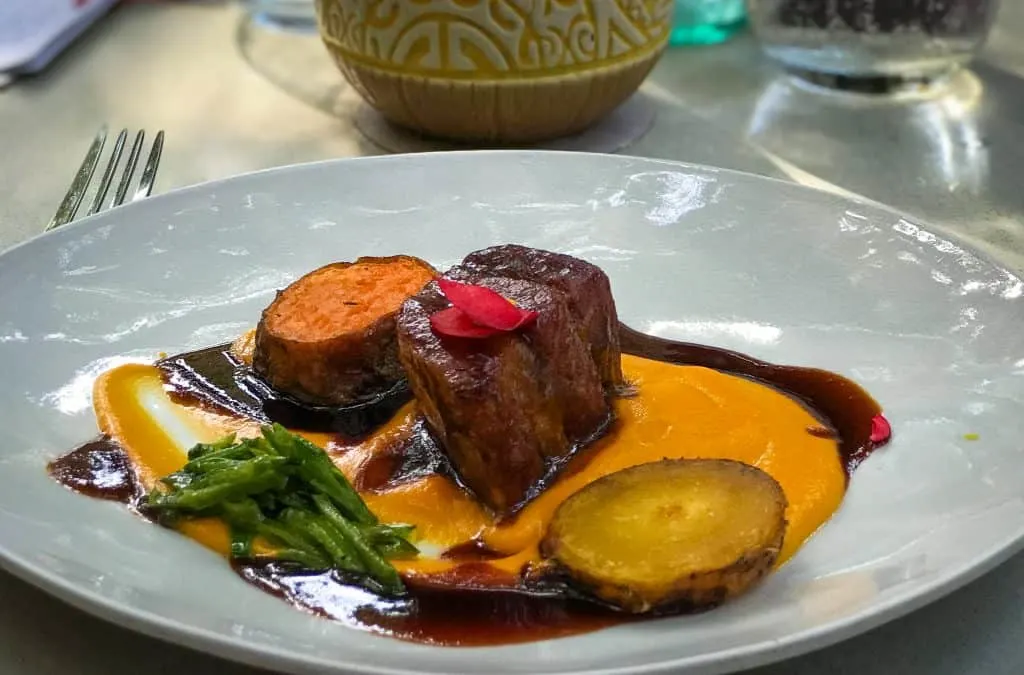 Our next entree was my hubby's favourite dish from the tasting menu, 'Cerdo 2 Veces'. The 12-hour pork belly is cooked to absolute perfection. It literally melts in the mouth. It's glazed in tamarind & palm sugar and covered in a spiced pork sauce.
As you can see from this colourful shot, the pork is accompanied by sweet potato puree and garlicky green beans. Those green beans smothered in a dollop of sweet potato and the spicy sauce was a mouthful of heaven. The dish had rich hearty flavours, that was a lovely finish to our tasting menu.
DESSERT
With every good menu, comes a sweet and satisfying dessert! We finished off with 'Chocolate Turron'. I was feeling like I couldn't fit anymore in at this point and looking at the picture of this dessert, the cake makes it look a little heavy, but it was quite the opposite. The coconut lime ice-cream was really refreshing and balanced the Colombian chocolate perfectly. The zesty lime flavours agains the chocolate was dreamy!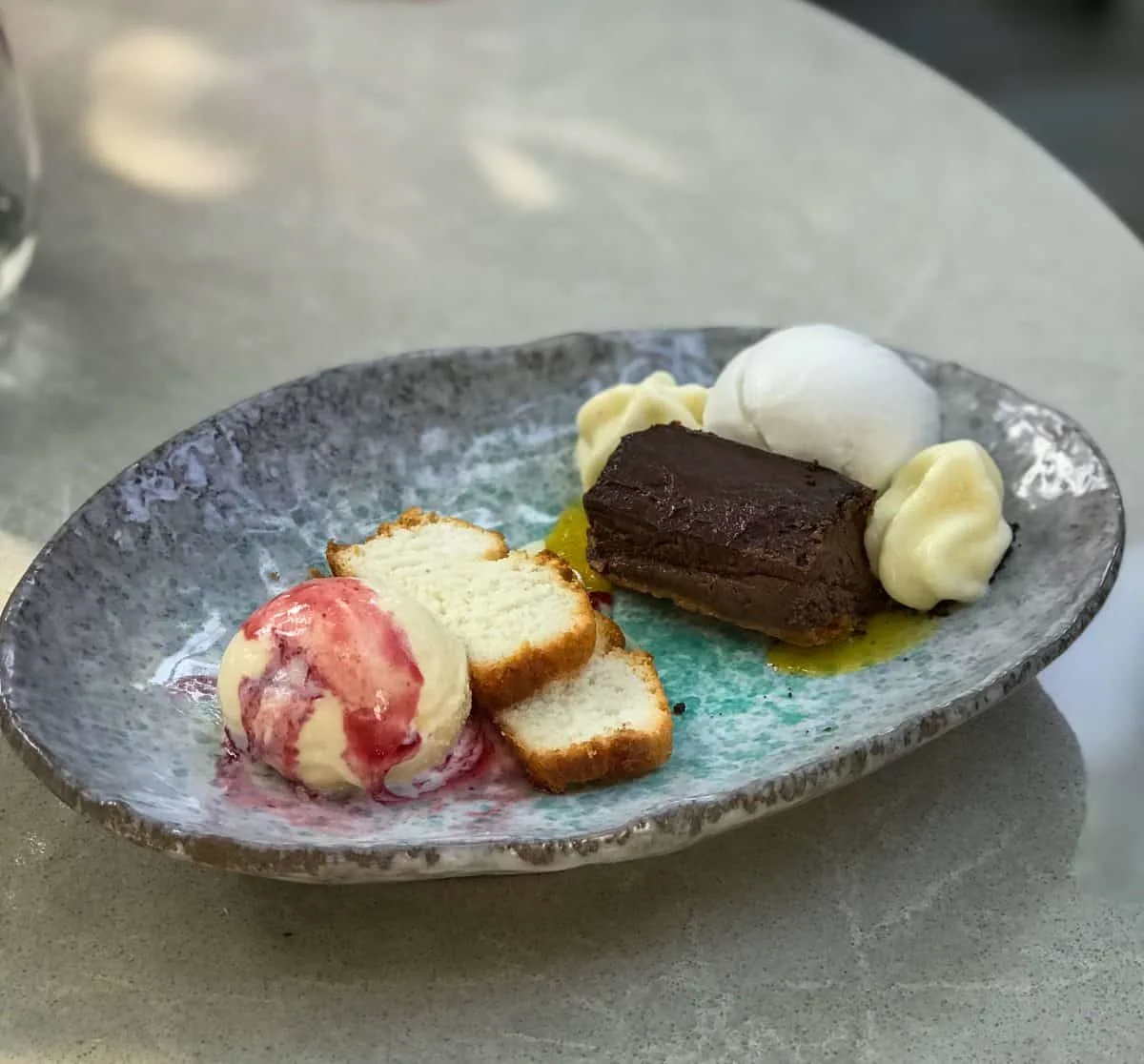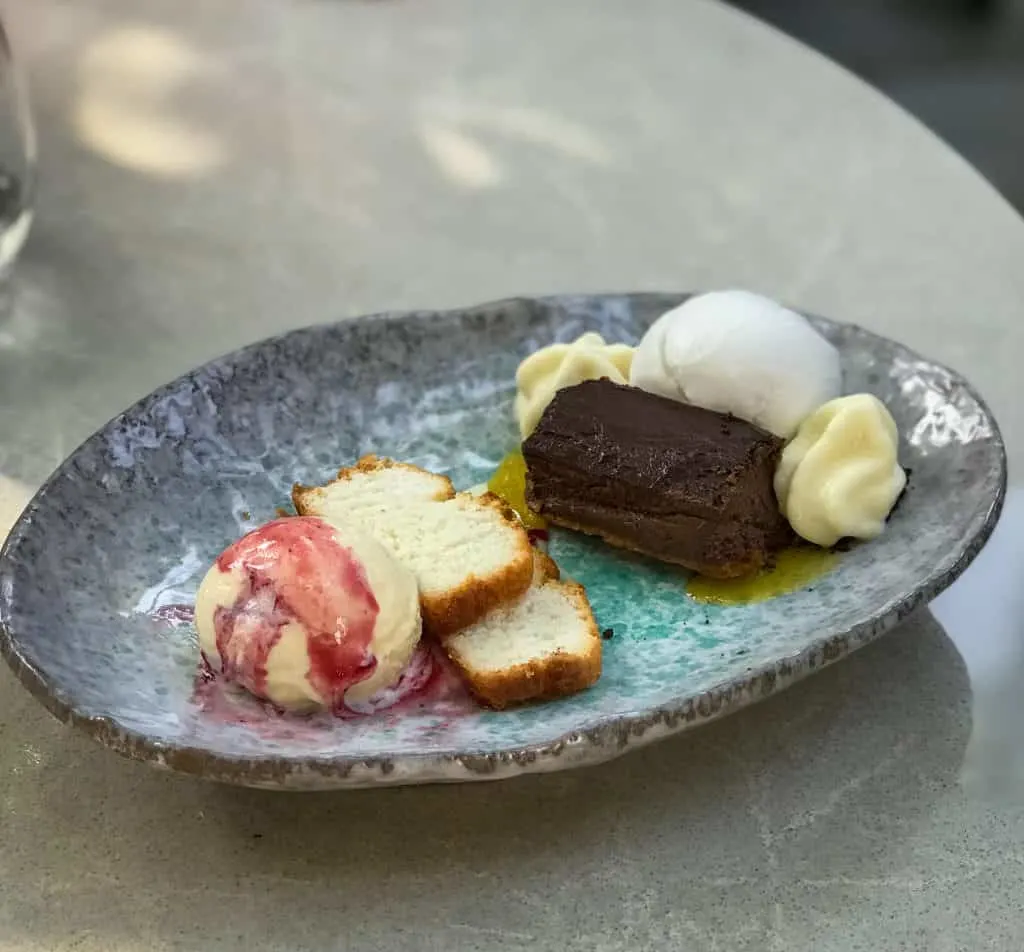 All round it was a relaxed and enjoyable afternoon. I could not fault anything about the experience or the food. If you are someone that enjoys good food, and if you are visiting Cartagena, make sure to try Carmen.
Disclaimer: Our meal at Carmen Restaurant was complimentary. I was not expected to do this write-up, but felt compelled to share this information as a worth while experience in Cartagena.