When I got the email stating, you have been nominated for the UK travel blog of the year, I was sure it was my mam or dad. They are my biggest fans after all.
However, it was a total surprise when I read the attached reasons why a complete stranger had nominated Travel Mad Mum. The person said they felt inspired and gained confidence to travel with their new baby from Travel Mad Mum.
Like me, she had felt travel days were over once she became a parent. So many friends and family had told her she was crazy for wanting to continue her normal lifestyle. However, having read our blog, she knew it was possible and pursued her dreams.
Travel Mad Mum story
There are many days where blogging can be relentless and disheartening. Maybe its because someone is judging our lifestyle, or an article flunks because of Facebook and Instagram algorithm changes.
On the other hand, when I get messages like the nomination reasoning, it seems to make it all worth it!
Travel Mad Mum was originally set up in 2015, when I was ten months into maternity leave. I realised it was unusual to use our time as new parents to travel with our little girl.
I was feeling like I needed to stimulate my brain again after months of nappies, sore nipples and sleepless nights. And so, the idea of Travel Mad Mum was born whilst we were in a beach side apartment in New Zealand.
The original idea was to keep our family and friends up to date with our movements and adventure. I don't think I could have ever imagined we would inspire complete strangers. We have the power of social media and press coverage to thank for that.
Winning the UK travel blog of the year award 2017

After the email came through about the nomination, I then had to put it out to my followers to assist with voting for Travel Mad Mum.
I felt a little shy and cheeky about asking, but once I did and received some nice comments from followers, it wasn't so bad.
The voting closed and some time went by whilst the judges assessed all of the nominees. In the mean time, I was having my website changed over to a more up to date professional looking page.
It was typical, the site was not functioning around the time it was being judged, so, I didn't hedge my bets of being in the finals.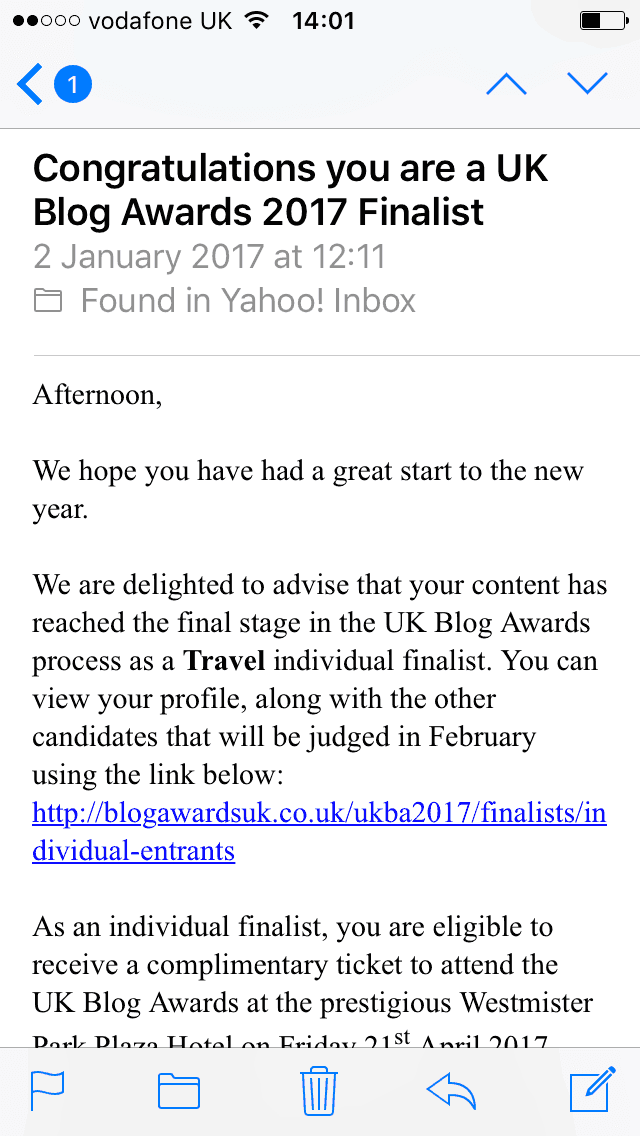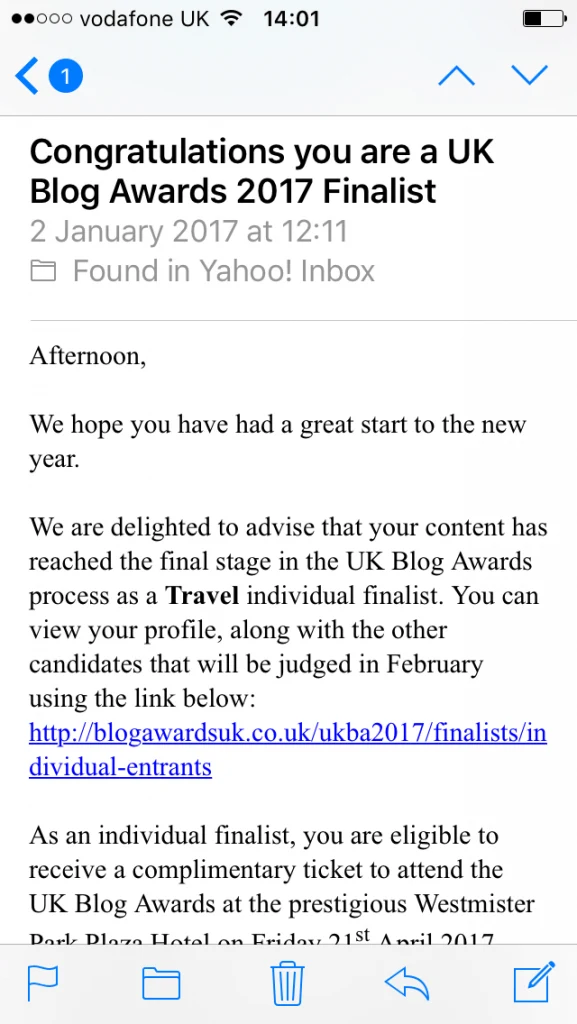 Low and behold, an email arrived in my inbox a couple of days after New Years entitled — congratulations you are a UK blog award finalist.
It may sound like a complete cliche, but I was shocked. The blog was only a year and a half old, and in truth, I wasn't investing all my time and energy into it, as I was still working full time as a nurse, not to mention managing our family life, and I was pregnant.
I didn't have the time to invest in figuring out SEO, social media strategies or picture editing. All the things that really make a blog work. How was I a finalist?
The big night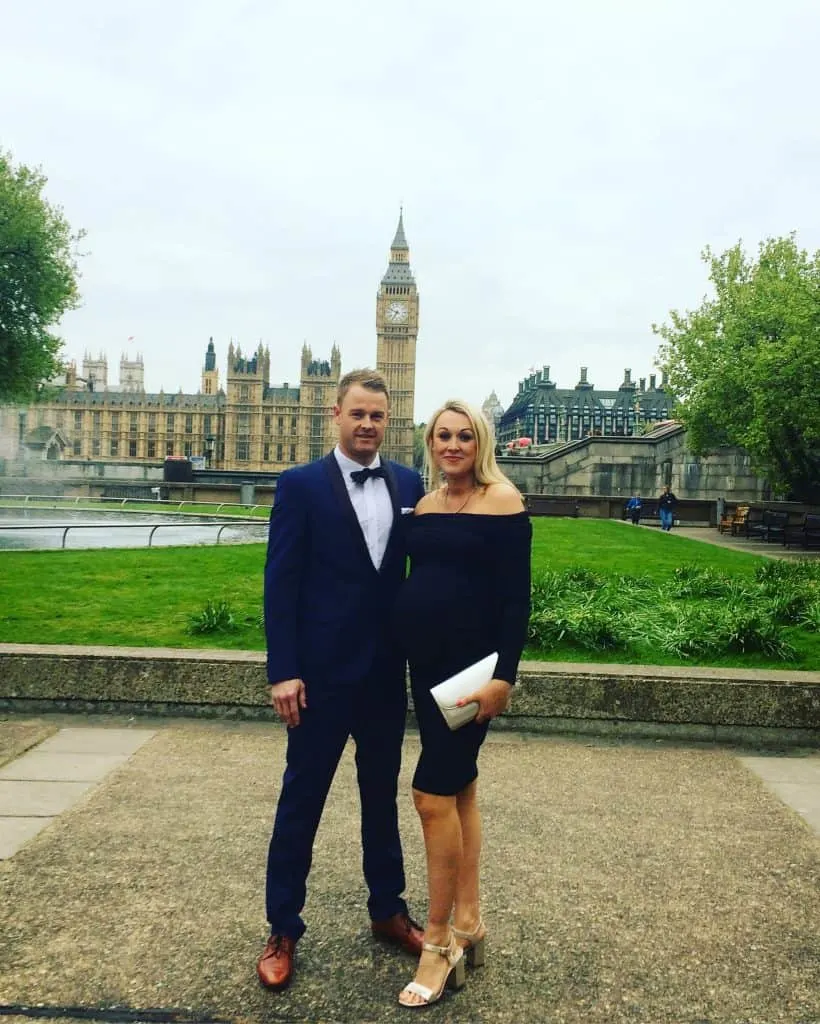 I spent a week getting ready for the big night of the awards. Predominantly because when you have kids, its impossible to get anything done for yourself.
Nails, hair, dress and tan – Tick!!! The event was held at the fabulous Westminster Plaza Hotel. The irony being, it was only metres away from my regular hospital job.
On arrival we were greeted with plenty of tasty canopies and sparking wine. Being pregnant, hubby was making the most of it for both of us – Shame! He definitely owes me a night when he will drive.
There were plenty of people in the room, some familiar blogging faces and some new. One thing was for sure, everyone looked amazing.
The guys were suited and booted, whilst the ladies looked so glamorous! It's such a good excuse to get dressed up. Once we had all mingled for a while, we went through to be seated for the event.
I was so amazed at how many different categories of blogging exist. There were so many talented people with an array of interests from cars to weddings.
As travel was close to the end, I became increasingly nervous. The other seven travel finalists had beautiful blogs with such interesting content. I had social media stalked them of course to see the competition. I really wasn't filled with confidence having checked everyone out.
The finalist presentations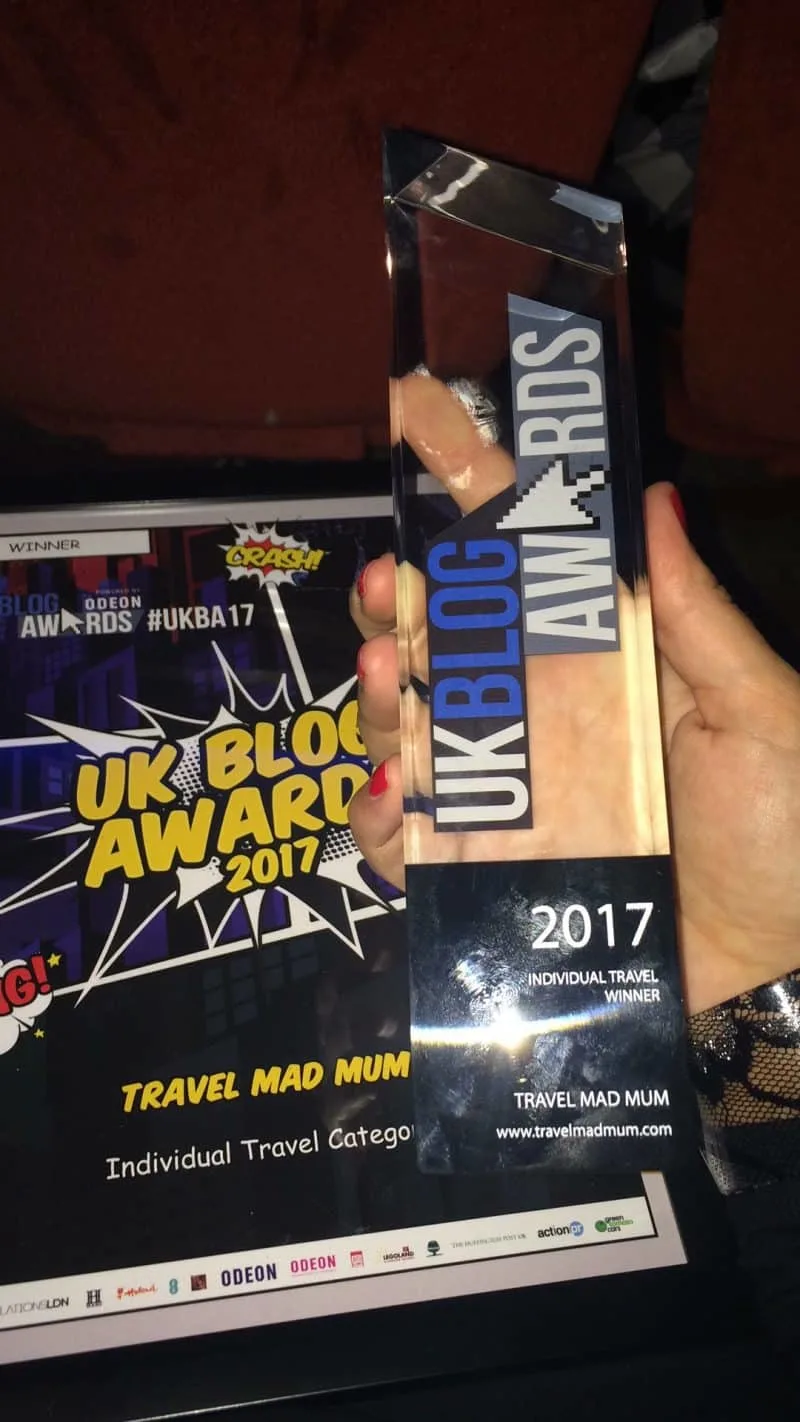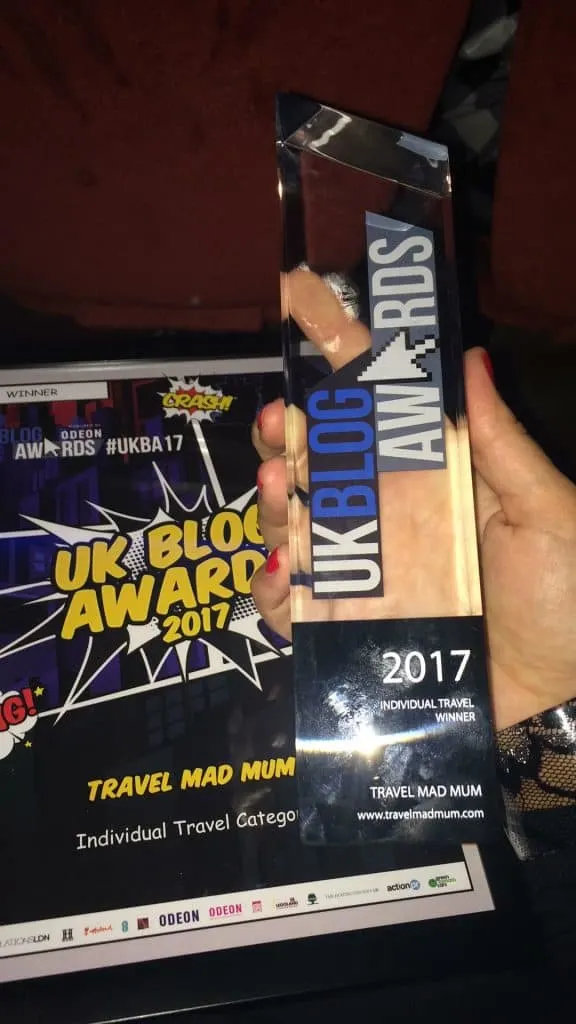 Whilst all the announcements were being made, hubby was becoming more inebriated and excitable at the prospect. He kept saying you'll win. I love his faith but I wasn't so sure of his confidence.
Then the moment came when the highly commended travel bloggers were announced and it wasn't me. I felt disappointed because I really wasn't expecting what happened next.
Travel Mad Mum was announced as the UK travel blog of the year 2017!! I walked up to the stage to collect my trophy and kept thinking to myself don't trip up and don't give birth!
I was so pleased I didn't have to say anything in front of so many people. After I got my trophy and plaque, I returned to sit with hubby who was beside himself with excitement and pride.
I loved how supportive and happy he was. It really helped me put what had just happened into context. I was feeling so shocked!
Putting it into context
If you have read any of my blogs previously, you will know my writing journey has not been an easy one. I pretty much flunked at school and was kicked out of university for not being able to write.
It was not until I was 22 years old, I was diagnosed with dyslexia that things started to change. Never in a million years, would my 22 year old self have believed, one day I would own an award winning blog.
As you can imagine, this was a huge personal achievement. Like my dad always says you can be whatever you want to be.
It was such a lovely evening and despite being heavily pregnant, I still managed to bust some moves on the dance floor before heading home.
I want to say a massive thank you to Gemma who clearly works so hard at putting this together every year. It meant the world to be recognised in this way and has given me the confidence to pursue the blog further. Gemma – you are amazing, so thank you.
_______________________________________________________________________
You may also like to know
A little more about me here.
You can see other winners here.