The sailing world is like a whole new unexplored experience for us. Although hubby has been brought up around boats in New Zealand, neither of us have done much sailing. Every marina around the world is full of boats. The industry is so big, but also quite isolated in terms of travel. I guess it goes with the territory of being at sea! I am always up for trying something new.
TheYachtMarket.com Southhampton Boat Show, courtesy of Borrow a Boat, invited us on an overnight chartered yacht as a way of highlighting the experience to other families. We took off from Southampton's, Hamble Point Marina on a three bed, 37ft monohull sailing yacht. Esme was so excited by the new experience, who said sailing with a baby and toddler wouldn't be fun?
We arrived into the marina just before our 4 o'clock sailing. After a very quick checking-in process, we collected specially fitted life-jackets for the kids, before making our way to the yacht with our skipper for the night! Esme was running along the pontoon looking for our boat after we told her it was the one with the flag.
The excitement was palpable, once she found it, she was literally jumping on the spot. She bashfully asked our skipper if she could hop on board, he put his hand out to give her a help with getting on. High pitched 'look mum' was the words of the moment.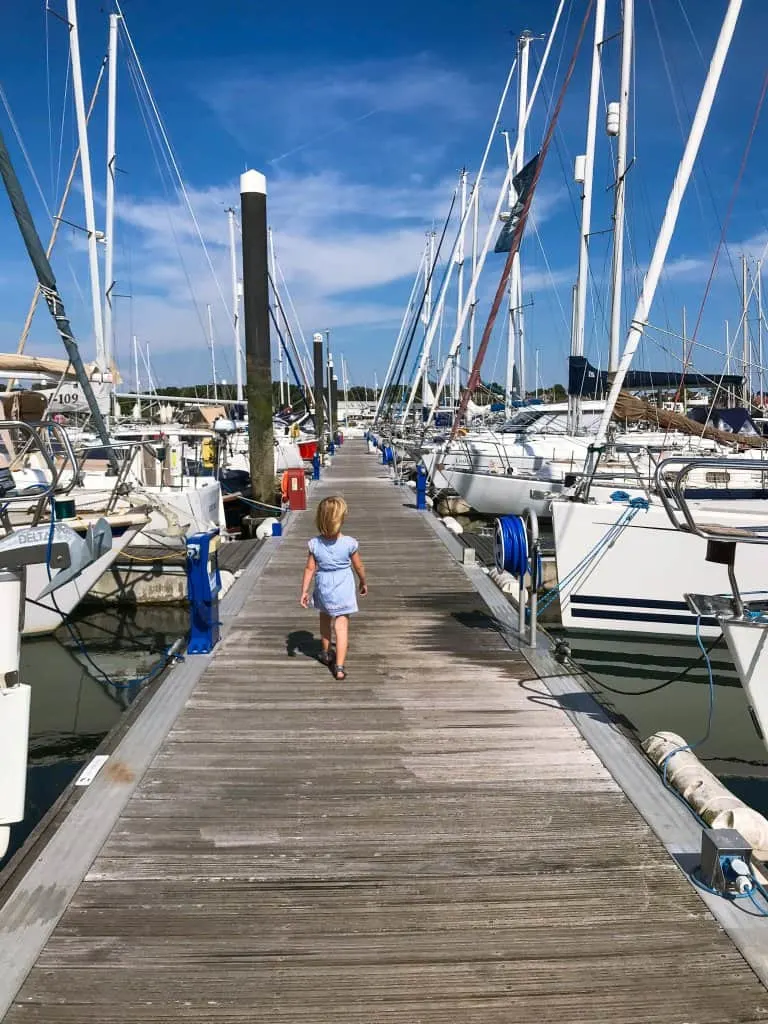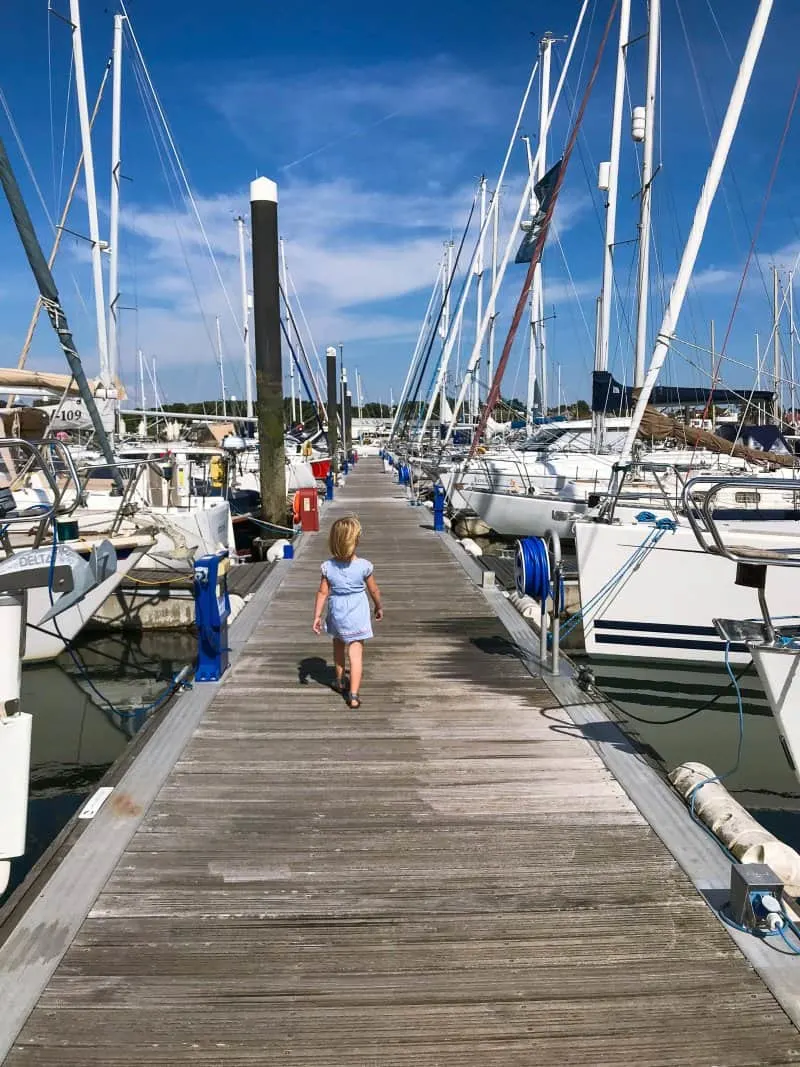 SAILING WITH A BABY AND A TODDLER
After the kids climbed up and down the stairs from the galley around a 100 times, we unpacked our food into the fridge and put our clothes in the cupboard. David our skipper then showed us around and explained all of the mandatory safety information.
We popped our life jackets on and started making our way out of the marina. Once we were in open water, skipper David and my hubby started opening up the sails. One of the amazing things about the experience was the endless opportunity to learn something! Our skipper was really keen to show us how everything worked and we were really interested.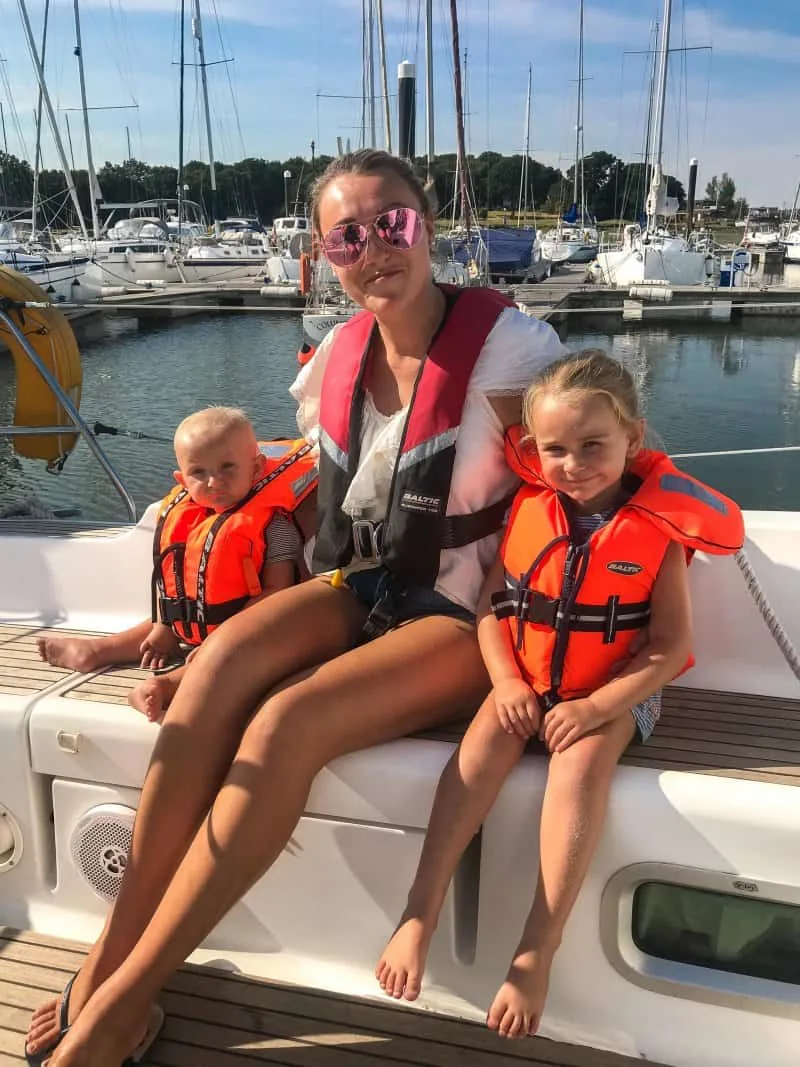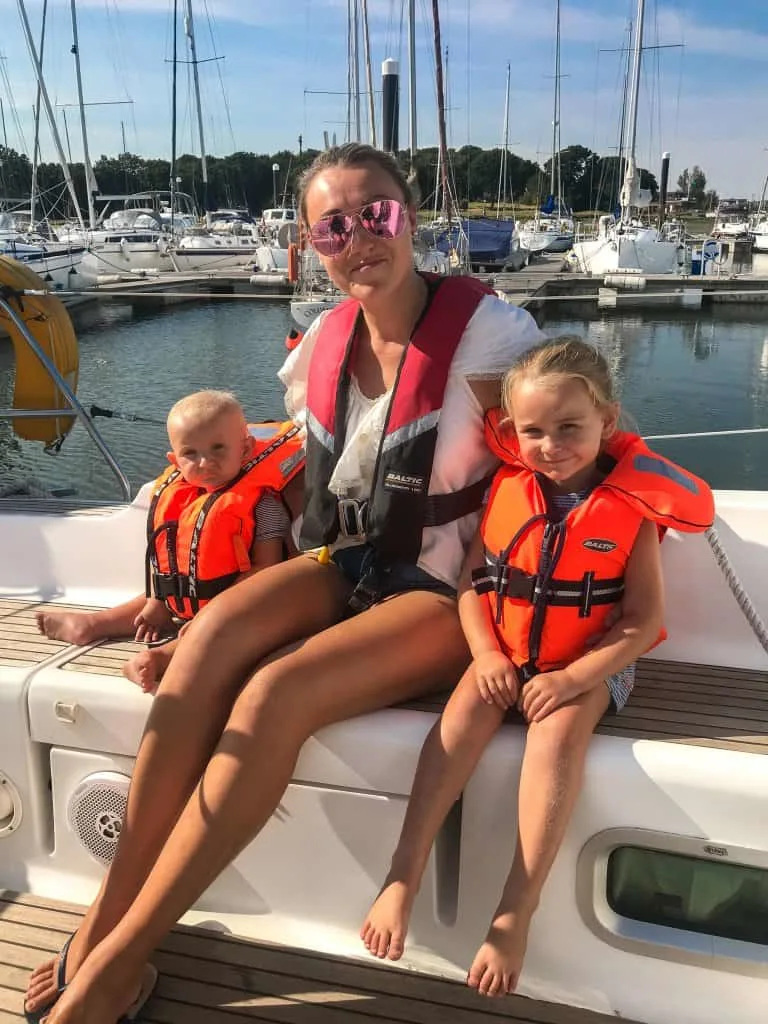 Obviously with having two little ones, I spent a lot of my time at sea keeping them safe. So I didn't get as much of a chance to get involved, but I was happy to watch Shaun doing it. He absolutely loves boats, so it was nice to see him enjoying it so much. The kids sat above deck for a while, playing and taking in the sea breeze. After a while we nipped downstairs for some snacks and chill out time.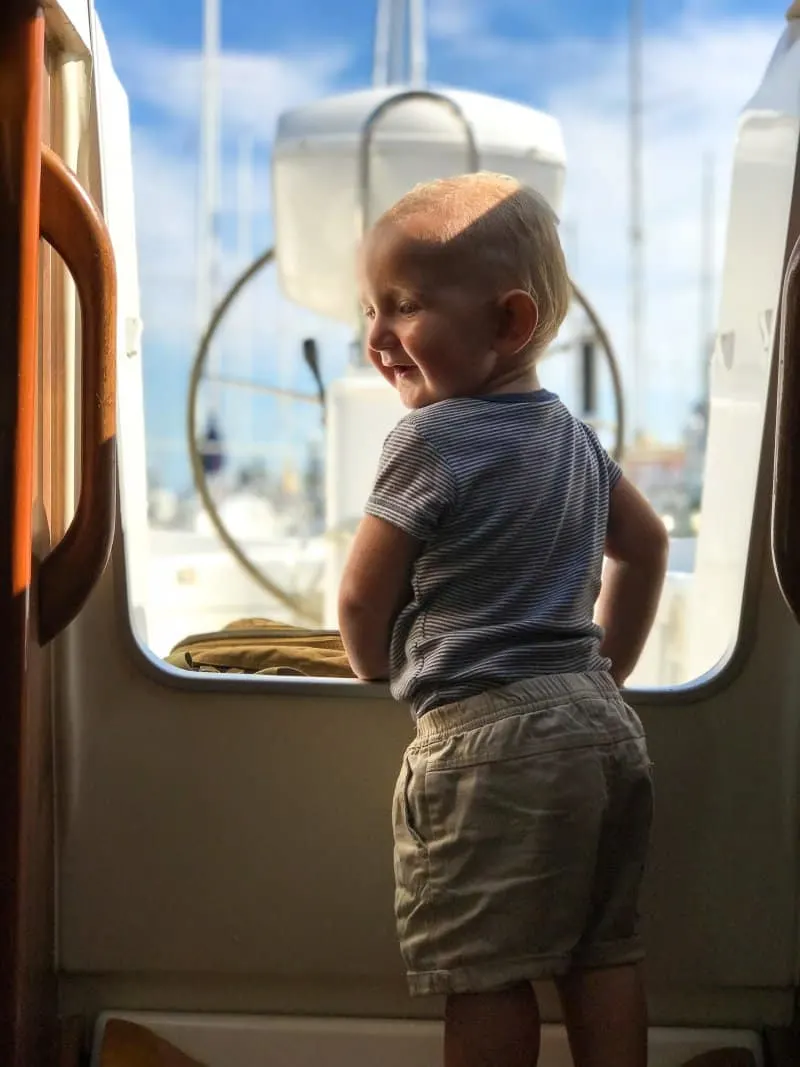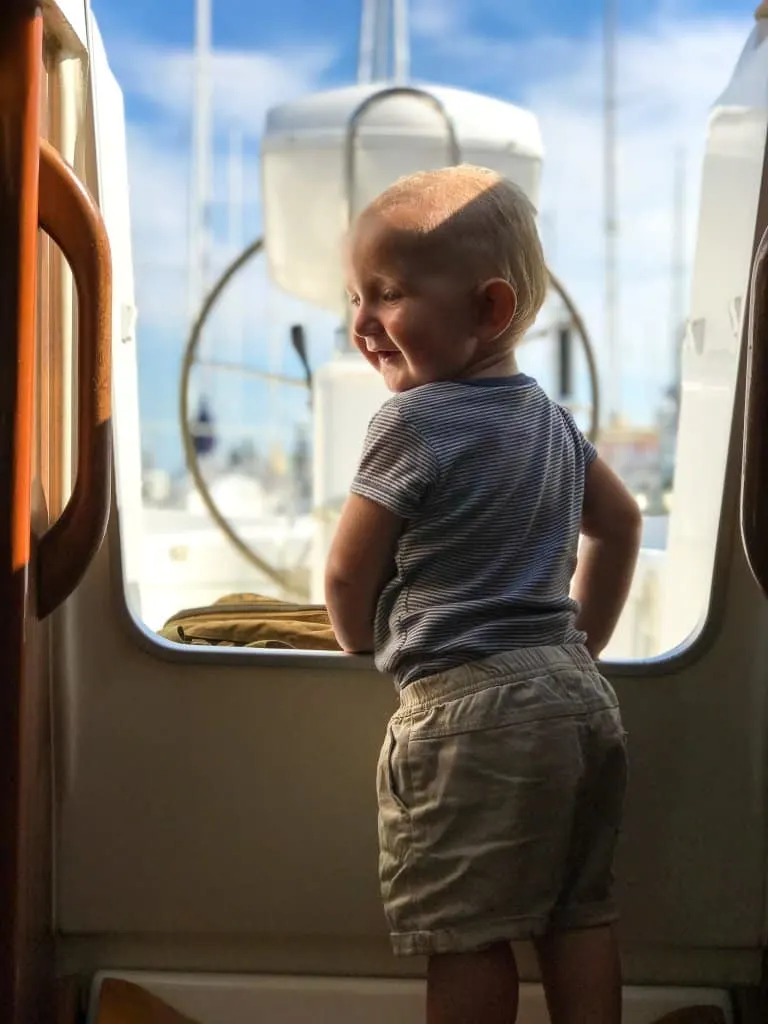 Another amazing thing about a skippered charter is just how free we were to make a choice about what we wanted to do. We asked David to take us to good swimming spot and anchored not far from a nice beach. We got into our swimming togs and took the plunge. I must admit, I expected it to be freezing but it wasn't too bad. We had a lovely refreshing swim before heading for Cowes Marina on the Isle of Wight.
SAILING WITH KIDS
We pulled up right on sunset. it was a beautiful pink sky, the water was calm, it was just stunning! Once we moored up and connected to the power and water, we took a stroll around town. It was such a different way to arrive and gave us a whole new perspective. We gave the kids dinner and bought a cheeky bottle of wine and nibbles in the local shop.
Once we had a little explore, we settled the kids to sleep in their bed. All of the beds are shaped a little differently and have a low ceiling. The kids felt like it was their secret hideaway. Of course for that reason they were super excited so we read them a book in their little den before making a bee-line for the chilled bottle of vino on the upper deck.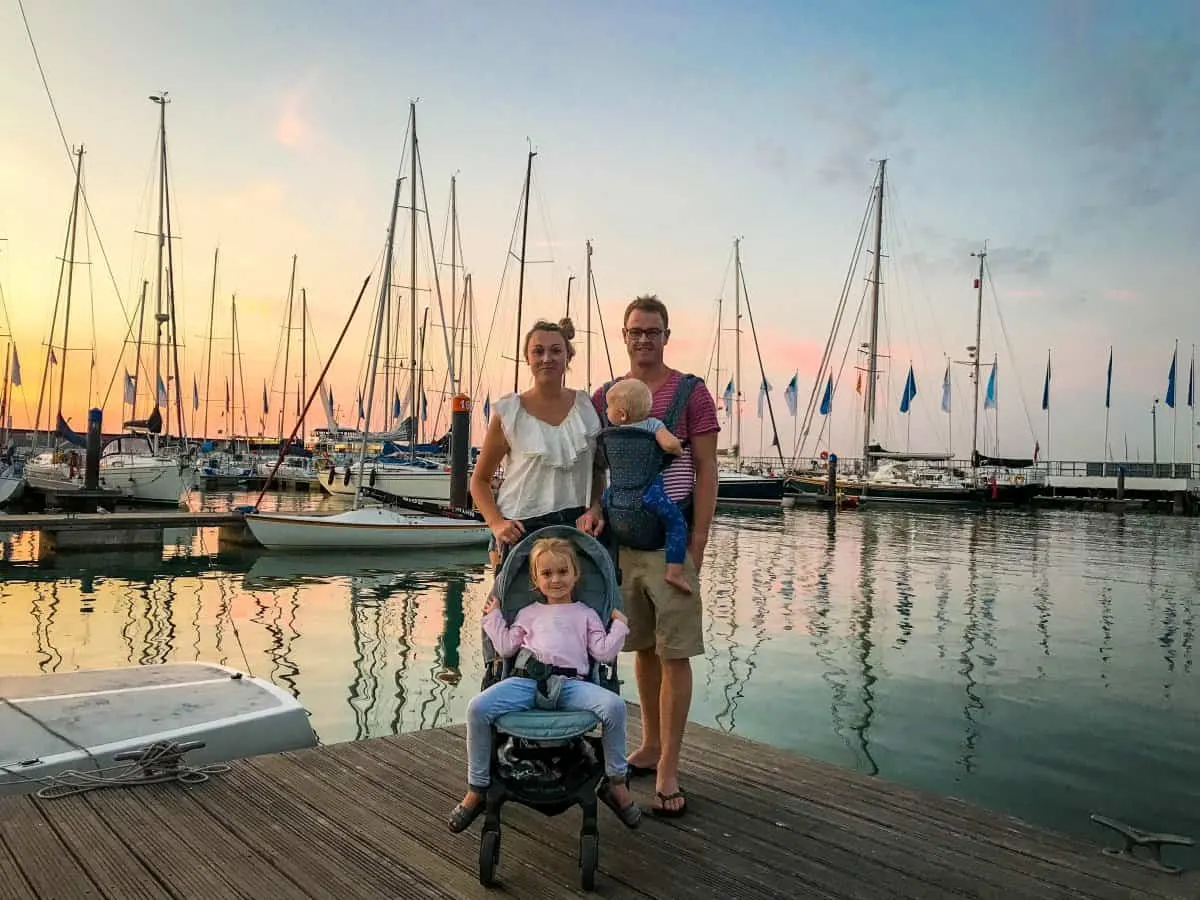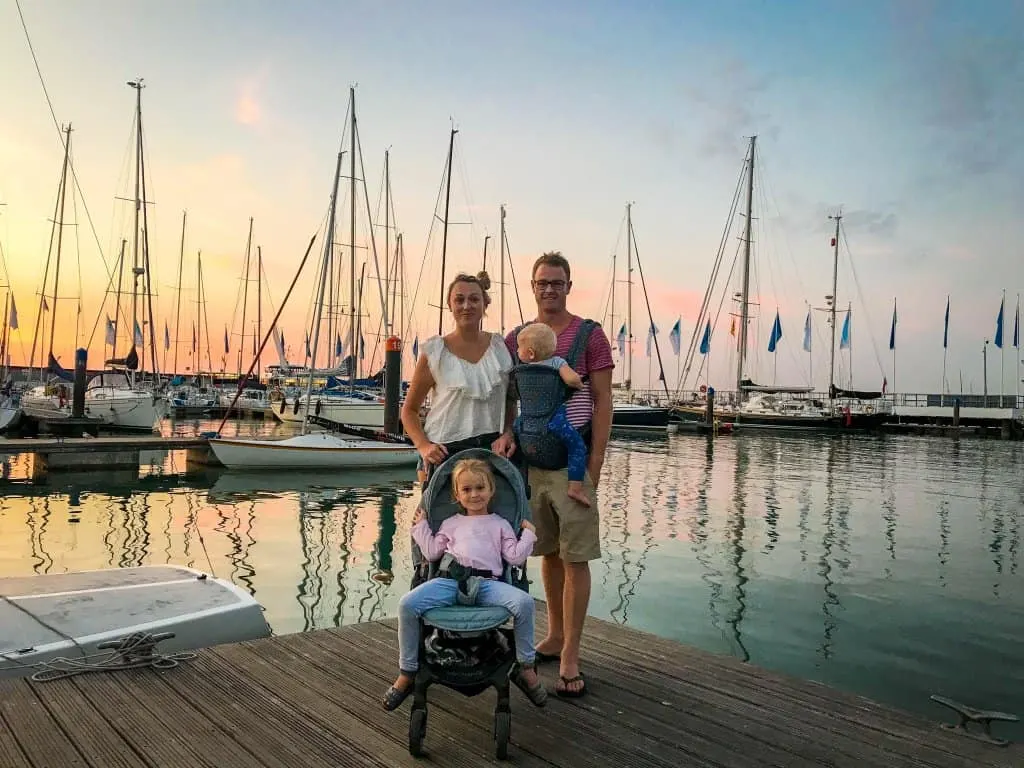 Once the little monkey's fell asleep, we sat with our feet up taking in the new sites and sounds with a wine in hand. I seriously couldn't believe we were in England? It felt like the Mediterranean or something. The gentle rock of the boat made it so relaxing. It was so nice to do something different. After a good night sleep, we had breakfast on the boat.
Our kids are usually at the backdoor in our house banging it down to get outside from the moment they wake up. It was so good to see them contently eating their breakfast outdoors. That is the lifestyle they are more accustomed to. They haven't been enjoying indoors as much since returning from our long term travels.
SAILING WITH KIDS
The kitchen was fully functioning with everything we could possibly need for sailing with kids. Even the tiny bathroom was a full wet room with a hand held hose shower. Esme loved having a warm shower in it, anything new is a novelty with kids, right?
The entire experience reminded me of a luxury camping experience. I never knew there is so many facilities in a marina. Guests that are moored in the marina are given a code to use the bathroom showers and laundry room. It's so well set up and makes it much easier with little ones.
Once we were ready, we set upon Cowes to explore some more. We loved walking around the quaint town with colourful buildings and independent small businesses. Of course our trip was predominantly about sailing so we spent the rest of the day sailing along the coast before heading back to Southampton. It was such a lovely 24 hours sailing with kids and felt like a foreign holiday despite only being in Southampton, and the Isle of Wight, a short distance from home.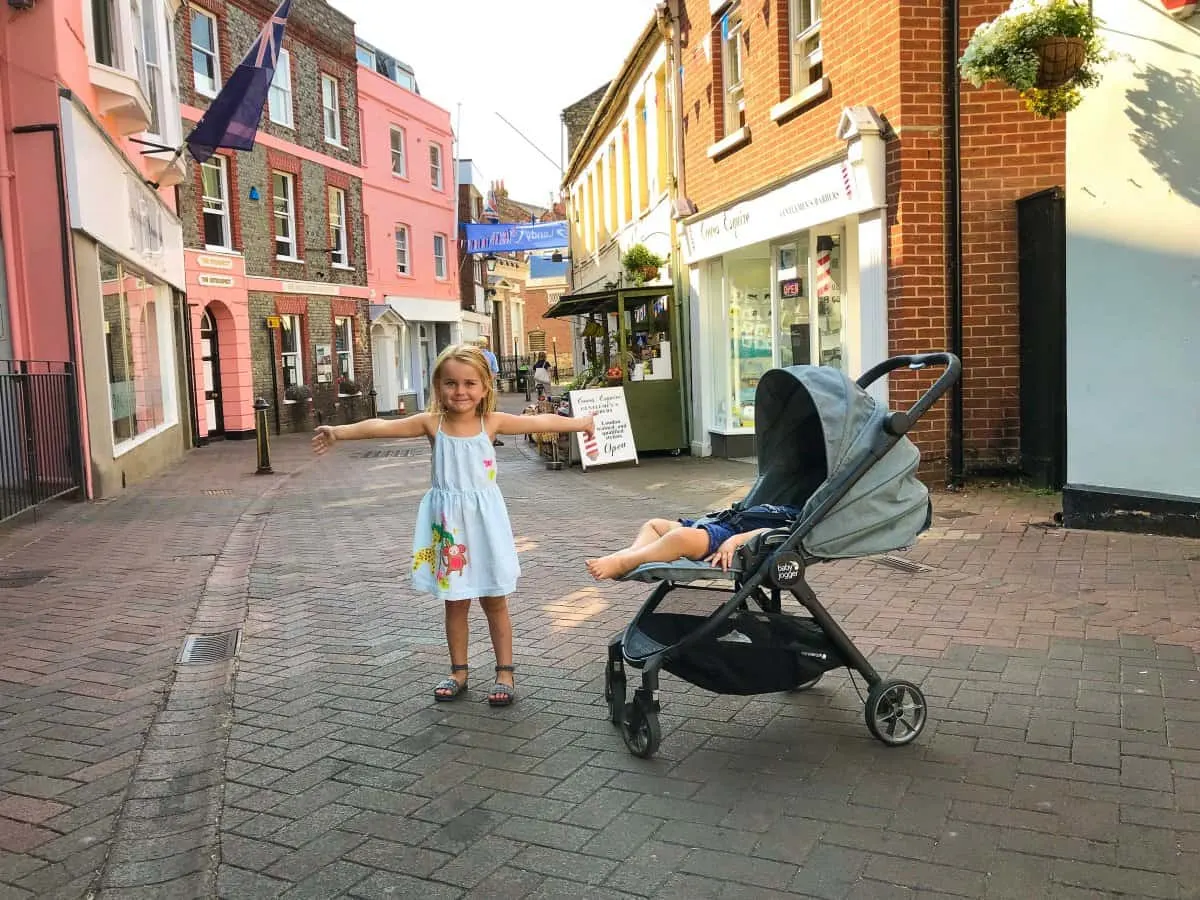 TIPS FOR SAILING WITH KIDS
We are complete novices when it comes to sailing. However our skipper David told us about safety netting that can be used to bridge the gaps below deck. It means little ones can move around without falling over. It's important to baby-proof the boat as much as possible. Unpacking bags or putting away anything that can move is a good idea. Bring soft bags that can be folded away in a cupboard rather than suitcases.
Check with your charter company if they have fitted life jackets for sailing with kids. I'm sure most places provide them, but they might not always be on the boat. We got measured up in the office before boarding. Make sure to bring wet gear for everyone and of course over the counter motion sickness medications just in case.
The acupuncture wrist bands are great for sea legs. We thought our little guy had sea legs, but actually it worked out he was just unwell which we figured out on our way home. Overall the kids really enjoyed the experience. Its worth bringing a few activities to keep them entertained when at sea.
THEYACHTMARKET.COM SOUTHAMPTON BOAT SHOW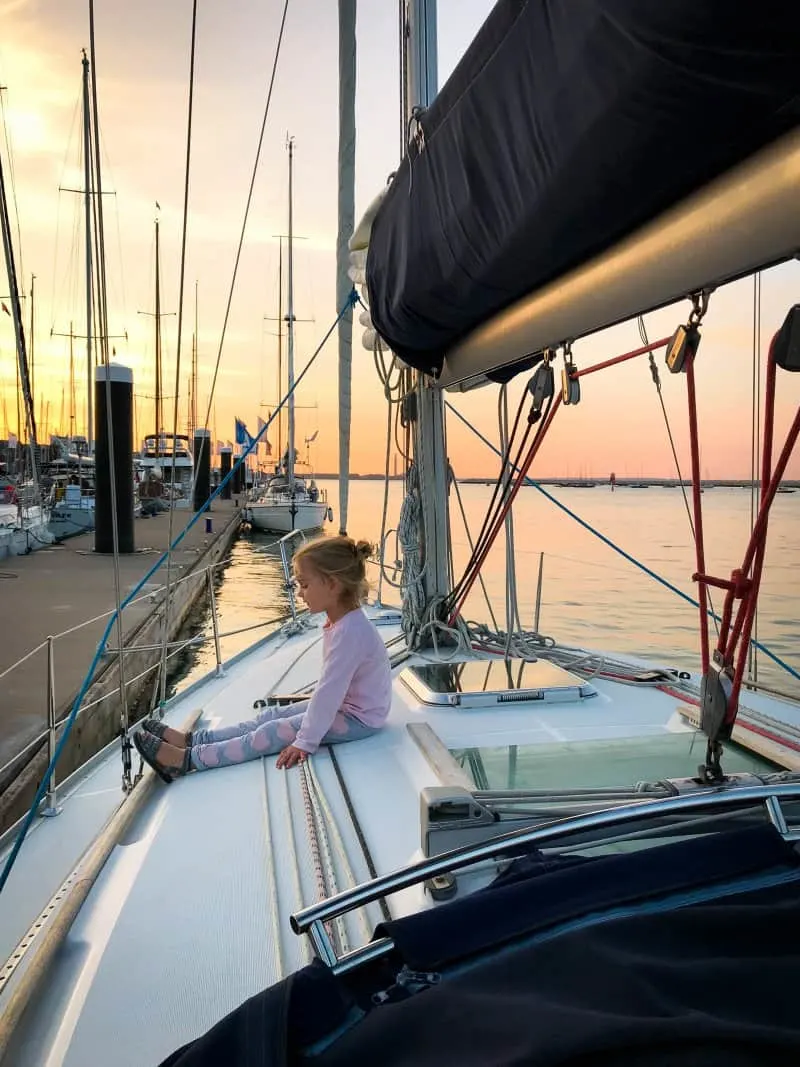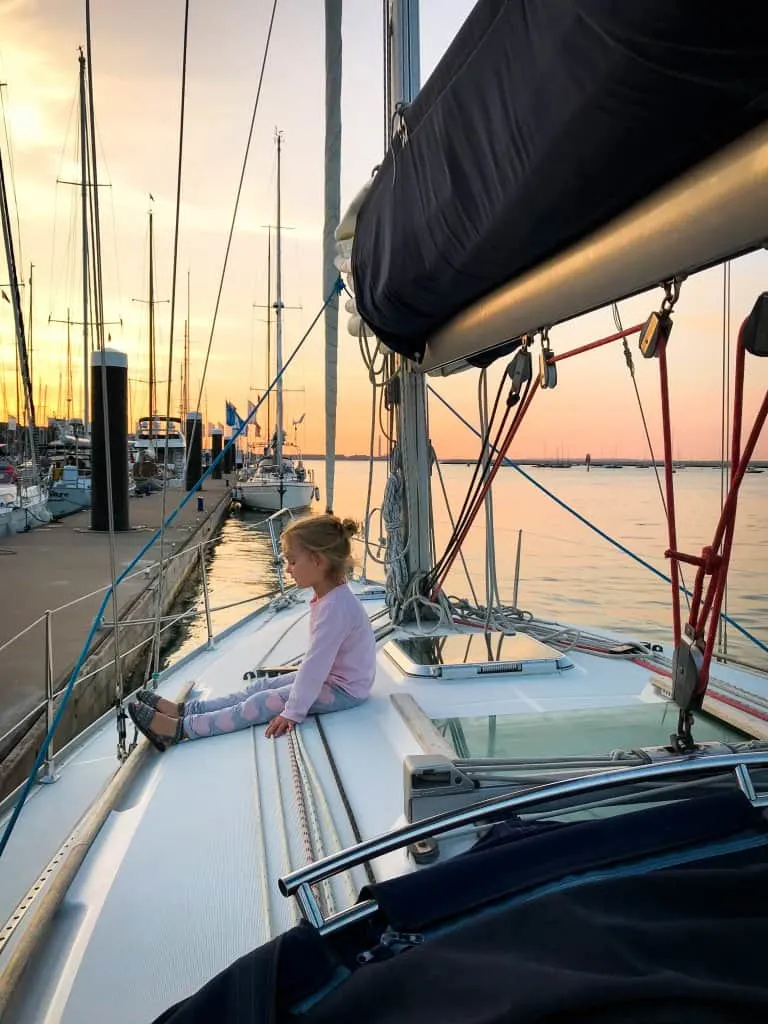 With all of this in mind, have I tickled your fancy to try sailing with your little ones? If you don't want to commit to a full holiday straight away, you could check out the amazing TheYachtMarket.com Southampton Boat Show that's on from the 14-23rd of September.
They are completely setup for families attending. They even have an area with lots of different water sport activities for little ones. All you have to do is bring a towel and they will have everything else needed. They can try paddle-boarding, kayaking, or sailing to name a few of the activities.
There are lots of performances, DJ's and live music, not to mention TV wildlife personalities, as well as familiar faces from CBeebies. It will be such a fun day out for the family I love the look of the wooden ship Kaskelot. Guests can go on board and hear a 'treasure trove of stories and adventures'. I think it would be so fun for little ones seeing a very realistic pirate ship!
The National Oceanography Centre attraction will include rock pools, aquariums and many educational points. You can even arrange to 'Borrow a Boat' for your family. Everything from the latest RIB's, to a powerboat! Besides from all of that fun specifically for little ones, there are mini-cruises, boating experiences and my personal favourite, a champagne bar!
It costs £21 per adults and kids under 15 go free. However if you discount code TMM26 here you can get two adult tickets for £26!! That is a bargain and could be a great day out. I'm always on the lookout for something different to do.
You may also like:
This post about sailing with kids / baby / toddler is sponsored by Borrow a Boat. As always, all views expressed are entirely my own.