The Cotswolds aren't necessarily the first place which spring to mind when thinking about a holiday or weekend away when you have kids. The quintessential English villages, long walks and cozy pubs don't tend to be the most child friendly option. However, after my most recent stay with my husband and almost 2 year old, Bruno, I am a true convert.
Just under two hours from London, The Cotswolds covers a vast area, almost 800 square miles across five counties. Due to the size of The Cotswolds, there is plenty of exploring to do. With the honey-coloured stone villages and bustling market towns, The Cotswolds are a great place to spend a few days. We only had two nights to explore so we settled on Calcot Manor Hotel and Spa, due to its great location close to the M4, in Tetbury.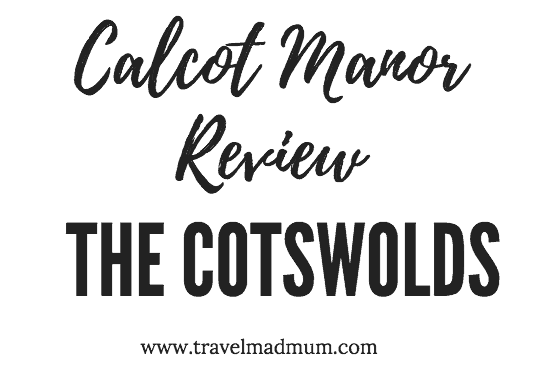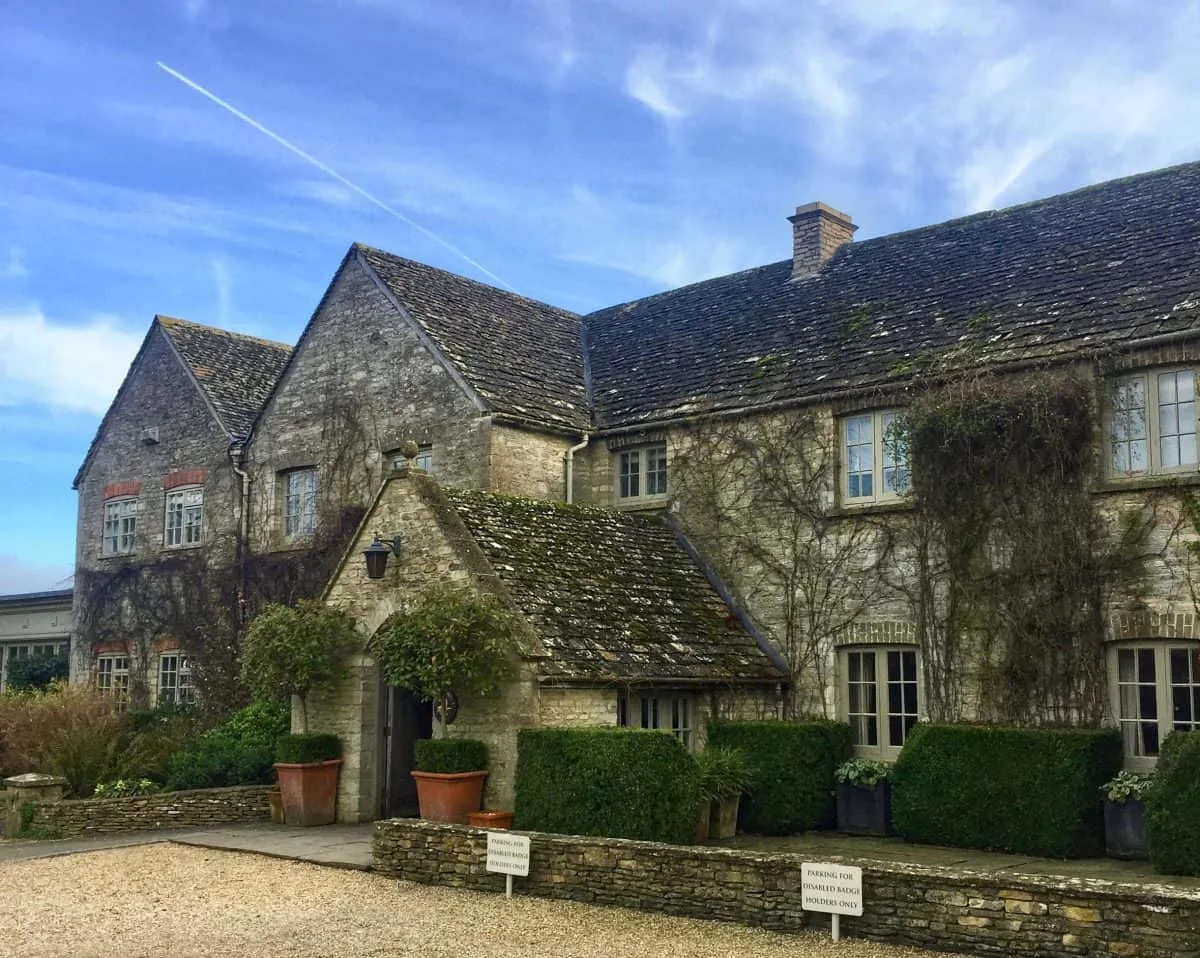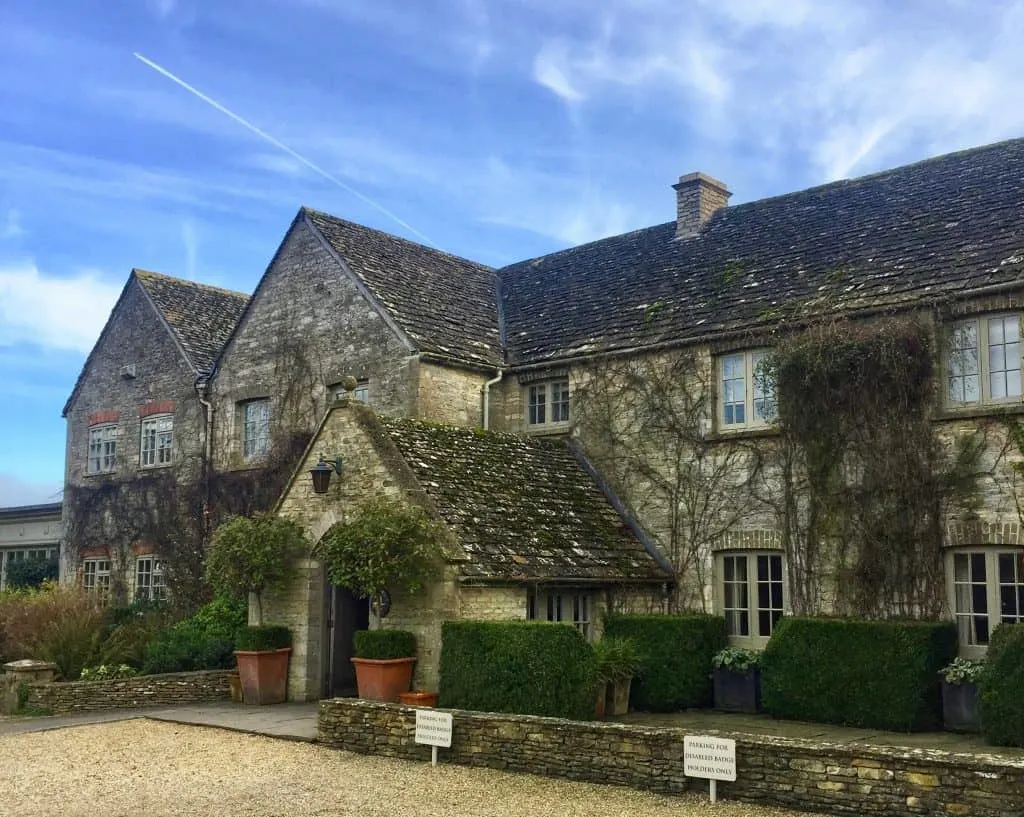 WHERE TO STAY IN THE COTSWOLDS
There are plenty of hotels to choose from in The Cotswolds but when it comes to travelling with kids, we stumbled across probably the most family friendly hotel in the UK! There is a wealth of family friendly activities and sites on offer and Calcot Manor Hotel and Spa strikes the perfect balance between a family friendly hotel and true luxury.
They are fully geared up to cater for kids, offering a range of services including an onsite Ofsted registered creche. Ten minutes down the road from the Manor is Westonbirt Arboretum with its TreeTop Walkway and Gruffalo walk, the perfect place for little ones to burn off some steam.
The first thing that struck me as we drove into Calcot Manor was the vast size of the property. The Manor dates back from the 14th century, the main building houses the restaurant and pub and some rooms. The rest of the rooms are in separate buildings across the site.
Once in the main building, there were roaring fireplaces at every turn (with child friendly fire guards fitted). On first inspection, you really wouldn't feel that the Manor is all that child friendly; it's only when you look a little closer do you see the length they have gone to to make little people feel at home.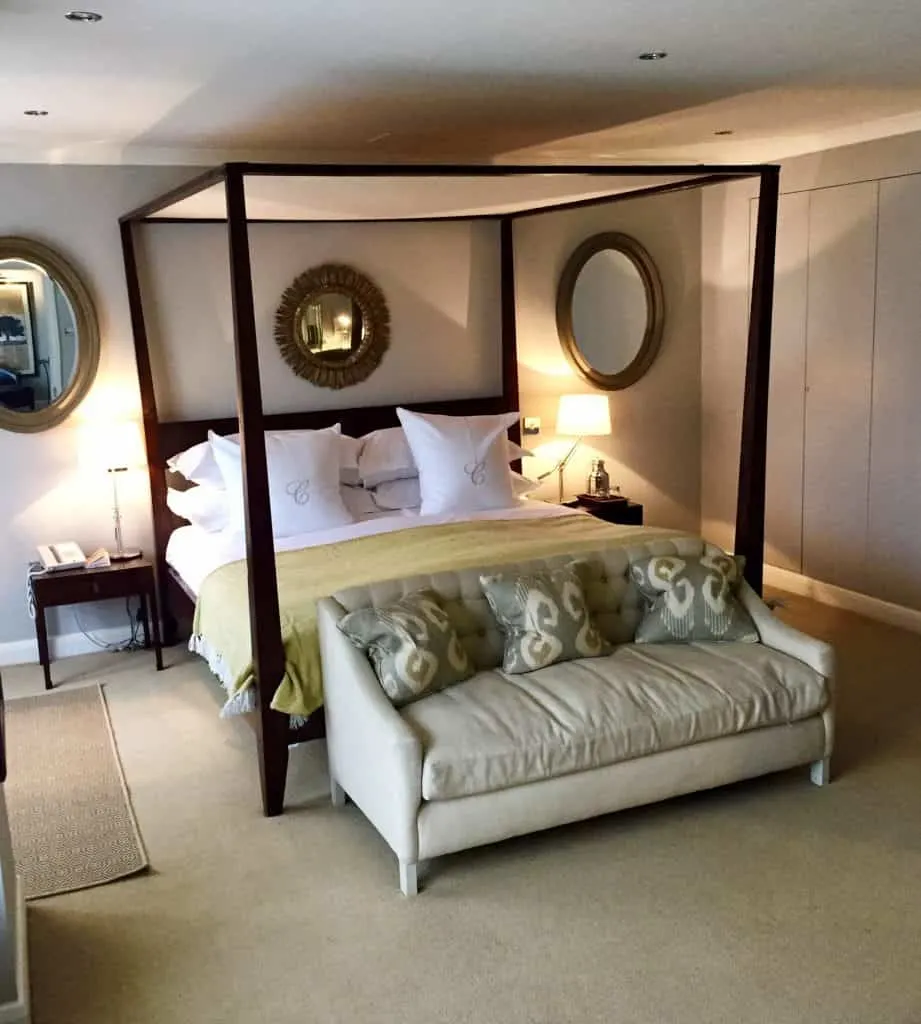 OUR SUITE AT CALCOT MANOR
We were luckily enough to be in their only Deluxe Family Suite, the Tetbury. It was essentially a two bedroom house with its own gated garden and terrace. The only thing missing was a kitchen from our 2 story pad. Downstairs was a large living room complete with fridge, coffee machine, fresh fruit and a wealth of yummy goodies.
Adjacent to the living room was the master bedroom which looked straight out of an interior design magazine. Upstairs, there is a small twin room which also had room with a dresser packed full of toys and board games. My son is not old enough to sleep in a single bed but there was ample room for the travel cot. Both bedrooms featured the 'Securicot' baby listening devices – more on that later.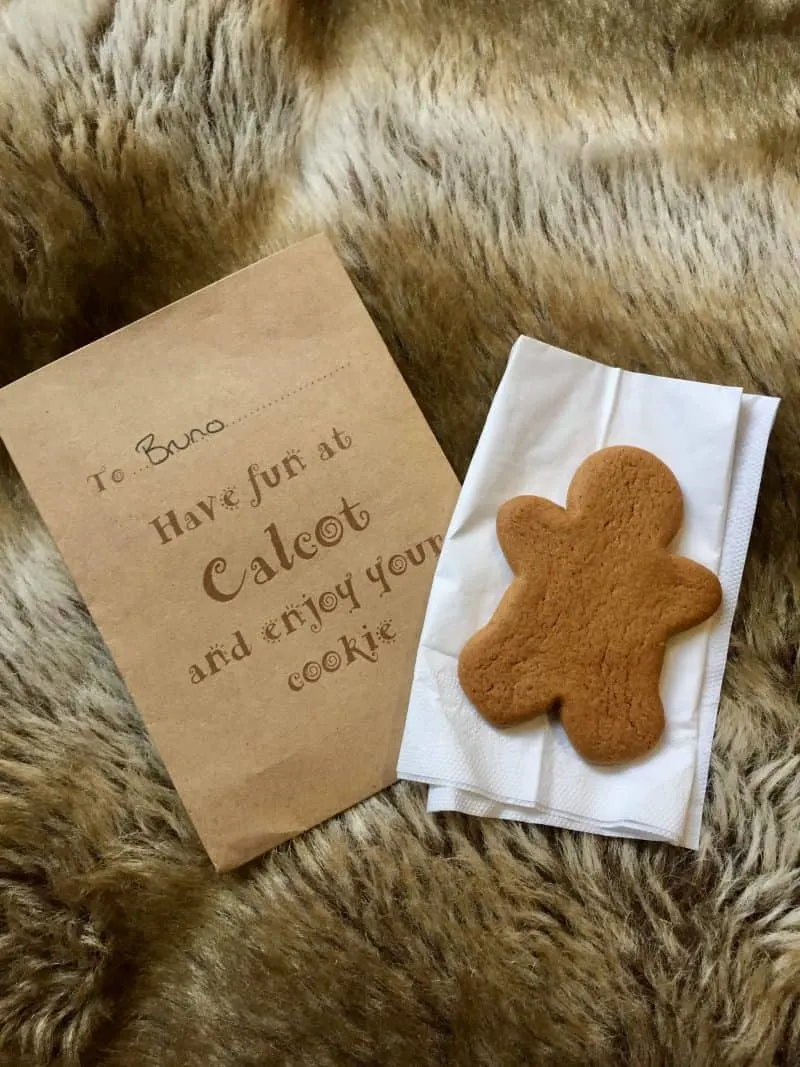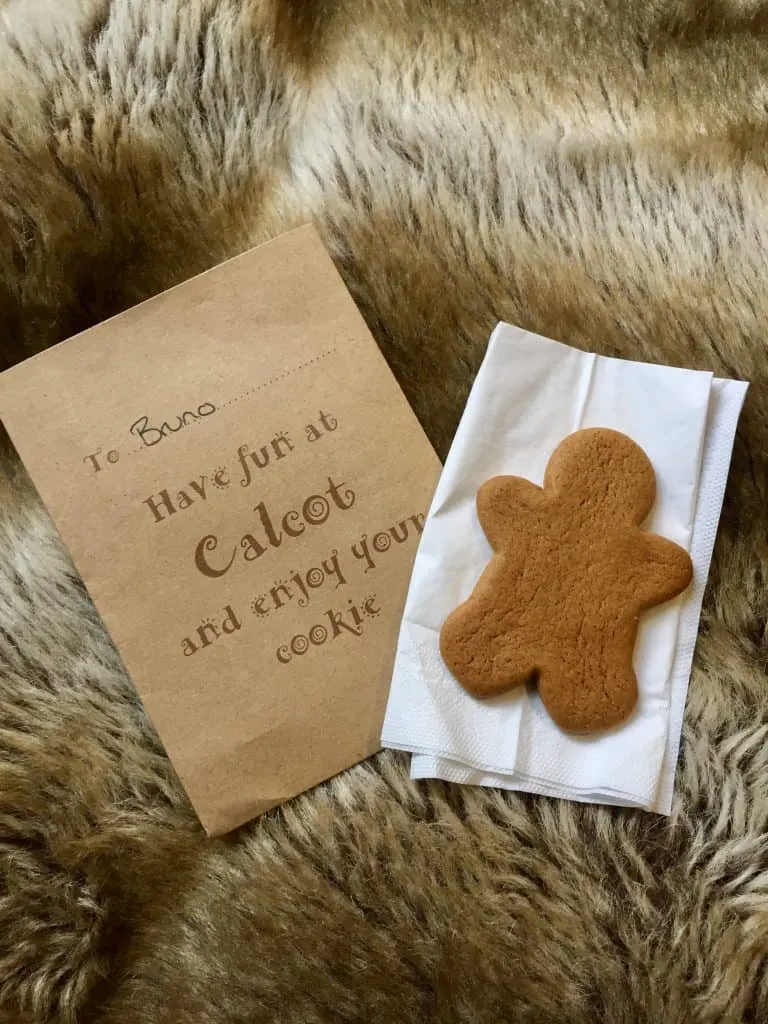 The bathroom was comparably huge with a deep bathtub and beautiful walk in shower. Both children and parents are equally catered for in this room. For the kids, there is a net of bath toys & child friendly soap as well as a nappy disposal bin and a child's stool. This was super handy as we have started toilet training.
For us, there were gorgeous smelling aromatherapy toiletries, bath robes and slippers. I am told that each room at Calcot Manor comes with a hairdryer as standard, and if you need hair straighteners all you need do is call reception and a pair of GHDs will appear. Amazing. My son is confident on the stairs but it was really reassuring to see solid stair gates on our staircase.
Related: Rates and availability at Calcot Manor
CALCOT MANOR REVIEW
THINGS TO DO AT CALCOT MANOR
CHILD CARE
The facilities at Calcot Manor are what makes this hotel a parents' dream. There is an onsite creche, the Playzone, staffed by fully-qualified and DBS-checked staff. I didn't plan on leaving Bruno here alone, he is prone to the odd meltdown when I leave him at nursery. To our surprise he was more than happy to be left and explore this new and exciting play area.
After we signed the necessary paperwork, we were handed a pager and told that we would be buzzed if needed and to go and enjoy the facilities. Well my husband and I didn't need to be told twice once we saw how engrossed he was in the diggers and sand pit.
FOR THE PARENTS
On our first walk around of Calcot Manor, we had clocked their 'disk-golf'. It's essentially golf but with a frisbee which, I will be honest, I was monumentally bad at. My husband on the other hand really enjoyed it! After the third 'hole' I persuaded him that the hot tub was a better idea.
Kids are not allowed in here as it's at a constant 40 degrees and reserved only for the adults staying at the hotel or on a spa day. The picture speaks for itself, it's epic. We went back to get Bruno after he had been there just over an hour. We weren't buzzed, it was the parent guilt kicking in! He was freshly changed (bonus) and ready for a nap (double bonus).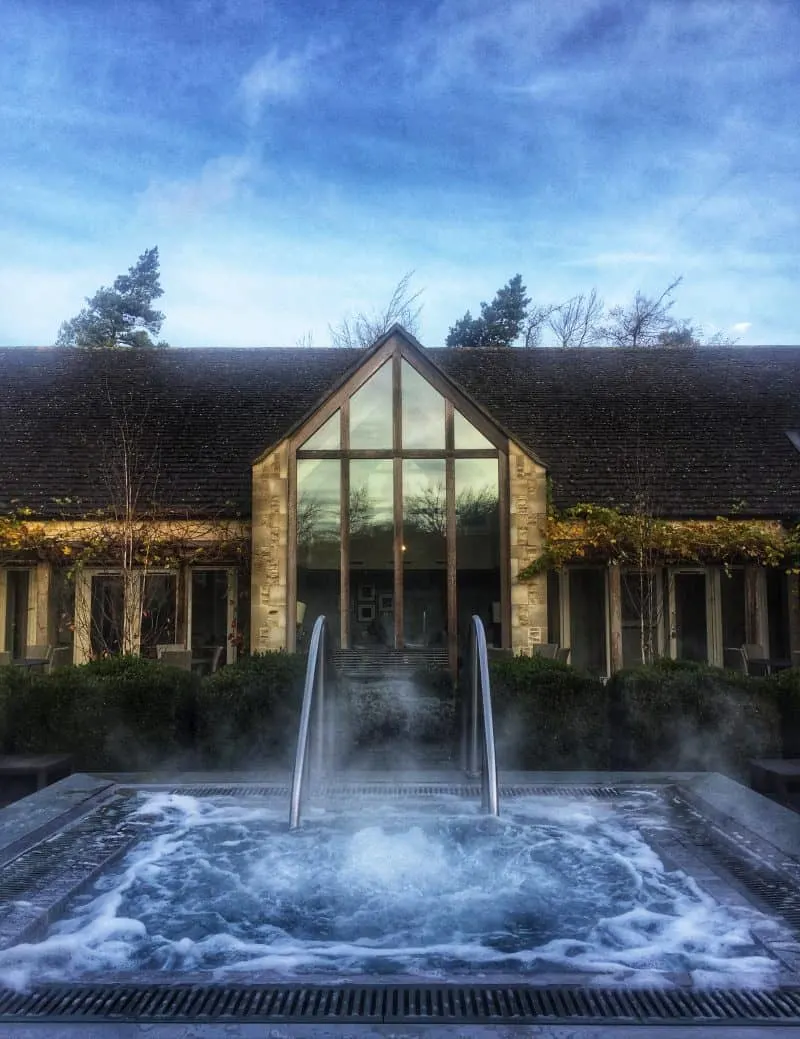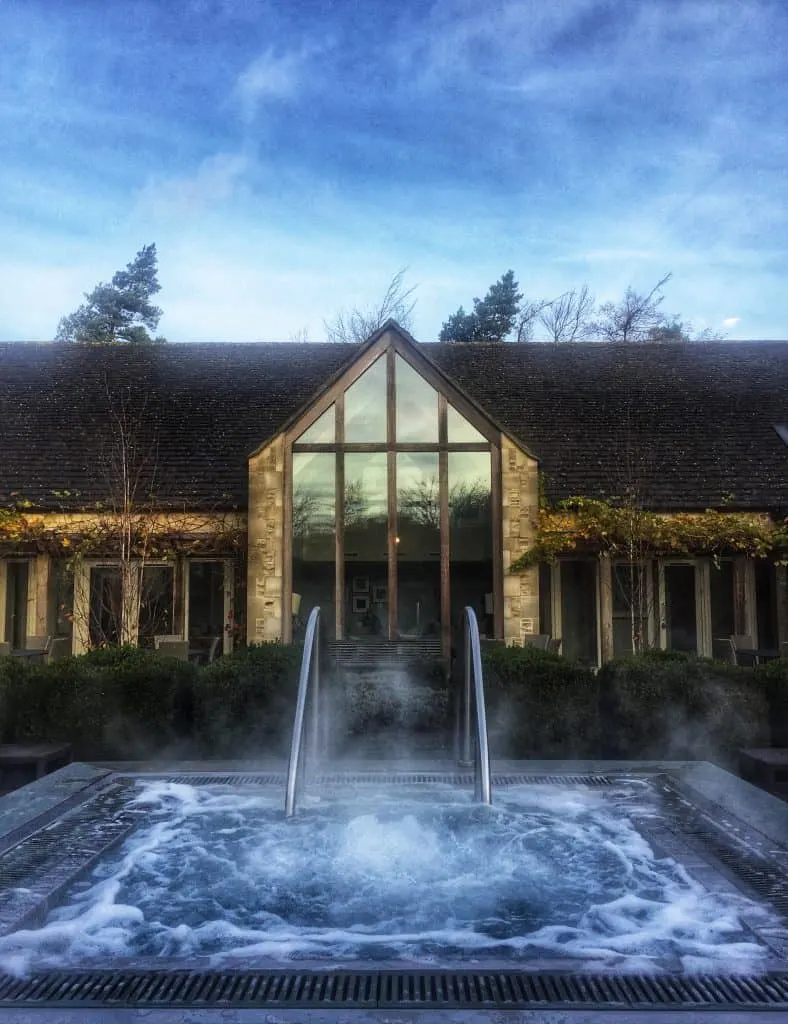 THE POOL
The pool at Calcot Manor Hotel and Spa is open to children between 3:45pm and 5:15pm which we fully utilised. We all love the water and this was a real perk. Again, the changing facilities are excellent with changing mats under benches and there were a few nappy disposal bins. If you weren't looking, you wouldn't notice that this facility is once again super child-friendly.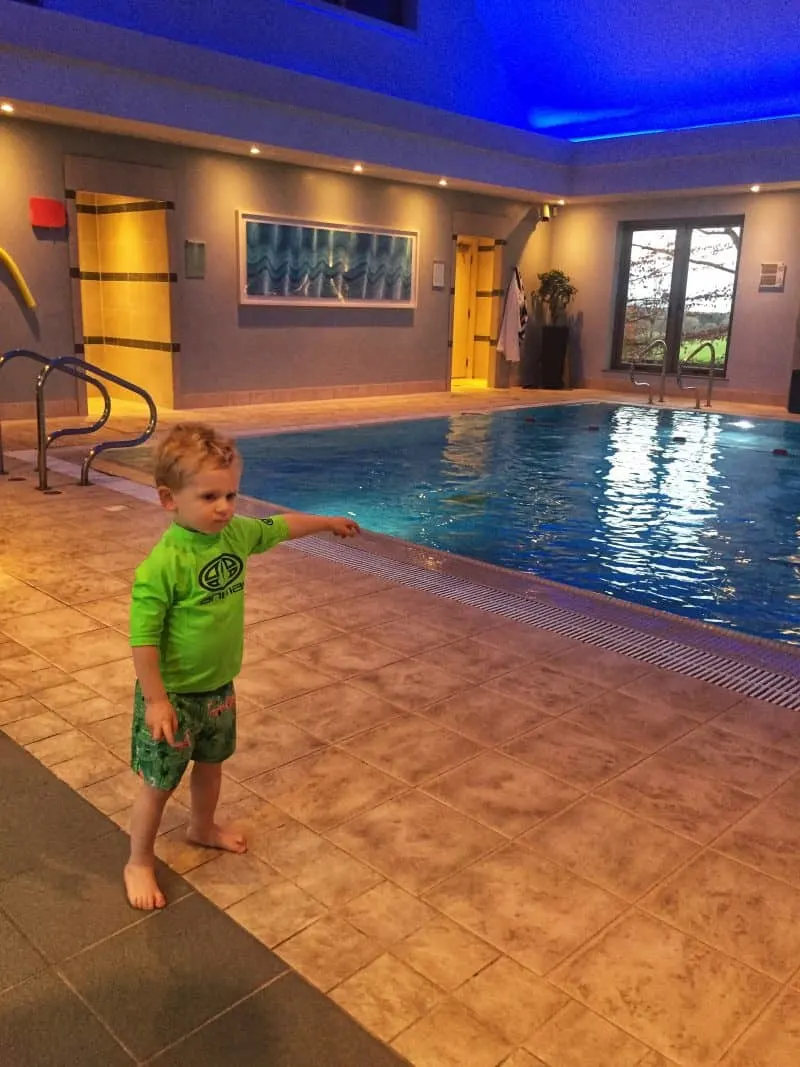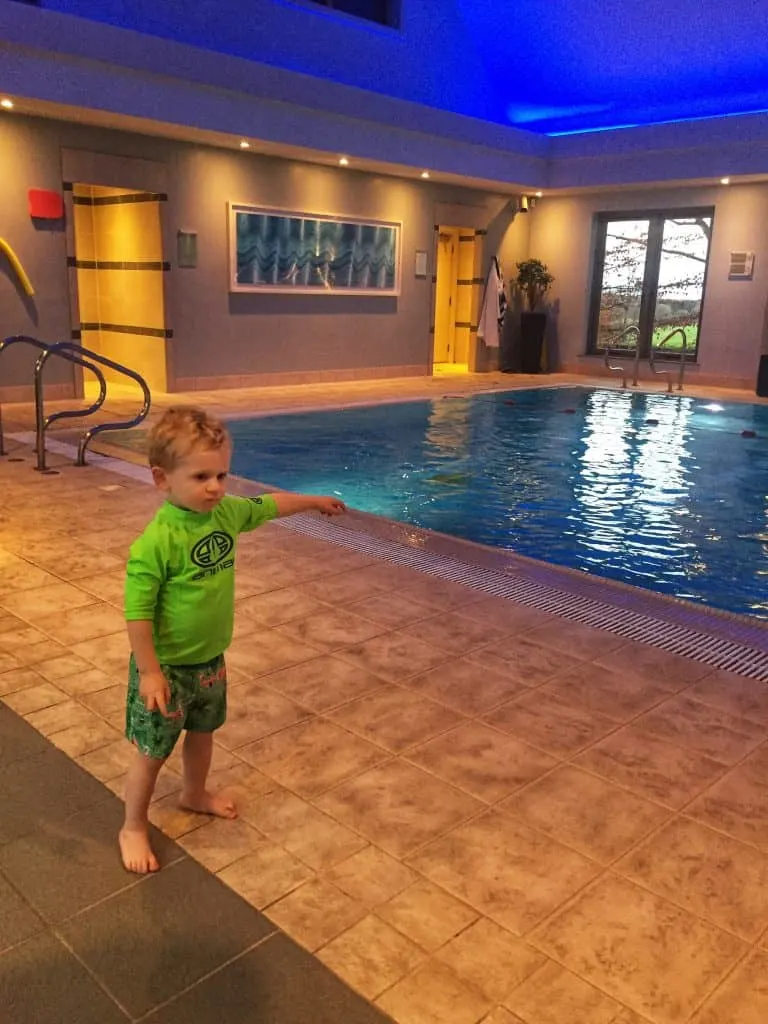 CALCOT MANOR REVIEW
THINGS TO DO IN THE COSTWOLDS
WESTONBIRT ARBORETUM
10 minutes down the road from the Manor is Westonbirt Arboretum which is managed by the Forestry Commission. This is the perfect place to unleash the kids for a proper explore and runaround. As soon as you walk through the entrance, you are met by the Treetop Walkway.
This is a 300 metre, step free path through the treetops. It is fully accessible to all, although Bruno was unsure about being 13 meters high up so we didn't make it to the end.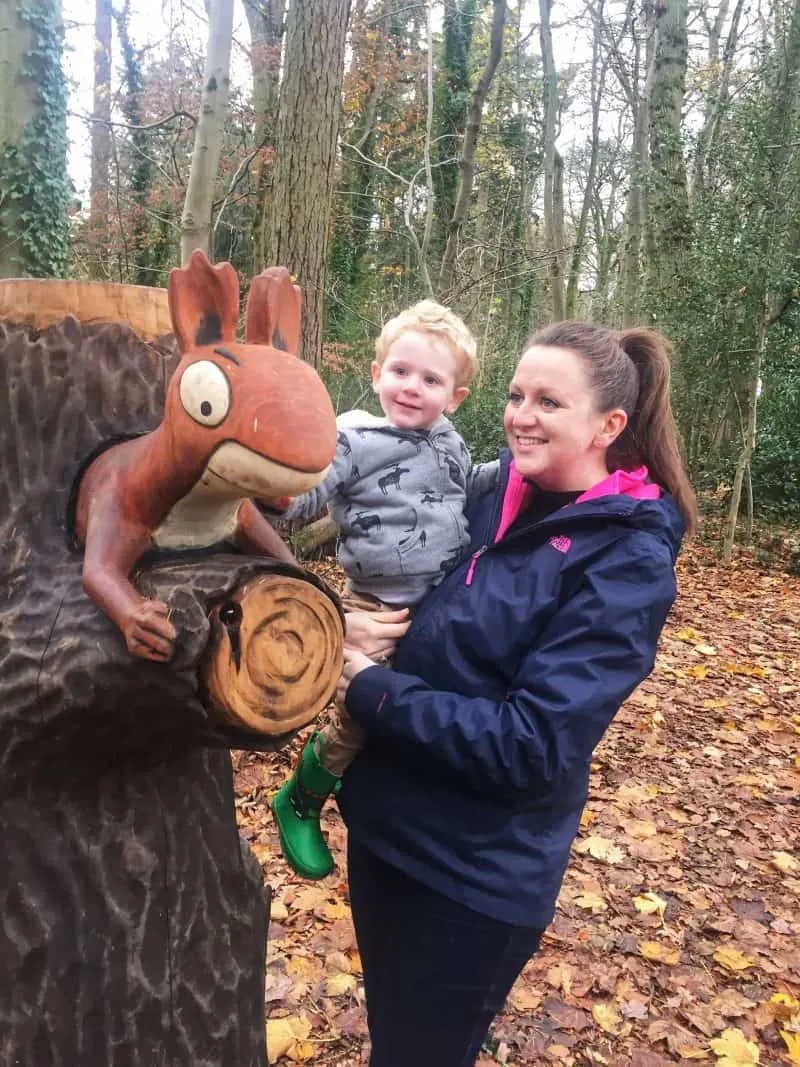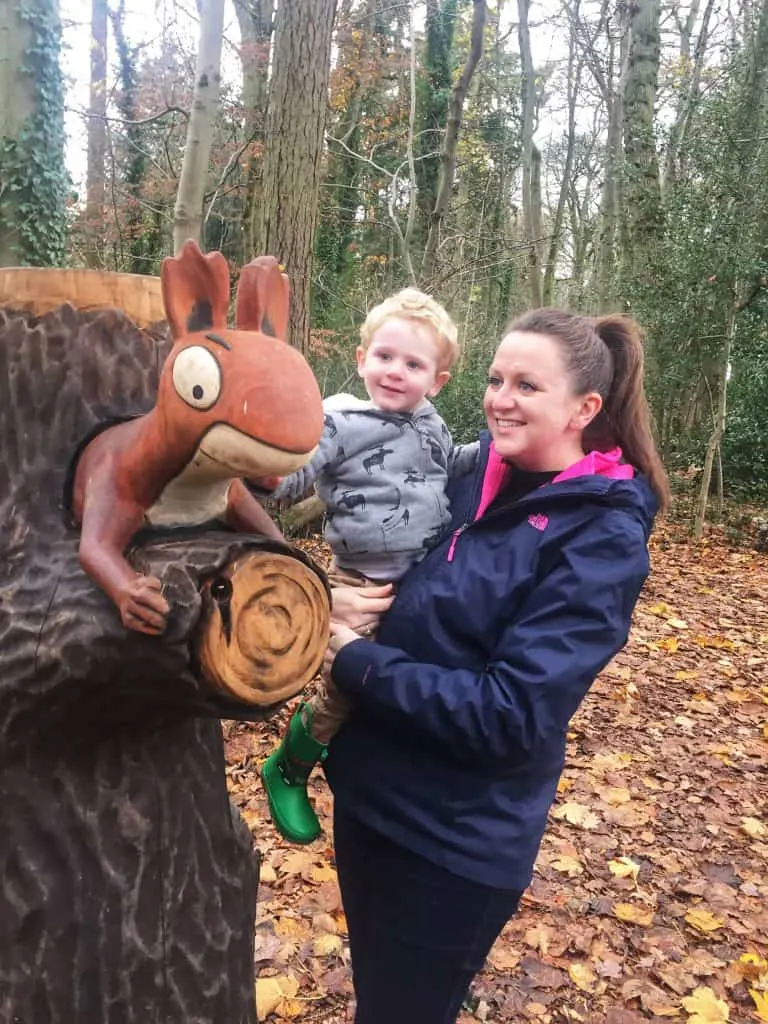 My coat is from Millets North Face Range which kept me super warm on this chilly day.
THE GRUFFALO TRAIL
As we made our way over to the Gruffalo trail, they were setting up the Enchanted Christmas display and attraction. It looked absolutely amazing so it was a shame we were a bit early to fully enjoy the festivities. Bruno thoroughly enjoyed kicking through the leaves as we walked along some of the extensive pathways, regardless of the fact it was a really cold day.
The look on his face when he spied the Gruffalo was so lovely. He spent about half an hour running between the main characters which are each slightly hidden from each other to enhance the experience. The Gruffalo animals are quite a way from the main entrance, about a 20 minute walk so do bare this in mind if you have a toddler who doesn't always want to walk!
Related: Rates and availability click here.
WHERE TO EAT IN THE COSTWOLDS
CHILDREN'S HIGH TEA AT THE GUMSTOOL PUB
At 5pm, the Children's High Tea is served in Calcot Manor's pub, the Gumstool. Each table is set for the family guests and a wide range of kids meals are on offer.
Bruno made quick work of his melon & fruit starter, sausage & mash main and brownie for pudding. This service, as well as use of the Playzone creche, is covered in the £40 kids supplement.
LISTENING SERVICE
Once we had put Bruno down to bed, we made full use of the 'Securicot' baby listening service. In each bedroom is a monitor which feeds straight into reception.
Now I appreciate that this service is not for everyone and that is why they also offer babysitting which must be pre-booked in advance. However, we were happy to leave him – he was absolutely exhausted so we treated ourselves to a rare "night out".
THE CONSERVATORY
We started with a cocktail at the Gumstool Pub before being treated to a very decadent meal at the fine dining restaurant, 'The Conservatory'. We handed back our buzzer after dinner to be reassured there had not been a sound from our chap.
The one drawback from being in such a huge suite of rooms is that we struggled to hear him in the morning as he was upstairs and us downstairs. A monitor system between these two rooms would have been handy.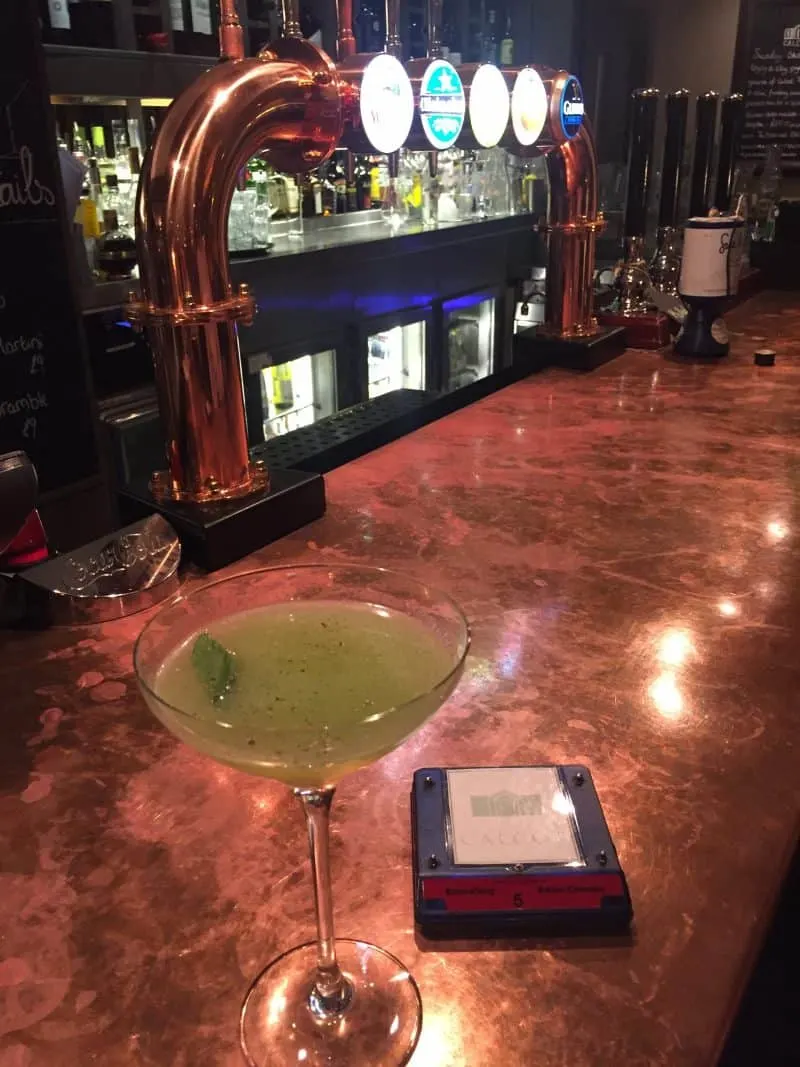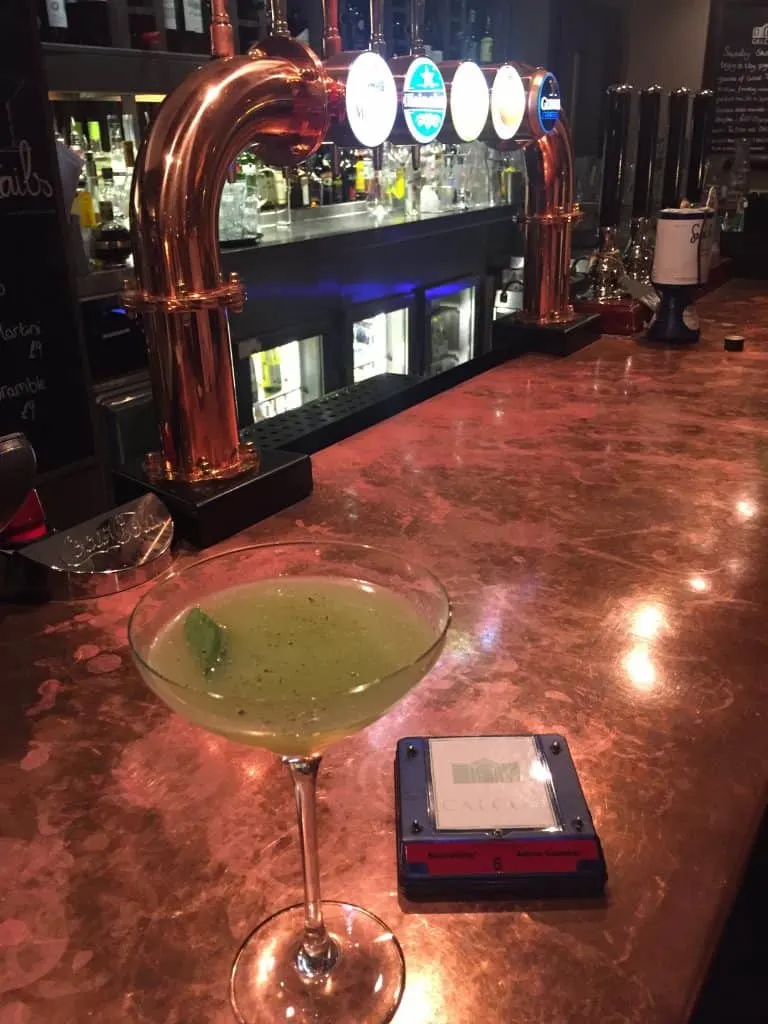 BREAKFAST
Breakfast is served in 'The Conservatory' restaurant, and once again, everything is geared up to fully cater for their younger guests. Bruno had his own breakfast menu and really enjoyed tucking into the pancakes which were cooked to order. There was also a dresser packed full of kids paraphernalia – bowls, cutlery, bibs, kids' cereals and spreads which was great.
The chef noticed Bruno tucking into the strawberries and hand delivered a huge bowl for him to enjoy. The adults menu was equally amazing, I treated myself to Eggs Benedict whilst my husband opted for the Full English. Breakfast was a real treat and certainly set us up for the day.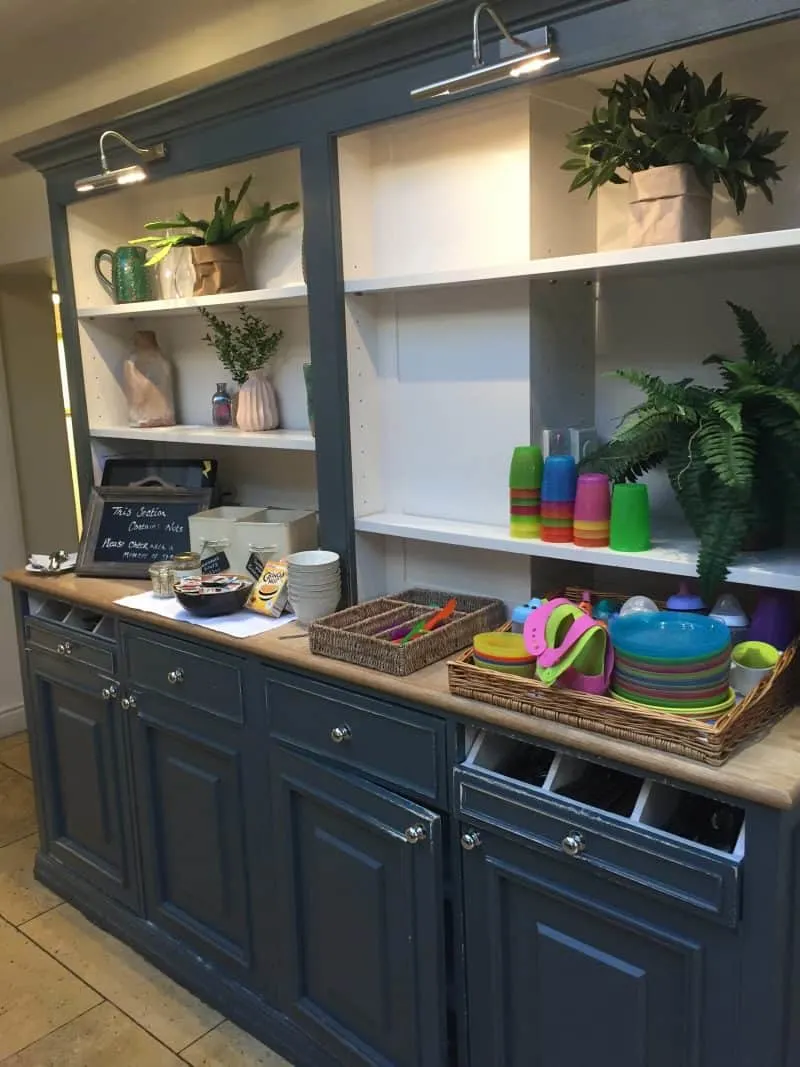 Related: Check out some of our other UK destination inspiration
Disclaimer: Jane's stay at Calcot Manor was complimentary in return for a written review. As always, all views expressed in this Calcot Manor review our entirely our own.
Author: Jane Sharp