Now that we are back in the UK, we have been doing a little more local exploring, whether it's in Central London or in the forest in the South West of England. As I've previously mentioned I am a baby wearing enthusiast, however sometimes you just need more options.
We wanted to get a buggy that was a jack of all trades, good for off-roading and decent for pushing around the city: here's our test run of the Mountain Buggy Urban Jungle and review!
If you want to see reviews of more top strollers and a comparison chart check out our post comparing the best travel strollers on the market.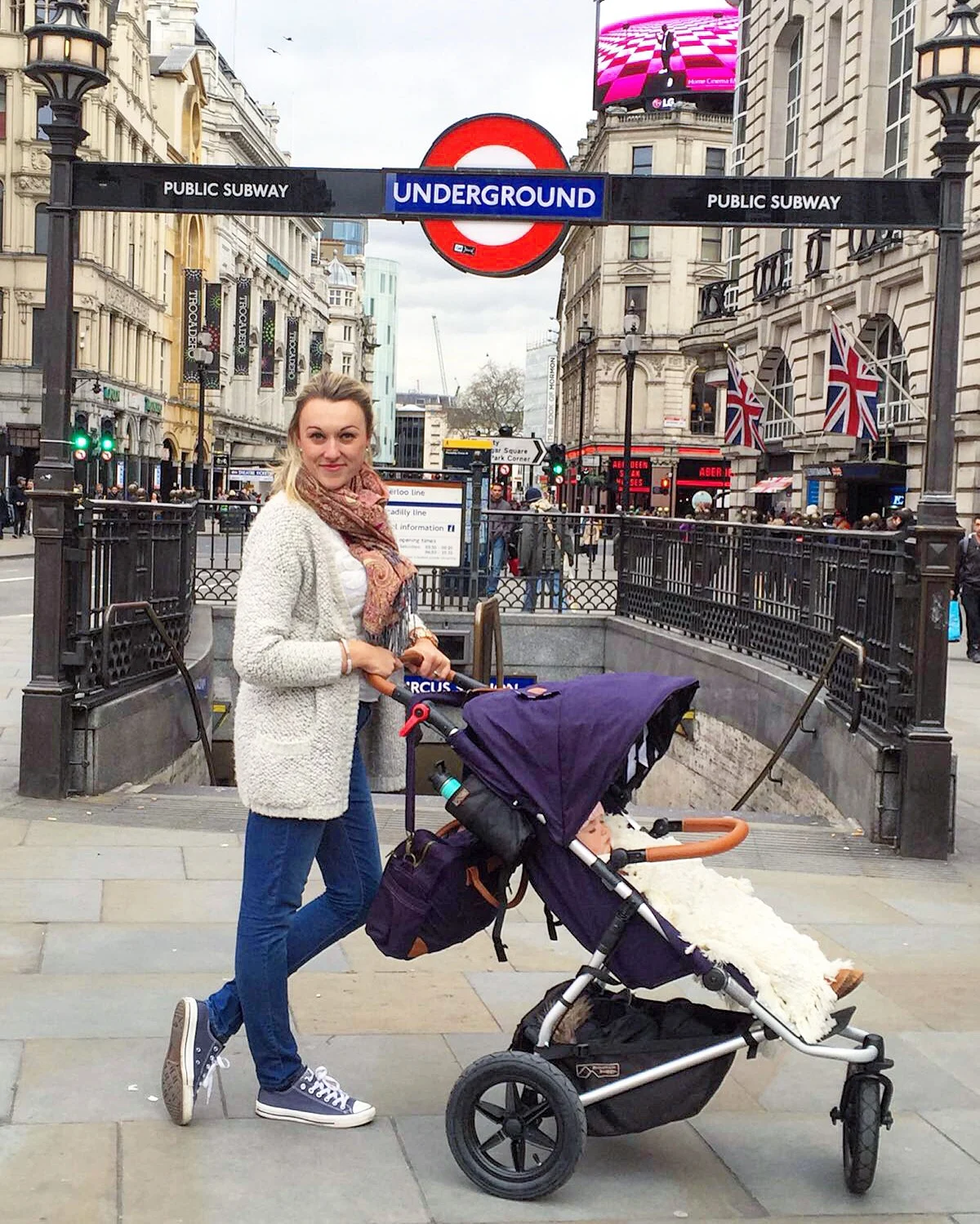 Mountain Buggy Urban Jungle Review
When I was in NZ, I regularly went for walks with other mums along the beach and they were using what so many families have there, the Mountain Buggy range. They seemed really easy to navigate along the sand and were light to push.
When we got back to the UK and started settling back into real life, we got the Mountain Buggy Urban Jungle system. Now I feel like a grown up, we have a proper buggy, not just a travel one – and it's really nice!
I feel a bit like a posh mum pushing it around the streets, it looks really smart, especially with the nautical colour scheme and tan leather edging. I've even had a dad stop me and ask me where I got it!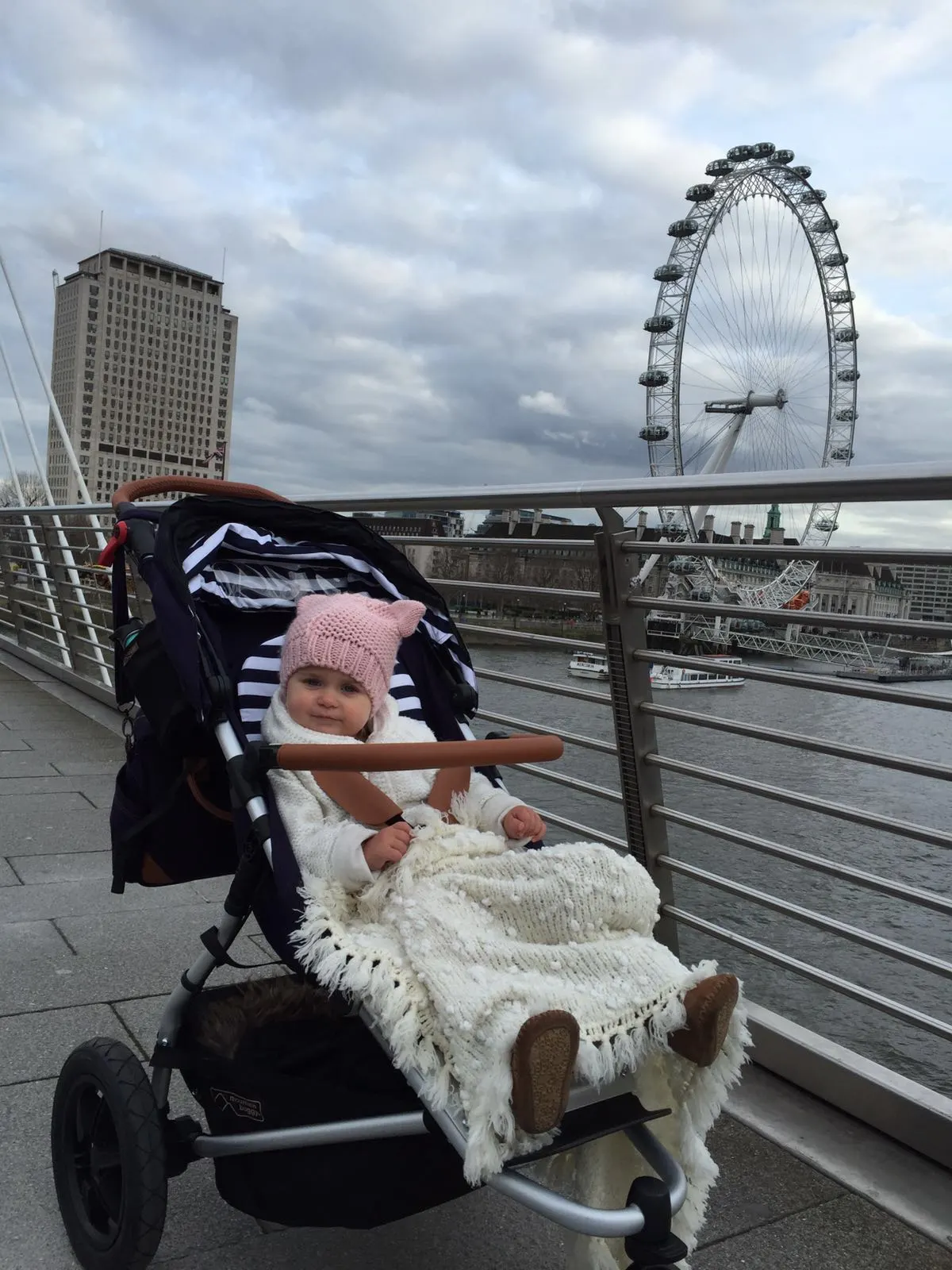 Mountain Buggy Urban Jungle review
We've been using it for a few weeks now, so I feel like I am in an informed position to review this buggy. Okay, first of all it is quite big, but in a good way, like the Royals Royce of buggies!
You have an expectation it is going to be difficult to manoeuvre around because of its size but its quite the opposite. It pushes with such ease, you can do it one handed and it just glides along. It also feels super light.
One good point about the size is that it can take up to 25kg, well that's nearly a fully grown child, so we will get plenty of use out of it.
Excellent features on the Urban Jungle Buggy
Even the brake system is a smart little click button on the handle; green for go, red for stop! No more struggling and stamping on the silly wheel break that doesn't work so well.
The buckle has a 5 point harness for extra safety and is quite easy to adjust. Esmé looks really comfortable inside, it also lies back easily for nice cosy sleeps.
I love the little peek-a-boo flap on the top, I can check if she is asleep without disturbing her.The canvas hood is easy to wipe clean and you can zip the sun cover on and off that comes as an extra.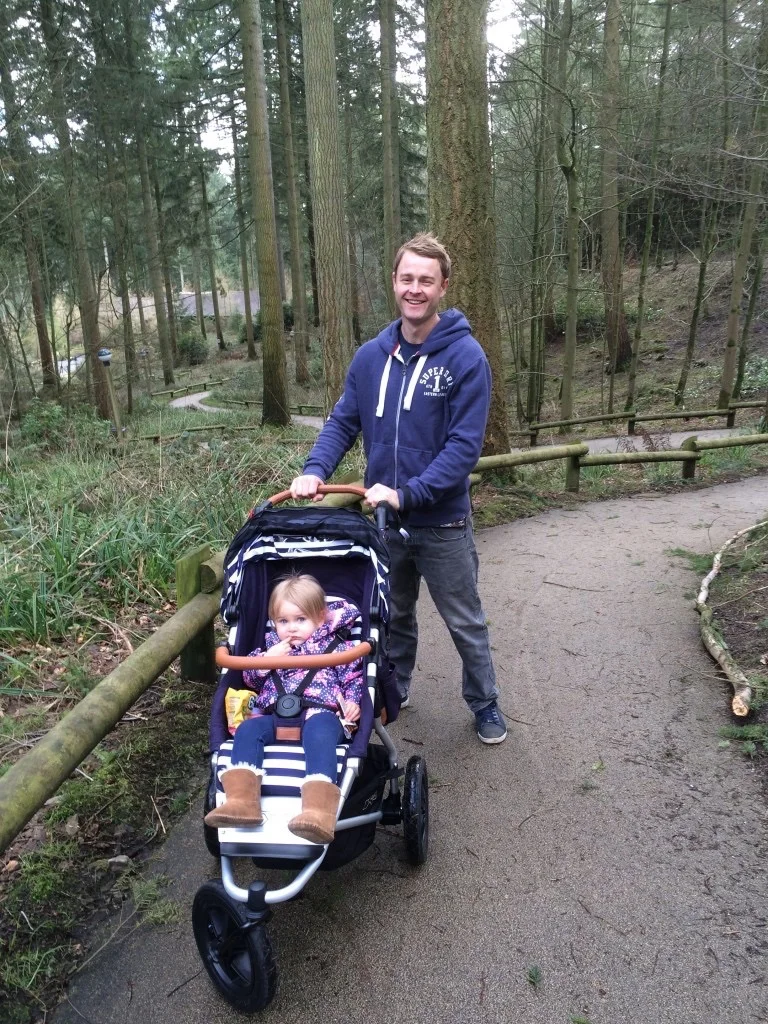 There is lots of space in the bottom to shove your nappy bag with a capacity of 10kgs. It has little stow away pockets for your rain cover which ordinarily seems to take up space and get in the way with other buggies.
There is a water bottle holder for mum or dads drink… Actually come to think of it this buggy is ideal for going running due to its manoeuvrability. No excuses now! In fact, I have found myself more likely to walk to the shops recently.
The folding mechanism
The fold mechanism – we all love to know about this! Okay it's like a hidden little button and you can do it one hand. I think the trick is in the hidden bit on your first try. We made the silly mistake of going straight to the airport when we first opened it.
Airport staff asked us to fold it up as they were going to take it into the hold. How difficult could it be? Well because its hidden it took us a while to figure out and then of course we had an argument, "you opened it, you should have read the instructions" anyway after a bit of fiddling we figured it out. As they say, easy when you know how. It's just below where babies feet sit behind the padding, if you are looking for it.
The only other feature that took a little getting use to was the fact it is a three-wheeled buggy. A bit like a wheel barrow at the front when you are getting on and off the bus, you have to balance. It took me a couple of goes and then I had it.
Otherwise, on the whole we love it and are using it regularly, especially Shaun who is not so keen on baby-wearing. I think this is the ideal buggy for active families, whether you like going for a jog in the park or like going for walks in the city or country, its pretty much an all rounder.
I love the fact you can also add another system for baby number 2 (if we are lucky enough one day). It is also carry cot and car seat compatible. The forever buggy!
Price
£830.99 GBP for the buggy
£29 for the rain cover
£39 for the sun cover
Mountain Buggy Urban Jungle Luxury Collection Stroller, Pepita
CRAFTSMANSHIP: beautiful tailoring and hand stitched bonded leather detailing are apparent on the…
NAUTICAL AND PEPITA SATCHELS: each of our nautical and pepita buggies comes with a parenting satchel,…
REFINEMENT: cast and polished high quality aluminum hinge for strength and performance. Frame lock fold…
Comes in a variety of colours but nautical with tan leather is most definitely our favourite.

This article contains affiliate links. This does not increase the price of the product.
You May Also Like:
The Best Baby Carriers For Traveling & Everyday Use
Last update on 2023-12-03 / Affiliate links / Images from Amazon Product Advertising API