Although I am a registered nurse, this article is not intended as medical advice. Please speak to your doctor if you have concerns or need specific travel health advice.
It's hard to remember a time when news about Covid didn't make headlines. Every day we hear about cases and overflowing hospitals on the news.
However, we have all lived in this pandemic for a year and a half now and so many of us have the urge to start exploring again!
For many of us (including myself), I chose a staycation initially as it felt like less hassle needing to worry about countries changing and needing to quarantine.
For our first adventure after emerging from lockdown, we road-tripped around the South West of the UK in our camper van. Having our own self-contained home on wheels felt like our safe haven. We loved exploring the outdoors and avoided crowded and indoor places.
That said, we have recently permanently relocated to the Middle East. We felt having a new base was the best way to still have adventures without the need to move around multiple different places.
With all that in mind I have come up with some tips should you plan to navigate travel with your kids again in this new world.
Traveling on a Plane, Ship or Train During The Coronavirus Outbreak
Public places whether that is in a restaurant, airport or even sitting at a picnic bench could be potential hotspots for cross contamination.
Now that we are emerging from some of the stringent measures that were essential and have now become optional, there are a few simple good practices we can keep up with!
The single most important thing you can do is practice good hand hygiene. Wash your hands with warm soapy water and dry thoroughly.
If you cannot wash your hands and you are on the go with your kids, use Clinell Hand Sanitiser instead. At the start of the pandemic, my kids' hands were really sore from using gel.
We discovered Clinell which has aloe vera in it and definitely made a difference to their skin. They are not chapped, broken and sore like they once were!
They are about to head back to school in the coming days so I have given them a small gel each to clip onto their school bag. I always carry one in my handbag when we are exploring too!
Here is the method we use as nurses
Rub palm to palm
Right hand over left dorsum with fingers interlaced (repeat on the other side)
Palm to palm with fingers interlaced
Back of fingers to posing hands with fingers interlaced
Rotational rubbing of thumbs on both sides
Circular motion of each wrist
Allow to dry thoroughly
Disinfect Surfaces
Whether you are travelling on a train, plane or eating at a picnic bench, bring a packet of Clinell disinfectant wipes. Wipe your meal table, arms rests and any other surfaces you deem appropriate. When wiping there is a special technique that is not difficult.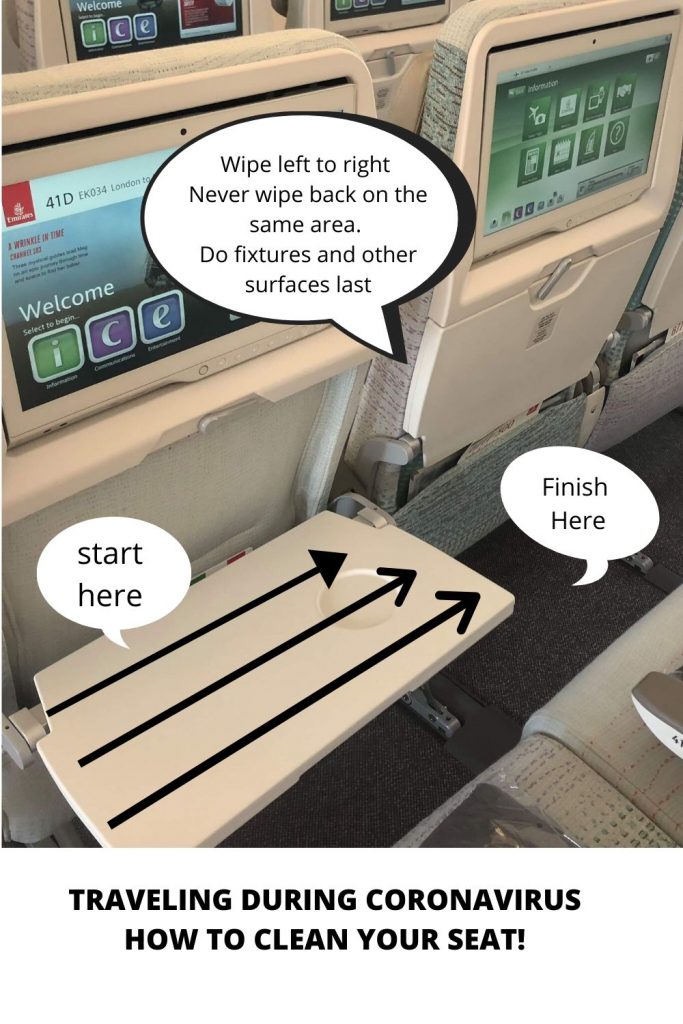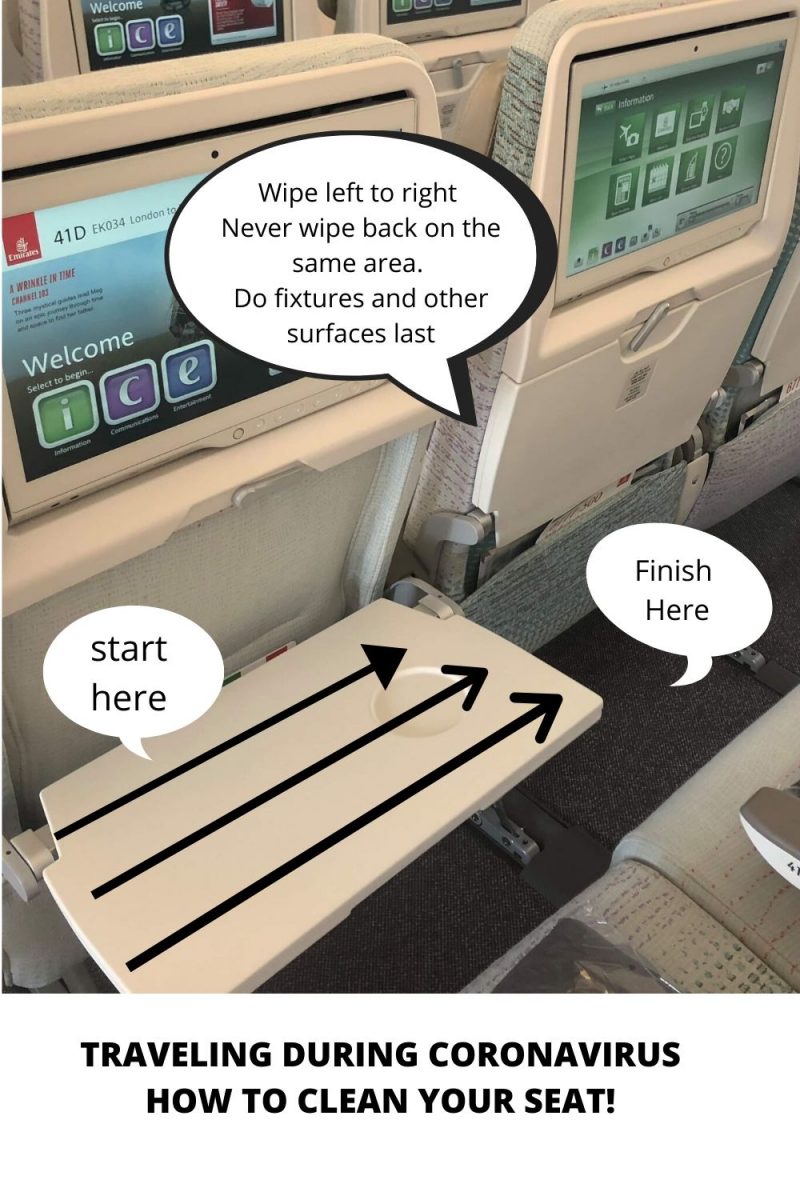 Start at the furthest corner and wipe in an S-shape pattern. Never wipe over the same spot, otherwise, you're just dragging whatever you've wiped back!
This is part of Clinell's 5 Cleaning principles and what makes them experts in infection prevention.
Most hospitals use Clinell Universal Cleaning and Disinfectant Wipes. They are well researched and clinically proven to kill bacteria. This was my first go to product as we use them throughout the NHS every day.
IF YOU CHOOSE TO FLY
There is some literature on the world wide web about the safest seats to sit in when it comes to viruses such as flu and coronavirus. Many articles suggest the window seat being the best option when it comes to exposure.
The reasoning behind this is you are not surrounded from every angle by other people. Likewise, you are not next to the gangway where other passengers and crew are walking past continuously.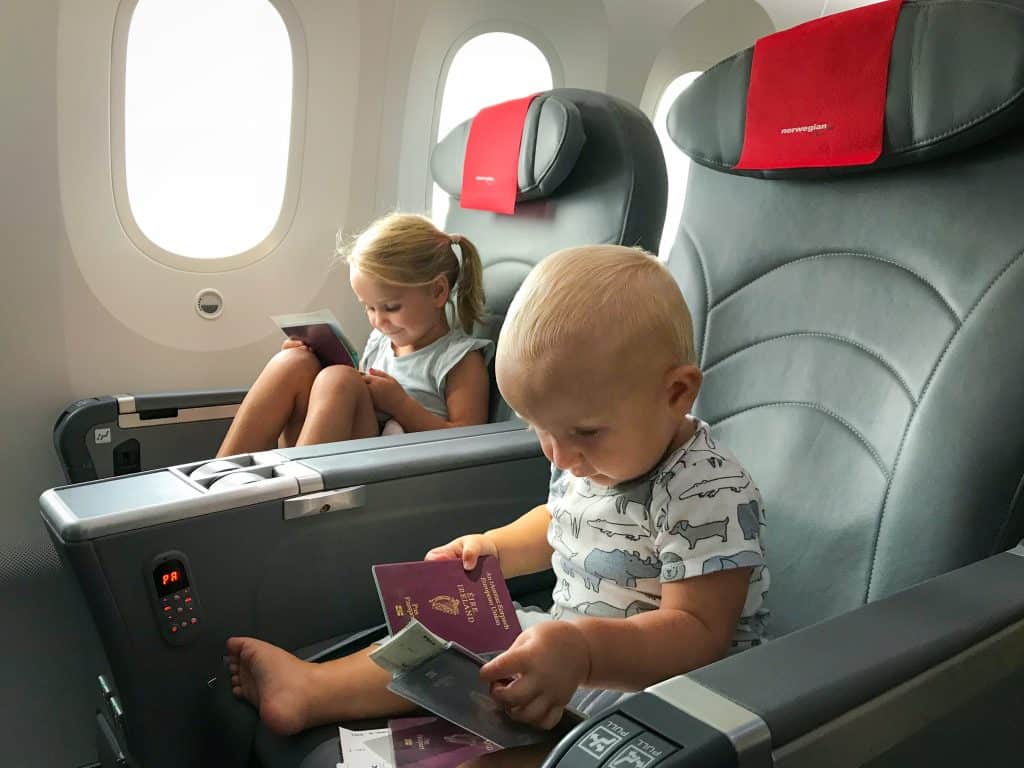 According to the NPR Org, you need to be up to 7 rows away from an infected person to reduce the transmission of the virus. That said, there is still a chance Coronavirus could carry in airborne droplets. With most wearing masks nowadays I guess the risk is reduced somewhat.
If you are sitting together as a family, make sure to choose a window seat row and fill it up if there is enough of you. if you need another seat beyond what's in your row, put one of the adults in the window seat in front or behind.
If you are concerned about little ones touching everything, for once in my life I am going to say give them a device so they can snuggle now and watch something. Usually, I bring toys and things to keep them entertained, however now all I have in my mind is minimising touch points.
I also fill my kids' bellies up before they fly so they are not wanting to eat throughout the whole flight. This has worked pretty well so far. Likewise, if you are flying long haul, choose a time when they are likely to mostly sleep.
Wearing Masks
I use disposable masks when travelling as I feel they can be a contamination risk constantly putting the same mask into my handbag. I know this is not ideal for the environment however needs must when travelling.
I do bring the kids masks now because in other countries they have different regulations. Similarly, US airlines seem to be far stricter on children than any other. Make sure to bring kid sized masks that have a good fit. I have made this mistake a few times and ended up trying to alter an adult sized mask for them.
PCR Testing
There are a tonne of places you can get a PCR test nowadays. The trick is trying to time it when you will fly or how many hours the result can be when you reach your end destination.
I checked out many of them and the easiest for us was a drive through option with pretty good reviews. Check out Express Test, we were really happy with their service and there are quite a few testing points around the UK.
Tips When At A Destination
If you have a holiday booked somewhere that is causing you concern, make sure to implement the infection control tips above on the journey.
If for example, you had planned to do theme parks or a city break, consider changing it to something less busy and congested with other people. It doesn't mean you have to change the destination but maybe you could hit the beach instead.
Opt for smaller more intimate accommodation rather than big resorts where you will end up sharing facilities with lots of others. Maybe an Air BnB? Or rent a villa?
Find a nice Villa here or a Guesthouse here.
Try to walk or cycle and avoid public transport if you are in a place with known coronavirus. Rent a car rather than using taxis and other transport modes.
Travel insurance
There is nothing more important than checking the small print of your travel insurance policy. There are now policies that cover COVID related issues.
Before buying your insurance, use Trust Pilot to check their reviews of people that have put in claims. A policy can look great with lots of cover but unfortunately 'cheap' policy insurers will always look for loopholes rather than giving you a pay-out.
As I said, read the fine print and make sure you are covered for cancellations related to public health advice and if you became infected and needed treatment.
Keep A Close Eye On Official Travel Advice
The information in this article may change so please do check the World Health Organization and local government travel page to ensure it is safe to travel to your destination.
If you like this post you may also like:
The best way to prevent mosquito bites
Disclaimer: This post is sponsored by Clinell. As always all views expressed are entirely my own.