The coronavirus has taken a hold of the world, more and more schools are shutting down for a number of weeks to try and contain things. I bet you're asking what the hell you are going to do with your kids for that long?
Even as a homeschooling parent I am asking myself the same since we always attend so many groups and classes with our kids.
That said, we are armed with the right tools to make things work without the need for our usual groups being a home education family.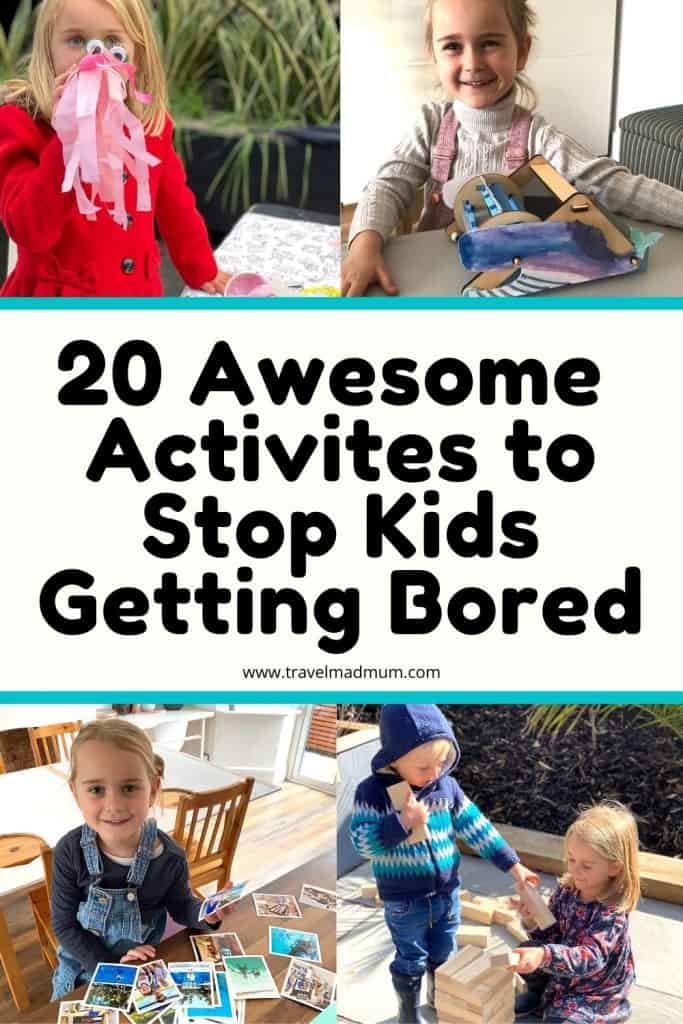 The thing is, social gathering are not appropriate, there are no kids clubs to pick up the slack and it's looking like many of our 'go to' museums and places we usually rely on are out of the question at the moment.
More than ever, us parents are going to need to get inventive and creative to keep everyone sane during this period of self-isolation.
If your kids are out of school for a month, you might want to keep them in the swing of things, doing some home education activities could keep them going.
We are big advocates of keeping educational work intriguing and easy as possible. Aside form the educational things, there are heaps of other fun things to do with kids at home.
The good thing is you don't have to stay literally in the house, you can go for a walk to the woods or forest, collect up some treasures and return home again.
Kids Activities At Home
Forest School Activities For Bored Kids
We are big fans of forest school, we take our kids from time to time and do our own nature activities if there is nothing going on.
I bought an awesome book with nature activities for kids and have seen my little ones do quite a few great things at forest school. Here are a few ideas for your next trip to the woods / park / beach!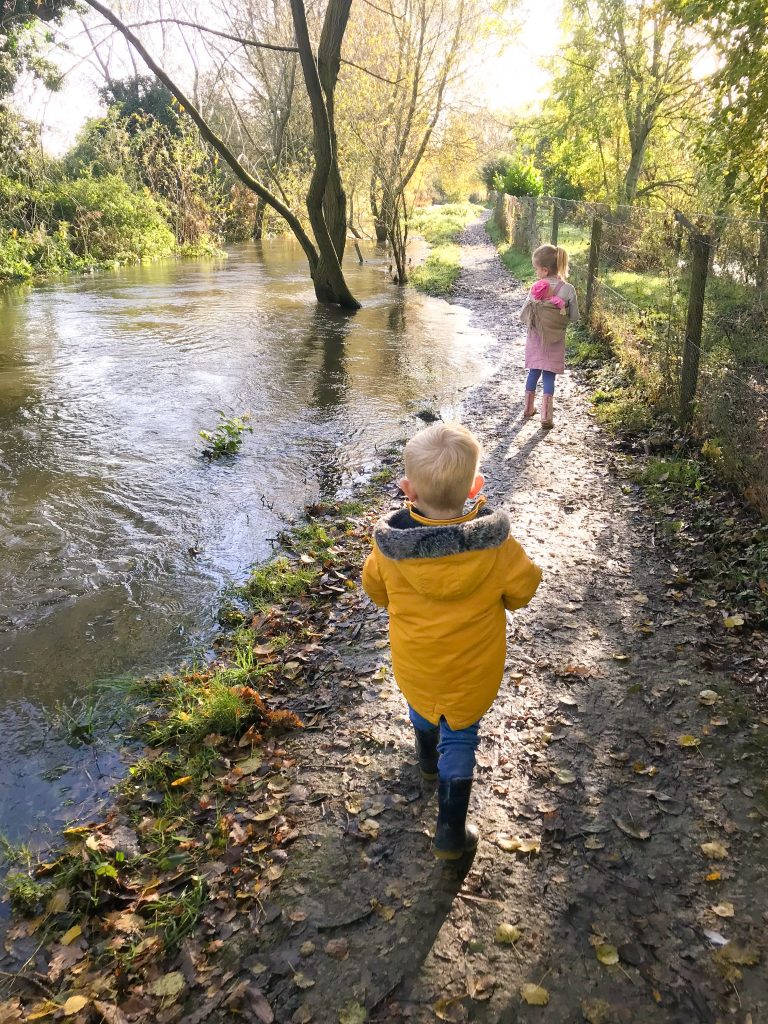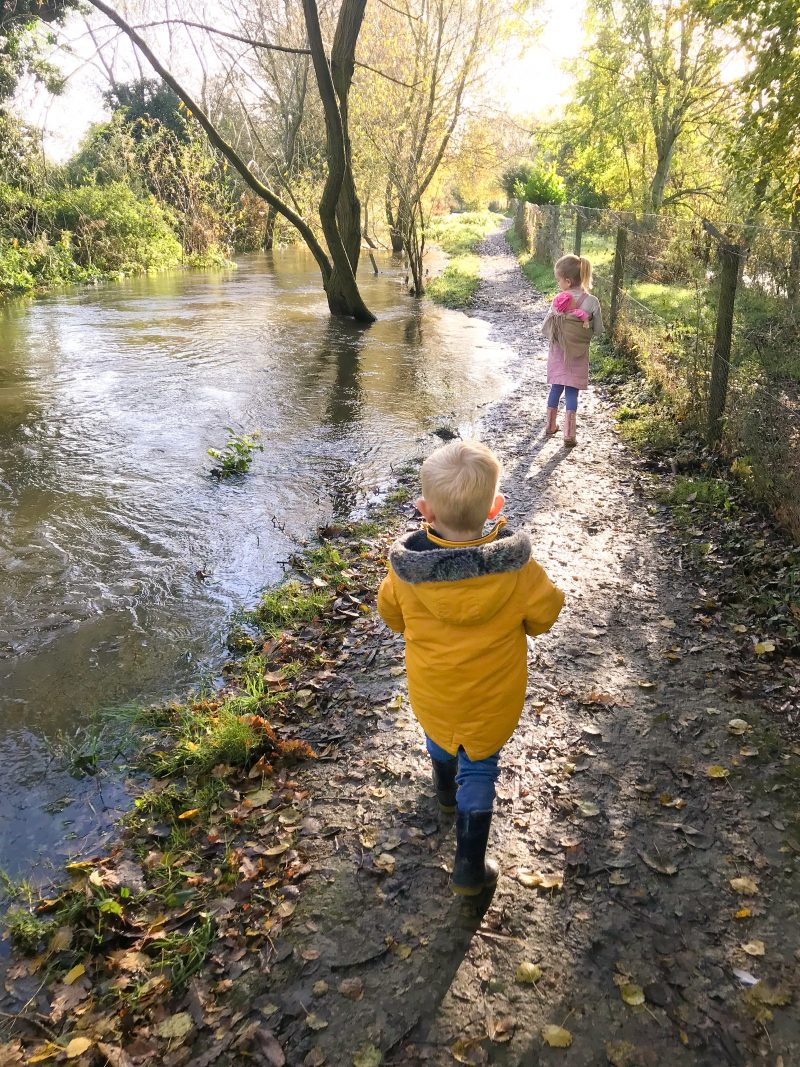 You can make up a DIY bag for your kid and go and explore your local woodlands. Inside you may want to pack binoculars
, a magnifying glass
, a notepad
, pencils
and a jar
.
You can keep all of these below activities up your sleeve and do one every day you go. I usually find one activity per forest school session is enough.
Pick Up Sticks
Collect some small sticks as you walk through the woodlands. You'll need about ten per child. Bring a vegetable peeler
and set up a little area for them to sit down.
Let them peel the bark off, it will keep them busy for some time. You can either bring some paint
, a coloured elastic band
or coloured tape
, whatever you have really so you can make the sticks different colours.
Come up with a number for each colour, keep it low for younger kids and possibly a bigger number for older children.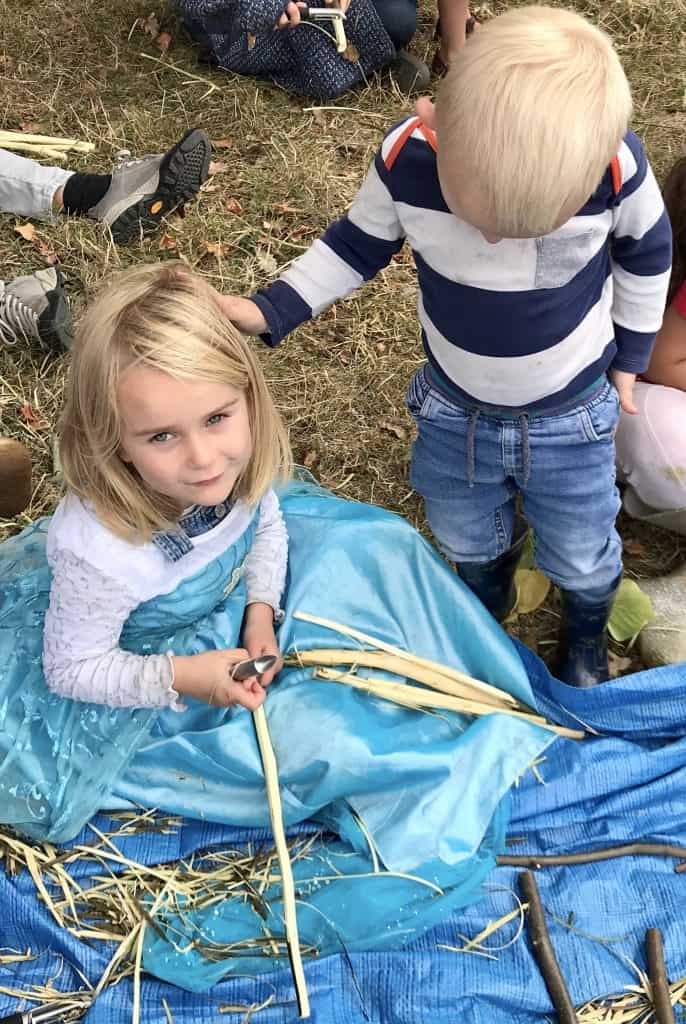 Once you've finished making the sticks into colours and giving them each a number you will have a game you can take home with you.
If you haven't played the game before, one player drops all the sticks into a pile and leaves them however it lands. You can have three or four players with 20 sticks.
Taking turns each person has to pick up a stick without moving any other stick. If they move the pile, they can not take the stick.
Keep doing this until all the sticks are gone. At the end, add up the number for each colour, it's a great way for kids to practice addition in a different way.
It's not necessarily the person with the most sticks that wins, it's about the amount of points each colour is worth.
You can even do this in your own garden if you have a tree, or if you don't want to be out for long periods, go and collect the sticks and set the kids up on a picnic blankets at home to do the activity.
Nature Mobile
Making a nature mobile is super easy. Go for a walk in your local park or woodlands and pick up treasures that you find along the way.
It could be a pretty leave, pine cone or conker. Whilst collecting the treasures also pick up a couple of sticks.
When you get home get a ball of string
to hang the beautiful treasure from the stick. You may need a drill to put a hold in the conker etc.
This craft is very low cost, can give the kids something to do for an hour, not to mention actively looking for things whilst out in the fresh air. I love anything that will make them walk for longer.
Leaf Rubbing
Leaf rubbing is another free, simple and fun activity for kids. When your out on a walk or if you have some nice garden trees / plants with cool leaves you can use them.
Place the leaf on a flat surface with a piece of white paper over it. Using the side of a crayon, rubbing back and forth in different directions across the paper, you'll create a beautiful print.
My house is literally full of art with all of these things we regularly do so we started making a folder for each term so Esme has something to look back on.
You can use the leaf rubbing activity as a way of identifying trees. Checkout out this tree identification book here.
Flower Crowns
Depending on where you live, you may be able to make a flower crown as an activity. We currently have daffodils in our front garden so we are planning to make a flower crown. You'll need a measuring tape to see what size your kids head is first.
Once you have the measurement, find some soft twigs that can bend, if you have wire at home you can also use that. You are going to need some duct tape
once you've bent it into the right shape to hold it in the right shape.
Pick the flowers and weave the stem in and out of the frame you have made. if you find daisy's you can simply make a daisy chain without the frame. That is probably the most easiest way of doing it.
This activity is great for dexterity and fine motor skills.
Build a Den
If you have access to woodlands away from civilisation, make a den! It's great for siblings to work together as it requires a little bit of team work.
Even if it's you have one child, let them take the lead. The benefits of making a den is all about communication and problem solving, they can give you jobs to do, my kids love bossing me around!
Make Nature Clay Faces
We absolutely love playing with clay when we are in the woods. The kids make little fairy doors, faces and so on. Clay
is relatively inexpensive and can go far if you save it in an air tight container.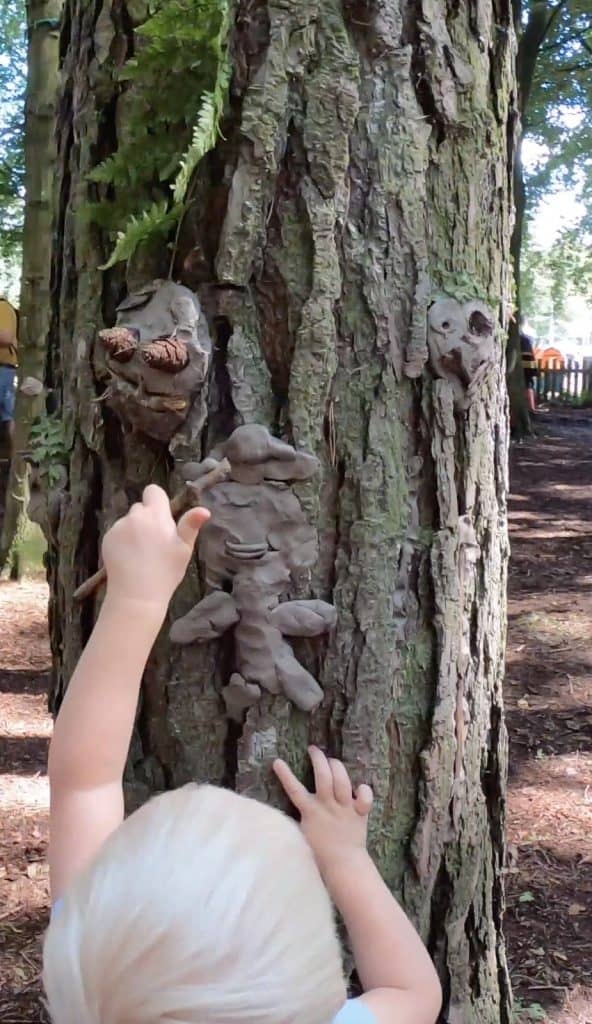 Again, you can do this in the comfort of your own garden or balcony. if you don't have a garden, they can do it in the woods. You can pick up some clay here .
Turn Nature Into Art
When you do go for a walk in the woods, keep every single treasure you find. Whether it's acorns, conkers or pine cones that are otherwise just lying on the ground. Collect a few so you can make crafts at home with them.
If you go onto Pinterest and type in pine cone crafts. you'll see a tonne of ideas. I often let Esme have a scroll to see what she'd like to make herself.
During this period, having a good stash of art supplies is probably vital. This is the one thing that's really worth spending a few quid on.
Home Crafts For Bored Kids
If woodland walks is not an option for you, getting crafty at home might be better. Like I mentioned, having arts and craft supplies are going to be vital to your sanity right now.
If you don't have a whole lot, maybe get a pre-made pack that has a selection of a few different things. You can check out the arts and craft packs here.
Keep things like loo rolls and egg boxes (if you eat eggs), old cartons and cardboard boxes for additional supplies.
The best piece of advice I can give is to have a solid ideas of the craft you want to do with your child. If you need inspiration, checkout this craft ideas book here.
We've been homeschooling for several months now and I realised I need to be really clear with instructions and make it age appropriate.
I do lots of prep before I even give the kids the tools to make something. I also give them an example craft to see how to make it. I find this a really helpful approach to keep them interested and ensuring they don't get frustrated.
Our daughter is a complete perfectionist so I find doing the tricky parts such as cutting out in advance helps to keep her happy and engaged.
Think about upcoming holidays such as St Patricks Day, Mothers Day & Easter, This will give you inspiration. Use Pinterest to research ideas of crafts. Again prep is key and trying to make the activity age appropriate.
Make A Photo Book
We are all guilty of living in a digital age and photos generally stay inside our phone. Now is the perfect time to make a photo book, or simply print some photos out to stick in an album
.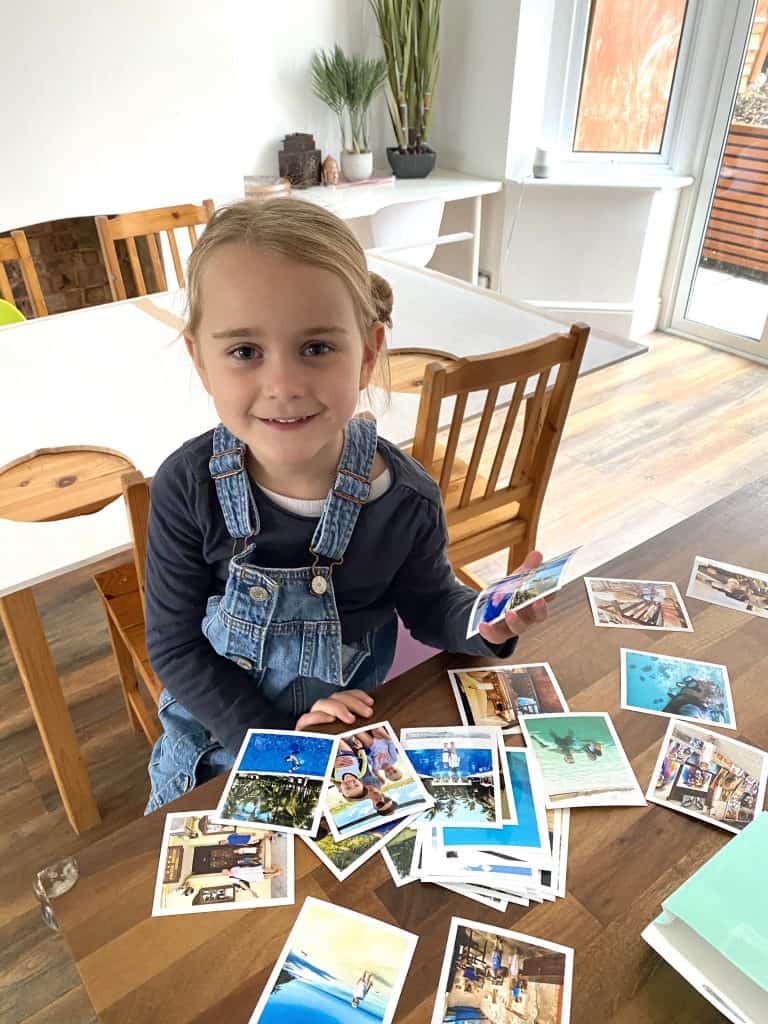 We did this just the other day with our Tanzania photos and Esmé just loved it. It's so nice for our kids to have something physical to look back on.
We have several photo books from over the years, they are such great keep sake treasures for the kids, not to mention how fun they are to put together.
Do A Fun Project To Prevent Bored Kids
We are currently doing a project about our recent Tanzania trip. Depending on your kids interest, get some old magazines, newspapers, print some photos and buy a scrapbook
to do a fun project.
It could be about climate change, a place you've visited, something historical, whatever really. I find doing something about a recent trip nice as we also have an opportunity to reflect and reminisce.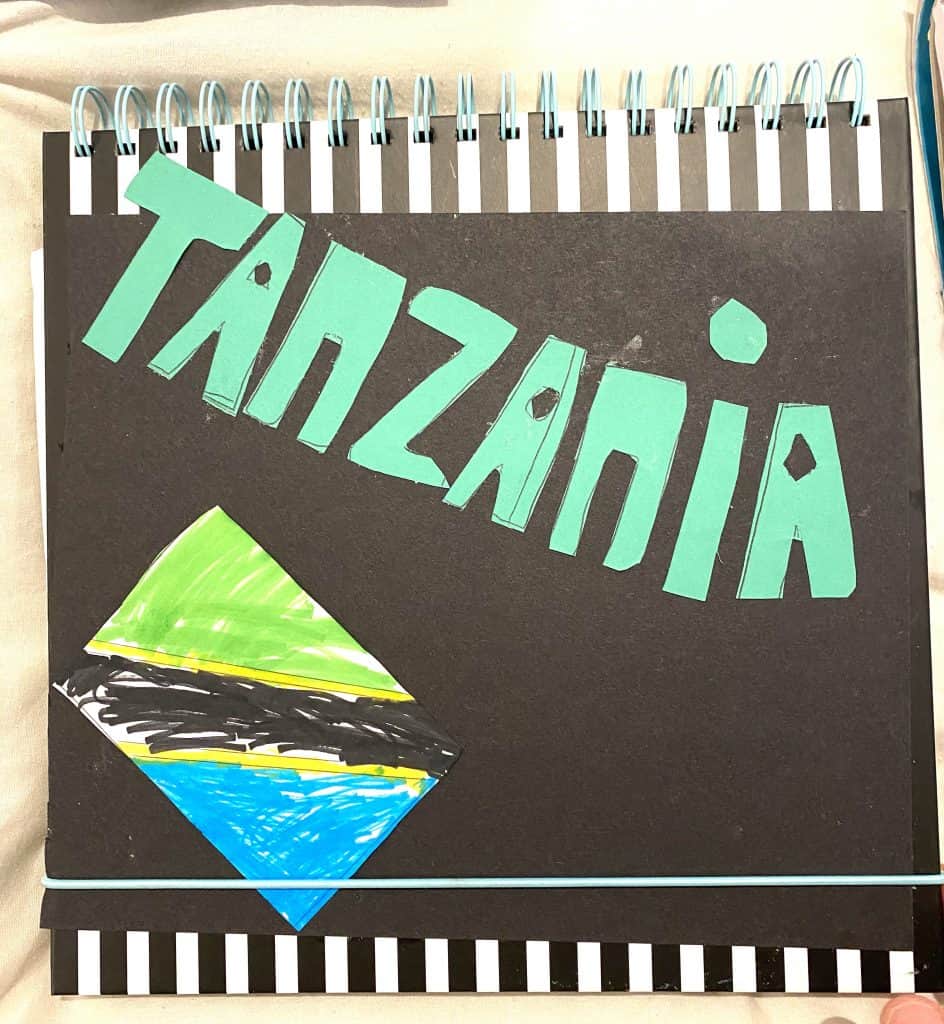 We manage to do about a page a day. In general we look up some facts about the culture, landscape or wildlife and include a couple of those. Esme draws pictures and sticks photos into the book as well.
I find this a great way of working on her hand writing and teaching her some random facts.
Do Science Experiments
We have a KiwiCo subscription that we receive monthly as part of a subscription. It's age appropriate and comes with a fun activity as well as a magazine.
The magazine lasts for ages with lots of things to do throughout the month. Each set has so many different learning points. Wether its chemistry, gravity, speed, movement or light, it's always so much fun and engaging.
It's one of those kids activities that us parents love doing just as much! So far we've made our own pinball wizard machine, focusing on the concept of time.
We've also made a whale looking at the mechanism of their teeth and how they collect krill.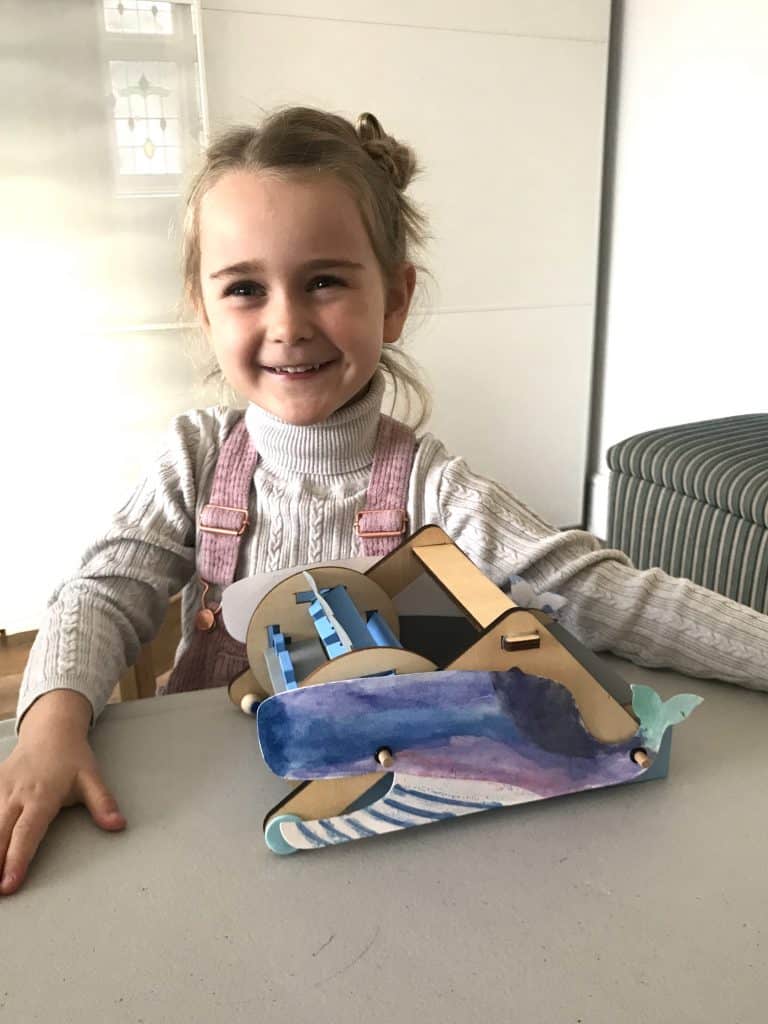 The whale activity was our favourite as Esmé was give water colours to paint the whale and learned how a hoover works.
It was nice how we could relate the activity to different things, not just how the whale eats. This also gave her some insight into mechanics.
You can buy one off Kiwico crates but the we find the monthly subscription better value for money.
The contents of the box are high quality, it's not the sort of thing that falls apart after one use. Check out the website to see if you like them here, they deliver worldwide.
Keep Up With Their Education
If you are worried about your kids stopping their education, you can really easily keep it up yourself. You don't need too many resources. At the moment I actively teach my daughter maths, phonics, reading and handwriting every morning.
This is when she is at her best to engage with learning I find. Every kid is different and you can try a variety of approaches to get it right for you.
I use the Reading Eggs app! It teaches Esmé reading, writing and maths. There is also a tonne of free bonus material for parents, so you can print out sheets related to each lesson. This allows us to also work on her handwriting.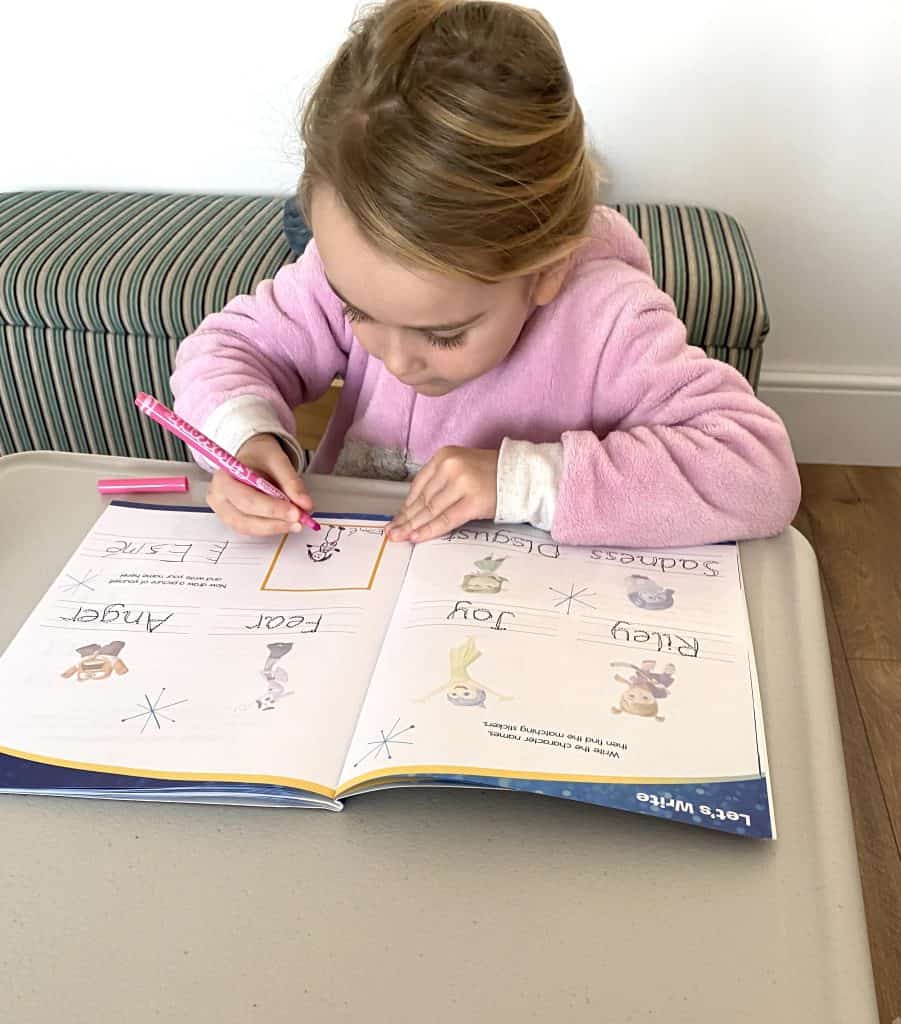 I don't just give her the iPad and tell her to get on with it, I generally sit with her and help. It's more of a tool for me as a parent than anything else.
Its really fun, there are great characters throughout the programme and I have managed to get my 5 year old reading purely through using this app, we are really happy with her progress. To check out the app and the program see here.
Doing just 20 minutes to half an hour a day is plenty, especially if you are sitting with them going through it. You can do another 20 minutes of math seeds on the same app at a different point in the day to break it up.
You really don't need much more than Reading Eggs, it literally gives you everything, including printable worksheets. We also loved that we can add both of our kids onto the one account.
Teach Your Kids To Cook
I'm not going to lie, I am a clean freak so anything that involves mess inside the house makes me agitated – truth! Similar to doing arts and crafts I've found doing as much as prep as possible also reduces the sibling rivalry.
When I am cooking with both of them, say for example a cake, I divide the ingredients in two and give them both a little bowl of sugar, flour etc.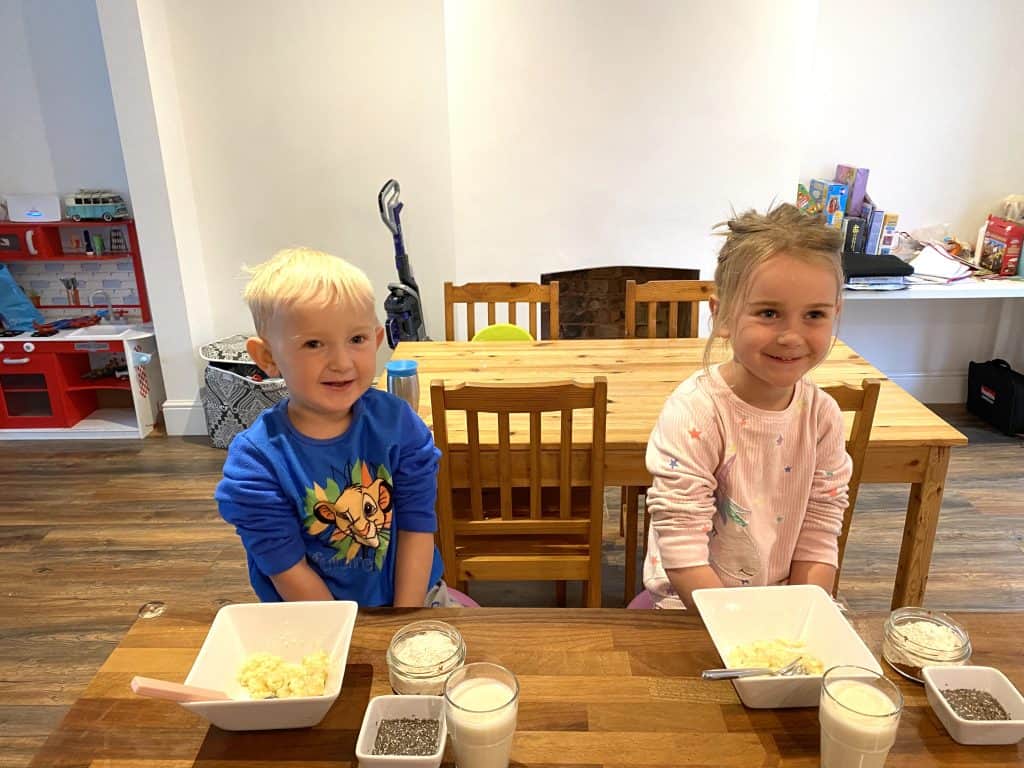 I always find the sibling rivalry the hardest to deal with when it comes to cooking. However I have found a handful of things that work well with two strong minded kids.
Pancakes, I allow them to make their own batter.
Pitta pizzas under the grill they can make with toppings themselves.
Cauliflower wings, again they make the batter and dip the cauliflower!
Muffins
Homemade hummus, it's so easy to whizz up in the blender
Start Learning A Language
If you guys have been reading my content for a while. you'll know we are big fans of trying to teach our kids a second language. We are trying to teach them Spanish even though we speak very little of the language ourselves.
We use The Cultured Kid for learning Spanish and we really don't need to know much of it ourselves, we also learn from the programme.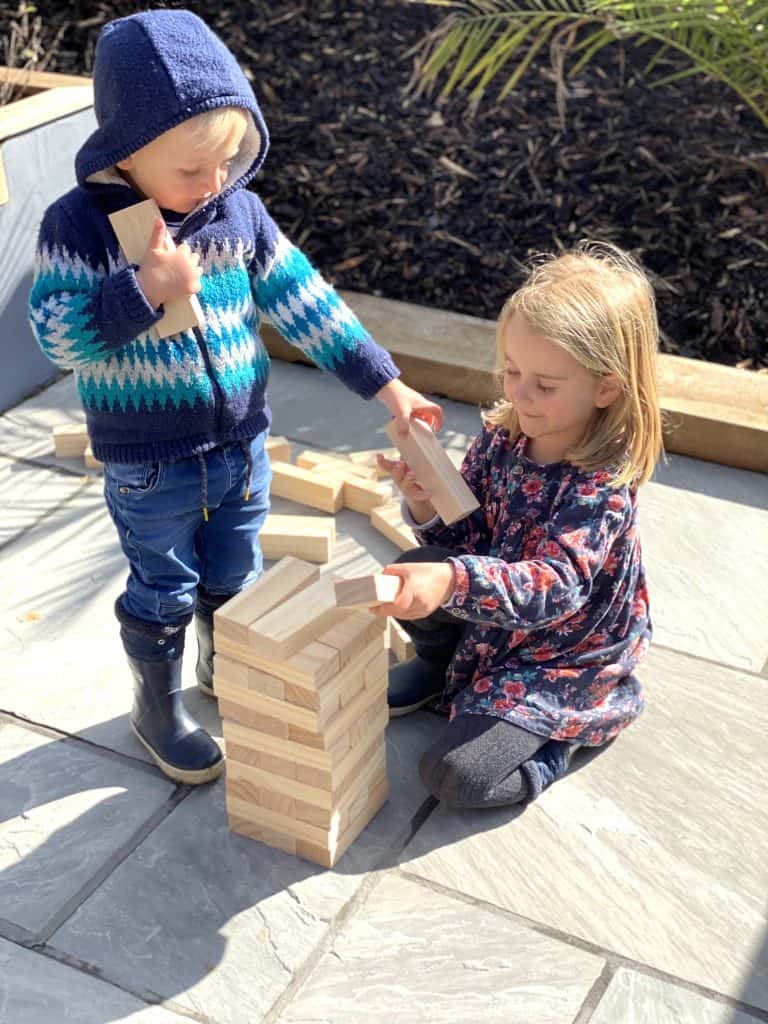 They offer other languages as well which is really great. It's fun and engaging, again a perfect time to make a start with something like this if it's been a dream of yours.
Check out the programme here, they give you a refund if you don't like it within the first few days.
Keep Em Quiet Packs
I usually get a Keep Em Quiet pack when we are going on a long journey but these packs also work great at home. They are full of fun activities that are age specific. Sometimes they last us the entire holiday and the journey back home.
If you are at a loss and just need something to last a few days, Keep Em Quiet bags are great. Check them out here.
So there you go! A tonne of free activities followed by some educational tools out there that we can testify to as regular users.
We hope you find this article useful in these tough times and please do comment with anything else you can suggest for other families out there.
Disclaimer: There are affiliate links in this post, by using them it will help us out hugely for the loss of earnings being a travel website. We have been hit hard by coronavirus but feel very happy we can share our home education ideas to support your time at home with your kids. By using affiliate links it does not cost you any extra, we just get a small proportion of the sale.