Devon is a part of home I have wanted to visit for a long time. However, we always seem to jet off to another country. I was so happy to be banned from flying for a while due to impending child number two! I've discovered so much of our back garden for a change. To say I was blown away after a weekend in Salcombe, Devon is an understatement. Numerous times I've heard how amazing it is but I hadn't imagined just how beautiful!
In truth, I didn't really feel like I was in England when I was in Salcombe. It felt a little bit like the Mediterranean. Based on an estuary, is this quaint and colourful village. It's a very slow pace of life which only means utter relaxation. The views of the estuary from almost everywhere in Salcombe are stunning.
The water is the clearest and bluest I have ever seen in this part of the world. With a backdrop of green rolling hills and blue skies on a nice day, it is totally picture perfect. It was really tempting to have a swim but the fear of freezing my backside off was too real.
A weekend in Salcombe, Devon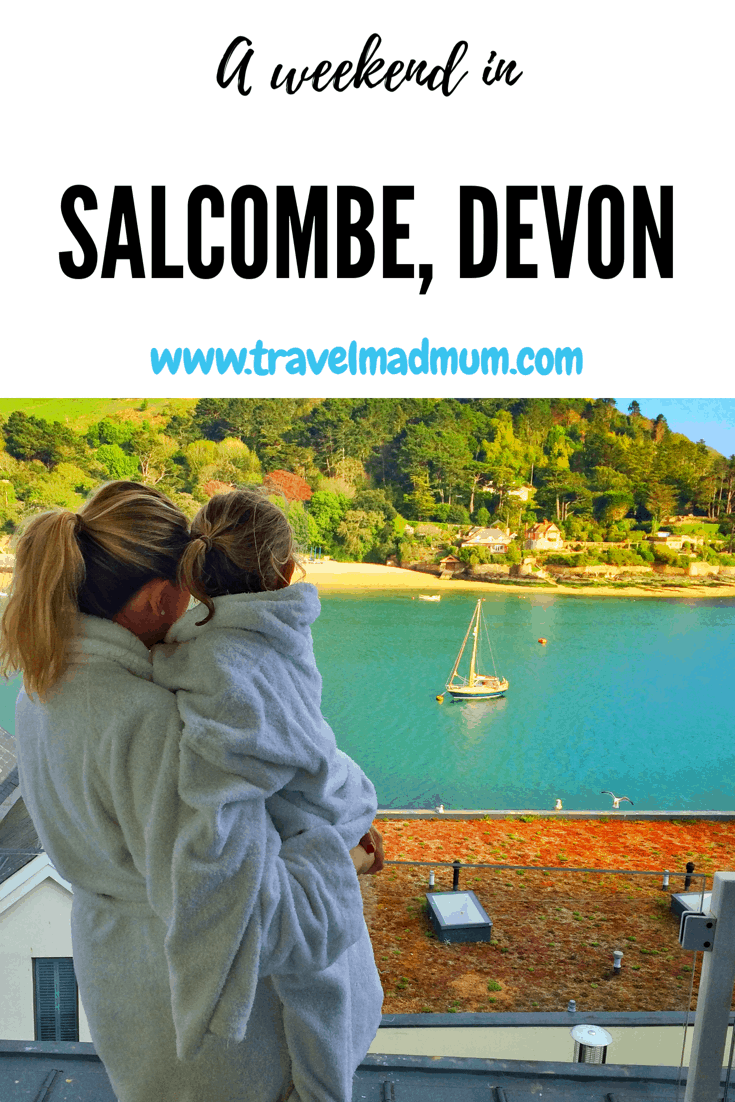 Eat
Our best find in Salcombe for food was The Victoria Inn. They most certainly have the family at heart when it comes to the environment and menu. It's a large cosy traditional English pub right next to the harbour. If you visit on a nice day, the beer garden is absolutely fabulous, fully equipped with a kids playground and some quirky seating made out of rowing boats. Not to mention the coop for the chickens.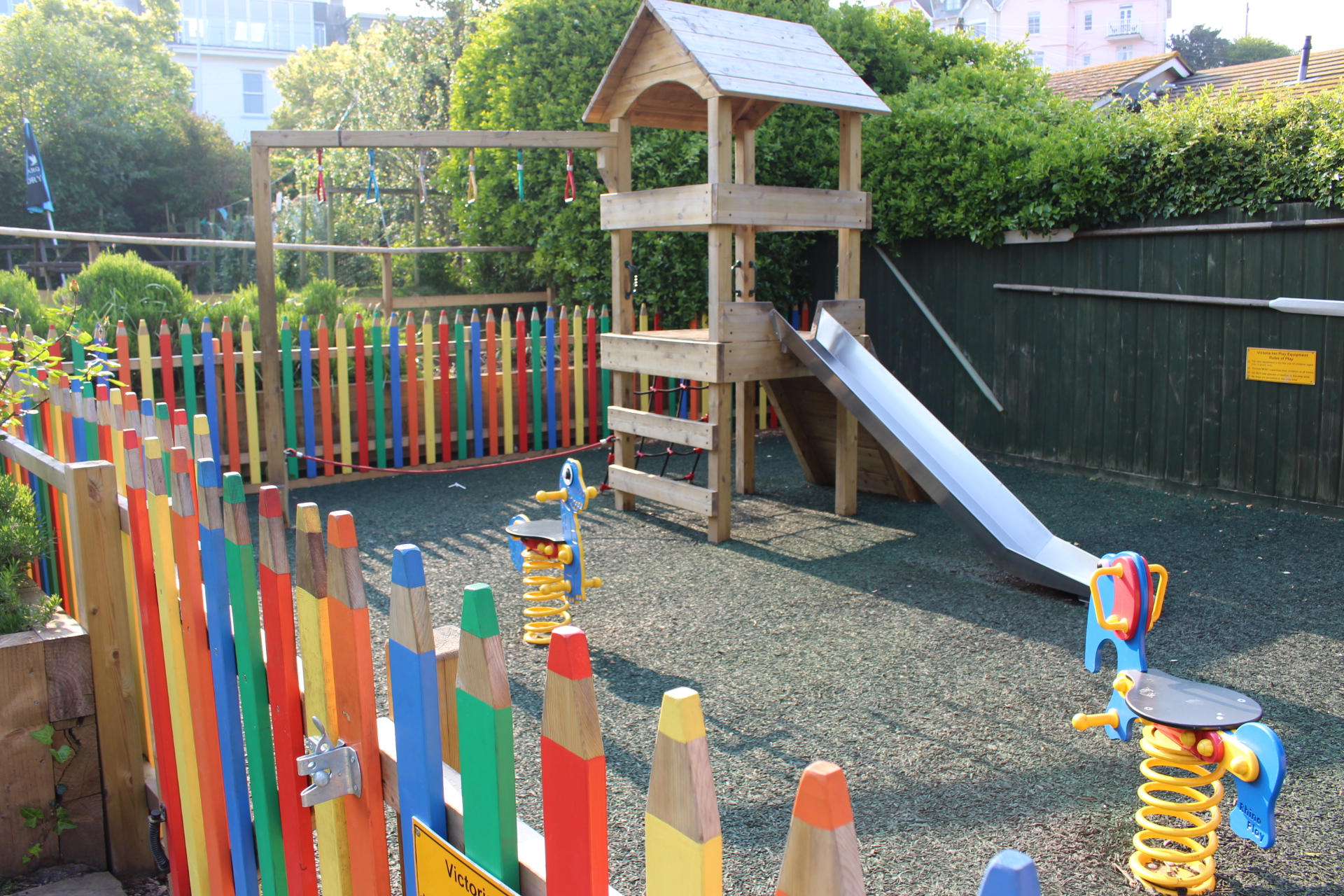 Inside the pub on the 1st floor, where we sat, they have a toy box for kids to use. We all know how difficult it can be to take a toddler out to dinner sometimes. It was so nice to eat our dinner at a normal pace rather than wolfing it down whilst she played with us.
The menu was locally inspired with some great seafood options and traditional English dishes. I opted for the dressed crab starter that was served with warm fresh bread and some butter. This was by far my favourite dish I had in Devon. Hubby had baked camembert with the same bread, total indulgence.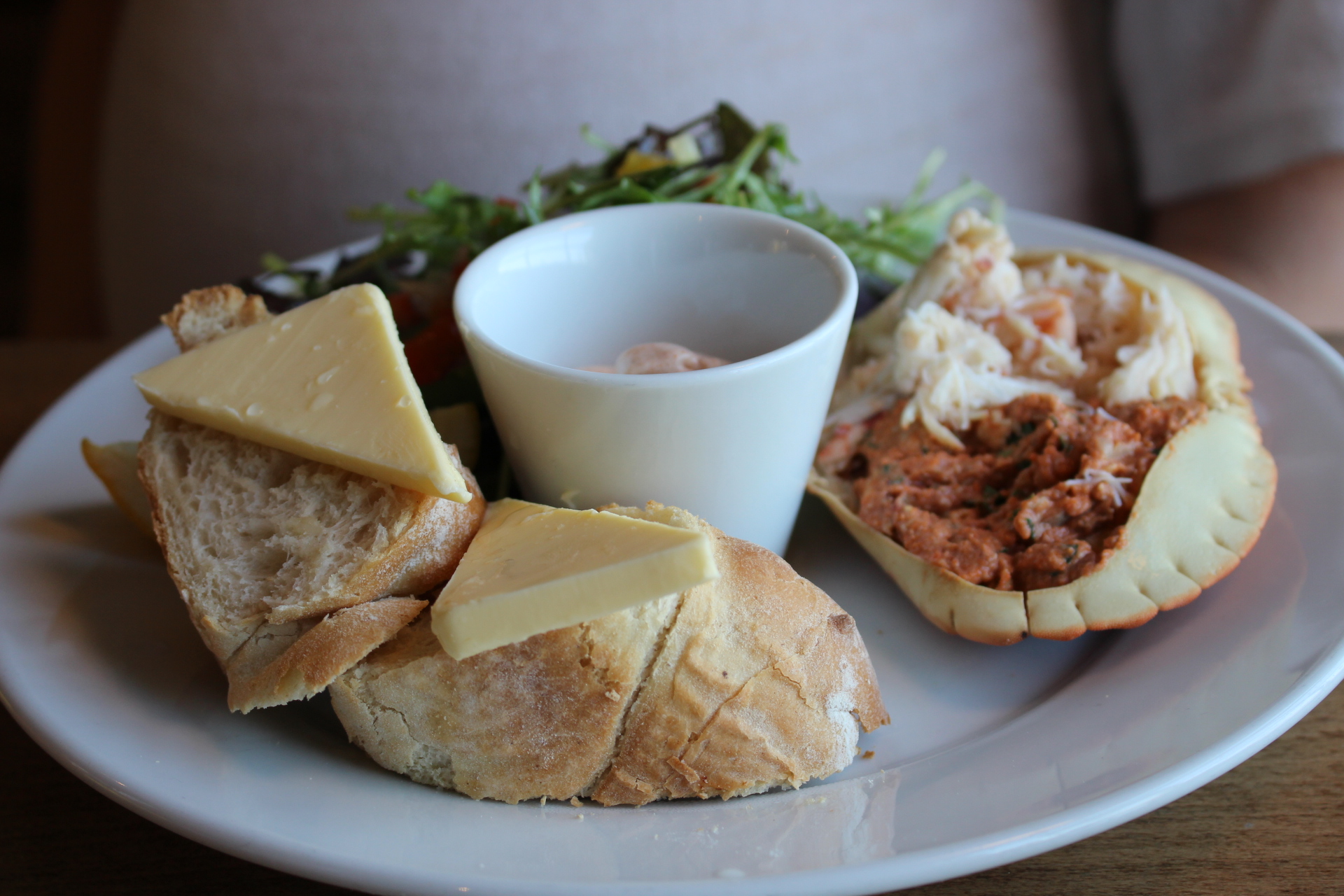 This is going to sound insane, but I have never been to a restaurant in England where they have an under 3's meal. It's so clever. They serve little nibbles of everything and that's exactly how our daughter likes to eat. She's a grazer so it worked perfectly.
It actually gave me some ideas to take away. All served on children's crockery, I loved that it wasn't a greasy plate of chicken nuggets and chips. Instead it had carrot and cucumber sticks, sliced sausage and some breadsticks as a few examples.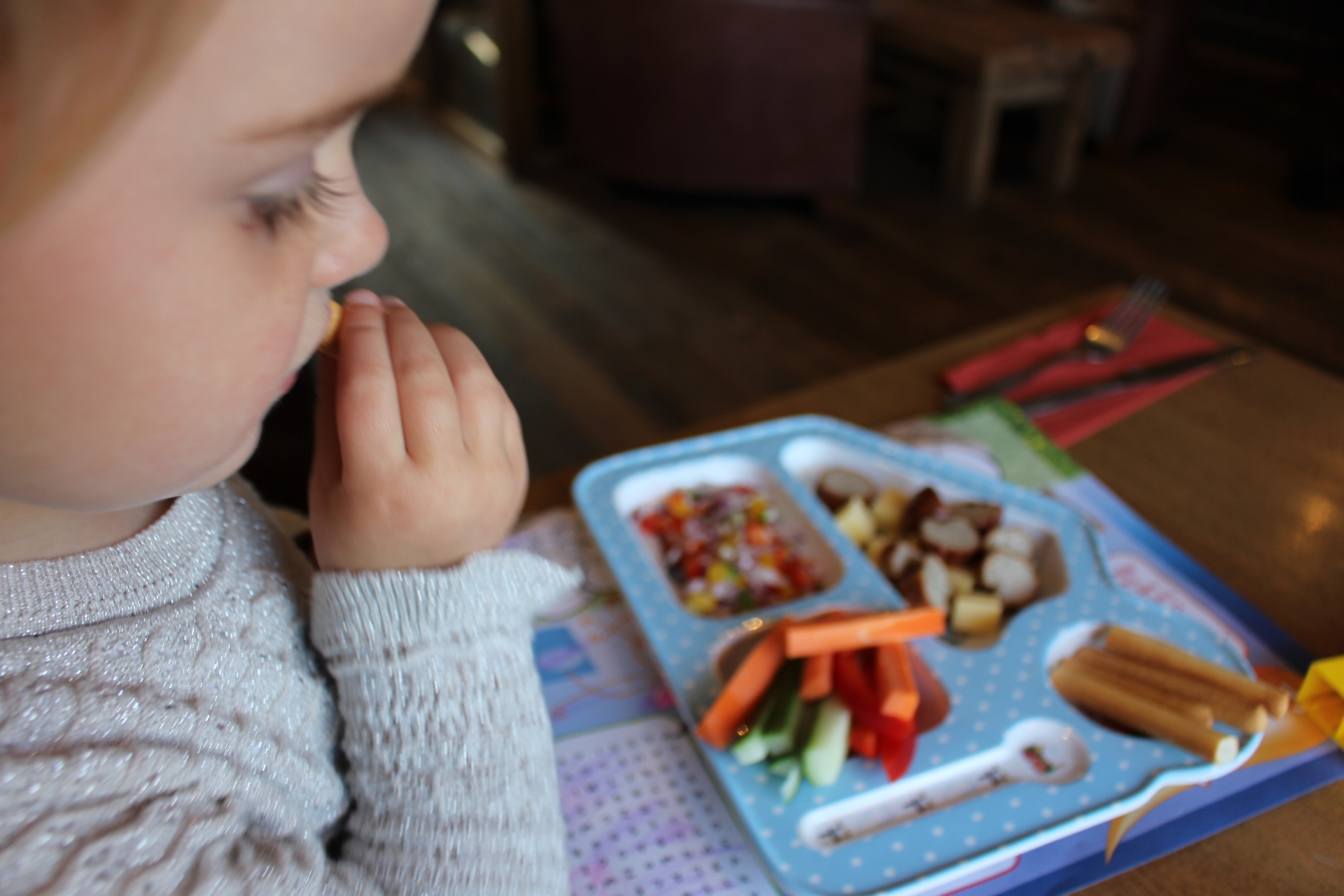 The service was great and the food is reasonably priced in comparison to some other pubs in the area.
Sleep
Salcombe Harbour Hotel
We stayed at the fabulous Salcombe Harbour Hotel & Spa. Based on the estuary, it is in an ideal location to access the village and admire the stunning views of the beaches on the other side.
On arrival in reception the open fire and modern marine decor provides a warm and welcoming feel. Check-in is from 3pm, if you are a little early, a complimentary drink can be enjoyed in The Jetty restaurant. The outdoor area is based right on the water, a lovely place to chill and soak up the atmosphere.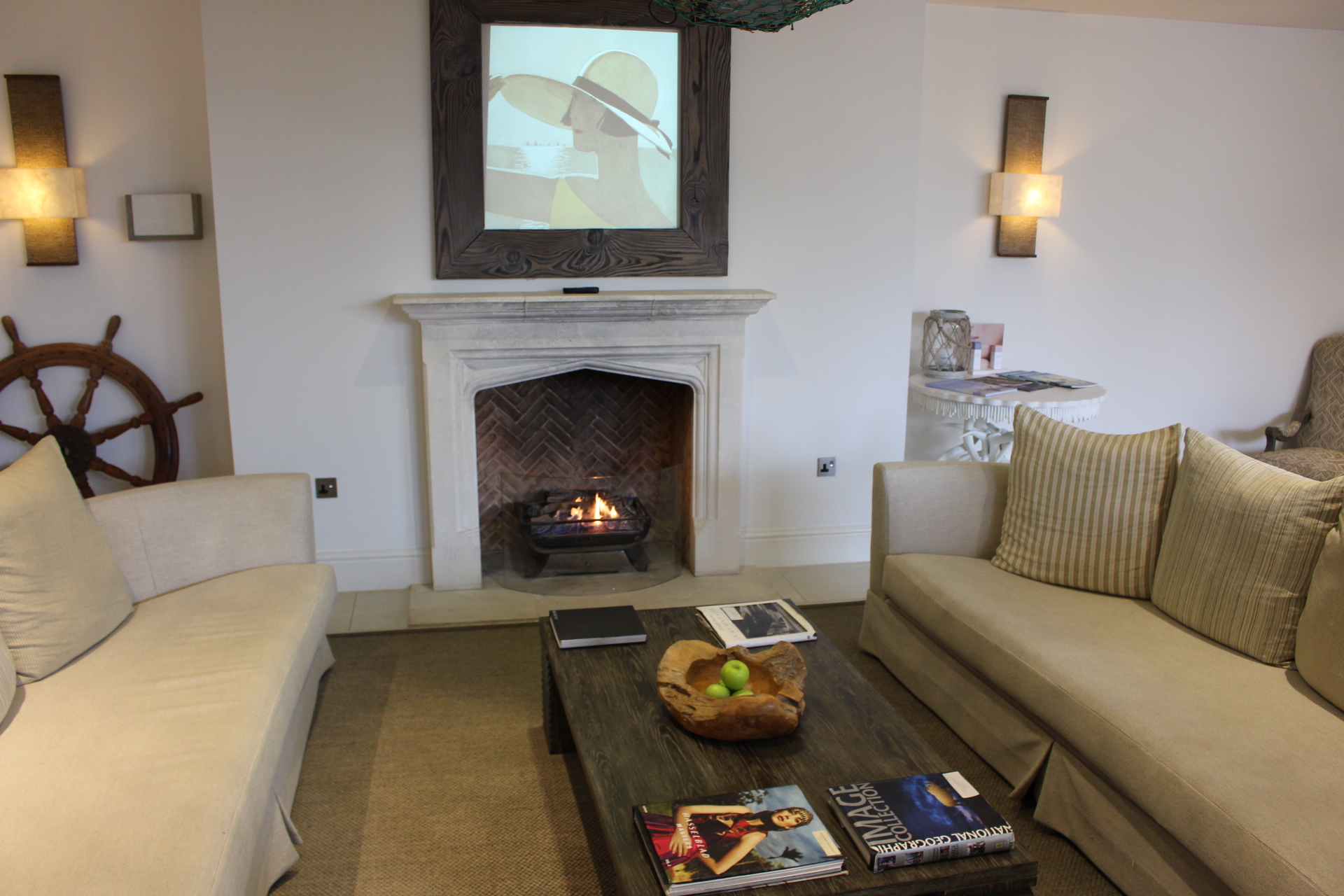 Amenities
If you have a busy toddler like us, there is a cinema room within the hotel that has two movie showings daily. It could be a welcomed activity if it's a rainy day or if you are waiting to check-in. Although it is a spa hotel very much geared towards relaxation for adults, I do love that they are inclusive of children. At reception they have a section with buckets, spades and fishing nets that little ones can borrow for a day on the beach.
In the Jetty restaurant they also have some board games that could be used by the adults or older kids. Our daughter LOVES swimming so she was in love with pool. It is downstairs from the spa so I wouldn't call it a play pool. They have certain times kids can be in there which is fair enough. The times were appropriate and worked well with her routine.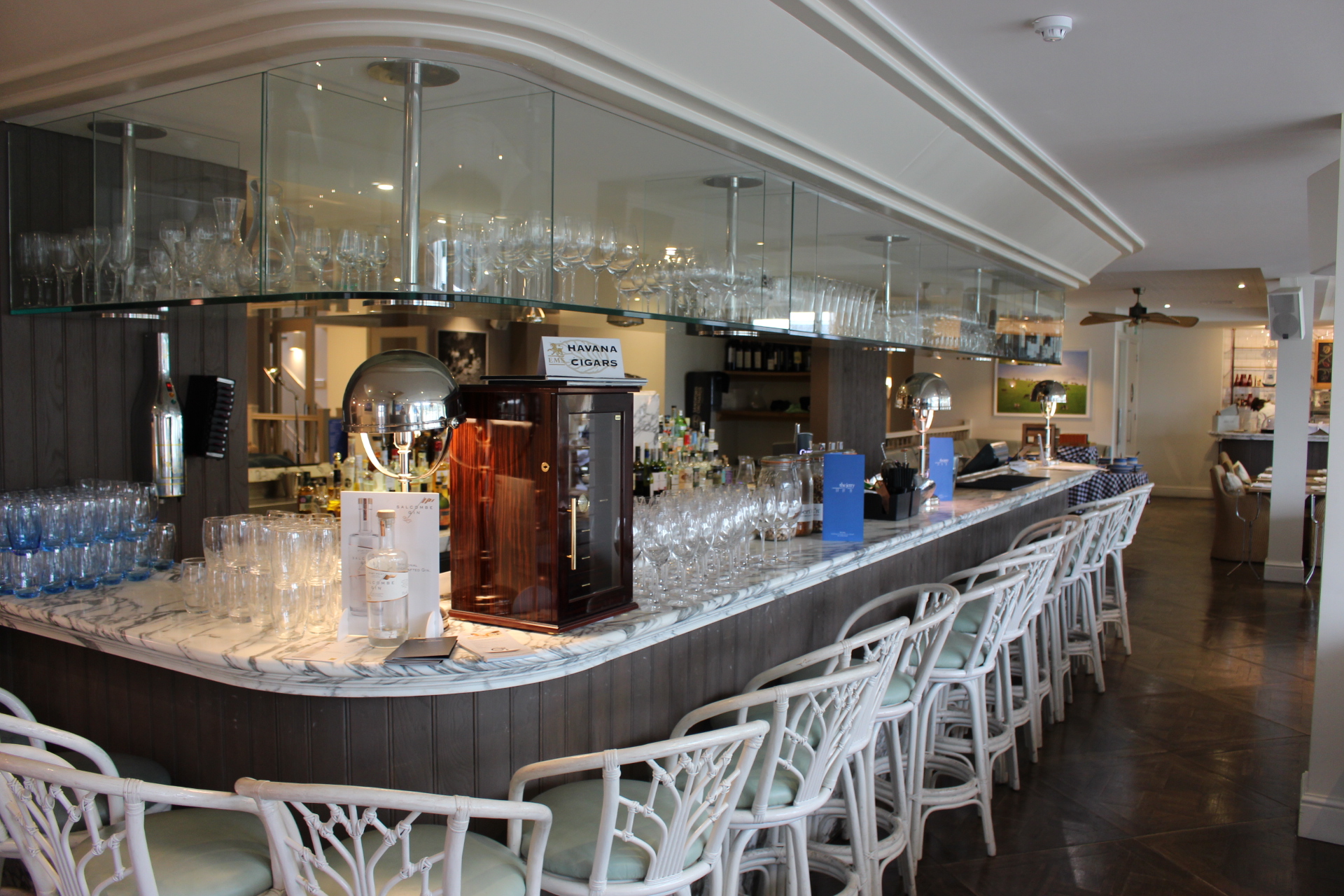 The swimming area is equipped with a beautiful jacuzzi, steam room and sauna. Around the edge of the pool is several loungers for relaxing. There are lots of complimentary fresh fruits and ice cold waters are infused with different flavours. It was the ultimate chill out area.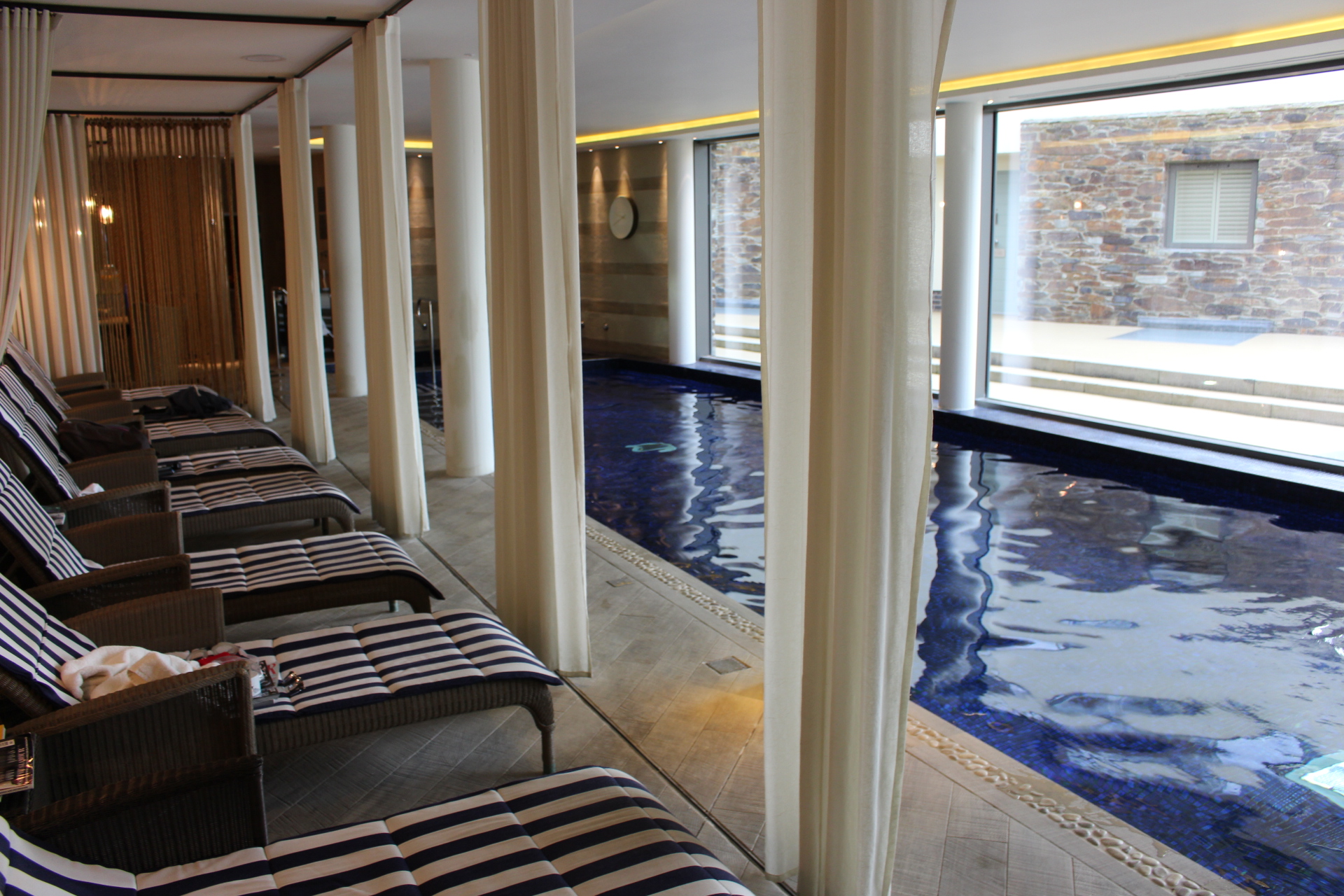 There is also a 'pebble room'. A completely tranquil area with giant cushions that looked exactly like a pebble. Soft relaxing music is playing, it's definitely somewhere I could lose myself in a book for a few hours.
The spa
If you go to Salcombe Harbour Hotel, it would be rude not to have a treatment. I opted for the 90 minute pregnancy massage and it was such a treat. The therapist was adorable and took the time to really understand every ache and pain I had from pregnancy. The massage room was beautifully decorated. The lighting was perfect with glowing candles dotted around the room.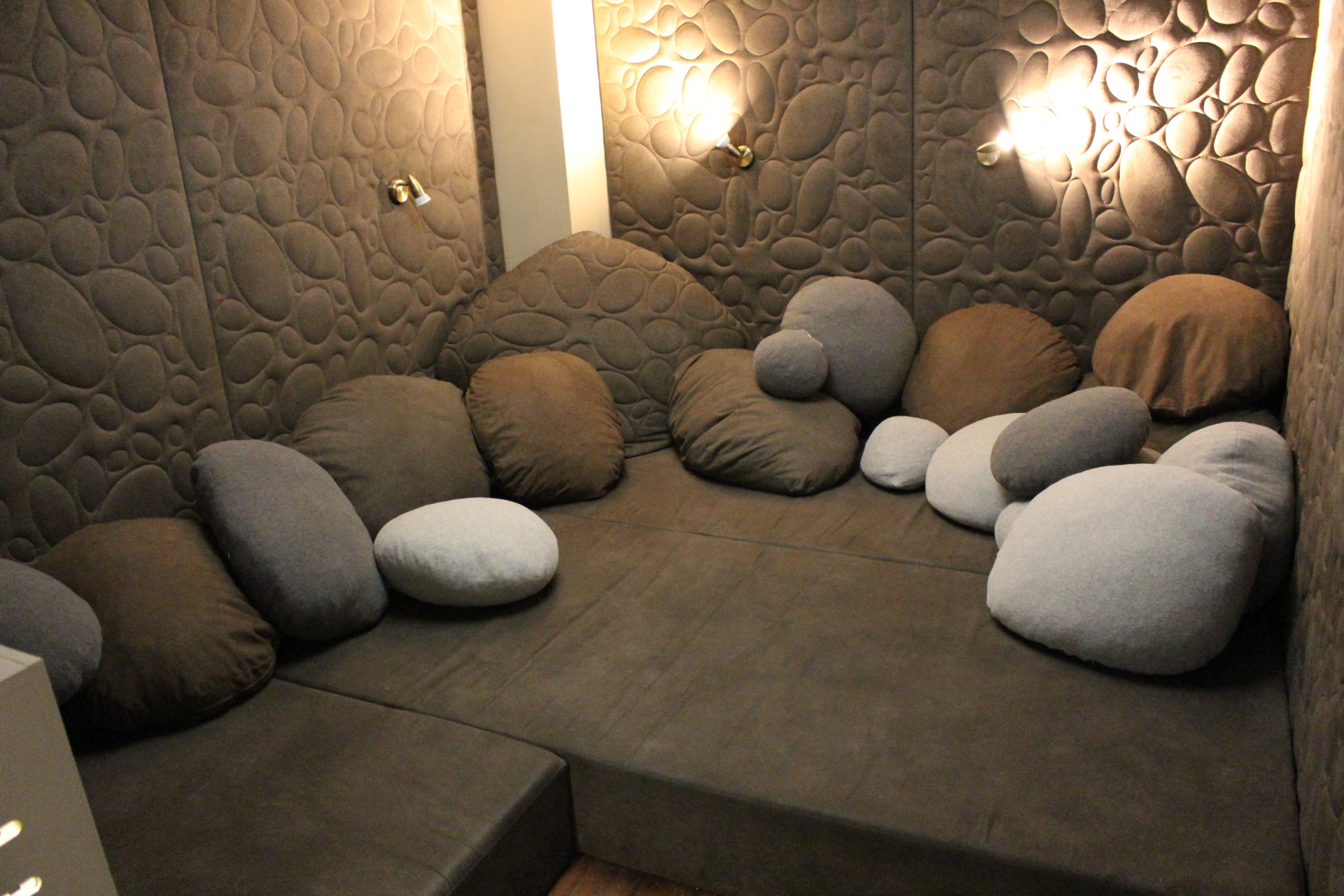 They use the luxurious ESPA range which felt incredible on my skin. The treatment was perfect in every way of the word. I just wish I could be that spoilt more often.
The room
Our room in Salcombe Harbour Hotel was stunning. It is a very new hotel, so as you can imagine it was super modern but with a marine theme. It was a great size for the three of us. The bed was super super king and there was also a fold-out sofa bed. We opted for a cot to keep our little one in bed of a night time!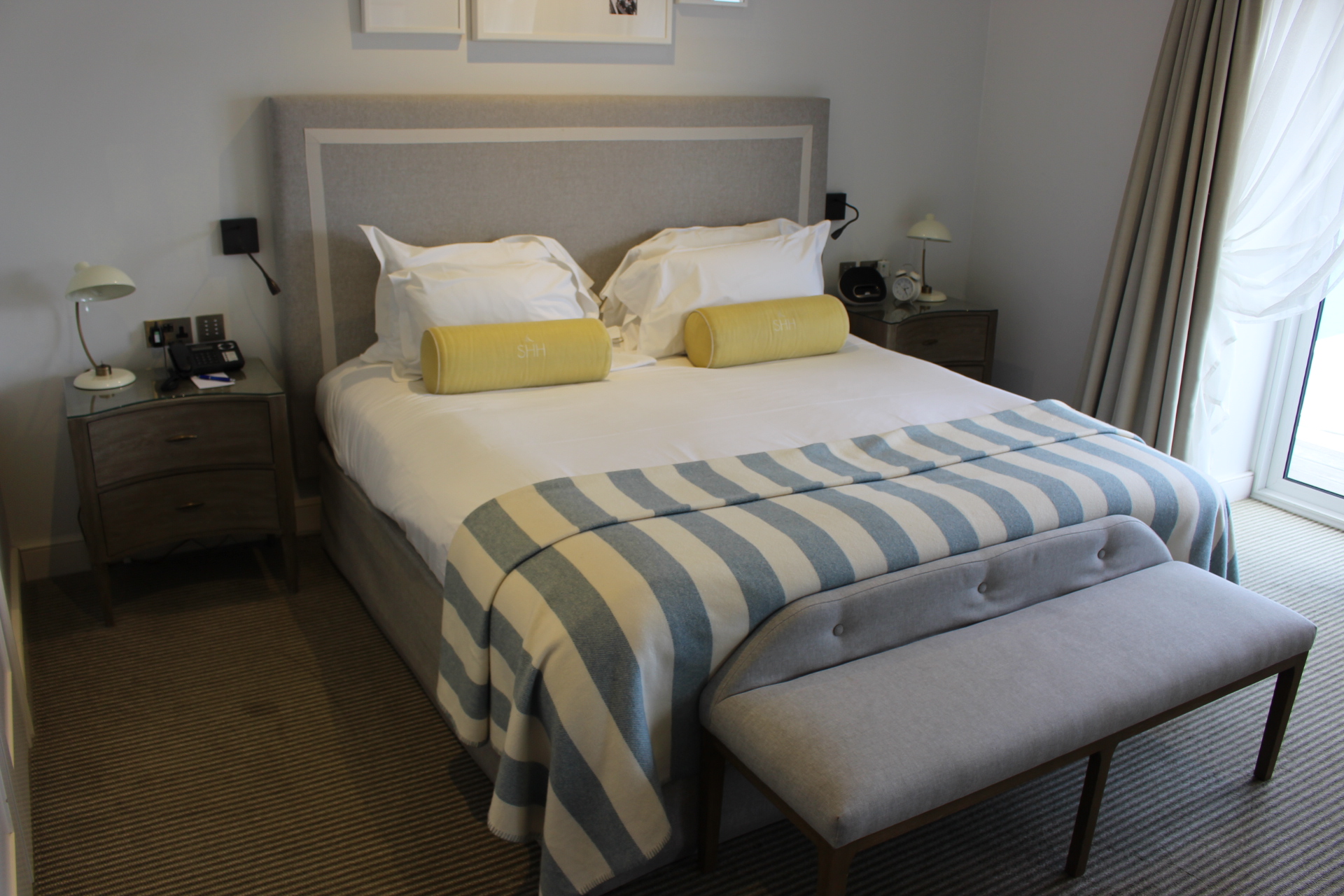 There was plenty of space to move around and some nice little treats throughout. For example the slippers and robes, or the espresso pods for fresh coffee. Not to mention the complimentary gin and sherry, of course hubby enjoyed a tipple.
My absolute favourite was the massive private balcony with the best views and beautiful outdoor furniture to laze around on. Our little one loved sitting out there watching the boats go by on the estuary. It was super relaxing.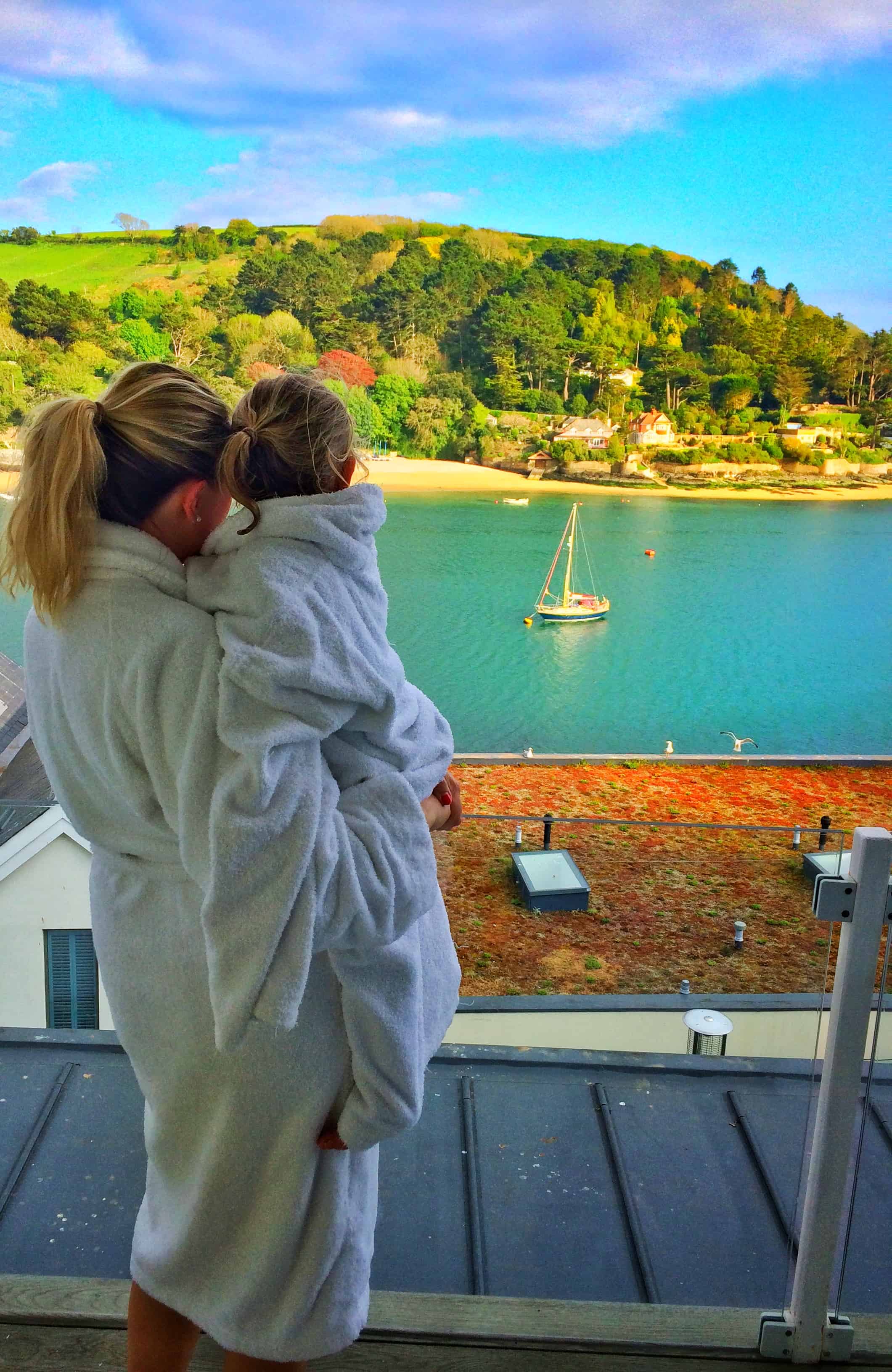 Breakfast
With any luxury hotel, you are likely to be served a luxury breakfast, particularly evident from the variety of Dorset cereal flavours! I quite often judge the quality of a breakfast on the fruit options. If they are juicy, fresh and colourful that is always a good start. Needless to say I wasn't disappointed.
There were some buffet breakfast options such as yoghurts, bread, cheese, salami and fresh pastries. However most of the options were made to order. Firstly guests are served with warm toast and coffee or tea.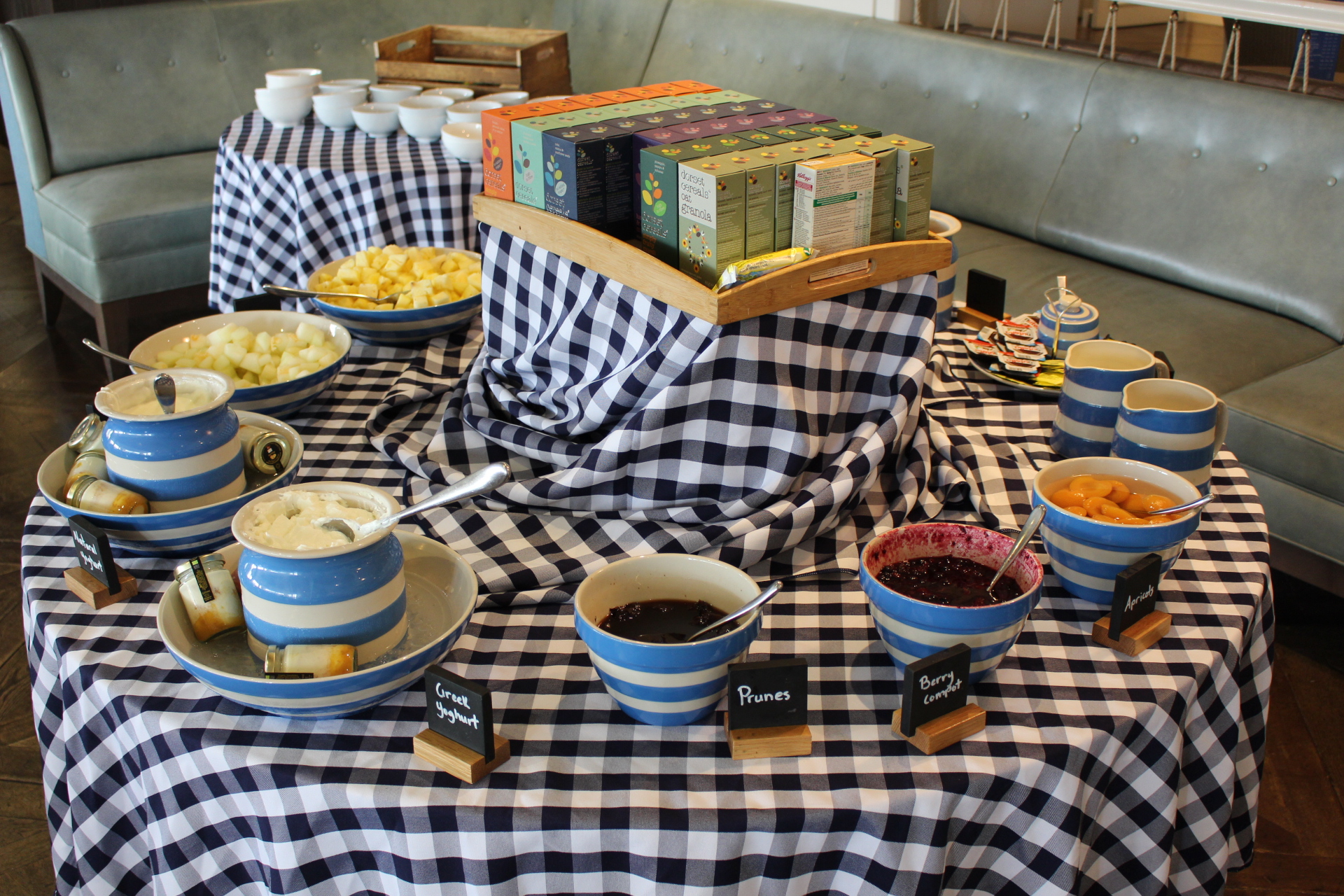 The options for made to order were endless from vegetarian or a full English breakfast to smashed avocado on toast. The meals were impeccably presented. I have no idea how one makes a full English look so pretty but they totally nailed it and subsequently I felt less guilty for eating it! Breakfast is served in the Jetty Restaurant where they also have a lunch and dinner menu.
Play
Salcombe is small, so to us, it was all about the relaxation. There are plenty of hiking trails in the area. Kids can enjoy crabbing which seems to be a popular past time of some of the locals. We took the ferry across to the other side of the estuary to have some beach time which was really lovely.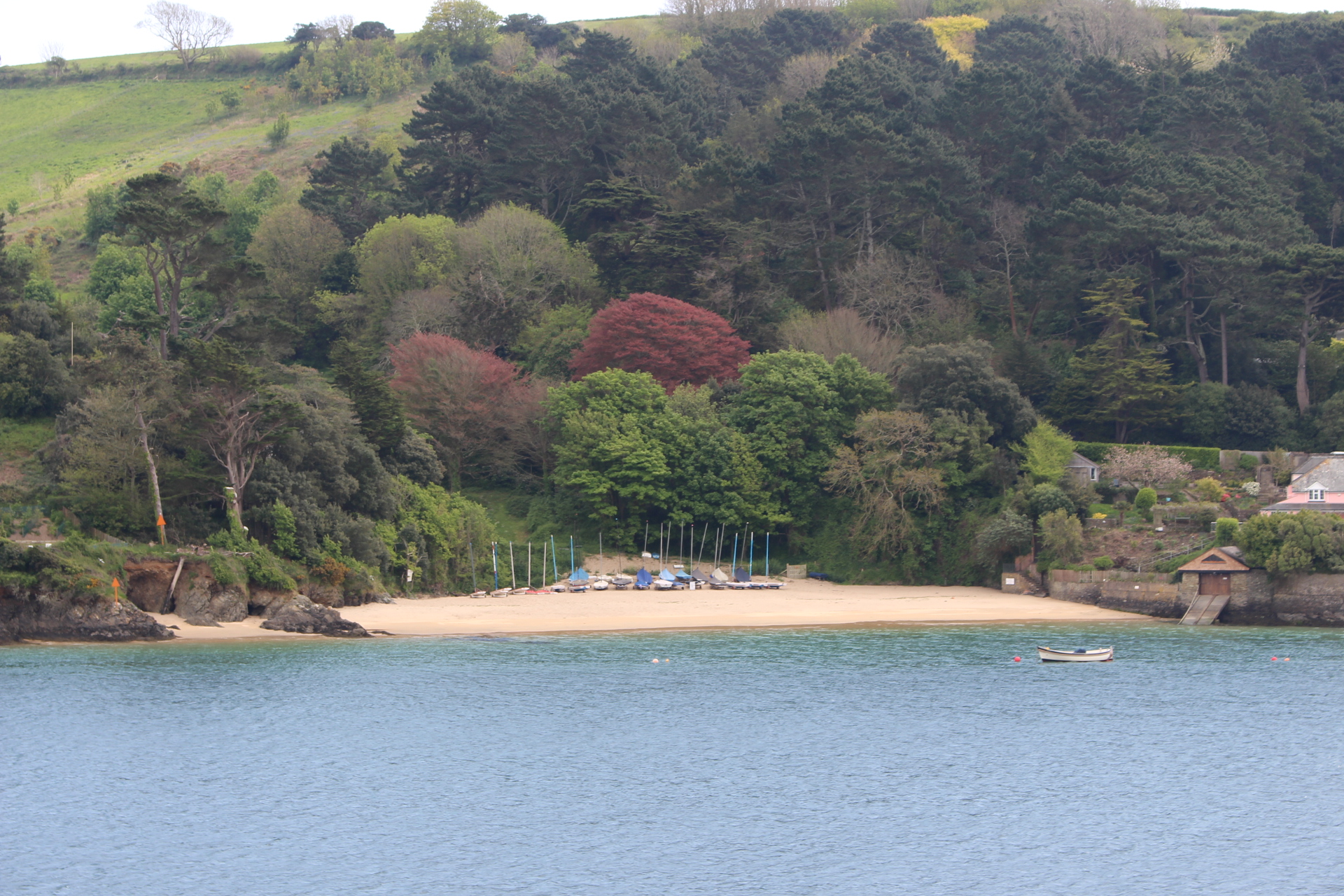 There are options to rent out a small boat to explore the estuary further upstream. We didn't have the chance to do that as the wind was a little too much when we were there. Otherwise, the town is full of boutique independent shops and there are plenty of countryside activities a short drive from the town.
Have you spent a weekend in Salcombe, Devon? What did you think?
You may also like some other UK inspiration, click here.
Salcombe Harbour Hotel & Spa is a member of the Devon Hotels & Restaurants Association which represents more than 50 of the area's quality establishments. Take a look at some of the other fabulous hotels and restaurants in Devon.
Disclaimer: We were provided with a complementary stay at Salcombe in return for a written review. All thoughts are my own and have not been influenced.