We decided to ease ourselves back into the travel scene after the arrival of baby Quinn just three weeks ago. Given it was Travel Mad Dad's birthday, we wanted to do something special but easy on us sleep deprived parents. Spending a night in a family friendly hotel, not too far from home, seemed like the best option. The Docklands, in London, is relatively unexplored territory for us as a family, so we booked a night at Novotel London Excel.
With so much to do right on the doorstep of Novotel London Excel, we didn't have to exert ourselves too much to entertain the little ones. Beautiful Greenwich Park, Cutty Sark, the Royal Observatory and the Emirates cable car are just a few of the local activities that are great for families. Novotel also offer free accommodation and breakfast for children under 16 years old and 50% off additional rooms. This makes hotel stays with families so much more affordable. In the usual format of eat, sleep and play here is my review after a night at Novotel London Excel.
A night at Novotel London Excel

Eat
After the not so lengthy car journey to Novotel London Excel we pulled up a seat at the lovely Upper Deck Bar for lunch. The views out over the dock are fabulous and the bar is pretty and modern. From freshly made pizzas, to artisan steak sandwiches, the lunch options were great.
I was amazed at how affordable the kids menu is, only £4.95 for a three course meal. I loved the variety of healthy and naughty options on the menu for little ones. All too often, restaurants offer the same, sausages or chicken nuggets and chips. However, the Upper Deck bar had vegetable sticks and melon stacks to start and options like frittata or stone baked pizza for main. The unfortunate part is our daughter doesn't eat such portions but neither of us were complaining when we were helping her clean the plate!
 Dinner
After some time exploring the area, we went to the Upper Deck restaurant. The long dining room is decorated with beautiful colourful rowing paddles on the walls, designer lampshades throughout and of course all the tables were decorated with glowing tea lights.
For dinner, I opted for the surf and turf, whilst hubby had the chicken wings to start and the fish and chips for main. Both were presented impeccably. The waiting staff were attentive and always ensured our drinks were full. Our little one was full up from lunch but they were more than obliging with her night time routine of warm milk.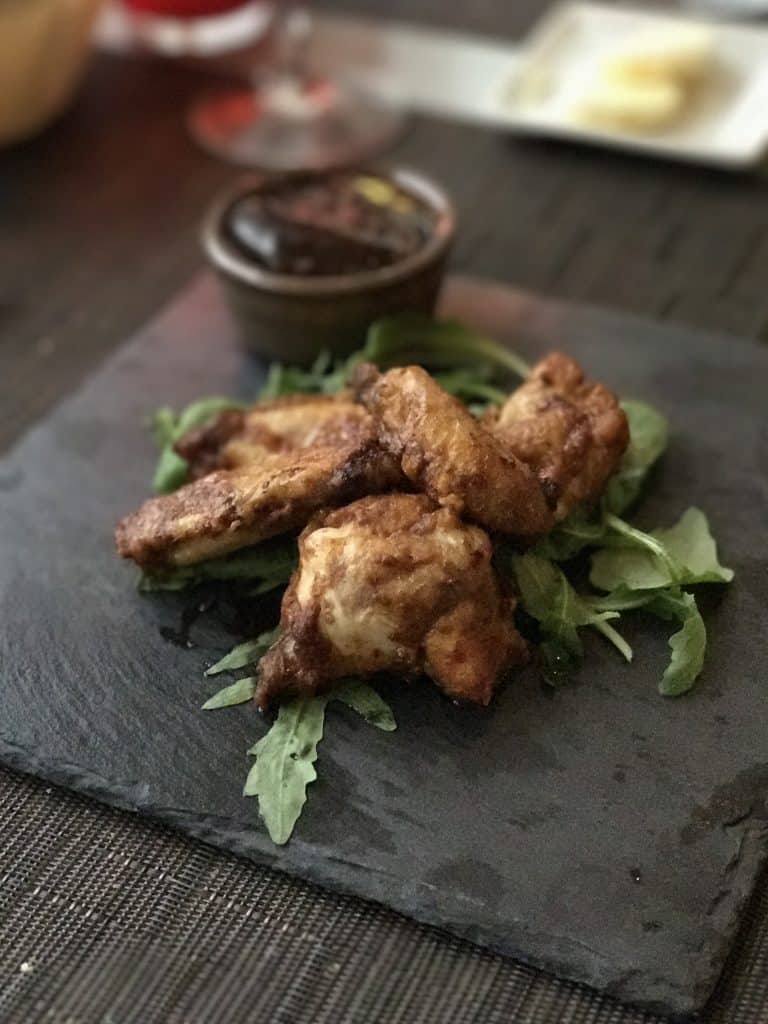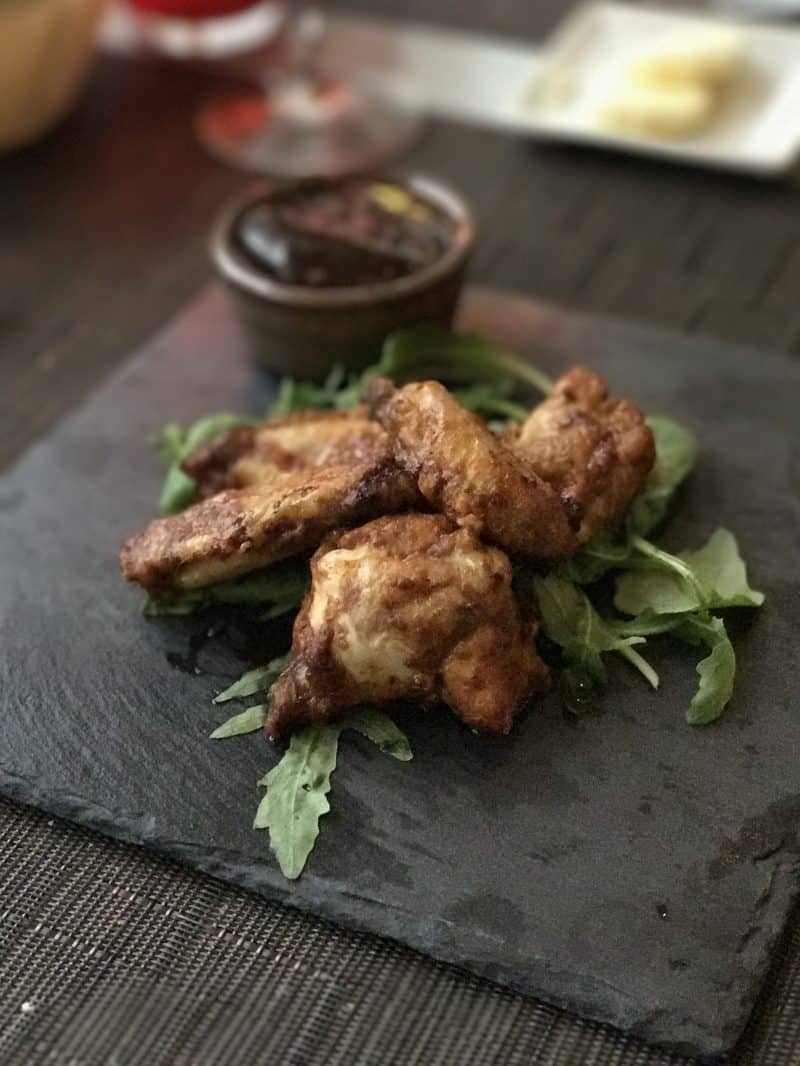 It was lush sitting watching the sunset behind the London skyline and we were super lucky the kids were well behaved. The food was great with good portions sizes at a reasonable price. Had it of been slightly better weather, we would have sat outside for some al fresco dining, such a perfect place to sip on a wine whilst catching some sun.
Breakfast
A buffet breakfast is served in the Upper Deck restaurant daily. From yoghurts, to a variety of cereals, and cooked breakfast items, there is plenty to choose from. We ordered freshly made coffees which set us up for the day. There is an option to have breakfast served in the room if you prefer lie in. The latter is not usually an option for us unless we are kid free!!
Sleep
We stayed in a family size room. We had a comfy double bed, whilst the tot had a single bed. There was still plenty of room for a cot. I loved the art decor in the room, completely embracing the history and quirks of London's docklands.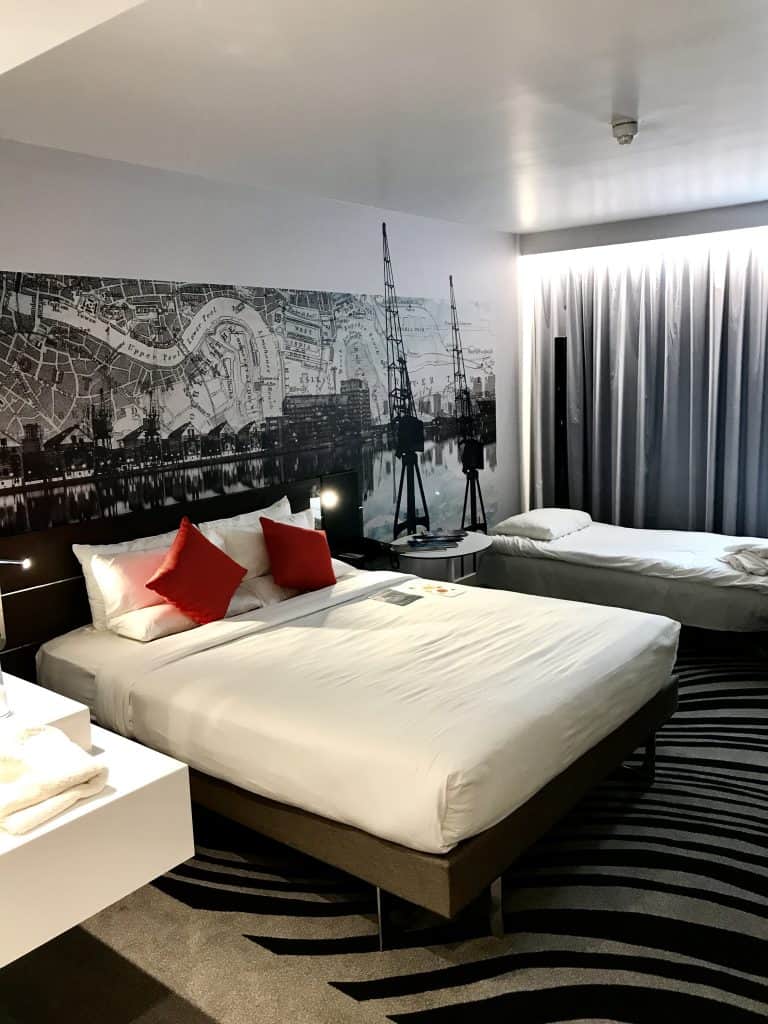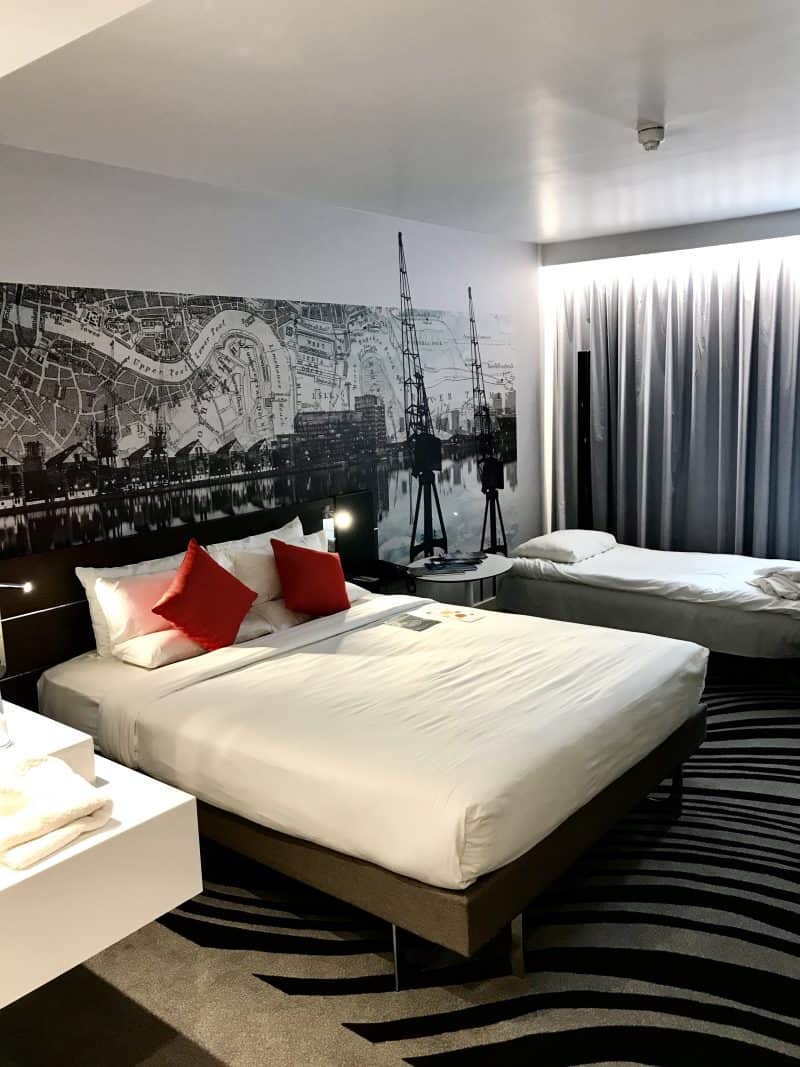 The room had a very clever use of space with an island wash sink and an integrated toilet and separate shower. I loved the organic fair trade toiletry products. Natural soap made with avocado oil anyone? As well as the nice products, the room was well stocked with coffee and fancy tea from Teapigs, not to mention the yummy cheesy popcorn and biscuit nibbles. Needless to say they were done soon after our arrival!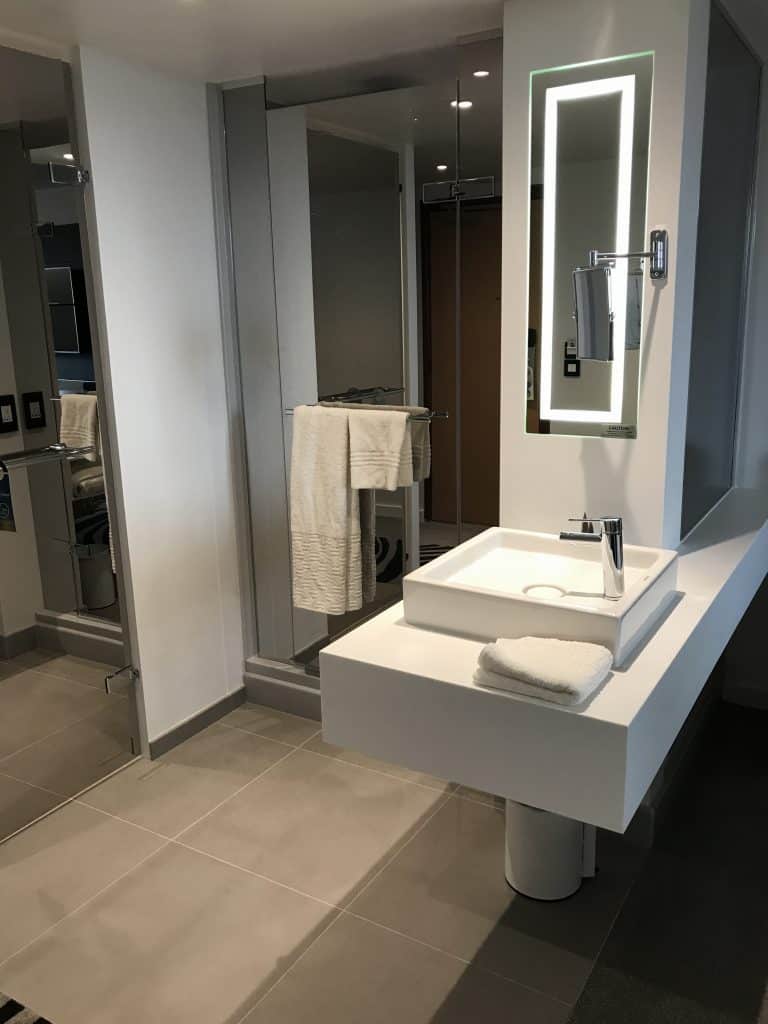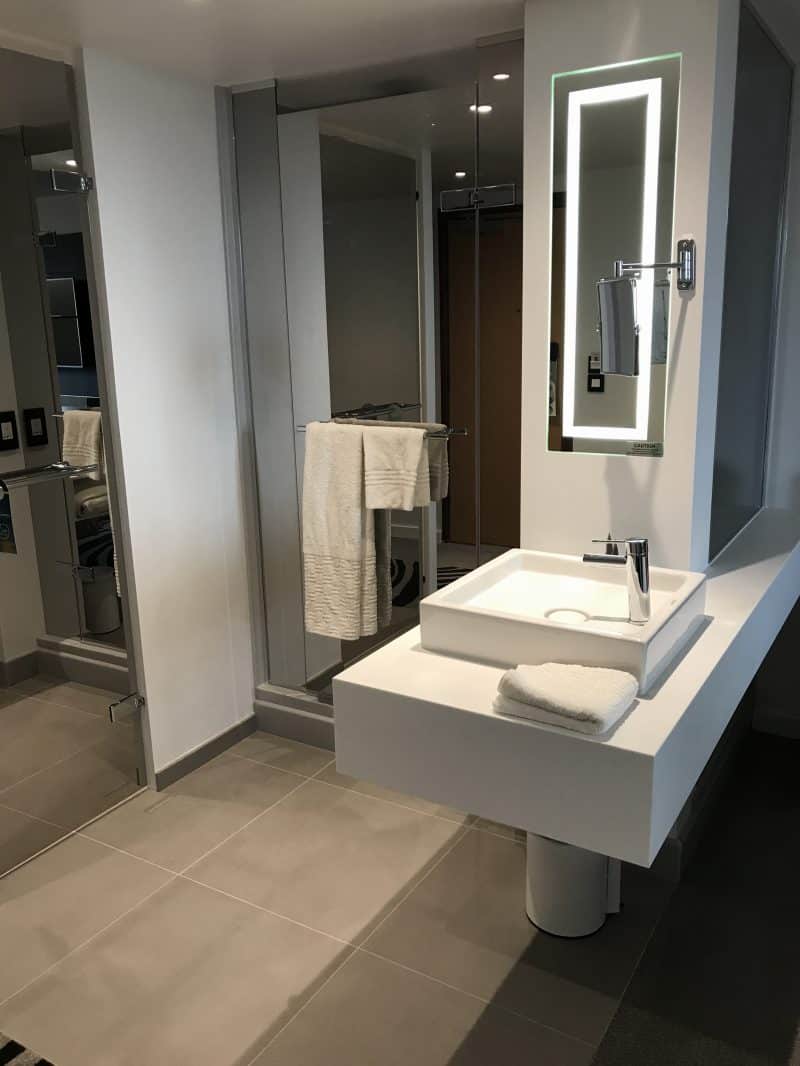 Play
As previously mentioned, there is plenty to do around Novotel London Excel. What I love is they really have the family at heart in their service. There are not many hotels that offer a free buggy concierge to make things that bit easier. Guests can take the Quinny Yezz buggy out and about, returning it on their arrival back at the hotel.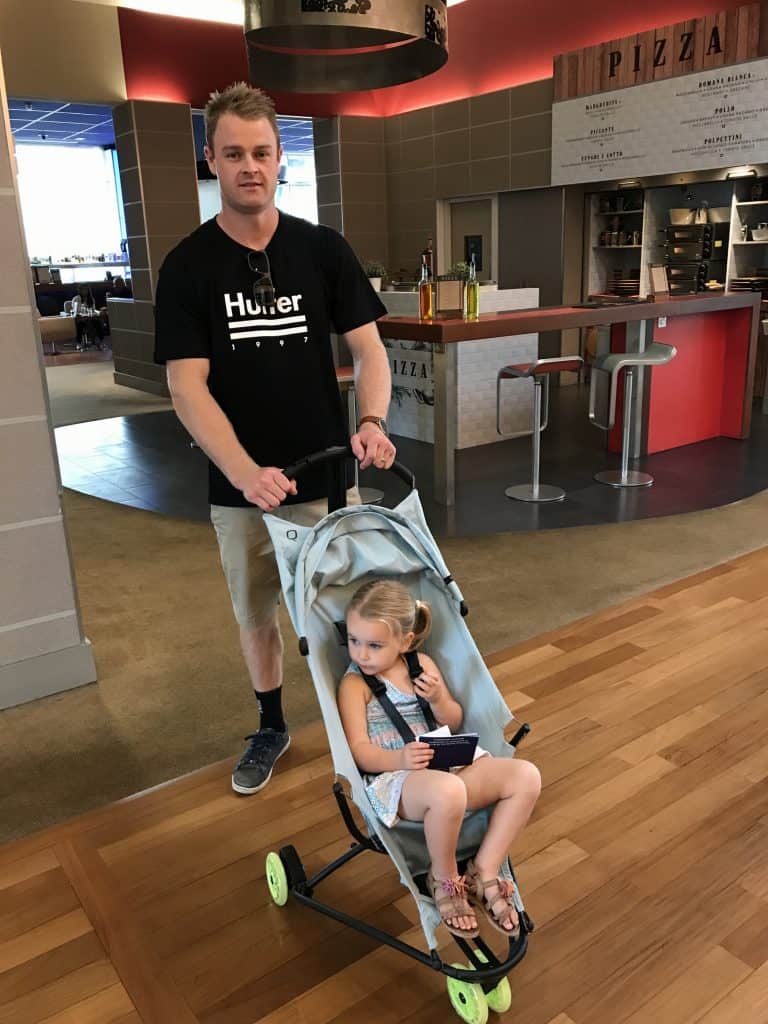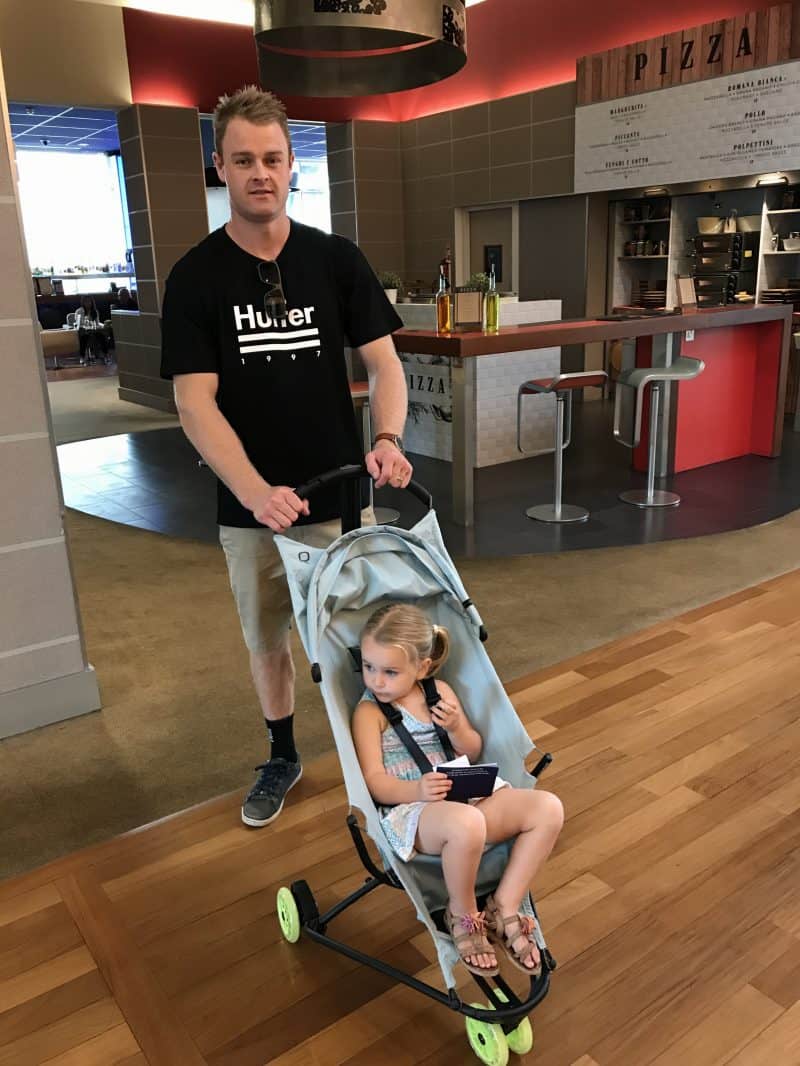 Emirates cable car
The Emirates cable car takes off metres away from the front door. The ride spans right across the dock and the Thames River, providing stunning elevated views of the London skyline. Our three year old loved the ride and wanted to keep going around. It takes about ten minutes one way. There is plenty of room in the car to wheel a buggy straight on.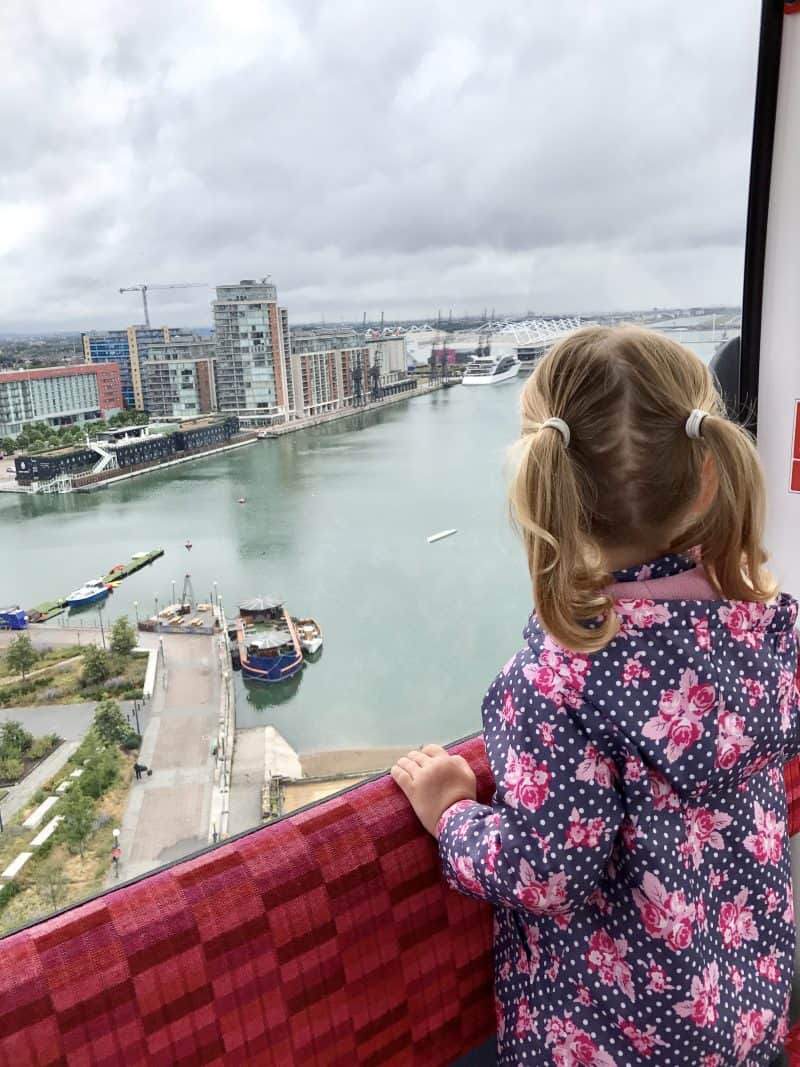 Greenwich Park
Greenwich Park is one of London's stunning open green spaces based on the banks of the River Thames. There are some lovely spots to stop and have a coffee, not to mention some great places to have a picnic with views of the city. Although there are some beautifully manicured parts of the park, there are equally some wilder parts where its possible to see deer. Its the perfect place to spend an afternoon with the kids.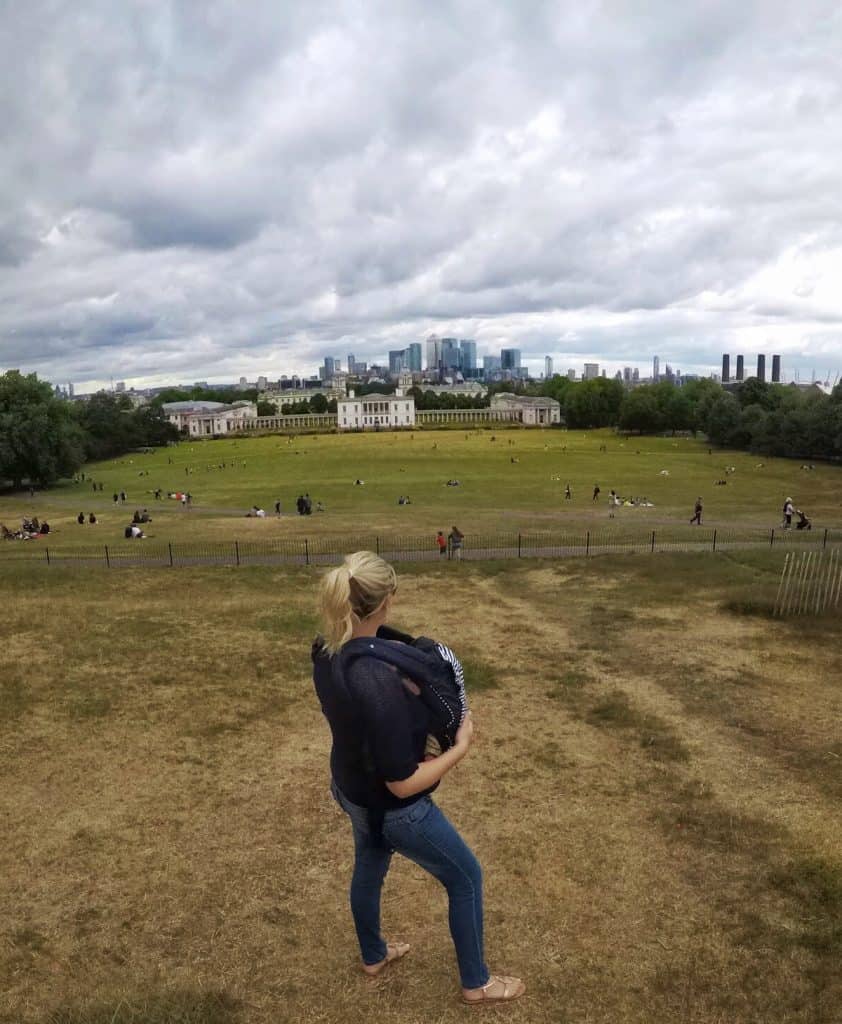 Cutty Sark
The Cutty Sark is an incredible sailing ship that use to carry tea from England to China in the 1800's. Today it is moored on the banks of Greenwich operating as a museum and allowing the public to get an idea of what life was like onboard. Kids can take control of the wheel and climb into the bunk beds. There are also plenty of books and toys for families to play with. Cutty Sark is definitely worth the visit if you are in the Greenwich / Docklands area.
In the hotel
Children's play area
Within the lobby area of the hotel there is a specific children's play area with a box of toys. There is also a TV playing kids movies and a games console for the older ones. We sat at the table next to the area so we could keep an eye on our toddler whilst relaxing ourselves. I love when hotels consider all these things.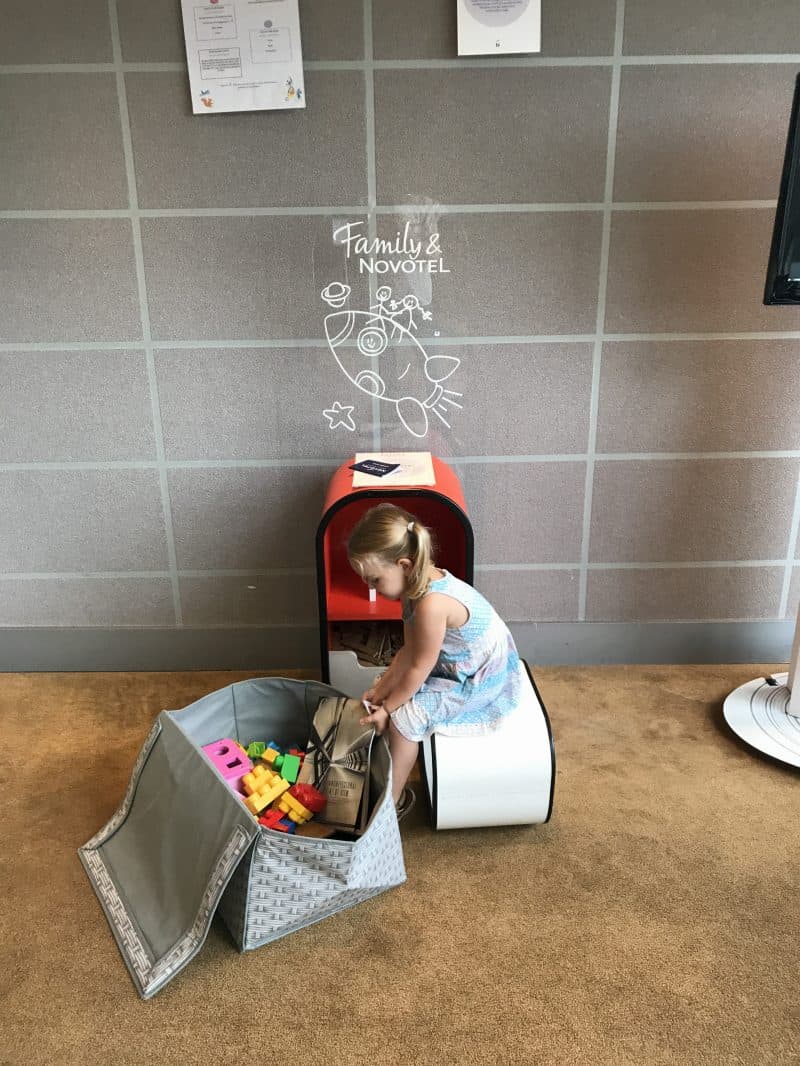 Complimentary soft toys
I don't know about you, but my little one is always running around with excitement when we arrive at a hotel. It makes for an interesting check-in when you need to have eyes in the back of your head. Luckily the Novotel staff were to the rescue with cute cuddly toys that they give to little guests. 'Zoey the Zebra' saved the day!
Foot massage
I think all of the guests try out the electronic foot massage. All three of us were lounging on the big sofas in reception whilst utilising the foot massage machines. Even the toddler was chilled out.
The gym
I would be telling a lie if I said I spent any time in the gym. However, what I can tell you is, I hear there are spectacular views up there. If only I could escape my two rug rats for an hour, I would definitely be checking out the gym.
Novotel special offers
Novotel are currently offering up to 25% off during this summer. For more information on this deal, click here.
Have you stayed a night at Novotel London Excel? Or maybe you are thinking of booking? Leave a comment, I love to hear from you .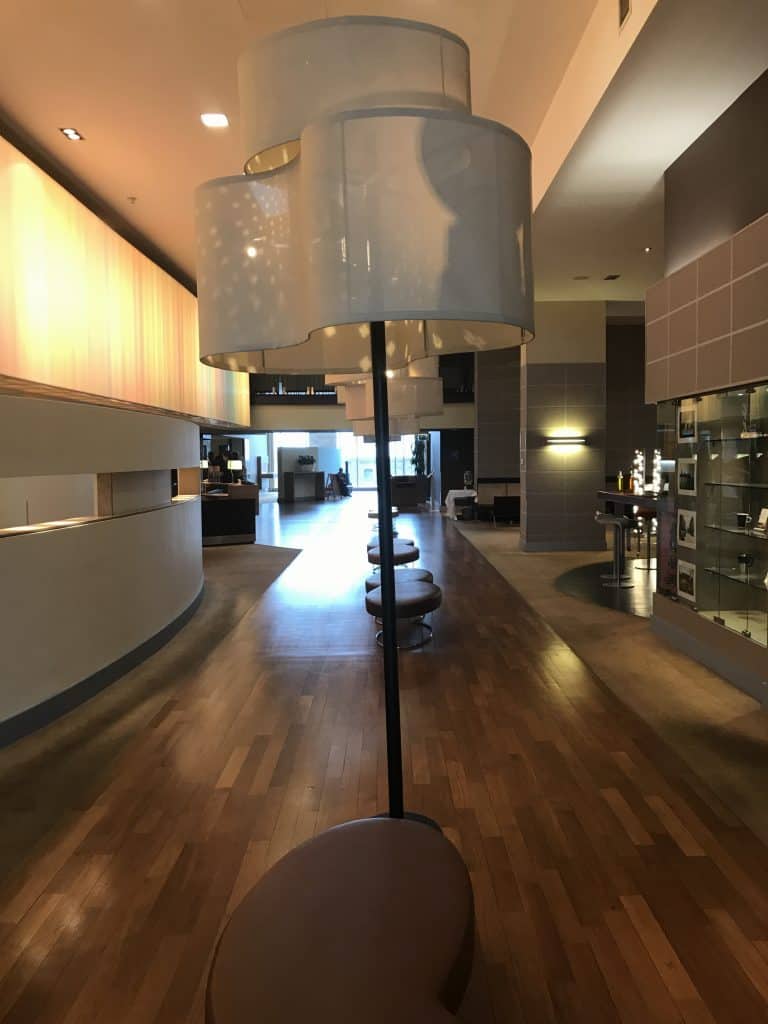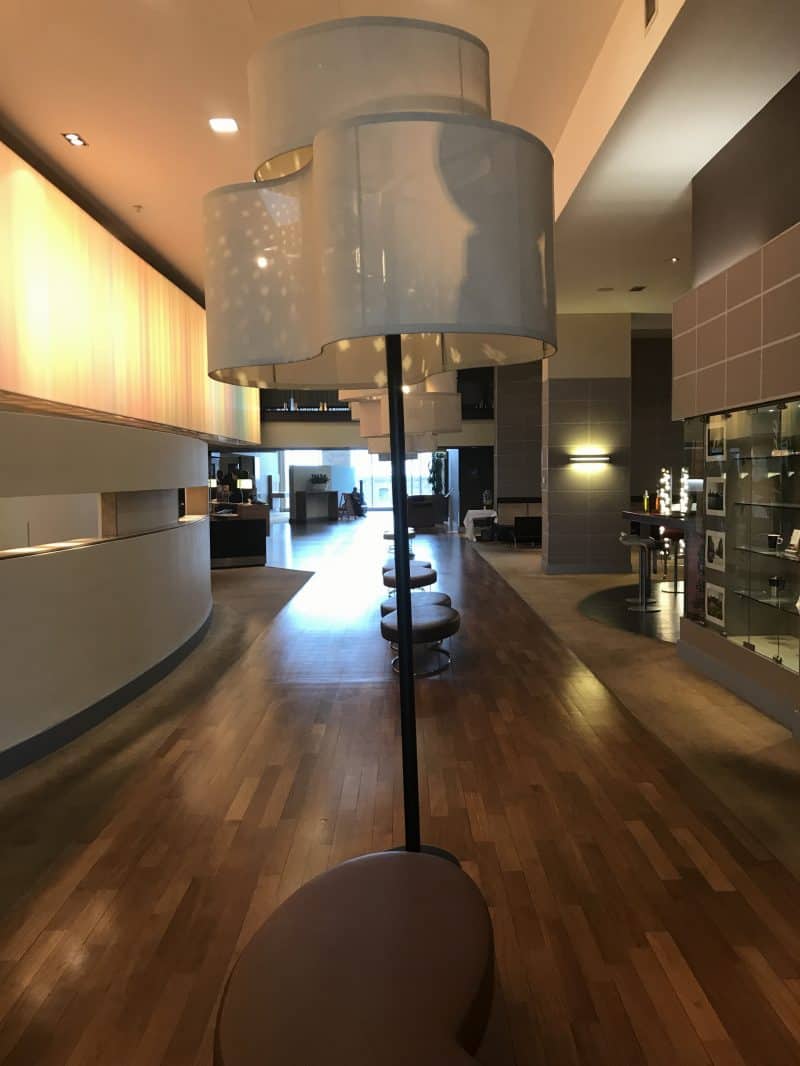 You may also like other UK recommendations
This post is sponsored by Novotel.