We only spent a little time in the city of Jerusalem but I was truly amazed. We are well traveled, so we don't often feel culture shocked. However, Israel was totally different from anywhere I've ever been. The fusion of so many different cultures, all crammed into the ancient Jerusalem streets was fascinating.
Jerusalem is so kid friendly, there is almost nowhere that is not acceptable to bring your little ones. Most of the restaurants and cafes in Jerusalem have highchairs and are happy to accommodate children. We even stayed in a fantastic hostel which was so budget and family friendly, two things that don't normally go together.
An important thing to note when visiting is that most of the city shuts down on the Sabbath. This means few to no restaurants, shops, public transportation will be available from Friday afternoon until Saturday night. Plan accordingly to be within walking distance to wherever you want to go.
Jerusalem with Kids
As everyone knows there are some major political tensions in Israel. We don't support any one side of the conflict but some people get concerned about the safety of visiting. When we were in Israel with kids we felt very safe and had no worries for ourselves or our children.
Every once in a while things heat up but for the most part it sounds much worse in the news then it feels when you are actually there. The main safety problems are usually contained to areas along the Gaza border.
We will have to go back to Israel to explore other area's of the country, there are some beautiful hikes in Israel we would love to do!
You could easily spend 4 days in Jerusalem or even more. In the meantime, here's where to stay, the best Jerusalem restaurants, our best budget Jerusalem tips, and the best things to do in Jerusalem with Kids.
Getting in and Around Jerusalem
There are lots of options for getting in and around Jerusalem. We had a car rental in Jerusalem, which is a great option if you are doing day trips. Although, before you decide to rent a car, make sure to check that there is parking near where you choose to stay.
In some of the central areas finding a parking spot may be too much trouble. To find the best prices on car rentals will cost click here.
If you will be arriving in Ben Gurion airport you have a few options for getting to Jerusalem. The cheapest way is the bus that runs from Ben Gurion to Jerusalem once an hour for only 16 shekel per person.
There is also a plethora of taxis and Neshers. Neshers are a shared taxi situation which is a good affordable option if you are only one or two people, but if you are going with your family it probably will cost the same as a taxi.
The best option will be to take the tram or the bus in Jerusalem when trying to see the center parts of the city. The roads in the center can be very confusing for those not used to driving there. Most of the attractions in Jerusalem, Israel are easily accessible by public transport.
Where to Stay – A Budget Jerusalem Option
There are lots of nice places to stay in Jerusalem. We stayed at The Post Hostel which is a fantastic place for families. Don't be put off by the word hostel because it's definitely not like any other hostel I've been to.
Click here for rates and availability.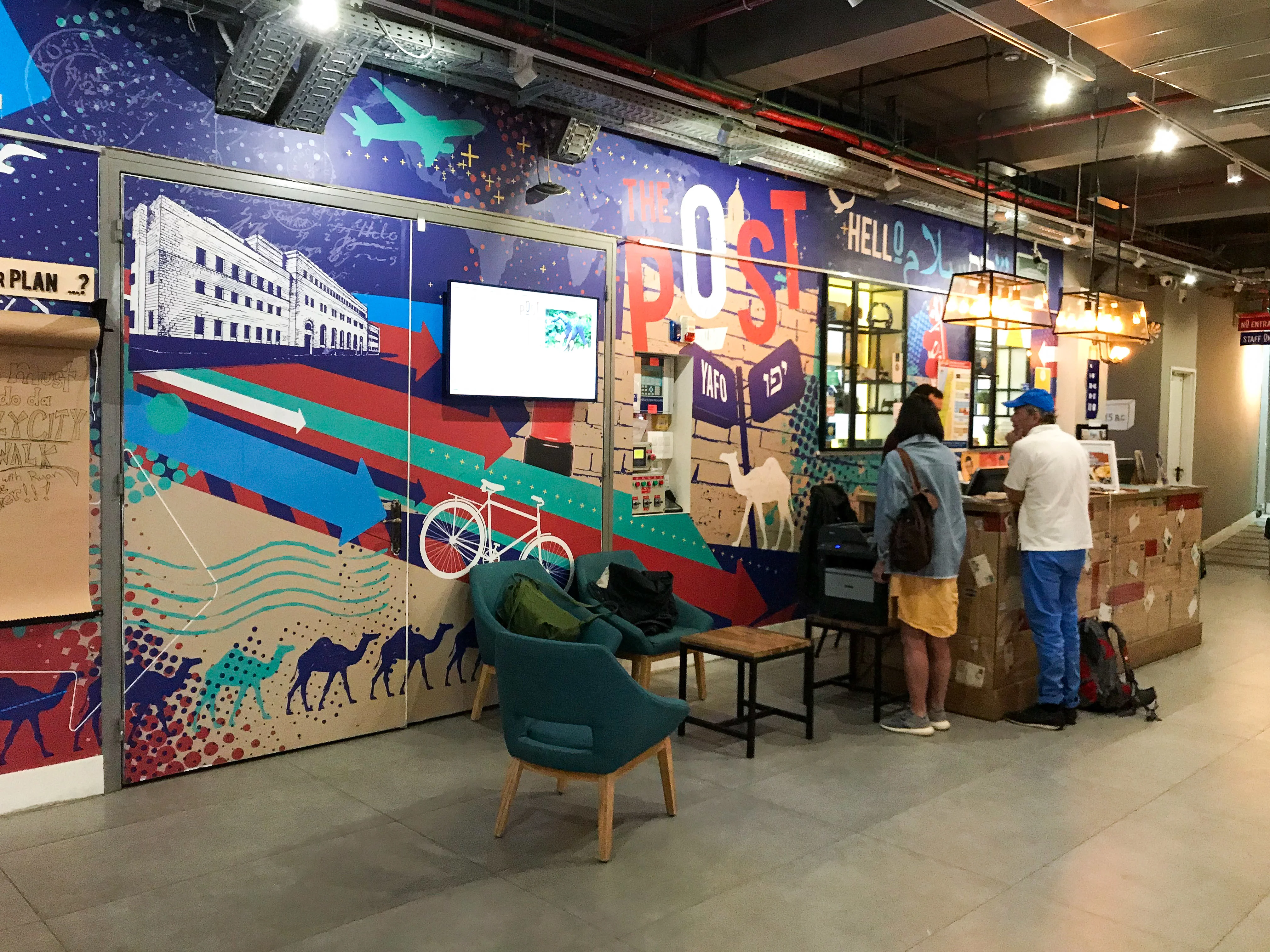 The Room
The hostel has a great private two level family rooms with a pullout sofa downstairs and a double bed upstairs. The stairs aren't ideal for younger kids but there was plenty of space to stretch out and it was a very cost effective option.
The Hostel
In the main area of the hostel, they had kid's games and all the staff were really lovely and interacting with the kids. We didn't feel even a little out of place staying there as a family. They offer a great breakfast with loads of options that the kids enjoyed as well.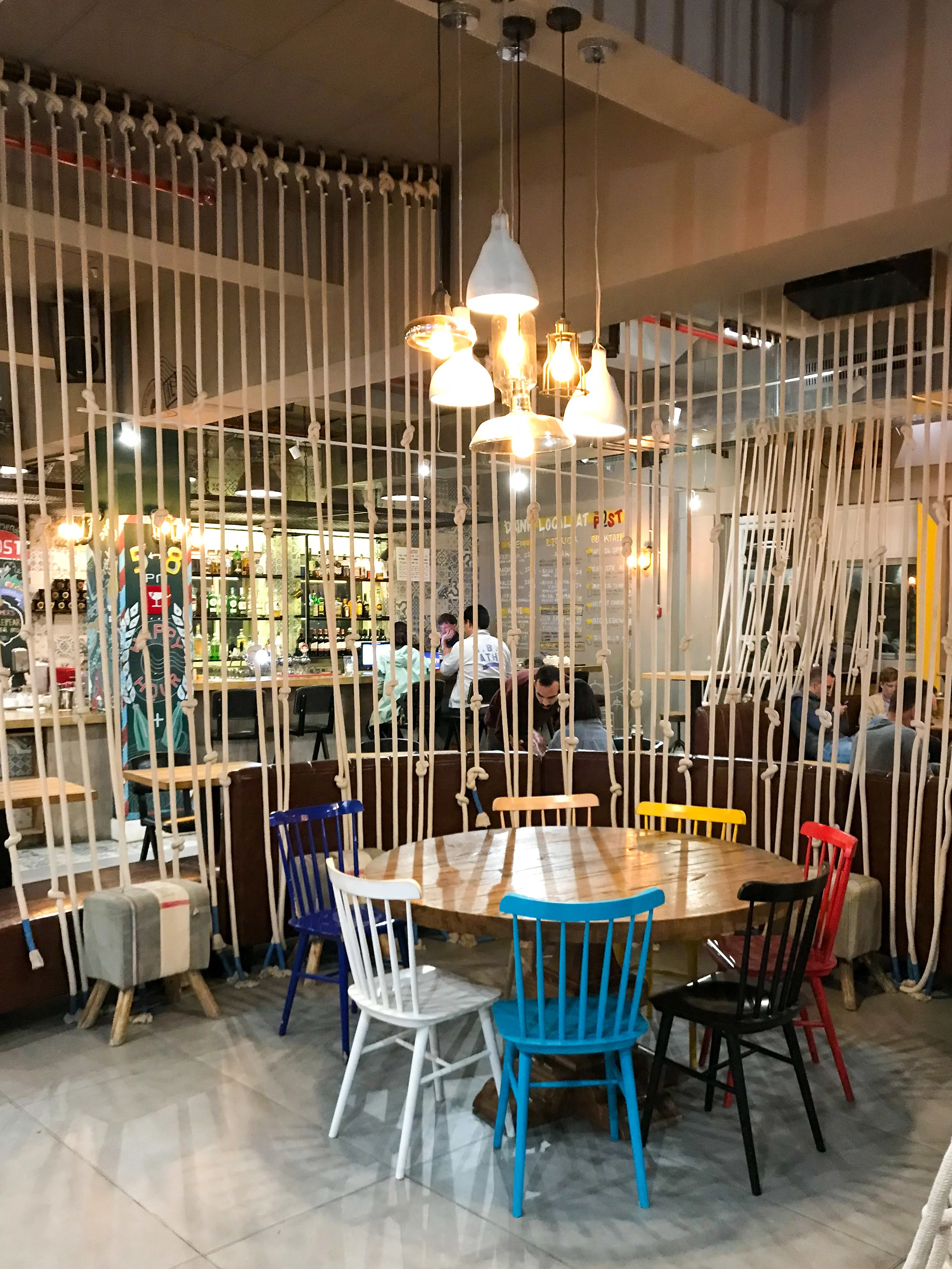 We participated in a great hummus making class that they had in the evening which my little ones absolutely loved. The same kids who I can't get to touch hummus at home ended up covered head to toe in it, eating it by the spoonful. Try a Jerusalem class at home!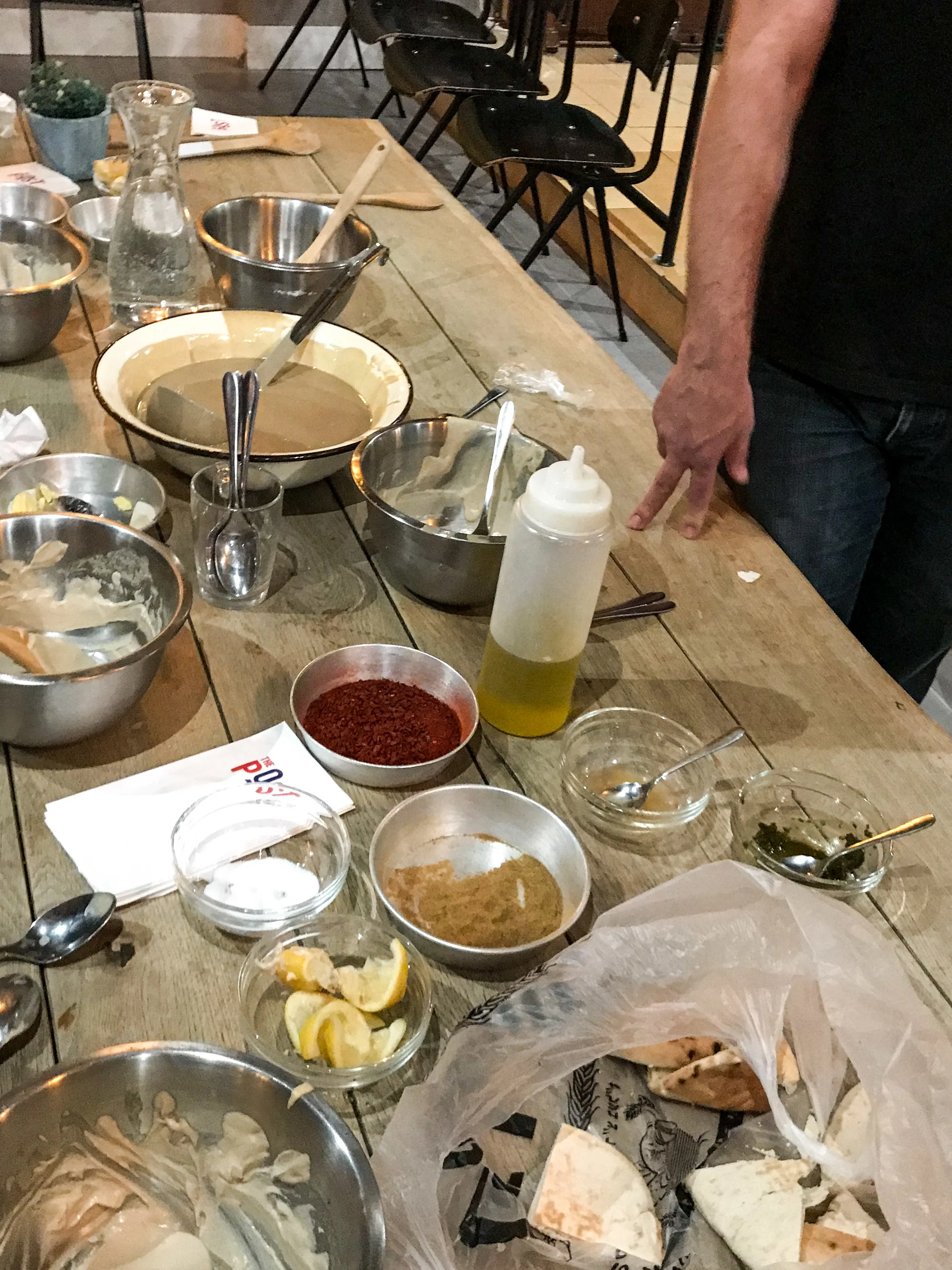 We actually thought it ended up being one of the best Jerusalem kids activities. They have lots of other fun events and classes for the people staying there, including a free walking tour of the old city.
The Post hostel has a very affordable happy hour and lots of chill out areas that were great to lounge in after getting lost in the old city all day. They also have great wifi and laundry machines, which is always welcomed when traveling with a toddler.
Read our best tips for flying with a toddler here.
The Neighborhood
One of the best parts of staying at the hostel was the location. Many of the Jerusalem hotels are either right in the middle of the chaos, or too far to easily get around. The Post Hostel is located on a smaller side street that is calm and quiet but within a 5 minute walk we were right in the thick of things.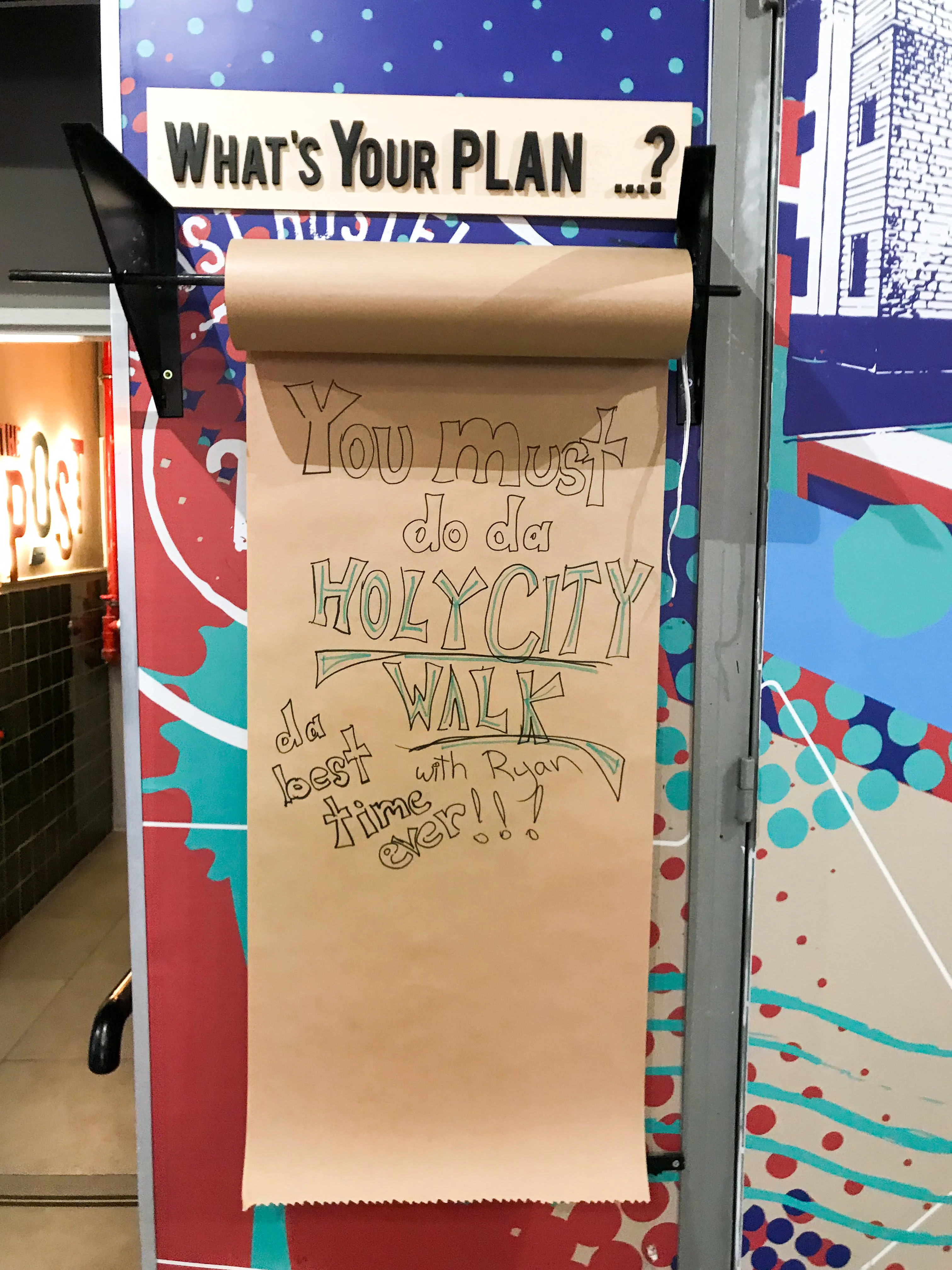 Five minutes one way gets you to the old city and five minutes the other way brings you to Ben Yehuda. It's also located right near the tram so anywhere not walkable is easily accessed by public transportation.
We really enjoyed our stay here. It definitely is one of the best cheap Jerusalem hotels! For rates and availability click here.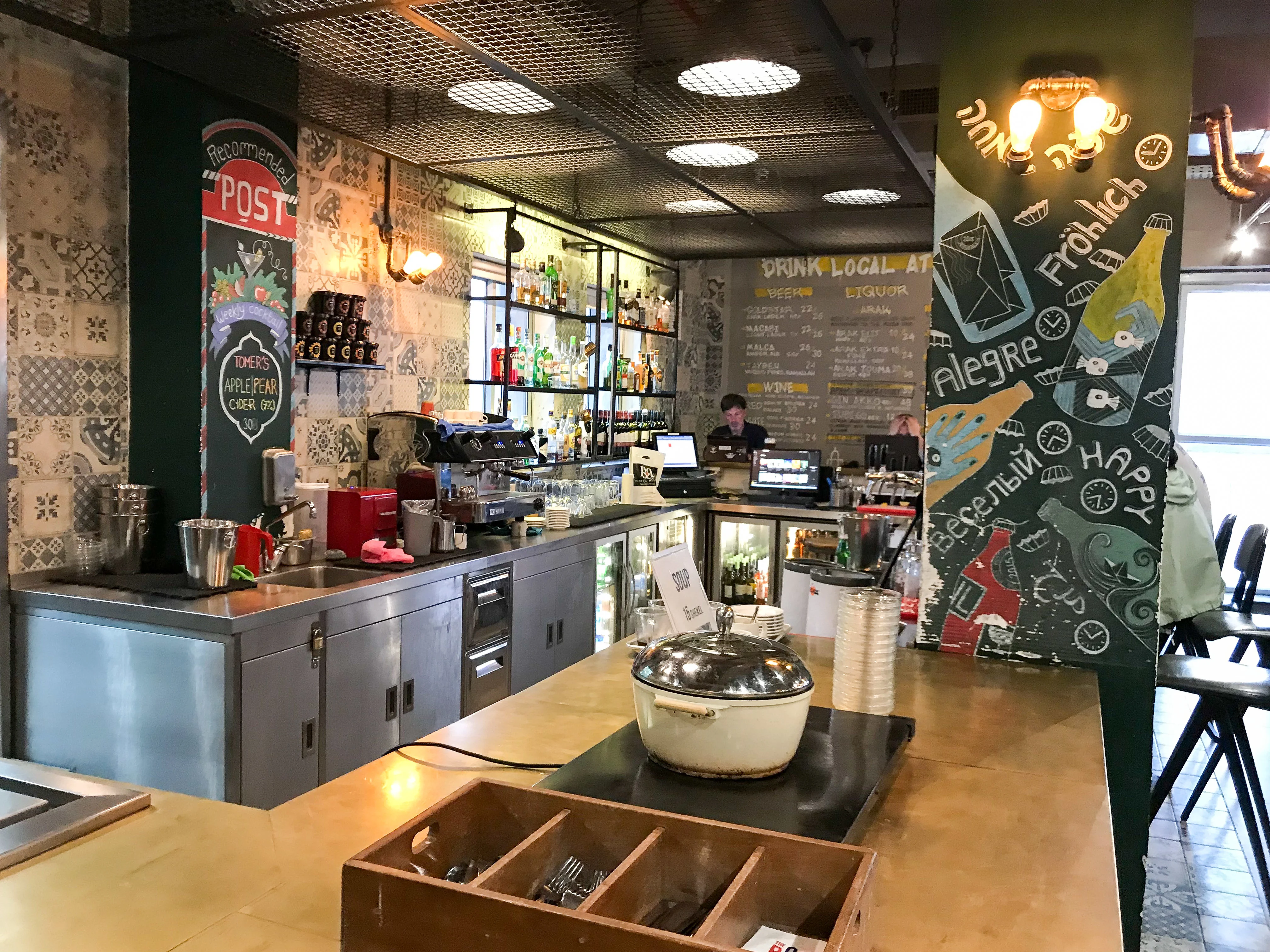 The Best Things to Do in Jerusalem for Kids
There are loads of great things to see and do in Jerusalem for kids. We've rounded up the ones that are the best, and the things you should absolutely not miss when visiting the city of Jerusalem.
The Old City
The old city of Jerusalem is where so much of ancient Jerusalem history took place. It's an incredibly important area of Jerusalem to the Jews, the Muslims, and the Christians. While it isn't the most exciting for kids compared to some of the other spots we will talk about, it is definitely a must for any Jerusalem itinerary.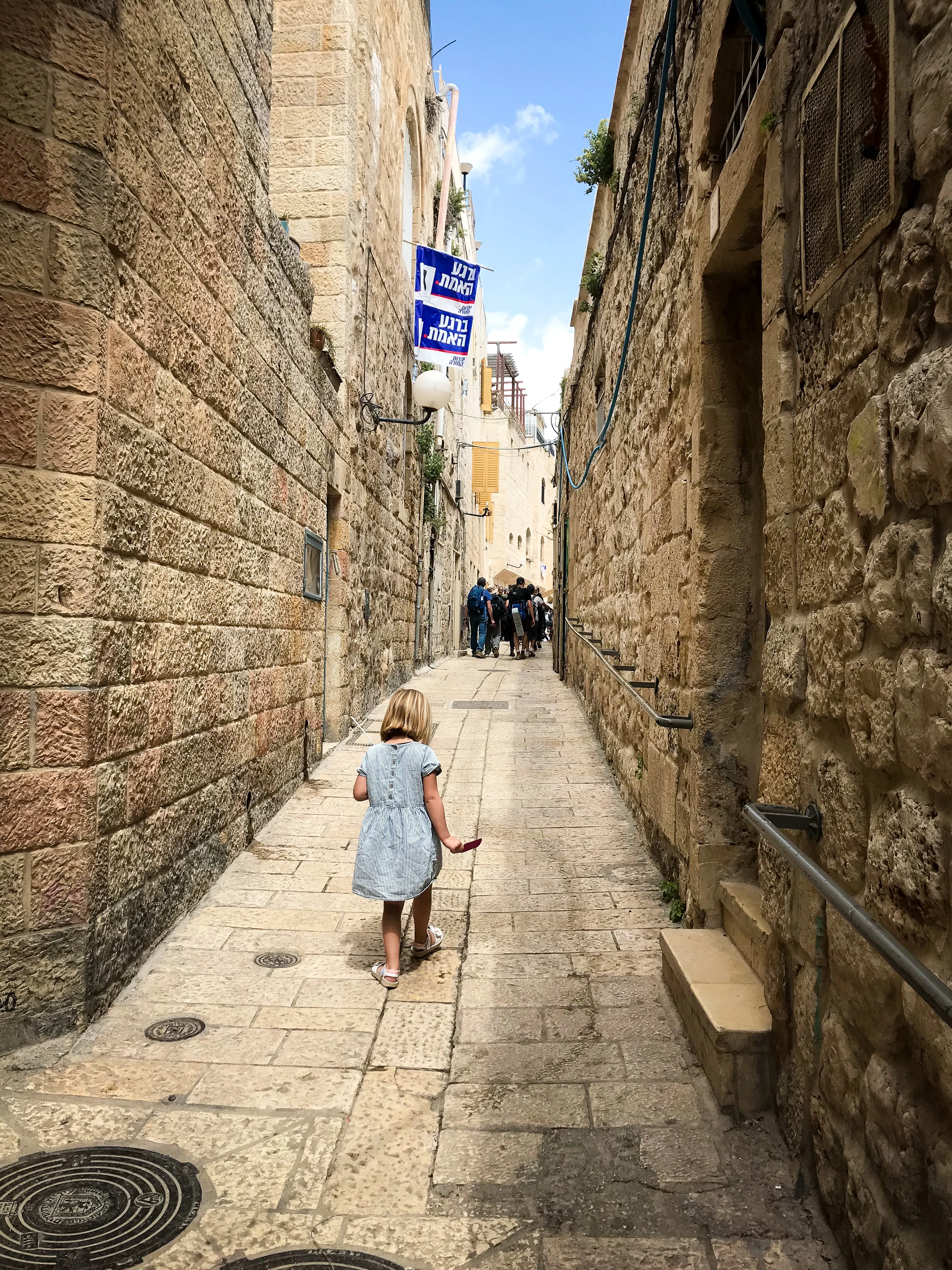 Some of the most holy sites for each religion are located here. The areas surrounding the holy sites are filled with narrow cobblestone alleyways filled with shop, restaurants and load of people, locals and tourists alike.
If you are visiting the old city you could probably get away with bringing a stroller but we would not recommend it. Most the staircases do have ramps but things can get quite chaotic with the number of tourists on such small streets so it's best to bring a carrier.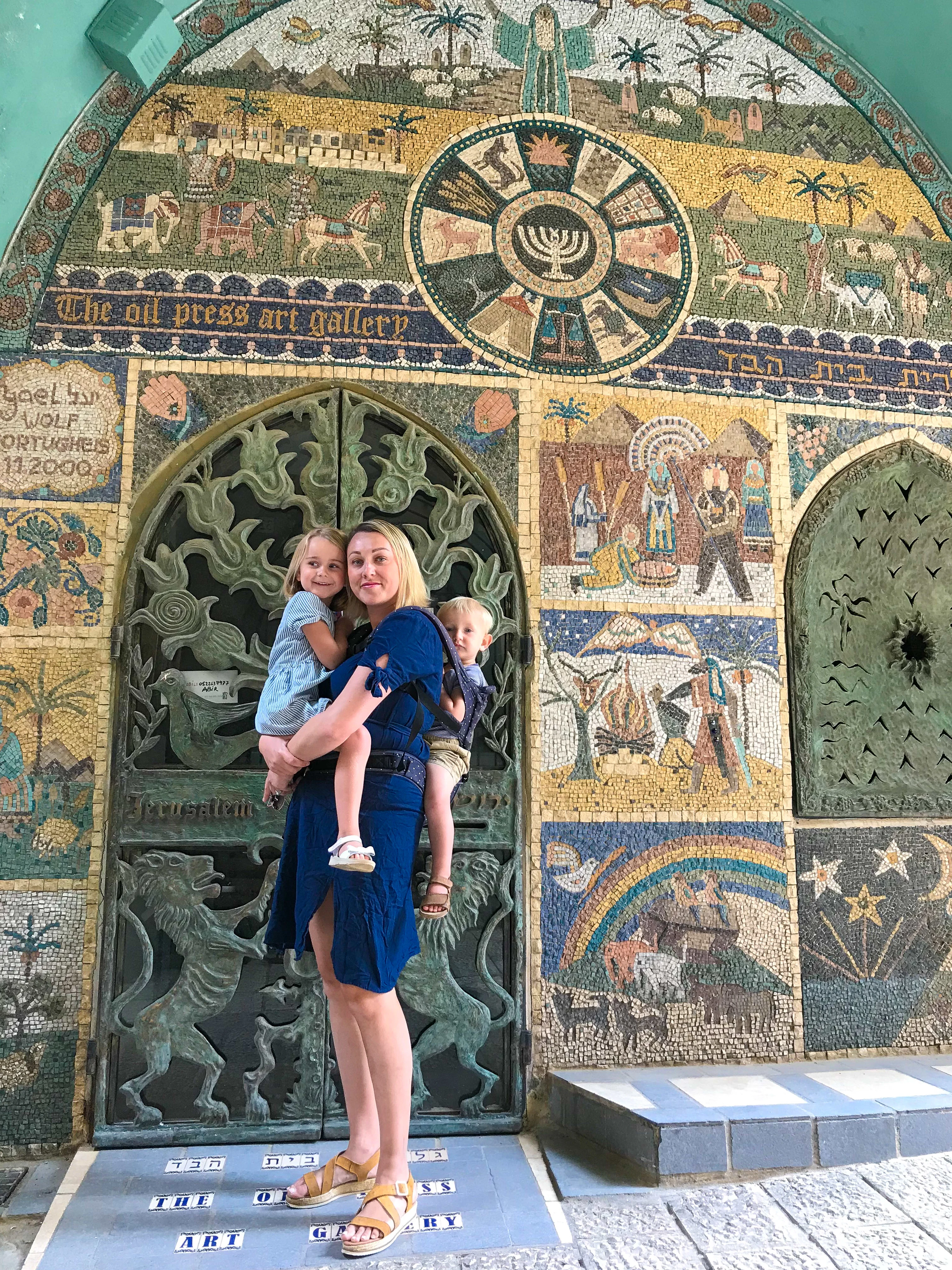 While you can wander through on your own, there is a lot going on and a lot of history that you might miss so we would definitely recommend taking a guided tour. Find the best tour for your family here.
You should also note that women must be dressed to Muslim and Jewish standards of modesty to enter many of these places, so be careful about your clothing choices.
The Arab Shuk, Jerusalem
There are several gates to enter the old city from, but the main one is called Jaffa Gate. We wandered through, as you walk in you can follow the flow of foot traffic straight into the Arab shuk. A shuk is basically an open air marketplace.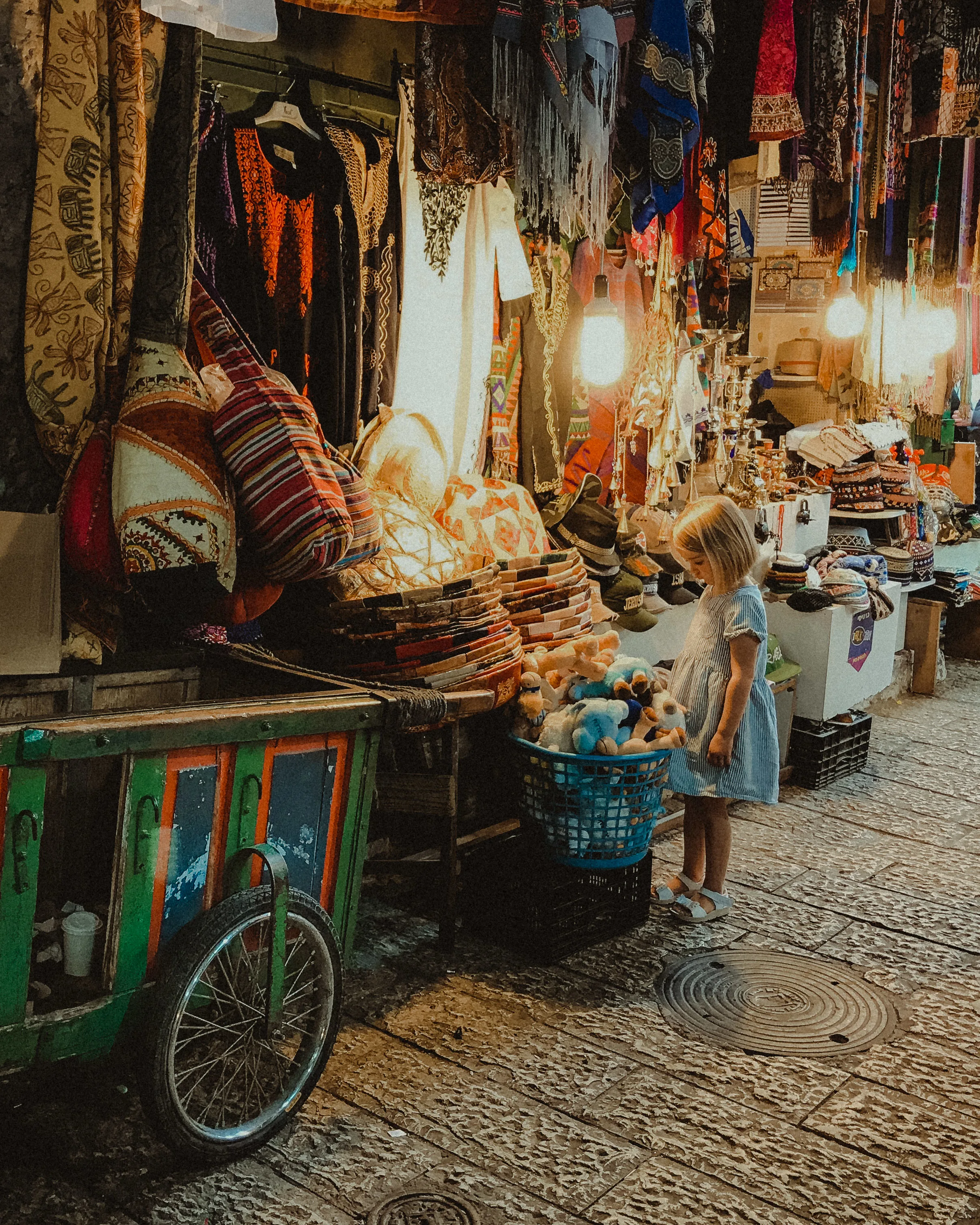 We got lost wandering through the narrow alleys of the shuk for hours, just marvelling at all the fresh baked Middle Eastern breads and pastries, fruits, and trinkets. We were happy to find the market to be filled with salesmen that were a lot less aggressive than in other countries in the Middle East.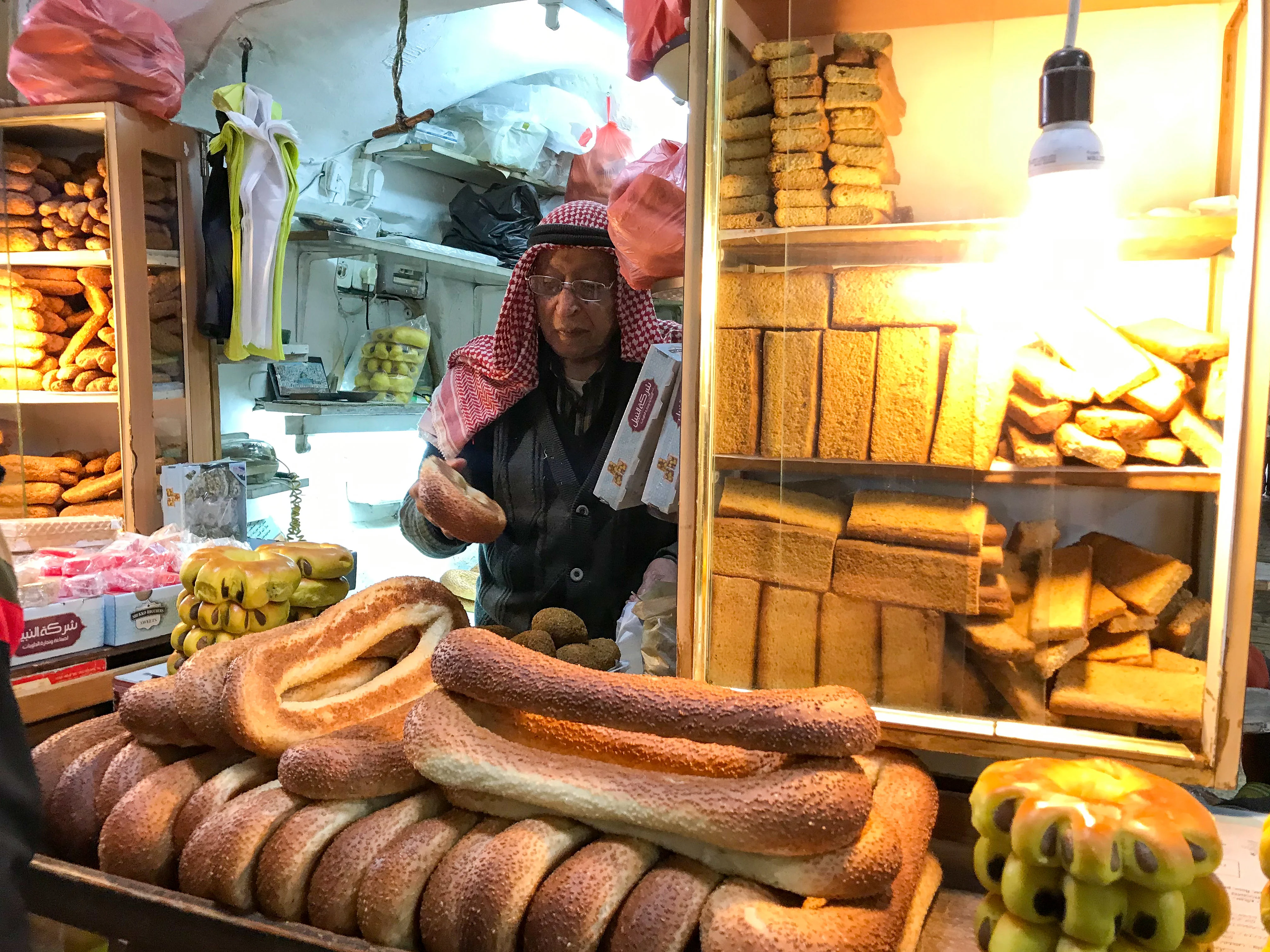 The Western Wall
The western wall (also known as the Wailing Wall) is the last wall standing of the Jew's ancient Jerusalem temple. Having not read any guide books before arriving, when we finally made it there we had no clue what we were looking at. Another good reason to get a private tour guide.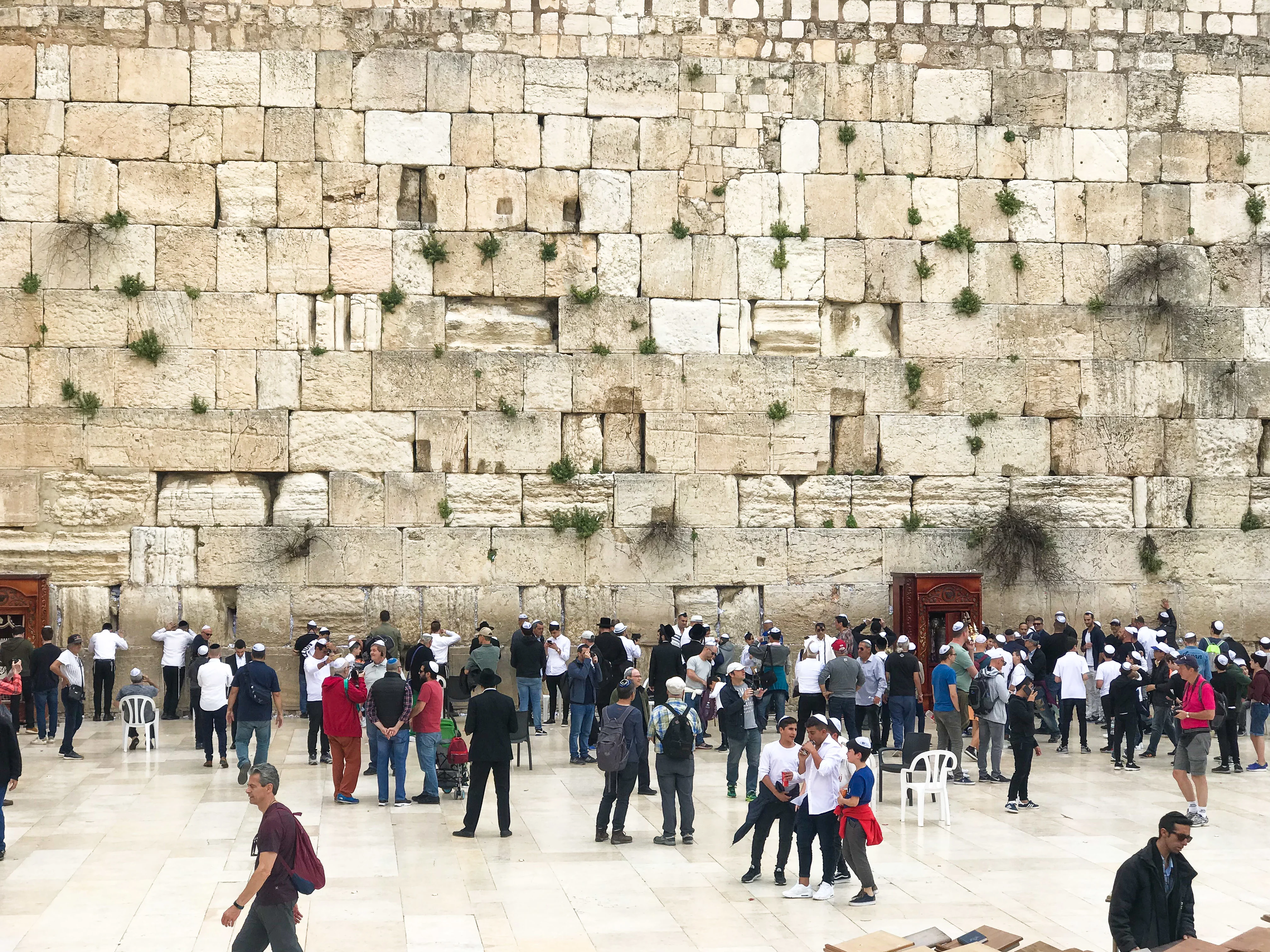 We later found out that it is the Jew's holiest spot. People come here to pray and write notes to God that they stick in the cracks between the walls. Loads of people also have Jewish celebrations like Bar Mitzvas or to take wedding photos so there is a chance you'll get to witness that when you go.
If you go on Friday night as the Sabbath is starting it fills with people singing to bring in the Sabbath. If the walking is too much for your kids, they have started running a small train from the entrance of some of the main gates to the Western Wall.
Dome of the Rock and Al Aqsa Jerusalem
Dome of the Rock is the iconic golden roofed Islamic shrine that is located behind the western wall on the temple mount. It was built on a rock that is considered very holy by both the Jews and Arabs.
The Al Aqsa mosque is the third holiest site in Islam. It is part of the same plaza as Dome of the Rock and can be visited together.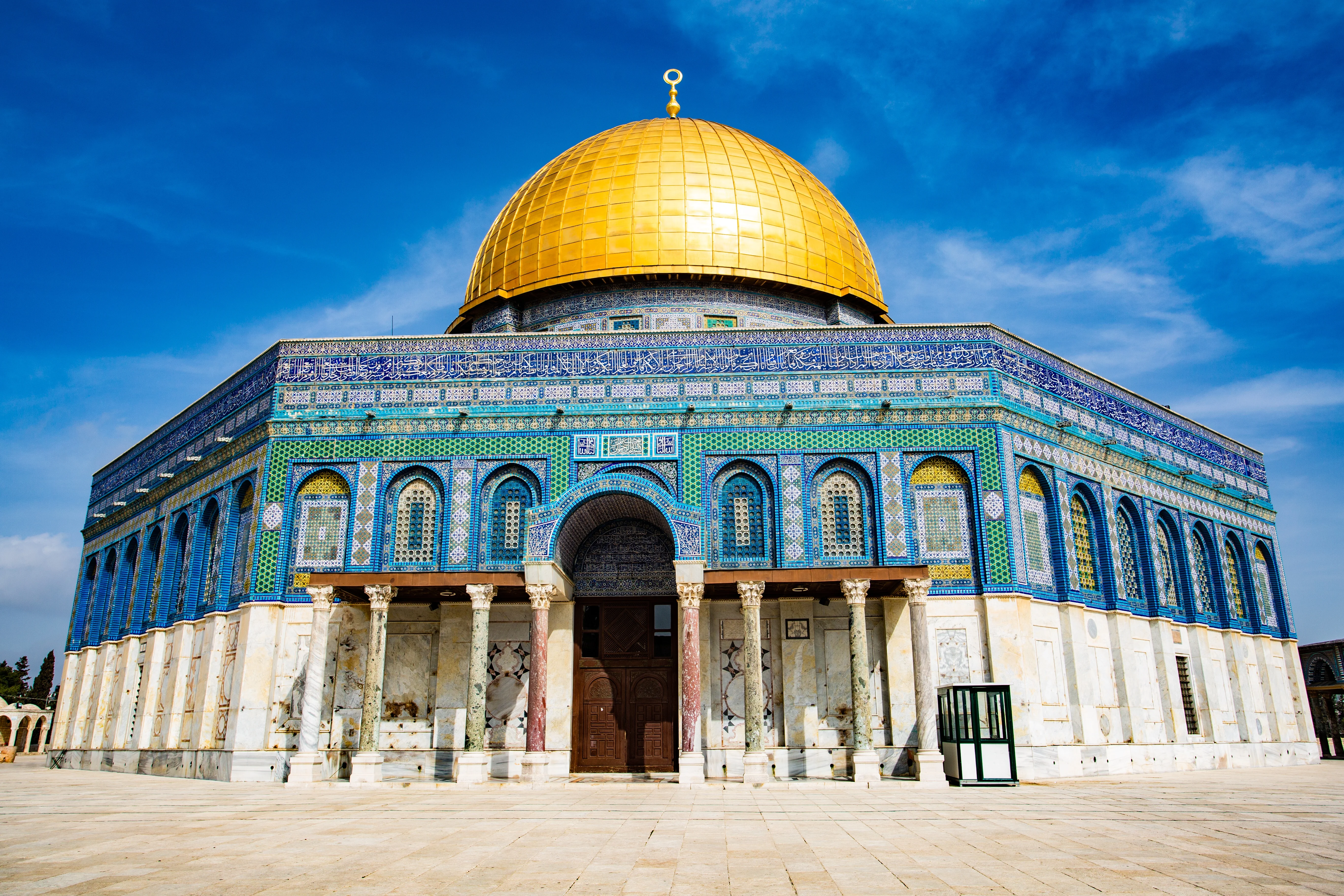 You can visit the Dome of the Rock and Al Aqsa but only at specific hours and only Monday to Thursday. In winter these hours are 7:30 am – 10:30 am and 12:30pm – 1:30 pm. In summer the hours are 8:30am – 11:30am and 1:30pm – 2:30pm.
To enter the complex you may have to show your passport, so make sure to carry that with you. It's also worth noting you will only be able to enter the complex, not the Dome of the Rock building unless you are Muslim.
The Church of the Holy Sepulcher – Catholic Jerusalem
There are quite a few churches in Jerusalem old city, one for almost every denomination of Christianity but the most important is the the Church of the Holy Sepulcher. This is the place where the crucifixion, burial and resurrection of Jesus took place in the bible.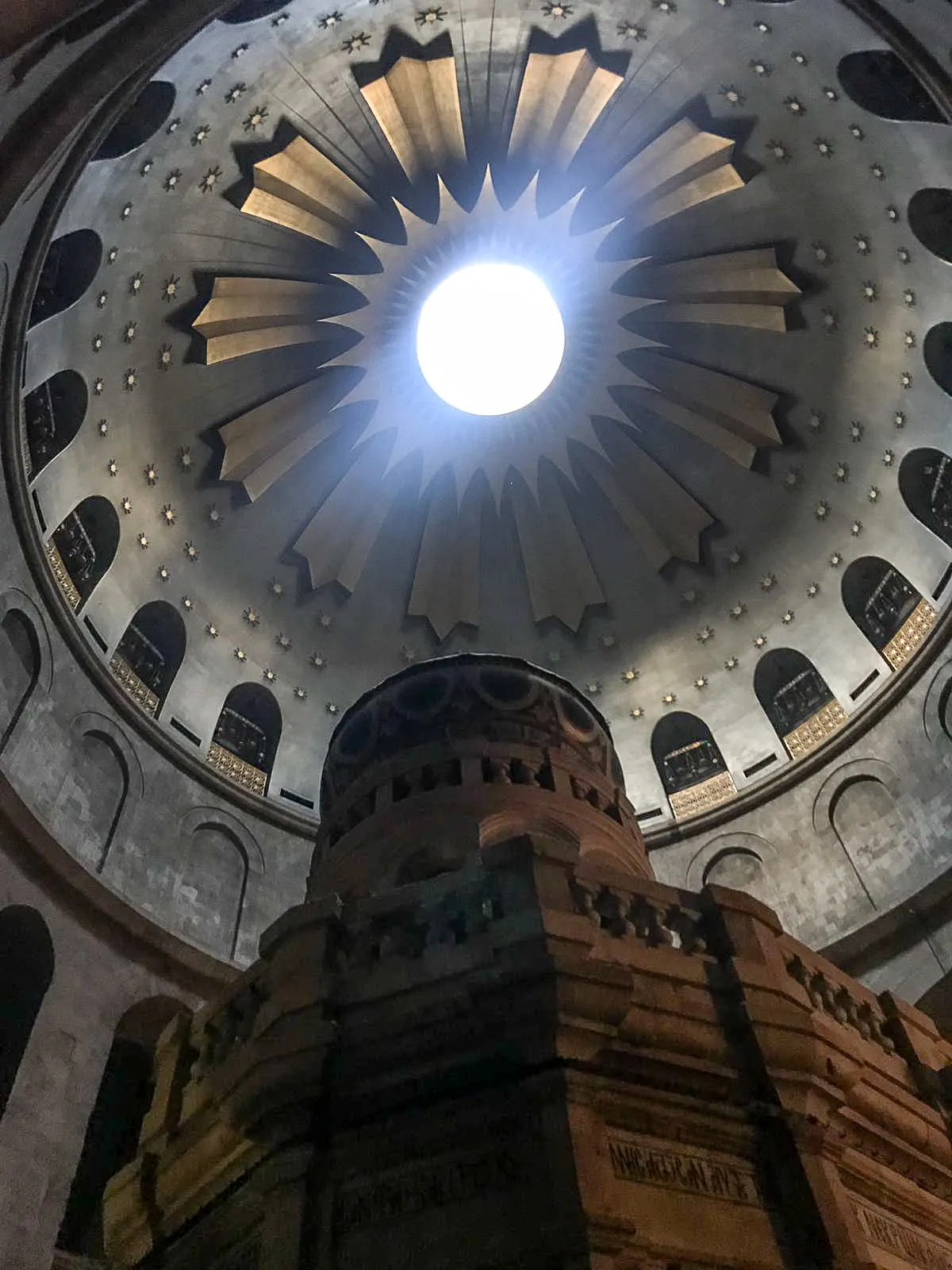 It is the holiest site for Christians and a few different sects of Christians each control a section of the church. Many people come from all around to see the beautiful Jerusalem Church and tour the stations of the cross.
Things get especially lively around Easter and Christmas, with loads of events for the holidays but you should also expect large crowds.
Hezekiah's Tunnel
Hezekiah's tunnel is a great experience for a hot Jerusalem day. The tunnel was built by King Hezekiah in the 8th century to protect the city's water supply as the Assyrian army was approaching.
Today you can wade through the tunnel in knee deep water until you reach the pool at the end whilst learning about the history involved. This tunnel is loads of fun for everyone but be aware that they give you flashlights because it's quite dark and you'll have to be carrying any smaller kids. Also for full grown adults you'll have to watch your head in some of the lower parts of the tunnel.
Teddy Park
Located right outside the old city walls is Teddy park. This park is a great place to sit and chill, maybe bring a picnic. They have a huge fountain in the centre of the park which kids love to splash in. Four times a day it turns into a light and sound show with the fountains jet of water moving in sync with the music.
Machane Yehuda Market
Machane Yehuda is Jerusalem's most prominent shuk (open air market). It is a hub for locals and tourists alike. We highly recommend visiting in the day and at night as they are two totally, but equally enchanting, experiences.
During the day all the vendors are open and yelling out what they are selling as you walk by mounds of spices, produce, nuts, candy, and pastries.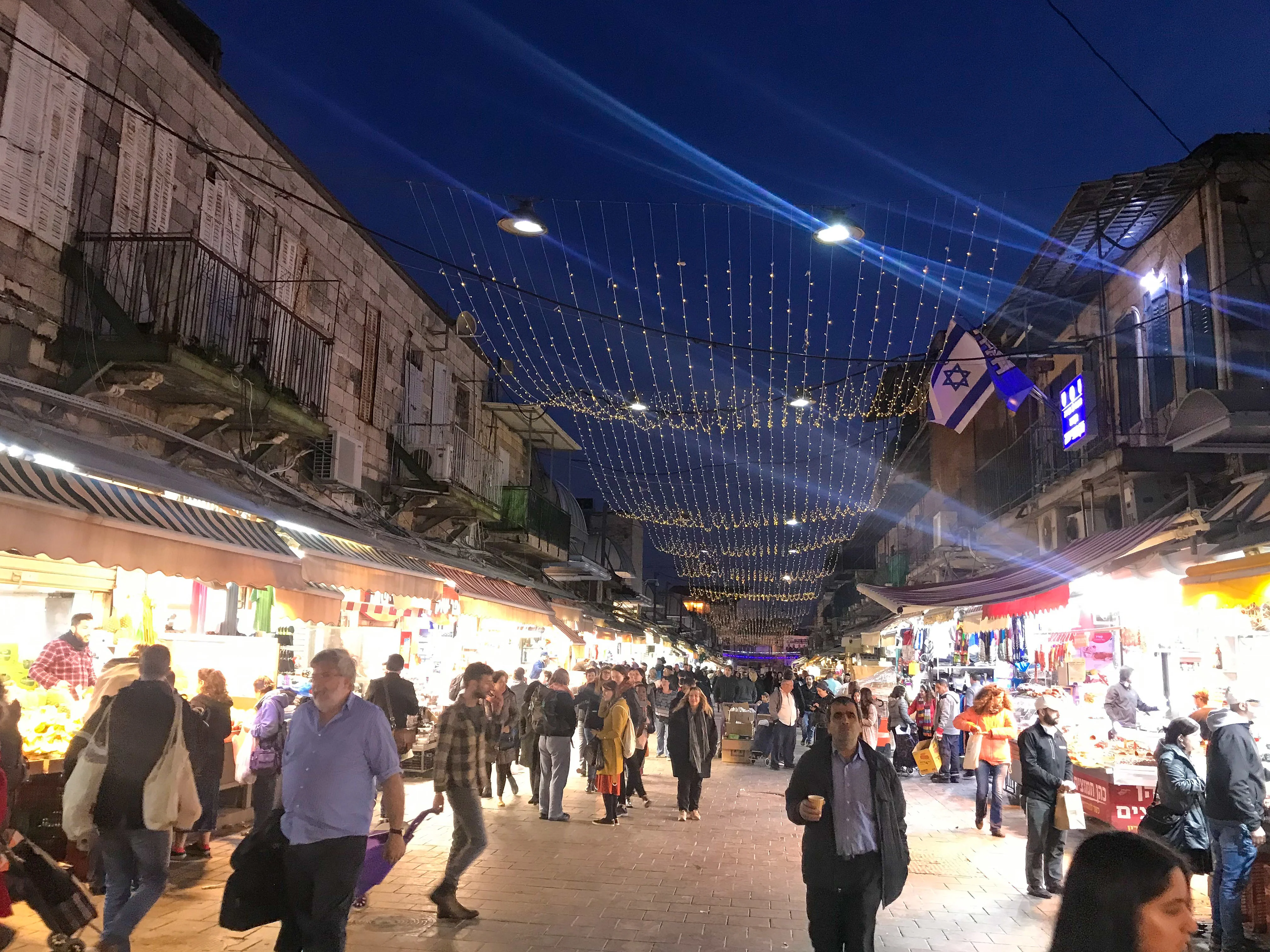 As you wander through be sure to check out the tahini store with a million flavours and a huge machine in the back where you can see how tahini is made. Right next to it there are guys with plates of halva samples. Feel free to walk by them multiple times and get more samples.
At night it turns into a different scene altogether with all the best bars in Jerusalem opening up. Even if you are not interested in the bar scene it's still worth a visit because as the day shops close you get to see the colourful murals of significant figures such as Albert Einstein.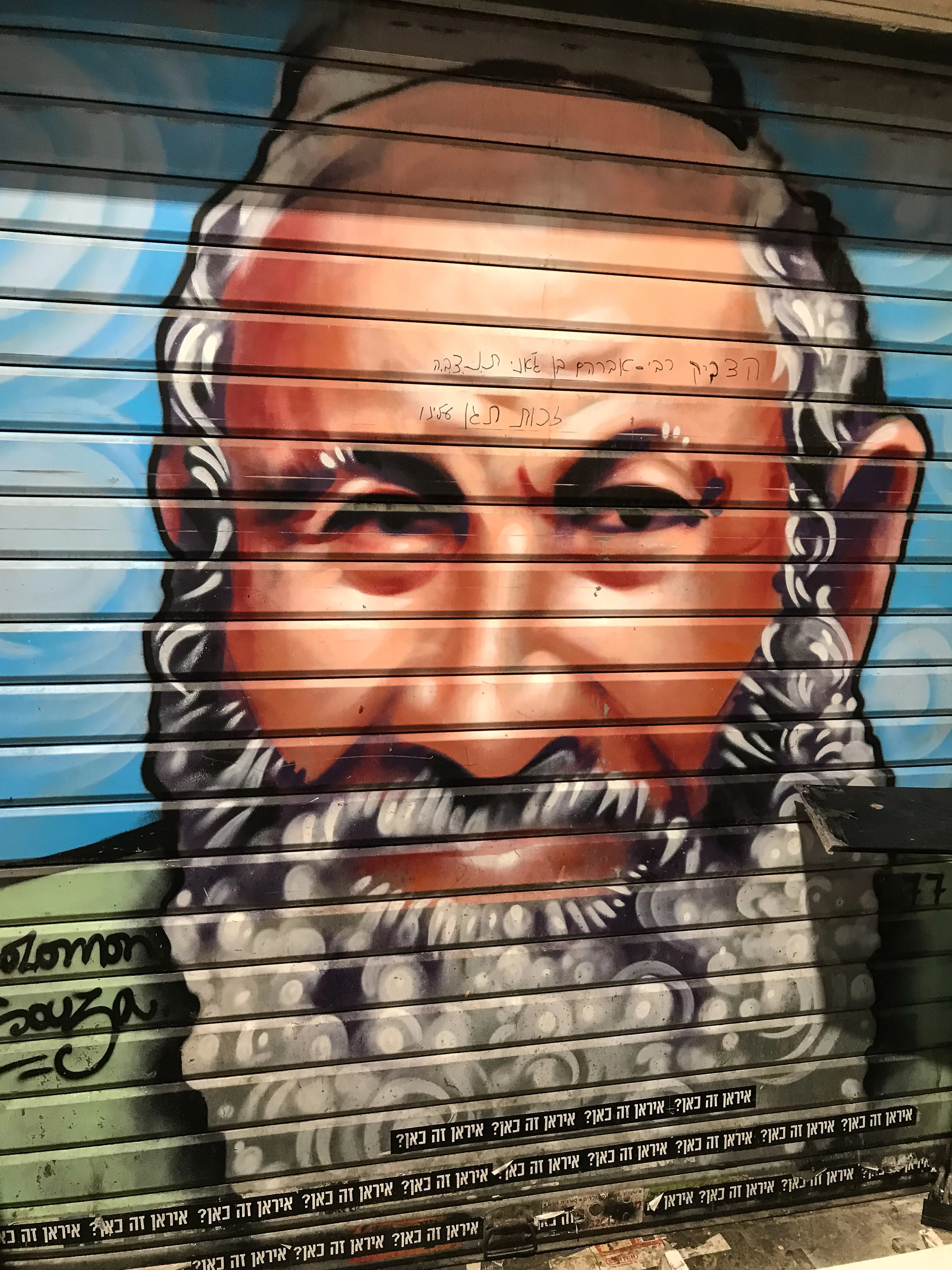 You can also grab a bite to eat and people watch at one of the many delicious restaurants located there.We had the best salad with soy Silan dressing!!
We really felt that between the old city and the shuk we got to experience the best of Jerusalem in terms of really experiencing the culture.
Ein Yael – An Ancient Jerusalem City Living Museum
Ein Yael is a fascinating living museum that was actually created upon what was a farming city in ancient Jerusalem. Kids love this museum where they get to participate in hands on workshops, such as basket weaving, pottery making and mosaics. You can even make your own paper, olive oil and pitas!
As you explore the rebuilt Roman streets, the employees wander around in ancient Jerusalem clothing and visitors are able to explore a mud house. There is loads to see and do but it's important to check the schedule before you go. They are only open in summer, on holidays, and some Saturdays. Some demonstrations only happen once a day!
Ein Lavan
Right near by Ein Yael is the biblical zoo. We aren't a fan of zoos for animal rights reasons but at the end of the biblical zoo's farthest parking lot is a trail to great natural spring with two pools; a shallow pool perfect for little kids to play in and a deep one. When you get to the end of the parking lot, just follow the blue trail markers (painted onto rocks) down a winding road until you hit a green parks sign and some stairs. At the top of the stairs you are there!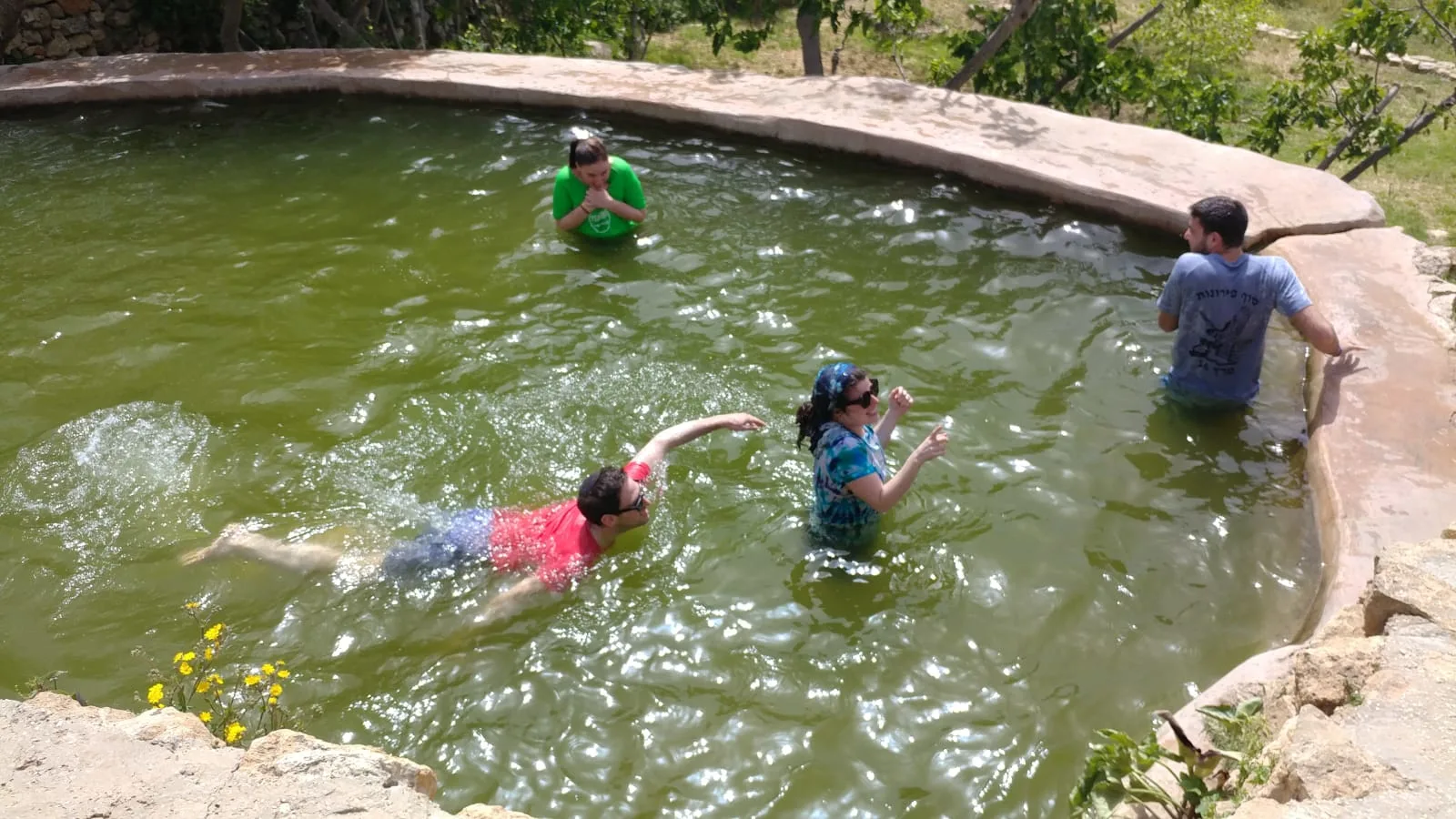 Ma'ayan (spring) culture runs deep in Israel. On their days off, Israelis love to hike to these natural pools around Israel so odd's are you'll have some company and won't need to worry about finding your way. If you go in August it will probably be packed. Most Israelis speak some English so don't hesitate to ask people for help.
Bloomfield Science Museum and the Israel Museum
The Bloomfield Science Museum is a really fun day for kids in Jerusalem. It's got loads of workshops and special programs and exciting exhibitions for kids of all ages.
Down the road from the science museum is the Israel Museum which is one of the countries most famous museums. It is ranked among the world's leading art and archaeology museums. The Israel museum is also supposed to have a special activities for kids but we didn't have time to visit. If you go, drop us a comment and tell us how it was!
Ramat Rachel Pool
If you are looking for a splurge and nice way to beat the heat, Ramat Rachel has a fantastic kids pool with water slides and fountains geared towards little ones. They also have adult pools and an adult size water slide. Entrance costs 85 Shekel per adult and 65 for kids.
Best Jerusalem Tours
There are loads of tours and experiences worth taking in Jerusalem with kids. As we mentioned we highly recommend taking a tour of the old city so that you don't get lost for hours and you don't miss any of the highlights. Check out prices on tours here.
Shuk Tour
Another tour that is really popular is the shuk tour. You can either do this with a self guided tour app, if you want to take it at your own pace, or with a group. Both tours will take you through the shuk with tastings at different booths and guiding you to the hidden gems of the marketplace. Read more about the tours here.
Sabbath Experience
If you are interested in learning more about Judaism, one of the most immersive experiences will be to join in on a Sabbath dinner with a Jewish family. Luckily there is an easy way to do this. There are two companies that will set you up with a family to have this experience and one of them is even free! You can check out their websites here and here.
Day Trips from Jerusalem
There are tons of amazing day trips from Jerusalem. You can even make a trip to Tel Aviv into a day trip, but we'd recommend spending at least a few days there since there is so many things to do in Tel Aviv. Find some of the best day trips below.
Bethlehem
The distance from Jerusalem to Bethlehem, is only around 25 minutes but it can be difficult by public transportation. Your best option is to drive, or take an organised tour. Bethlehem is part of the Palestinian authority and as such, Israeli's are not allowed in. This means if you have an Israeli cab driver or tour guide, they wont be allowed in. They can drop you off at the border and you can grab a new cab on the other side.
Those visiting Bethlehem usually go to see the Church of Nativity. The church was built above the cave that Jesus was supposedly born in. Inside the church you can see the Grotto of the Nativity, the spot Jesus is thought to have actually been born. It can get insanely crowded in here so be prepared.
Also worth a visit is the walled off hotel. This hotel was built right along the border wall and has become quite famous because on the wall there is a graffiti by Banksy. Jerusalem has quite a few tours available to take you to see all these things and more in Bethlehem.
Dead Sea with Kids
The dead sea Jerusalem day trip is probably one of the most popular. Jerusalem is not far depending on which beach you choose to visit. We visited Kalia beach, the most northern of the dead sea beaches and the closest to Jerusalem.
Kalia beach is one of the only beaches that charge for entry but it also has some facilities which the other beaches do not and it has dead sea mud.
Most of the more southern beaches don't have the mud which was one of the main reasons we chose to pay. For those taking public transport, the bus from Jerusalem to the dead sea stops nearby this beach.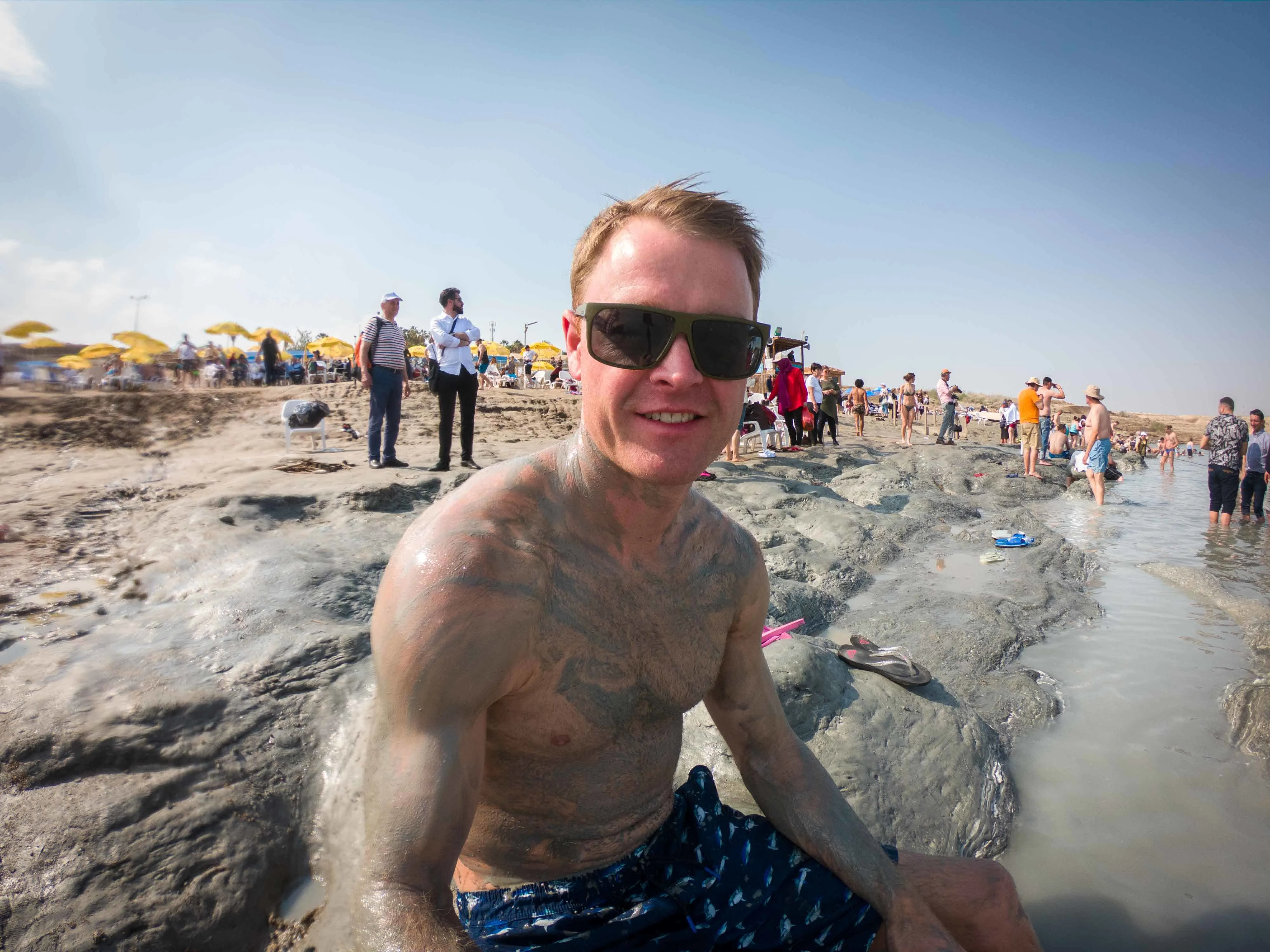 When we got to the Dead Sea we were so excited to slather ourselves in the healing mud and float in the water. What we didn't realize until it was too late was that small kids should not go into the dead sea. The high levels of salt that makes you float also can be extremely painful to you kid's skin. We unfortunately learned this the hard way when the kids started screaming and crying.
None the less it is certainly worth a visit. After we calmed the kids down with an ice-cream, they played at the restaurant at Kalia Beach.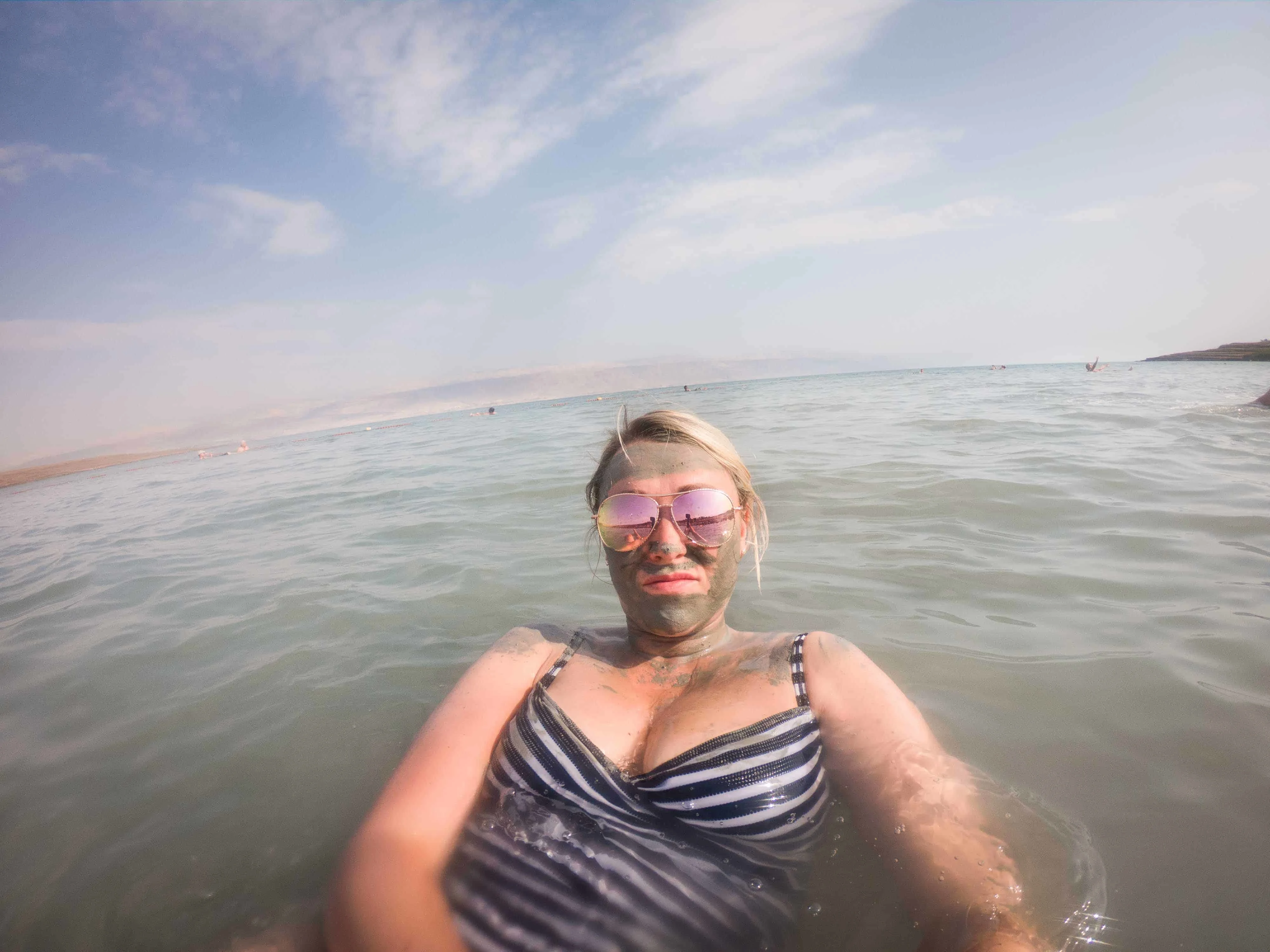 There is a lovely outdoor seating area with sand, so they were happy and I felt less guilty, so I got to float for a bit by myself. The experience of your body effortlessly floating is really amazing and unique.
Masada
Masada is a UNESCO world heritage site atop a plateau on a very large mountain overlooking the dead sea. At the top of the mountain you can explore the well preserved remains of the Jewish fortress.
It was occupied by the last stronghold against the Romans and there is lots to explore. If you want to have a good binge about Masada before your trip you can watch the mini series, the Dove Keepers.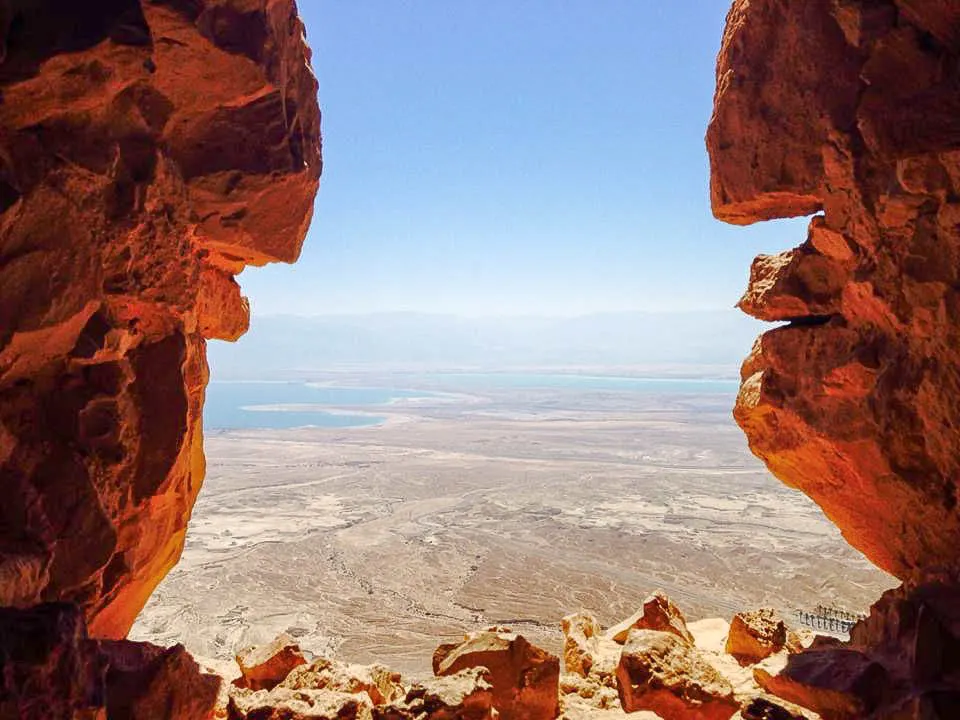 Luckily they have put a cable car in place to take you to the top but if you are feeling brave enough to do the climb on your own you may get to see huge troops of soldiers trekking up with packs, as this is part of their army training.
Many people combine the day trip with the dead sea and Ein Gedi (read more below). If you are doing that, it is probably best to start the day at Masada, as it can get extremely hot. The 444 bus from Jerusalem to Masada runs every hour from the central station.
Ein Gedi Nature Reserve
The Ein Gedi Nature Reserve is one of Israel's most popular hikes. The nature reserve is a series of waterfalls and pools. There are plenty of kid friendly, shorter routes to smaller waterfalls and pools or you can do one of the longer more strenuous routes.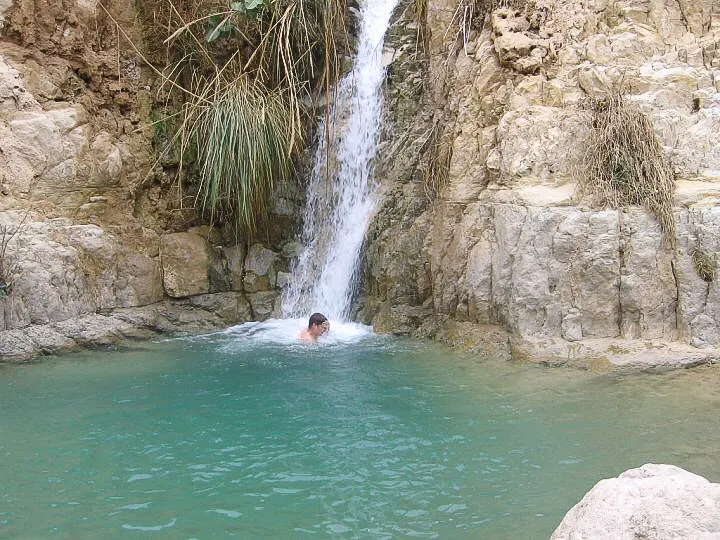 As you walk you will encounter lots of pretty little grottoes with pools just calling to you to jump in! Visitors are given a map at the entrance and the officer can advise on best tracks for families.
Soreq Caves
The Soreq caves are impressive stalactite caves, located around 40 minutes from Jerusalem and are really interesting. You can walk through the caves with a guide and learn about how the stalactite and stalagmites are formed.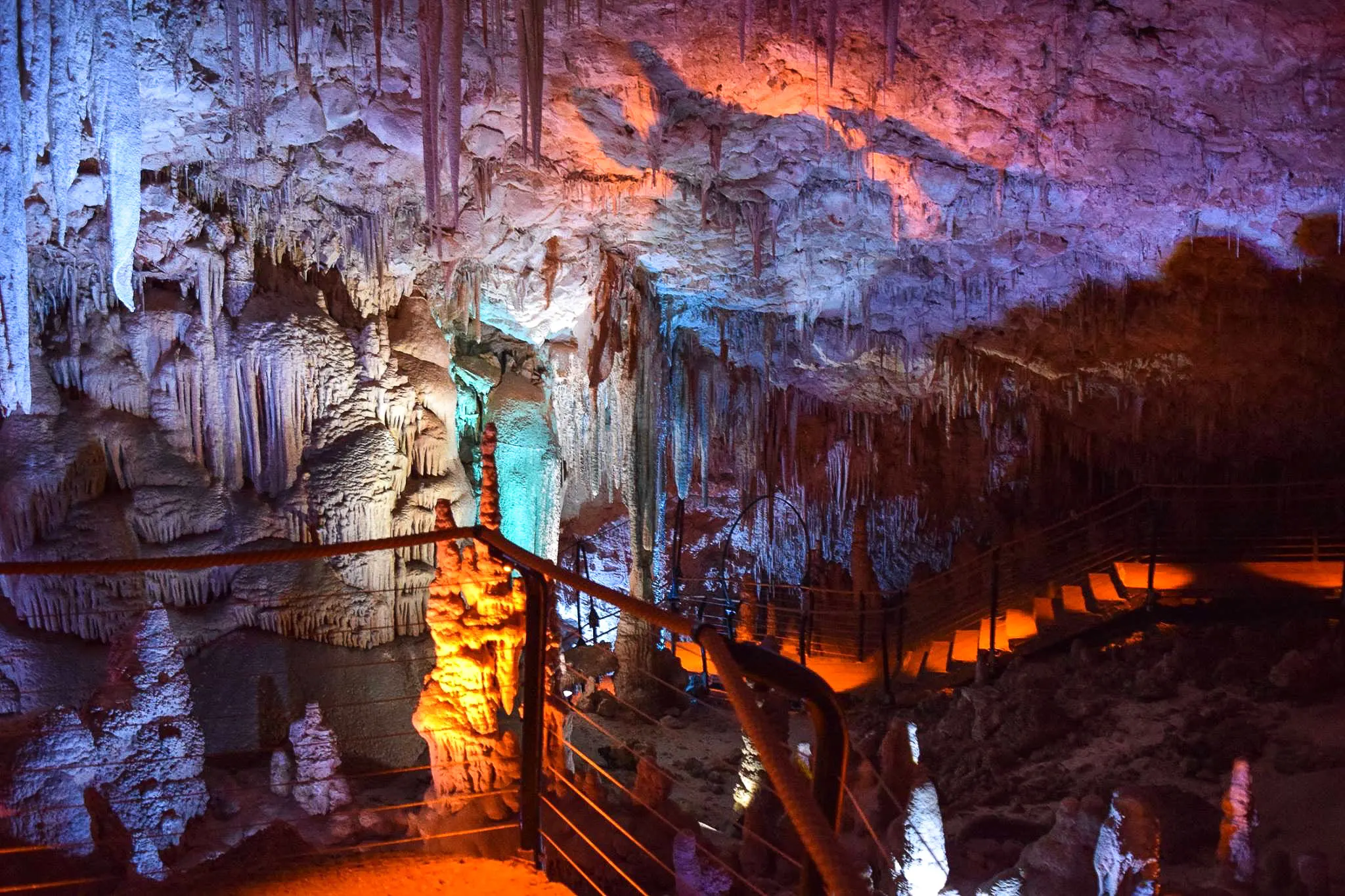 Kids find it really magical, fairy tale like, especially with the coloured lights placed around the caves.
Important note: You are not allowed to bring a stroller into the caves even if you manage to get it down the million stairs between the parking lot and the entrance.
Dig for a Day
Dig for a day is such a fun option for kids. You get to go out to an archaeological site, climb into caves and dig for artifacts. A guide shows the kids how to use all the special tools and sift through the dirt. This really is one of the best Jerusalem kids activities.
Budget Jerusalem
Jerusalem is not the cheapest city. If you are travelling on a budget, however, there is a lot you can do to save money. As we mentioned, we stayed in a really lovely budget friendly hostel. Other than that, these are my best budget Jerusalem tips.
Budget Airlines
Many of the budget airlines such as easy jet are now flying to Israel and have really low prices. Even the non-budget airlines frequently have sales on tickets to Israel. Find the cheapest prices here.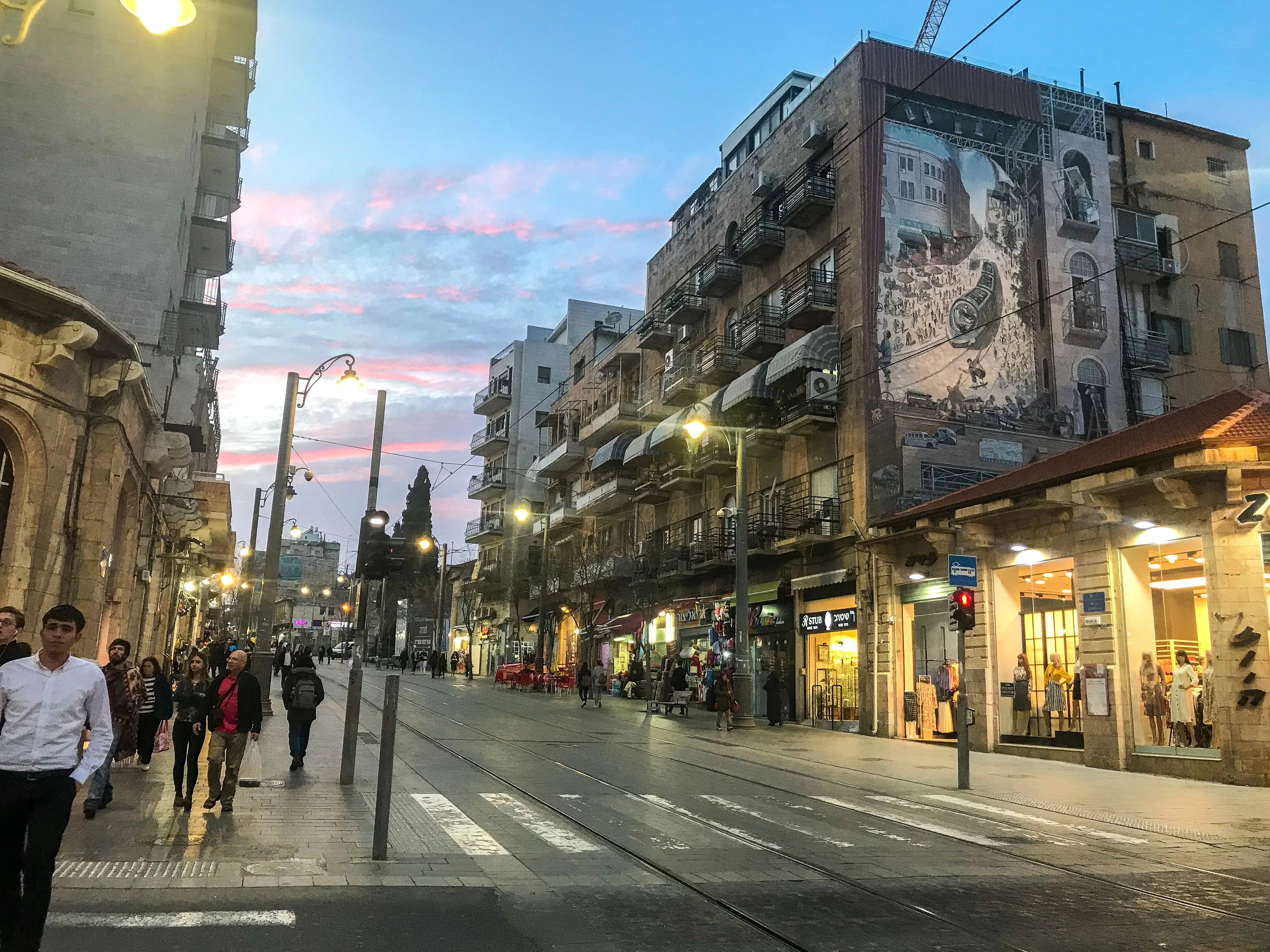 City Pass Jerusalem
Depending on which Jerusalem city pass you get, the pass will cover some attractions and give discounts on others. Some versions of the pass cover transportation from the airport. Almost all versions give you free transportation throughout the city. You can buy your city pass here.
Eat a lot of falafel and hummus
Jerusalem has loads of restaurants on every corner, the cheapest eats are usually hummus places and the falafel kiosks on every street. You can also pick up produce and bread for reasonable amounts at the shuk so that you have snacks where ever you go. Loads of places around the city sell huge bags of popcorn, usually for five to ten shekel and it make a great on the go snack for hungry kids.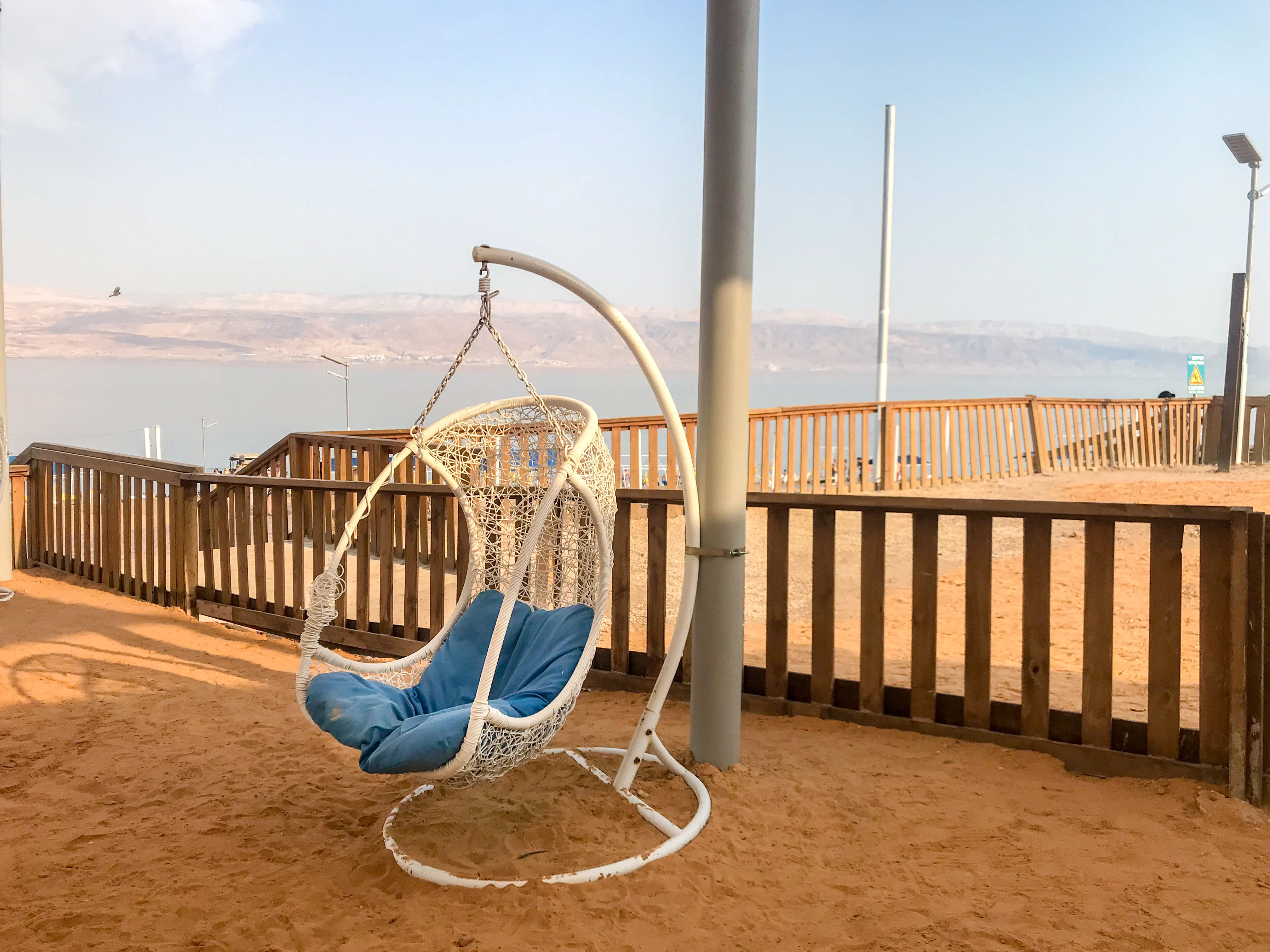 Choose the Free Activities
There are paid attractions but there is also tons to do for free. Hang out in parks, go to the free dead sea beaches, explore the old city and it won't cost you much.
You can also even take a free tour of the old city with this company, just be sure to tip the guide.
Restaurants and Cafes in Jerusalem
There are so many cafes and restaurants on every corner in Jerusalem and most are kid friendly. For some of these I'm just going to give you an area and call it a day because there are just too many.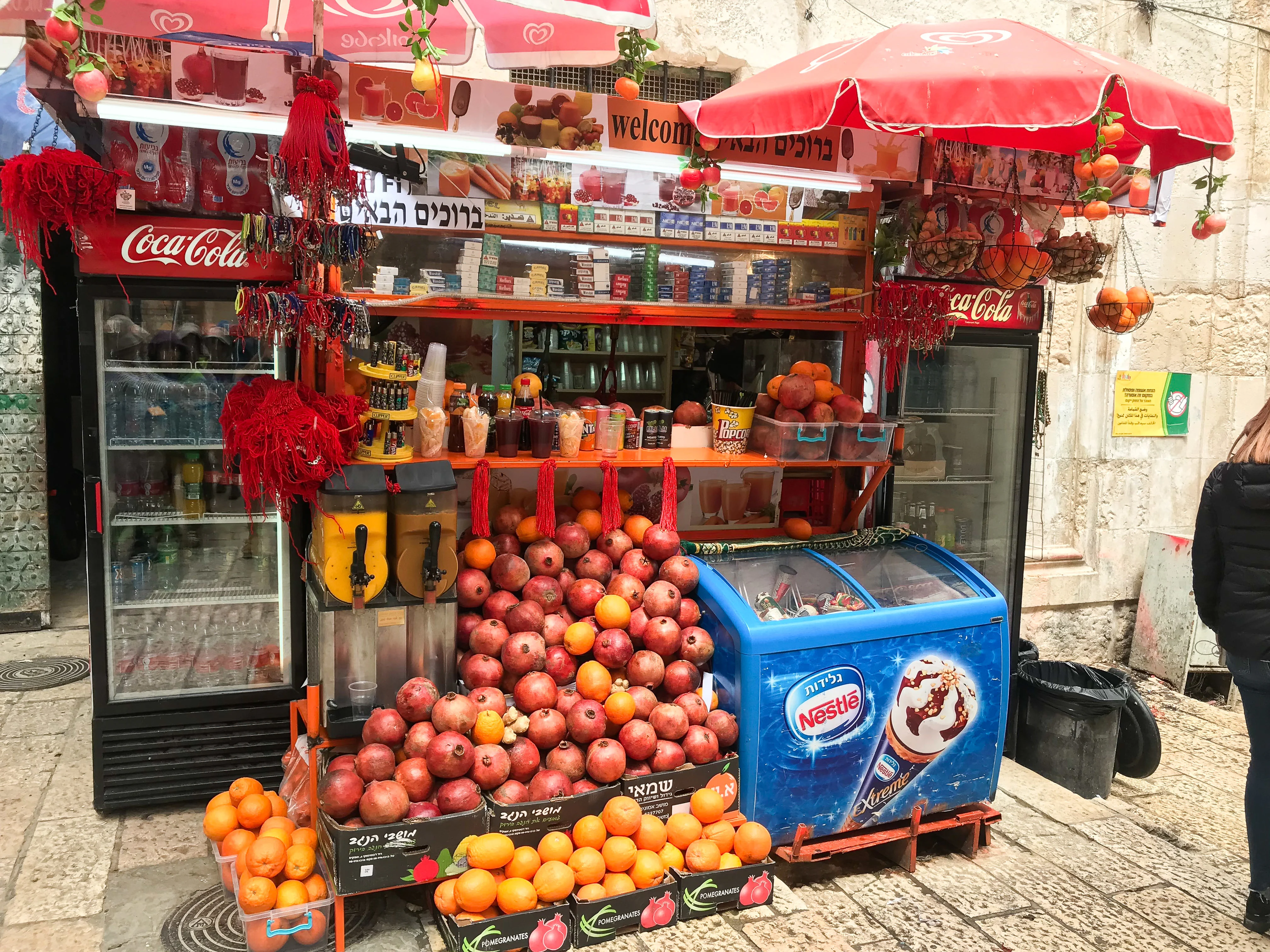 Bear in mind that most restaurants in Jerusalem adhere to kosher standards and so you won't find meat products and dairy products in the same place. Here's a list of the best Jerusalem restaurants and cafes.
Cafe Hillel
We ate at Cafe Hillel at least three times during our stay. Located on Yaffo, near Ben Yehuda, it a nice little cafe with lots of good options that we all enjoyed.
Man Hu Bashuk
If you are looking for some authentic middle eastern food, this is a great restaurant. Located smack in the centre of the covered part of Machane Yehuda they have a great menu that we recognised almost none of the dishes on.
The menu is conveniently marked with which dishes are vegetarians and most the server's speak English and can explain everything . It's a great place to take a break and observe the shuk's unique brand of chaos without being part of it.
If you want more recognisable food, as we mentioned earlier, the shuk is filled with other great cafes and restaurants with every type of food. The most kid friendly of these is probably Pasta Basta, which as the name implies, serves primarily pasta.
Aroma Jerusalem
Aroma is a coffee shop and cafe found in multiple places across Jerusalem. It's not the cheapest but it has a lot of good kid friendly options.
Ben Yehuda
Ben Yehuda is the main tourists street. There are often street performers, loads of souvenir shops and tons of restaurants.
First Station
Jerusalem transformed their old train station into restaurants, shops and an event centre. It's a great place to have a meal and spend the afternoon. We really liked Landwer's Cafe which is one of the few places that serve non-kosher food. It also has lots of vegetarian and vegan options.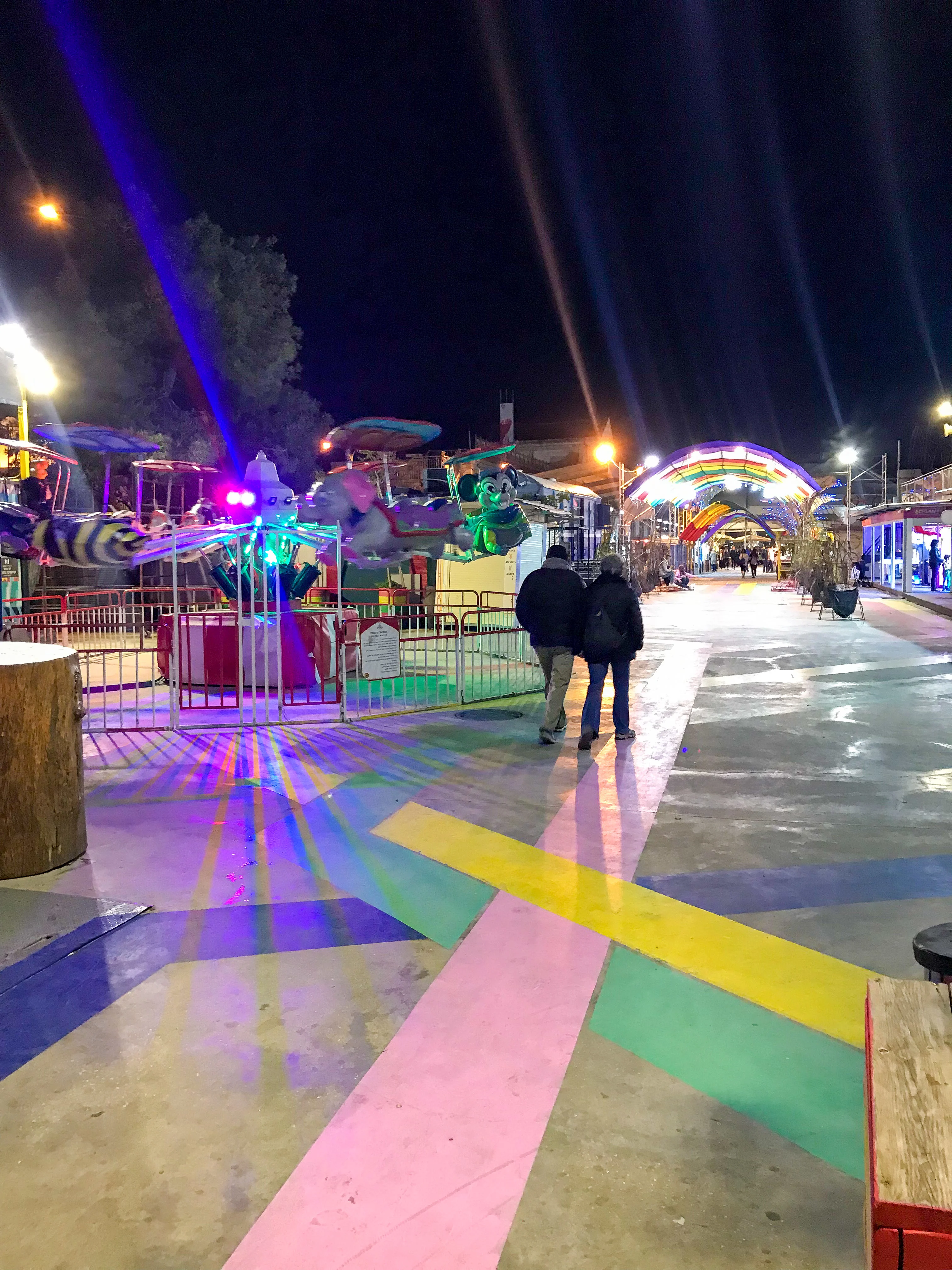 At the end of the station is a carousel and some other really nice kids rides, there are always events going on in the square as well as homemade craft booths to peruse. It is a great place to kind of let your kids run loose, although they may run straight into the candy shop.
Cinema City
If you are looking for an easy night (or day) out to the cinema, Jerusalem has a large movie theatre called cinema city. Inside the lobby there are loads of things to keep your kids entertained, like huge statues of their favourite movie characters and very often they have special events. The complex has parking and loads of restaurants. We especially liked Cafe Greg and King George.
If you want to leave your kids with a babysitter and venture out on your own, the Cinema City Jerusalem VIP track gives you an all you can eat dinner with wine and beer. When you are finished with your meal you can grab as much ice cream and popcorn as you can eat to bring in to a special small theatre with large reclining seats and tray's for all your snacks.
Best Jerusalem Souvenirs
There were so many places to buy souvenirs in Jerusalem and you can find great one's just wandering the Arab shuk but here are some of the best Jerusalem souvenirs we saw.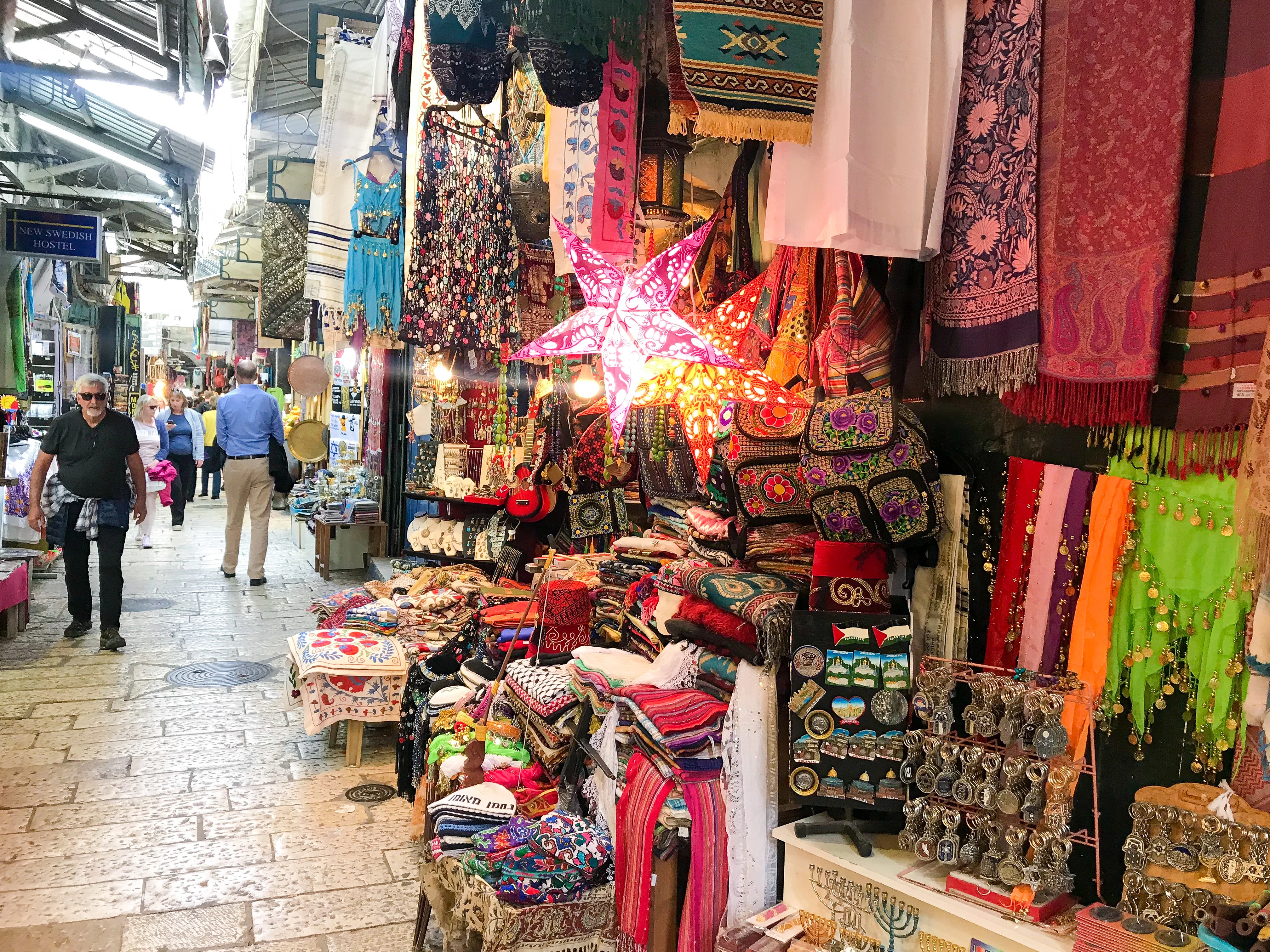 Balian Jerusalem
In the Armenian quarter of the old city lies this little shop that is one of the oldest in Israel making hand painted pottery and tiles. Check out the shop to find a truly unique souvenir.
Ahava Products
There are loads of shops selling what they claim is dead sea mud skin care products but a lot of them are not real. Ahava makes really lovely skin products and as an added bonus they don't test on animals. All their products are either made with dead sea water or dead sea mud.
Food Products
I personally brought home some hazelnut tahini from the shuk tahini store that I mentioned earlier. They have loads of flavors and you can stand there and test them all before deciding which to take home. Israel also has some amazing dried fruits and spices buying.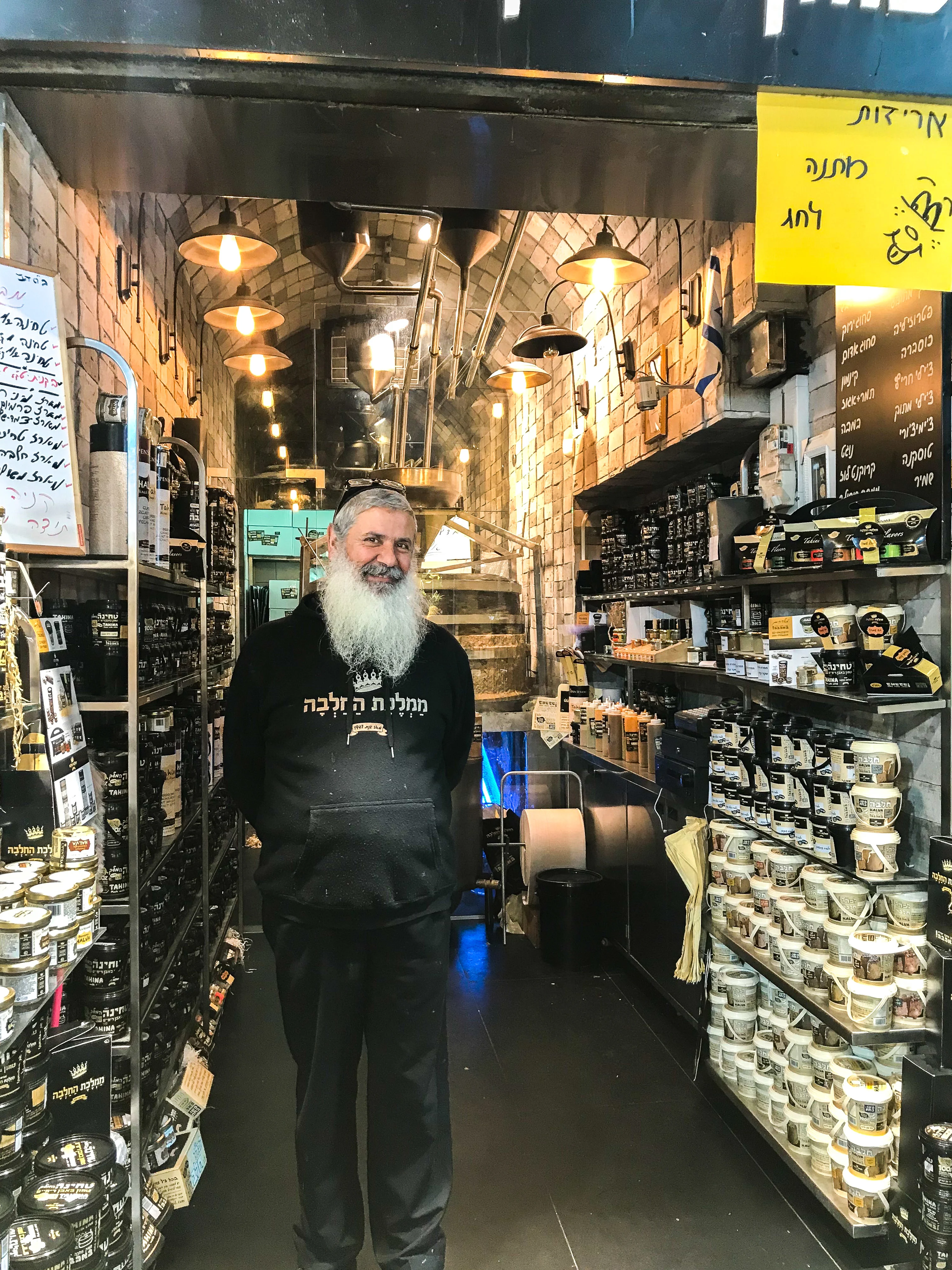 City of Jerusalem Map
Ready to book? Find the best deals on travel insurance, flights, hotels,and reliable internet!
As you can see there is loads to do in Jerusalem with kids. Have we missed any of your favourites? Leave us a comment and be sure to pin this post for later!
You May Also Like:
Dealing with Jet Lag in Babies, Toddlers and Kids
Disclaimer: This post contains affiliate links. However, as always, all opinions expressed are my own.