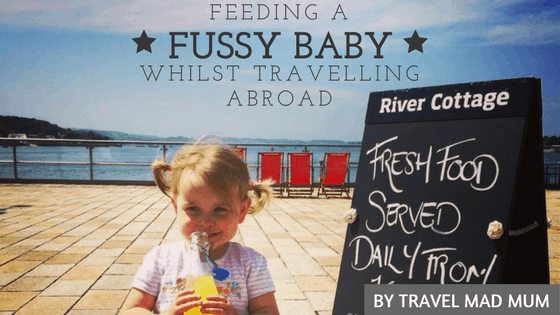 FEEDING A FUSSY BABY WHILE
TRAVELLING
Note in the title of this post the word 'fussy'. This is probably an understatement. From day one of starting solids, Esmé would not allow anyone to feed her. This was due to the ' I want to do everything myself' attitude. A personality trait she has probably inherited from me but this is still pretty annoying. Now in all honesty, the food part is not something we got right when we left New Zealand to go through Asia. We thought we had it sorted and we started off good but trying to feed a fussy baby whilst travelling was a stressful part of our trip.
We started weaning at 6 months. Luckily we were relatively static in New Zealand at the time so it gave me the opportunity to cook, try flavours and get an idea of what she liked, which wasn't much. I soon realised I would have my work cut out for me in planning the next couple of months travelling and weaning.
As they say you live and learn, so here are some tips based on getting it wrong, and sometimes right.
Research your accommodation

We always had a criteria of a good breakfast when looking at reviews. Breakfast for adults and babies are similar so you can't go wrong with feeding a baby decent cereal, toast, fruits and yoghurt, for example. Most of these are adaptable to your baby's age. Our biggest problem with this was Esmé became spoilt for choice and ultimately acted that way too! When we got home she couldn't understand why there was a measly bowl of Weetabix in front of her.

Bring lots of familiar non-perishable snacks

This was our biggest mistake. We didn't bring enough sucky fruit pouches. We picked a load up on our way through Australia. We used those Rafferty ones and now we are in the UK we use Ella, they are the same. Perfect because there are no additives, so no guilt when it comes to snack time. We couldn't find anything like this until we got to Hong Kong. My advice is to bring enough for your trip or make sure to factor in a country mid-trip that will have such products. We also brought oat bars, compressed fruit snacks and so on.

Use Google Translate

Before we left New Zealand we discovered little lady had an egg allergy. I translated this important information and printed it out using Google Translate. I showed it in every restaurant. In most cases they understood me when I told them but I would always make double sure by showing the text in their own language. I also translated things like 'can you blend that please' or 'can you heat that please'. This proved very useful.

Breastfeed, if possible

It goes without saying that it's going to be much easier to feed on the go when all you have to do is get your boob out. I know not all mums can do this so my advice for formula fed babies is to, as above, translate some information that will be helpful for you and research some good sterilising bags. Similar to snacks, probably bring formula with you or factor a place in mid-trip you know you will be able to get the formula you want.

Sterilising bags

We actually brought sterilising tablets with us but having discovered these, I think they are way better. There are plenty on the market to choose from and they wont take any room in your luggage.

Visit the local markets and buy fresh fruits and vegetables

In Vietnam, for example, we went to the local market and bought bananas, mangoes, sweet potatoes and carrots. Albeit a pain if you are not staying at a self catering place to cook, we on occasion cooked up some sweet potato in a kettle and it worked a treat! Most hotels and hosts are more than accommodating and might even cook them for you if you ask them nicely. Make sure to have it translated in advance to avoid miscommunication.

Don't bring a pen knife

We brought one to chop fruits but Shaun had his taken off him. Handy while it lasted!

Familiar eating utensils

We brought a silicone bowl, spoon and bib with us. Really easy as you just wipe them clean. We also brought a stainless steel bottle to keep water cool.

Bottled water

For obvious reasons, use bottled water and look out for the ones that don't have additives such as potassium and sodium, they are not so good for baby.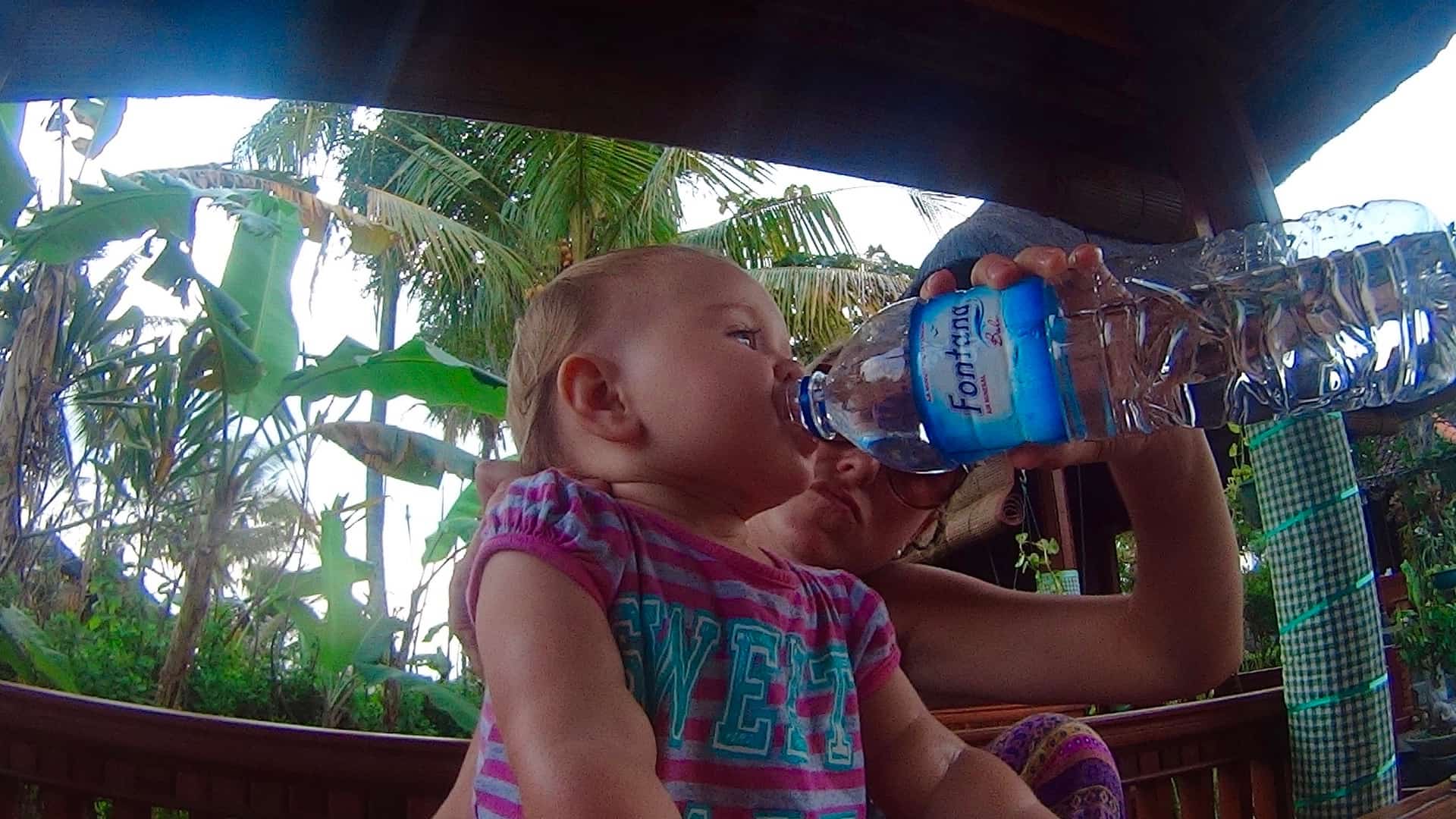 You'll need lots of wipes

That goes without saying!

Bring a good clip-to-the-table high chair

We have a review of a clip on high chair on the blog here. It's really small and it literally clips onto the side of the dining table. Easy to carry around and perfect for less developed countries where they generally don't have high chairs. Again, we found this after our big trip, it would have been so handy the first time around.

Let baby explore and try different flavours

I let Esmé try most things I was eating as long as it wasn't too spicy. Honestly, she surprised me with the dishes she took a liking to. A favourite in Vietnam was the Cao Lao noodle dish!

Try to have some meals by yourself or while baby is asleep

As much as mealtimes are a time for family, we got plenty of it! Sometimes I just needed a quiet meal where her hands weren't stuck in the middle of my plate. You learn to appreciate your nap time at home where you can have lunch in peace. I think it's important for sanity.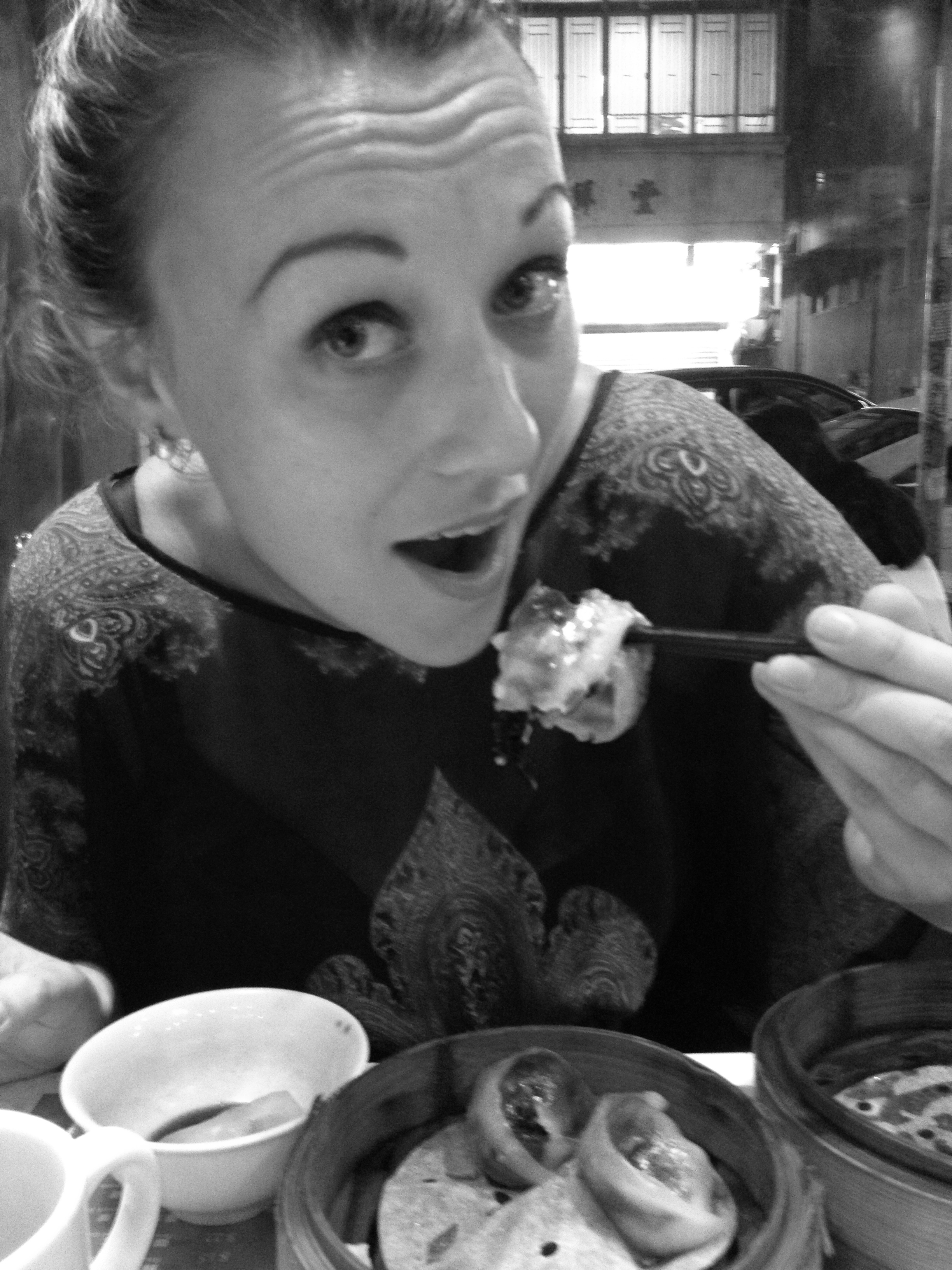 Don't fret when they don't eat
Sometimes little lady just wouldn't eat much for a few days. She does this regularly so it was no different when we were away. I guess you should only worry if it is out of character.
Since our big trip, I have learnt a lot of our issues were related to our little one being fussy. I do feel if we had a baby that loved their food it would have been a lot easier to manage. So if you do have a kid that likes their grub and has a good appetite I think you will find it a lot easier. But if you know you will be feeding a fussy baby whilst travelling, hopefully you will find this helpful.
Have any of your own tips for feeding a fussy baby whilst travelling? I would love to know… Leave a comment below!
See also: