In the last two years, we have been lucky enough to take a trip to Canada twice, with our two children. We flew into Calgary and explored Alberta and BC. We totally fell in love with the stunning landscapes, the wildlife and of course the people who are incredibly friendly, welcoming and always took such an interest in our kids. Our first flight with Air Canada was pretty special considering it marked the start of our Pan-America trip and our sons first long haul flight at the tender age of 9 weeks-old. We found the airline overall really helpful and lovely with our kids.
From the biggest basinet I've seen on any airline for babies, to a dedicated kids programme, Air Canada do a lot to assist the family in making their journey more comfortable and smooth. All those little things go a long way. We all know airports and a long journey can be stressful at the best of times for us parents of little ones. Like someone once said, it's nice when the journey is as good as the destination. We do put a lot prerpartion into it ourselves. From makng sure we have ample entertainment and snacks, to spare clothes and diapers. We don't always get it perfect. Kids will be kids in a long queue or when they are bored. Here are a few things Air Canada are doing to make those moments a little easier on all of us.
FAMILY TRAVEL WITH AIR CANADA
SIT TOGETHER
Over the last couple of years, there have been a number of dismayed parents venting on social media about being seperated from their children on a flight. I personally feel it should be a given gurantee that a family can sit together at no extra cost. I'm so glad Air Canada feel the same about this in offering all families seats togeter free of charge. It's one less thing to worry about.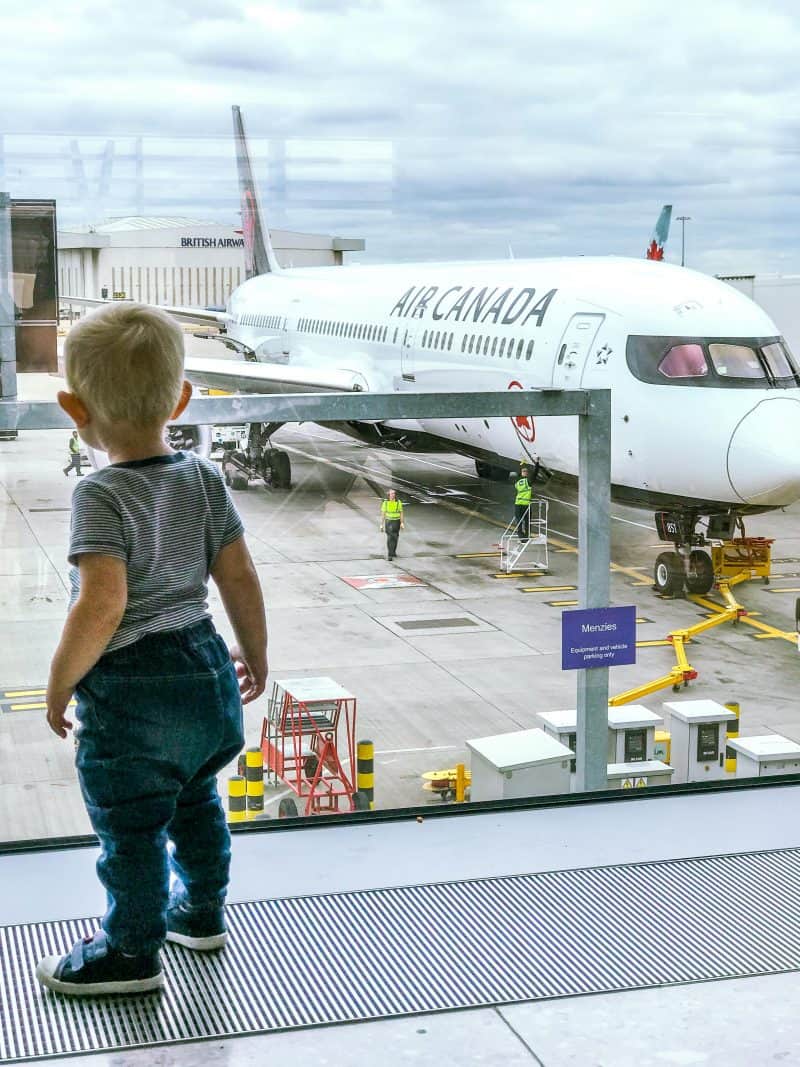 FAMILY CHECK-IN
Like I said before queueing can be the difference between an easy and quite challenging airport experience. There is nothing worse that trying to get a toddler to stay in line happily, or sit with the other parent on nearby seating. Air Canada have recently brought out a dedicated check-in desk for families at selected airports. Meaning no long queues and understanding staff of little ones darting around the terminal. We were really happy to be able to check our double stroller and two car seats free of charge.
GOODIES FOR THE KIDS
Talking of little touches, Air Canada give all kids at check-in a special sticker. Likewise they are given a goodie bag on boarding the aeroplane. It was filled with a colouring in book, crayons, stickers and a puzzle. It was perfect for passing the time alongside our own kids entertainment mid-flight. If you haven't heard of it before, Air Canada have a kids programme called Skyriders Altitude. It's an engaging way of getting little ones interested in their destination. Kids are given a 'passport' and the cabin crew can stamp it every time with a destination specific badge. In the same passport kids can log the details of each of their flights – The goodie bag has kids earphones so they can watch the inflight entertainment and a special 'Pax' luggage tag. Pax is Air Canada's mascot!
FAMILY TRAVEL BLOG
I've been browsing through Air Canada's new blog section and there is plenty of great tips, tricks and destination advice about travelling with chidlren. They have eveything from the best museums in London for kids, to how to prepare a child for a flight. I'm sure the content is only going to grow and will be a great resourse for families.
This post is sponsored by Air Canada, as always, all views expressed are entirely my own. In return we recieved a small discount on our flight for reviewing their family travel services.