Argentina was the last stop on our seven-month Pan-American trip. After being in neighbouring Bolivia where travelling with children can be quite challenging, we were in desperate need of a tranquil break. We arrived in Salta over the Carnaval weekend so everything was closed and there wasn't much going on in town.
We found House of Jasmines, just a twenty-minute drive from the city. Ideally, a rental car is required to get to and from the hotel as well as explore the surrounding area.
Based at the foot of the Andes, the hotel is on many hectares of land. It reminded me of a country manor in the English countryside. A tree-lined road leads to the front door of the 100-year-old building.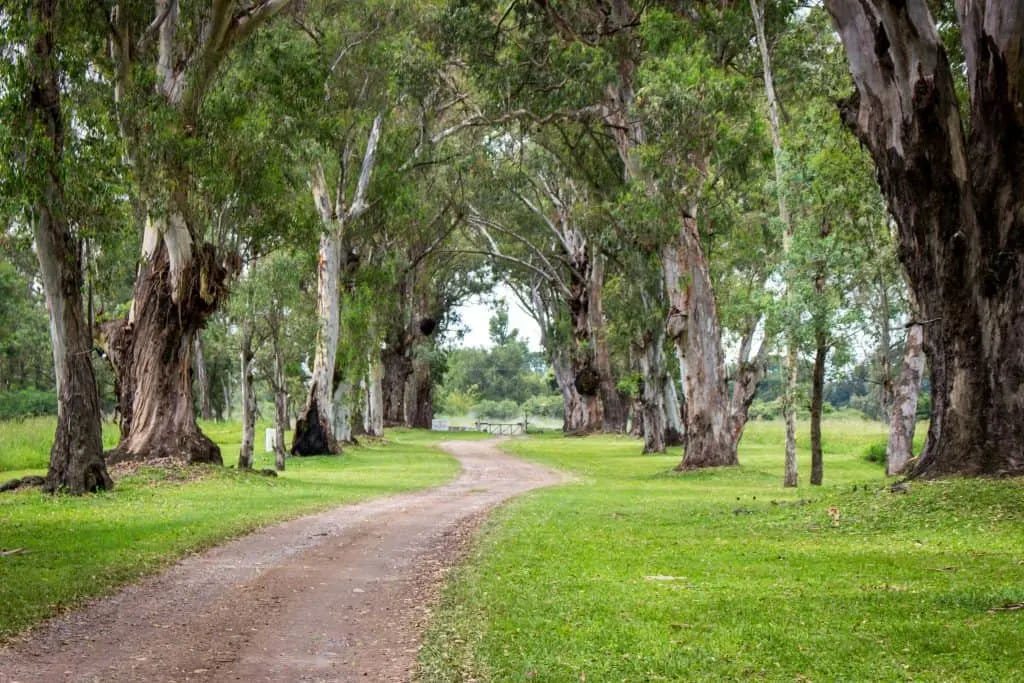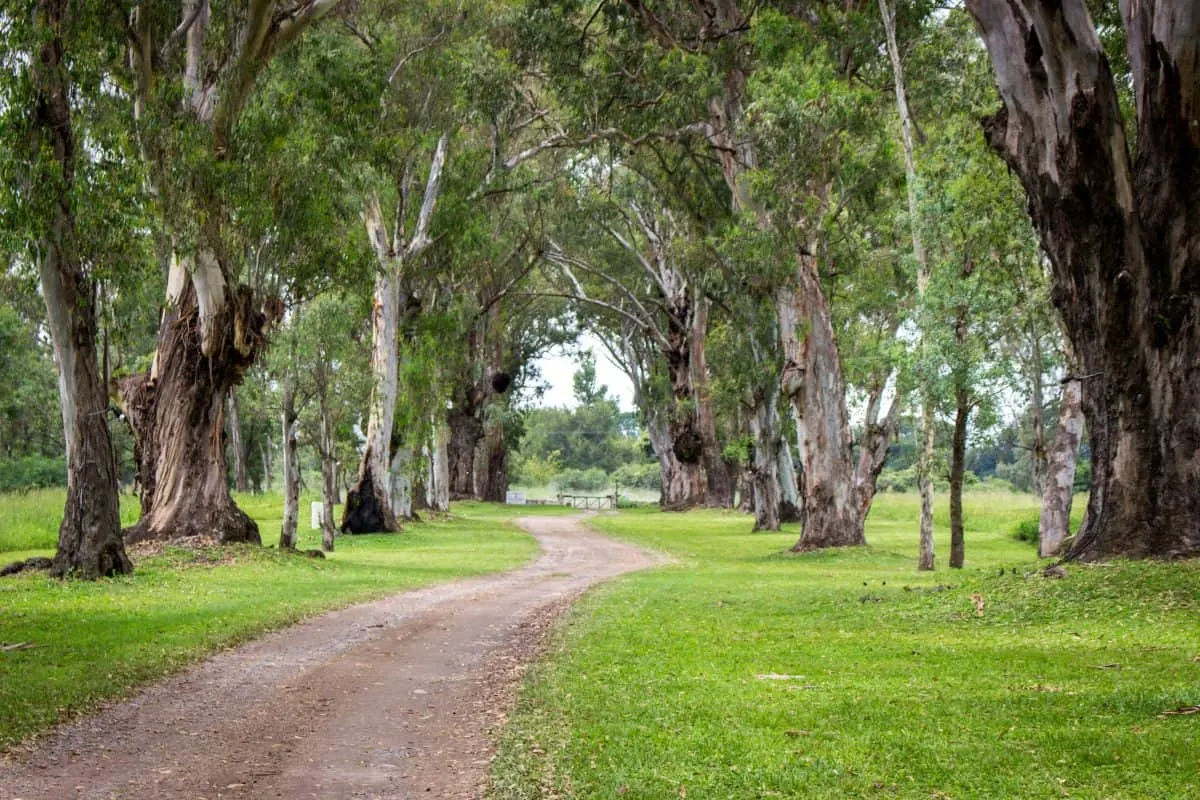 The rolling blue mountains and green fields with galloping horses were the perfect surroundings. Not to mention the beautiful interior design that encapsulates Argentinian country living in a chic and luxury way.
It's not always easy to find luxury as well as family friendliness. Here are five reasons why House of Jasmines is the best hotel in Salta, Argentina for families.
FIVE REASONS WHY HOUSE OF JASMINES IS THE BEST HOTEL IN SALTA, ARGENTINA FOR FAMILIES
CHILDREN'S ACTIVITIES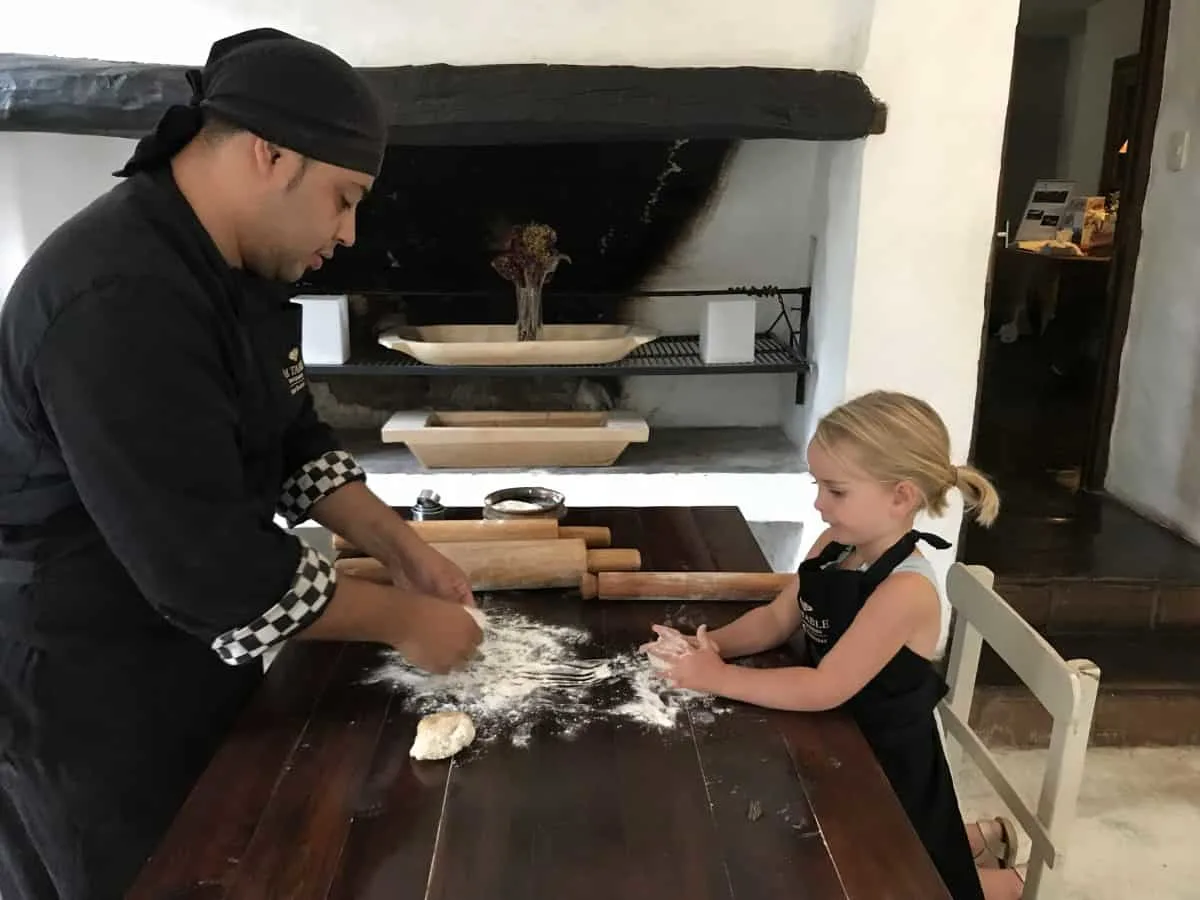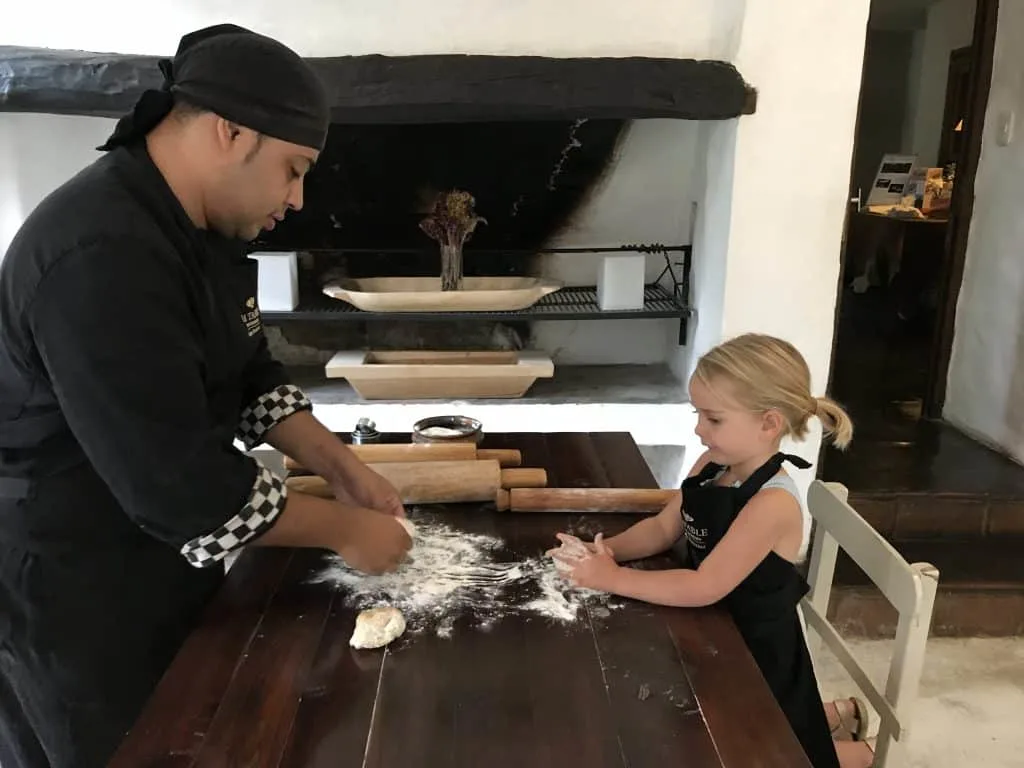 There is no shortage of organised activities for little guests at House of Jasmines. We kicked off our first day with a one-on-one pastry class with the chef.
Our little girl loved getting suited up in her baker's apron. She made cookies, decorated a tart, iced muffins and dipped fruit sticks in liquid chocolate. She really enjoyed the activity and she was looking forward to it once we booked her in.
All children are given a bird spotting pack on arrival. It includes stickers of native birds and colouring in. We walked around the grounds spotting each one of them.
Given the nature of the environment it was very easy to find. Whilst we were looking for the birds we came across horses and other indigenous ground animals that we haven't seen anywhere else. It was a really good self-directed nature and wildlife lesson for our little one.
As I mentioned there are many horses on the grounds of House of Jasmines. It goes without saying that they offer horse riding as a way of exploring the beautiful surroundings. I
t's a two hour trip around the hundred hectares, so it's worthwhile bringing a snack and some water. It was a super relaxing activity and it was evident the horses are healthy and well looked after.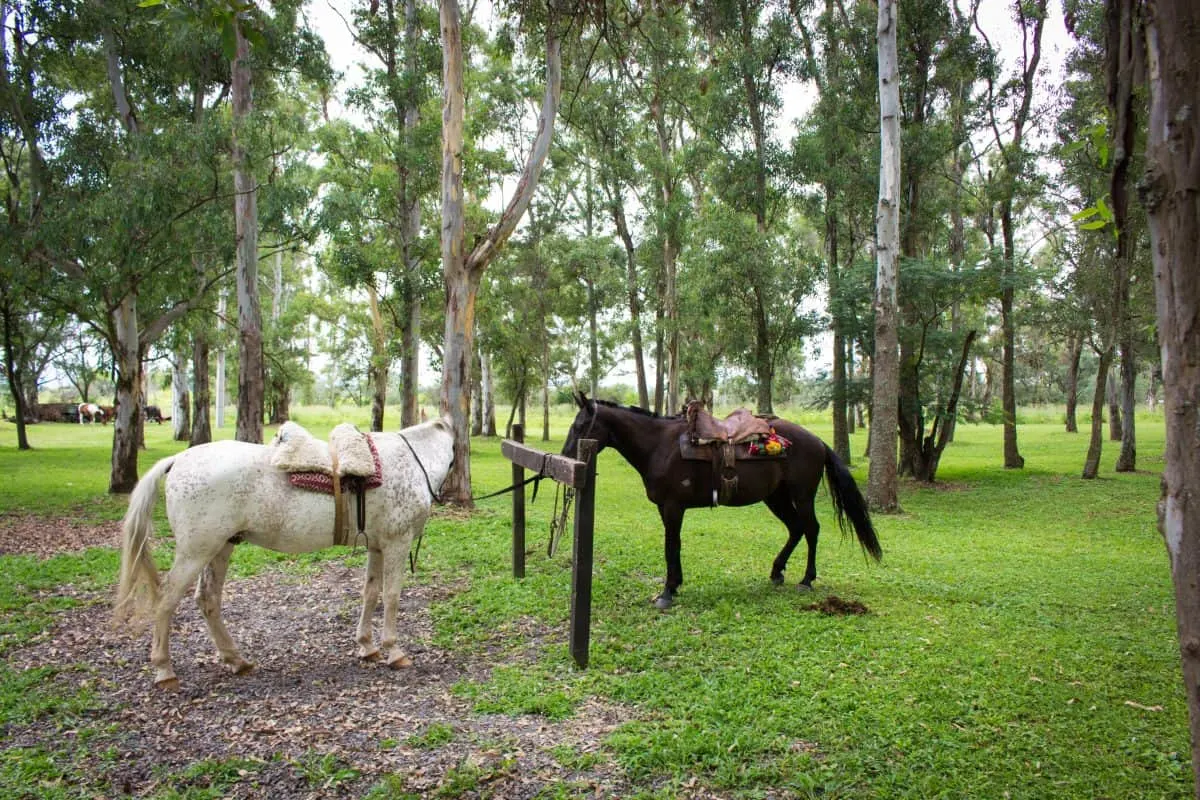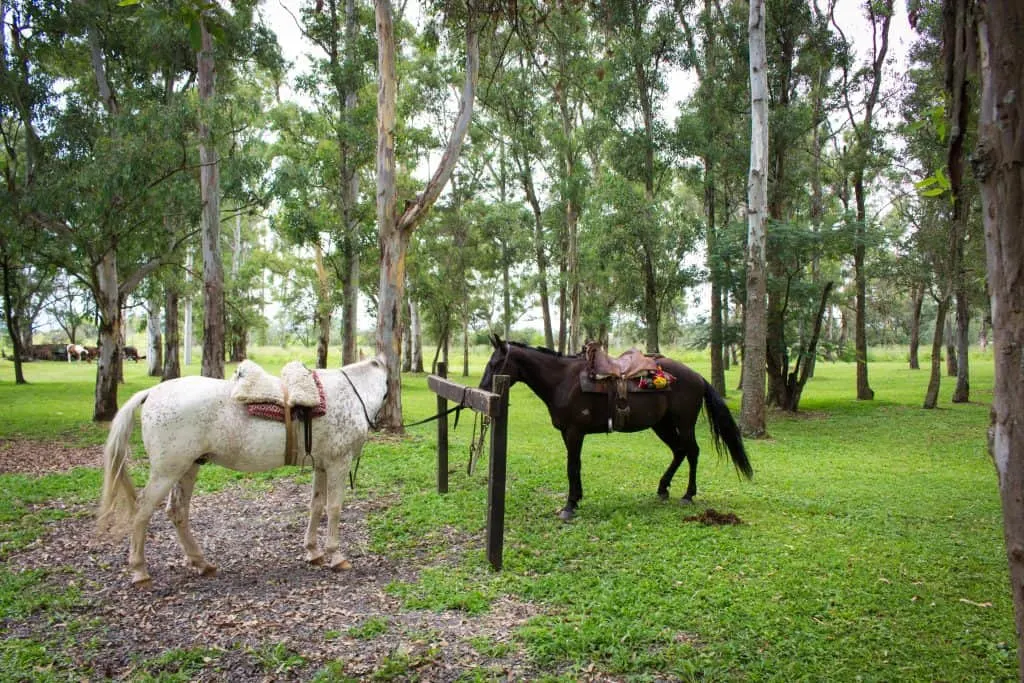 MASSIVE OUTDOOR SWIMMING POOL
Although the weather was cool during our stay and we didn't brave the swimming pool, it was huge and had fabulous views of the nearby mountains.
With sun loungers and umbrellas, it was an ideal place to sit and relax whilst the kids played. I imagine it would be perfect on a warm day.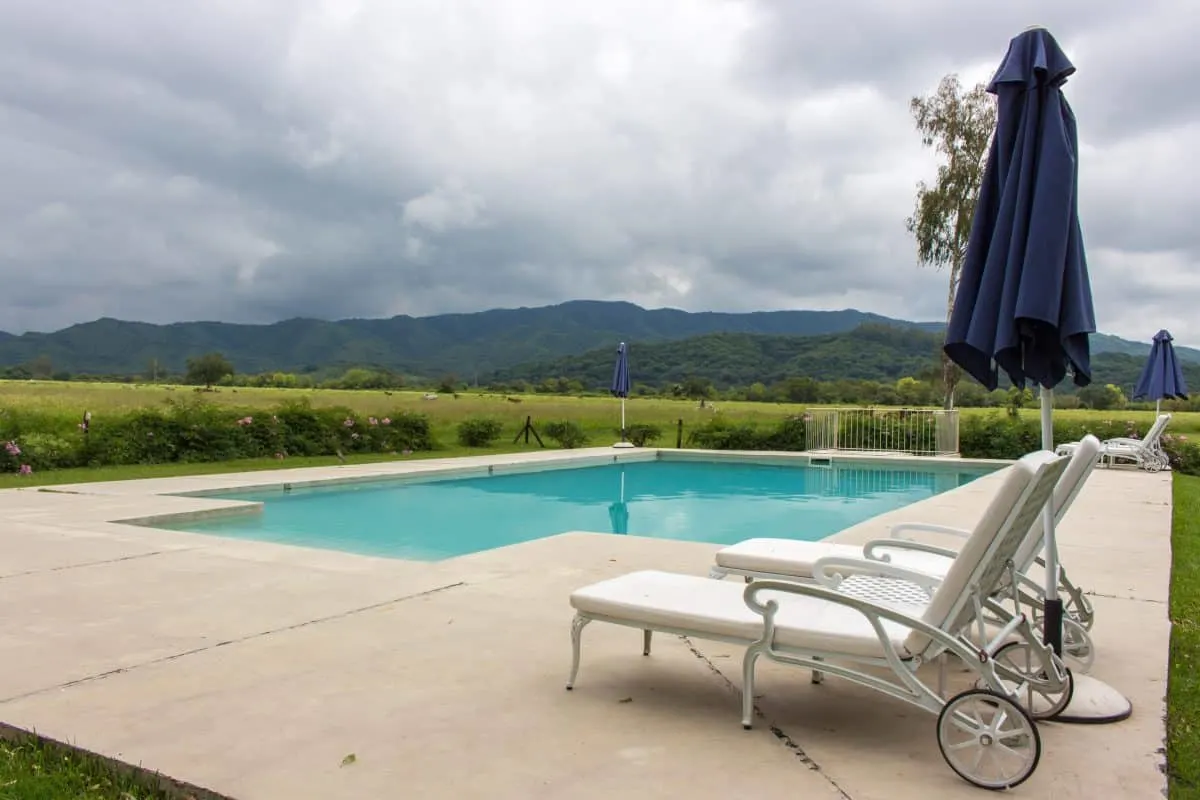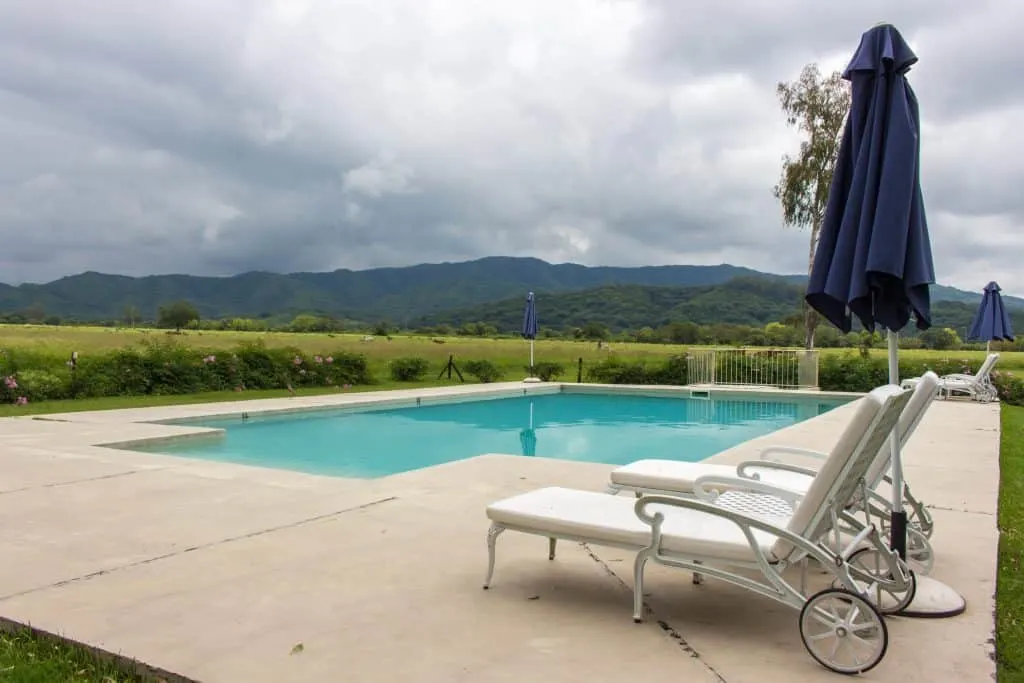 PLENTY OF OUTDOOR GREEN SPACE
My favourite part about House of Jasmines was the vast open green space. We stayed in a suite just a hundred metres from the main building.
We always had our French doors open, listening to the birds chirping whilst our little one played in the grass. She loved discovering the plants and the flowers as well as running around the field.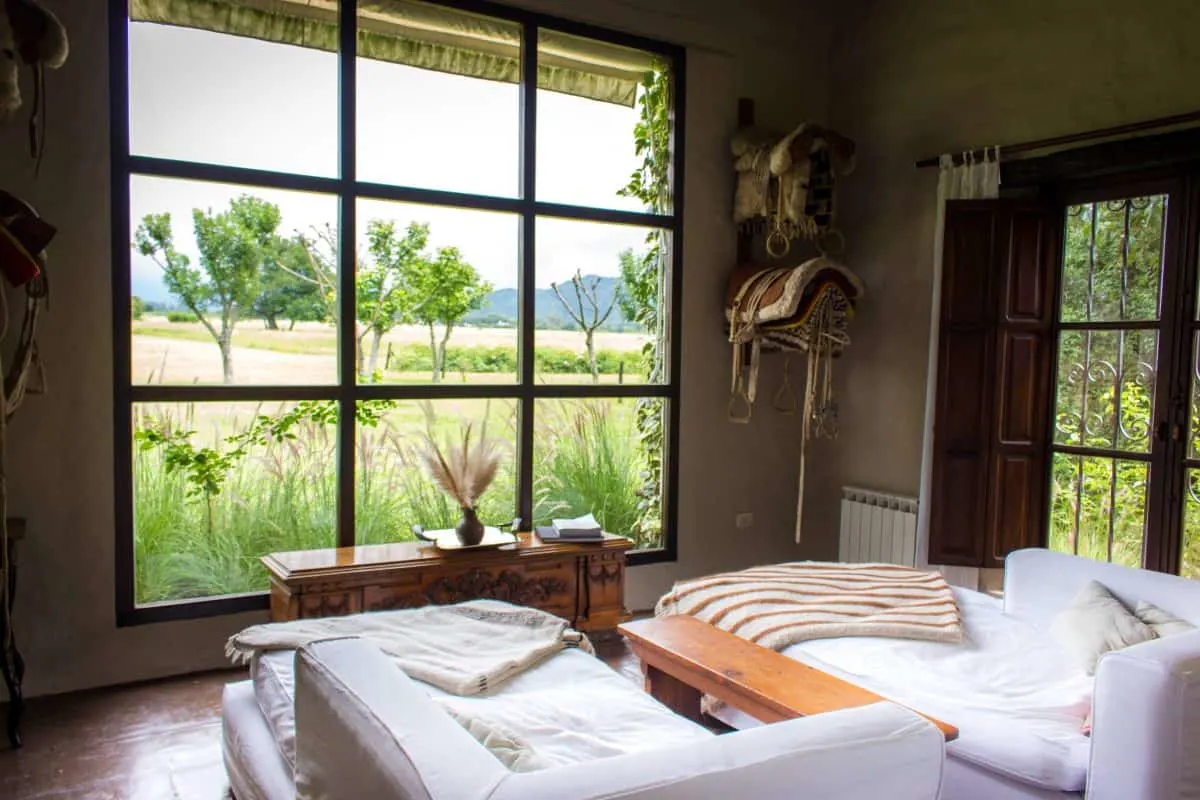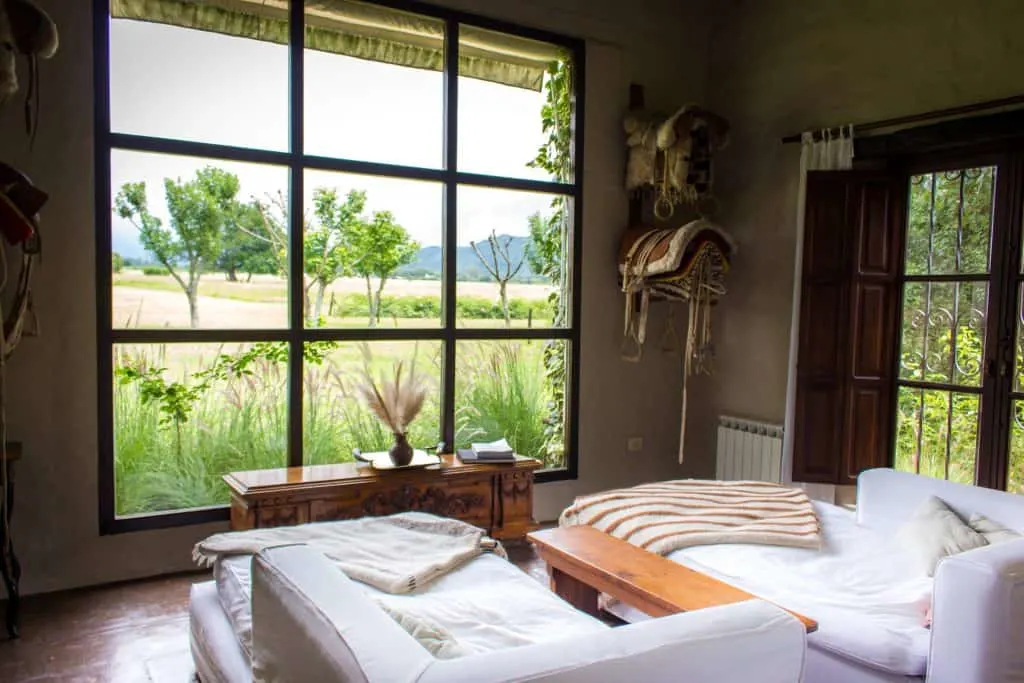 FOOD
The restaurant in the main building is such a stunning setting with high beamed ceilings, chandeliers and neutral colours throughout.
It was incredibly relaxing, even with two kids! We loved the fact they had a children's menu and were very amenable and adaptable to preparing something special for the kids if they didn't want a big meal.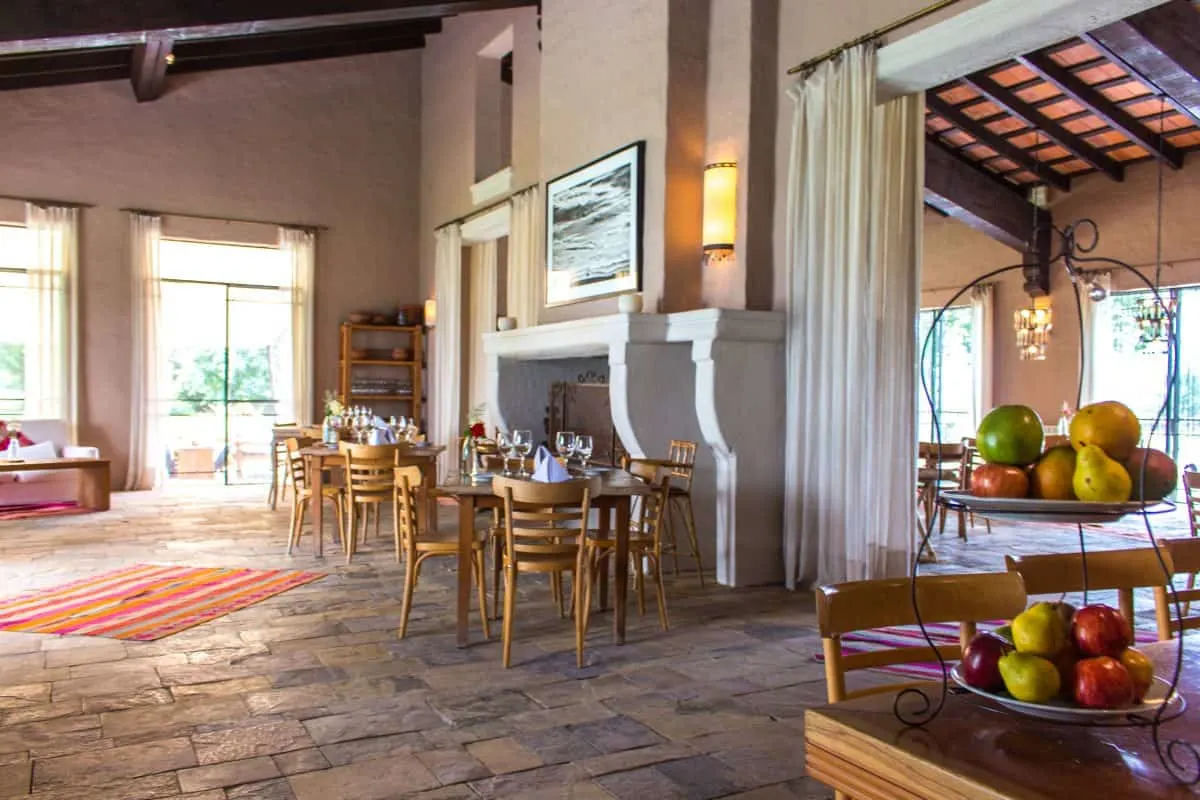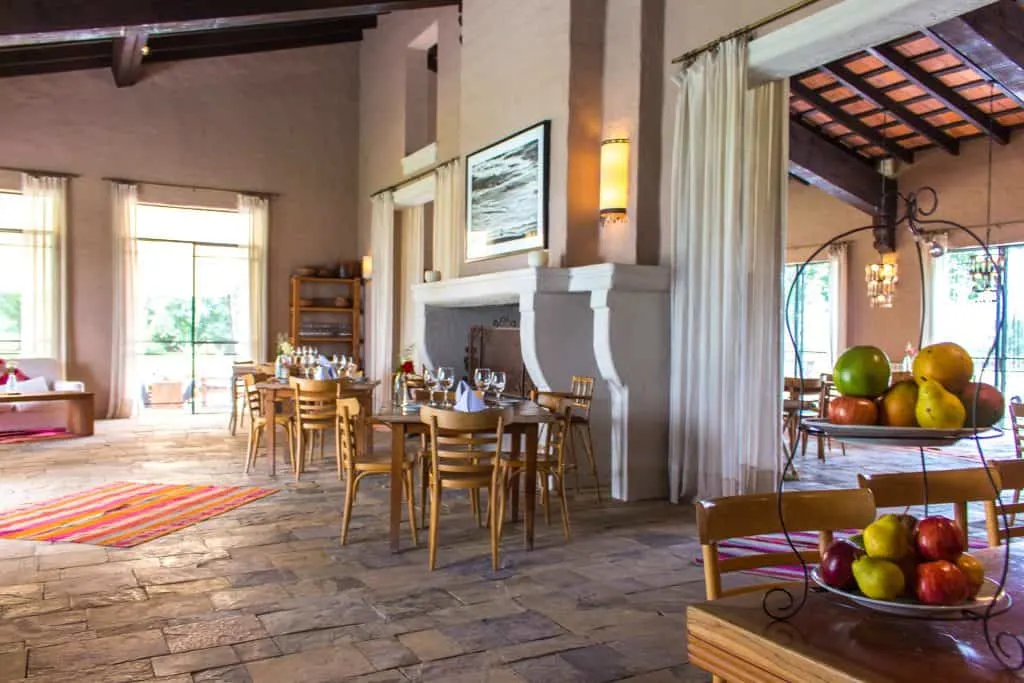 The menu had a variety of Italian inspired food as well as traditional Argentinian dishes. I found the food really fresh and tasty.
We noticed the vegetable garden next to the restaurant where we often saw the chef picking fresh herbs. Minutes later we received our homemade pasta dishes with the freshest sprig of rosemary on top.
NANNY SERVICE
We stayed in House of Jasmines on Valentine's Day. We don't ordinarily celebrate, however they had a lovely adult only evening organised with romantic music, a set menu and candlelit tables.
They offered a babysitter service that we could not refuse. Travelling full time with two children means we get very little time to ourselves.
So when a hotel offer to arrange a lovely evening for us, we would never refuse. The nanny was great with our kids.
We have a very clingy baby that doesn't usually do well with new people so we had anticipated being called back early. To our surprise, both toddler and baby were wrapped up fast asleep when we came back to the room.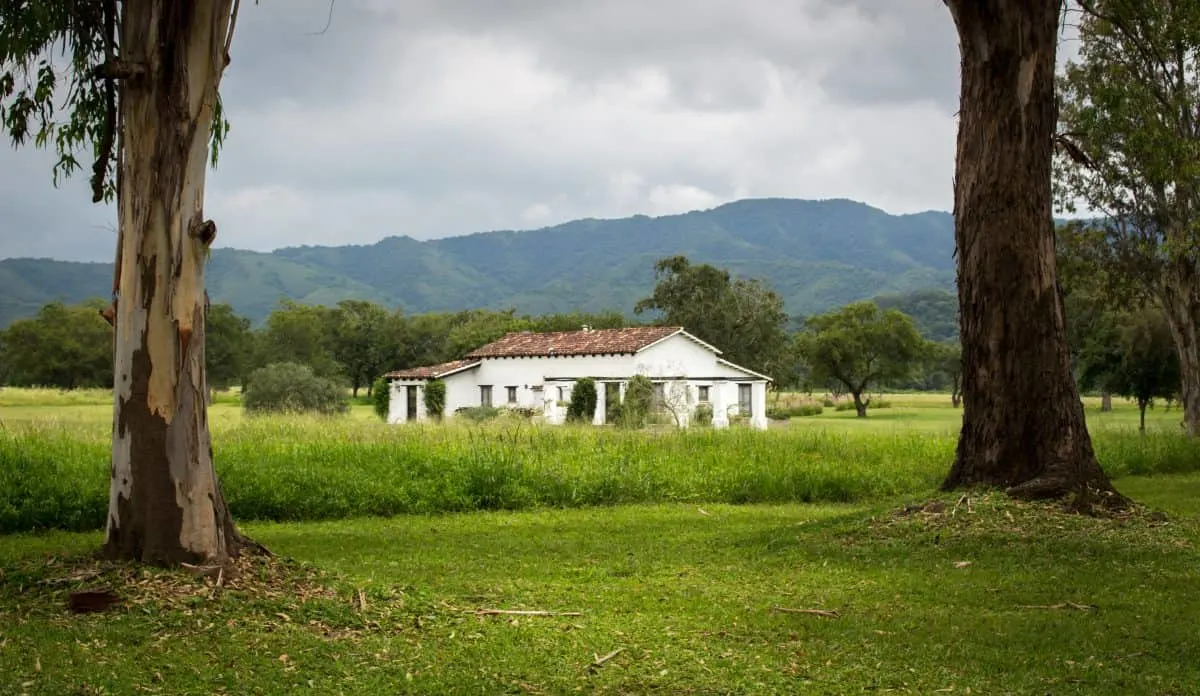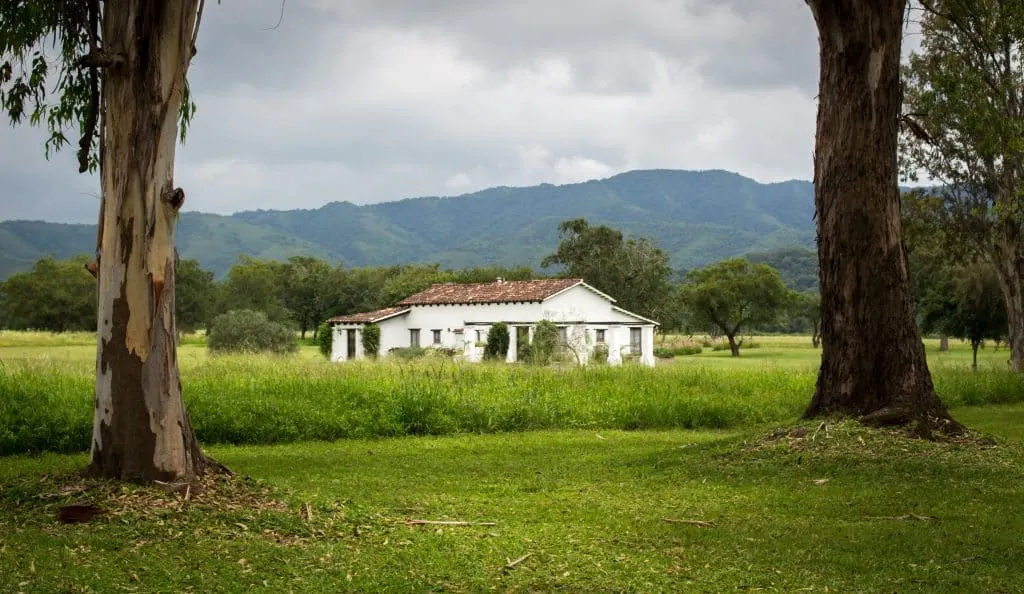 We absolutely love hotels that include the entire family's needs. Its safe to say that we all felt relaxed and enjoyed our time at House of Jasmines.
We know they have some other hotels around the world, so I hope we get to visit another one. The suite room was ideal for our family. It was spacious and roomy so the kids could play on the floor, have a bath and play outside easily. Our idea of a perfect room!
THE BEST HOTEL IN SALTA, ARGENTINA FOR FAMILIES
Have you found this helpful? Leave a comment, we would love to hear from you. If we've helped you in some way, we would love if you could help us too. In this digital age there is a demand for immediate information online.
Disclaimer: This post THE BEST HOTEL IN SALTA, ARGENTINA FOR FAMILIES, has affiliate links. Some of our stay was complimentary in return for an honest review. As always all views expressed are entirely my own.