I absolutely loved travelling over the last year as you know. However it's not all been plain sailing. Being on the road post-partum comes with a whole host of other things to consider.
It might seem quite insignificant but just simply getting back into shape was near on impossible. Strangely, I usually loose weight when travelling. I guess that's because I'm always go on very active adventures. It always includes hiking of some sort.
We did a lot of that but we got lazy towards the end, because we just needed to rest up after a long adventure, with two little ones in tow. So we plonked our bottoms in Bali for two months living the high life! I'm not complaining, it was amazing but it's time to get back to planet earth and do some hard work. Work hard play hard is my motto.
The moral of the story is since coming home, I'm needing to make some mega life changes to make everything work. Benenox reached out and asked me to share my little victories.
So here goes! Firstly I want maximum time with Shaun and the kids around work. Who would have known creating a family timetable to include engaging activities for everyone for the week is so complex?
My calendar is like Tetris and my brain is not too dissimilar. Swimming lessons, play dates, baby classes, long days at work, night shifts, the gym, some adult time, I seriously struggle to get my head around it all.
The first huge realisation was we need help! I have an old friend that once told me life is like a triangle. The three cornerstones are family and relationships, physical and mental well-being, as well as career.
Trying to juggle all three elements of life, to ensure it's balanced, is actually quite challenging. One thing always outweighs the other. Further complicated with the adorable little people in our lives. I love them dearly but there is very little time for 'me' or my husband for that matter.
My husband is a reserved man and I did worry about him feeling isolated at home with the kids as the stay at home parent. Women come together in the community for coffees and play dates. However the stay at home dads is still an evolving concept.
My number one priority when going back to work after mat leave was to ensure both of us did something for ourselves. We don't have the luxury of nearby help.
So we decided to get an au pair. She's a lovely young lady from Portugal that came to England to brush up her English skills. She works 8-2pm Monday to Friday helping us with the kids. It just frees us up or lends an extra pair of hands.
I work such long shifts as a nurse in the hospital both nights and days. Shaun can still manage to go to the gym or get some of our blog work done when she's around. Likewise on my days off I'm finally managing to get a balance in the triangle of life! Some time with the kids, a little bit of blog work in the evenings, and exercising and meal planning.
I've set myself a little victory to get fit over the summer. I've not bought a car on our return home. Instead we are biking and walking everywhere. In amongst that I do feel so tired though!
Little man still wakes up regularly throughout the night. I am in a constant slumber of what feels like jet lag from the night shifts. However the clean plant-based eating and exercise is giving me some energy.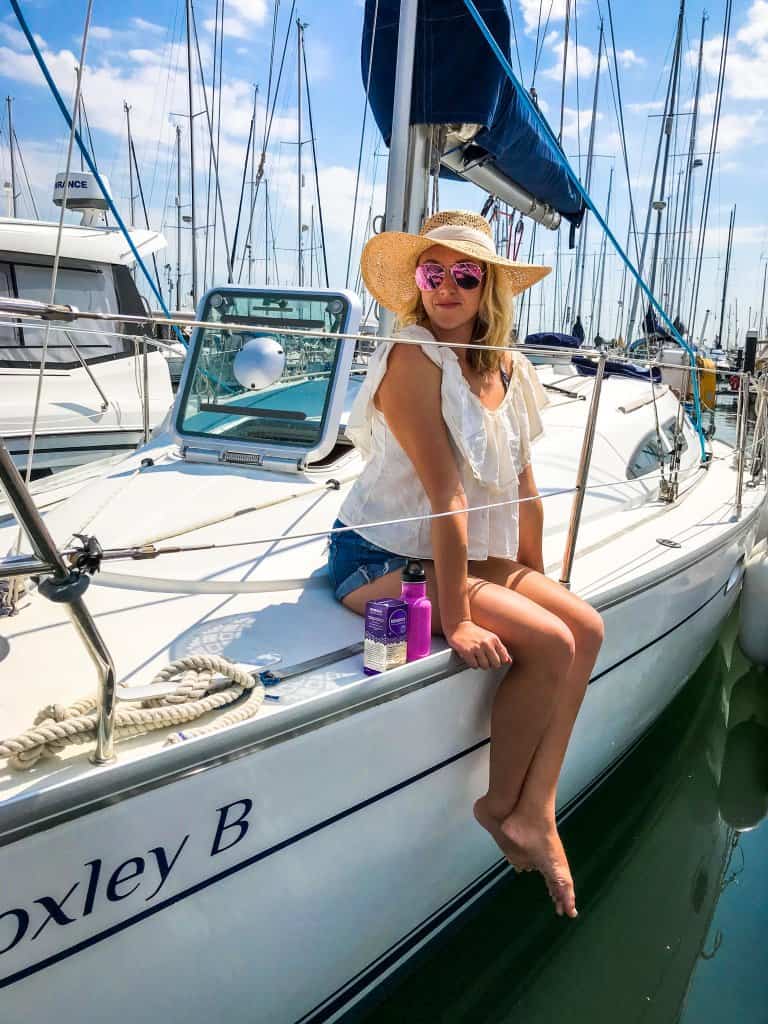 I've also been trying Benenox. It's a natural supplement that aids sleep and helps me feel recharged after a broken night. It contains honey, sustamine and vitamin B6. Vitamin B6 is a really important supplement for those on plant diets.
Now I know there is honey in this product but I feel I'm totally fine with honey. It's the meat and dairy I have the biggest issue with when it comes to food. The Benenox is just giving me that natural lift to achieve my summer plan.
I'm not sure about you but even when I'm lucky enough to get at least two straight hours of sleep with baby, I STILL wake up stressing about something.
Wether its worrying if I've set my alarm for work, or thinking about something I have to do the next day. I really feel since becoming a parent, I run on zero recharge and literally no sleep.
Apparently the brain needs a constant drip of glycogen overnight to help with its restorative functions. Glycogen is produced in the liver. If glycogen stores run out. they send stress signals to the brain, making it wake up and thus causing a broken night sleep. The sustamine, honey and Vitamin B6 in Benennox gives that slow supply of glycogen to the brain overnight and thus aids a good sleep.
I will give anything to feel re-charged and ready for the day. Seriously guys, I'm so addicted to coffee and I just need something else to get me through the day. Maybe this is the answer as opposed to stimulants?
I've been going to the gym. I honestly wondered how I'd find the time to do it amongst feeling exhausted just needing some Zzzzz's. Il be tracking and sharing my progress. This is not about a crazy weight loss programme. It's about getting in shape and feeling good about myself again. Just a mum trying to ace at life!
Big thanks to Benenox for sponsoring this post. Make sure to check out their Instagram account.
You May Also Like:
SEX, INTERRELATIONS & FULL TIME TRAVEL WITH KIDS