You guys! We have completely missed a cold winter for two years now because of our travel lifestyle. My husband literally has a phobia of cold weather and is his number one reason for wanting to leave the UK forever. I on the other hand, kind of enjoy the different seasons, especially autumn and spring, but I can totally see where he's coming from with winter being awful. Our kids are so use to being outside exploring all day. It's sad they won't get to do that as much and we really have to work hard to find ways of entertaining them at home. On top of that Esme recently started pre-school and Quinn regularly goes to baby classes. I am still baffled as to how they manage to bring home so many viral and bacterial nastie's.
Everyone in our family has a hacking cough or a blocked nose at the moment and it's driving me crazy. We never get these ailments when we are travelling and is something I always tell my critics when they ask me what happens if the kids get sick in far flung destinations. I am all about preventative measures and being a nurse I am so hot on infection control measures. We all try our best to wash our hands with warm soapy water after being out and about playing with other little ones. I also give my kids probiotics at this time of year as a way of protecting them against bacteria. There are many different types on the market, so it's worth checking out whats available locally.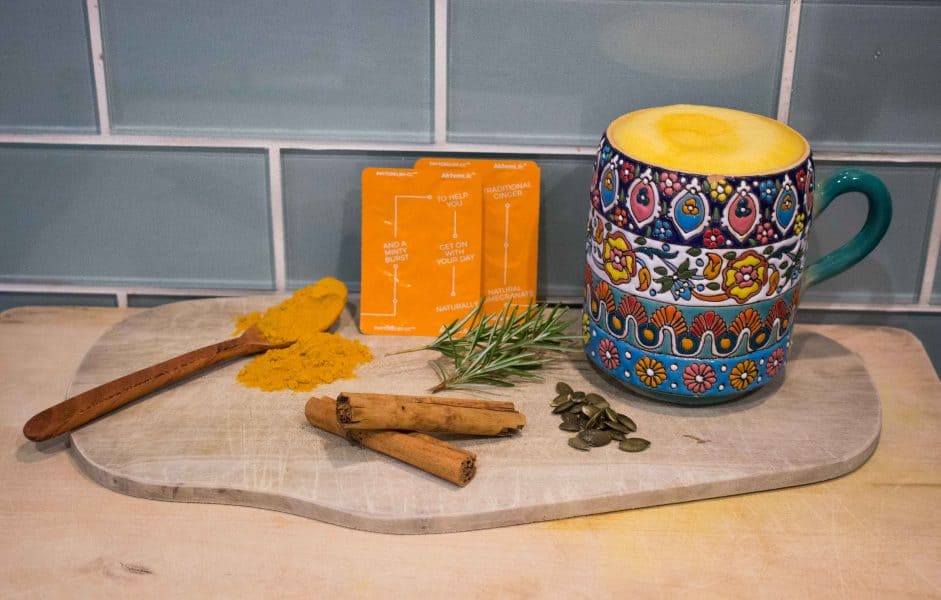 In this day and age people are building up resistance to antibiotics due to overuse. I try my best not to get to the point of needing them in the first place. Of course if they are needed then I practice what I preach as a nurse and taken them. My initial approach is to stay healthy and work plant-derived natural preventative remedies into our diet. Ingredients such as ginger, turmeric and pomegranate have naturally occurring pharmaceutical ingredients.
NATURAL REMEDIES
Turmeric & Ginger
Turmeric is part of the ginger family, traditionally used in South East Asian cooking. It's thought to assist in controlling the inflammatory response to winter illness. I recently had a turmeric latte in my place of my usual caffeine fix and I have become completely addicted! I have been making them at home all of the time now and using turmeric in all of my cooking. To say I am obsessed with turmeric is somewhat of an understatement. If the flavor are not something you enjoy, there is always an option to try AlchemLife PhytoRelief. The natural immunity support is made with turmeric, ginger and pomegranate extracts, making it the ideal combination to fight colds, coughs and sore throats. Other ways to use turmeric is by mixing it into smoothies, rice dishes and add it to vegetable dishes. It's quite a versatile ingredient. Similarly to turmeric, ginger has such a strong pungent flavor. I remember people use to recommend its use in pregnancy related nausea, however it's also useful in common flu symptoms. It can again be used in a variety of ways from juices, to Asian inspired meals.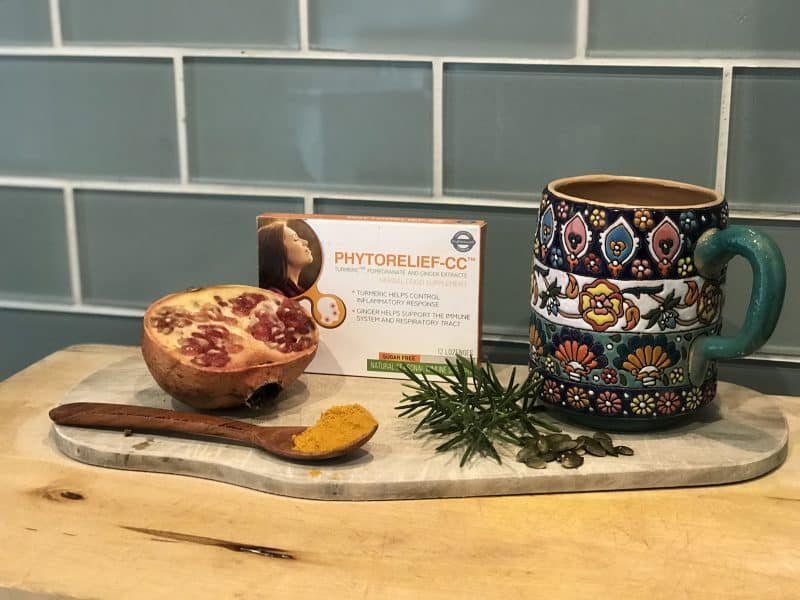 POMEGRANATE
Pomegranate has to be one of the most interesting fruits I've ever come across. Tiny red jewels covered in a white skin and thick outer layer, I am still unsure how to prepare it? Who knows how many YouTube videos I've watched to learn! Pomegranate is thought to have multiple health benefits. It's considered to be rich in vitamin C and have antioxidant properties. Similarly to turmeric and ginger, pomegranate also has some anti-inflammatory benefits useful in common cold. I love eating fresh pomegranate mixed into cous cous and the kids love eating it straight up, so it's an easy natural remedy to give them.
All of these natural produce are ingredients in AlchemLife PhytoRelief. The formula supposedly protects the respiratory tract and supports immune function. I have been trying the product out over the last few days and I must admit it, I felt a sense of relief from the itchy throat I had. I've also been downing the turmeric lattes. Do you have any natural remedies? Leave a comment I love to hear from you.
This post is brought to you in collaboration with Alchemlife. As always, all views expressed are entirely my own.
You can buy Phytorelief on AlchemLife's website or through Amazon.
<script src='https://tracking.spn.so/a9ikndvs1frvwwwn.js'></script>