The crisp cold early morning air filled my lungs. I could see the pattern of my frosted breath as I exhaled. A speckle of light could be seen on the horizon. I pulled my hood up to keep my ears warm, and my sleeves down to cover my icy fingers. With a 'Brrrr' I buckled Esmé into her seat. She wasn't use to such an early start but didn't blink an eyelid to being in an open air safari jeep at 530am in the morning! She handed me her still warm but empty milk cup. I wiped the white moustache from her lip and covered her with a blanket. 'Elliei' she said. Yes, honey we are going to see elephants today! 'Hopefully' said David our safari guide in a sarcastic, but hopeful voice.
We had read the jungle book an uncountable number of times. I was so excited for this moment. In keeping with our morals and values we'd never visited a zoo or any enclosure to see animals. As a nature lover and parent, I wanted to raise my kids to respect wildlife. Not to mistreat animals for humans pleasure. In fact we apply that moral to many aspects of our life, including what we eat. We do our best to live a dairy and meat free diet. Showing kids animals in the wild is the best way to develop and nurture compassion.
We heard a loud grumble and a bump as the engine started. I got an immediate shot of adrenaline to perk me up from my early morning slumber. Being in the South African outback, in the dark, where lions can be heard, roaring in the distance, I was definitely looking over my shoulder. As we started moving, the gravel was crackling under the wheels. The electric gates of the lodge opened and we set off into the vast open plains. The sites and sounds were so different from anything else we'd experienced before. Vultures, hog warts and many others of the animal kingdom were collectively creating a unique song. It was like nature's version of the 'bare necessities'.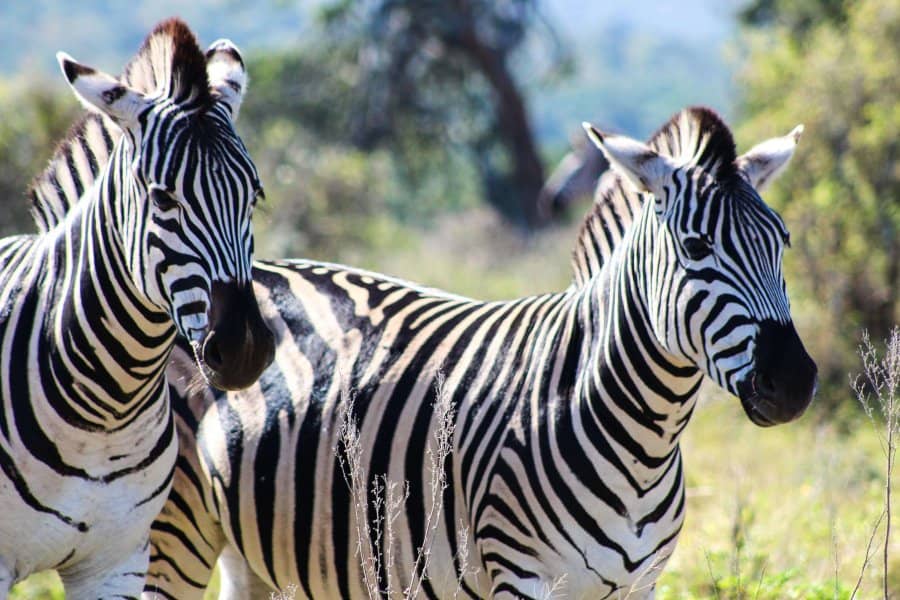 The bumbling of the engine was making us all sleepy. Safari rangers were chatting over the radio sharing the location of a herd of elephants. David turned to say it would be at least an hour before we 'might' see the elephants, and even then it might be difficult as they were moving further away. The sky was becoming a glowing orange colour. The outline of the lonely tree was a typical picture of an African scene.
As the sun continued to rise, we slowly became hotter and began to strip our many layers. After my usual litre of 'parenting' caffeine, I was ready for a pit-stop. I must admit, I was nervous hiding around the bush for a 'nature wee' as we call it in our family. Especially after seeing pythons and cobras casually crossing the road the day before. I've never pee'd so quickly in my life! The fear of getting my bottom bitten was real! I ran back to the jeep where David had taken the opportunity to get some morning snacks on the go!
We nibbled on croissants and had more coffee in metal camping mugs, served on the bonnet of the jeep. It was a true safari experience. He was preparing us for the worse case scenario. Potentially not seeing the elephants! He gave us the option of aborting mission, especially with a toddler in tow. Given she was in good spirits, we were willing to press on with a glimmer of hope. Although, in the back of my mind, I knew I was pushing it.
We jumped back into the jeep and continued along for another hour. We saw poaching rangers with shot guns along the way. It made me realise the significance of the issue. Manning open plain's that go for miles and miles, as far as the eye can see, is a pretty challenging job. Esmé was beginning to get restless. No 'ellie's' in sight! A grumbled message came over the radio and there he was! A huge male bull on the horizon, sifting and stamping, ever so gently through trees. We watched in awe. A snippet of wildlife forever etched in our memories. Present with nature's gentle giant, it was truly amazing to see. Mission accomplished! At this point we were quite far down a very narrow track. It wasn't possible to reverse so we had to continue on to get back to the route home.
Ad
He knew! David knew. He was hiding the big secret all along. The rangers knew exactly where the elephants were and knew we would get to see them. We drove around a narrow corner and it was the moment that was truly astonishing. It wasn't just one elephant in the distance. There was tens and tens of them! All shapes and sizes, within arms reach, all around us. An experience that far exceeded our expectations.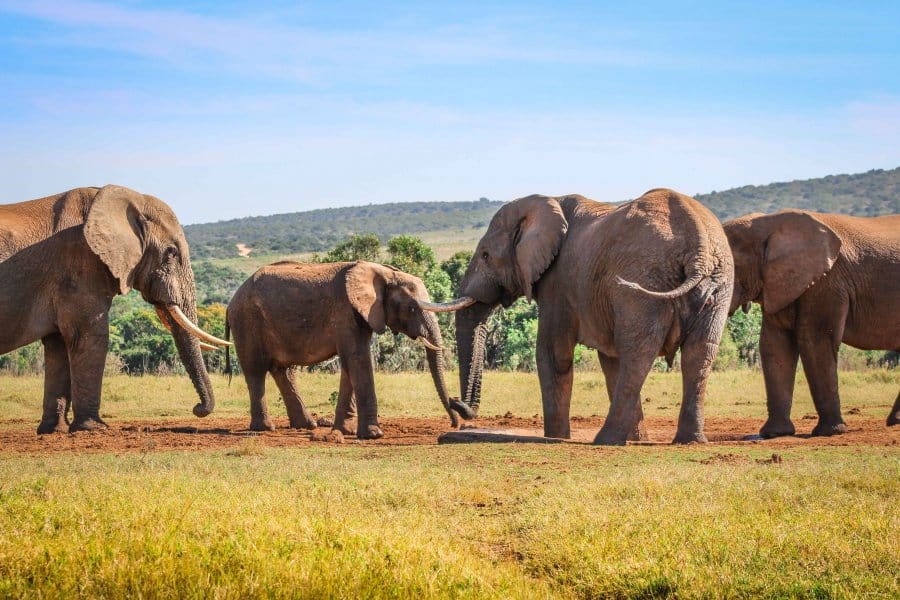 I remember thinking, I didn't know elephants smell like eucalyptus? Their warm minty and earthy smelling breath is what stood out the most. Their thick layer of massive hairs and tough skin that can manage to trudge through prickly trees was impressive. Their big flapping ears seemed clumsy and elegant all at once.
My heart was thumping and my palms were sweating with excitement. The silence was broken by a screeching baby elephant taking on a hill too quickly. Somewhat similar to my baby, the mother helped it to its feet. We watched! The more we observed, I realised how similar humans and elephants are in their mannerisms and behaviours. We spent a good thirty minutes just sitting before we made tracks. The journey back was quiet. Everyone sat in silence whilst they reflected on the experience.
It was a case of hook, line and sinker. Ever since I've dreamed of exploring Africa some more. Kenya and Namibia being two dream destinations to visit. Maybe we will be lucky enough to win The Audley Travel blogger challenge.
This post is an entry into the Trips100 / Audley Travel blogger challenge. If you fancy trying your hand at it, here are the details:
Win an African safari with Audley Travel by sharing your best wildlife photograph or video on your social media channels. To enter write #AudleySafari and @AudleyTravel on your Instagram or Twitter post or share directly on the Audley Travel Facebook page here: https://www.facebook.com/audleytravel/. To find out more or enter via the website, visit www.audleytravel.com/social.  Entries must be posted between 20th August – 23rd September.