The last time I was pregnant, it was all a bit of a surprise. We weren't quite ready having only bought a property renovation. I didn't get much time to take it all in! This time around, it was planned, so I had high aspirations of 'enjoying' being pregnant. I say enjoy loosely. What I really mean is I wanted to look after myself better and do things like yoga and pregnancy massage. Oh how different things are to what I planned. Why? Well with the addition of an energetic toddler and normal life things, you can hardly go for a pee, never mind pamper your pregnant self. All of a sudden I appreciate the time I had in the first pregnancy! Here are ten things I hadn't expected of the second pregnancy.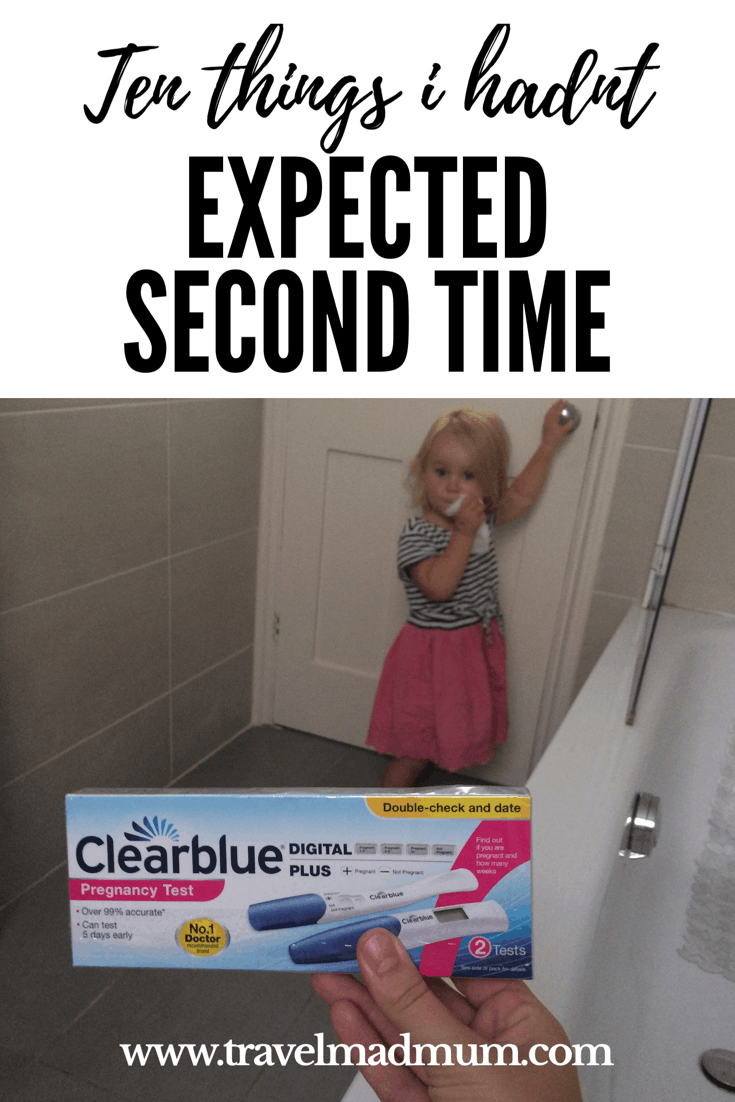 Ten things I hadn't expected of  the second pregnancy
1. My bump appeared way too quickly 
I was less than a few weeks when people at work could already guess I was pregnant. My uniform does nothing to cover bumps and curves! Now four months pregnant I already look six months… Second bump syndrome is sooo annoying!
2. I got my boobs back
Yay, after breastfeeding Esmé for fourteen months, my boobs were like a lonely apple in a plastic bag. Not that I am complaining that they have returned to their former glory… What will they look like after the second baby?
3. I never take bump pictures
I was so good the first time around at taking weekly bump pictures and putting them on my tracking app. The first time this bump got flashed was on our holiday we have just returned from!
4. What happened to my pelvic floor?
Okay, I really hope I am not alone here. My pelvic floor was a joke post first baby. Seriously, why has it all of a sudden returned to needing exercise with a four month old bump?
5. Why can I not remember to take my folic acid?
Oh my god, I am constantly forgetting to take my folic acid. I start off with great intentions of putting it in my pocket. It then appears as a stain post washing machine. WHY IS IT SO HARD TO REMEMBER?
6. Dealing with a toddler's tantrum is emotional
Esmé is now aged two, so tantrums are regular and consistent. Mix that with a pregnant mum, in a big shopping centre, trying to pay for something with a toddler back arching and having a fit about an umbrella = mum and toddler both having a cry!
7. My bump regularly gets booted by a toddler
Is it just me or do all toddlers think nappy time + pregnant mum = a game of football? Seriously child just sit still for a minute!!
8. I can go the entire day without thinking I'm pregnant
I spent so much time on the first pregnancy day dreaming of what is it going to be like… What will the baby look like? What will we name her? This time I hardly remember I am pregnant from one end of the day to the next! I have a feeling it is going to fly past and I will suddenly have TWO!!
9. How many weeks AM I?
When someone asks you that question and you have to think hard. Errrr, now, how many weeks am I? Last time around I could tell you to the day – "I am 20 weeks and 4 days". This time I'm like .. "err around four months".
10. Looking after potential stretch marks has gone out the window
I religiously oiled my growing bump every day when I was pregnant the first time. Why does it seem there is no time in the day to do this second time round?!
Please tell me I am not alone with this! Love to hear from you as always, so feel free to comment.