Two children, 80+ countries across six continents, including two years of full time travel, I feel I have the flying with a toddler tips nailed! Toddlers are such energetic, not to mention emotionally labile pint-sized little people. I mean, I'm over here just trying to survive the day without any epic meltdowns about toast being cut the wrong way, never mind bundling into a closed space with tens of strangers for hours on end. I cannot tell you how many people email me DAILY asking for tips on flying with a toddler! For some reason, it makes us parent so nervous, almost to the point of putting fun travel and adventures on hold for a few years. I'm here to tell you, don't worry, I have lots of tips!
I've taken my kids everywhere and the thought of giving up travelling for the sake of a long flight with a very energetic toddler is not an option. The end reward of a new destination is what it's all about! As a family, we have so many fond memories of our little ones experiencing new sights, smells and sounds in a foreign country, making it totally worth every minute on a flight. So with all the positive vibes in the world, I've tackled the best way to execute the task head on! With plenty of preparation, it's totally possible to fly with a toddler successfully. Of course they may be a little tired or grouchy at times and that's where my tried and tested tips come to play. I must point out flying with a baby or flying with older kids is a lot different than flying with a toddler, dare I say a little easier, but like I mentioned preparation is everything. You can also check out our full toddler carry on travel essentials post here!
Don't forget to get travel insurance! This is so important when you travel, especially with kids! We like World Nomads.
PREPARING FOR THE FLIGHT
FLYING WITH A TODDLER
I love the acronym S.A.S, it stands for snacks, activities and sleep aids. These are the three things that are going to save your ass with keeping your toddler entertained and contained to the best of your ability. I will go into this in detail below but keep this little easy reminder in the back of your mind!
SNACK PREPARATION
Out of all the fights we have taken with our kids the most successful ones have been when we bring tonnes of their favourite snacks and meals with us! Yes, it can be annoying bringing an entire extra bag of food, but if their tummies are satisfied and they're chewing they are quiet! I try to be as realistic as possible with what I bring in terms of mess. Small dry foods are obviously best, but may not sustain an entire flight. I tend to make sandwiches wrapped in reusable food grade cloth
rather than lunch boxes for space.
I always bring bananas as it's such a good filling food. Equally cut up grapes, dried raising and compressed fruit bars
are an amazing snack. I always bring their stainless water sippy cup
to keep it cool and it is super easy to fill up in the airport to reduce waste. Cabin crew are always helpful when it comes to assisting with warming drinks if needed, providing additional snacks and so on. And don't forget to order a 'toddler meal' in advance! It's a requirement for almost every airline and they will not have a toddler specific meal unless its ordered beforehand.
ACTIVITY PREPARATION
Having new and engaging activities are key. Every child is different when it comes to their interests but throwing just about everything at the situation to ensure success is the best way forward. I am a big fan of the Keep em Quiet bags, produced in the UK. They are specifically designed to keep little ones of all different ages entertained on a flight. They come in different age groups, gender (also gender neutral available), as well as length of trip. If you are going away for a weekend they can be smaller and obviously a little cheaper in price. They are stuffed full of activities such as mess free painting, 3d puzzles, snacks, special colouring in and so on.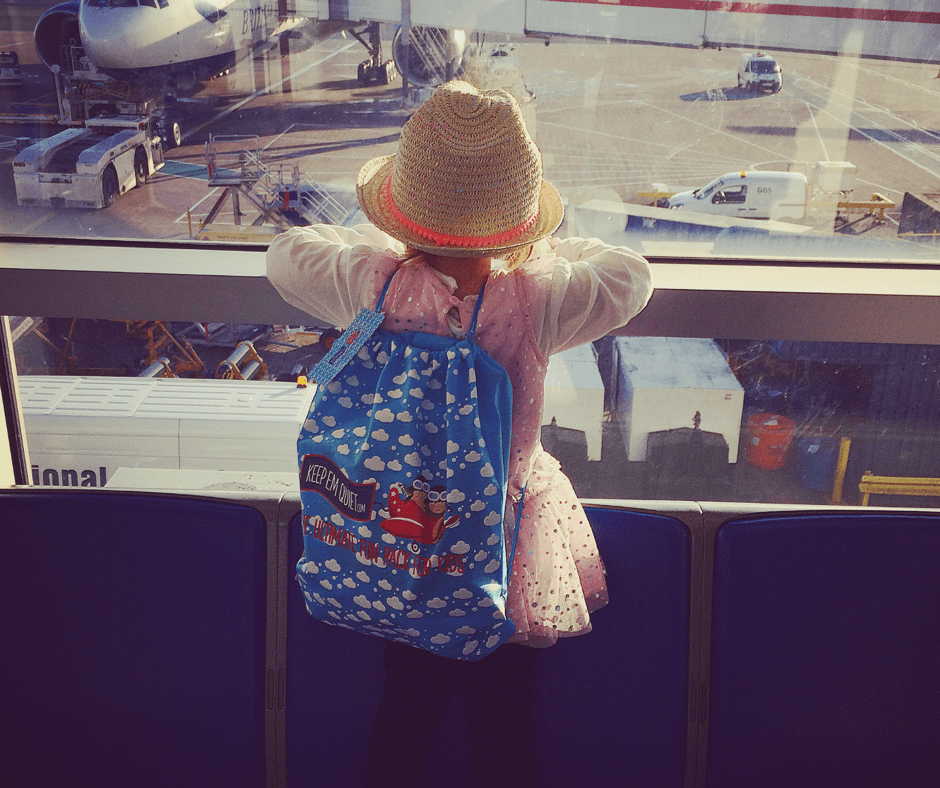 ACTIVITY PACKS
There are some similar travel specific activity packs in Australia called Busy Bags worth checking out. Likewise in the US, there is one made by Penguin Travel. You can check out the US and Australian version here
! My only criticism with these packs is related to the waste, although many things are reusable such as the re-stickable stickers etc, the Keep Em Quiet bags do produce a lot of plastic waste. If you don't have access to one of the travel specific activity bags, a simple trip to your local pound/ dollar /euro shop to buy a few low cost items to make up your own activity bag is always an option. We have also recently discovered these great little globe packs which are designed with your destination in mind. They are filled with a passport with the country's flag, and activities designed to introduce your child to the country you will be visiting!
AMAZON FIRE TABLET
The whole idea is to reduce screen time which I love. We do bring an Amazon Fire tablet
with us as a last resort, it can be quite handy to get our little ones to snuggle down to sleep. The reason I specifically love the Amazon Fire tablet is because it can be controlled by parents, with very specific child-friendly and educative apps. We can also download movies before our trip which have saved the day a few times.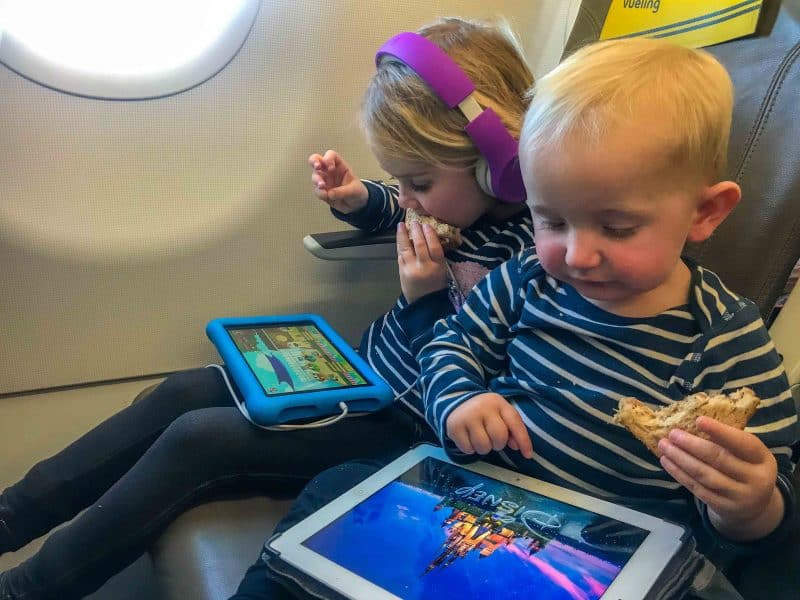 INFLIGHT SLEEP AIDS
So now that we've dealt with snacks and activities, lets move onto sleeping aids. We all know comfort and minimal stimulation is key when it comes to getting our little ones to have sweet dreams. For most of us, if it's 'sleepy sleepy' time on a flight, it can often be the most agonising time for us as parents. I've often paced up and down, stroked my little ones head to no avail. From the bright lights, people chatting and just a new environment it can be so tough. Having a sleeping aid is key and really helpful if your little one has their own seat.
PLANE PAL FOR FLYING WITH A TODDLER
I have tried out both the Plane Pal and the JetKids BedBox
. They are both fantastic options to create a first class bed for your toddler on a long haul flight. Many airlines accept them, however there are a handful that do not allow it, so it's worth checking before investing. Plane Pal is a simple inflatable pillow that fills the leg room space in front of the seat and creates a flat surface for your little one to stretch out. It packs away nicely and is not too big to carry around.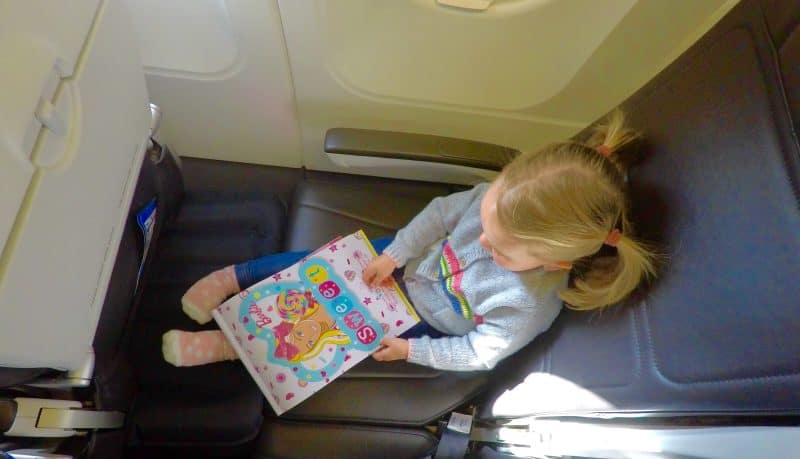 JET KIDS BEDBOX FOR FLYING WITH A TODDLER
The JetKids BedBox
is quite a different product!! It is a mini wheelie suitcase that also acts as a scooter and is an amazing way of getting through the airport if your little one has the stability to sit on it. There is space inside that can be used to store an activity bag, some snacks and a change of clothing. When on board the suitcase has a third function, again, filling the legroom space in front of the seat and creating a flat surface for little ones to stretch out. This product is quite expensive, however if you travel often I think it's worth every penny. Here is my full review of the Jet Kids Bed Box.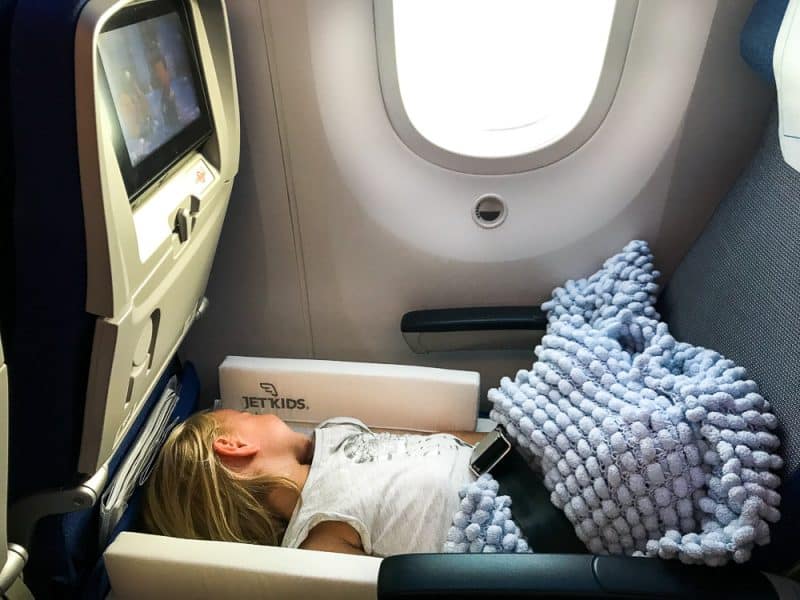 SHADE FOR FLYING WITH A TODDLER
If your toddler is under two, you may be lucky enough to bag a bassinet seat. Priority is generally given to younger babies. Likewise, if your kids are anything like my tall kids they may not fit in the bassinet. The best airline for a toddler bassinet solution is British Airways. They have a reclined seat option as opposed to the box and is literally perfect for kids ages around one to 18 months roughly.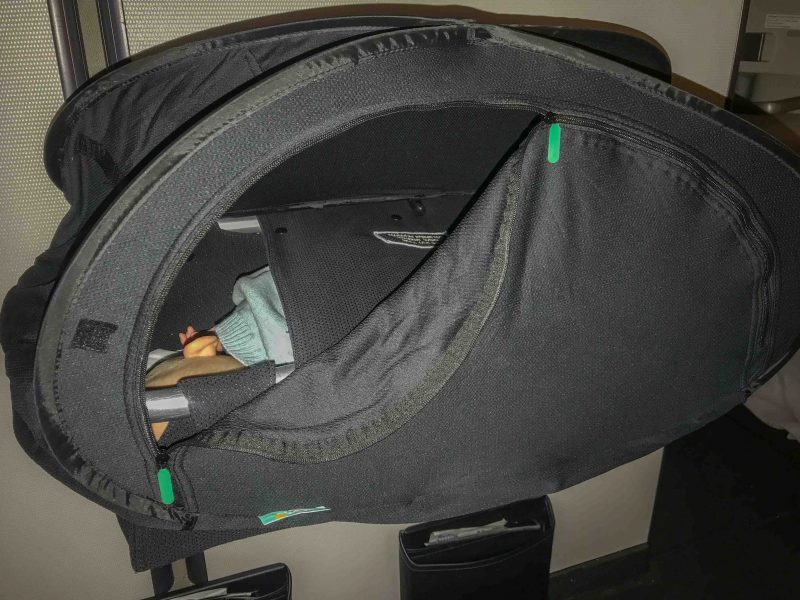 Another great product is the Cozigo which has a double function! It can cover a stroller as a sun and light protection but can also pop up over a bassinet on a flight. Keeping those hideously bright lights on a flight is the hardest part and Cozigo is great option to over shade to your toddler or baby. I have a full review of the product here. Don't forget the all important familiar cuddly toys and a light weight but warm blanket. Those familiar smells and comforts from home are always a winner. I find fleece toddler blanket
really good at compacting down into my hands luggage without taking up too much space.
AT THE AIRPORT WITH A TODDLER
So now that you've made the all important preparations at home for the flight, there are quite a few things you can do once you arrive at the airport. From scoring an extra seat at check-in, to making the most of free time before the flight, I have you covered! Make sure to arrive with plenty of time to clear security, have something to eat and a play before boarding.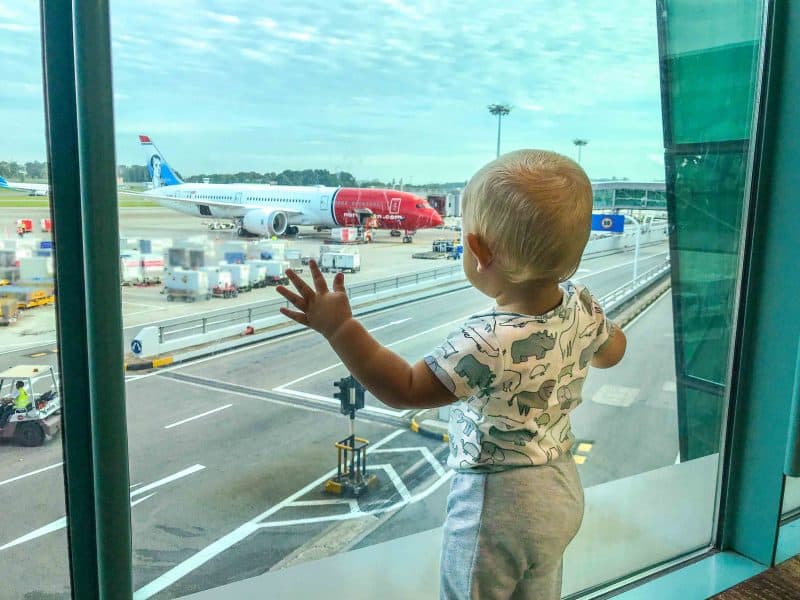 CHECK-IN DESK REQUESTS
Like I mentioned about the sleeping aids, the ideal scenario is for your toddler to have their own seat. I never bought a seat for my kids when they were under 2. However I always asked if they had a spare seat at check in. Most of time we were lucky enough to score the spare seat on board and so we could make sure our little one was comfortable and had space. For the few times we were not so lucky, I had my baby carrier to hand to help get little one to sleep. Obviously an entire night flight is not so comfortable with a toddler on your front but the baby carrier definitely made it easier.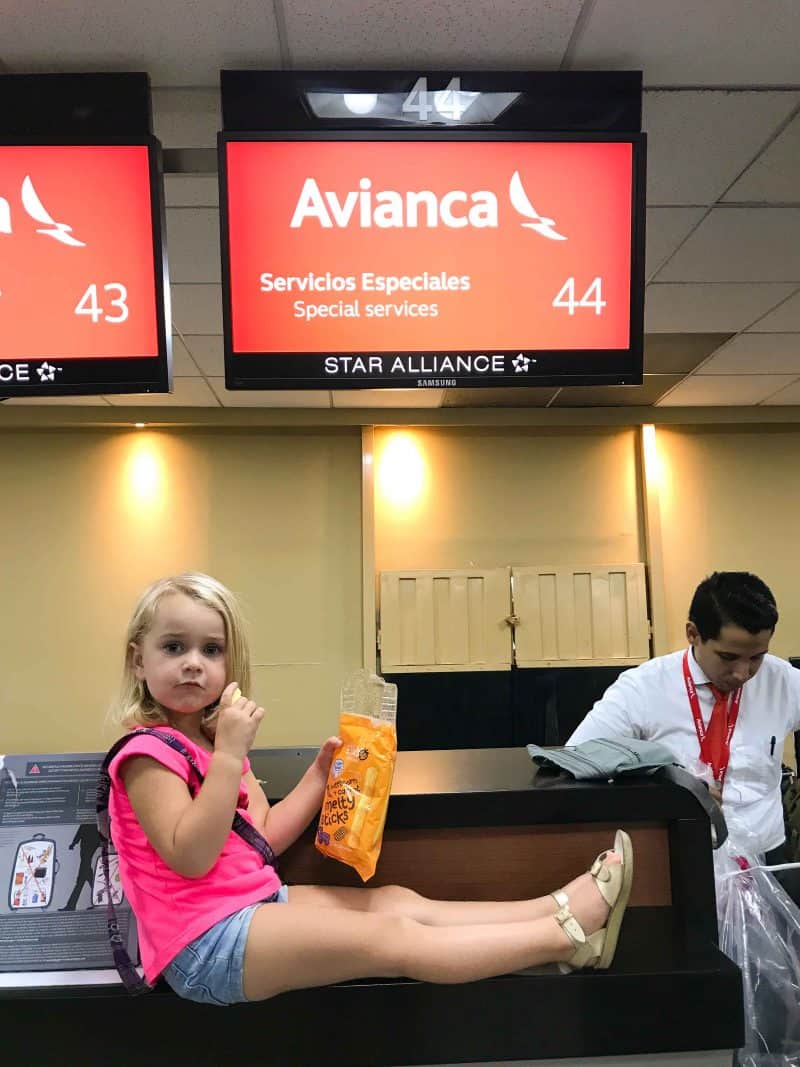 SECURITY WITH A TODDLER
Family security lines can be amazing. I recently travelled through Barcelona Airport where they had a play pen right at the security line. In Barcelona airport the also had a low level machine to push everything, from our buggy and suitcase through for scanning. It made it so easy for us. Gatwick Airport can be hit and miss, sometimes the line is so busy with families it ends up taking longer. The best thing to do is assess each time and see if the better option is to take the regular queue.
HAVE EVERYTHING READY FOR INSPECTION
Try to avoid extra hassle for security and get a long flight with toddler off to the best start! Liquids will be tested if they are your little ones food and drink for the journey. I always forget at least one thing at the bottom of the bag! Wear things you are not going to have to take off, this is not fun whilst chasing a toddler. For example, I try not to wear boots and a belt because I know I have to take them off! I keep my passport hanging around my neck in one of those special zip pouches. Again having everything to hand is really helpful .
LOOK FOR FAMILY FACILITIES AND DEALS
Most airports have an area for kids to play, Look at the information screens to find them. Some are better than others, Dubai Airport is a favourite of ours as well as the soft play at Heathrow Terminal 2. I find so many of the western airports go the extra mile during school breaks. For example in Heathrow in some restaurants, kids eat free at some restaurants in the terminal. I prefer to eat a good meal before boarding the plane. As strict vegetarians, the food options are not always that good so we always have our big bag of snacks to fall back on.
BEST TIME TO BOARD
Airlines always prioritise young families to board, however that's not always helpful! I find letting our kids run around the terminal and burn their energy off is a better starting point to get them to sit down and put their belt on. Having that extra time whilst everyone else boards can be tricky in my opinion, so this is always our default approach. In some cases if our toddler is on the verge of falling asleep, we board early and make the most of settling in peacefully.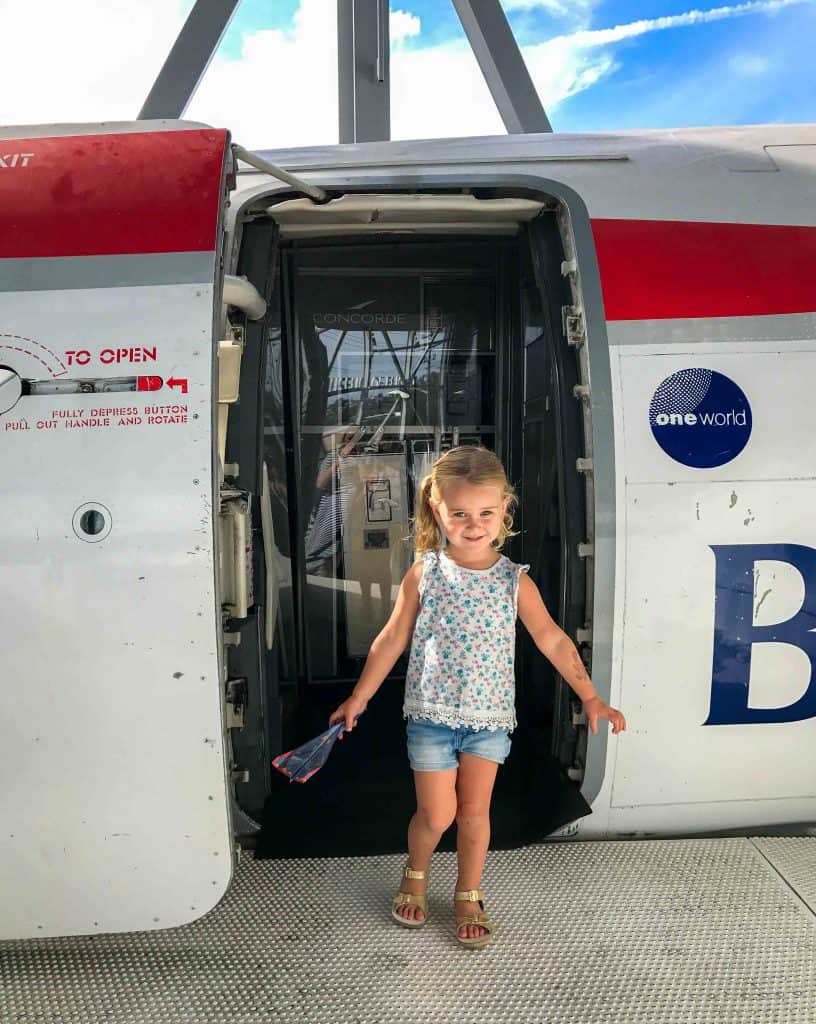 ON BOARD A FLIGHT WITH A TODDLER
Don't be afraid to ask the crew for help if you are flying with kids! If they see you are flying with a toddler, they will normally give you a kiddie pack, if they forget just ask because it can usually kill at least half an hour. I try to prepare my little ones for wearing their seat belt and provide all the distractions possible during that time. In reality it's only during take off, landing and turbulence that we really need our toddler to conform so distraction is key.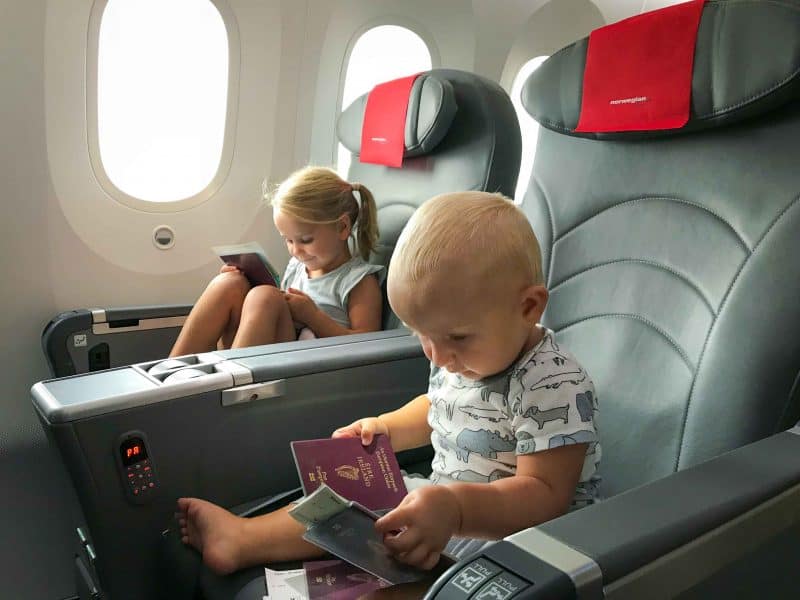 If my kids want to walk up and down I let them. Trying to contain them is really challenging and can be harder doing that then simply letting them stretch their legs. It's nicer for everyone involved, people prefer to see a happy child zooming past as opposed to a contained upset toddler in the seat behind. Drip feed snacks and activities throughout the flight, one by one. Likewise keep everyone hydrated with water and make sure to have enough diapers and change of clothes for any accidents.
TIPS FOR LOOKING AFTER YOU!
Make sure you don't forget about yourself when travelling with a toddler on a plane. Stay well hydrated, take time for lots of leg movements to prevent blood clots and try to get your head down for a sleep while your little one is. Or, if not a sleep, then have a glass of wine, relax and watch a movie. If you are flying with someone else, take turns.
This is the best advice I can give to you having taken my two kids around the world a number of time. I find that the most draining part about flying with a toddler is the amount of energy you have to put into the entertainment. We rarely have too many tears or tantrums onboard if we make the necessary effort.
Do you need tips about breastfeeding or flying with formula?
HAND LUGGAGE PACKING LIST
Snacks and water
Activities / toys
Sleeping aid, light weight blanket and a cuddly toy
Change of clothes or pajamas ( one for you too)
Nappies and wipes or maybe a travel potty if you are toilet training
Kiddie analgesia
Nappy cream
Desnuffle for toddlers
Toothbrush and toothpaste
Anything for a freshen up at the end of a flight for both you and your toddler
DO YOU WANT £25 TOWARDS YOUR FIRST AIR BNB STAY?
You may also like:
Toddler hand luggage essentials
Ready to book? Find great deals on flights, travel insurance, hotels, reliable internet, and rental cars!
This post contains affiliate link. By using them I get a teeny commission at no extra cost to you.