We really needed a compact buggy! As much as I love wearing little lady around, we spend so much time travelling, we needed to mix it up! This write-up is a review of the Mountain Buggy Nano.
When I started searching, I had a few important criteria It must be comfortable and lie down fuly and easy to use. Being light-weight ad compact was also super important considering we were going to be travelling through South East Asia for several week. We all know carrying a car seat is really challenging at the best of time never mind when travelling with a little one. Therefore I needed the car seat to be able to connect into the compact buggy.
After extensively trawling through the internet, I realised most of the reviews discussed how easy they were to fold or about the size. All of these points were important and helpful, BUT – does your baby sleep well inside? How far does it lie back? This kind of information was limited.
As I was in New Zealand at the time, I noticed that the brand most of the mums were using was Mountain Buggy. When I came across the Nano, I was delighted as it did literally everything we needed.
A review of the Mountain Buggy Nano
Its really light weight, only 5.9kgs – bonus! This was so important to us because of  having the backpack to carry. It can be stowed away in hand luggage as it packs down into a nifty little rectangular bag – how compact is that? It easily fits into the car boot and leaves plenty of room for other luggage.  We accidentally rented a tiny car that did not have a boot in Australia; even then it didn't take up too much room in the car as it shared the back seat with the backpack! 
Our deciding factor in choosing the Nano was for its ability to attach a car seat. We all know how arm breaking they are to carry. Can you imagine having to carry a car seat, a baby and a backpack? Toned arms, but not fun! Having the ability to attach the car seat means it can be used from birth. However, it is worth noting, this buggy is for babies from six months and above without the car seat. Luckily it takes a load of up to 20kg so plenty of growing space. 

So how the Mountain Buggy Nano in practice?

Having spent hours upon hours researching every last bit of our trip to ensure all our baby paraphernalia was light weight, compact and comfortable – I felt like I won when I took this out of the box. It is literally the size of hand luggage when folded down. It took up no space at all and was easy to carry when necessary. We took it folded up on tuk tuks, even in our bicycle basket when cycling around Hoi-an in Vietnam. Esmé enjoyed having her afternoon naps in it on the go or taking in the sites when sat upright.
As we spent so much time in Asia, where the roads are a little more rugged, the wheels did take a battering, so not sure it is meant for such terrain. However it is still alive and kicking today after being around the world and back. It is marketed as a a buggy for an urban environment so it did pretty well to take all the slack we gave it!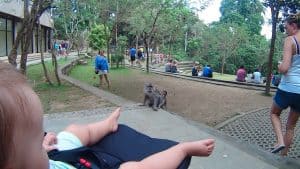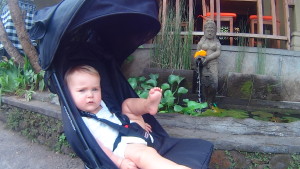 How much does the Mountain Buggy Nano cost?
It costs around £199 GBP for the buggy. The rain cover and sun shade come as an extra at £29.
In summary, what I love about the Nano:
Light weight (5.9kg), not heavy to carry around when folded
Compact
It can be taken onboard a flight as hand luggage
Takes up very little space in the boot of a car
Suitable for a newborn with the car seat
Suitable for a six month old and above without the car seat
Maximum load is 20kg so should do bubs for a while
The back of the seat lowers to about 30 degrees allowing baby to be relatively flat for a sleep
Lockable straight or swivel front wheels
What could be improved
I found it difficult to learn how to fold down, it took a few goes. Once I had the knack, it was perfect.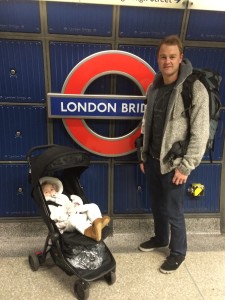 There are affiliate links in this post. You will not get charged any extra by using them to purchase an item. We get a small commission which goes in the travel piggy bank.