This day next week we leave New Zealand to embark on a seven week backpacking trip through SE Asia with our ten-month old girl. We are going to have a backpacking baby! Needless to say, many people think we are a wee bit nuts to do so much travelling with a baby. Whilst our friends without children funnily feel the opposite.
Classic comments so far include:
 "So good you're not letting your baby rule your life"
"My friend can't even go for lunch but the baby is losing his …. for a sleep"

I guess from my perspective this backpacking trip is going to be quite different to the one I did when I was 25, young, single and carefree!.. I think she will rule it, well a bit anyway!… All I want to try and do is incorporate her into our way of life. We both love travelling and can't see why we should stop or change our lives. I am confident the different sights, smells and sounds will stimulate all of her senses. She gets stir crazy just as much as I do when we sit around the house for too long so I am sure this can only be good for her.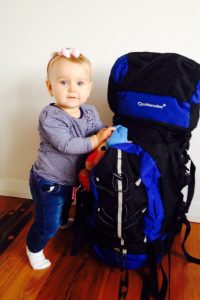 Time is closing in on us, so we are trying desperately to get all three of our belongings for the trip into ONE BACKPACK!! Yes just one. I have to say not one person I have spoke to believes we can manage travelling with one backpack. I really want to prove them wrong (awful personality trait) so I must do it! I have a few tricks up my sleeve which I will share later, not many, so on that note:
What are your magical tricks for travelling light and compact?? We need your help!!
Much love,
Karen