Being travel mad parents, we are invariably on the look-out for new innovative kiddy products that are useful for our trips. The key pieces of equipment are always our baby carrier, small buggy and of course a travel cot. You may think you don't necessarily need a travel cot.  However, I previously calculated a saving of £400 on a three-month trip by having one with us. Some sneaky hotels charge for using a cot! When I was asked to write a review of Baby Hub Sleep Space travel cot, I was super excited. I love the fact it has multiple functions. It makes a life of travel with kids so much easier when something can be used in different ways. Not only is it an easy to set-up travel cot but it can also transform into a tepee tent!
There are a number of situations where that would be useful, from camping to a weekend away, Esme always needs something to entertain her. Having a tepee means she can set-up her own little play space anywhere. Some of the other key features include, a fitted mosquito net and it can be used from birth! Having tried and tested the Baby Hub Sleep Space travel cot, here is our review.
A review of Baby Hub Sleep Space travel cot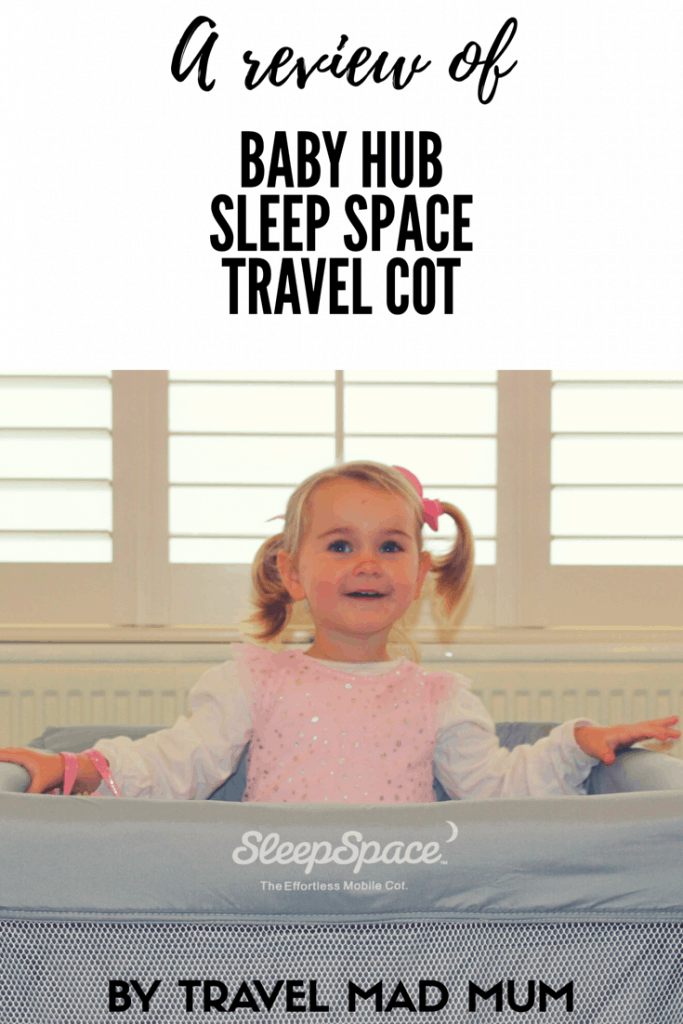 The Cot
The Sleep Space is by far the easiest cot I have ever set-up. As I took it out of the box I was preparing myself for a battle with the lockable bars due to previous experiences with travel cots. They can often be quite frustrating with their specific knack. Luckily, this is literally a one-handed manoeuvre. It's just a matter of stretching it open and the frame clicks into a locked position easily. It also comes in a handy zip bag and packs away nicely. It weighs only 6kgs which isn't too bad considering it can be used up until 36 months. The mattress is the correct size for standard sheets, so no need to look for anything special.
Key features
The cot has a retractable pyramid of four bars that allows the mosquito net to be draped over it. The net has ties which can be attached to each of the cots legs. The snug fit ensures no little cheeky mozzies can get in overnight. It also ensures Esme can't just rip it off. That is what she usually does with mosquito nets, so its piece of mind knowing it is securely in place. The four bars are easily telescoped to make it easy to get little ones in and out. It has a mesh zip side for smaller babies that aren't standing. We will find this feature useful with our new arrival as it prevents extreme bending from a height. I love how soft the padding is all around the bars of the cot, making it less likely for little people to hurt themselves.
Multi-use
The base of the cot is quite wide which means little ones have enough room to use it as a play space with some toys. Perfect for times when I am making dinner for example and need to contain a toddler. Esme is probably too old at this stage for using it in that way but again it will be really useful for our new arrival. As it will get plenty of use, its good to know the covers can be taken off and put in the washing machine easily.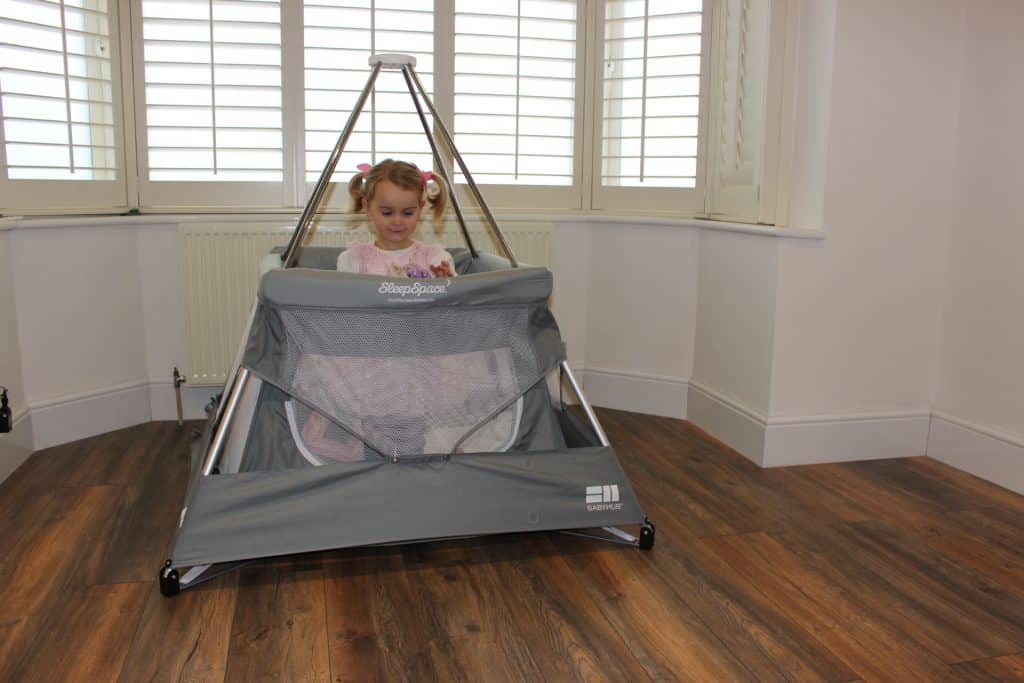 The tepee tent 
The tepee tent cover can be purchased for an extra £20 alongside the cot. The canvas is white and is machine washable. What I really love about it is kids can draw on it with washable marker, giving it another entertainment function. When setting it up, the cot frame is used for its structure. The outer cover and middle frame is removed from the cot , leaving only an A frame. The canvas is draped over and tied to each corner. It has its own mat for the ground which ties to the frame making the play space nice and comfortable inside.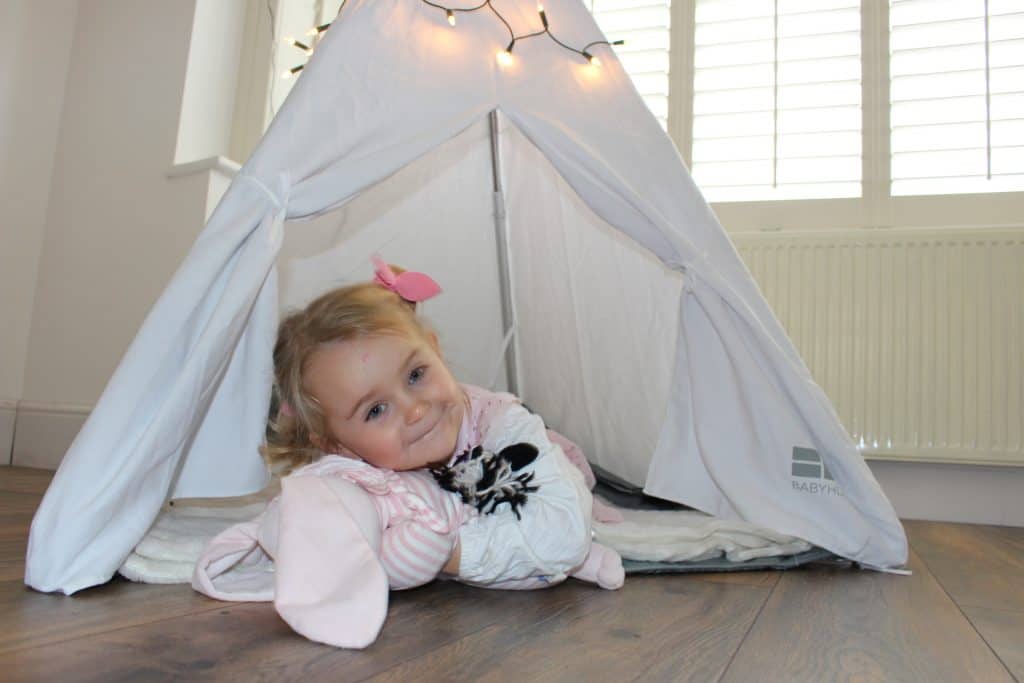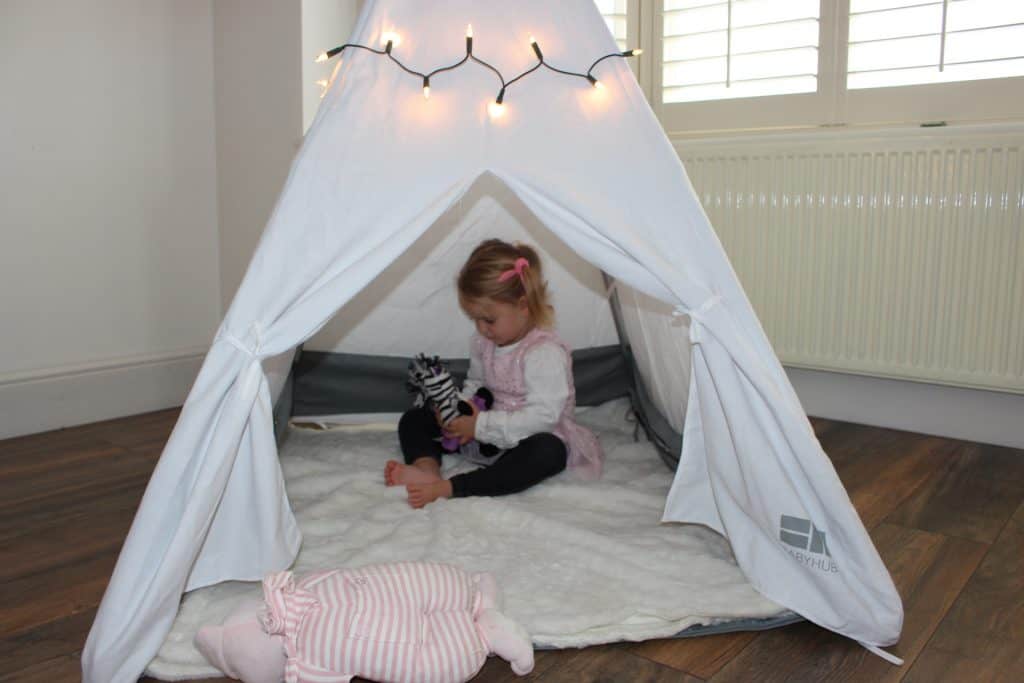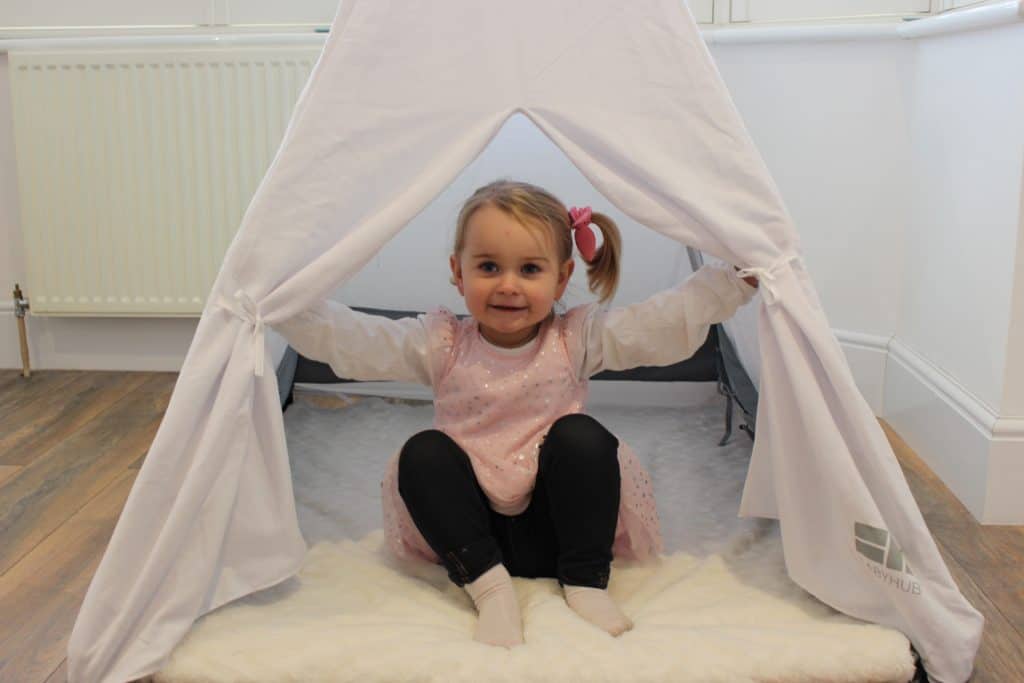 What did we like about the Baby Hub Sleep Space travel cot?
It is incredibly easy to set up and only takes seconds before its ready to use.
The mosquito net is incredibly handy for foreign travel
I really love that it is multi-functional and essentially recyclable to a tepee tent. As parents, we find our little one growing out of things quickly. It is nice we can use it for that bit longer in a different way.
There is plenty of room inside for playing. Esme still fits in it nicely despite being tall for her age.
I love the zip mesh net, making it so much easier to get little ones in and out.
What could be improved?
In truth, we loved the Sleep Space travel cot but there are a couple of things that could be improved about the product. As minimalists when it comes to packing, it would be great if the cot could fold up smaller for overseas travel. I would like to think airlines would accept it as a free piece of baby equipment rather than luggage.
Finally, although the mattress is soft, I have always liked to add extra padding to travel cots so this may be something you would like to consider.
Cot size
Dimensions Open: L 116cm x W 960cm x H 122cm (when opened)
Dimensions Closed 83cm H x 22cm x 42cm (in bag)
Tepee size
Assembled on frame 96 x 117x 120cm
Padded mat 91 x 105cm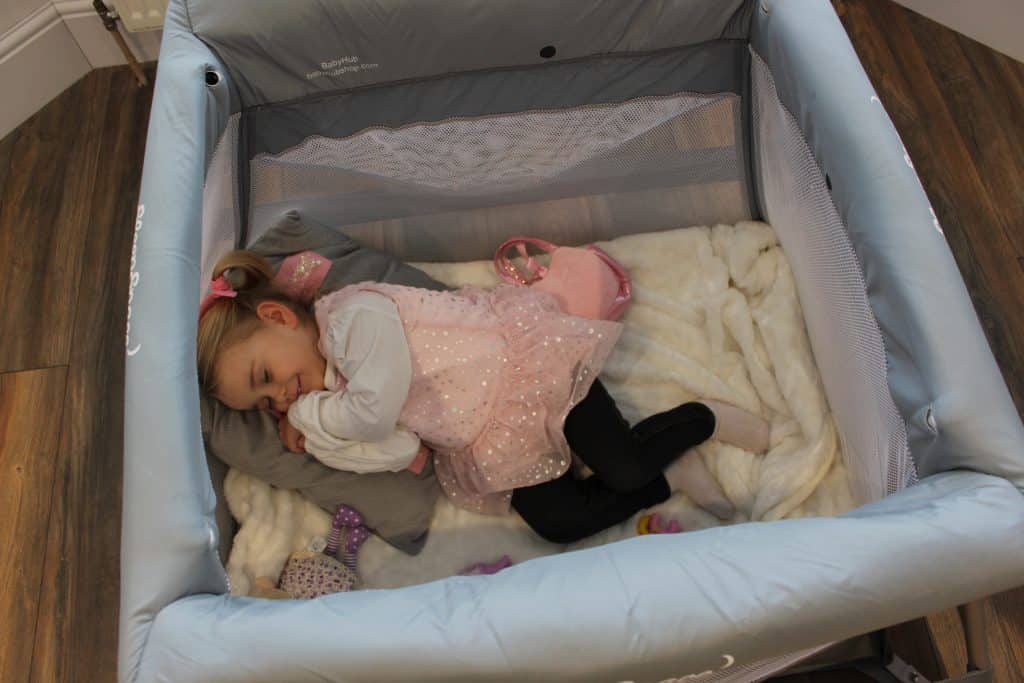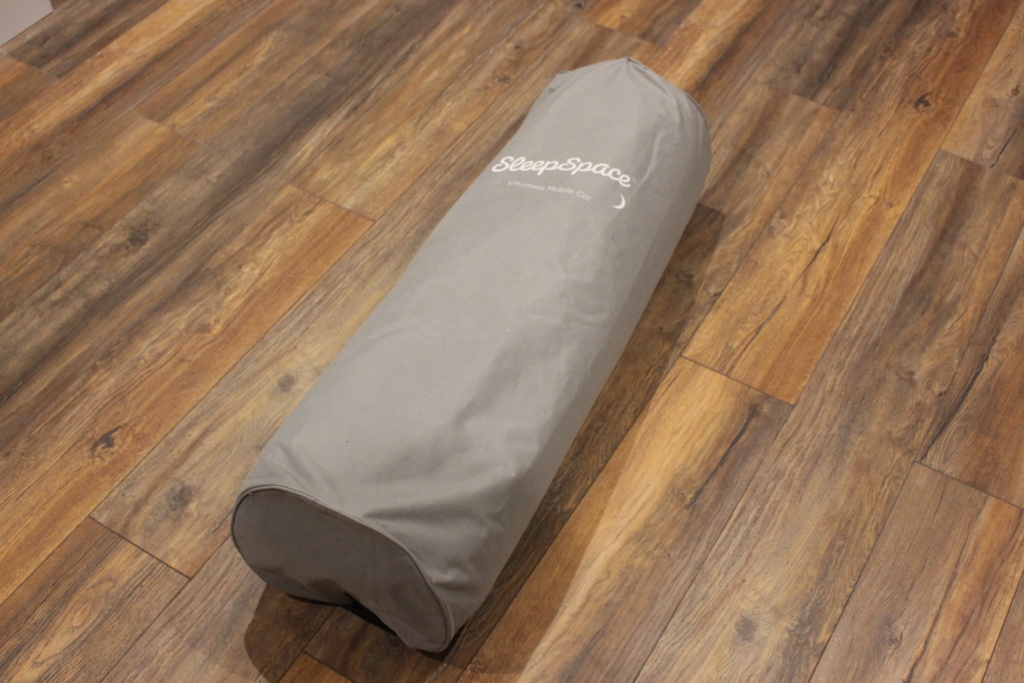 Dislaimer:
This post is sponsored by Baby Hub